There's simply no beating around the bush when it comes to South Africa – this country has it all and then some. And if you're planning on heading out on an epic trip, you'll need an epic South Africa itinerary to suit.
So, you're planning a trip to South Africa? Lucky you.
I fell in love with the country when I visited a few years ago. From the excellent vino that can be found in the wine country to the breathtaking safari opportunities, this destination really does have something to offer every kind of traveller.
And that's before we even scratch the surface on the captivating things to do in Cape Town (although those are pretty great).
In fact, I'm so enamoured with this place that I decided it was time to share how to make an ordinary trip to South Africa into an extraordinary one…
And the key to that, eager traveller, lies within this epic South Africa two-week itinerary.
Handy Tips for Planning Your South Africa Itinerary
Group Tour or Independent Travel?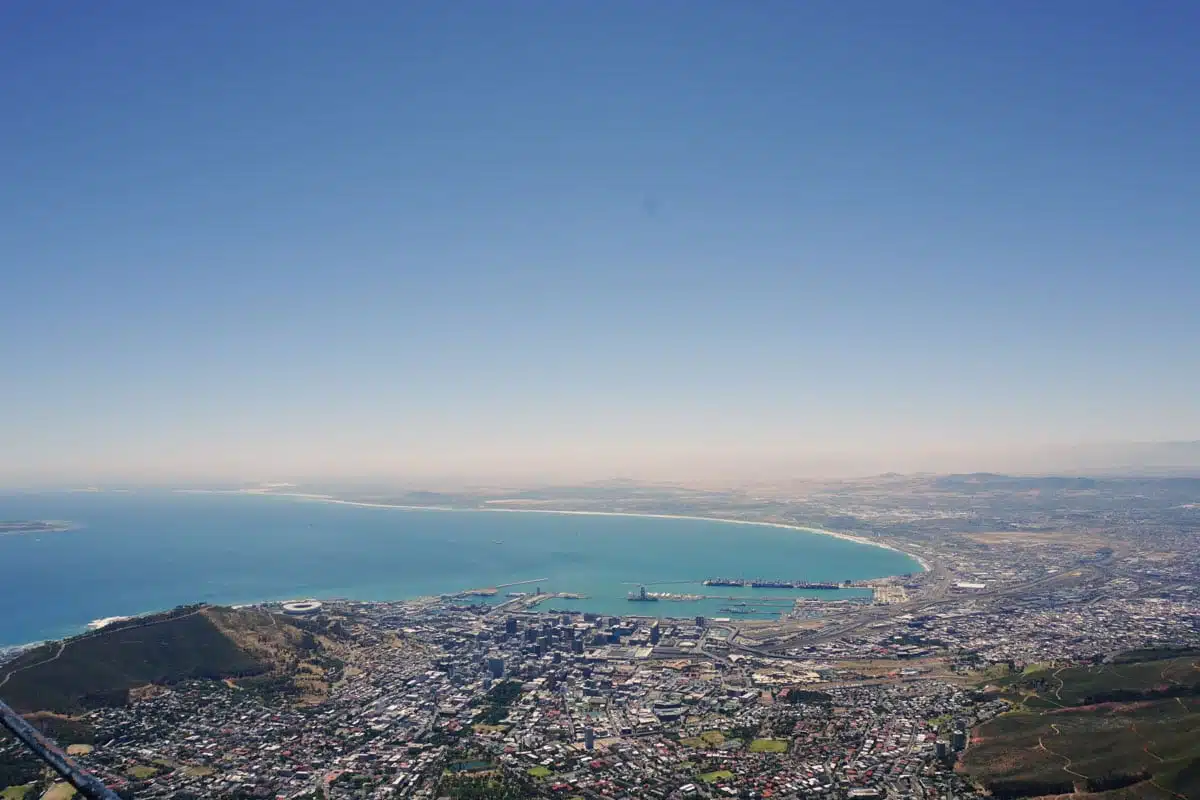 The beauty of any 2-week trip to South Africa is that it's guaranteed to be unforgettable regardless of how you choose to do it.
While I usually like renting a car and heading out solo, there can be plenty of benefits to taking a group tour – mainly for those who enjoy structure and having the stress of planning taken away from them.
If you're after wildlife, there are great options, including this 2-day safari from Cape Town and this Pilanesberg Nature Reserve safari from Johannesburg.
Or perhaps, head out on this whale and dolphin watching boat trip from Hermanus or this Cape of Good Hope tour? The possibilities for group travel are immense.
However, if you're more of a go-it-alone type of explorer, you'll be happy to know that South Africa is the perfect place for solo adventures. This gives you more freedom and flexibility, which, in a place like this, means you make the memories on your own time.
What to Pack for Your South Africa 2-Week Itinerary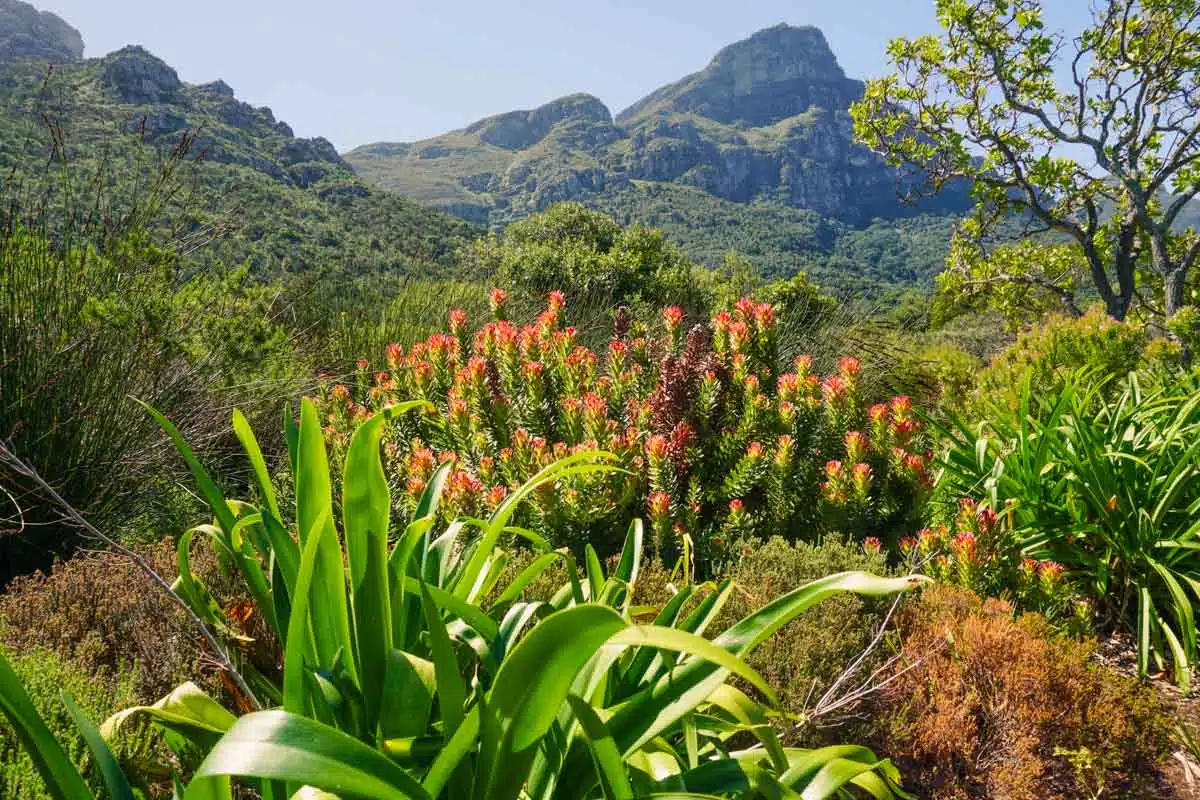 The number one thing to remember when plotting out your packing list ideas for your trip to South Africa is that you'll need to pack for various experiences.
Keep in mind this is a country where cosmopolitan cities set along dramatic coastlines meet wild savannas and mountain landscapes.
Ultimately what you pack depends on what you will do during your South African excursion.
If you plan on getting the most out of its beaches, remember long-lasting high-SPF sunscreen. Bring along a bathing suit or two and a beach towel, and pack your comfiest sandals.
If you're heading into the bush of the Kruger National Park, pack clothing for both hot and cold weather. Days get hot, but nights cool down quickly. And, if you're heading to the Drakensberg, days are cool, and nights are even colder, so pack layered clothing.
As for activity-focused clothing, South Africa teems with hiking opportunities, so bring along your hiking boots and refillable water bottle.
On wildlife safaris, a pair of binoculars and bug spray comes in extremely handy. And don't forget your universal travel adapter and portable USB charger.
Useful Resources
Before heading out on your two weeks in South Africa, there's a few resources you can use to save you time and money. Here are my top picks:
Getting Around
Getting a rental car is the easiest way to get around South Africa. Besides being very driveable, the country is beautiful to see while undertaking an epic road trip. Rental prices are also really affordable.
On the other hand, South Africa is huge, so you can fly from one major city to the other to help with travel times.
Luckily there are numerous domestic airports in the country. The ones you'll likely be flying to/from are OR Tambo International in Johannesburg and Cape Town International in Cape Town.
2 Weeks in South Africa Itinerary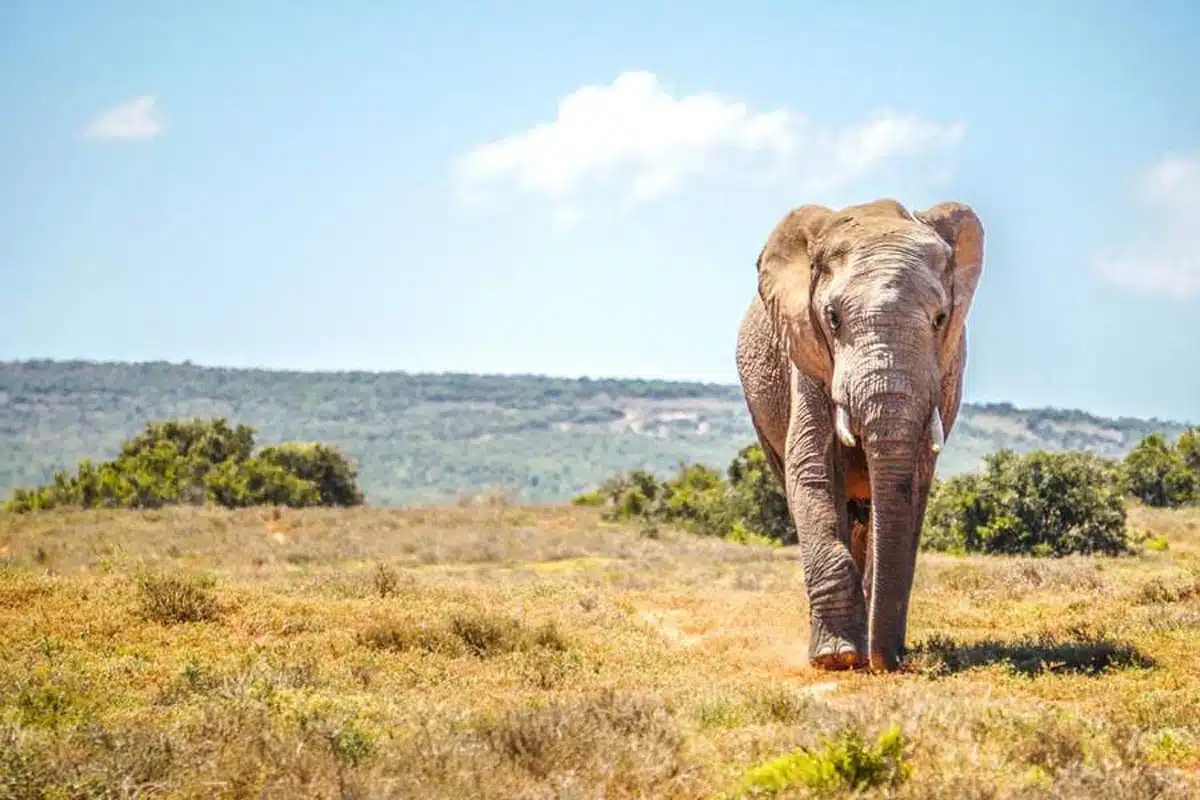 Day 1 – 4: Cape Town
Cape Town – or the Mother City, as it's often known – has a distinct kind of charm that I completely fell in love with on a previous visit.
Why? Very few cities can offer what this gem does. It has stunning beaches, gorgeous mountains, tantalising cuisine, friendly locals, and is incredibly affordable.
Things to Do in Cape Town
Ascend Table Mountain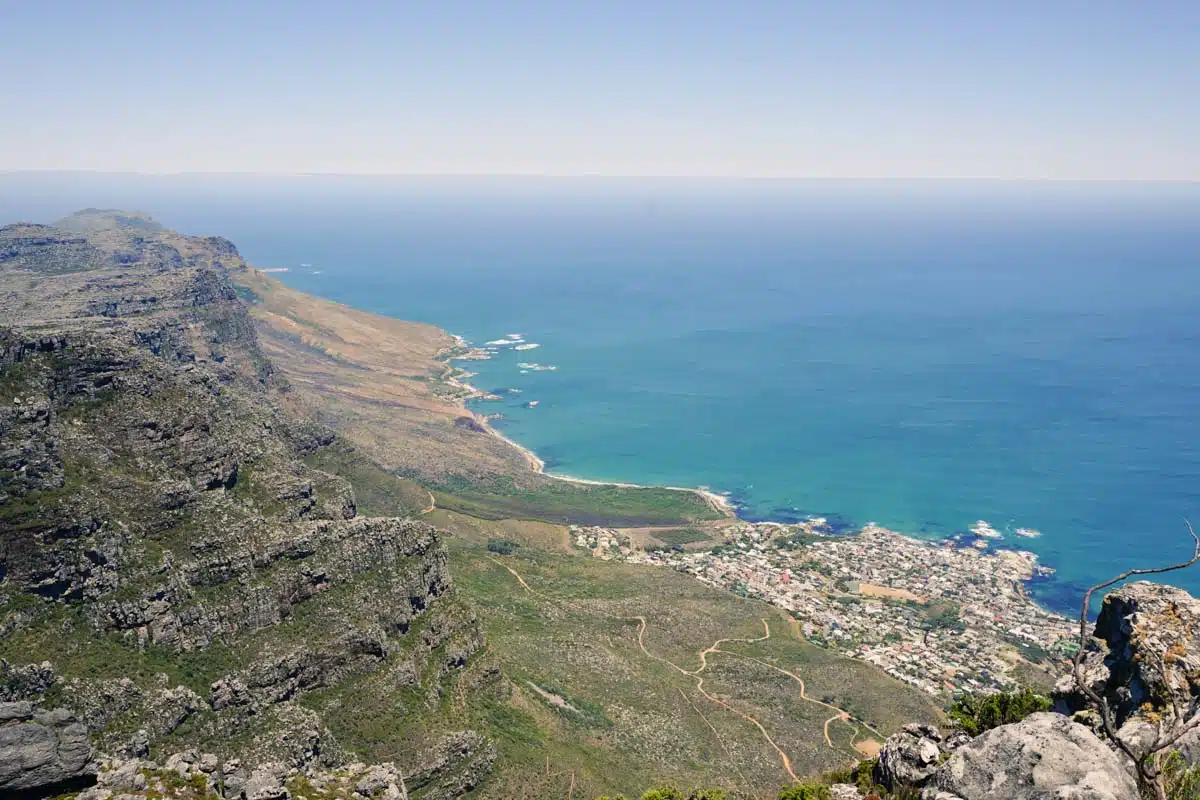 Okay, this one might seem like an obvious first impression of your 2-week trip in South Africa. Heading up Table Mountain is an adventure all its own, and the views from the top are incredible.
So whether you take the cable car as part of a Cape Town tour or tackle one of the hikes to the top, you're in for a good time.
If you are the hiking type, the Platteklip Gorge trek is the shortest to the top but steep and quite the workout.
Soak Up the Sun in Camps Bay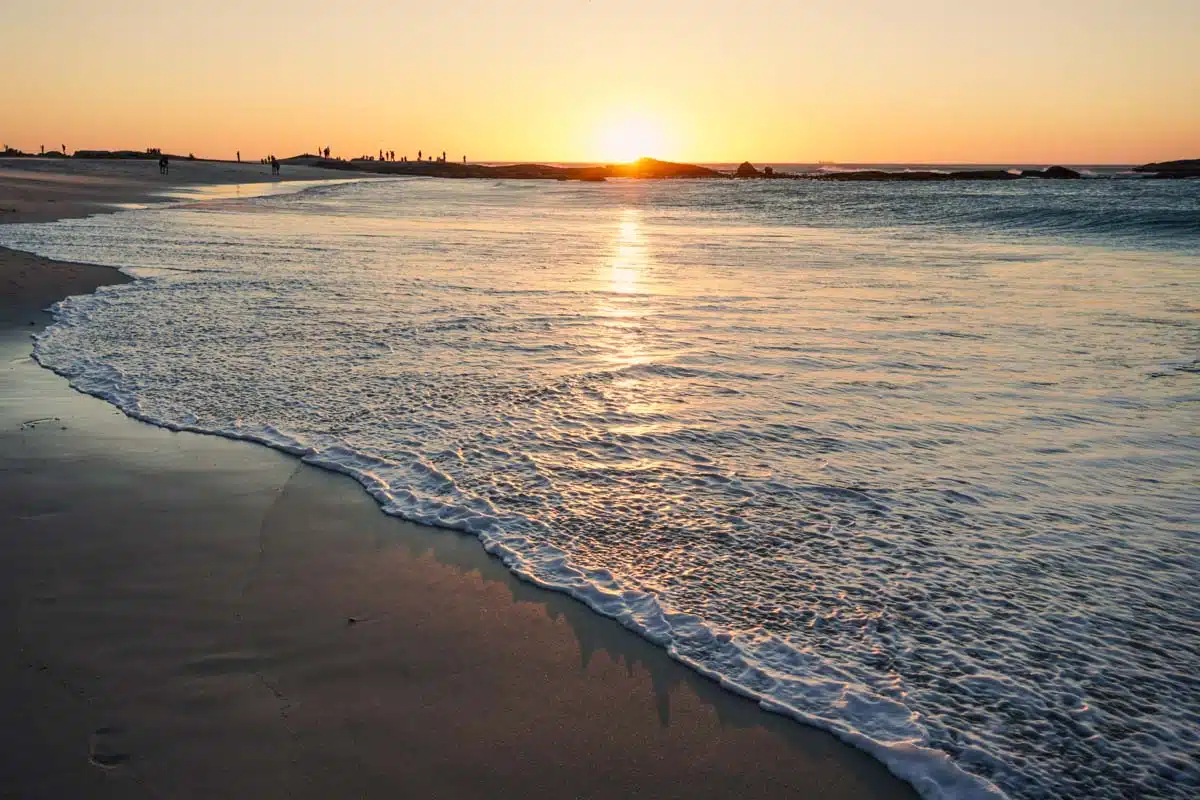 One of the most popular beaches in the city – beyond its striking coastline, Camps Bay is a thrill for anyone yearning for the best spot for beach bumming in the region.
Perfect for daytime lounging, grabbing a bite to eat, and soaking up the African sun — what more could you want?
Well, if you're someone that loves aesthetic beauty (there's a lot of it here), wait till sundown. It's undoubtedly one of the most breathtaking sunsets I've ever seen, and this was my falling-in-love moment with Cape Town.
Head Out on a Cruise from the V&A Waterfront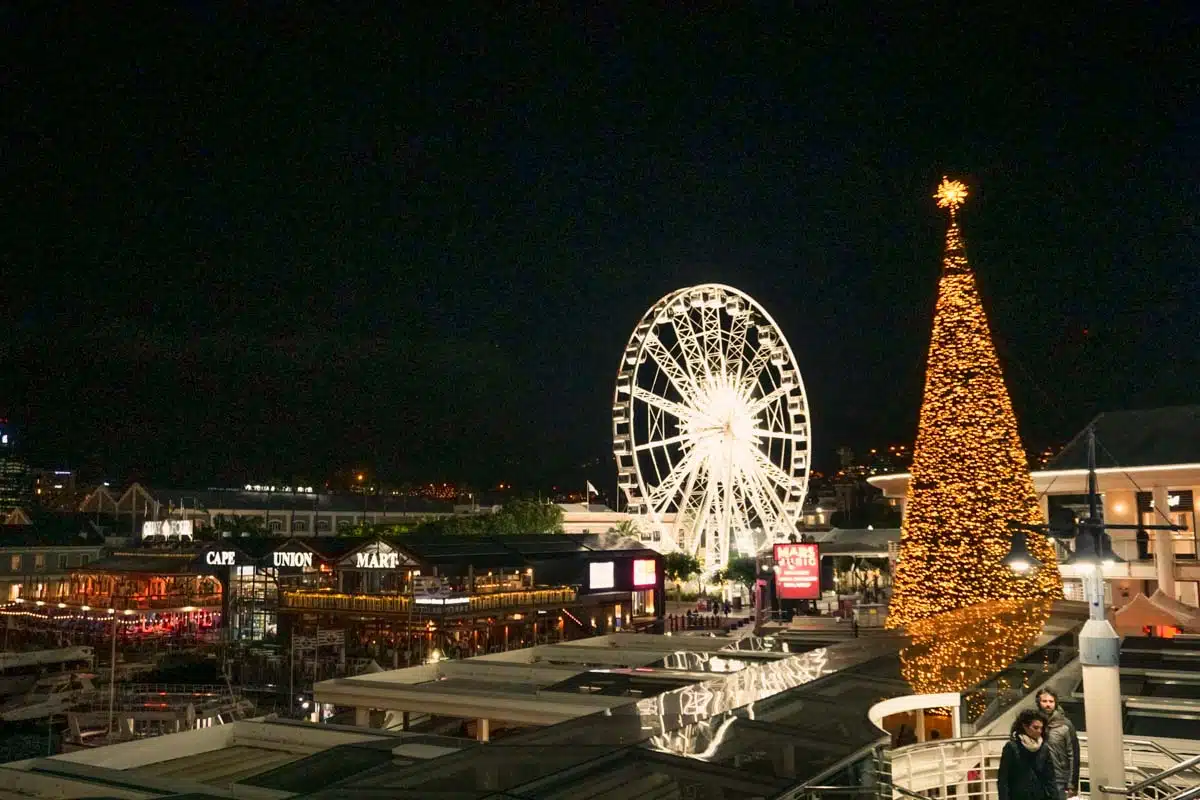 If there's one thing Cape Town does right, it's offering the best in retail therapy, cuisine, and entertainment. If this sounds like a tall order, head to the Victoria & Alfred Waterfront for an unparalleled world of shopping, food and drink, and fun-filled activities.
But, all that aside, a must-do when at the V&A is to splurge and embark on a sunset champagne cruise. Seeing an African sunset from the ocean while indulging in a delectable three-course meal is bliss.
Getting to Cape Town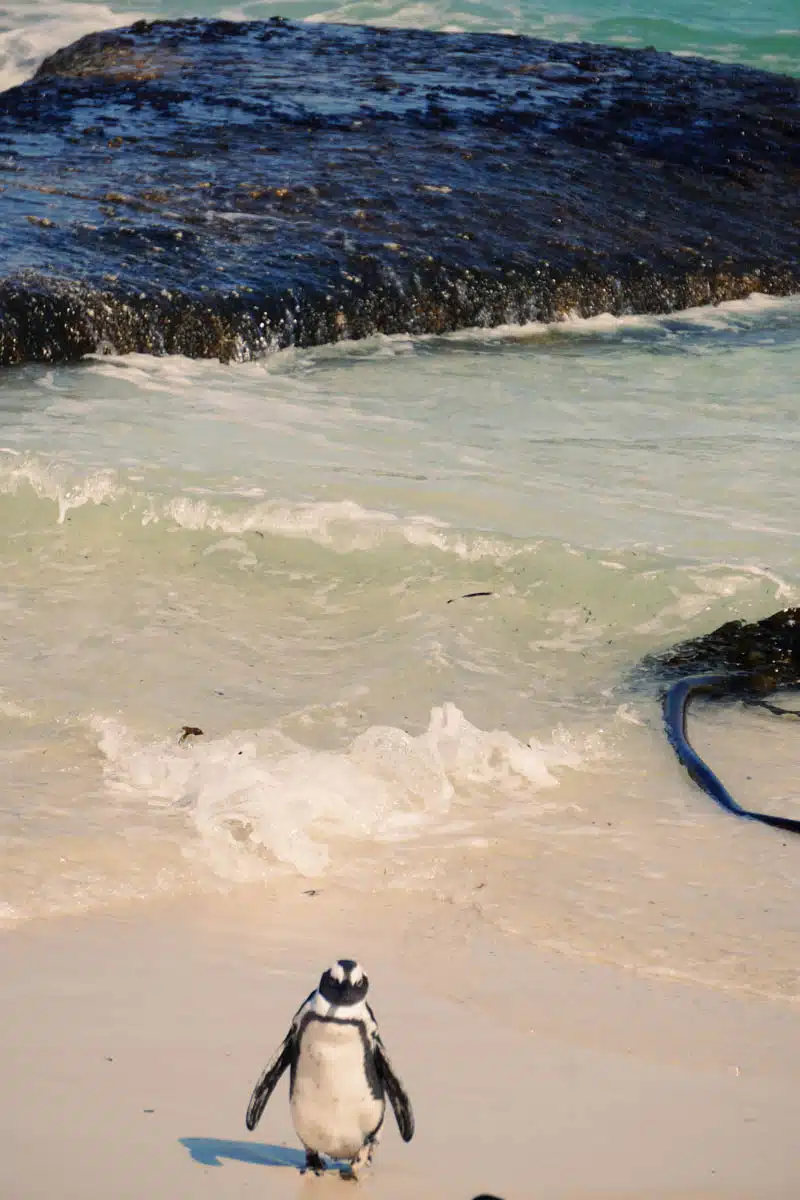 Considering you'll kick off your South Africa Itinerary of 2 weeks in Cape Town, you'll want to book your international flight to Cape Town International Airport (CPT).
Keep an eye on Skyscanner to ensure you get the cheapest flight regardless of where you're flying from.
Suggested Stay for Cape Town on your South Africa Itinerary
Cloud 9 Boutique Hotel & Spa
Cloud 9 Boutique Hotel & Spa is a chic base for your Cape Town stay.
Alternatively, check all accommodation in Cape Town
Day 5 – 6: Cape Winelands
You simply can't visit South Africa without sampling at least *a few* of the country's finest wines. And luckily, it's a pretty easy task from Cape Town, thanks to the close proximity of the Cape Winelands.
Two of the most buzz-worthy wine destinations within the Winelands are Stellenbosch and Franschhoek. So, which one do you visit? Let me make the decision easy for you. Visit both.
Things to Do in the Cape Winelands
Tour the Franschhoek Wineries
Again, an obvious thing to do, but you're in the Cape Winelands. How could you expect anything else?
With its distinctive French influence throughout the town and surrounding vineyards, the unique blends crafted here are almost otherworldly.
The most noteworthy wineries include Babylonstoren, Rickety Bridge Winery, Haute Cabriere (fantastic wine and food here), and Dieu Donne. And if you have the time, visit a household name in SA, Boschendal Wines.
Tour the Stellenbosch Wineries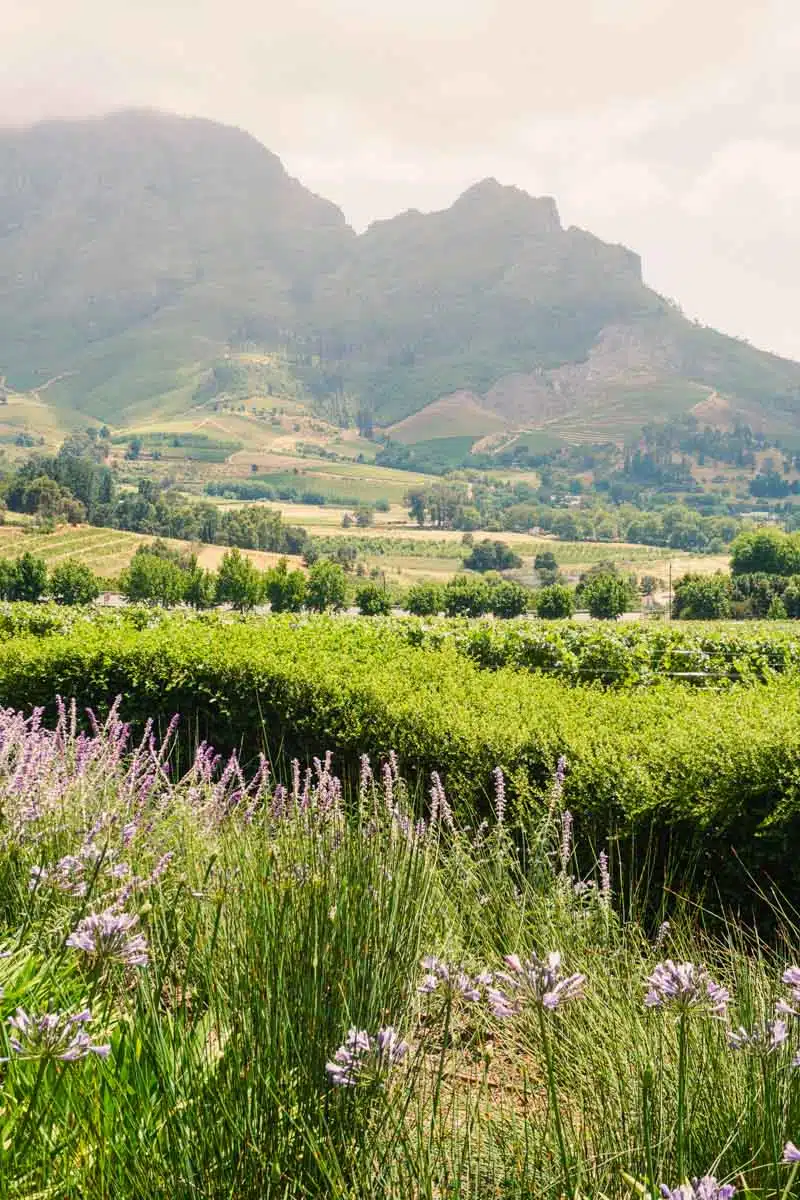 This is wine country at its best, boasting over 150 wineries that eagerly open their cellar doors to visitors. With each featuring a distinctive take on wine culture and considering it's the birthplace of the Pinotage, what more could you want?
Some of the best wineries to visit while in Stellenbosch include Waterford Estate, where you should indulge in wine and chocolate tasting. Other standouts, such as Tokara Wine Estate, Peter Falke Wines, and Delaire Graff Estate, make it a match made in wine heaven.
Tip: Get the best out of the Cape Winelands with this full-day wine-tasting tour from Cape Town.
Getting to The Cape Winelands
Heading out from Cape Town, the 24-mile drive to where the Cape Winelands begins is an easy road to follow. It's a direct route along the N1 National Highway from Cape Town through Paarl, Worcester, and De Doorns.
Suggested Stay for the Cape Winelands on your South Africa Itinerary
Van Der Stel Manor
A restored Dutch-Colonial manor set close to the centre of Stellenbosch, the stunning Van Der Stel Manor is the perfect place to kick start your wine excursions. With gorgeous landscaped gardens and tastefully decorated rooms, it's a fantastic home away from home.
Alternatively, check all accommodation in The Cape Winelands
Day 7 – 9: The Garden Route
One of my favourite places in South Africa isn't just one place. Instead, it's the lavishly green stretch of countryside known as the Garden Route, to which I dedicated an entire itinerary.
The route stretches from the scenic harbour town of Mossel Bay and winds along epic coastlines, through thick forests, over massive gorges, and brims with wildlife.
Things to do Along the Garden Route
Discover Knysna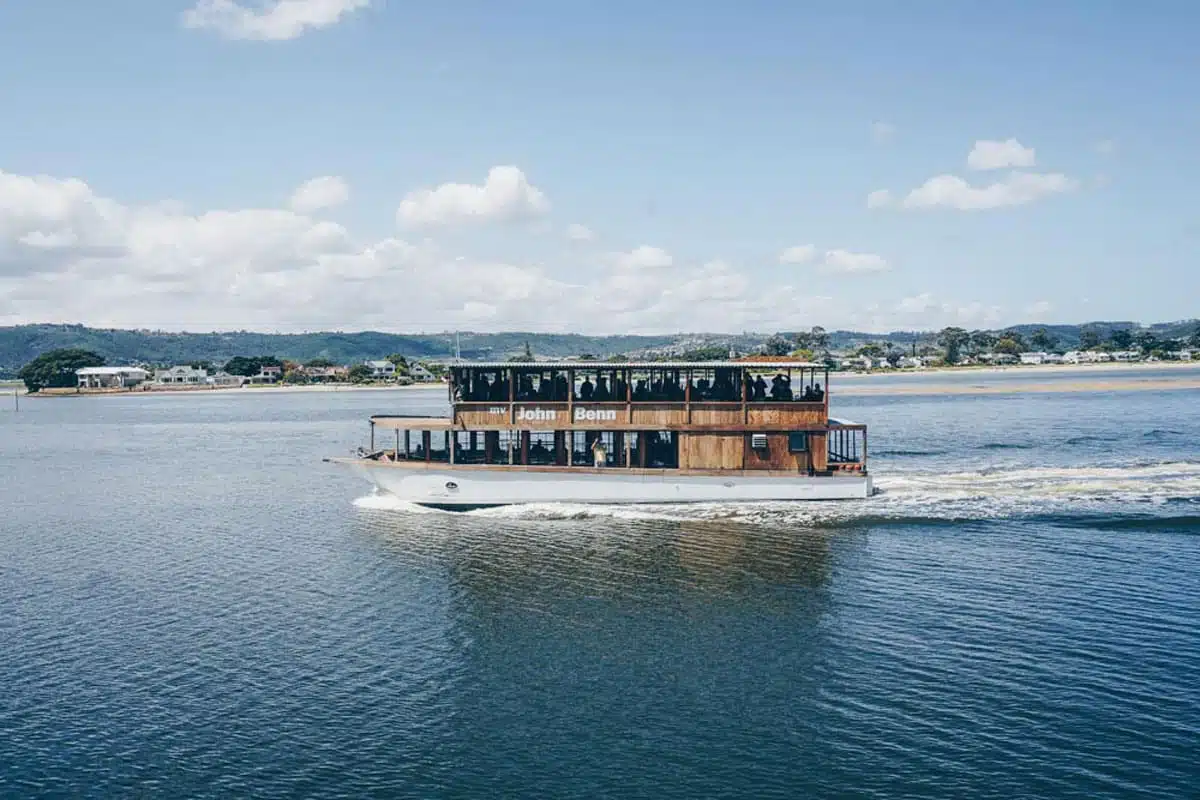 One of the main draws of this awe-inspiring route is the town of Knysna. It's strikingly green, surrounded by lush forests, and features fantastic natural attractions.
You can also head to the Knysna Waterfront for shopping and dining in town.
A must-visit landmark of the Garden Route, the Knysna Heads is a pair of stunning sandstone cliffs that separate the ocean and lagoon close to Knysna. Perfect for some Instagram-worthy snapshots.
Explore Plettenberg Bay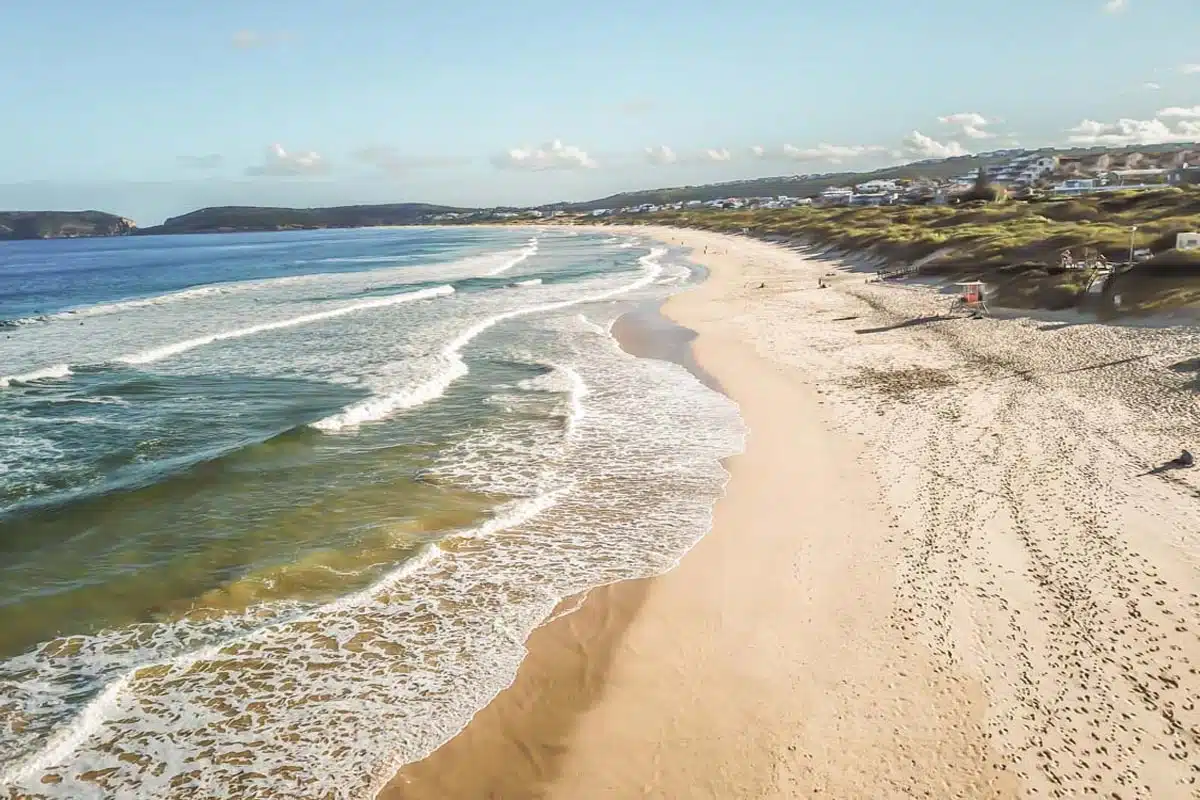 Locals simply call it "Plett", but you'll soon call it one of the best spots along the Garden Route. A world away from the jungles of Knysna, this is pure coastal bliss, and the town features a massive host of attractions.
Check out the free-flight bird sanctuary, Birds of Eden, or go hiking at the Robberg Nature Reserve. If those don't catch your attention, head to Monkeyland, a free-roaming monkey sanctuary, or the Plettenberg Bay Elephant Sanctuary.
Bungee Jump Off Bloukrans
So, who wants to jump off a bridge? Sorry, let me rephrase – who wants to (safely) bungee jump off the world's highest commercial bungee bridge?
Well, along the Garden Route, you'll find Bloukrans Bridge.
And you guessed it, here you can be the ultimate thrill-seeker and jump head first into a gorgeous ravine. Even if you don't want to do it yourself, you can spectate from the sidelines or zipline to a bridge beneath the bungee point to get some epic photos.
Getting to the Garden Route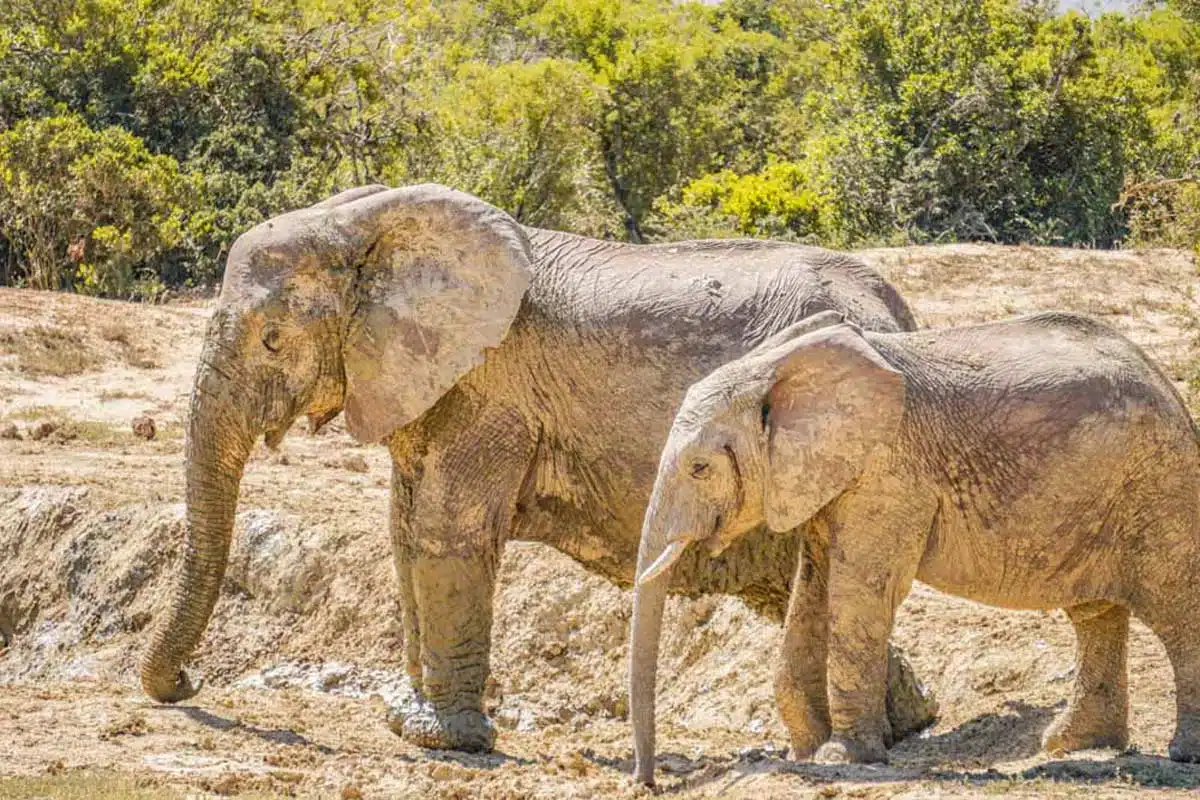 To reach the starting point of the Garden Route, Mossel Bay, you'll head out of Stellenbosch along the N2 National Highway. This 223-mile road leads through Swellendam, Heidelberg, and Riversdale and will take about 4 hours.
Suggested Stay for The Garden Route on your South Africa Itinerary
Under Milkwood Resort
While not in Knysna, Under Milkwood Resort is the perfect place to stay as you venture along the Garden Route. It's on the shores of Knysna Lagoon and offers stunning wooden chalets set within a picturesque landscape.
Alternatively, check all accommodation in Knysna
Day 10 – 11: Addo Elephant Park
It's the final stop on the Garden Route and your next visit for one of the best South Africa itineraries: the Addo Elephant Park. It's the perfect introduction to the South African bush.
Although not as famous as the Kruger National Park, it's filled with amazing activities and is undoubtedly a highlight of this trip.
Things to Do in Addo Elephant Park
Go on a Self-Drive Safari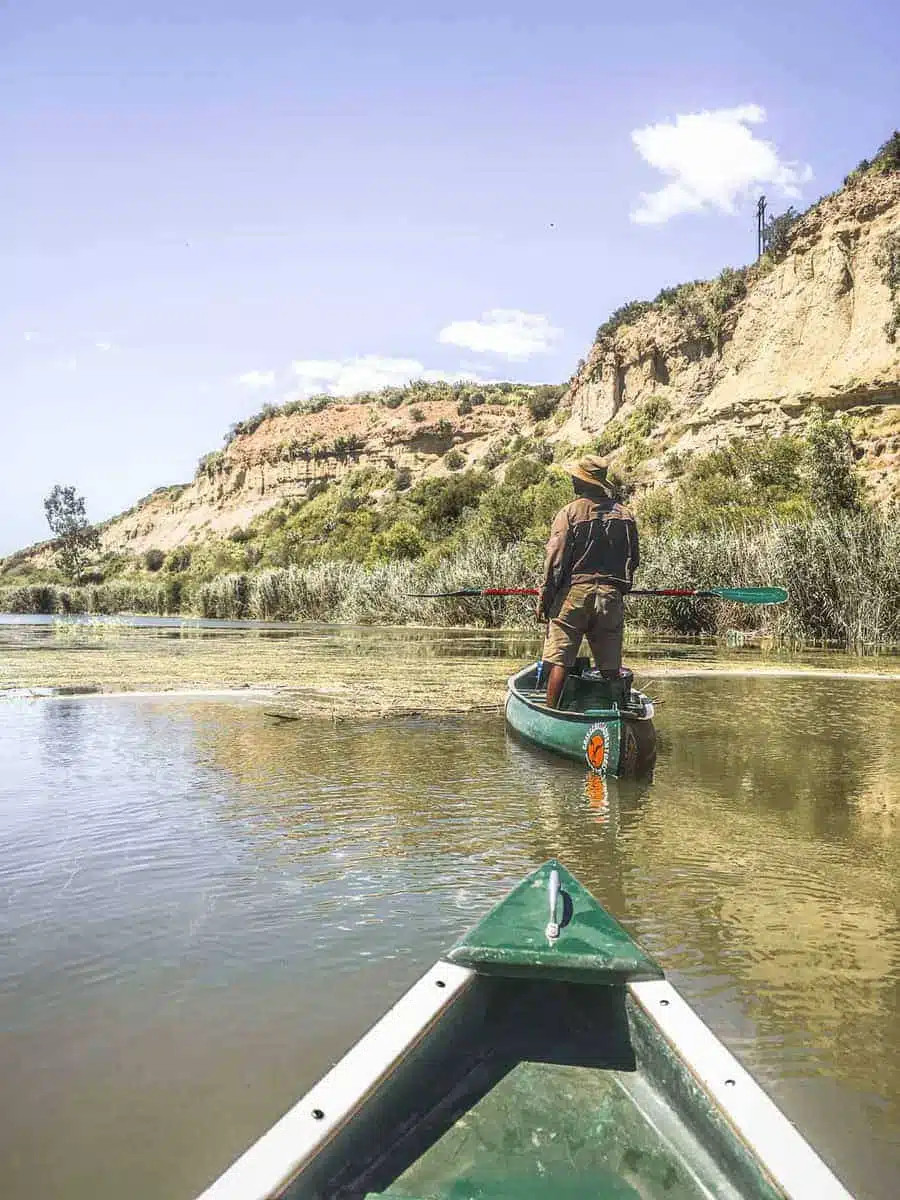 If you're wondering how to use a 2 week in South Africa budget effectively, there's no better activity than a self-drive safari at Addo Elephant Park. The park is home to roughly 300 elephants, and while you should be able to spot a few, there is much more to see.
Also at home in the park is the famous Big 5. So if you're looking to see lions, leopards, black rhinos, elephants, and buffalo, this is one of the best ways to do it. You'll get a map as you enter the park.
Tip: If you'd rather go on a guided safari, book this full-day tour from Port Elizabeth (Gqebera).
Getting to Addo Elephant Park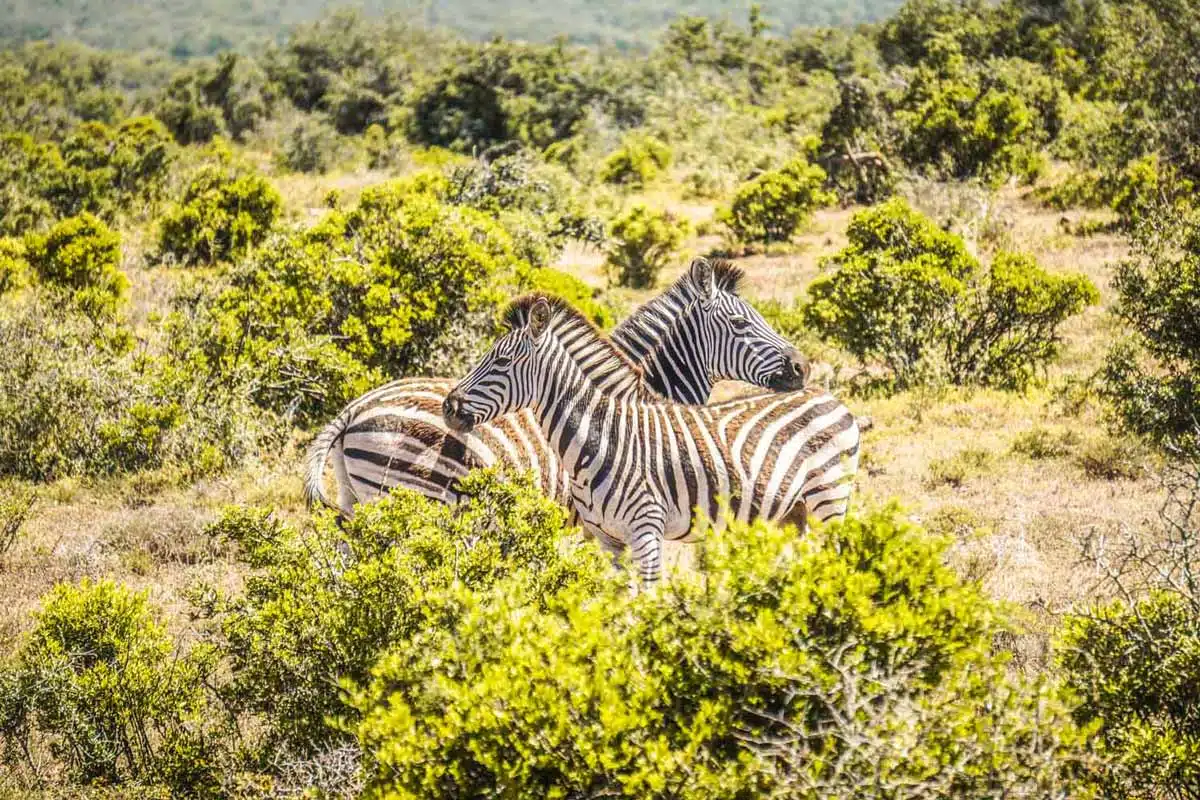 You'll continue on the N2 National Highway towards Port Elizabeth from Plettenberg Bay. You'll base yourself in this city for this leg of your South Africa itinerary for 14 days.
To reach Addo, you'll take the R335 out of the town for 42 miles. This will take you about 70 minutes.
Suggested Stay for Addo Elephant Park on your South Africa Itinerary
Singa Lodge — Lion Roars Hotels & Lodge
Offering rustic luxury close to the heart of Port Elizabeth, Singa Lodge is the perfect place to explore the city and use as a base for your Addo adventure. Featuring a mix of Eastern and African decor, the lodge features tasteful decor focusing on providing impeccable service.
Alternatively, check all accommodation in Port Elizabeth (Gqebera)
Day 12 – 14: Kruger National Park
It wouldn't be the perfect itinerary for South Africa if I left the Kruger National Park out. And thanks to its mesmerising quality and fame, it's the final stop.
It's one of Africa's largest game reserves (for context – it's bigger than the entirety of The Netherlands), so proper prior planning is essential.
Beyond housing the Big 5, the Kruger is also a wonderland filled with various other mammals and a plethora of bird life. Of course, there are also the natural landscapes of the park that are equally as captivating as its inhabitants.
Things to Do in Kruger National Park
Head Out on a Safari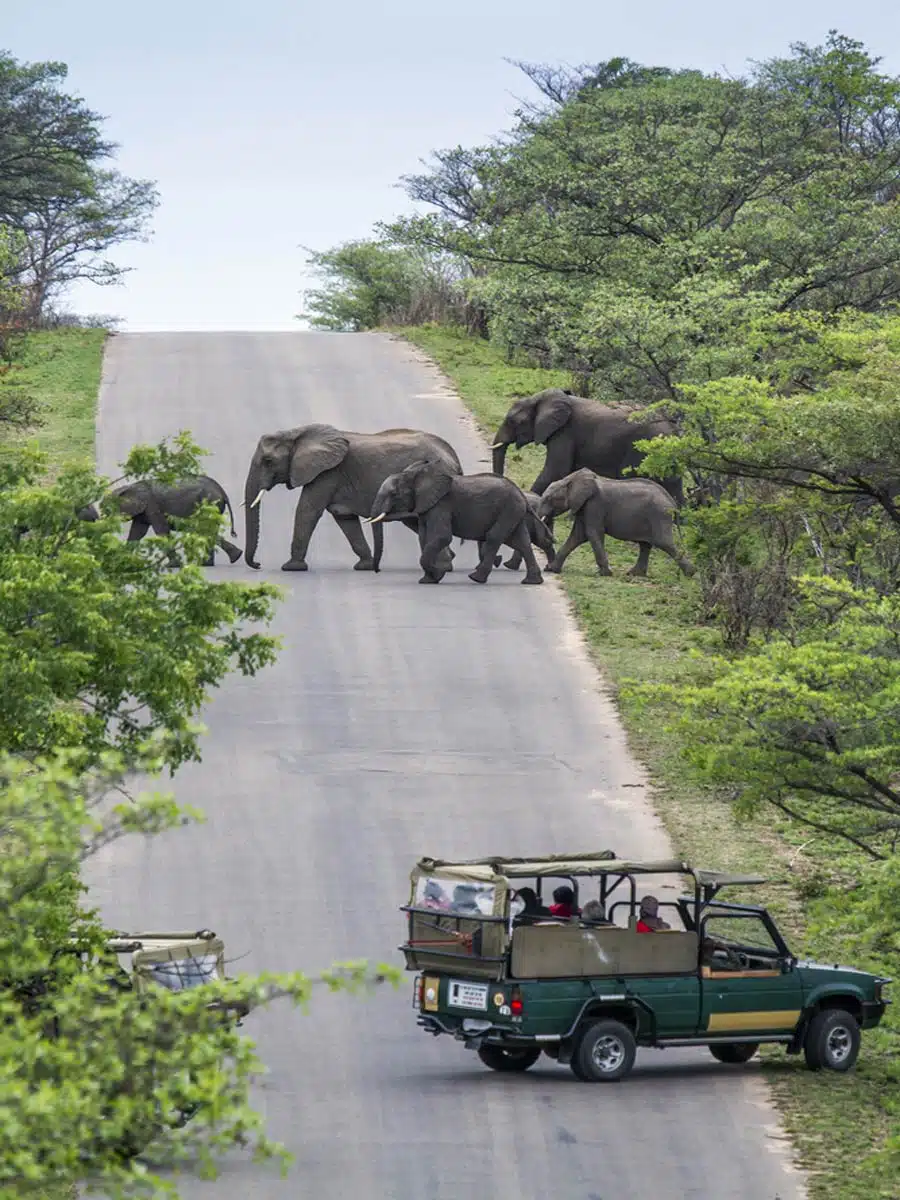 It's Kruger National Park, after all. With its variety of animals and landscapes, there's simply no escaping from the fact that most of your time here will revolve around seeing its fauna and flora.
You can choose to go on a self-drive of the Kruger, and for this, I suggest entering the park from Nelspruit or Crocodile Bridge. Alternatively, book a guided game drive of the park.
Both have a distinct vibe, and, considering you'll spend a few days here, I recommend mixing the two.
Indulge in a Meal
There are a few places to enjoy a bite to eat inside and outside the park. But, the best option is to head into the park and indulge while doing some wildlife spotting. For this, head to the Lower Sabie Rest Camp.
It overlooks a vast watering hole, so you're guaranteed a meal with a view. Ideally, arrive here around midday to see lounging hippos, prowling hyenas, giraffes, and even elephants on good days.
Getting to Kruger National Park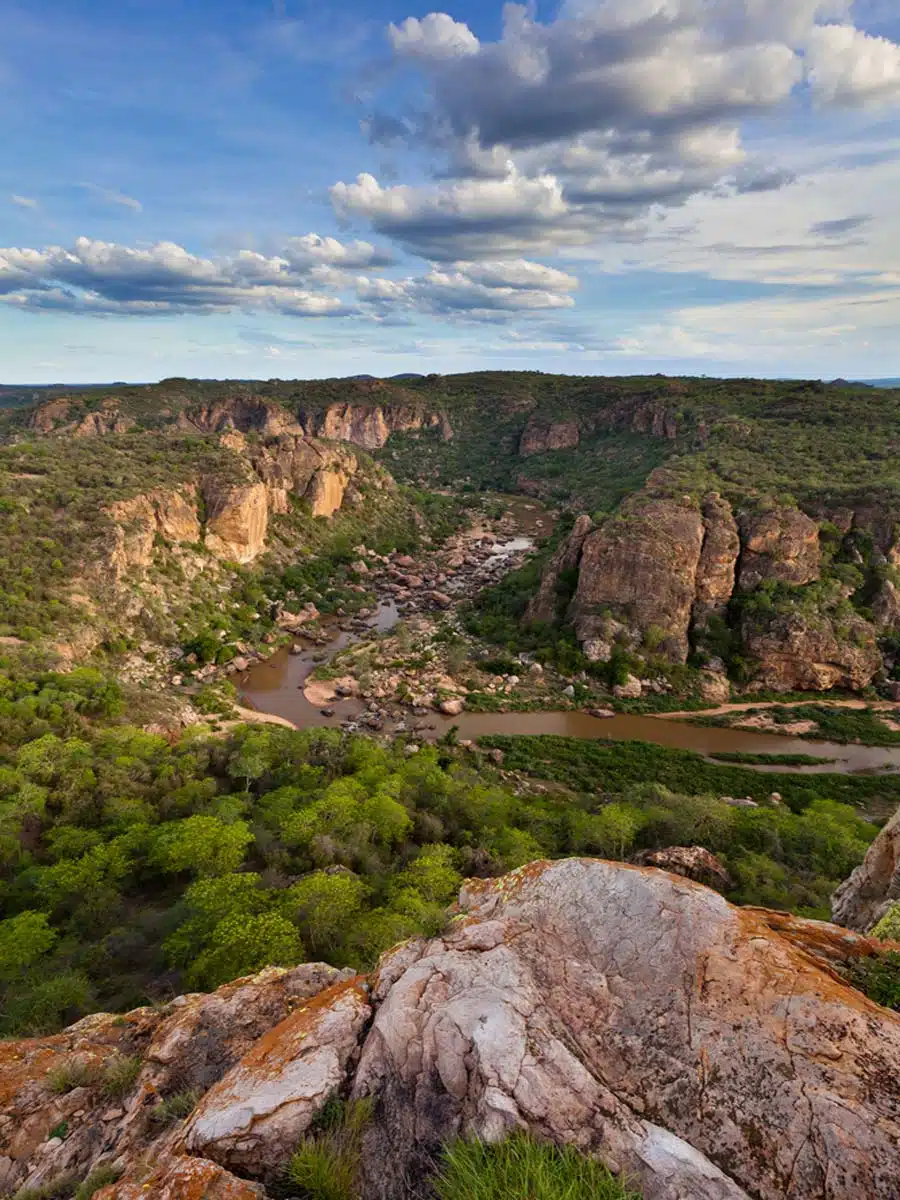 The easiest way to reach the Kruger National Park is from Nelspruit (Mbombela). But you don't want to drive the almost 15-hour journey from Port Elizabeth.
Book a domestic flight that heads directly to Nelspruit. From here, it's a short 55-minute drive along the N4 National Highway to reach the Malelane Gate for the park.
Suggested Stay for Kruger National Park on your South Africa Itinerary
Motswari Private Game Reserve
Directly connected to the Kruger, Motswari Game Reserve has no fences between it and the park, ensuring an intimate stay while you explore the park. With an authentic safari look, you can also head out on two game drives per day and a bush walk.
Alternatively, check all accommodation in Nelspruit (Mbombela)
South Africa Travel Itinerary – Map
South Africa Itinerary: Read More South African Guides