Discover the best things to do in South Africa – beyond just the safaris. Winelands, stargazing and beyond – with plenty of epic views along the way.
If immense natural beauty, cultural diversity, incredible food, and unique experiences sounds like your thing (and, to be honest, how could it not?), you need to visit South Africa.
I first visited South Africa a few years ago and, from the day I touched down, I was pretty much obsessed.
The Rainbow Nation, as it's affectionately known by locals, has plenty to love. From the towering Drakensberg Mountains to gorgeous beaches along the Atlantic and Indian Oceans.
Road trips? Check. Safaris. Tonnes of 'em. Stargazing? Of course! Any visit to South Africa brims with the promise of adventure.
That's before we even think about the country's vast biodiversity, as well as the much-talked about capital, Cape Town (well, technically Cape Town is one of the country's three capitals, but who's counting).
With that said, it's no wonder that planning your South Africa itinerary can seem daunting. But don't worry; I've got you covered when it comes to the best things to do in South Africa, so keep reading.
Looking for the best hotel in Cape Town? Stay at The Commodore Hotel to be in the heart of the city and for a luxurious room.
Top 5 Things to do in South Africa
Go on Safari in Kruger National Park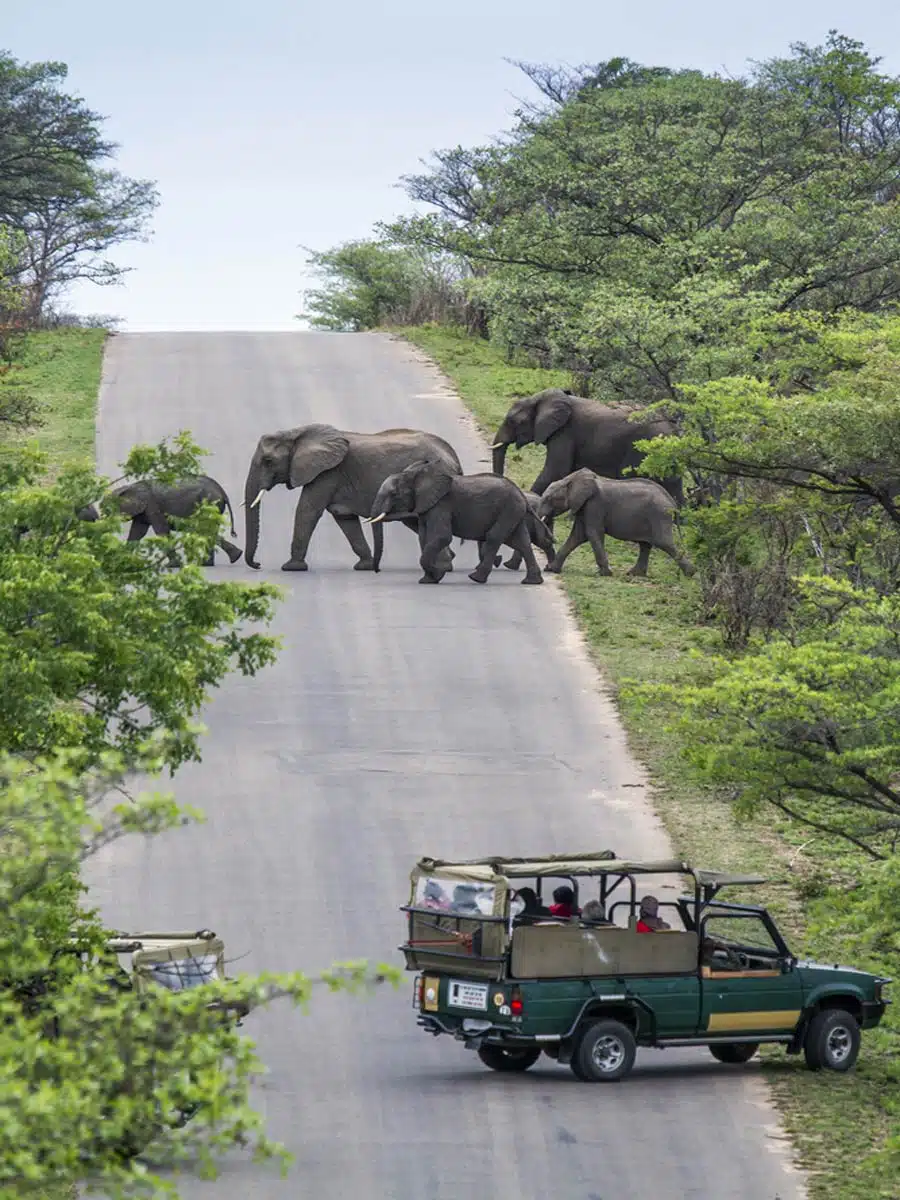 It should come as no surprise that one of South Africa's best activities is laser-focused on its spectacular biodiversity. There's a reason that Kruger has become the byword for safari: simply because there are few places better for it.
This national park is the largest game reserve in South Africa – spanning more than 2 million hectares of land.
What's the big deal then? How about the opportunity to spot 147 mammals, 114 reptiles, 34 amphibians, and over 507 birds, including the Big 5.
If you're travelling independently, make the most of the experience by exploring the Kruger on a private full-day safari tour, such as this one.
Wine Taste Your Way around the Cape Winelands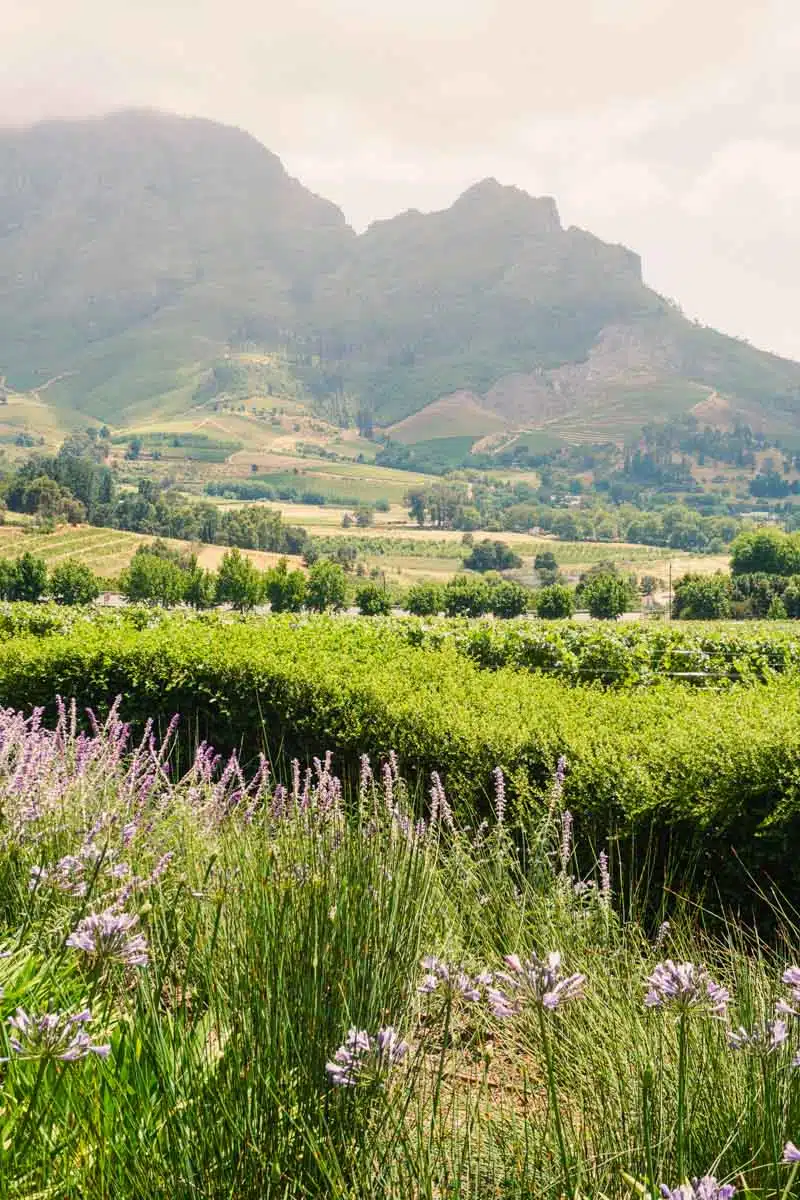 Move over France, Italy, and Spain, South Africa's wine regions are dazzling. Where better to taste the good stuff than the Cape Winelands, which consists of Stellenbosch (my fave), Franschhoek, Paarl, and Wellington.
Franschoek's magnificent location never fails to wow – particularly when paired with the town's cluster of chic boutiques, galleries and straight-up stellar restaurants.
Stellenbosch is the best-known of the towns, with more than 200 wineries in the region – many of them big-hitters on the international scene like Delaire Graff, Peter Falke and Waterford Estate. Finish up with a stroll around the town, whose quirky architecture mixes Cape Dutch and Victorian styles.
Don't think it's an either or sitch though – the towns in the winelands are more than close enough to combine during the course of a leisurely week.
If you want a wine tour, this full-day Winelands tour is a great option. It includes pickup and drop-off from Cape Town, lunch, and four wine tastings.
Hang Out with the Elephants (and Other Animals) at Addo Elephant Park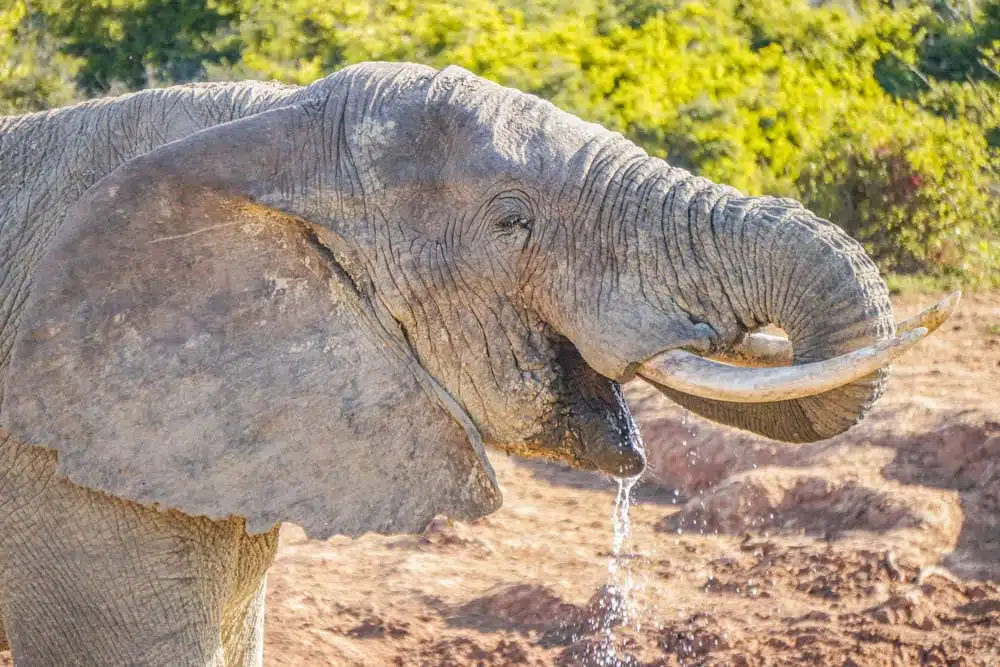 I've already mentioned that South Africa has numerous national parks to explore, but Addo Elephant National Park is something special.
An hour's drive outside Gqeberha (formerly Port Elizabeth), Addo offers tonnes of opportunities to see (you've guessed it) elephants – it has over 600 of them! Besides elephants, you can also see buffalos, lions, leopards, zebras, and over 400 bird species in and around the park.
One of the best Addo activities is feeding the elephants at the Addo Elephant Lodge. These elephant encounters cost R695 (£32) per person and last for one hour. They're pretty magical though, and well worth the spend.
Read next: Here's What You Need to Know about Addo National Park
Climb Up Table Mountain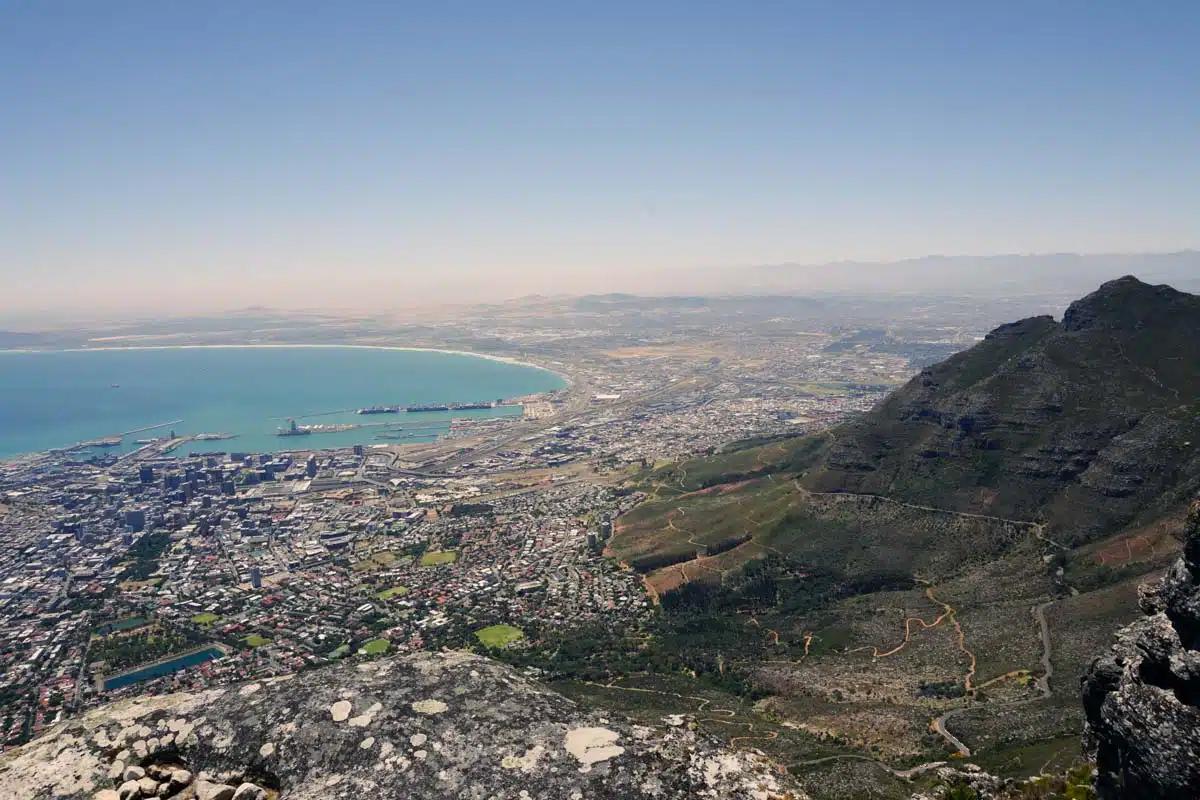 Table Mountain is arguably one of the most famous South African landmarks. It's the country's most photographed attraction, and it's easy to see why.
Standing at 1,084 metres, Table Mountain towers over Cape Town. Imagine being at the top of it, experiencing a panoramic view of the Mother City.
Well, you don't have to imagine it, as climbing up Table Mountain is one of the best things to do in Cape Town. Trust me, this will be one of the highlights of your time in the city.
Now, there are two ways to "do" Table Mountain, hike up or take the cable car up to the top (well, actually there's a third option that I'll talk about below).
If you'd prefer to enjoy the view without much effort, the cable car is a fantastic way to get up. Tickets start at R220 (£10) per person, and it takes around five minutes to reach the top.
However, if you like hiking and want to do it the hard way, tackle the hike. I took the Plattenklip Gorge route – it's steep but one of the shortest ways up, and easy enough to do if you're relatively fit.
Oh… and that third option I mentioned? Hike up and take the cable car down. Your knees will thank you for it as the descent can be tough.
Drive Along the Garden Route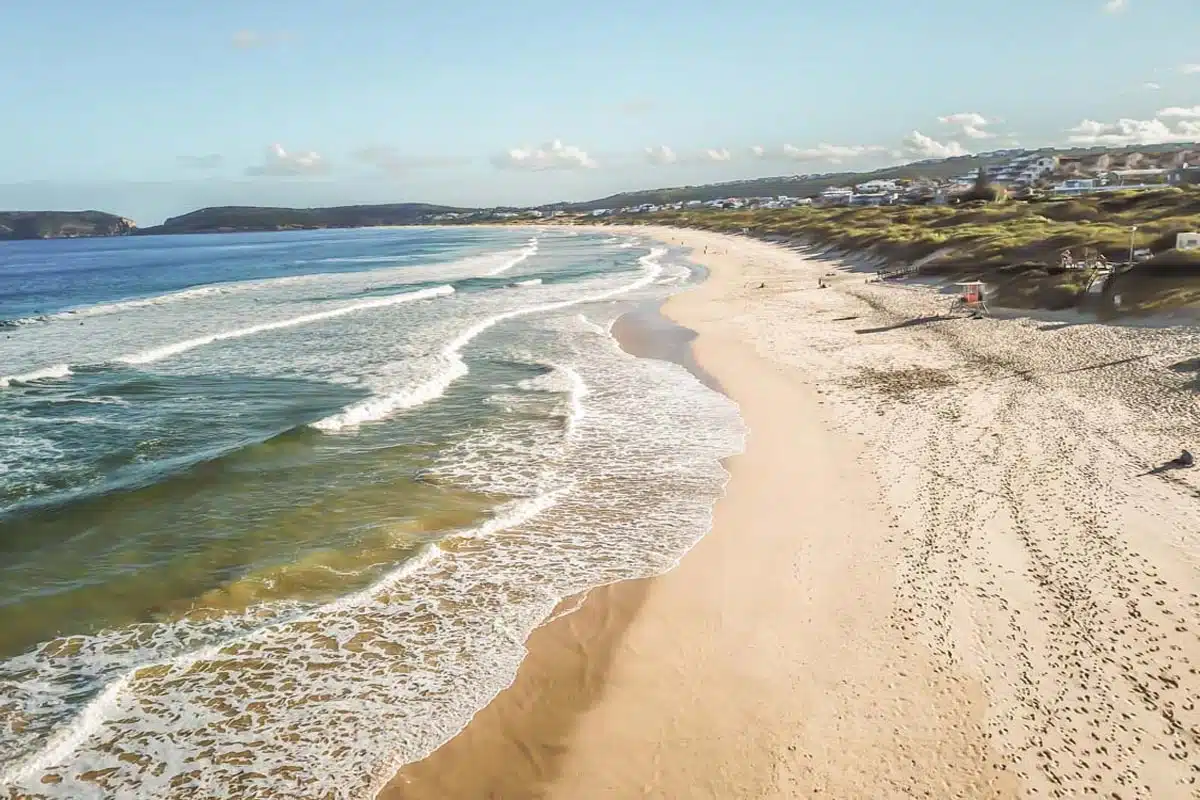 The Garden Route is South Africa's fabled road trip route – a gorgeous drive charting the way between several towns along the coastline between Mossel Bay and Plettenberg Bay.
Knysna, Oudtshoorn, Wilderness, Sedgefield, Nature's Valley, Brak Rivier, George… These names might not mean much to you right now but together they're an idyllic conglomerate of rugged bays, pristine beaches and indie wineries – not to mention whale-watching opps if it's the right season.
What's more – tack a little on the end and you can end up in Addo, and you already know how I feel about that (*cough* five stars *cough*).
Read next: A Step-by-Step Garden Route Itinerary
Brilliant Things to See & Do in South Africa
Visit Robben Island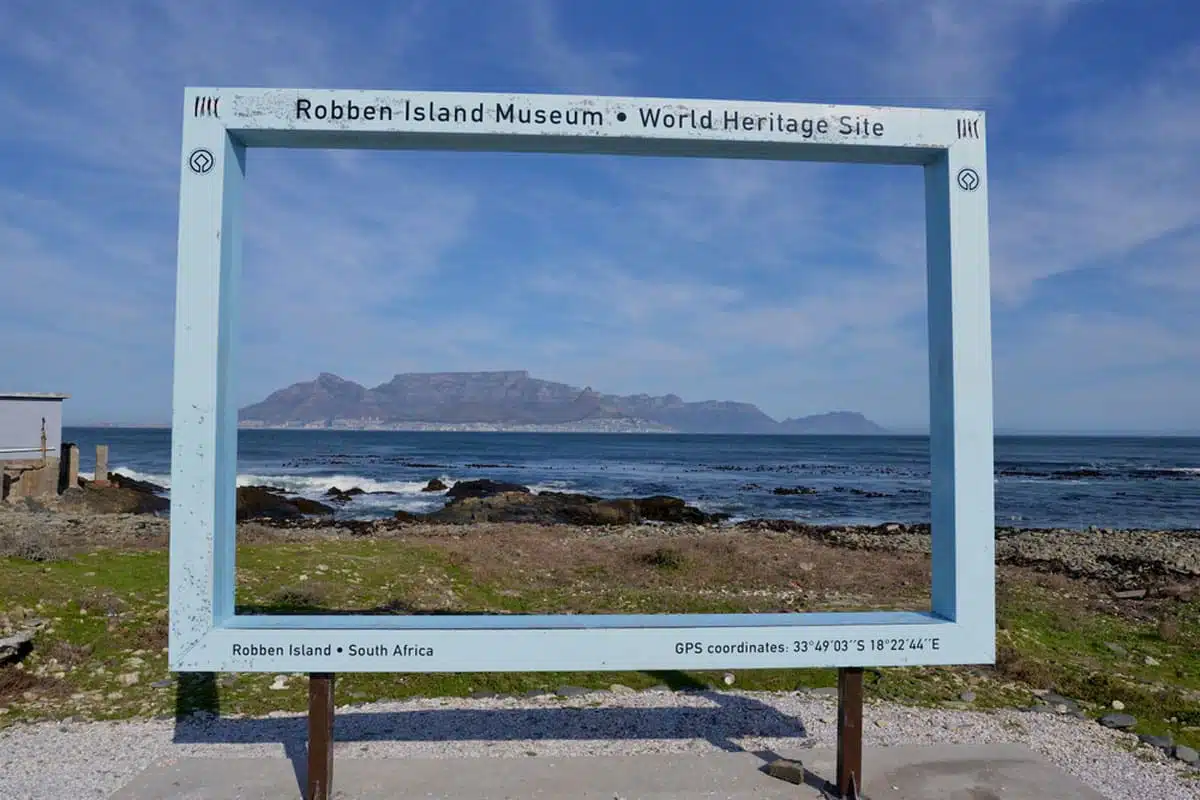 You can't talk about South Africa without acknowledging the deep injustices, historic and ongoing, inflicted by Apartheid – the system of segregation implemented by the South African government against the country's non-white citizens between 1948 and 1994.
As part of this, the government silenced, jailed, and exiled politicians against this system. Many got sent to Robben Island Prison, just north of Cape Town.
It is most famous for being the spot where Nelson Mandela, South Africa's first democratically-elected president, spent over 27 years in jail. Now, you can visit Robben Island, to learn more about the nation's history.
This Robben Island ferry tour is a brilliant way to learn about Mandela and what life was like for prisoners during that time.
Go Whale Watching in Hermanus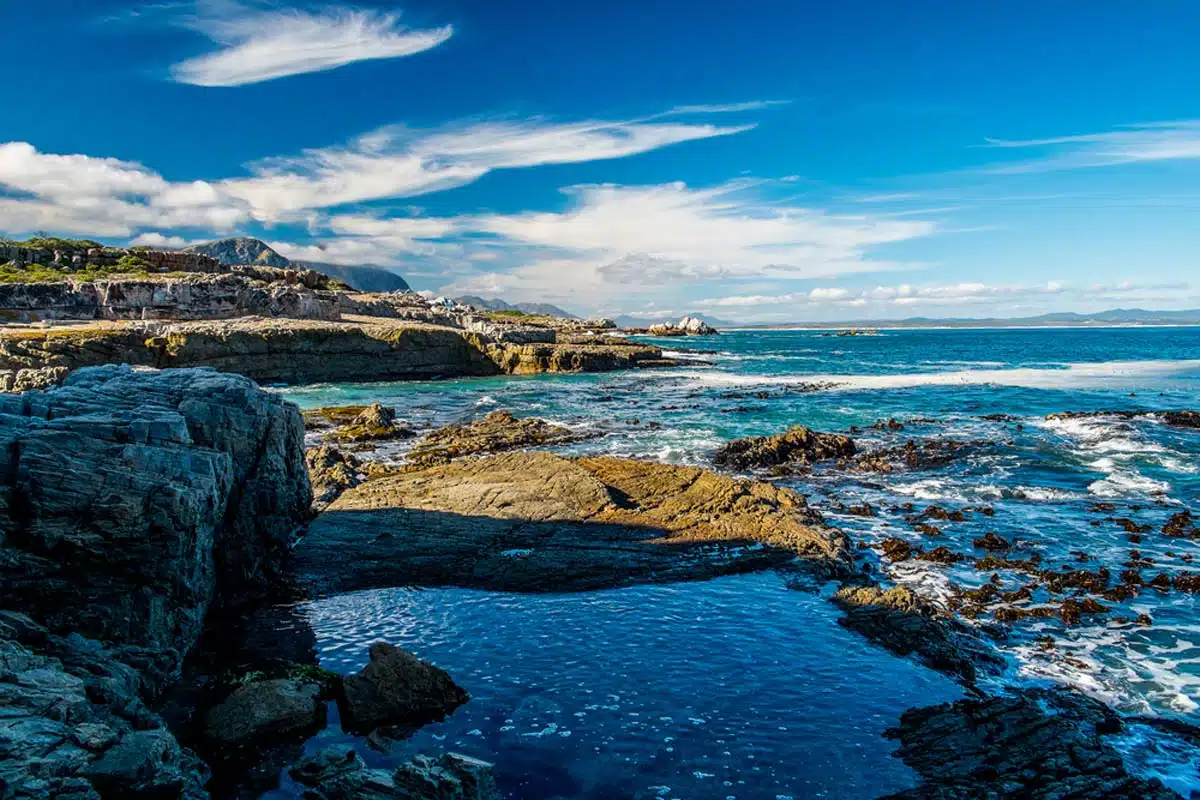 The seaside town of Hermanus sits around 75 miles southeast of Cape Town, wheedling its way onto many a list of best places to visit in South Africa, thanks to its chill atmosphere, chi chi boutiques and rolling coastal views.
Yeah, yeah, that's nice 'n' all, but Hermanus is also one of the best whale-watching destinations in the country (if not the world) – especially during the peak season, which runs from June to November.
One of the best ways to spot these whales (usually Southern Right Whales) is by taking a whale-watching boat tour. These typically last around two hours and are an excellent way to get close to these majestic creatures.
Dive into the Country's Conflicted History in Joburg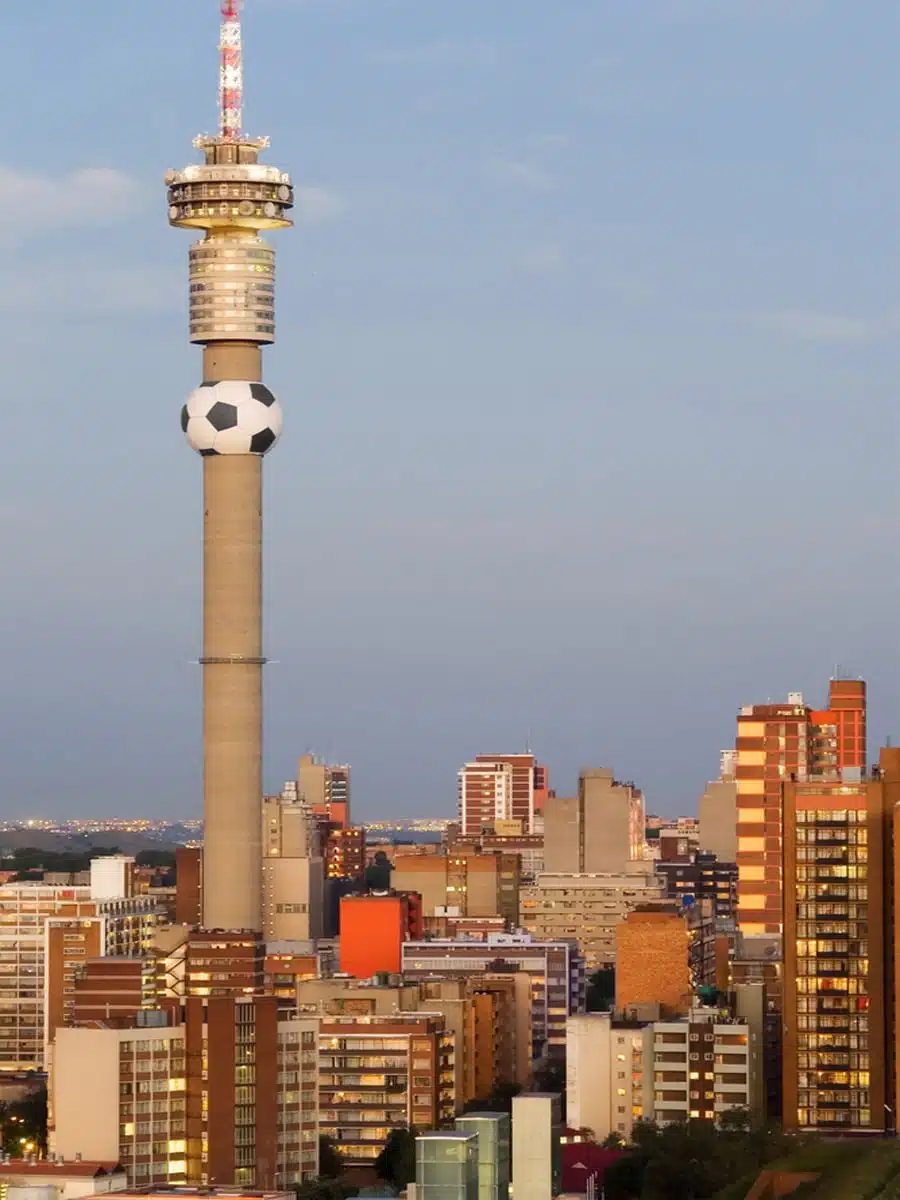 Johannesburg is nestled in the heart of South Africa's Gauteng province. More commonly known as Jozi or Joburg by locals, it has the most diverse population in South Africa. However, this is not something South Africans take for granted, given their history.
There is no better spot to learn more about the nation's history than at the Apartheid Museum. It consists of several permanent and temporary exhibitions detailing the various decades of South Africa's history and how the system worked.
This Joburg in one-day tour is a great way to see the museum and other important sights, such as the Hector Pieterson Museum, Soweto's Vilakazi Street, and Constitutional Hill.
Head into the Cango Caves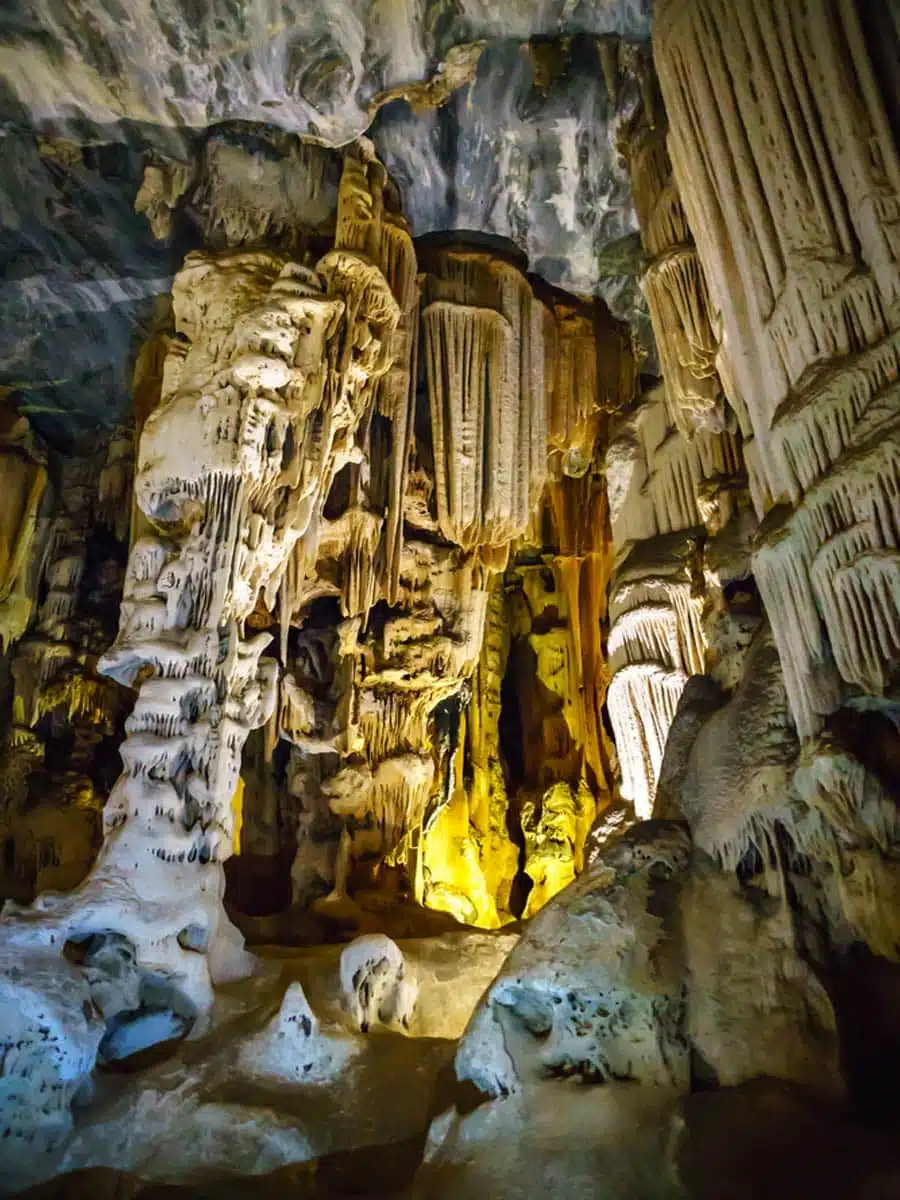 The magnificent Cango Caves system can be found in the Swartberg Mountains, approximately 18 miles from Oudtshoorn. It's a cave system over 20 million years old and has some of the most incredible chambers in the world.
Inside the cave are incredibly large formations, such as the 32-foot-high Cleopatra's Needle. These are awe-inspiring sights, and I highly recommend visiting here.
Wondering how to visit? I've got you. The caves are open from 9 am to 4 pm, and there are two tours available.
The Heritage Tour happens every hour, costing R170 (£8) per person, while the Adventure Tour happens every hour – on the half-hour – and costs R240 (£11) per person.
Try Some of Africa's Best Food in Cape Town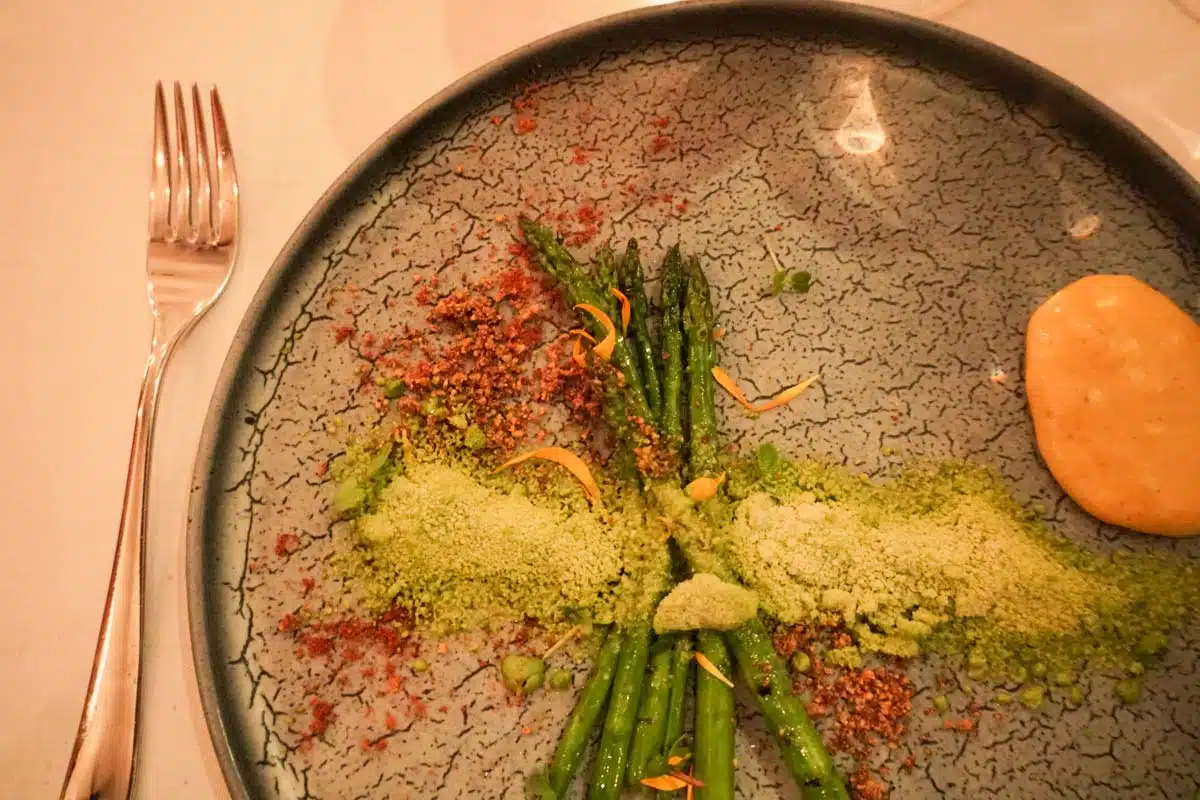 South Africa might not be known for its food – but let me tell you that the country is filled with incredible eateries. And one of the best places in South Africa to taste delicious food is the city of Cape Town.
The city has diverse cultures, from Cape Malay to Asian heritages. One fantastic spot to visit is the Neighbourgoods Market in Woodstock.
It's open all weekend, from 9 am to 5 pm on Saturday and from 10 am to 4 pm on Sunday. You can get all kinds of food, from paella to bibimbap, freshly-squeezed juices, and locally-produced beers.
If you're looking for dessert spots, look no further than The Creamery, which has several locations in Cape Town, for ice cream made with local seasonal ingredients. Capetonians love it – that much is evident from the queues – and these guys are fussy.
See the Milky Way in the Karoo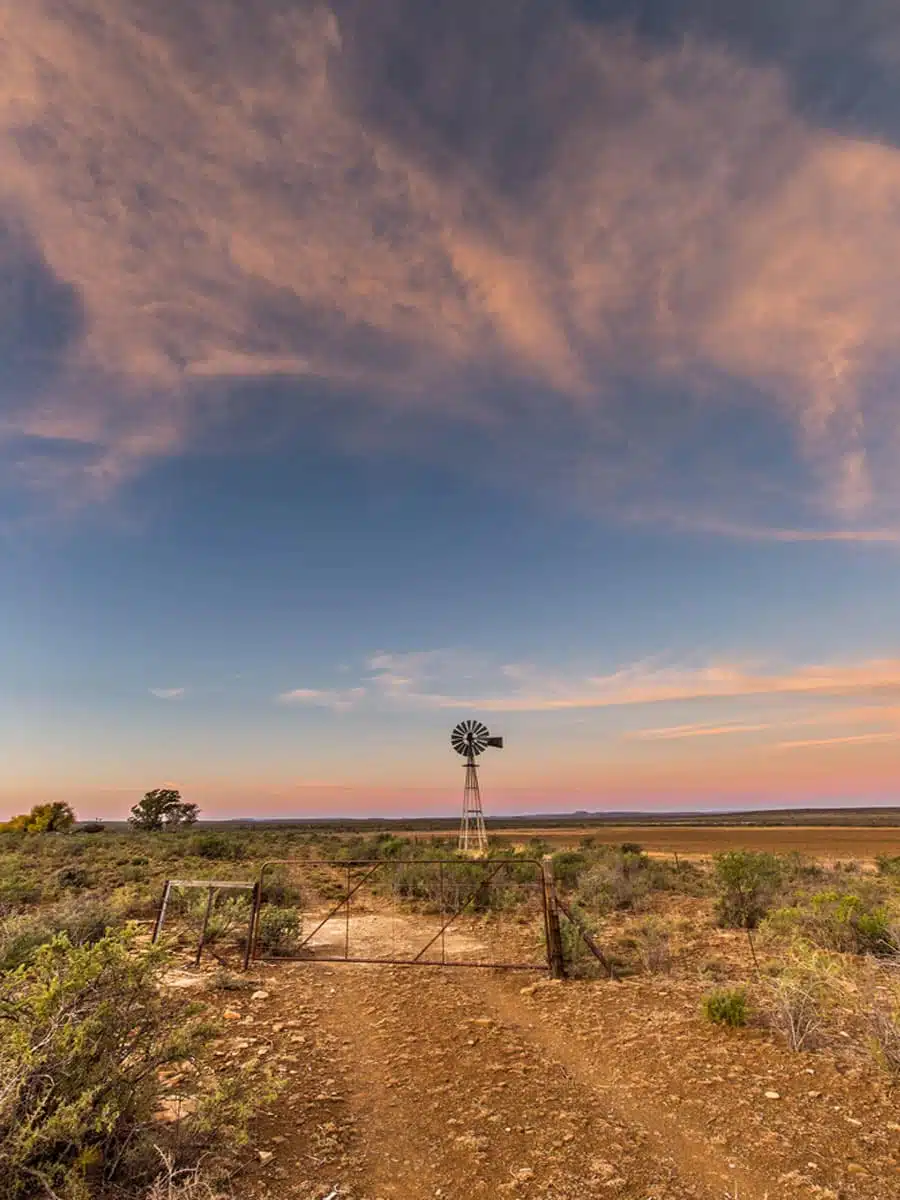 The Karoo Desert is undoubtedly one of the best South African destinations to visit for so many reasons.
A vast desert spanning over 193,000 square miles of South Africa, it's the place to head to if you want to know the feeling of being truly remote.
Spending at least one night in the Karoo is a must – there are several towns to choose from. One magnificent spot is Matjiesfontein, a village that's full of history. Book into the Lord Milner Hotel, where you can get some of the best views of the Milky Way at night.
Just an hour from here is the Sutherland Planetarium which has nighttime stargazing sessions. These cost R140 (£6) and are a fantastic way to delve into our galaxy.
Unique Things to See & Do in South Africa: Hidden Gems That are Off the Beaten Track
Go Shark Cage Diving
Feeling brave? One of the most adventurous things to do in South Africa is get up close with Great White sharks.
Okay, before you freak out, don't worry; you'll be safe in a cage underwater, so these guys won't get to bite you.
This is the perfect activity for adrenaline seekers. But don't fret – with these trips, you'll get a safety brief on what to expect before boarding the boat.
This eco-friendly shark cage-diving cruise in Gansbaai is a brilliant option that includes a meal upon arrival, snacks and drinks on board, all dive equipment, and a visit to the African Penguin and Seabird Sanctuary.
Go Surfing (or Learn How to) in Durban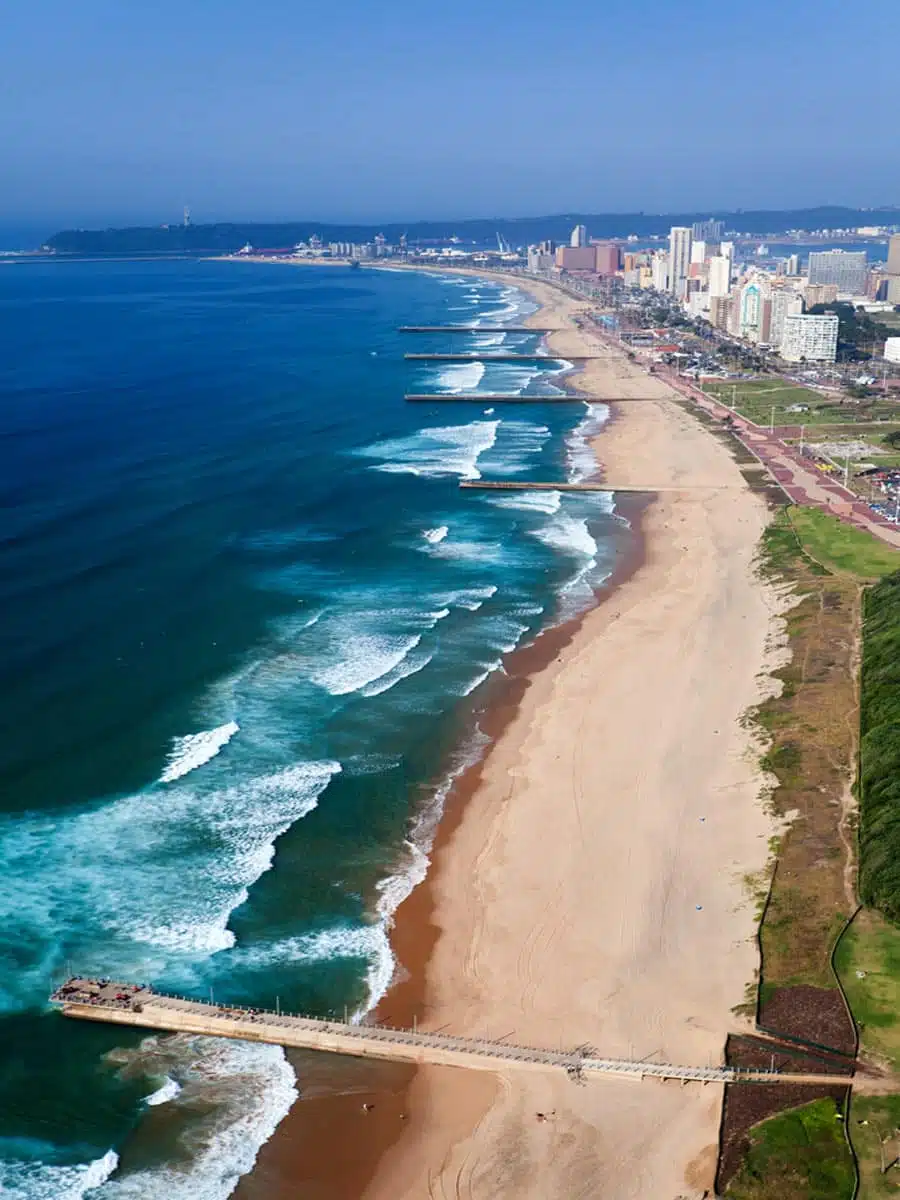 South Africa is one of the top surfing destinations in the world – I get why, as it has expansive coastlines across the Atlantic and Indian Oceans.
Now, I recommend surfing in the Indian Ocean, especially in Durban, as it's got warm water and great waves. Don't get me wrong, Cape Town has great options for surfing, but the water is very chilly, especially for tourists.
Also, if you've never surfed, there are many surfing classes for beginners. Learn2Surf is a great surfing school that offers private lessons for R300 (£14) per hour at Addington Beach.
Hike the Drakensberg Mountains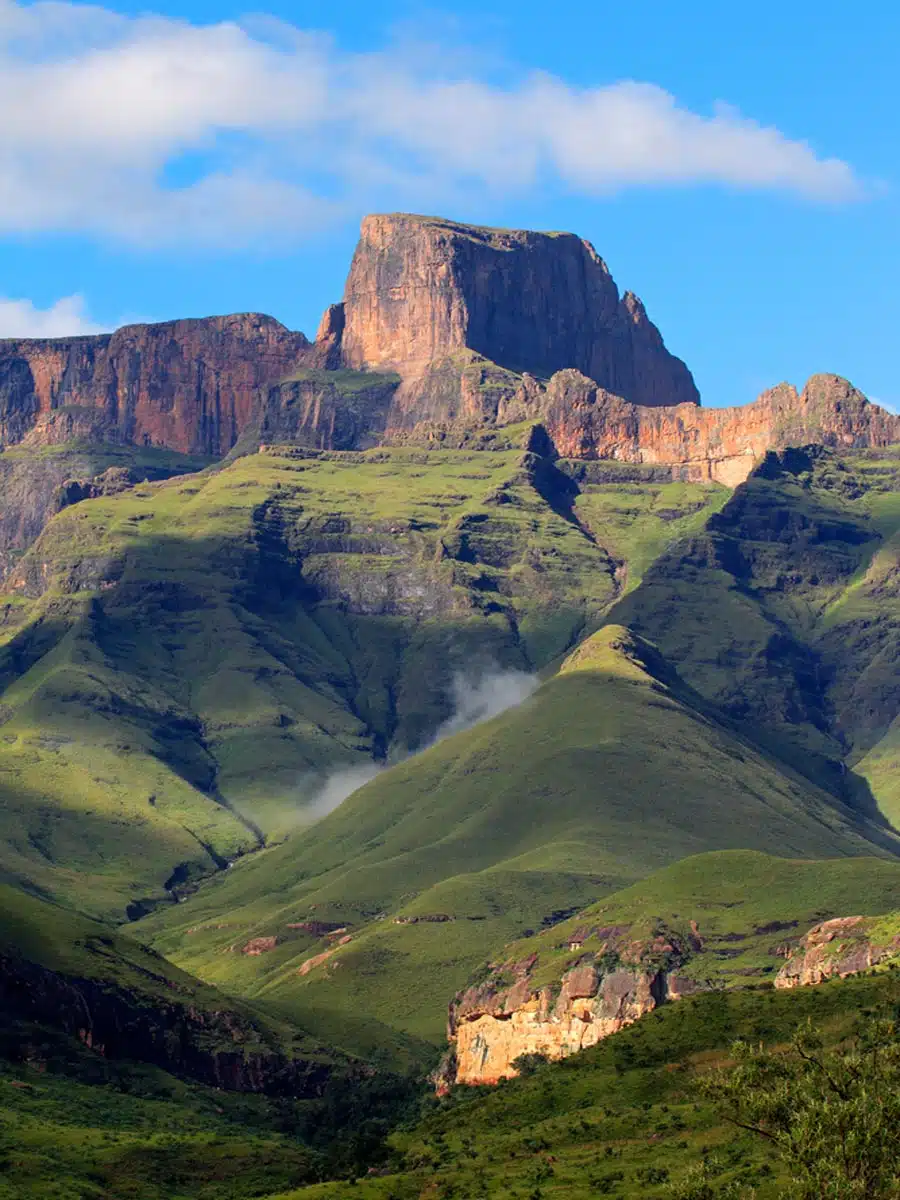 With all the beauty of South Africa, there are also a lot of mountain ranges in the country. One of the most majestic ranges is the Drakensberg Mountains, which stretch across the Free State, KwaZulu-Natal, Limpopo, and Mpumalanga provinces.
It's one of the best locations for hiking in Southern Africa, and I recommend hiking in KwaZulu-Natal as it has some of the most gorgeous hiking trails. These include:
Rainbow Gorge: Easy, two-hour hike in the Cathedral Peak Area.
Giant's Cup Trail: Multi-day hike but not too challenging, with picturesque views.
Cathedral Peak: Strenuous out-and-back hike taking around two days and best done with a guide.
Go Scuba Diving in Sodwana Bay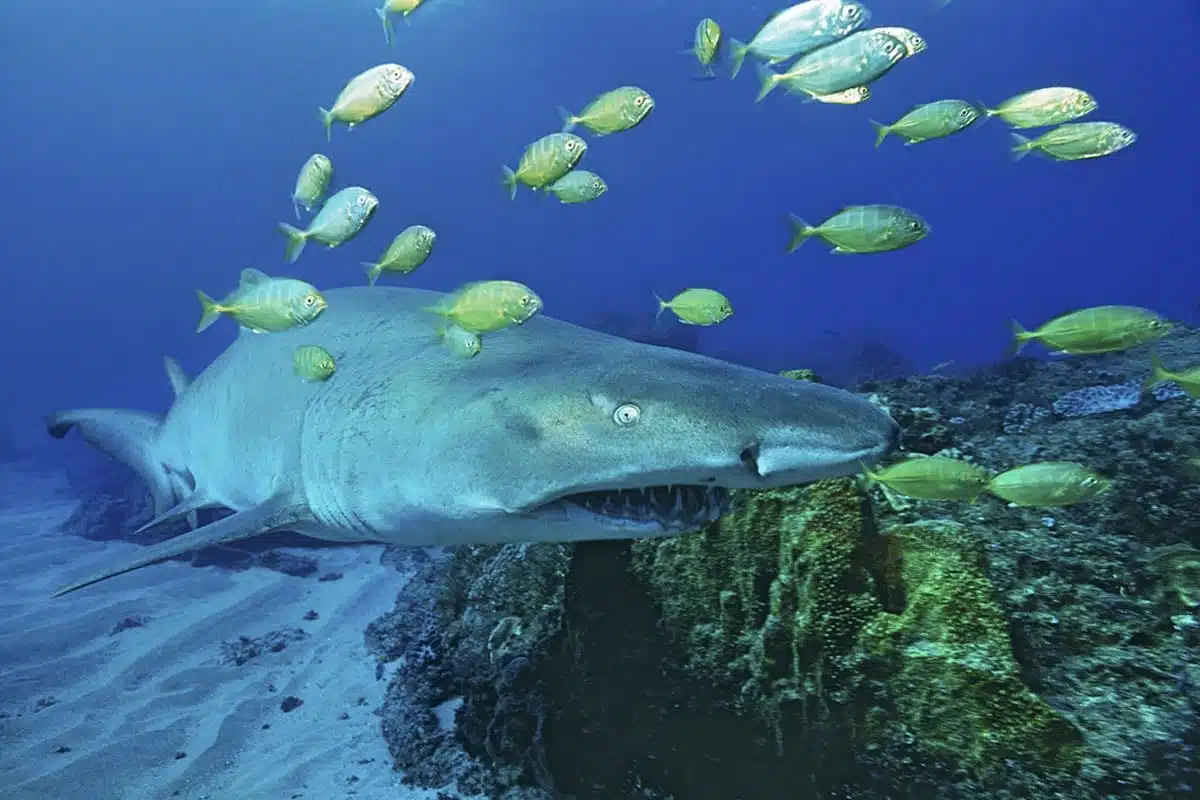 One of the coolest things to do in South Africa is scuba diving in some of its gorgeous waters. It has some of the most beautiful fish in the world, and over 2000 species are in its surrounding waters.
So, if you're looking for a brilliant way to see these fish, head to Sodwana Bay. It has a huge diversity of fish – you can find over 1200 species in its sandstone coral reefs. What's more, it's a protected destination as it's within the iSimangaliso Wetland Park.
If you want to go scuba diving, you'll either have a PADI certification or pay for a PADI course. A course will cost around R4500 (£200) and take two days.
Otherwise, a 2-mile reef dive will cost you R475 (£21), excluding equipment costs.
Witness the Namaqua Wildflowers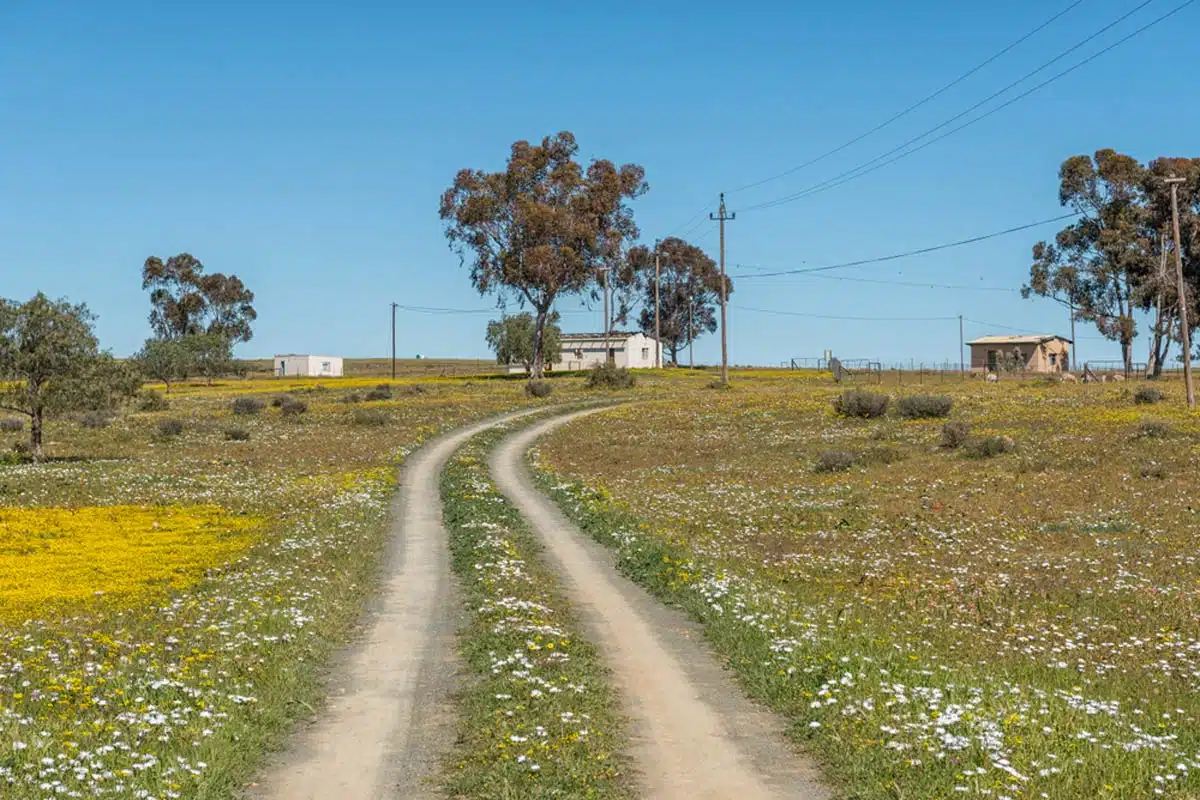 Once a year during spring in South Africa's Northern Cape, over 3500 flowers bloom, blanketing the area in vibrant colours of oranges, pinks, and yellows. This is a truly magnificent sight and one of the most fun things to do in South Africa.
To get here, you'll need to drive up the N7 from Cape Town for about 3 hours until you get to the Hantam National Botanical Garden, just outside Nieuwoudtville.
The secret to why there are so many flowers? It has something to do with the soil's fertility and amount of geophytes. You'll want to come between March and April to see the flowers in bloom.
Ride the Iconic Blue Train
Out of all the things to see in South Africa, a truly magnificent activity to witness the country's landscapes is by riding a cross-country train.
Now, I'll be honest with you, this is one of the most luxurious things to do in South Africa, so it won't be cheap. Picture a five-star hotel on wheels (rails?) and you get the idea of how opulent this experience is.
There are various routes that you can take from Pretoria and Cape Town. They also include the comfiest leather seating, five-course meals, and brilliant customer service.
The trip costs around R43 440 (£1980) and takes three days, but by the time you arrive at your destination, you won't want to get out.
Go on a Birds-Eye Safari in Pilanesberg National Park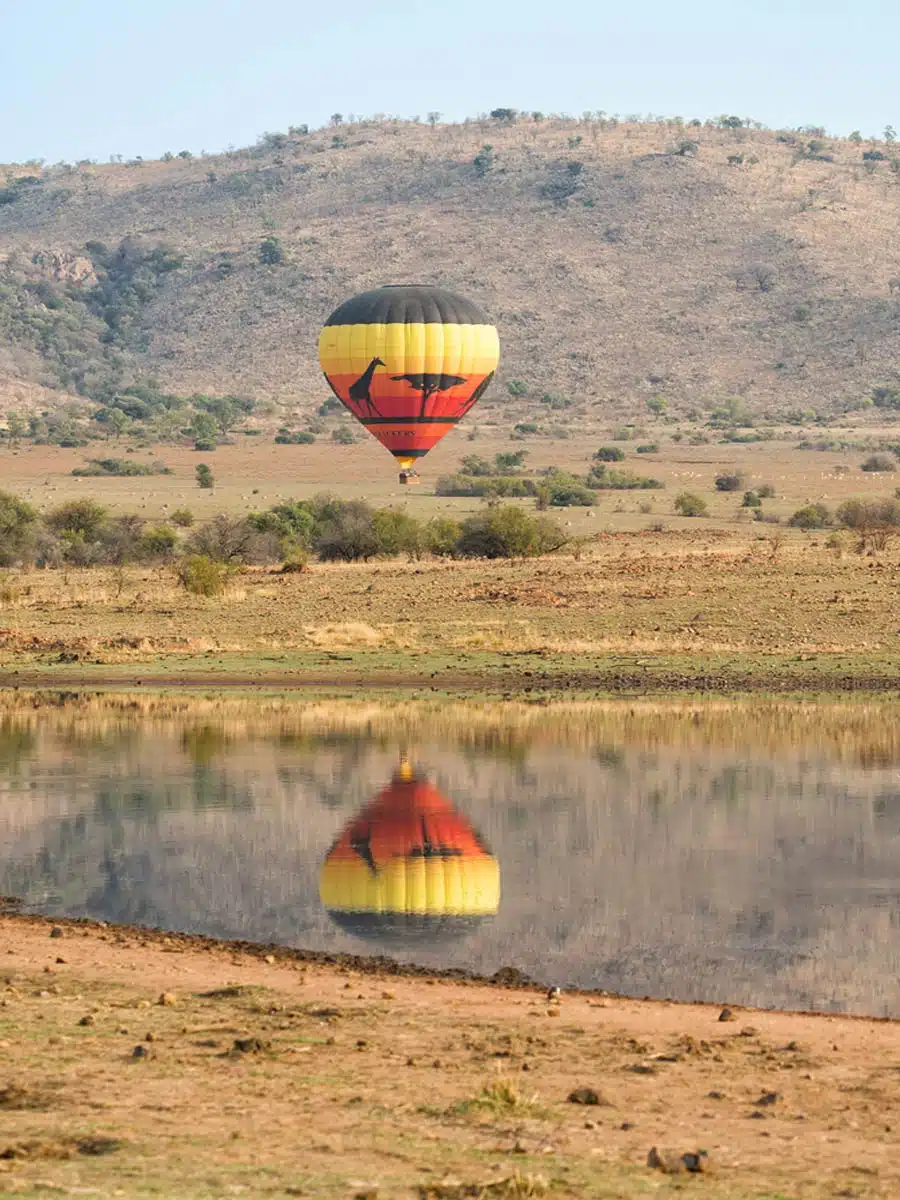 Out of everything in this guide to what to do in South Africa, this may be the best and most memorable option. Now, I'll tell you straight up: this is definitely not for those afraid of heights.
That is because this hot-air balloon safari will reach extensive heights. It's an absolutely terrific flight as your guide shows you the different animals on the savannah. You'll receive a mimosa on landing and breakfast at a private lodge.
Things to do in South Africa: Practical Tips for Your Trip
Where Should I Stay in South Africa?
South Africa is full of brilliant places to stay, but here are my top recommendations.
De Hoop Collection Suites (Luxury)
Tucked away well off the beaten track, De Hoop Wilderness isn't talked about much, which is a shame as it's a stunning escape on the Atlantic coast. Bontebok, baboons and Cape Mountain zebras abound – and, during the season, you can spot whales from the reserve's private beach.
Kruger Gate Hotel (Mid-Range)
If you're looking for a brilliant place to stay that's close to Kruger, there's no better option than this hotel. It's on the Paul Kruger Gate and offers spacious rooms, free WiFi, and safari packages.
The Silo Hotel (Luxury)
For the most luxurious of stays in Cape Town, stay at this fantastic 5-star Silo hotel. It offers gorgeous city views, spacious suites, and a rooftop bar.
Be warned, once you step foot inside, you might find it impossible to leave due to its stunning interior design.
Recommended Tours in South Africa
Things to do in South Africa: Map
Things to do in South Africa: Read Next