Want to discover the best places to eat in Bruges? Don't miss this guide – cool restaurants and cafes serving up the best meals in the city.
Bruges doesn't not have a reputation as one of Europe's culinary destinations – and to be honest, there's probably a good reason for that. At first glance, the dining scene in Bruges can seem a little… expensive and lacklustre.
Don't despair though. Your hunt for where to eat in Bruges will not be in vain. There are more than a few brilliant finds if you know where to look.
These are the places to start.
Best Places to Eat in Bruges
De Bottelier
Wondering where to eat in Bruges? How about one of the fanciest restaurants in the city? De Bottelier is just that.
The interior is totally gezellig (Flemish for cosy AF), with dim lighting and comfy booth seating. It's the perfect spot for sipping a glass or two of red – or throwing back a pint of Duvel.
Serving up a contemporary European menu, stellar dishes include the lamb tagine and salmon pasta. Though, with a menu this tasty, anything you order is guaranteed to impress.
The Republic Cafe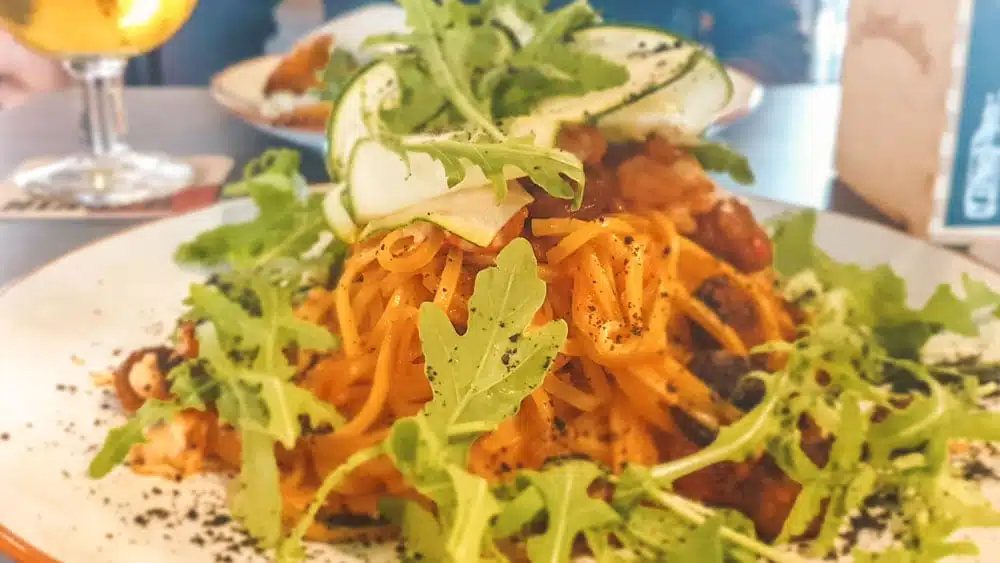 The Republic is hands down my favourite – and certainly one of the best – places to eat in Bruges.
The cavernous industrial-inspired interior houses an all-day eatery that just so happens to also serve up stellar coffee and great beer (this is Belgium after all).
This is one of Bruges' coolest eating spots and it looks every inch the part. Looks are great and all that, but it's the food you're really interested in right?
In short: the food is super tasty, with an emphasis on fresh ingredients. The international menu spans tapas, sandwiches and hearty mains that are big on flavour and excellent value for money.
Der Republiek also happens to serve up some of the best vegetarian and vegan food in Bruges – with lots of tasty dairy and/or meat-free dishes, you're spoilt for choice.
While you're welcome just to stop in for a brew (of the beer or coffee variety), I would highly recommend eating here during your time in Bruges.
The vibe is another big plus. It's laidback and friendly, and is popular with local families and groups looking for a relaxed place to hang out.
As well as serving up great food and drink (kind of the foundation for a great cafe), they also have a lot of fun events on. Take a look at the website as they range from art exhibitions to live music.
Park Restaurant
If you're looking to enjoy a luxurious meal at one of the best restaurants in Bruges, then you'd better make a booking at Park Restaurant.
I really mean make a booking – this is the place to dine in Bruges and your chances of securing a walk-up table are pretty slim. There's some serious hype around this place.
TripAdvisor reviews may not be the be all and end all of restaurant critiques, but it's a pretty impressive feat how Park Restaurant has remained sitting pretty at #1 in Bruges for some time now.
As you'd expect, the food is good. Unbelievably good, in fact – the kind that has you scraping your plate for every last morsel.
There's a menu where you can choose from scrumptious options like buttered scallops (I'm hungry just thinking about them). Or, I like to go for the chef's set menu, which shows off the best flavours of the season – and the chef's prowess, of course.
It's all very luxurious and popular amongst guests indulging for a special occasion. Prices are on the steep side, although actually pretty reasonable for the quality of the menu.
The decor is luxe and lovely, just the kind of place you can go to celebrate something. Even if that something is just being in gorgeous Bruges, enjoying a fabulous meal.
FritBar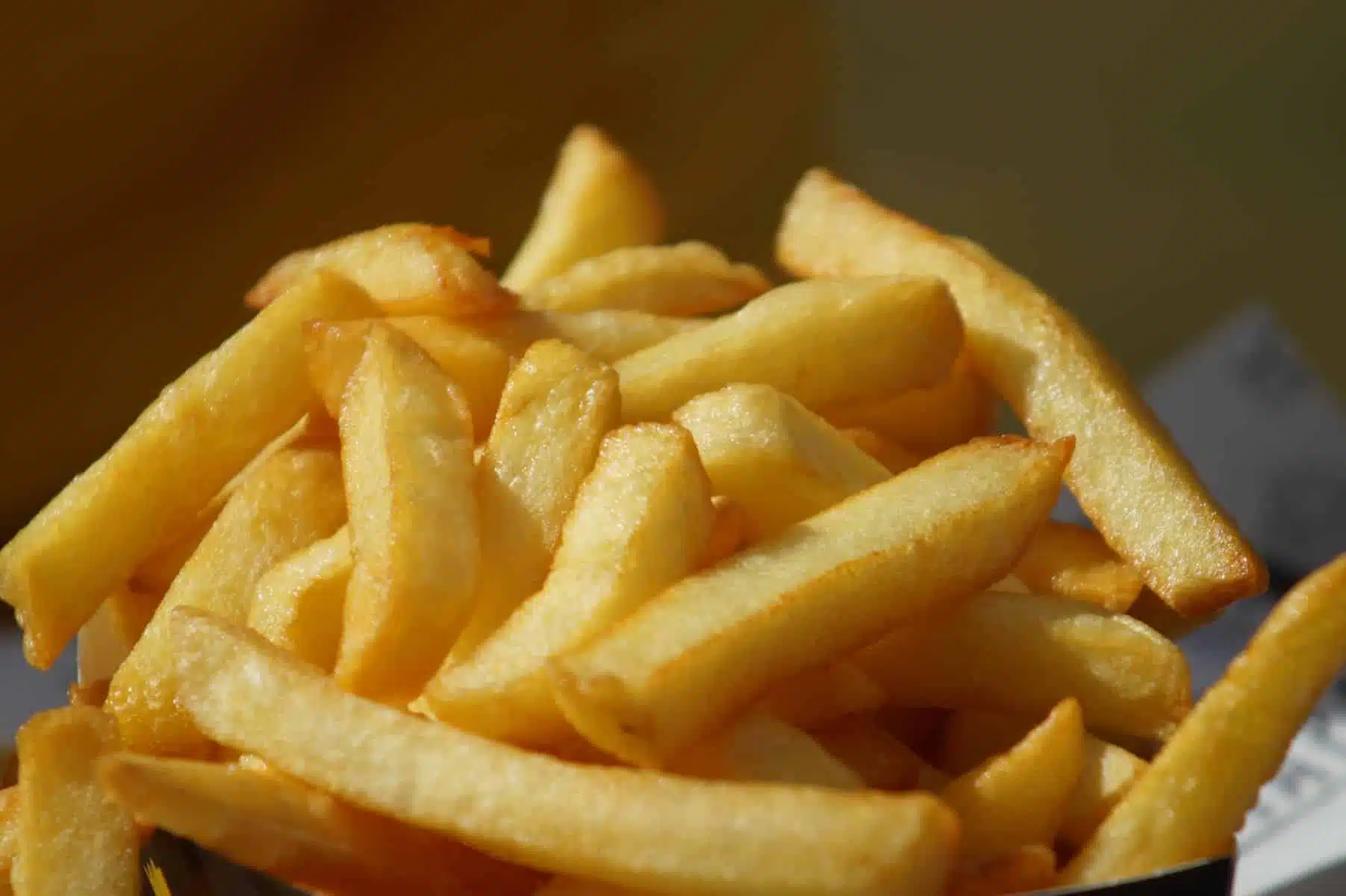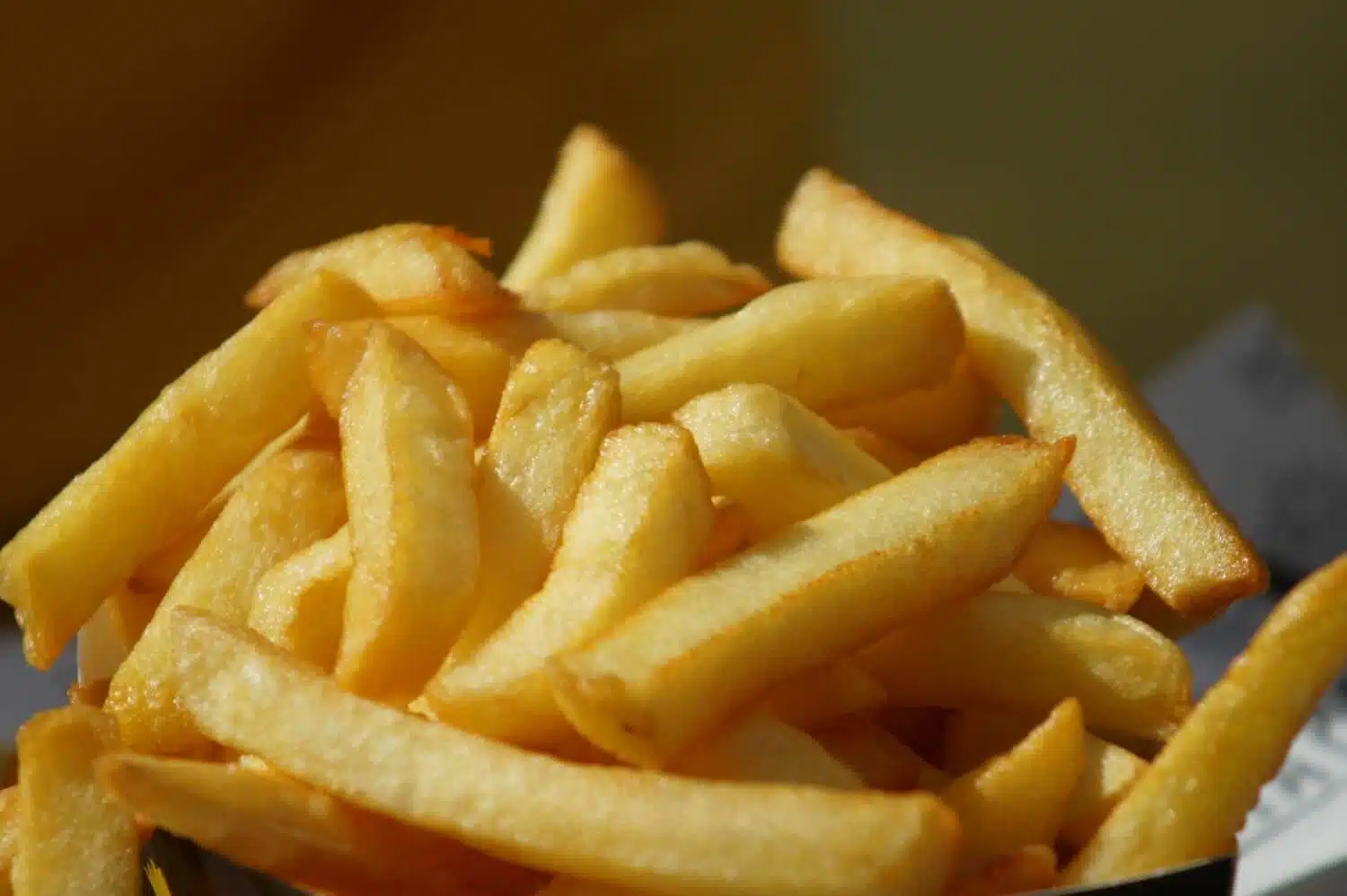 Heading to FritBar is a must because Belgian fries are the best in the world. And FritBar does them the best in Brugge.
Usually I would say Belgian fries are best eaten as you're wandering the cobbled streets, though these ones are worth sitting in for. And grabbing an accompanying burger for (preferably the Cheesy OD burger – which feels like just that, to be honest).
As always with Belgian fries, there's plenty of choice when it comes to sauces. But, I'll level with you – if you aren't picking Samurai Sauce, you're doing it wrong.
The Olive Tree
So much of Bruges' dining scene can revolve around mussels and waffles that it can all get a bit much.
In the mood for something different (and just as tasty)? Go to The Olive Tree – an authentic Greek and Mediterranean restaurant that more than lives up to its reputation as one of the best restaurants in Bruges. 
The restaurant is family-owned, and has that homey feel you want before you dive into a ridiculous amount of delicious Greek food.
The recipes have been brought over with the family from their home of Lesbos, and they are absolutely mouthwatering. The stuffed chicken breast is a total delight, and don't forget to order some delicious tzatziki as well.
Many Greek restaurants aren't known to be terribly vegetarian and vegan friendly, but The Olive Tree is an exception. They've got plenty of great veggie options if that's your vibe.
The prices are pretty reasonable for Bruges, and the portion sizes are super generous (you may need a nap afterwards).
Thanks to the fab food and equally fab location (walking distance from the Belfry), I highly recommend booking this place ahead. That said, they do take walk ins if you don't mind rolling the dice.
'T Bagientje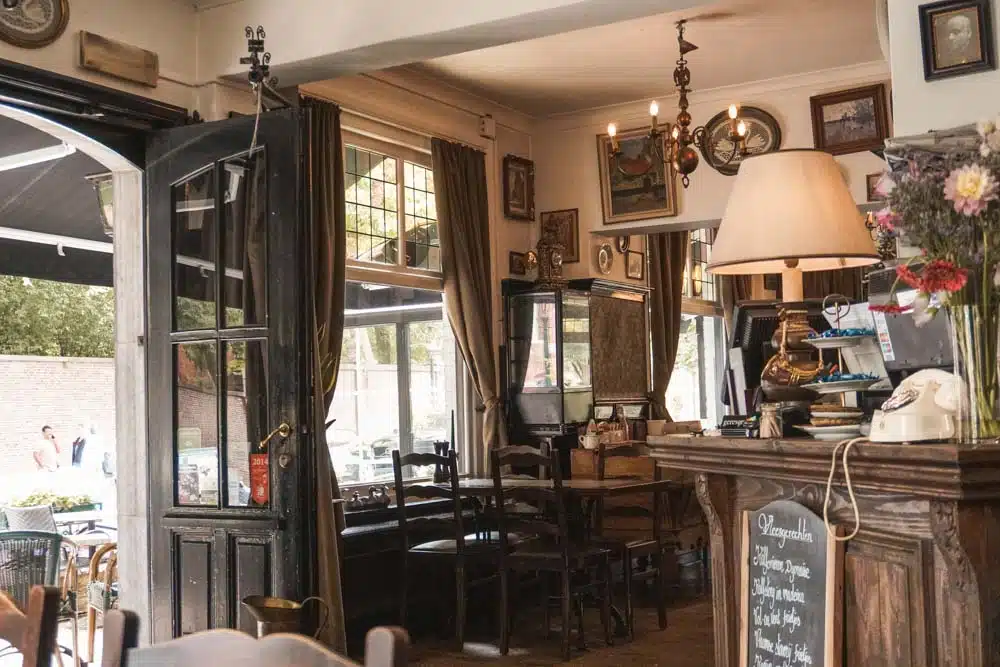 Restaurants near train stations aren't usually renowned for their quality, but 'T Bagientje is quite the exception.
If you're looking for a great restaurant that's as popular with locals as it is with tourists (always a good sign), then look no further.
Eating out is almost never cheap in Bruges, and you wouldn't call 'T Bagientje bargain basement prices. However, it does offer excellent value for money.
The interior is no frills, but it's clean and modern. If the day is nice, then I say head for the bistro tables outside, where you can soak up the Bruges beauty and atmosphere.
The menu is heavy on the Belgian classics which is absolutely fine by me. For those with daring tastebuds, the rabbit is unusual and prepared in a traditional way. For something more run-of-the-mill, they do a mean steak or ham hock, both of which are pretty good value as well.
Wondering where to eat mussels in Bruges? 'T Bagientje is a great option as they serve up huge, steaming pots of them, the requisite frites in bowls that are attached to your table.
Of course, you've got to finish off your delicious and cheerful Belgian meal with some chocolate covered waffles. It's only right, frankly.
Soup
There's not too much to say about Soup, other than this restaurant seriously knows how to make delicious bowls of steaming goodness.
It's not the fanciest of spots, but there's nowhere in the city that makes a better tomato soup – or a leek and celery bowl, for that matter. Be prepared to wait for a table, the lunch lines can get pretty long.
Oh, and save some room for a slice of cheesecake to round off a hearty lunch.
Fred's Waffles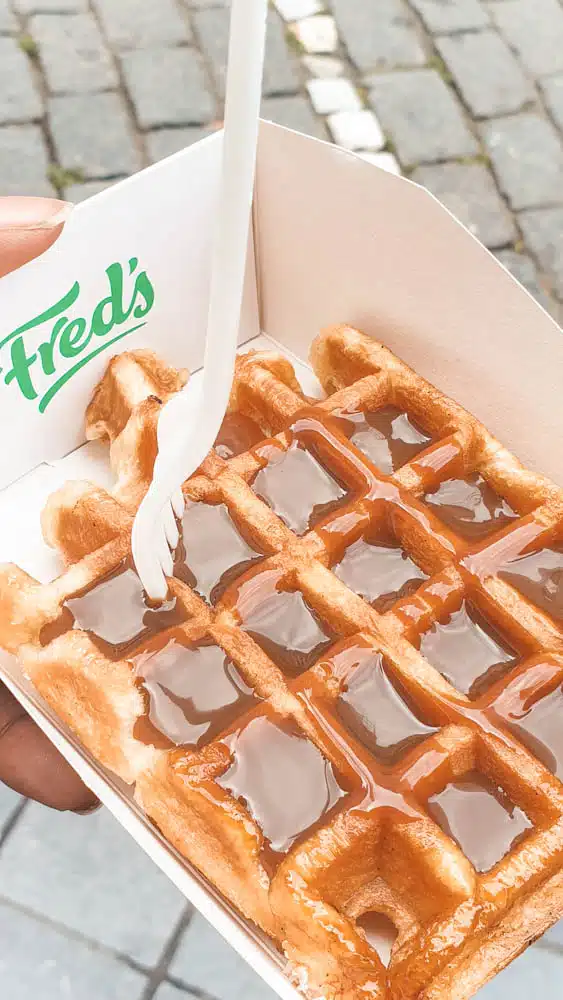 Even in a country that's known for its totally amazing waffles, Fred's waffles are a total standout. Fred's Waffles has been a favourite amongst locals and visitors since it opened in 1989 and you can see why.
Fred's reckons they've got "the most creamy and indulgent ice cream you've ever tasted" – and if that isn't a USP (unique selling point), I don't know what is.
The amazing ice cream is so good you might find yourself wondering what the secret is – or perhaps turning a blind eye in case it's some dodgy fake flavouring.
Well, I'm pleased to report it's all naturale here – the secret to the ice cream is just good old fresh and delicious ingredients like fruit and nuts. And chocolate.
Fred's Waffles occupies a pretty unassuming location – a humble shop along Eirmarkt, with a big green sign on the door so you can't miss it.
You could pick a flavour with your eyes closed and I'd bet it'd be good – but my personal favourite is good old salted caramel – bonus points if you walk around the corner and devour it in Markt. What could be more Bruges?
One Restaurant
Striking a balance between cosy and glam (not an easy feat), One Restaurant is a fabulous spot for a meal in Bruges.
Nestled in a charming spot in Minnewater Park, the restaurant has a relaxing and calm atmosphere. So long as the weather is reasonable, I recommend heading for the pretty garden outside – not a bad spot to enjoy a meal.
The menu is full of Belgian classics as well as other European staples. In particular, this is my #1 recommendation if you're looking to try a classic Flemish Stew.
If the menu has got you a tad overwhelmed and you're not sure where to start, I recommend asking the staff. They are incredibly helpful, and are sure to point you in the direction of a delicious Belgian classic.
If you do want to check it out, then I highly advise calling ahead to book – yep, even in the low season. You see, this place might be even more popular with locals than it is with tourists, and there's rarely a free seat in the house.
Vero Caffé
Simple, but excellent – Vero Caffé should be your first choice for a strong coffee in Bruges. And they make some pretty tasty cakes, too.
It's a little bit of a secret that Belgians do coffee incredibly well, which is probably why there are so many gorgeous coffee shops around the country – but especially tucked away on the back streets of Bruges.
I know you can't always predict when the caffeine urge is going to strike, but try to plan your trip outside of breakfast/lunch hours – this adorable spot is small, so snagging a seat can be tricky. Still, you can always grab a coffee to-go.
Gran Kaffee de Passage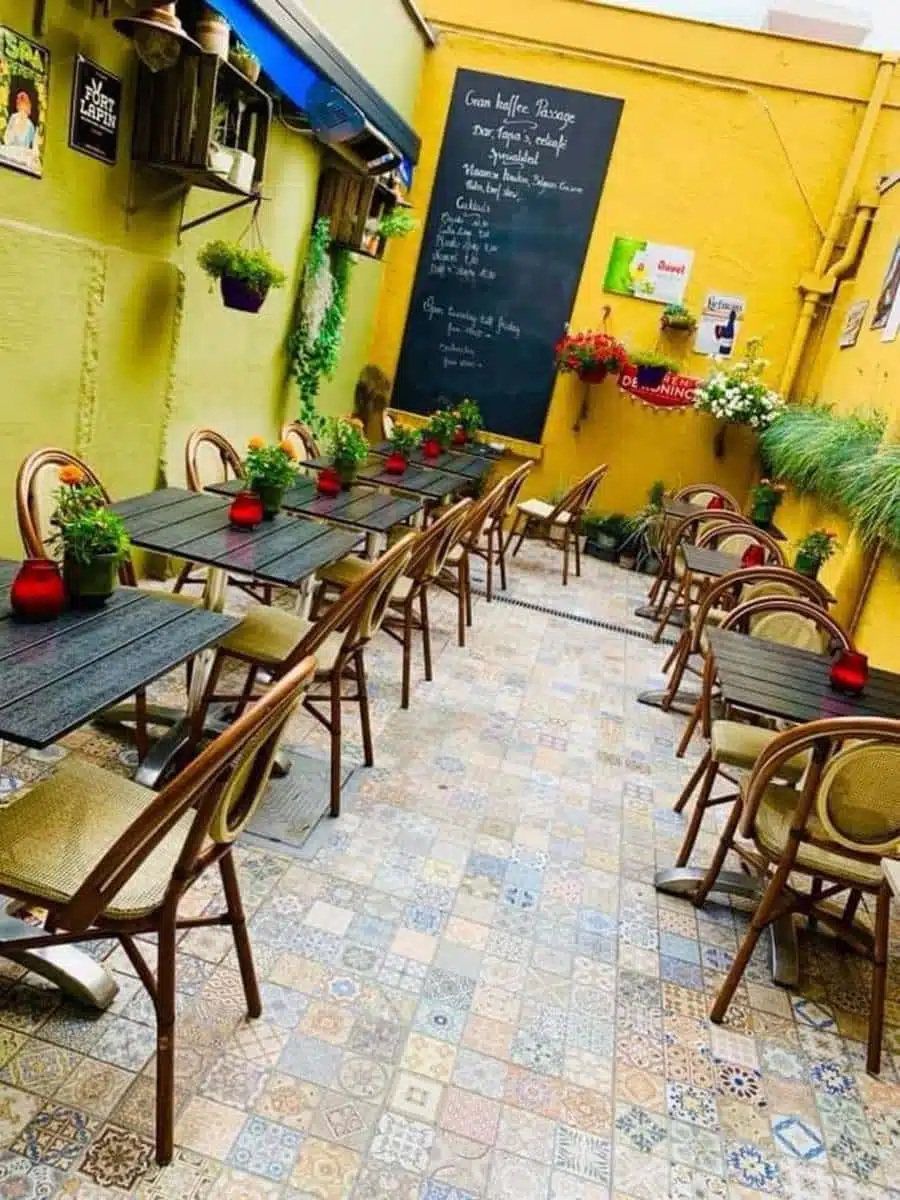 As part of the adorable Gran Hotel near Burg Square, this adorable eatery is possibly the most quintessentially European place I have ever laid eyes upon – from the garish tiled accents to the outdoor terrace seating overlooking the street.
Chef Reinart Swertvaegher, along with his sons Emile and Baptiste, cook up some rather tasty Belgian dishes with a Mediterranean touch. I'm talking about the likes of spicy pastas, stews, and mighty hunks of meat served alongside salad and fries.
If the sound of those doesn't make you want to dine at Gran Kaffee de Passage immediately, then I don't know what to say.
Guillaume
One of the most exciting places to eat in Bruges is Guillaume. Why? Because the menu is filled with creative dishes that rotate often.
For example, at the time of writing this, you can expect mackerel tartare with pistachio and Oud Brugge cheese, or an equally interesting lobster with beef velouté, chorizo, and carrot. But what will be on the menu when you visit, who knows?
Better yet, the pricing is pretty decent: A high-end 6-course tasting menu for around £80? Incredible value.
Mozart
Sure, Mozart's tagline might be more than just ribs, but it's the ribs you need to order.
Step inside this restaurant and it's pretty impressive – all dark wood and surrounded by books. It feels like you're dining in an 18th-century library.
But the real selling point? The ribs – which come in three different styles – are unlimited. And they're served alongside Mozart's famous jacket potato, salad, and fries (all of which you can scoff until you're full AF).
Best Places to Eat in Bruges: Practical Information and Tips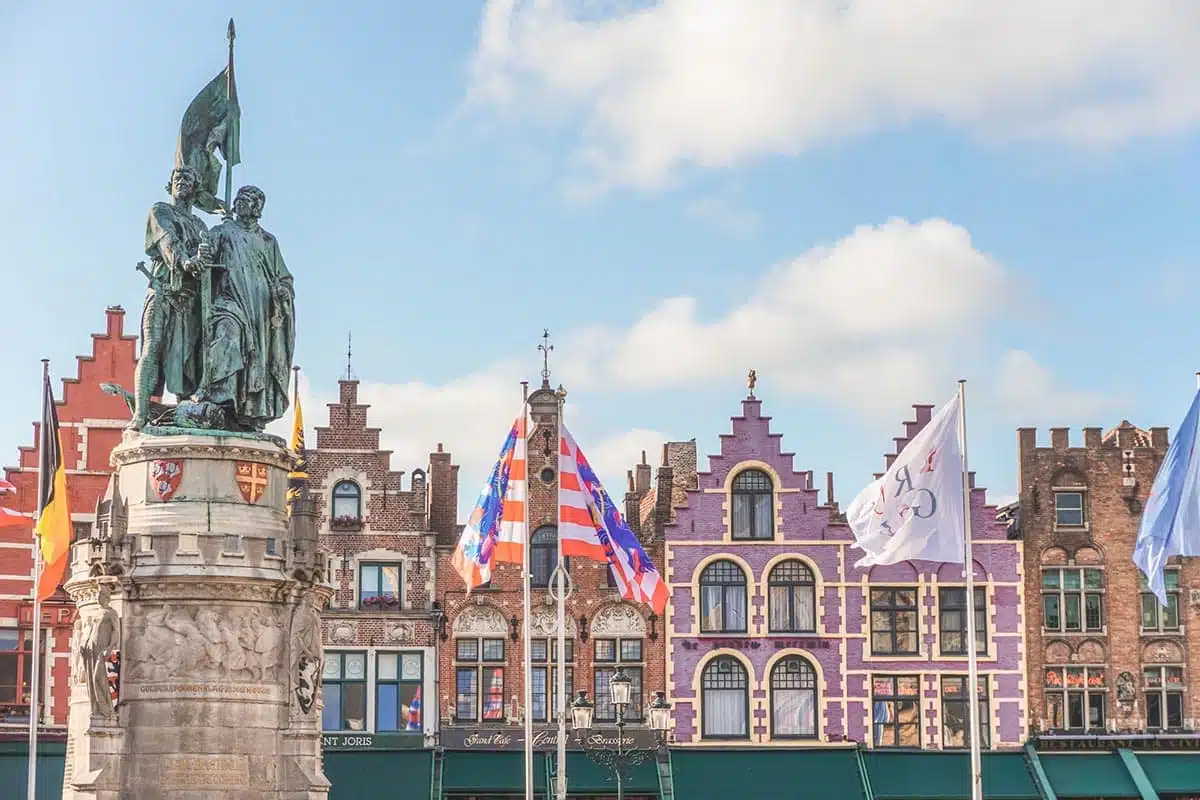 Always check ahead for the opening hours of restaurants. Many close between Sunday and Tuesday (usually for at least one day). You don't want to be stuck peering in through the closed doors at your desired restaurant.
Bruges isn't a cheap place to eat out – meals in the region of €20 are pretty standard, so be prepared for that.
Some places do a set lunch menu which is not only affordable, but a way to try something you might otherwise have skipped over.
If you've got your heart set on a particular place, be sure to book. There are usually more people looking to eat in Bruges than there are good restaurants, so secure your seat early.
Where to Eat in Bruges: Map
Love this? Save and Share on Pinterest.