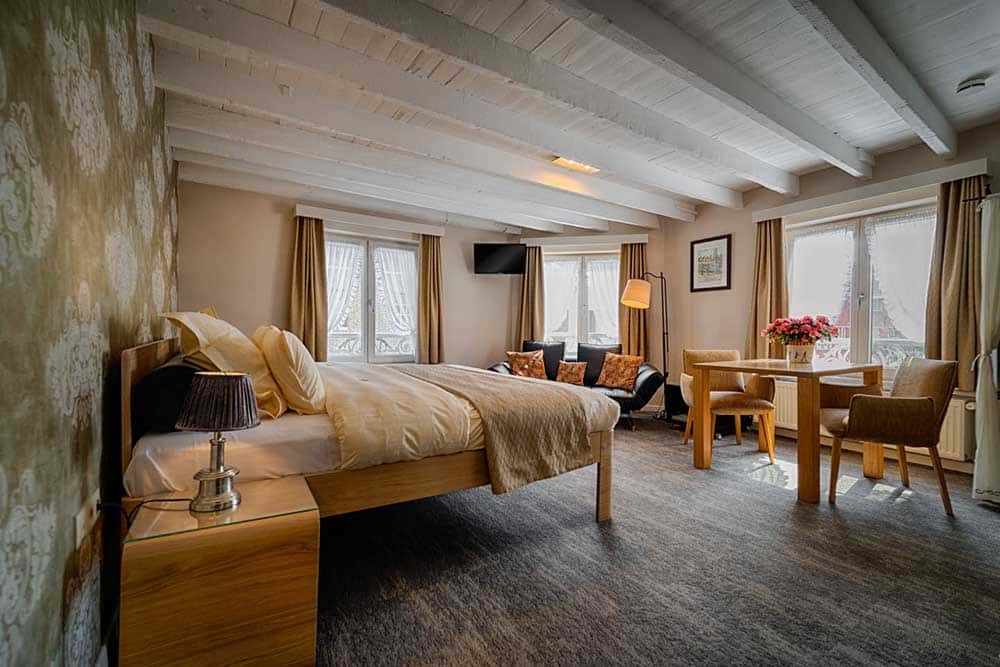 Travelling to Bruges and looking for somewhere different for your stay? From traditional Flemish houses to contemporary studios – don't miss our pick of the best Airbnbs in Bruges.
Bruges has no shortage of options when it comes to cool accommodation – and staying in an Airbnb is a great option for your trip.
I also love using Plum Guide to find my next stay – they are an Airbnb alternative that carefully handpick properties so only the very best make it onto the site.
From houseboats and towers to many other stylish and quirky options, these Bruges Airbnbs make the perfect base for your stay.
Best Airbnbs in Bruges
Spacious Studio with Outside Patio in Centre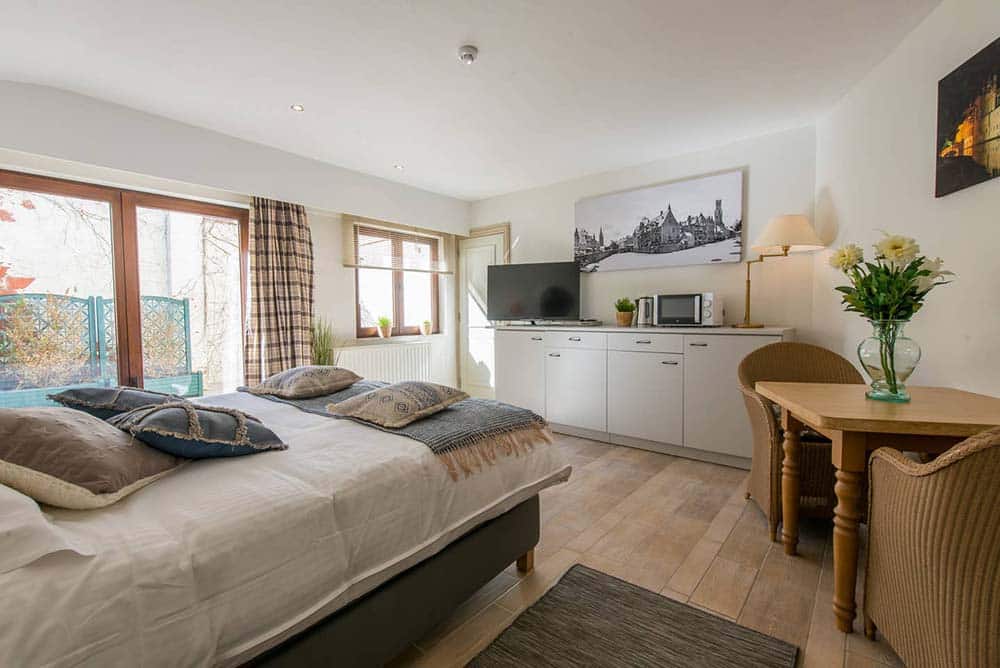 This charming studio apartment is a bit like your favourite Scandi-inspired Pinterest board come to life.
Even better, there's a cute little patio where you can have your morning coffee before heading out to explore Bruges.
Another highlight is the helpful and communicative host, Marieke, who's also put together a handy book of tips for your stay.
As a studio apartment, the space is cosy yet comfortable. There's also only a microwave and kettle, so you probably won't be whipping up any three-course meals, but there are plenty of restaurants nearby.
Location: Markt/Burg
This apartment is located in south Bruges, between the historical centre and Minnewater park. That means this Bruges apartment is just a five minute walk into the heart of Old Town, which is ideal for sightseeing.

Sleeping in the Historic Centre / Beautiful Studio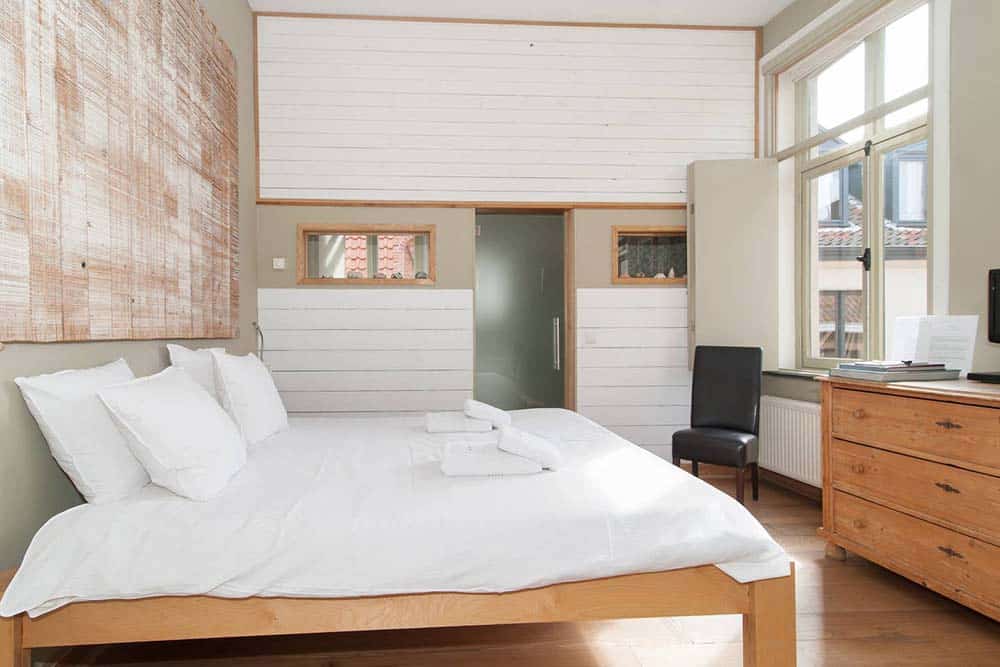 Another stylish and modern studio apartment, this property boasts an amazing location and is fully equipped for two people.
Sure, it's a studio so things are a bit cosy – but it's totally worth it to have such a brilliant location. Anyway, how much time are you planning to spend indoors, really?
The apartment is on the second floor of a heritage listed building from the 19th century. It really adds to the overall charm of this Bruges Airbnb.
Your host, Koen, is a travel-loving Bruges local with some great tips for what to do and see.
The facilities are pretty much what you'd expect from a great studio apartment (without a full kitchen) – wifi, kettle, fridge – and the coffee machine is a great touch as well.
Location: Markt/Burg
The apartment is an Airbnb in Bruges' centre, so it's a fabulous location. The main Burg Square is less than 400 metres away, so you'll never be far from all of the main attractions of the city.

La Tour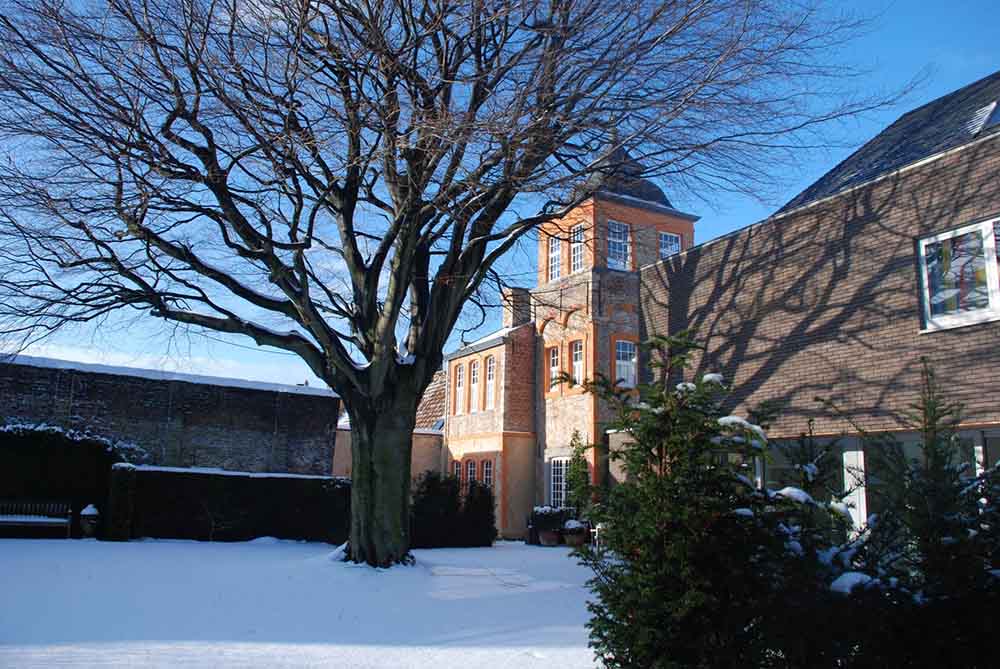 Who doesn't love a quirky Airbnb? It's probably my favourite thing about the site – there's all kinds of weird and wonderful options up for grabs.
Take La Tour, for example. It's an 18th century tower that was built as a 'folly'.
Your hosts, Francis and Louise, have since inherited the property and lovingly restored it to open as an Airbnb in Brugge.
The interior is elegant and traditional, just as you'd hope for staying in an 18th century tower.
There's also free parking on-site in the garden. Which, as a side note, is the perfect place to call up to the person in the tower above, Rapunzel-style.
Location: Sint Gillis
The property is located about an eight minute walk from Burg Square, in the direction of Sint Gillis. This location is a great compromise, being a quieter residential area yet still within an easy walk of the city's main attractions.
Charming House in the Heart of Bruges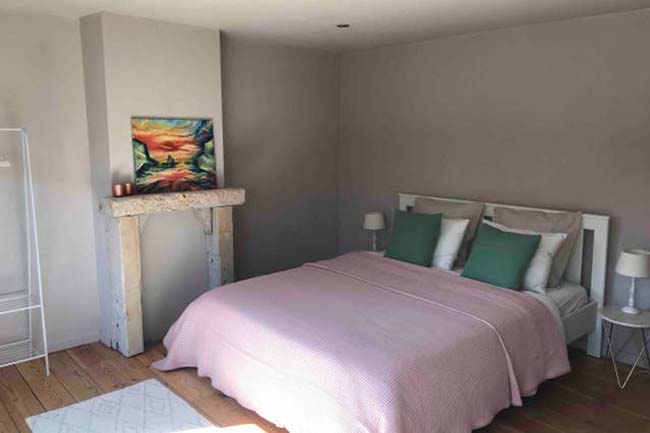 This stylish property has plenty of charm. On the outside, it's a historic and traditional Bruges home, while on the inside it's modern with a few quirky touches.
Set over three storeys (which may not be ideal if you have mobility issues), the house has two bedrooms and a lounge (complete with Netflix).
There's also a fully equipped kitchen and laundry.
Cho, your host, is friendly and communicative, but you'll have plenty of privacy as the whole house is yours only.
Location: Sint Anna
The house is located to the east of the centre of Bruges in Sint Anna. This is a charming area that's a popular residential hotspot. Plus, it's less than a ten minute walk to Burg Square – so you'll never be far from the main attractions of the city.
Comfortabele en Zeer Ruime Flat in Centrum Brugge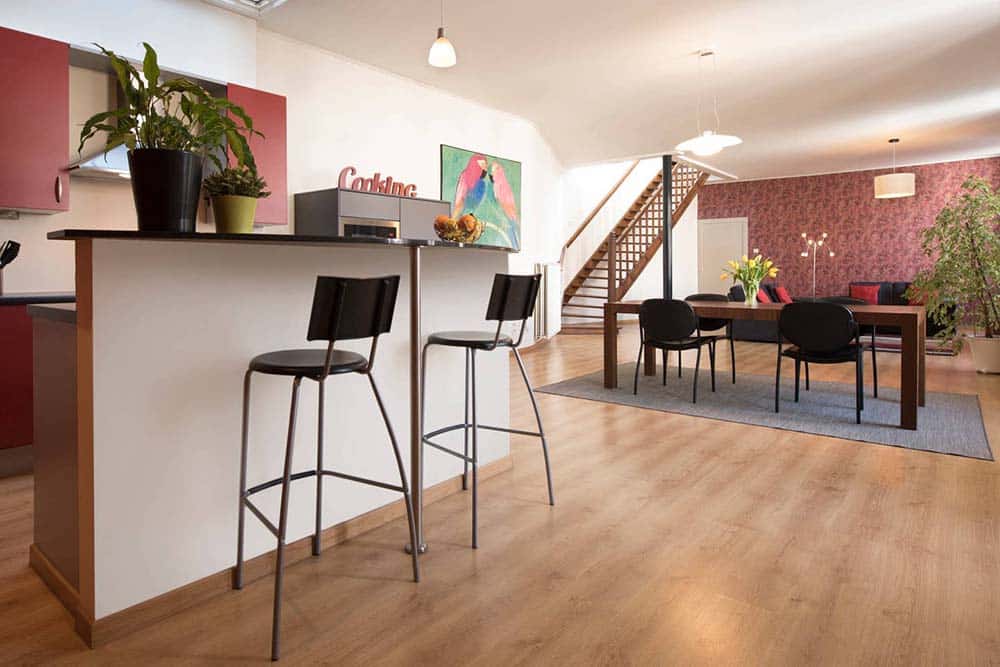 Looking around inside this modern and spacious apartment, you'd never realise that it's nestled within a 14th century building. But that only adds to the charm.
The one-bedroom apartment has all the home comforts you'd expect, including a full-size kitchen and homely decor. Your friendly host, Nico, has certainly done his best to make things warm and inviting.
Other highlights of the property include a shared pool (yes, please!) and a fab private rooftop terrace. There's also an honesty beer fridge, so you can grab a Belgian brew and enjoy the sunset.
Note there's no free parking on site, but you can rent a park for 10 euro a day.
Location: Sint Anna
The apartment is located on the outskirts of Sint Anna, near the historic centre. This means that while the area is safe and peaceful, it's a very quick walk into the centre with its attractions.
Botanical Oasis, in the Heart of Bruges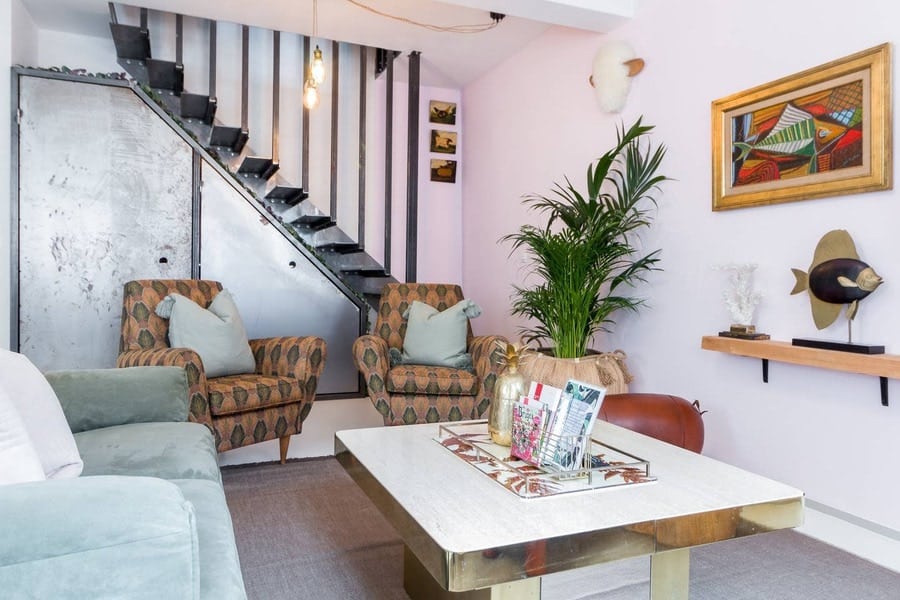 If you're one of those people who looove collecting house plants, then you'd better steel yourself for this gorgeous apartment.

Describing itself as a "botanical oasis", it's a total delight. Filled with plants, pastel hues and charming traditional furniture, my bet is you'll be taking photos for decor inspo.
It's a guest suite, meaning that the owners live on site – however you do have your own private entrance. It also means your host Eva Marie is close by in case you have any questions.
There's no kitchen here, just tea and coffee making facilities – but with so many great things to see in Bruges, who has time to cook?
Location: Sint Anna/Langestraat
Located to the east of Bruges between Sint Anna and Langestraat, the apartment enjoys a fabulous location. These largely residential areas are filled with charming traditional homes, and yet it's a quick and easy walk into the heart of Bruges.
Suite Bariseele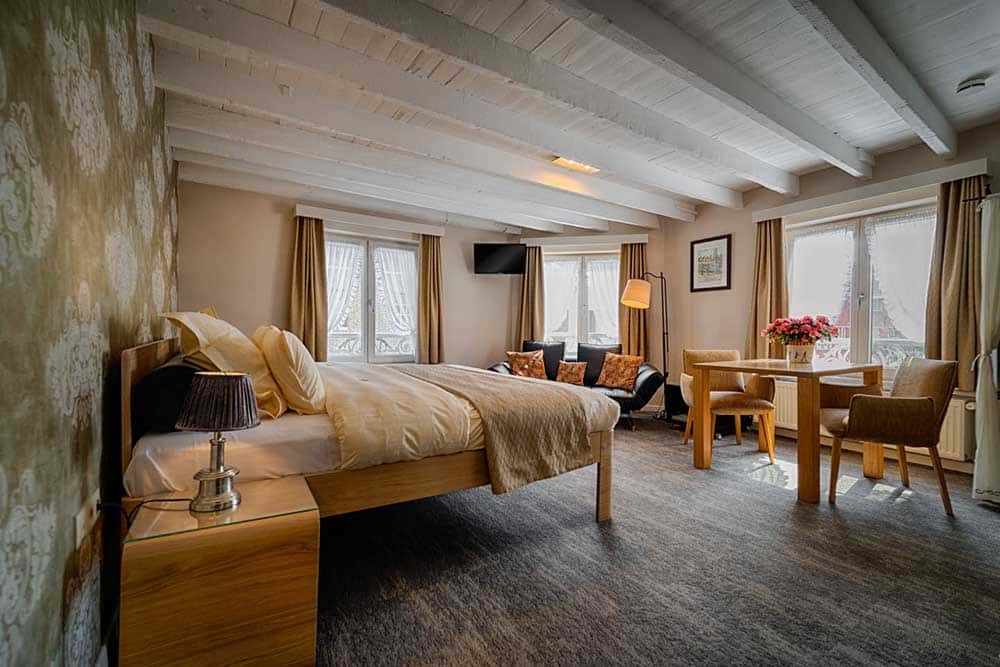 If you're looking for a romantic stay in Bruges it doesn't get much better than this place. Think wooden beams in the ceiling, and a gorgeous view out over St Giles Church.
It's a charming little suite that's tastefully decorated with a comfortable bed and a small seating area. It is on the cosy side, but that's the price you pay for the fabulous location.
Your host, Benny, is helpful and thoughtful with lots of local recommendations if you need any.
Note that the property is adults only – which could be a pro or a con, depending on how you look at it.
A tasty breakfast is provided every day, and there's also a fridge, microwave and kettle if you want to whip up your own simple meals.
Location: Sint Gillis
The apartment is located in trendy Sint Gillis, a hotspot with artsy types and students. The neighbourhood itself has lots of great cafes, bars and boutiques, but it's also an easy stroll into the centre of Bruges as well.
Private Loft in the Heart of Bruges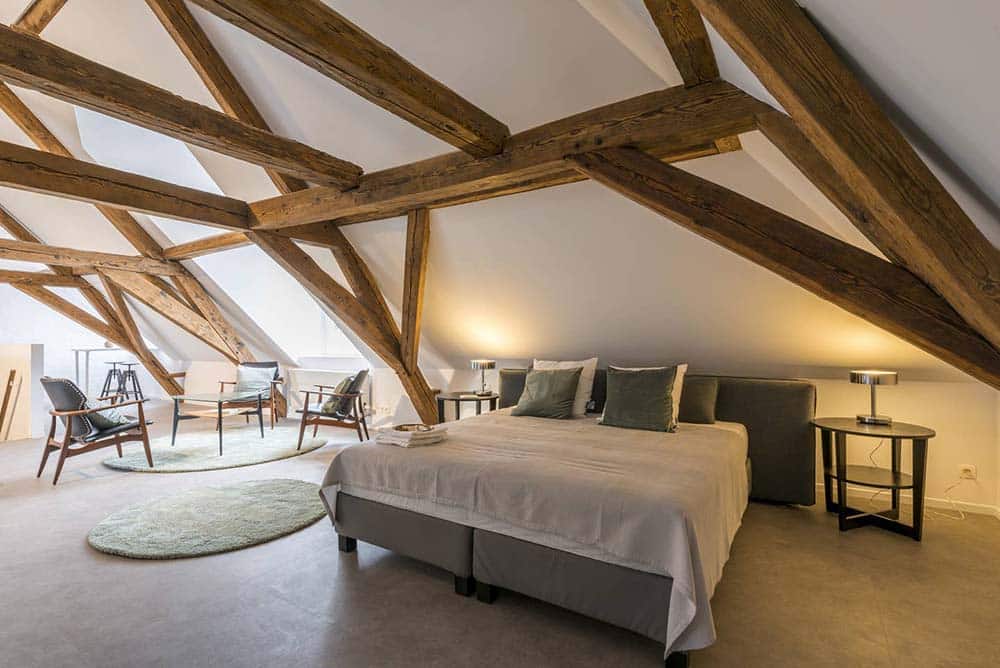 When you hear "loft" you might think small and pokey – but not this loft. It's light, bright and super spacious. In fact, there's room for four with a bed, sofa-bed and comfy lounge.
The loft is super charming, with exposed beams and a pretty view out the window. That said, the beams are fairly low which might not be ideal if you're tall.
Another thing to note is that there are frequent music shows at a venue nearby throughout summer. As a Londoner, I can sleep through anything – but if you're a light sleeper this may be an issue.
Although it's a loft you'll have plenty of privacy. However, your efficient and communicative host Veronique is nearby if you need anything.
Location: Markt/Burg
The apartment is located near the fish market in the historic old town. The location is one of the main highlights of this property – you can't get much closer to the action in Bruges.

Top Floor Apartment with Suntrap Garden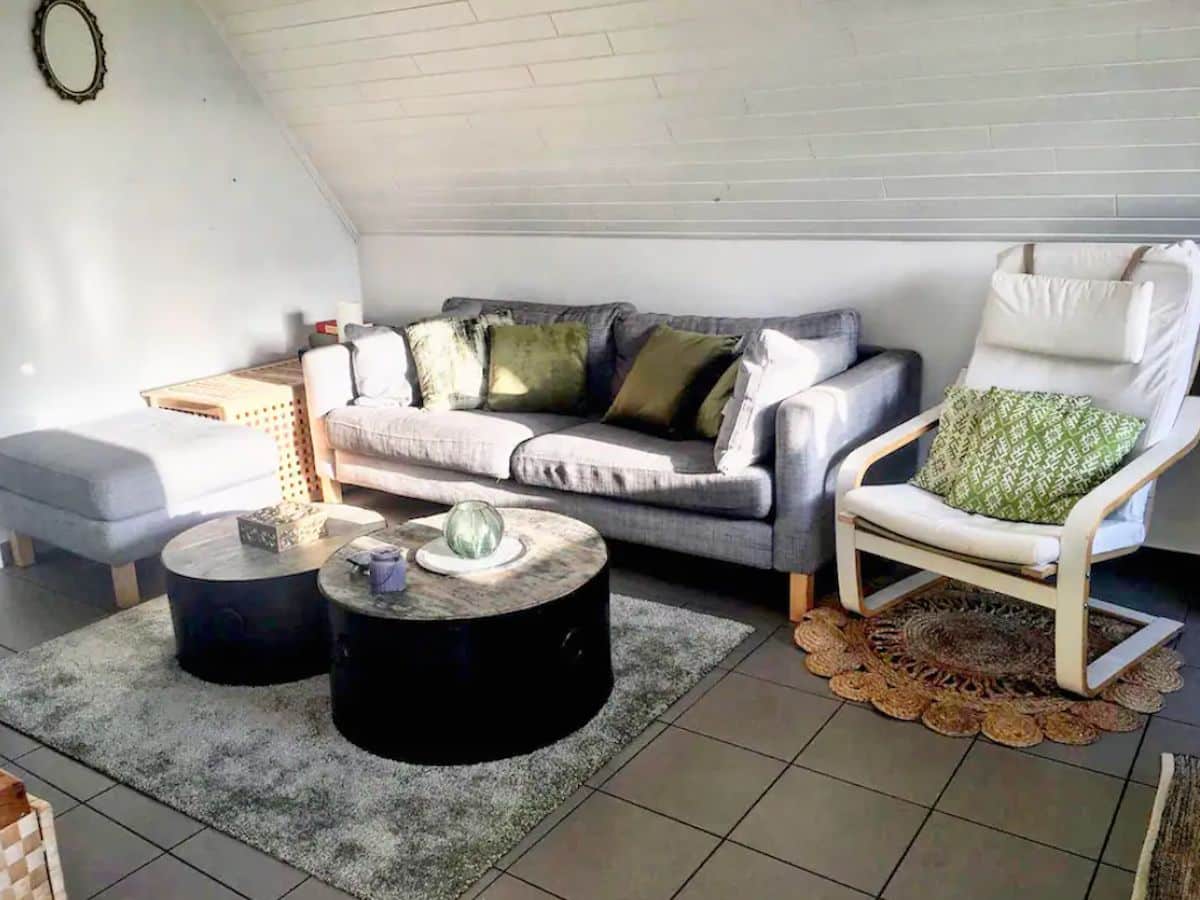 A great thing about Airbnb in Bruges is that rather than stay in a cold hotel, you can slip right into a warm and inviting home like this one.
From the breezy suntrap garden to the open living and dining space (complete with coffee machine) you might just never want to leave. There's even free parking.
Location: Knokke-Heist
You are trading views for location here, as Knokke-Heist is a bit further out from downtown Bruges. You'll get a great insight into local life in Bruges in this residential hotspot.
Practical Tips to Consider Before Booking Your Airbnb in Bruges
If you're looking for value for money, a property with a kitchen is a great way to save on your overall Bruges budget. Even if it costs a little more upfront, it can save you a great deal in the long run as eating out can be quite expensive.
Be aware that there is a tourist tax in Bruges – you'll usually need to pay it in-person to your host. Your Airbnb host will be able to give you more information.
Although I love staying in the centre of Bruges, the great thing is that the city is compact and walkable. Therefore, even accommodation options further out are still usually walking distance to Burg Square.
Don't forget that Plum Guide is a great Airbnb alternative – the properties may be on the pricier side, but it's well worth it for a taste of sheer luxury.
Airbnb Bruges Guide: Read Next
Love this? Save and Share on Pinterest!