Want to know when the best time to visit Bruges is? Don't miss this step by step guide to help you plan your trip.
So, you're planning your trip to Bruges. I can see why. Bruges is a gorgeous destination, packed with cool things to do and a wealth of history that reveals itself in its charming appearance.
Let's face it – working out when to visit Bruges is no easy task. Bruges is a small city with a big reputation. Thronging crowds in the summer months can make it difficult to walk around and accommodation prices are high but it can get very cold (and dark) during the winter months.
This guide walks you through the best time of year to visit Bruges, plus the factors to consider when booking your trip. Let's go.
When's the Best Time to Visit Bruges?: At A Glance
Although Bruges is beautiful all year round, late spring and summer (between May and August) is an ideal time to visit.
I'm particularly a fan of visiting in the shoulder season – around May or September – when the weather is warming up but you won't spend too much time stuck in lines or crowds.
The Best Time to Visit Bruges
What is the Best Month to Travel to Bruges?
Generally speaking, the best time of year to visit Bruges is May as the crowds are thinner but the weather is pleasant. Plus, the spring flowers are totally gorgeous.
You'll still want to bring a jacket, but I love having a little more space to settle in and enjoy the sights.
Of course, in reality, the best time of year to visit Bruges depends a little on your own interests, which is why I've written this guide. 
When's High Season in Bruges?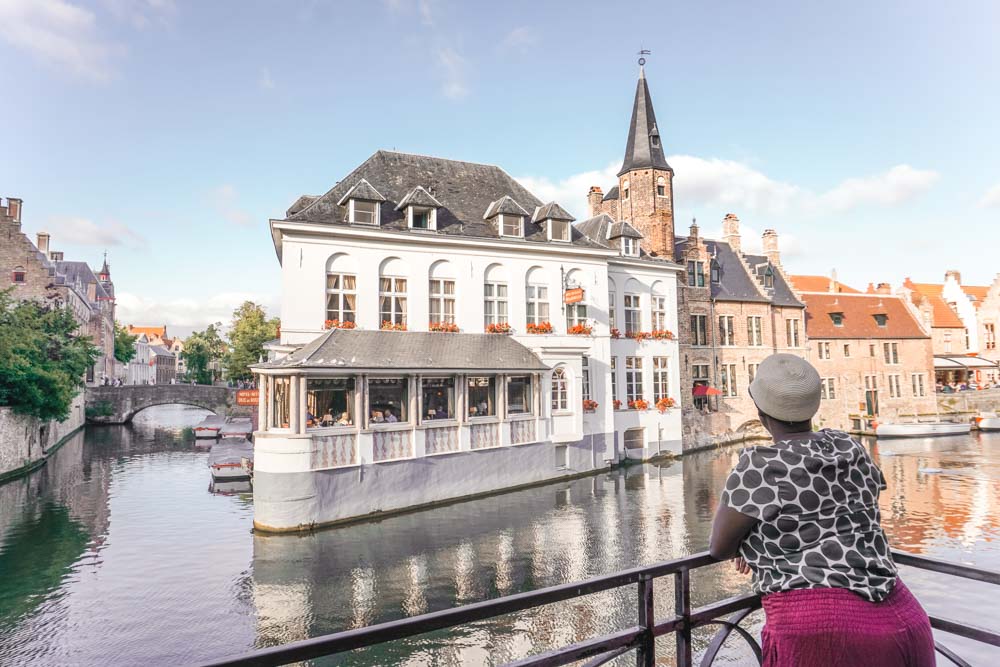 Like much of Europe, Bruges is at its busiest in summer – June to August. July and August, in particular, can get pretty frantic and accommodation costs do tend to reflect this.
The Cheapest Time to Visit Bruges
If you're looking to visit Bruges on a budget, then January is the ideal month to go. This is when prices are at their lowest, and crowds are at their thinnest – so you won't be elbow-to-elbow with fellow visitors.
Although there are certainly perks to visiting during the off season, I would recommend checking opening hours if there's anything on your "must see" list as some galleries and attractions do close over January.
Best Time to Visit Bruges' Christmas Markets
If you're looking to check out the Christmas Markets in Bruges then I'm sure it will come as no surprise that you'll want to visit in December.
The city is simply brimming with festive cheer during the holiday season. If you can't make it in December, the Christmas Market does actually open in mid-November, so you can get in early instead.
Bruges by Season
Spring in Bruges
Spring arrives in Bruges with great fanfare between March and May.
Key Events and Things to Do in Bruges in Spring
The Beguinage – a cloistered convent in a beautiful location is covered in colourful flowers to celebrate the arrival of spring.
May Fair – a huge funfair which has been running since the 1200s. It continues to delight visitors of all ages, and runs through until early June.
Procession of the Holy Blood – one of the most important religious events in Bruges occurs annually on ascension day.
Pros to Travelling to Bruges in Spring
Spring is the best time to see flowers in and around Bruges, which really are spectacular.
Bruges really thaws out by March, and the warmer weather often raises everyone's spirits (it's hard to be grumpy in the sunshine).
Cons to Travelling to Bruges in Spring
It can still be on the chilly side, so be sure to bring your jacket – especially in March and April.
As the weather warms up, the crowds arrive – by late May, things are definitely getting busy.
Summer in Bruges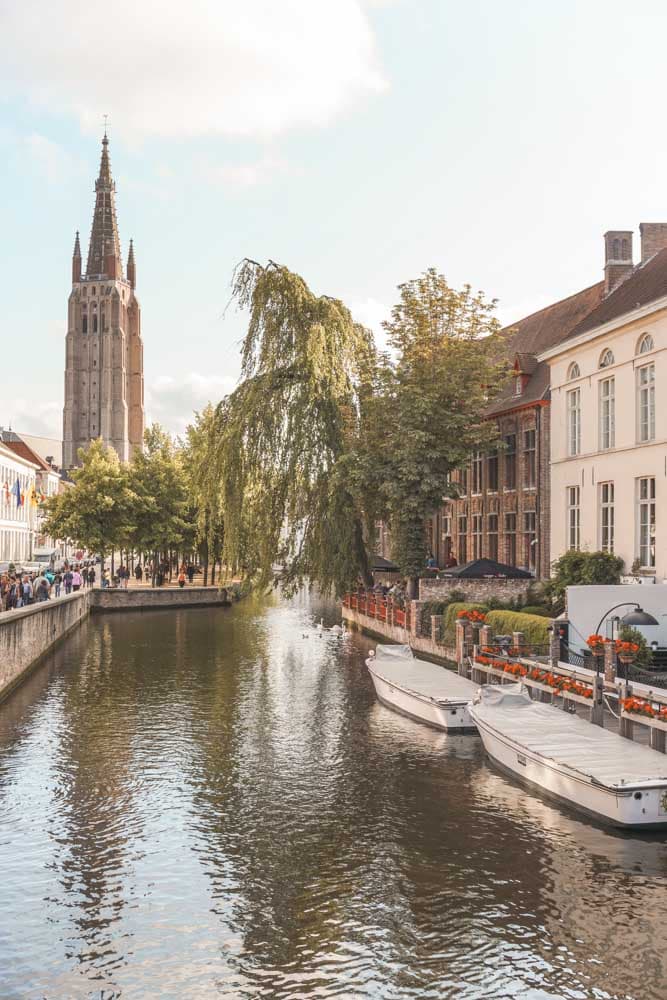 Between June and August Bruges is at its sunny best – and its busiest.
Key Events and Things to Do in Bruges in Summer
Cactus Festival – one of Belgium's largest, oldest and most popular music festivals is held every year in Bruges, around July.
Zandfeestan – the largest flea market in Belgium is held over three weeks in summer. Even if you don't buy anything, you're sure to be dazzled by the incredible selection.
Flemish National Day – join in on the fun celebrating all things Flemish. Celebrations are held every year on July 11th.
Pros to Travelling to Bruges in Summer
The weather is at its warmest, yet is still pleasant – perfect for exploring Bruges on foot.
Many people consider this the best time to visit Bruges, and the city has a great atmosphere.
Cons to Travelling to Bruges in Summer
Due to demand, prices are generally at their highest during the summer months and things can book out well in advance.
Bruges can be really busy in summer, so expect long lines and crowds. That said, you can still find hidden gems away from the masses.
Autumn / Fall in Bruges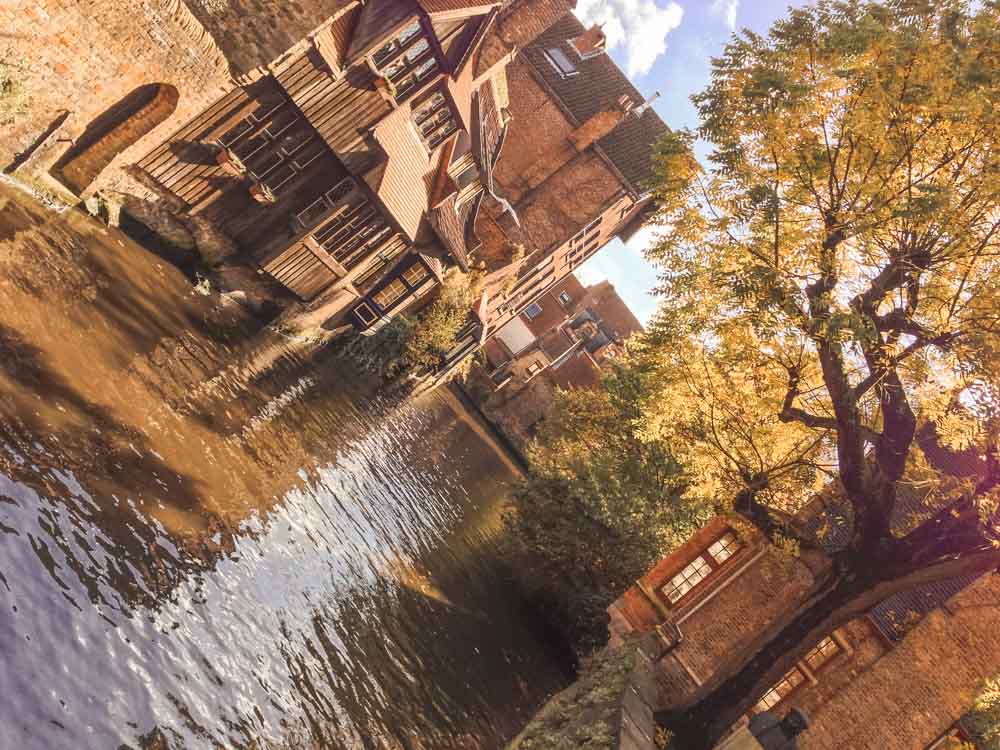 Autumn arrives in September, sticking around until late November.
Key Events and Things to Do in Bruges in Autumn
Cheesemarket – a market with more than 50 stalls devoted to cheese? Uh, could anything be better?
Heritage Day – on this day (usually September), Bruges attractions open their doors for free in the name of promoting history and culture.
Pros to Travelling to Bruges in Autumn
Fall/autumn is a very picturesque time to visit Bruges, and especially parks like Minnewater.
This time of year can be a good compromise, offering milder weather (before the deep freeze) and fewer crowds.
Cons to Travelling to Bruges in Autumn
It can be quite cold and rainy, especially in the latter part of fall/autumn.
Winter in Bruges
You'll want to wrap up if you're visiting Bruges in winter, between November and February.
Key Events and Things to Do in Bruges in Winter
Bruges Christmas Market – Soak up the Christmas spirit at the ever so charming market. Pick up some hand-crafted Christmas decorations, or just enjoy the mulled wine.
Bruges Beer Festival – what better way to warm up than to sample some of Belgium's best beer varieties? Since 2007, this annual festival has grown to be one of Bruges' most popular.
New Years Eve – Bruges is a magical place to see in the New Year. Various events are held throughout the city, with a free concert that's family-friendly.
Pros to Travelling to Bruges in Winter
As tourism is at its lowest in winter (especially after Christmas), then you can often score some bargains on accommodation.
It's also the quietest time in Bruges – ideal if you prefer to avoid the crowds and queues that come with travelling in peak season.
Cons to Travelling to Bruges in Winter
It is cold. Like, really cold. Make sure you pack your suitcase full of warm clothing including gloves, scarves and hats.
Some attractions close during the winter period as this is when tourism is at its lowest. Check ahead if there's anything you can't bear to miss.
When to Travel to Bruges, Belgium: Practical Tips + Tricks
If you are looking to travel to Bruges in summer, be sure to book way ahead as there's plenty of competition for the best accommodation. Read my Where to Stay in Bruges and Bruges Airbnb guides for more information.
Bruges has recently been looking at measures to combat overtourism, especially in the summer months. I really recommend looking at travelling off-peak, when the overall tourist numbers are a little more manageable.
Travelling to Bruges: Read Next
Love This? Save and Share on Pinterest!