Hunting out the best beer bars in Bruges? Don't miss this Bruges beer guide – complete with the best bars and brewery tours and some handy tips for navigating the complex world of Belgian beers.

Beer is synonymous with Bruges. Turn every corner in this fairytale city and you're confronted with the evidence – a beer bar here, a beer bar there, a brewery – not to mention an annual beer festival each February that sees Bruges showing off the very best of its beer culture.
The first time I visited Bruges, I didn't quite expect the vast about of choice when it came to beer tastings, tours and bars. That's not to say that I didn't embrace it with gusto: I set out to discover as much as I could about Brugge's beer scene – a passion that has lasted through all my subsequent visits.
Setting out to explore the beer in Bruges is a pleasure any way you go about it – but this is also a place where a little bit of knowledge can go a long way.
Want to know the difference between a farmhouse ale and a Dubbel? What about Kwak? Read ahead my friends. 
PS: Also looking for more Bruges inspiration? Check out my Bruges City Guide – The Best Things to do and Places to See in the City.
Belgian Beer 101: Handy Facts to Know Before Taking on Bruges Beer Scene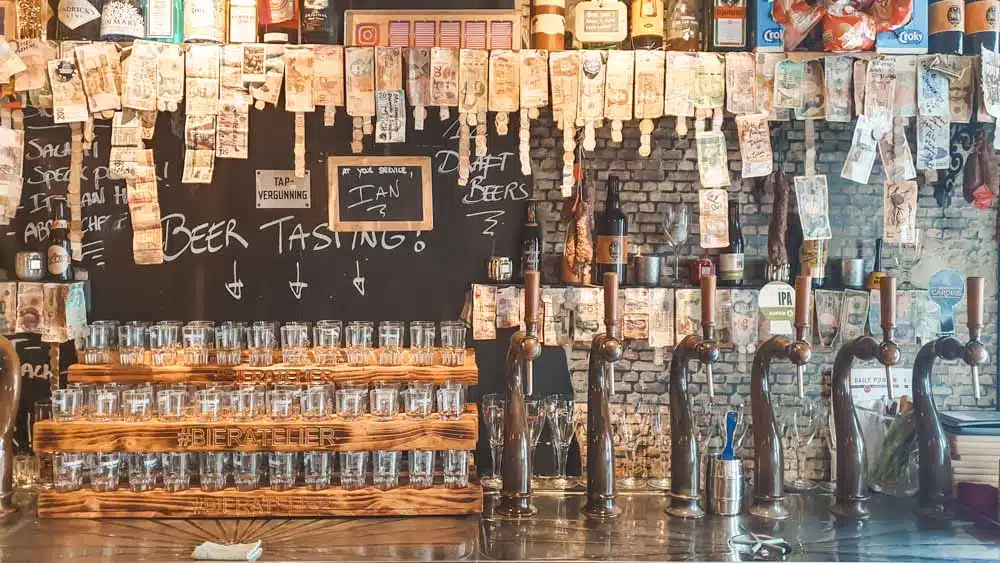 Right, before we set off to drink all of the ridiculously good beer we can lay our hands on in Brugge's bars and breweries, here's a quick rundown of some of the common terms you'll come across and what they mean.
Trappist Ales
There are plenty of trappist beers in Bruges – but what are they? Trappist ales are tightly regulated and have to follow set criteria to call themselves a trappist ale.
The first, and the biggest one is that the beer has to be fermented and bottle conditioned within the walls of a monastery by, or under the supervision of, the monks.
The second is that the brewery can't be run for profit – but only to support the monastery and its work in society.
Abbey Beers
Abbey beers by contrast, are ales that have been brewed in the style of traditional Trappist ales but that do not fulfil the requirements to label themselves as a Trappist ale.
What's the Difference Between Dubbel, Tripel and Quadrupel Beers?
As soon as you start drinking Belgian beers, you'll notice that many beers are marked as Dubbel, Tripel or Quadrupel – but what does that actually mean?
Common sense would tell you that it refers solely to the strength of the beer – so you'd expect a Quadrupel to be double the strength of a Dubbel. Guess what? Common sense is wrong. Well, kind of. I'll walk you through the differences.
Dubbel is a style of beer, generally at ABV 6% to 8.5%, dark in colour and toasted, malty and spiced tasting notes. They're yeasty and complex – the kind of beers you either love or hate.
A tripel by contrast should be lighter – golden in colour, clouded in appearance with hoppier notes and a smoother taste.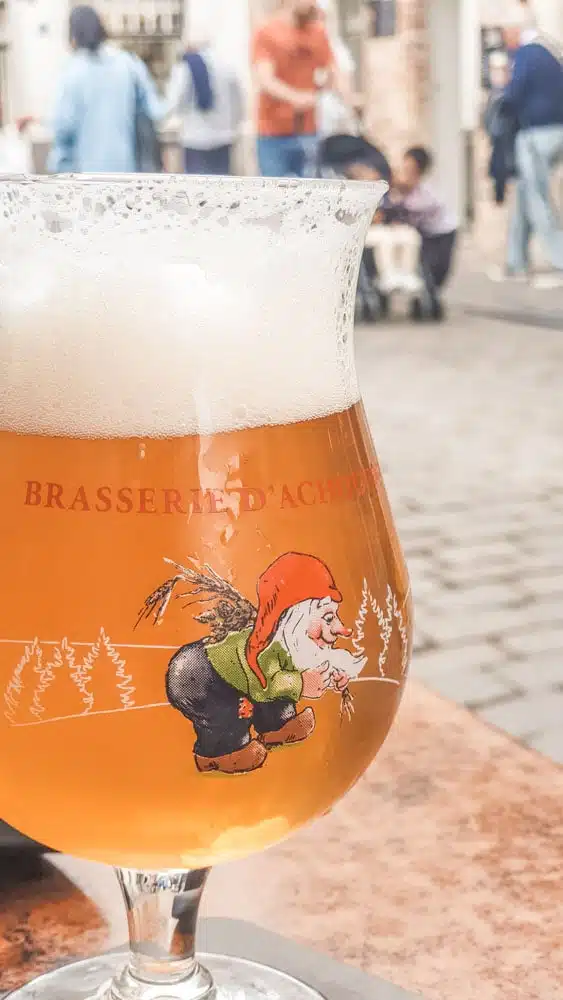 They are stronger but the malt used is Pilsner, so they have a completely different flavour profile to Dubbels, with citrussy aromas. Strength-wise, they can knock between ABV 8.5% to over 10% – let's just say that you will know about it if you knock too many of them back in one go.
So what about the quadrupel then?
Well, unlike the dubbels and the tripels, which have been traditionally brewed by monks for centuries, the quadrupel is relatively recent. In fact it's not even Belgian. I know, I'm clutching my pearls and simultaneously questioning everything I know about life.
The quadrupel aims to unite the flavours and tasting notes of dubbels with elements of the tripel. They are strong though – pretty much always punching in at ABVs of over 10%.
Witbier
White beers are meant to be refreshing – served chilled, with tasting notes of christmas spice emphasised by the citrus peel served with the drink.
Lambic Beers 
Lambic beers are another beer you don't come across outside of the world of Belgian beer. They use spontaneous fermentation thanks to unique microorganisms found in Belgium's Senne Valley – breweries leave them in large open vats to develop their unmistakable tang.
Sharp and sour, they're matured for long periods of time to soften the taste and blended with fruit (often cherries), hence why they frequently are described as having a sour cherry taste.
In fact, Flanders has always excelled at making sour ales – not everyone loves them but their sharp fruity taste are unlike beers brewed elsewhere in the world. Styles include Flanders Red, Guezes, Brown ales and the aforementioned Lambics.
Brewery Tours in Bruges
If you're wondering where to drink beer in Bruges, you can hardly do better than going to an actual brewery to kick things off.
De Halve Maan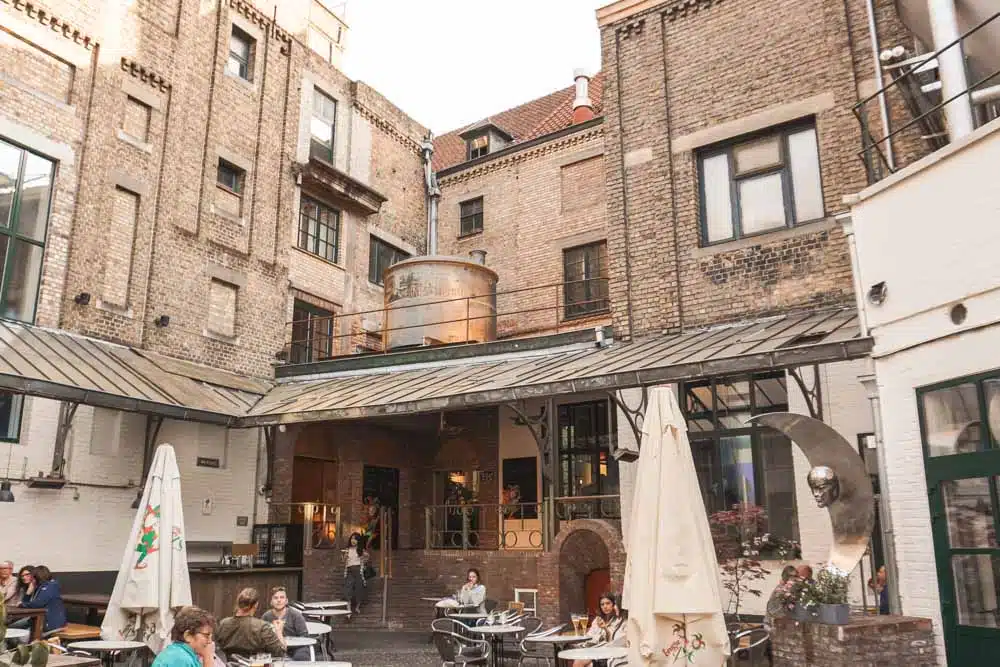 De Halve Maan (The Half Man) is the most famous Bruges brewery tour.
The frequent tours are held in several languages – talking you through the history of the brewery and the brewing process for their unique beers.
The guides are funny, personable and hugely informative, leading you through the warren of rooms and passages that make up the brewery. They're relatively comprehensive (45 minutes) and include a sampling of the beers too.
De Halve Maan is a popular Brugge brewery option, so I'd recommend taking the first tour of the day (if you can stomach it – I'm sure that you can) or going as late as possible when all the day-trippers have set off home.
Incidentally, when people say that beer flows through Bruges' streets, they're not exaggerating. The Half Man Brewery recently installed a beer pipe to transport beer from the brewery to its bottling plant on the outskirts of the city.
Bourgogne des Flandres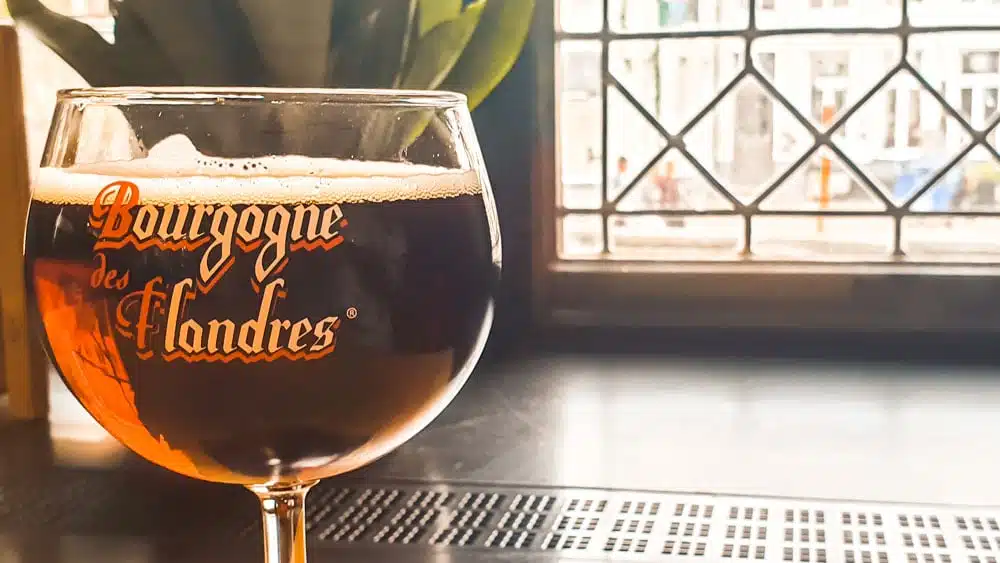 The historic beer of Bourgogne des Flandres recently moved back into the city to a new microbrewery in central Bruges and with it came a cool little Bruges brewery tour.
The tour itself takes you tells you about the hops and brewing process that results in Bourgogne des Flandres' traditional rounded dark and fruity beer – you can even learn how to tap the beer digitally too. Once you're done, round it off with a free glass of the good stuff in their bar.
The brewery tours are interesting and the beers are tasty but my personal experience was kind of marred by the rude service at the bar. The beer was tasty though.

Want more? Book onto a private Bruges Beer Brewery tour visiting the city's breweries with a local expert.
The Best Beer Bars in Bruges
't Brugs Beertje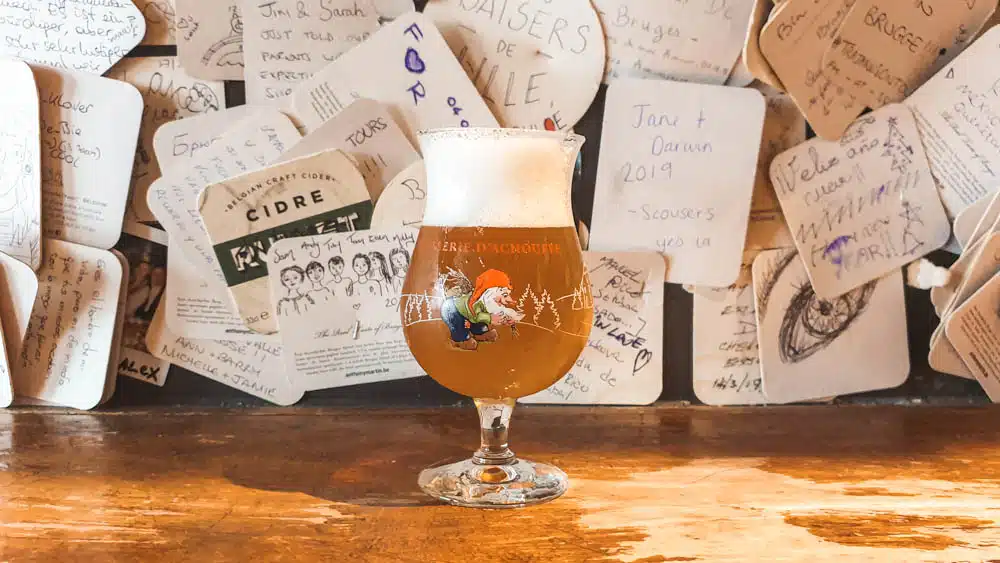 Is 't Brugs Beertje the best bar in Bruges? According to many, the answer is yes. On the face of it, it's nothing particularly special – a small pub on a cobbled street on one of the quieter roads of Bruges.
Go inside and you start to get an idea of what is so special about it. Every wall, every surface is covered in beer-related paraphernalia, scribbled on by the thousands of punters who've patronised the bar at some point or another.
That's before you even get to the beer – with over 300 Belgian Beers to choose from, there's guaranteed to be something to suit your taste. It's a real highlight on any beer tasting in Bruges odyssey.
The Beer Wall at 2Be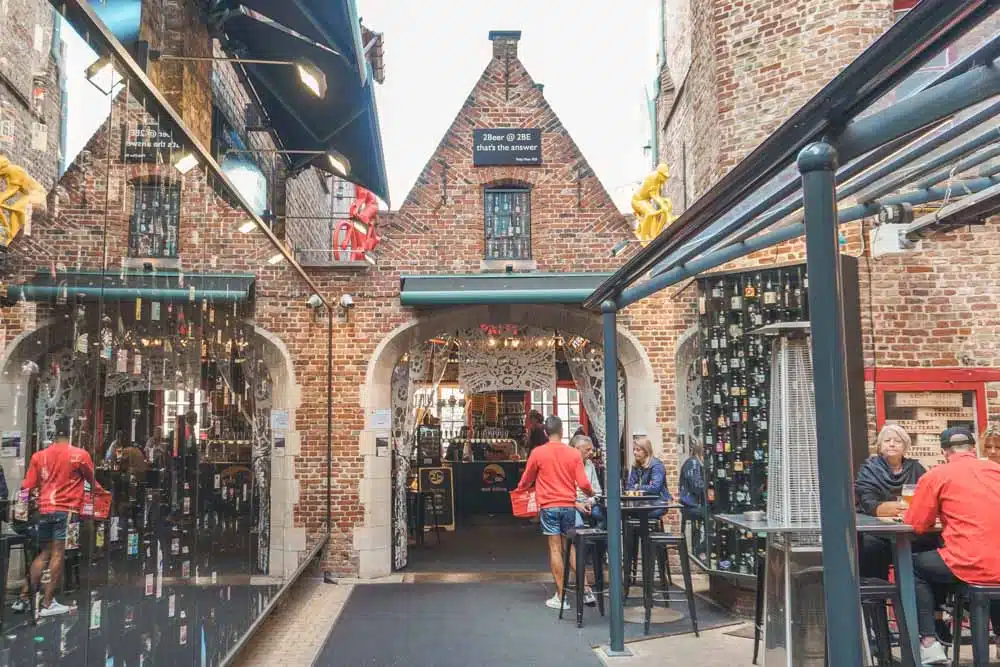 Chances are you've already seen or heard about the infamous Bruges beer wall at 2be bar. Enter the cavernous doorway to be confronted with a huge array of beer bottles (over 1250) and glasses all stacked up row by row on a long wall.
Don't just go and gawp though, as you'd expect, the bar serves an extensive array of beers and the spacious beer garden is smack-bang canalside. Great beer and gorgeous views – I won't blame you if you don't want to leave.
Browhuis Corsendonk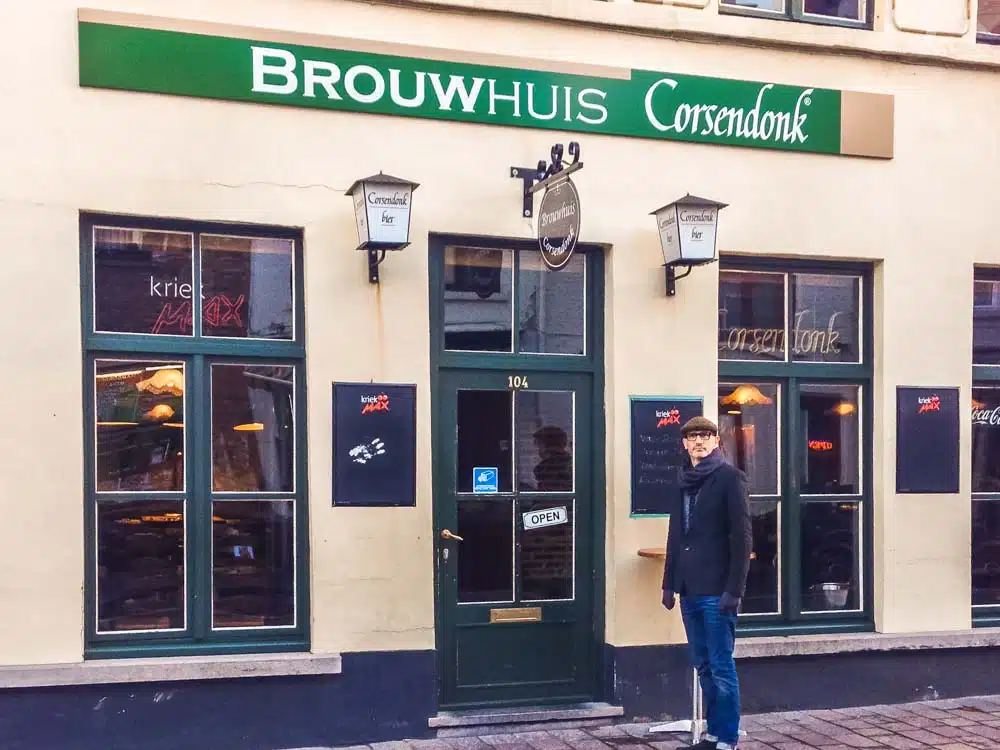 This small gem of a beer bar in Bruges, completely off the tourist track, may sport some rather odd kitsch decorations (on my last visit, there were puppet style witches dotted about the place) – but the beer is stellar.
Affiliated with the brewery of the same name – this is the place to go and drink Corsendonk.
Try the Corsendonk Pater – a dark brown ale with a creamy head and notes of dried fruit. If that's not your style, the Corsendonk Angus is a light golden ale with a cidery aroma and a crisp finish.
Langestraat 104, 8000 Brugge, Belgium
Le Trappiste
Another Bruges beer bar favourite, Le Trappiste sits in a rather gloomy cellar – pouring out their extensive range of Belgian Beers (including more than a few rare finds). The candlelit bar makes an atmospheric setting for sipping on your beer and it's surprisingly reasonable given its popularity.
Bierbrasserie Cambrinus
It's not flash and it's not stylish but Bierbrasserie Cambrinus draws in the crowds. Why? Well this pub in Bruges just so happens to serve very good beer alongside very good food. The beer list is large enough that it's a bit daunting but is great value – if you really struggle, the staff are always on hand to make a few recommendations.
De Garre
It might be difficult to find (you'll have to keep your eyes firmly on the map to get it right) but De Garre is another Bruges beer gem. The Tripel De Garre is the biggest draw here – weighing in at a whopping 11% this sweet but strong beer packs such a punch that drinkers are only allowed to order three in any visit.
't Poatersgat
't Poatersgat has a slightly too-cool-for-school vibe – but get past that and you will discover a bar in Bruges with a large range of speciality beers in a pleasant space.
Must-Try Brugge Beer Experiences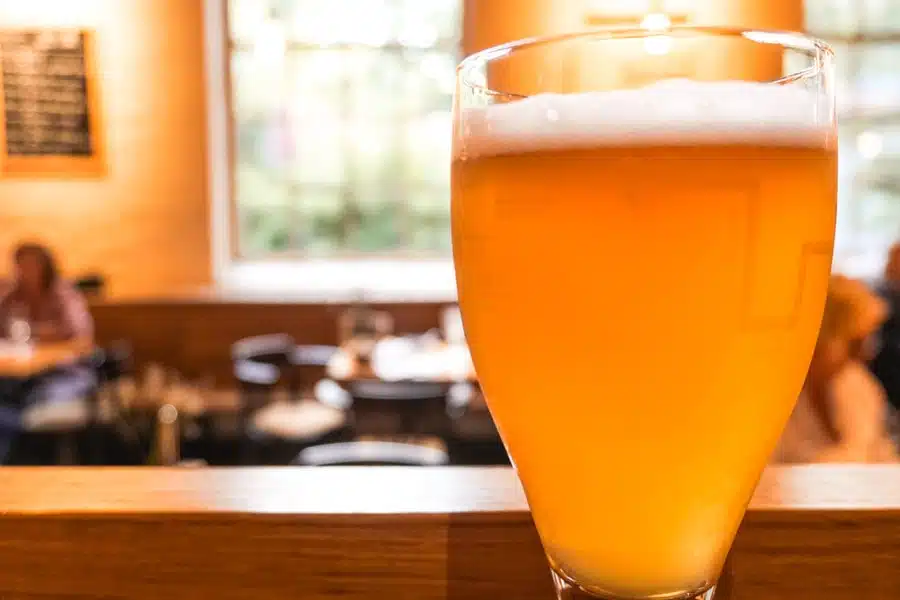 Bruges Beer Experience
Want to really get into the nitty gritty of Belgian beer? Head to the Bruges Beer Museum.
Set off on one of their interactive self-guided museum tours to learn about the history of beer in Bruges – there's a LOT of information on the first floor – so much so that you could spend hours walking around before you even head up to the second.
The second floor is a more interactive, focused on the equipment, ingredients and process used to make beer. Once you're finished you get to put your knowledge to the test by taking your pick of draft beers (some of which you can only get in the museum itself) to round off the experience.
This laid-back museum also doubles up as a cool little beer drinking spot as you can opt to forgo the tour and simply sample their extensive collection of beers.
The Bottle Shop
With all this beer drinking, you're pretty much guaranteed to want to bring a few Belgian beers home with you. The shelves speak for themselves – over 600 beers alongside their accompanying glasses so you can shop your favourites and savour them at home.
Where to Drink Beer in Bruges: Map