Bruges is one of Belgium's best-loved cities, often outshining the capital of Brussels. Planning your visit? Don't miss this guide to the best things to do in Bruges to help you plan your trip.
Bruges is the archetypal Flemish city, but it's so much more than that. Ancient brickwork and winding canals give the city its nickname "The Venice of the North", while its position as the heartland of Dutch-speaking Flanders gives it an unmistakable identity of its own.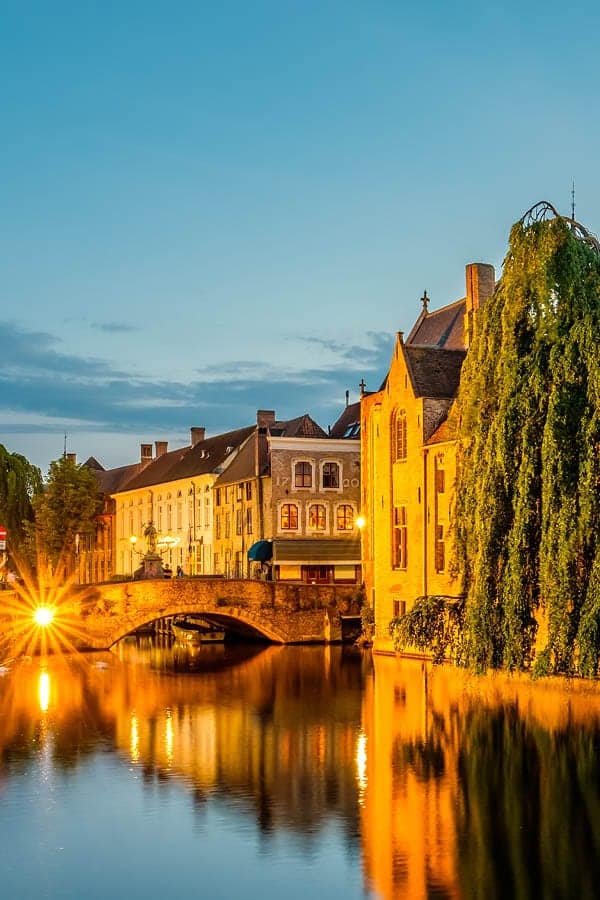 I've visited Bruges several times over the years and each time, find one more reason to go back and explore.
You don't have to look hard to find evidence of Bruges' historical importance: stately market squares, important museums, diamond traders – all tell the story of the city's position.
Bruges was named the capital of Flanders in the 15th century. In the 17th, it was named the capital of King Charles II's exiled government as the English Commonwealth ruled on British soil. All of this has left its mark on Bruges as firmly as a stamp.
For more information on this charming city, check out this Bruges travel guide. And if you're looking for the best things to do in Bruges, take a peek at the list of attractions and activities below.
PS: Looking for somewhere to stay? I recommend a few hotels in Bruges towards the end of this article but my go-to is the Novotel for its great location and reasonable prices.
Top 5 Things to do in Bruges
If you're short on time and are wondering which activities are a must-do in Bruges, then take a peek at the top five picks below.
Tip: To experience many of these top Bruges tourist attractions, take part in this 2-hour guided tour. You'll get to see the Lake of Love, the Begijnhof, the Walplein Square, the Burg Square and plenty more.
Wander Around Markt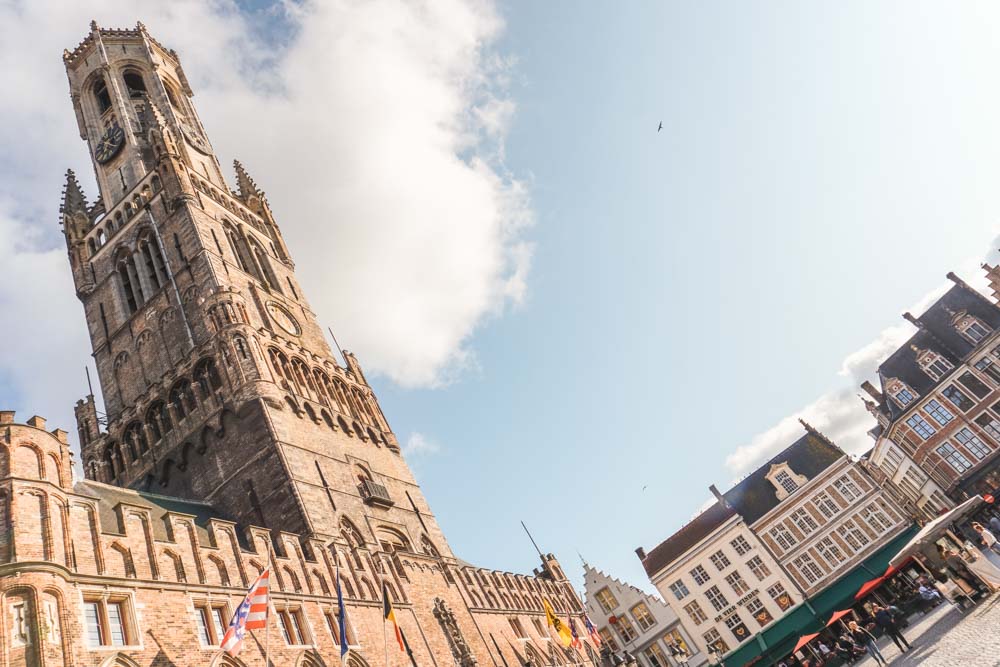 Chances are, that if you asked anyone to name the single best thing to see in Bruges, they'd start with Markt.
Sitting at the heart of Bruges, flanked on one side by the Belfort, Markt is Bruges' commercial hub – a stark reminder that once Bruges was the economic centre of Flanders.
That's all great, but it is the architecture that sets out to wow. Rows of typical Flanders houses, complete with their stepped roofs and distinctive brickwork surround the square, punctuated by a few museums and the huge Belfort.
Visit Burg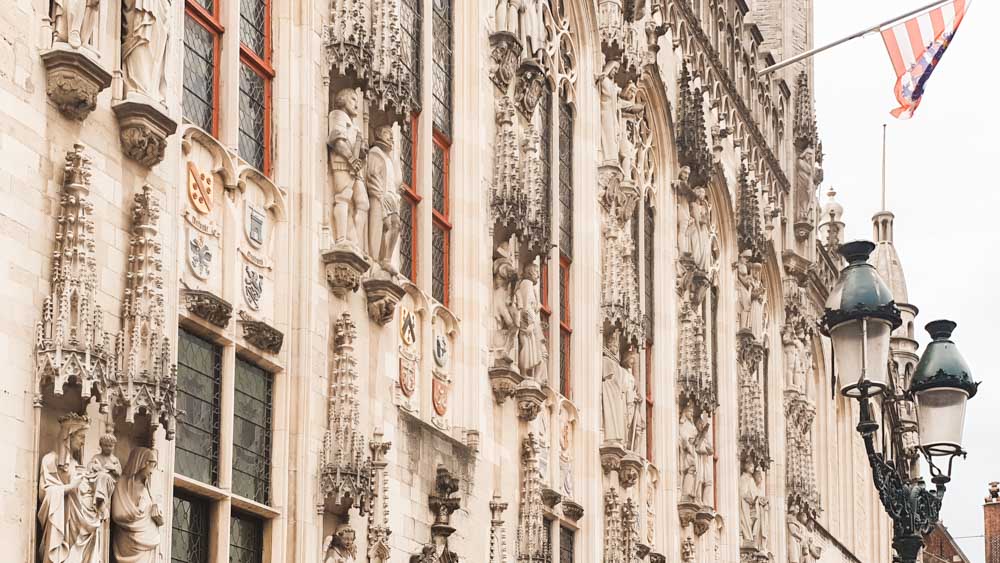 Burg is the second-biggest square in Bruges and another must on your list of top things to see in Bruges.
Why? Well, first of all, some of Bruges' most important buildings sit on the square: the Gothic Stadthuis (town hall), the 16th century city registry, the former Court of Justice, the Deanery, the House of the Deans of the Church of St. Donatius and the Heilig Bloedbasiliek (the Basilica of the Holy Blood).
Secondly, it is straight-up beautiful.
Much of Bruges feels like you are walking through a fairytale but the Burg goes for the full shebang (well, when it's not thronging with huge crowds anyway – that somewhat ruins the effect).
Read Next: Bruges in a Day: Planning the Perfect Bruges Day Trip
Chill Out in Bruges Begijnhof / Beguinages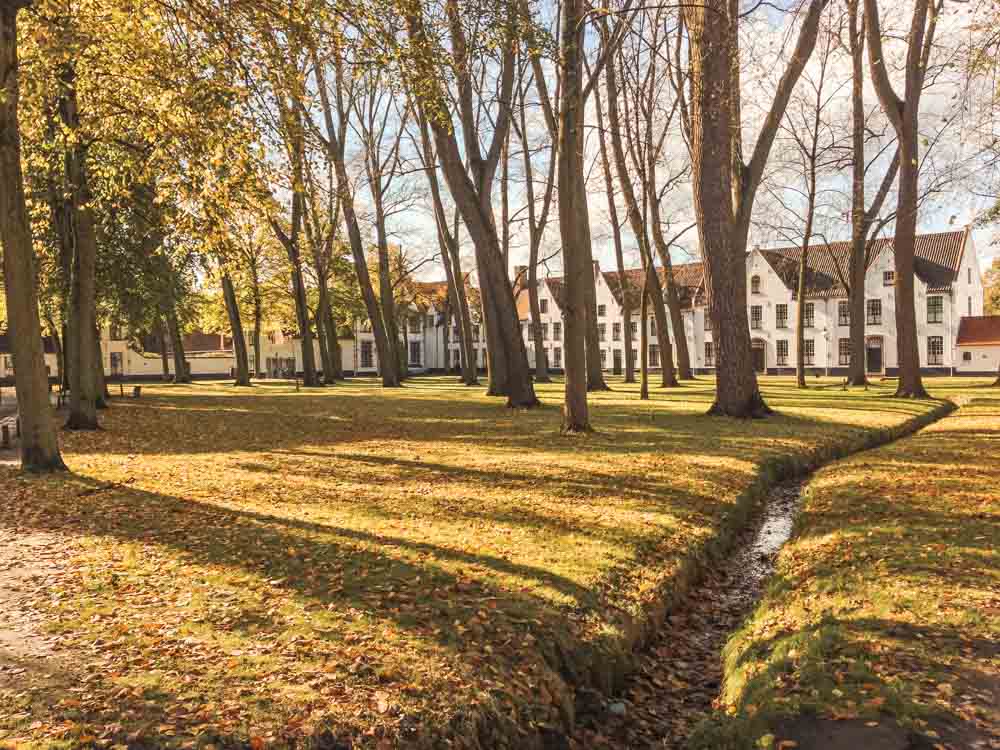 Belgium's gorgeous Begijnhof offers a calm respite in the heart of the city.
These world-famous UNESCO World Heritage buildings were built in 1245 to provide religious sanctuary for poor and elderly women – often unmarried or widowed by the wars that claimed so many men's lives at the time.
While the Begijnhoff dates from the 13th century – many of the buildings you see clustered around the central tree date back to the 17th century. There are also a few 19th-century ones thrown in for good measure.
The entrance, via a bridge over a pretty canal, takes you into a different world.
Life inside the Begijnhof was quiet and governed by strict religious beliefs, so it's fitting that it's now a Benedictine convent. Even walking through today, there are signs requesting visitors keep their voices low and don't make too much noise.
Take a Canal Cruise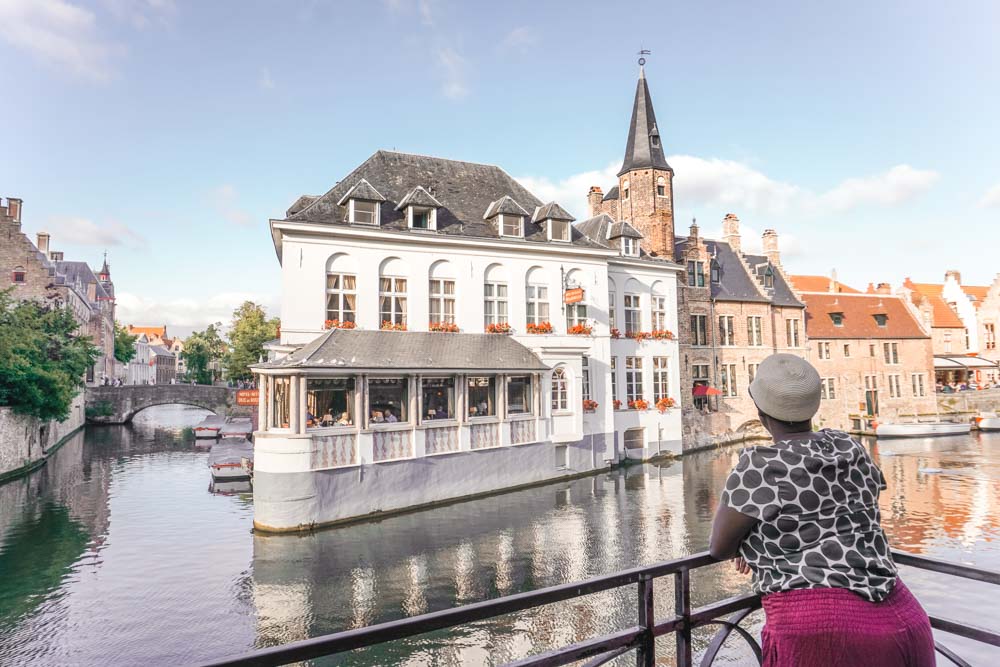 You can't come to Bruges and not hop onto one of the cruises plying the canals that make this city so famous. After all – it is often called the Venice of the North – a cruise simply has to go on your Bruges to-do list.
Bruges' waterways are what made the city so rich in the first place. Even the city's name ties to the canals. It's thought that the name Brugge comes from the Scandinavian word "Bryggis", which translates as mooring place.
These days, it's all tourist trade on the canals – but they're no less picturesque than they were centuries ago. The tours generally run between March and November. Be sure to wrap up on colder days and be sure to bring along a waterproof jacket.
Looking for a tour? Check out this Bruges boat cruise. With a local guide, discover the mediaeval town of Bruges and many of its best-kept secrets.
Discover Belgian Beer on a Brewery Tour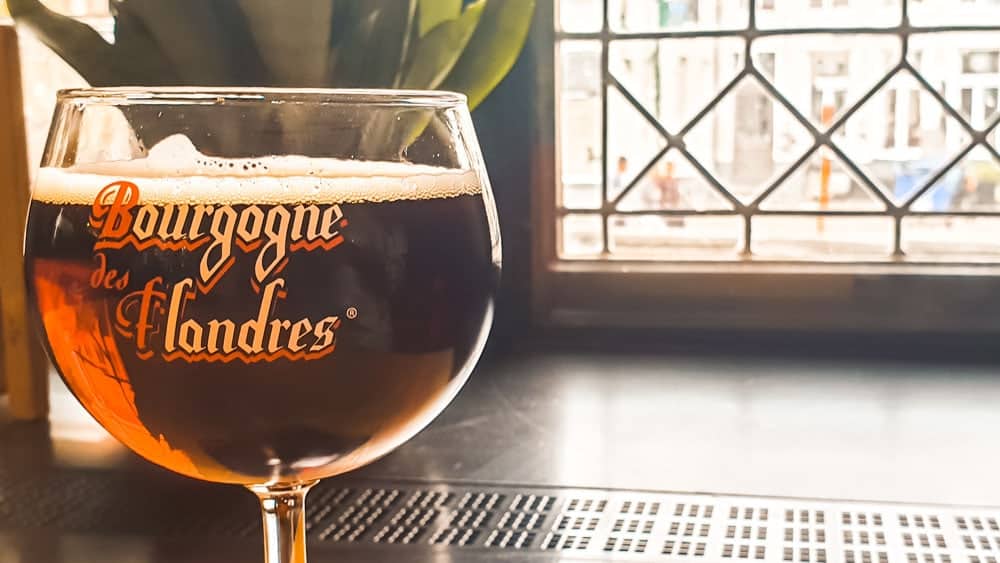 Belgium is famous for its beers, so if you have even a passing interest or enjoyment of the brown stuff, going on a brewery tour is pretty much a must.
There are a few breweries you can visit in the city – De Halve Maan, Fort Lapin and Bourgogne des Flandres – all three producing excellent beer and leading brewery tours.
What could be more Bruges than learning all about how the city makes the iconic Belgian Beers before whetting your whistle with tasters of the end product?
Alternatively, you can book an awesome private Bruges beer tour and taste some of the city's finest brews.
PS: Service is curt at best at Bourgogne des Flandres, so if you have to skip one, choose that one.
Read More: The Bruges Beer Guide – Where to Find the Best Beers, Bars and Breweries
Brilliant & Unique Things to Do in Bruges
Wondering what to see in Bruges? Here are a few more noteworthy attractions and activities found throughout this marvellous Belgian city – everything from visiting a local museum to enjoying various delicious eats.
Visit Helig Bloedbasiliek (The Basilica of the Holy Blood)
Perched on a corner of the Burg, the Basilica of the Holy Blood is one of the most important Bruges attractions – well, from a religious point of view anyway.
But what is it? Well, the clue is in the name – the Basilica holds a phial that some say contains the holy blood of Jesus.
Reports suggest that the relic came from the Holy Land in 1149, but the evidence suggests it was actually from then Constantinople. Either way, the holy phial is supposed to contain a shred of the cloth used to wipe Jesus' body after his crucifixion. Gory stuff.
Whether you believe that or not, there's no denying the dramatic exterior is a real eye-catcher, even by this city's high standards.
Marvel at the Groeninge Museum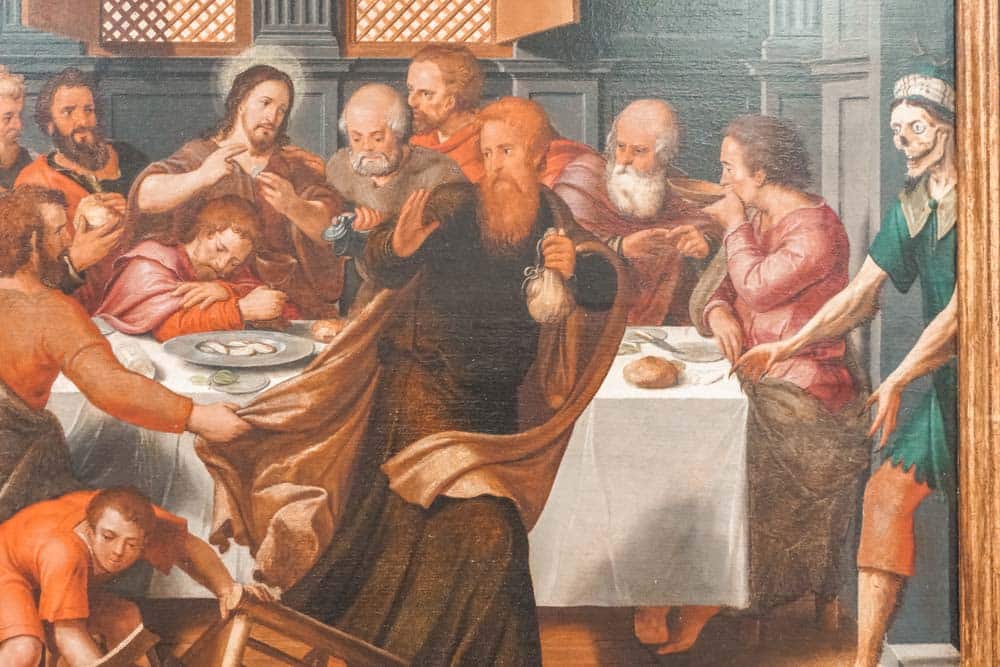 The Groeninge Museum is the city's leading museum – with a collection that largely focuses on artists who, throughout the centuries since the mediaeval ages, have called Bruges their home.
I'll be completely honest here. I didn't LOVE the Groeninge Museum. In truth, I found it a bit dull – but I'm not really that into the early Flemish, Dutch and Belgian art that forms the backbone of the museum's collection.
I also thought it was pretty expensive for what is ultimately a relatively small museum, but it is one of Bruges' most important museums, so I'll leave you to make up your mind.
Gawk at the Gruuthuse Museum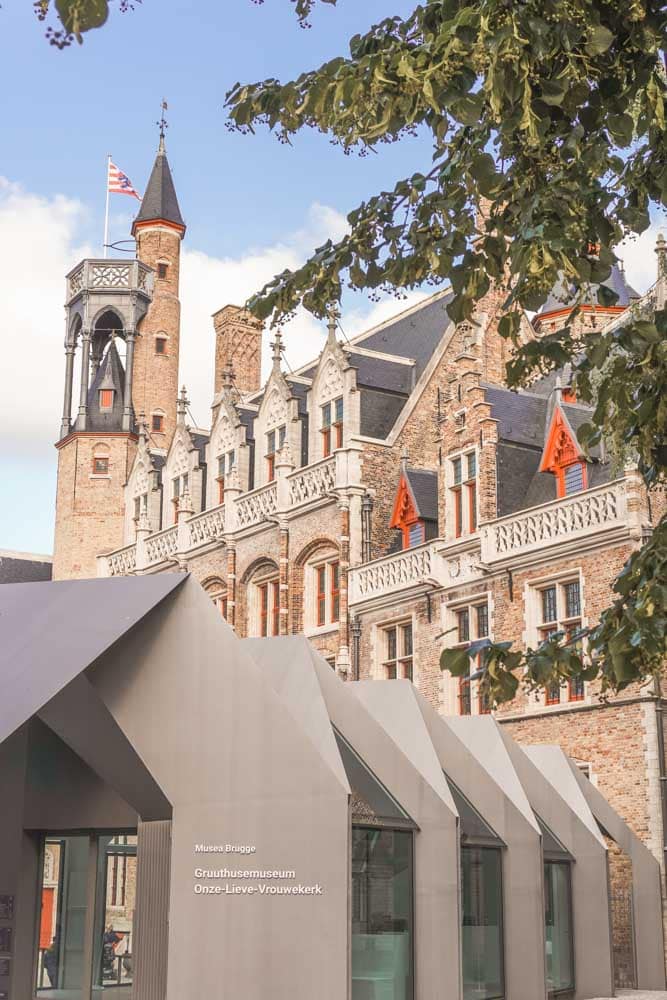 Housed in a charming mansion, the recently-renovated Gruuthuse Museum contains the antique and art collections of the Archaeological Society of Bruges.
The impressive building belonged to one of the richest families in Bruges. The most famous member of this family is Lodewijk van Gruuthuse (Louis of Gruuthuse), who was a diplomat and art lover.
The mansion has seen several renovations over its lifetime, and the result is truly astounding. Inside you'll find mediaeval kitchens, Gothic furniture, and medical displays, all portraying life in mediaeval and Renaissance Bruges.
Eat Some Belgian Waffles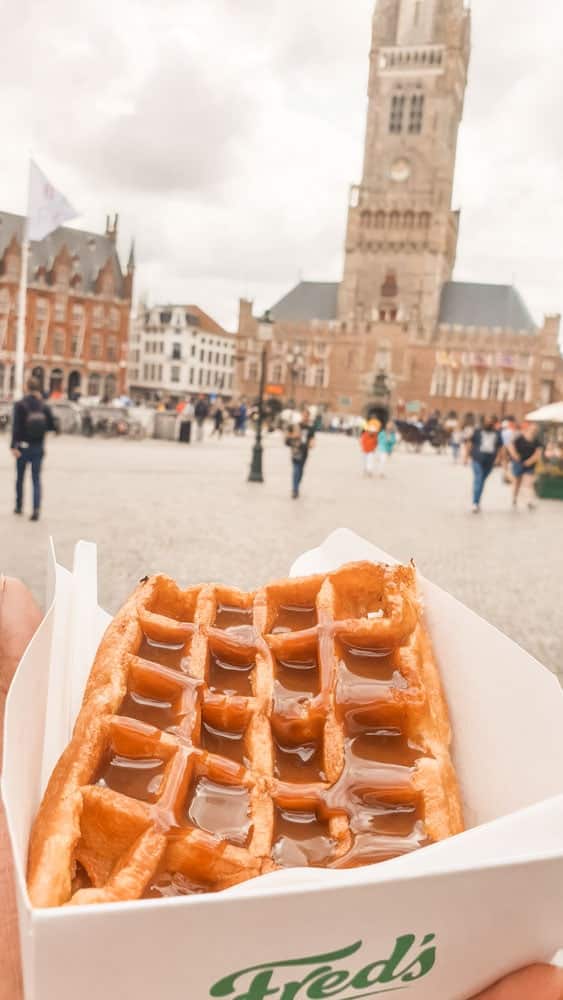 Just the thought of Belgian waffles is enough to get my mouth drooling. There are so many great waffle shops in Bruges that I totally wouldn't blame you if you had them for breakfast, lunch and dinner every day (though maybe that would be a little bit excessive).
Fluffy yet dense, sweet but not too sweet, and topped with your choice of delicious topping (hello salted caramel), you really should have at least one during your trip.

I loved Fred's Waffles around the back of Markt, but you really are spoilt for choice when it comes to locations.
Buy Some Belgian Chocolate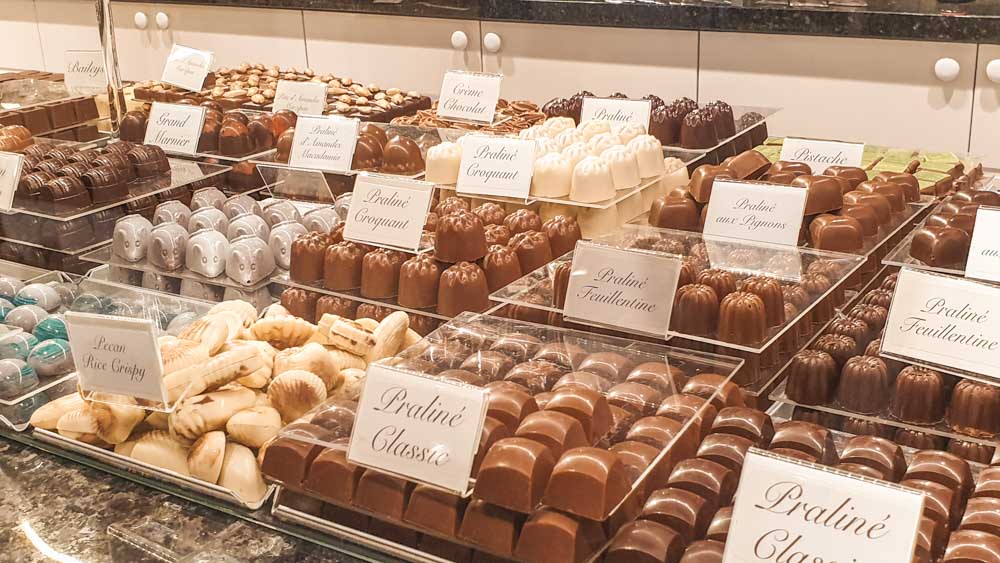 Belgian chocolate hardly needs an introduction – the country loves chocolate, a passion that has meant it has produced some of the world's finest chocolate for centuries.
The upshot is that if you're big on your chocolate, Bruges is tantamount to Willy Wonka's Chocolate Factory – with shop after shop selling the good stuff.
Not all chocolates are equal, though. So it's worth hunting out a few highly-recommended ones for your list of places to visit in Bruges: Olivier's Chocolate Shop & Bar and Pol Delpa Chocolatier are two of my faves.
Tip: Looking for the perfect Bruges souvenir? Be sure to try out the Bruges Belgian chocolate workshop. Here you'll be able to make your own delicious praline and mendiant chocolates and master all the tips and tricks needed to do so.
Stroll Around De Vesten (The City Ramparts) and Windmill Walk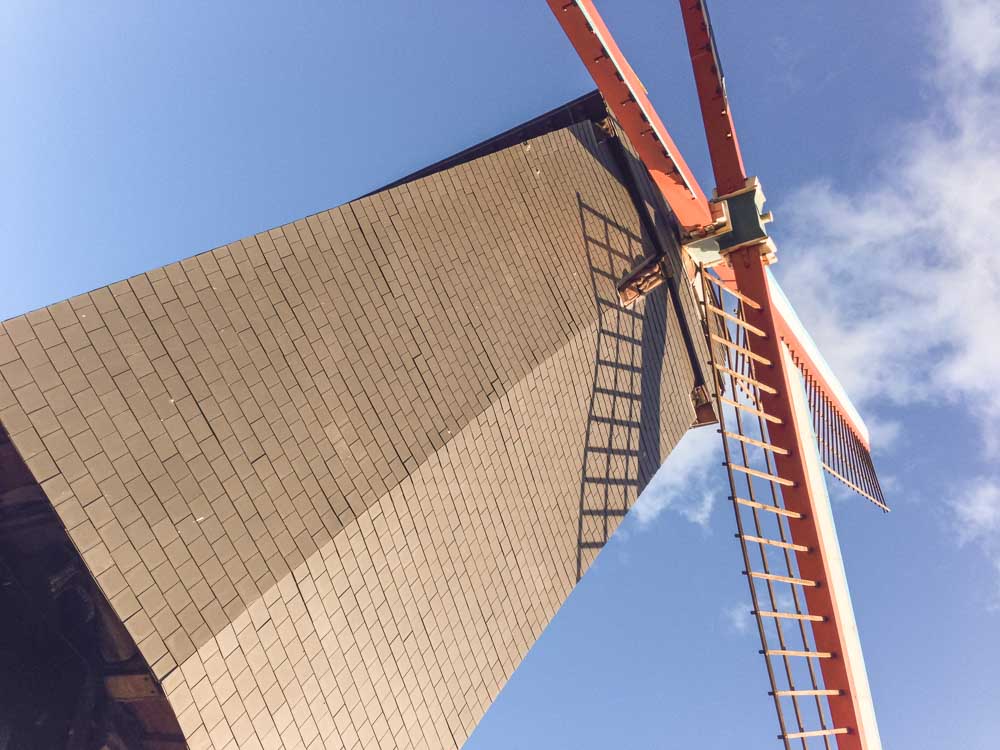 Did you know that Bruges used to be a walled city? You will only find traces of evidence that once, the city boasted 7 km of walls, built for protection in 1297 by the French King Phillip the Fair.
Though the walls were largely torn down in the 19th century, a few gates remain, including the Gentpoort, which houses part of the city museum and the moated Ezelpoort.
Interesting as that all is, what's better is that the space previously occupied by the old city walls has transformed into a lovely walk around Bruges Old Town.
Along the way, you can take in views of the four remaining city gates and windmills (which is why it's often nicknamed Windmill Walk).
There used to be over 20 windmills to the north of the city – today, only three remain. Sint Janshuismolen is the most important of them all as it still grinds flour today. You can pop in and see the process yourself.
I cannot recommend that you walk the old ramparts enough – it's a delightful way to take in some of the city's historical sights in what feels like a semi-rural setting.
What's more, it's one of the best free things to do in Bruges – nice in a city where the costs can mount up easily.
Indulge in Choco Story at Bruges Chocolate Museum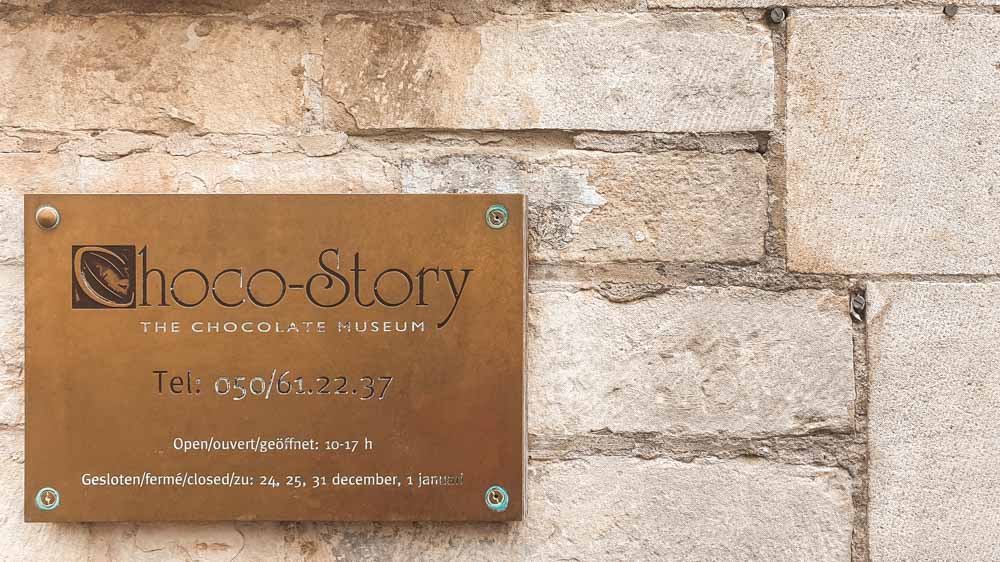 Another one of the best Bruges places to visit is the famed Choco Story. It is a chocolate museum created to honour one of Belgium's best-known international exports and is certainly one of the best activities in Bruges for all the chocolate lovers out there.
Belgian's first chocolate house dates back to 1845, and the country has been devoted to the good stuff ever since.
The museum walks you through the history of chocolate and the development of Belgium's own chocolate industry – complete with interesting snippets and stories along the way. I dare you to resist the chocolate from the shop on the way out.
Tip: For a private tour coupled with a chocolate-making demonstration, check out this Choco Story tour.
Visit the Diamantmuseum
Three of the world's leading diamond museums are located in Belgium. Accident? I think not.
Belgium's history is inextricably intertwined with that of the diamond industry.
In fact, diamond-cutting was first invented in Bruges more than 500 years ago.
Housed in a 17th-century mansion, the museum takes you back in time to the old diamond workshops and some replicas of the famous pieces they produced. There are also large numbers of real diamonds for you to feast your eyes on too.
Some unique demonstrations you'll be able to attend when visiting the museum include diamond-cutting and diamond-polishing.

Climb the Belfort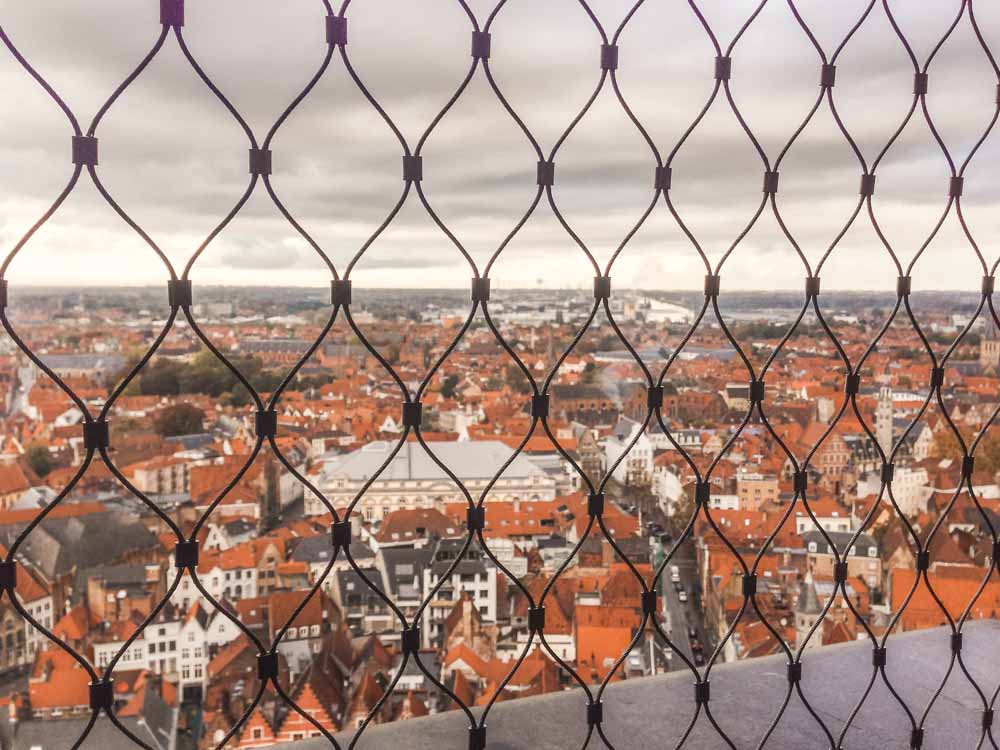 It's hard to miss the Belfort as you're sure to see it peeking out above the skyline here and there. In fact, there are few places in the city centre where you won't catch a glimpse (or, failing that, hear the sounds of its bells ringing out).
The Belfort that we see today is not the original. It burnt down in 1240, was rebuilt, and then destroyed by fire twice more. The second time was in 1741, before it evolved into the building we see today.
Climbing the Belfort is undoubtedly one of the top things to do in Bruges. It is high, and it takes some huffing and puffing to get to the top. However, the spectacular views from on top are most certainly worth it.
Check Out St Salvator's Cathedral
Previously a humble church, St Salvator became a cathedral when Belgium became an independent kingdom in the 19th century.
It was enlarged and improved to fit its new status, as well as to ensure it looked every bit more important than its neighbour, the Onze Lieve Vrouwekerk.
The result of the building's long history is a diverse mix of architectural styles from the Scheldt and High Gothic periods. It also boasts some Neo-Gothic and Neo-Romanesque styles.
Inside the cathedral, you'll find weapons belonging to the chivalric order of the Knights of the Golden Fleece. Other important treasures you'll find here include a collection of Old Dutch paintings, shrines, reliquaries, and sculptures from the church treasury.
Swing by Onze-Lieve Vrouwekerk – The Church of Our Lady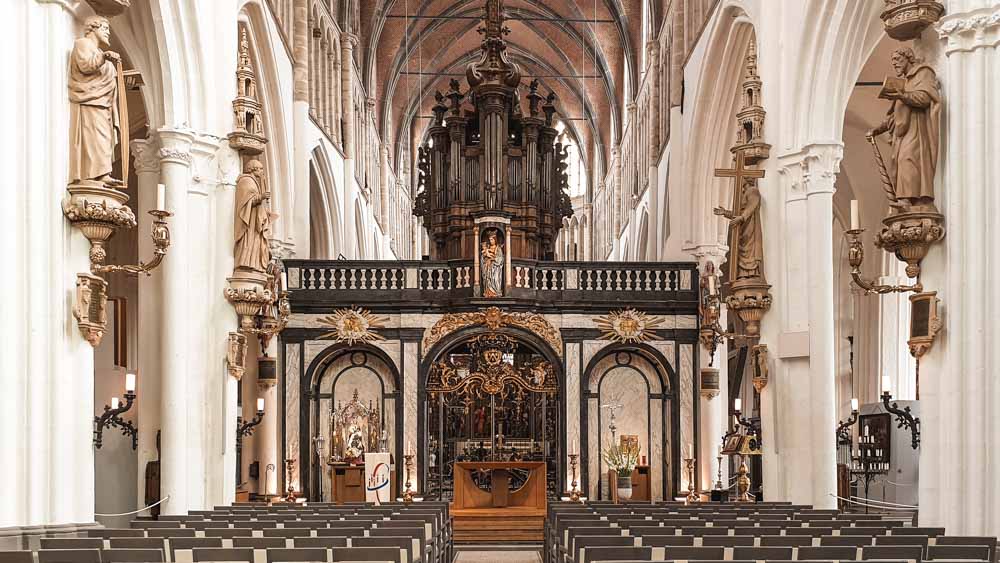 Sporting Bruges' highest tower (yes, even higher than the Belfort's), Onze-Lieve-Vrouwerkerk is Bruges' most visited religious building. This is thanks to its stunning architecture and the fact that it houses a number of important artistic works, including Michaelangelo's Madonna & Child.
The sculpture – famously the only one to leave Italy while Michaelangelo was alive, was originally sculpted in 1504 for Siena Cathedral in Italy. However, that all changed when two Bruges merchants bought the piece and later donated it to the church in 1506.
Today, it really pulls in the crowds. Try to go early or late before or after the tour buses arrive and depart to get a look at it in relative peace.
The 122 m tower is one of the tallest in Belgium, topped only by that of Antwerp's gorgeous cathedral.
Peer Inside Sint Janshospitaal & The Memling Museum
Sint Janshospitaal dates back to the 12th century and is one of the oldest preserved hospital buildings in Europe. It served as the city's main hospital until well into the 20th century. Today, it serves as a museum dedicated to recreating what a mediaeval hospital and pharmacy would have looked like.
Inside you will find an extensive collection of archives, medical instruments, and artworks. Sint Janshospitaal is also home to an impressive collection of paintings by German artist Hans Memling. One of the most famous pieces found here is the Ursula Shrine.
Another draw of this museum is the Diksmuide attic. This boasts one of Europe's oldest and most monumental roof support structures.
Scoff at Frites Museum
A whole museum dedicated to the humble chip? Only Bruges could make it work.
In truth, I wasn't sure whether I'd enjoy the Frites Museum, but it is surprisingly engaging – walking you through everything you ever needed to know about the much-loved Belgian fries.
What's more, you get some perfectly-prepared fries at the end of your trip to round it off (to be had with mayonnaise the Belgian way naturally).
Take a Romantic Stroll Around Minnewater Park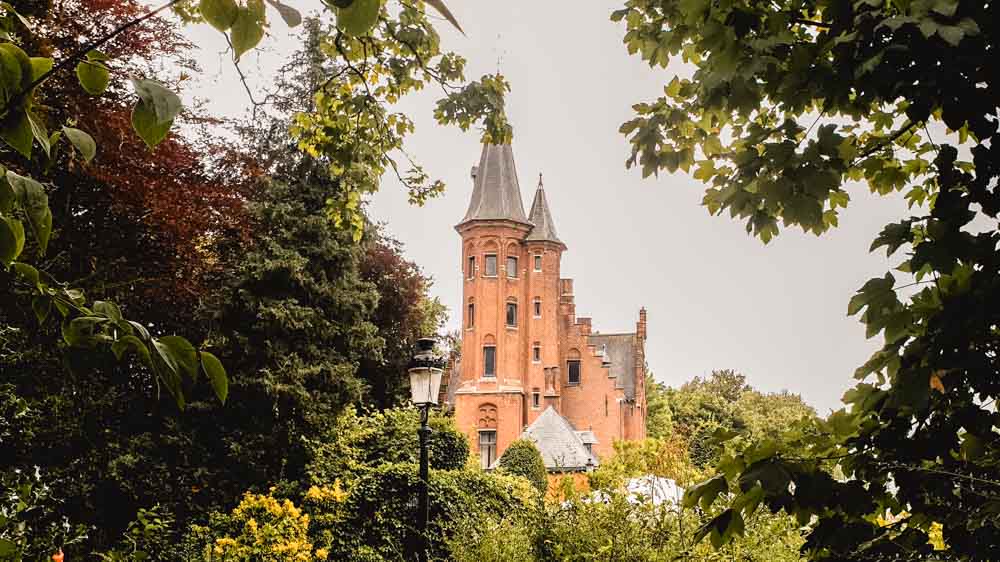 It's hard to believe that tranquil Minnewater Lake is a city park, but it is.
This pretty spot, containing the Lovers' Lake and Lovers' Bridge is both peaceable and photogenic – and well deserving of a place on your list of places to visit in Bruges.
Like much of Bruges, there's a story behind the lake too. According to legend, a beautiful young woman was in love with a warrior from a neighbouring tribe.
Her family disapproved, instead arranging for her to marry another man. Rather than submitting to this fate, the girl ran off into the forest, where she was found by the warrior… only to die in his arms.
It's not a cheerful tale, but rather fitting for the evocative surrounds of the park and lake.
Snap a Photo of Rozenhoedkaai (Quay of the Rosary)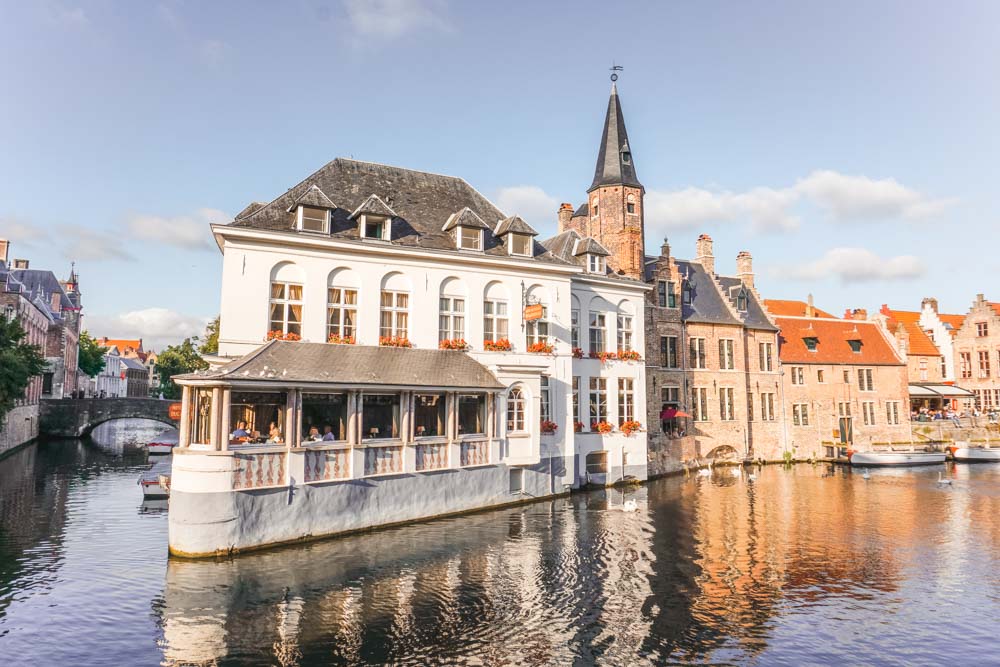 Is this the prettiest location in Bruges? It's certainly one of the most photographed and deserves a spot on any list of unmissable places to see in Bruges.
Go and you'll see castle-like buildings touching the water, along with a bridge and wooden dock that also appears untouched. With its sheer charm, the Quay of the Rosary looks as if it came out of the pages of one of Hans Christian Andersen's tales – that or a Disney film.
The Quay marks the spot where the Groenerei and Dijver canals meet and also serves as a jumping-off point for canal tours around the city.
Spot St Walburga's church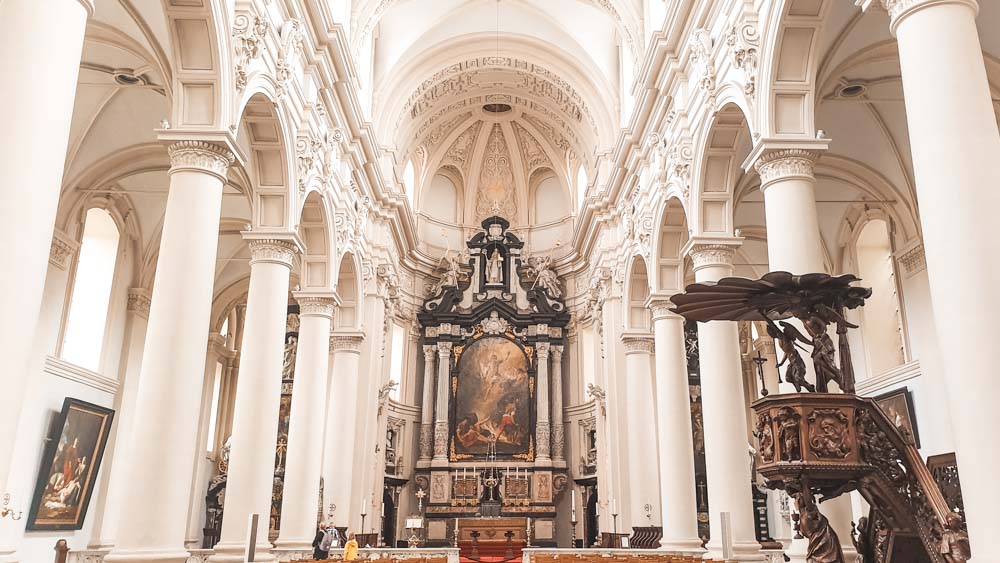 St Walburga's is one of the things to do in Bruges that's a little off the tourist track – which is weird as it's located quite centrally and boasts the most impressive interior of all the city's religious sites.
Decorated in stark black and white Baroque style (with plenty of gilt and wooden carvings for further effect), it's jaw-droppingly beautiful.
Take a Day Trip to Brussels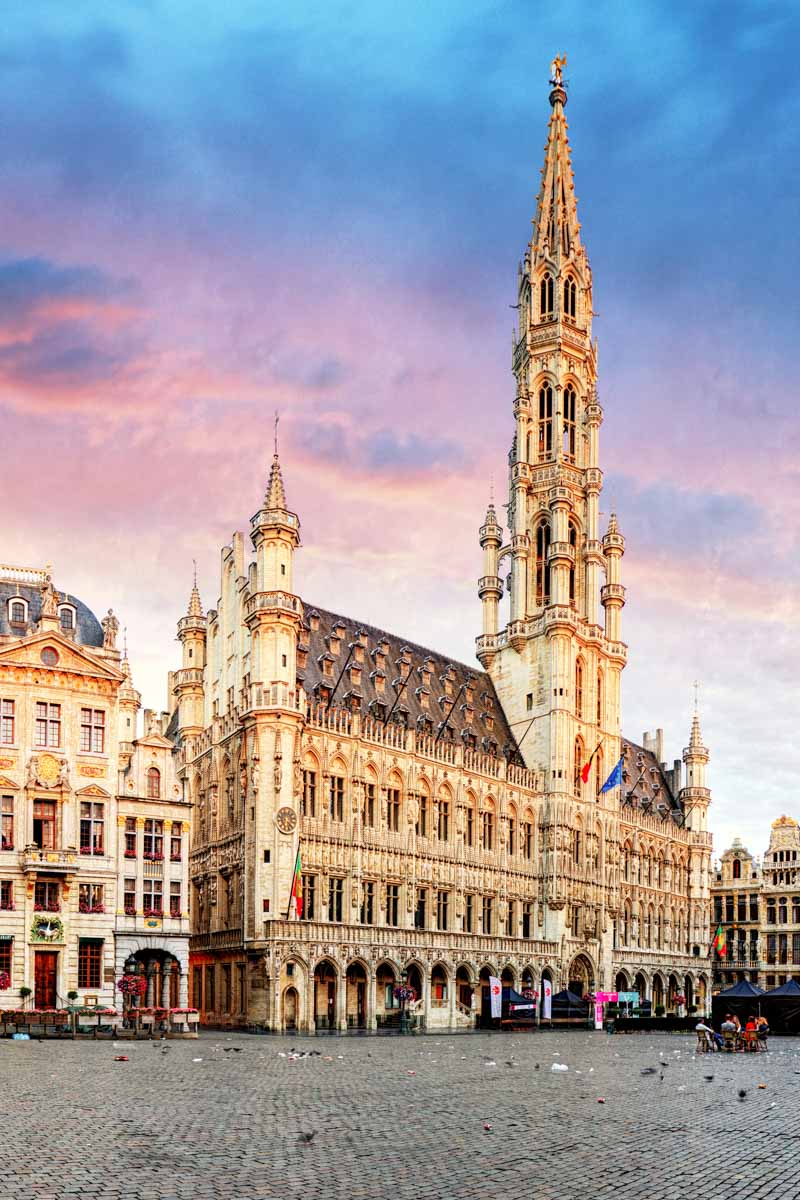 With Belgium's transport being as efficient as it is, and the capital just 90 minutes away, it would be criminal not to visit Brussels during your trip to Bruges.
The cosmopolitan capital is filled with plenty of brilliant things to see and do – from hanging out in Grand Place to seeing the city from a new perspective inside the Atomium. Marvel at the EU buildings or swing by the Justice Palace for a pretty jaunt around the nearby gardens, as well making time to visit to the Magritte Museum.
Whatever you do, swinging by Delirium for a craft beer (or three) is a must. As is heading to Knees to Chin for the best Vietnamese rolls in the city.
What to Do in Bruges at Night
Nights in Bruges are just as fun as the day. Here is a list of some cool things to and see after the sun sets.
Concertgebouw
Wondering what to do in Bruges that doesn't look like it's straight up out of the 16th century? So much of Bruges has one foot in the past that the ultra-modern Concertgebouw can come as something of a shock.
The Concertgebouw opened in 2002, which is also the year that Bruges got the name the European City of Culture. It is an international music and art centre renowned for its architecture, acoustics, extensive art collection, and magical concerts.
It is purposefully dramatic and a real change from the traditional buildings that define the rest of the city. It also sits on the list of 1001 buildings to visit before you die.
For the full experience, keep a lookout for the Concertgebouw programme online. You're sure to find something spectacular.
Experience the Bruges Nightlife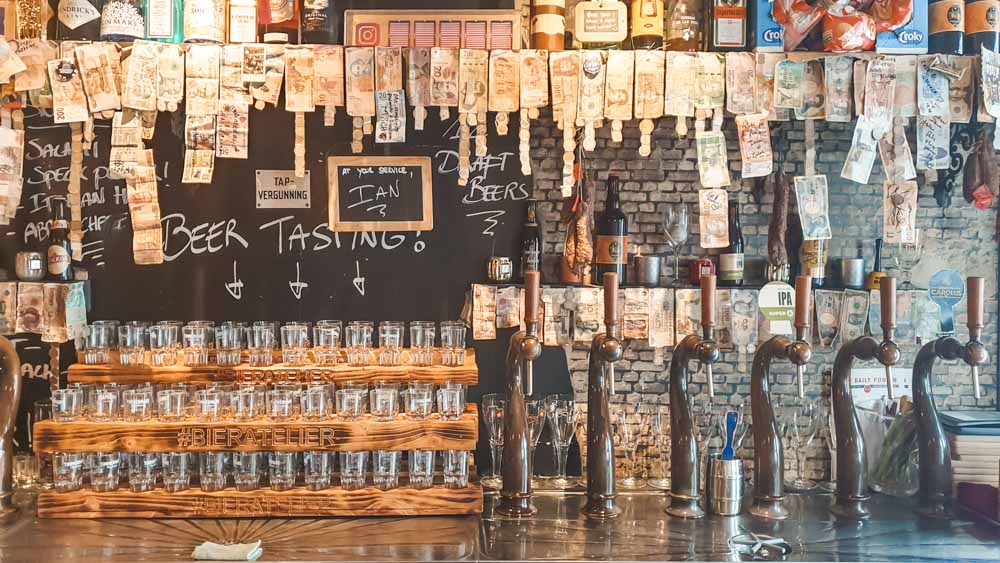 Another reason why Bruges is popular amongst locals and tourists is its vibrant nightlife. Throughout the city you'll come across a wide range of nightclubs and pubs. You'll find many of these concentrated around Blekerstraat, Vlamingstraat, Kemelstraat, Breidelstraat, and Oud Sint-Jan.
Some of the best spots to grab a drink in Bruges include Cafe Rose Red, De Garre, and Volkscafé Sint-Jakobs. Each of these offer a great selection of Belgian beers. Some also feature live music.
There are many more incredible bars and nightclubs throughout Bruges, so you're bound to find the perfect spot for a memorable night out on the town.
What to Do in Bruges: Eating and Drinking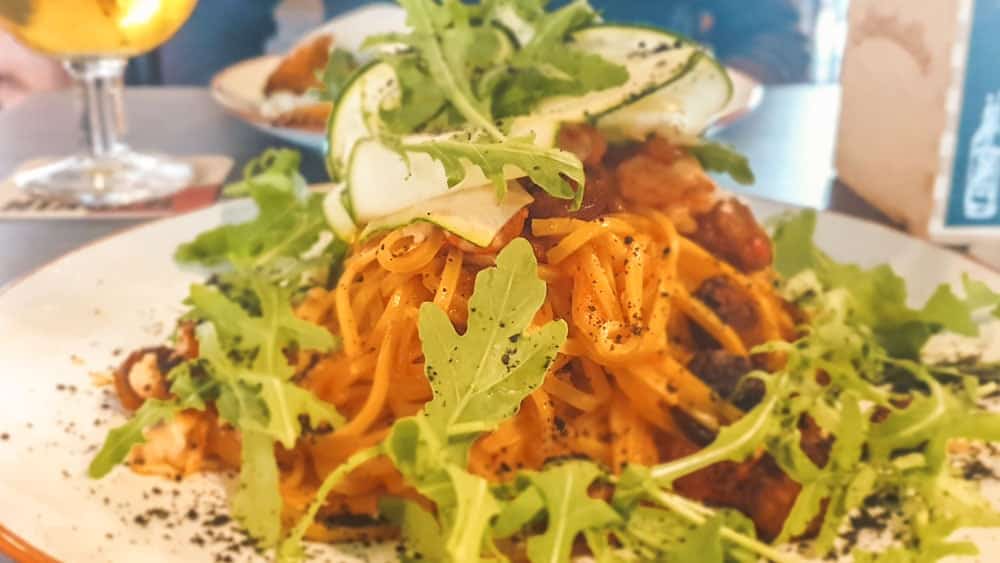 Restaurant Sans Cravate
£££
The Michelin-starred Restaurant Sans Cravate melds French and Belgian cuisine to create high-end dishes and some of the best eats in the city. Book ahead as it gets extremely busy.
'T Bagientje
££
Traditional Belgian cuisine in a rather cutesy setting just inside of the old city ramparts. The food is tasty but service can be slow, so don't go if you're in a hurry.
The Republic
£
Want to head to where the locals eat in Bruges? Go to The Republic, where the contemporary menu and chic decor feels worlds away from the sometimes stuffy Bruges dining scene. This spot is highly recommended.
Le Trappiste
£
I'll make a bold statement: Le Trappiste is the coolest bar in Bruges. Step inside the exposed brick walls and you're soon transported to a beer haven – everything from Hoeegarden to Chouffe, as well as some more off-piste options, are served here.
For more incredible restaurants and cafes, check out this guide to the best places to eat in Bruges.
Visit Bruges: Practical Tips for Your Trip
So, now you know what to do in Bruges, here are a few more recommendations for your trip. Also, be sure to check out this guide to find out the best time to visit Bruges.
How Long to Visit in Bruges?
I would recommend visiting Bruges for at least two days, preferably three.
A day trip to Bruges is an easy trip, but staying overnight means that you have more time to explore the city's key sights. You'll also get to experience how nice and quiet it is once all the day-tripping crowds leave.
Where Should I Stay in Bruges?
Wondering where to stay in Bruges? Well, Bruges isn't a large city, so wherever you stay is going to be relatively close to the centre. Here are my top recommendations:
Novotel Bruges Centrum Hotel (Mid-Range)
A relatively simple yet contemporary hotel a short walk away from the city centre. While the Novotel might not set your world alight, the rooms are comfortable, and the prices are reasonable.
Check Rates and Availability for Novotel Bruges
Hotel de Orangerie (Luxury)
A converted Carthusian convent, the ivy-clad facade of the Hotel de Orangerie is a landmark in itself. Go for upmarket rooms, swish service and (if you're lucky) breathtaking views.
Check Rates and Availability for Hotel de Orangerie Bruges
Looking for more recommendations? Read my guide to The Best Places and Areas to Stay in Bruges
Things to do in Bruges, Belgium: Map
Love this? Save and Share on Pinterest!