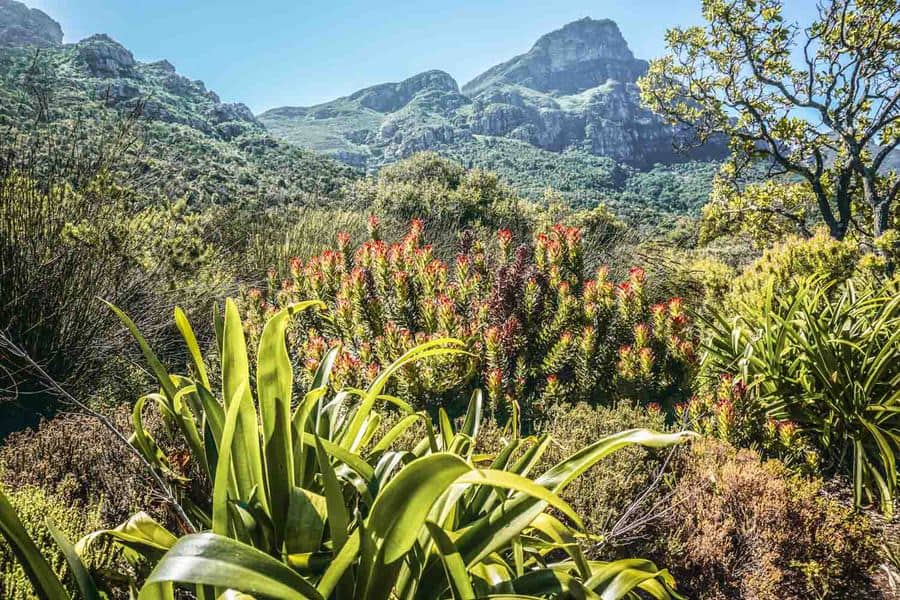 Cape Town is an incredible city in an incredible setting. Planning your trip? Here are the things to do in Cape Town that you should not miss.
Cape Town is one of those crazy cities that grab you, picks you up in its whirlwind and doesn't put you down until it's time for you to set off again.
I knew that Cape Town was going to be something special – but I didn't know how special. From the ridiculously beautiful vistas as the plane came in to land to the moment I watched the sun setting in Camps Bay, for me, Cape Town was filled with those magical travel moments that make it all worthwhile.
Don't believe me? Give these awesome things to do in Cape Town South Africa a try for yourself.
Hike to the Top of Table Mountain
Hiking to the top of Table Mountain certainly made the cut as one of my favourite things to do in Cape Town. We tackled the mountain on our first morning in the city and I would totally recommend that you do the same.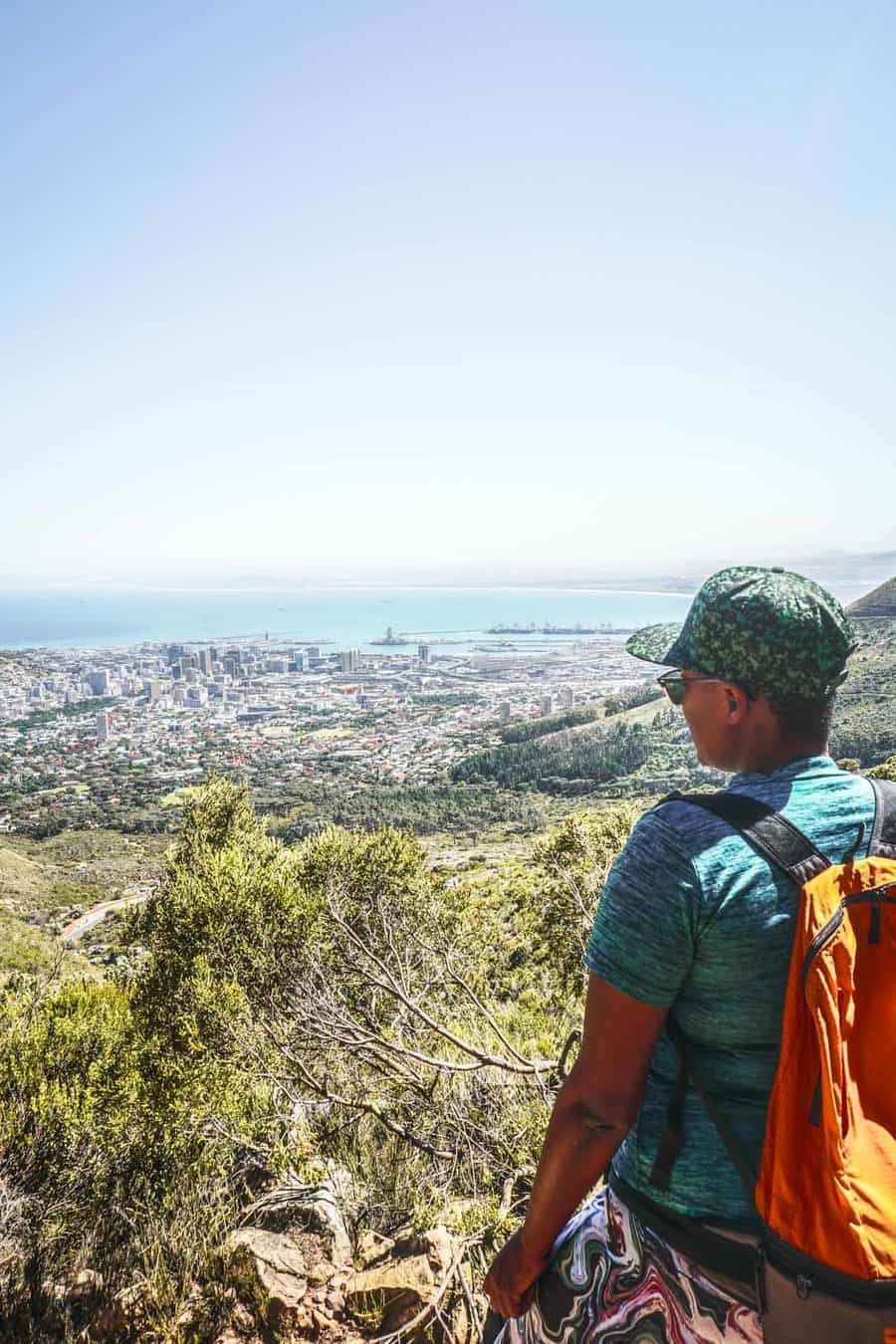 I can't think of a better way to familiarise yourself with a city than to watch as it unfurls before you, mile after mile, district after district in the spectacular landscapes from the top.
On the right day, the views from the top of Table Mountain stretch out for miles in each direction – out to sea and into the region of the Western Cape.
South Africa isn't short on natural attractions – from Addo Elephant National Park in the Eastern Cape, to Kruger and the Drakensberg Mountains, it's a country that demands you spend time outdoors – and Table Mountain is no exception.
But let's talk about the hike. People, this is no simple walk in the park. There are several routes to choose from – each with its own pros and cons. I opted for the Platteklip Gorge route – which is the shortest route. Sounds easy right? Not quite…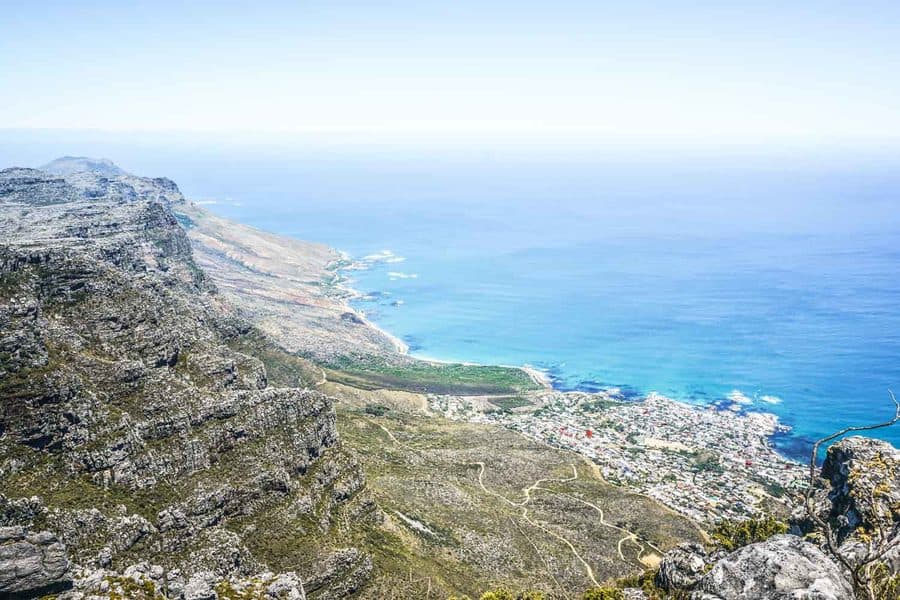 Don't worry, the hike isn't technically challenging (this coming from a renowned klutz) – the path is well marked and there isn't any scrambling. Just a relentless (and at times, neverending) pull to the top on a path that starts off pretty steep and gets even steeper.
One thing is for sure – the views at the top are worth it.
We tackled the hike on our own, and I wouldn't hesitate to suggest that you do the same. However, if you would feel more comfortable doing the hike with a guide, you can book a private guide and customised hike here.

Take a Gin Jol Tour with Kiff Kombi Tours
Now, if a tour of the city's coolest gin distilleries doesn't deserve a spot on the top of your list of things to do in Cape Town, I don't know what does.
There are so many bog-standard tours of any city that it can be difficult to tell the difference between them. Not so with Kiff Kombi's brilliant Gin Jol Tour.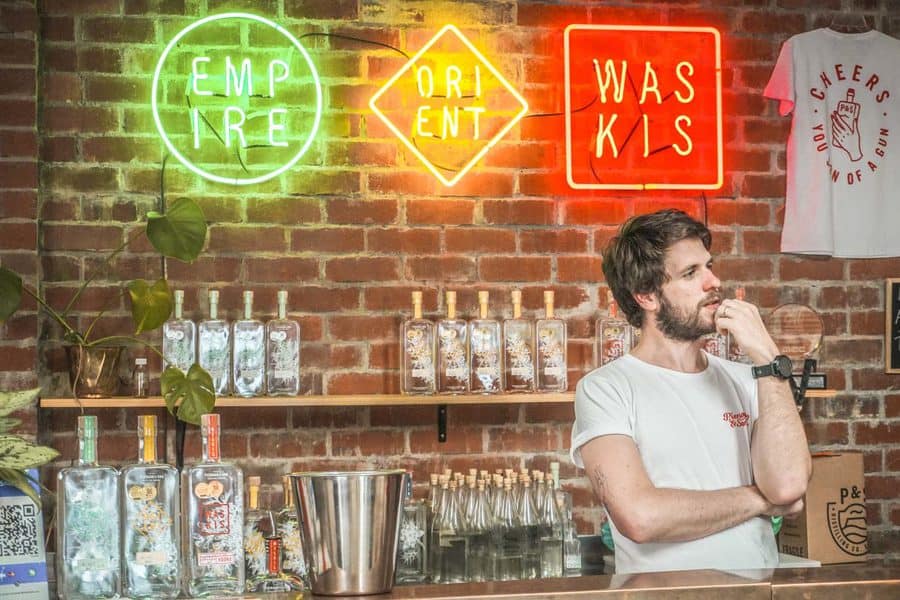 We started the tour with a tasting of gin cocktails made with homemade tinctures and bitters from regional South African botanicals. After that, it was a matter of hopping onto the colourfully-painted minivan and embarking on a whirlwind of gin-tasting and more insight into the gin-making process than I'd expected.
The tour treads the perfect balance between being fun and accessible and informative. Hearing the enthusiasm and knowledge of the distillery owners totally made each sip even better than it would have been anyway.
Bottom's up!

Feast on an All-out Dinner in Salsify
Look guys, it's not tough to eat well in Cape Town. That is just a fact. But, once in a while, you go a restaurant that really makes your taste buds sit up and pay real attention. That restaurant was Salsify.
First of all, there's the specular location in the old Governor's House overlooking Camp's Bay. Then, of course, there's the main attraction – the food.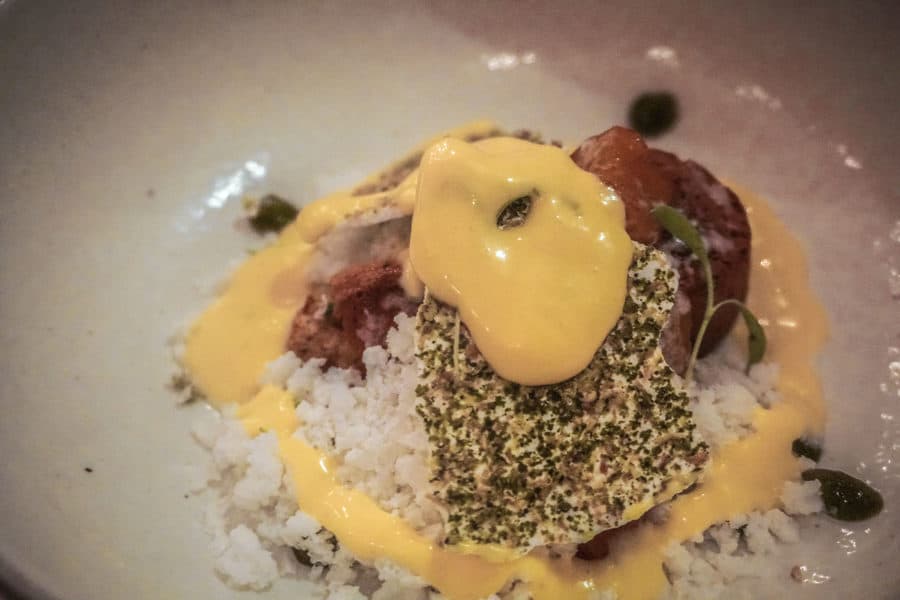 Settle in, make yourself comfortable and order the outstanding tasting menu. Seven courses of gastronomic indulgence in contemporary South African style skillfully prepared under the watchful eye of two of Cape Town's most innovative culinary figures Luke Dale-Roberts and head chef Ryan Cole.
The daily-changing menu featured so many stellar dishes that it's hard to pick a favourite – but the fire-roasted asparagus with sunflower pesto and egg sauce might just take the crown.
Get Behind the Wheel and Tackle the Chapman's Peak Drive
When I asked my South African friends what to do in Cape Town at least five different people told me to make sure that we took the Chapman's Peak Drive.
With so much buildup, it's safe to say that my expectations were high – nor were they disappointed. Though it's relatively short, the rugged nine kilometre drive winding around the coastal bluffs was eye-poppingly beautiful.
It's also the perfect start to a Cape Peninsula road trip taking in Cape Point, Boulder's Beach and Muizenberg (which all feature below).
Visit Robben Island
I'm going to have to put my hand up and say that I didn't actually get to visit Robben Island and I deeply regret it. Poor time management and restricted tour times to the island meant that we couldn't make it during our time in Cape Town.
I would urge you to do better. The island, situated 11 km north of Cape Town is at the heart of Cape Town's difficult and sad history. Most famous for being the prison where Nelson Mandela was incarcerated for 18 years, it held over 3,000 political prisoners during apartheid.
Tours of Robben Island are conducted by former inmates – during three and a half hours, you're taken on a ride around the island and Mandela's old prison cell.
Hang out at the V&A Waterfront
Off-the-beaten-track it most certainly is not, but the V&A Waterfront is one of those Cape Town attractions that still manages to be charming – even though it's one of the biggest tourist hotspots.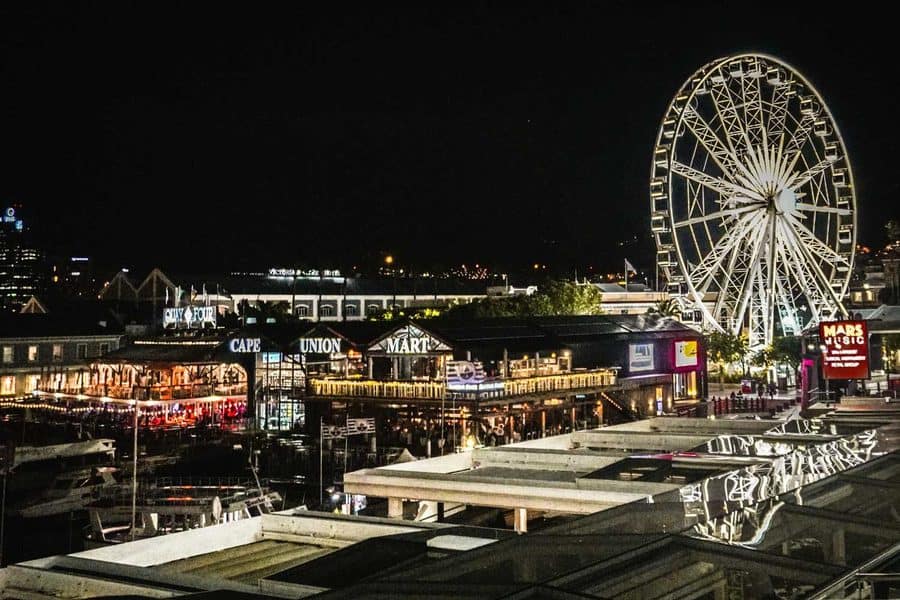 I wouldn't spend too much time here – particularly if you don't have a lot of time in Cape Town anyway, but the V&A Waterfront is the jumping off point for Robben Island tours and it does have some pretty good restaurants (like The Greek Fisherman) to tempt you too.
Watch the Sunset in Camps Bay
Camps Bay is striking enough at the best of times – miles of fine golden sand, framed with crashing waves to one side and chic bars and restaurants to the other.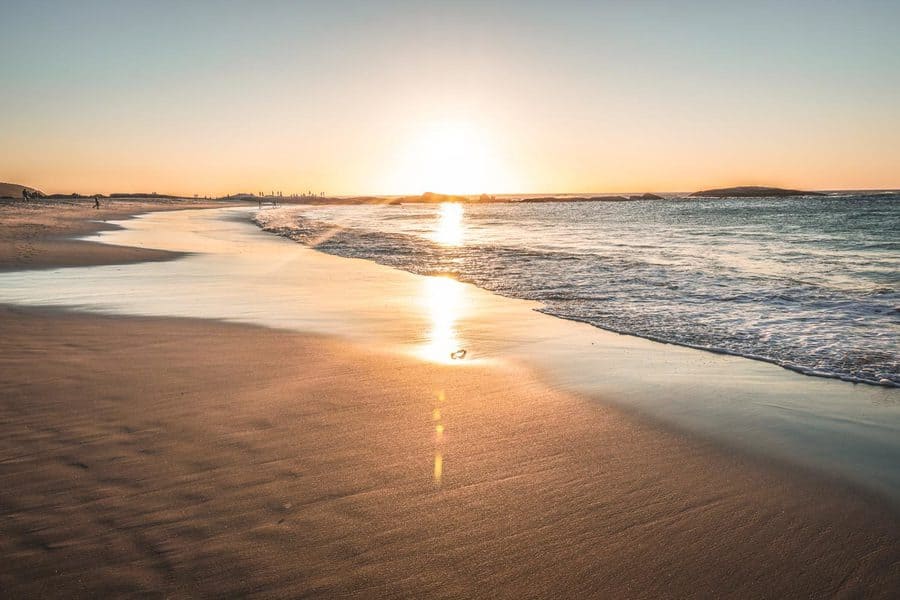 But then sunset happens, and quite frankly, I lost my shit. I think if I had to pinpoint the moment that I fell in love with Cape Town, it would be the moment I watched the sun bathe Camps Bay in a fiery display of nature's hues.
Spend time on and around Cape Town's Supercool Bree Street
Cape Town is one hell of a cool city, so you know that when a street gains a reputation for being pretty cool, it's going to be something. Bree Street (and its immediate surrounds) has taken up the mantle of keeping Cape Town quirky and wonderful – and for that, you should be thankful.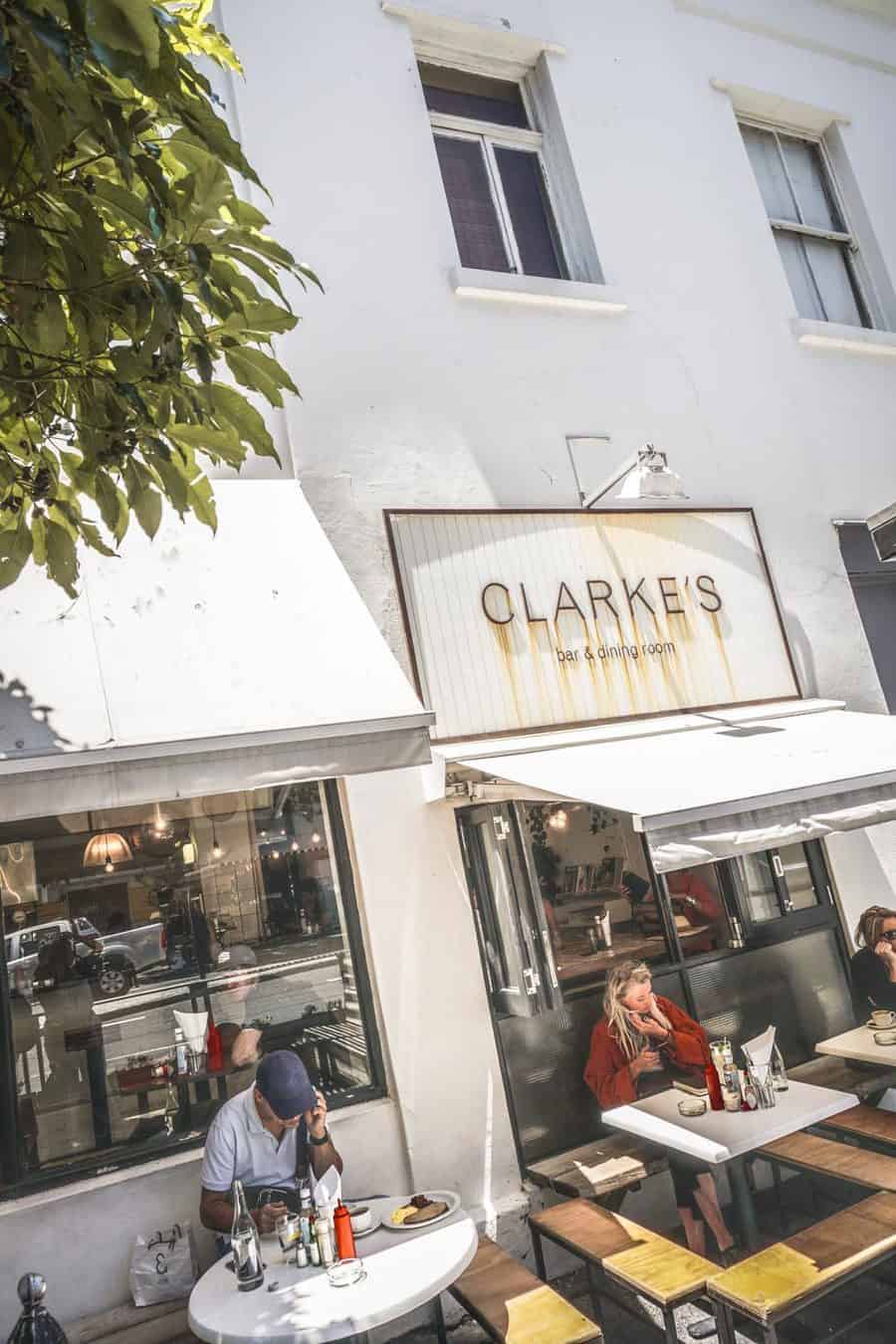 Like many cities, many of the best places to visit in Cape Town can be relatively spread out – one of the beauties of Bree Street is having so many boutique shops, brunch hangouts and bars in such short proximity. Brunch at Clarke's Bar & Dining Room is practically a must, as are alfresco drinks at La Parada or go all in and splash out on a fancy lunch in the opulent Shortmarket Club.
Walk around the Kirstenbosch National Botanical Gardens
Rising up the slopes of Table Mountain, the Kirstenbosch National Botanical Gardens are renowned for being one of the best botanical gardens in the world.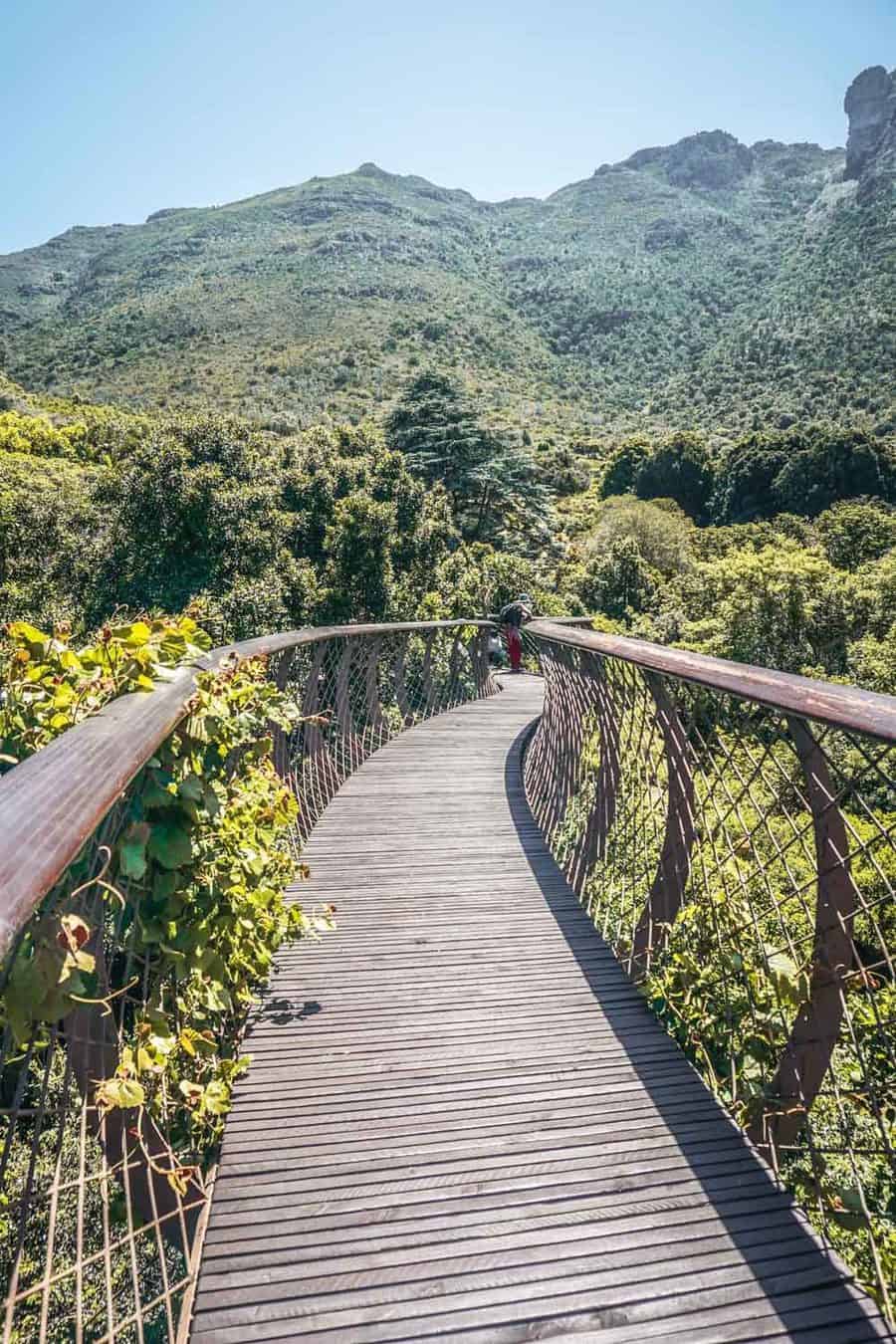 With over 7,000 plant southern African plant species set out in a series of gardens meandering up the mountain's side, Kirstenbosch is a sensory feast. I loved taking some time to walk between the different gardens, before plopping myself down for a picnic with a view.
You should totally visit Kirstenbosch, but perhaps avoid making the same mistake as I did and doing it on the same day that you tackle Table Mountain – the slopes in the botanical gardens are gentle enough, but your thighs will still hate you.
Enjoy the Colourful Buildings of the Bo Kaap
We've all seen them right. Those pictures of the absurdly gorgeous and colourful buildings that have been drip drip dripping into our Instagram feeds since everyone decided that Cape Town was Instagrammable AF.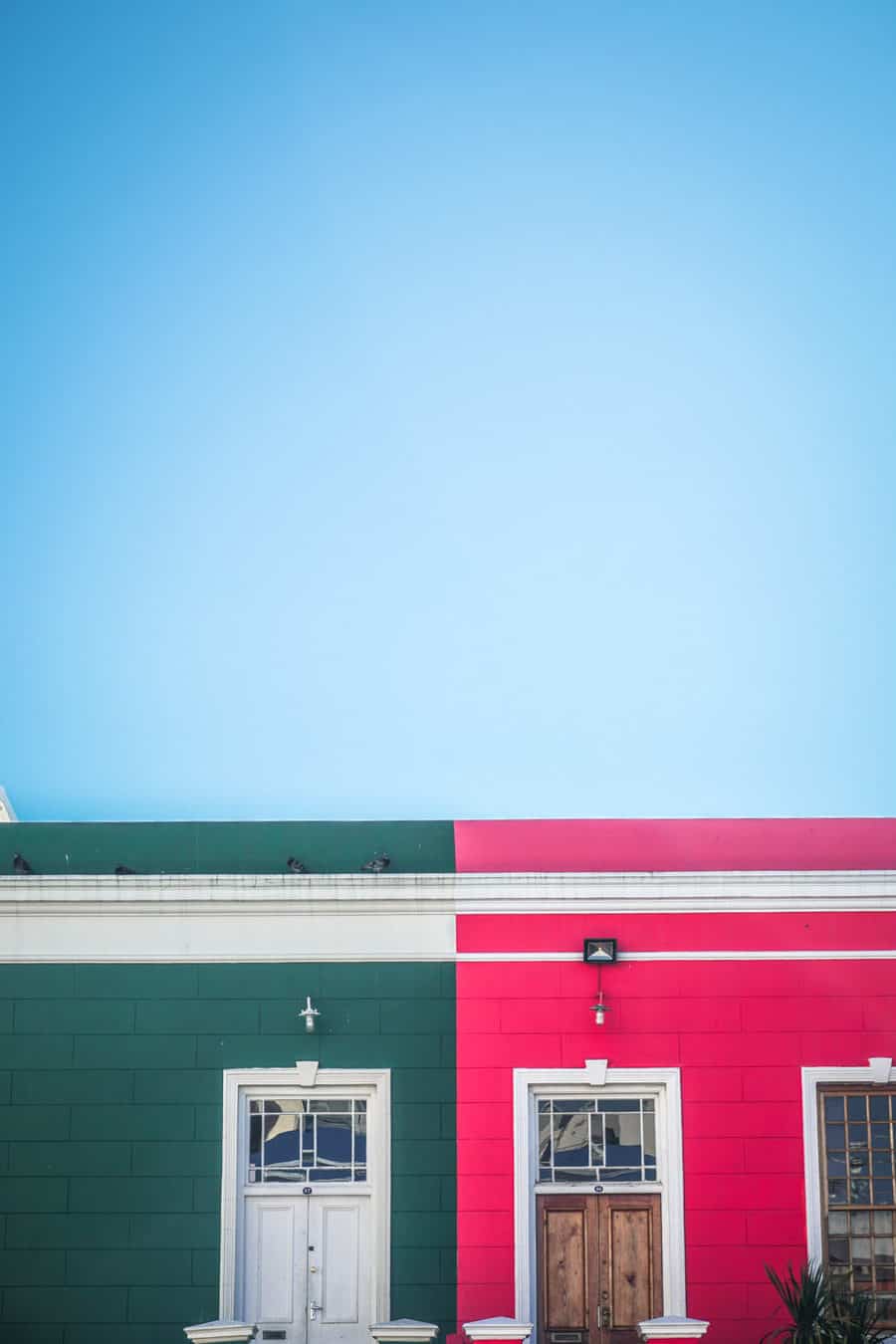 You want to know where to find them? Head over to the Bo Kaap.
Bo Kaap is one of the oldest areas of Cape Town – inhabited by the Cape Malays – descendents of the slaves imported by the Dutch in the 16th and 17th centuries. It was (and still is) largely inhabited by muslims – who used to paint the houses in bright colours to celebrate Eid. Somehow the tradition stuck and left us with one of Cape Town's most distinguishable (and striking) neighbourhoods.
Peep at the Penguins at Boulders Beach
Cute alert! The penguins at Boulders Beach will melt you into a puddle and warm your cold white walker of a heart (Game of Thrones fans, you know what I mean).
The home of one of the two mainland colonies of African Penguins worldwide, a visit to Boulders Beach gives you a chance to get up close and personal with the cute penguins via a series of boardwalks suspended over the sand.
Sure, you will have to battle the crowds to get a prime spot by the railings… and penguins are actually kind of mean to each other but how could you resist this? HOW?
Puddle, melt, melt, melt. No you can't take one home with you – don't even think about it.
Hang out on the Beach at Muizenberg
Another stone-cold Instagram classic, the beach at Muizenberg is famed for two things great surfing and the brightly-coloured beach huts that line the beach.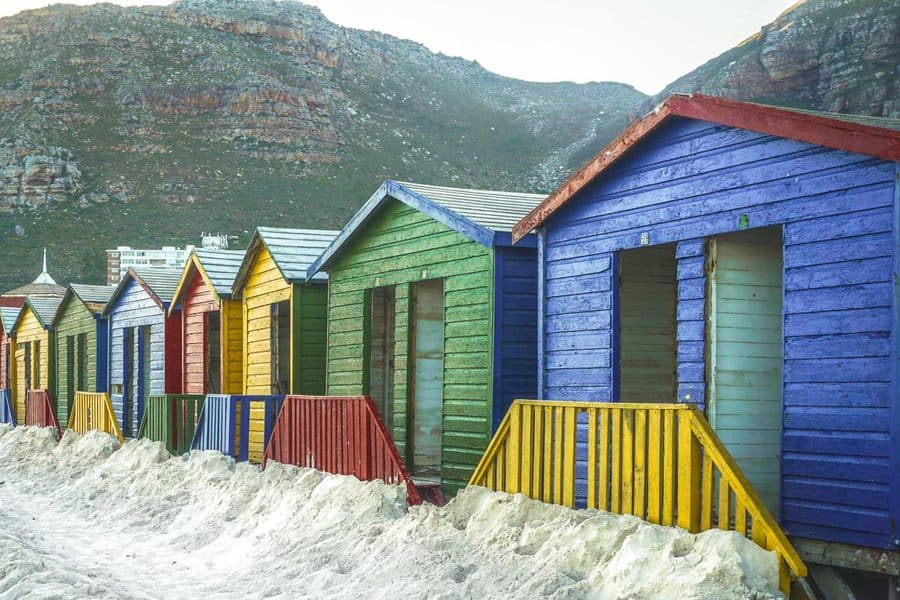 What's so special about beach huts I hear you ask? Well, these Victorian beach huts have been decorated in all kinds of eye-catching colours and are something of a local institution. Plus there's always the attraction that when you've taken the obligatory picture or two, you can hang out on one of the best beaches in the Cape Peninsula.
Soak up the Scenery at Cape Point
Cape Point might not be the most southerly point in Africa, as is commonly thought (that plaudit actually goes to Cape Agulhas, 300km to the east) but it is one of the top things to do in Cape Town.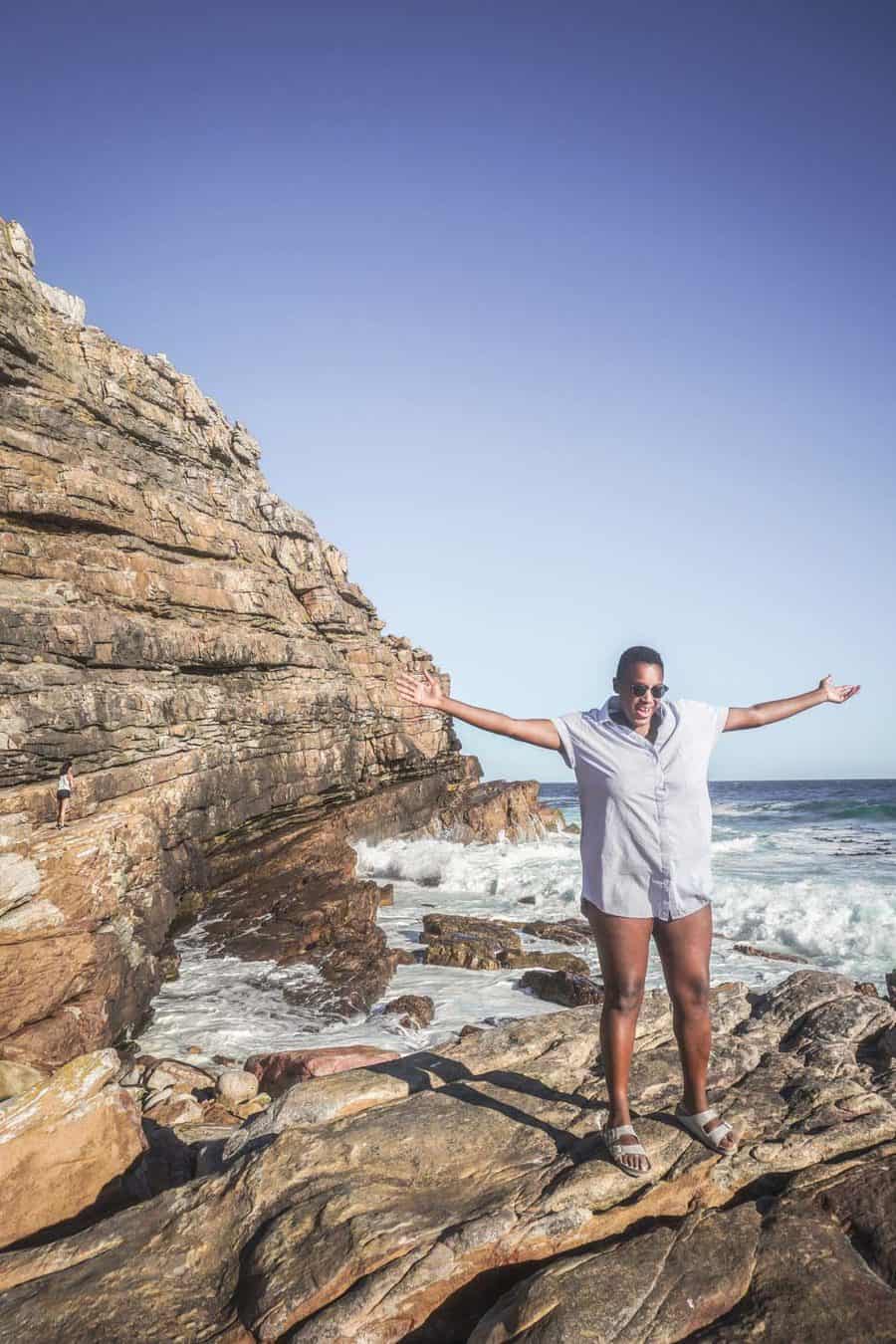 Rough and rugged, the views here are something else – not to mention the gigantic waves thrashing against the rocks. It's a sensational (in the true meaning of the word) experience – the wind whipping your hair, sea spray drenching your clothes, it's not hard to believe that you're less than 4,000 kilometres away from the South Pole.
PS. Watch out for the baboons – they might look cute but they can be aggressive and terrifying – particularly when it comes to food.
Pop down to the Wineries in Stellenbosch
Wine, you sweet nectar of the Gods. I'm thankful that I don't live in Cape Town – if I did, I'd spend a lot of time in Stellenbosch and to be honest, I'm not sure my liver could deal.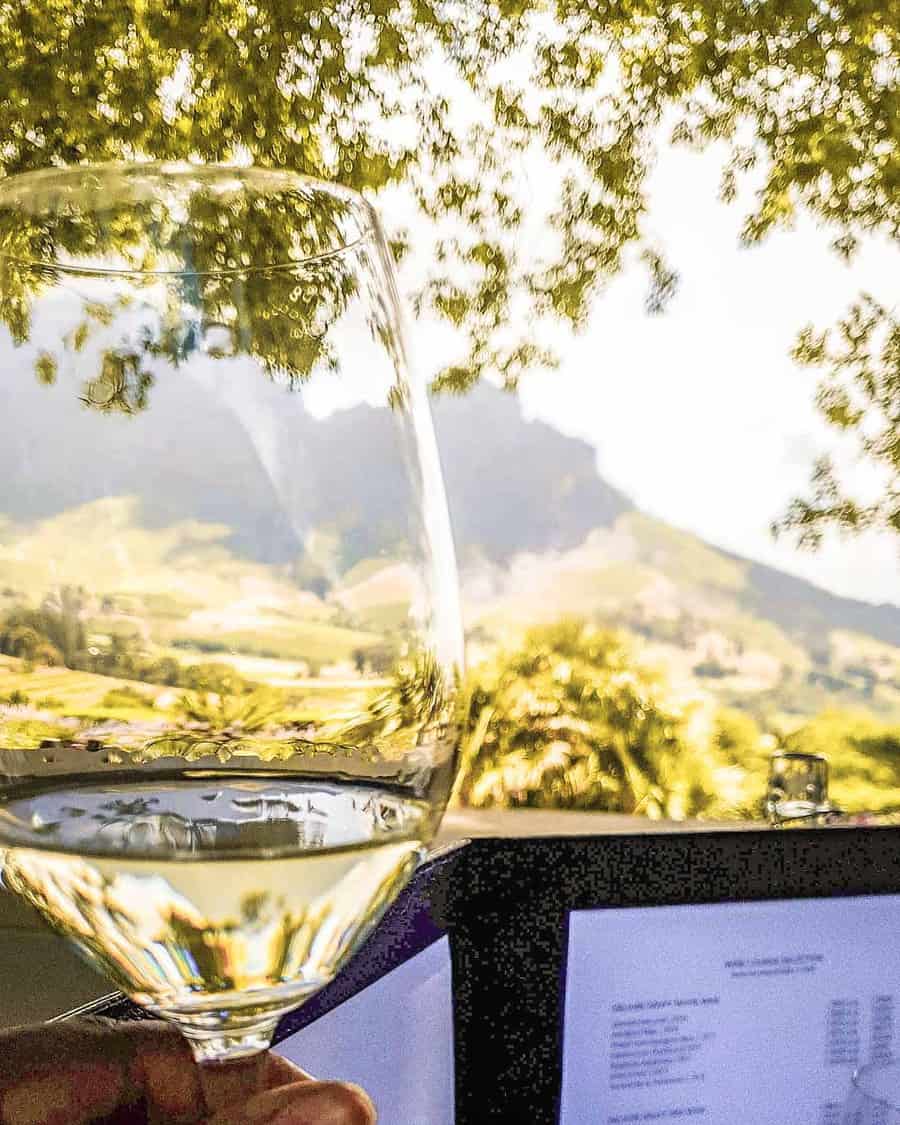 Anyway, the wine region of Stellenbosch is a mere 50km away from Cape Town – IMHO spending a day vineyard hopping is one of the best things to do in Cape Town and its surrounds.
There are countless vineyards to choose from – my favourites (and recommended by a local sommelier) were Delaire Graff, Jordan and Boschendal Wine Estates.
Knock yourself out (no, ont really).
Top Tips for Visiting Cape Town's Attractions
So there we are, 15 of the best places to visit and things to do in Cape Town. Are you excited? You should be. Now that you know where to go, here are a few handy tips for planning your trip.
When's the Best Time to Visit Cape Town
Most people agree that the best time to visit Cape Town is during autumn and spring, so March to May and September to November respectively. The southern hemisphere seasons are the opposite to ours here in the UK (and also in the US), so December to March is summer and peak season in the city.
We visited Cape Town in mid November and early December and loved it – the weather was absolutely perfect for outdoors activities. Yes, prices were higher than other seasons, but still excellent value for me travelling from the UK.
How to Get to Cape Town
There are a large number of direct flights to Cape Town from national and international airports. I didn't fly direct but I would recommend you do – the time saved is well worth the extra money spent.
Check flights on Skyscanner now.
How to Get around Cape Town
We pretty much walked and Ubered our way around the city. Getting Ubers was so simple (unlike in other countries like Bali) and affordable. You can also hire a car and drive around – it's easy enough, particularly if you're from the UK as it's the same side of the road (hooray, no constant terror of driving around a roundabout in the wrong direction).
Where to Stay in Cape Town
Like any major city, there are endless options for accommodation in Cape Town. At the high end of the spectrum the 12 Apostles Hotel is one of Cape Town's most famous and fabulous hotels, or if you want independent budget apartments, 106 on Adderley is an excellent-value find.
Dealing with the Water Crisis
I was a little bit worried about visiting Cape Town during the much-publicised water crisis. After all, if the city was struggling to provide enough water for its inhabitants, surely they didn't need another person to add to the problem?
The Cape Town Tourist Board have stressed that visitors are very much welcome to Cape Town as long as they do their part to conserve water. Wonderful news – but what does that mean?
Well, most of it is basic common sense – don't take long showers, in fact cut down on showering to the bare minimum and shower over a bucket to use the grey water for other things like flushing the toilet. Don't flush the toilet if you've only done a wee – each flush uses 9 litres of water – instead let it stand and spray with a toilet spray. It's pretty easy to remember if you just memorise the mantra "If it's brown, flush it down, if it's yellow, let it mellow".
The tourist board has created a full guide to How Visitors can Help During the Drought – I'd recommend reading it before you go.

Things to do in Cape Town: What to Pack for your Trip
I'm not going to give you a full list of everything that you'll need for your Cape Town trip because you are no doubt #adultingtheshitoutoflife but just a gentle reminder not to forget these essentials.
Hiking boots or sandals for tackling Table Mountain. You will definitely want something with decent grip and I found the added ankle support provided by my boots to be invaluable.
Suncream, a broad-brimmed hat and sunglasses. Particularly if you're visiting in the summer.
A warm outer layer – even warm days can be followed by chilly evenings. I regretted not bringing my softshell jacket and had to make do with borrowing all of Jon's jumpers instead.
Best Things to do in Cape Town Map
Looking for More South Africa Travel Guides + Tips? Read Next
Love this? Save and Share on Pinterest.