Packing light is no easy task – but learning how to do it right can be transformative. Ready to learn how to pack light for your upcoming travels? Read on…
I'll level with you: packing light can be hard. Making sure you perfectly tread the balance between light and not underprepared takes some serious skill.
As someone who worked first as a travel writer for several years, then as a full-time travel blogger for the past six, it's safe to say that I've had my fair share of learning experiences while travelling throughout the years. All of which has helped me think twice before packing that extra book, pair of dress shoes or bulky parka.
Can you travel light without forgetting an item or two you can't live without? Absolutely. This helpful guide will help you ace your travels by shedding unnecessary items and only sticking to what you really need on your next trip.
Ready to learn how to pack light as a female traveller? We're going to take a jaunt through everything you need to know about the art of smart packing.
Why Pack Light?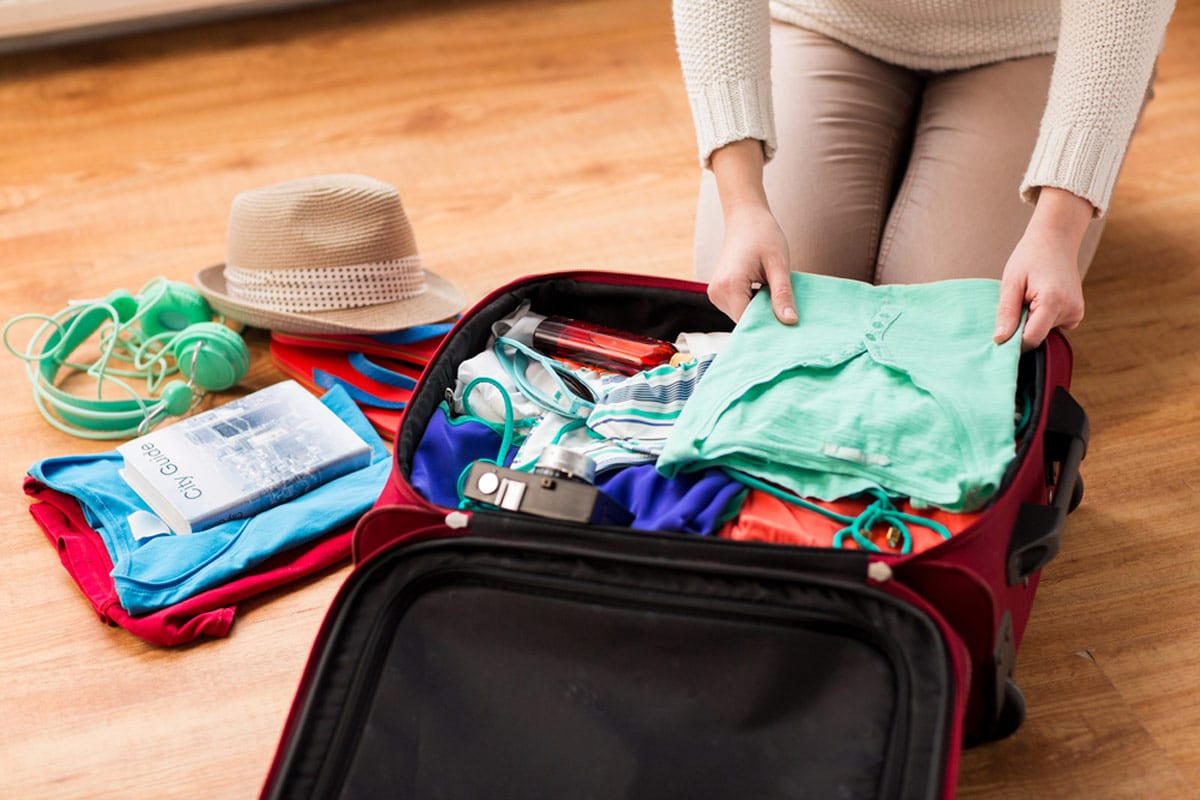 Packing light isn't always easy for everyone, myself included. But the results speak for themselves.
Trust me when I say that, quite literally, cutting the crap on your next adventure will make things go so much smoother.
We've all overpacked at some point and had to deal with the consequences. Back pain, awkward moments in the subway and costly last-minute baggage checks included.
So let's look at why packing light for travel not only makes sense, it's the best way to travel.
Packing Light is Cost-Effective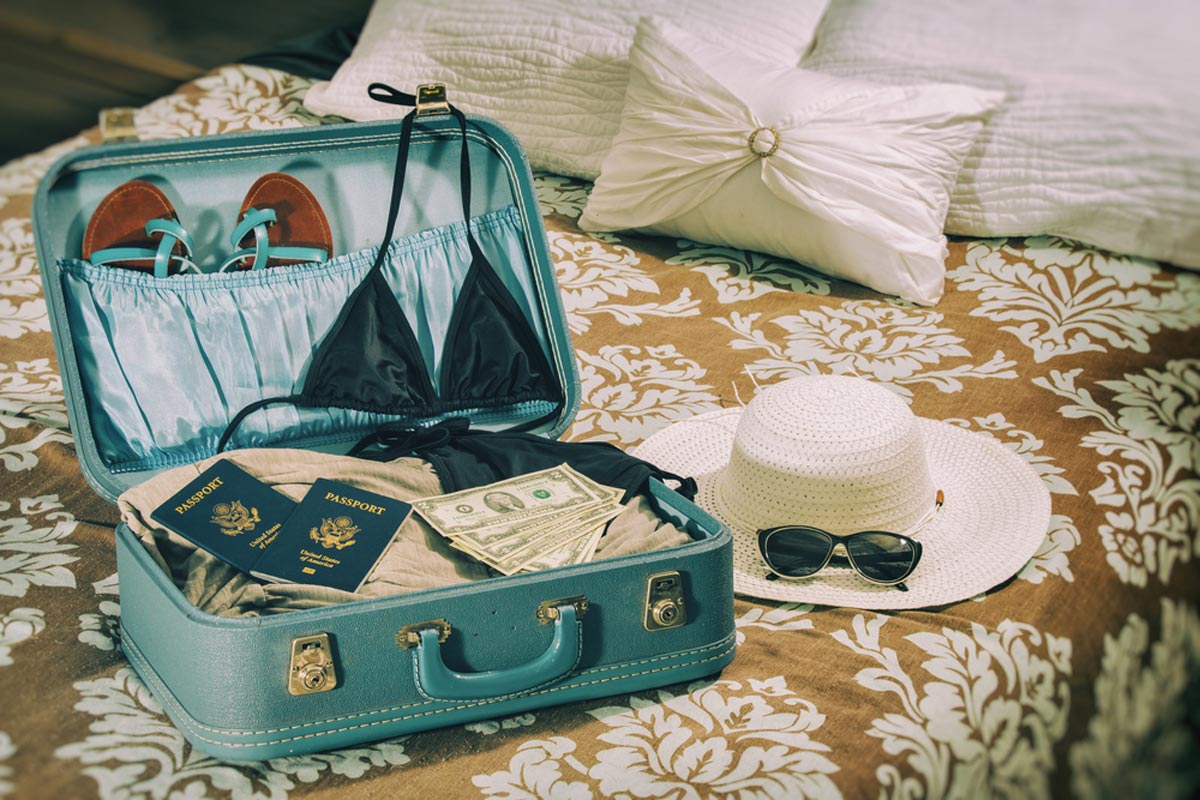 Reason #1 why you should travel lightly? It's cheaper.
If you're checking baggage for your next bucket list trip, don't wait to find out the hard way that your luggage is tipping the scales.
Try to fit your items in a carry-on whenever possible to save that checked baggage fee (US airlines average around £24 ($30) per bag – and that's just on the short haul flights).
But if you know you'll check luggage, you can invest in a baggage scale like this one to avoid unexpected fees.
Packing Light Makes You More Mobile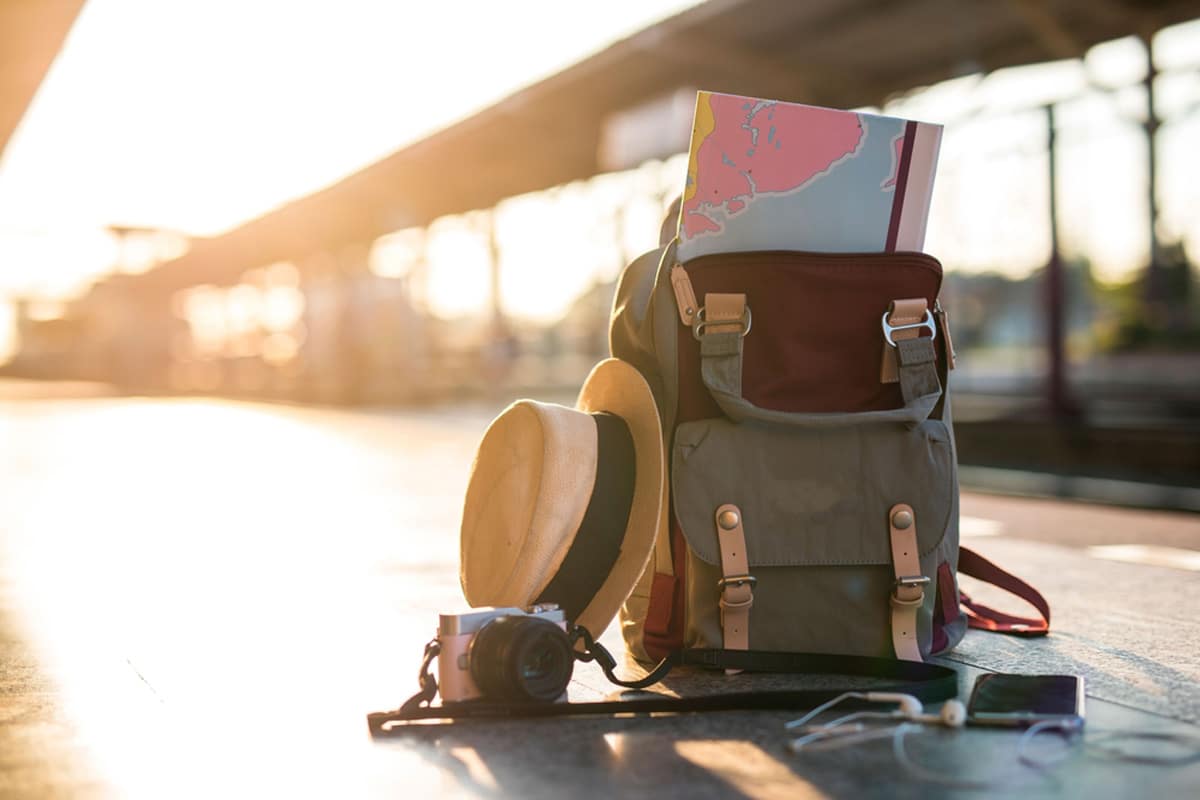 There's something liberating about travelling light. This newfound freedom isn't a figment of your imagination.

When you're not hauling a 75-pound suitcase around the airport, train station, or city streets, you can see so much more (and remain more comfortable in the process.)

I know from first-hand experience that squeezing an oversized suitcase onto a commuter train in New York City (or anywhere, for that matter) is a nightmare.
It's Safer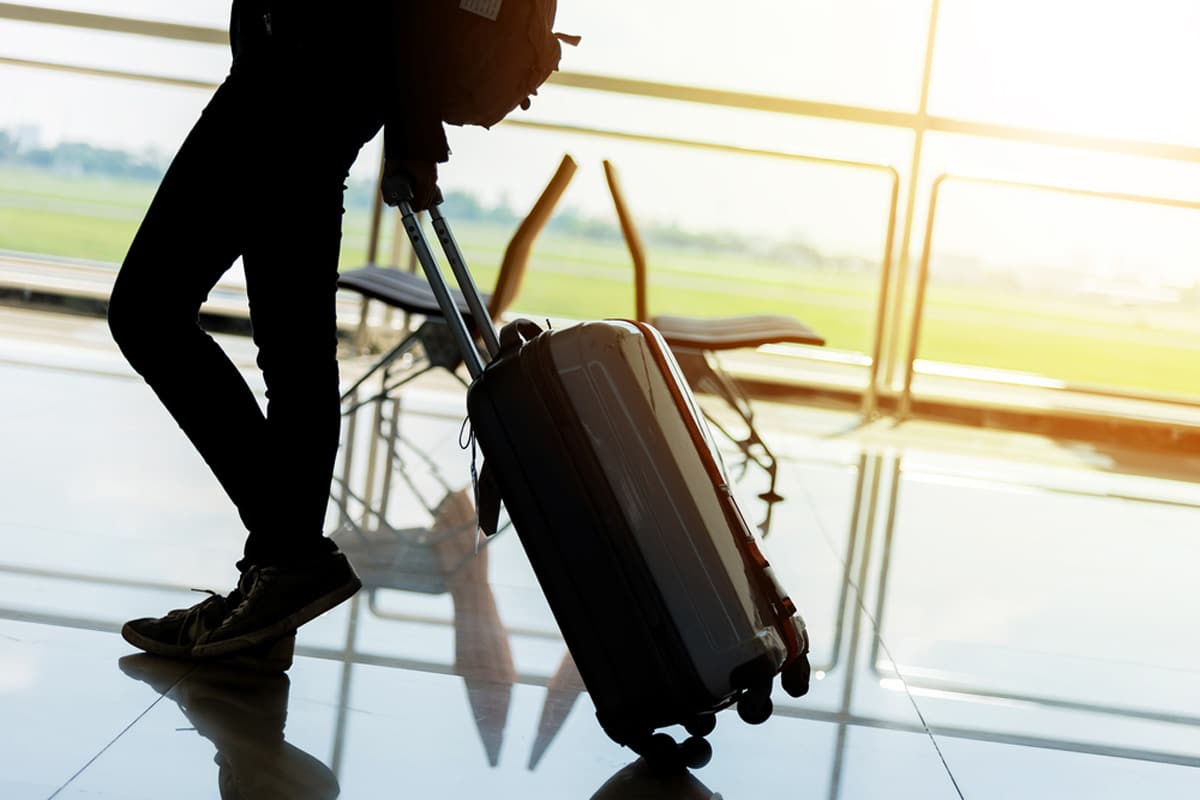 Another reason I advocate packing light is for safety. If you have your belongings organised and close to you, there's less risk of pickpocketing, theft or being a target in a crowded space.

Using a bag you can keep snugly by your side can help keep your belongings safer and within your reach.
The Basics of Packing Light
Choosing Your Luggage
As I mentioned earlier, choosing the right bag can make a huge difference regarding safety and comfort.
So how should you decide on which luggage is best for packing light? Here are a few tips for packing light.
Buy Versatile Luggage
Learning how to travel lightly requires having the right tools. My first advice is to choose a bag you can see yourself using on numerous trips. Whether you're going on a safari in Tanzania or on a Caribbean cruise, you should choose a travel piece you'll want along for the adventure.
Pick a Lightweight Bag or Rolling Luggage
Choosing a lightweight bag like the Antler Clifton Expandable Carry On will save you some headaches (and chiropractic appointments) when moving from one flight to the next, plus it means that you don't have to factor in the weight of a heavy suitcase when you're checking it in
Make Sure You Choose Luggage That's Durable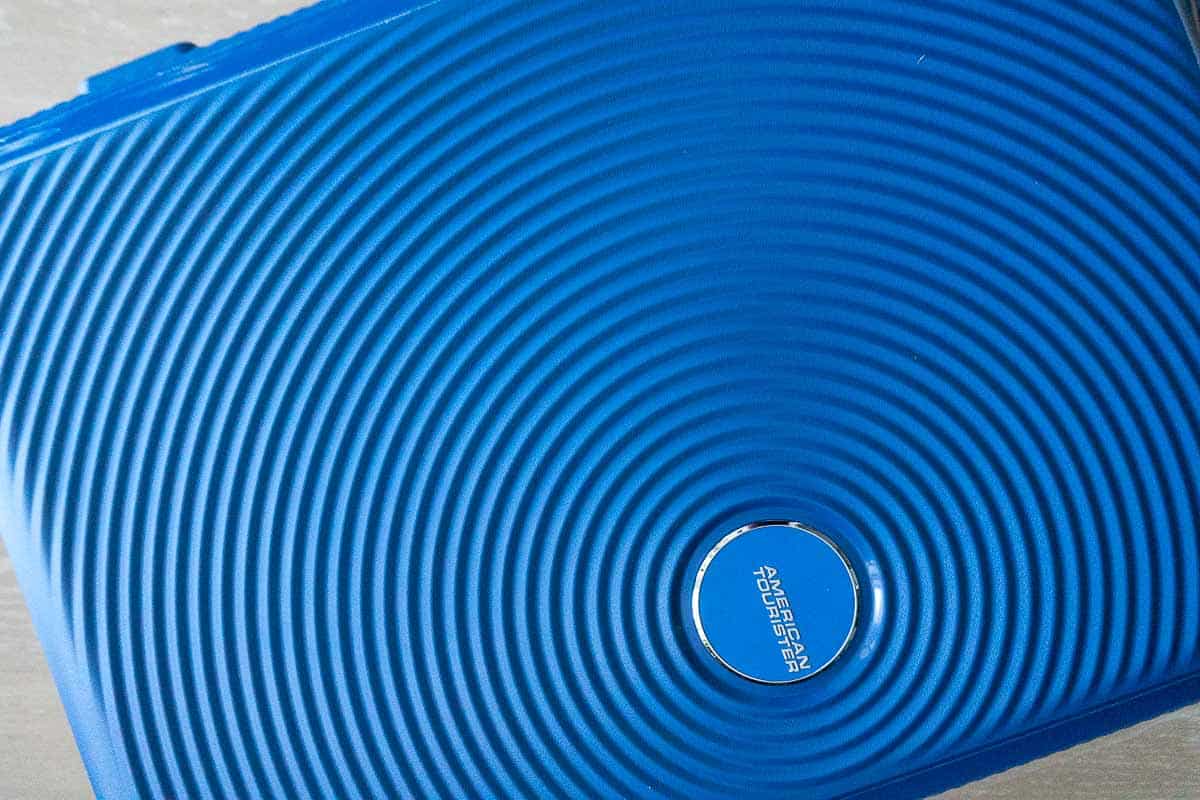 You don't want to buy a cheap suitcase to save a few bucks. I've been there and bought a replacement shortly after. I like the Airconic option from American Tourister – though any hard shell suitcase will be significantly better than a soft counterpart.
Get a Travel Tech Organiser
Travelling light isn't just about saving space; it's also about taking a burden off mentally.
To avoid frantically trying to find your charger on the plane (and leaving your neighbour miffed), try getting an organiser like this one for your chords, power banks and adapters.
Packing Tips and Techniques for Travelling Light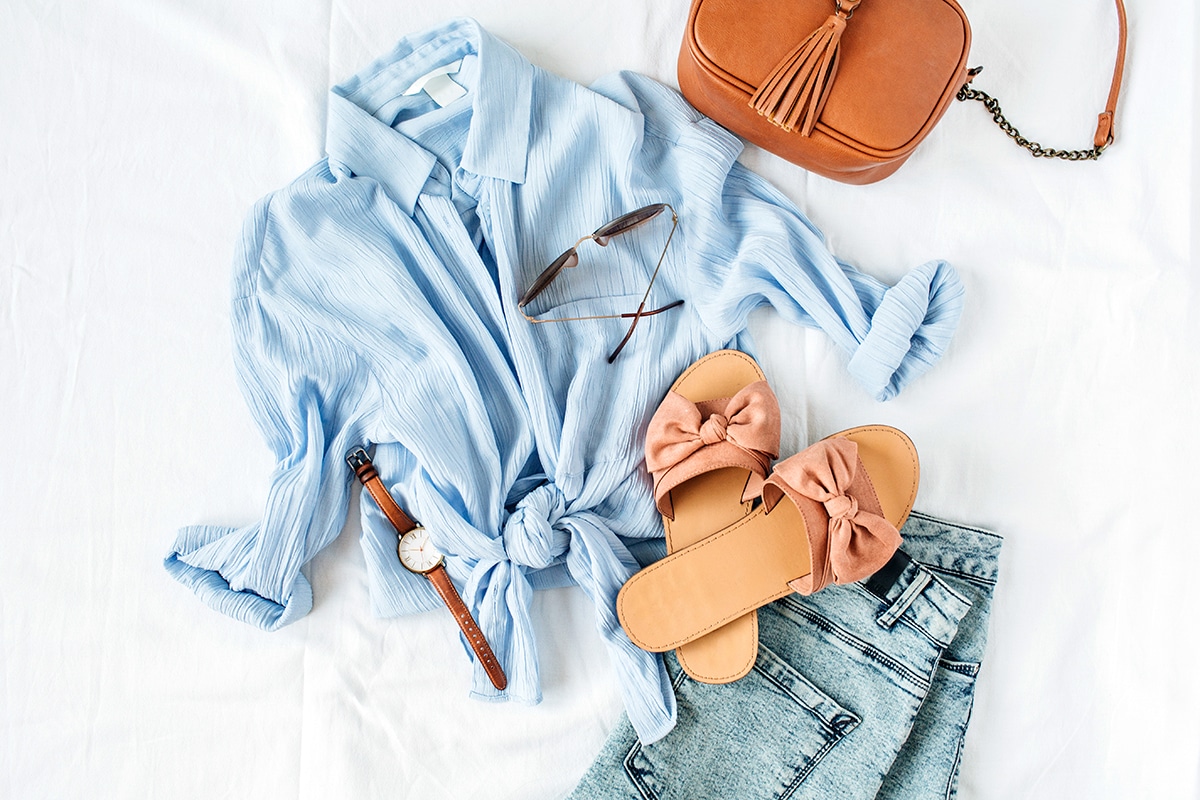 I know it may be difficult to consider packing lightly for an epic adventure. But there's a reason the old rule of thumb, "less is more," rings true today more than ever.

Being spontaneous while travelling is something I can't put enough value on. If you overpack and have a bulky suitcase (or several), this handcuffs your options the moment you get off the plane.

One of my favourite travel memories is when I got off a red-eye flight in NYC, took the train to the Brooklyn Bridge and walked across it to see the sunrise over Manhattan (magic). Sorry, but you're just not doing that while carrying bulky luggage.

So how do you fit everything you need into a small suitcase? I'll give you some tips on how to pack lightly, efficiently and with room to spare for your next shopping spree.

I get it. Figuring out how to pack light may seem like a tall order. But if you try a few of my favourite tricks, it's a lot easier than you think.
Pack a Capsule Wardrobe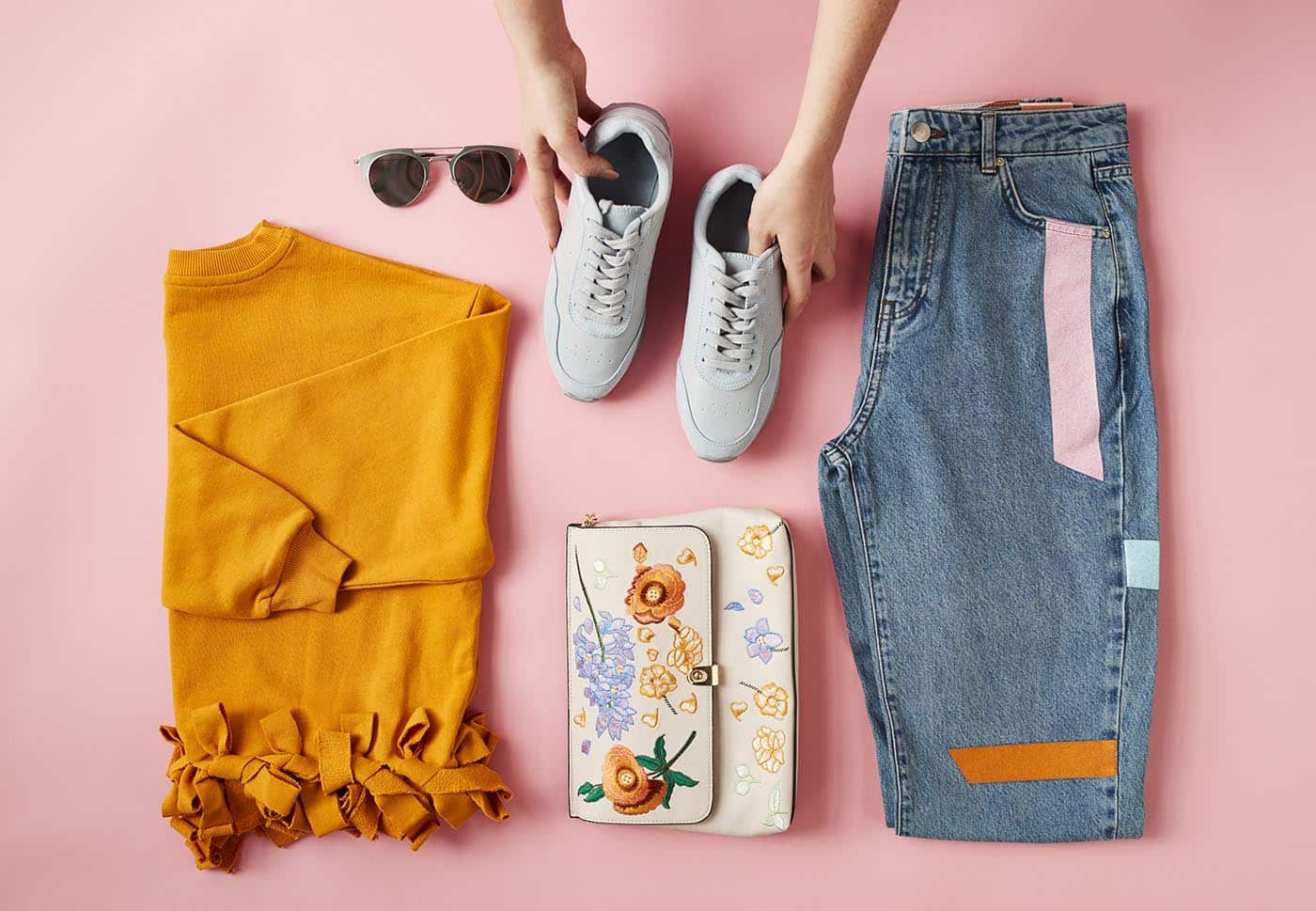 You've probably heard about this trend by now. If not, it involves packing a few items you can mix and match to create "new" outfits. It's a fantastic option for trying to figure out how to pack light for 2 weeks or longer.
Leave Your Oversized Sweaters at Home
I love a cosy wool sweater as much as anyone. But dressing in layers can keep you just as warm — and flannels, sweatshirts, and light jackets take up less room and are more versatile.
Limit Yourself to a Couple of Pairs of Trousers
Choose versatile pants like jeans or slacks that you can wear more than once during your vacation. Stick with lightweight materials when possible, that are easier to pack into smaller spaces.
Use Packing Cubes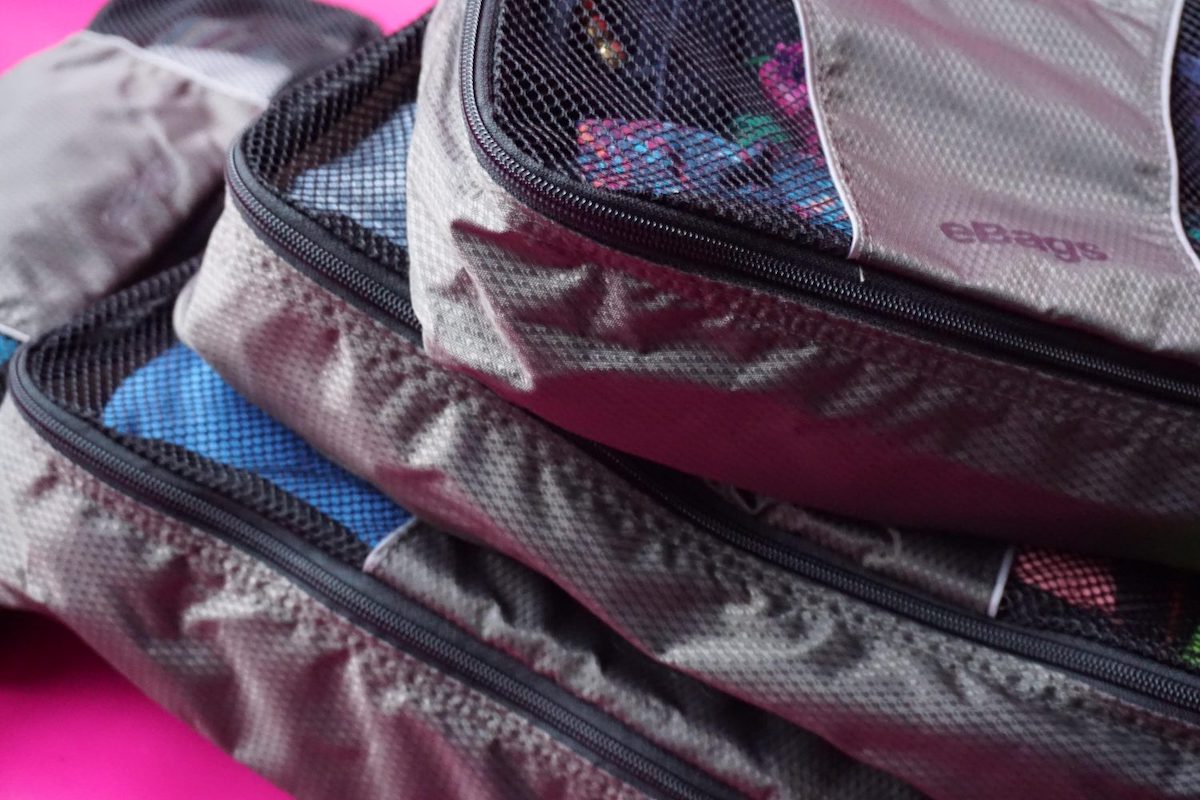 I've been flying the packing cubes flag for a looonng time now, so much so that regular readers are a bit "alright Julianna, we get it" but I'm going to say it again.
Packing cubes are a great way to organise and store your belongings in a way that takes up less space. I like this set because they come in different sizes, allowing you to keep similar items together.
Roll Your Clothes, Don't Fold Them
Want a great tip for how to pack light for a trip? Roll up your t-shirts, button-ups and jeans, and you'll free up extra space.
Take Advantage of Any Empty Space
Ever play Tetris? One of my favourite packing light tips is to fill in gaps in your luggage with whatever you can. Socks, toiletries and neck pillows can all fit into surprisingly tight crevices in your carry-on.
Wear a Travel Backpack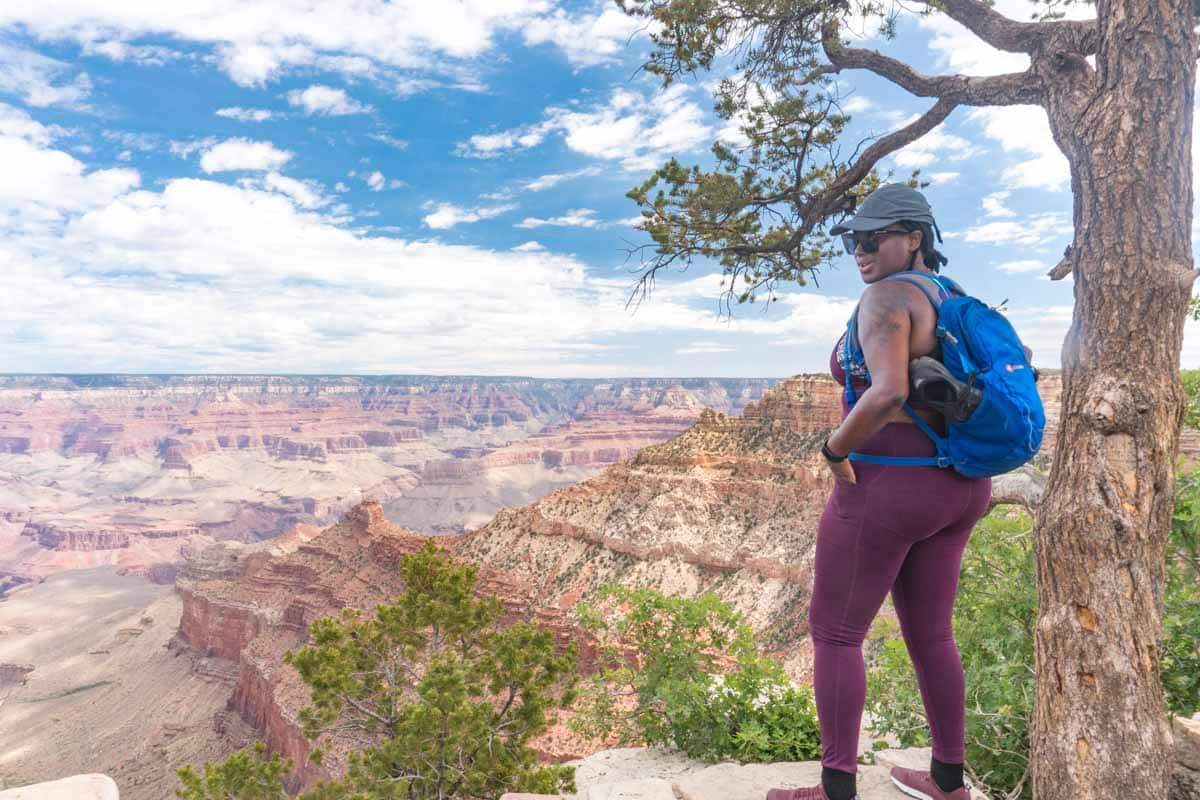 You can store a lot of items in a travel backpack, and they take up less room than traditional bags do.
Packing List for Women Travelling Light
Daypack or Small Handbag
I've already covered what kind of luggage you need to bring along, but how about when you're out and about on vacation?
If you're in a city, bringing a small crossbody bag – like the viral Uniqlo one – is ideal for keeping your personal belongings close to your body. Or, if you're heading out on a hike or need to bring more items along with you, a sturdy daypack (I love the Osprey Daylite) is ideal.
Clothes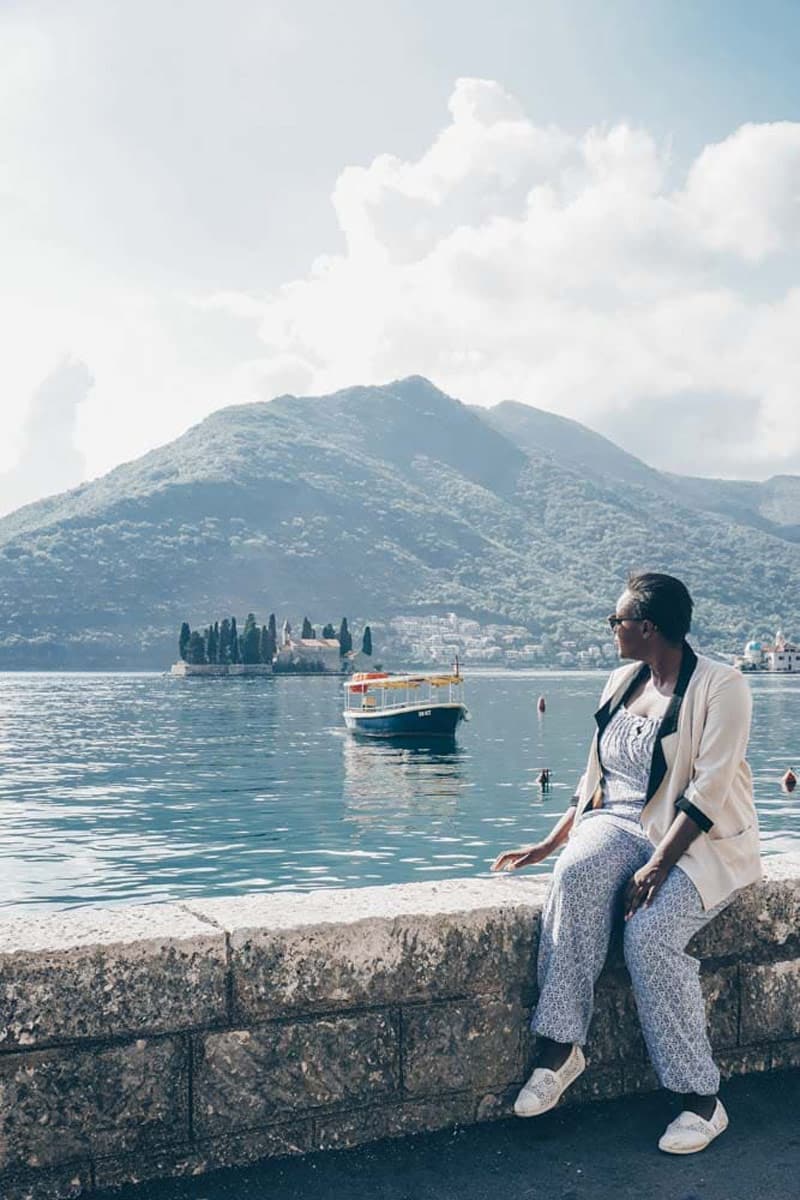 One of the best pieces of advice I can give for how to pack light for a week or longer is to choose clothes that you'll wear more than once. Pack versatile pieces that you can dress up or down.

So how do you decide which piece is best? A few tips for picking multi-purpose clothing items include:
Stick with neutral colours.
Avoid bulky pieces that are hard to layer.
Choose tops that look just as good at lunch as they do at dinner.
Shoes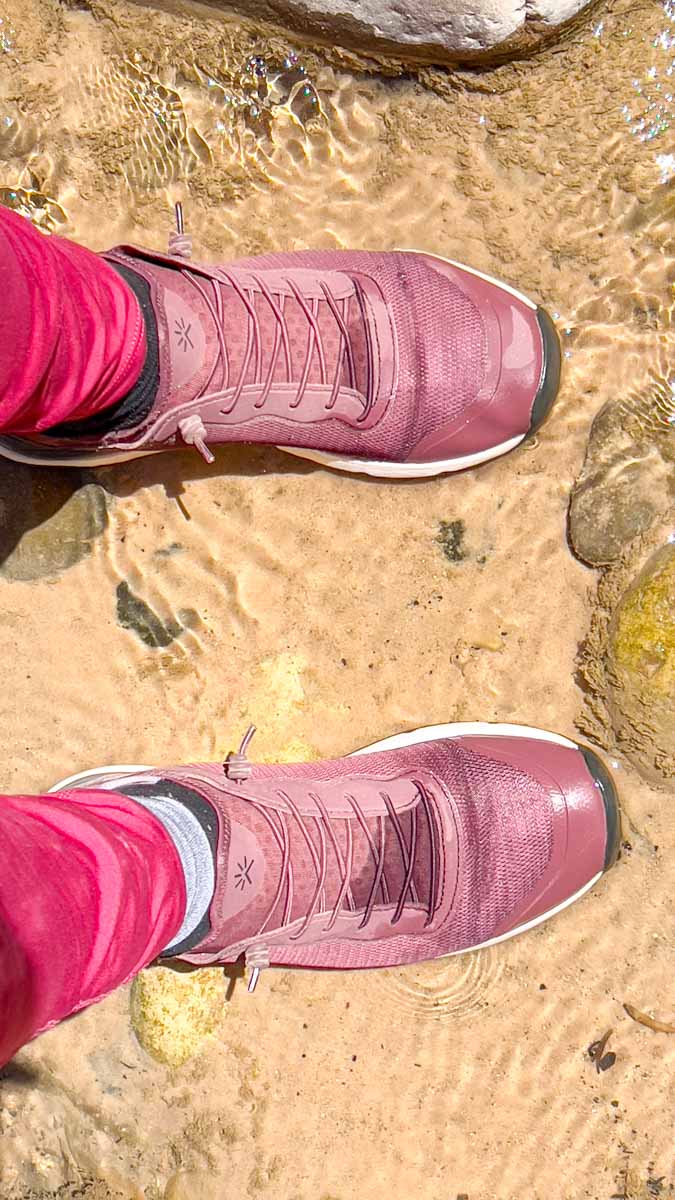 How to pack light for travel? Cut down on the number of shoes. If you ask me, two pairs of shoes are usually the magic number.
I know, easier said than done. But how often have you packed an extra set (or two) of heels or boots that never make it out of your travel bag? Thought so.
Bring a pair of comfortable walking shoes and one dressy pair for dinner and cocktails.
Trust me. You'll look plenty stylish during the day – and you'll be happy you wore sneakers when walking the streets of Montreal, Paris or other busy cities.
Swimwear
One way to travel light is to scale back on the number of swimsuits you bring and choose a quick-drying or multi-use option. The same goes for a microfiber towel, as opposed to a huge beach towel.
Jewellery
Only bring jewellery you see yourself wearing more than once on a trip. Trust me.
Wear versatile pieces you can mix and match with different outfits to get the most out of what you bring. And wrap them up for protection and to take up less space in your luggage.
Cosmetics and Toiletries (In a Hanging Bag)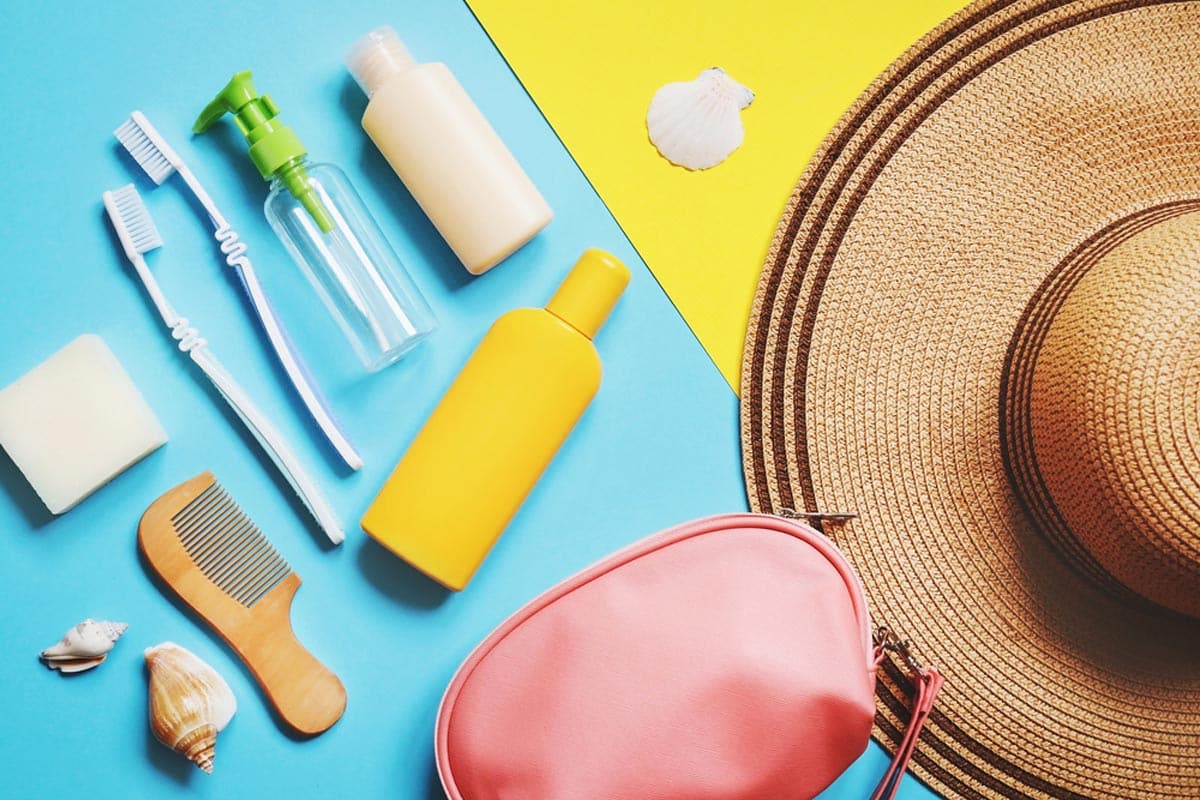 When you're packing your cosmetics and skincare products, it's time to edit yourself.

How? Unless you literally can't see yourself living without an item for a week, don't bring it.
I recommend packing your things in a hanging toiletry bag as it not only saves you space in your suitcase, but means you can keep your hotel room nice and tidy.
Another tip: multi-purpose sticks are excellent for travelling light. I love the ones by Nars and Nudestix, though most brands do sticks that act as blush, lip balm and eyeshadow.
Health Essentials
Taking care of yourself is just as important on the road as at home. But you'll only want to pack what you need.
So what are some health essentials you won't want to leave at home, even when packing light?
Medication — Don't leave important prescription drugs behind. Make a list and double-check it before travelling without essential medications.
Menstrual Care — Pack a menstrual cup made with medical-grade silicone. It's easy to clean and ideal for women with bladder sensitivity or prone to cramping.
Contraception — Bring any contraception you normally use, as some destinations may not have products you rely on.
Portable Charger
Don't get caught out without a battery charger – or you might just end up stuck in a train station at midnight with no way of getting home (true story).
Stick to a small and compact one to save space – I like this Anker one that has both USB and USB-C charging ports, plus it'll slide easily into any nook or cranny in your suitcase.
Kindle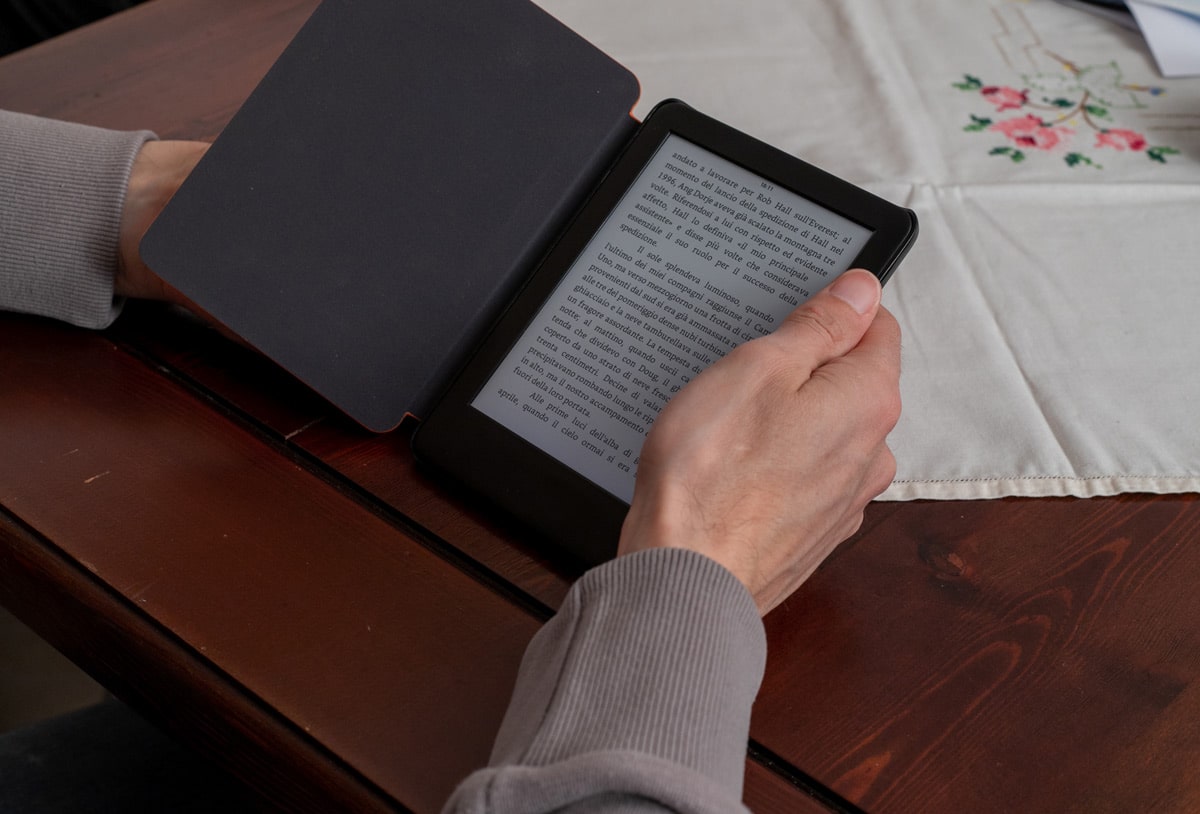 If you're a reader, it can be tempting to cram as many books into your suitcase as possible. But I recommend sticking with a Kindle.
Load it up with plenty of books before you go and you're sorted. Plus you can read when the lights are turned off on planes without feeling super embarrassed of your obnoxious overhead light.
GoPro
Don't bring a big and bulky camera if you're trying to pack light. I love my GoPro. It helps me capture high-quality footage and it literally fits in the palm of my hand.
Important Documents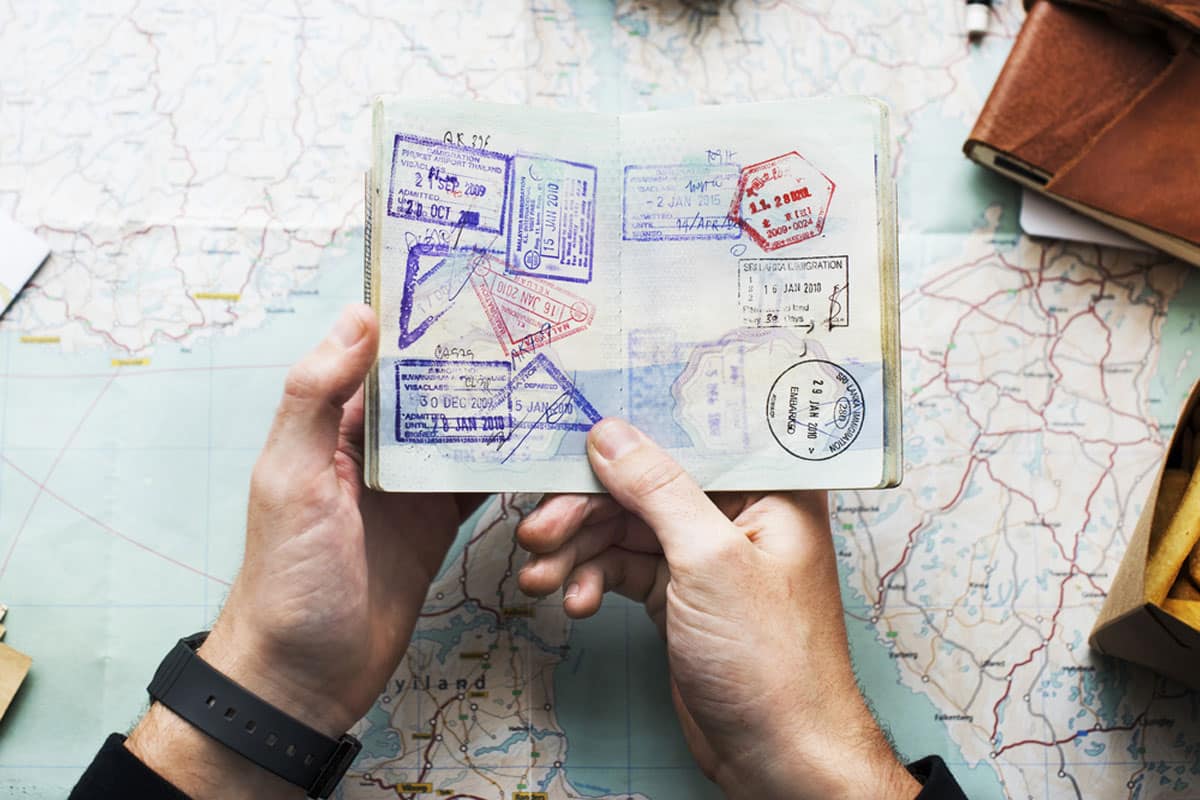 Carry any documents required by the country you're visiting with you and have them easily accessible. Some tips for keeping critical paperwork safe include:
Don't put documents in your check-in luggage — If your documents stop in Singapore on your way to Bali, it can cause major headaches. Keep them with you at all times.
Back up any documents you can — Use cloud storage to make a copy of any required paperwork.
Secure your phone connection — Purchase a VPN when using your phone with WiFi to keep your personal information safe.
Packing Light Tips for Different Climates
Hot Climates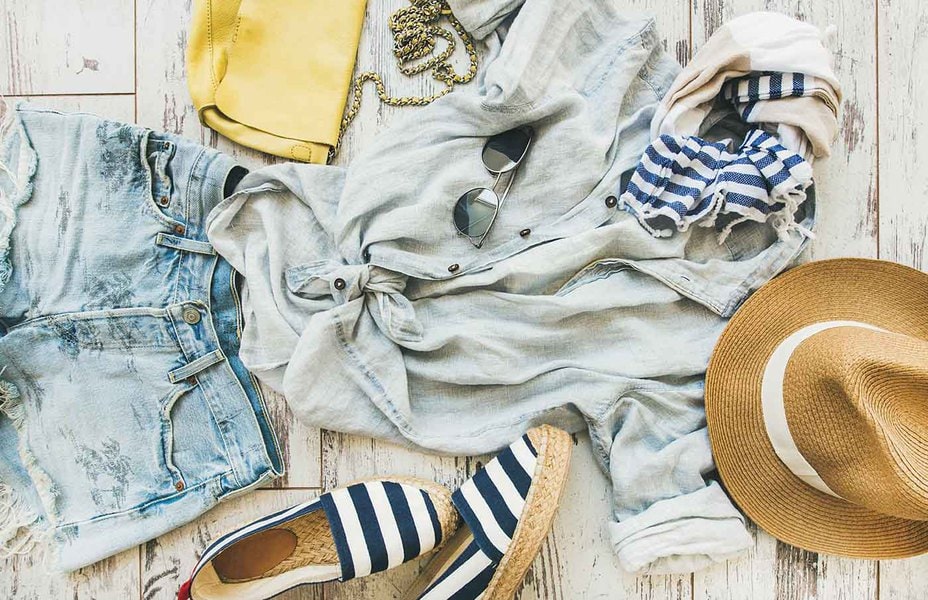 Choosing your cargo for hot climates may seem like a walk in the park when considering how to pack light. But here are some items you won't want to forget:
Insect Repellent
Hat(s)
Sunglasses
Beach Bag (Or Day Pack)
Sunscreen
Lip Balm (SPF)
Lightweight Pants
Shorts
Lightweight Shirts
Cold Climates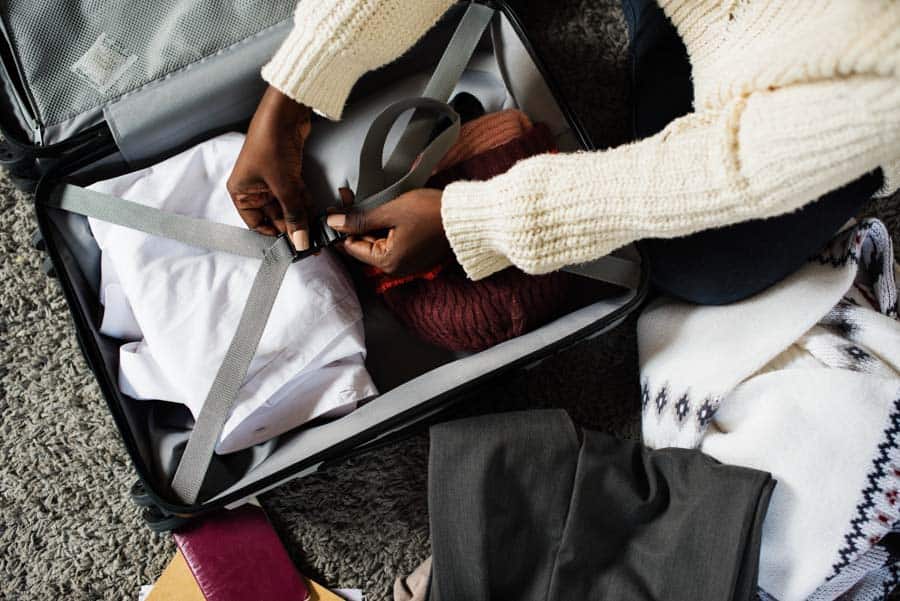 How to pack light for a week or longer in cold climates? Be sure to bring clothes that can handle midnight trips to go stargazing or see the Northern Lights, but choose materials that take up less room in your luggage.
Here are some cold-weather clothing items you'll want to bring along:
Lightweight Wool Shirts
Flannel Button Ups
Long Sleeve Undershirts
Jeans
Warm Socks
Winter Hat
A Few Final Practical Tips for Packing Light
Start packing ahead to avoid a last-minute dash where you're not thinking clearly about what you need.
Edit your packing once or twice. I can usually talk myself out of a few "essentials" when I go through my suitcase a second time.
If you're wondering how to pack light for two weeks or longer, try to book accommodations with laundry. It can cut your packing list in half.
Save some room in your suitcase for anything you buy along the way.
Read More Travel Tips and Guides