Get ready to discover the best places for stargazing in Joshua Tree National Park with this handy guide.
If stargazing in Joshua Tree isn't already on your travel bucket list, I urge you to add it.
It's truly one of the best places in the world to spot the stars – there's nothing quite like getting to witness constellations in all their glory, surrounded by the alien-like Joshua Tree formations.
If you're a newbie, you might not have a clue as to how you can maximise your stargazing experience. Not to worry – that's where I come in.
Read on to discover the ultimate guide to stargazing in Joshua Tree.
Can You See Stars in Joshua Tree National Park at Night?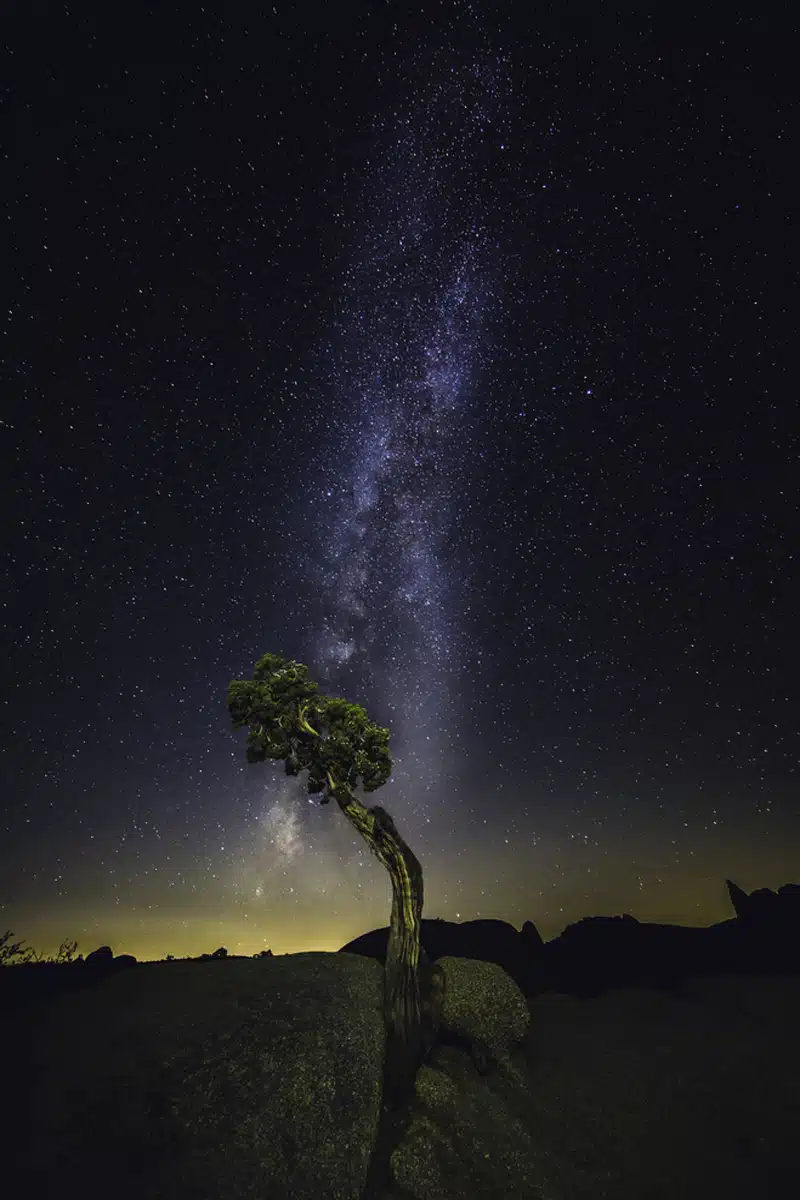 Absolutely. And, if you time it correctly, you can see the Milky Way's core.
Joshua Tree is a designated International Dark Sky Park and boasts some of the darkest skies in the U.S. It owes its darkness to the fact that it lies in the High Desert Region, roughly 3000 to 6000 feet above sea level.
Another reason why stargazing in Joshua Tree National Park is possible is because there is minimal light pollution. The nearest major cities are Los Angeles and Phoenix, and both are 127 and 229 miles from Joshua Tree.
The combination of minimal light pollution and its location in the desert contributes to its dark skies, which act as the perfect backdrop for the stars to shine.
When Should I Go to For Joshua Tree National Park Stargazing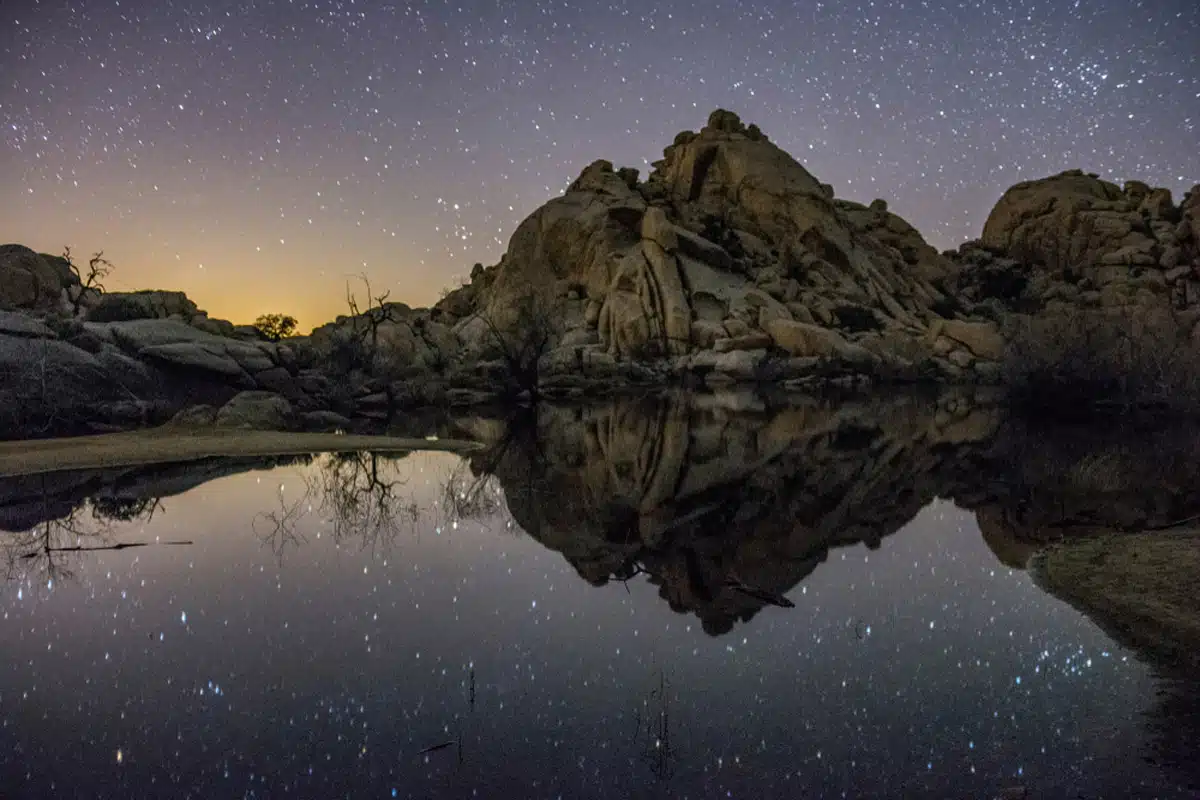 Because Joshua Tree National Park lies in a Dark Sky Reserve, you can visit the park at any time of the year for stargazing. However, if your goal is to see the Milky Way Core, you'll need to visit during the "New Moon" Phase.
The new moon phase occurs every month and happens precisely two weeks after the full moon. During this time, there is an 8-10 day window where you can see the Milky Way's core.
The core is visible from March to September, but the best time to go to Joshua Tree for stargazing is June and July, when summer is just starting. You're guaranteed clear skies and warm nights.
The Best Areas for Stargazing, Joshua Tree?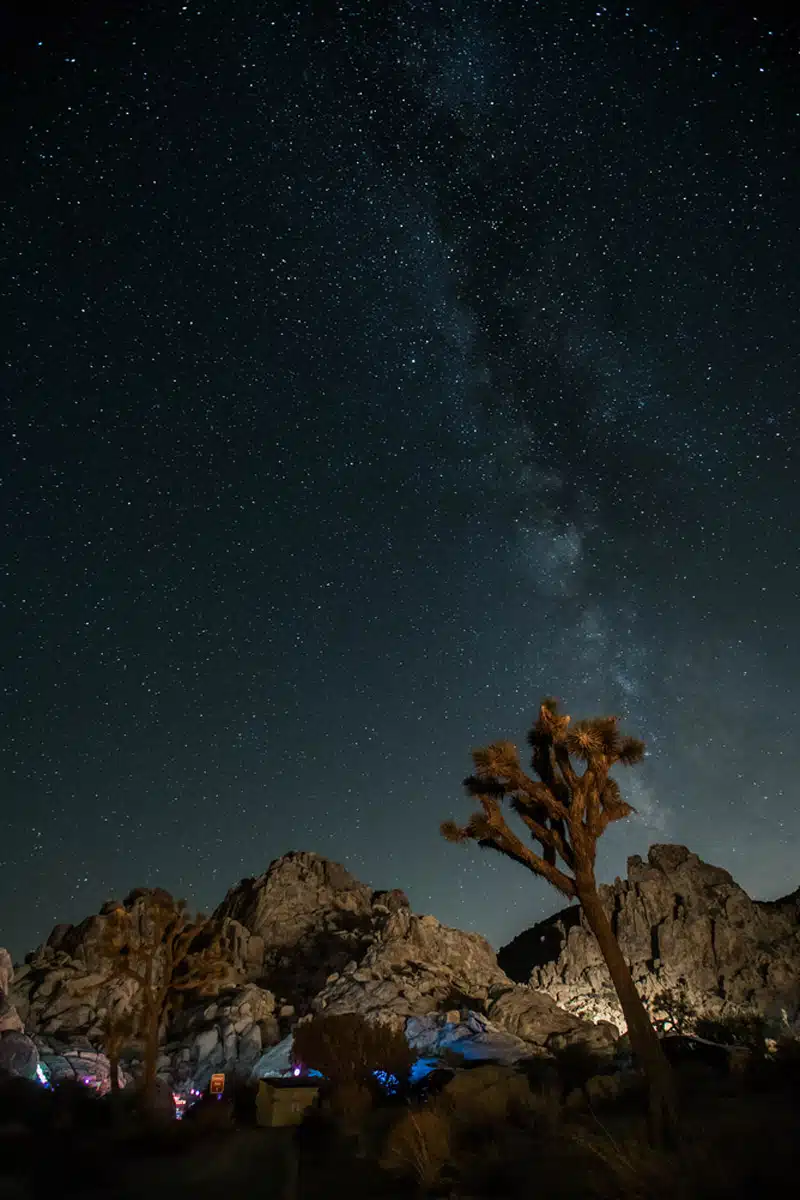 While there are many places where you can enjoy the Joshua Tree night sky in the Park itself, there are certain areas that stand out:
Cap Rock is one of the best places in Joshua Tree for stargazing. There's lots of space to park and a short trail to the Cap Rock formation. Around the rock, there's an abundance of Joshua Trees, which, coupled with the stars, makes for some great astrophotos.
If you're staying in the White Tank Campground near Twentynine Palms, you're only a stone's throw away from the iconic Arch Rock formation. It's also called the "Gateway" because it looks like a window gazing across the Joshua Tree stars when you stand back.
The Ocotillo Patch is one of the darkest areas in Joshua Tree, so it might be the best place to stargaze in Joshua Tree. There's no seating here, so bring along a camping chair.
And, finally, Skull Rock is one of the most notable landmarks in Joshua Tree. This alien-like formation and the gorgeous Milky Way backdrop look like something out of a space movie.
What About Tours for Stargazing in Joshua Tree?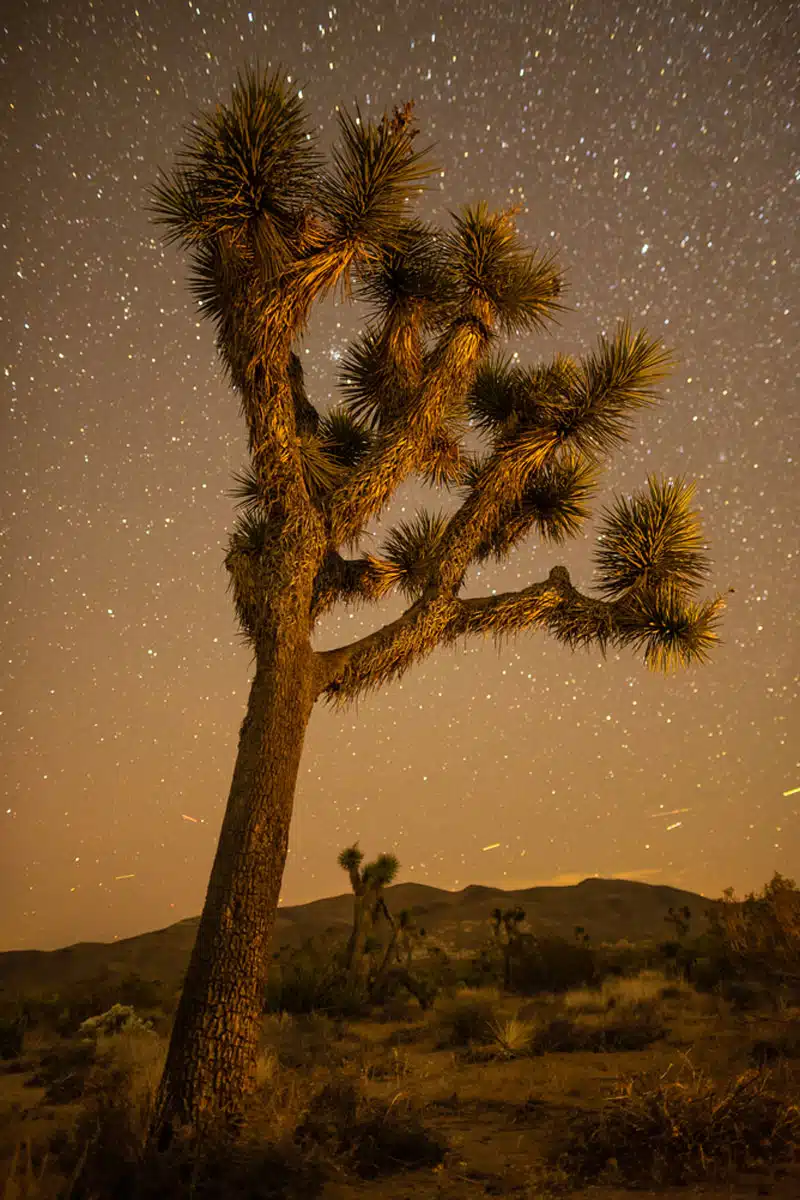 Of all the things to do in Joshua Tree, going stargazing in Joshua Tree is pretty simple, and you don't need an organised tour. This is because you can see the stars anywhere in the park.
There aren't many Joshua Tree stargazing tours, so I advise you to skip them completely in favour of spotting the stars on your own. Wrap up warm and bring a camp chair if you can.
What Equipment Should I Bring for the Best Stargazing Experience in Joshua Tree?
A good telescope is essential for stargazing in Joshua Tree to see the constellations in all their glory. A quality pair of binoculars will also work fine if you don't own a telescope.
You'll need someplace to sit, so bring a camping chair and enjoy your stargazing experience.
Bring a portable tripod and remote to set your camera on to get the best pictures of the Milky Way.
A red flashlight will help your eyes to adjust to the darkness and also help you to see the finer details through your telescope.
Where Can I Stay Near Joshua Tree National Park?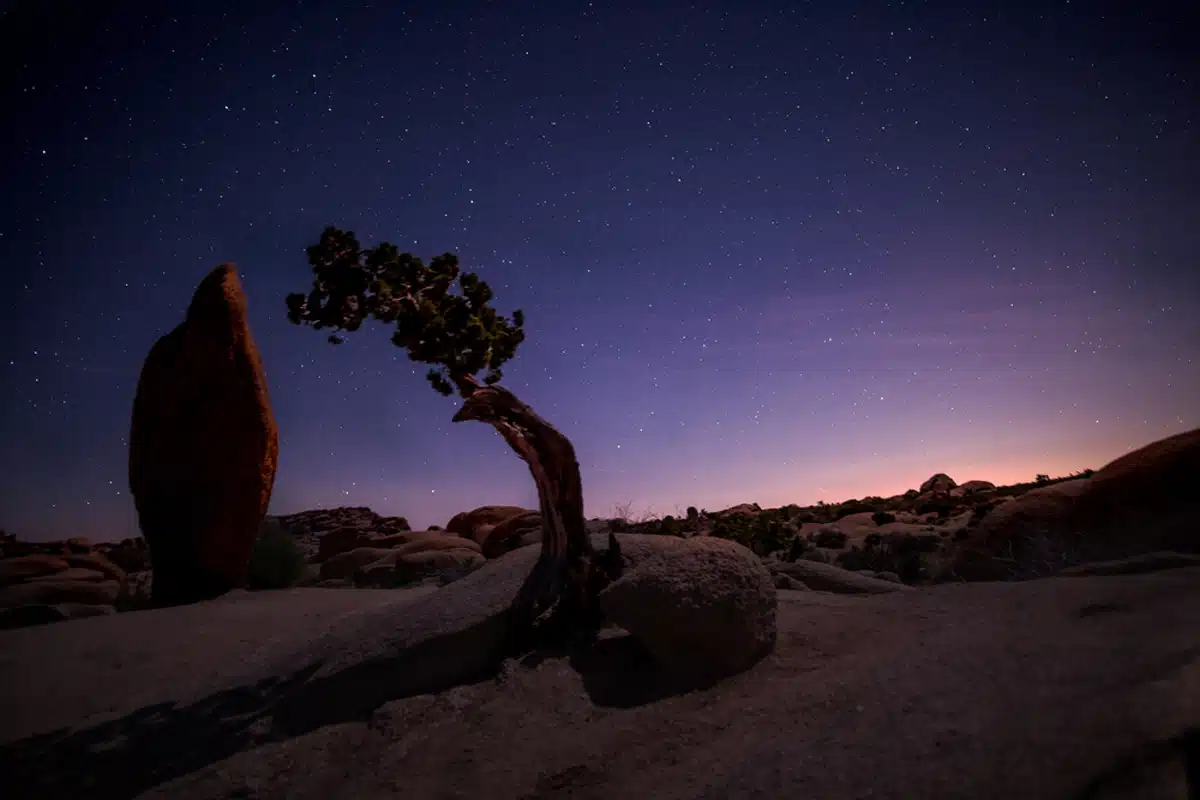 There are eight campgrounds inside Joshua Tree National Park, making stargazing very convenient. However, most of them are very primitive and don't have any RV hookups.
If roughing it out isn't for you, then you can stay in Joshua Tree town, Palm Springs, Twentynine Palms, and Yucca Valley, which all have great accommodation options.
AutoCamp Joshua Tree
Blending camping with luxury, AutoCamp Joshua Tree is one of my favourite places to stay in Joshua Tree National Park.
Your retro RV is totally decked out with modern amenities inside, so expect a proper (private) bathroom and comfy double bed to enjoy after a long day of exploring the park. Not to mention the huge windows are perfect for stargazing.
Other FAQs About Stargazing in Joshua Tree
Love This? Save and Share on Pinterest