Planning a trip to Joshua Tree National Park? Read this guide to the top Joshua Tree Airbnbs to bag yourself a brilliant place to stay.
So, you've fallen head over heels for the idea of visiting Joshua Tree? Join the club. I finally got to visit earlier this year and let me tell you, it's one hella beautiful place.
The stunning vistas, sweeping views, and mesmerising rock formations left me feeling giddy (and I promise it wasn't just because I tackled some seriously difficult hikes). Book your flights ASAP and prepare to be blown away.
The only thing that's left to do is to find you a killer Joshua Tree Airbnb. That's where I come in – I've written a guide to the very best places to stay. You're welcome.
Whether you're looking for a cosy pad to rent with your gang or fancy staying in a UFO-themed home (yes, really), these are the best Joshua Tree Airbnbs to keep on your radar.
Psst… I also love using Plum Guide to find vacation rentals. There are only a couple of properties near Joshua Tree National Park, but they're hand-picked by the PG team and are of the highest quality.
Best Airbnbs in Joshua Tree: At a Glance
Best Joshua Tree Airbnbs
A Place of Peace
This property's name says it all. Head here for total serenity with up to four pals.
With two spacious bedrooms and an open lounge/kitchen area, this Joshua Tree Airbnb makes for the perfect escape. And the pair of hammocks outside is where you'll get the best view of the stars above.
The star of the show at this property, however, is the outdoor firepit with a BBQ for rustlin' up a delicious meal in the desert.
Location: Twentynine Palms
Sitting just outside of Joshua Tree National Park, you can enjoy close proximity to the park with all the benefits of staying somewhere a little more luxurious.
Looking Sharp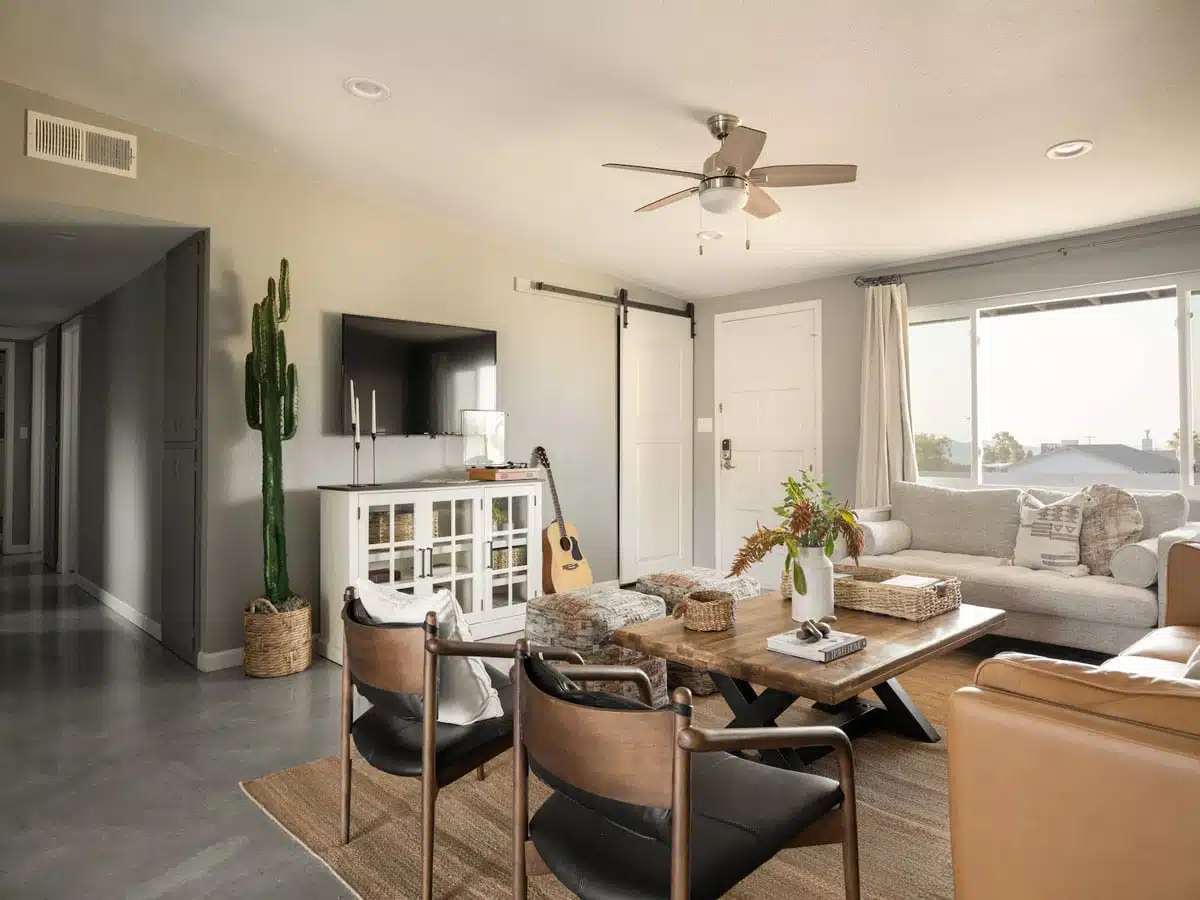 Heading to Joshua Tree National Park with a group of friends? This Airbnb sleeps up to 8 people, so there's plenty of room for you all to hang out. 
I'm seriously swooning at this property, and I'm sure you can see why. Decorated in the area's signature rustic-chic style, this home features 4 huge bedrooms, plenty of communal space, and an outdoor pool that's perfect for a post-hike dip.
Oh, and there are even game tables dotted around the property so you can unleash your inner Olympian and work up a sweat underneath the blazing California sun.
Location: Twentynine Palms
You're an hour from Joshua Tree, surrounded by plenty of brilliant restaurants, hiking trails, and art galleries.
The Joshua Tree House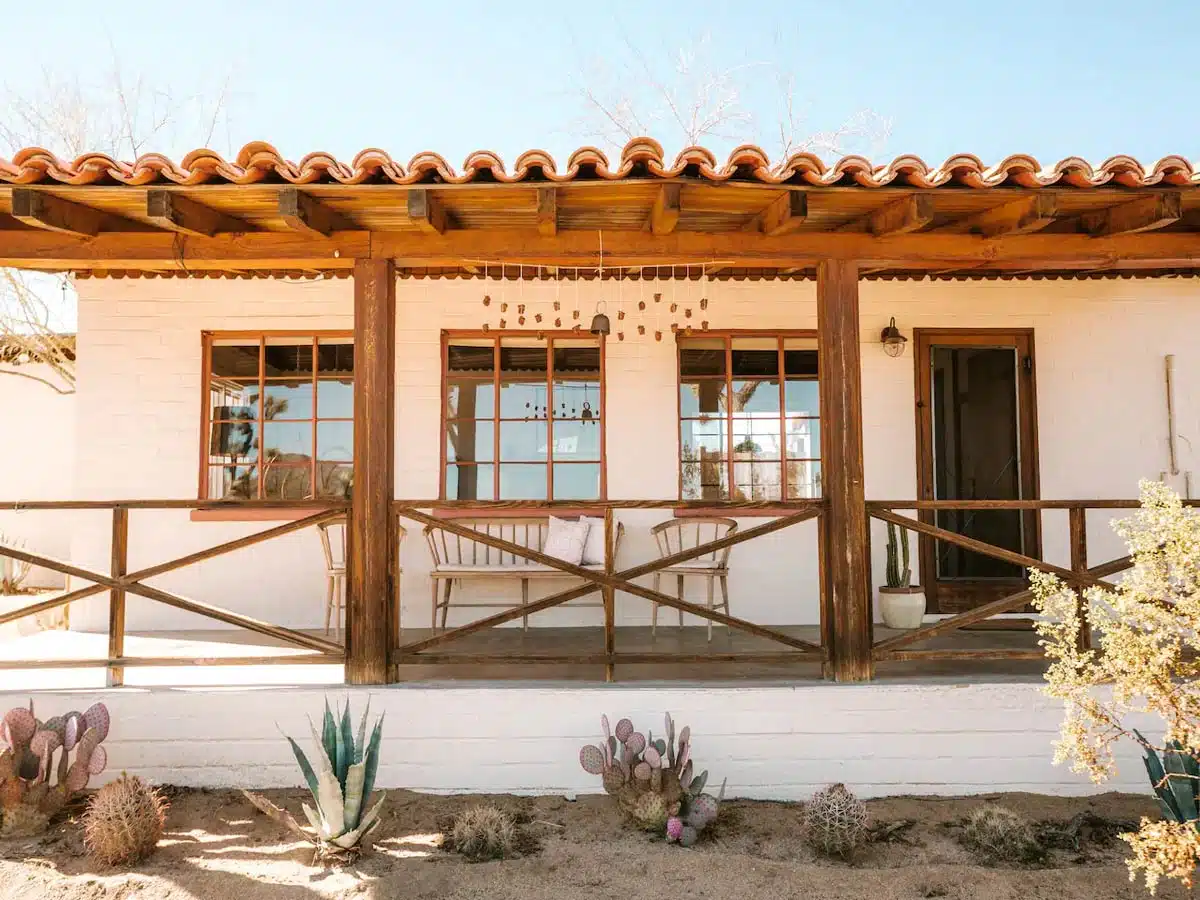 The light and airy Joshua Tree House offers a magical stay surrounded by tall cacti and orange sunsets. Upon entering, you'll discover a stunning boho chic house with soft natural touches to make you feel at home. 
The living area offers a relaxing haven after a busy day featuring a cosy couch and hanging chairs as you relish the views from inside. For a gulp of fresh air (or caffeine), head to the front porch overlooking Joshua trees.
The rejuvenating hot tub is right there for guests to savour. So grab a bottle of bubbly, put on a bikini and take in a star-filled night sky as you unwind.
Fair warning: Consider staying here during cooler months, as this house does not have a central A/C system. However, the host is quite helpful, allowing you to stay with no fuss.
Location: Joshua Tree
This Airbnb sits in Joshua Tree, known for its distinct trees and quaint villages.
Moon Camp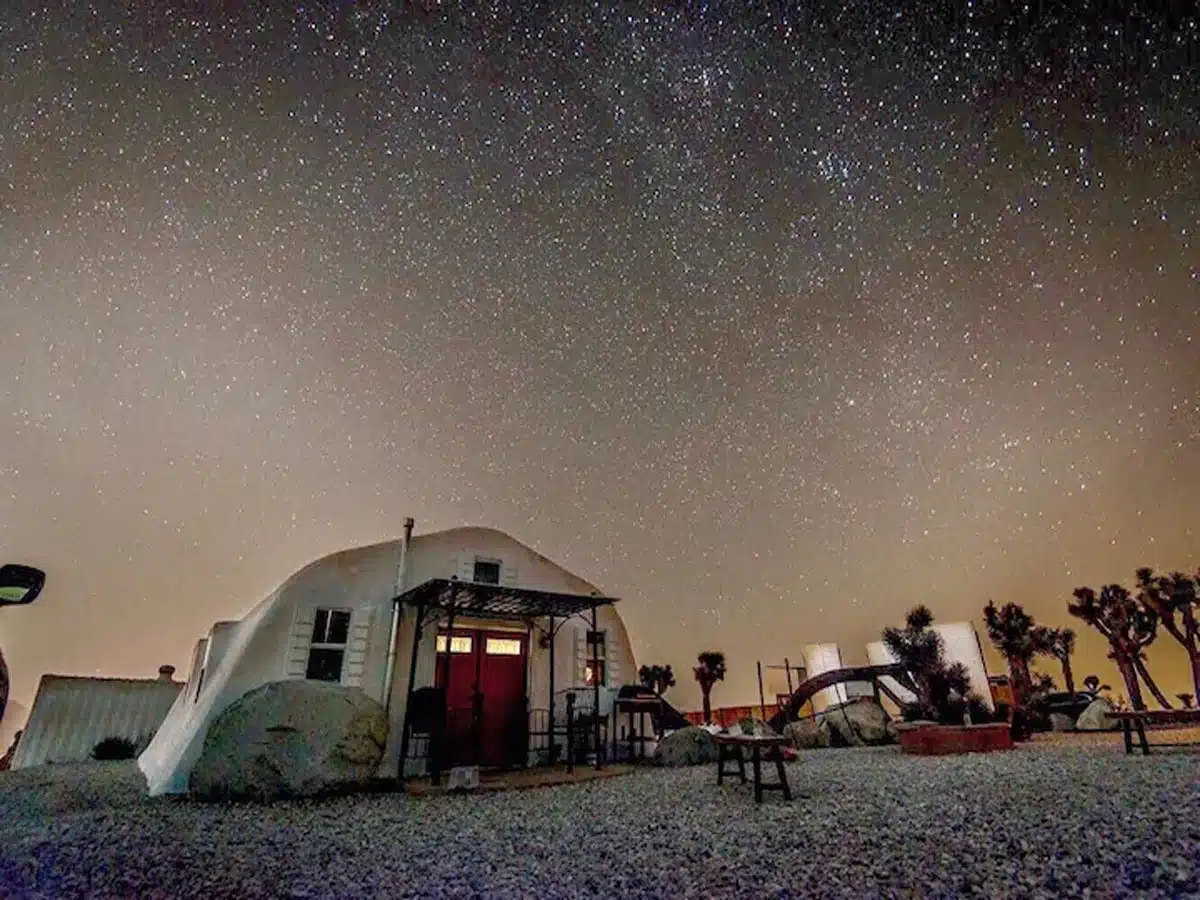 An Airbnb in Joshua Tree that's dome-shaped and in the middle of the desert, anyone? That's precisely what you're getting at the Moon Camp.
Here you'll have the perfect opportunity to admire the moon and stargaze with the onsite telescope.
I'll level with you and admit that the dome is less spacious than other places in this guide, but it contains everything you need for comfortable and hassle-free glamping in the desert. The layout is cohesive for its size, and the white walls prevent any feeling of confinement.
The décor features furniture, rugs, hammocks and throws with a bohemian flare. And, better yet, the hosts are helpful and responsive, making the booking process a breeze.
Location: Joshua Tree
This is a stunning spot for stargazing, and it's ridiculously close to the park.
The Owl's Nest Cabin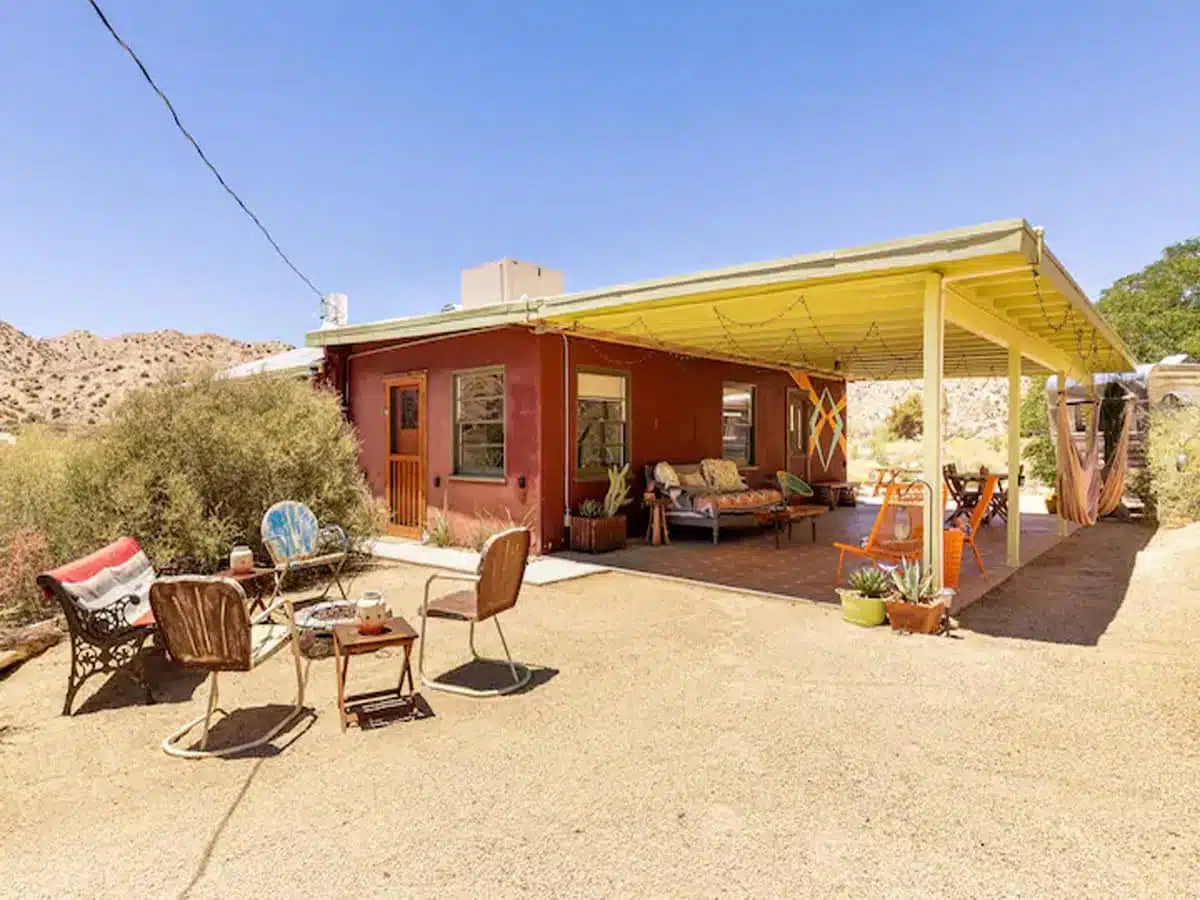 How charming does the Owl's Nest Cabin sound? And once you're inside, you'll fall in love instantly. This cabin screams hippie interior, with many natural finishes and colourful, eclectic touches.
Sit back and take in the sunset on a vibrant, spacious porch featuring couches, hammocks and a dining table. You'll find two airy bedrooms with comfy beds and a fully equipped kitchen.
Huddle around the fire pit and make memories under the stars; to make it last longer, you're allowed long-term stays for more than 28 days. Contact the friendly host to arrange this for you.
Tip: It's called Owl's Nest for a reason, so have your camera ready if you want to capture the majestic great horned owls.
Location: Yucca Valley
Located in scenic Water Canyon a few minutes from Joshua Tree Park, you'll be close to many attractions, such as Pappy and Harriets.
Palo Verde Lounge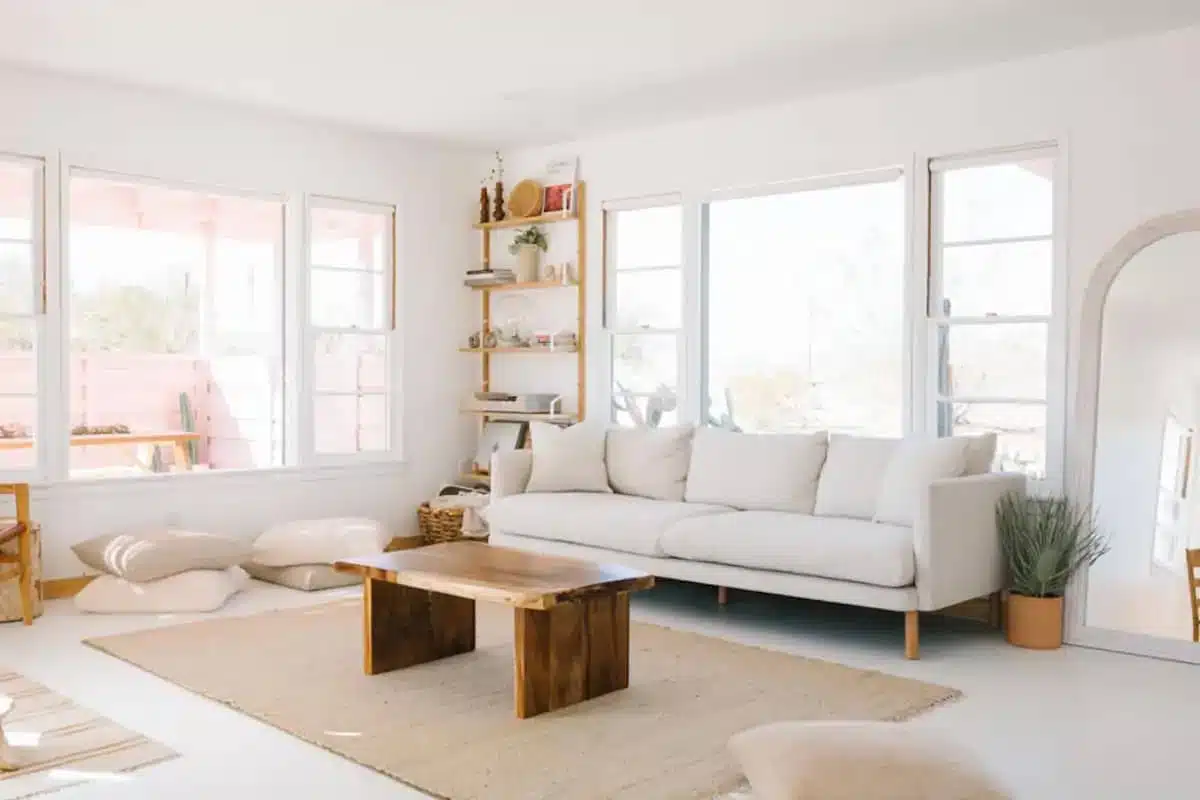 Palo Verde Lounge is a modern ranch-style home. Beige décor is coupled with soft minimalist furniture to complement its desert surroundings. And it couldn't be more serene.
Cosy up in front of the large indoor fireplace if it's chilly outside (not likely). But once that California heat hits, you can use the outdoor shower to refresh or take a seat underneath a Joshua tree. That's not all. This property offers a hot tub and splendid boulder views to seal the deal.
Appreciate the seclusion, sunset views, and this gorgeous home carefully curated by its helpful host.
Location: Joshua Tree
Located in Panorama Heights, a peaceful sought-after neighbourhood filled with hiking and camping opportunities.
The Outlaw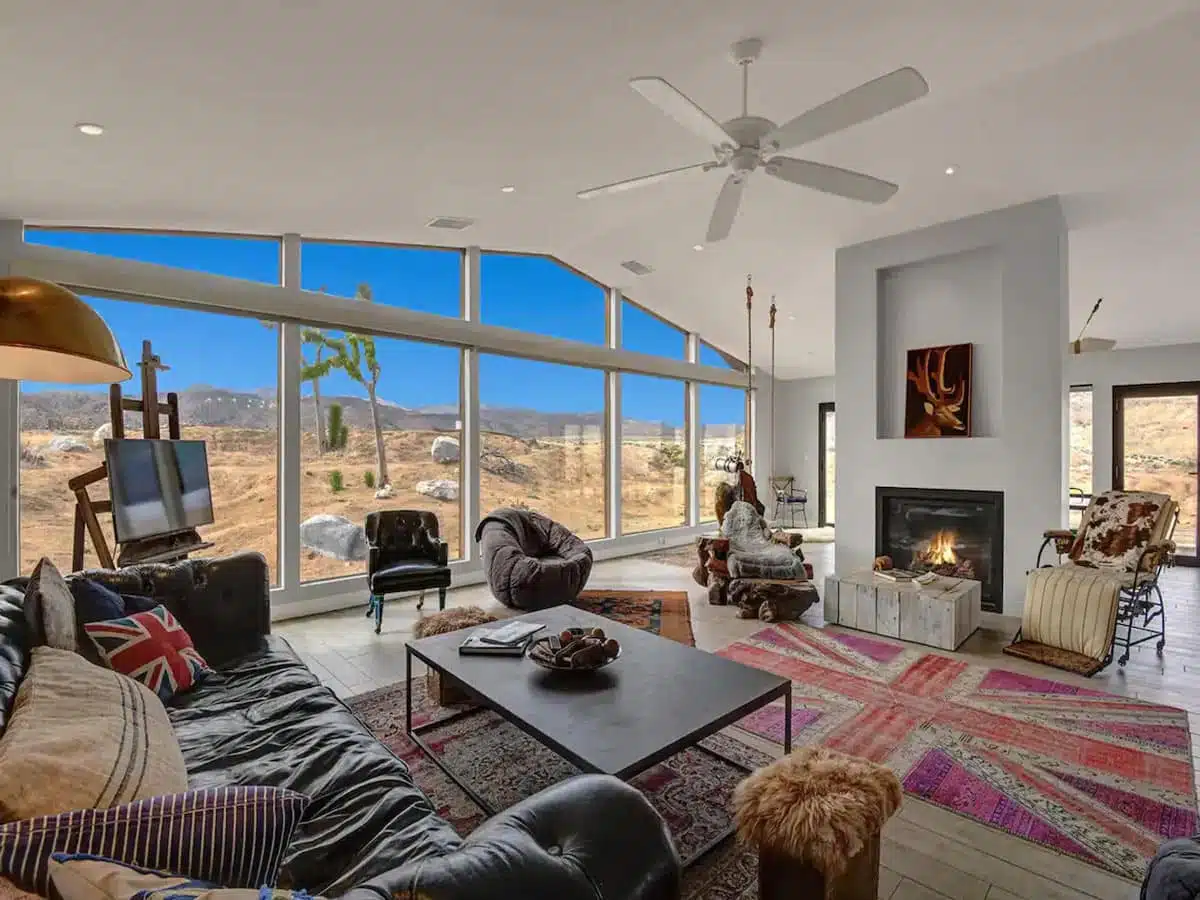 Feel like a true western outlaw at this secluded listing surrounded by wildlife and a rugged desert landscape. You'll be staying at a five-bedroom, five-and-a-half-bathroom home that even made it onto Netflix's "World's Most Amazing Vacation Rentals".
The spacious home features floor-to-ceiling windows allowing ample light to seep in. It has a rustic vibe, replicating its mountainous environment. The best place to relax is in the living space that even has a swing facing desert views.
Outside you can unwind in the hot tub or dip in the pool. There's also a stunning saloon decked out in a western-style interior for large groups to find entertainment. Pictures don't do this property justice.
And guess what? Your furry family member can join too.
Location: Pioneertown
A historical town inspired by the Old West that's worth visiting with much to see and do.
Mojave House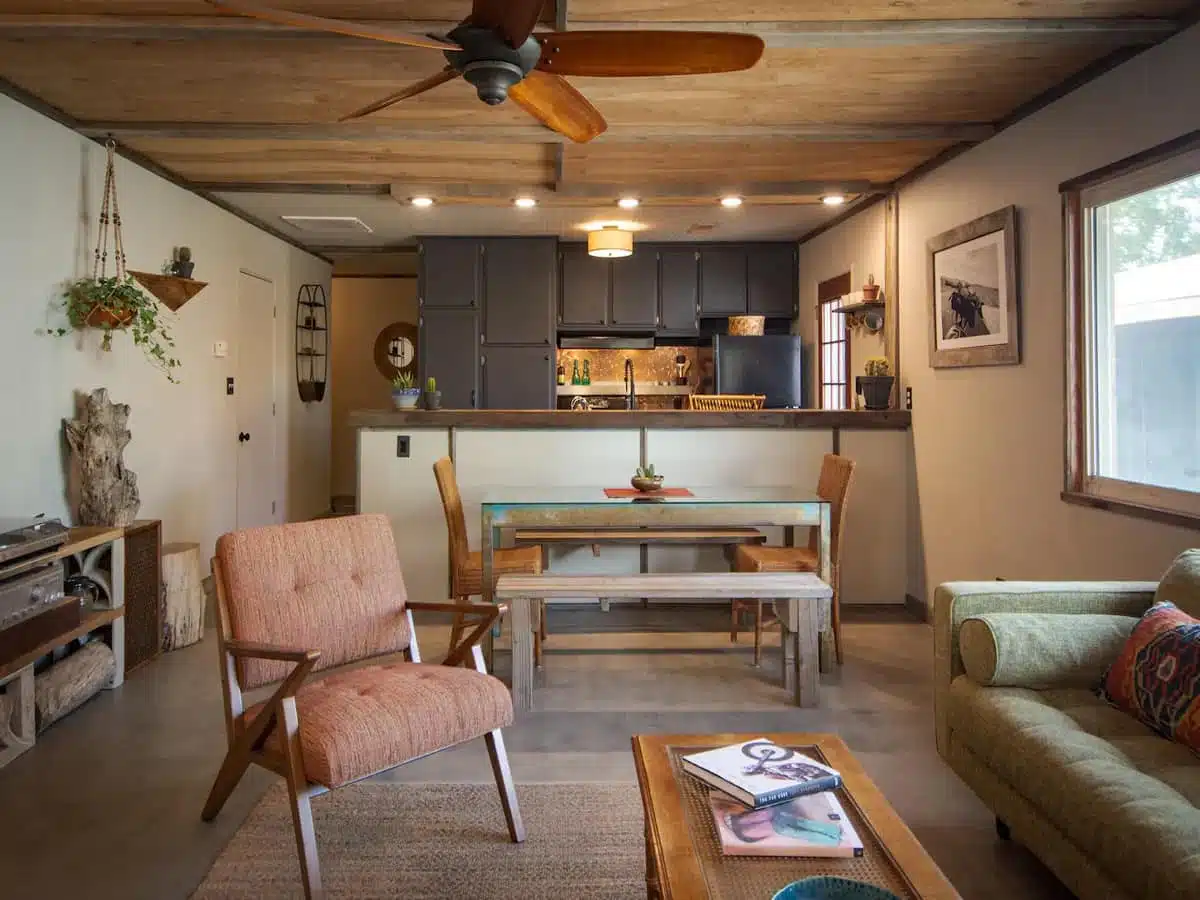 Looking for a place with a stylish cabin feel in the desert? Look no further than the elegant Mojave House. Exquisite sunrises and sunsets are a backdrop to this modern yet rustic accommodation.
Crack open a bottle of red, sink into the hot tub, and gaze up at the stars for a magical evening. Or gather around the outdoor fire pit with furniture for a cosy bonding session. You'll want to whip out your camera to capture the breathtaking views and small desert animals hiding behind cactus shrubs.
You'll find charming and spacious rooms with neutral tones and bohemian objects scattered throughout. Truly a wonderful little spot provided by a responsive, friendly host.
Location: Joshua Tree
Location-wise, this home is perfect. Its convenient spot near the park draws many guests, so book well in advance.
Terra Joshua Tree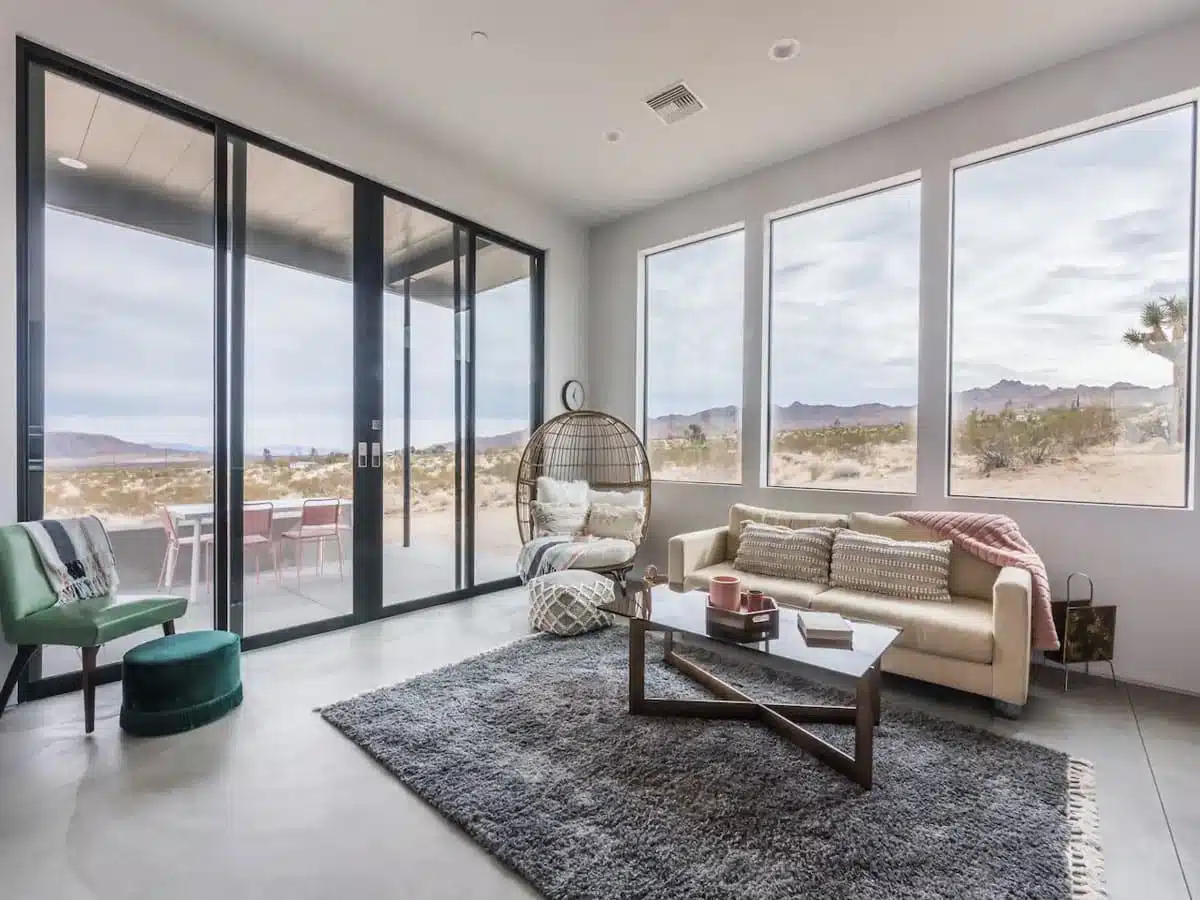 Terra Joshua Tree is an ultra-modern home in the heart of the desert with gorgeous skies as the backdrop. The contemporary architecture gives this listing a futuristic aesthetic, and the inside is just as impressive.
If luxury and modernity are what you're after, this charming spot will provide them. The rooms are airy with eclectic pieces and a fully equipped modern kitchen. But just wait till you see the stunning metallic shower featuring a frameless glass panel.
Then step outside at night and succumb to the relaxing jacuzzi next to a Joshua tree.
Location: Joshua Tree
The home sits on the edge of Joshua Tree National Park, making it an excellent location near the park and restaurants.
Launch Pad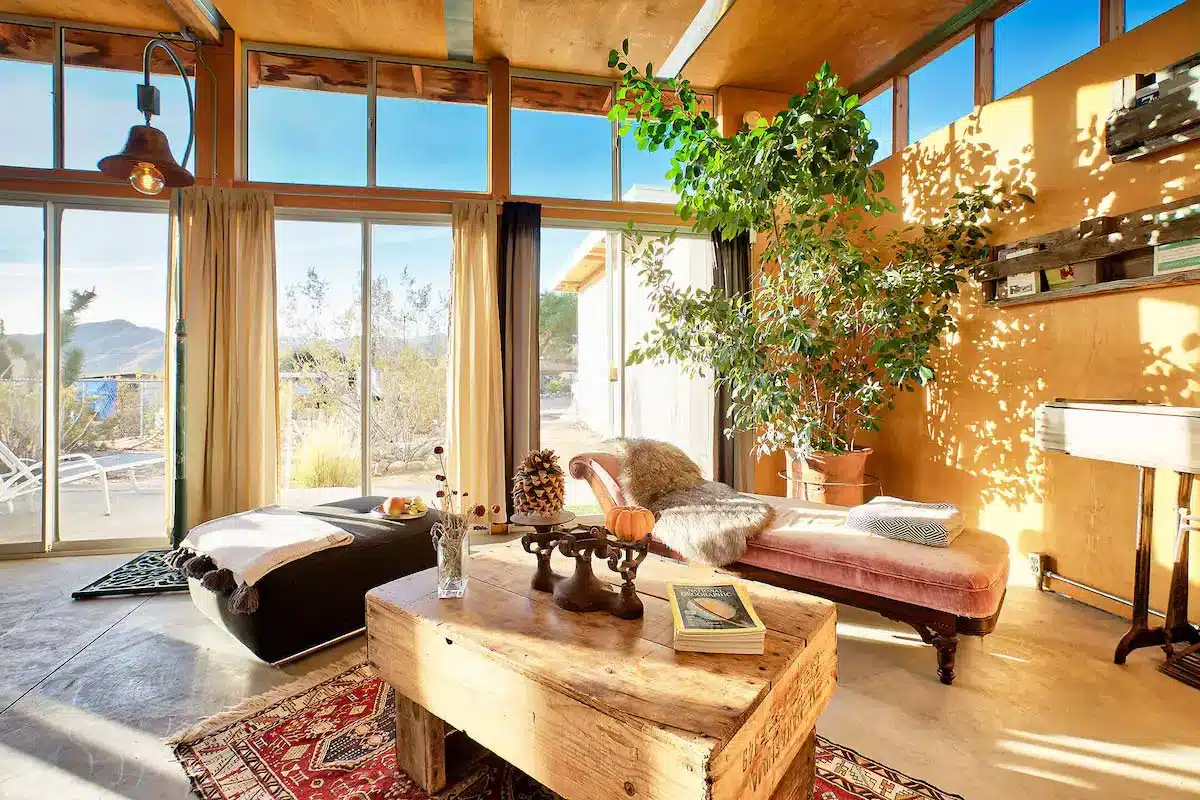 Hide out at a stunning and unique studio loft curated for a serene escape. Honeymooners, families, and seclusion-seekers will all appreciate the solitude at Launch Pad. The open-plan layout perfectly plays into this tranquil getaway with its creative spaces and cosy corners.
Tuck into the next chapter of your book while lazing on a chaise lounge as the sun caresses you through the floor-to-ceiling windows. The vibrant spaces invite you in with spacious beds and relaxing hammocks.
The woodsy theme throughout makes this Airbnb unique, and the backyard offers a snug little spot featuring a fire pit, outdoor furniture, and a hot tub.
Location: Joshua Tree
This property sits 10 minutes from downtown Joshua Tree – a local hub of restaurants and shops – and the Visitor Center.
Area 55 Futuro House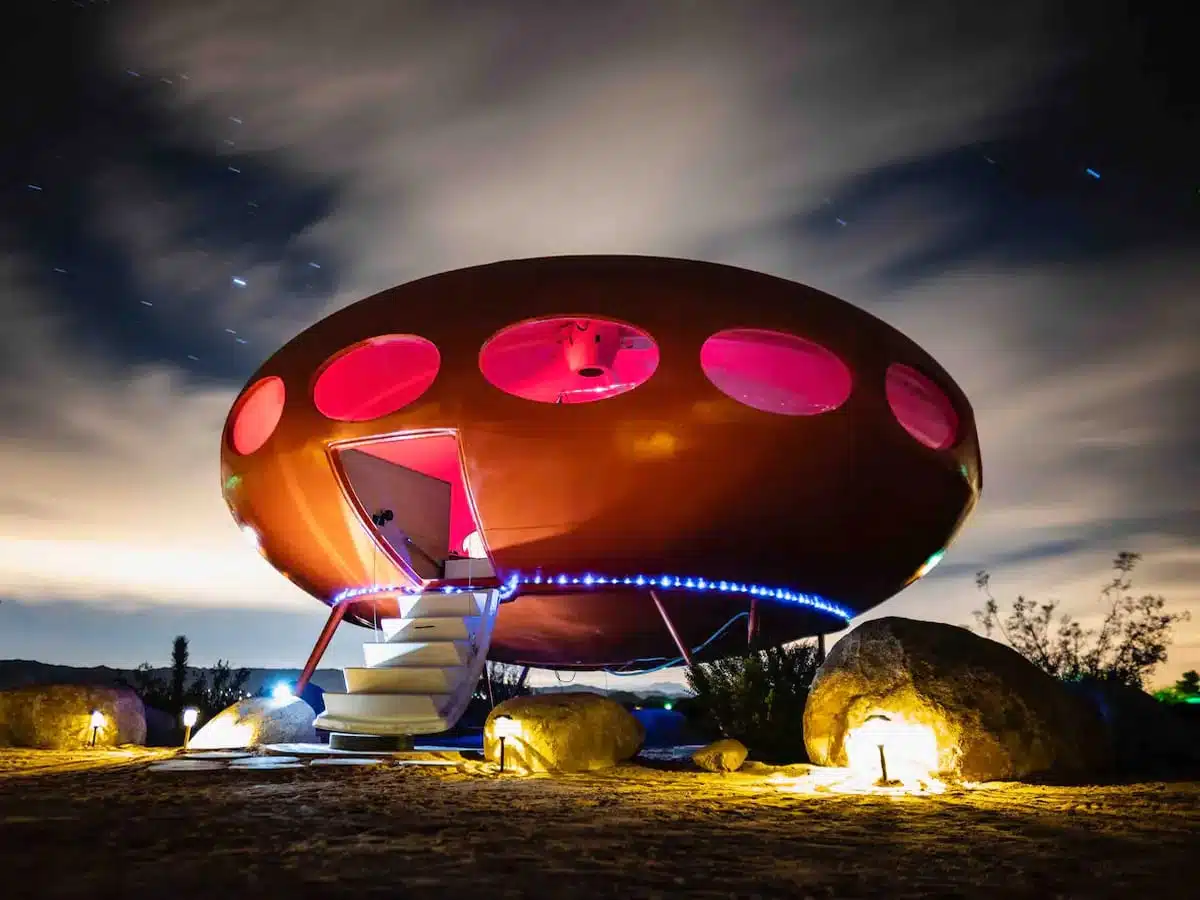 Let this futuristic UFO Airbnb in Joshua Tree take you out of this world. It's an original Futuro house; even the inside looks like a Sci-Fi film set.
The home is stylish and well-kept, with many windows allowing sunlight to pour in. The interior is minimalist yet vibrant, which compliments the small size of this listing. While smaller in space, this spaceship has ample charm and a friendly host to suck you in.
Location: Joshua Tree
This listing is in a calm and peaceful neighbourhood with Noah Purfoy's museum and epic hiking trails nearby.
Desert Sage House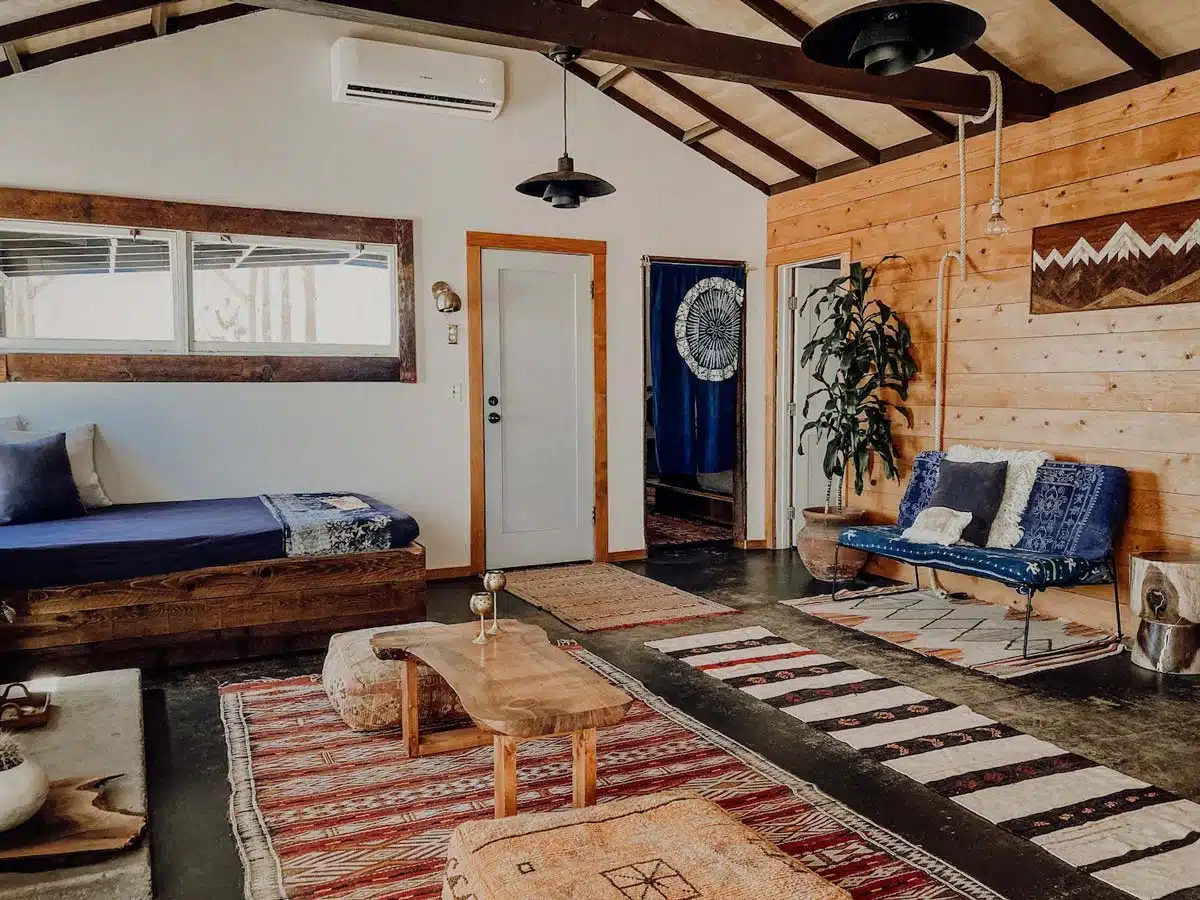 The Desert Sage House is a gorgeous yurt with breathtaking sunsets and vista views. Glamping doesn't get better than what this elegant and cosy yurt has to offer. Submerge your body in a cedar hot tub after a hike in the park and admire the endless starry night sky above.
When you're ready to explore, you won't need to go far – a whimsical haven of over 100 Joshua trees surrounds you. And, to refresh from the desert heat, you can access a private outdoor pool.
Location: Yucca Valley
This property offers an authentic desert escape between Pioneer Town and the National Park.
Practical Tips to Consider Before Booking Your Airbnb, Joshua Tree
Knowing when to book is key for places like Joshua Tree, which experiences unbearable heat of over 40℃ in summer. Popular times to visit the park are March to May and October and November, so book well in advance.
You only need one full day to experience the entire Joshua Tree Park. However, I recommend staying at least two or three nights if you also want to see the park's scenic backcountry or off-road drives. 
Joshua Tree National Park has limited shade, so pack things like a wide-brimmed hat, highly protective sunblock, and a refillable water bottle to stay cool.