Discover the best 3 day itinerary for Los Angeles with this handy guide. Admiring the stars of Hollywood, chilling out on Santa Monica's beaches, dining in style, and plenty more over the course of a long weekend.
Guys, I don't want to flex… But I've come up with an epic 3 days in LA itinerary.
If you're visiting for the first time, three days might be on the shorter side, but it also gives you just enough time to tick off all the major sights.
There's a lot on the line, especially when you only have 3 days in Los Angeles. But despite the difficulties of traffic and picking the best things to do in Los Angeles in such a short amount of time, it's still very doable.
I know it may seem slightly ambitious — even a little crazy — but you can definitely do it.
From the Venice Canals to the breathtaking Griffith Park, all the main sights are covered in this handy travel itinerary (as well as a few of my off-beat favourites along the way),
Get ready for an incredible 3 days in Los Angeles.
Handy Tips for Planning Your 3-Day Los Angeles Itinerary
Top Tours for Your Los Angeles Trip Itinerary
Los Angeles: LA Grand Tour: Want to see all the top Los Angeles landmarks in one day? Then this private full-day bus tour is for you. You'll see everything from the Hollywood Walk of Fame to the Santa Monica Pier.
Newport Beach Whale Watching Tour: Join this Newport Beach whale-watching tour for two hours of watching dolphins glide through the water and blue whales and finback whales breaching.
Hollywood Celebrity Homes Tour: Hollywood and stars go hand in hand. Which is why, if you're a little bit nosy like me, discovering the top celebrity mansions in Hollywood is a must.
What to Pack for Your LA Trip Itinerary
Even in winter, you'll have highs of 68°F (20°C), so light layers of clothing are always in order. Here are the essentials that should be in all Los Angeles packing itineraries.
Comfortable Walking Shoes: Although you'll be doing a lot of travelling from place to place purely because of the size of the city, you'll still need comfort when walking.
Sun Cream and Bug Spray: These are obvious choices, but additions to your packing list that are absolutely vital. Stay safe, folks.
Large Beach Towel: Soft sand and gnarly waves are never far away, and spending time on the glorious beaches is always in order.
Light Layers: No matter how much you plan, LA weather will always have a different idea. Bring lots of light layers so that you can add/remove as needed.
Where to Stay for Your 3-Day LA Itinerary
Mama Shelter Hollywood
Wondering where to stay in Los Angeles? For a vibey hotel that fits the bill of Hollywood's next star, look no further than Mama Shelter.
You can mingle in the downstairs lounge (PS, their breakfasts are to die for) or enjoy sundowners at the rooftop bar. Its friendly staff and prime location — a block from the Hollywood Walk of Fame — make this a lodging you'll never forget.
The Peninsula Beverly Hills
Book a room at The Peninsula Beverly Hills if you're seeking celebrity treatment. This hotel uses simplicity to perfection, with a subtle palette of creams and timber, making every room an escape from the bustling city.
You can also enjoy Mediterranean delights in the heart of America at the Belvedere restaurant or bum it out at the lovely pool.
Hotel Per LA
Book your stay at Hotel Per LA for a luxury stay in Downtown Los Angeles. The hotel's façade is a mosaic of colour, while the rooms perfectly combine white and blue finishings to create a calming atmosphere.
It has some of the city's best panoramic views from the rooftop pool and bar, while the outdoor café is ideal for your morning cup of joe. Need I say more?
Quick Info for Your 3 Days in LA
Time Zone: Pacific Standard Time (GMT-8)
Currency: US Dollar ($)
Plugs: Types A and B
Nearest Airport: Los Angeles International Airport
5 Must-See Spots: Griffith Observatory, The Getty, Santa Monica Pier, Hollywood Walk of Fame, Beverly Hills Rodeo Drive
Top Tip: Los Angeles is a big city with plenty to see and do. And to be honest, getting around is a schlep. When planning the day, factor in travel time.
Getting Around
Train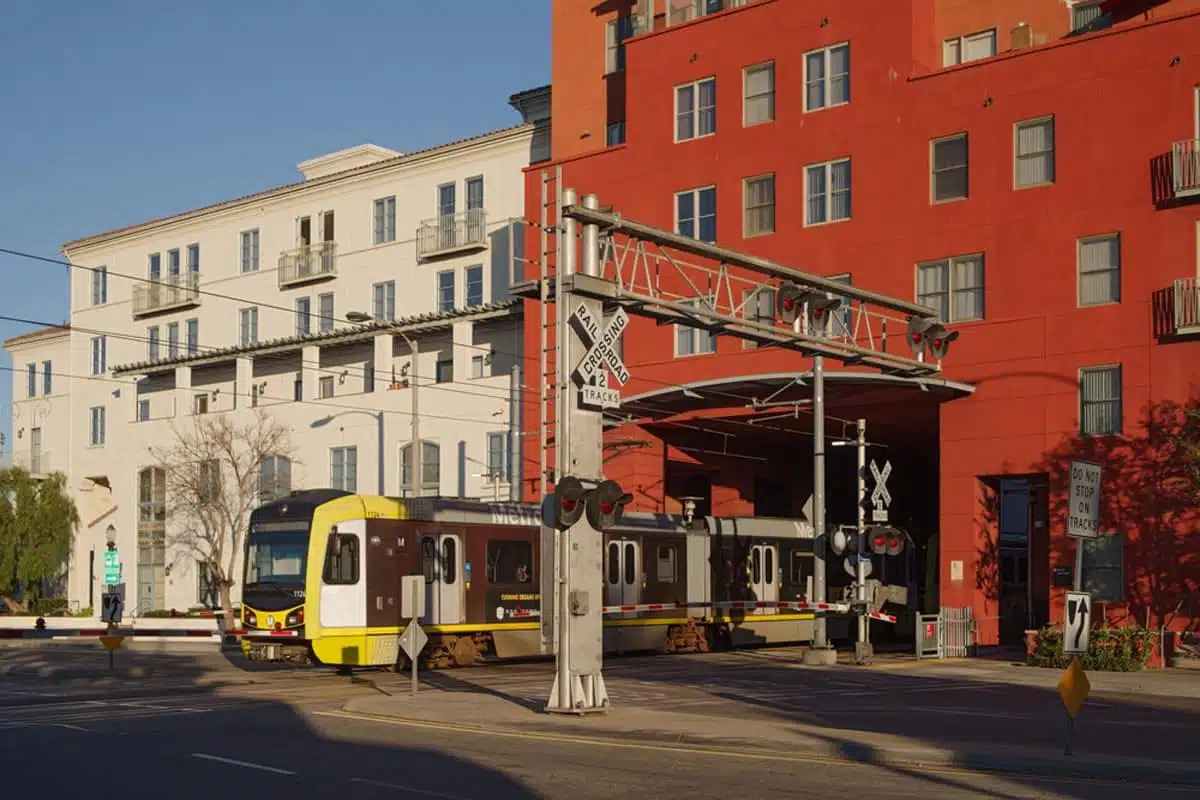 The roads in Los Angeles are always busy, so the city's metro system can often help reduce travel time with its five lines stretching across the city. You'll likely use the Red Line from Union Station to North Hollywood and the Purple Line from Union Station to Wilshire/Western.
It is a cheap alternative to Ubering everywhere, with day passes only costing $3.50. That's great, but you won't be able to get to many areas as the metro lines only run to the city's major points.
Bus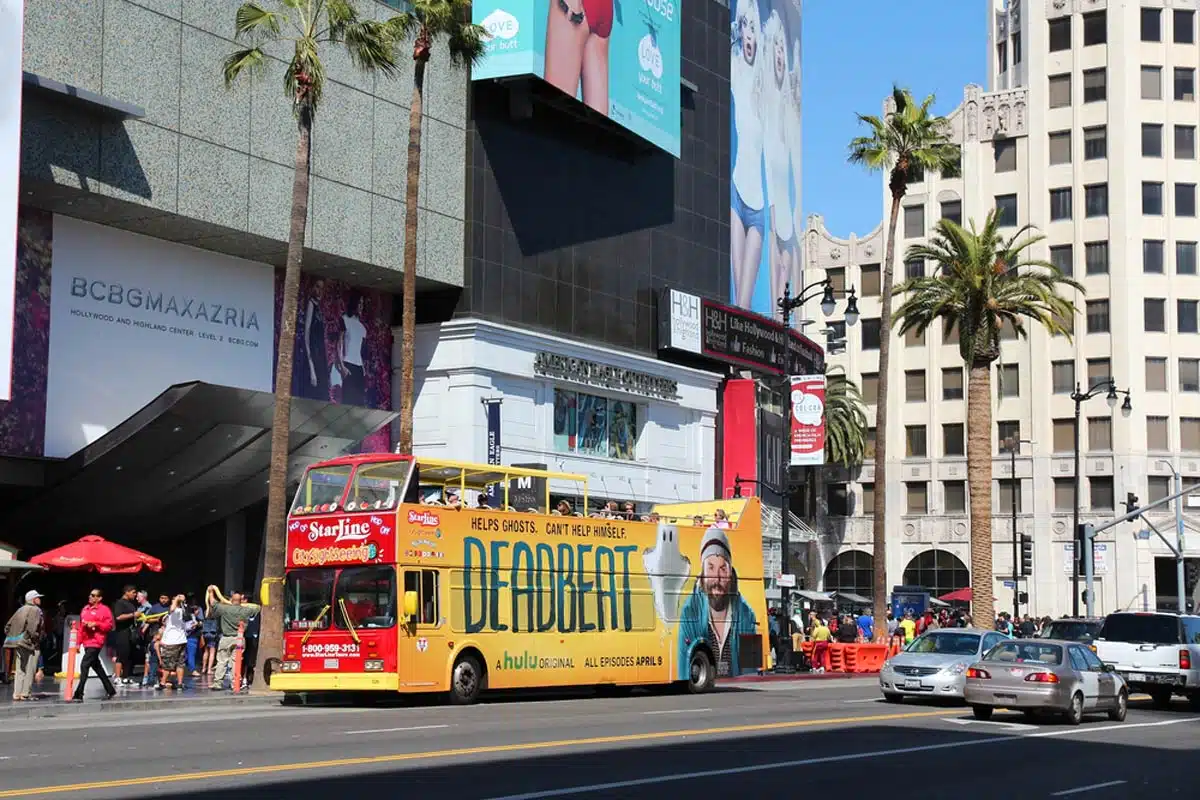 Another fantastic alternative is to use the ever-improving bus system in Los Angeles.
MTA is the leading transportation provider, with five major bus types serving different areas in the city. This pairs perfectly with the rail system, as the $ 3.50-day pass also applies to buses. You can learn more about the bus system on the MTA website.
Car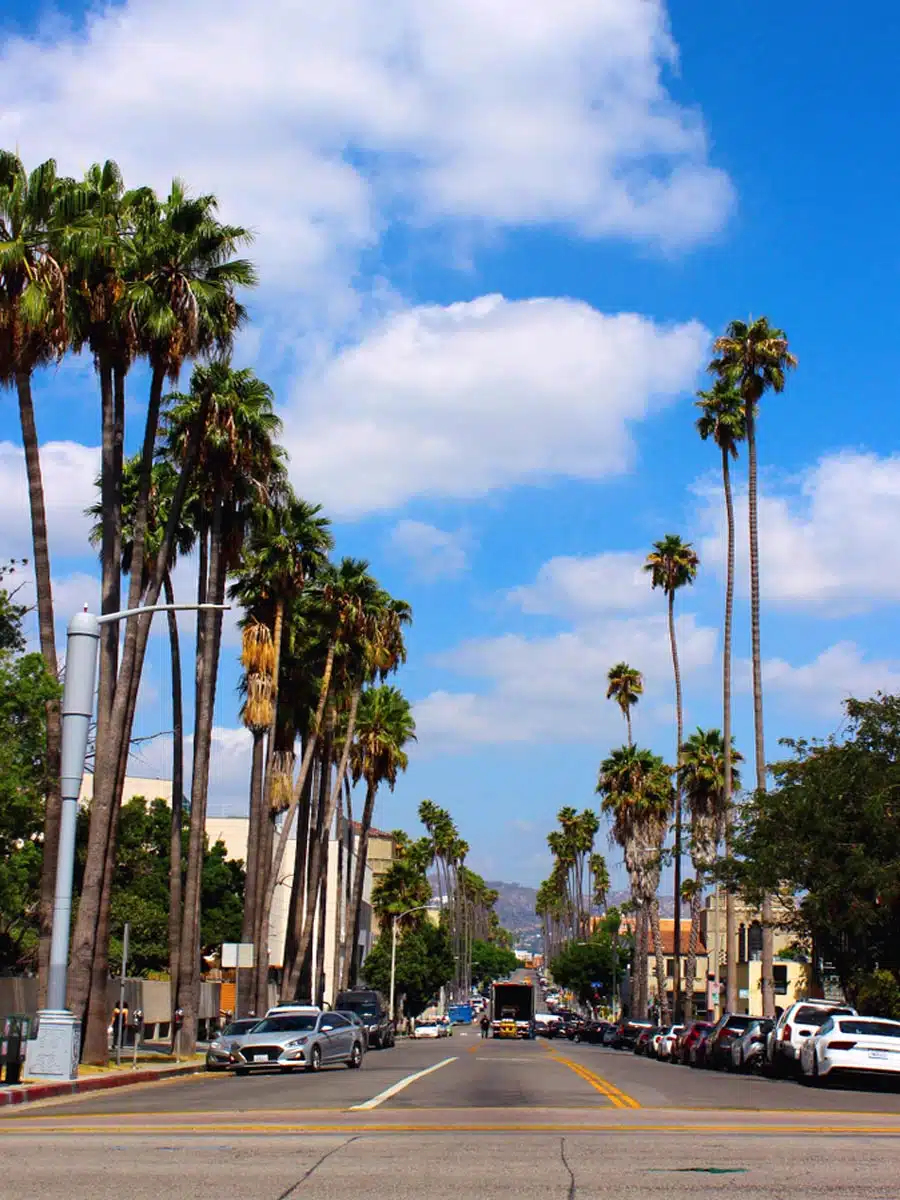 The best way to get around the city is by car as it's the quickest and most reliable form of transportation. Although traffic congestion in town is terrible, you can still get around by car much faster than by train or bus.
I highly recommend renting a car as it's your best option. And besides, if you can drive through the hair-raising streets of LA, then you can drive anywhere.
Taxi
If all else fails, you can always use the ever-reliable taxi services like Uber or Lyft.
I'd only use these as a last resort, as they are the most expensive way to get around the city. And in some cases, a taxi is just as slow as a bus, especially on the streets of Los Angeles.
Your 3 Days in LA Itinerary
Los Angeles Itinerary Day One: Exploring LA's Magical Coastline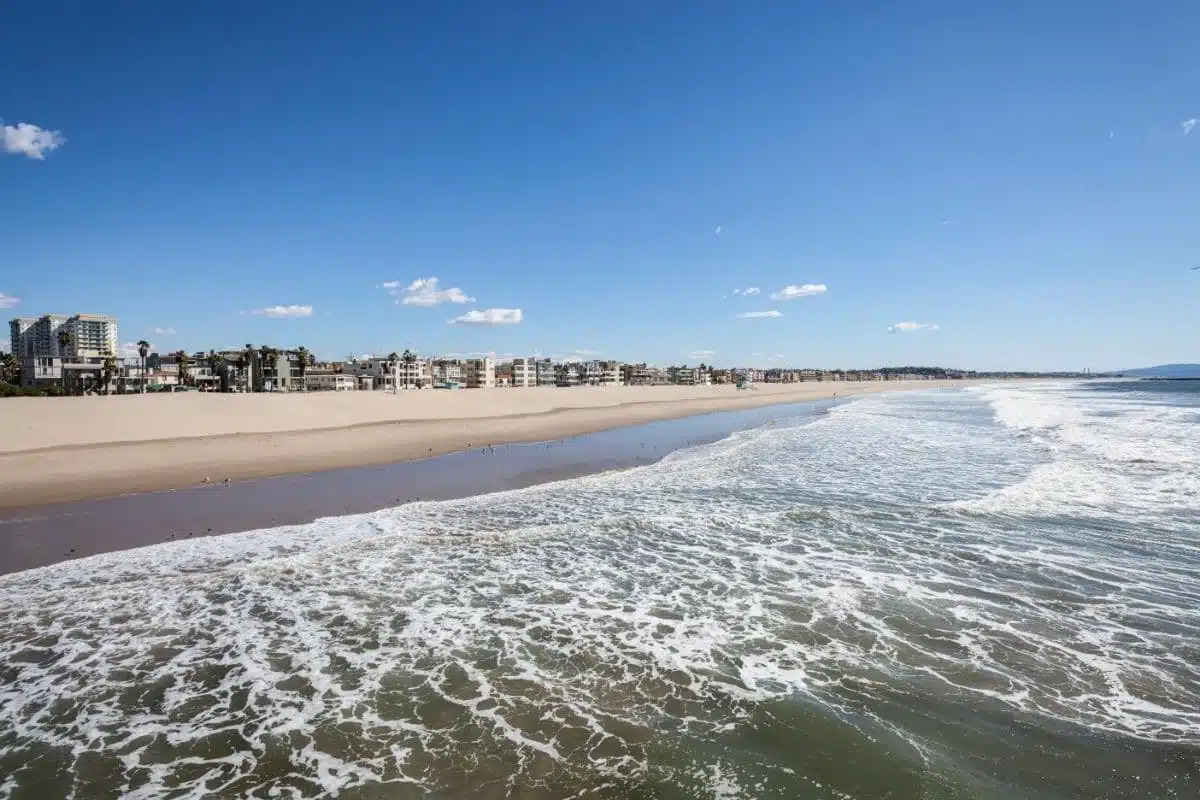 Alright guys, I shall tease you no more. There's no better way to kick off your itinerary for LA than by exploring the city's majestic coastline.
Get ready for sun, sandy shores, art, and unforgettable beach walks.
Gaze at Fantastic Artworks in The Getty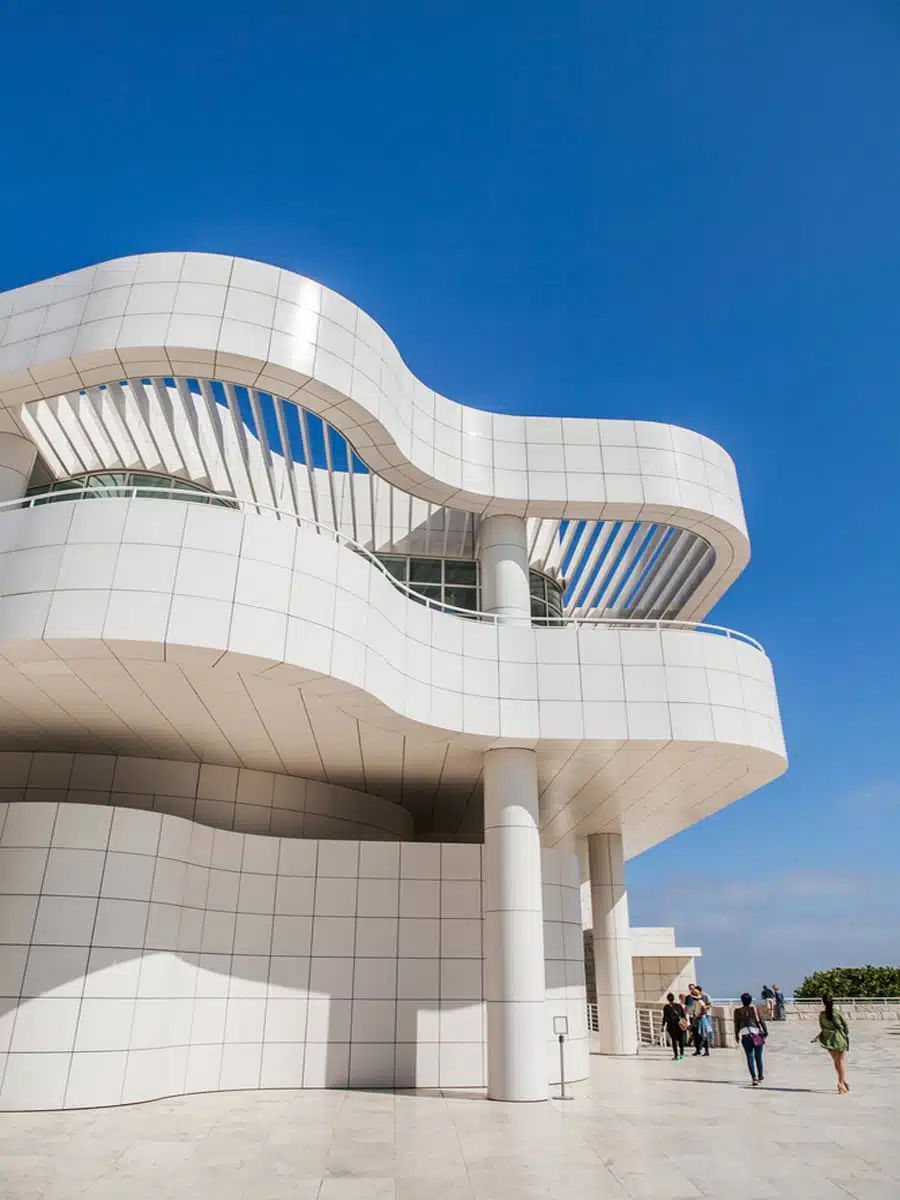 Forget about wondering what to see in Los Angeles in 3 days because a visit to The Getty will kickstart your trip in perfect style. The nature-inspired architecture throughout the Getty Centre is mesmerising, but what you've come to see is the jaw-dropping artwork in its permanent collection.
You can admire Van Gogh's Irises (1889) or modern prints by artists such as Robert Mapplethorpe. You can also discover the 28 contemporary outdoor sculptures throughout the premises or walk through the Central Garden for a bit of serenity.
Top Tip: Join this Getty Centre Museum guided tour to see all the hidden gems of this magnificent centre.
Get Your Blood Pumping in Runyon Canyon Park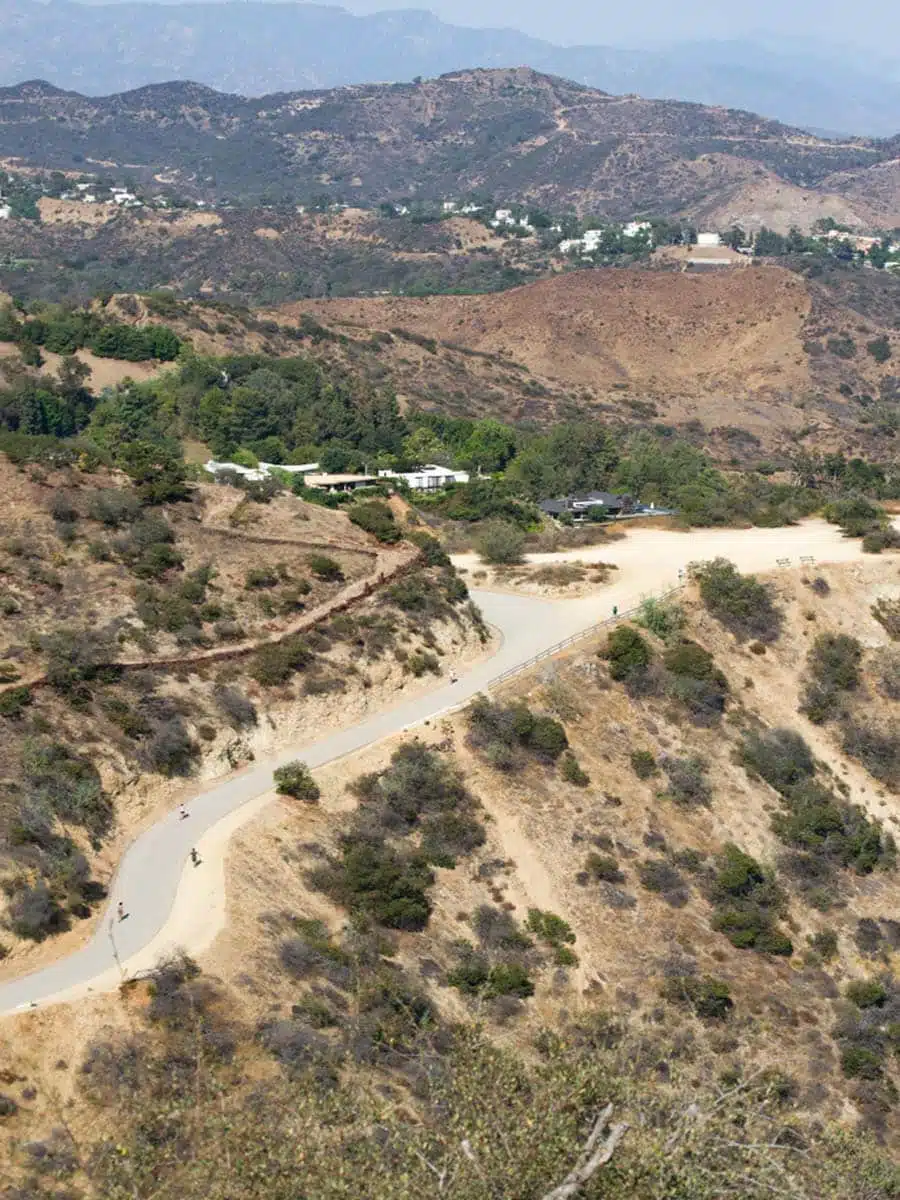 A short 15-minute drive from the Getty, and you'll reach the 2.6-mile Runyon Canyon loop trail. It's a moderately challenging route that passes through the lush vegetation of Runyon Canyon.
Roughly two-thirds of the way through the hike, you'll reach a bridge known as Cloud's Rest. And near the trail's end, you'll reach Inspiration Point, which has one of the city's best panoramic views.
With an average hiking time of an hour and a half, it's the perfect way to get your blood pumping on day one.
Top Tip: Find the trail map here to know what to expect.
Discover the Best Beach in Santa Monica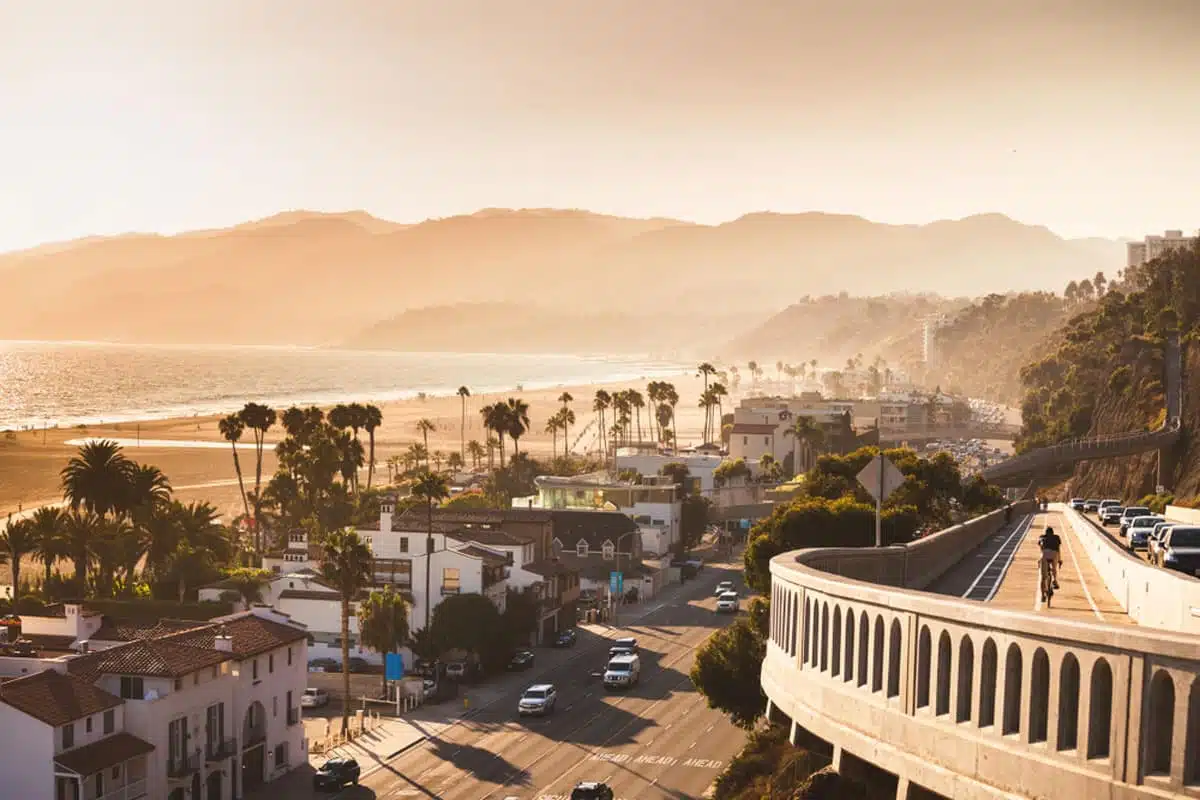 You can't visit Los Angeles without dipping your toes into the glorious Atlantic Ocean. Santa Monica Beach is a short 10-minute drive (3.4 miles) from Runyon Canyon and easily one of the best beaches near LA.
The beach stretches for 3.5 miles with golden sand you'll want to sink into — trust me, I struggled to peel myself away from the sun, sea and sand on my last LA trip.
But there's more to do here than just lounging around on the beach, as you'll see at the Santa Monica Pier.
Whether you simply want to walk along the pier or enjoy its numerous activities and tasty food stalls, that's entirely up to you. But one thing is certain, it won't disappoint. It's a little cliche, but it's a must-do.
Top Tip: Discover the best bits of the LA coastline on this Santa Monica electric bike tour.
Step into Italy at the Venice Canals and Dine in Style at Melisse
Who says Los Angeles is just an all-American city? Experience a bit of Italian flair at the Venice Canals, 15 minutes (3.5 miles) from the Santa Monica Pier.
You'll be able to freely walk alongside the canals and pass over its quaint bridges. This is a particularly beautiful sight as the golden sunset paints the waterways with colour.
Once you've spent the afternoon admiring Venice's picturesque streets and canals, it's time to wine and dine at Melisse. It's back in Santa Monica, but this Michelin Star restaurant will leave you feeling like a star.
Besides, there's no better way to end day one than at one of the coolest places in Los Angeles.
Los Angeles Itinerary Day Two: Explore Downtown LA and Griffith Park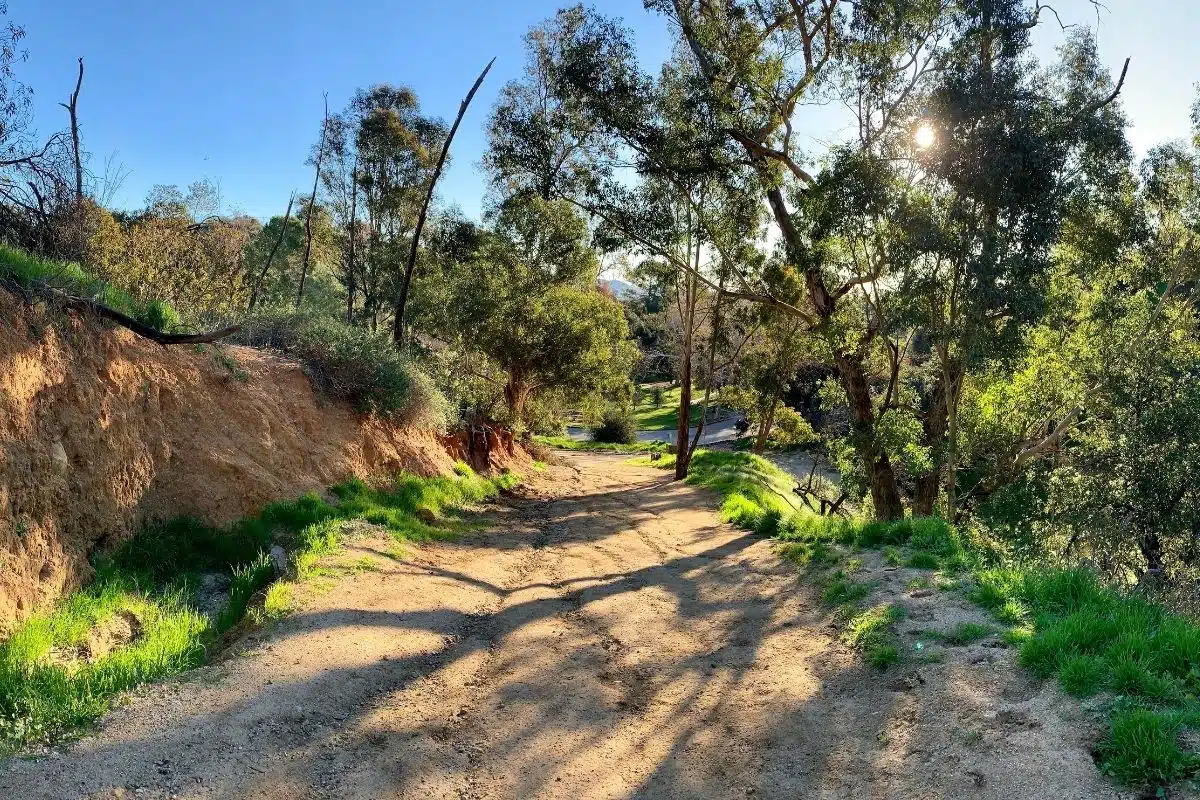 Day two is about exploring downtown LA's top sights, from the Hollywood sign in Griffith Park to paddling along the lake in Echo Park.
Wander the Art-filled Streets of Downtown LA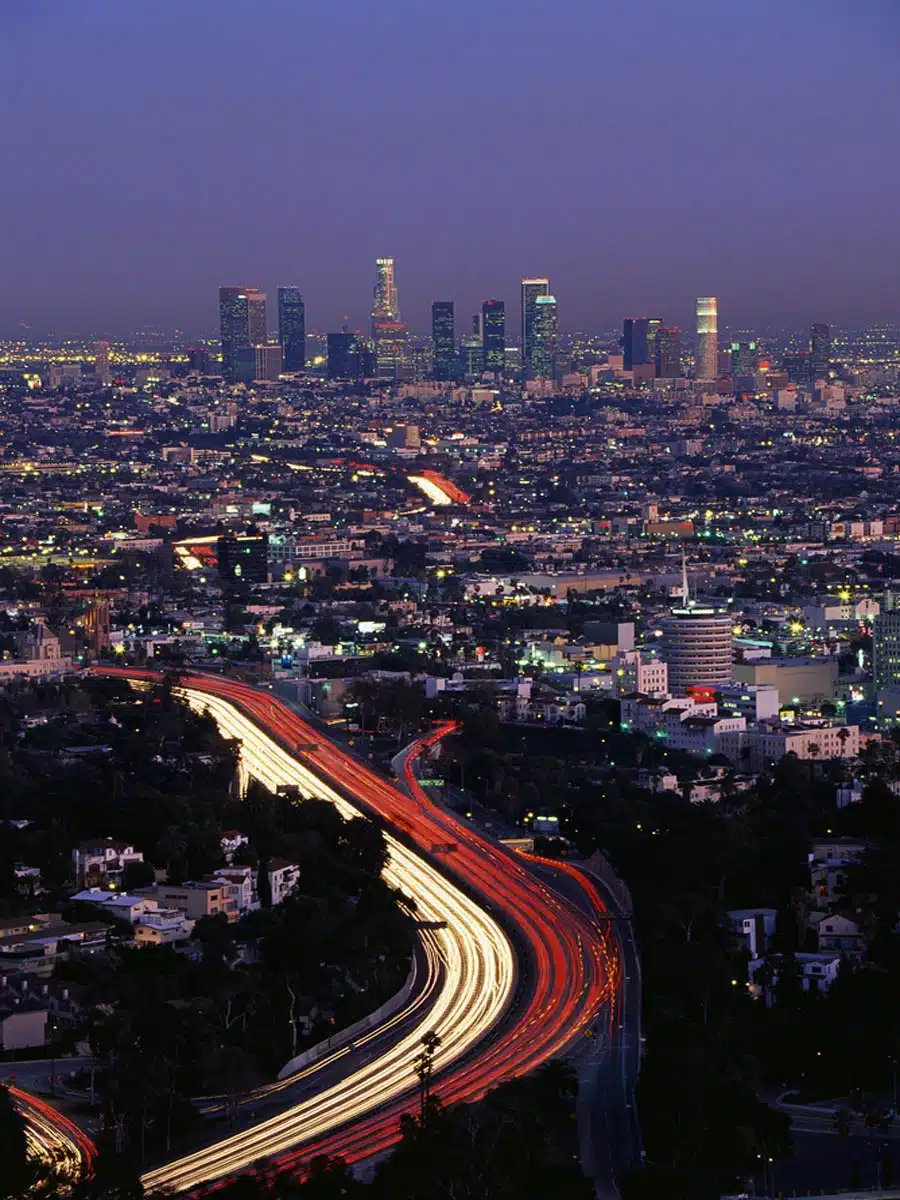 Tighten those shoelaces because an Arts District bike tour of Downtown Los Angeles will probably be the highlight of your trip (it certainly was mine).
Starting at the Grand Central Market (great for breakfast before the tour) you'll ride through the open streets to the Arts District. Here, you'll find iconic murals like Wrinkles of the City by French artist JR and the Art Share LA Building which supports local artists.
Throughout the tour, our guide will note interesting facts about each work (and you'll have plenty of time to snap cool pics). You can sign me up for a second time.
Paddle Along Echo Park Lake With an Ice-Cream in Hand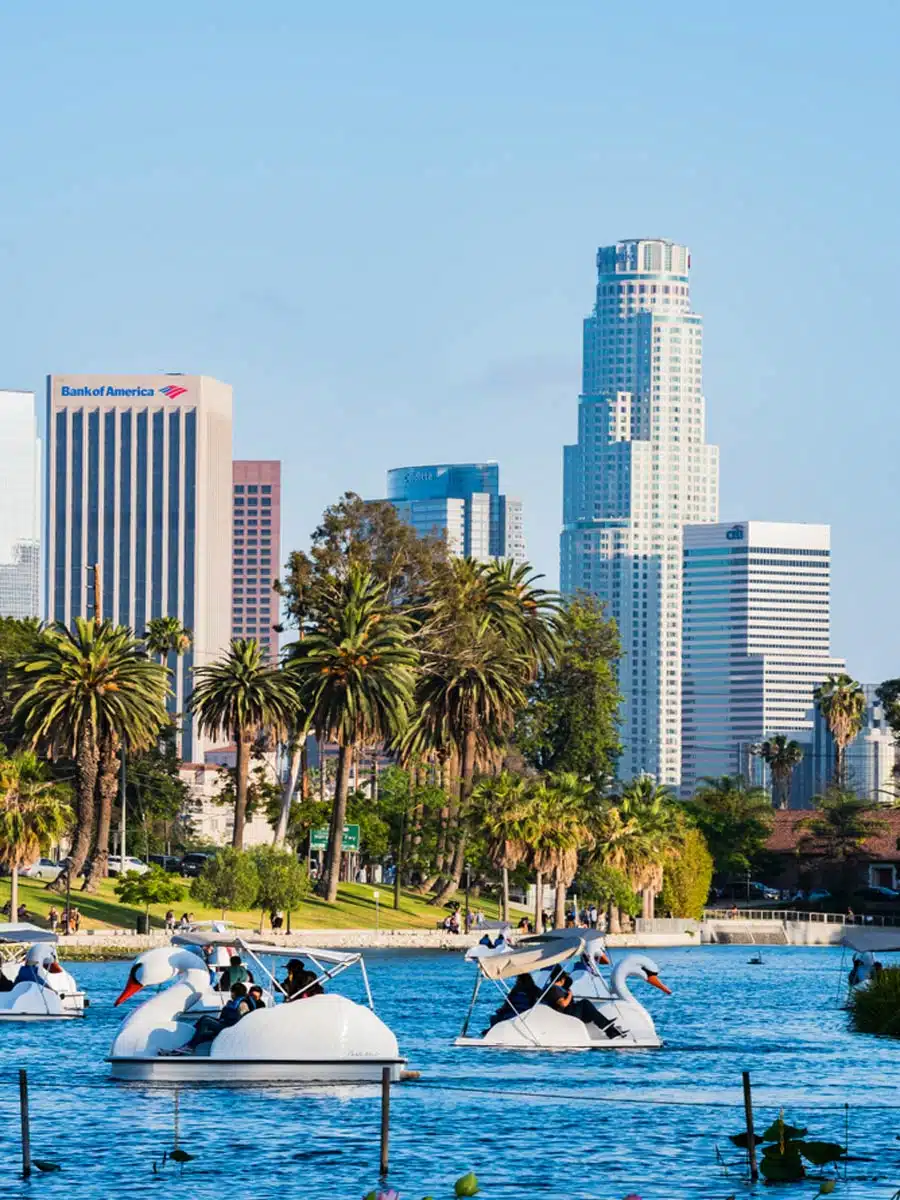 After exploring downtown's art scene, it's time for a 10-minute drive (2.6 miles) to Echo Park. It's crazy to think such a pristine park full of indigenous flora and fauna can exist in the centre of a bustling city, but it does.
As you stroll around this social hub, you can admire the wild geese and ducks paddling amongst the fragile lotus flowers. And why not join them by renting a swan pedal boat? It really is a relaxing way to spend time in the all-too-often overwhelming city of LA.
Feed Your Shopping Fix at Soap Plant / Wacko
If you know your LA geography, you'll notice that you'll slowly but surely be edging toward the Hollywood sign, as it's a 20-minute drive (2.8 miles) to Soap Plant / Wacko. This is a quirky little store worth visiting, as I think you'll never find anything like it.
Browse through eclectic pop-culture paraphernalia, from books to action figures. And staying true to the shop's original business, you can also find some lovely soaps.
Snap Some Memorable Photos at Griffith Observatory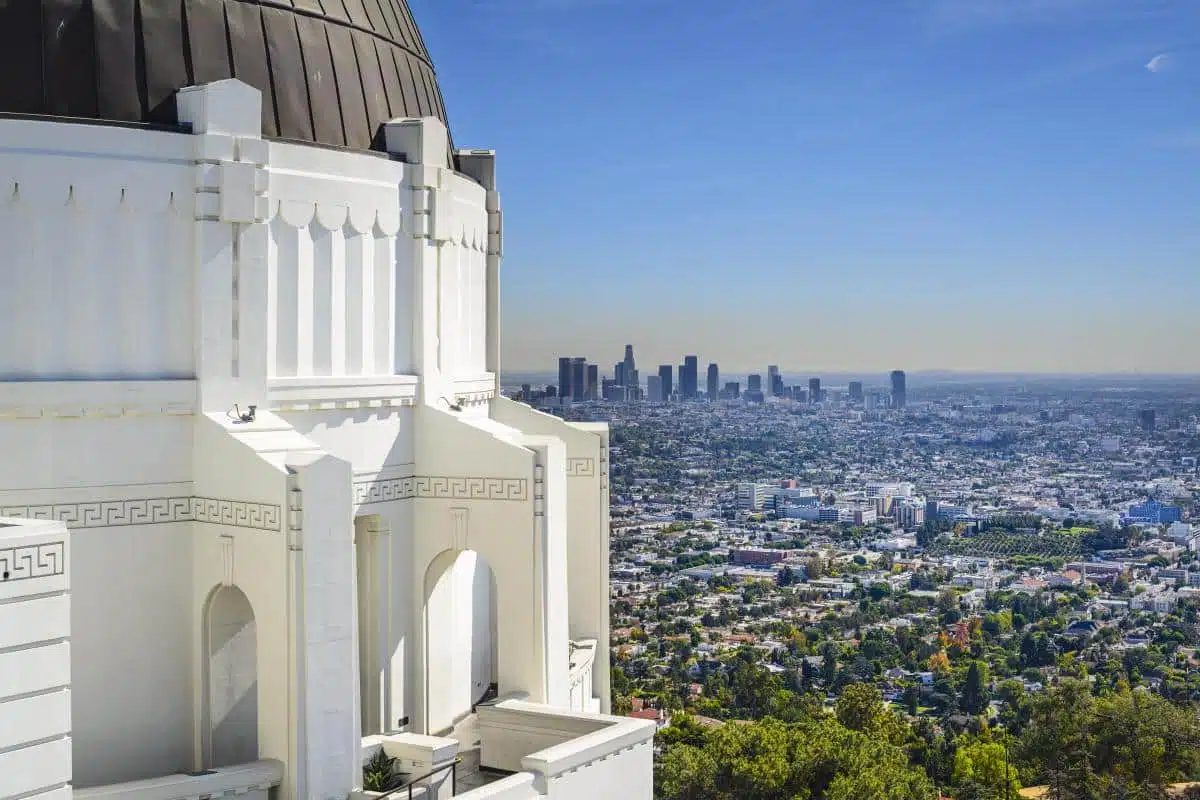 Once you've sufficiently stimulated your senses at Soap Plant / Wacko, it's time to head 2.7 miles north to Griffith Observatory.
You'll be able to admire the Hollywood Sign in all its glory from here, with the setting sun casting shades of orange and purple in the background. In other words, have your camera at the ready.
How about taking a gentle stroll along the 2.5-mile Charlie Turner loop trail to cap off the afternoon? The hour-and-a-half-long walk is the perfect way to explore America's largest urban-wilderness municipal park.
Top Tip: You can also join this Griffith Observatory guided tour to learn more about the universe.
Los Angeles Itinerary Day Three: Eat Your Heart Out in Beverly Hills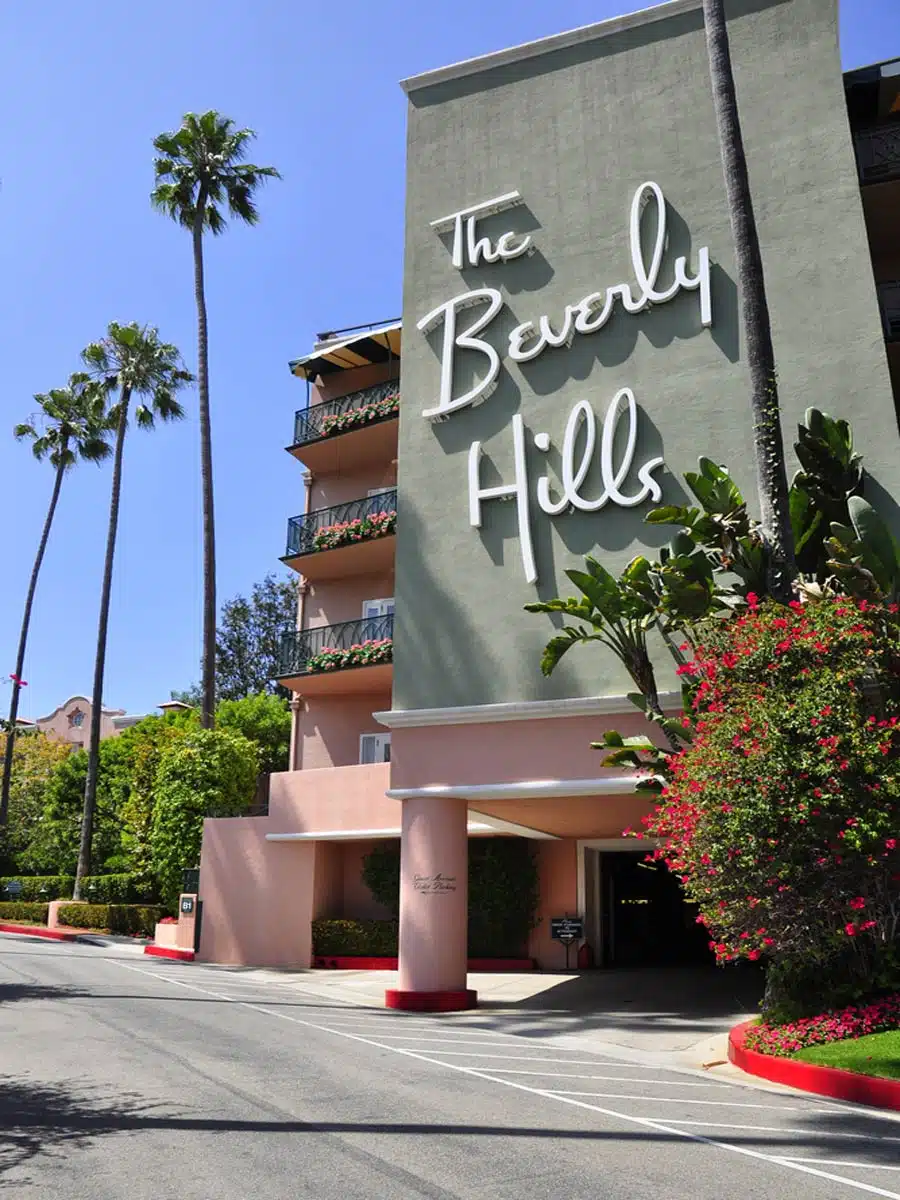 What would a Los Angeles itinerary in 3 days be if it didn't venture into Beverly Hills? Answer: It wouldn't be very good.
On that note, let me show you all the best tastes and sights of this iconic neighbourhood.
Visit the Hollywood Walk of Fame and Take a Tour of the Paramount Pictures Studio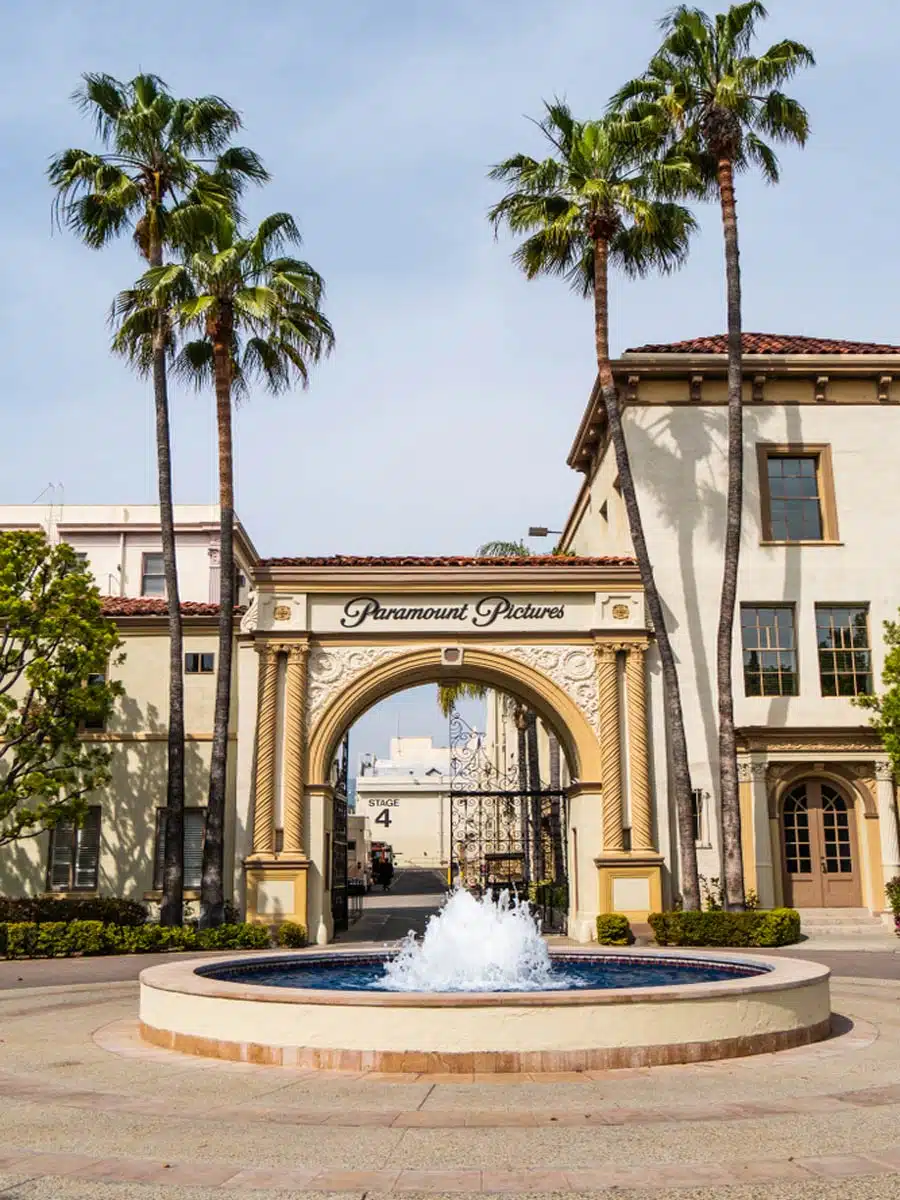 Walk among the stars — quite literally — at the Hollywood Walk of Fame.
Keep an eye out for plaques of icons such as Marilyn Monroe, Michael Jackson, and any other star you have an affinity for. At the end of the day, this is about finding your favourite star amongst the stars.
Now, a 5-minute drive south, you'll get to Paramount Pictures Studio, a destination that needs no introduction. You'll learn about over 100 years of filming magic from iconic filming locations like the New York Backlot and more.
Discover Celebrity Mansions on a Beverly Hills Tour
It's a 10-minute drive to the starting point of one of the best celebrity house tours in Beverly Hills. Departing from Dolby Theatre, you'll travel along the winding Mulholland Drive, where many celebrities such as Katy Perry and Orlando Bloom visit.
At the top of the hill, you'll have spectacular views of Beverly Hills below, where your camera will be in full force yet again. You'll even pass the infamous home that Justin Bieber and Meek Mill wrecked in 2015.
A lot of drama goes down in these famous mansions, but who doesn't love a little drama?
Sweeten Up at Sprinkles Before Walking Through the Beverly Gardens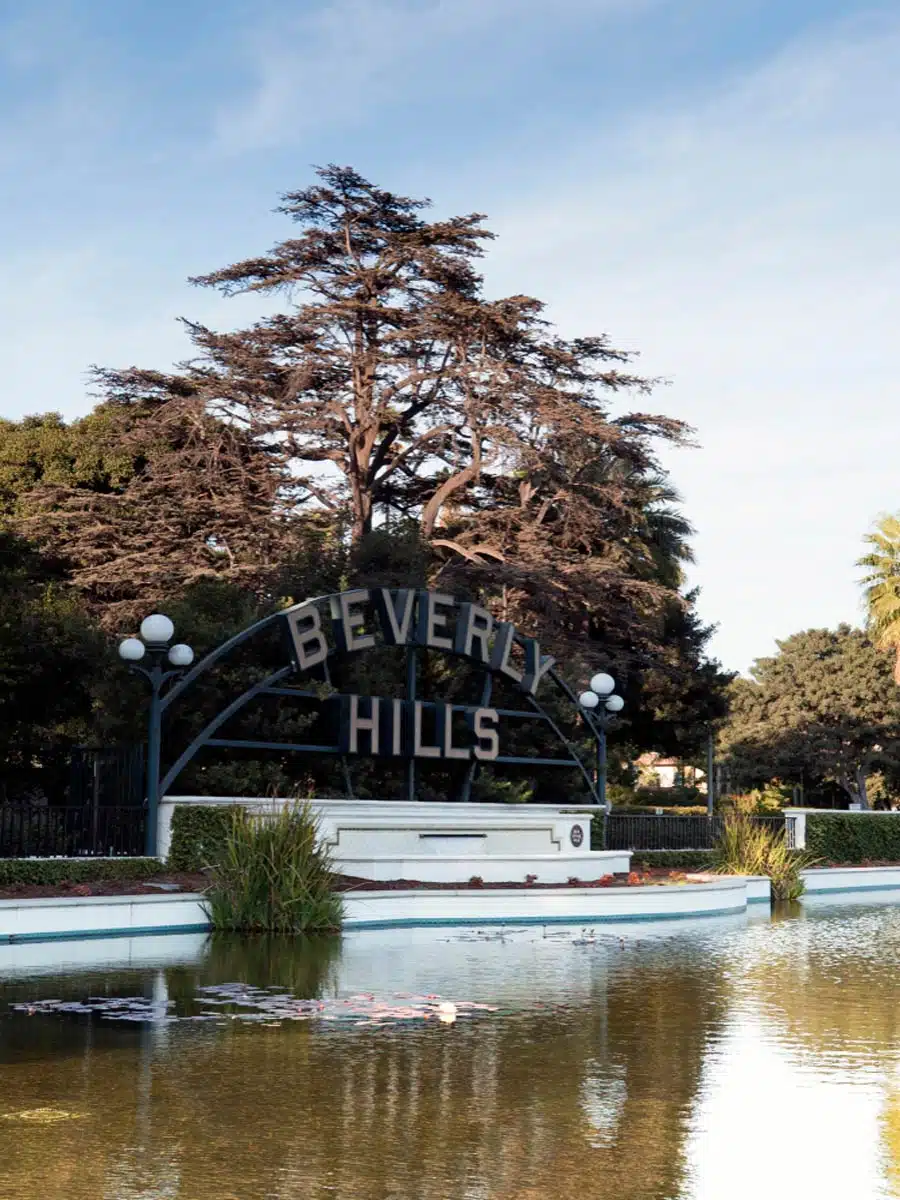 After a fast start to the day, it's time to slow it down a bit, and there's no better place for that than at Sprinkles. It's the perfect place to fill those sweet-tooth cravings with cupcakes and cookies, their speciality.
I won't blame you if you get an entire cake for yourself: they're that good.
To help burn those extra calories, walk across the road to Beverly Gardens Park for some time in the Californian sun.
You'll see the Beverly Hills sign with the waterlily pond, setting a picturesque scene (and an iconic photo opportunity). The wide avenues and tall trees also mean you won't overheat in the sun, which is more than possible in LA.
Cap Off an Unforgettable Stay By Bar-Hopping in Beverly Hills
Now, it wouldn't be a The Discoveries Of guide without a touch of booze, would it?
Beverly Hills bar-hopping is a must, and if you head between Rodeo Drive and Wilshire Boulevard, you'll be in heaven. Here are some of my top picks for bar crawlin' in LA:
Umbrella Social Bar — For some of the best views of Beverly Hills, Downtown LA, and Century City, look no further than the rooftop Umbrella Social Bar.
The Lounge at Ocean Prime — With a sleek combination of warm timber furniture and industrial steel, you'll be able to relax at Ocean Prime. Whether you prefer a cocktail or a glass of wine, its energy will keep you wanting more.
The Penthouse at Mastro's — For a fantastic meal and extraordinary cocktail, head to Mastro's Steakhouse. With gorgeous rooftop views and a Mastro's martini in hand, you won't want to go anywhere else.
Note: Most of these bars require you to wear smart clothing, so dress accordingly and leave your sneakers behind.
Los Angeles in 3 Days Itinerary: Map
Love This? Save and Share on Pinterest