Planning a trip to the Central Coast? Discover why Pismo Beach is making a name for itself as a top vacation destination in California with this helpful guide.
California has plenty of bucket-list destinations along the coast from San Diego up to Del Norte County. But one you may have overlooked sits nearly halfway between Los Angeles and San Francisco: Pismo Beach.
Pismo Beach offers the perfect combination of small-town beachy vibes, gorgeous scenery and a nearby wine scene that goes toe-to-toe with any in the country. And, with all that on offer, what's stopping you from booking a trip RN?
Read on to discover my top picks for what to do when visiting Pismo Beach. From hiking to scoffing yourself silly, here's what not to miss…
Looking to stay in a hotel with a laid-back California atmosphere with world-class views? Book a room at The Cliffs Hotel and Spa and enjoy an authentic Central Coast experience in Pismo Beach.
Top 5 Things to Do in Pismo Beach
Relax on Pismo State Beach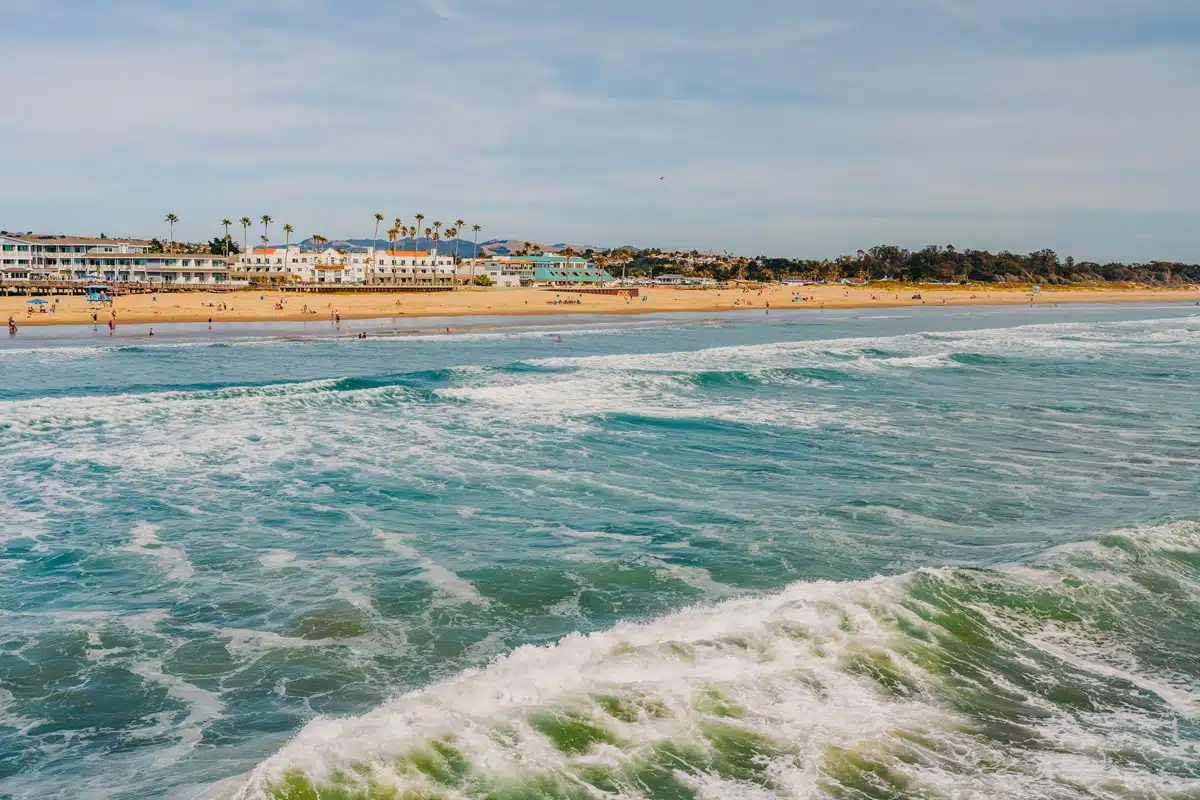 You didn't think you could visit Pismo Beach and not take the beach part seriously, did you?
If you're looking for what to do in Pismo Beach, you should plan some time to explore the 17 miles of near-perfect sands and shores that make up Pismo State Beach. And let me tell you, you'll want to set aside more than just one day here, especially during the warmer months.

Attractions at Pismo Beach include surfing, swimming, people-watching and strolling along the boardwalk and pier plaza (more on that in a mo). Ready to book?

Bring your sun cream, a good lounge chair, and your favourite book (or don't). No matter how you spend a day at the beach, it's one of the top things to do in Pismo.
Visit Pismo Beach Pier and Pier Plaza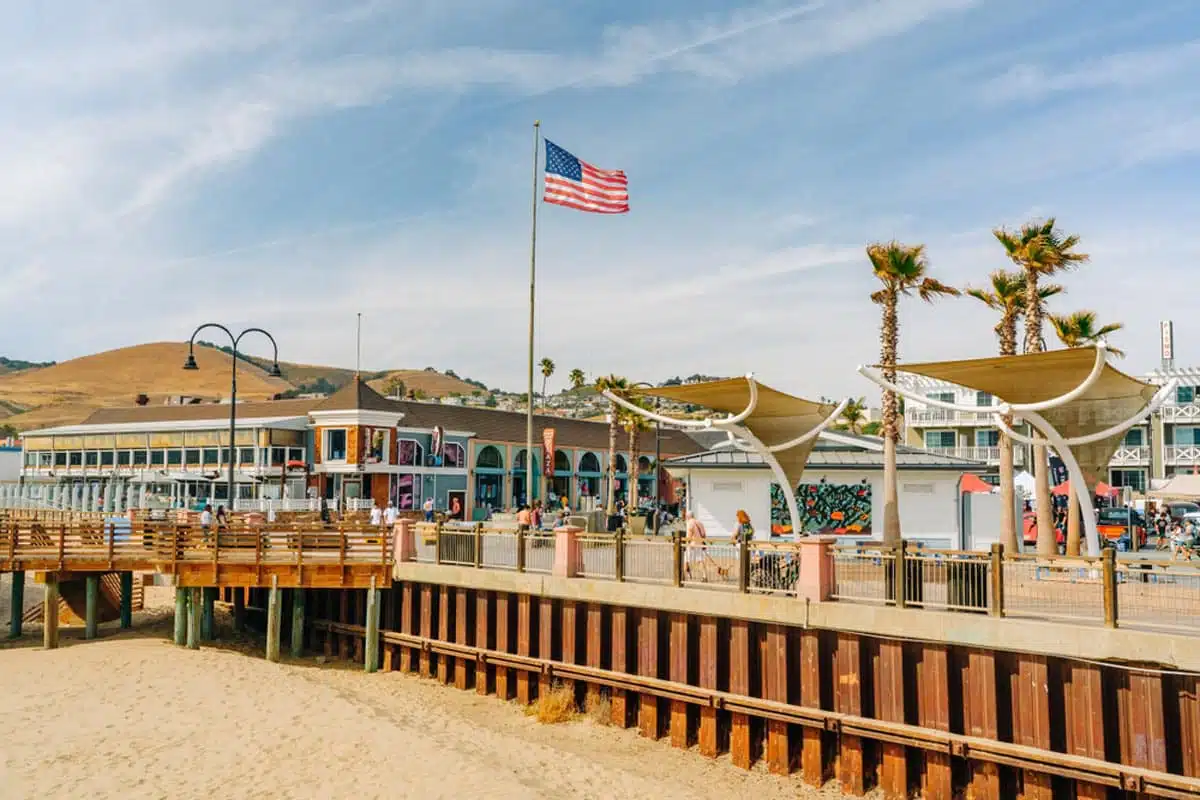 Located just up the sands and surf from the state beach, the Pismo Beach Pier is one of the best things to do in Pismo Beach that you won't want to miss.
I love exploring California beaches and piers – they often have unique qualities and an old-time charm that feels perfect.
But what makes this pier one of the best? The 1,200-foot structure has been one of the top things to do at Pismo Beach since 1881, and not much has changed. It's home to local fishermen casting their lines, tourists taking a walkout for an epic sunset view and surfers trying their luck below the towering pillars.
Pier Plaza, with its neon sign, laid-back residents and delicious snacks, is a vibe all on its own. Be sure to spend plenty of time at both.
Observe Mother Nature at Her Best at the Monarch Butterfly Grove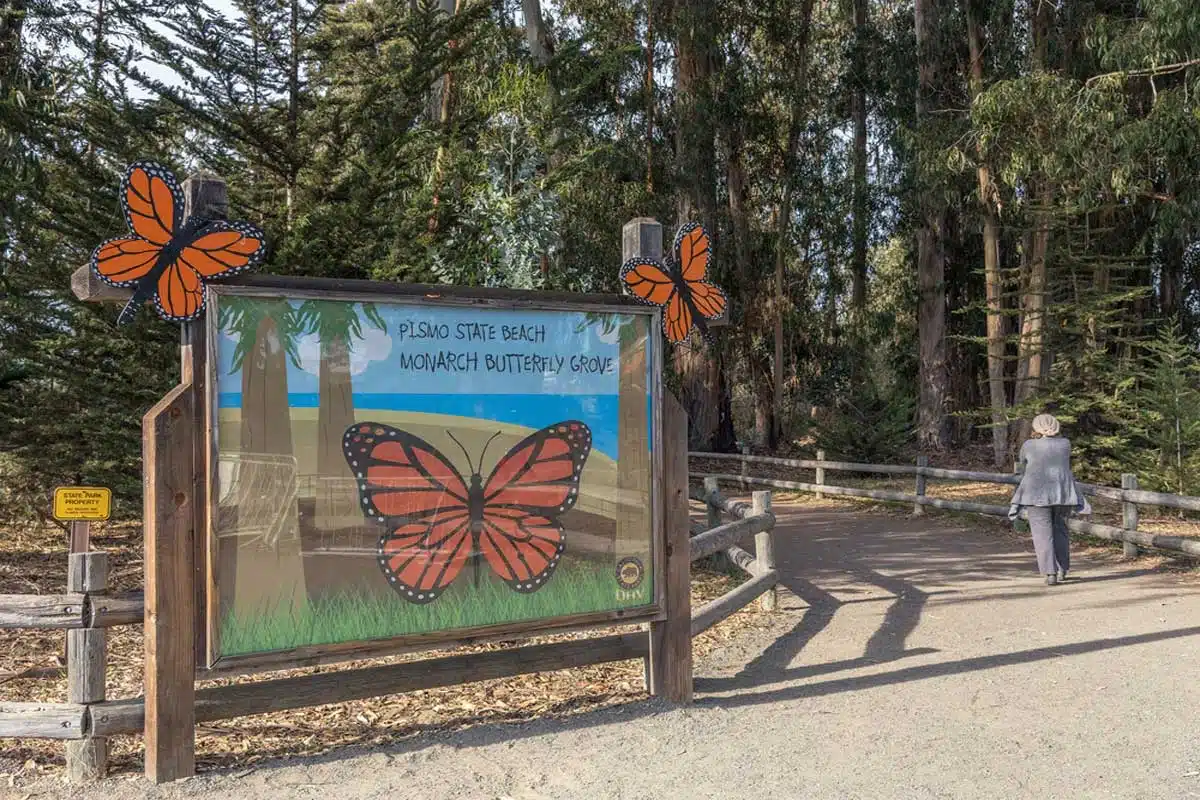 Looking for unique things to do in Pismo Beach? Witness one of the most amazing mass migrations in the world when thousands of gorgeous monarch butterflies take a winter vacation to California.

I get excited seeing one monarch, let alone an entire village.

The small nature preserve is free to visit and nestled amongst towering eucalyptus trees, where you'll want to stop by in the morning for the best chance to experience one of the top attractions Pismo Beach offers.
Top Tip: For the best chance at seeing the most monarchs, go in January or February.
Hike at Dinosaur Caves Park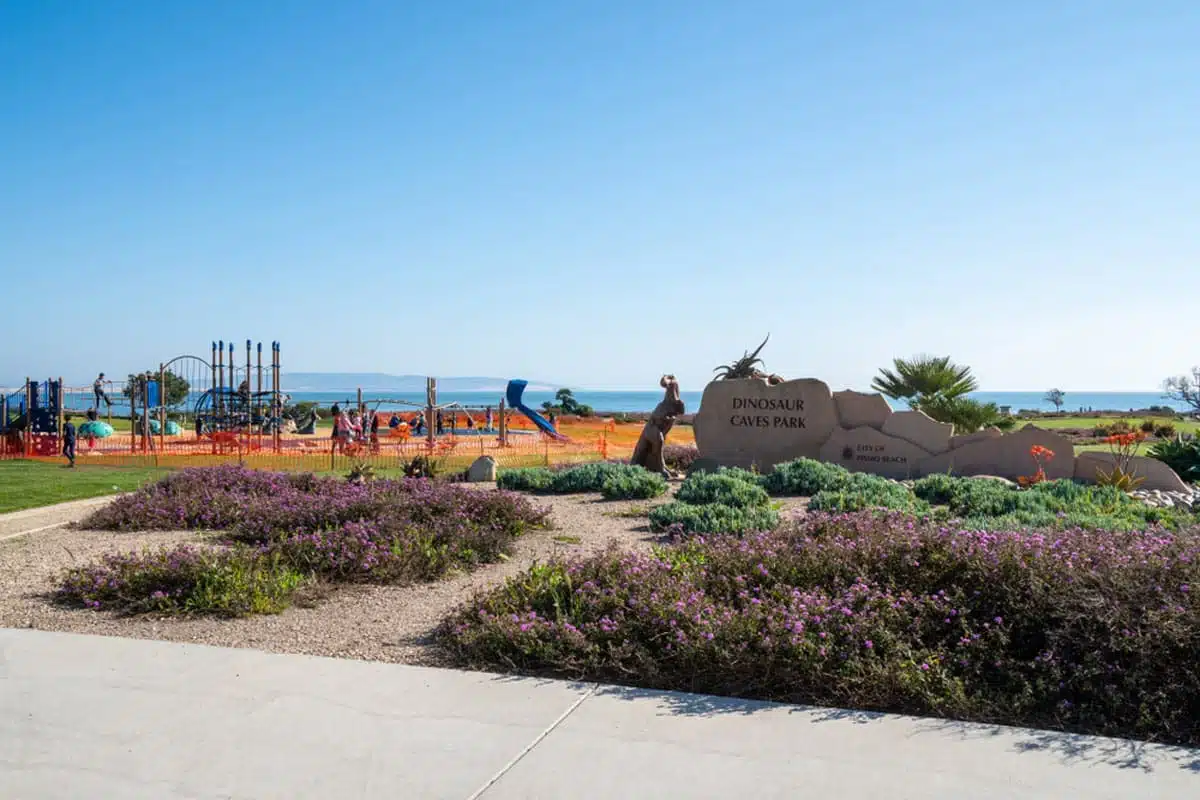 Dinosaur Caves Park might not have any fossil hunting, as the name suggests, though the park was named for the towering brontosaurus statue H. Douglas Brown attempted to build in the 1950s. This was part of an effort to get people to visit his shops and the manufactured caves below.
Long story short, neighbours were miffed about a 50-foot dinosaur, the caves fell into the ocean, and the shops and "Caves of Mystery" have been closed for years.

Silver lining? Portions of the caves remain, and the park above it is one of the most popular things to do in Pismo Beach for couples looking for a romantic walk, photo ops or even a wedding site.
Top Tip: For an easy hike of just over 1 mile, try the Dinosaur Caves Bluff Trail and see why locals consider this one of the best places for a sunset walk.
Go Whale Watching
Whale-watching tours are an excellent way to see different species of the majestic mammals off the Pacific Coast shores, and it's one of those things to do in Pismo Beach that you won't want to skip.
But if you time it just right (and get a bit lucky), you might not need to set foot off land to see migrating whales off the California Coast.
Schedule your trip for December through March to capture up-close views of humpbacks, grey whales or orcas.
Brilliant Things to See & Do in Pismo Beach
Visit the Central Coast Aquarium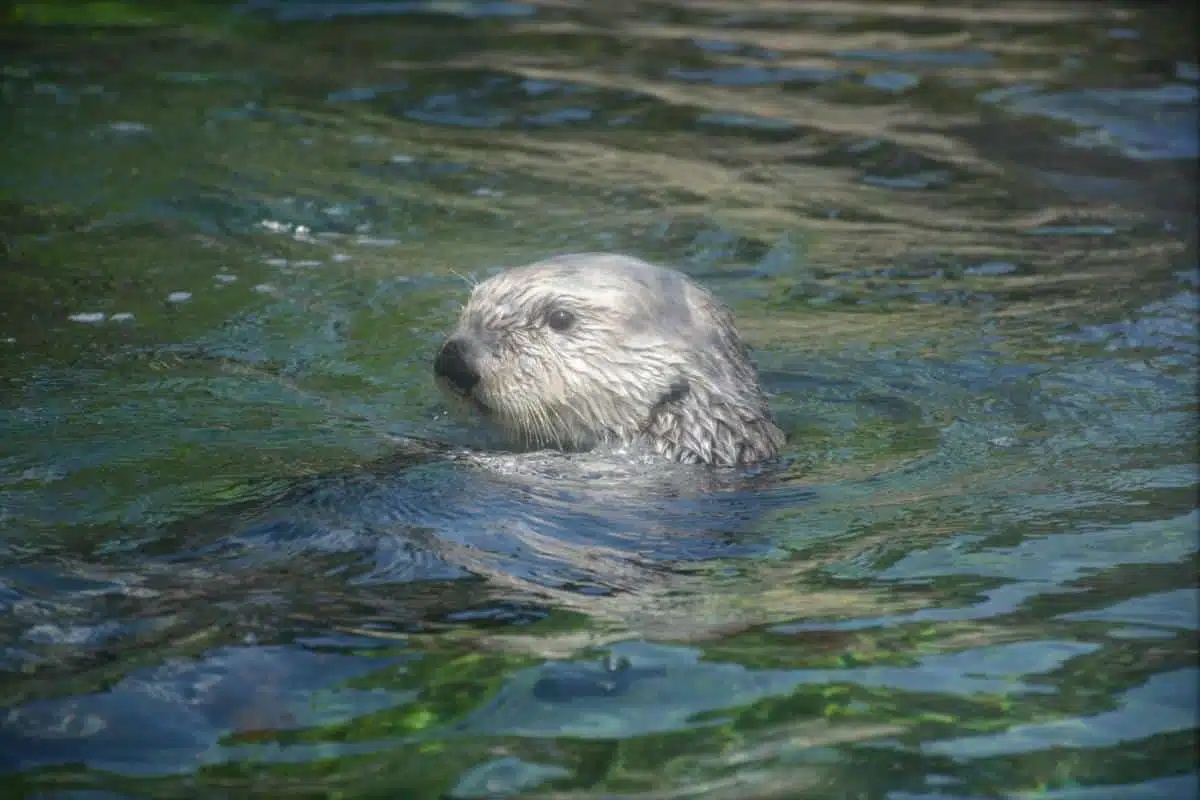 The Central Coast Aquarium sits just along the coast from Pismo Beach. And, while I'm not usually an advocate for zoos or aquariums, this one is renowned for its conservation efforts, so supporting it is a very good cause.
There's plenty to get involved with – from touch tanks featuring tide pool creatures to displays highlighting the habitats of local fish and invertebrates, the aquarium offers a hands-on experience.
Are you brave enough to touch sea stars and anemones? If not, you can admire from afar whilst listening to the staff explain more about the Central Coast's fragile ecosystem.
Picnic at Spyglass Park
If you want to understand what it's like to live along the Central Coast, what better way to do it than spending an afternoon having a picnic in the park?

Spyglass Park is the perfect place to host a barbeque or simply bring sandwiches and enjoy a sunny day overlooking the Pacific Ocean.
I'll let you in on a secret: the park's strategic location makes it an ideal vantage point for spotting the likes of whales and dolphins. While you might get lucky and spot a dolphin or two at any time of year, you'll have the best chance of seeing whales in December to February.
Take a Day Trip to SLO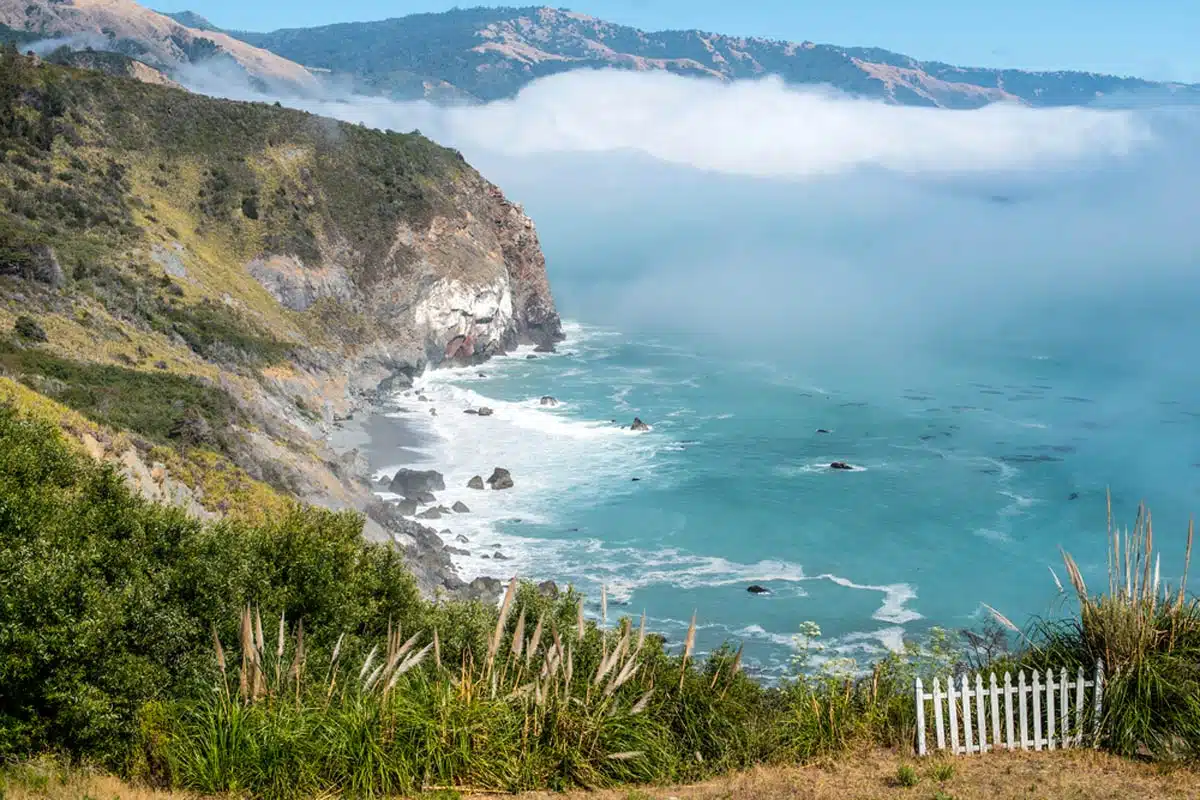 San Luis Obispo, or SLO as locals refer to it, is a short drive away and one of the best things to do near Pismo Beach.

Why? The vibrant college town (Cal Poly) has beautiful architecture, a thriving downtown,and friendly locals. There is a ton to do here, and it's one of my favourite places during the fall when the pumpkin patches and apple orchards draw visitors from Los Angeles up to San Francisco.
You can't visit here without trying the tri-tip (beef) sandwich at Firestone Grill (and don't forget to add some fries – they're that good).
Have a Bowl of Chowder at Splash Café
Historically, one of the best things to do in Pismo Beach is to go clamming. It was a popular activity for decades until it all but disappeared in the 1980s.

Ironically, the tradition of grabbing a bowl of chowder from Splash Café began in 1989 and has had the same owners since 1991. Order a cup or bowl of New England-style chowder and bring it to the beach. You'll be happy you did.
Top Tip: Add a slice of sourdough bread or get it in the famous San Francisco-style bread bowl.
Take a Plunge Into the Avila Hot Springs
Looking for what to do at Pismo Beach during the day? Just up the road in Avila Beach are the famous hot springs, where you can enjoy the natural pools any time of year.

Hang out in the pool, enjoy a couples massage, or go camping on the scenic property grounds. You're welcome.
Drive up the Pacific Coast Highway to Monterey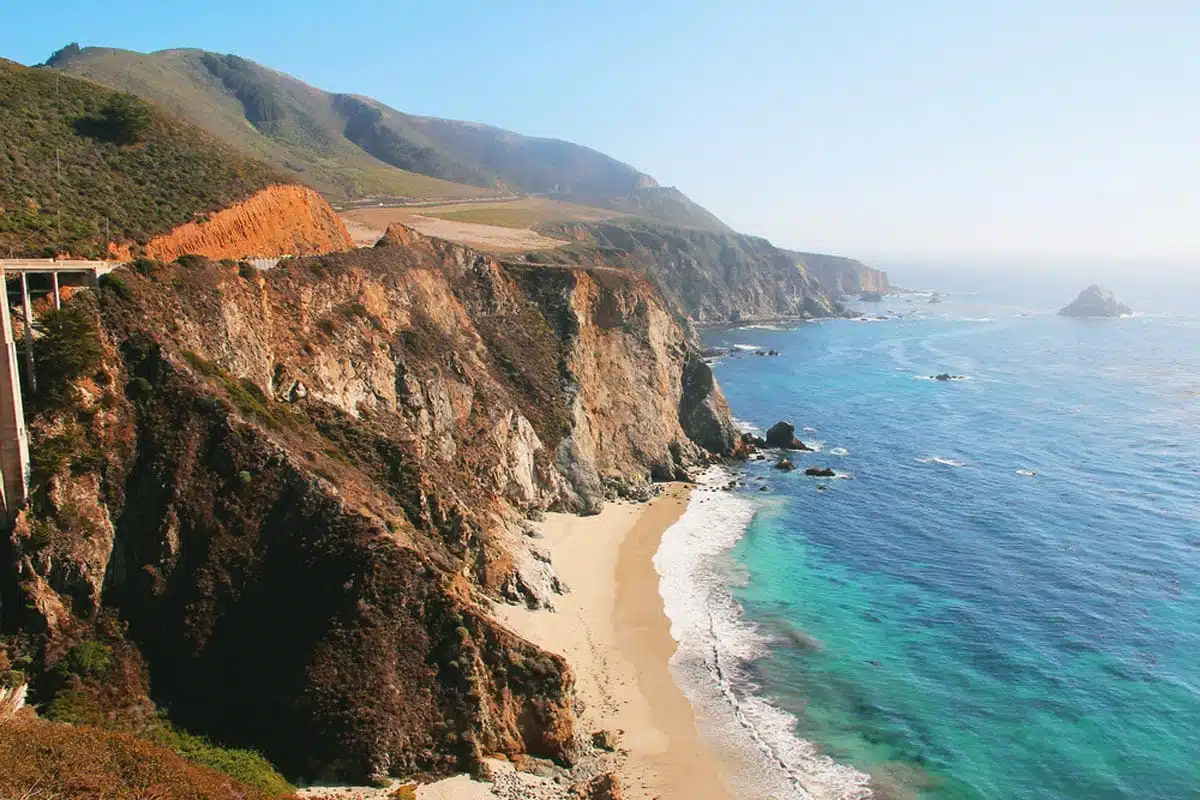 I've driven the PCH more than once. In fact, too many times to count.

Though I've tackled large portions of it in one afternoon, I've always found that breaking it up into smaller pieces allows you to really experience everything that makes this West Coast road trip a game-changer.

You probably won't ever look at driving the same, especially when travelling the rugged and remote (and gorgeous) coastline along Highway 1 from Santa Maria to Monterey.

Book an audio tour to learn some fun facts along the way, and be sure to stop by some of the best destinations along (or a bit off of) the famed roadway, like Hearst Castle, McWay Falls and Carmel-by-the-Sea.
Top Tip: If you plan on camping in Big Sur, reserve your campsite early – California offers the sites six months in advance, and they often get snatched up in minutes.
Go Kayaking at Shell Beach
Wondering what to do in Pismo Beach if you want a little exercise and adventure?

Renting kayaks and heading out to Shell Beach is the perfect choice for active travellers who want to explore the idyllic cove with wildflowers and palm trees high up on the sandy bluffs.
Top Tip: You'll need to rent the kayak nearby and get it to the beach, so figure out the logistics ahead of time.
Unique Things to See & Do in Pismo Beach: Hidden Gems That Are Off the Beaten Track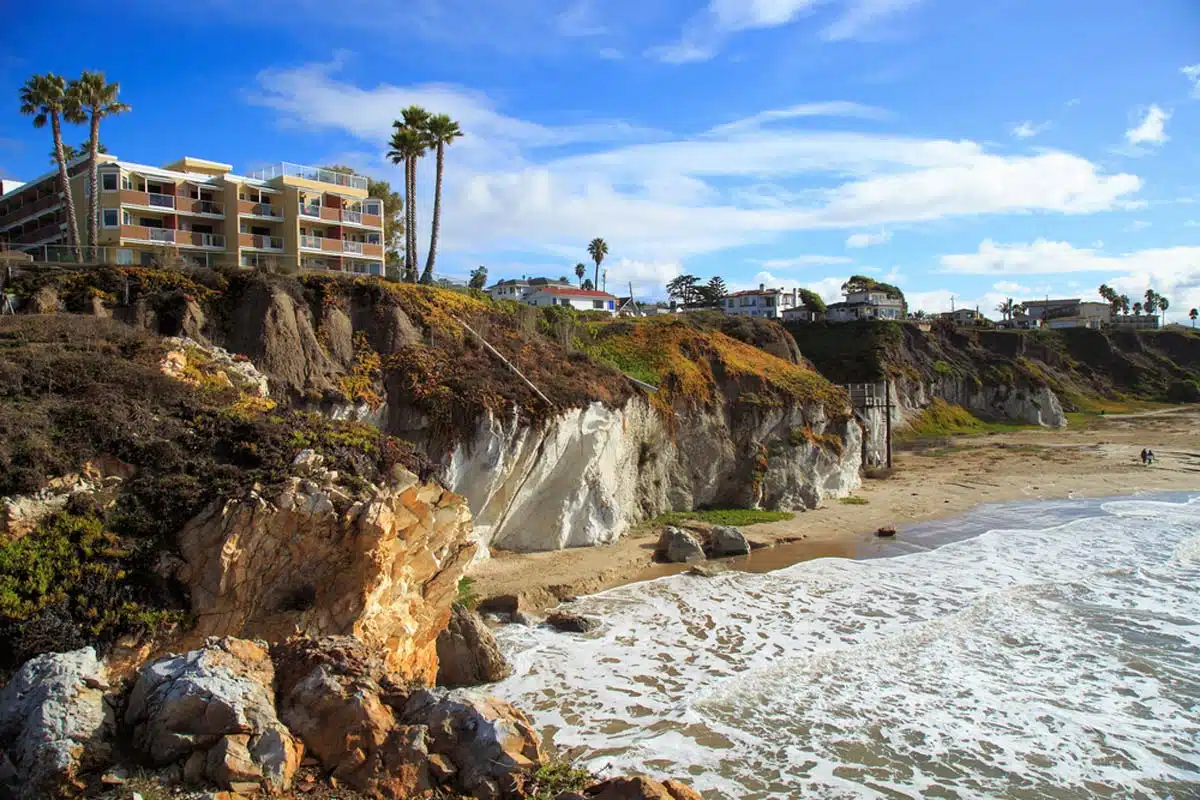 Rent Fishing Gear at Sheldon's Bait Shack and Cast a Line
If you find yourself on the pier looking for fun things to do in Pismo Beach, bring your wallet. Sheldon's Bait Shack rents fishing poles and bait, making it a great place to try your luck off the pier.

You may catch perch, kingfish or even salmon, depending on the season. The location may be out in the open, but it's an experience too many travellers walk right past.
Attend a Farmer's Market
It's easy to forget you're in farm country when strolling the vast coastline in Central California. But one of my favourite activities to do in Pismo Beach is to sample the delicious fruits and vegetables from local farmers.

Starting in April, Pismo Beach Farmers Market is back up and running again through September and offers visitors and locals a chance to purchase delicious food from the farmers who grow it. Don't miss it.
Drive Dune Buggies Along the Beach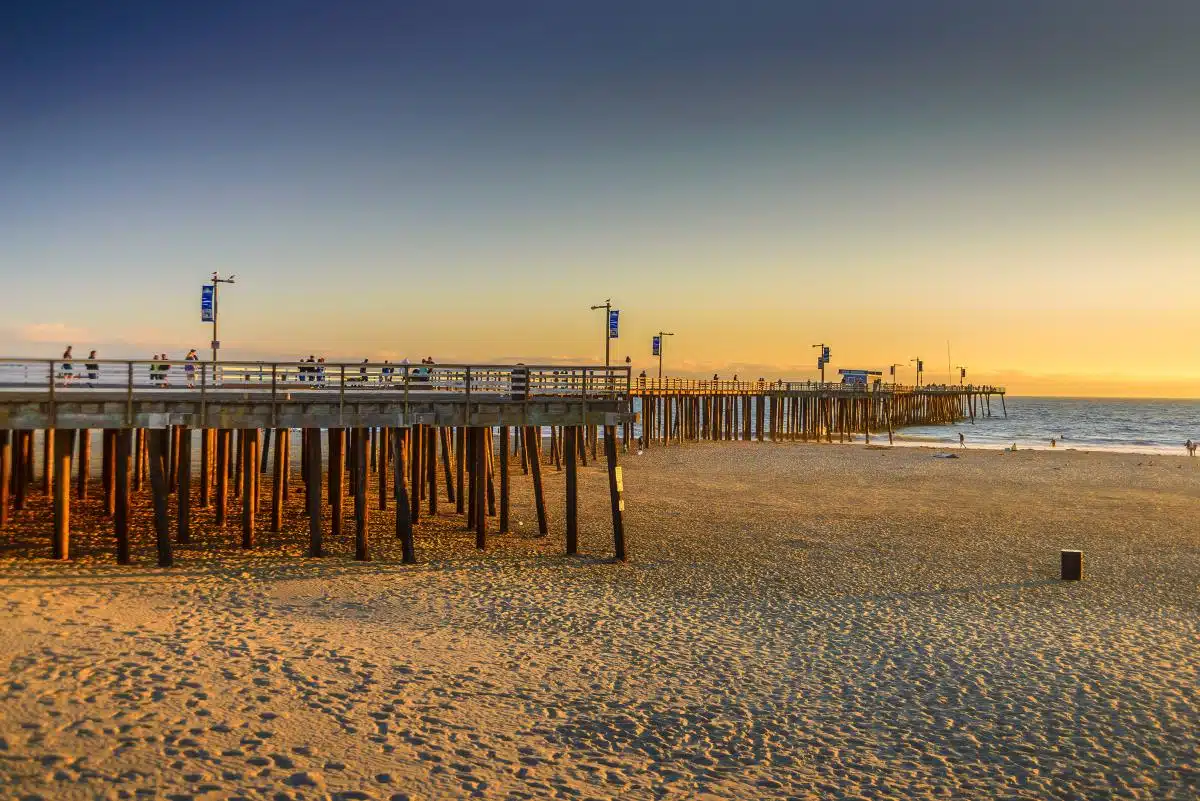 Looking for cool things to do in Pismo Beach? How about renting dune buggies and zipping down the endless stretch of golden sands with the salty ocean air combing through your hair? I thought so.

There are a handful of buggy rentals just off the shores – I recommend Sun Buggy ATV, they're the best in the biz'. I'll warn you though, buggy rentals aren't cheap, and you'll definitely want to head back for a change of clothes after kicking up sand and dust during the two-hour excursion.
Enjoy Live Music in a Chill Setting at Puffer's of Pismo
Looking for things to do in Pismo Beach at night? One thing I truly love about the California Coast is the unpretentious nature of so many residents and businesses along the way.

Puffer's of Pismo has the perfect balance of great food, an impressive wine list, and a chill setting with live music that makes last call always seem an hour too early.
Stroll Around Price Historical Park
If you're asking yourself what to see in Pismo Beach to learn a bit about the history, head to Price Historical Park and tour the Price Anniversary House, where the town's founder lived.
Just before they marked their 50th wedding anniversary, John Michael Price, the founder of Pismo Beach, and his wife Andrea moved into their brand-new two-story redwood home in 1893.

I can't say it's particularly mind-blowing or anything, but it does let you delve into what life was like in California decades ago. That said, you can drop by this site 365 days a year, making it one of the top things to do at Pismo Beach any time of year.
Spend the Night at Madonna Inn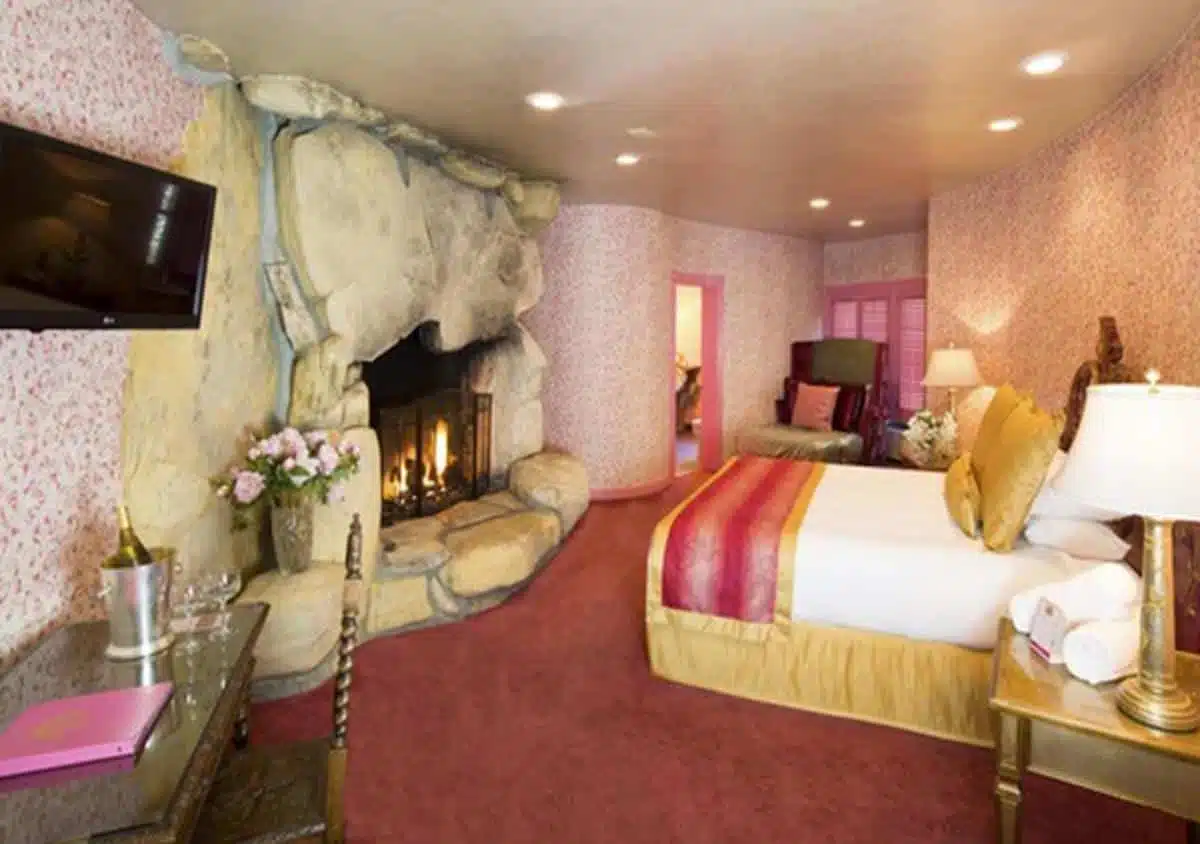 While it's not technically in Pismo Beach, spending the night at Madonna Inn is a unique and unusual thing to do near Pismo Beach that's unlike any hotel you've stayed at.

Each of the over 100 rooms has its own unique (and often completely bonkers) decor. I'm talking about details like jungle canopy-style walls, giant copper boiling tanks, spiral staircases with a lookout tower and stagecoach-style bed frames. Weird, right?
It's a bit wacky in the best possible way and a vibrant piece of California history and culture.
Book a Stay at Madonna Inn Here!
Go Wine Tasting
The Central Coast is home to exceptional wineries and unique towns built around the important industry and dining that go hand in hand.

Want a fun day trip or an overnight option? Travel to a nearby wine region like Paso Robles, Arroyo Grande or Edna Valley and see why many locals from Southern California and the Central Coast often stop their road trip a few hours short of Sonoma.
Things to do in Pismo Beach: Practical Tips for Your Trip
Where Should I Stay in Pismo Beach?
The Cliffs Hotel and Spa (Mid-Range)
Located just above Shell Beach, the restaurant and outdoor spaces at The Cliffs Hotel and Spa give you a bird's eye view of the finest of all Pismo Beach Attractions – the Pacific Ocean.

Some rooms also have seaside vistas and access to an outdoor swimming pool, beaches, hiking trails, and a popular restaurant, Marisol.
Vespera Resort on Pismo Beach (Luxury)
Vespera Resort on Pismo Beach provides guests with a quiet, refined environment ideal for those after a peaceful retreat.

Rooms are tastefully decorated and feature soundproof walls and double curtains – when combined with the fresh Pacific Ocean breeze, this all but guarantees you'll get a good night's sleep.
Recommended Tours in Pismo Beach
Things to do in Pismo Beach: Map
Things to do in Pismo Beach: Read Next
Love This? Save and Share on Pinterest