Looking for the best hikes in Pismo Beach? You're in luck – these are the trails that deserve a spot on your Slo Cal itinerary.
Never been to Pismo Beach? You're missing out.
It's a city on Cali's central coast, stretching between LA and San Francisco. And, as you might be able to tell by its name, this lovely beach haven is a surfer's paradise with soft golden sand and glistening azure waters.
You can come here for its postcard-worthy beauty and extensive pier overlooking the hypnotic waves. But it's also a fantastic destination to strap on those hiking boots and explore. Here's my pick of the best hikes.
Best Hikes in Pismo Beach
Bishop Peak from Patricia Drive
Length: 3.4 miles
Time: 2 hours
Difficulty: Medium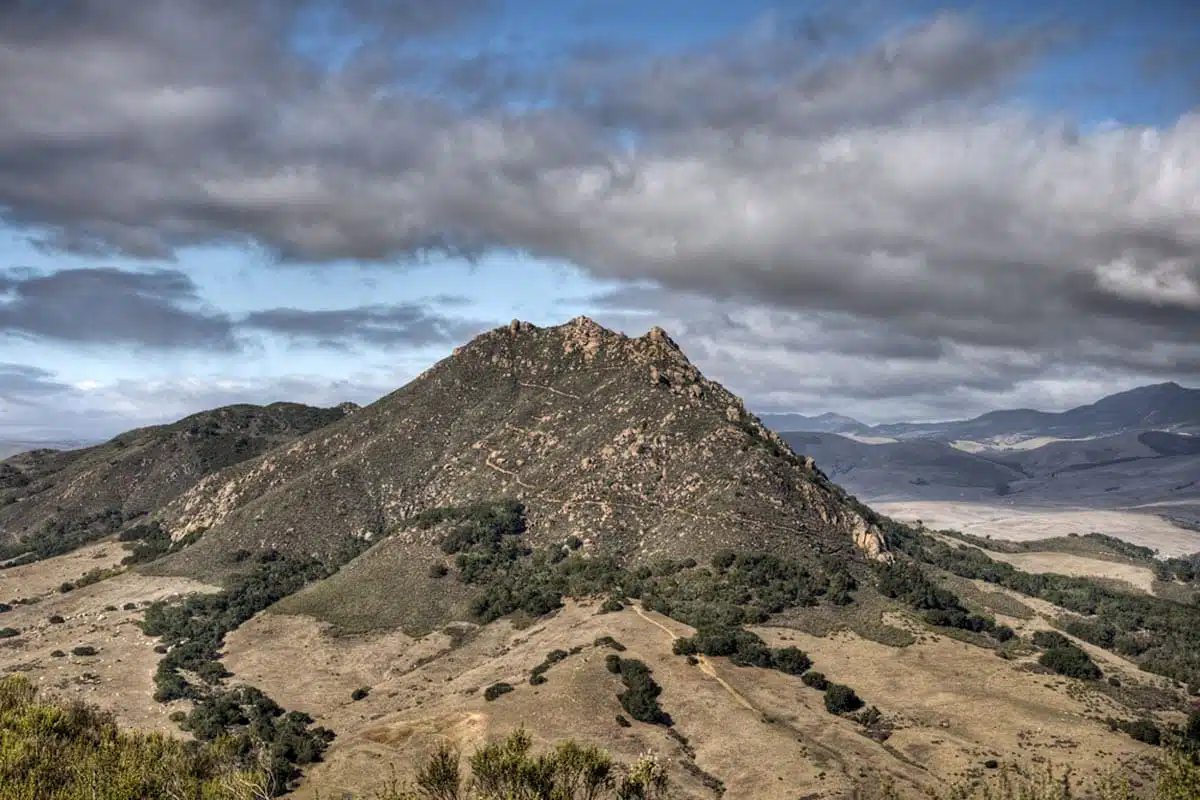 First up is one of the best hikes near Pismo Beach, located along Bishop Peak Natural Area. From Patricia Drive, follow the signage until you reach Bishop Peak, the highest of the Nine Sisters in San Luis Obispo.
In the distance, you'll notice the rocky crown shape at the top of the mountain, similar to a bishop's mitre, hence the name. Once you reach the top of its peak, breathtaking panoramas await.
The journey is relatively narrow at some parts and slightly steep with lots of rocks and scramble. There's hardly any shade, but you can bring your dog (on a leash) to sniff out the wildflowers and abundant wildlife.
Valencia Peak Trail
Length: 4.4 miles
Time: 2 h 40 minutes
Difficulty: Medium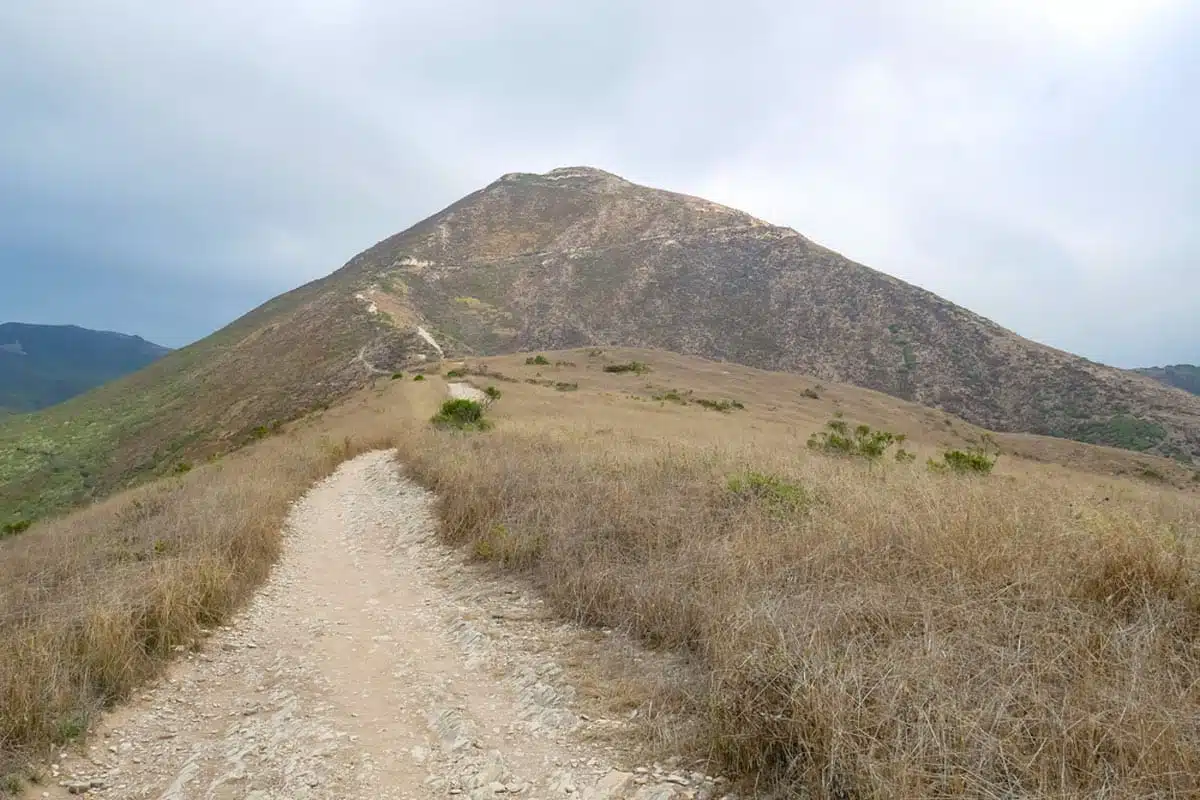 Up for a (moderate) challenge? What about hiking near Pismo Beach at the picturesque Montana de Oro State Park?
You'll need to leave the pups at home, but the vivid scenery makes it worth it. You can follow the trail and signs from the Valencia Peak trailhead to the top of the peak.
This hike, although not the most difficult in Pismo Beach, presents quite a challenge for beginners with a 1000+ ft elevation gain and loose rocks. However, awe-inspiring vistas will reward you once you reach the top – you can spot the likes of Morro Bay, Cayucos, Spooners Cove and even Cambria on clear days.
Suggested Map
Read Next: Explore further south with these epic hikes in Southern California.
Point Sal State Beach
Length: 10.2 miles
Time: 5 hours
Difficulty: Hard
Prepare for a sweaty affair and sore legs for several days after this hike. You have to put in the leg work for Point Sal, so it's perfect for avid hikers.
This partially paved trail allows dogs on a leash and grants gorgeous sweeps over Point Sal beach as it winds along the coast.
This hiking trail is near Pismo Beach on Brown Road, Guadalupe. Aside from coastal views, you'll take in dramatic rugged mountains, bright flowers and marine mammals like sea lions.
Fair warning, though: expect rocky conditions with steep slopes.
Note: Dogs are not allowed on the beach.
Bob Jones City to the Sea Trail
Length: 5 miles
Time: 1 h 30 minutes
Difficulty: Easy
Let me share one of the best easy hikes near Pismo Beach (and my favourite), the Bob Jones City to the Sea Trail. This well-paved trail starts off Highway 101 across the Ontario Road parking lot, ending in downtown Avila Beach.
Bring your doggo and a picnic basket to enjoy on one of the many benches sprinkled throughout. Perfect for running and photography, you can admire river views, numerous birds and wildlife like ducks and geese.
The trail is relatively shady and flat, making it ideal for a quick sprint or a tranquil stroll — either way, you'll be happy thanks to its natural beauty.
Discovery Trail
Length: 5.4 miles
Time: 2 h 15 minutes
Difficulty: Medium
Next up, the Discovery Trail offers mountain biking, bird watching and horseback riding. Hop on a refreshing trail with stunning shore sweeps that is also a gateway to Lover's Lookout spot.
This trail would be a breeze for seasoned hikers, while it can double as a quick workout if you decide to run it. However, taking it easy is also an option, with numerous benches and picnic tables along the way. Do be mindful of some loose gravel, though.
Also, I must warn you, this dog-friendly Pismo Beach hike brims with wildlife like lizards and snakes. Give them plenty of room and you shouldn't run into any trouble, though.
Monarch Butterfly Grove and Meadow Creek Trail
Length: 1.5 miles
Time: 30 minutes
Difficulty: Easy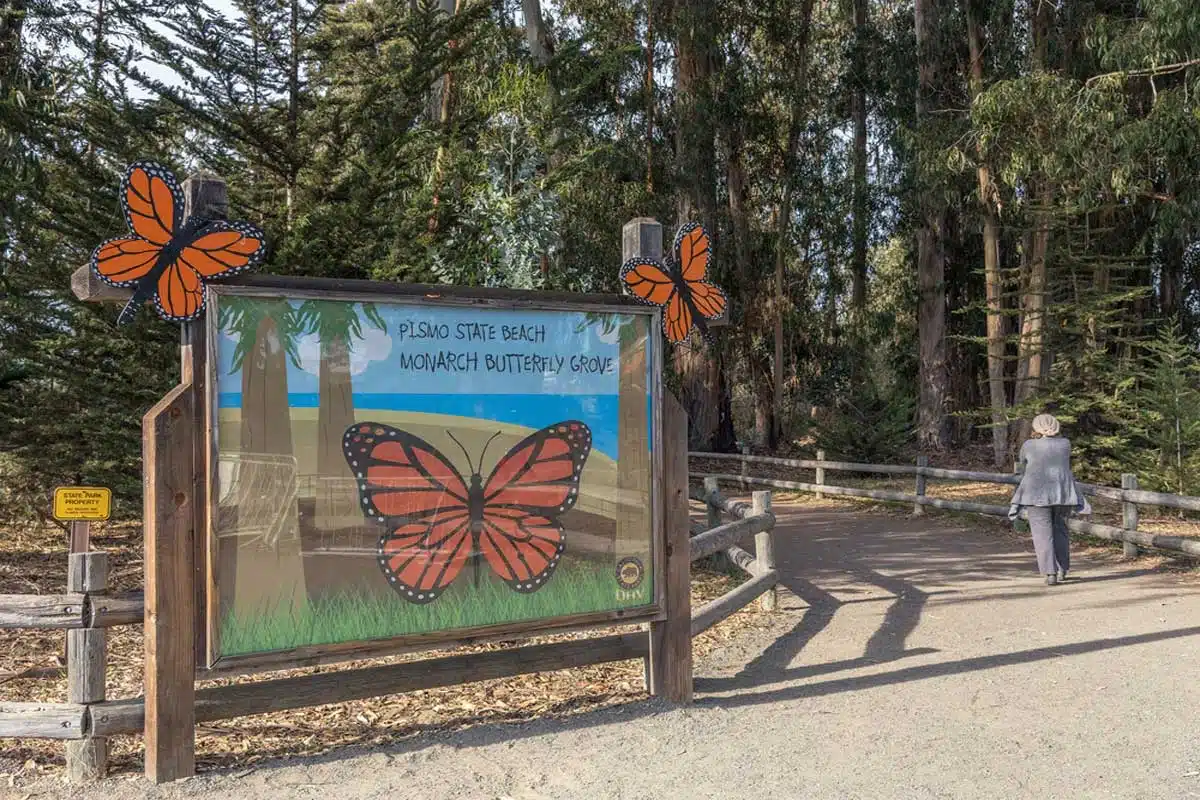 There's a reason why Monarch Butterfly Grove and Meadow Creek Trail are among the best hiking trails Pismo Beach offers. This whimsical trail winds through a central seasonal butterfly migration area to stunning Pismo Beach.
You'll adore this hike if you enjoy birding, running or relaxing walks. Not to mention, the coastal scenery and the majestic sight of monarch butterflies are incomparable. So you don't want to leave your camera behind for this one.
Suggested Map
Top Tip: Visit from late October through February to admire the fluttering butterflies in the eucalyptus trees.
Spring to Spring Trail
Length: 3.7 miles
Time: 1 h 30 minutes
Difficulty: Easy
Even if you consider yourself a non-hiker, the Spring to Spring trail is a beautiful and easy Pismo hiking experience with unmissable views over the Pacific.
Fantastic for mountain biking and running, you'll begin your adventure by parking at the Pismo City Hall and then taking a shuttle to the trail's entrance.
This trail can get crowded with many bikers and dog walkers (dogs should be on a leash). Prepare for no shade and abundant insects and snakes, thanks to all the vibrant wildflowers in the area. Expect to squeeze through some narrow sections since it's a one-way single path.
Best Pismo Beach Hikes: Practical Tips
Most of these Pismo Beach trails are wet and rocky, so don't waste your time with just any old shoes. Wear proper hiking trainers to prevent aching feet and thank me later.
Bring your water bottle to avoid dehydration (it gets super hot), and watch out for snakes – most of them are harmless but keep a wide berth and avoid where you can.