Get ready to discover the best hiking trails in Southern California. From Joshua Tree National Park to the fringes of LA, these are the trails not to be missed. Plus, some very handy tips to help you along the way.
Southern California is famous for its perfect beaches, laid-back lifestyle and scenic beauty.

Whether you're starting your California adventure down in San Diego, searching for stars in LA or spending the weekend in the outdoorsy Ventura – there's a lot of culture, cuisine and fun to be had.
But there's also a rugged, wild side to the state, even within a few miles of sprawling Orange County or a quick day trip from Los Angeles.

Despite the large population in SoCal, mountains, forests and secluded beaches on hikes in Southern California are more common than you think. And they're just waiting to be discovered.
Read on for my top picks of Southern California hikes…
Best Hikes in Southern California
Eagle's Nest Trail Loop at Portuguese Bend Reserve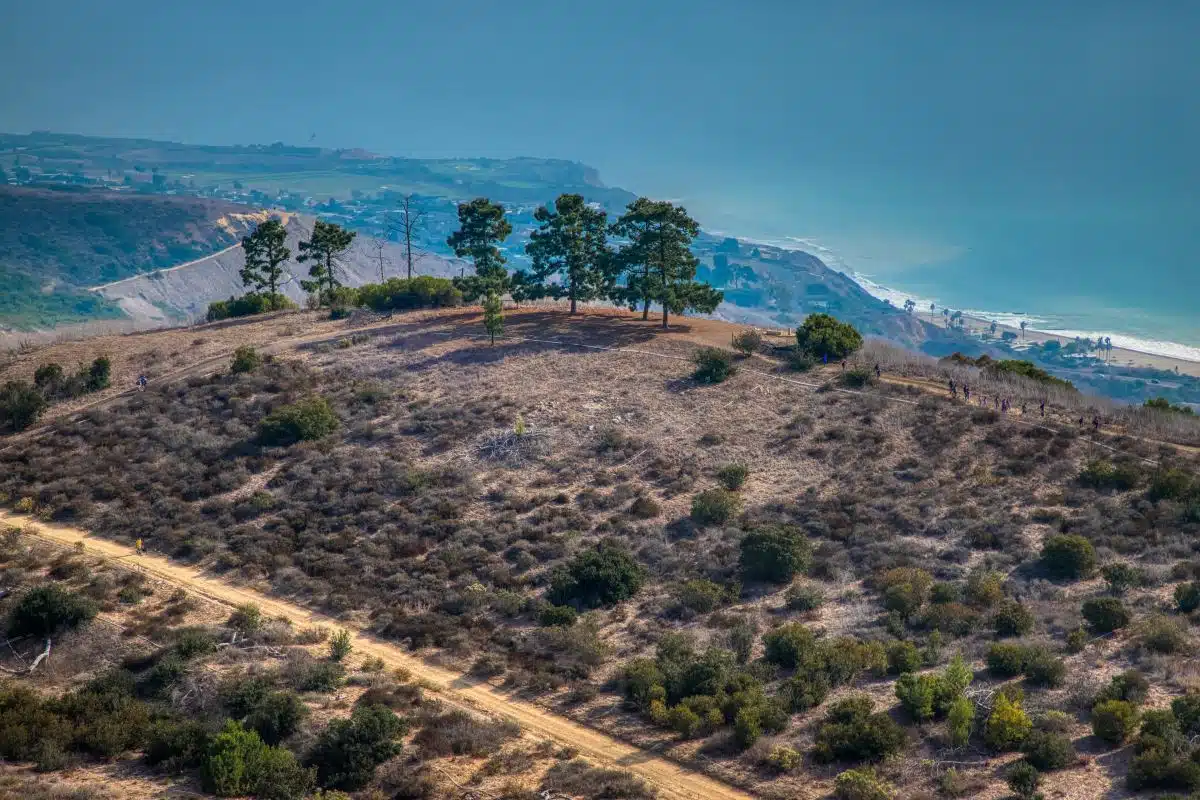 Length: 3.1 Miles
Time: 2 – 3 Hours
Difficulty: Medium
For one of the best hikes in SoCal, head to Eagle's Nest Trail Loop at Rancho Palos Verdes. While the trails are currently overgrown after the recent rainfall (there was a lot), they offer exceptional views of the Pacific Ocean nearby.
Choose Eagle's Nest Trail if you want a challenging climb through one of the best places to hike in Southern California (again, those ocean vistas are the star of the show).
The trail can be a little bit dusty in summer, but you'll also likely be sharing it with horses. Dogs are allowed too, just make sure they behave around their neighbours (sorry, had to).

I've experienced a lot of great hiking trails around the world – but Los Angeles hiking trails like this (especially around sunset) put California in a league of its own.
Escondido Falls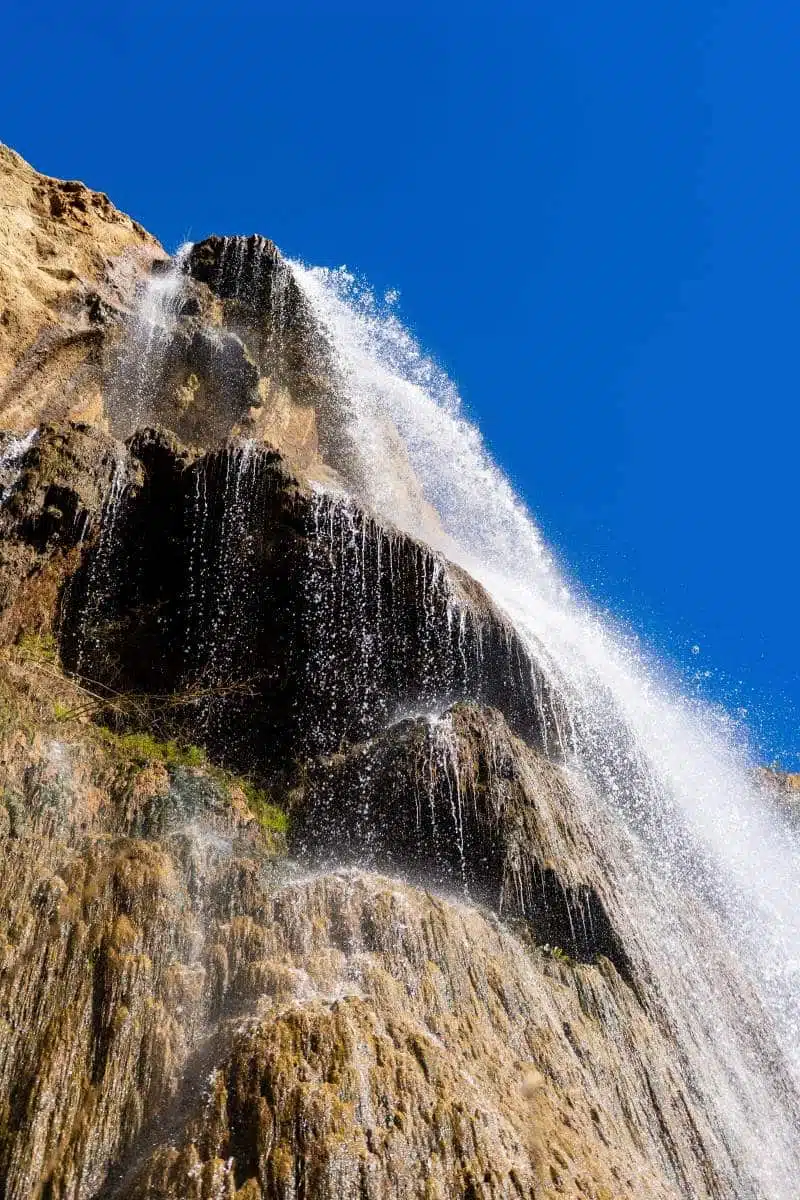 Length: 3.7 Miles
Time: 1 Hour 45 Minutes
Difficulty: Medium

Escondido Falls is a short drive from Los Angeles (in Malibu) and is one of Southern California's most famous waterfall hikes.It's an out-and-back trail of just under 4 miles total, located just off the famous Pacific Coast Highway, with a reward that outweighs the effort.

Hiking through the rolling hills of the Santa Monica Mountains, you'll quickly forget how close you are to the city. But the real reason you're here? The waterfalls.

And when you approach 150-foot waterfalls after a rainfall, you'll see why it's an easy choice for one of the best winter hikes in Southern California – or anywhere, really.
Top Tip: The upper falls are actually situated on private land and, while it might seem tempting, please do not climb them. There have been many serious incidents (and some fatalities) here. Stay safe, folks.
Suggested Map
The Slot
Length: 2.3 Miles
Time: 1 Hour
Difficulty: Medium

If you plan to visit Anza-Borrego State Park (a brilliant day trip from San Diego, FYI), don't miss The Slot. This is a moderate 2-mile loop featuring some of Southern California's best hiking in the desert.
You'll traverse through the canyon and the slot-like passageway between the large rock formations that make this area famous. As you hike, be wary of your footing – it's an unmaintained trail off a sand road.

It's a short enough hike but can be a bit hard to find if you've never been. However, it's crowded enough that you can typically just follow someone once you park in the lot ($10 fee).
Black Star Canyon Falls Trail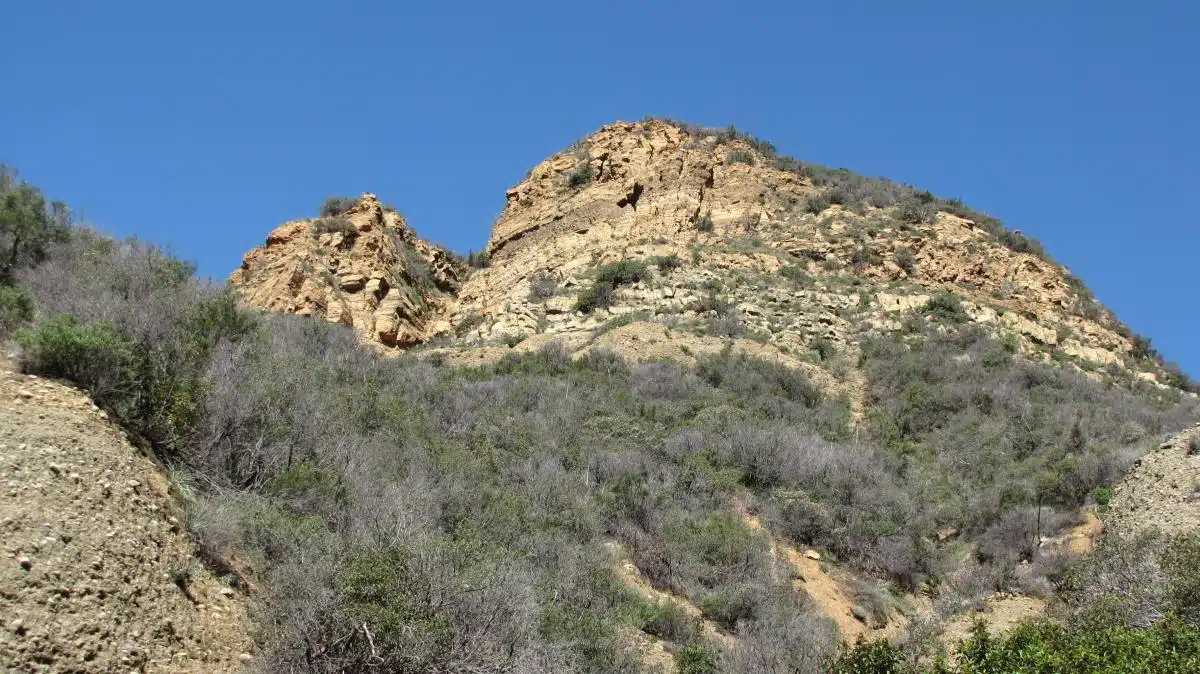 Length: 6.7 Miles
Time: 3 Hours
Difficulty: Hard
Black Star Canyon Falls Trail has developed a reputation over the years. It's a pretty challenging hike in the Cleveland National Forest and has a long and somewhat ambiguous history.

This is one of the more challenging hiking places in Southern California due to the rugged terrain that involves scrambling up large boulders to reach the falls.

It's nearly 7 miles out and back, with rewarding views at the falls when you're finished. Because of its reputation as an unusual place with stories of hostile residents chasing out hikers (generally those who go at night, which I don't recommend), the hike is a bit infamous locally.

Wear your best hiking boots, bring lots of water and watch out for snakes – most hostile residents are gone.
Antelope Loop Trail
Length: 5.5 Miles
Time: 2 – 2.5 Hours
Difficulty: Easy
Finding beautiful hikes in Southern California isn't difficult, especially during wildflower season. Time it right, and you may even see a super bloom when you're out on the best Southern California hikes.

Antelope Loop Trail is located in the California Poppy Reserve, meaning you can capture those striking photos of a sea of orange and green amongst the rolling hills when you visit here in the springtime.
This is one of those easy hiking trails in Southern California that you can do with hikers of nearly any skill level. Because of that, the 5.5-mile loop is very popular and gets quite busy.

Wear a hat and apply sun cream; the wide-open field guarantees you'll be catching some rays. Also, be sure to stay on the trails, as rattlesnakes have been spotted here – plus, you want to keep those flowers healthy for everyone else to enjoy.
Skull Rock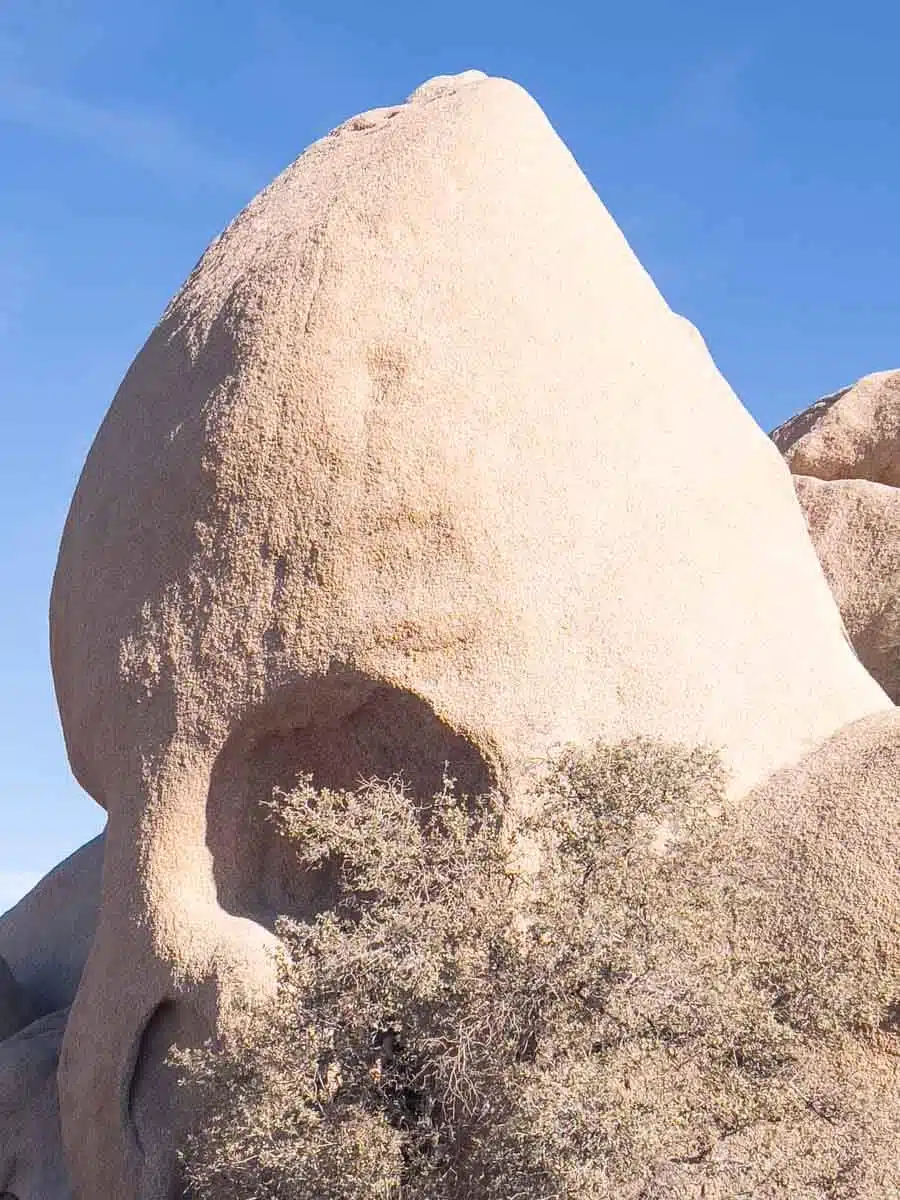 Length: 1.7 Miles
Time: 1 Hour
Difficulty: Easy

Giant boulders are everywhere in the gorgeous Joshua Tree National Park and offer great opportunities for scrambling and photography. But one particular bolder has a reputation for looking exactly like a skull.

Because of the unique (and slightly spooky) appearance and easy nature of the 1.7-mile loop trail, the Skull Rock trail is one of the more well-known hiking trails Southern California offers for all skill levels.

The trailhead for the Skull Rock Nature Trail is on Park Boulevard near the Jumbo Rocks Campground and is a counter-clockwise route. Learn more about when to go and what to look for in my Skull Rock hiking guide.
Buck Gully Trail
Length: 4.5 Miles
Time: 1 Hour 45 Minutes
Difficulty: Easy
Buck Gully Trail is a perfect choice if you're looking to experience one of the best hiking spots in Southern California but aren't up for an epic trek through deserts or mountains.

The trail meanders around a creek and into part of the San Joaquin Foothills.
What makes this one of my favourite hikes in Southern California is that it's a unique section of preserved wilderness in the heart of Orange County that's a perfect retreat for locals and visitors alike. A welcome respite from the endless SoCal suburban sprawl.
Cedar Creek Falls
Length: 5.5
Time: 3 Hours
Difficulty: Hard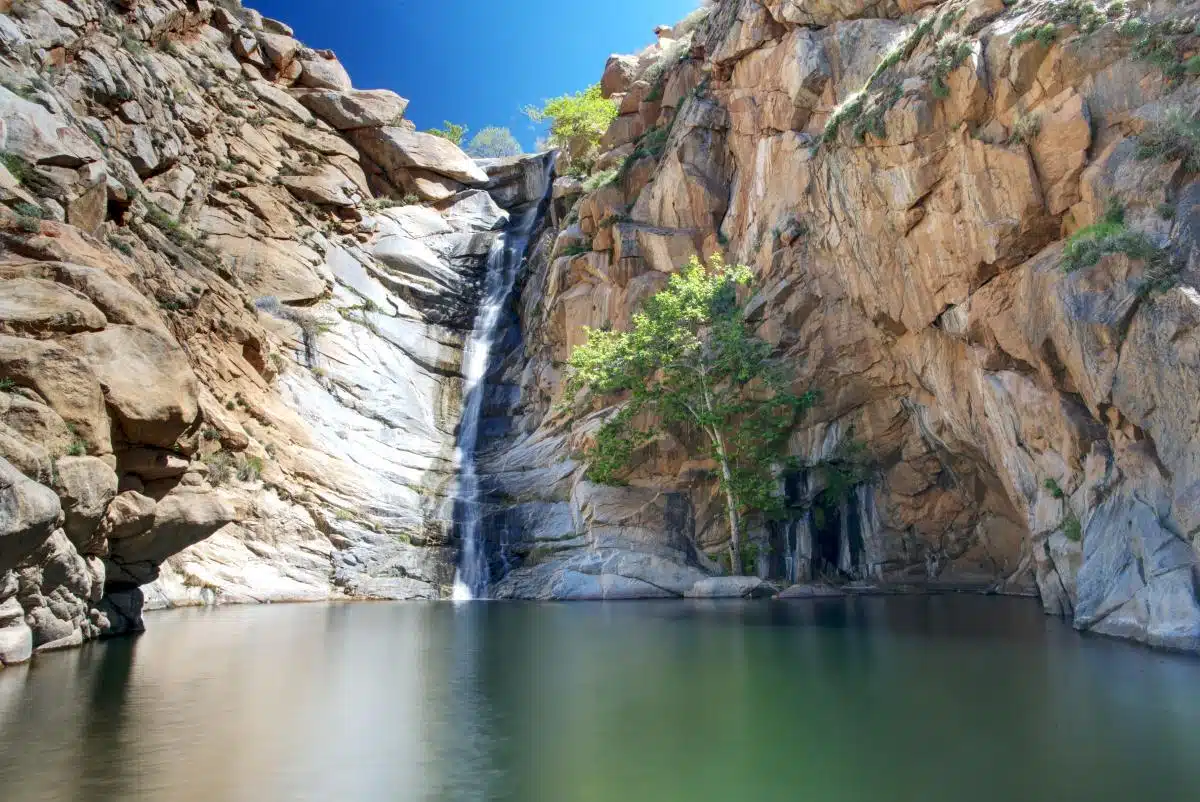 Located east of San Diego in Cleveland National Forest, the Cedar Creek Falls trail is one of the most amazing hikes in Southern California.

Why? It's widely considered one of the best hikes in Southern California, largely due to the 80-foot waterfall that's especially active in the winter and spring.

You'll need an adventure pass to visit many of the most beautiful hikes Southern California boasts, and this is no exception. But it's probably a good thing you need to plan ahead because it's a very challenging trail.

High temperatures can be downright gruelling, and the steep trails pose some threats to inexperienced hikers.

If you're up for a difficult hike with a huge reward, this trail ranks among the best hiking in Southern California.
Smuggler's Cove
Length: 7.7 Miles
Time: 4 Hours
Difficulty: Medium to Difficult
Located in the Channel Islands National Park (off the California Coast), Smuggler's Cove is a beautiful out-and-back trail just under 8 miles long.

How do you get there? You'll need to take the ferry to Scorpion Anchorage on Santa Cruz Island to start one of the best beach hikes Southern California offers at Scorpion Beach. From there, you'll hike to Smuggler's Cove, where you can hang out at a relatively quiet beach.

It's a bit epic since there's usually only one ferry there and one back each day. So check the schedule, pack accordingly and maybe bring camping gear just in case. Kidding. But the ocean views on this lesser-travelled trail make it one of the best coastal hikes in the USA.
Arch Rock Trail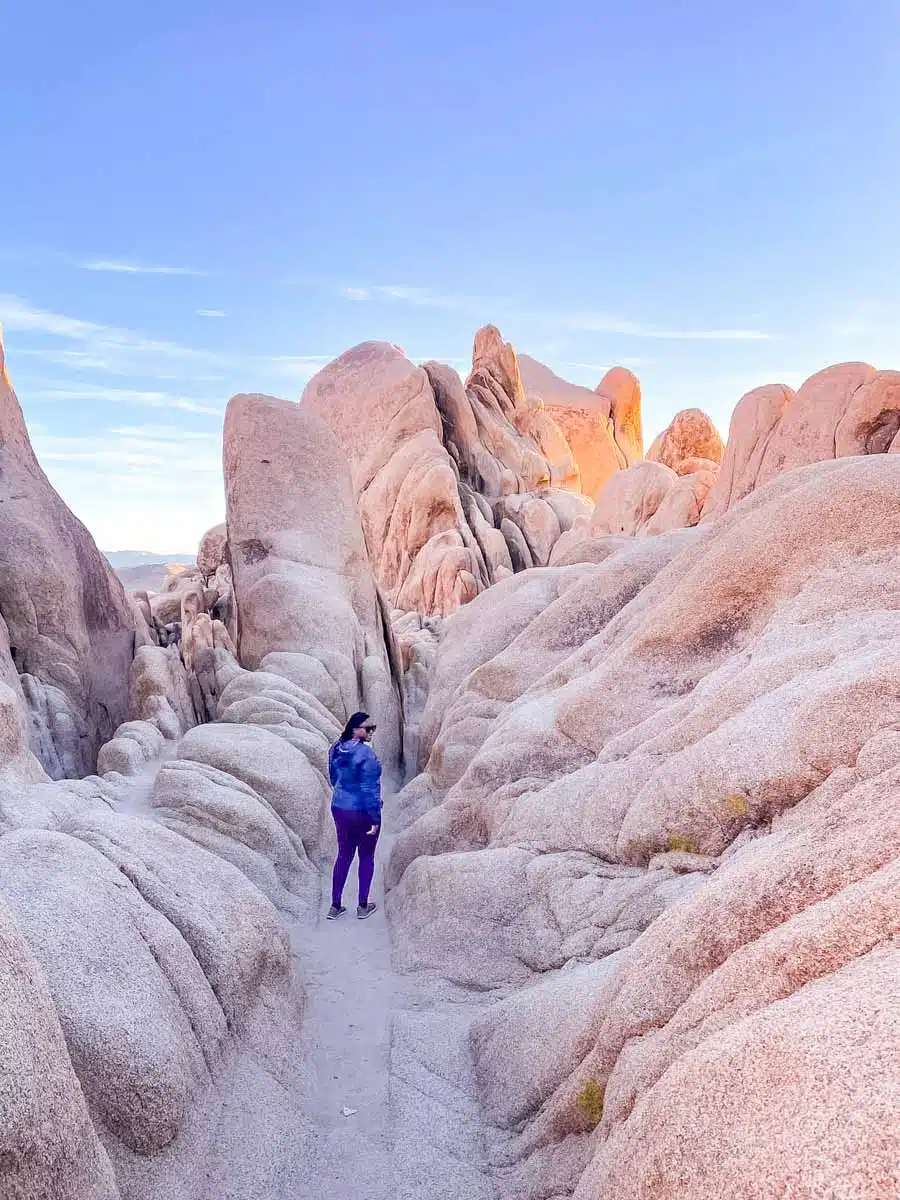 Length: 1.4 Miles
Time: 30 Minutes
Difficulty: Easy
One reason I love Joshua Tree National Park (aside from that it's freakishly beautiful) is the abundance of easy and moderate trails making up some of Southern California's best hikes.

Southern California hiking takes many shapes and sizes, but the rocky desert landscape at Arch Rock Trail makes it shine bright despite the relatively short length.

Want a few tips? Hike the trail shortly before sunset, travel counterclockwise for better views and be sure to scramble to the top for fun photos. You're welcome.
Reef Point and Crystal Cove Trail
Length: 5.2 Miles
Time: 2- 3 Hours
Difficulty: Medium
If you're visiting Orange County and want to experience one of the best hikes in Southern California, Head to this moderate Reef Point and Crystal Cove loop trail along the coast.

Sure, the gorgeous ocean views, birdwatching and potential to see migrating whales are easy choices for why this is one of the best coastal hikes in Southern California. But there's more than meets the eye here if you want to look a little closer.
What makes it one of the most unique beach hikes in Southern California is the chance to see 120,000-year-old fossils in the sandstone cliffs.

It's a unique hike any time of day, but visit around dusk and you won't see a more beautiful sunset.
Mount San Antonio and Mount Baldy Notch Trail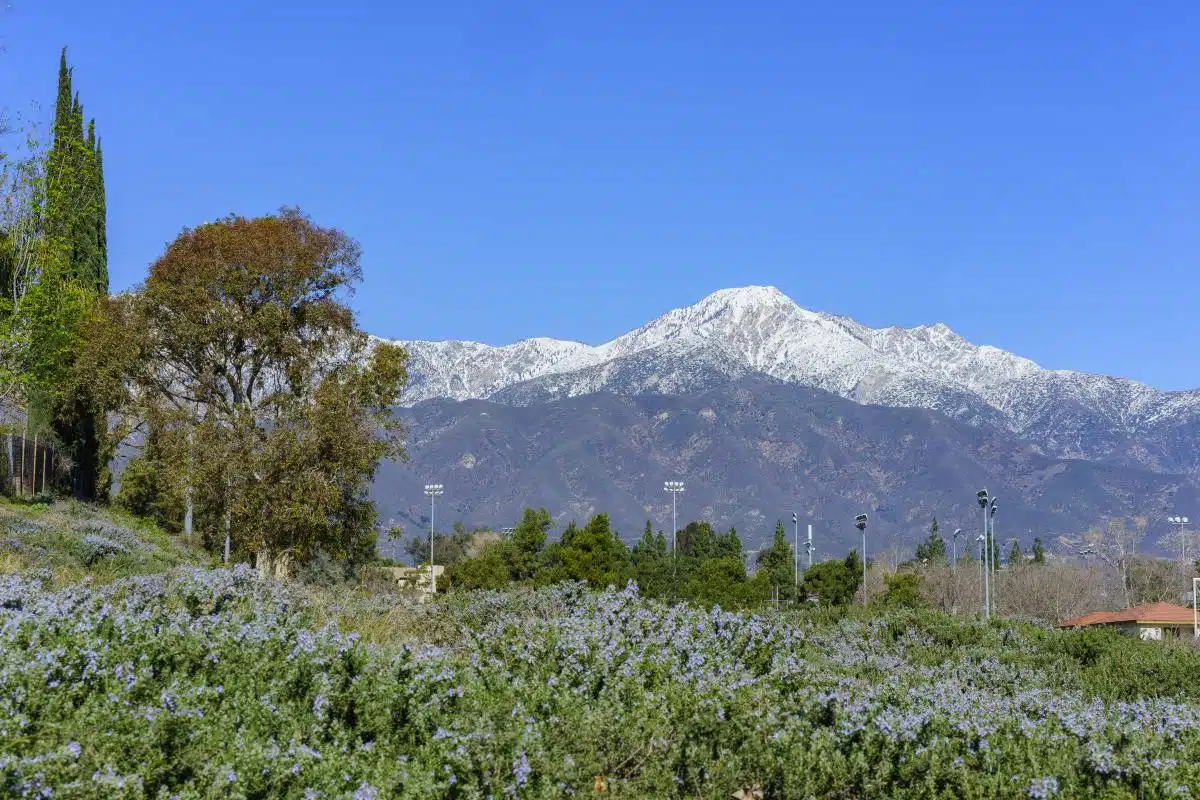 Length: 11 Miles
Time: 7 Hours
Difficulty: Hard
There are a few different trails on Mount Baldy – hilarious name, I know. But, if you want to experience the full loop trail, put on your best hiking gear and pack a lot of water, as this is one of the hardest hikes in Southern California.

Along the way up the 10,000-foot peak, you won't see any trees (hence the name Mount Baldy), but the views from the top are legendary.

You'll only want to do this hike in the summer, as snow and ice make the more challenging areas like Devil's Backbone straight-up deadly. You'll also need to reserve an adventure pass before attempting one of the best hiking trails Southern California offers at Mount Baldy.
Hollyridge Trail to Hollywood Sign Viewpoint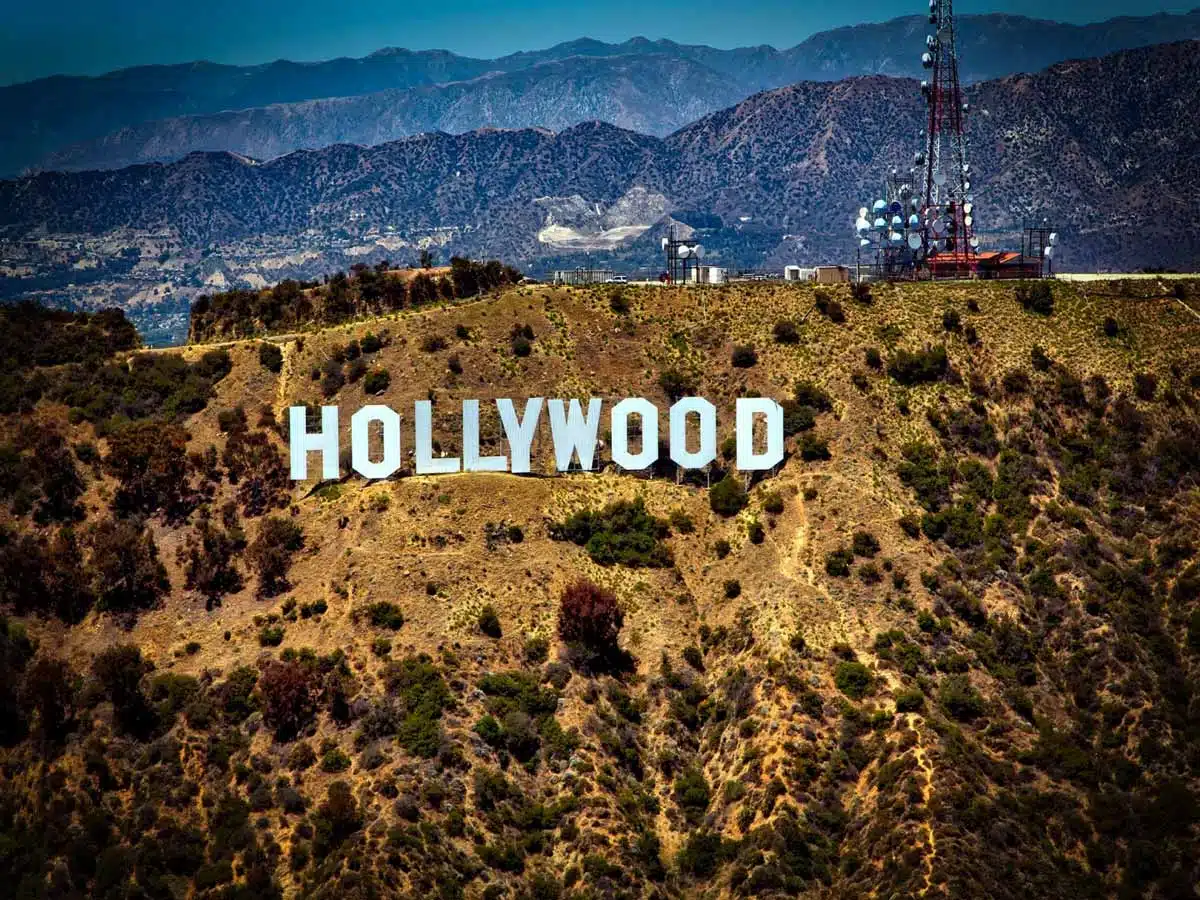 Length: 5.1 Miles
Time: 2 Hours 30 Minutes
Difficulty: Moderate

Out of all the hikes Southern California boasts, taking one of the trails up to see the Hollywood sign almost feels like a rite of passage when visiting SoCal.
It's a crowded trail (with both people and horses) and requires plenty of water due to the full-on exposure to the sun.

But looking out at downtown LA and the Hollywood sign makes this moderately challenging loop worth doing at least once.
Solstice Canyon Loop
Length: 3 Miles
Time: 1 Hour 30 Minutes
Difficulty: Medium

The Santa Monica Mountains are a vast network of vibrant trails home to big cats, oak forests and teeny-tiny reptiles.
You can find some epic treks through this east-west mountain range or stick to a shorter loop – it's up to you. Personally, I think Solstice Canyon Loop is a perfect introduction to the waterfalls, rolling green hills and coastal views of the large mountainous region.

Another highlight? It's a great place to see super blooms in the winter and spring.
Boy Scout Trail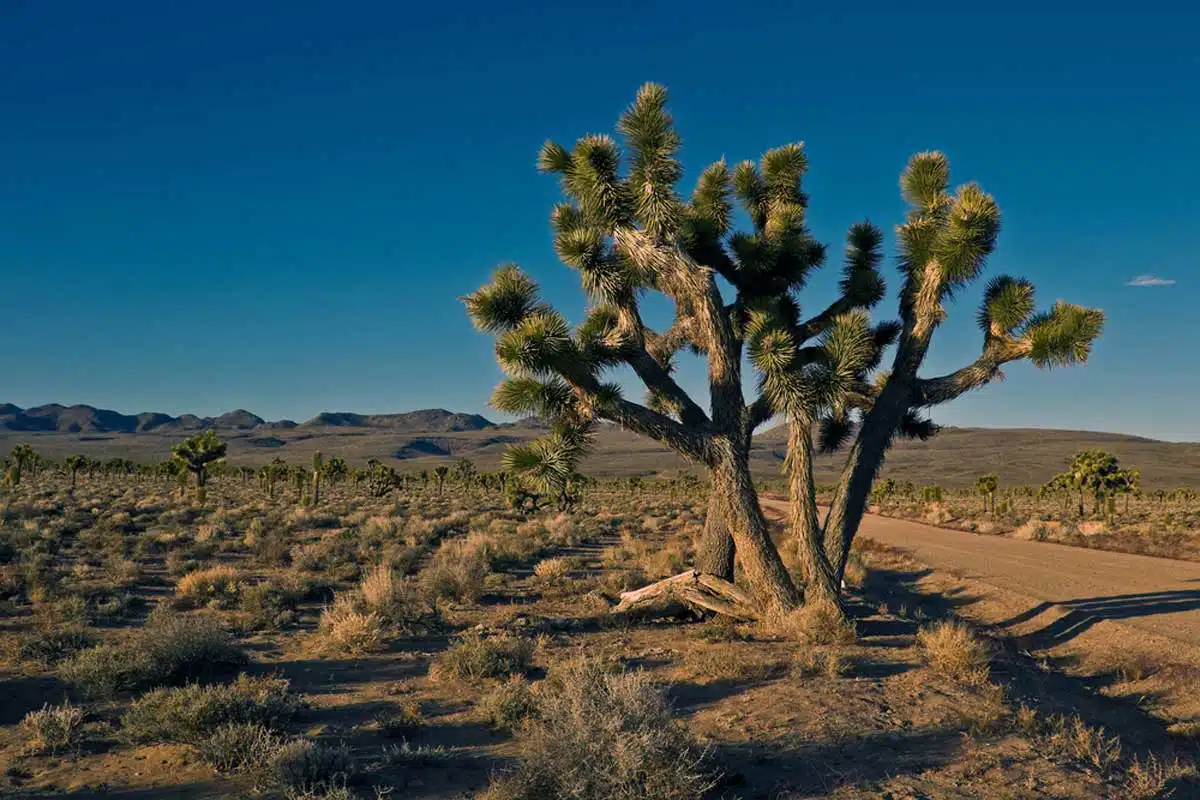 Length: 8 Miles (Each Way)
Time: 6 Hours
Difficulty: Hard
It's no secret that I love the many short to moderate Joshua Tree Trails that are among the most beautiful hikes in Southern California. Boy Scout Trail is a tad more challenging.

The 8-mile point-to-point trail is sunny, sandy and hot hot hot during the middle of the day. It's also relatively easy to get turned around if you start going off-course for photos or climbing-ops.

If you do this hike as an out-and-back (16 miles), go early in the morning, bring a ton of water and avoid hiking in the summer heat.
Point Loma Tidepools and Coastal Trail
Length: 1 Mile
Time: 30 Minutes (Without Tidepools)
Difficulty: Easy
If you find yourself near Cabrillo National Monument (with incredible views of San Diego's waterfront and downtown), check out the lighthouse nearby and then walk down the Point Loma Coastal Trail.

It's a short hike (though you'll be climbing back up), but the tide pools make it one of the top coastal hikes Southern California offers.

Check the tide charts, go just before low tide and look for the many coastal treasures you may find in the small natural pools on the rocky shores. You might just spot octopus, sea anemones, or lobsters while on one of my favourite Southern California hiking trails.
Best Southern California Hikes: Practical Tips
Animal Safety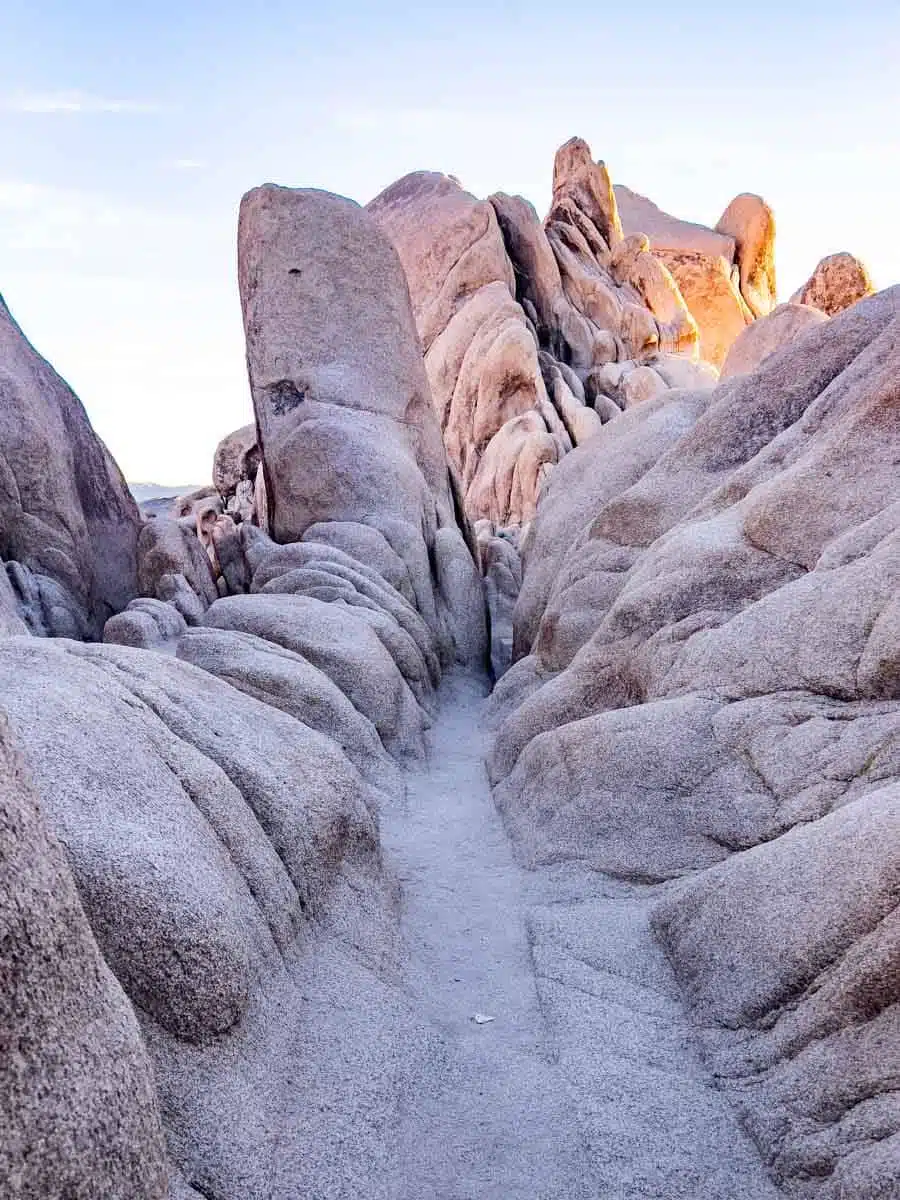 While grizzly bears haven't been spotted in California for around 100 years, there are still plenty of black bears – even on SoCal hikes. Check with a ranger before hiking in bear country and bringing bear spray is never a bad idea.
If you happen to encounter a bear hiking Southern California, remain calm, don't run away, but move sideways and talk to them in a firm, confident voice without screaming.
Southern California hikes can lead to snake encounters, including some venomous creatures (yikes). Even hikes in LA have rattlesnakes, but you'll most likely see them in the desert.
Wear a good pair of hiking boots that protect your ankles (I like the Grisport Hurricanes), and remain calm if you happen to come into close contact while removing yourself from the situation.
Mountain lions are another animal you'll share the wild landscape of Southern California with. Though spotting them is unlikely, check for signs posted alerting to recent sightings and take the proper steps if you encounter one on your hike.
Weather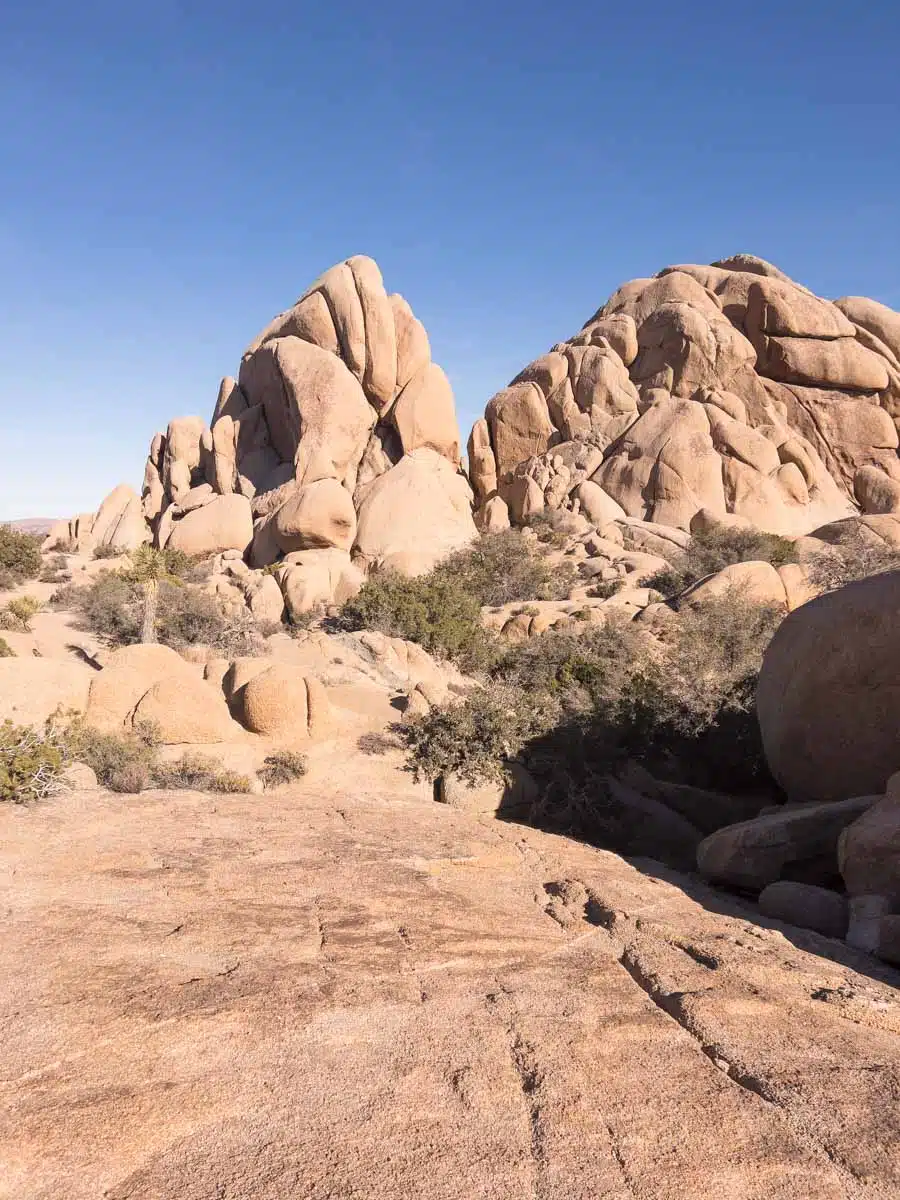 Hiking in Southern California gets extremely hot in the summer, and the weather can change in a hurry when the sun goes down. I recommend bringing a Day Pack that's lightweight, but large enough to fit essentials like sun cream, long sleeves and plenty of water – the Osprey Daylite is a personal favourite.
Personal Safety
Tell a friend or family member when setting out on longer treks. California may be the most populous state in the USA, but there are lots of wild areas (even while hiking trails in Southern California) where you won't see other people for miles.
Terrain can be dangerous and weather changes without warning, so it's crucial to consider safety measures before attempting longer hikes.
Read More Southern California Hiking Guides