Discover the ultimate hiking packing list with this handy guide. All of the essentials you'll need for a fun and safe hike.
If you're anything like me, as the weather warms up and the sun begins to make its debut, you're probably planning an amazing summer outdoor adventure.
And if you are, you know that your gear can make or break your trip when you're planning to spend most of your time outdoors. If your day pack has all of the right items, you'll be sure to have an amazing, epic adventure no matter what the forecast has in store.
With these summer hiking essentials, you'll stay warm and dry even if you hit a freak thunderstorm or end up in the middle of a trail in the scorching sun (both of which are likely to happen at some point during your summer travels).
I'm just looking out for you! Check out our recommendations for our favorite hiking gear below.
Hiking Packing List Essentials
A Sturdy, Lightweight Day Pack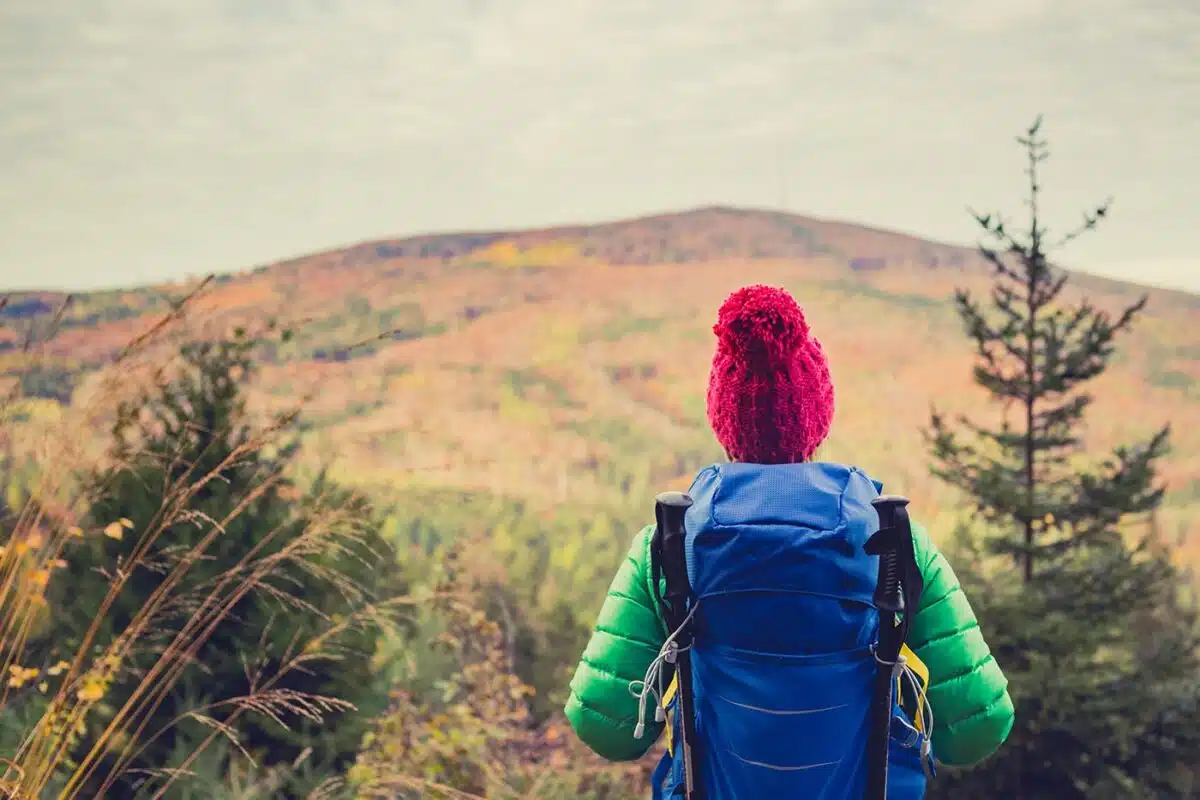 If you're planning on any longer day hikes, a sturdy, comfortable day pack is a MUST. You're going to need to carry gear, water, snacks, and extra clothing for those longer hikes, and having a day pack that feels good and distributes weight evenly is absolutely critical.
Plus, you definitely don't want to carry all your stuff in your hands while you're scrambling up rocks, right?
I am NOT a light packer when I hike. Usually, at a minimum, I'm carrying lots of water, my camera equipment, my tripod, a few extra clothing layers, and snacks on snacks.
Therefore, I need a backpack that has plenty of space, and also has sturdy support for my back and shoulders.
Your day pack should be your best friend and hiking companion. You should look for one that's spacious enough to hold all of your stuff, but also built to compartmentalize your stuff and distribute weight to your hips, rather than your shoulders.
It's no secret that I love the Osprey Farpoint/Farview.
The Osprey bag is incredibly great value for money, with lots of useful features for hikers – including space-saving segments and comfy shoulder straps.
Sweat-Wicking Baselayers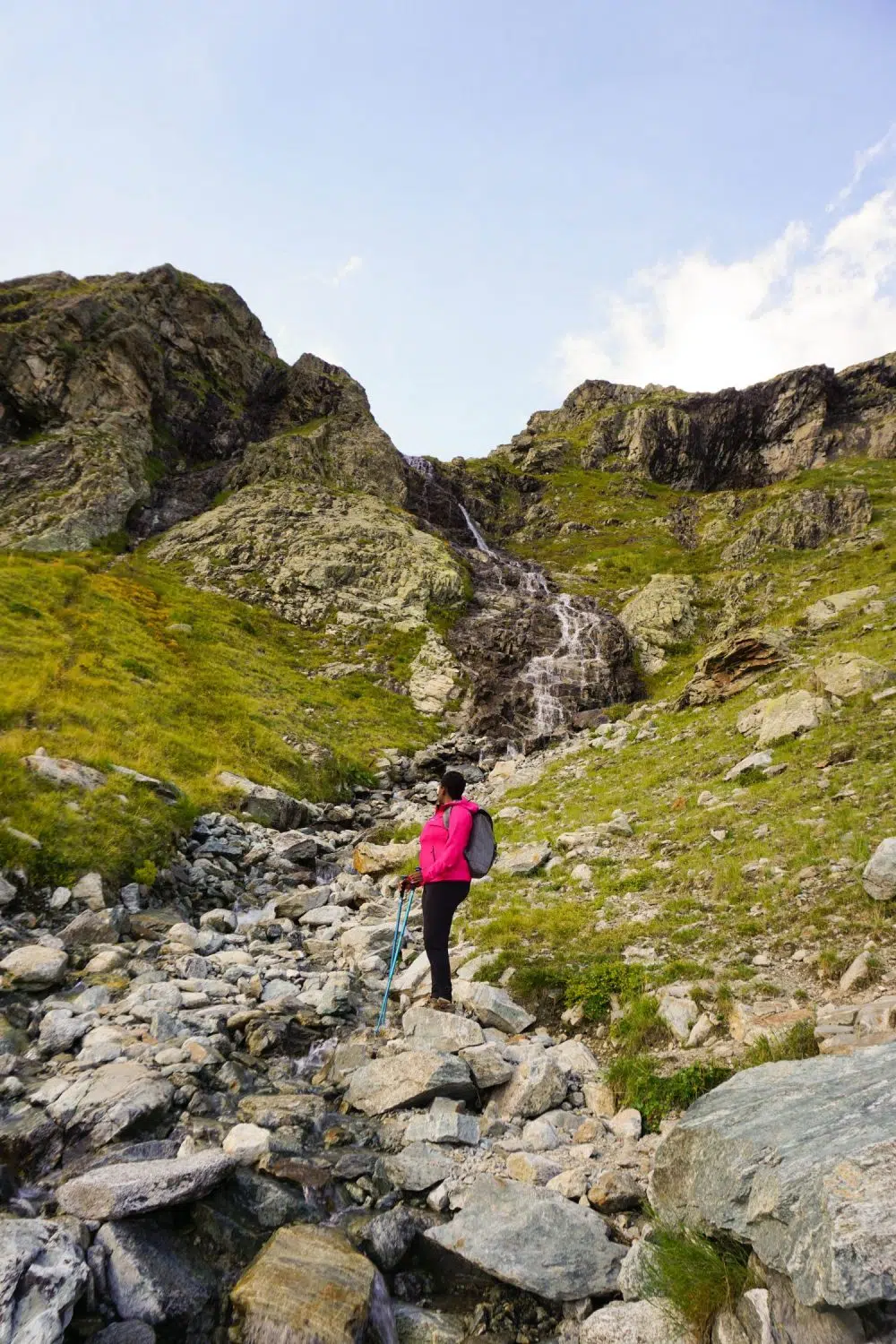 You know the drill: sometimes, you'll start hiking without a cloud in the sky, and the next thing you know, it's pouring. Weather, especially in alpine areas, can be extremely bipolar. Sigh.
However, you can be more prepared for any hiking conditions with the following clothing items:
A durable rain shell (men's version here)
A thermal layer
Sweat-wicking or moisture-resistant pants
Merino wool or synthetic base layers
Thermal gloves (if hiking in the fall/winter)
Beanie or thermal hat (if hiking in the fall/winter)
Hiking Boots & Footwear
Not only do you want your boots to be comfortable, but you'll probably want waterproofing as well.
For any kind of hiking excursion, I highly recommend the Berghaus Expeditor Trek 2.0 boots.
These feel like clouds on my feet, but are also extremely durable, waterproof, and supportive for walking on any kind of terrain.
Hiking Socks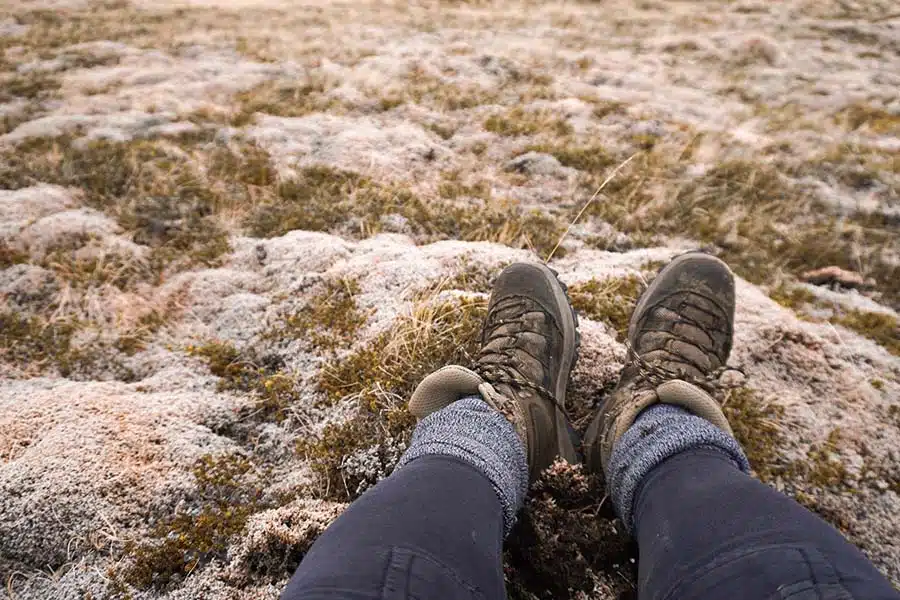 This one is self-explanatory, but you'll probably want to bring a comfy pair of hiking socks on any adventure.
For longer hikes, make sure you choose a pair that's extra thick for added comfort on your tired feet. If you're planning on passing through streams or lakes, bring an extra pair.
I'm convinced there's no such thing as too many pairs of socks!
Water Bottle
Please don't be one of those people who hikes with disposable plastic bottles. Do yourself and your environment a favor and use a durable, reusable water bottle instead of single-use plastics.
There are loads of different kinds of water bottles out there, but for long day hikes, I always bring my trusty Hydro Flask. It's solid as a rock and keeps my water cold all day.
Water Purification System
There are all kinds of nasty bacteria, viruses, and parasites lurking in stream water that, if ingested, can make you very sick.
If you're planning on filling up your water bottle along the trails, bring a purification system to make sure you prevent any water-borne illnesses from entering your system.
Some types of filters are better at removing certain kinds of bugs than others, so be sure to do your research and use more than one system to ensure your water is completely safe to drink.
When I hike, I use a combination of a water filter and a UV purifier. They seem to have worked so far!
Snacks on Snacks on Snacks
There are few things more terrifying than a hangry hiker. If you don't believe me, just wait until you stumble upon one yourself.
If you're worried about becoming a hangry hiker, make sure you bring lots of snacks and provisions to last you the majority of the day. Some hiker favorites include Clif bars, trail mix, jerky, PB&J sandwiches, and all kinds of fruit (dried and whole).
Solar-Powered Battery Pack
In case of emergencies, you never want to be without some kind of power. A solar-powered rechargeable battery pack can help with this.
Just hang it on the back of your backpack while hiking and it will recharge automatically. Then, if you need to recharge your phone, GPS, camera, or something else, you can do so on the trails.
Hiking Knife & Fire Starting Gear
It might seem strange to bring a knife and fire gear on a day hike. You're only going for a few hours, right? Well, it's incredibly important to have a hiking/camping knife with you to cut small pieces of firewood or remove dangerous plants or branches as needed.
Fire starting gear is the same thing: there are situations in which starting your own fire may be absolutely critical.
I'll be honest, I haven't brought fire starting gear on all of my hikes in the past. However, I'm going to start, because it's incredibly important to make sure you can start a fire if you get lost or stranded.
With fires, you can keep warm, cook food, and help alert others to your whereabouts. Just make sure you don't attempt to bring these items on the plane with you!
Head Lamp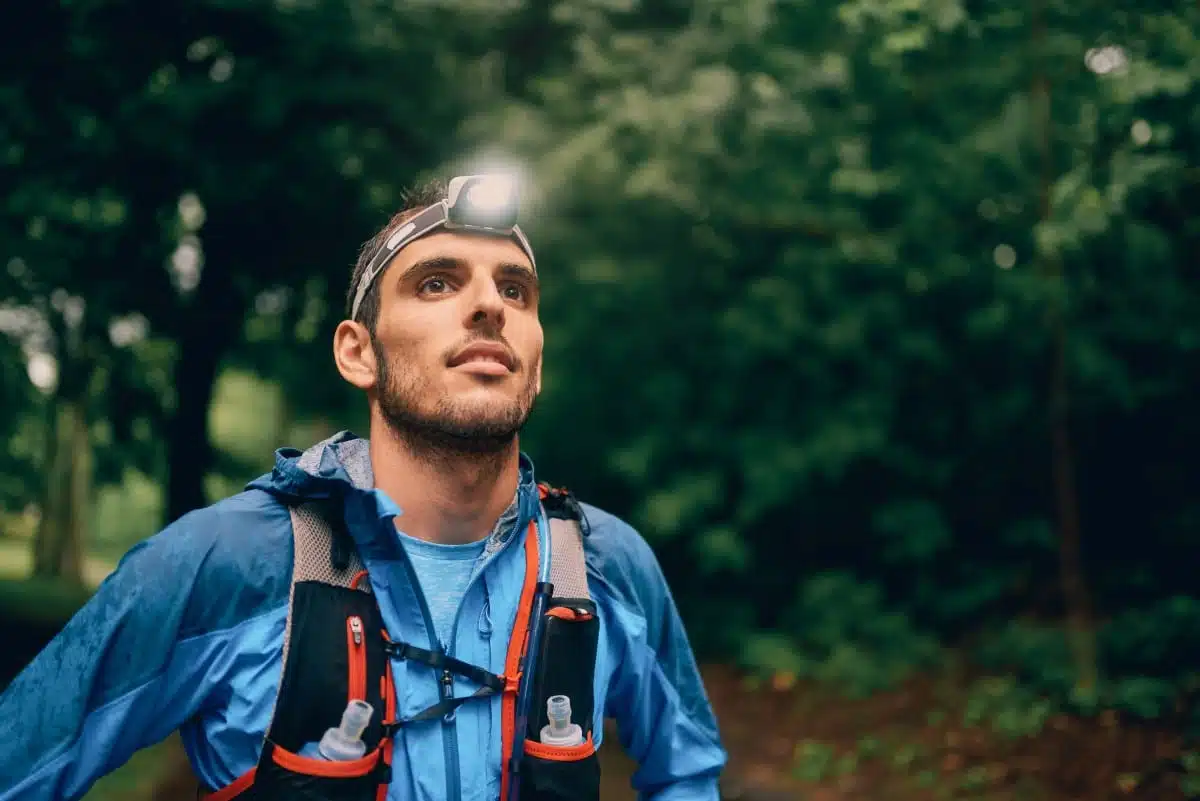 Sometimes, the best times to hike are in the early morning and late in the afternoon. Those mountain sunrises/sunsets are calling!
However, if you plan to hike in non-optimal daylight, it's critical to bring a head lamp with you. Head lamps make it easy for you to navigate around in the dark without needing to hold on to something extra. Flashlights are so yesterday.
I recommend bringing a head lamp on every hike in case of emergencies, as you never know whether you might get lost, face severe weather conditions, or otherwise need to set up camp somewhere unexpectedly.
Sunglasses
If you're outdoors for more than a few minutes, you should definitely make sure you've got a good pair of sunglasses. However, not all sunglasses are created equal.
You can best protect your eyes by thoroughly researching each pair of sunglasses, ensuring they have adequate UV protection, and making sure they're polarized.
For hiking, you may want to purchase a lanyard as well to make sure your sunglasses don't fall or get lost.
Sunscreen and Hat
Sun protection for your skin is just as important as sun protection for your eyes. On any hike, you should have adequate amounts of sweat-resistant sunscreen and reapply it regularly.
If you're going to be swimming in the ocean or nearby, I recommend using some reef-safe sunscreen to help protect marine wildlife. Some UV protecting lip balm is also a good idea.
To protect your face, you should also use a sweat-resistant brimmed hat (preferably with a drawstring, so that it doesn't fly away in the wind).
First Aid Kit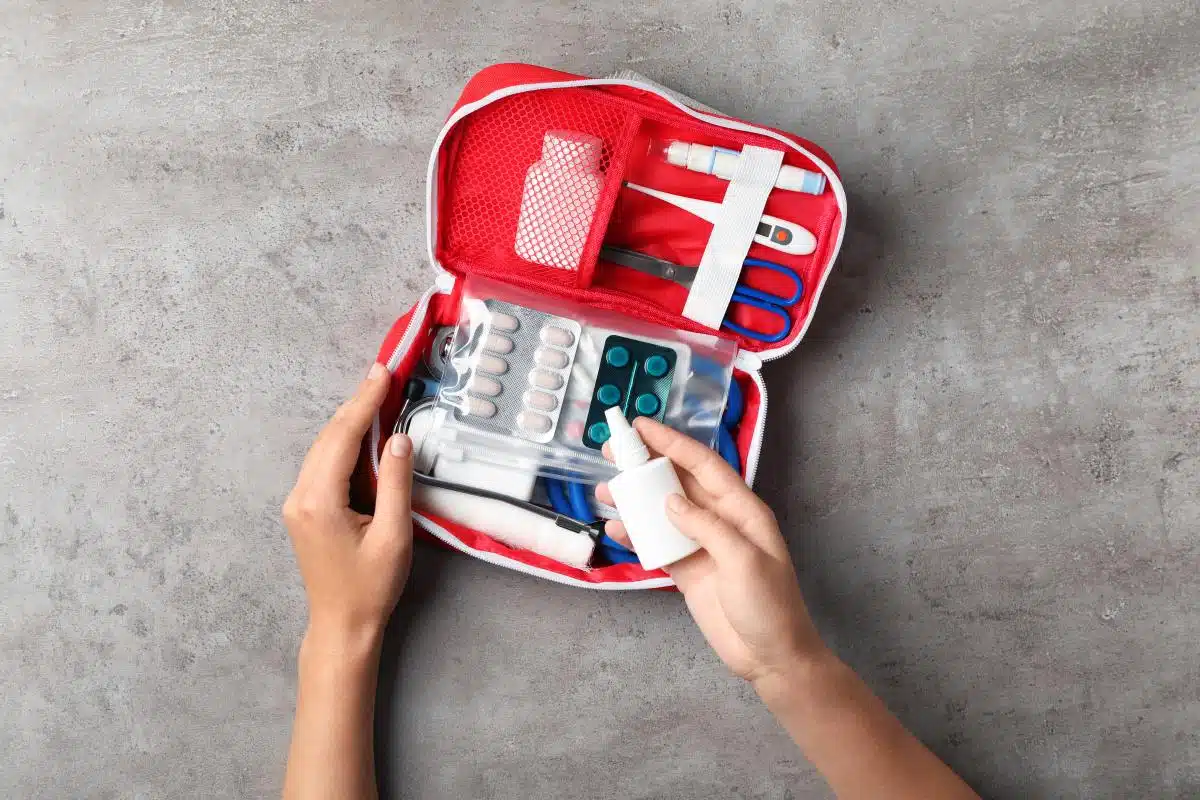 There's no need to bring a bulky, unwieldy first aid kit on your day hikes. However, you should have a small, basic kit on all of your hikes. I find it easiest to buy a pre-assembled first aid kit, which includes a small bag to hold everything.
Regardless, any kit you bring should include the following items (at a minimum):
Adhesive bandages
Antiseptic wipes
Antibiotic cream
Alcohol swabs
Bandage wrap
Gauze and tape
Gloves
Basic medications – antihistamine, ibuprofen, acetaminophen, aspirin, antacid
Bug Spray
No one likes bug bites. They're itchy, unsightly, and a nuisance. But more importantly, some kinds of bug bites can cause horrible diseases (like malaria or Lyme disease) and long-term bodily damage.
Therefore, it's critical to protect yourself from mosquitoes, ticks, and spider bites as much as possible.
When hiking any distance, be sure to bring bug spray with DEET for maximum protection.
Emergency Blanket
If you do end up getting stranded overnight (or even during the day), an emergency blanket is a must. It will help to keep you warm and dry, and provide a small bit of shelter from the elements.
Sure, you probably won't use it 99% of the time, but it's a good idea to carry one with you in case the unexpected happens.
Additional Bonus Items for Day Hiking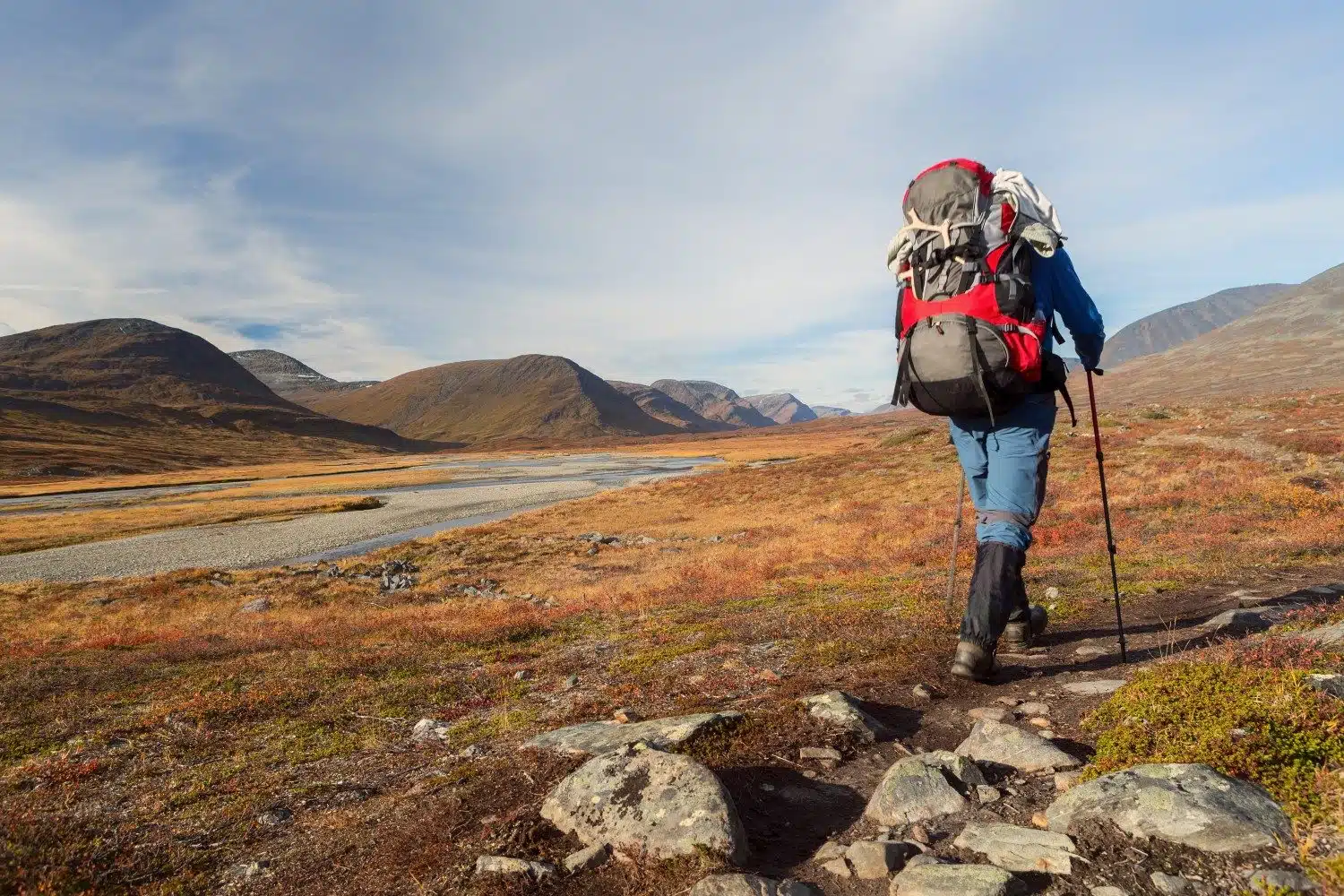 These items aren't an absolute must for day hikes, but you'll probably want to bring them anyway:
Toilet paper
Wet wipes
Hand sanitizer
Bear/pepper spray
Binoculars for wildlife watching
Hammock
GPS system (AllTrails is a great app for this)
Watch
Camera
Stove and camping meals
Love this? Save and Share on Pinterest!