Looking to purchase the Osprey Farpoint 40 backpack? I've got you covered with this complete guide to everything you need to know before you spend your hard-earned cash.
Osprey is a US brand that primarily manufactures backpacks, and it's no secret that they're some of my favourites when it comes to travelling.
As a lover of the outdoors, I've tested out several travel bags over the years and I'm on a constant mission to find the perfect bag to hold all of my essentials. I stumbled across the Osprey Farpoint 40 after seeing lots of buzz about them being the best bags on the market.
Let's dive in…
Osprey Farpoint 40 Review: At a Glance
In a nutshell, the Osprey Farpoint 40L is a great travel backpack – it's perfect for those who want a cabin-size bag that can hold a deceivingly large amount inside. Its larger counterparts are great for people who require a little more luggage space, too.
Throughout this review I'll be rating the Osprey Farpoint across four broad areas: security, storage, structure, and durability, as well as giving you the low-down on all the technical details.
Read on to discover how well it does (spoiler: it's pretty damn good!)
Check Out the Osprey Farpoint Bags on Amazon Here
Osprey Farpoint 40 Review: In Detail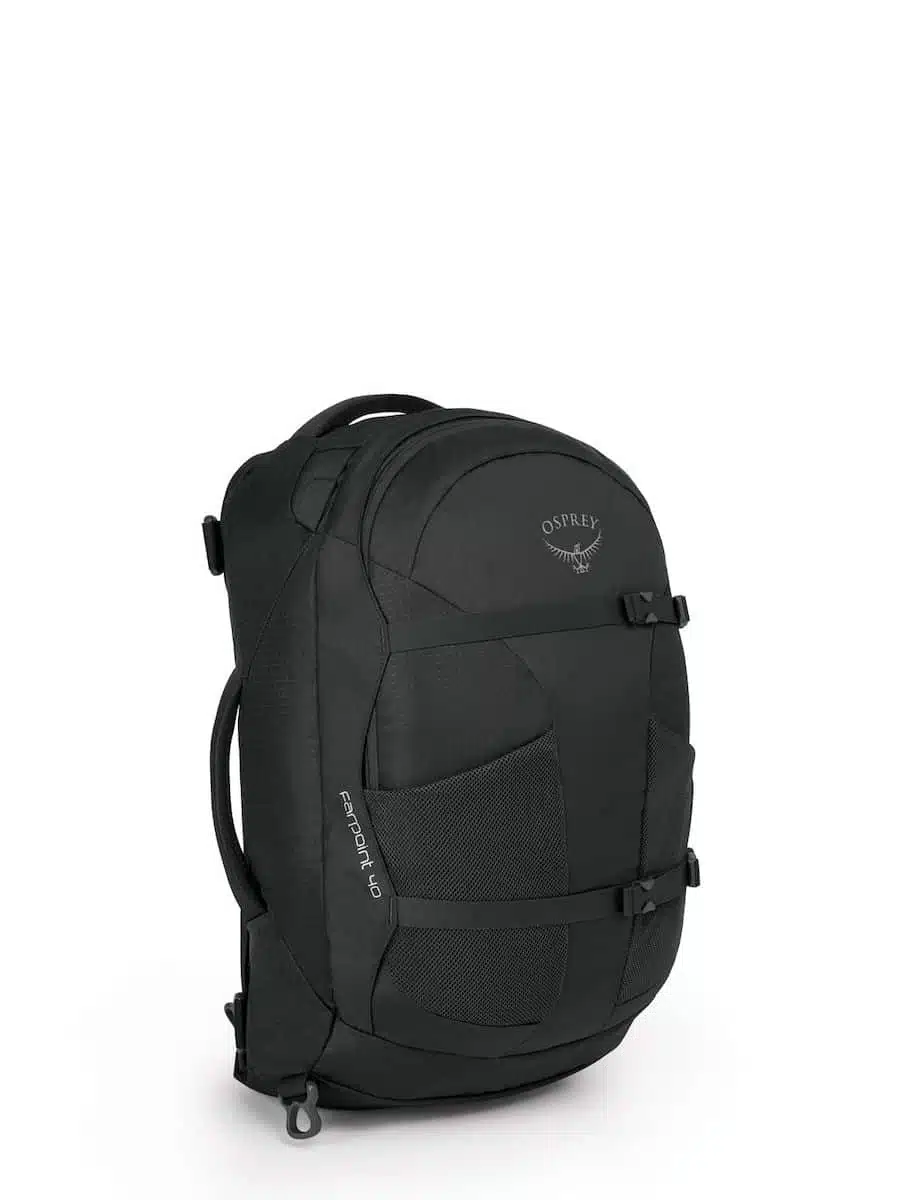 Security
When travelling with so many items all at once, security is a major concern. If you're considering purchasing this bag, the chances are that you aren't expecting to keep it tucked safely inside of a five-star hotel for your entire trip.
The Osprey Farpoint bag provides you with some ease of mind when leaving your bag back at the campsite or even checking it on a flight. There are a few security features built into the bag that makes it great for travel.
All models of the Osprey Farpoint bag come with a lockable main compartment, which is where you should keep most of your valuables. Being able to keep the section of the bag locked is crucial for protecting them.
With a lockable main compartment, you won't have to worry about things going missing – when you're ready to set out for the day, simply put your valuables inside of the compartment and use an airport-security-regulated lock to keep them safe.
In addition to the main compartment, the bag's back panel is also great for security reasons. The back panel features all of the bag's straps, hip belt, and other loose ends. One of the unique features of the bag is being able to package these up to avoid something getting caught as you're travelling.
While in use, the back panel gets rolled neatly underneath. When you're ready to set the bag down, simply unzip the pouch, take out the rear panel flap, and zip everything up.
This feature is on all of the bags – it fits everything compactly when placing it into a locker or on the plane. It's a smart design and a big tick for user experience.
Storage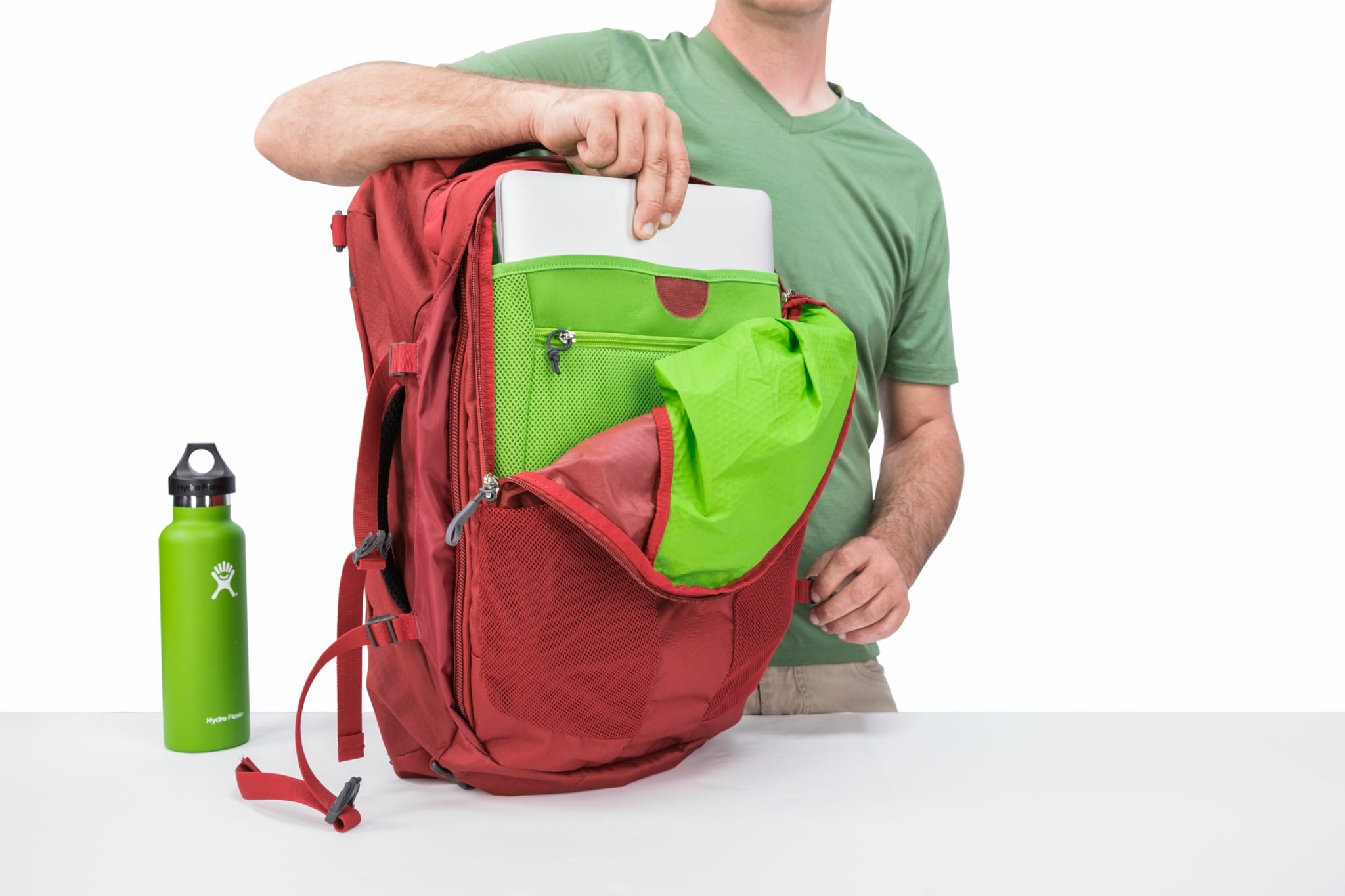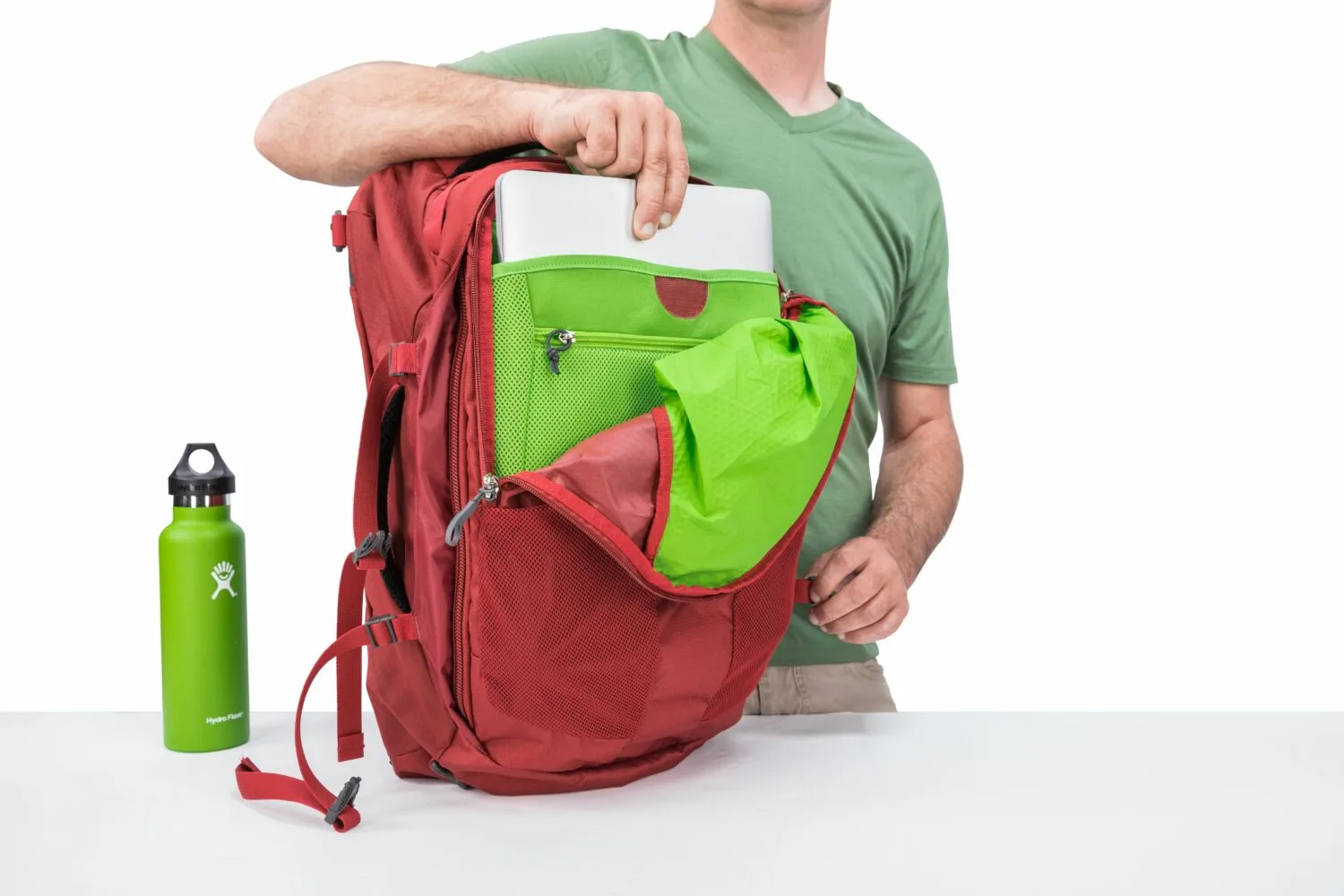 Whether you're planning on backpacking through the mountains for a week or going on a month-long excursion across an entire country, you'll be able to keep all of your essentials with you at all times, thanks to the generous size of this bag.
Aside from the storage capabilities, the Osprey Farpoint bag makes it incredibly easy to keep organised throughout the entire journey.
Osprey Farpoint bags include a massive inside storage area – open up the main compartment and you'll see the depth of the bag is perfect for packing even heavy jackets and boots inside.
As well as this, both sides of the bag contain a variety of pockets and straps for keeping items in a designated space. This means that while large items can be stored in the main bag area with the most depth, while smaller items can be kept in the specially designed mesh pockets.
The best part about the large compartment areas is the compression straps for keeping things in place. Even on the most rugged of hikes or flights with lots of turbulence, nothing will budge from its position.
Structure
The main advantage of having a structured backpack is not having your personal belongings crushed if it gets bumped around a bit – luckily, the Osprey Farpoint has got it covered.
One design perk about this bag is that when you set it down, it won't fold over – which means that the bag sits straight up and maintains its shape when lying on its back for you to pack. This is a feature of a high-quality backpack, though it's often overlooked.
One of the other significant elements of the structure of the bag is the built-in lightwire frame suspension. The suspension system distributes the bag's weight from just on your back to other areas – the pack includes a hip belt and harness to assist with the overall weight distribution.
Obviously, you're considering this bag because you have a lot of things you need to pack for an upcoming trip (or maybe you just like carrying around travel backpacks for the style – I won't judge).
But more stuff in your bag means more weight on your shoulders – literally. Hiking can already take a toll on our bodies even without having a large backpack to lug around.
Climbing up a mountain slope becomes an almost impossible and even dangerous task if you put all of the weight on your back to carry it up there. The Osprey Farpoint bag makes hiking much easier by spreading out the weight of your things.
Durability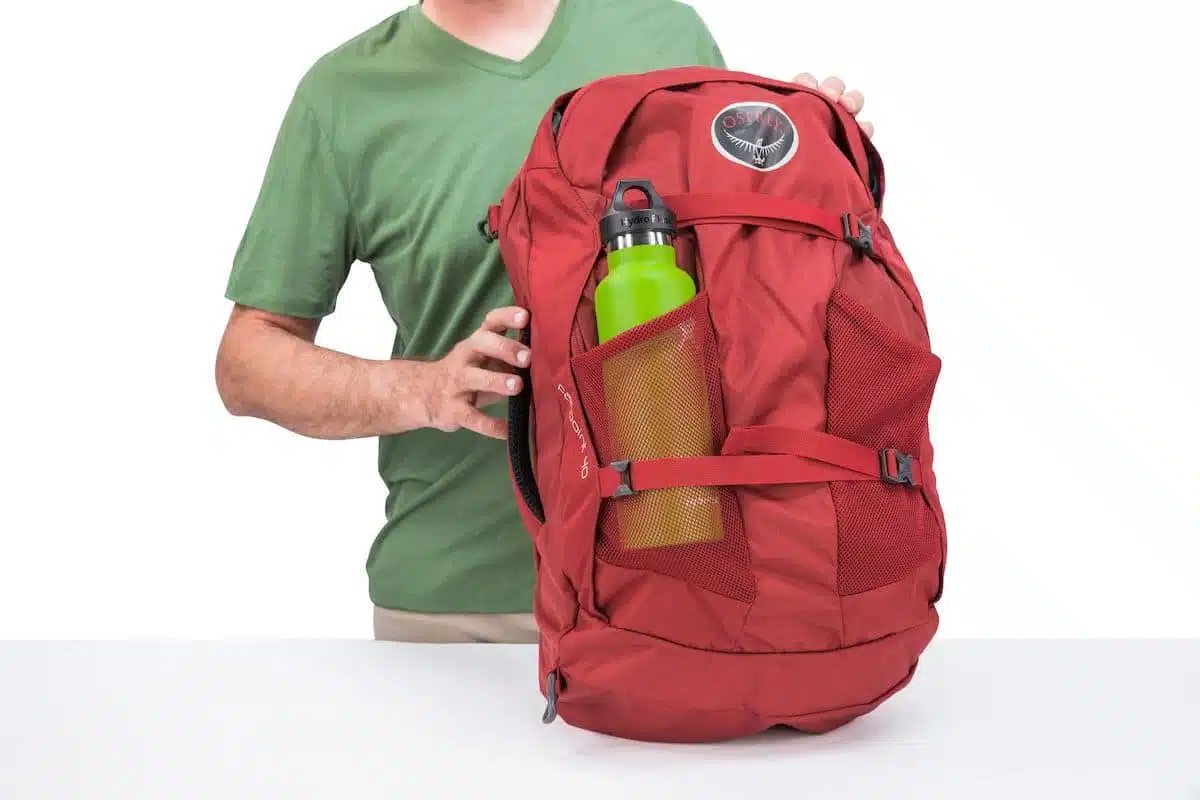 Durability is one of the most important elements when considering a new travel backpack to purchase. You'll be glad to know that the Osprey Farpoint bags far surpass my stringent durability requirements when it comes to enduring even the harshest of weather conditions.
Wear and tear isn't easy with the bag; take it on your most daring of adventures and see if you can survive it as well as your bag can.
The primary material of the Osprey Farpoint bag is 210D Nylon Mini Hex Diamond Ripstop, and if you've ever felt the thick material in person, you'd know right away that it's one of the most robust fabrics for backpacks. The premium nylon fabric combines durability with being lightweight so that you have the best of both worlds.
As well as this, the bag features plenty of breathable mesh, which prevents the inevitable sweaty back situation that seems to kick in during anything quicker than a slow walk (just me?)
However, let me level with you – one of the (very few) downsides to the bag is that it's not waterproof. Although the bag can withstand a drizzle at max, anything more can potentially get your things wet on the sides.
The bag is best used in drier climates – or you can opt for a back cover to ensure your items are kept dry in a torrential downpour.
Which Size Should I Choose?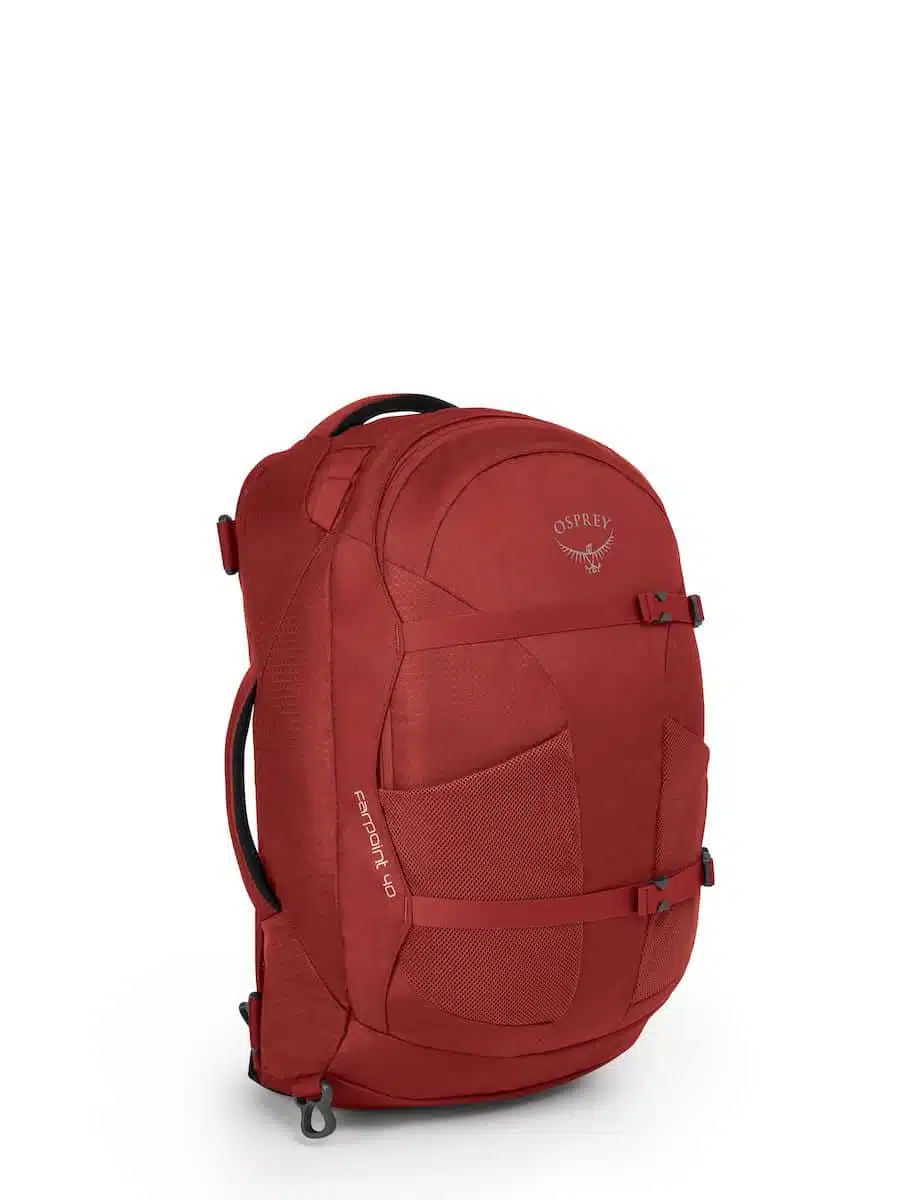 While I've focused on the 40L size in this review, you can also purchase the Osprey Farpoint in 55L or 70L should you need more capacity.
If you're planning on using the bag for day trips to hiking destinations, the smaller Osprey Farpoint 40 will be sufficient. You can keep everything that you need right inside the bag, and it's small enough to carry around all day.
If you're planning on purchasing an Osprey Farpoint bag for travel, then you might want to consider one of the larger bags – 55 or 70. Think of the bag as a combination of a backpack and luggage.
The additional option of the day pack inside the larger options also gives you versatility in deciding what you want to carry during the day after arriving at your destination.
Technical Details
Material
All Osprey Farpoint bags mentioned in this article are made with highly durable 210D Nylon Mini Hex Diamond Ripstop. The bags are not waterproof.
Warranty
All bags purchased from Osprey Farpoint include the All Mighty Guarantee – the company will provide repair and replacement parts to all bags (within a reasonable lifetime).
The guarantee includes repairs to the fabrics, straps, buckles, and other bag features. Customers have to file a claim and send in their pack for repairs.
The company recommends regular maintenance to preserve the packs for the duration of their lifetime.
Practical Tips for Using the Osprey Farpoint 40
It can be easy to get carried away with packing thanks to all the space available on the Osprey Farpoint bags. Remember that you are travelling and should only carry with you the essentials. While the bags can hold a lot, overpacking them could ruin the overall experience of having a compact bag.
If you're using one of the models with a day pack, overstuffing the main compartment can make it hard to reattach the daypack and cause unnecessary bulging.
Make sure that you choose the right size for your body. Travel bags are already larger than usual, although Osprey Farpoint does a great job at designing a sleek bag. If you're using the bag for its intended use of travel and hiking, you'll want a bag comfortable enough to endure the journey ahead.
So Should You Buy the Osprey Farpoint 40?
If you've made it this far in the review, you're probably as impressed with the Osprey Farpoint as I am.
The Osprey bag is well-designed, with lots of useful features for travellers. You'll have everything you need in one convenient bag – and the best part is that, at £79, it's a fraction cheaper than similar backpacks on the market.
When you factor in the brand reputation and product guarantee, it's worth every penny you'll spend on it.