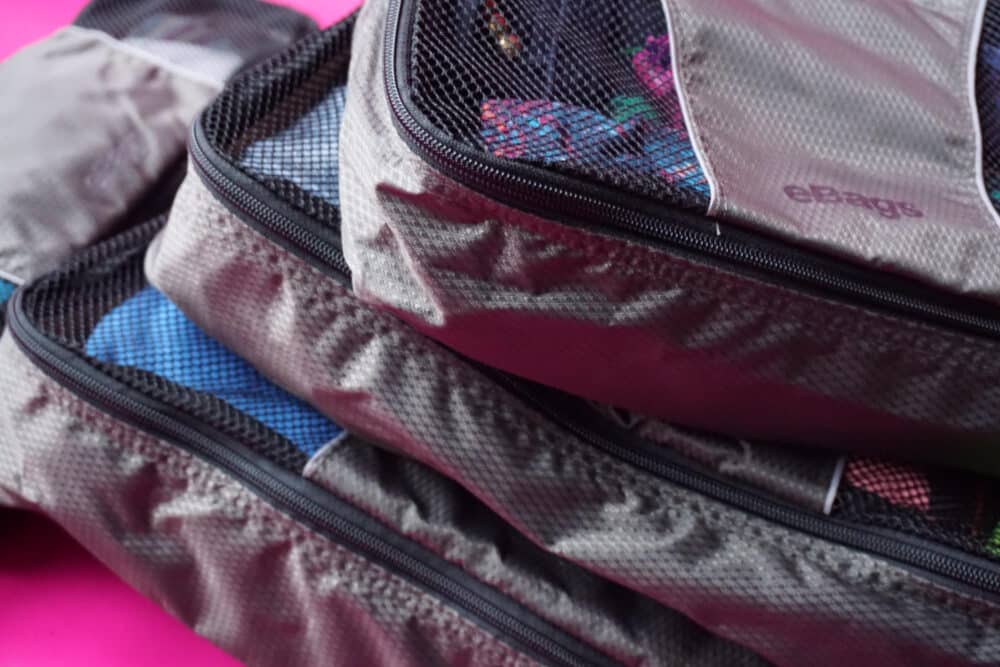 Packing for any trip can be a pain. Packing cubes help keep your luggage organised and ensure that you use space efficiently. There are so many different kinds of packing cubes that it can be difficult to choose which ones to buy. I've written this eBags packing cubes review to help you decide.
eBags Packing Cubes Review: At a Glance
Packing cubes are essential travel kit for the savvy traveller.
eBags are some of the best packing cubes I've reviewed. They're excellent value for money, come in a large variety of sizes and colours and are very competitively priced.
If you are looking for a flexible packing cubes option, that can be bought in a number of size combinations to suit your requirements, they're the best packing cubes to suit your needs.
eBags is one of the biggest names when it comes to packing cubes – for good reason. They're virtually unrivalled when it comes to the variety of sizes, colours, set combinations and five-star Amazon customer reviews.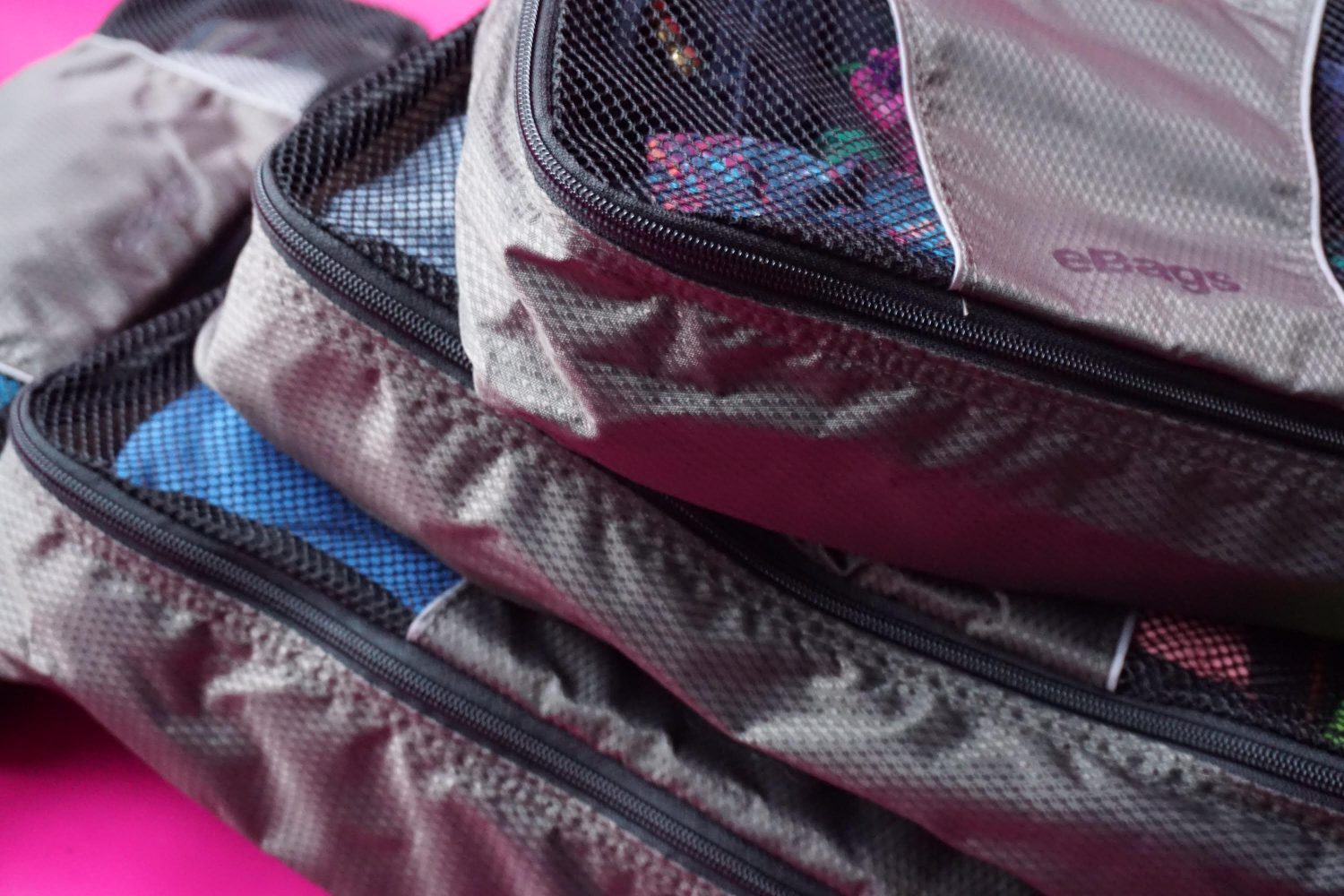 I've been using the eBags packing cubes for a while now, along with a few others that I've reviewed in my best packing cubes article and they've become the cubes I travel with most often. I'll go into a lot more detail why that is the case in this review, to help you make up your mind whether eBags packing cubes are for you.
Durability
In my mind, durability is the single most important factor to consider when you are reviewing packing cubes. Essentially, you are paying quite a bit of money for these items, so knowing that they will last, even after hard use, is a necessity.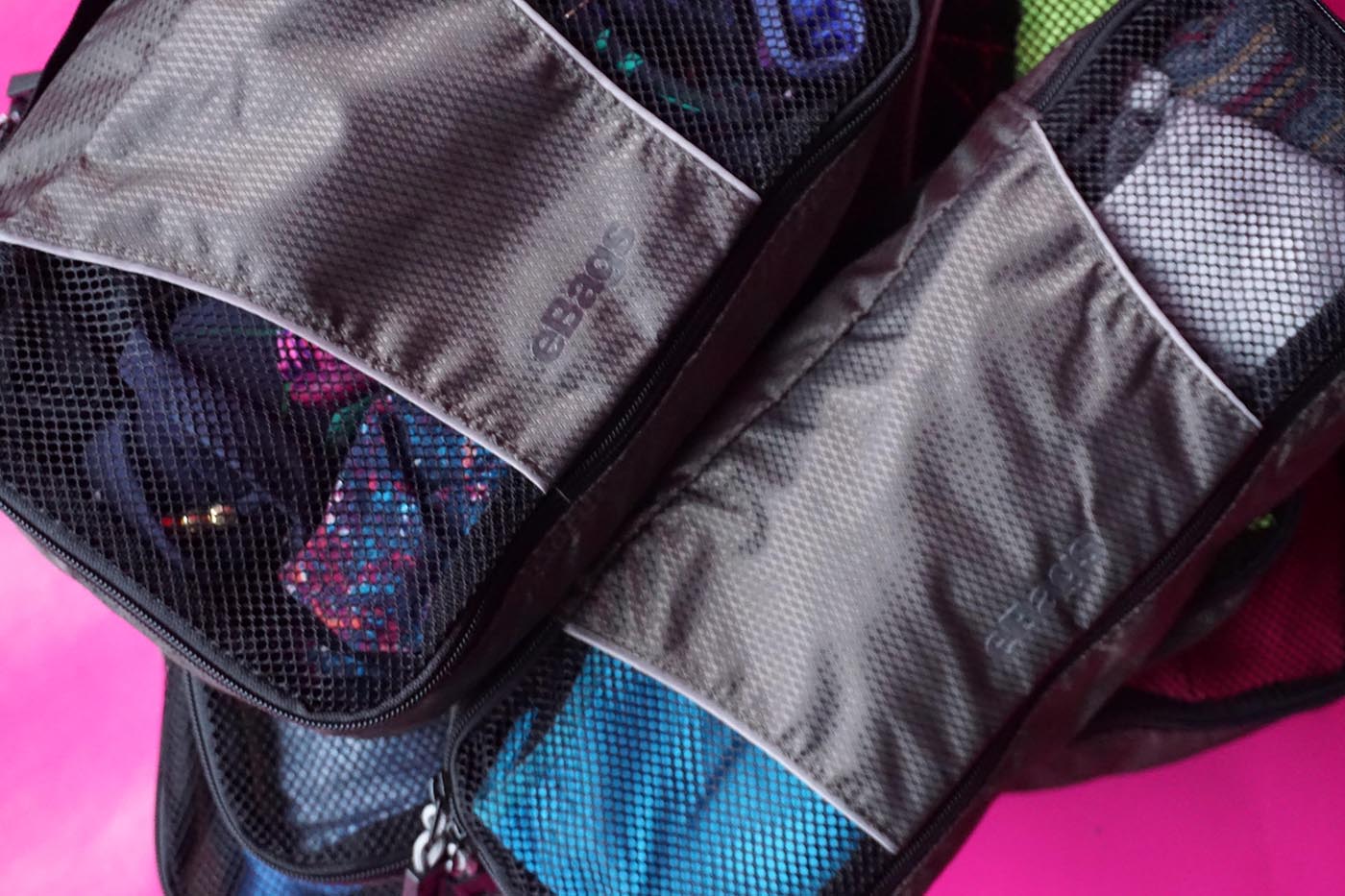 I bought a set of eBags packing cubes a while ago and have used them on several trips, including on my current one in Bali. I'll freely admit that I have been known to overpack them from time to time, but the packing cubes have stood the test without any problems. No frays, no rips, no catches – they still look as good as new.
It doesn't surprise me that eBags offer a limited lifetime warranty (discussed below) on their packing cubes, as they're manufactured to a high quality and are durable enough that they should last a lifetime if you use them properly.
Materials
Plain-colour eBag packing cubes are made from TechLite Diamond Nylon, which is essentially rip-stop nylon. While this is completely functional and perfect for the task, it's not the best-looking material, think a cheap raincoat.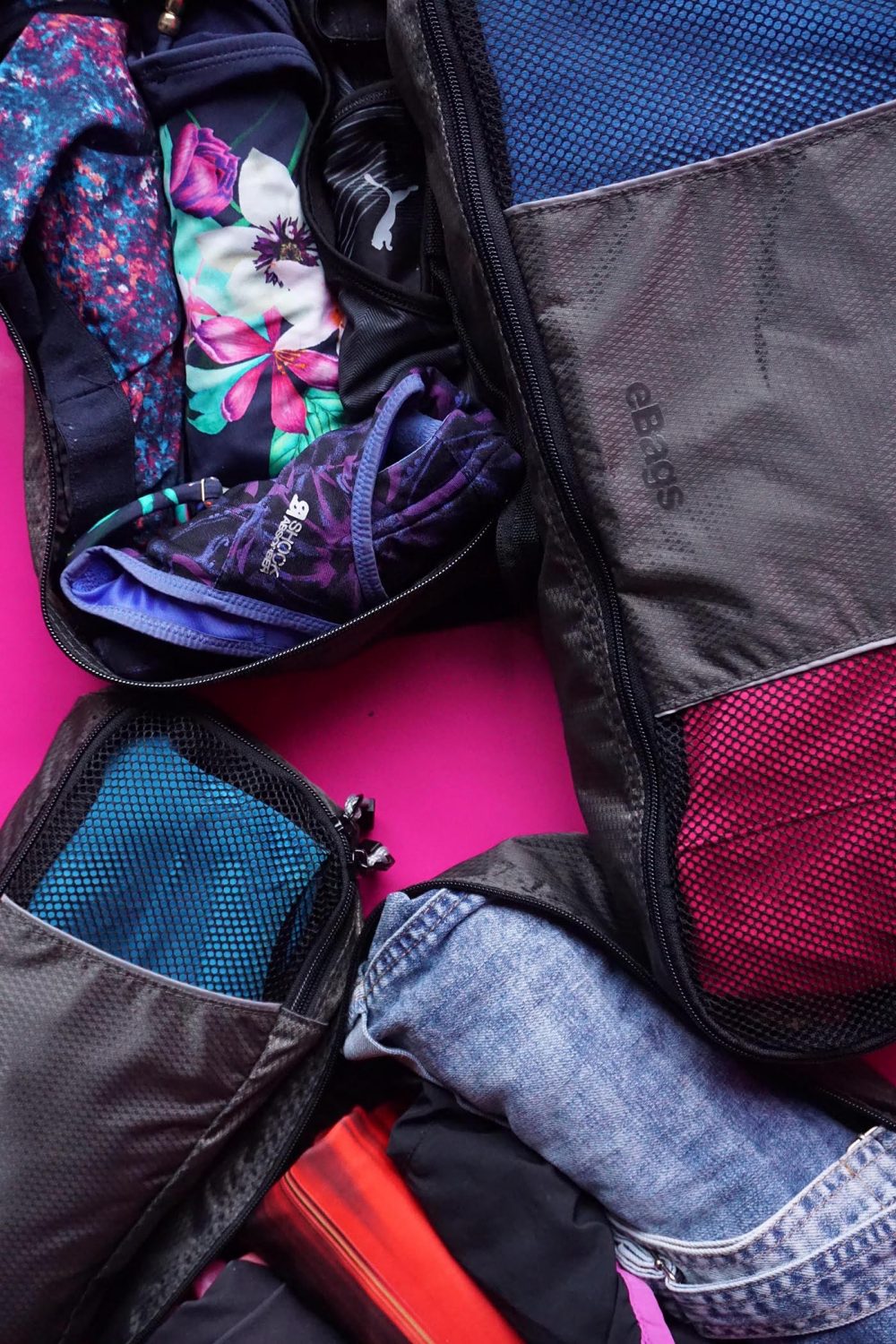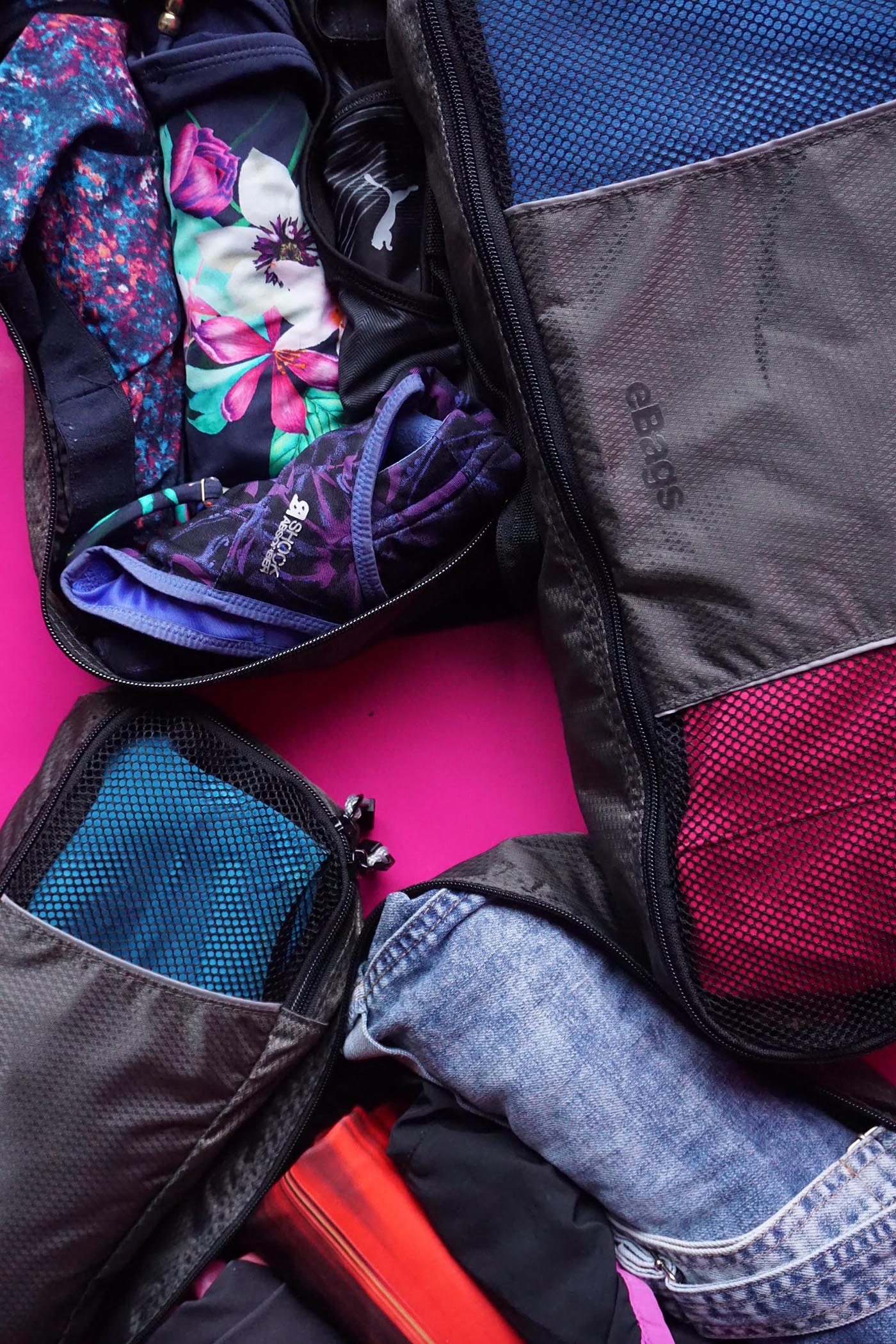 Now, I'm sure that this sounds perfectly horrific to those of you who pride yourselves on being style mavens but the reality is that we are talking about items that sit inside of your suitcase or backpack… so practically no one apart from you is ever going to see them. I don't know about you, but I'll take a small hit in the looks department in exchange for the many positives about the eBags packing cubes.
The patterned eBags packing cubes are made with polyester fabric, which is less crinkly and also a bit stiffer than the plain versions. These packing cubes are just as easy to use, they just feel a bit different to the plain ones.
Construction
The eBags packing cubes construction is relatively simple. The bottom, sides and a front panel of the cubes are made from the Techlite Diamond Nylon and there are two mesh inserts on the front for breathability and to allow you to see what's inside the cube when it's closed. They fasten with YKK zips (widely recognised as the industry best), and all the interior seams are fully finished for durability.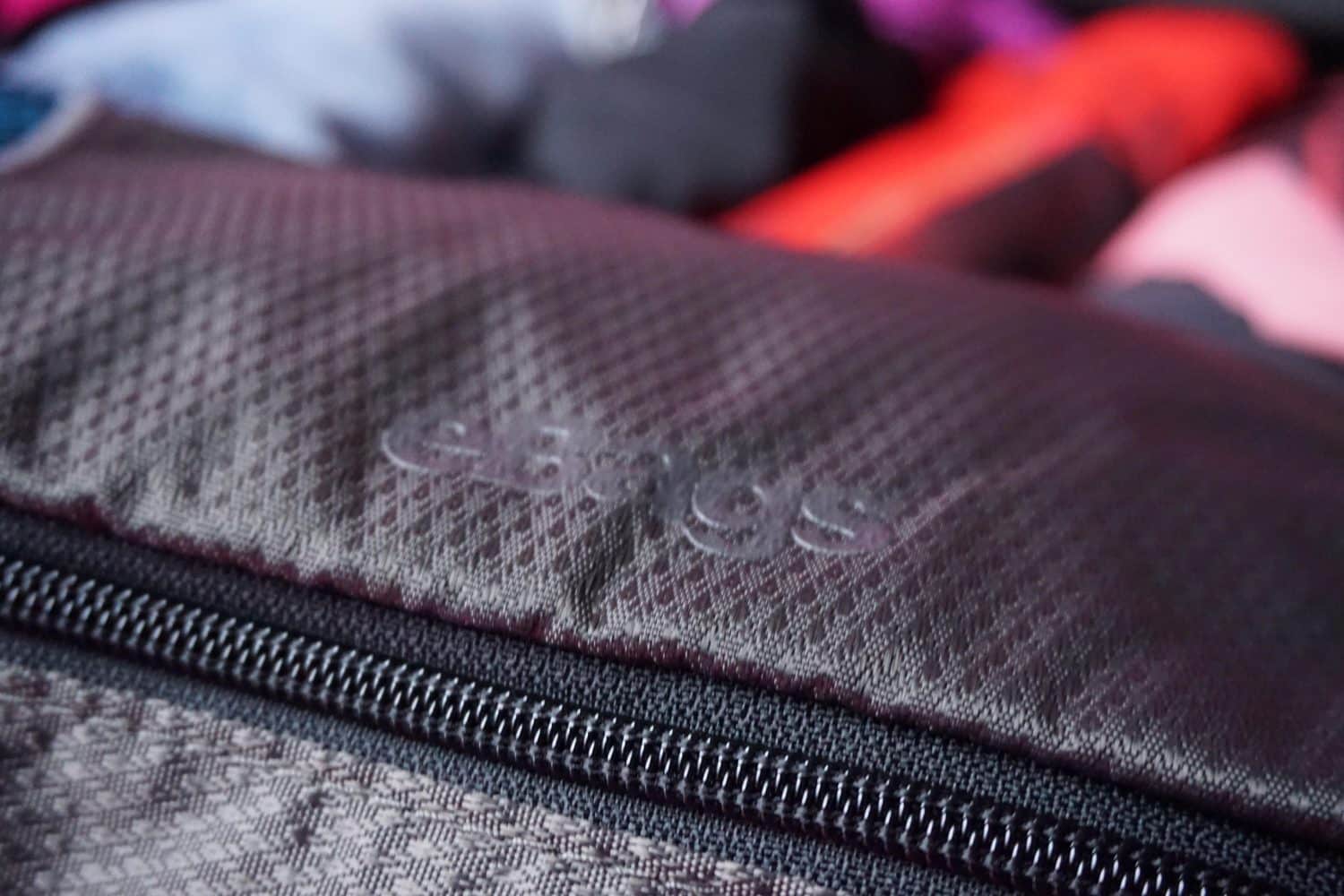 I like that eBags have included the mesh in their packing cubes unlike some of their competitors. The mesh allows your clothes to breathe (particularly useful if you are in humid climates or if your clothes get damp) and means that you can see what's inside each cube without having to open it up.
The only niggle I have that I think I should mention in this eBags packing cubes review is the fact that the mesh panels are quite coarse. This has meant that a few sharper items, like some of my plugs and connectors have become caught on them from time to time – but this hasn't resulted in any lasting damage, so again, I don't think it's a real problem.
eBags Packing Cube Sizes
I really think that when it comes to sizes, eBags beat many of their competitors hands down. A lot of customers mention the large number of sizes available in their reviews of the eBags packing cubes – why? Because it's really practical.
A lot of packing cubes don't come in large sizes, and I can kind of understand the reasoning behind this – after all, if you're going to pack lots of small items into a large packing cube, it's likely to become just as jumbled and messy as if you were packing it directly into your luggage. But I still have two of eBags' largest packing cubes because they are really useful for bulky items such as jackets and jumpers.
By contrast, the smaller pieces are indispensable for undies, electronics accessories and such, while the medium sizes are great for the remainder of your clothes. Having a variety of sizing makes sense for me as I organise my packing cubes by the type of item they contain. I know other people organise their packing cubes on what they are going to wear day-by day, in which case it makes more sense to buy smaller/ medium sized ones. It's completely down to personal preference.
eBags packing cubes are available in the following (metric) sizes:
Small – 27.9 x 17.2 x 7.6cm
Medium – 34.9 x 24.8 x 7.6cm
Large – 44.5 x 32.4 x 8.3cm
Medium Slim 35.5 x 12.7 x 7.1cm
Small Slim 16.5 x 12.7 x 7.1cm
eBags Packing Cubes Colours
The eBags packing cubes come in ten different colours, plus a roster of ever-changing limited edition patterns.
I opted for plain old grey, but there's plenty of choice for you to pick whichever colour suits you.
The full colour list is:
Grey
Black
Red
Yellow
Green
Tan
White
Orange
Pink
Purple
---
Warranty
Another reason this eBag packing cubes review is so positive is the lifetime warranty that eBags offer on the products.
Obviously, in an ideal world, you'll never need to use the warranty, but it's good to see eBags backing up the quality of their product in this way.
The limited lifetime warranty protects you for defects in workmanship or material. So you are covered in the unlikely event that your products are not up to scratch.
I haven't had to use the warranty, as I've never had any issues with my packing cubes but I have had a good look at the customer reviews where people have had to use the warranty and it sounds like it is an easy and stress-free process.
How Do I Look After My eBag Packing Cubes?
Packing cubes don't generally require much maintenance. If they get dirty, or after a couple of uses, you can wash them on a cool temperature setting in the washing machine. Hang dry them on a line – do not tumble dry them as it will damage the fabric.
Read more: The Best Packing Cubes: Rated and Reviewed
So Should You Buy the eBags Packing Cubes?
It's a million dollar question. I've become a convert since I started using packing cubes a few years ago. It's so useful to keep things organised, save space and know where everything is when I'm on the road.
eBags biggest competitors on the packing cube front is probably Eagle Creek. I do really like Eagle Creek's packing cubes as the finish is that little bit more high-quality – but it comes at a price: they're much more expensive and you don't have the same choice of sizes.
---
Overall, these are the best packing cubes when it comes to durability, usefulness and value for money.
You might also like my article: the perfect long-term travel packing list.
---