Is the Away Carry-On worth it? Let's take a look at The Carry-On's details in this review of Away luggage.
If you're a frequent flyer, you've probably seen a few reviews of Away Luggage. This brand's range of luggage offers jet setters and adventure enthusiasts an array of stylish and functional baggage. Away Luggage's The Carry-On is the perfect travel companion for any adventure.
Figuring out what to pack for a weekend away is hard enough without worrying about luggage. This premium quality, cabin-friendly suitcase is ideal for short trips or light packers.
Here's everything you need to know about Away's The Carry-On.
Away Carry-On Review: At a Glance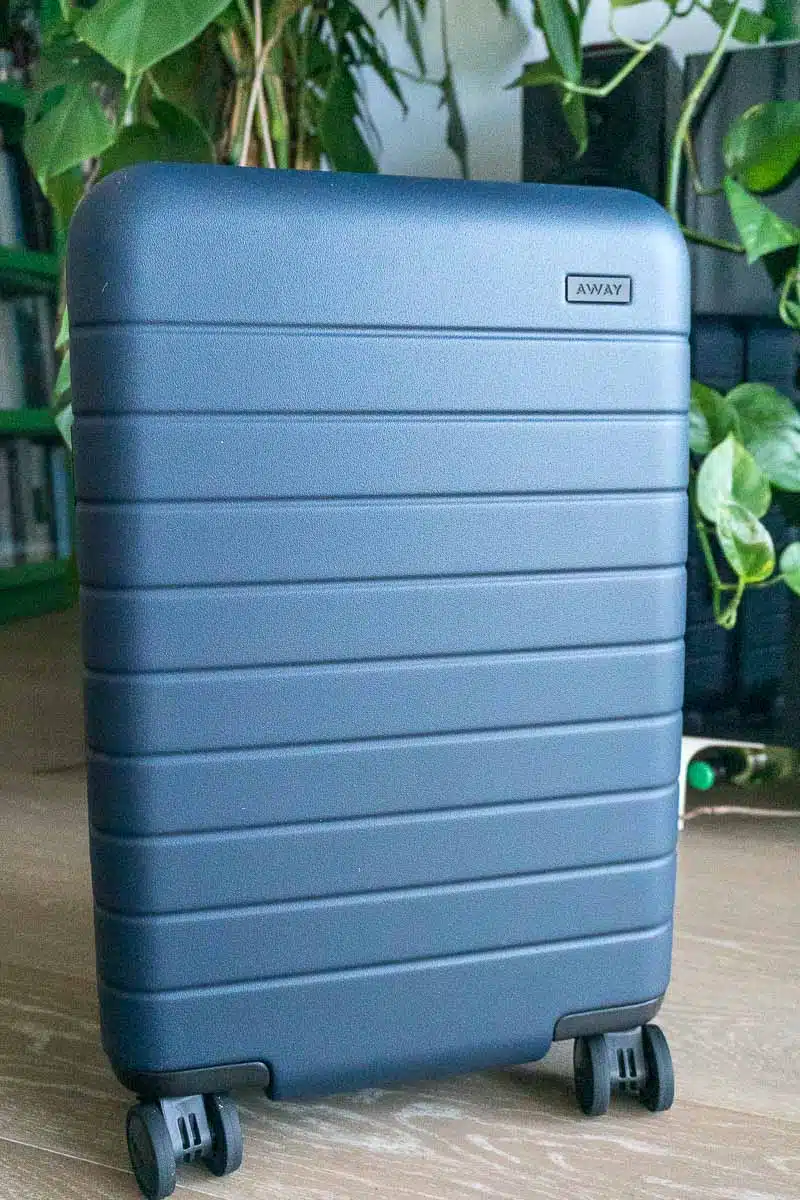 Away's The Carry-On bag has all the essential features that any frequent traveller may need.
Sure, it is a little on the pricey side, and you might wonder, 'is Away Luggage worth it?'. But, the thoughtful build of this wheeled suitcase, coupled with its stunning minimalist design and durable shell, puts this suitcase ahead of its league.
What I love most about The Carry-On is the smooth and sleek experience it delivers. You can say goodbye to wonky wheels that make navigating the airport feel like an off-road track. This case glides along effortlessly. The best part is that isn't the only noteworthy feature.
The Carry-On offers fantastic interior composition with a laptop pouch and an ultra-modern and durable exterior. You'll also find a built-in combination lock and an optional built-in ejectable USB charger. Pretty neat if you ask me.
Check Prices for Away's The Carry-On on the Away Store
Away Luggage Reviews: The Carry-On In Detail
Let's go into more detail about Away's The Carry-On. This customisable travel companion has a lot to offer. Of course, the almost futuristic facade is what first caught my eye. But, after getting to know my Carry-On, a few essential details are worth mentioning.
Variety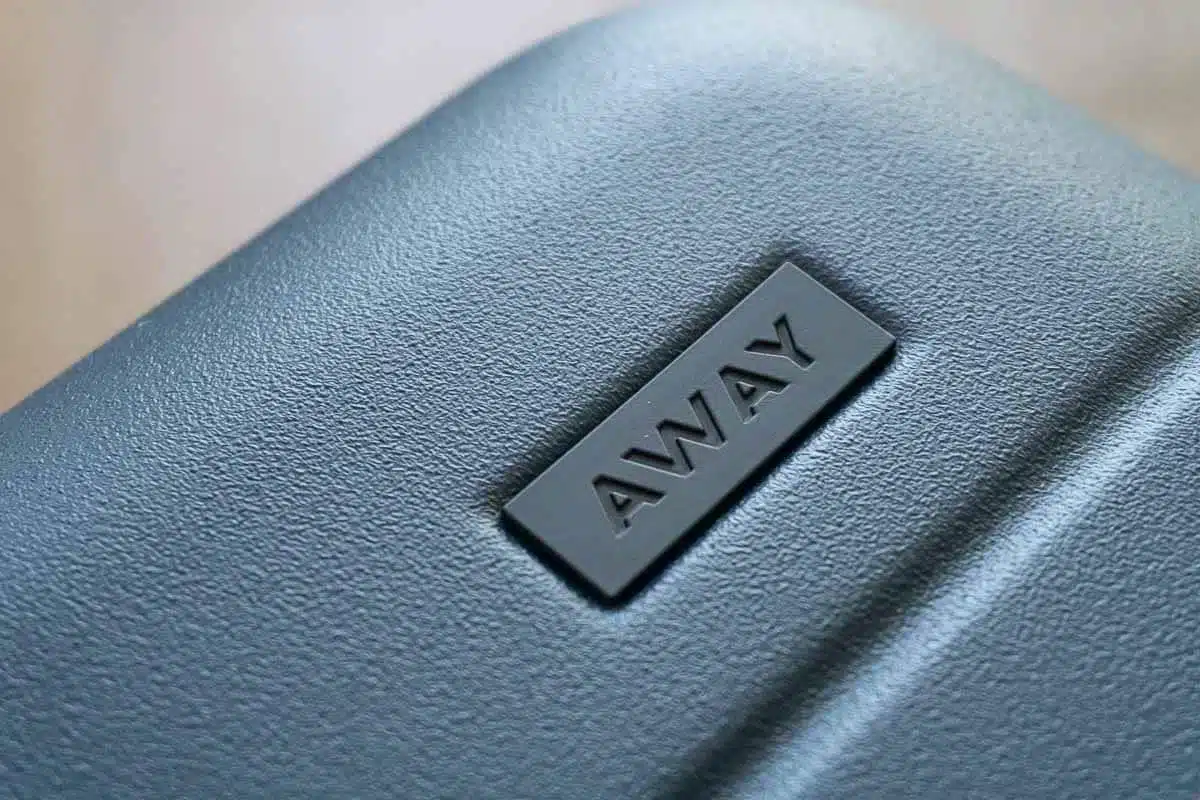 The variety of available styles makes The Carry-On a suitable piece of luggage for pretty much every type of traveller. The standard Carry-On bag is lightweight and the perfect size for a weekend away.
Staying true to its name, The Carry-On fits perfectly into an aeroplane's overhead compartment and is also great for commuting by car or train. The standard Carry-On offers 39.8 litres of capacity. To put that into 'travel language,' you can comfortably pack around five to seven outfits.
What's more, the Away Carry-On comes in a variety of colours. From professional black and timeless navy to a whimsical pink called 'petal'. I have the navy and love it, particularly when I pair it with my matching Away Everywhere Bag for the ultimate carry-on combo.
If the standard Carry-On isn't ticking all your boxes, this suitcase comes in different sizes and compositions. The Carry-On Aluminium Edition is the way to go for a case that'll tell the stories of your travels. If size is the issue, this versatile bag is available as The Bigger Carry-On, The Carry-On Flex, and The Bigger Carry-On Flex.
Looking for the best underseat luggage? Away also offers The Daily Carry-On with Pocket.
Durability & Warranty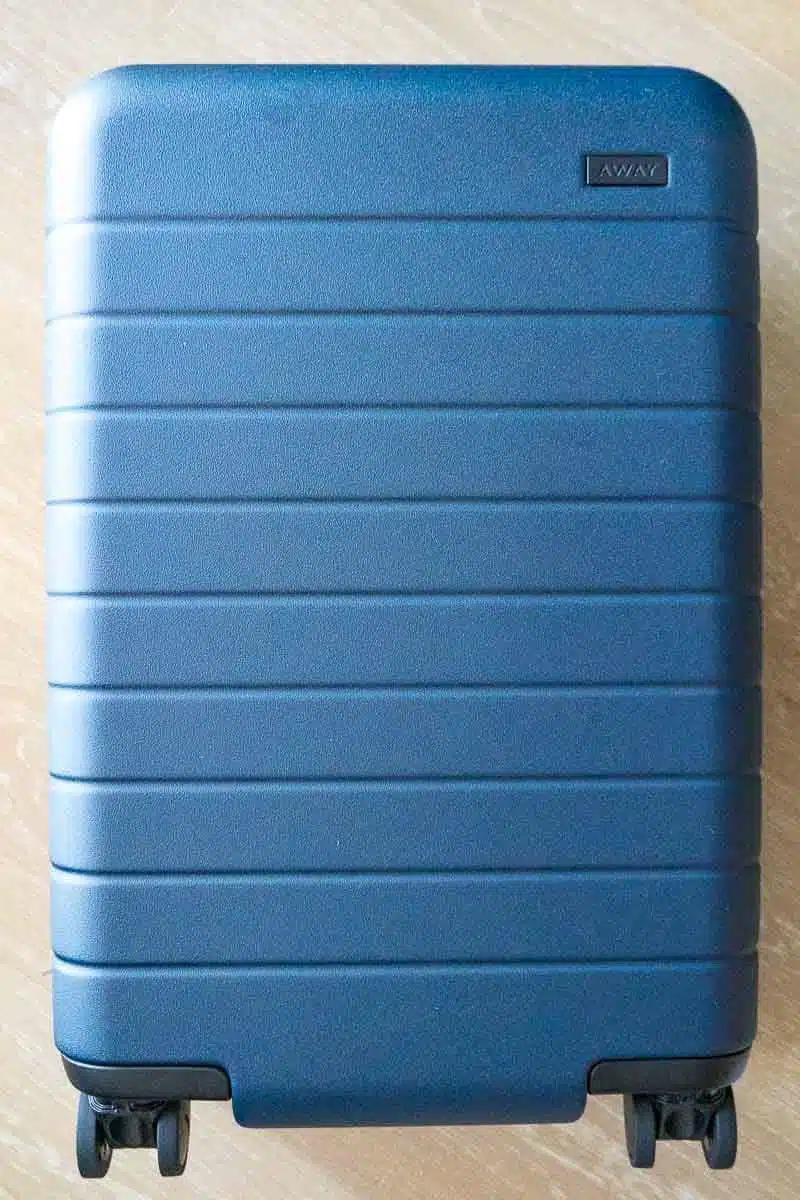 Durability may be the most crucial feature to discuss in this Away suitcase review. In the end, we all want things that are sure to last.
Although it's called a hard shell, the Carry-On's polycarbonate exterior is a flexible plastic that's more damage resistant than the aluminium version.
Polycarbonate hard shells are more flexible than other plastics used for luggage. They are also incredibly lightweight and have a high impact resistance. This means that your suitcase won't return dented and scratched after its first vacation.
You may think the Aluminium Edition is more durable than the polycarbonate shell, but it isn't. There are a few advantages of using aluminium, but it's one of the softest metals on earth.
While I can assure you that your suitcase won't crumble like a ball of tinfoil, Away created this suitcase to show dings and dents. If you're into that "well-travelled" vibe, the Aluminium Edition will tell a lifetime of stories.
Speaking of lifetimes, The Carry-On comes with a limited lifetime warranty. This means the warranty will cover any functional defects not caused by expected wear and tear. That includes any broken wheels, zippers, handles, or cracked shells. You can send a warranty inquiry anytime, and Away will repair or replace your bag.
Optimised Internal Space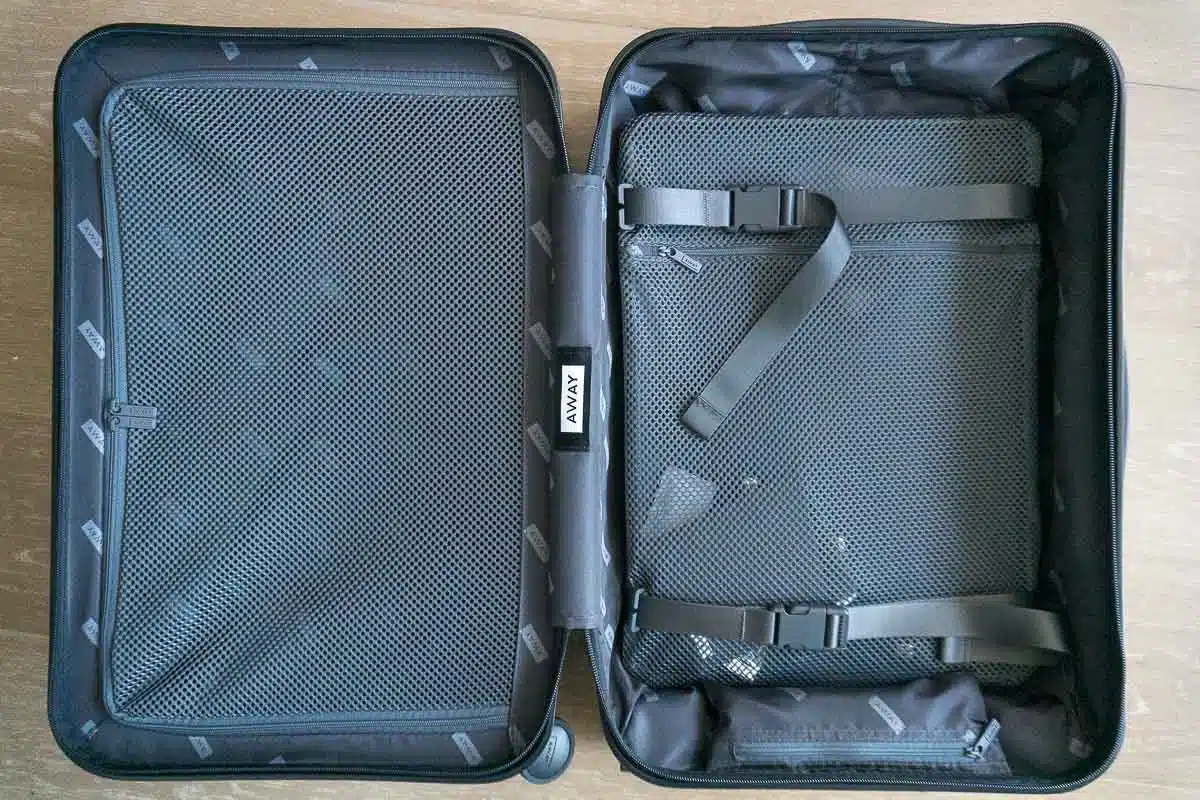 The Carry-On's optimised internal space will have you travelling the world like Mary Poppins. Away designed this small but mighty bag to accommodate more of whatever you're taking with you.
Although the Away Carry-On dimensions may seem compact, you'll find two internal compartments with plenty of room on the inside.
This bag's internal compression makes it easy to squeeze in a few extra outfits. The built-in laptop sleeve is essential for all modern travellers. In fact, all the interior detailing and organisation is really well thought-out.
The Carry-On comes in bigger versions, Flex and a Bigger Flex. The Carry-On Flex is the perfect mid-size cabin-friendly suitcase, and it comes with a little more versatility than the standard model.
The Carry-On Flex offers the same internal capacity of 39.8 litres until it's expanded. You can increase the internal capacity of the Flex to 46.7 litres by simply unzipping the extra space.
While you've got plenty of space in the Away case, if you want to make the most out of your space, I strongly recommend investing in some packing cubes.
They have, quite literally, changed my life – I reckon I can fit double in my cases now than I could before. Not to mention that it makes it so easy to group your clothing together (especially ideal if you're travelling to multiple climes). You can read my guide to all the best ones here.
Wheels & Accessories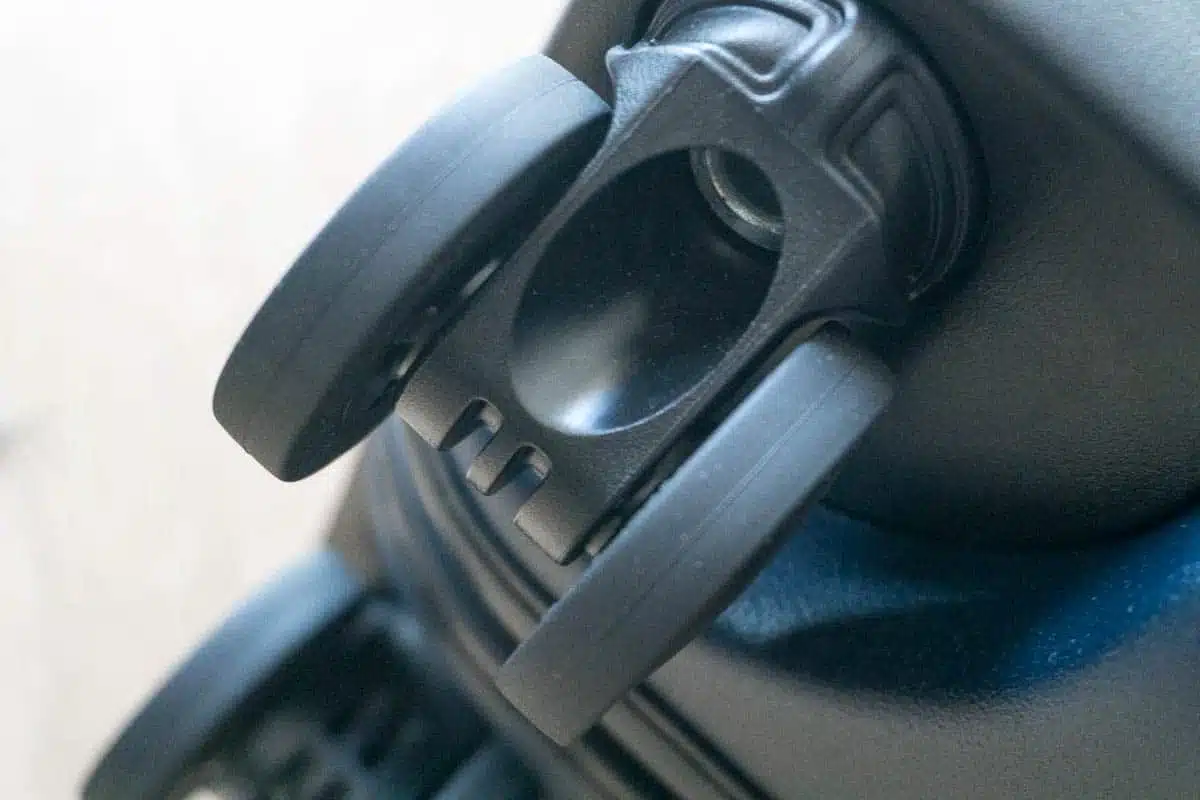 I couldn't help but mention the uber-smooth wheels earlier, but here's the nitty-gritty. The Carry-On has 360° spinner wheels that easily take on airport terrain. In earlier models, Away suitcases battled a little on carpet, but the company accepted suggestions from Away suitcases reviews and promptly fixed the issue.
Away uses Japanese-manufactured Hinomoto wheels. Hinomoto achieved the gold standard for their wheels, which is why so many top luggage brands feature Hinomoto.
Besides the fantastic wheels, Away's The Carry-On has a few extra features that add to the hype. Within its durable shell, you'll find a nifty laundry bag, which makes the dreaded journey back home a little easier to handle.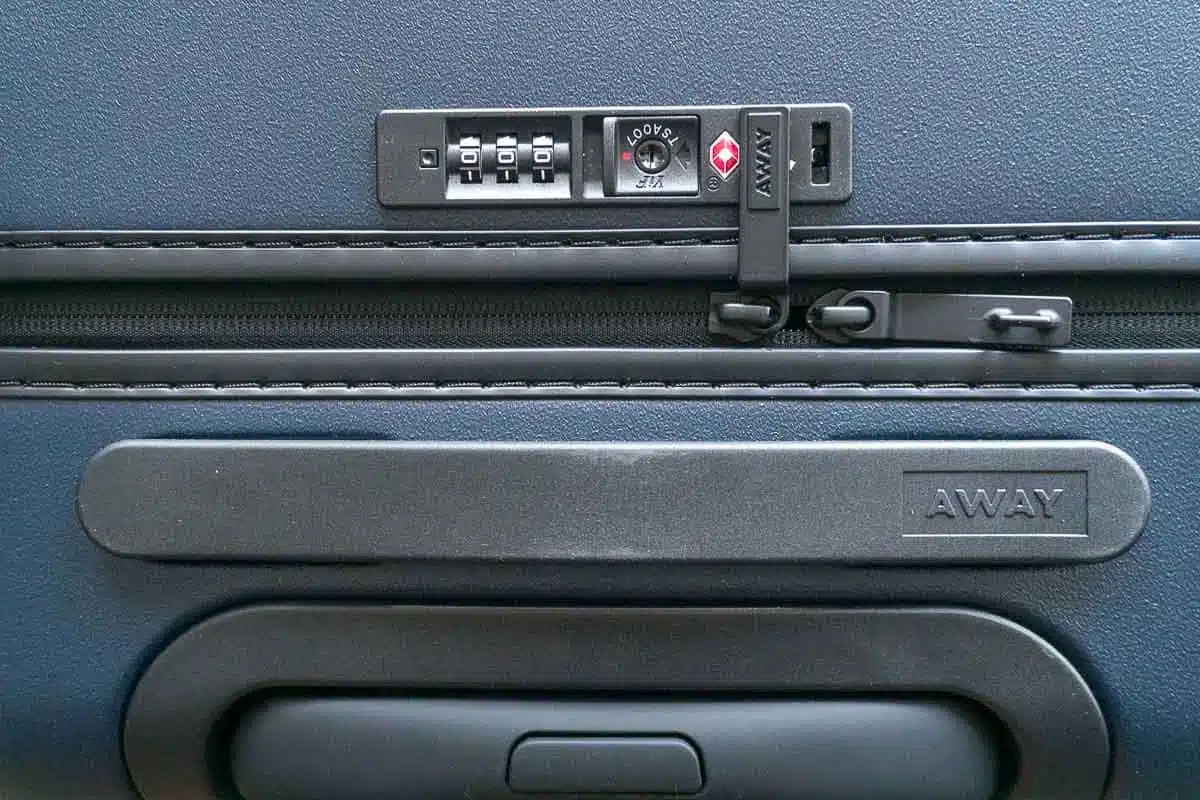 The Carry-On's built-in TSA-approved combination lock is another thoughtful addition. Gone are the days of chunky locks or losing keys. This lock safely clips in the bag's zippers until you release them with your combination.
In my opinion, the ejectable power source is a necessary add-on for frequent flyers, digital nomads or anyone travelling with devices. The power source with two USB ports slots neatly near The Carry-On's handle. I love that it's ejectable and fits effortlessly into any backpack when touring.
It's £20 extra, which might seem steep to start with, but when you consider the longevity of this case and how much a power source can really come in clutch, I think you'll agree it's well worth it.
Technical Details
Now, I know there's much to choose from in terms of Away luggage. But, to simplify Away The Carry-On reviews, I've put together a table to help you compare each model and decide on the best Away luggage for your travels.
Note: Each model has a TSA-approved combination lock, hidden laundry bag and a limited lifetime warranty.
Model
Dimensions
Weight
Capacity
Extra Feature
The Carry-On
H= 55.1cmW= 34.8 cmD= 22.9 cm
3.4 kg
39.8 litres
Ejectable power source
7 available colours
The Bigger Carry-On
H= 57.7 cmW= 37.3 cmD= 24.3 cm
3.4 kg
47.9 litres
Larger capacity
Ejectable power source
9 available colours
The Carry-On Flex
H= 55.1cmW= 34.8 cmD= 22.9 cm
3.7 kg
39.8 – 46.7 litres
Extendable capacity
6 available colours
The Bigger Flex
H= 56.7cmW= 37.3cmD= 24.4cm
3.9 kg
47.9 – 55.7 litres
Extendable Capacity
Removable lining
6 available colours
Aluminium Edition
H= 54.5 cmW= 34.5 cmD= 22.8 cm
4.8 kg
35 litres
Aluminium shell
Ejectable power source
3 available colours
Pocket Edition
H= 55.1 cmW= 34.8 cmD= 22.9 cm
3.5 kg
38 litres
Accessible front pocket
2 available colours
Daily Carry-On
H= 42 cmW= 44 cmD= 22.8 cm
3.7 kg
36.9 litres
Accessible front pocket
Fits under seat
1 available colour
Practical Tips for Using the Away Luggage Carry-On
If you make several short domestic trips each year, the standard Carry-On will suit you best. But, for longer trips, consider getting the Carry-On Flex instead.
The polycarbonate shell is super easy to take care of. Just wipe it down with warm water and a cloth when you get home.
If you opt to include the ejectable power source, eject it from the bag and charge it up overnight to ensure it's fully charged.
If you're always travelling with your laptop in tow, consider the Carry-On with Pocket model. The front pocket is convenient for accessing your laptop or other devices.
So Should You Buy The Away Carry On?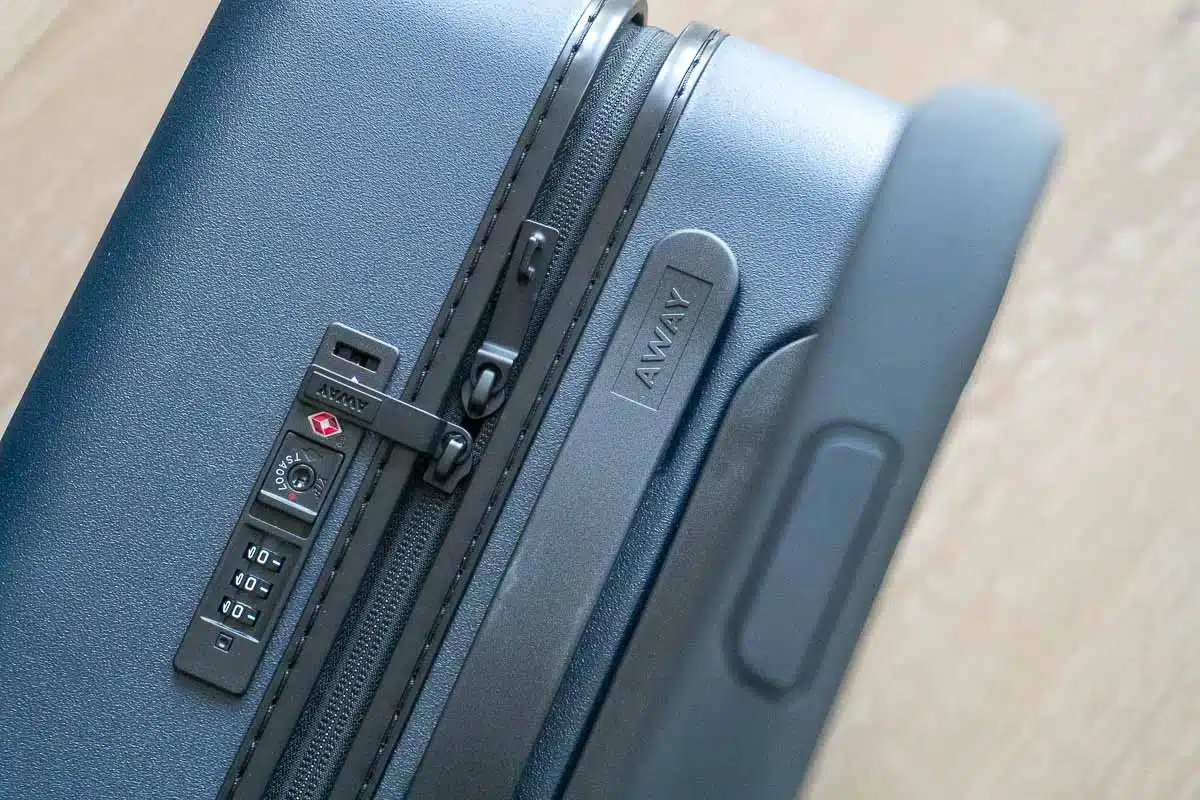 I can't tell you what to do, but I can tell you that I absolutely love my Away The Carry-On bag. The sleek, minimalist and thoughtful design is a huge advantage and makes it versatile for any type of travel. Versatility is always important to consider when buying luggage.
Yes, it is a little pricey. But, for the premium quality materials, stunning appearance, durability and limited lifetime warranty, it may be well worth the extra cash. The Carry-On has everything necessary to be your favourite travel companion.
Away Luggage Review: Read Next
Love This? Save and Share on Pinterest