Let's face it, packing for a trip can be overwhelming – but there are a few gadgets and smart hacks that can level up your trip pretty effortlessly. Forget about the struggle, these are the perfect travel accessories for women to make travelling just that little bit easier.
As a full-time travel writer, I know all too well the struggle of which travel accessories to pack for a trip. It can be a nightmare – especially if you're heading out with limited baggage.
But fear not. I've got you covered on the best travel accessories for women. I've covered everything from practical travel items like packing cubes, travel pillows and power banks to chic pieces like stylish backpacks and sandals.
Read on to discover my top picks and practical advice on what to consider when choosing your essential travel gear.
Best Women's Travel Accessories
Portable Power Bank
I'll be real – if you're travelling without a power bank, you're a braver person than I. A power bank is among the best travel products as it's perfect for long flights, road trips or any time you're on the go and need to keep your devices up and running.
If you're tired of running out of battery life on your phone or tablet while travelling, look no further than the 20,100mAh Anker PowerCore Power Bank. With its massive capacity, you can easily recharge any of the latest devices more than five times.
It's small and lightweight, making it easy to pack and carry around. It also features two USB ports so you can charge two devices simultaneously. The best bit? Its fast-charging technology ensures you charge your devices quickly.
Don't let a dead battery ruin your Insta snaps. Stay charged up.
Headphone Aeroplane Adapter
A headphone adapter for aeroplanes is a recent addition to my travel essentials, but one I highly recommend if you love enjoying the in-flight entertainment system.
These compact adapters let you connect your Bluetooth headphones (more on those later) to the airplane's audio jack to enjoy in-flight entertainment wirelessly. It's pretty genius.
They're versatile, too, as the vast majority of them can connect to any device with a 3.5mm audio jack, including gym equipment, gaming consoles and more. Plus, you can take it anywhere with its teeny size.
There are plenty of brands to choose from, but I love the Twelve South Airfly Duo Headphone Airplane Adapter. No longer will you ever risk being stuck on a long-haul flight without your trusty headphones because they're incompatible with your flight's entertainment system.
With an almost full-day battery life, you can use the Airfly Duo for multiple flights without worrying about recharging. Say hello to hassle-free in-flight entertainment.
RFID Travel Wallet
I know all too well that carrying multiple wallets and purses when travelling can be a hassle.
Instead, using a slightly larger travel wallet is ideal – and my current go-to. You can easily store your cash, credit cards and boarding pass with multiple compartments and card slots.
I highly recommend opting for something with RFID-blocking technology (radio-frequency identification). This blocks the electromagnetic signal from your card, protects your information and gives you peace of mind while travelling.
Moflycom's RFID Leather Wallet is ideal – this purse is the perfect solution for keeping all your essentials in one place.
Made from high-quality genuine leather, this wallet is stylish, durable and one of the most useful travel accessories. Plus, it comes in fifteen pretty colours (I'm eyeing up that vintage blue option), so you can upgrade your travel accessory game to match any style while jetting around the world.
Sanitary Cup
Real talk – a sanitary cup is a game-changer for those on the go. With this eco-friendly item, you won't have to worry about running out of tampons or pads while travelling.
These cups are also often a lot easier to deal with than tampons or pads – they're super discreet, which makes them one of the best aeroplane travel accessories.
Made from medical-grade silicone, the DivaCup is the original and the best. Its BPA-free (Bisphenol A-free) construction ensures it's safe for your body. With its leak-proof design, you can wear it for up to 12 hours and enjoy your travels without worrying about frequent changes.
The DivaCup is also perfect for light packing, as it takes up minimal space in your luggage. It's easy to clean and reuse, making it a cost-effective and sustainable option.
Noise Cancelling Headphones
A good pair of noice-cancelling headphones are, quite frankly, lifechanging if you're a frequent flyer.
Invest in a pair to ensure you enjoy the ultimate listening experience, whether listening to music or audiobooks on your flight. Or, you know, to block out the screams of that baby you'll definitely be sat next to for 8 hours.
For this, as well as incredible sound quality, the Apple Airpods Max headphones are my top pick. Better yet, the 20 hours of battery life is a standout feature that allows uninterrupted listening during long flights.
The Airpods Max are also designed for comfort. The breathable knit mesh canopy and memory foam ear cushions distribute ear pressure evenly, reducing strain during long trips (don't underestimate this feature if you wear earrings!)
I know the look of them is a love-it-or-hate-it kind of thing, but I happen to think they look pretty darn cool, too.
Sleep Eye Mask
Arguably one of the most necessary luxury travel accessories, an eye mask is SO useful for long flights.
Now, you can opt for a standard pair – your airline might also give you one – but I love the ones that are shaped to the contours of your face. And with the MZOO Luxury Sleep Eye Mask, you'll enjoy blissful rest while getting shut-eye during your travels.
The MZOO mask has contoured edges, even for back and side sleepers, creating a comfortable fit. Its unique concave shape ensures that it won't pressure your eyes, allowing you to sleep without interruptions.
The MZOO features soft, breathable materials that are gentle on your skin, and the adjustable strap ensures a snug, secure fit. Its lightweight design makes it easy to pack and take with you on your travels. Say hello to peaceful sleep with these sleek eye masks.
Passport Holder
A passport holder is ideal for both form and function – I cannot tell you how many times I have rooted around in my bag to find my passport bent into ungodly angles. Then the panicked unfolding resumes.
Not anymore. I love this WALNEW RFID Passport Holder Cover. This passport case protects your passport from wear and tear, while RFID technology prevents bad characters from having unauthorised access to your personal information.
It's also made from high-quality PU (polyurethane) leather. It comes in various stylish colours like rose gold and A-Hot Pink so you can express yourself with this passport case while on the go.
Hanging Toiletry Bag
I've been there – no matter how well you back your toiletries, by the time mid-trip rolls around I guarantee your suitcase (and the vanity table) will be looking hella messy.
That's where a hanging toiletry bag comes in – it's a surefire way to keep all your toiletries organised and accessible while travelling.
I rate the this Narwey bag. Thanks to its multiple compartments and pockets, this bag has space for everything from your toothbrush to your shampoo. The hanging design allows you to easily access your items without taking up valuable counter space, and the soft exterior material gives it an expensive feel.
That said, it can feel less sturdy when it's hung with the pockets open, so I recommend keeping them closed.
Hard Shell Suitcase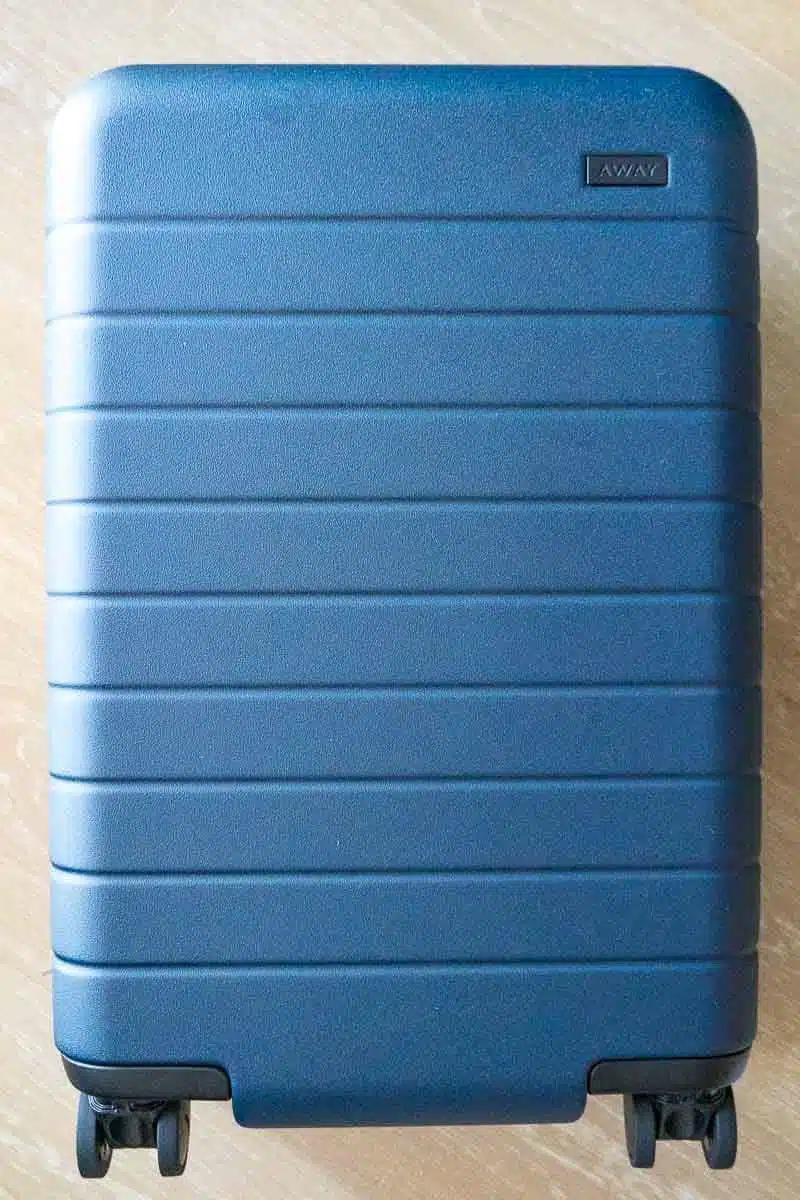 This next travel accessory is a no brainer: a hard shell suitcase. Not only do these look cool, but the sturdy outer shell will keep your clothes and personal items protected when they're thrust around on the baggage carousel.
I have seen far too many ripped soft shell cases to ever go back. And, whatever you do, make sure you get one with 360 wheels – it's a game changer.
My pick? The Away The Medium/The Large hard shell suitcases are spacious, durable and stylish travel bags.
AwayTravel designed The Medium hard shell suitcase to fit perfectly in overhead compartments while providing ample storage space for all your belongings.
The interior features a compression system to keep your clothes organised and in place, while the exterior has a durable polycarbonate shell to protect your belongings during travel. With four 360-degree spinner wheels, this bad boy can easily manoeuvre through busy airports and city streets.
Can't help but throw everything but the kitchen sink into your suitcase? Perhaps opt for The Large instead.
Packing Cubes
I don't want to be dramatic (Ok, I do), but packing cubes are a game changer.
Seriously, you won't have to rummage through your luggage to find that one item you need. They come in various sizes to fit all your essentials, making finding and organising your belongings easier.
I highly rate the Ebags Packing Cubes – the mesh top panel allows for ventilation and easy identification of contents, and the durable fabric ensures they will last for many trips to come.
Whether you're a frequent traveller or an occasional vacationer, packing cubes do a great job of helping you save time and space while keeping your luggage neat during your travels.
Read Next: Best Packing Cubes
TSA-Approved Toiletry Bag and Reusable Bottles
We all know that TSA can be a nightmare. And that's only made worse if you accidentally pack your liquids in the wrong containers (we've all been there, don't worry).
If you're looking for clear, reusable bottles for storing lotion and moisturiser that aren't bulky and clunky, look no further than the Wobe Travel Bottles and TSA-Approved Toiletry Bag.
This kit comes with four leak-proof silicone bottles perfect for carrying your favourite shampoos, conditioners, lotions, and other liquids. Plus, they're TSA-approved, making it easy to breeze through airport security checkpoints.
They are so easy to fill and clean, and their compact size make them perfect for all your travel needs.
Portable Humidifier/Diffuser
Packing a mini humidifier/diffuser is one comfort I rely on – because who says you don't deserve luxury when you travel? Conveniently portable, these devices combine the benefits of aromatherapy and humidification to create a soothing and refreshing atmosphere wherever I go.
Not only that, but I find that they help me to relax and improve the air quality in hotel rooms.
While this is a car humidifier/diffuser by AoMck, its USB cable and black design make it comfortable and convenient to take anywhere. Its compact size and USB 3.0-powered design make it easy to pack and use, while its quiet operation ensures a peaceful night's sleep no matter where in the world you are.
You'll have added convenience and safety with an automatic shut-off function and multiple timer settings. It doesn't have an adapter, so you may need to buy one separately (but check your stash at home first).
Underseat Luggage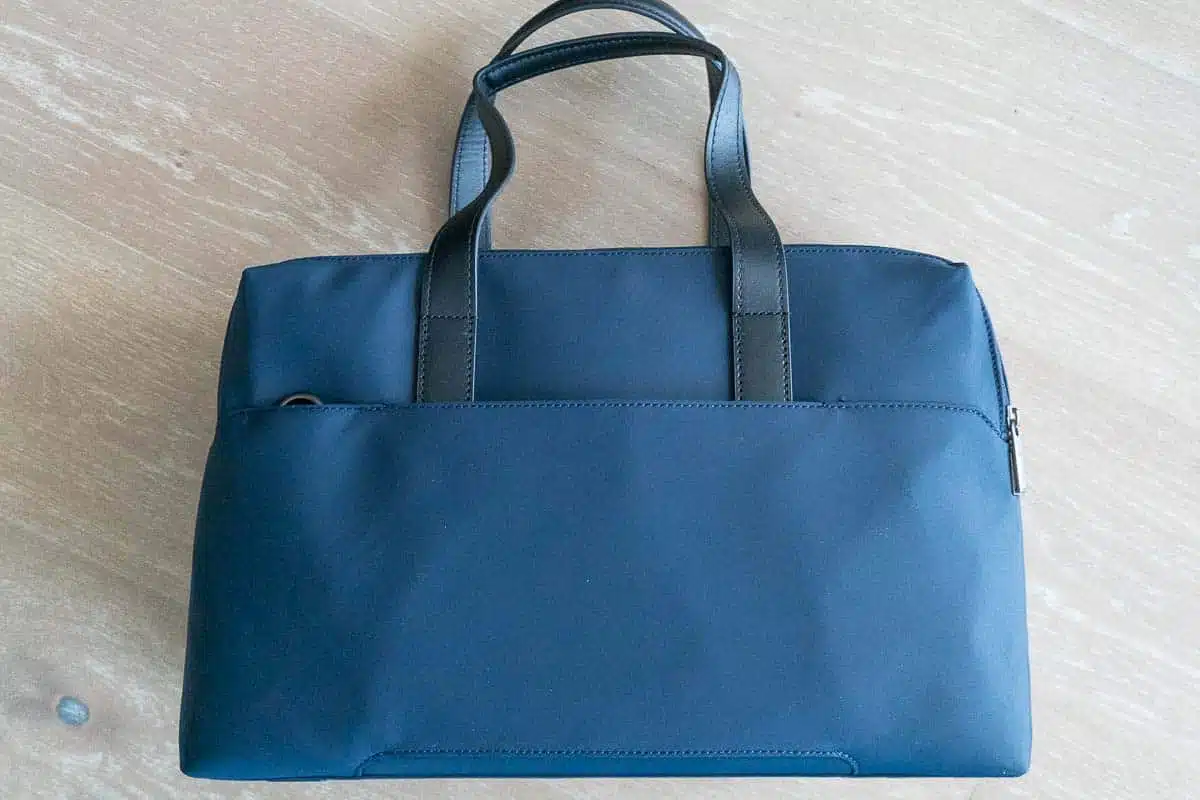 Whether you're on a long or short haul flight – or on a train, for that matter – compact yet spacious underseat luggage is neccessary for keeping all your goodies closeby.
Looking for the ultimate travel companion? The Everywhere Bag is a versatile and durable underseat luggage option from AwayTravel.
Made from quality materials, this bag can withstand the rigours of travel while providing ample storage space for all your essentials. Its slick design makes it an ideal choice for shorter trips or as a carry-on complement to your larger luggage.
Plus, its multiple carrying options (thanks to the detachable shoulder strap) are comfortable for toting around the airport or wherever your travels take you.
Read Next: The Best Underseat Luggage
Reusable Water Bottle
Whether you're an avid hiker or not, keeping a water bottle on you at all times is never a bad call.
A decent one might be on the pricier side, but you would be surprised quite how much you rack up spending on plastic bottles of water. These vacuum-insulated stainless steel bottles come in various colours and sizes to fit your style and needs.
The Hydro Flask Wide Mouth Bottle with Flex Cap has got you covered – it's the most famous option for a reason. You can easily add ice or clean it out with its wide mouth opening. The flex cap also provides a secure, leak-proof seal, perfect for tossing in your bag or carrying around.
Plus, its durable construction means it can handle any adventure you take.
Comfortable Trainers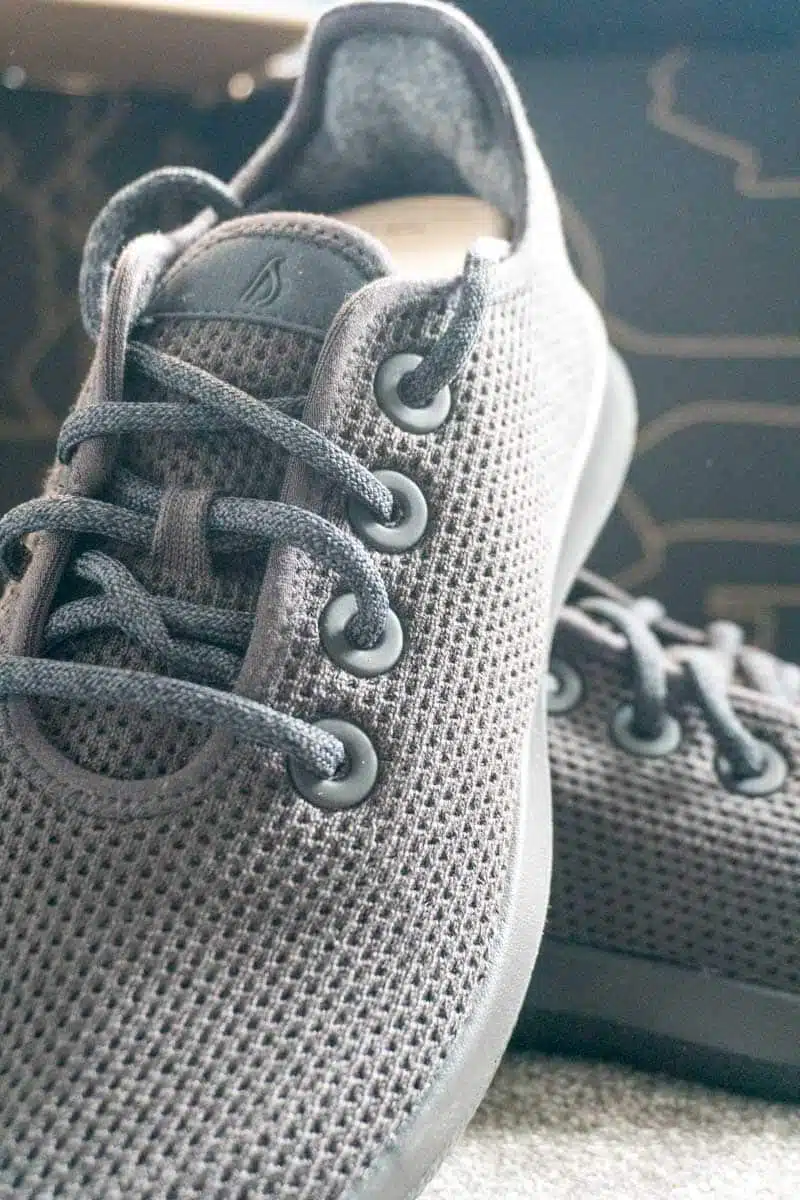 Whether you're hitting up the city's top sights, embarking on a hike or simply taking a stroll, a comfy pair of trainers will never do you wrong. Believe me – I've tried travelling in a number of different shoe styles and, unless I'm in trainers, I always end up regretting it.
I won't travel without the Allbirds Tree Runners. These comfortable shoes fit snugly around your feet and feature sustainable materials like eucalyptus tree fibre and recycled plastic.
Not only are they environmentally friendly, but they are also incredibly comfortable. With a lightweight design and breathable fabric, the Tree Runners are perfect for long days of walking and exploring. Plus, they come in a variety of colours to match any outfit.
That said, the Tree Runners may not be the best option for more formal occasions or rugged terrain when hiking. Check out this hiking packing list for more suitable options (and other hiking accessories).
Read Next: Are The Allbirds Tree Runners Worth the Hype?
Sandals
Like I said, there are times when a pair of trainers won't cut it. If you're heading off on a beach vacay, you'll definitely want to pack a pair of sandals in your suitcase.
There's a reason many love and wear the cult-classic Birkenstock Arizona Sandals.
With their adjustable straps and contoured footbeds, these walking sandals offer personalised comfort and support for all-day wear. Made from high-quality materials, they're also durable and easy to clean, making them a practical choice for any traveller.
While they're a fan favourite, their open-toe design are not suitable for hiking activities and more rugged terrain, so consider your specific needs when deciding if these sandals are the right choice for you.
Travel Backpack
A versatile travel backpack for women is vital – from carrying the essentials around the city to packing in your water bottle, snacks and waterproof jacket on a hike. Not to mention you're going to need somewhere to store your wallet and headphones.
The Osprey Farpoint Fairview daypack is my go-to. With its comfortable and adjustable shoulder straps, lightweight design and multiple pockets for organisation, it's perfect for various travel styles, from backpacking to city exploring.
Its padded top and side handles make it incredibly comfortable, and it doesn't dig into your shoulders.
Read Next: Osprey Farpoint 40 Review
Bluetooth Tracker Tag
A Bluetooth tracker tag might seem like a little bit of an indulgent purchase (and, to be honest, it is) but once you've got them, you won't regret it.
They are the best travelling accessories if you're tired of constantly misplacing your belongings. Or, you don't fancy stressing about your luggage throughout your journey.
Apple AirTags are the best. These small, sleek tags attach easily to your luggage, passport and other important items, allowing you to track their location via the Find My app on your Apple device. The tags also have a built-in speaker that plays a sound when prompted via the app, making it easy to locate your lost items.
While they may not be the cheapest option on the market, their convenience and Apple ecosystem integration make them a worthy investment if you're a frequent traveller.
Best Travel Accessories Guide – Practical Tips
Make a list of your travelling accessories and check what you have at home before your trip. These items are all non-negotiable (in my not-so-humble opinion) – for example, it might seem like an unnecessary addition, but reusable water bottles are essential travel accessories that help you reduce waste and save money.
I cannot stress this enough: charge your power banks well ahead of time to have ample battery life. Don't forget because you will kick yourself for it.
Ensure your travel luggage is lightweight, durable and easy to manoeuvre. You'll be glad of it after a long-haul flight, trust me.
Womens' Travel Accessories: Read More Travel Gear Guides
Love This? Save and Share on Pinterest