Hanoi's Old Quarter is a charming maze of crooked streets, rammed with bustling markets and unmissable sights – not to mention some of the coolest bars in Hanoi. Here's what you need to know before you go.
So… Hanoi's Old Quarter. What can I say but welcome to the fray people.
If you are looking for Hanoi's most vibrant, eclectic and sometimes out-and-out bizarre area, you need to make your way to the Old Quarter.
Not only is it packed with some of Hanoi's best sights, but it's also home to irresistible restaurants, cooler-than-cool bars and (dare I say it), the best pho in Hanoi.
I'll be honest, the Old Quarter is hands down my favourite area in Hanoi. Stepping into the crazily-packed streets, heaving with scooters skirting around slightly soiled pavements always feels like an adventure.
One in which even the best-laid plans can go awry, but which never fails to leave me a little dizzy and exhilarated.
Time to explore.
Top Tips for Exploring Hanoi's Ancient Quarter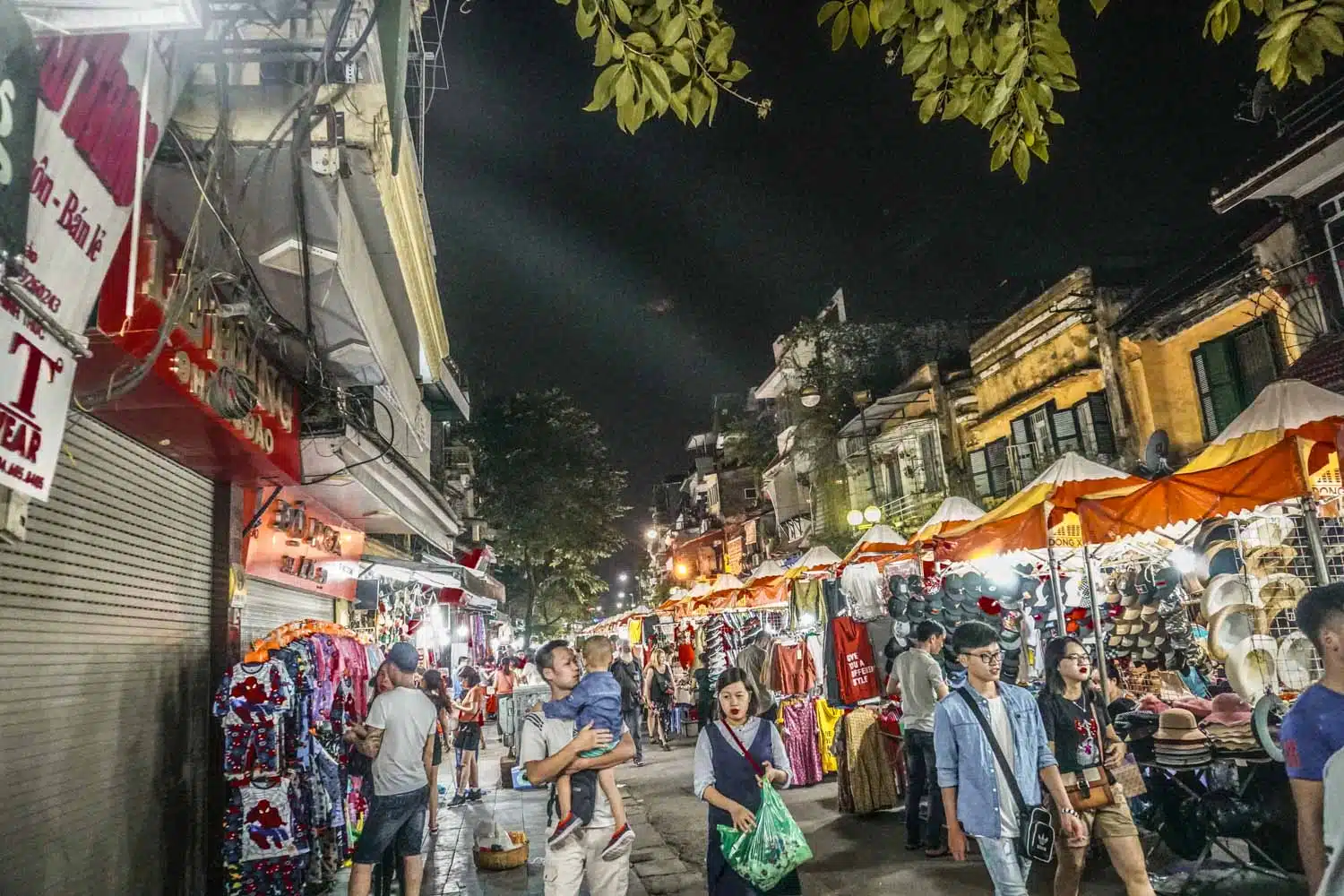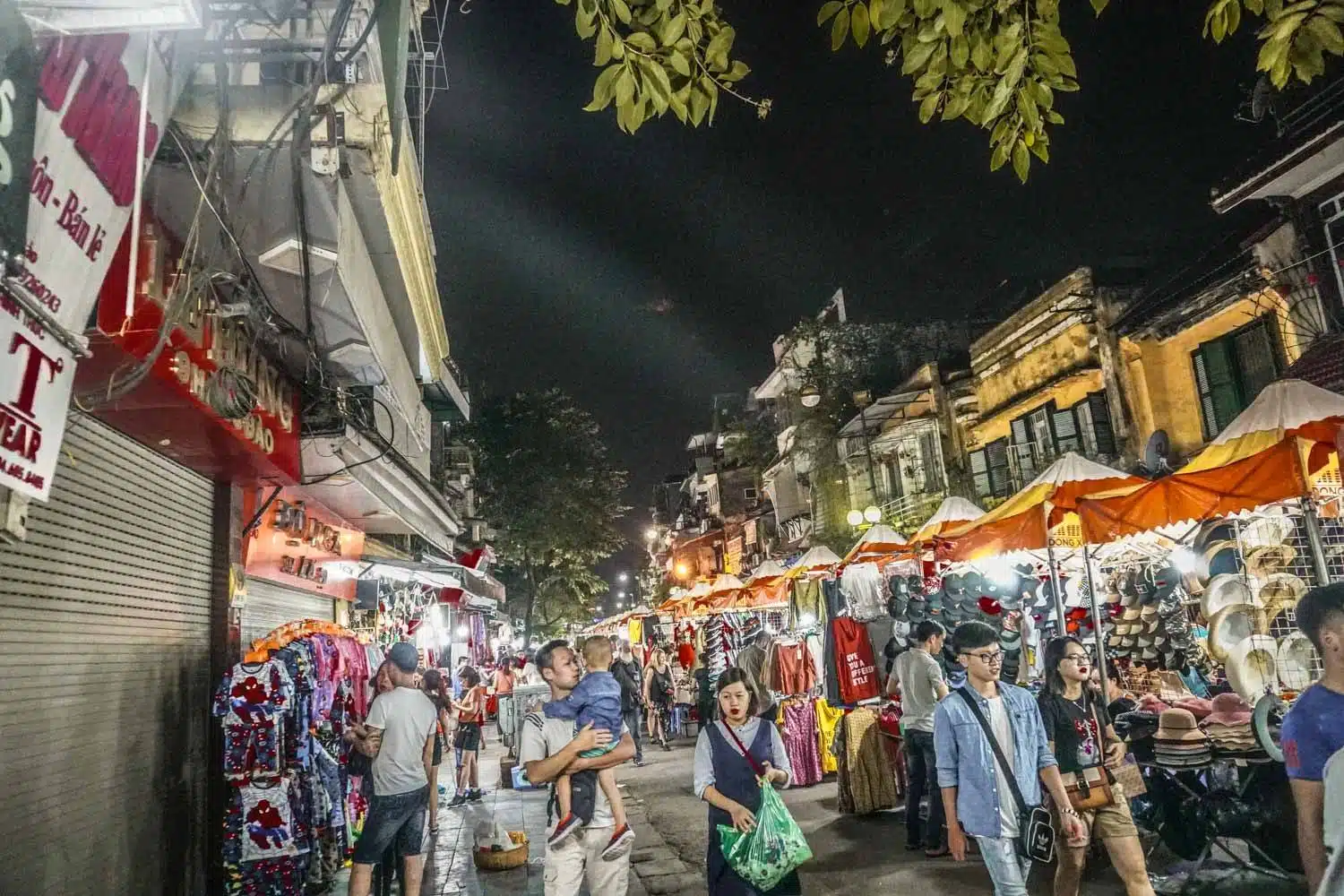 Visit the Walking Street
If your visit coincides with the weekend, don't miss the cool street performances on "Walking Street" next to Hoan Kiem Lake.
You should also swing by the night market – there's probably not much you want to buy (unless you're after an obviously fake designer handbag) but the atmosphere is electric and the food is so very, very good.
Get Lost
It's almost impossible not to get lost in the maze of streets – don't worry though, getting lost is half of the fun, and one of my favourite things to do in Hanoi. You'll get out eventually.
Get a Local Guide
Fun as it is wandering around the streets of the Old Quarter, I'd recommend spending some time with a local guide who can tell you more about the area – this tour gives you a great intro to the area.
Haggle, Haggle, Haggle
There are plenty of shops selling pretty much every kind of ware imaginable. Get your big girl pants on and haggle like a boss – it's expected. But don't go overboard – if you can't get the price you want, it's way better to walk away than get annoyed.
If you're nervous, don't be – as a general rule, you should start at half the advertised price and work your way up slowly to a price you both agree on.
Don't Gawp
Space is a premium in the Old Quarter so it's not unusual to see wedding receptions or funeral wakes being held in marquees on the street outside of a family home. It's a cool little peek into some of the traditions of the city's residents – but there's no need to gawp.
Street Food = King
Eat all the street food. Really. Even if you don't know what it is, and it looks like nothing you've ever tasted before it's almost guaranteed to be delicious.
Read more: Discovering the Best Street Food in Hanoi
First Up, Where is the Old Quarter in Hanoi?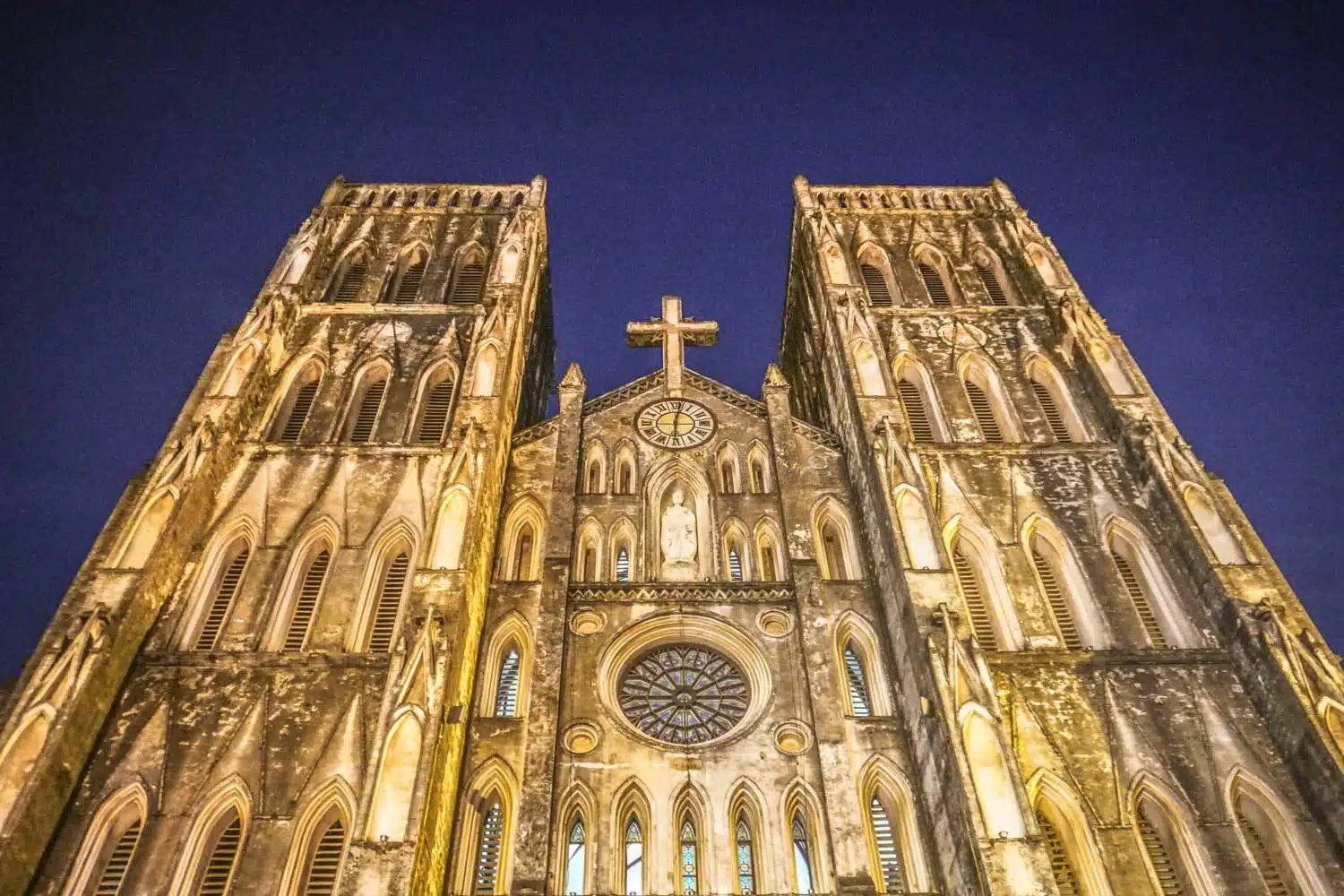 The exact parameters of Hanoi's Old Quarter are hotly disputed, but generally it's accepted that the Old Quarter extends from the north section of Hoan Kiem Lake and the Hoan Kiem district – sandwiched between Hang Ga to the west and Tran Nhat Duat to the east.
Still unsure of where I mean? Pick up a map of Hanoi, find the area with the bunch of streets clustered closer together than you thought possible, often so small that the names are barely decipherable on the grid and, chances are, you've spotted the right place.
The Best Things to do in the Hanoi Old Quarter
Explore Ngoc Son Temple – The Temple of the Jade Mountain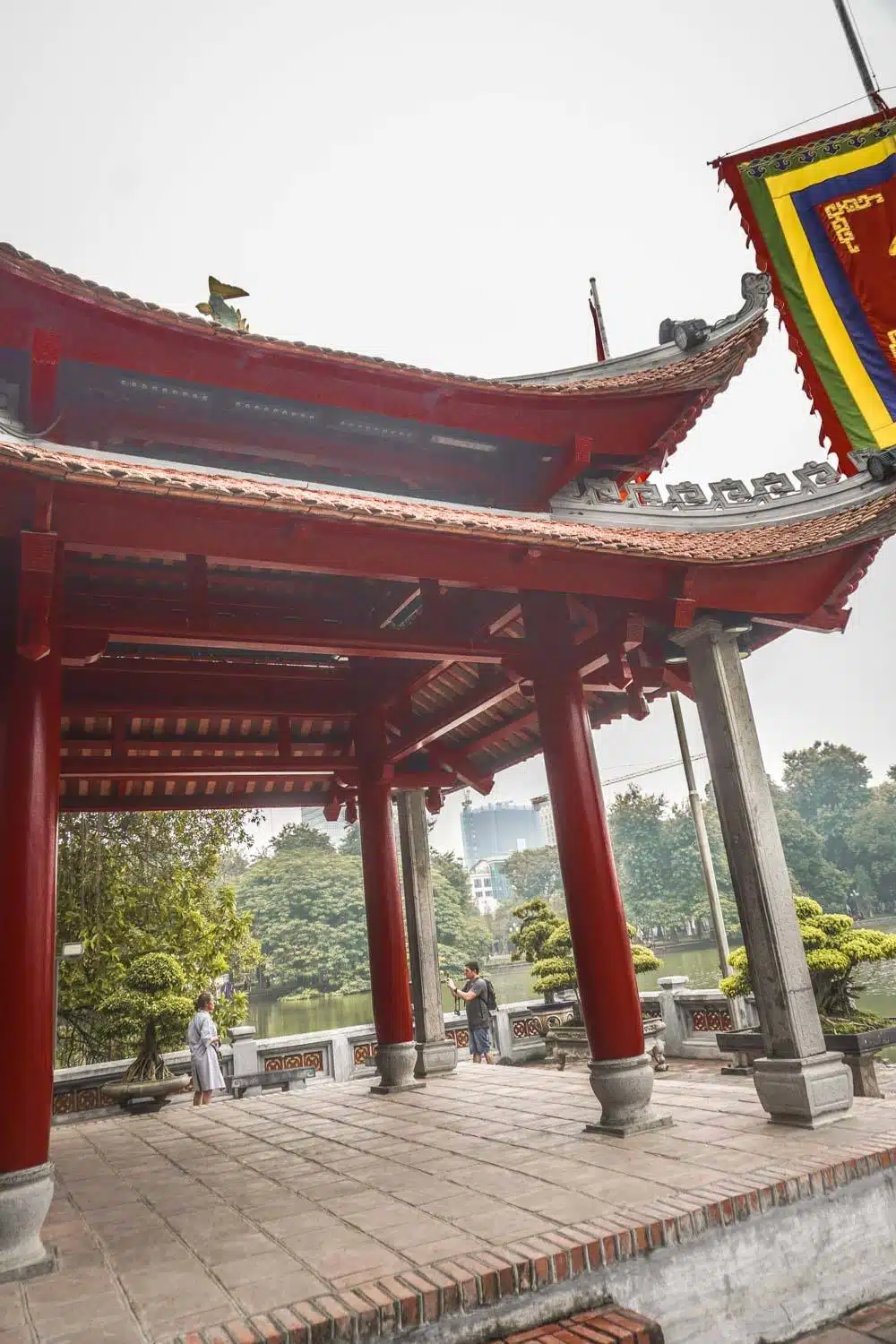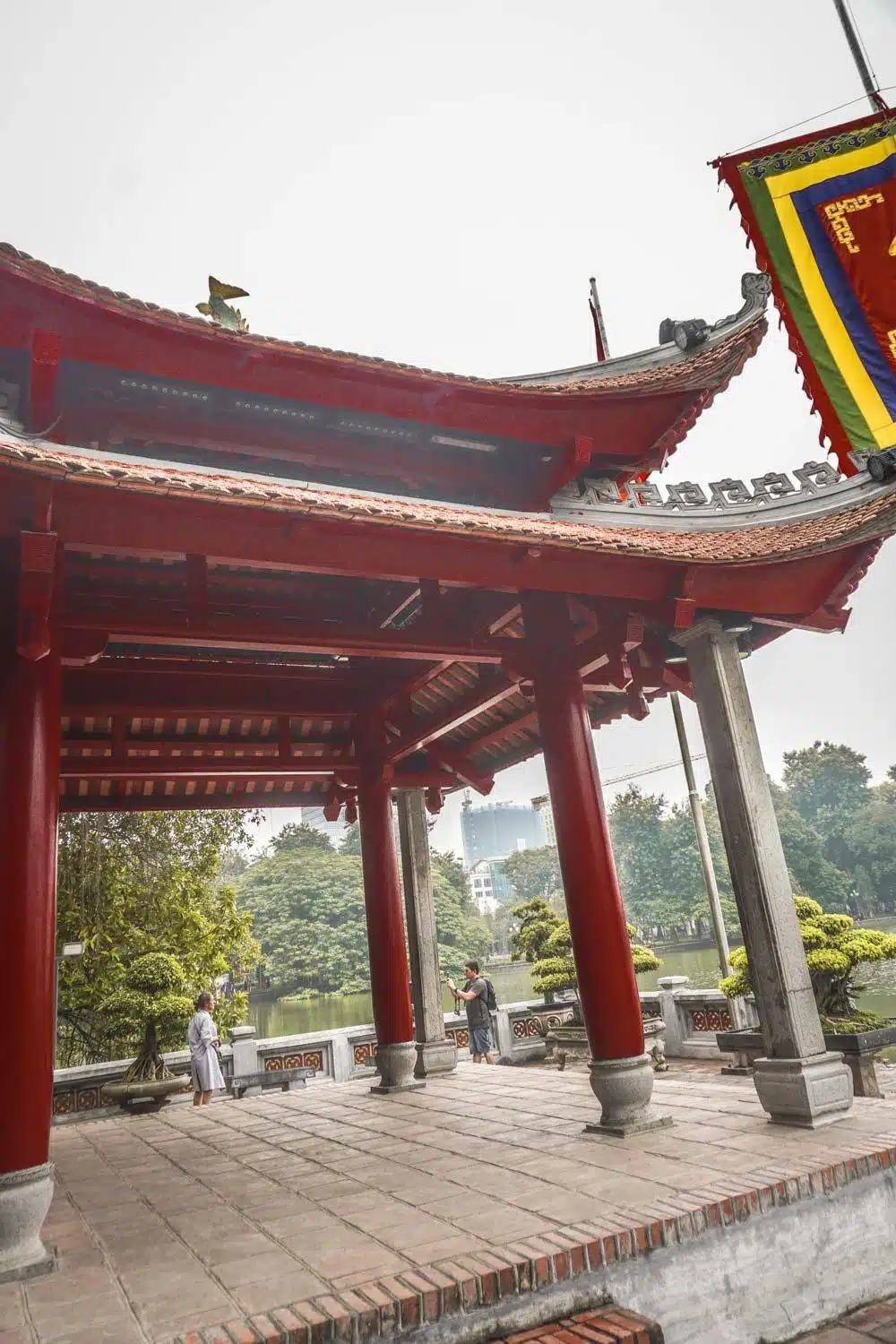 A small temple sitting in a picture-perfect location on an island in Hoan Kiem Lake, Ngoc Son Temple is one of the prettiest spots in Hanoi old city and the perfect spot to soak up the atmosphere in peace and quiet.
Relax by Hoan Kiem Lake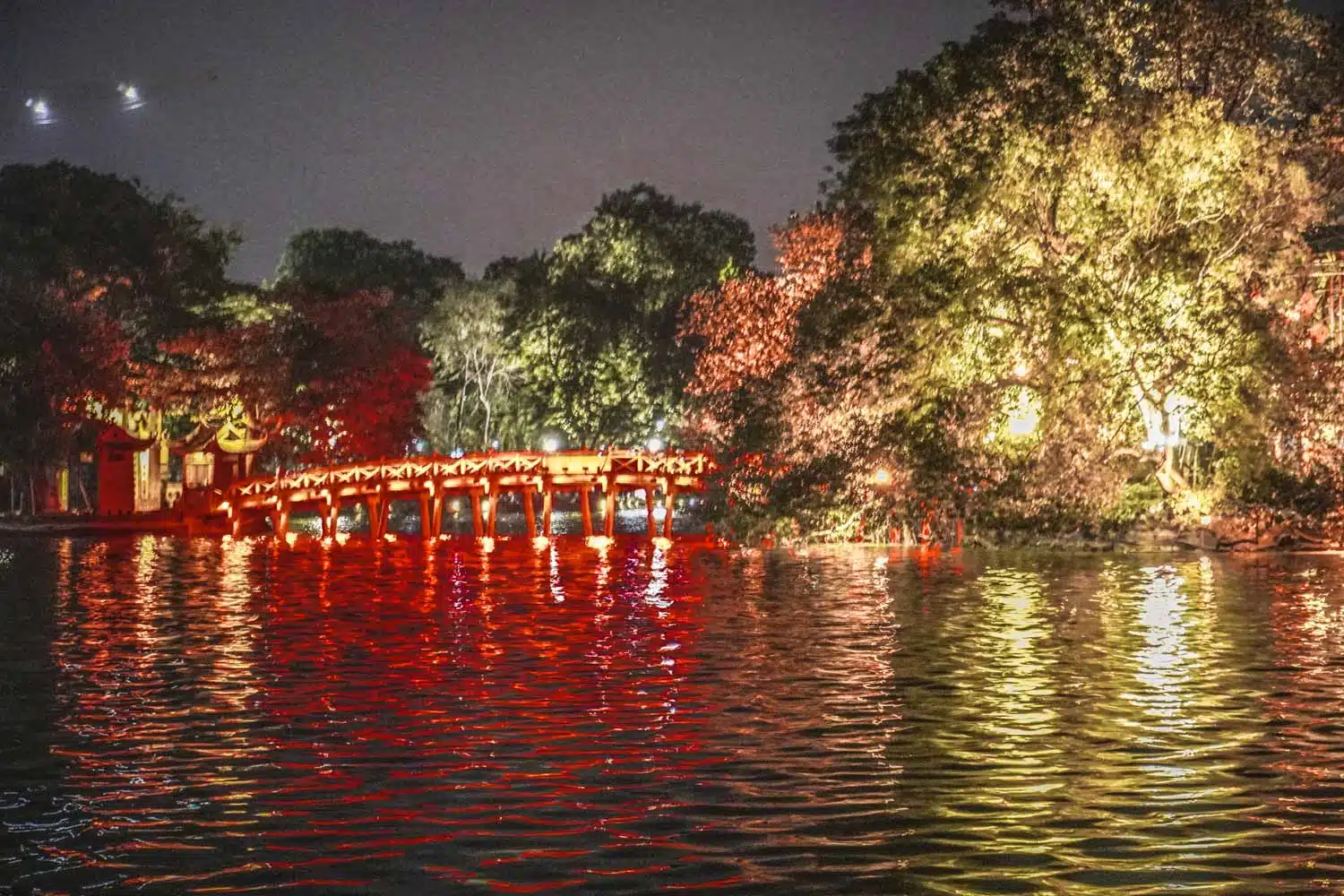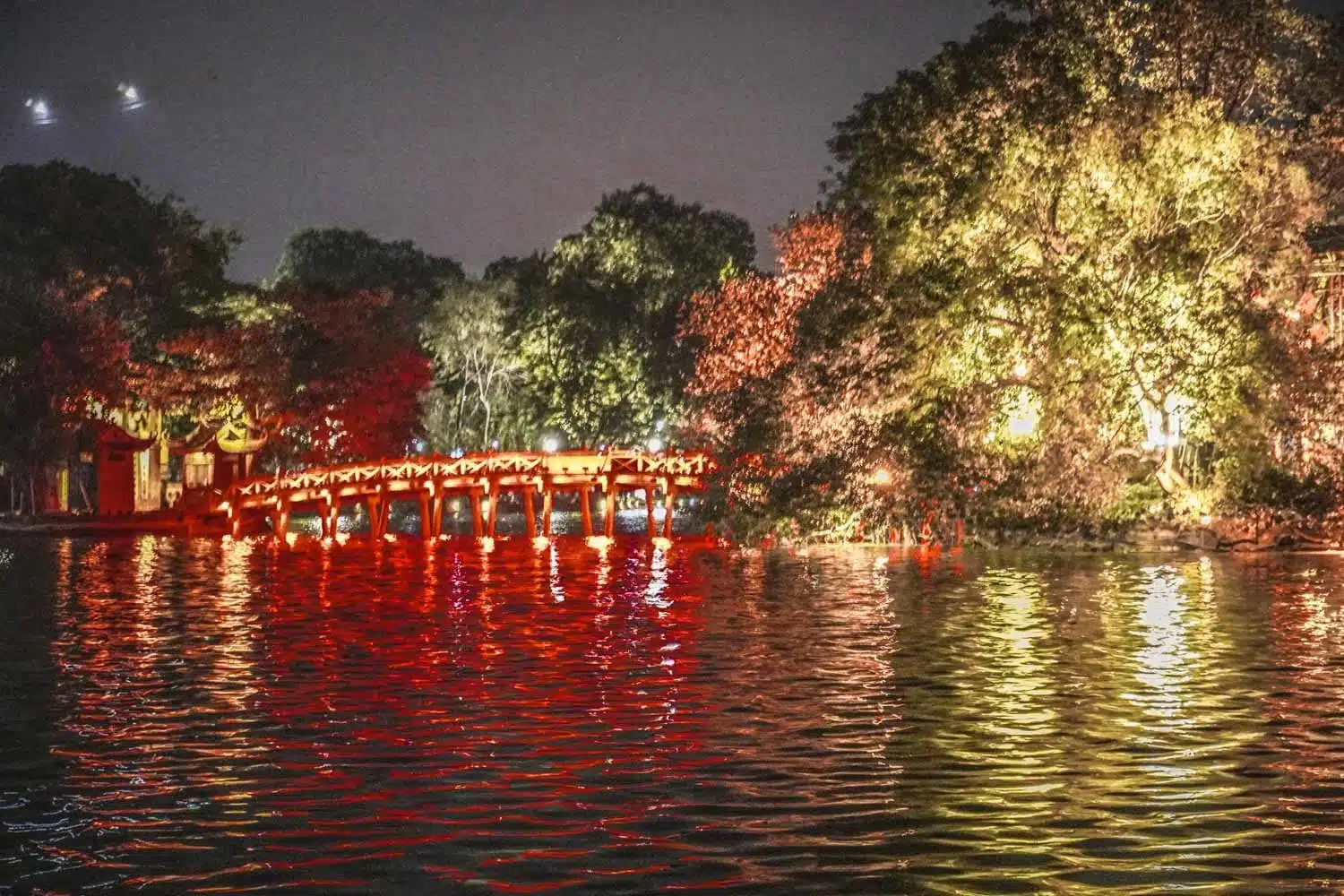 Unfortunately for you, peace and quiet is pretty hard to come by – you might dream of gazing peacefully out to the water, but in reality, you're going to be battling the hoards of Instagram-hungry crowds, as well as the actual people who, you know, use the temple as an actual temple.
Hanoi is one hell of a hectic city – but it has its nooks of quiet and peace… Hoan Kiem Lake is one of them.
Plopped in the centre of the city, the lake and its surrounds are the place locals go to do the analogue equivalent of Netflix and chill. You know, hang out with friends, make actual conversation, start the morning with a spot of Tai Chi.
You're generally welcome to join in in the latter, but it involves getting up early (like 6am early) and hauling ass to a park.
I had so many good intentions about doing this, yet somehow everyday my jetlagged ass would wake up at 11am with the stark realisation that yet another opportunity to focus my zen had indeed been lost to the world of nod. I trust that you guys will be able to do better though.

Catch a Show at Thang Long Water Puppet Theatre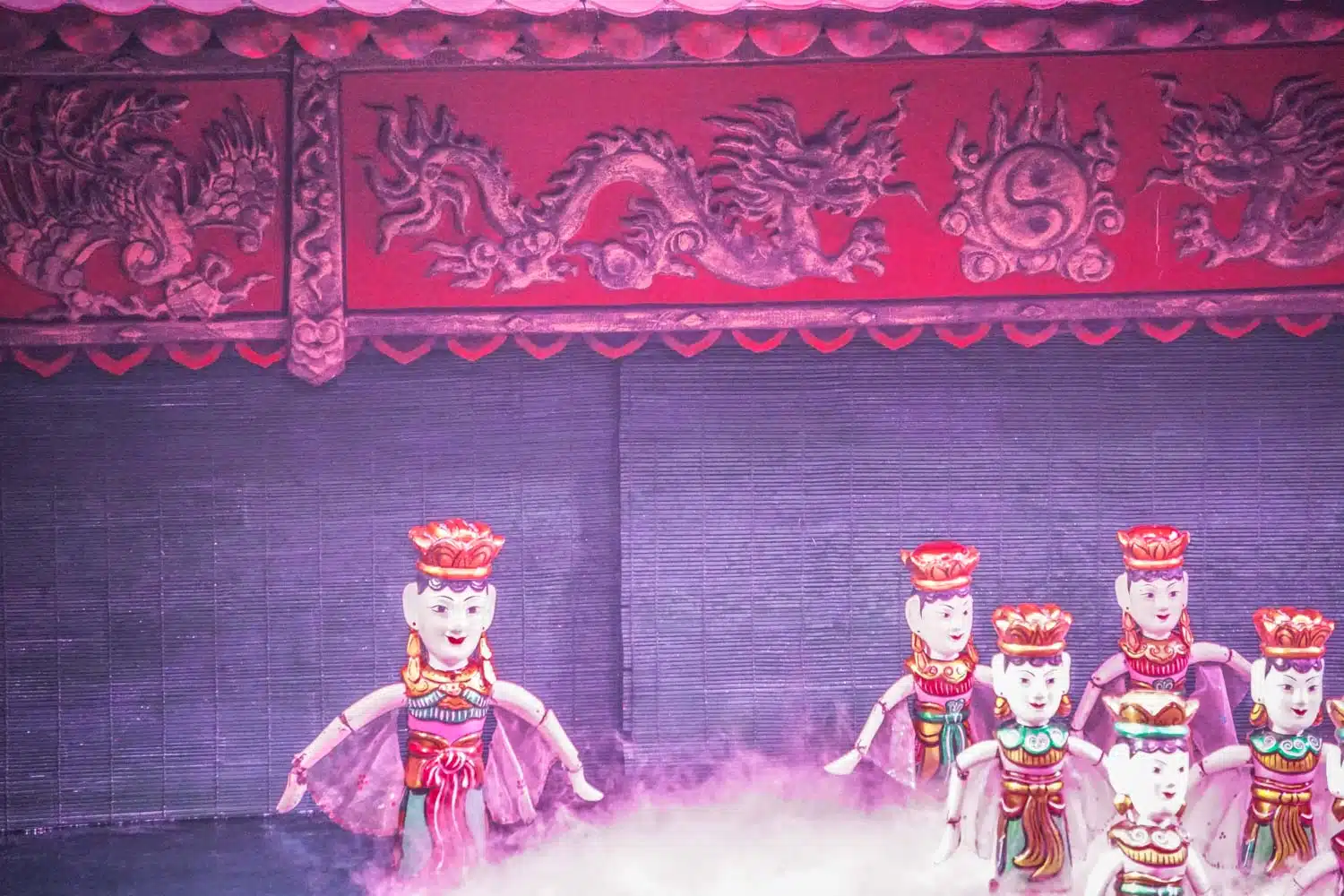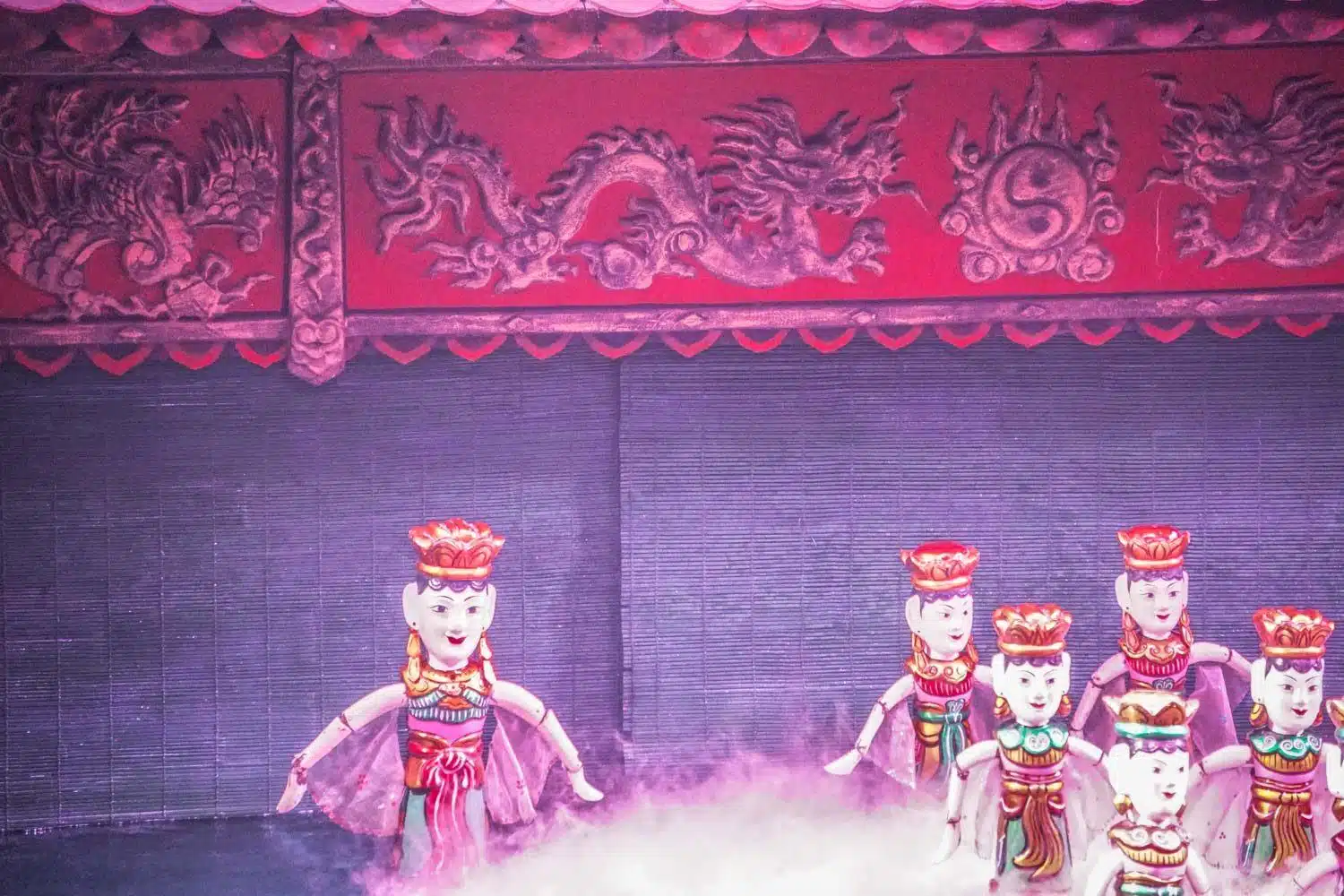 First up, dismiss any ideas that you might have that something this touristy is going to be a) lame and b) not worth your time. Seeing the water puppet show at Thang Long turned into one of the surprise highlights of my Hanoi itinerary.
Why? Wellll, turns out there's an inner child inside of all of us that can't help but find it funny to watch a series of puppets horsing around in the water. Think Punch and Judy but without the sinister overtones and with better (live) music.
You can shell out for the fancy seats at the front, but the theatre's pretty small so I wouldn't bother – you'll get a good view from wherever you are.
Stuff Yourself with The Street Food of Hanoi's Old Quarter
If I had my way, I'd name Hanoi 'The City in Which You Will Never Go Hungry' or TCIWYWNGH for short. Catchy yeah?
Whatever you call it, there's no doubt that Hanoi has one of the best street food scenes in Asia. Good food is plentiful and cheap. Bun cha, pho, spring rolls, there's so much on offer that going to Hanoi and not exploring its incredible street food is simply not acceptable.
Not sure where to start? I've written this awesome Hanoi street food guide, complete with a map of the Old Quarter's culinary hotspots. Alternatively, I took this street food tour of the Hanoi Old Quarter, which I could not recommend enough.
Don't forget to wash it all down with Vietnamese speciality egg coffee – it's tastier and far more addictive than you'd think.
Spot Bach Ma Temple
Can I be honest with you? I found Bach Ma Temple (rumoured to be the oldest in the city a little… underwhelming. It might have a long history, but there are definitely more interesting temples that you can visit in Hanoi.
You may still want to swing by while you're in town, but I'd probably skip it next time.
Visit St Joseph Cathedral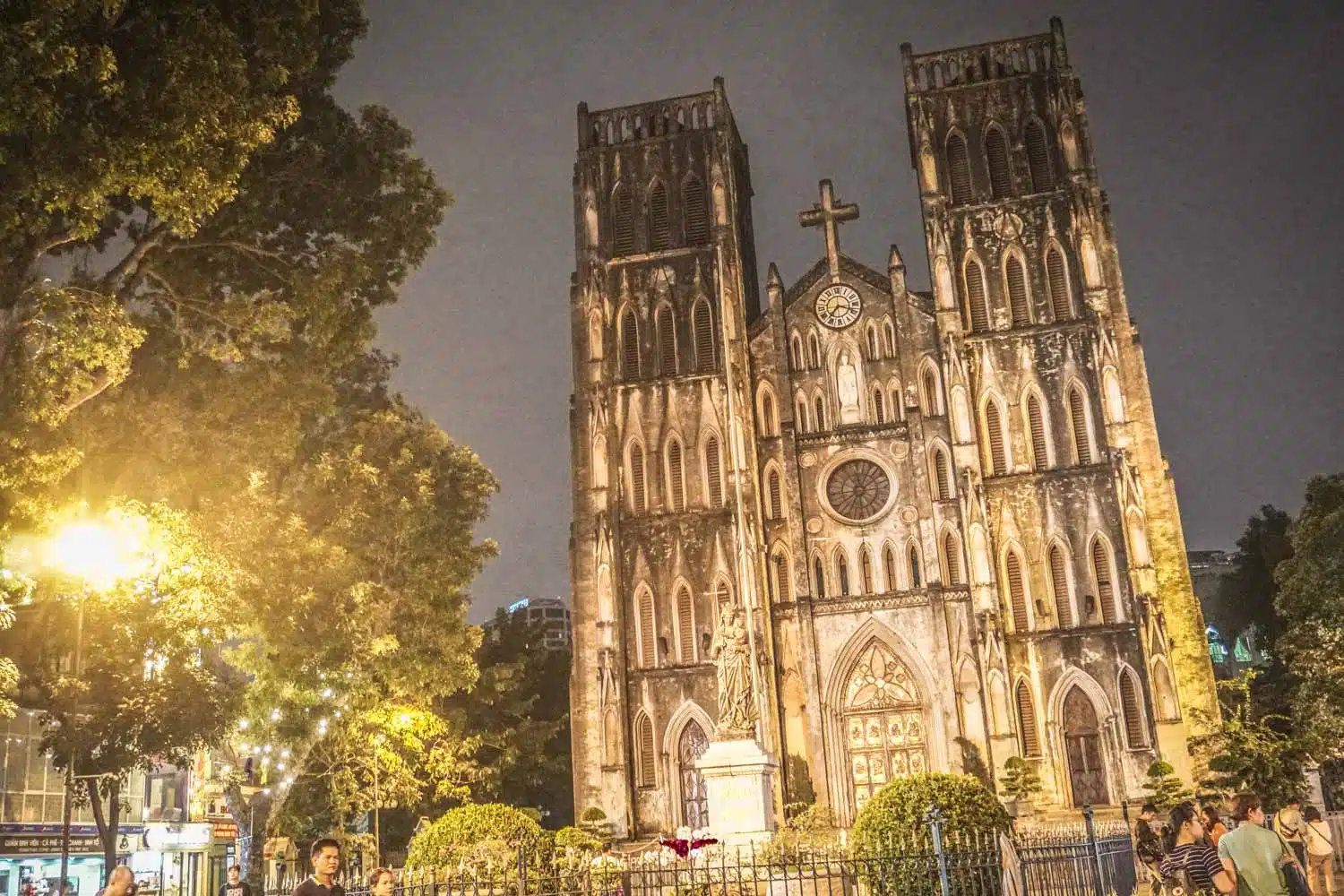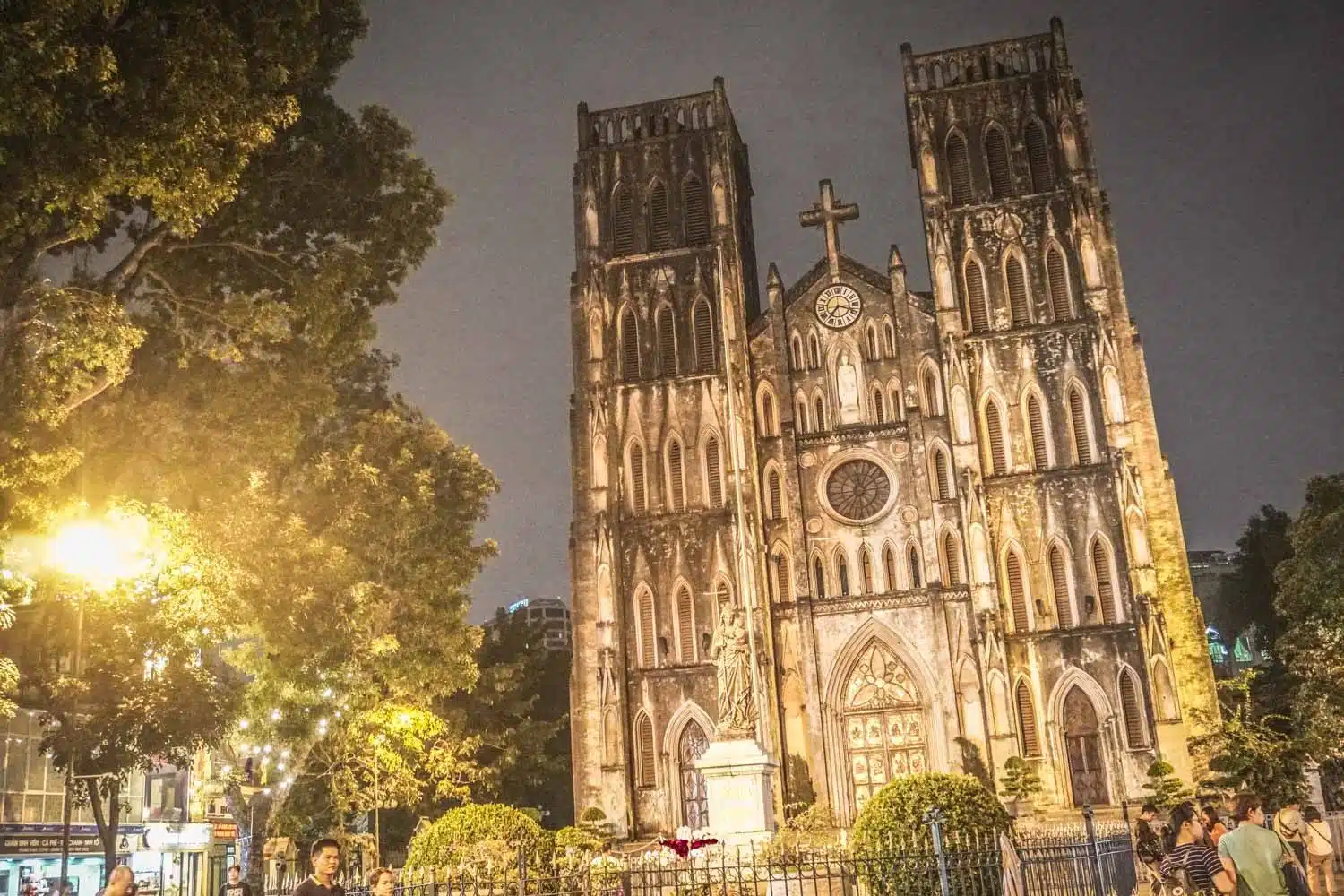 You can't miss St Joseph Cathedral. Perched in the centre of Nha Tho (Church) Street, the cathedral is the oldest in former Indochina and was built by the French in the style of the Notre Dame (except a lot smaller).
Much as I love the architecture of the cathedral, I have to confess that I've only ever managed to catch fleeting glimpses of the inside of the building because I have an uncanny knack for timing my trips to coincide with mass. Like every. Single. Time. Really, it's a skill.
Ride Across Long Bien Bridge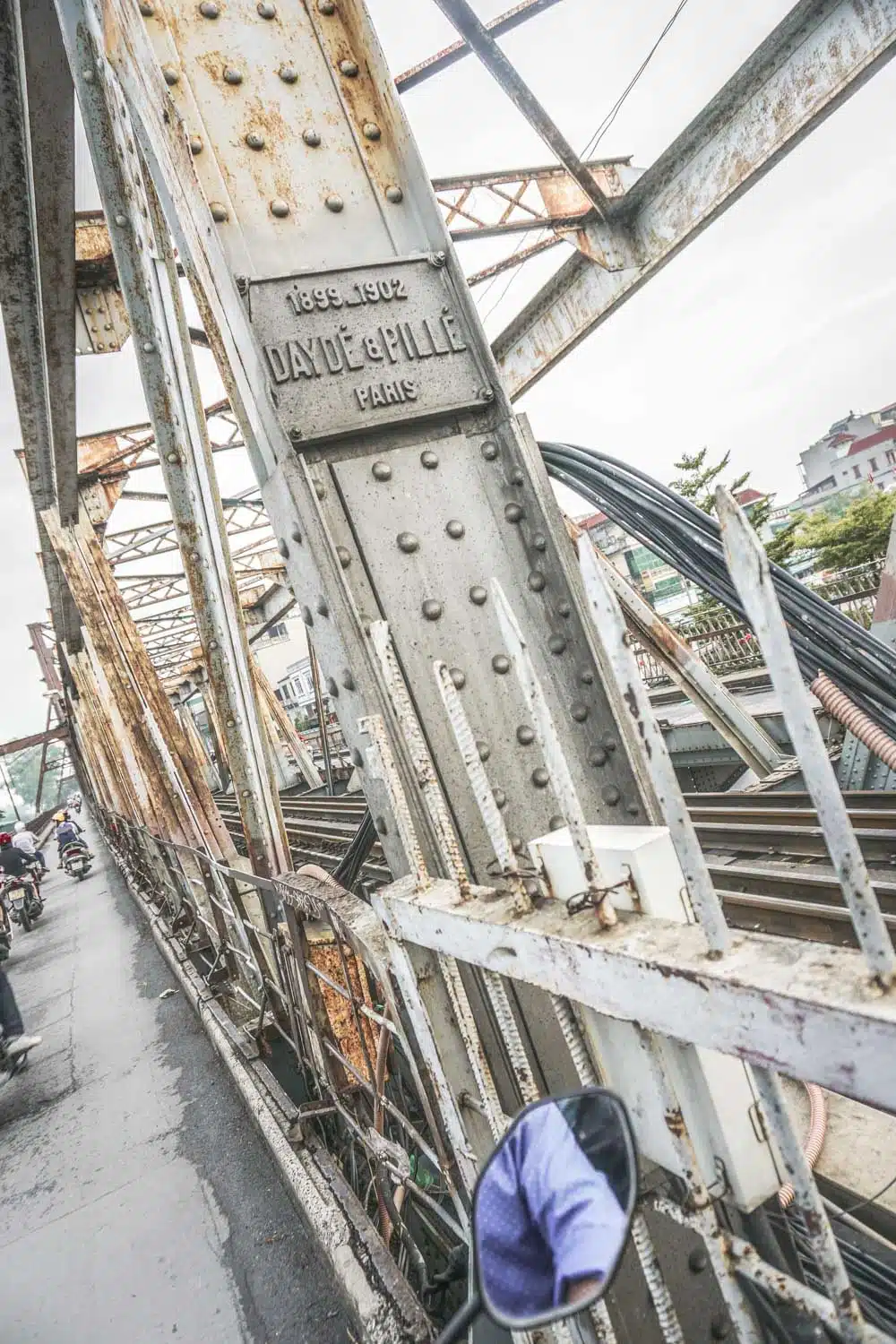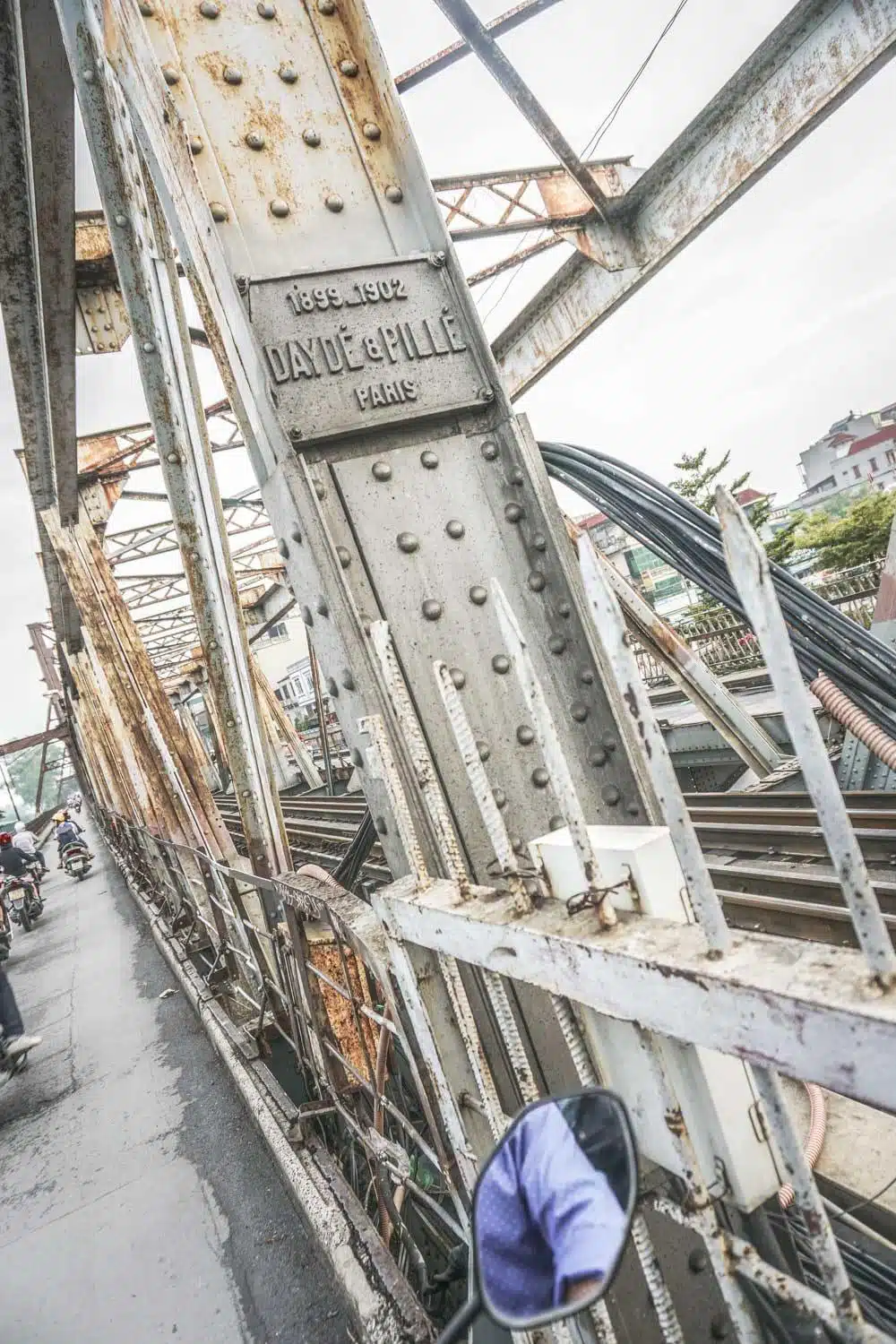 Long Bien Bridge has two main claims to fame.
That it was designed by Gustave Eiffel (yes, he of the Eiffel Tower fame)
It was bombed repeatedly by the Americans so many times during the Vietnam War and repatched so quickly by the Vietnamese that it's a miracle (and a testament to the workmen's skills) that it still exists at all.
That's the history lesson over *takes geek glasses off*.
Now, you could settle for walking up to Long Bien Bridge and taking a picture… but where would be the fun in that? No, you should totally do as I did and hop on the back of a local's scooter and take the terrifying 1.6km ride over to the other side.
There's nothing like squeezing through narrow lanes of speeding scooters on the edge of a long drop into a murky river to get your pulse going right? Right.
Eat (Hanoi's Best?) Pho at Pho 10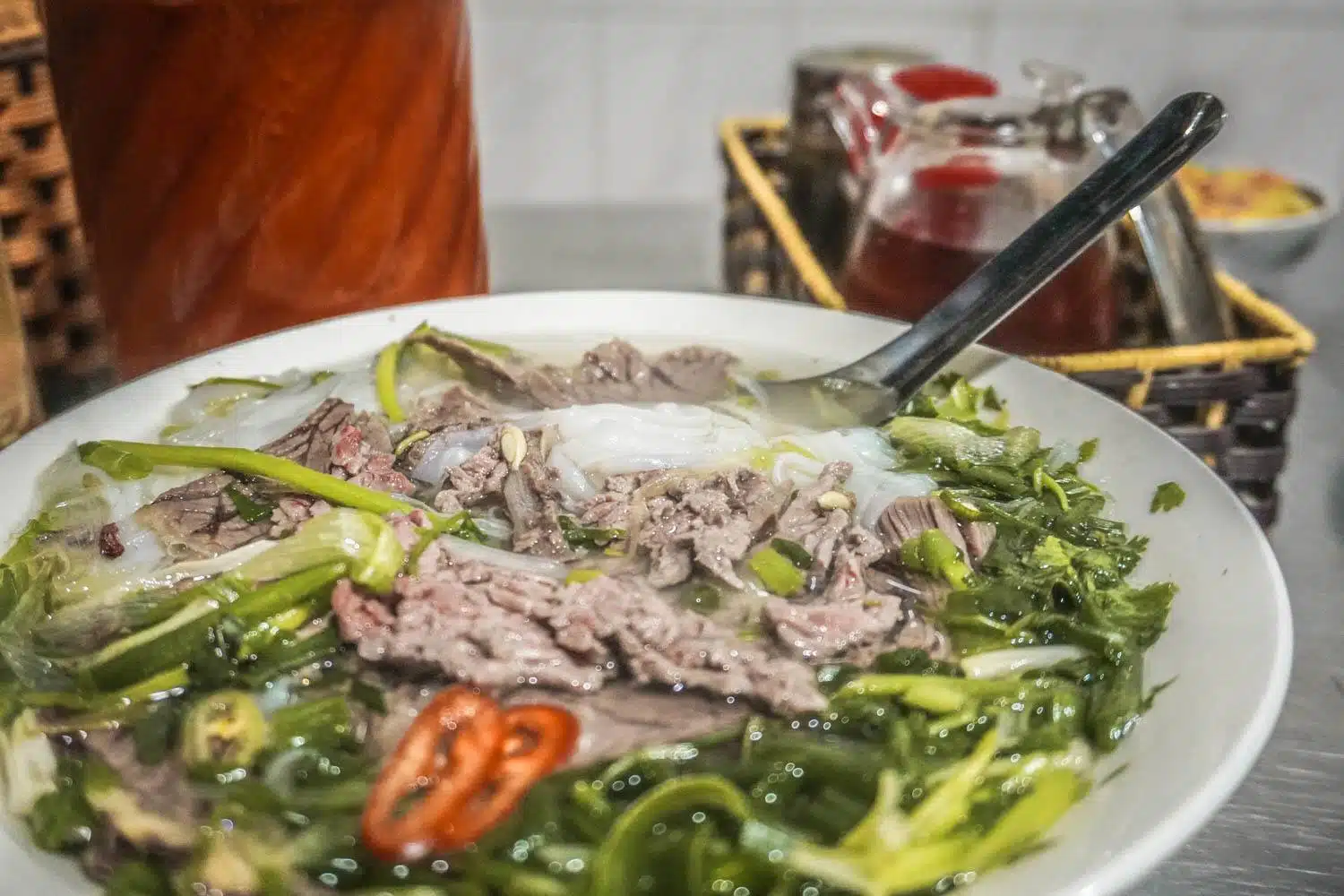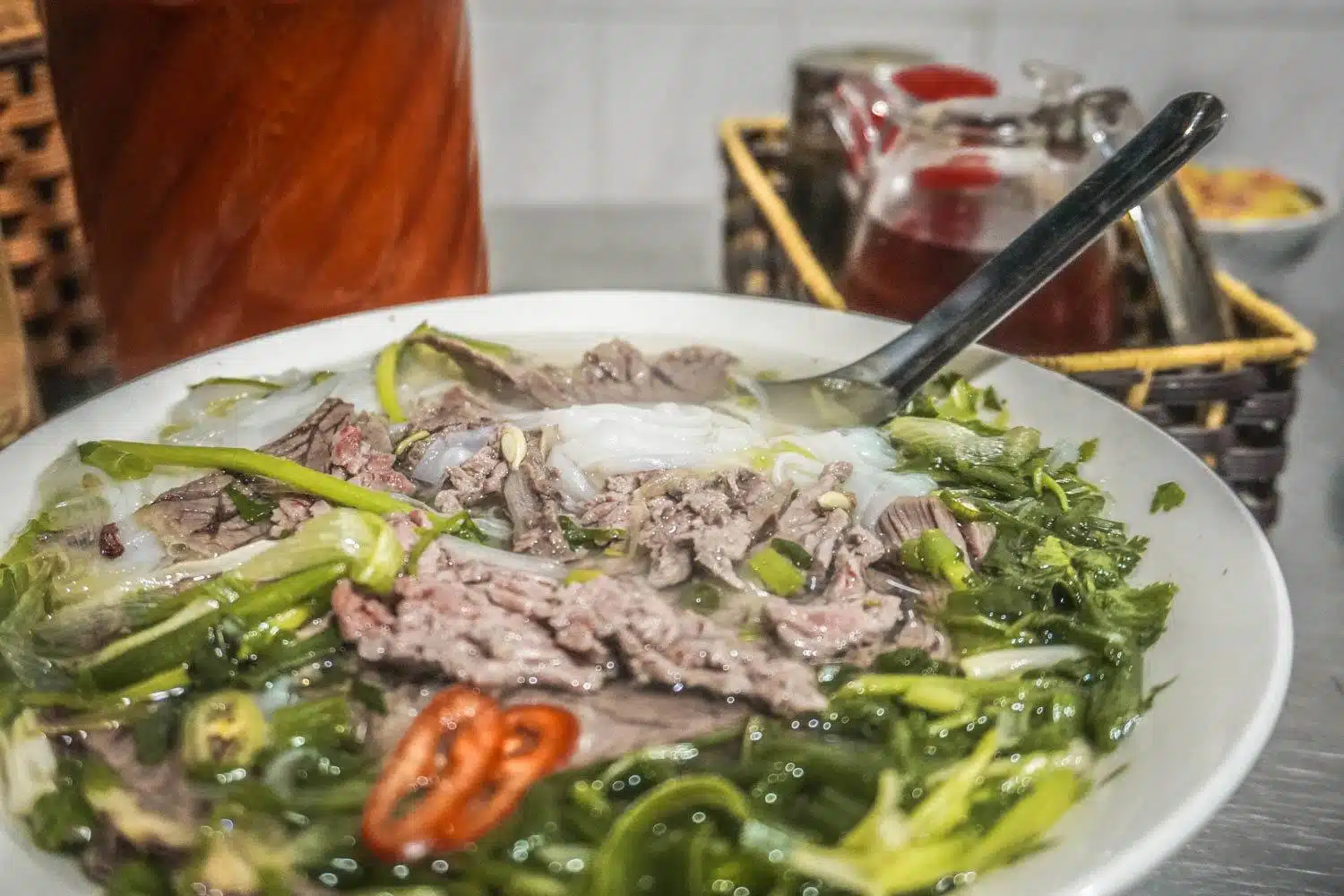 It's time to court some controversy. Awarding the crown for Hanoi's best pho is always going to be a hot topic, but I'm brave so I'll enter the fray anyway.
I've spent a lot of time eating pho in Hanoi, in the Old Quarter and beyond and yet I still say that touristy, packed to the gills Pho 10 is my personal favourite.
I really wanted to recommend some completely off-the-beaten-track place that no one had ever heard of before, I really did but, when it's good, it's good. And Pho 10 is GOOD.
The first challenge is finding a seat. Heads up, if there is only one or two of you, you are going to be sharing a table. My joyful* companion happened to be with a know-it-all mansplainer who almost put me off my food – luckily even irritating conversations can't detract from pho this good. Next up, take your pick from the relatively short menu and wait for the magic to happen.
You can thank me later.
*by joyful I clearly mean so annoying he made me want to put my face in my pho just to drown out his stream of conscious borefest masquerading as conversation, which mainly revolved around how much he knew, how much he'd travelled, and how awesome he was. I assure you that he wasn't.
Enjoy the Cocktails at Polite & Co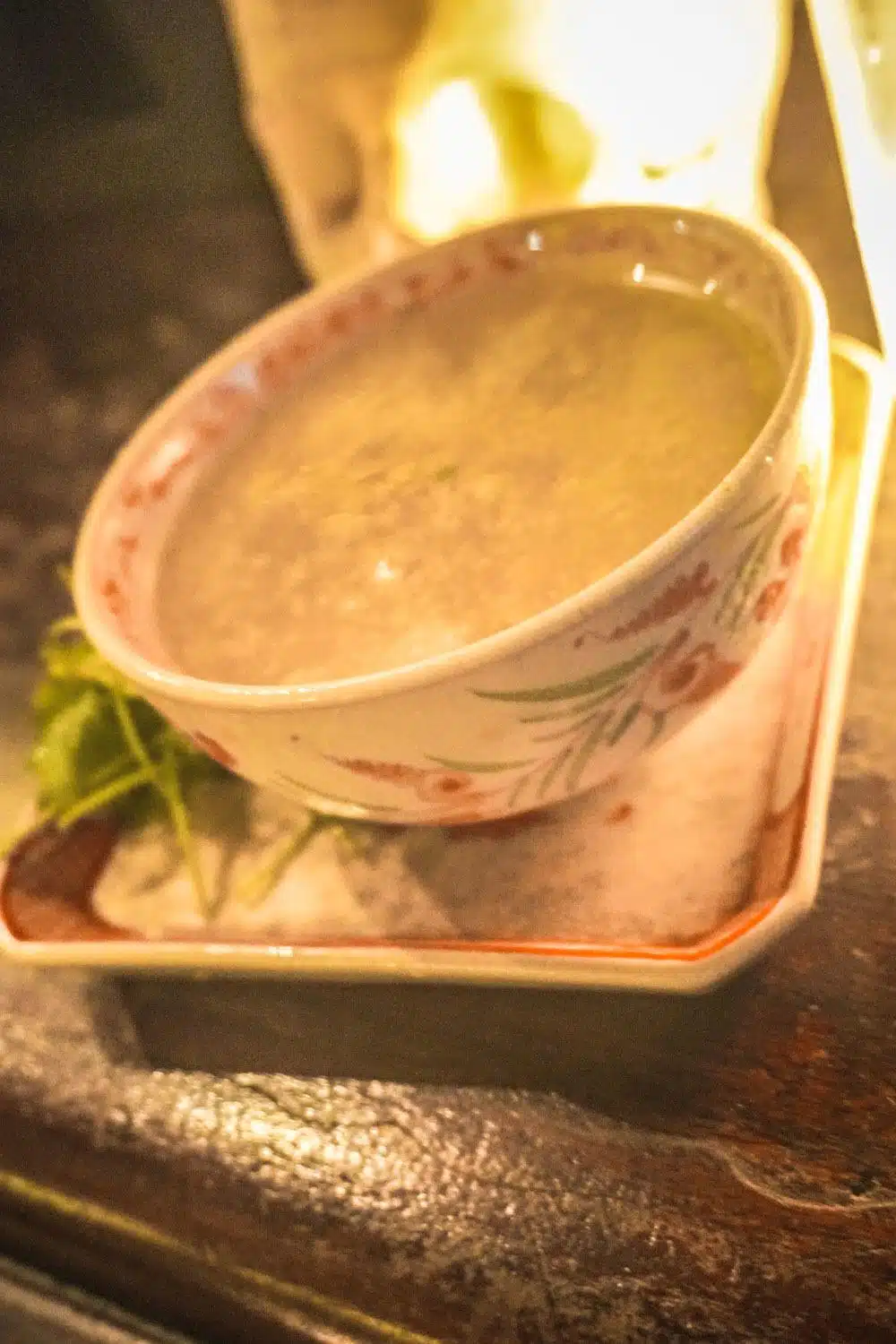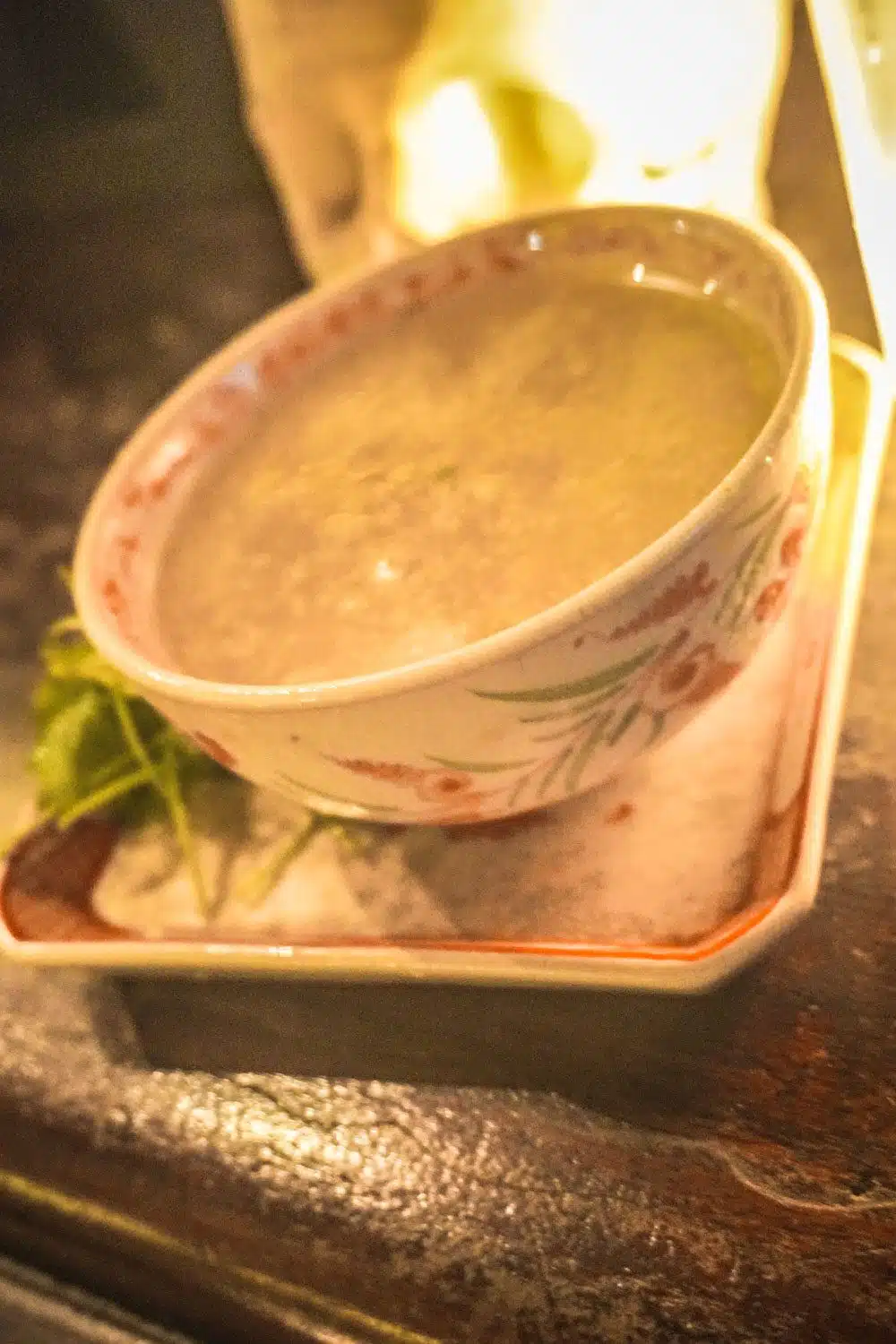 Let me tell you a little secret. Hanoi has a pretty decent cocktail bar scene.
A lot of people think that Hanoi's nightlife scene revolves around the packed and frenetic Bia Hoi corner but there are so many other (better) options out there.
PS. Try Polite & Co's Pho Cocktail – it will knock your socks off. Be careful – have too many and it might also knock you to the floor.
Drinking beer whilst sitting on a tiny plastic chair in a packed street or sipping a delicious little cocktail in a stylish bar like Polite & Co? I know which one I choose.
Sip on Craft Beers at Pasteur Street Brewing Co.
Like everywhere else in the world, Hanoi's woken up to the fact that people really, really like craft beer.
But what the crafty folk at Pasteur Street Brewing Co have also worked out is that beer tastes better with great food too. Who the hell knew? Visit on a Tuesday and they will even throw in an oh so cheesy but totally loveable live band top. Love.
Hang Out at the Hanoi Social Club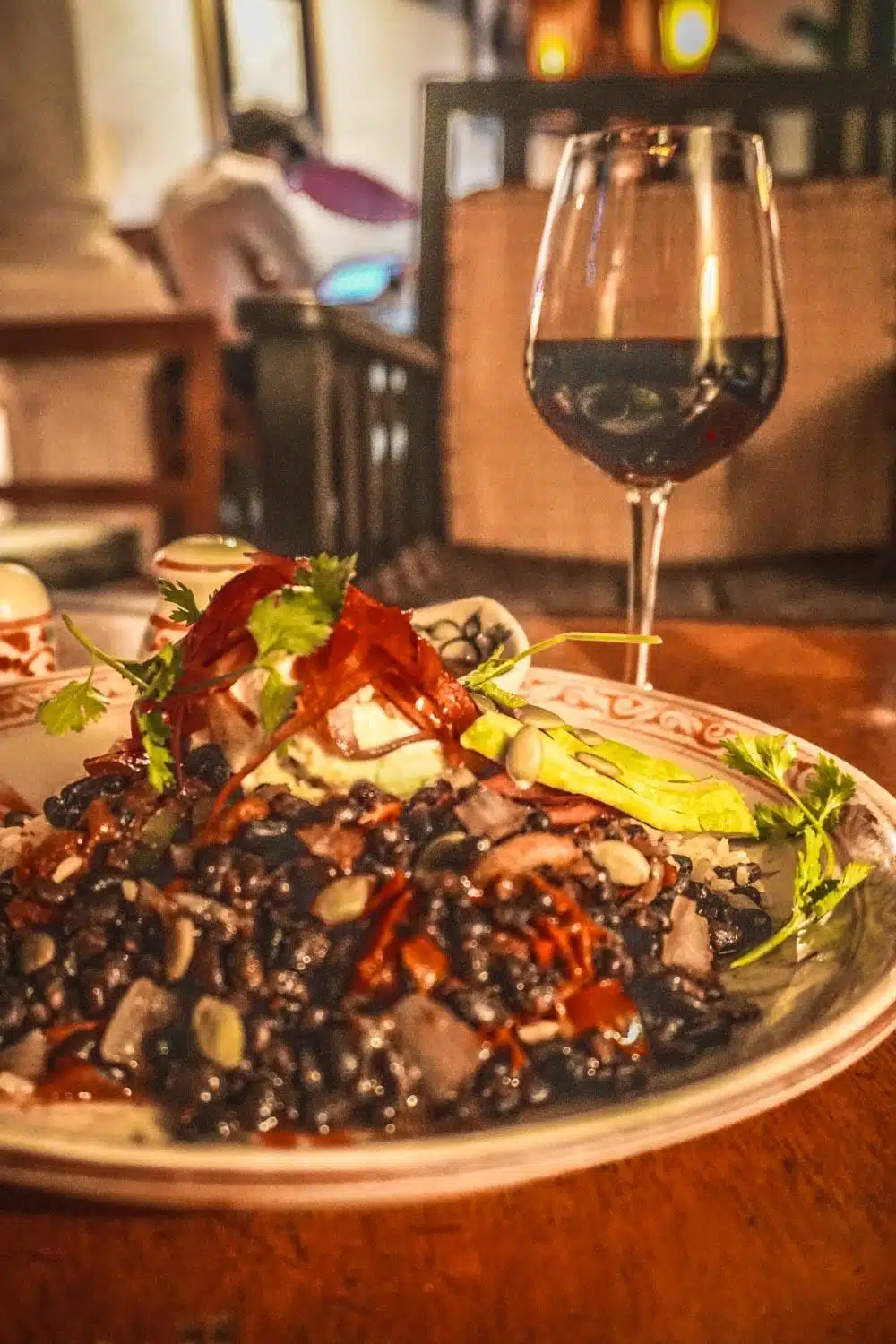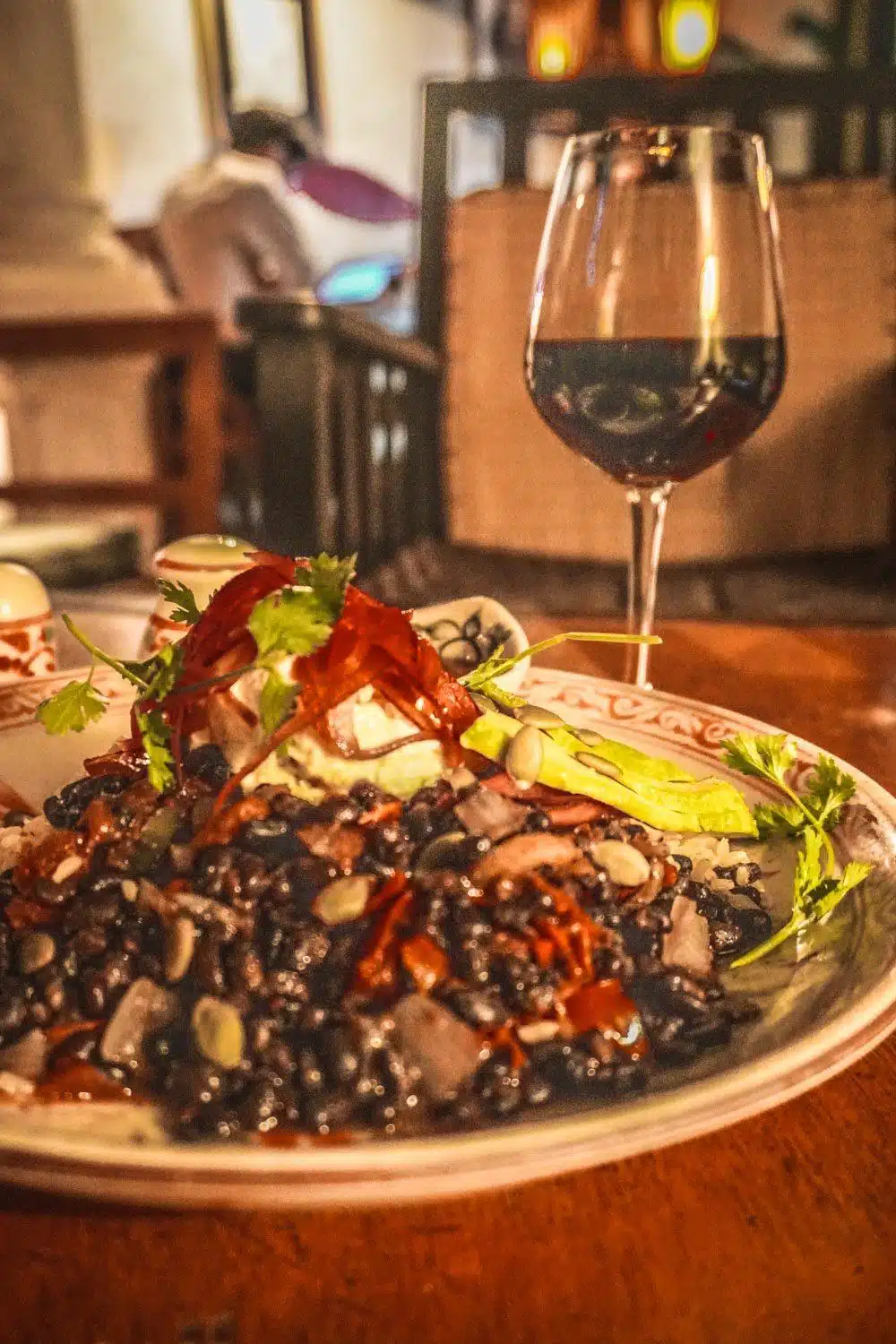 Hanoi Social Club has earned itself something of a reputation for being one of the cooler places to spend time in the city's Old Quarter and I can totally see why.
A multi-floored warren of hangout dens serving wholesome international food and good wine (two things that can be pretty hard to come across in the city), it's a friendly and chill place to spend a few hours with your favourite book or where you can while away a relaxed evening.
I was rather grumpy when I rocked up at Hanoi Social Club soaked to the skin thanks to a torrential downpour that had drenched me with the anger of a thwarted god (it's OK, I'm British, rain is something I'm not entirely unfamiliar with).
Yet it was a matter of mere minutes before I found myself ensconced in a comfortable armchair, glass of red in hand and delicious food on the table. It's like they saw my grumpy face and knew the drill.
Visit Dong Xuan Market
It's time to put your haggling skills to the test by visiting Dong Xuan Market, one of the oldest in the city.
Here you'll find a wide range of products, including fresh produce, clothing, electronics, souvenirs and traditional Vietnamese handicrafts – the perfect souvenir, I think.
I'll warn you – the market is a vibrant and bustling place with narrow aisles and numerous vendors. It can be pretty overwhelming for tourists, especially as the smells, sounds, and sights will assault your senses in the most delightful way.
Where to Stay in the Hanoi Old Quarter
It shouldn't come as a surprise that Hanoi's Old Quarter isn't short on options when it comes to places to stay.
Silk Path Boutique Hotel
Silk Path Boutique Hotel strikes the balance between a central location, stunning views (it overlooks Hoan Kiem Lake) and a wallet-friendly price (rooms are around £50/ $70 per night).
Hanoi Heritage Diamond Hotel and Spa
Another stellar option in Hanoi's Old Quarter, Hanoi Heritage Diamond Hotel and Spa blends traditional Vietnamese style with a modern twist. It's a seriously cool place to bed down.
Hanoi Old Quarter Walking Tour Map
Read More Hanoi Tips and Guides
Love This? Save and Share on Pinterest!