Vietnamese cuisine is full of fresh ingredients and bold flavours. Learn about the flavours of traditional Vietnamese food and try your hand at these Vietnamese street food recipes straight from Hanoi.
It's been a few years since I'd been to Vietnam and it had always been high on my list of places to return to.
And now, I'm here, sitting in the comfortable silence of a hotel in Hanoi, taking a short breather from a hectic few days spent in this engaging city.
A Glimpse at Vietnam's Food Culture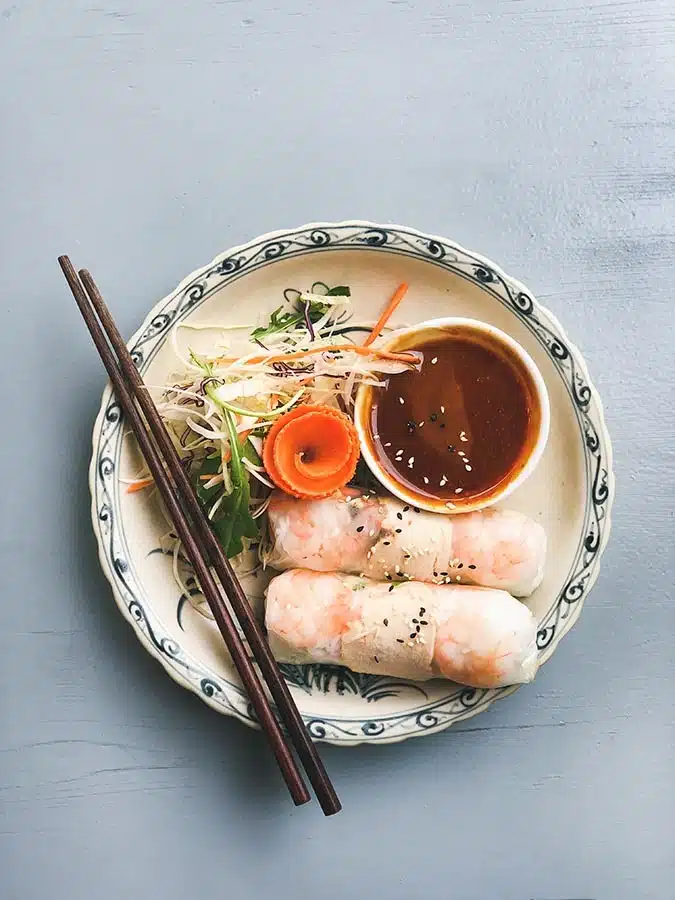 Vietnam is a land of differences — north and south, new and old.
Any trip across the country reveals a spectrum of traditions, people and ways of life. It's an engaging country, and perhaps no more so than in Hanoi.
Hanoi is engaging in that it takes every one of your senses on a rollercoaster ride: eyes constantly peering over the shoulder of your moto rider as he drives into oncoming traffic with insouciant ease.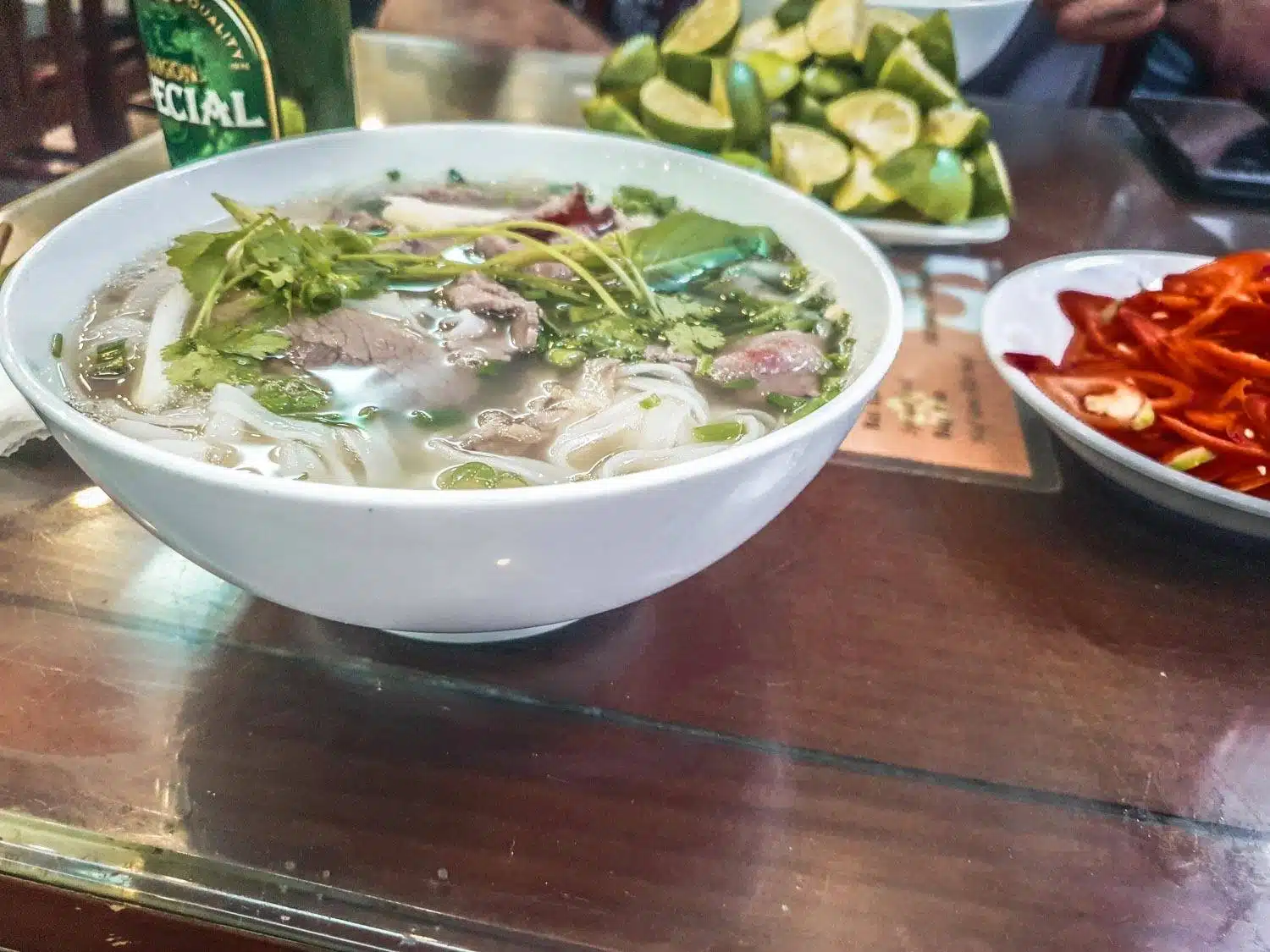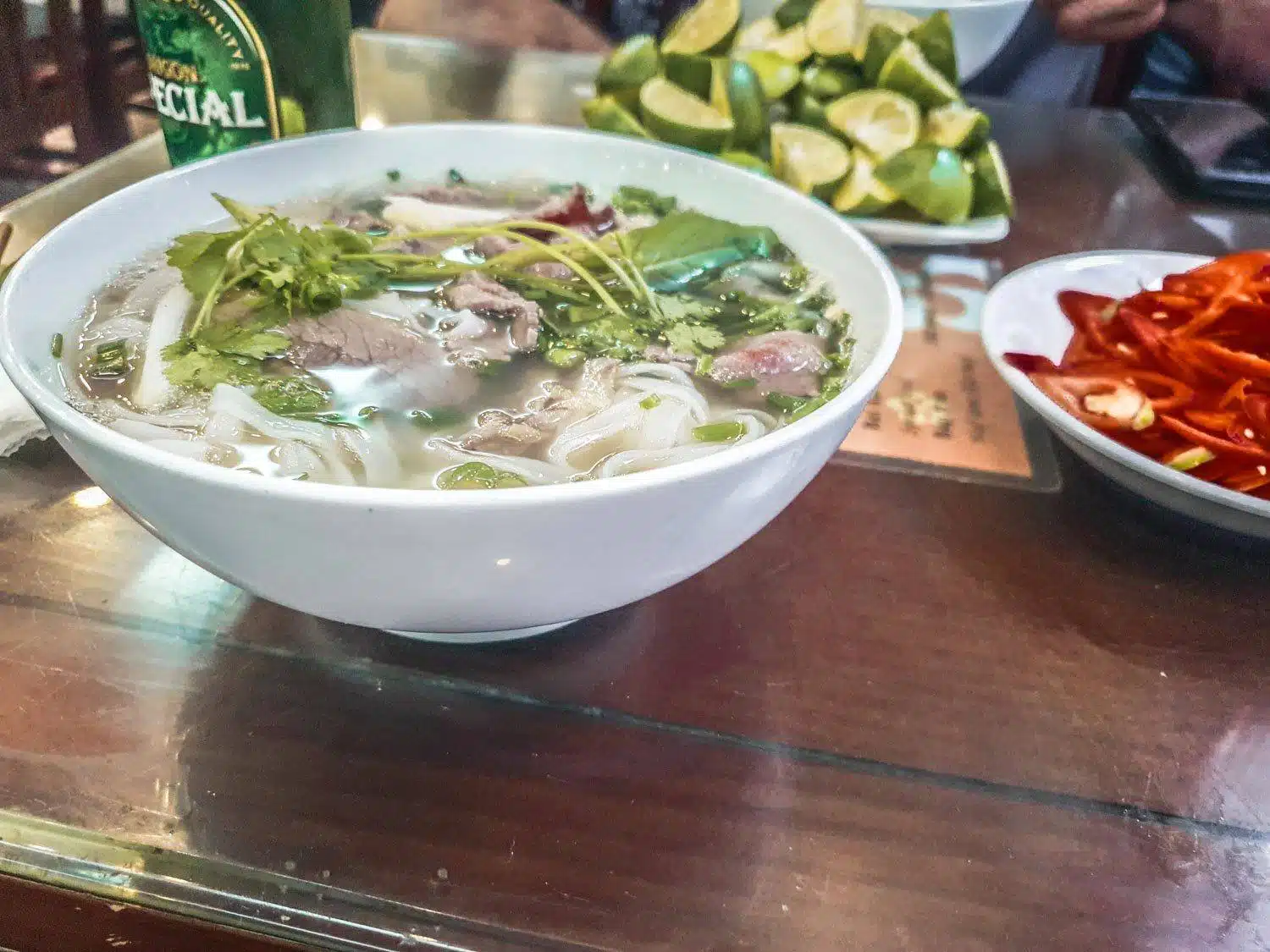 Nose smelling the heady mixtures of foods and flowers at the market. Fingers touching the intricate silken clothes in small packed shops, and last but not least, the chance to taste the delicately flavoured dishes that have put this country on the international culinary map.
Must-Try Traditional Vietnamese Food: At a Glance
Bún Thịt Nướng
Steamed rice cakes
Bánh Cuốn
Gỏi Cuốn (Spring Rolls)
Bánh Mì
Hot Vit Lon (Fertilised Duck Eggs)
Vietnamese Banana Flower Salad – Nom Hoa Chuoi
Traditional Northern Vietnamese Food in Hanoi
Hanoi seemed like a fitting place to learn more about Vietnam's food culture and also to try my hand at creating some authentic Vietnamese food.
Who better to learn from than the chef at the city's leading hotel, the Hotel Sofitel Metropole?
To get my taste of the city, I booked in for a cooking class with chef Nguyen Thanh Van.
Nguyen was the first Vietnamese woman to become a member of l'Academie Culinaire de France and was the perfect person to introduce me to the subtleties of Hanoi street food and Vietnamese cuisine in general.
"Vietnamese cuisine is very dif­ferent from area to area. There are many different regions and each one has its own speciality food and style of cooking," Van explained as she welcomed us to the kitchen.
Hunting out Northern Vietnamese Food in Hanoi's Old Quarter Market
Before we'd laid our hands on anything, Ngyuen announced that we would start off with a trip to the local market in Hanoi's Old Quar­ter.
Stalls piled high with fresh produce lined the road as far as the eye could see. Women chopped, carved and prepared the food for consumption.
Northern Vietnamese food is full of fresh flavours and the market was brimming with fresh produce with which to create the traditional dishes.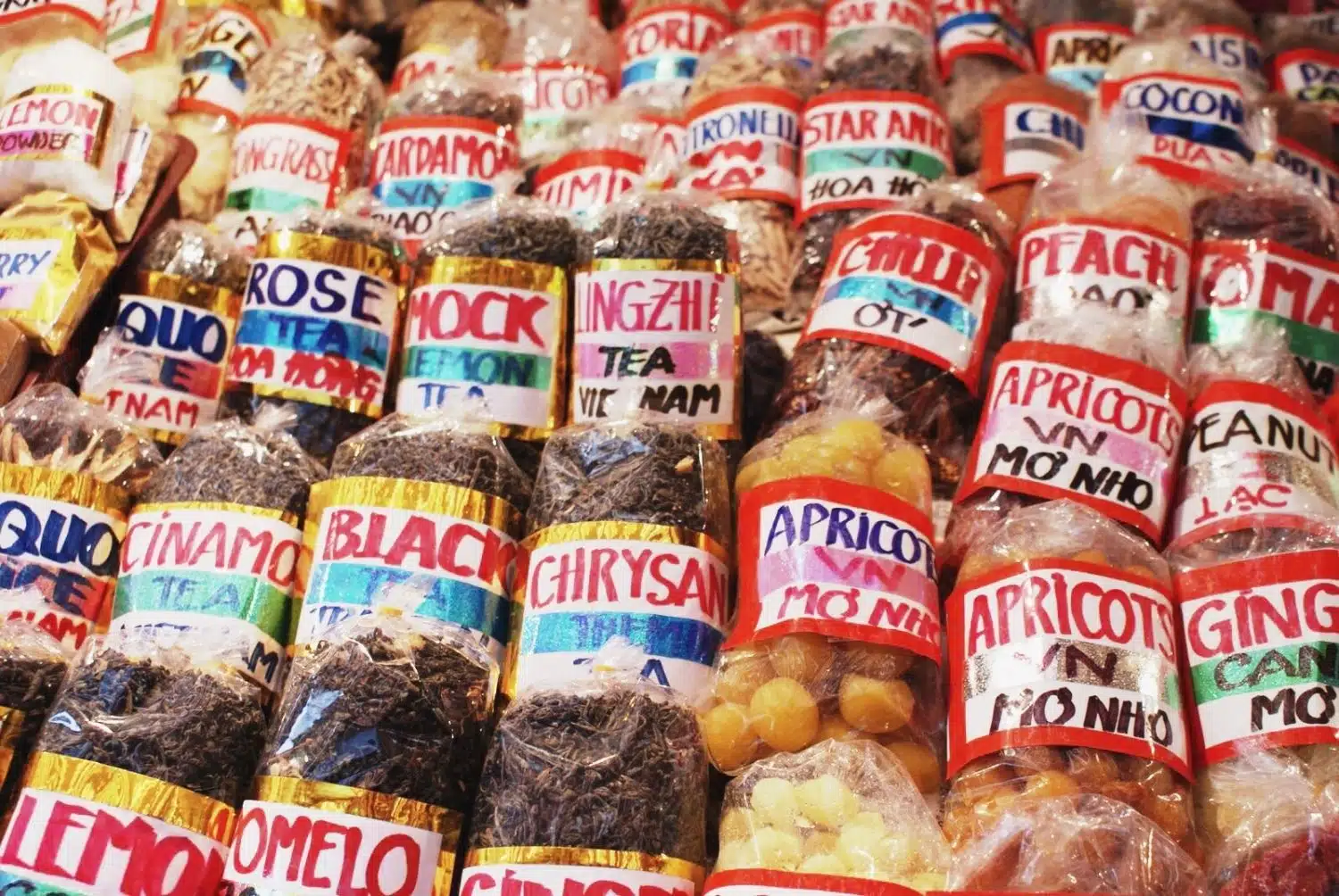 It definitely put my local market in London to shame. There were stalls selling every imaginable fruit and vegetable, live seafood, freshly chopped joints of meat, flowers, plants, tofu, bamboo, spices and more were cramped into narrow streets.
Nguyen commented on it all – telling us about what the stallholders were preparing, shopping preferences and which ingredients are good for making which dishes.
When it comes to traditional Vietnamese food, attention to detail is the name of the game. Only the freshest produce is used, hence why most of the seafood was still alive.
Old ladies wielding fierce machetes cut vegetables into beautiful shapes to complement the dishes – the market was full of women sorting through fifty carrots to choose the five they want.
And all in the name of eating – Vietnamese people take their food very seriously.
Must-Try Vietnamese Dishes
Gỏi Cuốn (Spring Rolls)
Gỏi Cuốn or fresh summer rolls are a popular Vietnamese food dish, both within the country and internationally. It's not unusual to see them popping up on menus across the world.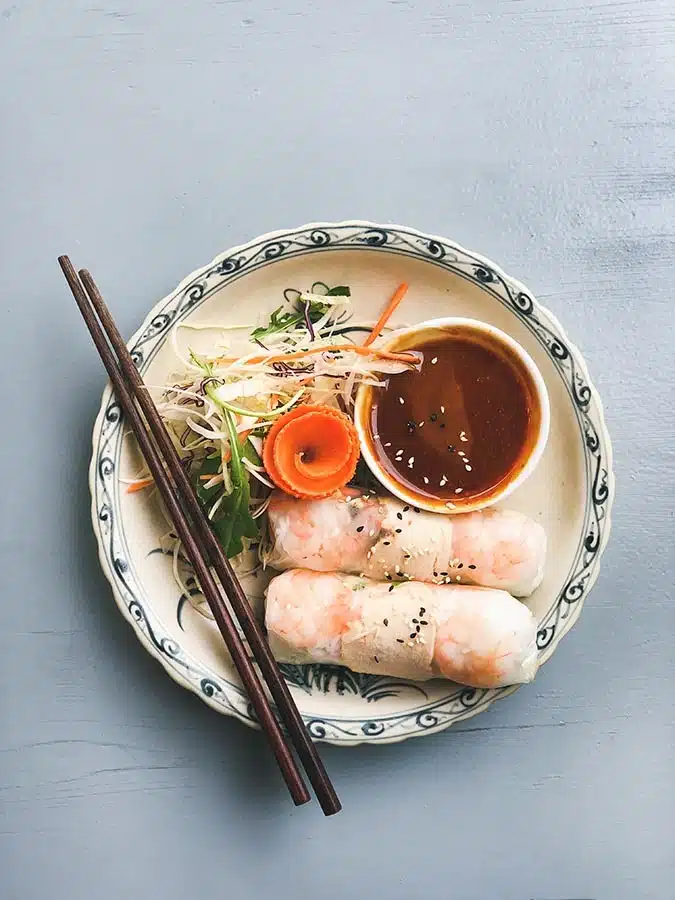 Don't be fooled by the simplicity of these fresh rolls: they might not be that difficult to prepare, but achieving the delicate balance of flavours so important for good Gỏi Cuốn is harder than it looks.
Fillings vary from prawns to poached beef mince or tofu. Whichever it is, it is combined with freshly shredded carrots, cucumbers, herbs and vermicelli noodles.
The true skill is in making the dipping sauce that traditionally accompanies the rolls.
Different recipes call for different ingredients but the upshot of all of them is that they are salty, sweet, sour at the same time – the perfect foil for the freshness of the spring rolls.
Bún Thịt Nướng
A colourful amalgamation of lots of different delicious ingredients, Bún thịt nướng is a staple on many Vietnamese menus.
For good reason, the combination of the sour, crunchy, caramelised sweetness and fresh flavours from the different ingredients is irresistible.
Barbecued pork is combined with pre-cooked rice vermicelli noodles, fresh mint and basil and served with bean sprouts, other shredded vegetables and crunchy spring rolls.
The dish is then dressed with Vietnamese fish sauce for the final touch.
Believe me when I say that the end product is every bit as delicious as it sounds.
Want the recipe? Scroll down below.
Steamed Rice Cakes
While slightly less popular in the north of the country, sampling one of these fluffy, light rice cakes during your time in Vietnam is an absolute must.
Soft, spongy and moist, they're delicately flavoured with coconut (they're made with coconut milk), rice, tapioca and vanilla.
Traditionally the Vietnamese add food colouring, so you can find them in a variety of colours, but you can also get the uncoloured versions too.
Either way, they're just as yummy.
Bánh Cuốn
The Vietnamese love a rice paper roll, whether they're fried (as in the case of Nem), fresh (as with summer rolls) or lightly steamed.
Bánh Cuốn is the latter – light rice paper rolls filled with pork, jicama and mushrooms, steamed until cooked and then served with crispy onion on a bed of fresh, crunchy vegetables.
Bánh Mì
Another dish that has grown in popularity internationally in recent years, Banh Mi are Vietnamese baguettes filled with a near-endless combination of ingredients.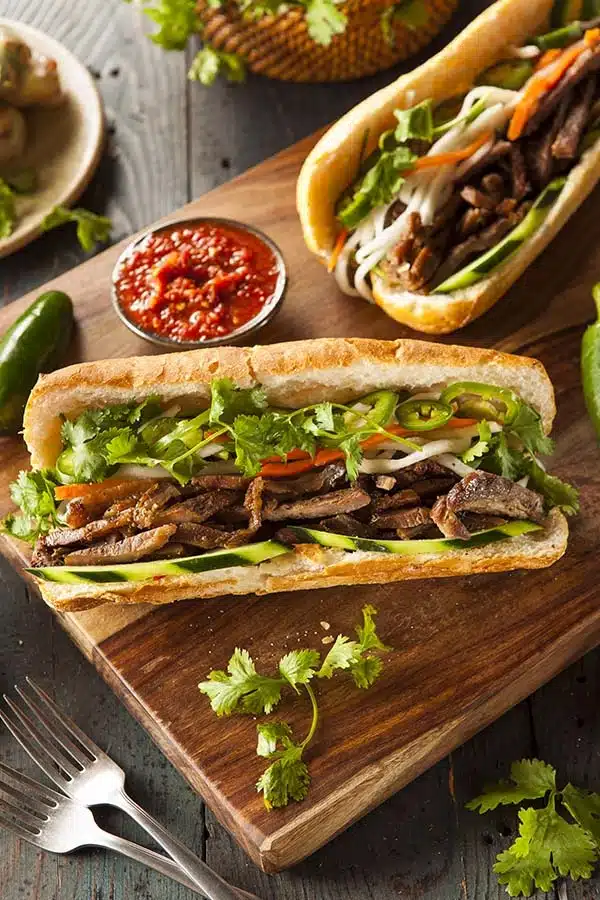 A fusion of Vietnamese fillings with a French-style baguette, they make for a quick and tasty lunch.
Hot Vit Lon (Fertilised Duck Eggs)
The more squeamish (or indeed vegetarian/vegan) of you are going to want to skip this entry. Hot Vit Lon is a rather unusual Vietnamese delicacy – fertilised duck eggs.
I can't say I was the biggest fan when I tried it myself – the combination of meatiness and egginess was disconcerting enough, without then adding in the slightly weird crunch as you munch through small bones and gristle.
Definitely one to try if you are feeling adventurous.
Pho
Getting back to another popular Vietnamese food that has become more familiar internationally over recent years, Pho might well be the best-known Vietnamese dish outside of the country.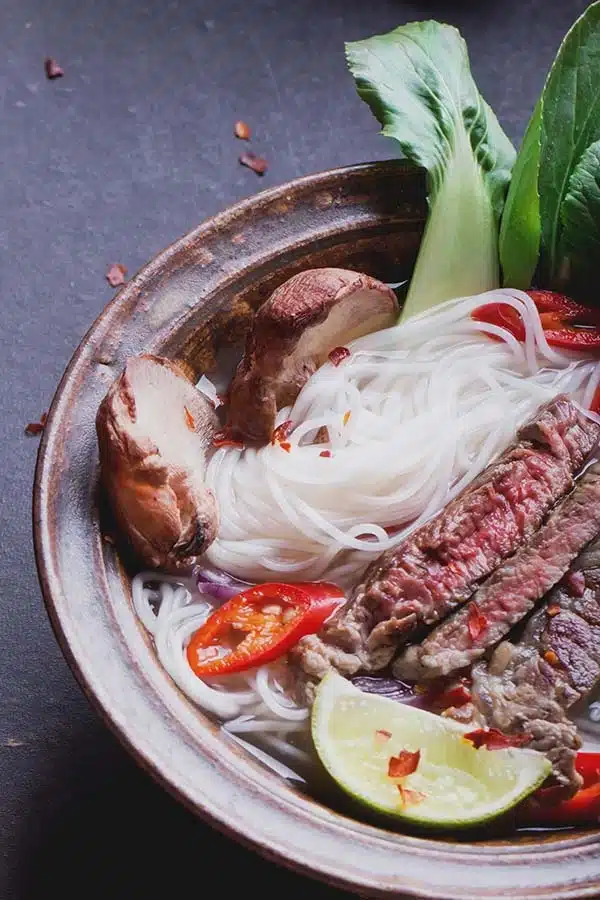 But what is it exactly? In its most basic form, it's simply a thin stock-based soup with a generous portion of rice noodles, vegetables and meat (generally beef or chicken).
Doesn't sound that special right? Perhaps not, but this is another example of where the delicate balance of flavours ever-present in Vietnamese food really shines.
As with any broth-based soup, having a well-developed stock is the most important step – something that can't be rushed or faked.
Forget the sad imitations that you've had at home, Pho in Vietnam is a whole different ball game.
Learn How to Make Amazing Pho with This Step by Step Recipe
Rice
It can be easy to overlook and underestimate the importance of rice in Vietnamese cuisine.
Not only does it underpin and accompany many of the best traditional Vietnamese food, it is also responsible for forming a large part of the country's economy.
Aside from dishes where rice simply acts as an accompaniment to the dish, there are a number of Vietnamese dishes where the rice is the main star of the show. Green crab rice, chicken rice from Hoi An and baby clam rice being three examples.
Authentic Vietnamese Food Recipes
Hanoi Deep Fried Spring Rolls – Nem
"The first thing we are going to cook today is Nem — deep-fried spring rolls. This is traditionally a North Vietnamese dish, though it has now become popular through­out the whole country," Van ex­plained.
I could rave about these spring rolls. Made with rice paper, they're light and bursting with flavour and take about 20 minutes from start to finish.
Although they're made with pork, the key to their unique flavour is that the pork is only a small part of the filling.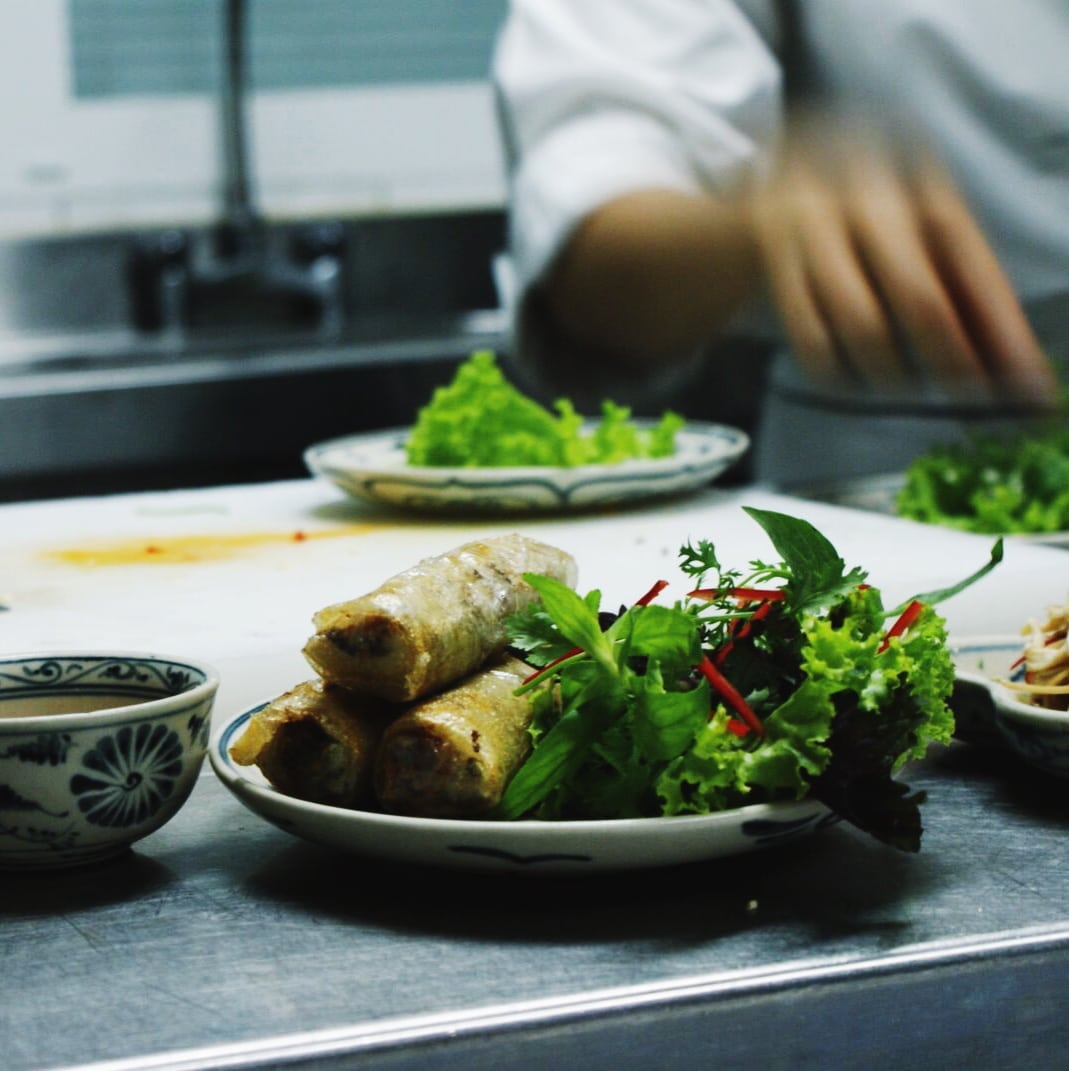 You chop sweet turnip, black mushroom, vermicelli, bean sprouts, spring onions, papaya and carrots and mix them with the pork so you might say that these are maybe the healthiest deep fried things you can find.
Maybe.
The real key to fantastic Nem though is the dipping sauce, Nguy­en elaborated, something I was in­clined to agree with once I'd tasted one of the small rolls dipped in the sauce.
You make the dipping sauce from fish sauce, water, rice vinegar, garlic, carrot and green papaya tossed in salt.
It complements the spring rolls and brings out the flavours of the meat and vegetables. You can make passable Nem with half of the attention to detail, but it's those details that make Vietnamese cuisine what it is.
"In northern Vietnamese food it's traditional to keep our dipping sauce quite plain, whereas the further south you go, the spic­ier the dipping sauce tends to be," Nguyen continued.
Learn How to Make Nem with this Authentic Nem Recipe
Vietnamese Banana Flower Salad – Nom Hoa Chuoi
Banana flower salad or Nom Hoa Chuoi, is a light, shredded salad with chicken, star fruit, bean sprouts and peanuts. Slightly tangy and crunchy, the final product was well worth the effort and took no time at all to prepare.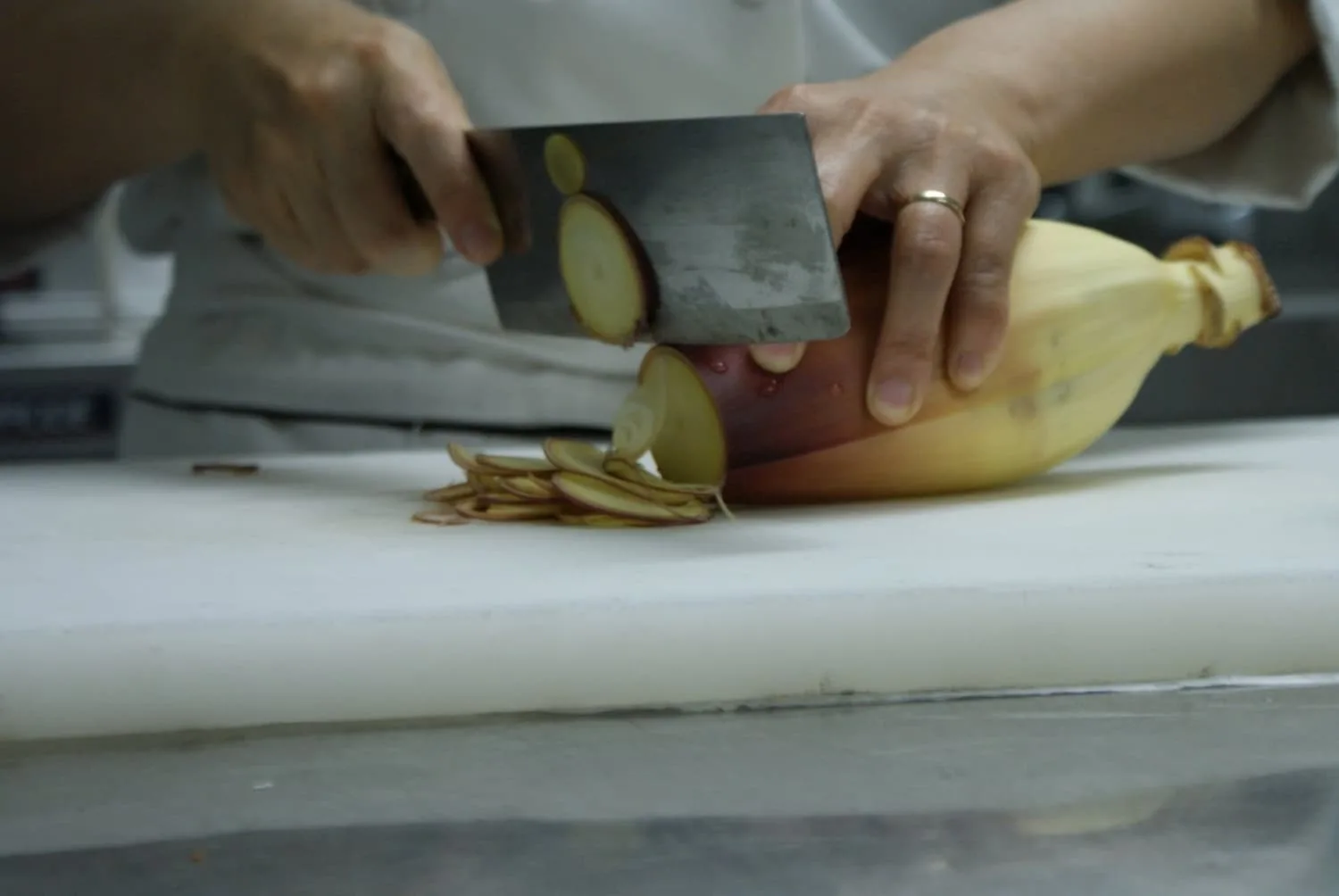 750g fresh banana flower
150g chicken breast
3 pieces sour star fruit
2 small bunches rm herbs
150g bean sprouts
4 pieces lime
40g sugar
75g peanuts
30g sesame seeds
Salt, pepper and chilli to taste
Lemon juice
Fish sauce
Chop the herbs, chilli, peanuts and sesame for decoration.
Thinly slice the banana flower leaves and place into water with a bit of lemon juice for 30 mins. Rinse under running water and leave to soak.
Boil the chicken breasts and shred finely.
Slice the star fruit and marinate with some sugar.
Blanch the bean sprouts. Drain.
Drain the banana flower.
Add all the ingredients to a large mixing bowl, season with salt and pepper, fish sauce sugar – add the herbs, chilli, peanuts, sesame seeds. Toss together and serve onto individual plates.
Hint: For salad dressing and dipping sauces, try to source fish sauce from the south of Vietnam as the warmer climate means it's much less salty and lighter.
Try to get Vietnamese fish sauce if possible as it's quite different to the Thai versions.
Bún Thịt Nướng – Pork & Rice Noodles with Spring Rolls
700g sliced pork
200g rice vermicelli noodles
1 egg spring roll per person (you can use the ones from the Nem recipe above)
1 shallot chopped finely
1 clove of garlic, minced
½ stick of lemongrass, minced
3 tablespoons coriander, chopped finely
30g dark brown sugar
1 tablespoon Vietnamese fish sauce
½ tablespoon dark soy sauce
Mint
Shredded cucumber
1 small lettuce, shredded
150g beansprouts
50g roasted peanuts to garnish
Pickled vegetables – cucumber and daikon
Nuoc cham dipping sauce (see recipe above for Nem dipping sauce)
Thinly slice the pork and place into a bowl with the shallots, garlic, lemongrass sugar, fish and soy sauces. Mix well and leave to marinade for at least a couple of hours.
Grill the pork under the grill until it's cooked and has a coating of caramelised marinade on the outside.
Put all the other ingredients (except for the peanuts, pickled cucumber and daikon) into a bowl. Add the pork and then garnish with the garnishes.
Add the nuoc cham dipping sauce to the bowl and enjoy.
Serves 4.
Want to learn more? Here are some of my favourite Vietnamese cookbooks.
Going to Vietnam? Here are the street food dishes you have to try.
Love this? Save and share on Pinterest
Looking for More Vietnamese Food Guides?
Check these out…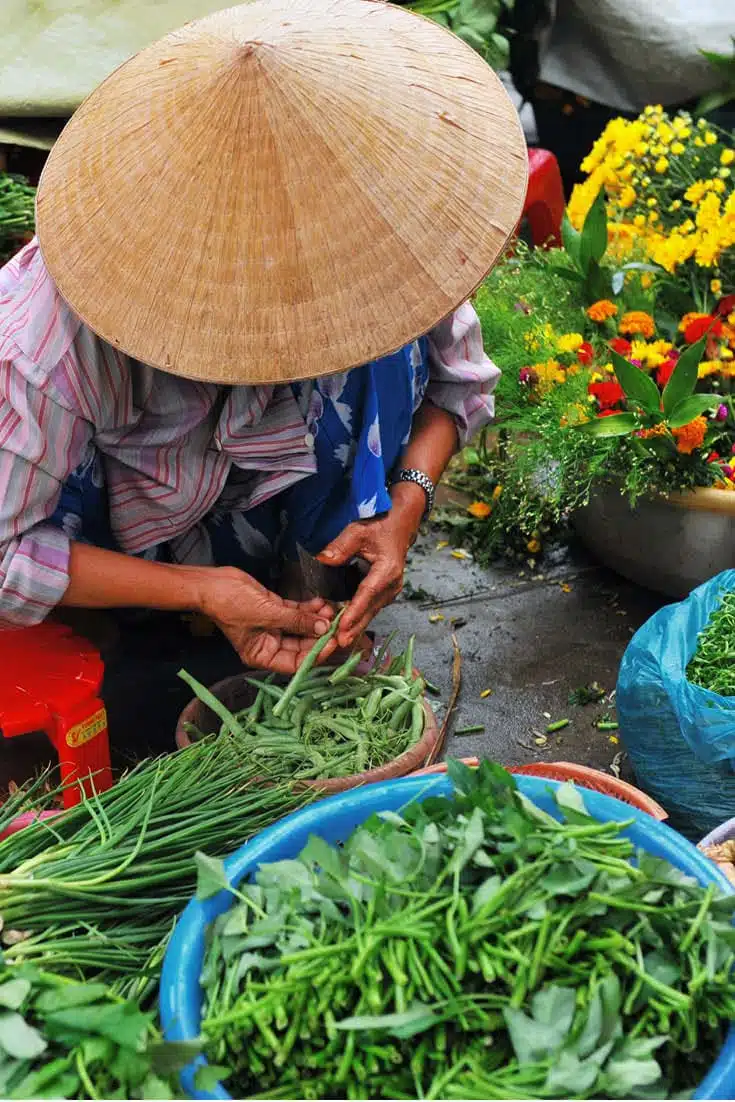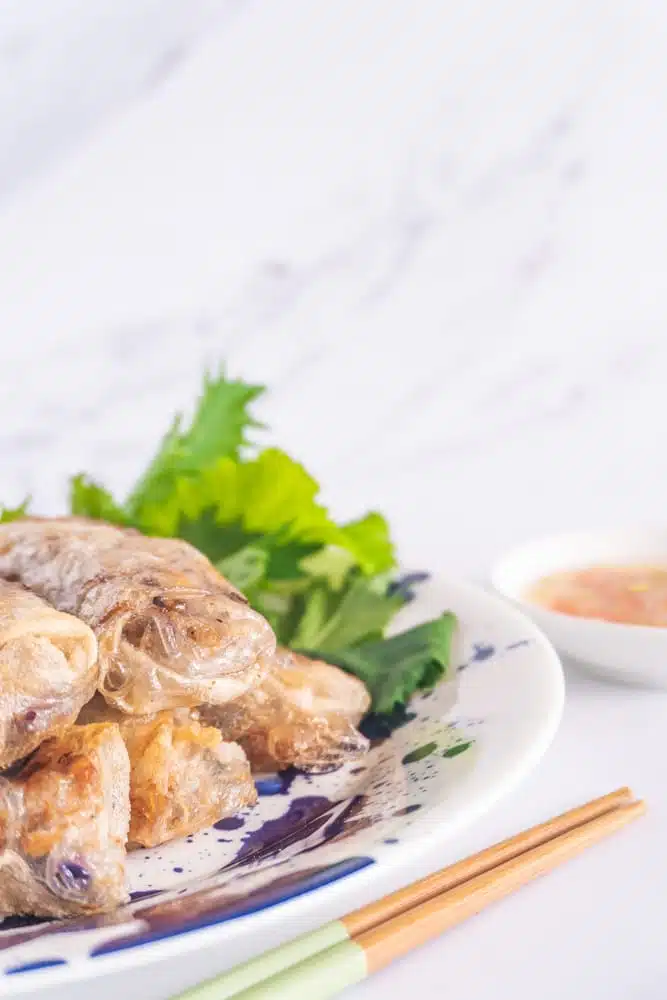 Vietnamese Fried Spring Rolls