Vietnamese cuisine is full of fresh ingredients and bold flavours. Where better to pick up some new skills and learn to cook some Vietnamese food than in Hanoi? The Discoveries Of takes a trip to the Vietnamese capital.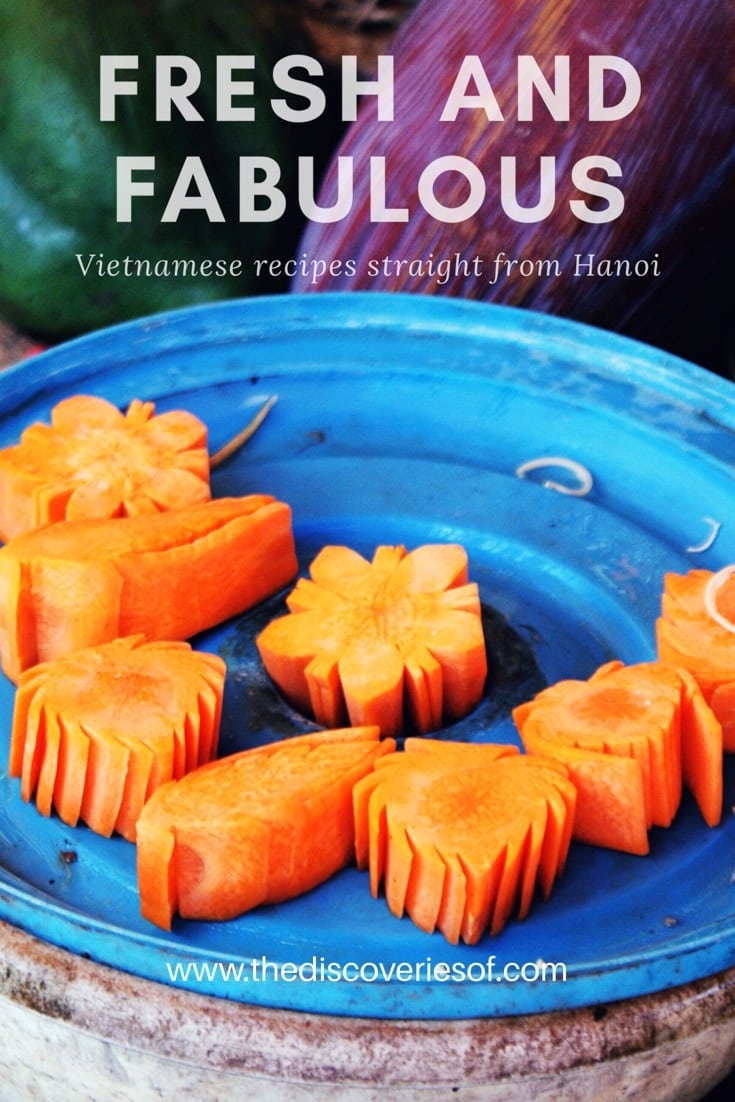 Contents
Vietnamese Banana Flower Salad
Sorry for the radio silence but it's been all go here at The Discoveries Of.
Still, there's always time for a trip or several. It's been a few years since I'd been to Vietnam and it had always been high on my list of places to return to.  And now, I'm here, sitting in the comfortable silence of a hotel in Hanoi, taking a short breather from a hectic few days spent in this engaging city.
Vietnam is a land of differences — north and south, new and old. Any trip across the country reveals a spectrum of traditions, people and ways of life. It's an engaging country, and perhaps no more so than in Hanoi.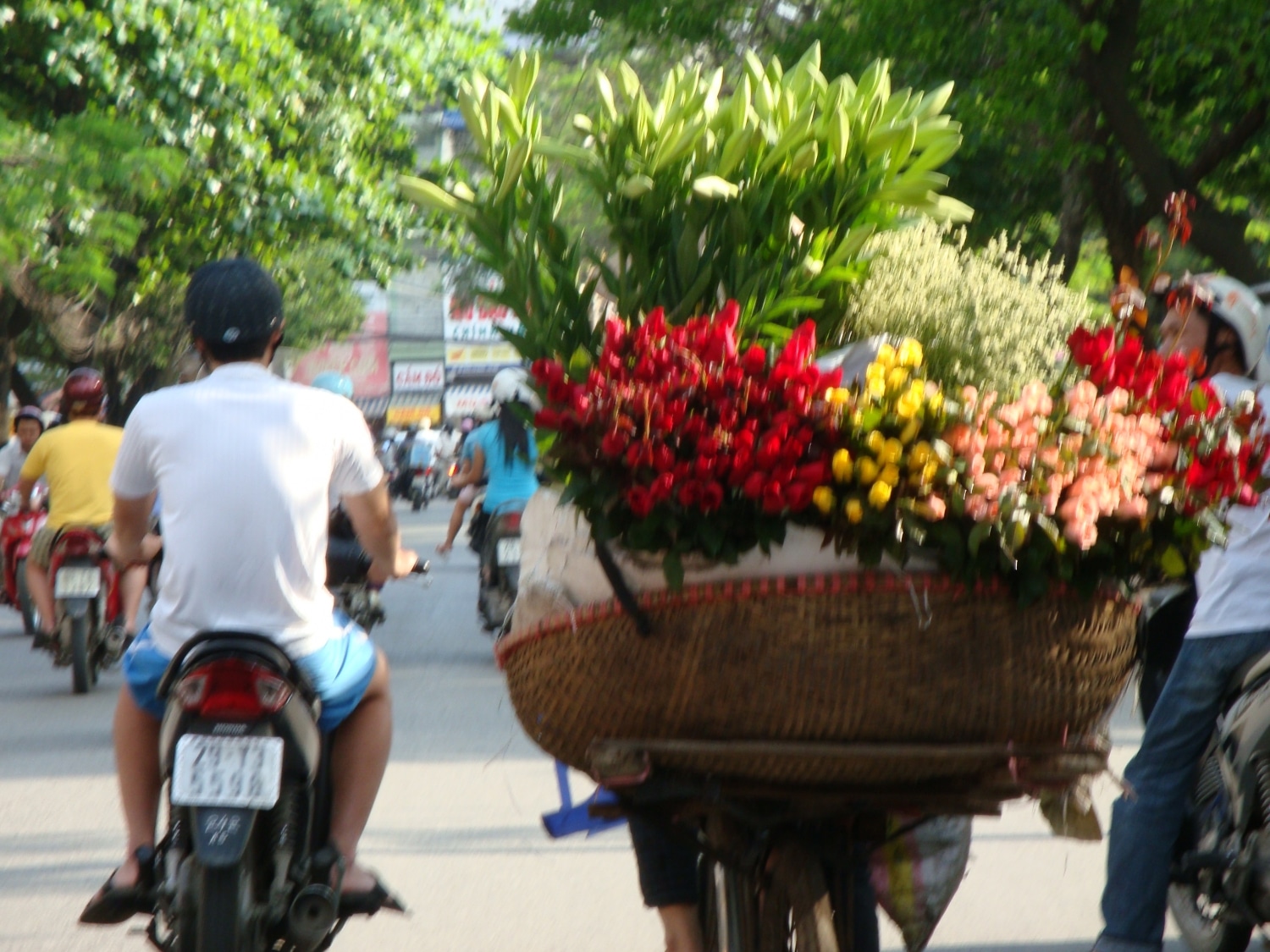 Hanoi is engaging in that it takes every one of your senses on a rollercoaster ride: eyes constantly peering over the shoulder of your moto rider as he drives into oncoming traffic with insouciant ease, nose smelling the heady mixtures of foods and flowers at the market, fingers touching the intricate silken clothes in small packed shops, and last but not least, tasting the delicately flavoured dishes that have put this country on the international culinary map.
To get my taste of the city, I booked in for a cooking class with chef Nguyen Thanh Van from the Sofitel Legend Metropole Hanoi. Nguyen was the first Vietnamese woman to become a member of l'Academie Culinaire de France and was the perfect person to introduce me to the subtleties of Hanoi street food and Vietnamese cuisine in general.The Sofitel Legend Metropole Hanoi is one of the old­est and most prestigious hotels in the city.
"Vietnamese cuisine is very dif­ferent from area to area. There are many different regions and each one has its own speciality food and style of cooking," Van explained as she welcomed us to the kitchen.
Hanoi's Old Quarter Market
Before we'd laid our hands on anything, Ngyuen announced that we would start off with a trip to the local market in the Old Quar­ter. Stalls piled high with fresh produce lined the road as far as the eye could see, while women chopped, carved and prepared the food for consumption.Vietnamese cuisine is full of fresh flavours and the market was brimming with fresh produce with which to create the traditional dishes.
It definitely put Borough Market to shame – stalls selling every imaginable fruit and vegetable, live seafood, freshly chopped joints of meat, flowers, plants, tofu, bamboo, spices and more were cramped into narrow streets. Nguyen commented on it all – telling us about what the stallholders were preparing, shopping preferences and which ingredients are good for making which dishes.
When it comes to Vietnamese cuisine, attention to detail is the name of the game. Only the freshest produce is used, hence why most of the seafood was still alive. Old ladies wielding fierce machetes cut vegetables into beautiful shapes to complement the dishes, women sorting through fifty carrots to choose the five they want. And all in the name of eating – this is a country that takes its food seriously.
Cooking Vietnamese Cuisine
"The first thing we are going to cook today is Nem — deep-fried spring rolls. This is traditionally a North Vietnamese dish, though it has now become popular through­out the whole country," she ex­plained.
I could rave about these spring rolls. Made with rice paper, they're light and bursting with flavour and take about 20 minutes from start to finish. Although they're made with pork, the key to their unique flavour is that the pork is only a small part of the filling. You chop sweet turnip, black mushroom, vermicelli, bean sprouts, spring onions, papaya and carrots and mix them with the pork so you might say that these are maybe the healthiest deep fried things you can find. Maybe.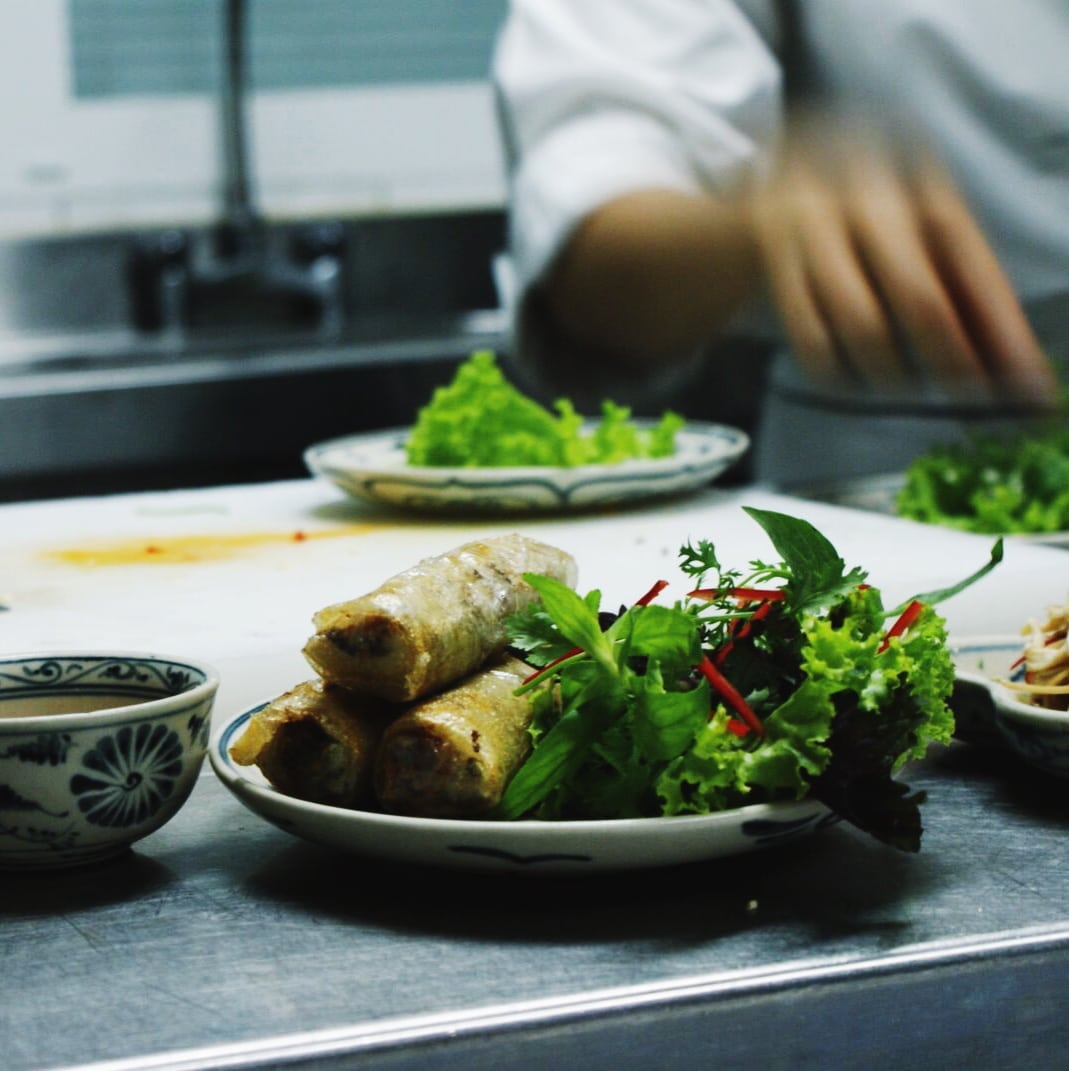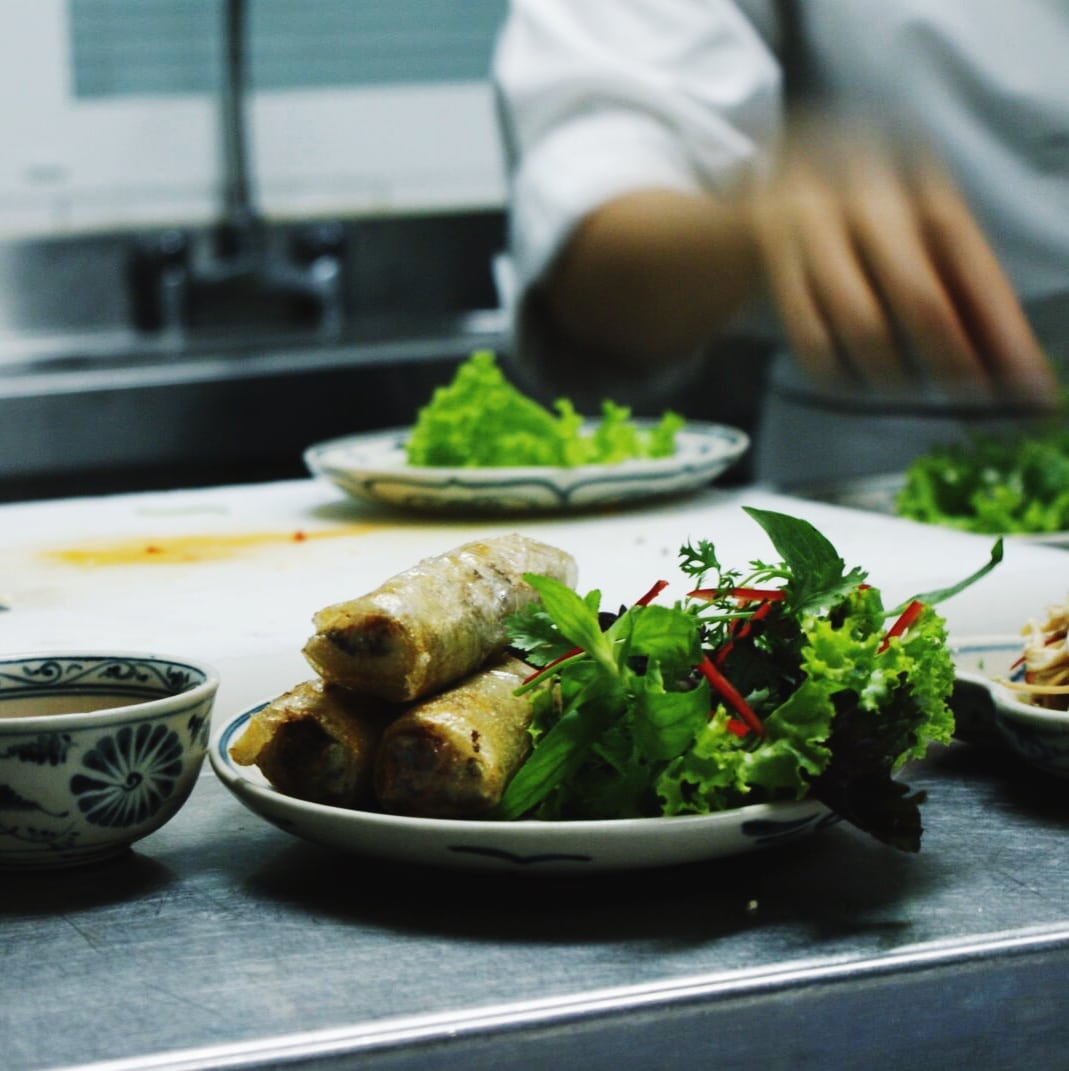 The real key to fantastic Nem though is the dipping sauce, Nguy­en elaborated, something I was in­clined to agree with once I'd tasted one of the small rolls dipped in the sauce.
You make the dipping sauce from fish sauce, water, rice vinegar, garlic, carrot and green papaya tossed in salt.  It complements the spring rolls and brings out the flavours of the meat and vegetables. You can make passable Nem with half of the attention to detail, but its those details that make Vietnamese cuisine what it is.
"In the north, we like to keep our dipping sauce quite plain, whereas the further south you go, the spic­ier the dipping sauce tends to be," Nguyen continued. As we learnt the art of creating dishes such as banana flower salad, I began to un­derstand that North Vietnamese cuisine relied on the careful bal­ance of delicate flavours.
Banana flower salad or Nom Hoa Chuoi, is a light, shredded salad with chicken, star fruit, bean sprouts and peanuts. Slightly tangy and crunchy, the final product was well worth the effort and took no time at all to prepare.
Going to Vietnam? Here are the best street food dishes you have to try.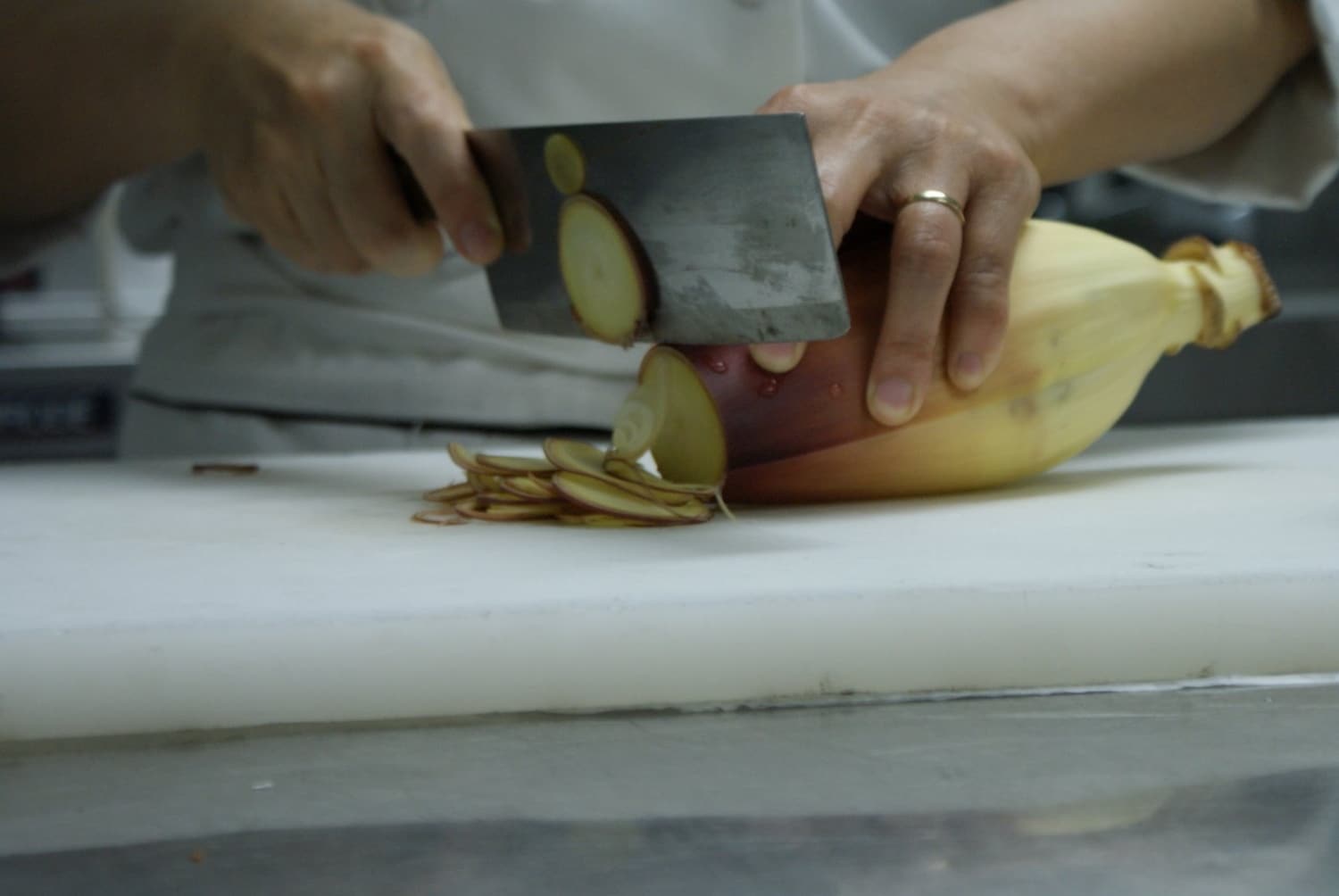 Vietnamese Recipes
Vietnamese banana flower salad – Nom Hoa Chuoi
750g fresh banana flower
150g chicken breast
3 pieces sour star fruit
2 small bunches rm herbs
150g bean sprouts
4 pieces lime
40g sugar
75g peanuts
30g sesame seeds
Salt, pepper and chilli to taste
Lemon juice
Fish sauce
Chop the herbs, chilli, peanuts and sesame for decoration.
Thinly slice the banana flower leaves and place into water with a bit of lemon juice for 30 mins. Rinse under running water and leave to soak.
Boil the chicken breasts and shred finely.
Slice the star fruit and marinate with some sugar.
Blanch the bean sprouts. Drain.
Drain the banana flower.
Add all the ingredients to a large mixing bowl, season with salt and pepper, fish saucem sugar – add the herbs, chilli, peanuts, sesame seeds. Toss together and serve onto individual plates.
Hint: For salad dressing and dipping sauces, try to source fish sauce from the south of Vietnam as the warmer climate means it's much less salty and lighter. Try to get Vietnamese fish sauce if possible as it's quite different to the Thai versions.
Hanoi Deep Fried Spring Rolls – Nem
350g pork shoulder (roughly minced)
200g sweet turnip (can be replaced by water chestnut)
2 eggs
30 pieces rice paper
300g black mushroom
100g vermicelli
150g bean sprouts
50g spring onion
50g young papaya and carrots
Garlic, fish sauce, vinegar, salad and fresh herbs to taste.
Slice the young papaya and carrot, marinate in salt, sugar and vinegar.
Mince the pork, chop the sweet turnip and bean sprouts.
Soak the vermicelli in warm water for 15 mins, clean and chop it.
Mix all the ingredients above with the eggs.
Take one tablespoon of the mixture and put onto the edge of the rice paper. Roll up and seal with flour and water paste.
Deep fry until golden brown. Serve immediately with the herbs, salad and dipping sauce.
(Dipping sauce – 1tbsp fish sauce, 5-6 tbsp water, 1 tbsp rice vinegar, 1 sp sugar, crushed garlic (not chopped – add for flavour), pepper. Sliced carrot and green papaya that have been tossed in salt)