There's no better way to immerse yourself in Vietnamese culture than taking a street food tour in Hanoi. Check out my Hanoi street food guide – complete with a map. Go hungry!

Street food in Hanoi, Vietnam. Where do I start?
It's my second time in the city – fast, frenetic and loveable, this is a destination where you never need to go hungry.
I had such good memories about my last trip (where I learnt to make some kick-ass Vietnamese food recipes) that I simply HAD to book myself onto a Hanoi street food tour.
Did I regret it? Certainly not. In fact, I can't think of a better way to kick off my return trip to Vietnam.
Watch the full video… Be warned. It will make you hungry!
Travelling to Hanoi? You should also read these Vietnam travel blogs:
What's the Best Way to Do a Hanoi Street Food Tour?
You basically have two options when it comes to exploring Hanoi's street food scene: go on a guided tour or do it yourself.
Hanoi Street Food Tour Review
I would recommend taking a tour with a local. Even though I give you a tonne of information on this post, going it alone is just not the same as doing it with a local who lives, sleeps and (most importantly) eats, Vietnamese street food.
I took this tour and would highly recommend it. Although it's advertised as a small group tour, it ended up being just me and my tour guide, Khanh.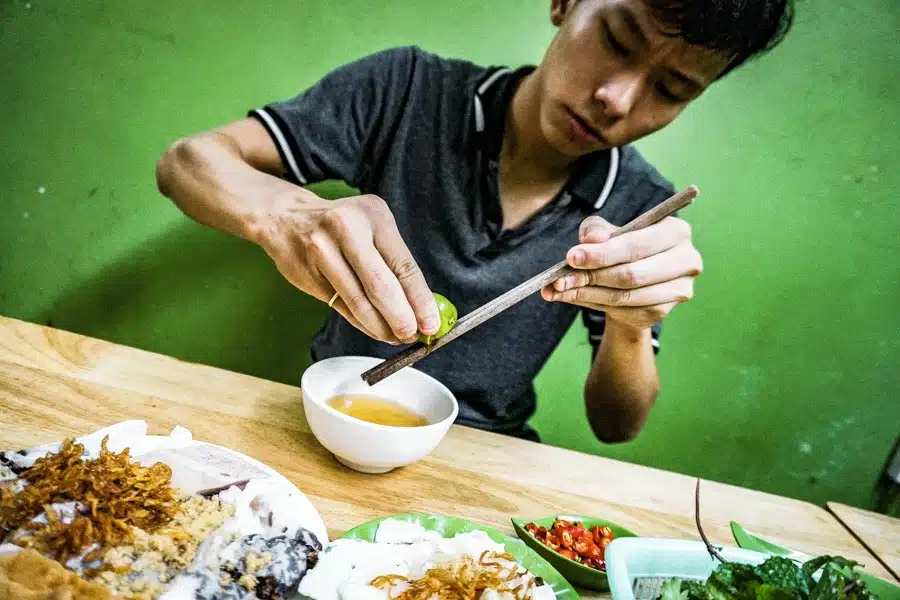 Khanh was a straight-up legend. Funny, honest and personable, he gave me so many insights into life in Hanoi that totally opened my eyes to how cool this city is.
See more Hanoi street food tours…
Exploring Hanoi's Food Scene Independently
The second option for your Hanoi street food tour is to go it alone.
It's not quite the same, but if you know where you're going, you can still sample some of the best eats in the city. That's why I've written this step-by-step guide with the coolest Hanoi street food spots in the city's Old Quarter and an easy-to-follow map.
Ready? Let's eat our way around the city.
Hanoi Street Food Guide: 8 Unmissable Dishes to Try
Nom Thit Bo Ko – Papaya, spicy cured beef and, purple perilla and Vietnamese balm.
Banh Bot Loc – Pork, shrimp and herbs, wrapped in arrowroot.
Nem – Deep fried pork and vegetable spring rolls.
Pho – Spring onions, rice noodles,chicken and a fragrant broth.
Pho Chong – Beansprouts, herbs, fried shallots and chicken.
Banh Cuon – Paper-thin rice paper rolls with pork.
Banh Mi – Baguette filled with your choice of Vietnamese fillings.
Vietnamese Egg Coffee
Hanoi Street Food Restaurant 1: Nom Thit Bo Ko
We started our Hanoi street food tour at Nom Thit Bo Ko in Hanoi's Old Quarter.
Now, it may look basic AF, but believe me when I say that this is one of the best places to try Nom Thit Bo Ko (surprise, surprise – guess the name gave it away) and a special kind of Vietnamese dumpling called Banh Bot Loc.
Must-Eat Hanoi Food: Nom Thit Bo Ko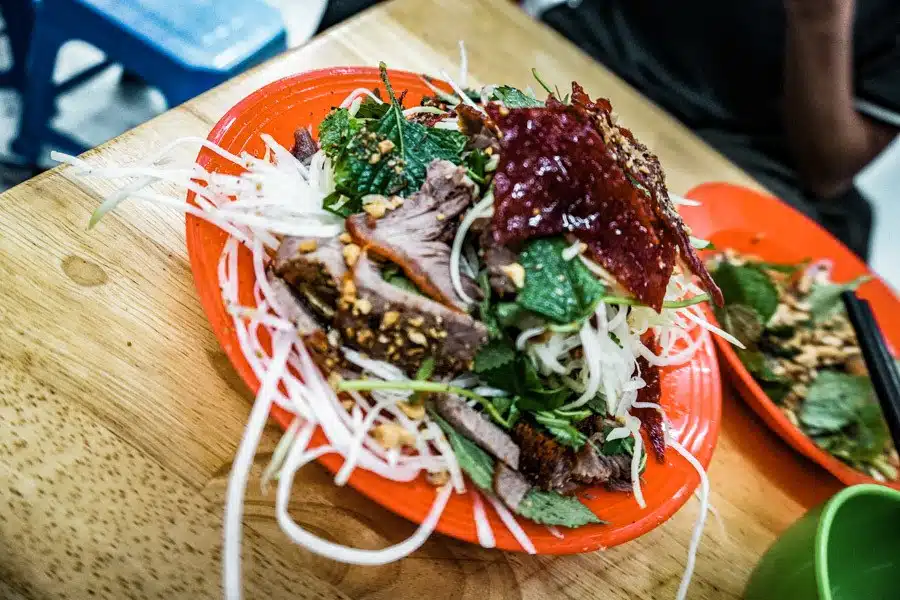 Papaya, spicy cured beef and, purple perilla and Vietnamese balm (both of these herbs I've only ever seen in Asia) are topped with a mound of peanuts. It's down to you to grab your chopsticks and mix it all up.
Make sure you grab some of the herbs in each mouthful – it's going to make a party in your mouth and really brings the dish to life.
The plates are tiny and you're bound to get some on the table, but it's all part of the fun. Wash it down with a cold, crisp Hanoi Beer and you're good to go.
Must Eat Hanoi Food: Banh Bot Loc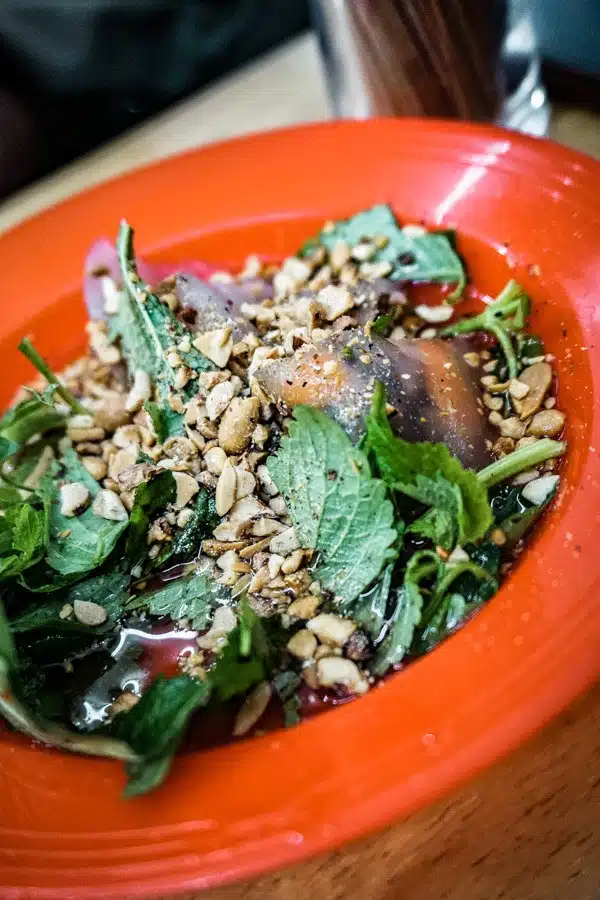 Pork, shrimp and herbs, wrapped in arrowroot. It may sound simple but it's surprisingly tasty. The dumplings' texture is chewy and a bit sticky – a bit like dim sum but with even more flavour.
Hanoi Street Food Stop 2: Nem Stall on Hang Be Street
This is a real street food stop. There's nowhere to sit and only one thing to order: Nem.
Must-Eat Hanoi Food: Nem
Nem are pork and vegetable spring rolls wrapped in rice paper and deep fried until hot and crispy. Sounds great right? It is.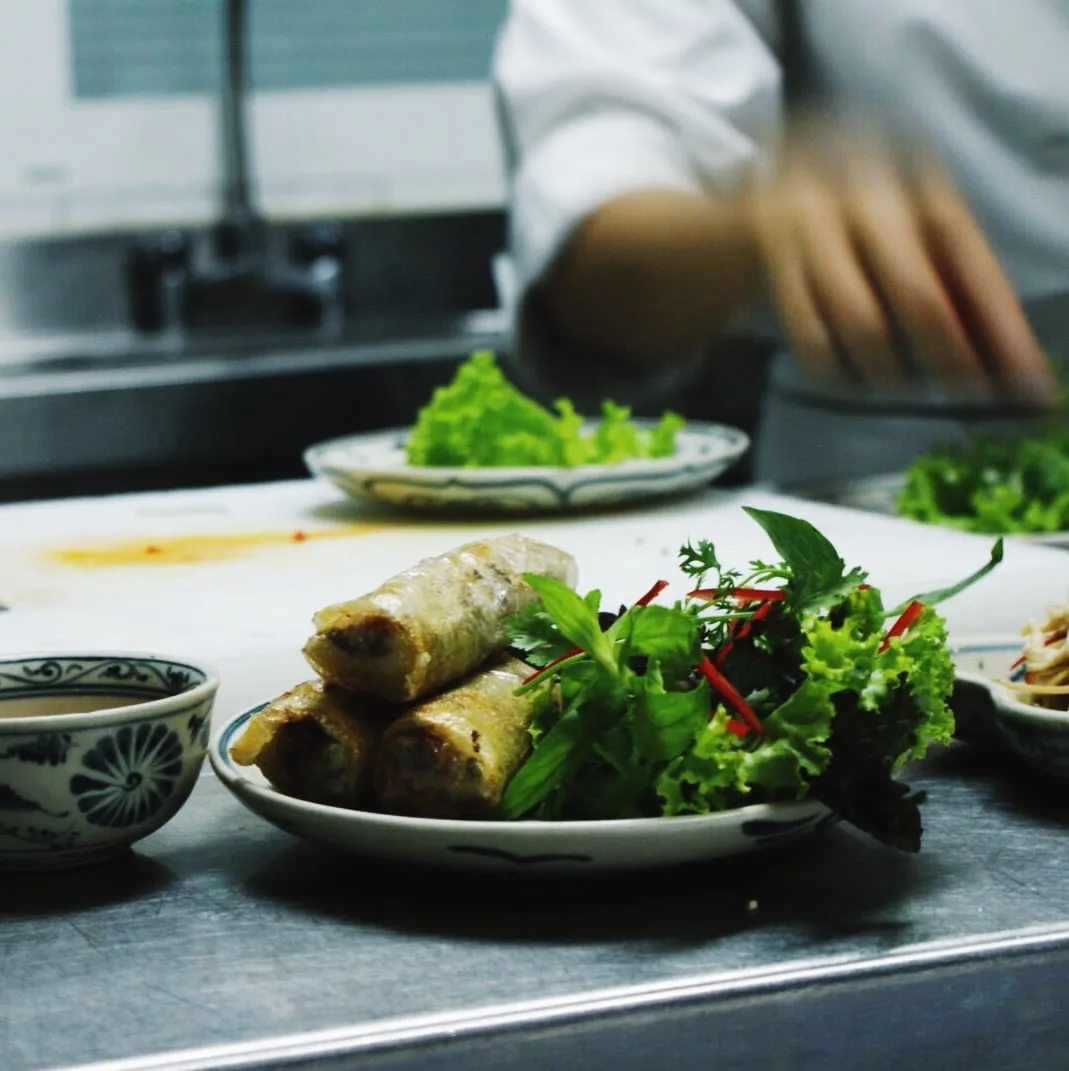 The veg are just as important as the pork – a mix of mushrooms, spring onions and carrots – plus a mix of whatever the chef feels like at the time.
Nem really one of my favourite dishes but no matter how many times I've tried to do this at home, it was nothing in comparison to these ones. Khanh said it best "this is one of the best things we have," damned right about that.
Hanoi Street Food Restaurant 3: Pho Dung
You'd have to have been living under a rock not to know what Pho is.
This Vietnamese noodle soup has pretty much taken the world by storm. It was always going to taste better straight from the source – no surprises there.
But did you know that there is MORE THAN ONE KIND OF PHO?
This is the place that is going to show you…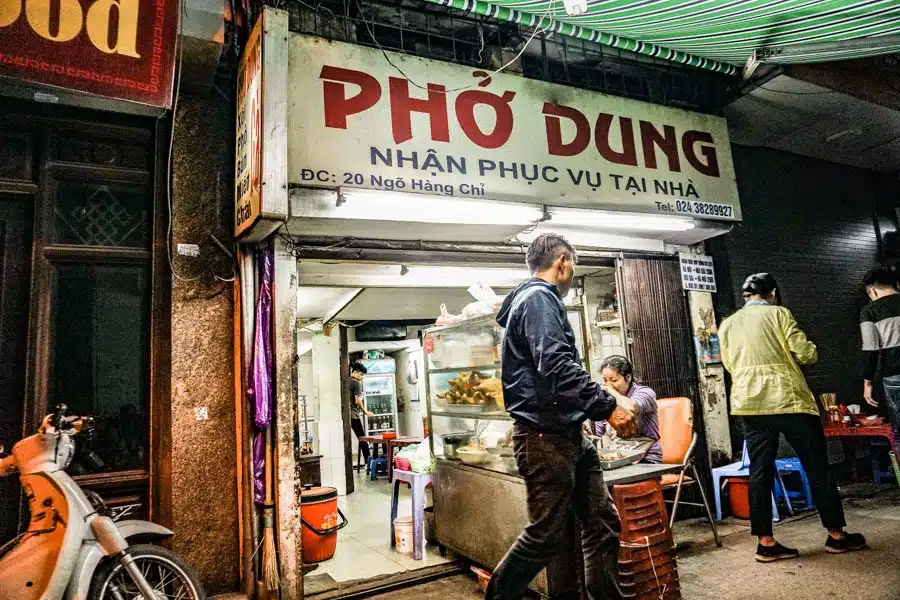 I'm not just talking about changing the ingredients, like beef pho vs chicken pho, I'm talking about a whole different noodle dish (pho chong) that is native to Hanoi. Certainly blew my mind.
Khanh made some pretty big statements about how the pho chong is actually better than the broth-based one. Guess what? He was right again…
Must Eat Hanoi Food: Pho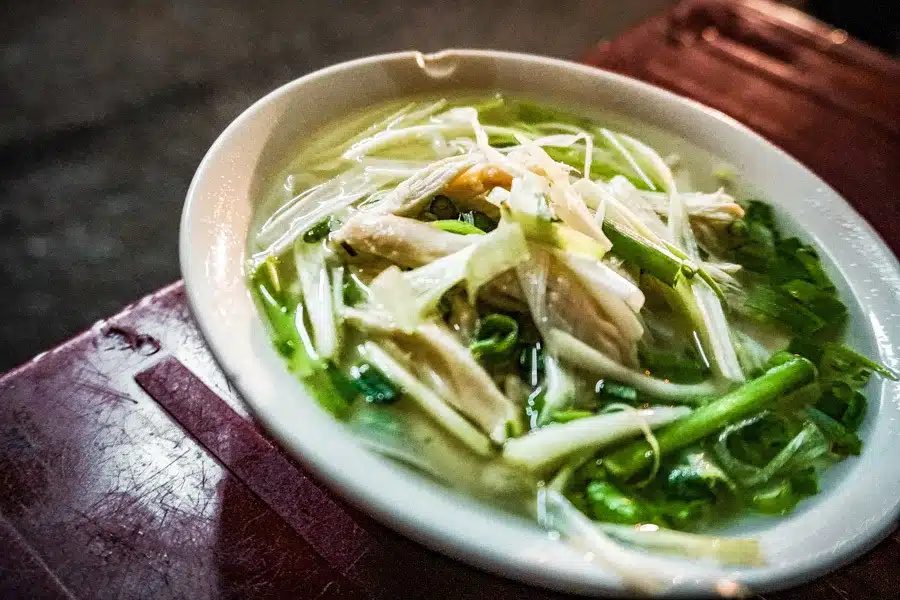 Spring onions, rice noodles,chicken and a fragrant broth. Pho is food for the soul – warm, soothing and yet packed with flavour, it's one of the most famous street foods in Hanoi and for good reason.
Must Eat Hanoi Food: Pho Chong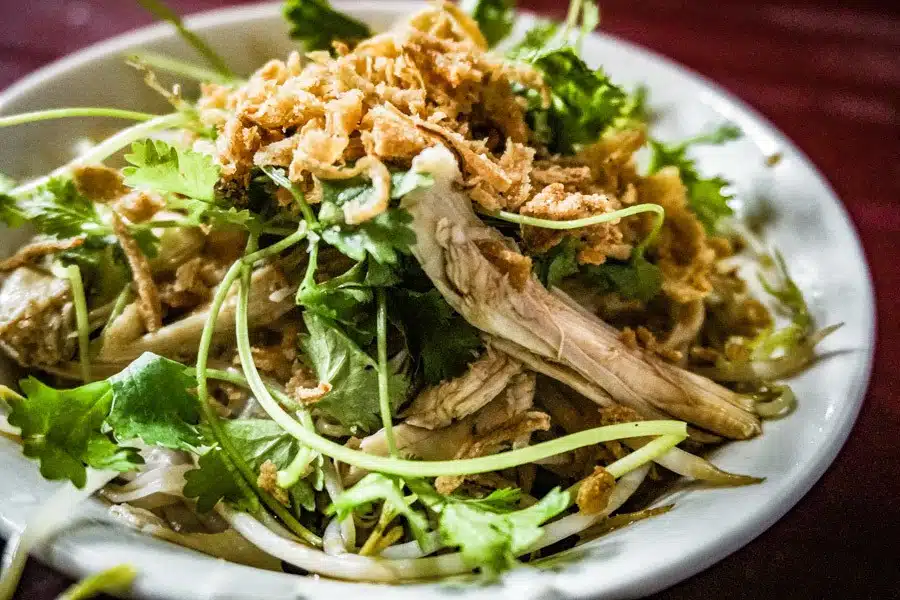 "This one right here is the treasure," said Khanh as the pho was set in front of us. No broth – beansprouts, herbs, fried shallots and chicken. Simple yes, but absolutely delicious.
Again, the herbs are really what make this dish pop – it's so good. If you only have one dish while you are in Hanoi, I think this should be it.

Top tip: Squeeze your lime into the flat-bottomed spoon that comes with the pho before tipping it into the dish. That way you can stop the pips from getting into the pho as they're very bitter.
Hanoi Street Food Restaurant 4: Banh Cuon Nong
One of the very best things about taking a Hanoi street food tour is the fact that you can see dishes being made right in front of you.
Watching an learning the ingredients and methods for making scrummy dishes is the perfect way to introduce you to a flavours of a country.
So I got really quite excited eating in Banh Cuon Nong.
Must Eat Hanoi Food: Banh Cuon – Special Vietnamese Rice Paper Rolls
The skilled chef whips up paper-thin rice paper rolls from scratch, cooking the wraps on a special flat hot plate before filling them and dishing them onto your plate.
This is a traditional Vietnamese breakfast food, but we're rebels and we don't care, so we're going to have them in the evening anyway.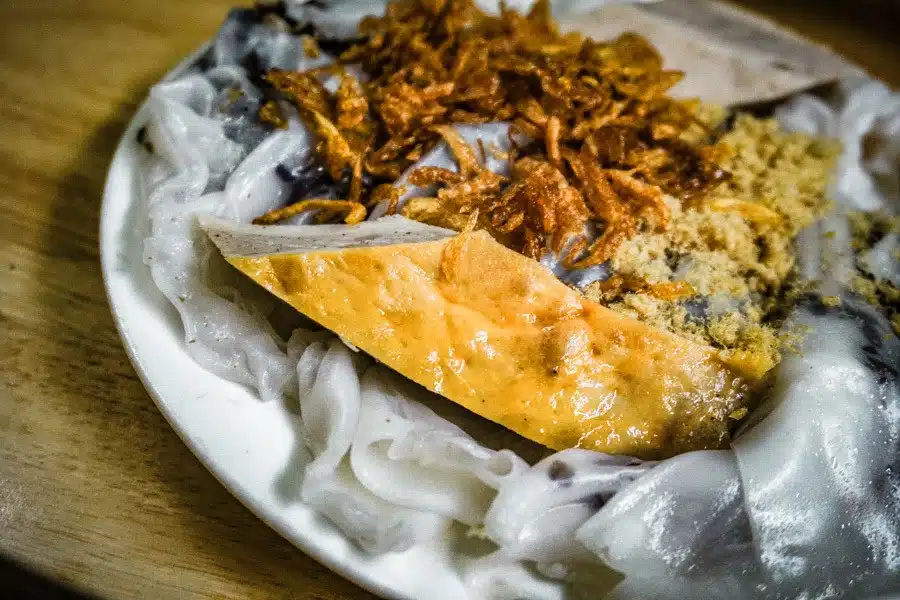 If watching the rice paper rolls was an experience, eating them definitely was. There are two options: the meat one and an egg one for vegetarians.
The pork ones come topped with some flaked pork and a slice of cured pork on the top – it's definitely a dish for the carnivores, though they throw in some wood eared mushrooms to balance it out too.
Khanh was pretty dismissive of the egg rolls, saying they're not traditional and don't taste as good.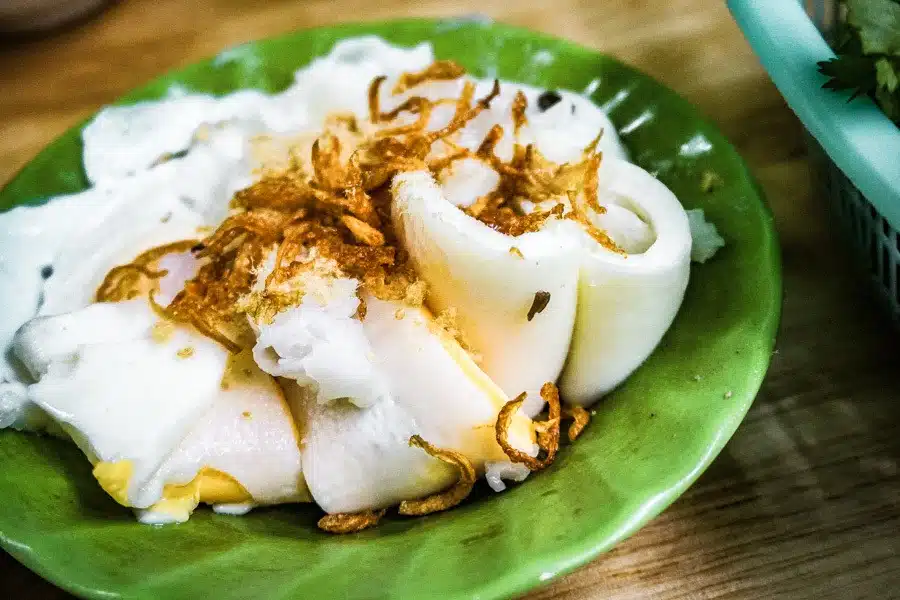 Either way, dip them in a dipping sauce with fish sauce, sugar and water (plus maybe a touch of chilli and lime) and off you go.
Only way to find out which is better is to try them both… so I did. In truth, the egg ones weren't quite as good but they were nice enough.
Hanoi Street Food Restaurant 5: Banh My P
Must Eat Hanoi Food: Banh Mi
Leaving the best till last? Banh mi is another famous street food in Hanoi and an awesome dish to finish your foodie exploration of the city.
I've never been convinced by the Banh Mi I've had in London, but this was a whole different ball game.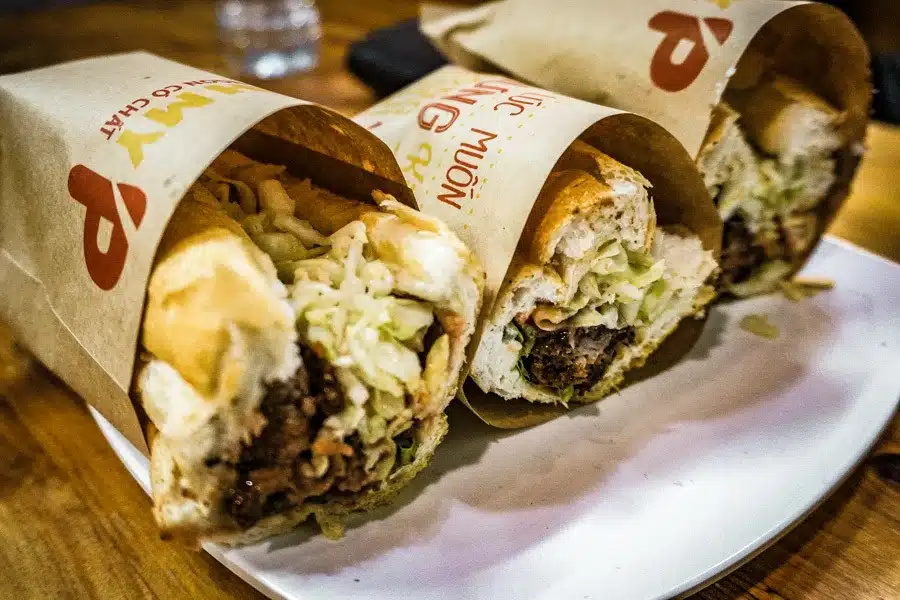 First of all, the baguette was fresh and crispy, packed with the filling of your choice and always leaving you wanting more.
There are so many different fillings to choose from – grilled beef, pork meatballs, pate (Vietnamese pate, which is totally different to the pate we have in the UK and about a million times nicer)
And to round it off? Vietnamese Egg Coffee at Cafe Dinh
Egg coffee? What the hell is that I hear you asking? Well…it's kind of what it says on the tin – strong Vietnamese coffee whisked with egg and condensed milk until thick and unctuous.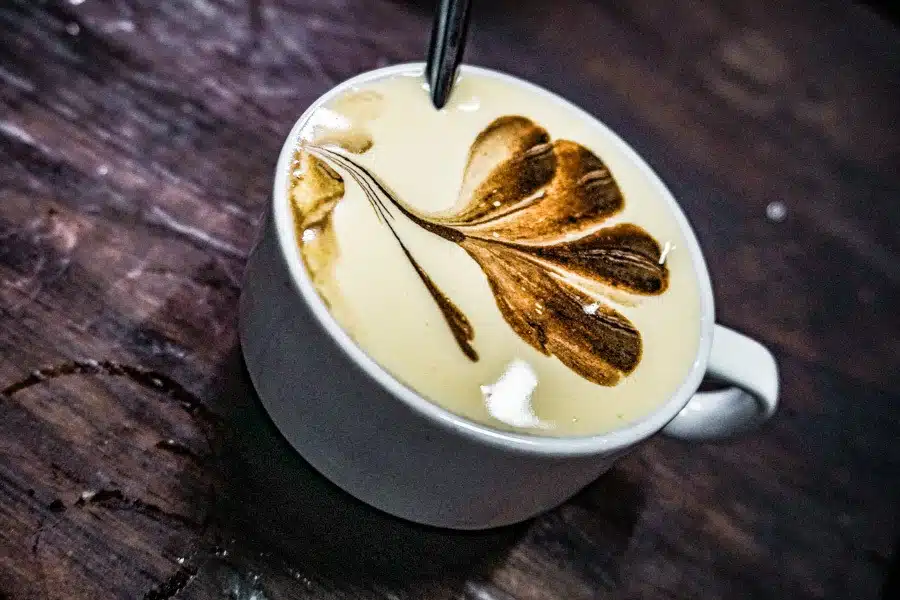 Cafe Dinh is a traditional Vietnamese cafe – with oodles of character and no frills. It also happens to be the place to get egg coffee.
You might not be sure about the idea – I sure wasn't. But, you know what, it was a nice surprise.
In all honesty, it tasted like a cross between custard and coffee, which totally makes sense when you think about it. I loved it – go on. Give it a try…
And there we are – a cool Hanoi street food tour. Want to follow in my footsteps? Off you go.

---
Hanoi Street Food Map
---
The Hanoi Street Food Guide: What You Need to Know
Vietnamese meals generally consist of a few appetizers, a main dish, and then something sweet for dessert. You should wash it all down with Vietnamese coffee, which comes in a number of ways including the rather unique egg coffee.
At the weekend, Hanoi's night market on Hang Dao Walking Street (sometimes called Hanoi's street food market) is also a great place to get street food. Some people are super funny about eating from markets. I personally would rather trust somewhere where I can see exactly what they are doing and love eating at markets but it's up to you. If you do go, try the grilled pork skewers. They cost about 10,000VND (30p / 40 cents) and are very tasty.
Other street foods you should really try in Hanoi include bun cha, grilled Vietnamese sausage and Vietnamese pate with sticky rice. Trust me, they're great.
This tour focuses on the street food of Hanoi's Old Quarter as it's easily walkable and can be done in one evening. If you have more time, you should branch out to other districts of the city – there's always a tasty bite around the corner in this city.
Read More Vietnam Travel Guides