Hanoi is frenetic, chaotic and charming in a way that will knock you off your feet. Looking for the coolest things to do in Hanoi? Here's what you need to know.
I've just come back from another trip to Vietnam and it's safe to say that Hanoi is hands-down my favourite city in the country.
An irresistible combination of old-world architecture (particularly in the Old Quarter), delicious street food and distinctly Vietnamese culture, it's a full sensory experience you won't forget in a hurry. Pinky promise.
Planning your visit to the city and want to know what to do in Hanoi? Don't miss this step by step guide.
I'm going to walk you through the best things to do in Hanoi, the most famous places in Hanoi, the best places to go, cool things to see…
In other words, hold onto your hats, it's going to be a bumpy ride.
Top 5 Things to do in Hanoi
There's a lot to see and do in the city, but if you're short on time, here are the top 5 things to do in Hanoi, the capital of Vietnam, that you shouldn't miss.
Eating Street Food in Hanoi's Old Quarter
Visiting the Ho Chi Minh Mausoleum Complex
Check out St Joseph's Cathedral
See Hanoi's legendary "Train Street"
Visit the Temple of Literature
Check out the Most Famous Places in Hanoi
Explore the Ho Chi Minh Mausoleum and Museum
Ho Chi Minh or "Uncle Ho" as he's affectionately called by locals is the most iconic figure in Vietnamese history.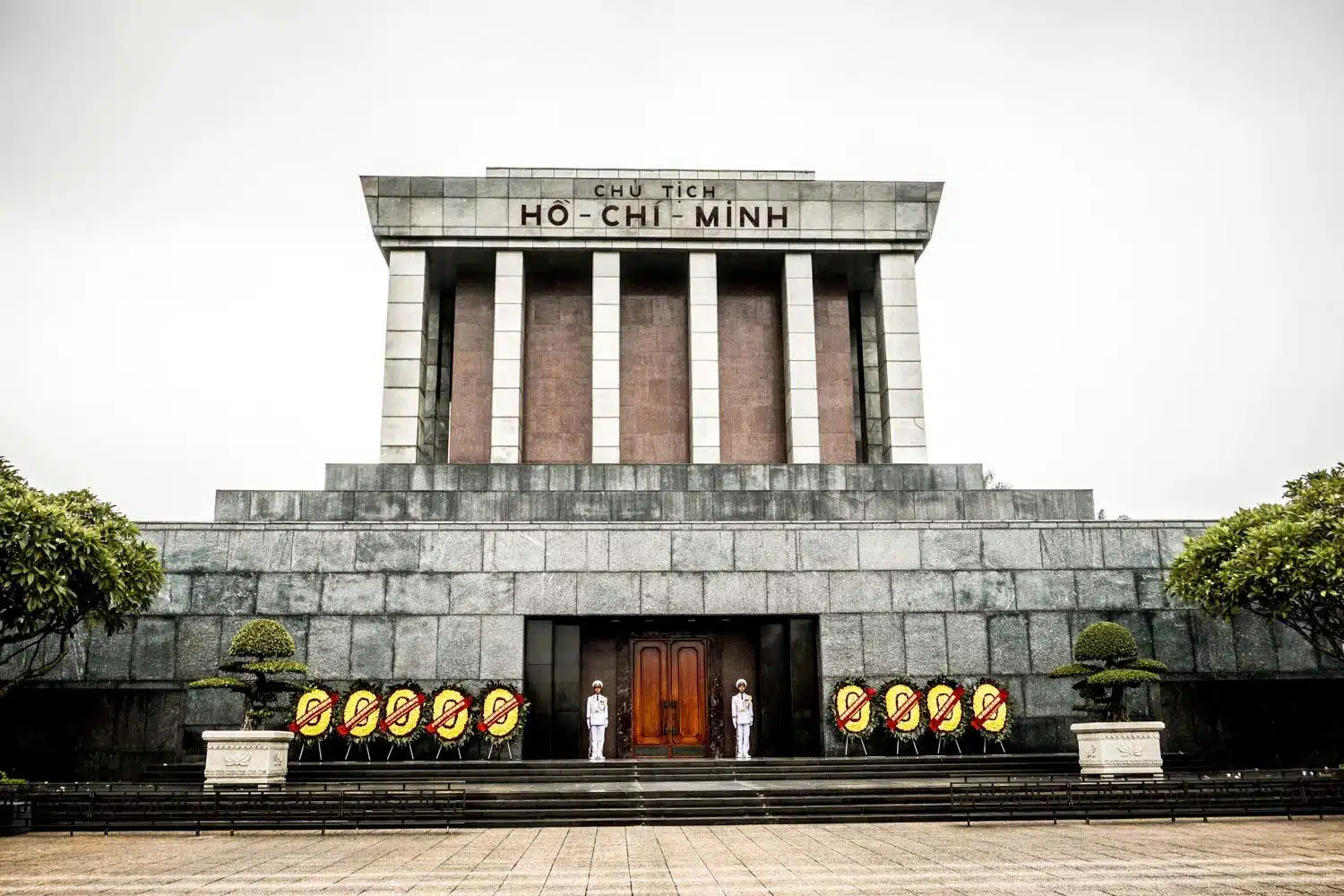 The Ho Chi Minh Mausoleum stands stark and emblematic – a huge brutalist-style building in the grand Ba Dinh Square and contains the past leader's embalmed remains.
Architecturally, the building is not dissimilar to those of Lenin, Mao and Stalin – but it has a distinctly Vietnamese twist of its own.
Inside, you can take a peek at Uncle Ho's embalmed body – unless you're unlucky and it's away in Russia for a touch up at the time, something that happens for about a month each year.
Visiting the Ho Chi Minh Mausoleum Complex – which covers the Mausoleum, Ho Chi Minh's Stilt House, the One Pillar Pagoda, The Presidential Palace and the Ho Chi Minh Museum is the best thing to do in Hanoi. If you only have time to do one thing in the city, head here.
Visit Ho Chi Minh's Humble Stilt House
Visiting the Stilt House is one of the best things to see in Hanoi if you want to understand why the locals loved Uncle Ho so much.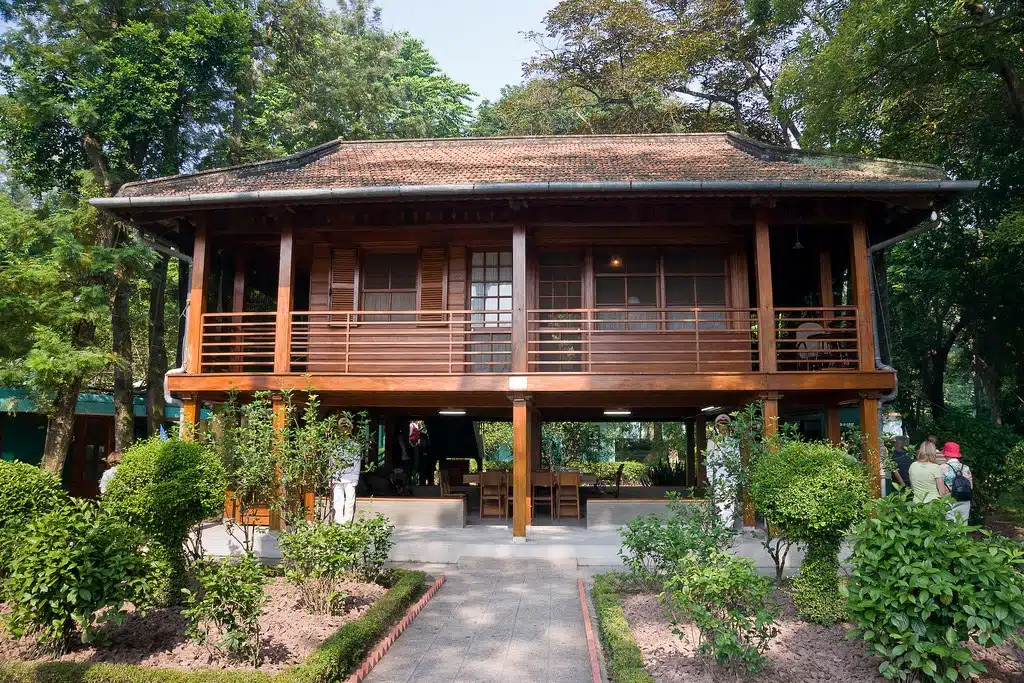 A part of the Ho Chi Minh Mausoleum Complex, Ho Chi Minh's Stilt House is not what you expect of a presidential residence at all.
Small, airy and understated – Minh lived here on and off between 1958 and 1969 during his presidency of the then Democratic Republic of North Vietnam.
The house has been kept exactly as he left it when he died. Peek inside – you'll see his books, desk, art – it's a true throwback in time.
Visit the Mystical Hoàn Kiếm Lake
The Hoàn Kiếm Lake is a lake in the middle of Hanoi, and one of the major scenic spots in the city.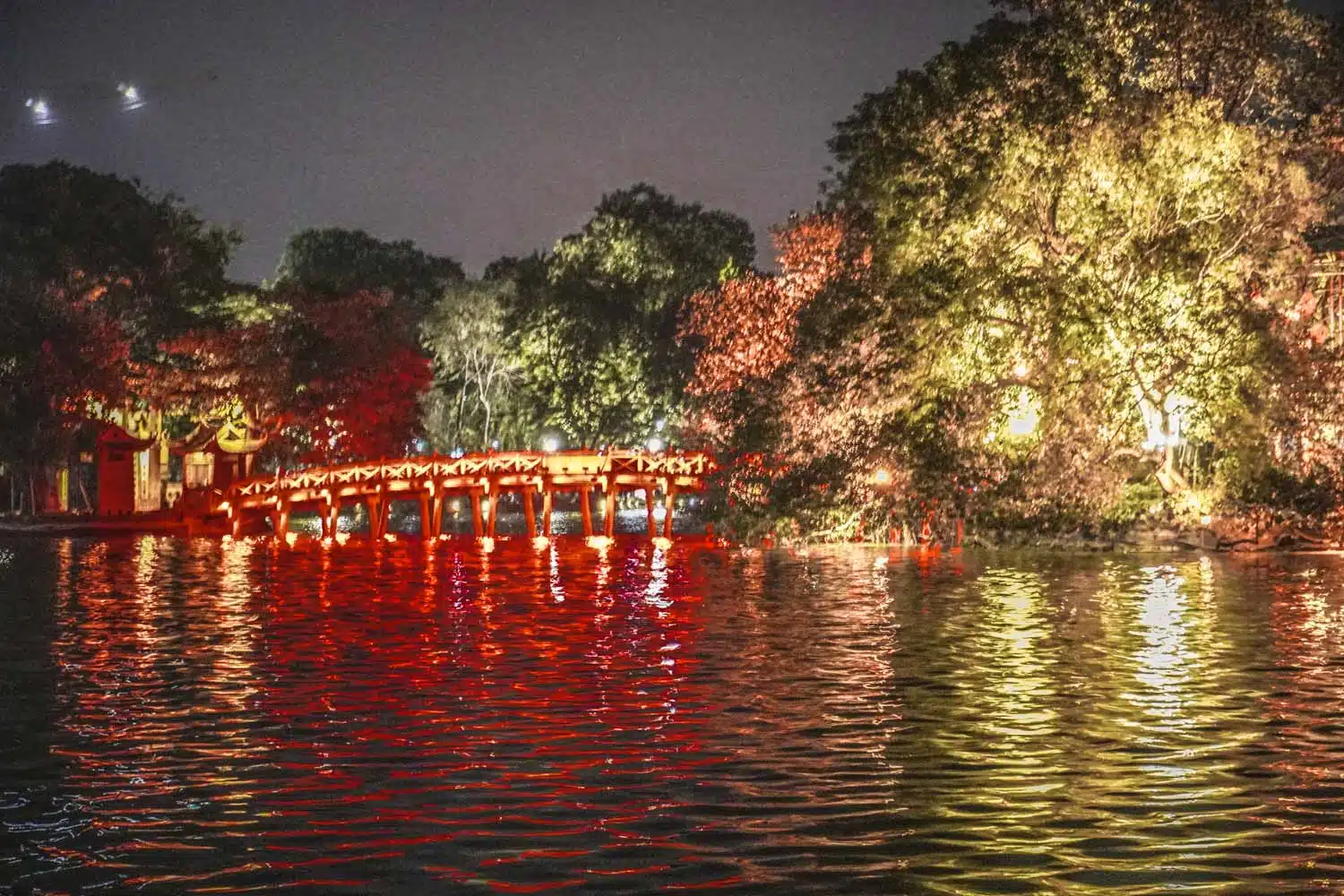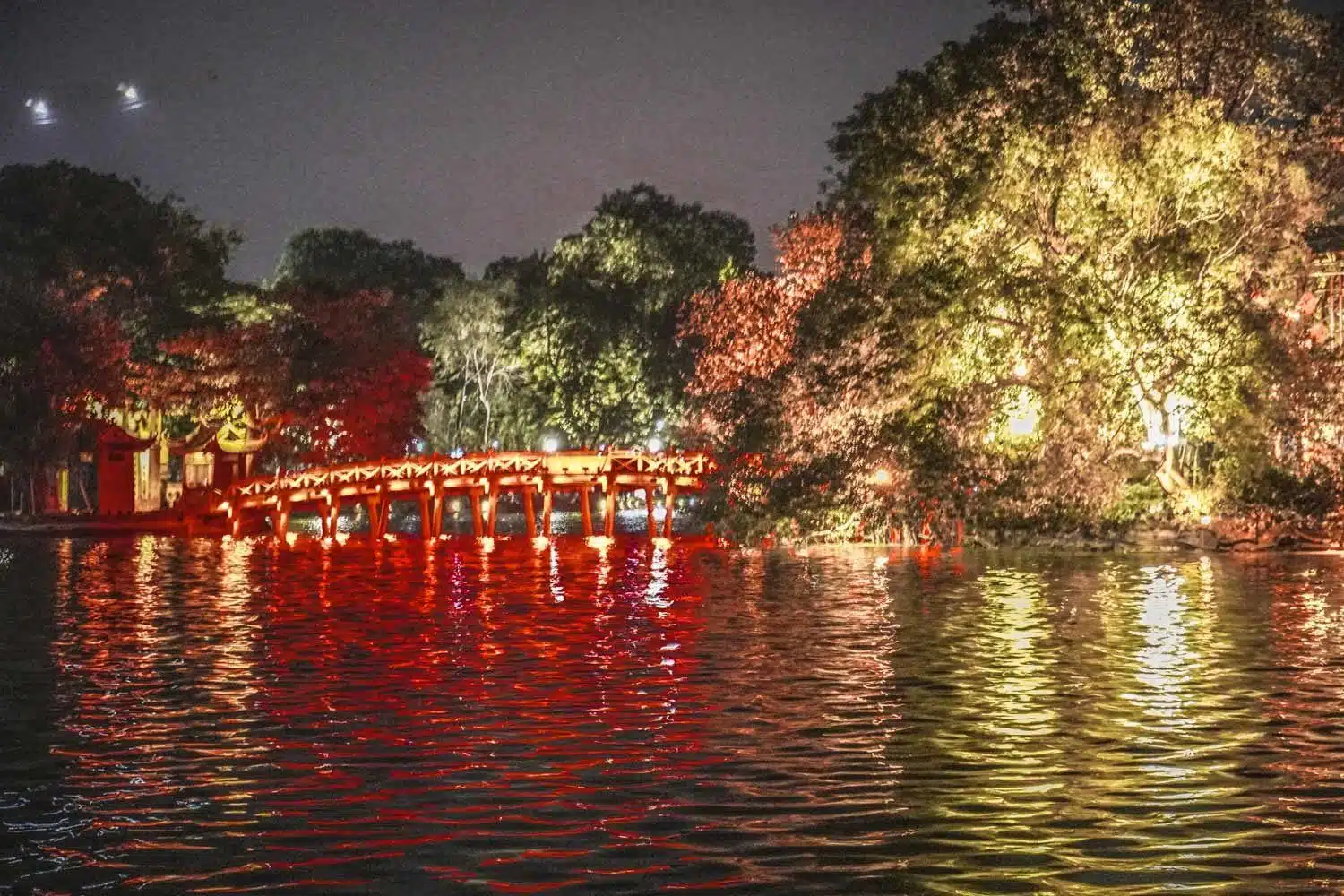 The name of the lake translated is 'Lake of the Restored Sword. Legend has it that Emperor Ly Thai was sent a magical sword when he was boating on the Lake, which he used to drive the Chinese forces out of Vietnam.
After the war, he returned the sword to a giant turtle in the lake who, in turn, restored it to its divine owners. Hence the name…
I'd recommend visiting the lake on a Friday, Saturday or Sunday evening when the adjacent road is turned into Hanoi's "Walking Street", which I've included as a separate entry in this article.
Check out the Historic One Pillar Pagoda
The One Pillar Pagoda is a historic Buddhist Temple in Hanoi, built between 1028 and 1054 under the ruling of Emperor Ly Thai Tong, to express his gratitude for having a son and male heir.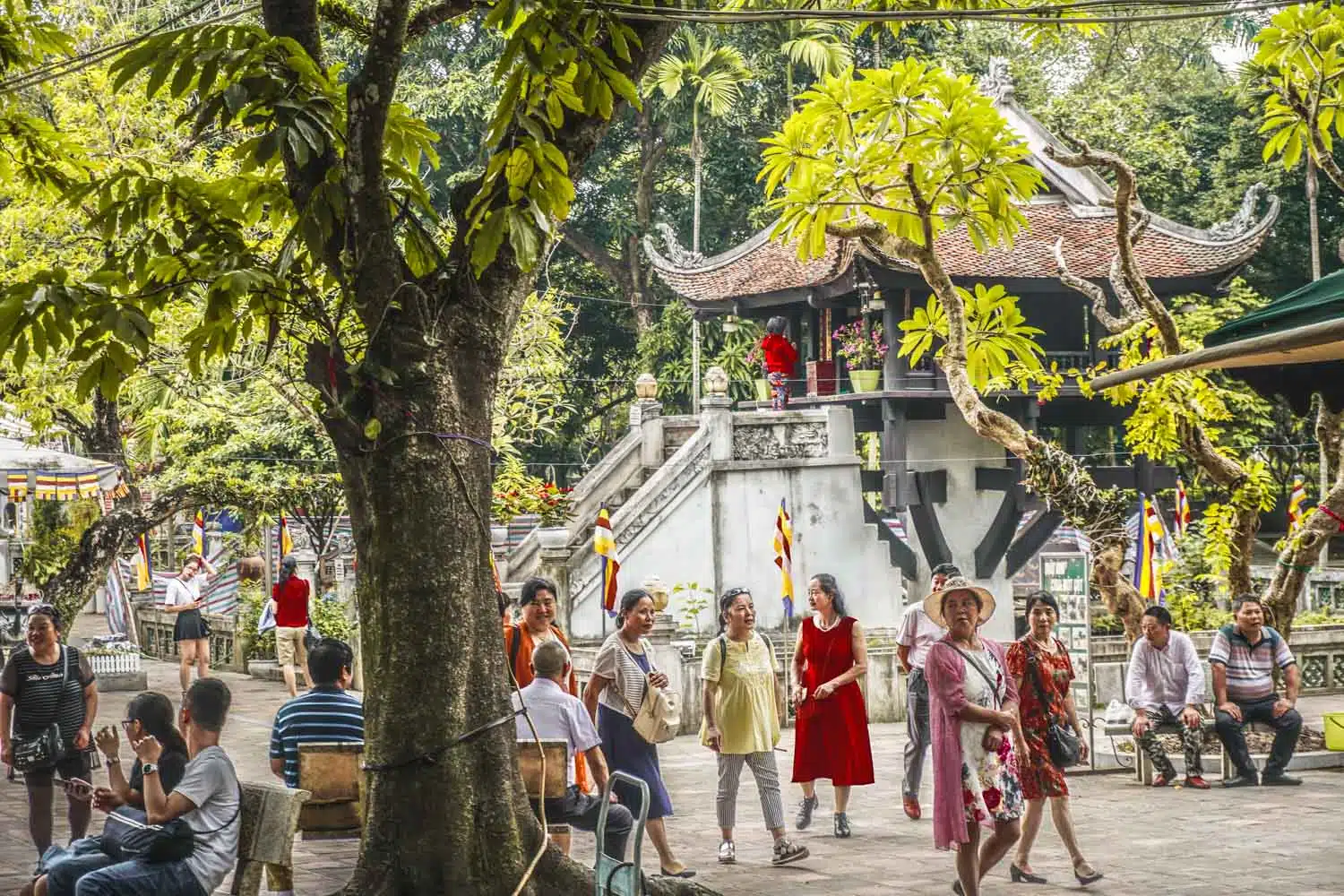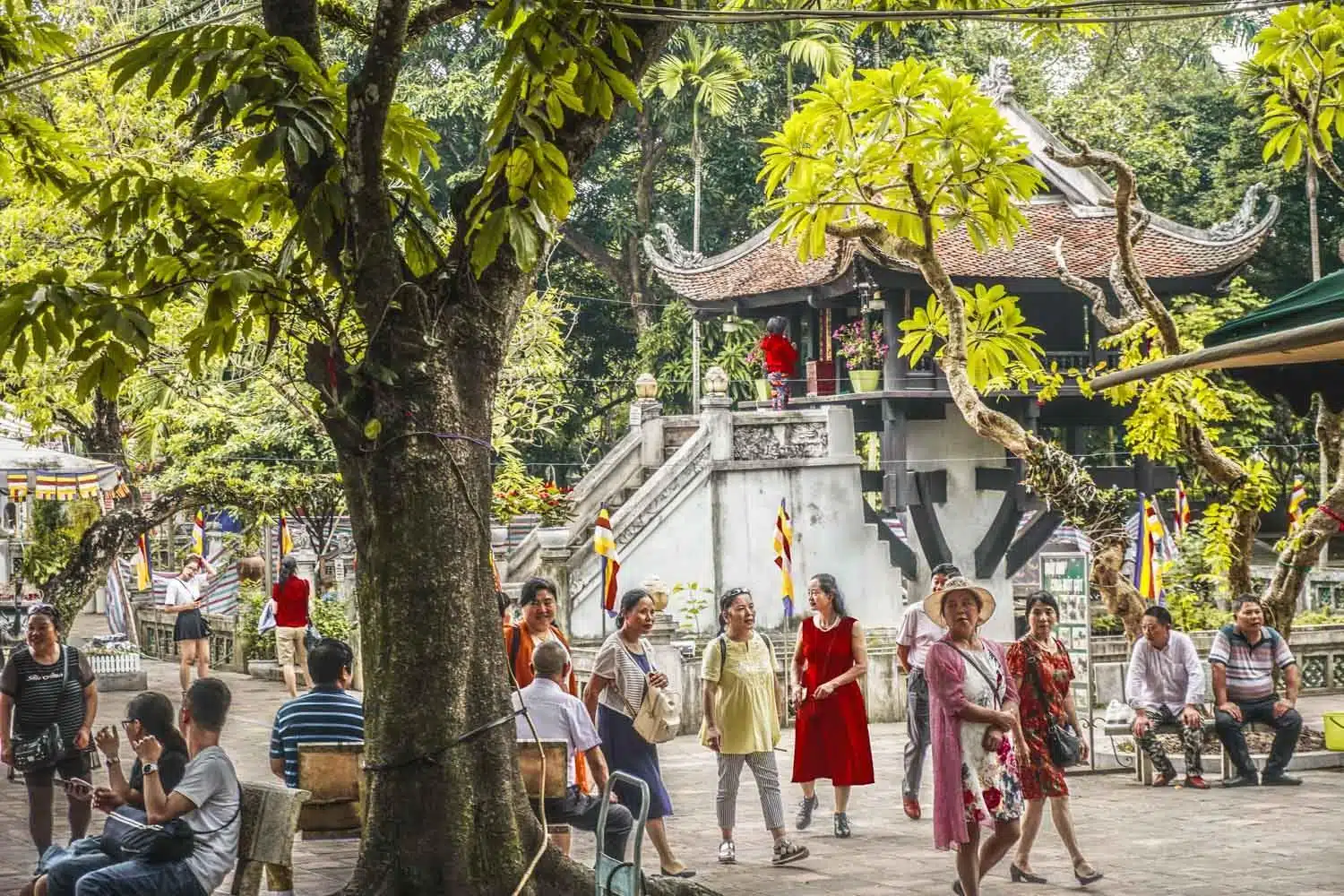 Architecturally, it's pretty unique – the name comes from the fact that it's built on a single pillar that rises from a lotus pond. Locals say that it represents a lotus flower growing out of the water. Pretty cool right?
It's part of the Ho Chi Minh complex – so definitely one of the best things to see in Hanoi.
Relive the Life of a Prisoner at the Hoa Lo Prison Museum
The Hoa Lo Prison – nicknamed the 'Hanoi Hilton', was a prison originally built by the French Colonists in Vietnam and later by North Vietnam during the Vietnam War.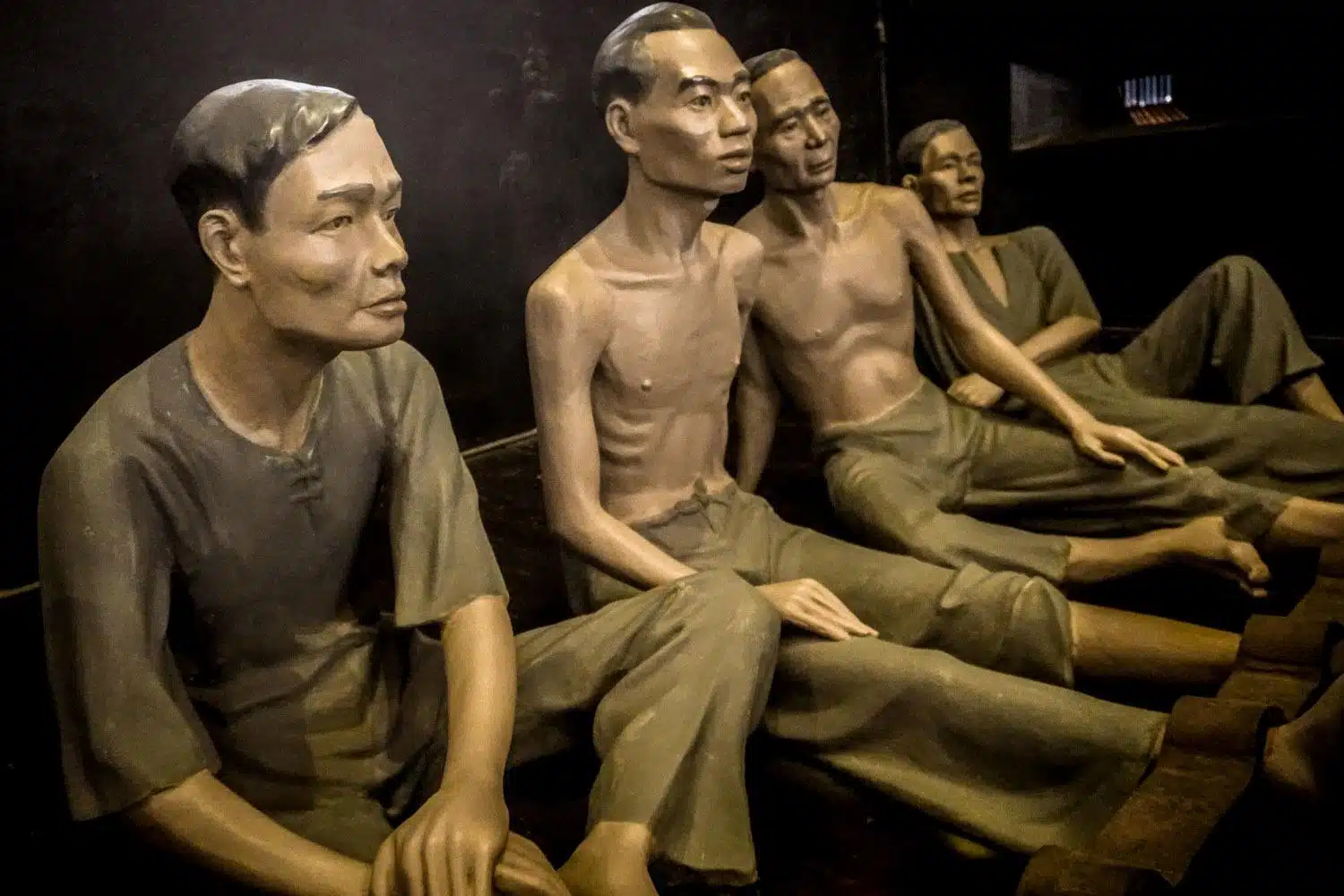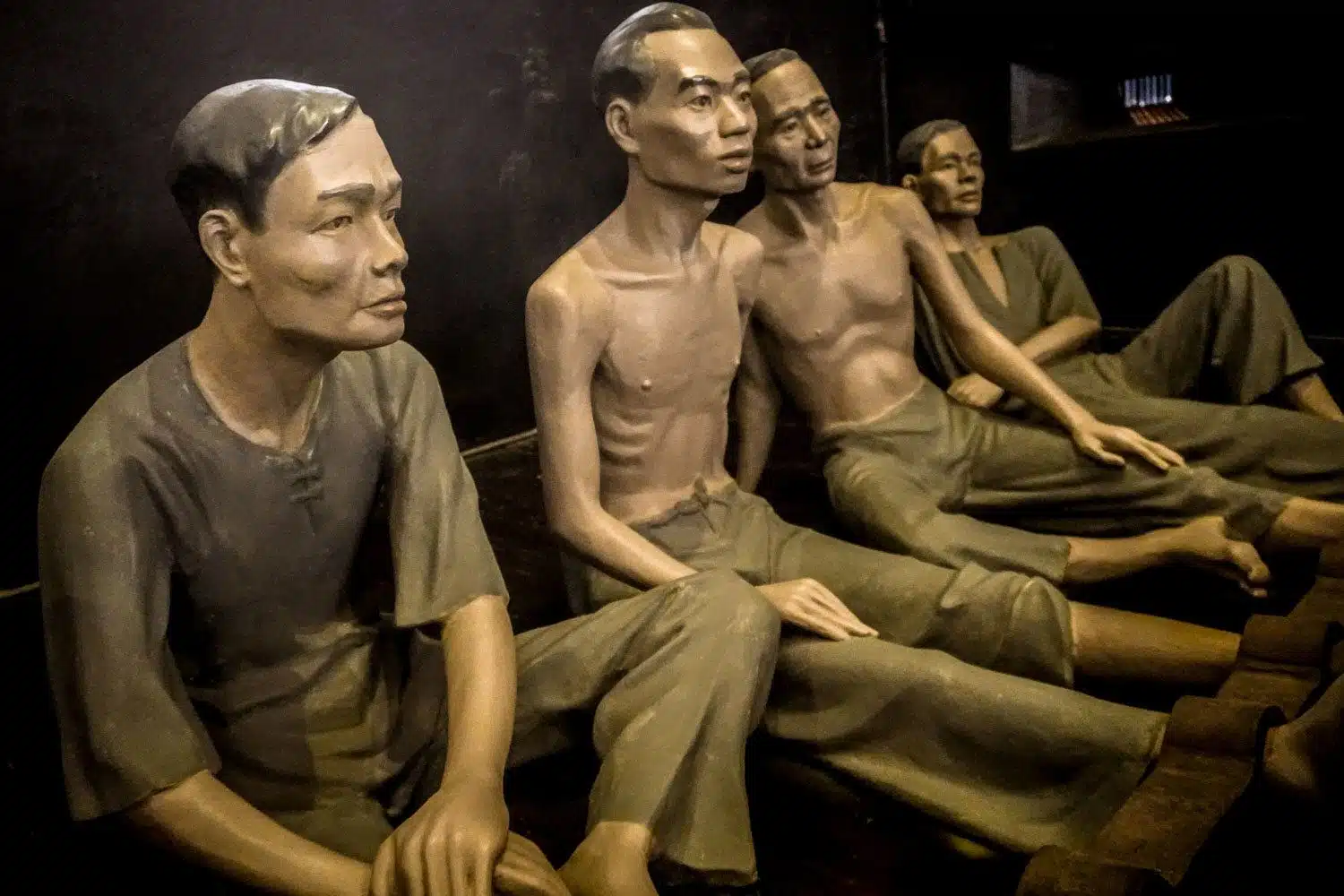 Large parts of the prison were demolished in 1997, but what remained was turned into the Hoa Lo Prison Museum.
I won't lie, visiting the museum is a pretty harrowing experience. It's hard to say that it is one of the best things to do in Hanoi, but it is a necessary one to understand the history of the city, and Vietnam more widely.
Prepare yourself for some stark representations of the lives of the Vietnamese prisoners under French rule. The instruments used to torture, shackles, whips and stark facts about the number of prisoners who died in incarceration.
Later parts of the museum present perhaps a rather one-sided look at the lives of American POWs during the Vietnamese War.
Walk Down Hanoi's Famous Train Street
Hanoi's 'train street' is located between Lê Duẩn and Khâm Thin street, on Ngo 224 Le Duan, in the Old Quarter.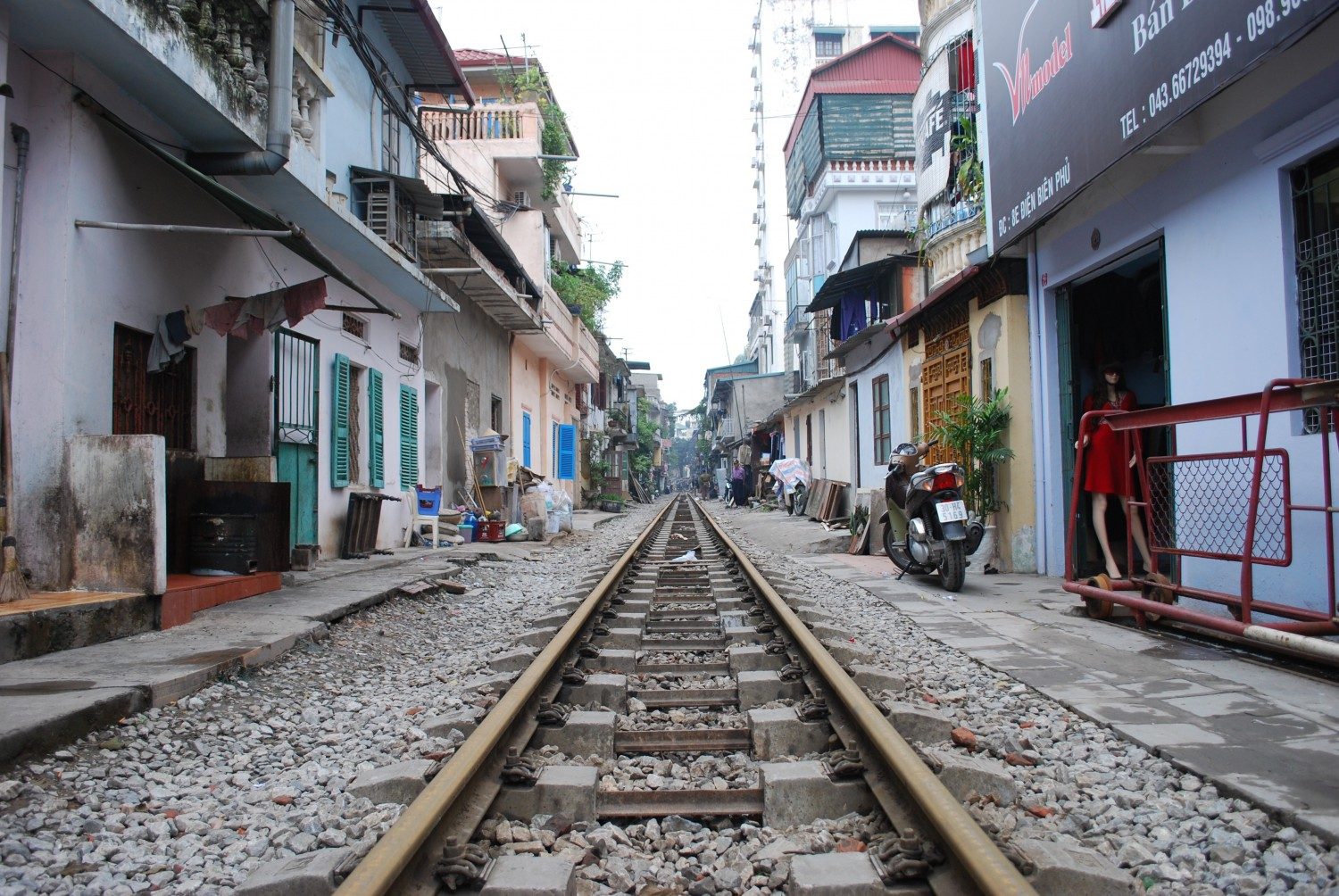 True to its name, this narrow residential street has a high-speed train that passes through it twice a day, every day, linking Hanoi with Ho Chi Minh City.
Sure, it's now on pretty much every list of the most Instagrammable spots and cool things to do in Hanoi, but there is something undeniably fascinating about watching everyone pack up their goods and retreat to their houses and shops so the train can eek its way along the narrow passage.
Snap a Picture at St Joseph's Cathedral
Located smack bang in the centre of the Old Quarter, the neo-Gothic St Joseph's Cathedral stands in stark contrast to the huddle of buildings surrounding it.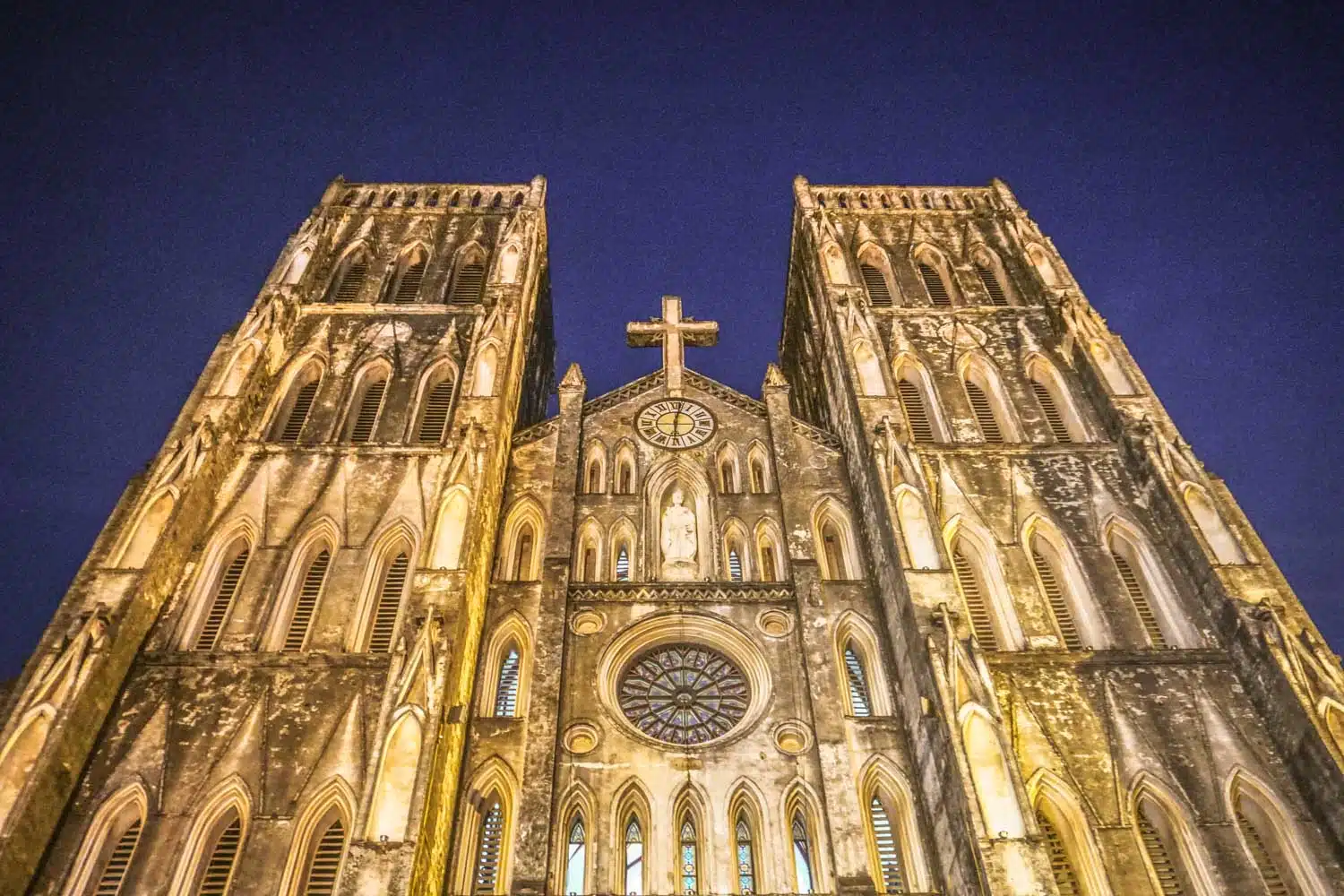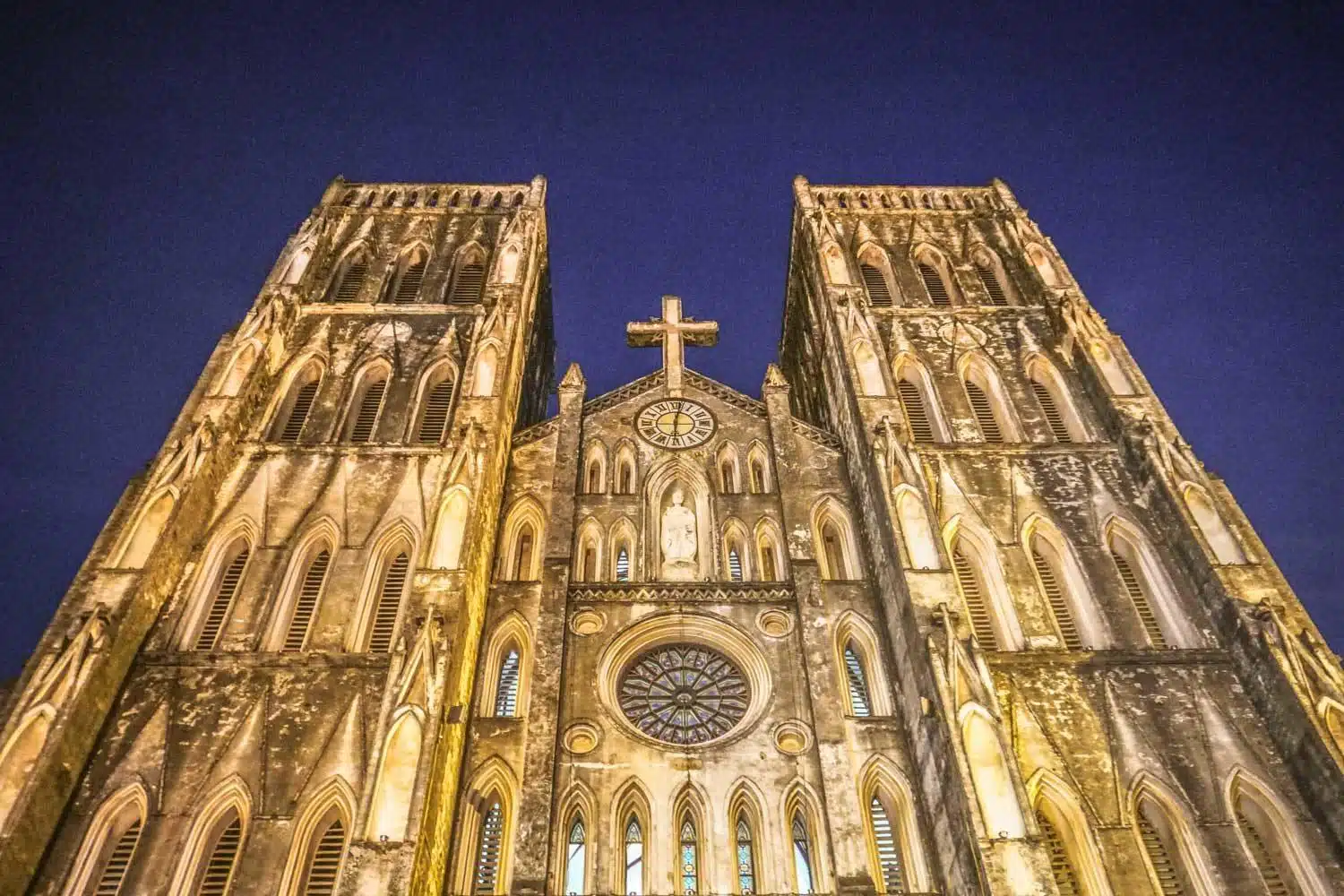 You'd think that years of pollution would take their toll on the cathedral but somehow it manages to look even more beautiful than if it were pristinely restored.
When it was completed in 1886, the cathedral was the first the French built in then Indochina – its striking facade has dominated Hanoi's old quarter ever since.
Soak Up the Knowledge at the Temple of Literature
The Temple of Literature should be at the top of your list of places to go in Hanoi. Why?
It's a gorgeous example of traditional Vietnamese architecture, built to honour learning and some of the country's best scholars.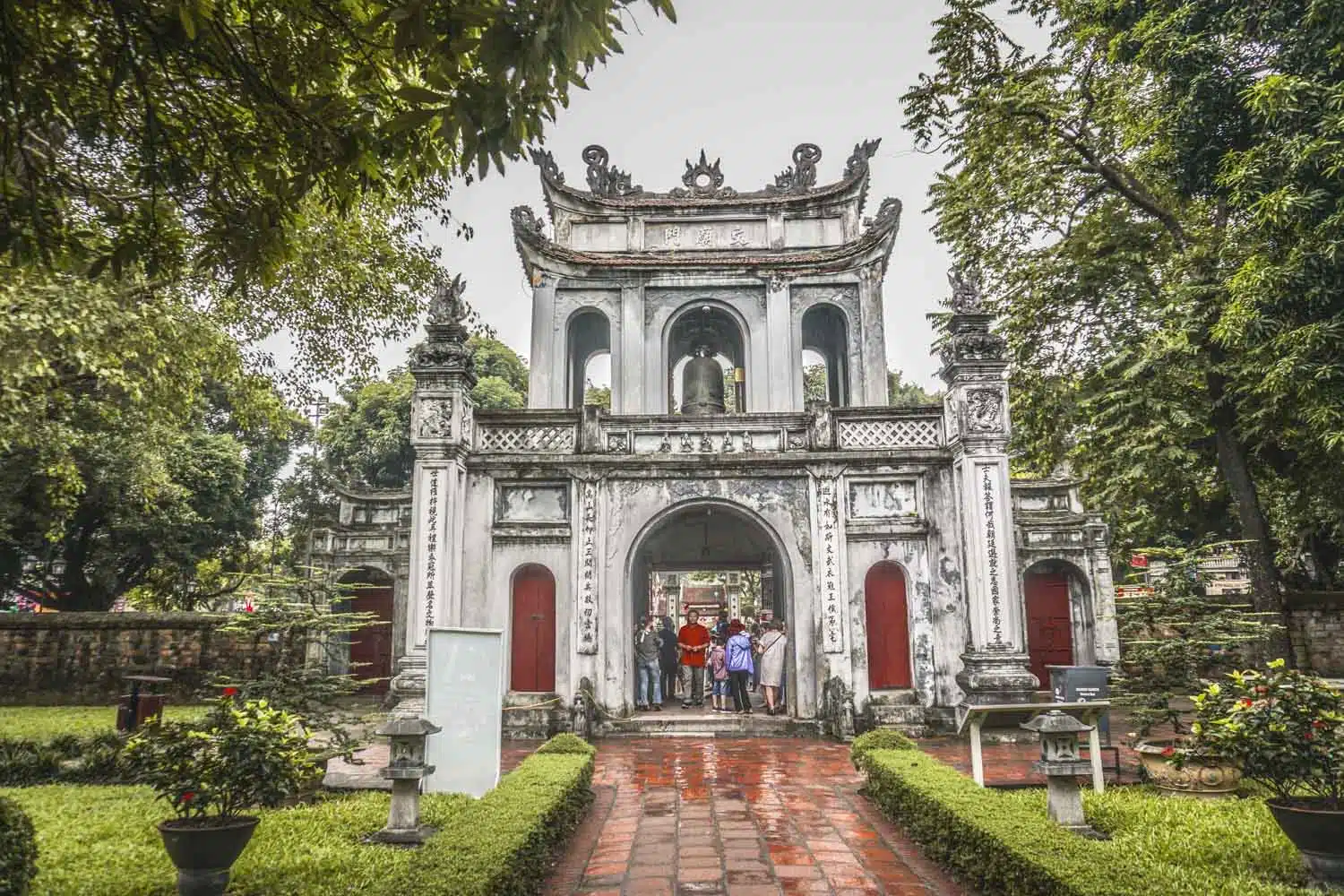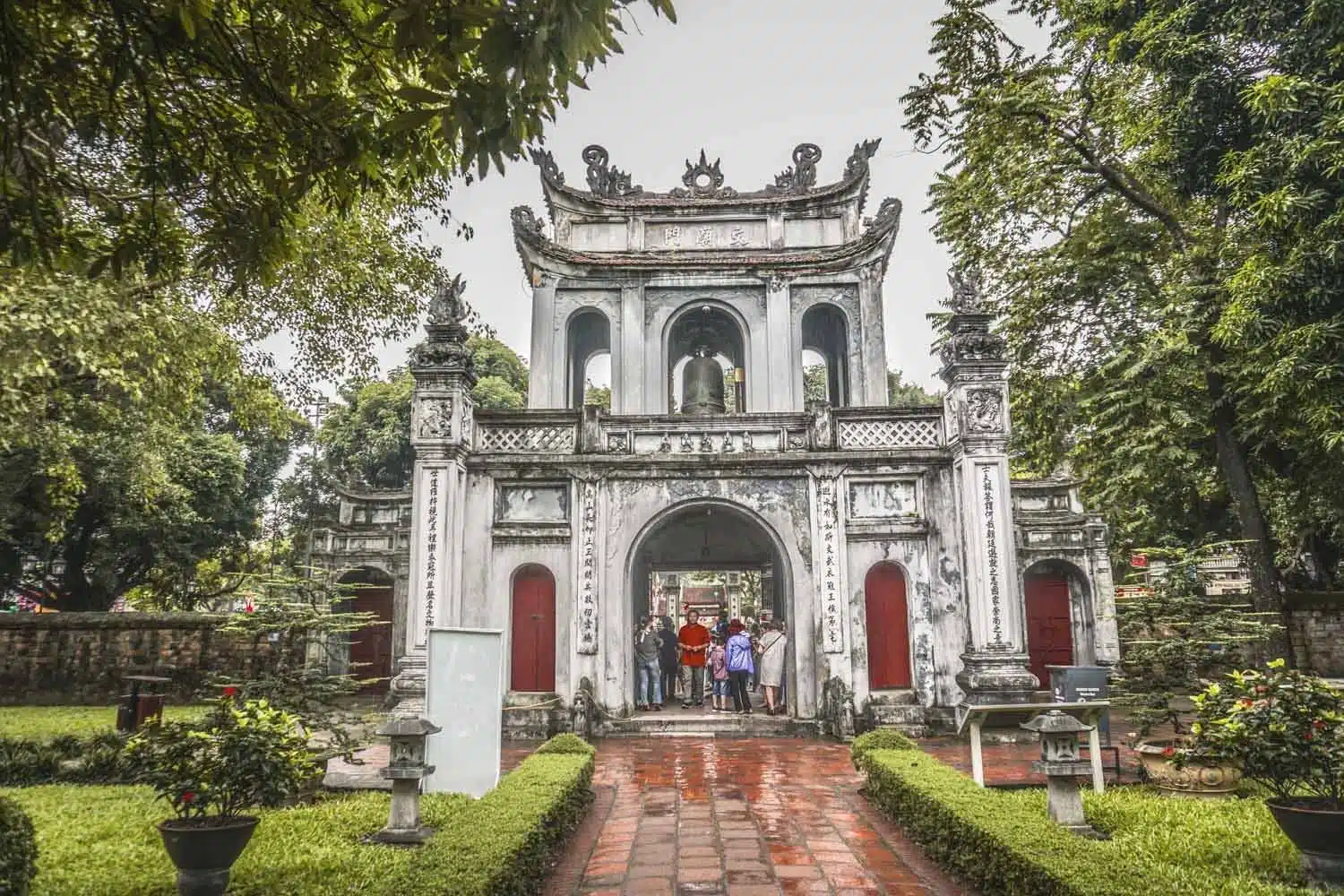 The temple is associated with Confucianism – and served as an important site of learning from the 11th century. Statue after statue, each one perched atop a stone turtle, record a fraction of the learned scholars who distinguished themselves at the university.
It's a beautiful complex, and though it can get packed, you shouldn't miss it on your Hanoi itinerary.

Awesome things to do in Hanoi for Foodies
Eat Street Food in the Hanoi Old Quarter
Oh god. I still dream about Hanoi's incredible street food. There are few cities with such a long-established and bloody tasty street food scene.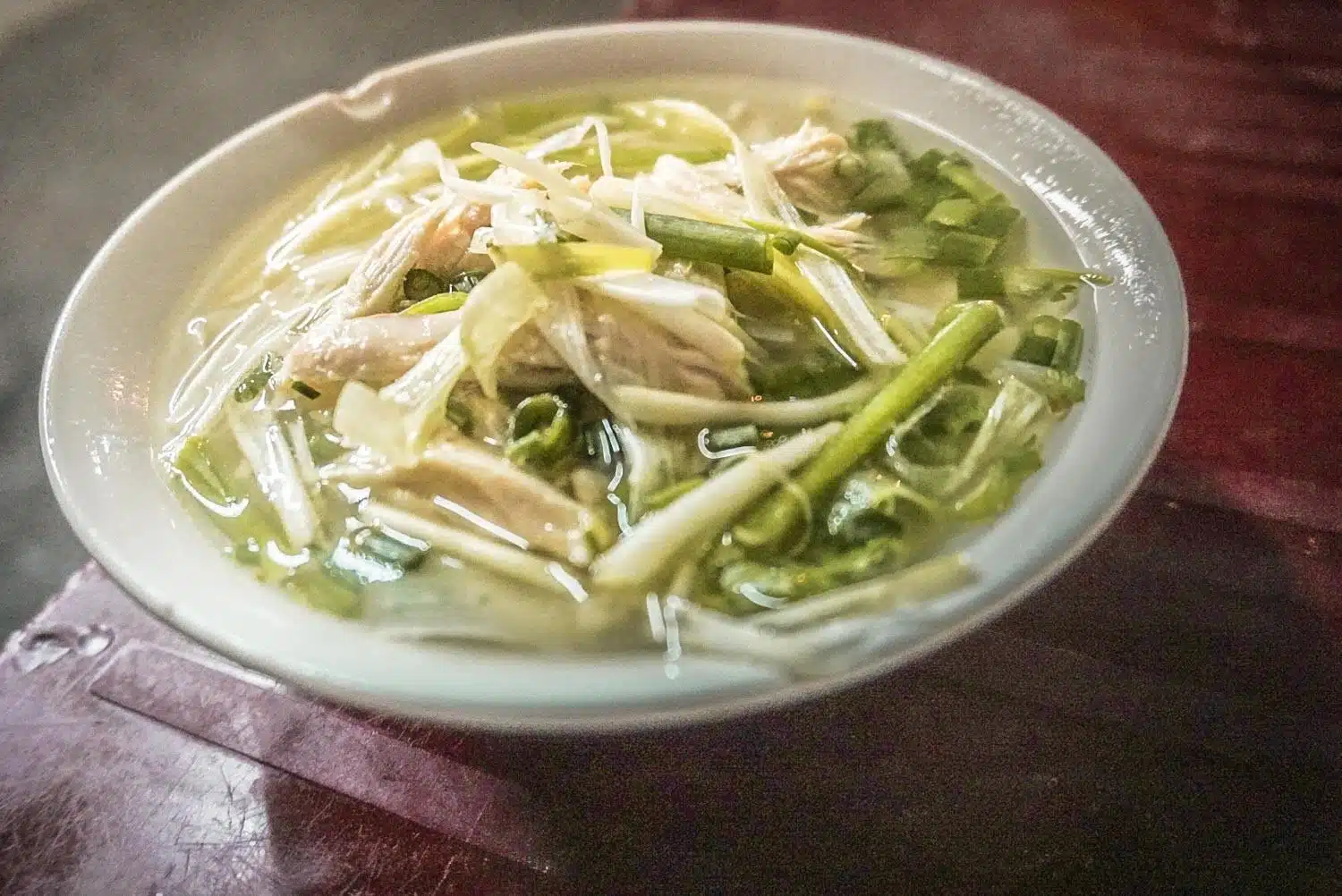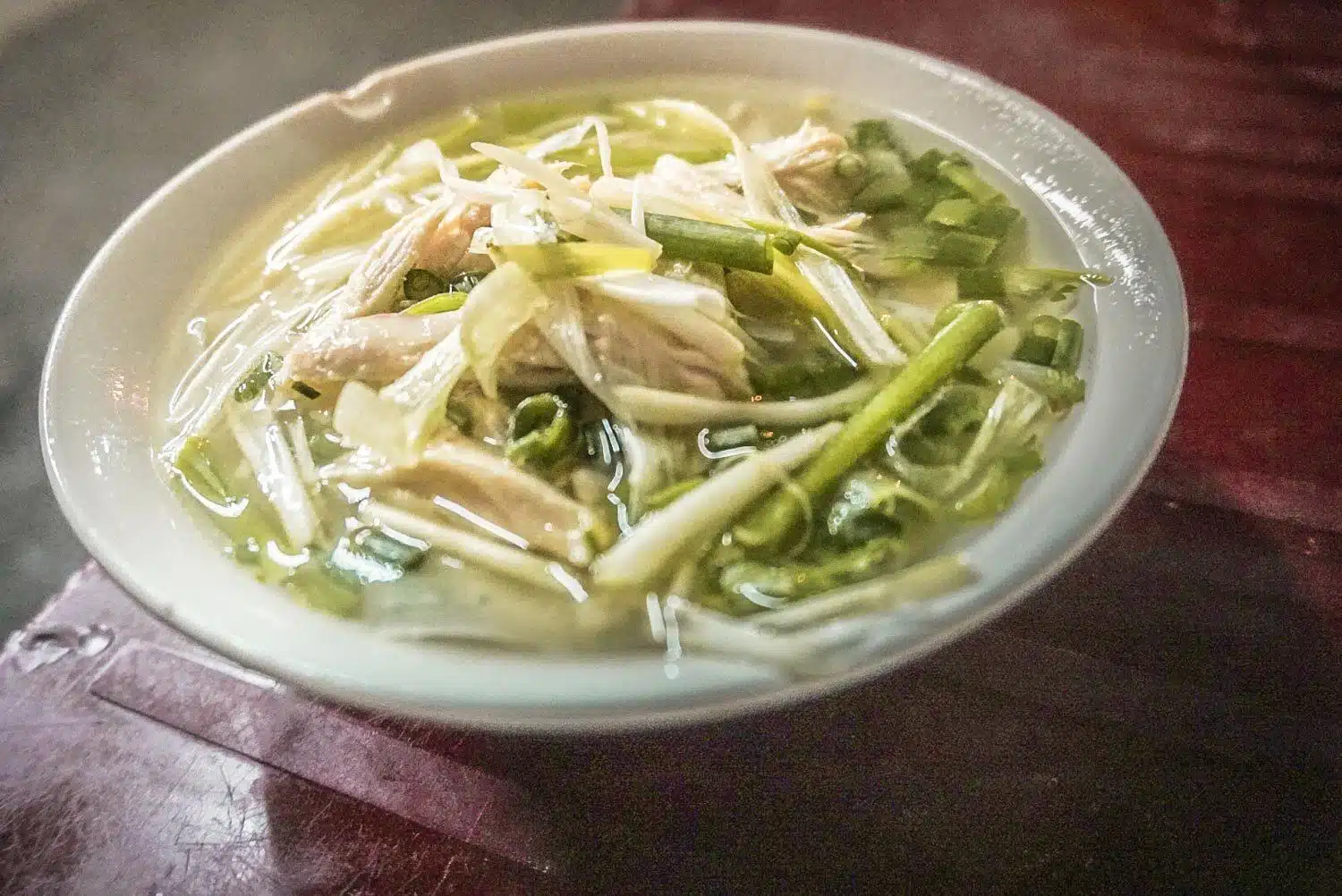 I took a cool street food tour the very first night I arrived in the city – something I could not recommend enough. It's a great introduction to the city's best dishes, familiar and unfamiliar.
I mean, who's going to go to Hanoi and not try Pho? Hopefully not you…
Cao Lau is another local speciality you should tuck into. A fabulous dish of thick rice noodles, pork (or tofu), bean sprouts and pork rind croutons. And don't forget dessert: look out for Bo Bia Ngot – two thin pancakes, layered with honeycomb and sprinkled with coconut and sesame seeds.
Delicious.

Read more: Hanoi street food guide!

Try Your Hand at a Vietnamese Cooking Class
Now that you've had a chance to sample the Vietnamese food at the market, why not try your hand at making it? I tried out a Vietnamese cooking class in Hanoi, and it was fabulous.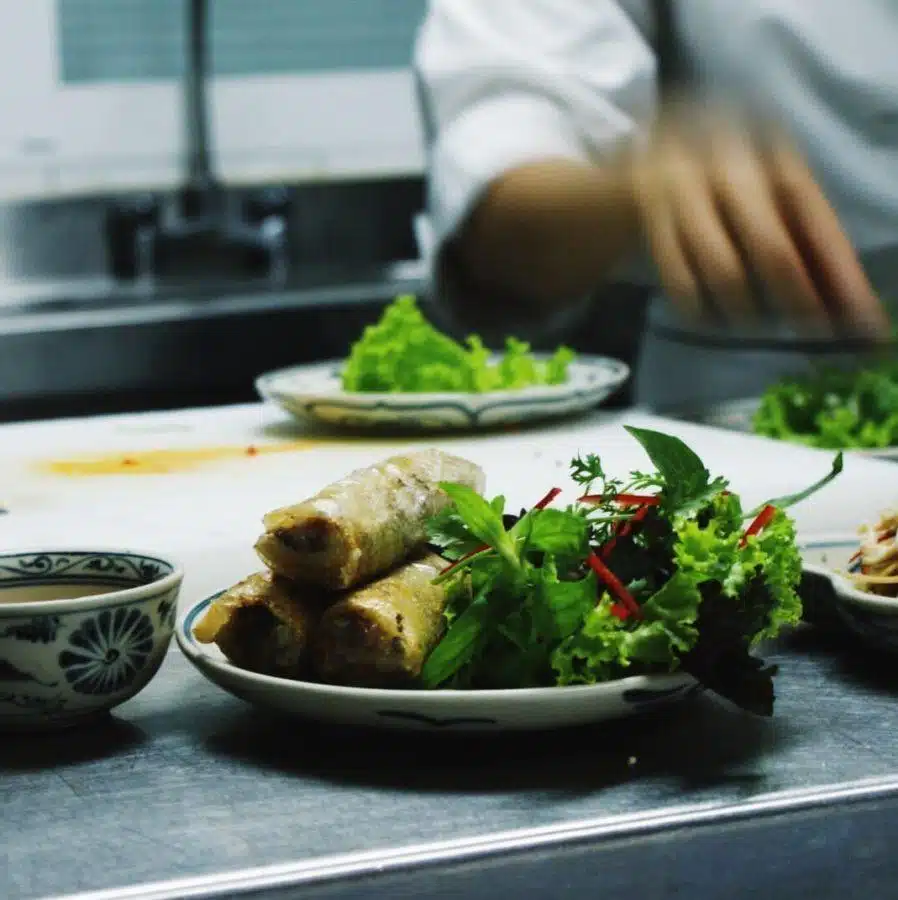 I learnt how to make many of the dishes I'd been busy gobbling up on the streets.
I'll warn you. While taking a Vietnamese cooking class is one of the most interesting things to do in Hanoi, it's dangerous knowledge.
Being able to whip up utterly moreish Nem (deep fried spring rolls) and Nom Hoa Chuoi (Vietnamese Banana Flower Salad) at the drop of a hat is both a blessing and a curse.
Let's just say, I'm keeping my local Asian food shop in business with the number of ingredients I've been buying since I came back. No shame.
Hoover Up a Bowl of Pho at Pho 10
There are endless places to buy Pho in Hanoi. I clearly didn't count them but let's just say that you are not going to struggle for options.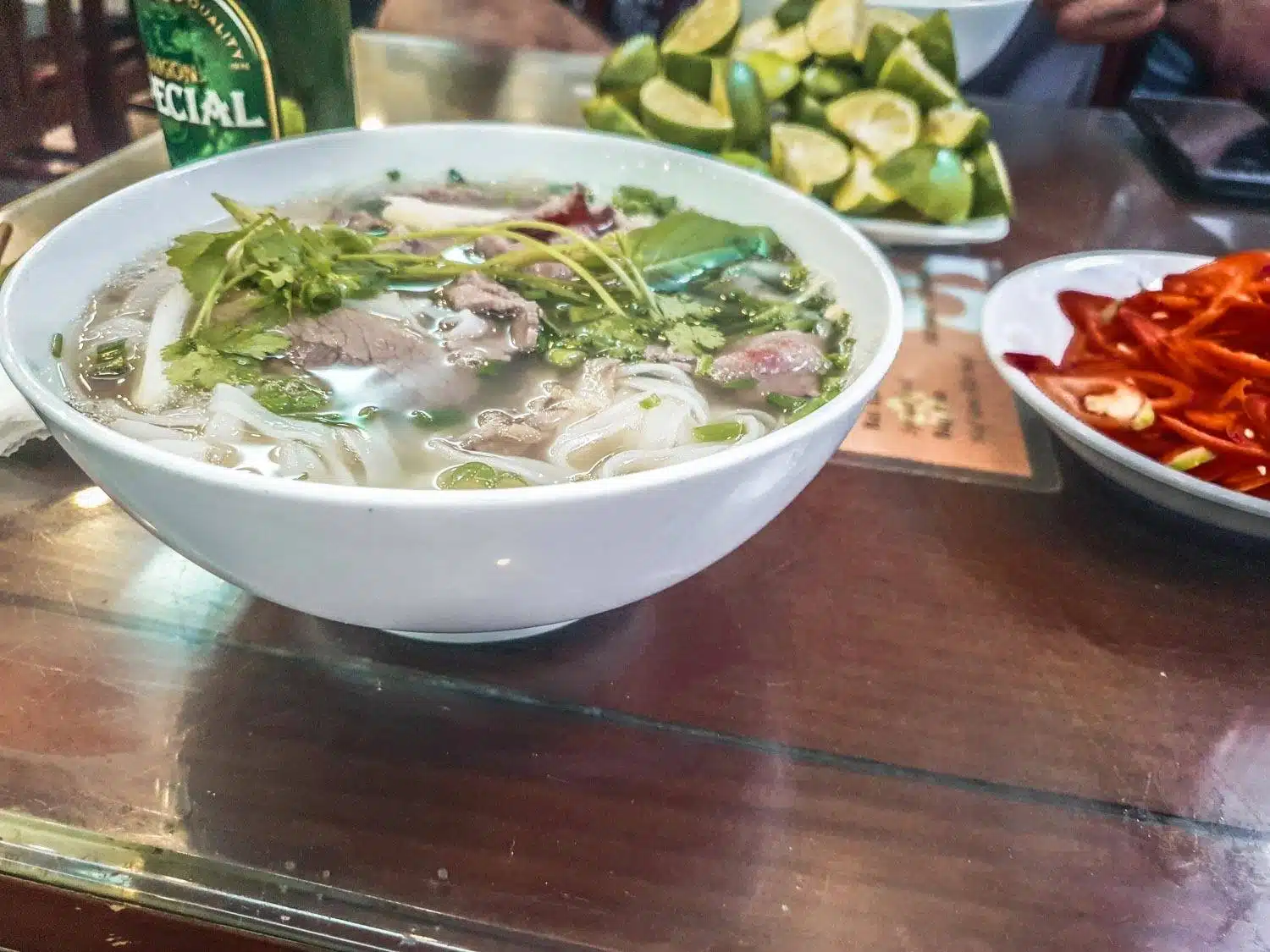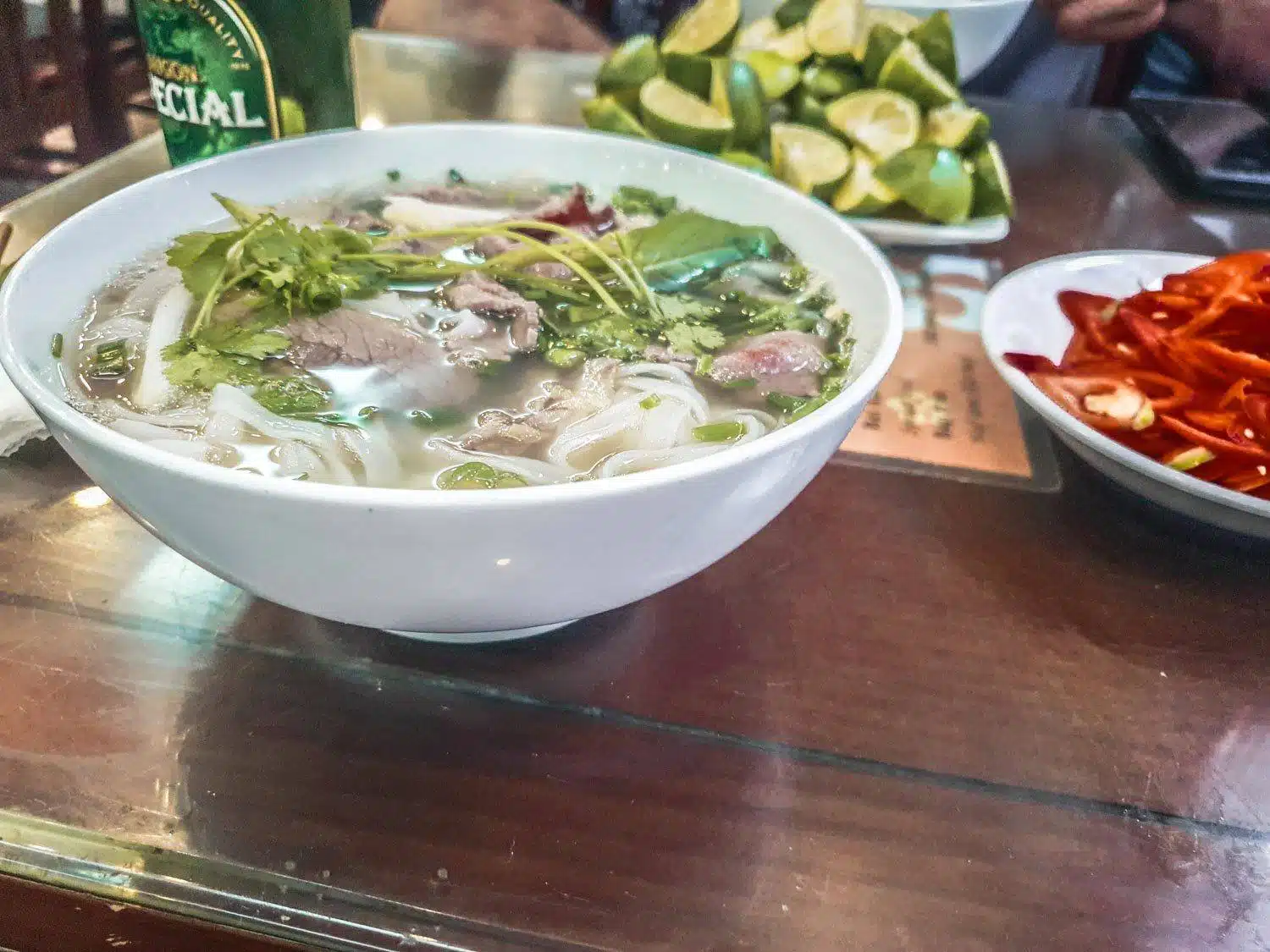 So you know that when a place has a reputation for making the BEST pho in the city, you should sit up and pay attention. Or sit down and start slurp eating as quickly as your little legs can carry you.
There's not much more to say. Pho 10 IMHO has the best Pho in Hanoi. You should go. Now.

Test Your Tastebuds with Egg Coffee at Cafe Dinh
Egg coffee is one of those traditional Vietnamese things that sound bizarre and weird – one of those unique things to do in Hanoi that sound like all kinds of wrong.
Until you try it and you realise that you are going to start drinking all your coffee with egg and condensed milk from here on in and your life is full of regrets for all the years you've been drinking normal coffee like a fool.
Maybe.
I really did like egg coffee and I didn't expect to at all. Will you? There's only one way to find out…
The Best Places to go in Hanoi for Culture Lovers
Catch a show at the Beautiful Hanoi Opera House
The Hanoi Opera House, located in Hanoi's French Quarter was built by the French colonial administration between 1901 and 1911.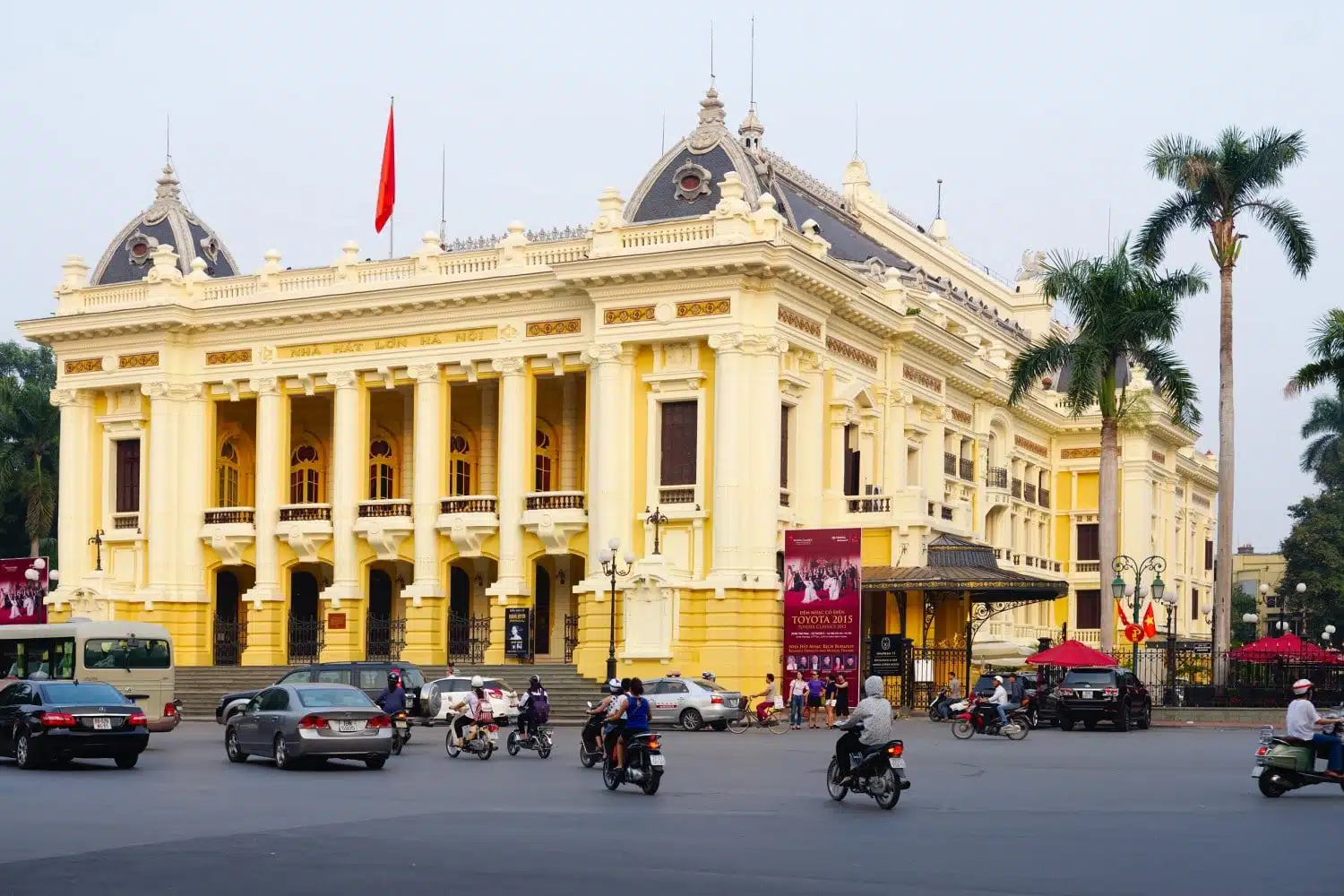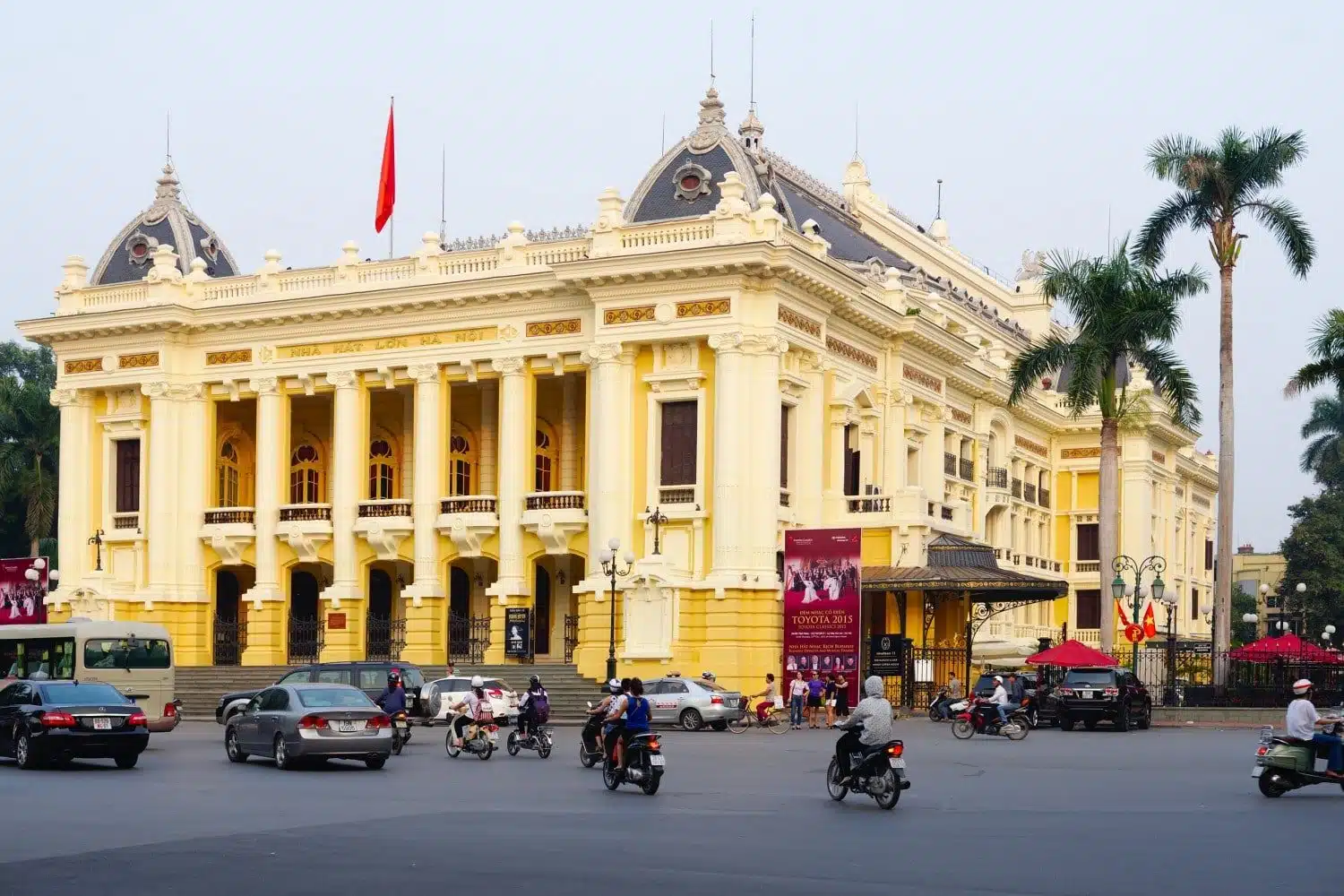 A neoclassical masterpiece, the Opera House is more than just a pretty face. Today, the house hosts opera, traditional folk music and ballet, as well as international concerts. Check the site to see what's on while you are in town – it's worth a trip for a glimpse at the magnificent interior alone.
Hang Out at the Binh Minh Jazz Club
I'll put my hand up and say I really, really love going to jazz clubs. If the idea of listening to jazz makes you want to bang your head on a table, then this one probably isn't for you. Just sayin'.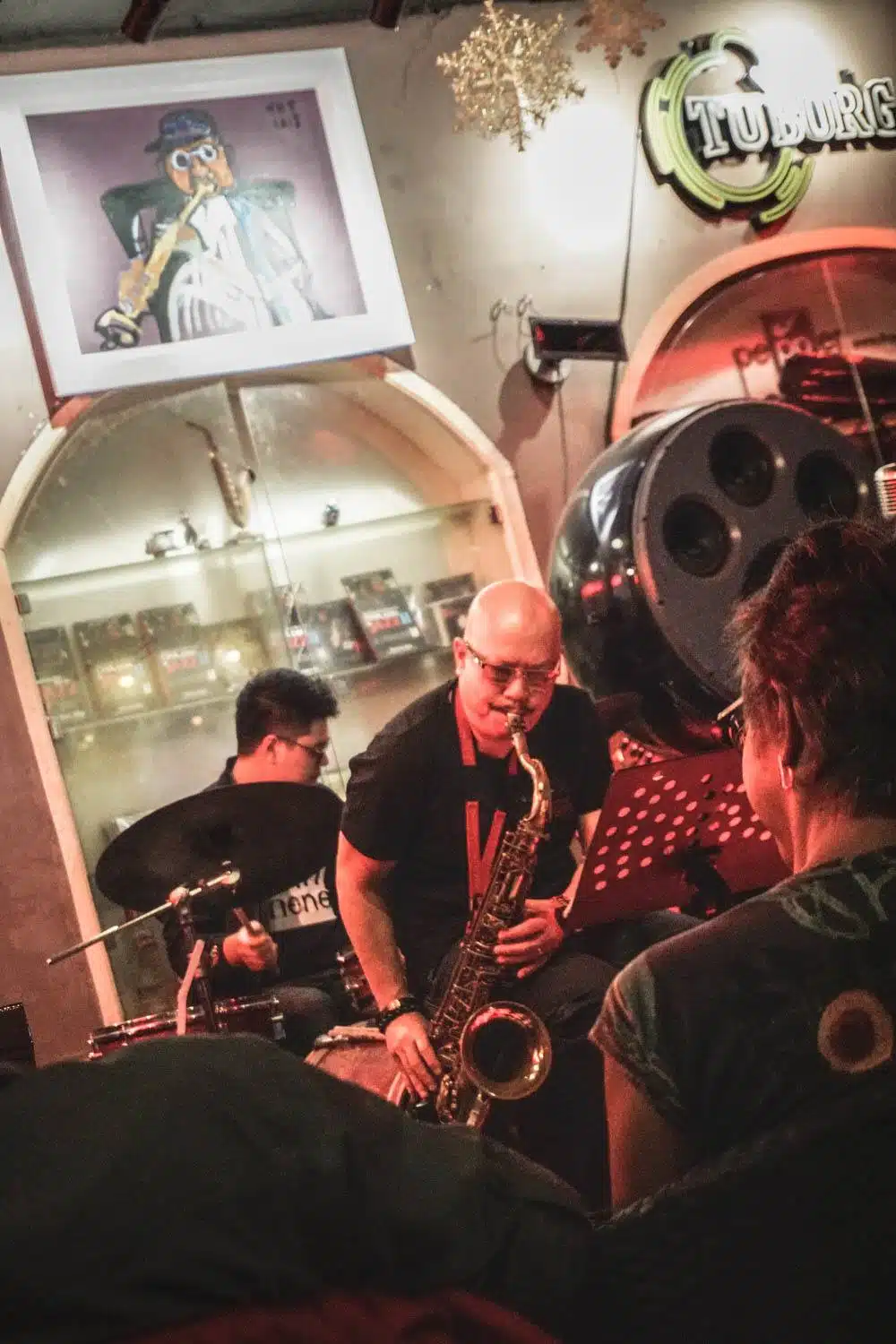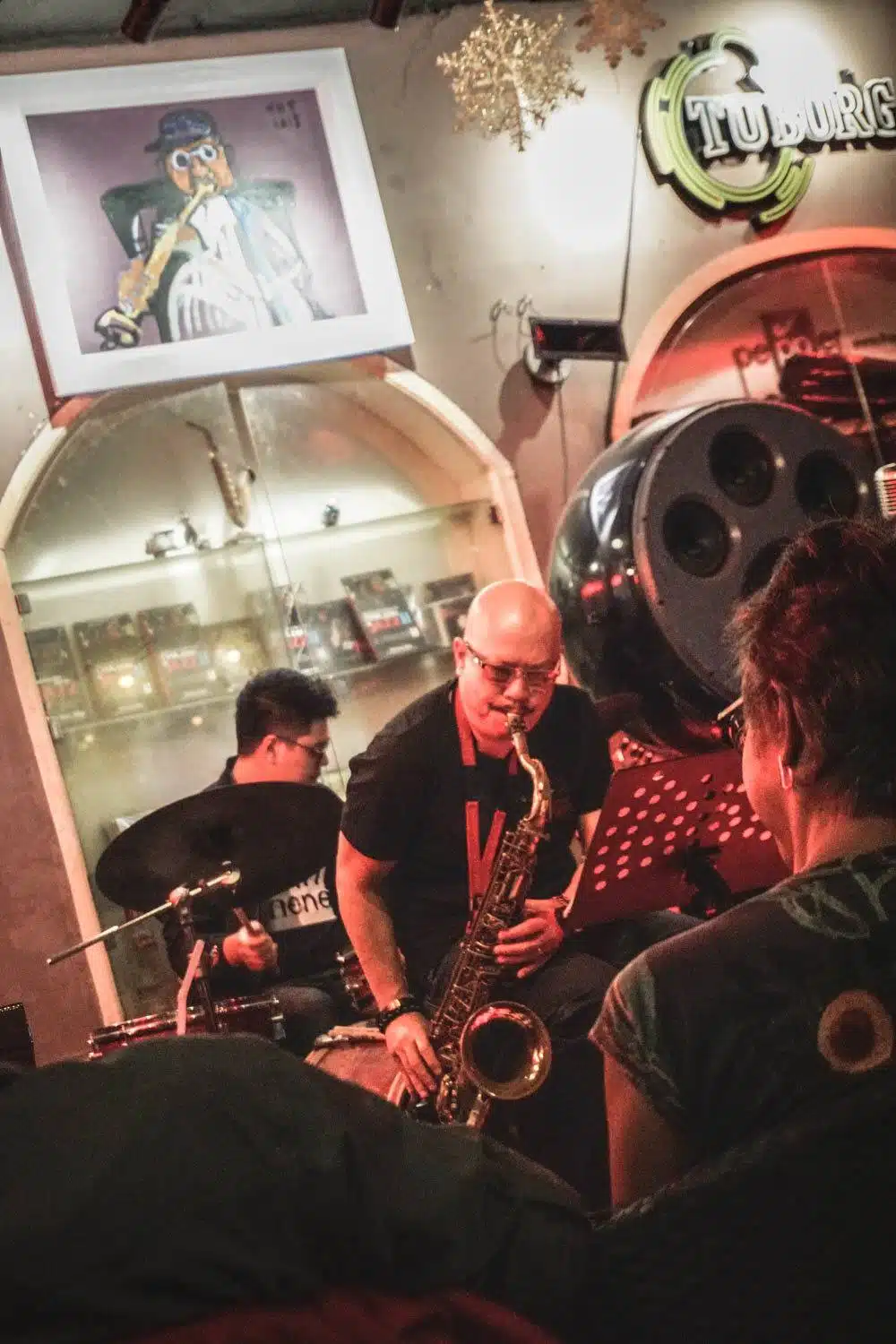 Binh Minh's is the best-known jazz club in Hanoi and for good reason.
You can swing by any night in town and expect to hear some foot-tapping, soul-loving music played by a roster of incredibly talented local and international musicians.
Shop at the Hanoi Weekend Night Market
The Hanoi Weekend Night Market is a market located on Hang Dao Street that runs north to the edge of Dong Xuan Market.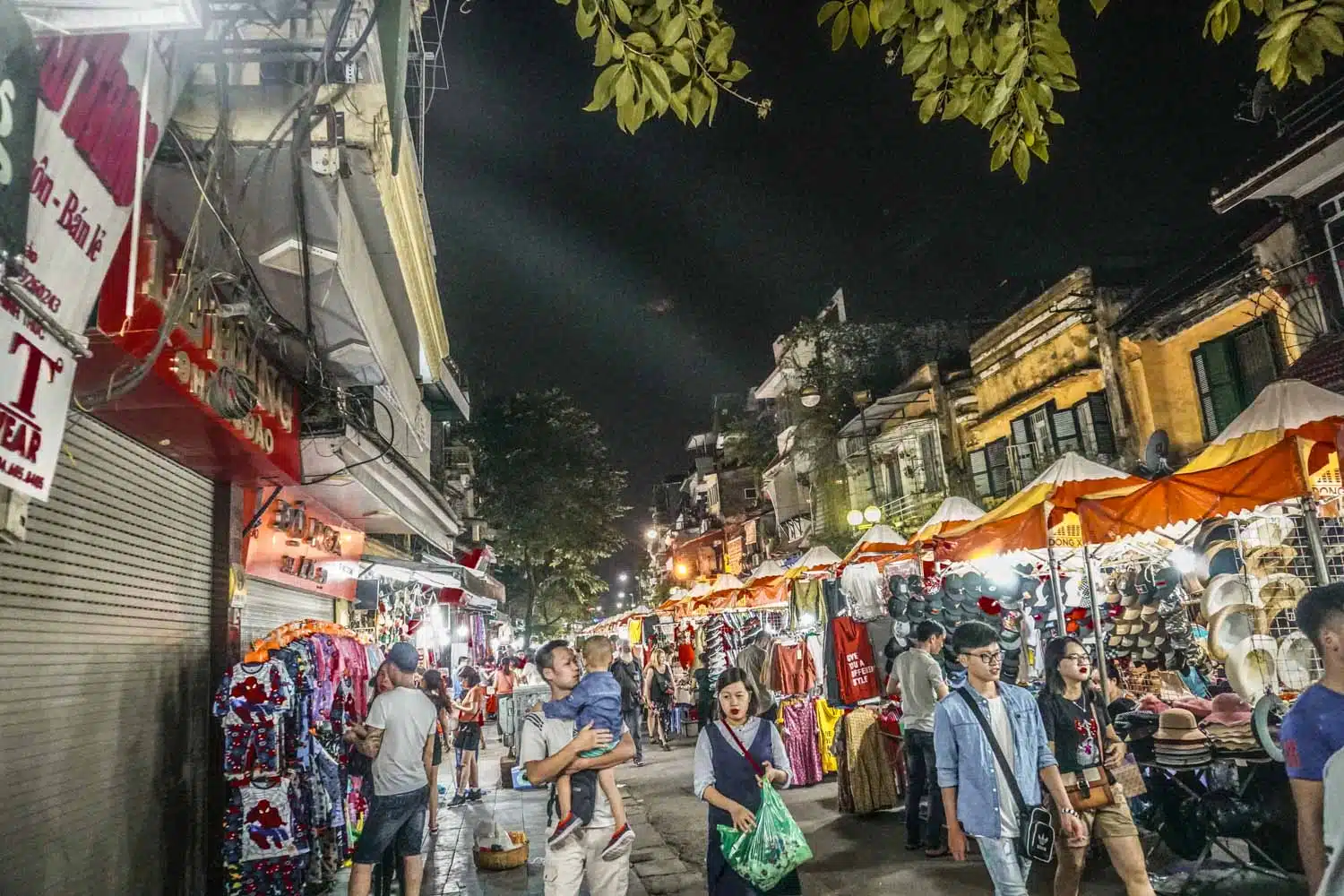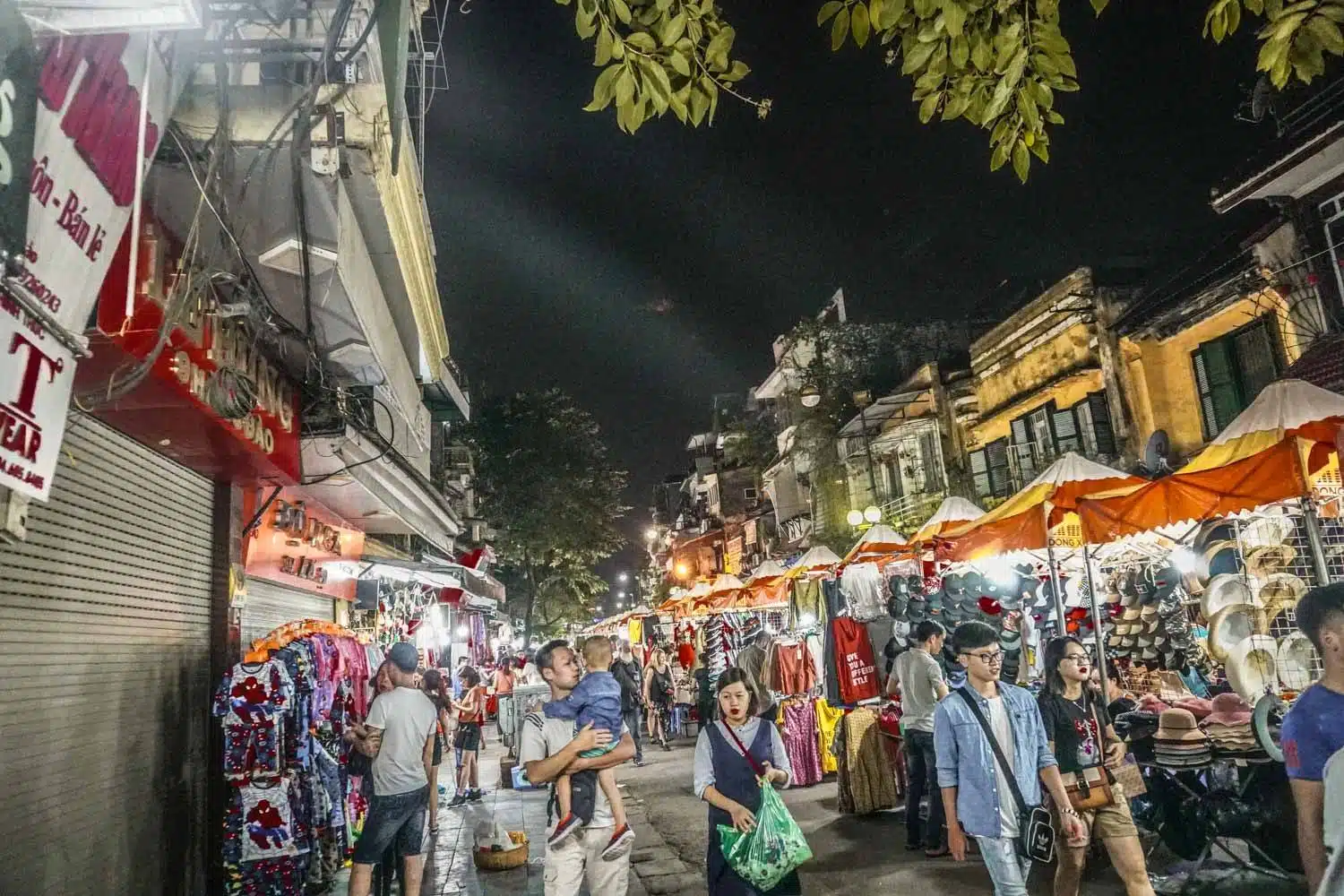 From 7pm on Friday, Saturday and Sunday, the roads are filled with stalls selling everything from souvenirs to local food (with more than a fair few junk fake brand stalls thrown in for good measure).
It's chaotic, fascinating and certainly one of the best things to do in Hanoi at night.
The action isn't just limited to Hang Dao – the surrounding streets are illuminated with lights and many of them are closed to vehicles. It's lively for sure.
Eat, drink and shop your way through the night, or grab a pew and people-watch as throngs of locals and tourists converge on the busy spot.

Go and See a Water Puppet Show at Thang Long Theatre
What's a water puppet show and why on earth would I be interested in seeing it. If I'm honest, those were pretty much the two thoughts that went through my head when I first heard about water puppetry and the famous shows in Thang Long.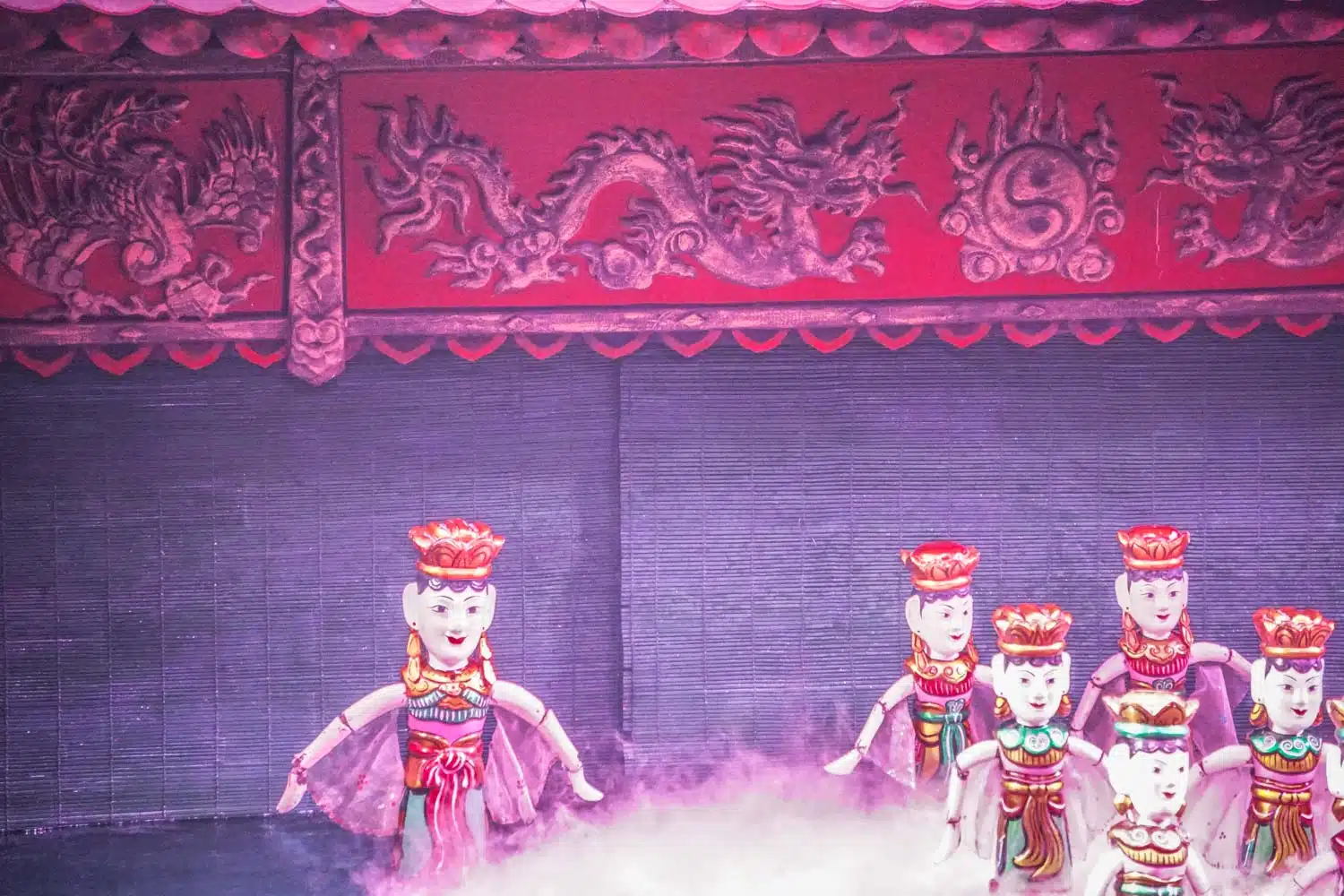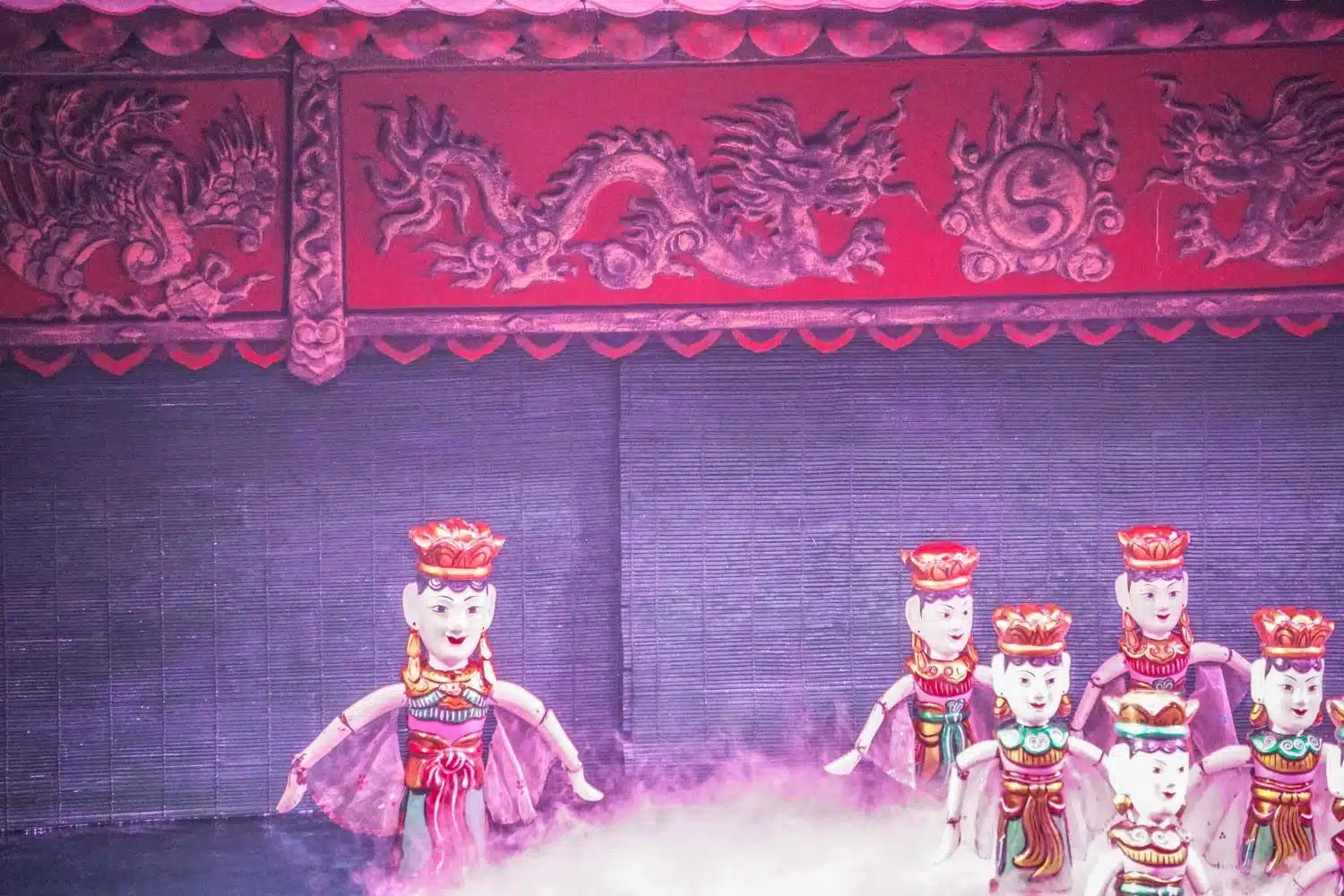 Guys, I was wrong. I couldn't be more glad that a few of you popped up on Instagram to convince me to give it a try. Turns out that the water puppet show is one of the unique things to do in Hanoi that you should not miss.
I won't spoil the drama with any big reveals but there's singing, naughty puppetry antics (don't worry it's totally PG) and cool tricks – all for the cost of less than a cup of coffee at home.

Go to the Imperial Citadel of Thang Long
The abandoned ruins of the Imperial Citadel of Thang Long (no relation to the theatre above) are a UNESCO World Heritage Site and worth a trip during your time in Hanoi.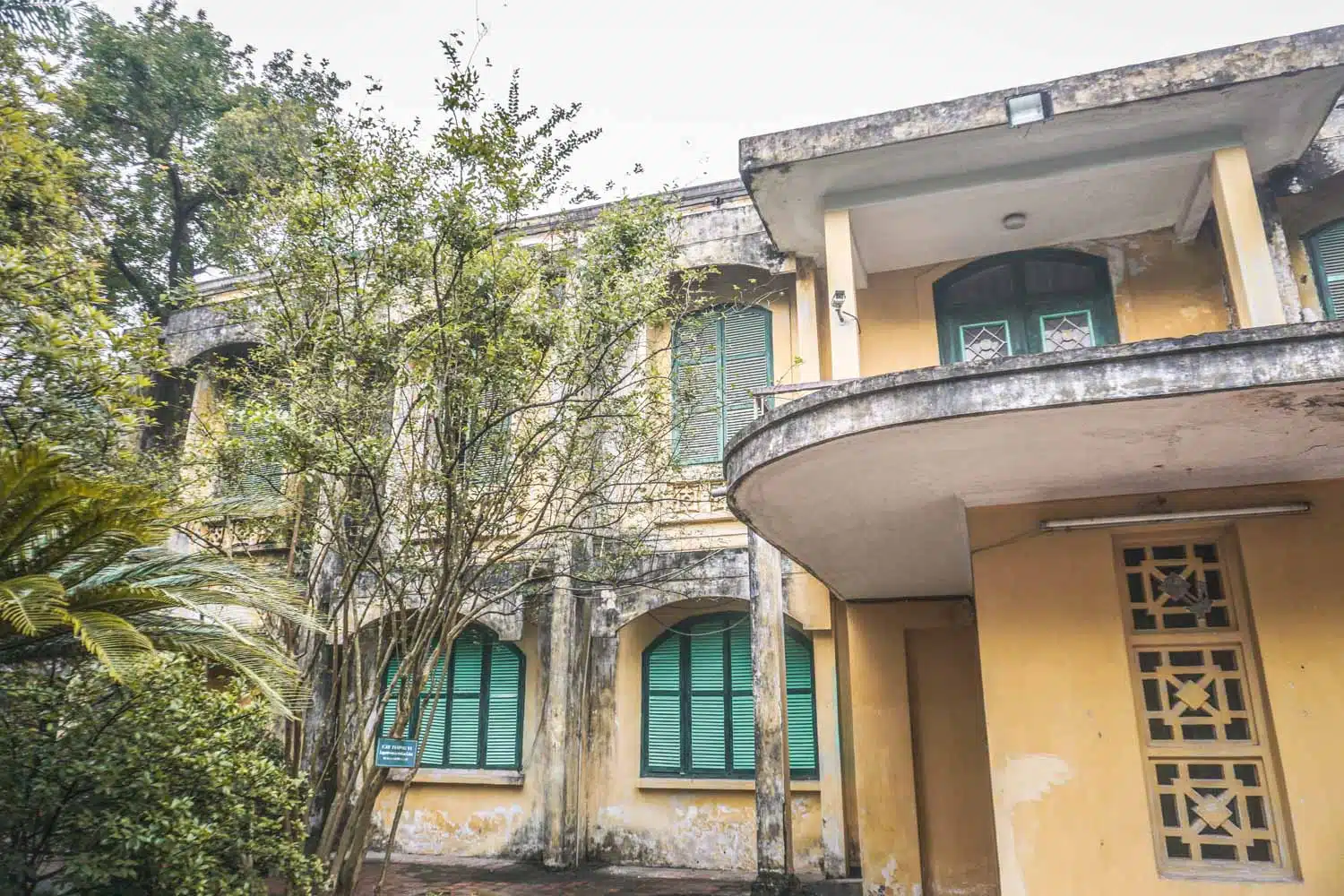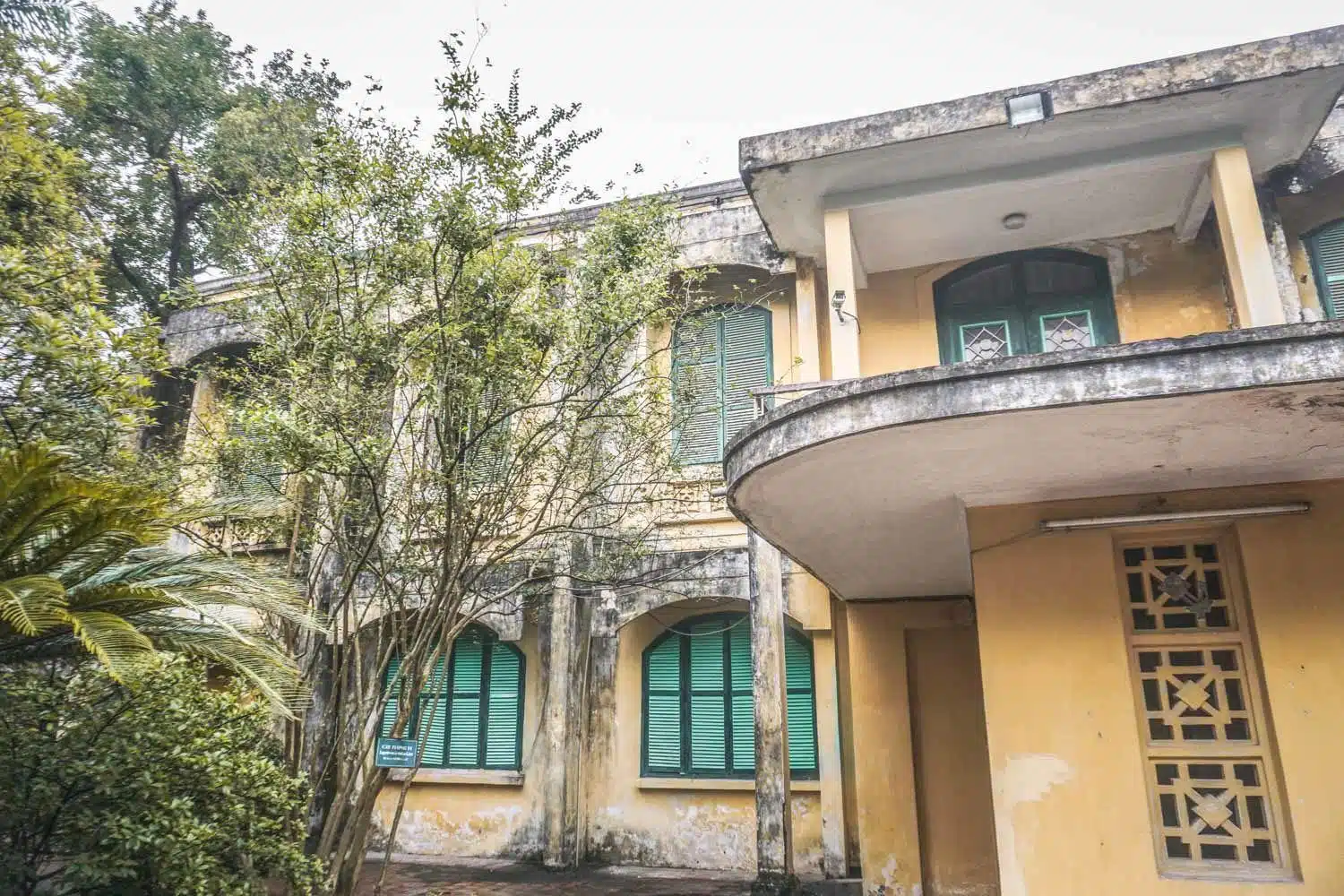 The old headquarters for the Vietnamese military, the complex is made up of a series of grandiose buildings, underground bunkers and ancient palaces. It's a peaceful and quiet place to visit in Hanoi – something pretty rare in one of the most noise-polluted cities in the world.
Swing by the Bach Ma Temple
Supposedly the oldest temple in Hanoi. Bach Ma Temple is tucked in the centre of the Old Quarter. It's small, and you will need to make sure that you are dressed appropriately but it's well worth a visit while you are in the centre of town.
Hang out on Hanoi's Walking Street
Hanoi's Walking Street is pretty much an impromptu nighttime bazaar. As the streets surrounding Hoan Kiem Lake close down to vehicles and open up to live performances, street food and locals just hanging out and relaxing. All with Hoan Kiem Lake twinkling in the background.
The action gets going at 7pm on Friday, Saturday and Sunday and lasts all evening. It's one of the best places to visit in Hanoi to see a different side of the city.
Visit the Vietnamese Women's Museum
This fascinating museum looks at the role Vietnamese women have played in shaping the country's history and culture.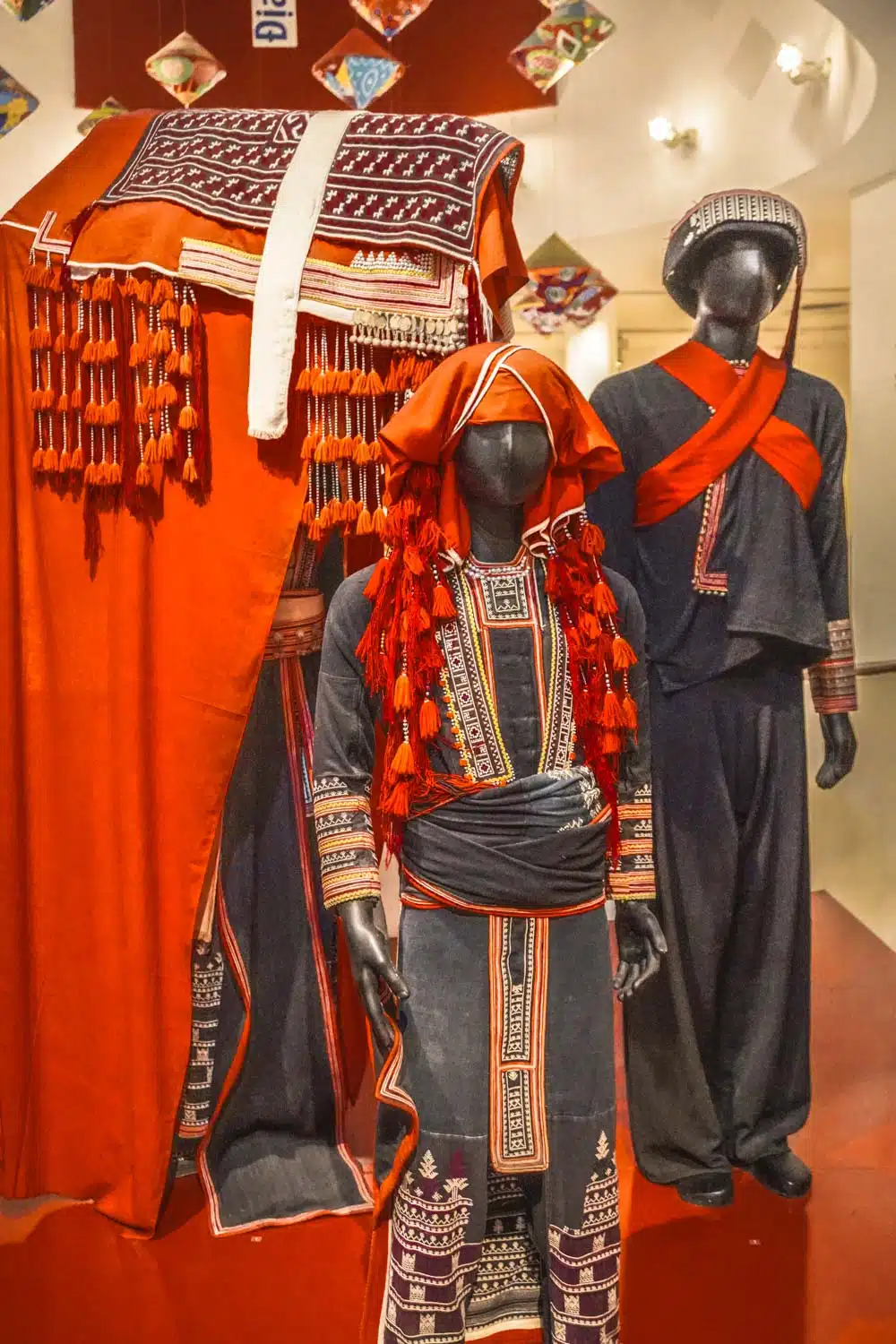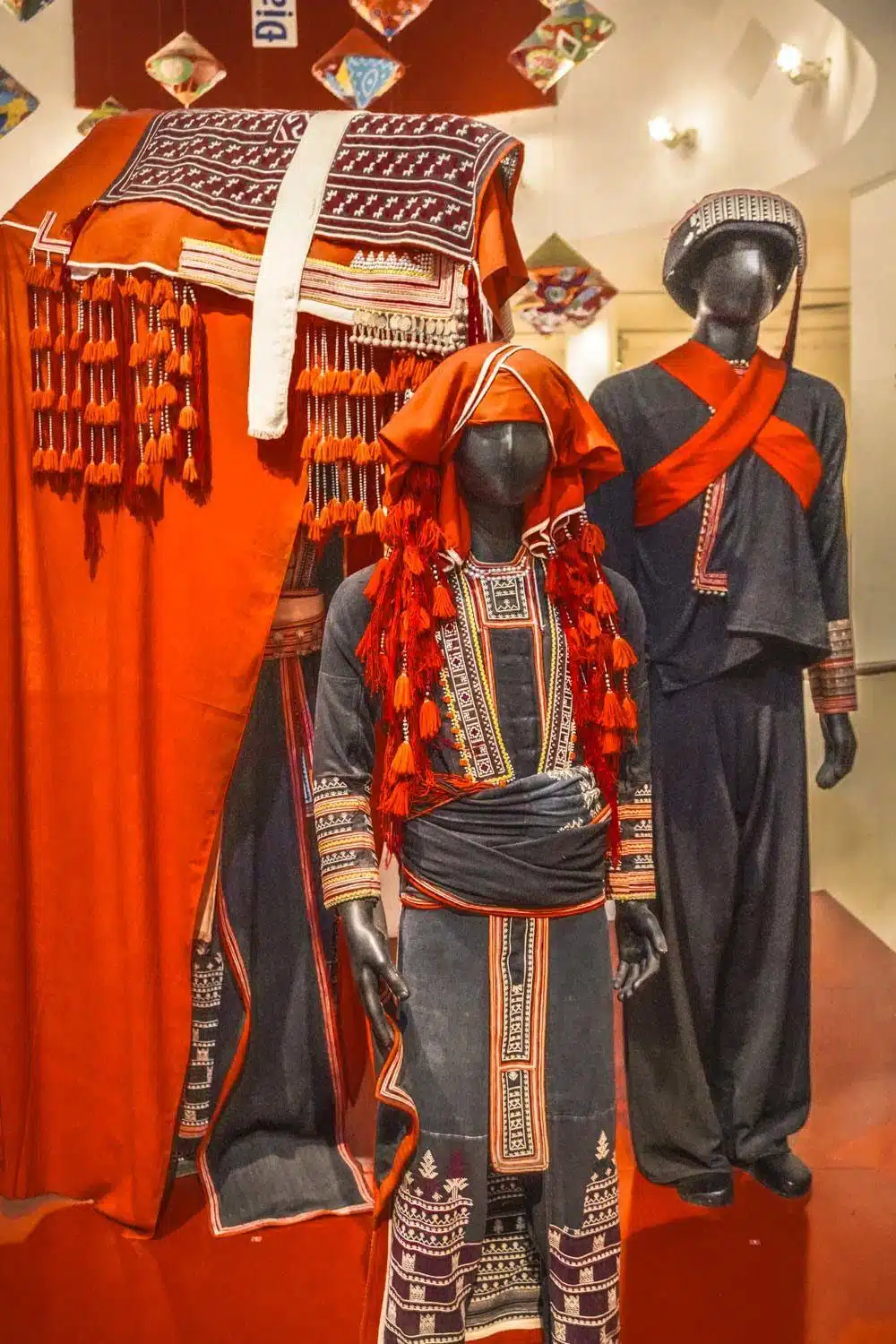 A series of thoughtful exhibits, showcasing clothes, household items and photographs of female heroes, it's well curated and an interesting way to spend a few hours during your time in Hanoi.
I particularly loved the section looking at the roles of women in Vietnam's numerous ethnic tribes and the influences on the tribes' customs and life.

See History in Action at the National Museum of Vietnamese History
I'll warn you. The National Museum of Vietnamese History is well… a bit dry.
I really wanted to go to learn more about the country's history, and learn I did, but I was disappointed at the lack of narrative to tie the thousands of exhibits contained within the museum.
My tip? Brush up on your Vietnamese history before you go to make the most out of your trip.

---
Cool Things to See in Hanoi if you Have a Little More Time
Visit the Tay Ho District (West Lake)
The Tay Ho District is where all the cool kids hang in Hanoi. The area surrounding the huge Tay Ho Lake offers a real contrast to the sensory overload that can be the city's centre.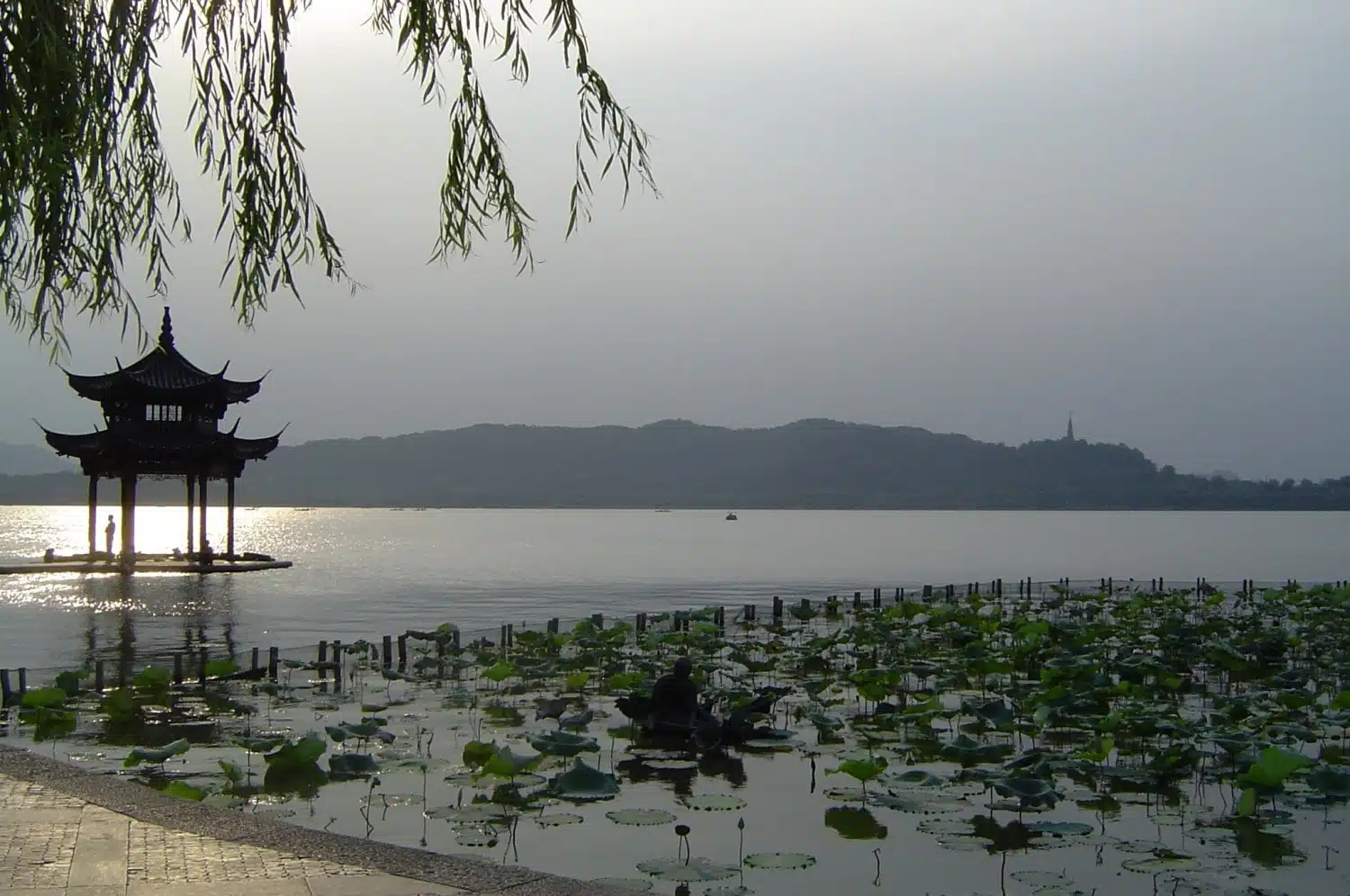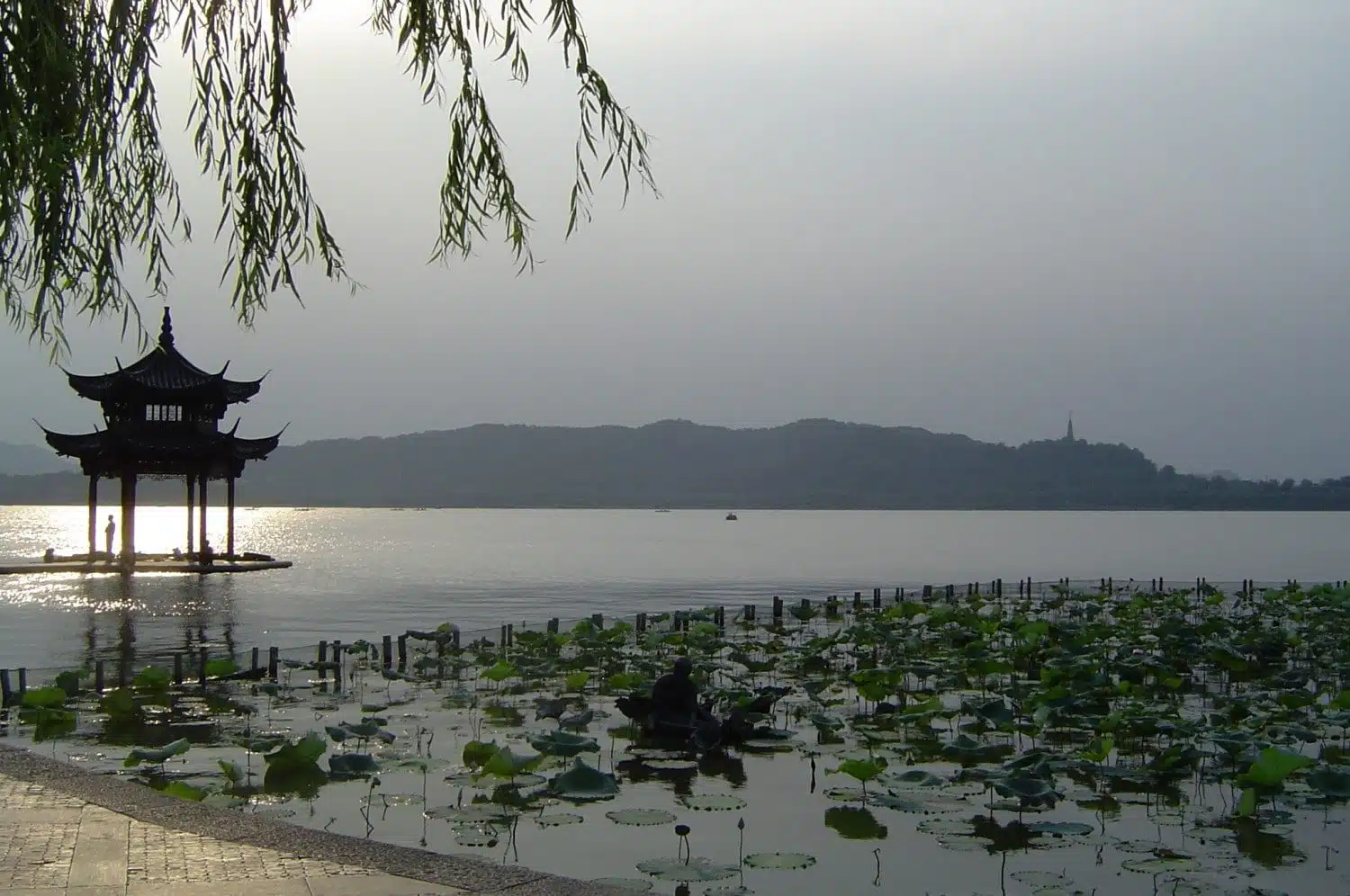 The lake's shoreline extends a whopping 17km. You can hire a bike to go round it, or jump into a Grab when your tired feet can't take any more.
Tay Ho is packed with cool things to do in Hanoi – five-star boutique hotels, stylish restaurants and cafes. Not to mention a couple of historic sites, like the Tran Quoc Pagoda and the Quán Thánh Temple. Both temples look particularly stunning stunning at sunset.
If you're around Tay Ho on a Saturday morning, make sure you check out the Tay Ho Market for a chance to browse its rather irresistible range products. Hand-pressed honey or handmade perfume anyone?
See Hanoi from a birds-eye view at the Lotte Tower Observation Deck
The Lotte Tower Observation Deck is the best place to see unparalleled views of the city, from the 65th floor, located in the Lotte Hotel Hanoi in the Ba Dinh district in Hanoi.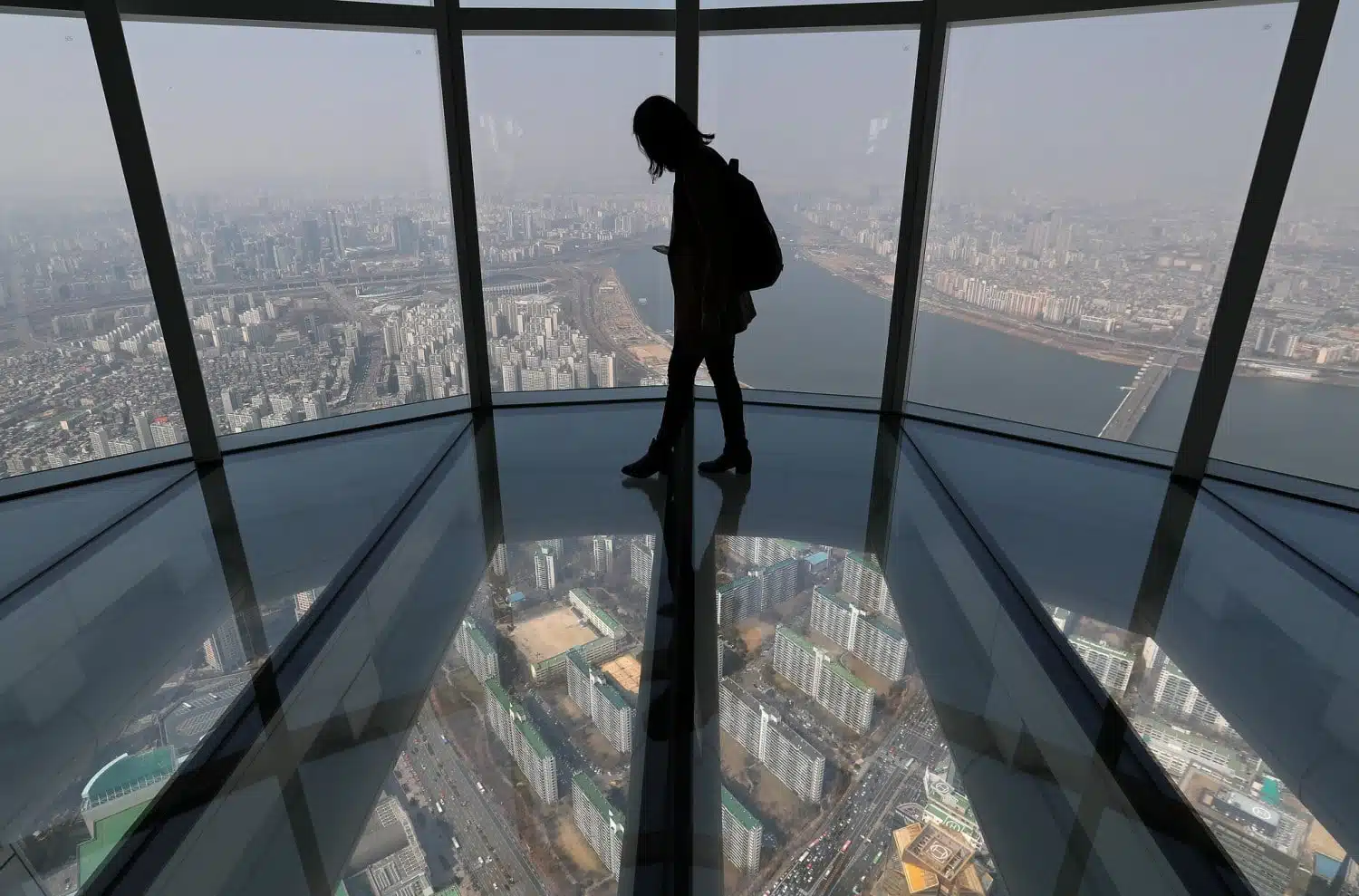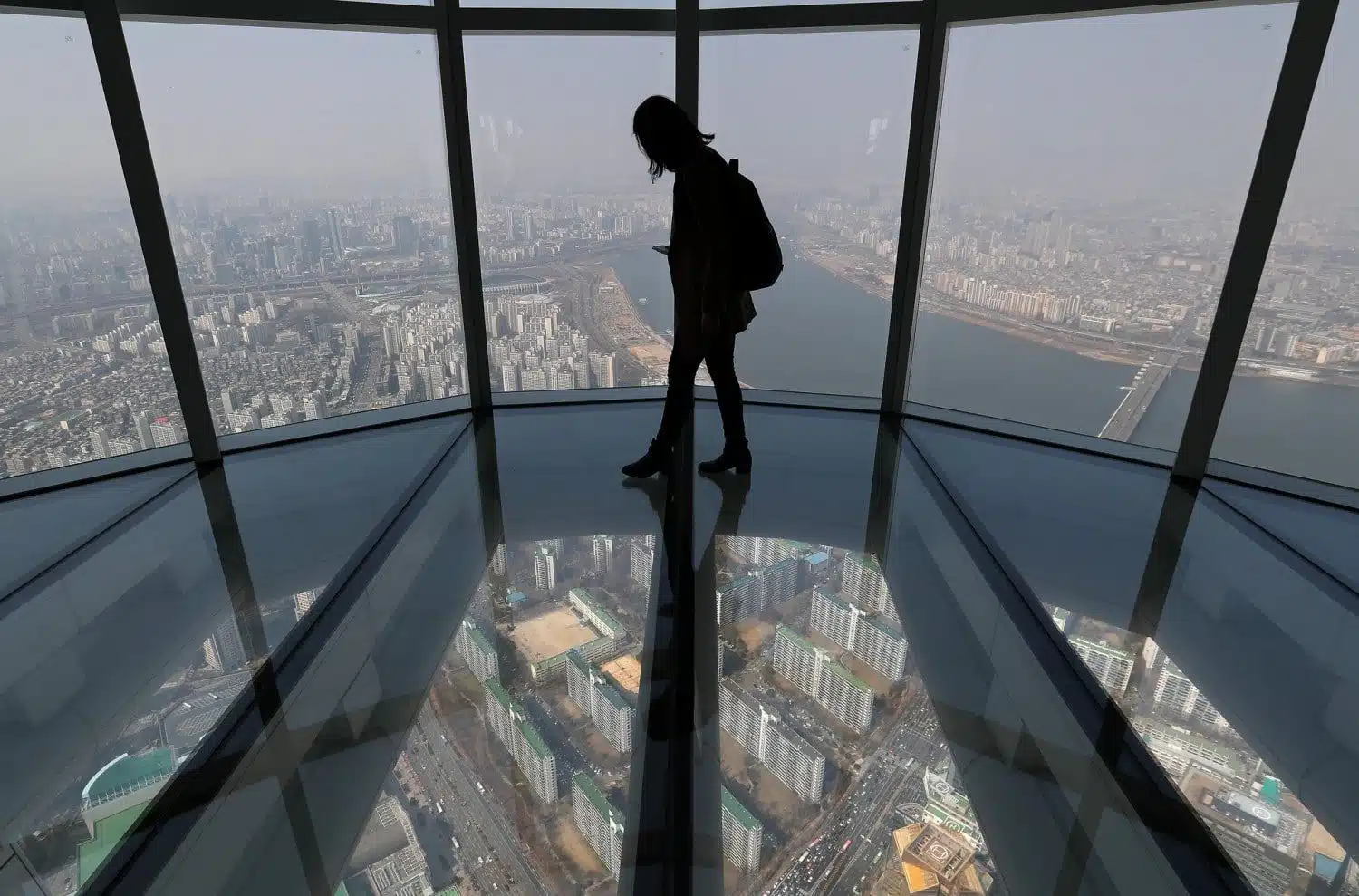 Who doesn't want to check out uninterrupted views of Hanoi, 267m up, through the floor-to-ceiling glass windows?
The Observation Deck also boasts a sky walk, where the entire floor, ceiling and walls are glass, and so you can see directly beneath the ground you're walking.
Don't worry. You can quell your fears with a stiff drink from the 67th floor rooftop bar afterwards.
Have a cocktail at Sunset Bar at the InterContinental Hanoi West Lake
Looking for something a bit special? I'll let you in on a secret… the Sunset Bar at the Intercontinental Hotel.
This stylish bar is situated lakeside between three pavilions, on its own island in the middle of West Lake, that can only be reached via a torch-lit bridge.
It's the place to go for beautiful views of the city and some of the best cocktails in town.
PS. They hold happy hour from 5-7pm!
Cross Over the Long Bien Bridge for a Different View of Hanoi
Designed by Gustave Eiffel (yes, he of the Eiffel Tower fame), the Long Bien Bridge runs for over a kilometre across the Red River, connecting Hanoi's Hoan Kiem and Long Bien districts.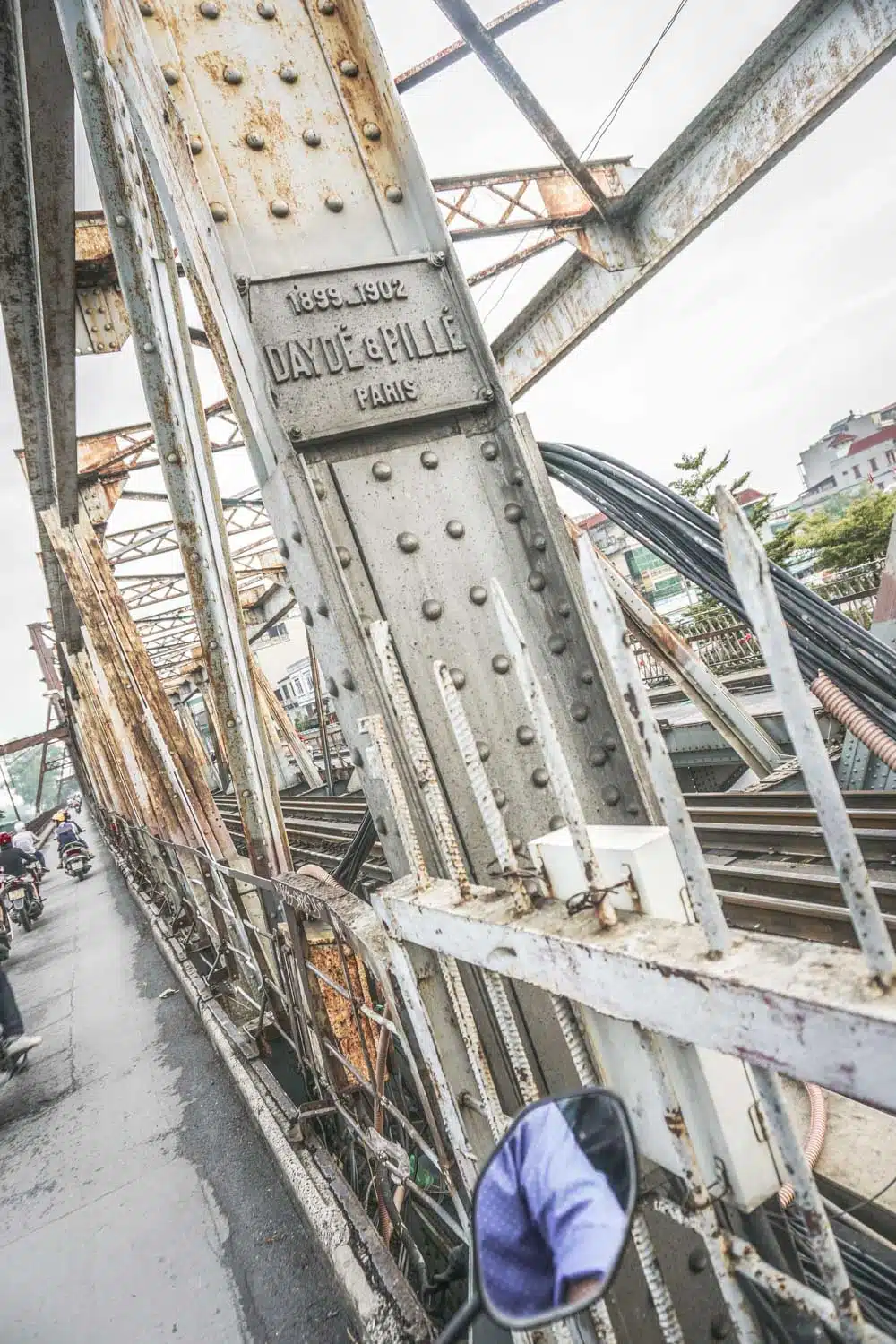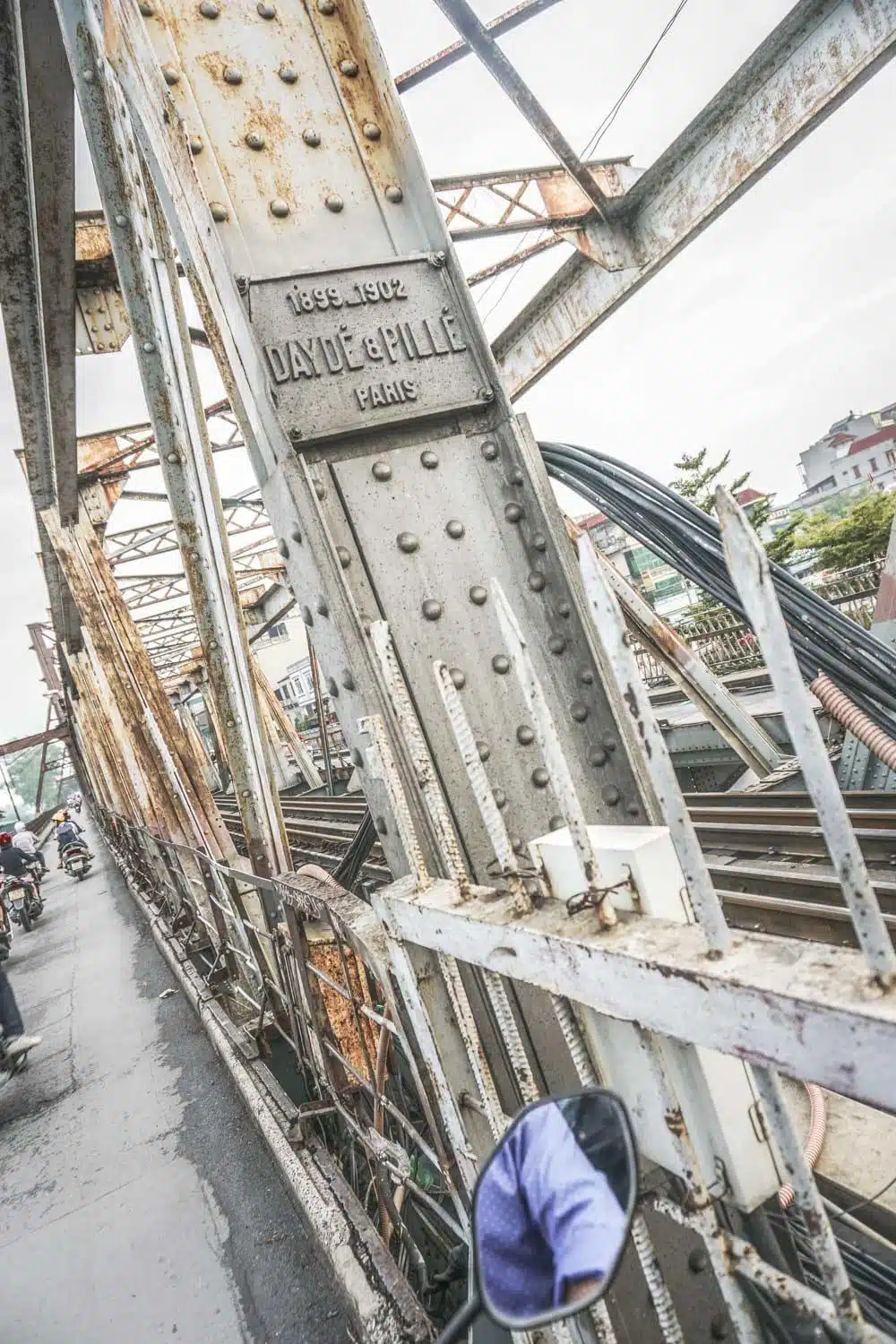 It's all a bit ramshackle looking now, but it was one of the longest bridges in Asia when it opened in 1902.
You should zip across Long Bien on what I'll freely admit is a rather terrifying scooter ride. Expect scooters driving on the wrong side of the bridge (each side is supposedly one way), small stalls selling fresh ingredients perched perilously close to the traffic and some really, really cool views of Hanoi.
In Fact, Check Out Some of Hanoi's Incredibly Cool Bars
Hands up if you love a good cocktail? OMG me too!
Hanoi has undergone something of a cocktail revolution in recent years… as in you can actually get decent cocktails outside of the bland five-star hotel bars.
More than that, Hanoi's cocktail bar scene is poppin'. Every evening I'd find a new one I'd swear was my favourite, only for it to be replaced the very next night by whichever bar I visited next.
Definitely swing by Né Cocktail Bar, The Mad Botanist and Polite & Co. You won't regret it.
Have a Chill Massage at Omamori Spa
OK guys. That is one hell of a lot of things to do in Hanoi. You'll be relieved to hear that we are going to round it all off with a totally chill massage at the lovely Omamori Spa.
The spa trains blind people to become masseuses and runs a number of local community initiatives with funds raised by the spa. So not only can you get a cracking 90-minute massage for less than £15 (SRSLY), you can rest safe in the knowledge that you're also being a good person too. If only life were always this simple right?
Hanoi Travel Tips
Where to stay in Hanoi
Sofitel Legend Metropole Hotel
This luxury hotel provides guests with unparalleled service and timeless elegance in the heart of Hanoi, just 200 yards from the famous Hanoi Opera House.
Check prices and availability for the Sofitel Legend Metropole now.
The Apricot Hotel
Situated on the edge of the Hoan Kiem Lake, this neoclassical and luxuriously modern hotel boasts 5 stars and a rooftop pool.
Check prices for the Apricot Hotel.

What to Pack for Hanoi
An umbrella. Because when it rains in Hanoi. It really rains hard.
Layerable clothes. The last time I visited in October, some days were balmy and shorts were the way forwards. Other days I could have worn a fleece onesie and still felt colder than a white walker.
Long skirts or trousers and tops that cover your chest and shoulders. For temple visits.
How Long to Spend in Hanoi?
Many people swing by Hanoi for a couple of days before moving on to other spots on their Vietnam itinerary. I'd recommend spending at least three days in Hanoi to do the city any justice.

Read more Vietnam Travel Guides and Tips
---
Things to do in Hanoi: Map
---
Love this? Save and share on Pinterest.