Choosing the best travel shoes can be pretty challenging. I've tried and tested the best travel shoes for women to keep you comfortable, chic, and blister-free.
Have you ever come back from a trip with blisters, sore ankles, or calluses? Don't worry – we've all been there.
Getting your footwear right when you're travelling can be such a nightmare. As a full-time travel writer, I've made countless mistakes in the past – flat ballet pumps that left my ankles tired and sore, poor-quality trainers that basically fell apart after a couple of outings… it's no fun at all.
That's why I set out to find the best travel shoes for women. While many didn't make the cut, these are the designs that are up to the rigorous demands of long days on the road.
Planning your trip and want to find the best travel shoes so you can skip the sore feet and cranky ankles? Thought so. Read this in-depth guide.
Best Travel Shoes for Women: At a Glance
The Best Travel Shoes for Women
Tropicfeel Canyon – Best All-terrain Travel Sneaker for Women
Price Guide: £££ / $$$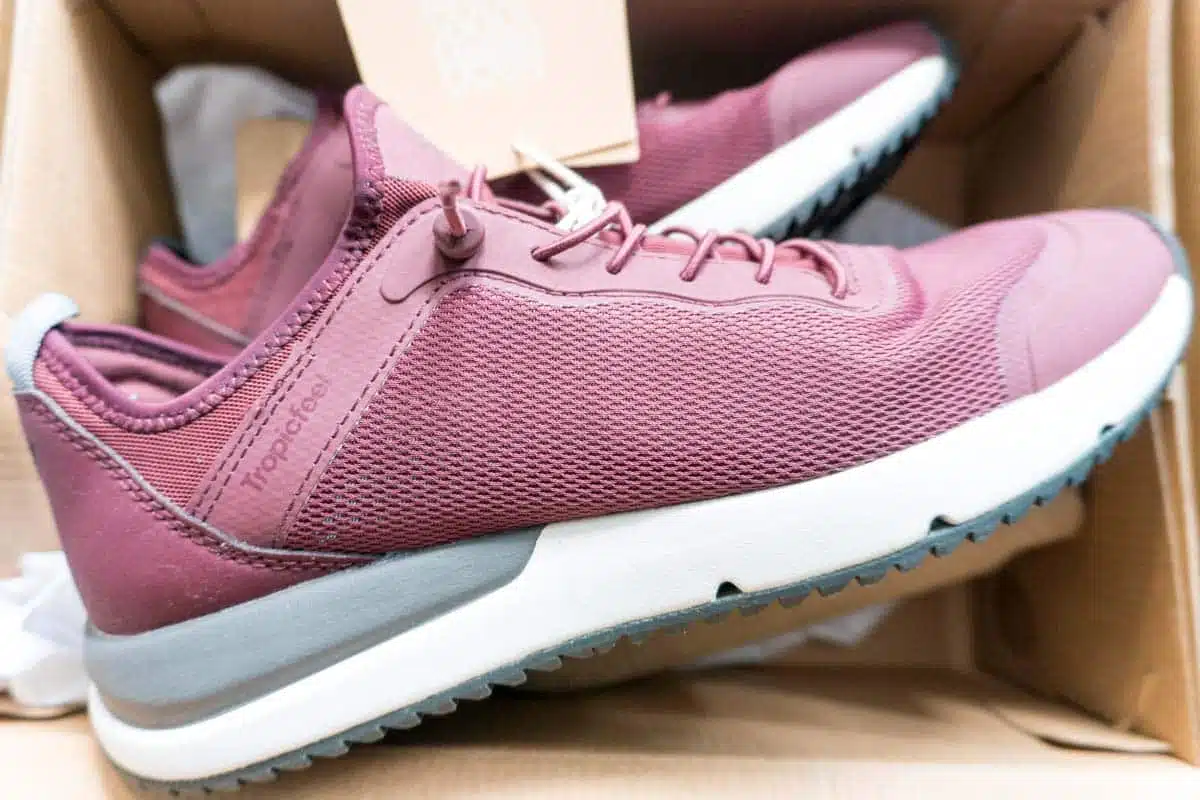 New kid on the block Tropicfeel is making serious waves in the travel gear space. Taking the first spot on the list is the Tropicfeel Canyon – lightweight, comfortable, and versatile.
I have to say – I love the Tropicfeel Canyons. These sneakers go with anything, from gym clothes to casual jeans and a tee. You can even rock this pair with a nice summer dress.
The sneaker has over ten unique features like water resistance and quick-dry, so you can jump into a lake and then head off to lunch a few minutes later.
They're a great hiking shoe too – as long as the terrain isn't so rough that you need ankle support. You can climb a hilltop without feeling a single rock piercing through the outsoles' dual-cushioning (I spent a lot of time hiking in them on my recent Southwest USA Road Trip), which is a real bonus.
The flexible sprint laces mean you can make the shoes as tight or loose as you need.
So far, the only potential drawback I've identified is picking the correct shoe size on the online store – they do come up a tiny bit on the small side.
Be sure to use the Tropicfeel's shoe size guide because buying the wrong size will hinder the slip-on and anti-slip functionalities.
Want to Know More? Read My Full Tropicfeel Canyon Review
Pros
Suitable for all terrains
Versatile
Breathable
Flexible
Best women's shoes for European travel (all-weather sneakers)
Waterproof with quick-dry functionality
Cons
Not great for colder climates.
Lace stoppers may slip off
Sizing does run on the small side
Tropicfeel Geyser – Comfiest Travel Shoe for Women
Price Guide: £££ / $$$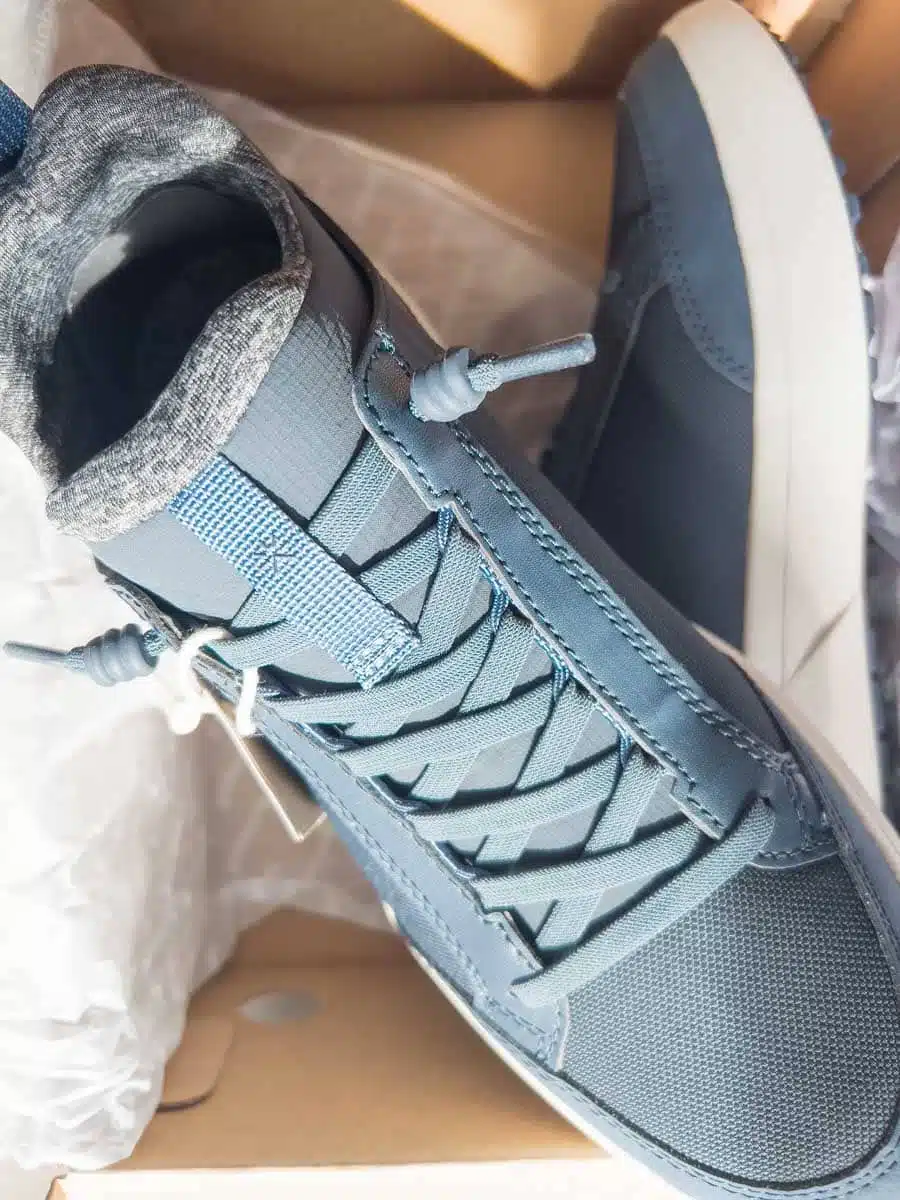 Next up are the travel shoes I find myself reaching for again and again. At this point, I might as well keep them in my suitcase as I never travel without them: The Tropicfeel Geyser.
As stylish as they are practical, they look equally cool with a pair of jeans or shorts as they do with hiking trousers and a huge coat.
Time for the tech details. The Geyser's come in low-cut and mid-top designs (Geyser Litli and the Geyser Great, respectively).
Though they look pretty much identical, you get excellent ankle support with the Greats – I suggest opting for these if you're primarily after a shoe that you can bring on some serious journeys.
The colourways are impressive, too; the Litli comes in navy, green, white, grey, and sand, while the Great has green, navy, white, black, and desert green options to choose between. I opted for the Navy Greats, in case you couldn't tell.
The only drawback to these shoes (and there seriously aren't many) is that they can be quite sweaty on the feet in warmer climates. If you're somewhere mild this isn't an issue, but your toes can seriously start to overheat when you hit up a desert.
That said, the interior is odour resistant – so you don't need to worry about stinky feet ruining your trip.
Want to Know More? Read My Full Tropicfeel Geyser Review
Pros
Suitable for all terrains – better for hiking than the Canyon's
Versatile
Features a slip-resistant rubber grip
Easy to slip on and off
Stylish, plenty of colourways
Handy lace lock
Cons
Not great for warmer climates
Expensive
Rothy's The Points – Best Stylish Travel Flats for Women
Price Guide: £££ / $$$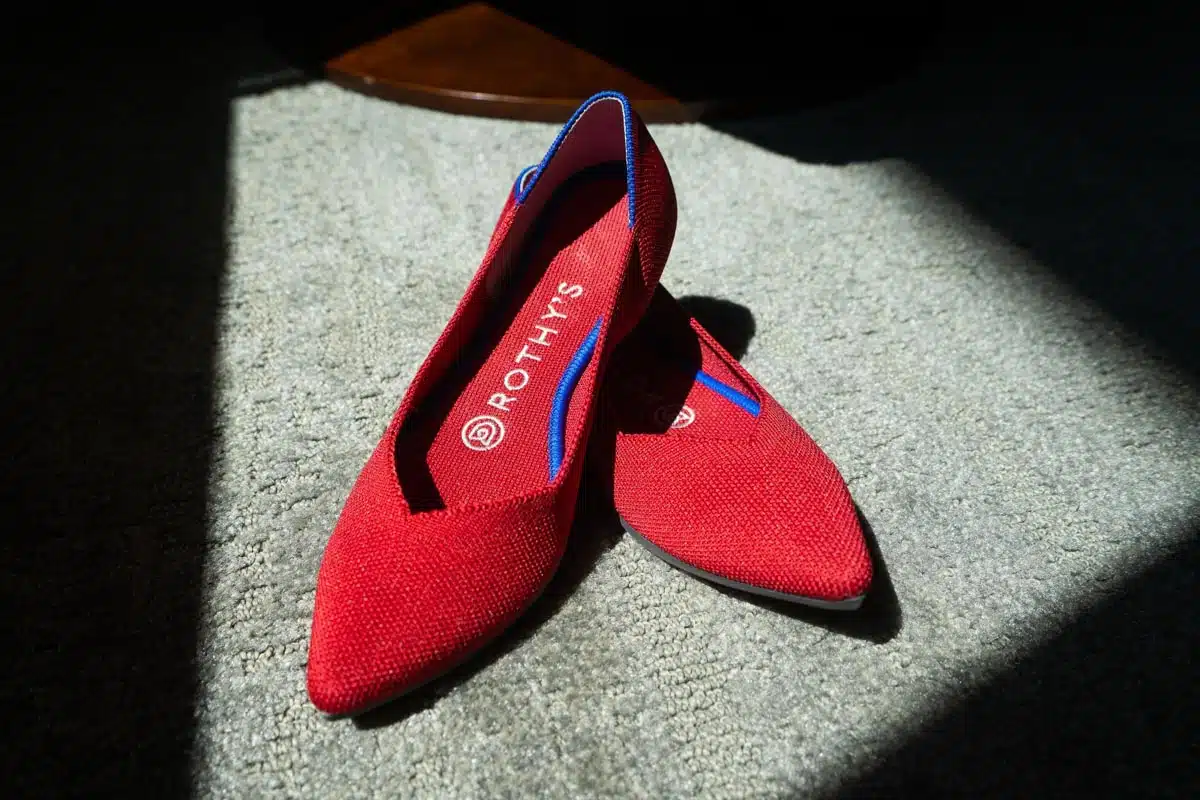 A good travel packing list must always have a pair of flats. Made with recyclable plastic material, Rothy's The Points travel shoes are soft, flexible, and save the environment one plastic bottle at a time.
These stylish walking shoes for travel have a super comfortable insole, supporting the arch and other vulnerable parts of your feet. These are great for visiting a place with gravel or unpaved roads. Rothy's flats have a durable outsole for walking on rugged surfaces.
You can tell from my Rothy's review that aside from walking, these flats also work brilliantly for driving, biking, and even dancing. This chic and comfortable flat shoe can be your go-to for running errands or going on walking tours.
One thing though, their sizes typically run smaller than standard shoe sizes. So if your feet are a bit wider than they are narrow, you may want to buy half a size up to avoid disappointment.
Want to Know More? Read My Full Rothy's Shoes Review
Pros
Great comfortability
Stylish — suitable for casual and formal occasions
Breathable and lightweight
Washing machine-friendly
Supporting insole & durable outsole ideal for various terrains
Cons
Not heat resistant (only wash with cold water & let them air dry)
A bit pricey
Allbirds Women's Tree Runners – Best Carbon Friendly Travel Sneaker for Women
Price Guide: ££ / $$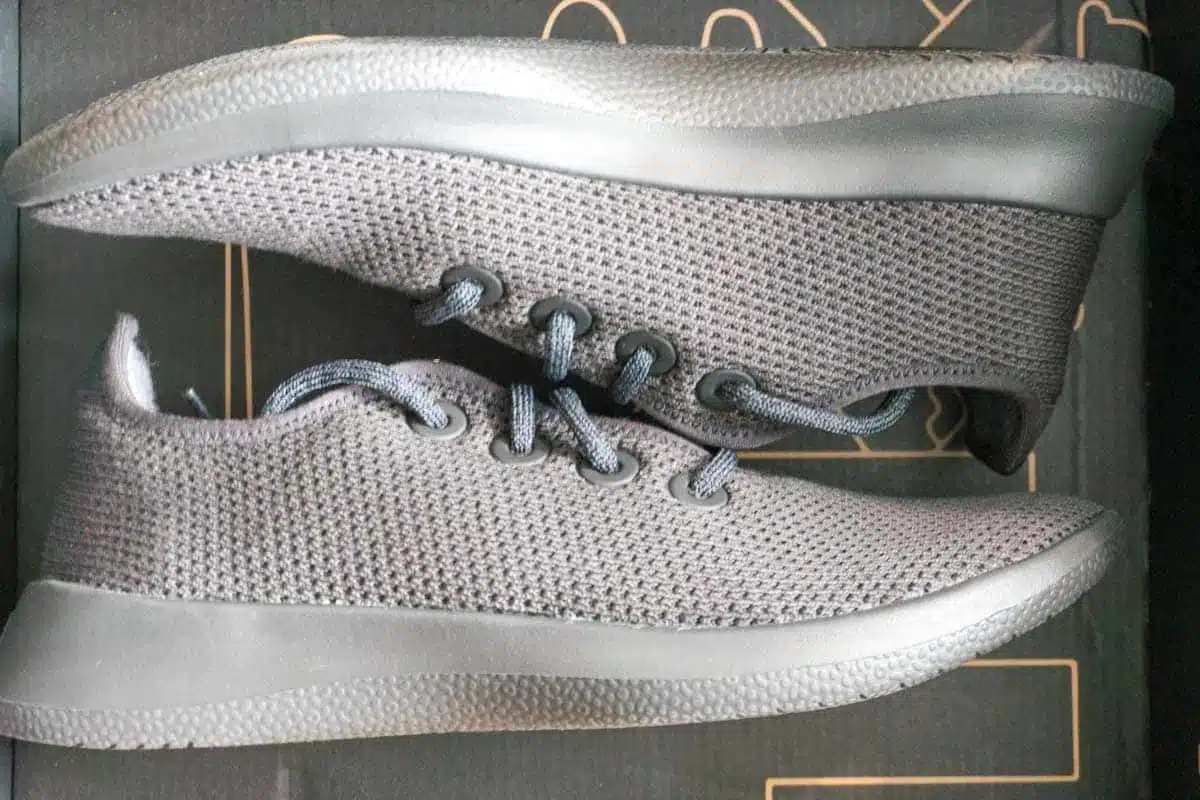 Reduce your carbon footprint one step at a time with Allbirds Women's Tree Runners. Made with lightweight and breathable eucalyptus fibre, in these travel shoes, women can have less impact on the environment. And still look fabulous.
The Tree Runners are another of my recent favourites. I've worn them on a few trips now and I'm yet to try a more comfortable and breathable shoe. 
The sneaker has a bouncy cushioned midsole, giving you all-day-wear support and premium comfort. Walking in this shoe feel's as sweet as the sugar cane used to make them.
For all the tree huggers and nature lovers, this shoe is the epitome of sustainability.
From the castor bean oil layered innersole to the 100% recycled polyester shoe laces, every inch of this shoe emits less carbon into the atmosphere. Coming as true to size, you can buy these, put them on, and immediately start saving the environment.
That said, the Tree Runners are really geared up for everyday wear – they're perfect for long days walking around cities or on well-paved paths, but they don't offer enough foot support for me to recommend them for hiking or running.
Want to Know More? Read My Full Allbirds Tree Runners Review
Pros
Carbon-friendly
Breathable tread technology
Cushioned midsole for maximum foot support
True to size
Cons
Not waterproof
Tight fit around the toes
Skechers Flex Appeal 4.0 – Best Active Travel Shoe for Women
Price Guide: ££ / $$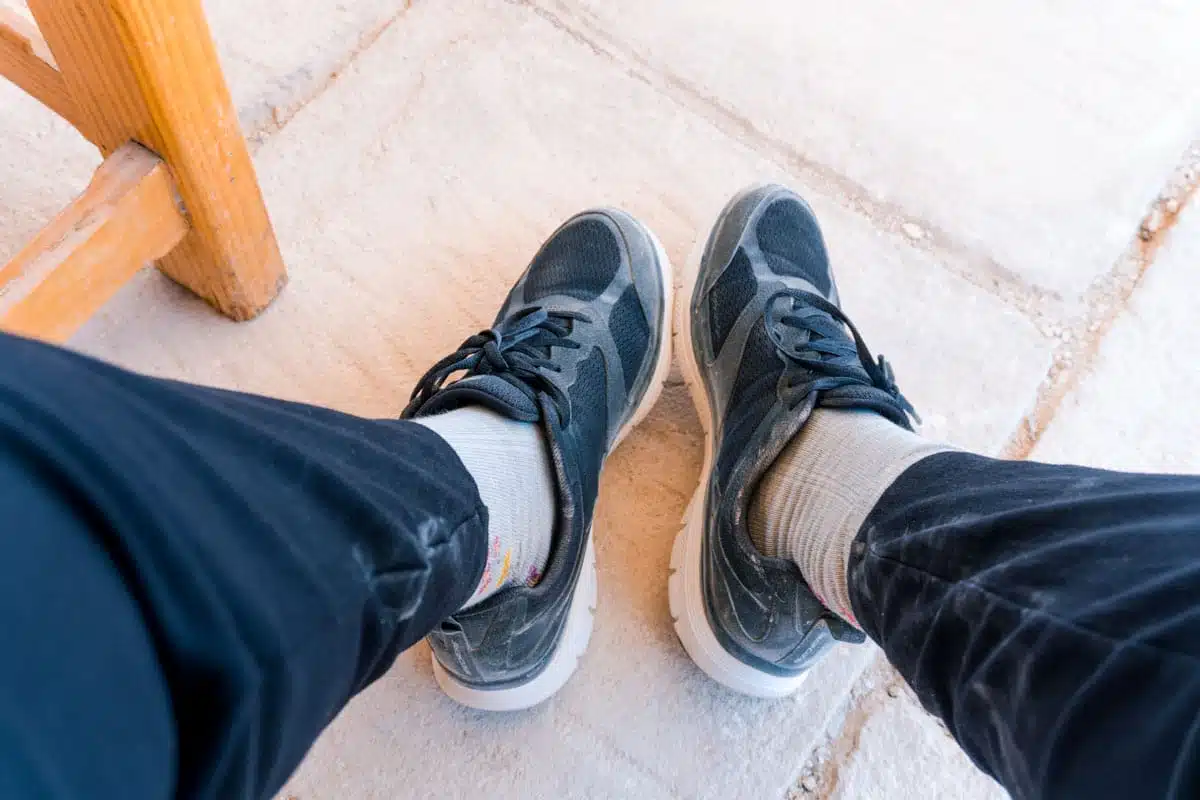 Sporty, stylish, and super comfortable – our next pick of the best travel shoe is the Skechers Flex Appeal 4.0.
I've worn these on quite a few trips – including my most recent Egypt trip and only have good things to say about them (that's also why they look so dusty in the pictures – from all that traipsing in the Egyptian sand)!
These closed shoes comprise heathered jersey fabric and athletic mesh, which makes them both flexible and breathable, so you can wear these for longer journeys, like travelling between destinations or when you're out exploring.
This trendy pair of sneakers also matches well with a day-to-night outfit. The memory foam insole has a soft cushioning that helps relieve pressure off the ball of your feet, easing foot pain and discomfort.
You can walk for hours in the Skechers Flex Appeal and not feel any symptoms of fatigue, no tight muscles, or aching feet. That's all thanks to the shock-absorbing midsole and rubber outsole — giving your heels and arches support throughout the day.
These are good travel shoes for women who shop last-minute since they fit perfectly and don't need breaking in. My only reservation regarding this shoe is the toe box, which is a bit narrow.
Pros
Flexible and breathable
Athleisure-friendly
Supporting insole & outsole – reducing foot pain
Perfect fit
Shock-absorbing midsole – reducing fatigue
Cons
Narrow toe box
Heathered jersey fabric is more susceptible to tearing
Birkenstock Arizona Sandals – Best Casual Travel Sandals for Women
Price Guide: ££ / $$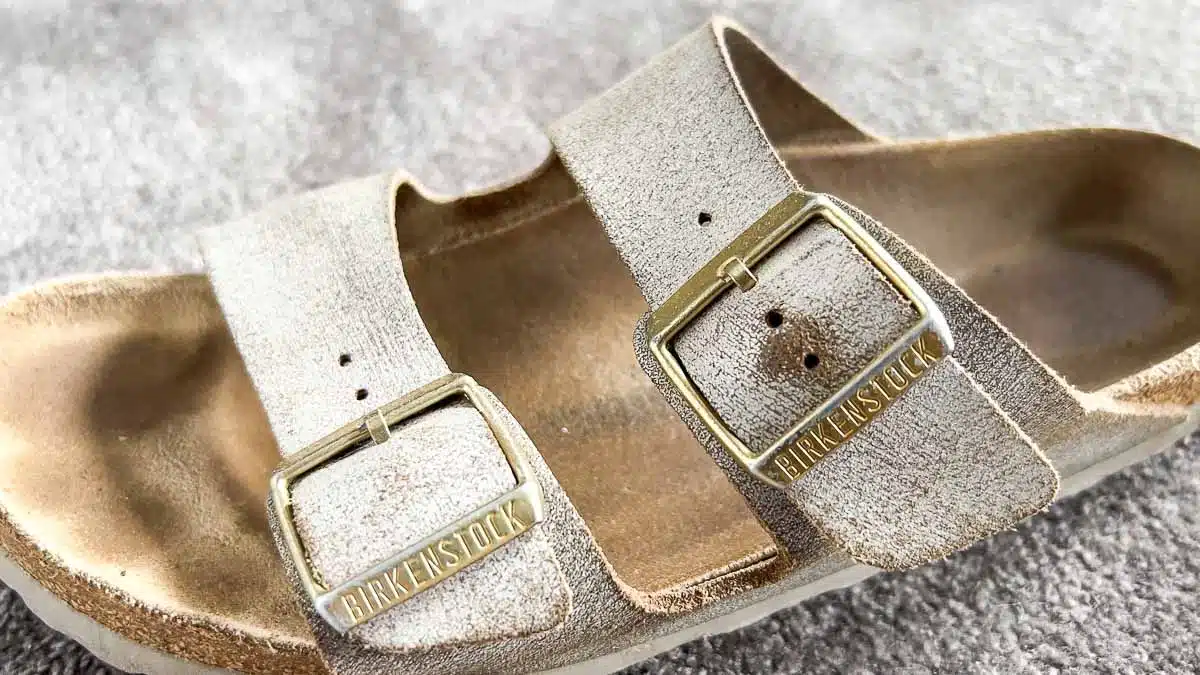 As not every day of your itinerary will require hiking or climbing, you'll need a great pair of casual flats — that's where Birkenstock Arizona Sandals come in. Debuted in 1973 by German shoemaker Karl Birkenstock, the Arizona is an iconic sandal birthed from centuries of craftsmanship.
When wearing these, you'll feel like Karl Birkenstock designed them with a mould of your feet, but the anatomical footbed's design mimics a footstep in the sand. You can wear these sandals with everything!
They come in retro versions like leather and suede, as well as modern, durable plastic editions and vegan-friendly options. The active travelling ladies will love the plastic versions, which are cushioned with soft EVA (ethylene-vinyl acetate) and water-resistant.
Don't worry about slipping or losing balance. Birkenstock Arizona's have a superb undersole grip and a durable buckle with an innovative fixing method, allowing you to choose how wide you want them to be. The flatbed also comes in wide and narrow options, so you'll always have a unique fit.
And the best part? You can find these stone-cold classics in over 50 different colours, making the Arizona undeniably one of the best women's walking shoes for travel.
Note: I've had several pairs of Birkenstock Arizonas over the years and they are hella comfortable. My only bugbear is that the inside of the soles wear smooth over time – at which point I find they start giving me blisters. We're talking after a few years though, not a few months, so I still think they deserve a spot in this guide for being some of the most comfortable travel shoes you will ever lay hands on.
Pros
Look great with anything
Cushioned footbed design – ideal for long walks
Water-resistant versions available
Available in numerous durable materials & colours
Best casual walking shoes for travelling women
Cons
Not ideal for active sports
More suitable for warm weather
Allbirds Wool Women's Mizzles – Best Air Travel Sneaker for Women
Price Guide: £££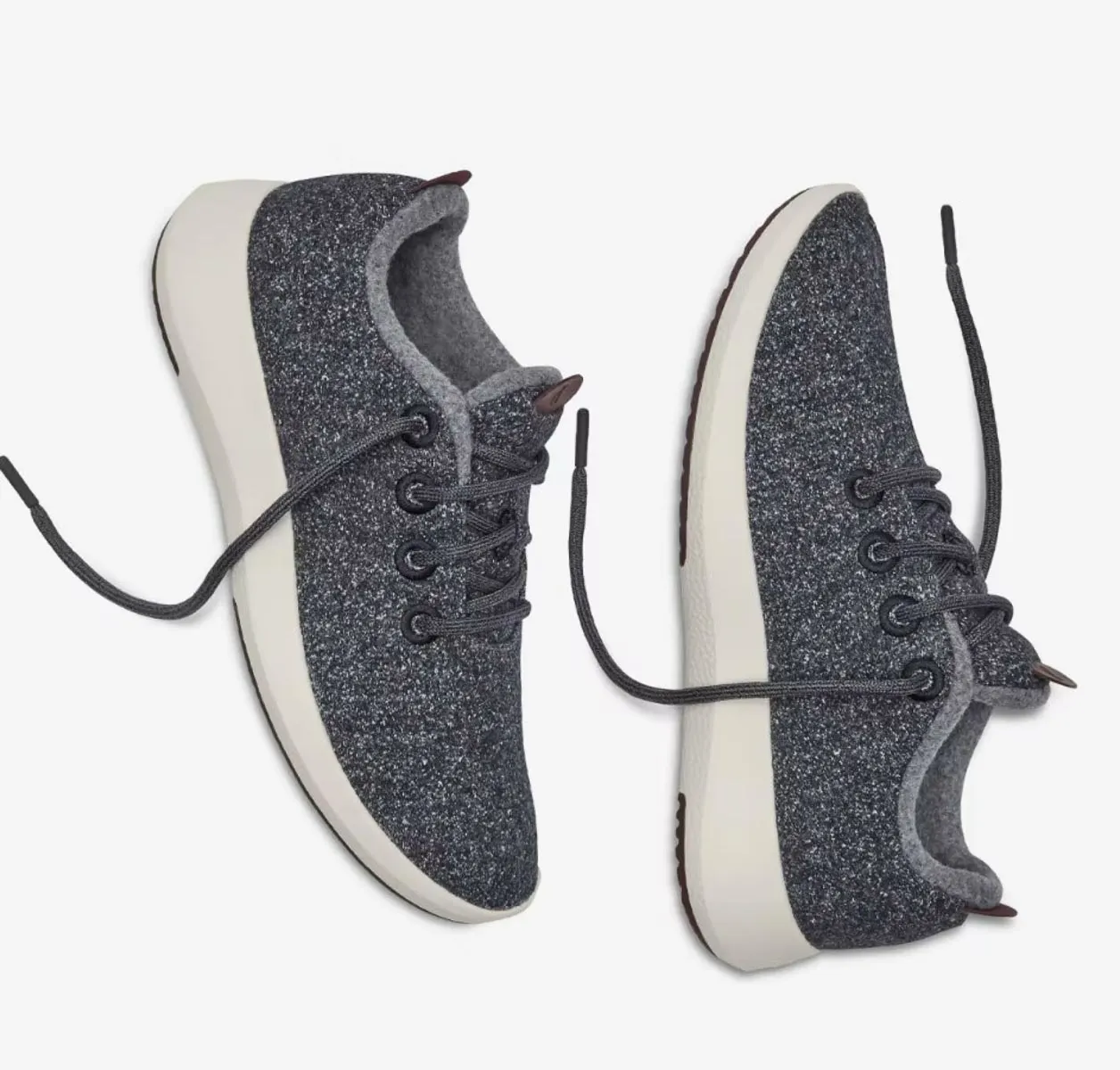 Here are three words you don't often hear in one sentence — cosy, warm, and water repellent. Well, that's what Allbirds Wool Women's Mizzles are. This comfy active pair is one of the most sought-after women's waterproof walking shoes for travel.
Made with sustainable premium ZQ Merino wool, these shoes give you a soft and warm feel as the wool wraps your feet like a blankie.
These sneakers also feature extended high-tops giving you more comfort, and the fitted sole traction grips keep you secure while traversing slippery and rocky surfaces. The comfort in this shoe is on a superior level. The wool allows your feet to breathe, contract and expand without tightness or irritation.
The flexibility makes them ideal for walking through the airport, from tiled floors to metal escalators, carpeted waiting lounges, terminals, and tar-road runways. Allbirds Wool Mizzles will impress you as they prove themselves the best women's shoes for air travel.
Pros
Ultra-soft comfort material
Sustainable
Water-repellent protection
Warm
Cons
Merino wool is quite pricey
Sizes run slightly smaller than the standard
Keen Women's Elle Backstrap – Best Sporty Travel Sandals for Women
Price Guide: £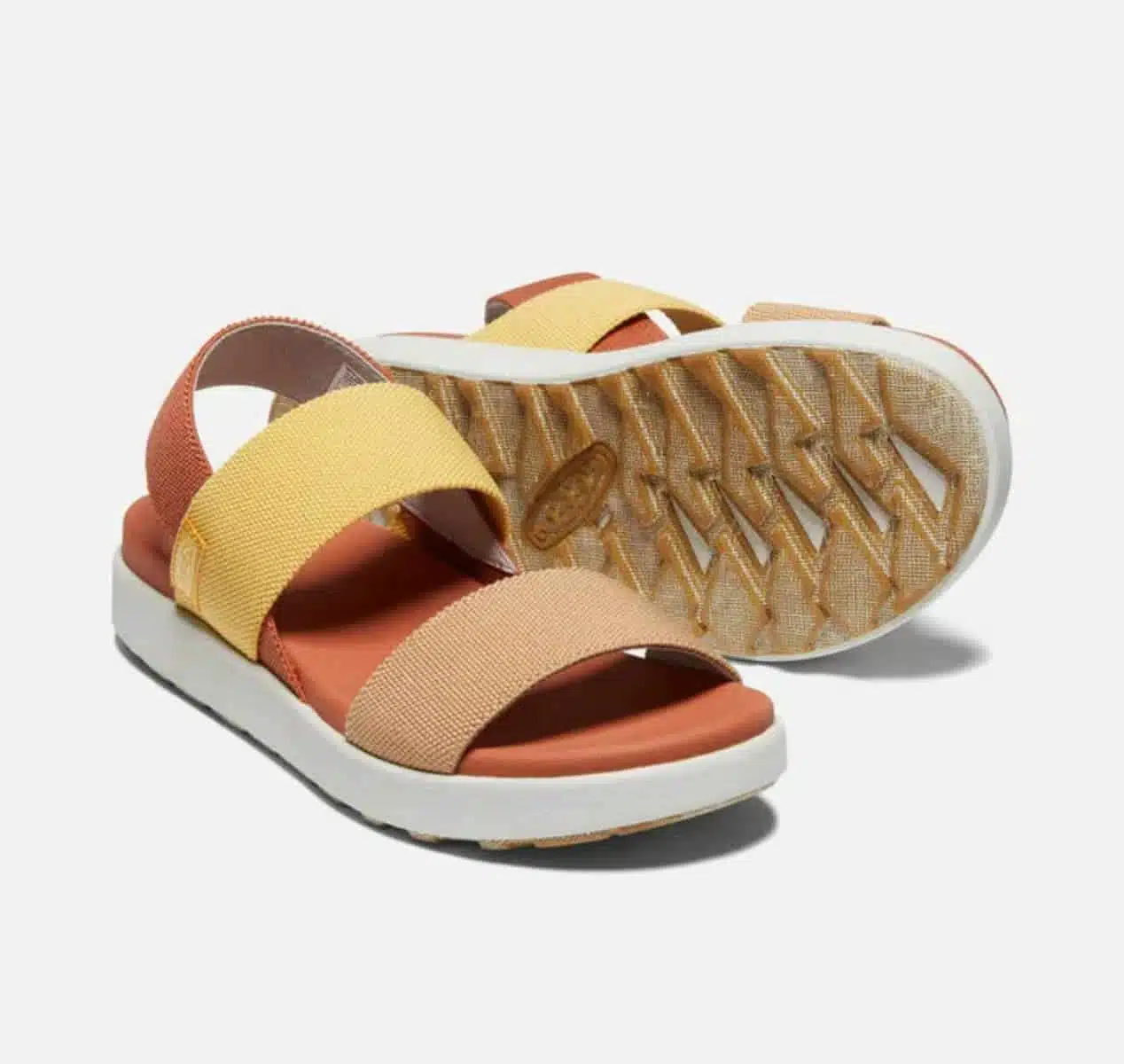 Go from the city centre to the countryside with Keen Women's Elle Backstrap sandals. These lightweight sporty sandals feature chic straps made with 100% recycled polyester plastic bottles. The light, bouncy, and durable compression-moulded soles give your feet and arch support all day long.
Keen Elle Backstraps also have high traction rubber sole grips making them ideal for taking on various terrains. These are great lake shoes, with their water-repellent and quick-dry functions, you can effortlessly transition from picnic to party mode.
The only drawback is that the toe box may feel narrow, restricting your overall comfort. But the simple solution is picking the right size, get half a size up if you have slightly flatter feet than most.
Make these your go-to sandals for any occasion. Available in lots of colours and patterns, the Keen Elle Backstrap is one of the best walking shoes for travel you'll come across.
Interesting Fact: The Keen Elle Backstrap rubber outsole is non-marking, leaving no traces as you walk.
Pros
Environmentally friendly
Lightweight
Compression-moulded EVA midsole
Available in bright colours and fun patterns
Water-friendly
Cons
Not suitable for cold weather (frostbite is not cute)
Requires gentle handling and delicate cleaning products – you must immediately treat stains
Ecco Corksphere Sandals – Best Travel Beach Sandals for Women
Price Guide: ££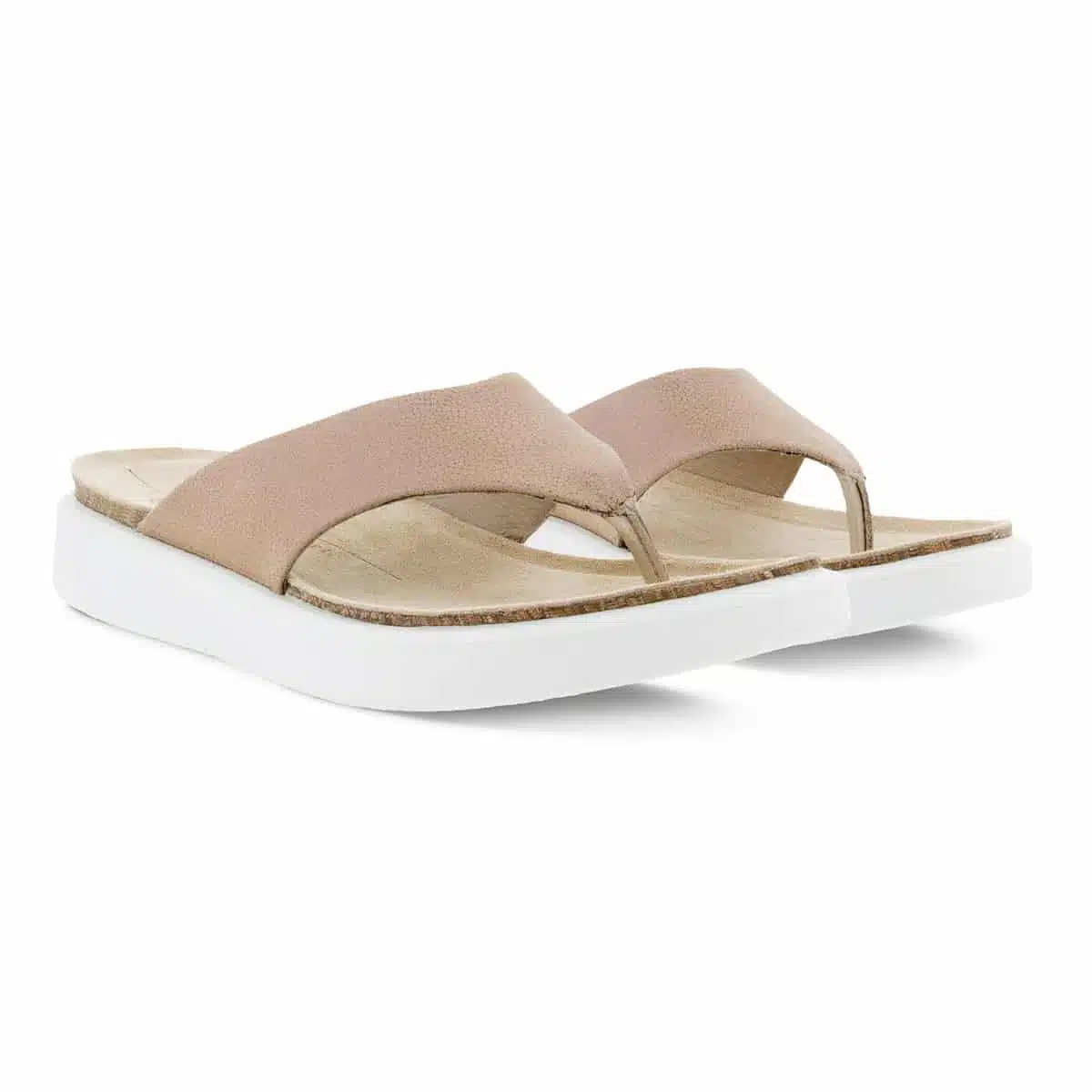 Beach sunset strolls will never be the same with Ecco Women's Corksphere sandals – easy slide in and out and maximum comfort perfectly describe these shoes.
If you're visiting tropical destinations that experience lots of warm weather, the durable and flexible Ecco Grey Wolf leather will keep you comfy and elegant all day long.
The sturdy outsoles cushion foot impact, so you'll be walking with a bounce in your step even after completing your 10 000 steps, and more. You'll experience a perfect fit thanks to Ecco's use of fluid materials on the inner sole.
The one-of-a-kind anatomical base creates a mould specific to your foot width, giving you not just a unique fit but ultimate comfort as well.
The cork sphere has an elevated footbed that further personalises the fit. But perhaps the most amazing thing is how it flawlessly complements the aniline leather finish, making these the best-looking travel shoes on your packing list.
Pros
Lightweight
Footbed adaptable to the shape of your foot
Durable top leather
Ecco Fluidform for maximum support
Wide selection of colours
Cons
Narrow footbed
More suitable for warm weather
Best Travel Shoes for Women Guide – Things to Consider
Comfort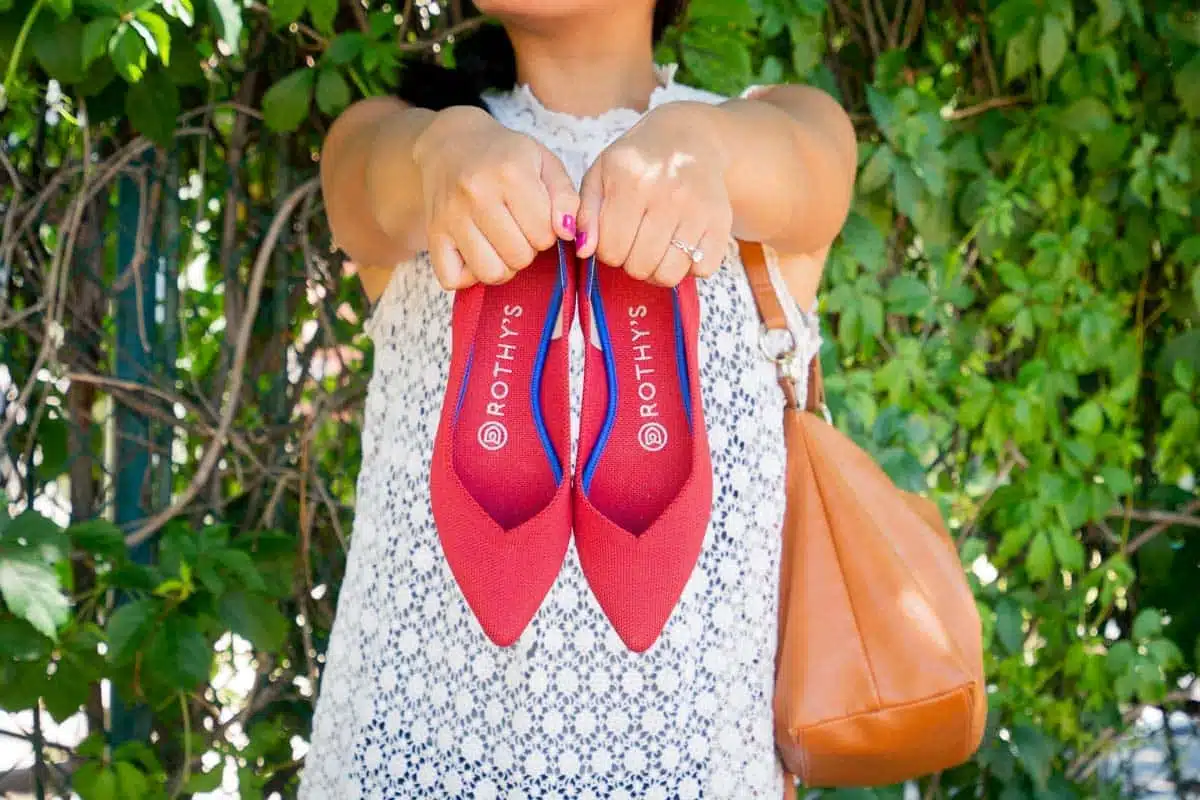 When it comes to picking the best travel shoes, throw the price out of the window, and strictly focus on comfort – your trip depends on it. A weighty statement — but that doesn't make it any less true.
Being stuck on vacation with painful feet, blisters, and corns is not a predicament you want to find yourself in. Finding the best all-terrain, all-weather and multi-functional shoe may be a challenge, but whichever you pick, ensure it ticks all the boxes for maximum comfort.
Durability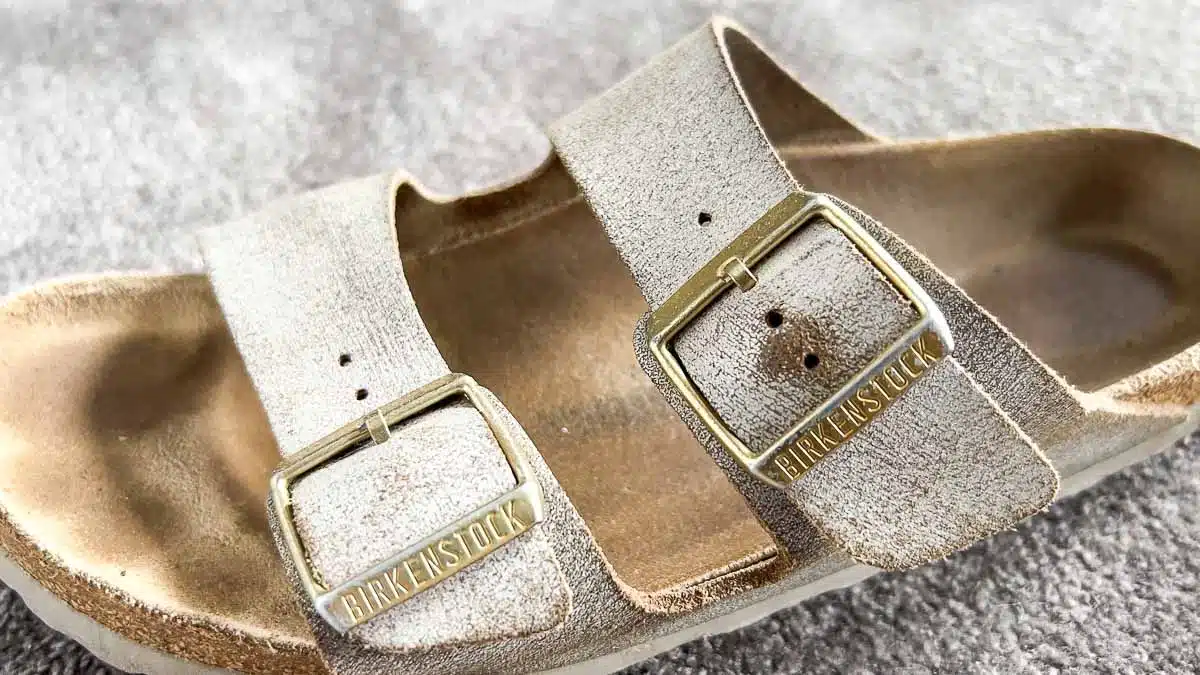 Experienced travellers will certainly agree that after comfort, durability is the second top criterion for picking the best shoes for travel. Nobody wants a shoe that falls apart after wearing them a couple of times, especially if you're an avid adventurer.
Pick travel shoes made with a high-quality and long-lasting material. Materials like standard and cork leather, recycled plastics, and natural rubber are some of the best sustainable fabrics used in shoes.
Waterproof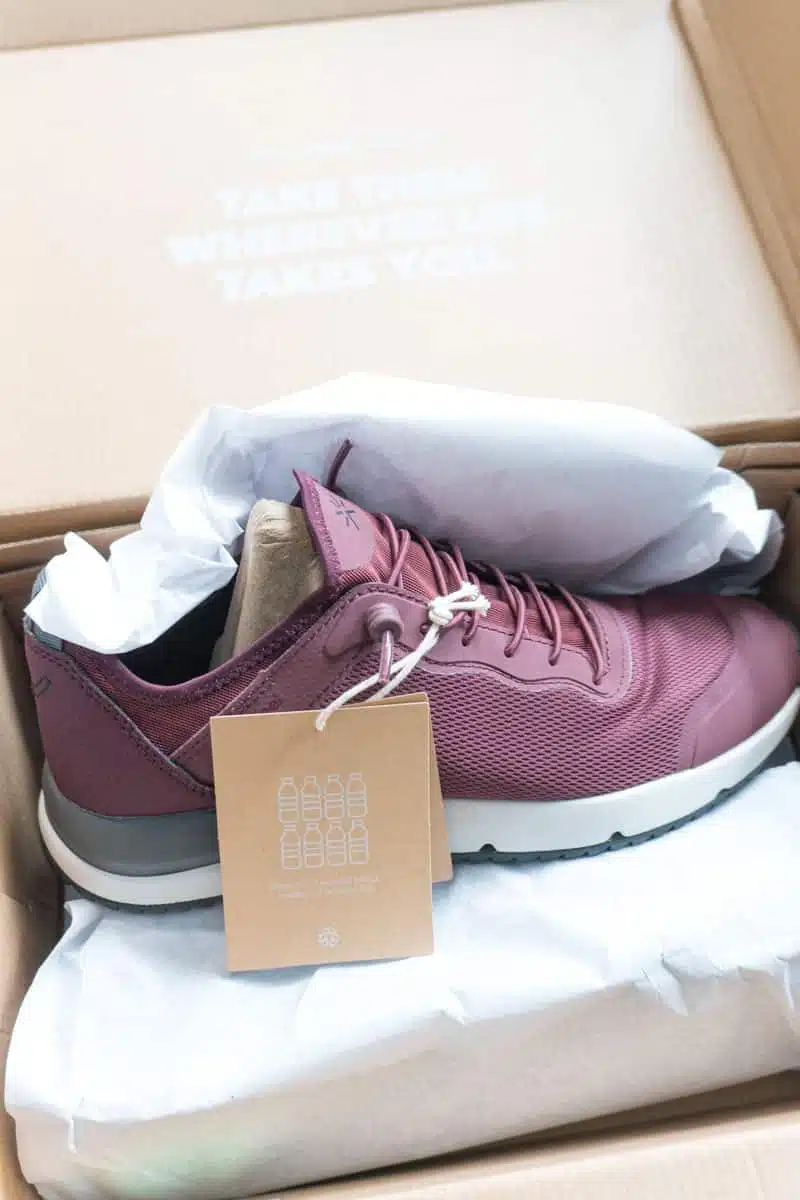 Although meteorologists and weather channels do a fantastic job, the weather is still quite unpredictable. The worst situation travellers may find themselves in is being stuck under pouring skies wearing non-waterproof shoes.
Aside from that, waterproof shoes are ideal for several outdoor and water activities. Imagine being able to walk a long hike, climb several hilltops, and then retreat to a nearby stream for a refreshing swim, kayak, or canoe – all without having to change your shoes.
Breathability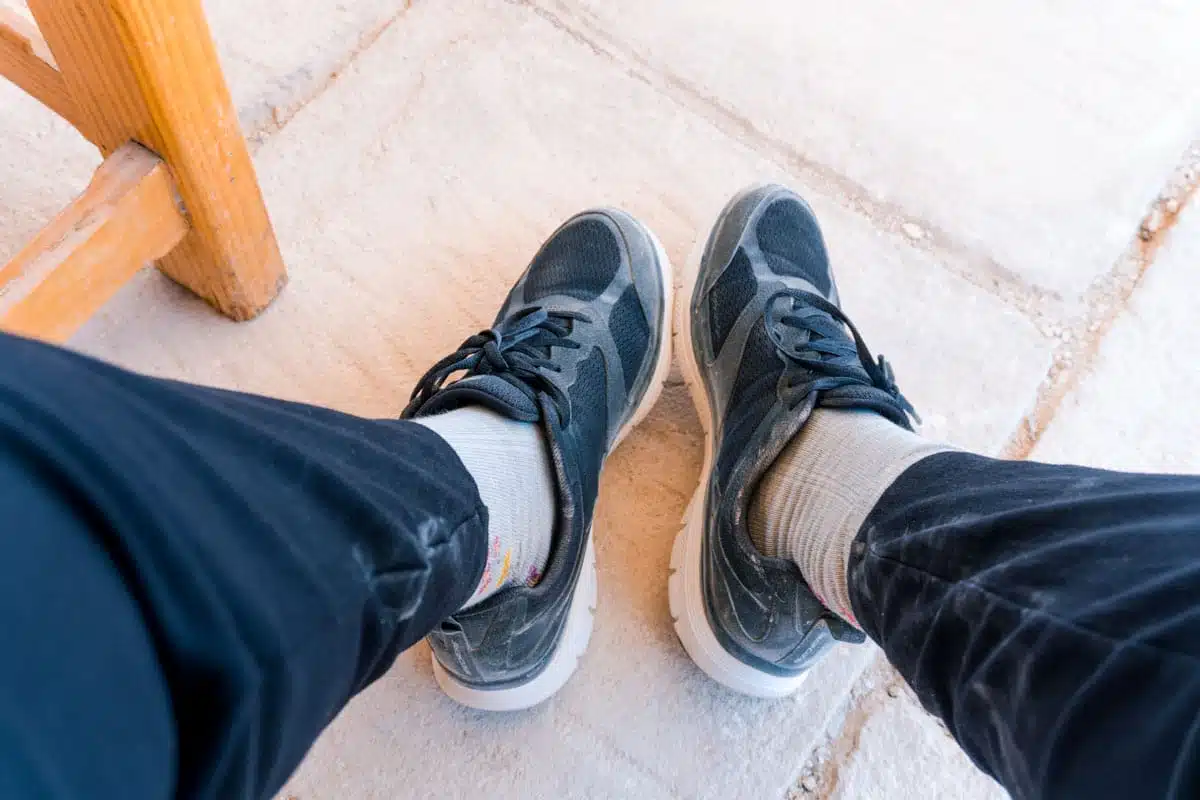 Naturally, your body will start sweating when doing anything active. And unfortunately, sweaty feet can painfully sabotage a well-thought-out itinerary. Your feet will start sliding off, causing you to experience some difficulty walking, running, or climbing.
The best shoes for travelling comprise light and breathable material. Allowing adequate airflow through your shoes and keeping you sweat-free and capable of taking on all your excursions.
You want your shoes to be suitable for walking through the streets of Rome all day and then enjoying an epic bar-hopping experience at night.
Support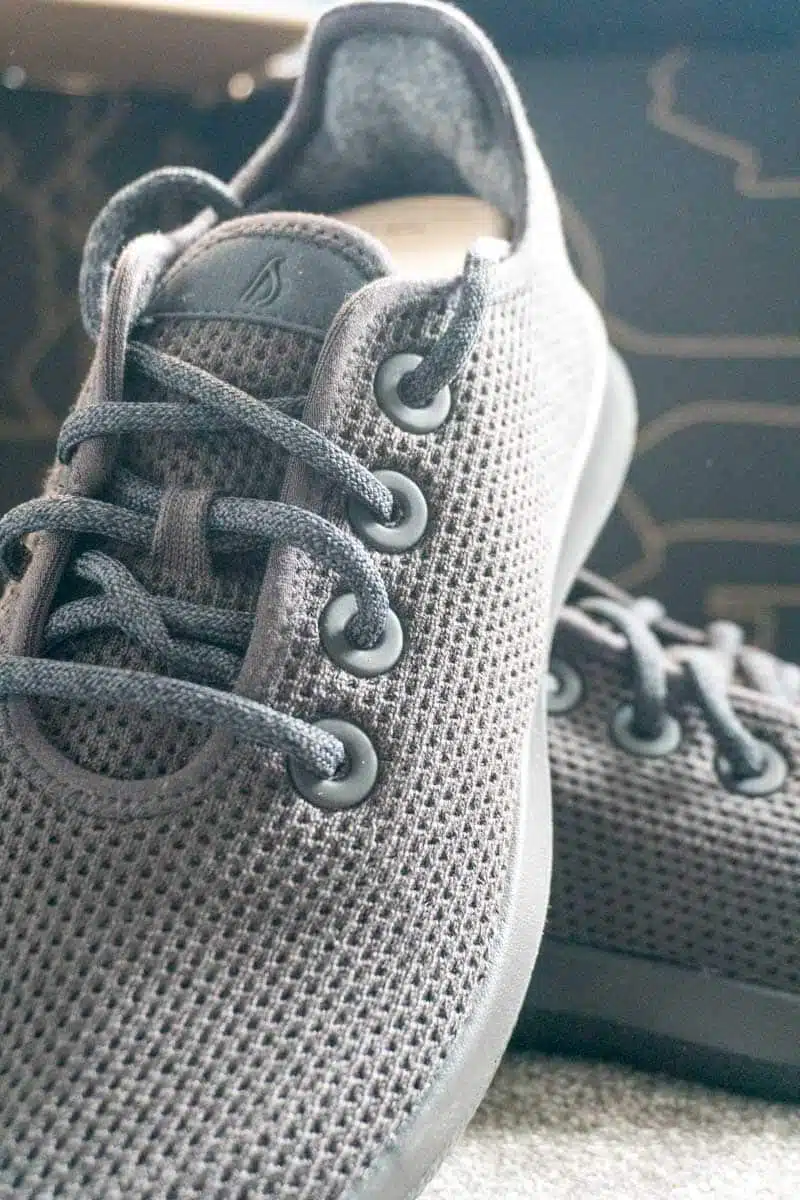 Different terrains enforce various levels of pressure on the bottom of your feet. And although your regular day-to-day shoes can effortlessly take on tar roads — a rugged, rocky, and steep mountain pass, not so much.
Foam-induced support is vital in travel shoes. The soft material helps with shock absorption, relieving pressure off the pads of your feet and reducing ankle and arch pain.
Travel Shoes for Women: In Summary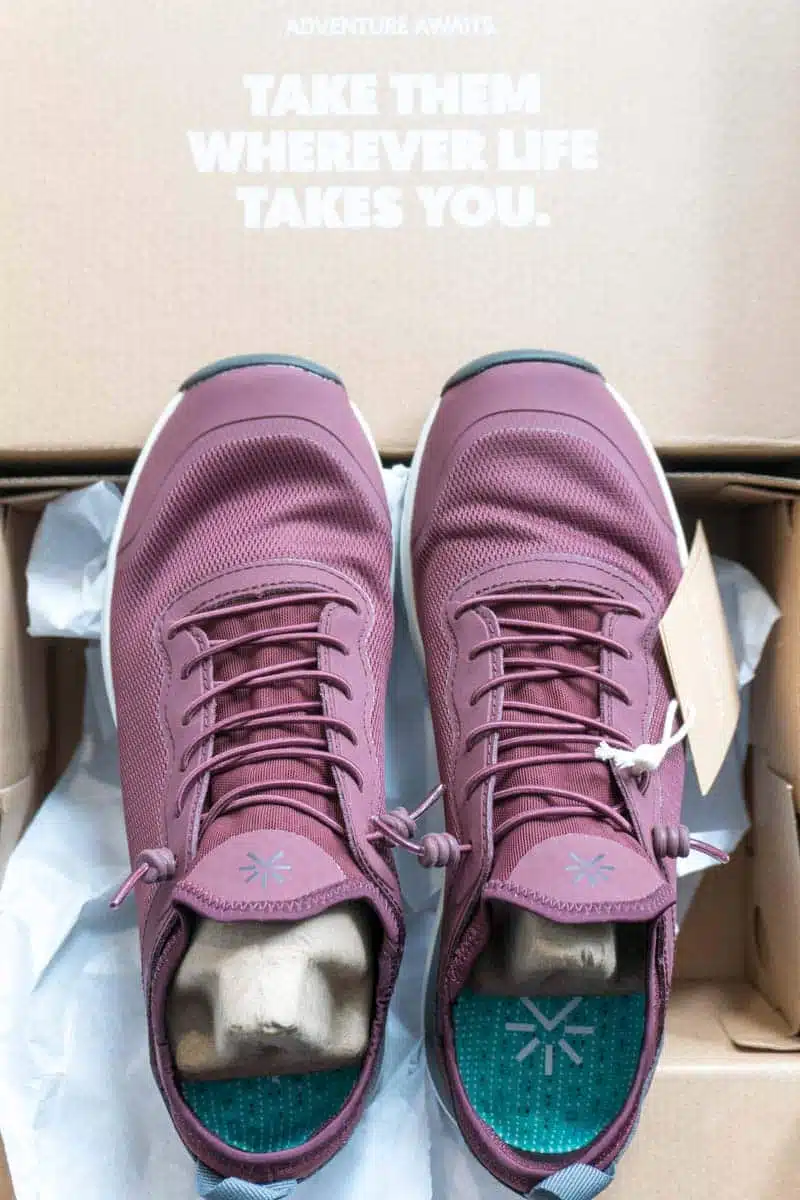 The Tropicfeel Canyon sneaker is my top pick for the best travel shoes for women. They're stylish and come in a nice range of colours, but they're also rugged, durable and the perfect multi-activity shoe for your time on the road
Buy the Tropicfeel Canyon Shoes Now