Planning on visiting the tomb of Tutankhamun in Luxor? Here's what you need to know before you go.
Tutankhamun was the famous boy king of ancient Egypt – but if it were not for his grand tomb's rediscovery, Tutankhamun would have faded into obscurity.
In fact, the discovery of Tutankhamun's burial chamber (A.K.A tomb KV62) was one of the most significant events in the history of Egyptology, and King Tut soon became a household name.
Ready to see the most talked about tomb in Egypt? Then read on.
If you love this practical guide, you'll love my travel tips for your journey to the Valley of the Kings.
Why Visit Tutankhamun's Tomb?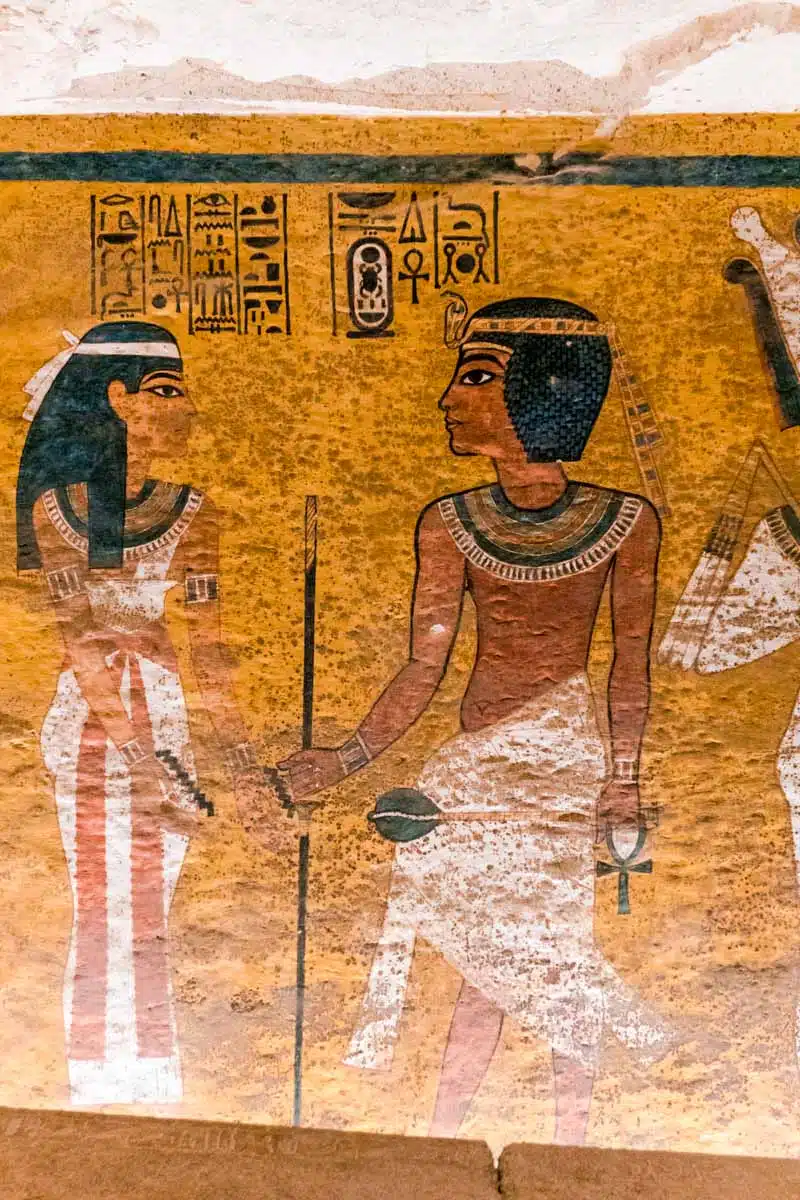 King Tutankhamun has the largest and grandest tomb in the Valley of the Kings. Visiting Tutankhamun's Tomb might be pricey, but it's worth it once you see it yourself – the beautifully decorated tomb will take your breath away.
Once inside, you'll be surrounded by magnificently decorated golden walls and all the treasures that would accompany King Tut to the afterlife.
Get your camera ready as the best part about visiting this tomb is seeing the mummified body of the boy Pharaoh. And guess what – Tutankhamun's mummified face looks like it's smiling. Candid shots with a famous mummy are probably why tourists line up to visit Tutankhamun's tomb.
Another big reason why many run to see King Tut's tomb is its ties to many theories about the "Curse of the Pharaohs". You would think people would want to run in the opposite direction, right?
The rumour took off when George Herbert (financier friend of Howard Carter) died of a poisonous mosquito bite only two months after he had ceremoniously opened Tutankhamun's burial chamber.
If you know about the mummy's curse, it entails that anyone who dares disturb a Pharaoh's resting place will have a sudden death. The rumours intensified with even more unexpected and early deaths of many others associated with this excavation.
Sounds creepy right? Wait till you hear more straight from the depths of Tutankhamun's tomb.
The History of Tutankhamun's Tomb
Building the Tomb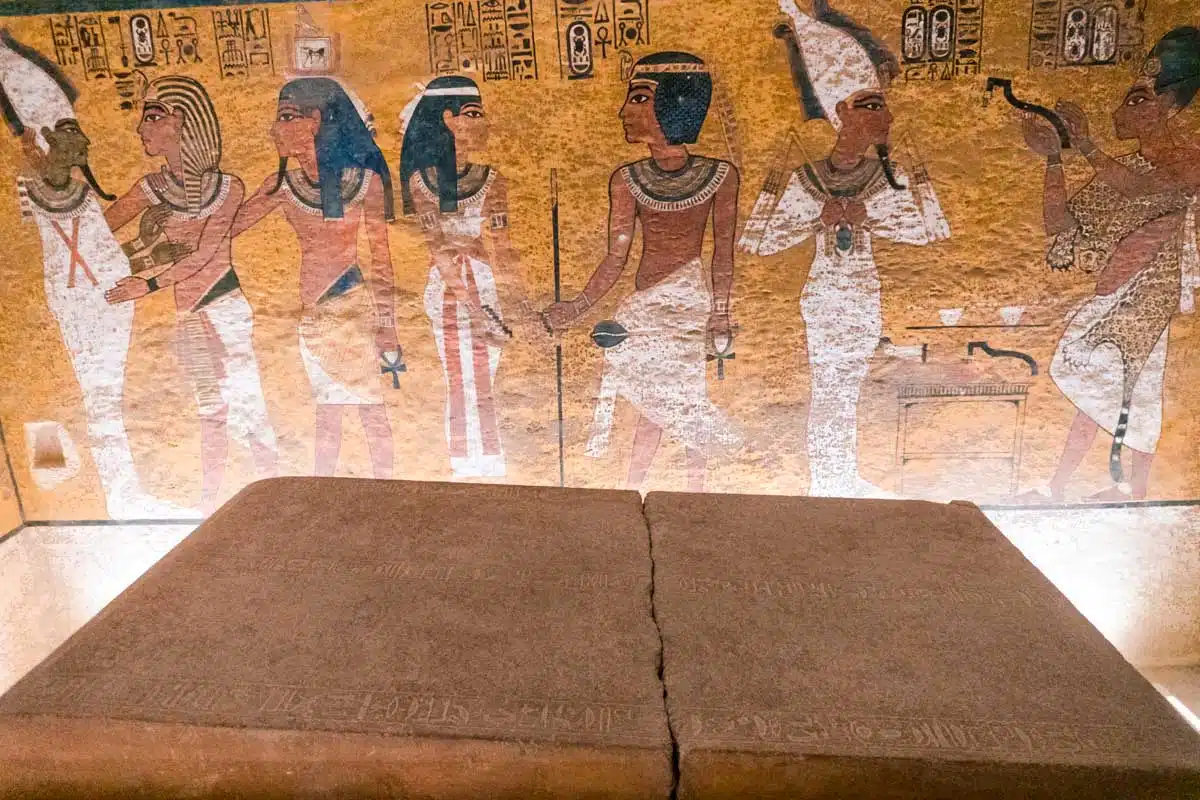 Archaeologists believe that Tutankhamun's tomb was initially meant for an Egyptian noble but quickly repurposed after the King's unexpected passing.
While the exact date of construction is hard to pinpoint, we know it was built before 1325 BC since that is when the king is believed to have died.
The tomb consists of four main rooms: the antechamber, annexe, treasury, and burial chamber. The workers responsible for its construction were men from the village of Deir el-Medina who built all the tombs in the Valley of Kings.
It took nearly 500 years, from the sixteenth to eleventh-century B.C.E, to complete the Valley, with Tutankhamun's tomb among them. The men carved the tombs from limestone and sedimentary rocks and used Muna (a type of plaster made from limestone, quartz, and clay) to smooth its walls.
After Construction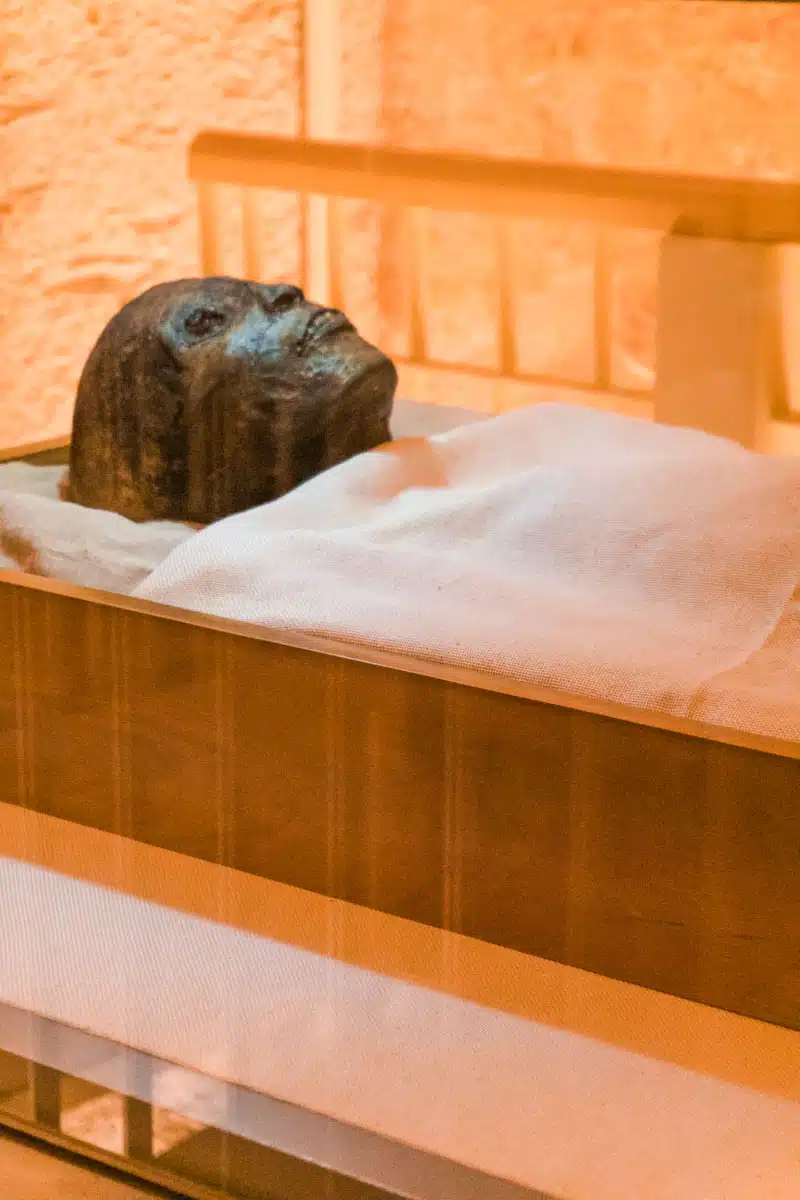 After the unexpected passing of the king in 1323 B.C. at only 19 years old, Tutankhamun was laid to rest in the burial chamber.
According to autopsies rendered on Tutankhamun's mummy, he had many illnesses and deformities due to a heavily inbred family tree. Yes- Tutankhamun's parents were most likely siblings. This was a common tradition amongst royal families to "keep the bloodline clean".
Due to this, Tutankhamun had to wear orthopaedic sandals as he could barely walk and, unfortunately, died under unknown circumstances.
The young Pharaoh underwent the mummification process, which involved removing his organs and wrapping his body in resin-soaked bandages. A 24-pound solid gold portrait mask would cover his face.
Tutankhamun's tomb was a granite sarcophagus with three gold coffins nested inside each other. Tut's mummy rested inside the innermost solid gold coffin. Tutankhamun's mummified body and his treasures remained in this tomb for 3,000 years until its rediscovery.
Rediscovery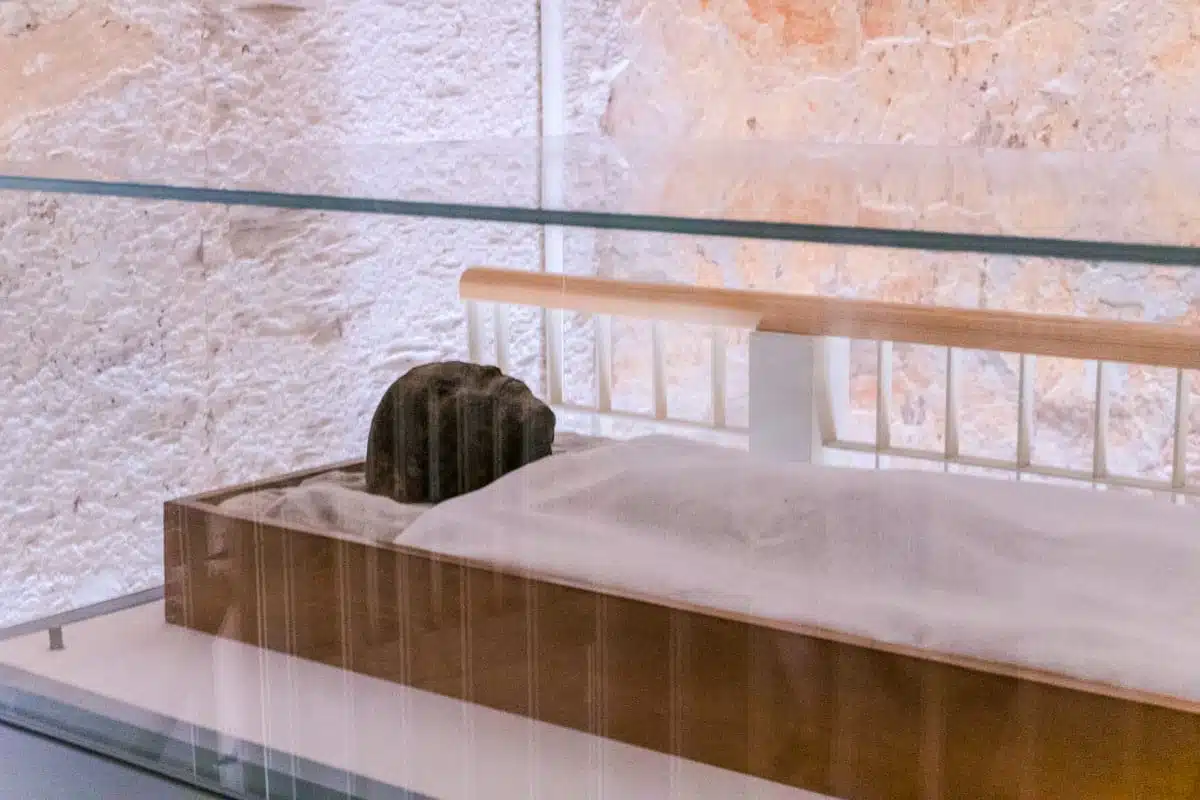 It wasn't until the discovery of King Tut's tomb by Howard Carter in 1922 that he rose to fame. Today, Tutankhamun is the most famous among Pharaohs. He also had one of the best-preserved mummies and was one of the youngest rulers of the world.
Tutankhamun led an uneventful life, according to many historians. His tomb's rediscovery is why he is now such a formidable figure in world history. It took Carter about six years to fully excavate King Tut's tomb, then ten years to document and clear it out.
Buried with Tutankhamun's mummy were many valuable artefacts, including paintings and depictions of Tutankhamun in the afterlife and in the Book of Dead. Also discovered with his mummy were statues, chariots, gold jewellery, chairs, canopic jars and model boats.
One of the murals depicted scenes of Tutankhamun and the ritual of "opening the mouth" to give life to the deceased. Also, another scene shows the solar bark on which one travels to the afterworld.
These discoveries would change the fate of Tutankhamun's legacy and significantly impact Egyptology.
The well-preserved nature of his tomb allowed archaeologists to record what an Egyptian tomb looked like and to learn more about the ancient culture. It is one of the most important discoveries in the history of archaeology.
Planning Your Visit to Tutankhamun's Tomb
Tours to the Tomb of Tutankhamun & The Valley of the Kings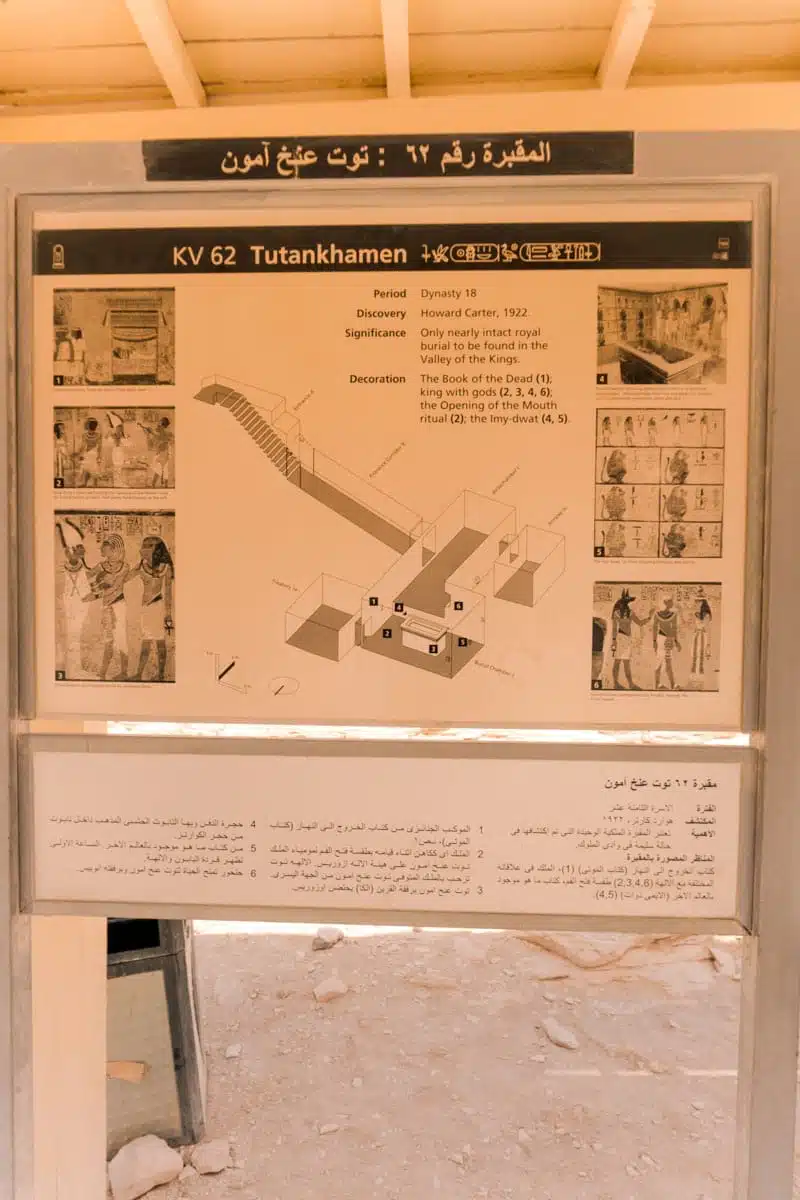 Depending on your chosen tour, many include entry tickets to King Tut's tomb and other royal burials and sites in the Valley of Kings. Here are two excellent tours to consider:
East and West Bank Tours
See the magnificent East and West Banks of Egypt on a half or full-day guided tour:
A Two-Day Trip in Luxor
Visit the Valley of Kings and more in Luxor for two days:
Explore the Valley of King's royal tombs, Luxor Temple and Karnak Temple.
Skip-the-line access
An exciting hot air balloon ride is available as an add-on.
Led by an Egyptologist.
Pick-up and drop-off are available in the Luxor area.
Includes lunch each day and a 1-hour felucca ride on the Nile River.
Note: If you want to enter Tutankhamun's Tomb, it is available as an add-on to this trip.
Visiting Tutankhamun's Tomb Independently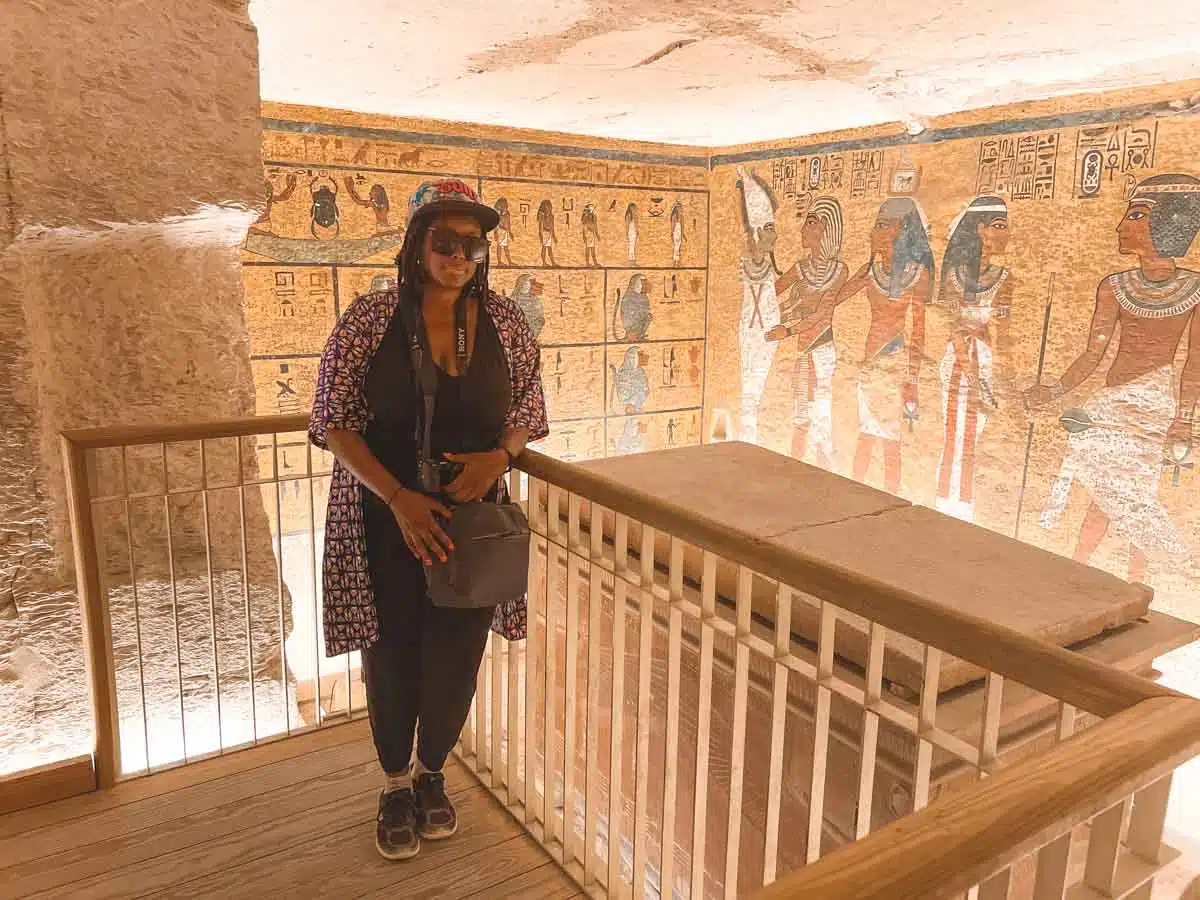 You can take on Tutankhamun's Tomb independently if you're a brave tomb explorer.
While it might not be as simple as booking a tour, you'll have the freedom of traversing at your own pace. You can use taxi, train and bus services or rent a private vehicle to get around Egypt.
You must pay an extra fee of £13 (300 EGP) to enter Tutankhamun's tomb. Many visitors agree that a selfie with King Tut's mummy makes up for the hefty price tag.
Tutankhamun Tomb Address
Address: PJR2+4HV, Kings Valley Rd, New Valley Governorate 1340420, Egypt.
The burial place of Tutankhamun is marked by the official tomb number, KV62.
Tutankhamun Tomb Opening Times
The tomb remains accessible to the public every day. However, from Mondays to Wednesdays, hours may differ due to Eid al-Adha. Also, the opening times are affected by seasons:
Winter: 6 am – 4 pm
Summer: 6 am – 5 pm
Best Time to Visit
I recommend visiting the tomb as early as 8 am when it's still relatively quiet. The Valley of the Kings gets very crowded between 10 am and 2 pm, so I suggest avoiding these hours if you want to explore more freely.
Where to Stay
Staying in Luxor would be your best option as you'll find the Valley of Kings near this city.
Sofitel Winter Palace Luxor (Mid-Range – High-End)
On the East Bank of the Nile sits the prestigious palace fit for Kings and Queens. The Victorian architecture, antique furniture, exquisite staircases and regal gardens will make you feel like royalty.
If you're not having dinner on the terrace as the sun rises, you're indulging in a candle-lit dinner under a beautiful marquee. These are just snippets of what it's like to stay at the Sofitel Winter Palace.
Check availability and reviews on Booking.com
What to Pack for King Tut's Tomb
I've gathered some essentials that I have found you need on a trip to Egypt and, more specifically, Tutankhamun's tomb:
Bring with you suncream, UV-blocking sunglasses, a hat, and water.
Comfortable shoes and appropriate attire, I've got you covered with a what to wear in Egypt guide.
Make sure to have extra cash, as most tours do not cover the entry fee for certain tombs in the Valley of the Kings.
Watch My Luxor Guide on Youtube!