Are you planning a visit to Luxor Temple? If not, you should be. Here's a complete guide to what you need to know before visiting.
Will I ever stop raving about my recent trip to Egypt? The answer is no. I knew Luxor Temple was going to be impressive, but I didn't realise just how much I would fall head over heels in love.
Luxor Temple is one of Egypt's most fascinating attractions, it's steeped in history and has been well-preserved, with almost all of it still intact.
It's also quite majestic at night — trust me when I say that it is not something you want to miss on your trip to Egypt.
Ready to explore?
Why Visit Luxor Temple?
A trip to Luxor is essential for any Egypt itinerary and is a fascinating experience, even if you are not an archaeologist or a massive Egyptology nerd (guilty). Luxor City was the capital of ancient Egypt for over 1500 years, and so the temple holds significant history.
Luxor is a beautiful glimpse into ancient Egyptian royalty and the temple exemplifies what the Pharaohs regarded as necessary. Luxor Temple served many purposes, from being essential for the Feast of Opet to being a place for coronations and even an area to store royal valuables.
The temple is one of the biggest open-air museums in Egypt, making for a remarkable sight in person. I recommend visiting in the evening as the sandstone glows gold at sunset – as night settles, the moonlight and temple lights make the monument look more mysterious.
The History of Luxor Temple in Egypt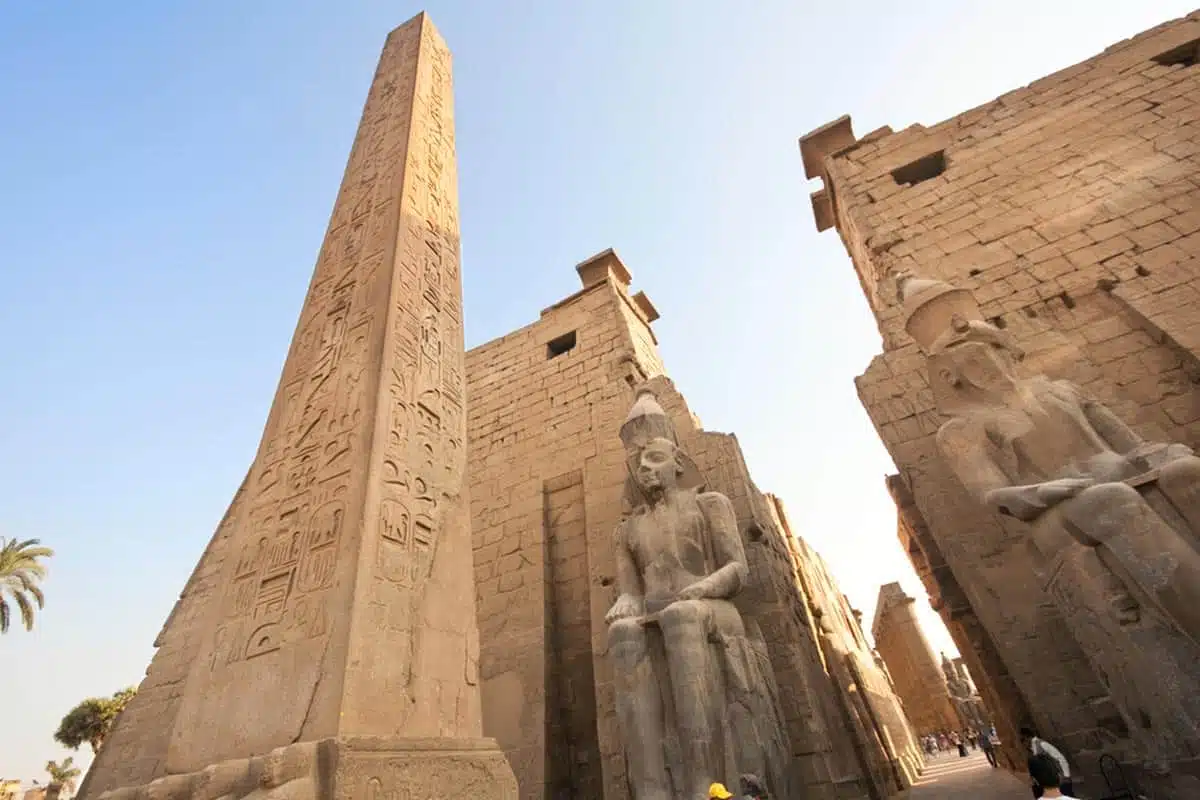 Luxor Temple's past is exciting and spans the reigns of four different Egyptian pharaohs. It's one of the most important archaeological sites in Egypt.
Who Built the Luxor Temple?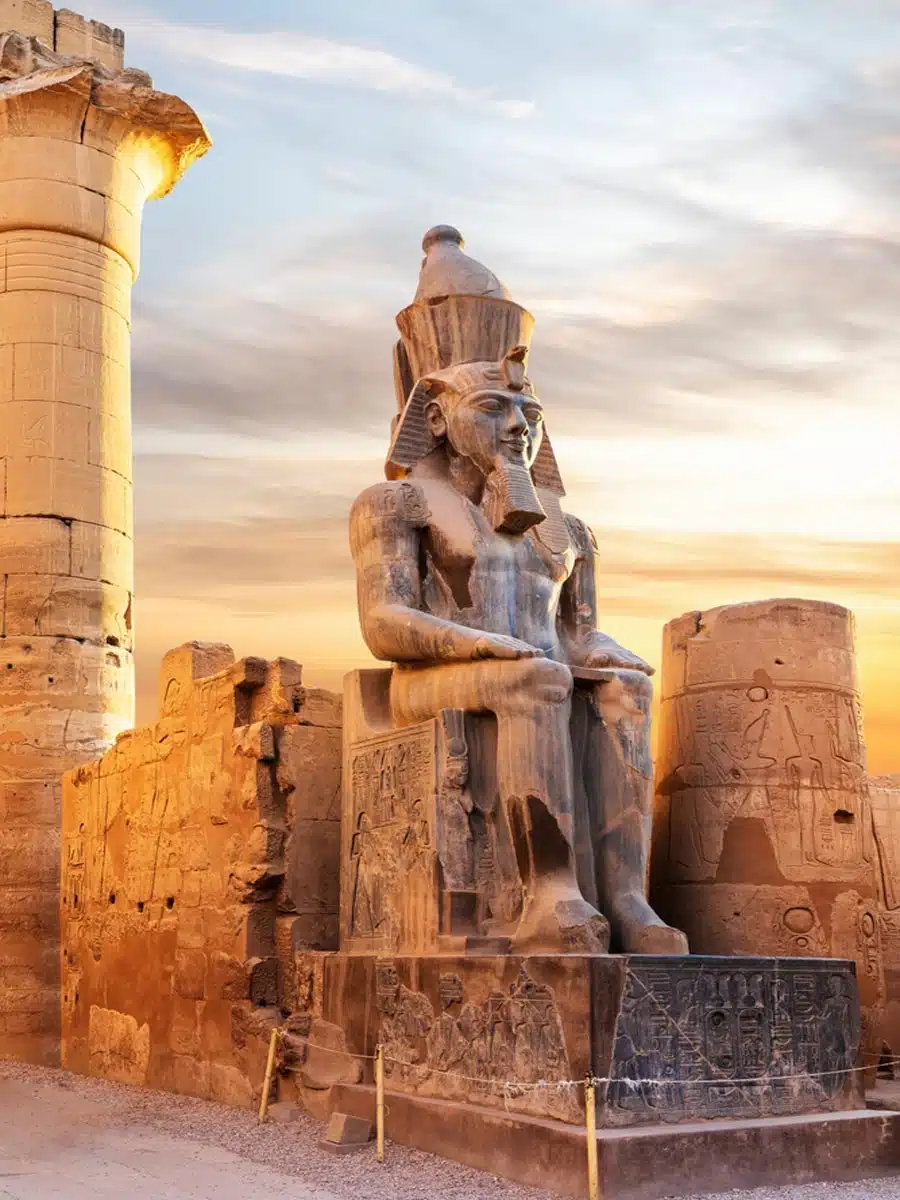 Amenhotep III commissioned the construction of the temple during his reign. Later, Tutankhamun oversaw the construction, then Horemheb, and finally Rameses II. Built in approximately 1400 BCE during the Egypt New Kingdom, the temple is now a UNESCO World Heritage Site.
But why was the Luxor Temple built? Luxor's purpose was not for worshipping a god or god figure, unlike other Egyptian temples. Instead, it is a dedication to the rejuvenation of kingship and so many kings may have had their crowning at Luxor Temple.
The Luxor Temple deity is Amun Ra, the chief of the Egyptian gods, who acts as the temple's guardian.
Luxor Temple Facts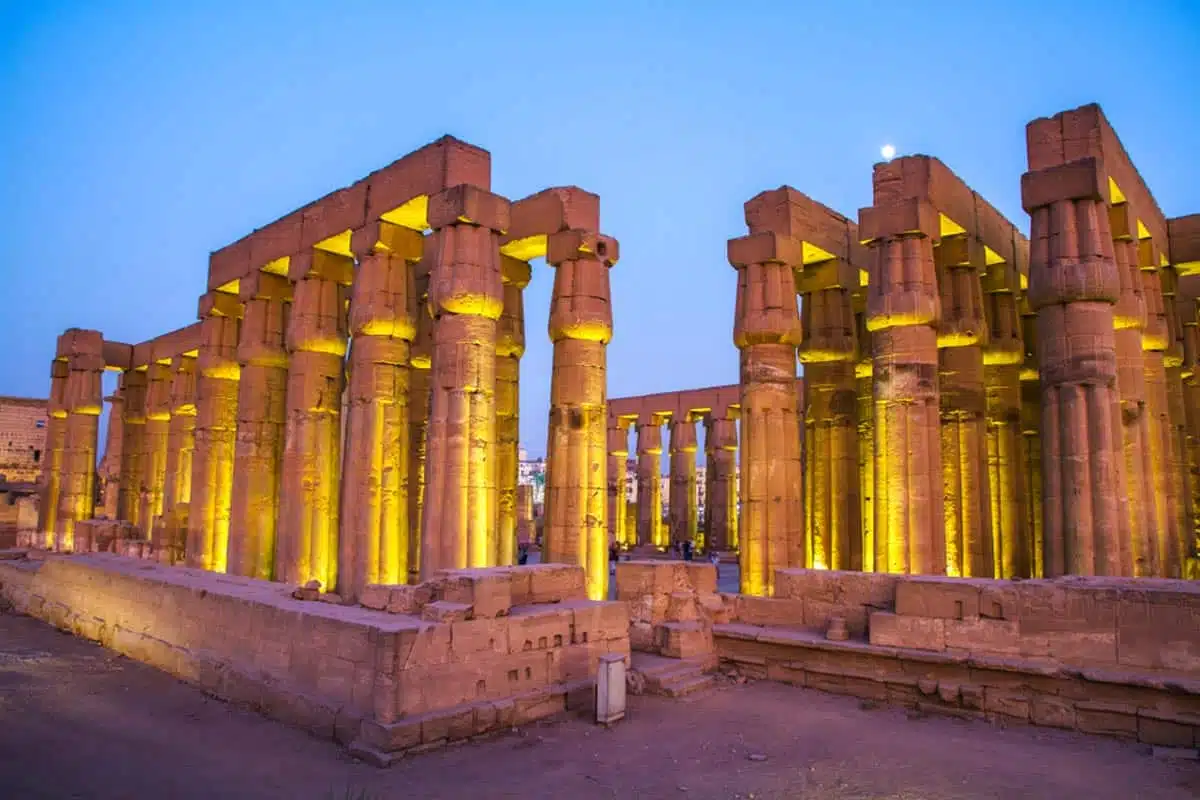 The temple is known as Ipet Resyt in the Egyptian language, which means "The Southern Sanctuary."
Luxor Temple played an important role during the annual Opet festivals, where Amun, Khonsu, and Mut statues were moved from Karnak along the Avenue of Sphinxes.
It is one of the best-preserved of Egypt's ancient monuments.
Some pharaohs used the temple of Luxor as a burial site for the royals as they believed it was home to Amun.
Each section of the temple served a different purpose, like being a coronation area for Pharaohs or a shrine for Amun.
Only two of the original six giant statues of Ramesses II remain at the temple.
Planning Your Visit to Luxor Temple
Visiting Luxor Temple: On a Tour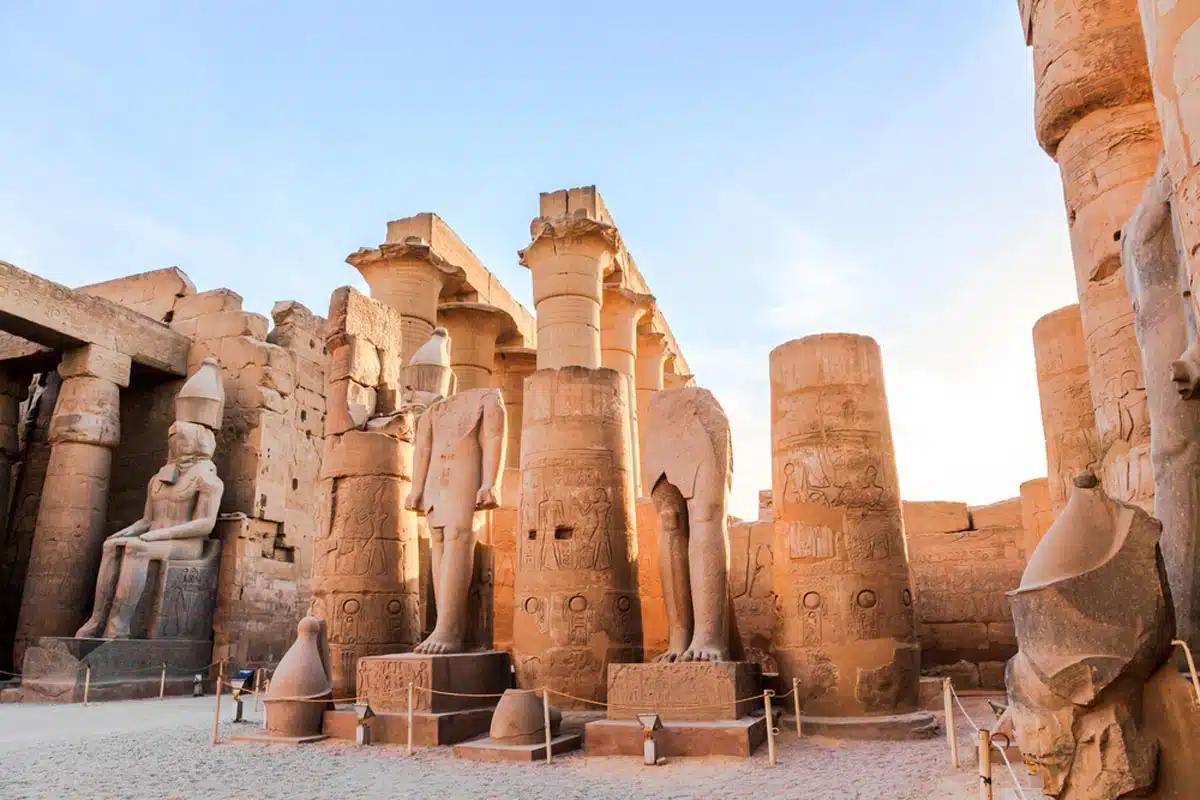 Booking a tour is a superb option if you want to leave the planning to someone else. Some tours provide you with transport, while many even include accommodation in the price.
Full or half-day Luxor Temple tours are a superb option if you are only in Egypt for a limited time. Multi-day tours are also great when you have more time to explore Luxor.
I recommend choosing a multi-day tour as you get to see more of Luxor Temple and its surroundings.
How to Visit Luxor Temple Independently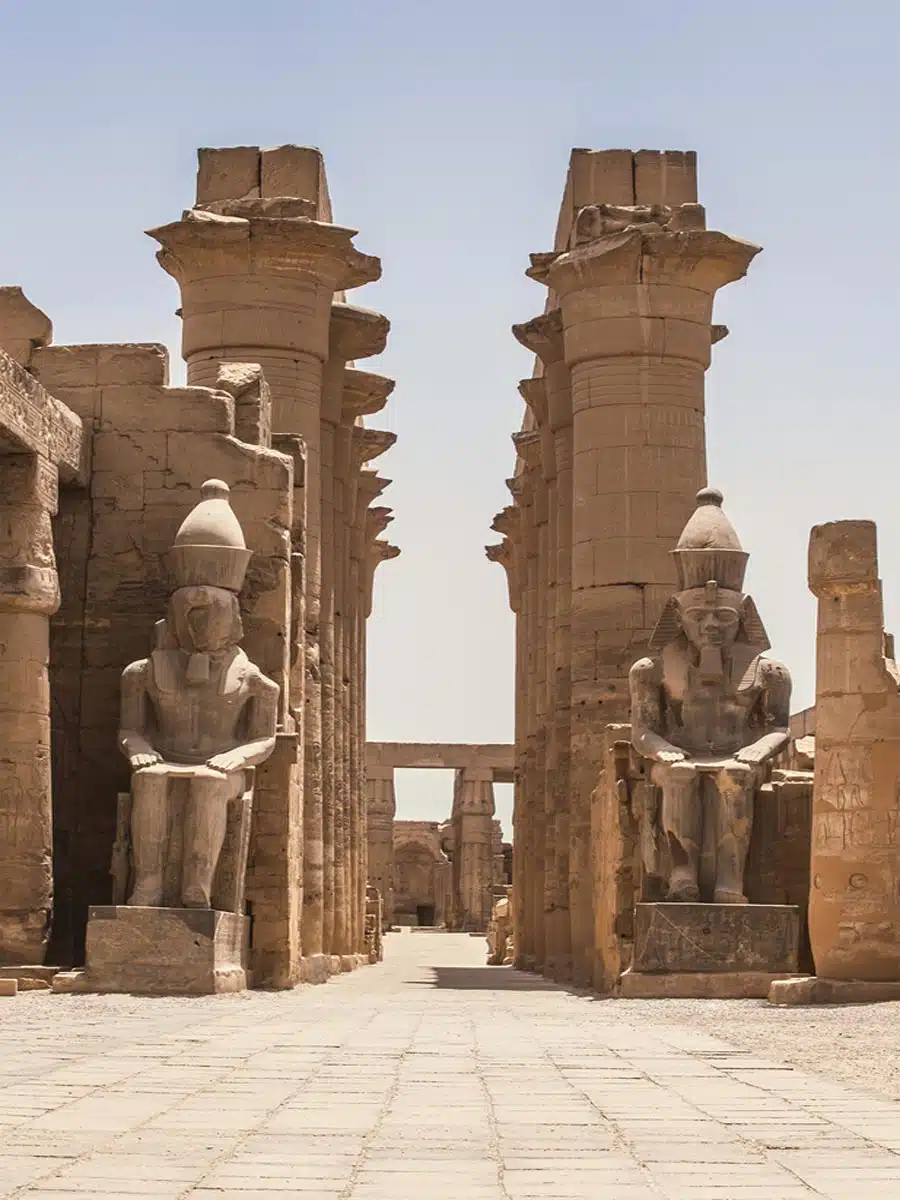 It's pretty simple to visit the temple independently. You have three transportation options if you are travelling from other Egyptian cities as Luxor Temple's location is easily accessible.
Taking a ferry is the fastest way of crossing the Nile if you are coming from the west. Ferries don't have a set departure time but typically leave once they have filled up. These cost around £0.26 or $0.32.
Another common way to travel is by train, which is especially great if you travel from Aswan, Cairo or Alexandria. The best and most comfortable option is to take the sleeper train – A typical sleeping train costs £90 or $110.
You can also take a taxi if you are in a neighbouring city. Taxi rides are generally cheap at £4 or $5, but you must test your bargaining skills. You can also hire a car if you prefer to drive.
After making it to Luxor, you can access the temple easily. All you need to do is purchase an entrance ticket and enter the temple, or you can choose to pay a local guide to show you around.
Hire a local guide if you can, as this will give you a much better experience — filled with insider knowledge and insights – as well as helping the local economy.
Entrance Fee
The Luxor Temple entrance fee is 160 Egyptian pounds (around £7/$8).
Address
Luxor City, Luxor, Luxor Governorate 1362501, Egypt
Temple of Luxor Opening Times
The temple is open Monday to Sunday from 6 am to 10 pm.
Luxor Temple Egypt: Map
Watch my Luxor Travel Guide on YouTube!
Love This? Save and Share on Pinterest