Ready to discover Luxor from a new perspective? This Luxor hot air balloon guide will take you through everything you need to know for the perfect trip.
Should you take a hot air balloon in Luxor? Spoiler alert: YES.
Luxor is the world's largest open-air museum, home to iconic temples and other well-known attractions. There are many brilliant things to do in Luxor but, if you ask me, there's nothing better than a hot air balloon ride over this beautiful city.
Sure, you'll enjoy the magnificent sights from the ground, but it's better to discover them from the air as the sun shines over Luxor.
Of all the incredible sights and activities I took during my recent trip to Egypt, the hot air balloon ride in Luxor was the most magical – and I can't recommend this activity enough.
Don't know where to start? Don't panic – in this guide, I'll be taking you through everything you need to know, as well as giving you my top tips and tricks to help you make sure that your Luxor hot air balloon ride is as memorable as mine was. 
Want a sneak preview? Check out my YouTube video of my hot air ballooning experience!
How to Pick the Right Hot Air Balloon in Luxor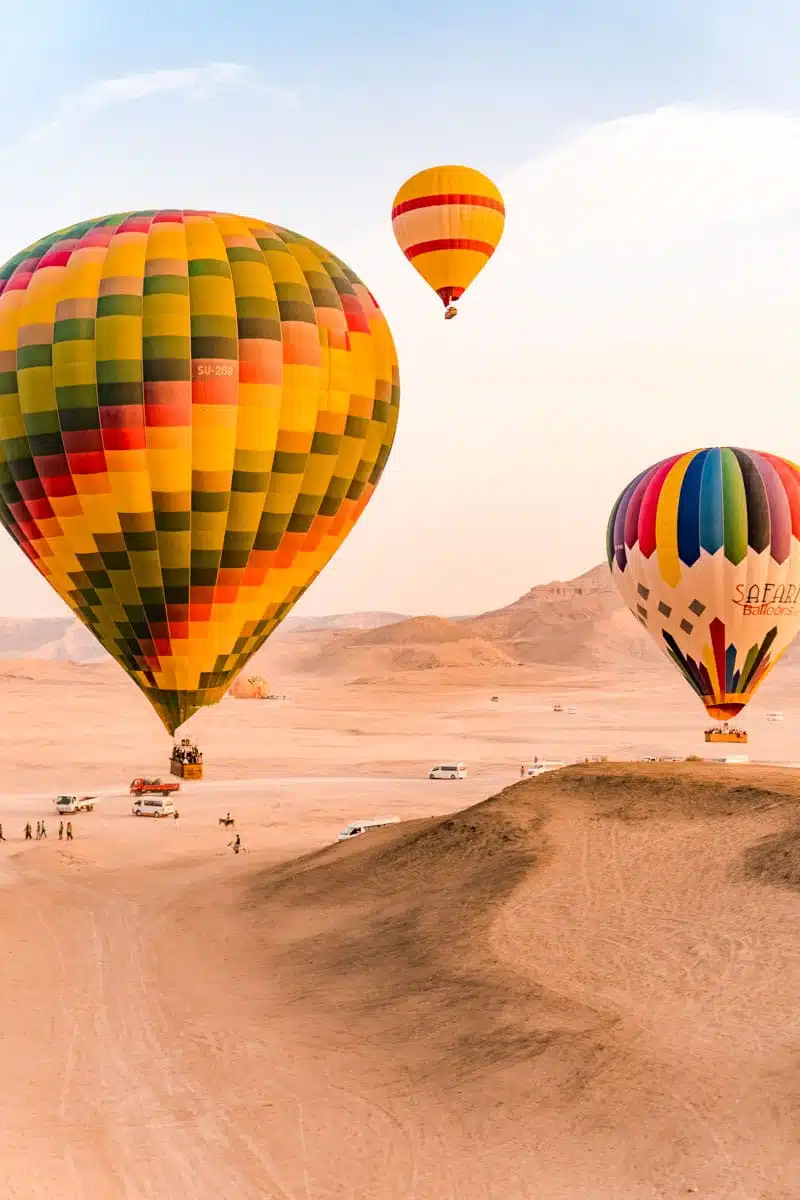 Hot air balloon rides in Luxor are pretty affordable, and there are numerous operators that you can choose from.
That said, it's super important to choose a reputable company and to ensure they're highly rated.
If you're planning an independent trip, here are some of the top tours that I recommend:
Otherwise, taking a group tour will often include a sunrise balloon ride in the itinerary – make sure to double check though to avoid leaving disappointed.
What to Expect on a Hot Air Balloon in Luxor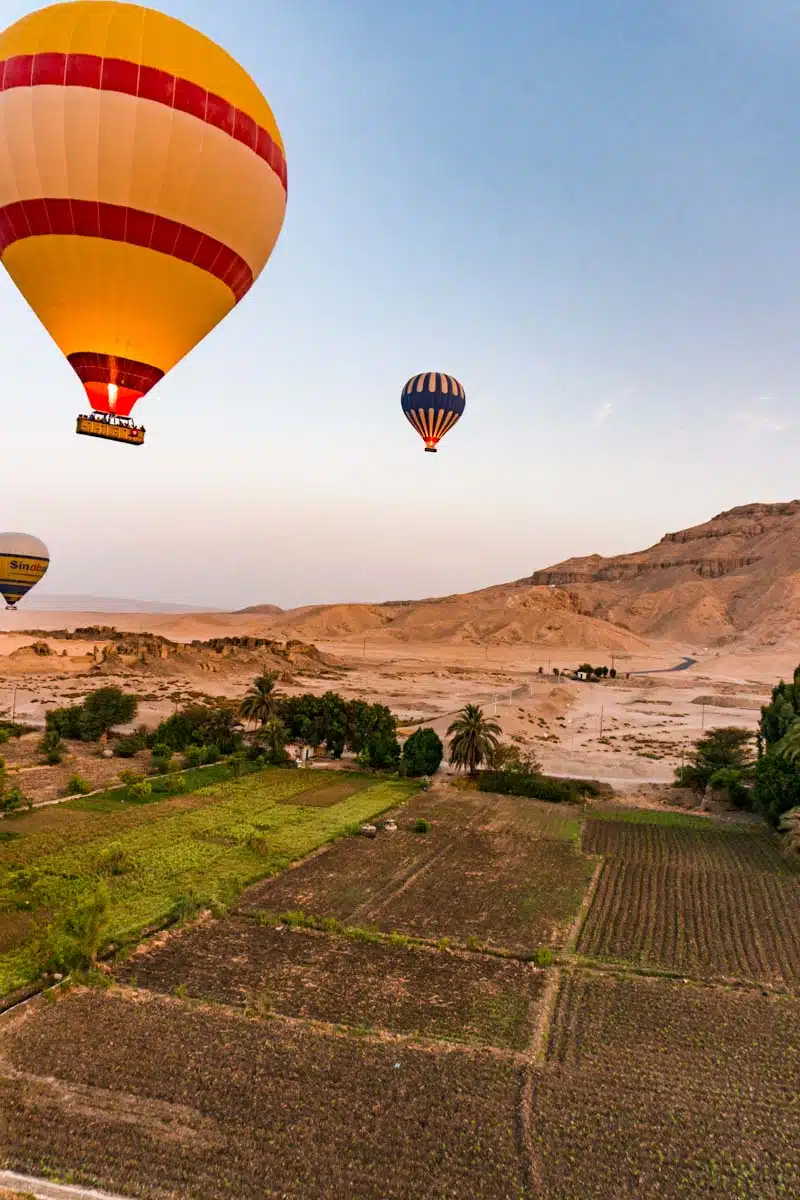 A sunrise hot air balloon ride over Luxor usually lasts between 45 minutes and an hour. Since take-off is super early, most operators offer tea or coffee for you to enjoy before you depart.
You'll leave while it's still dark so that you can enjoy the first rays of light once you're up in the air.
From there, you'll be able to take in breathtaking views of temples, farmland and, of course, the Nile River. Here are some highlights that you can look forward to on a Luxor hot air balloon ride.
Want to take a sneak peek? Check out my TikTok!
What You'll See
The Valley of the Kings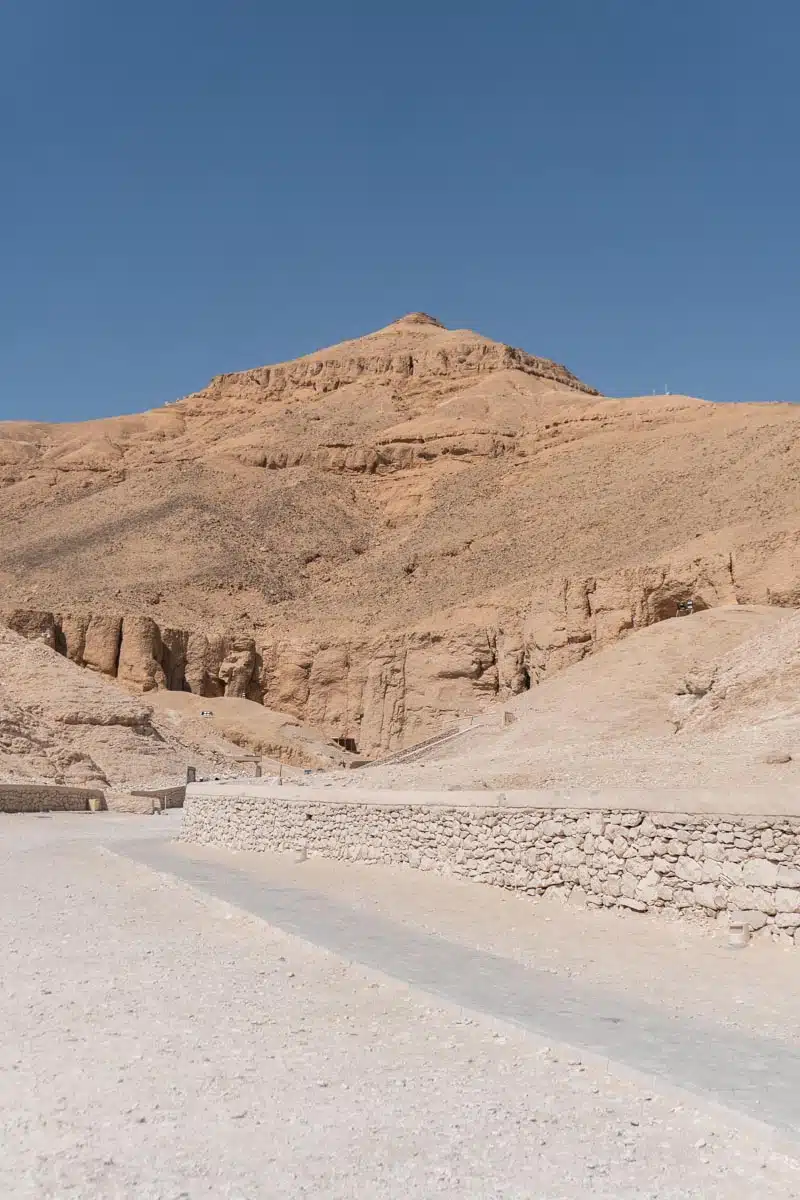 The Valley of the Kings is the most famous attraction in Luxor. This is a one-of-a-kind sight from the ground — but even more so from above.
The Valley of the Kings has been the final resting place for Egypt's rulers of the New Kingdom for about 500 years. There are 63 tombs in the valley, including the tomb of Rameses III and Tutankhamun.
Once you're up in the air, you can truly appreciate the ambition of the New Kingdom pharaohs to build their tombs in the mountains.
The Valley of the Queens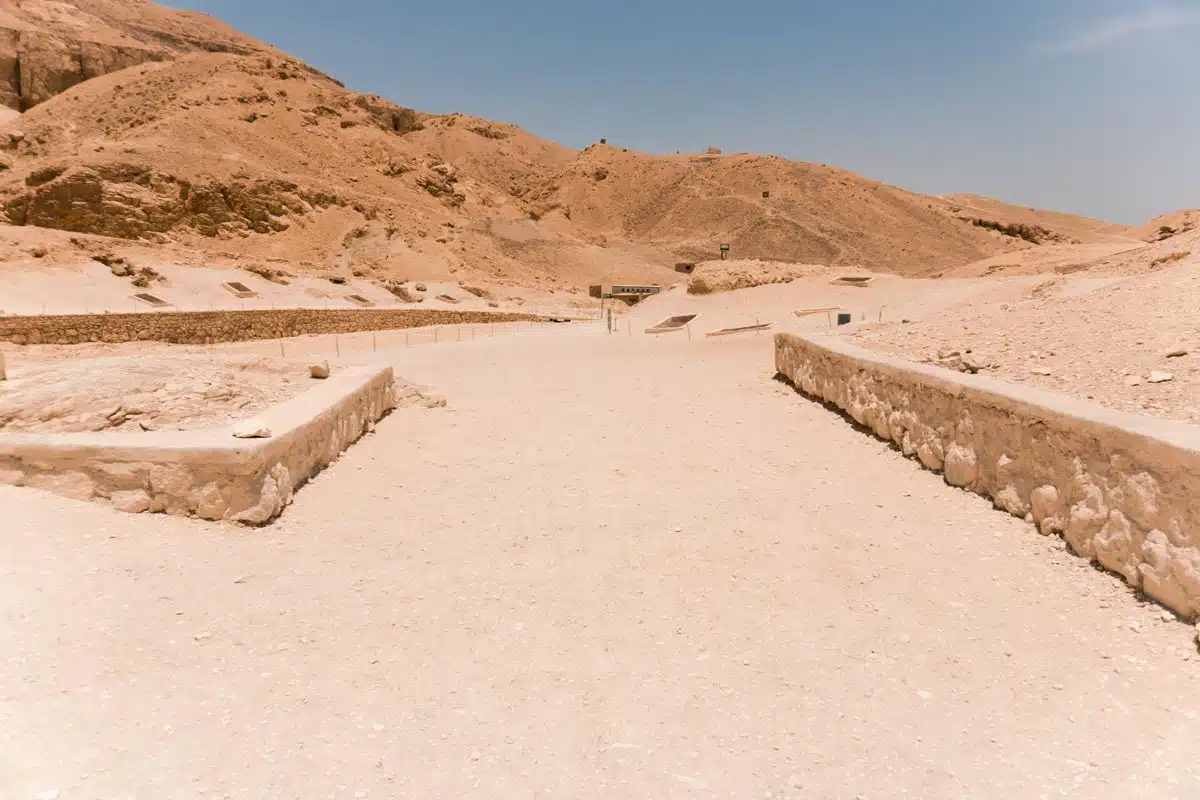 At the end of Theban Hill, you'll find The Valley of the Queens, discovered in the early 20th century.
This site has 90 tombs that some of Egypt's female rulers call their final resting place. The most beautiful and notable tomb in the valley is that of Queen Nefertari, Rameses II's first wife.
Like the Valley of Kings, this spot is fantastic to see either way, but it's a totally new experience with a bird's-eye view.
The Colossi of Memnon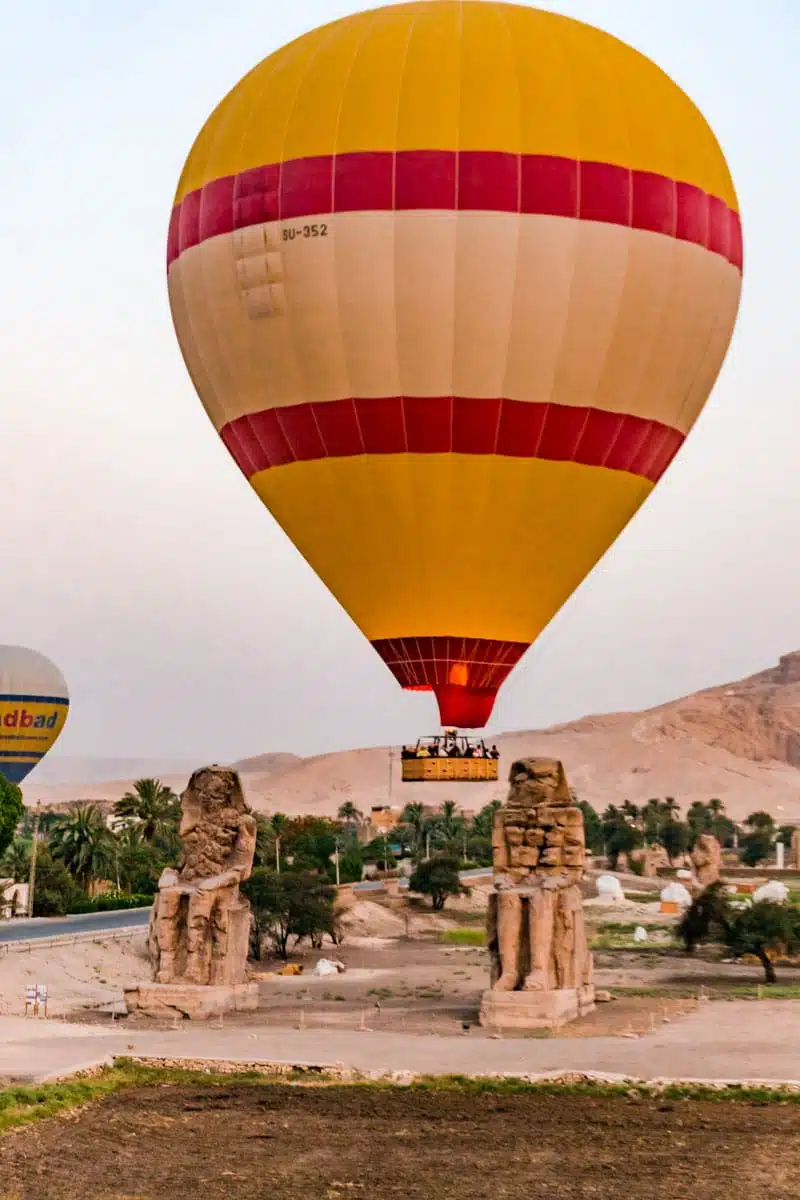 The Colossi of Memnon is one of the first monuments you'll see when arriving at the West Bank. These two massive statues represent Pharaoh Amenhotep II, which stands at the entrance of the Mortuary Temple of Amenhotep.
Later under the Roman occupation of Egypt, the Romans renamed the statues in honour of the Greek King Memnon. The statues are about 18 metres long, and they are quite a sight to behold from the ground.
Once you get up in the air, you can take in the scale and ingenuity of the builders of the ancient world.
The Sun Rising Over Luxor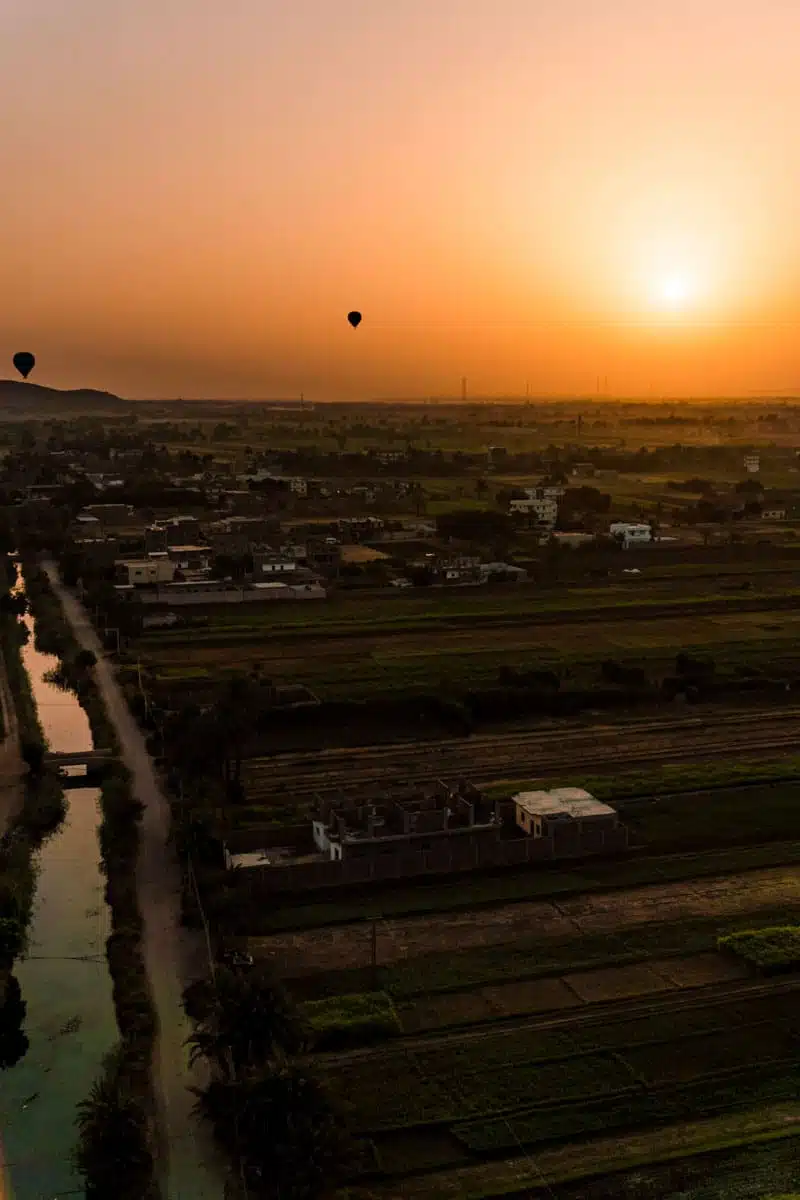 Watching the sunrise over Luxor from soaring heights is an experience almost difficult to describe.
As the first rays of light appear over one of the world's most important archaeological sites, it might seem as if you're dreaming – you're not.
The scenery and experience are unreal! As you look down below, you'll see the sunlight glitter on the Nile and watch as the twinkling city starts waking up with people preparing to start their day. Truly a magical experience.
The Nile River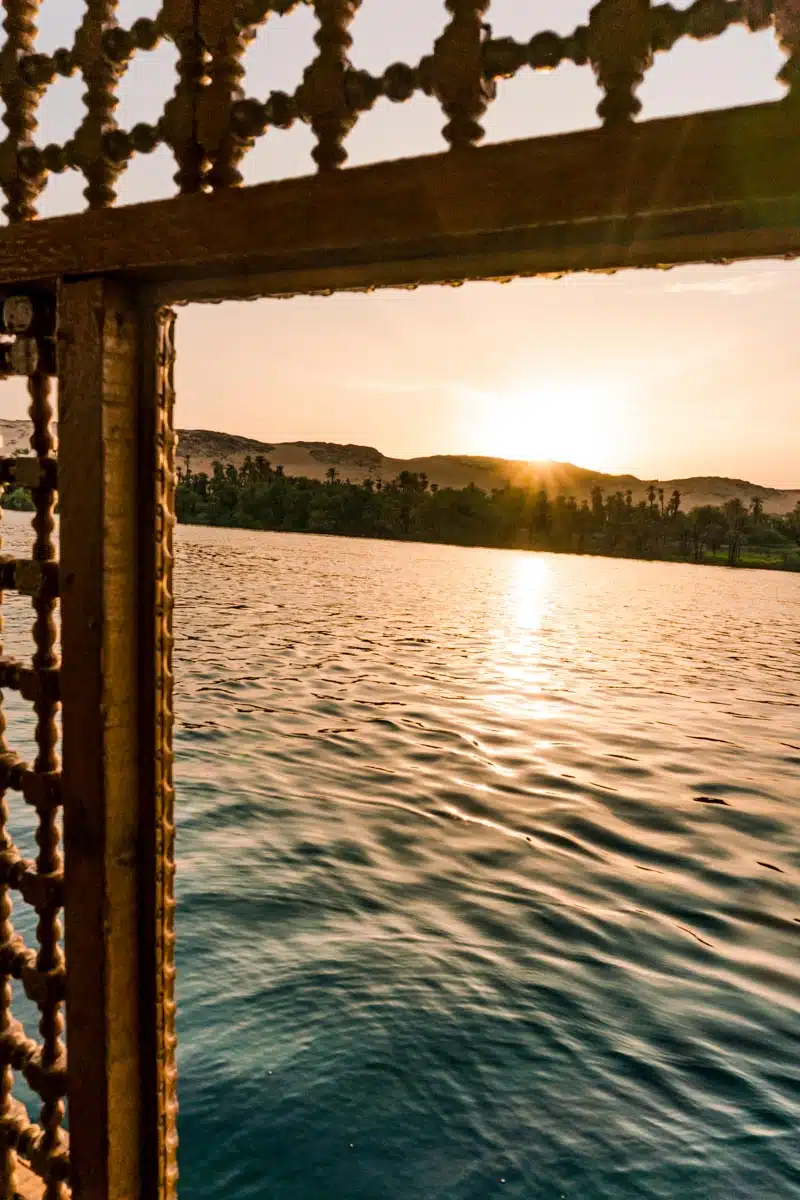 For centuries the Nile River has been the lifeline of Egypt.
This massive river is over 6,000 kilometres long and has supplied the locals with food, irrigated their crops, and more.
As you glide over Luxor, you'll see the Nile in all its glory and even spot fishing and leisure boats and cruises sailing down this iconic waterway.
As the sun starts appearing, you'll witness a fantastic display of colours as the sun's rays dance along the river.
Queen Hatshepsut's Temple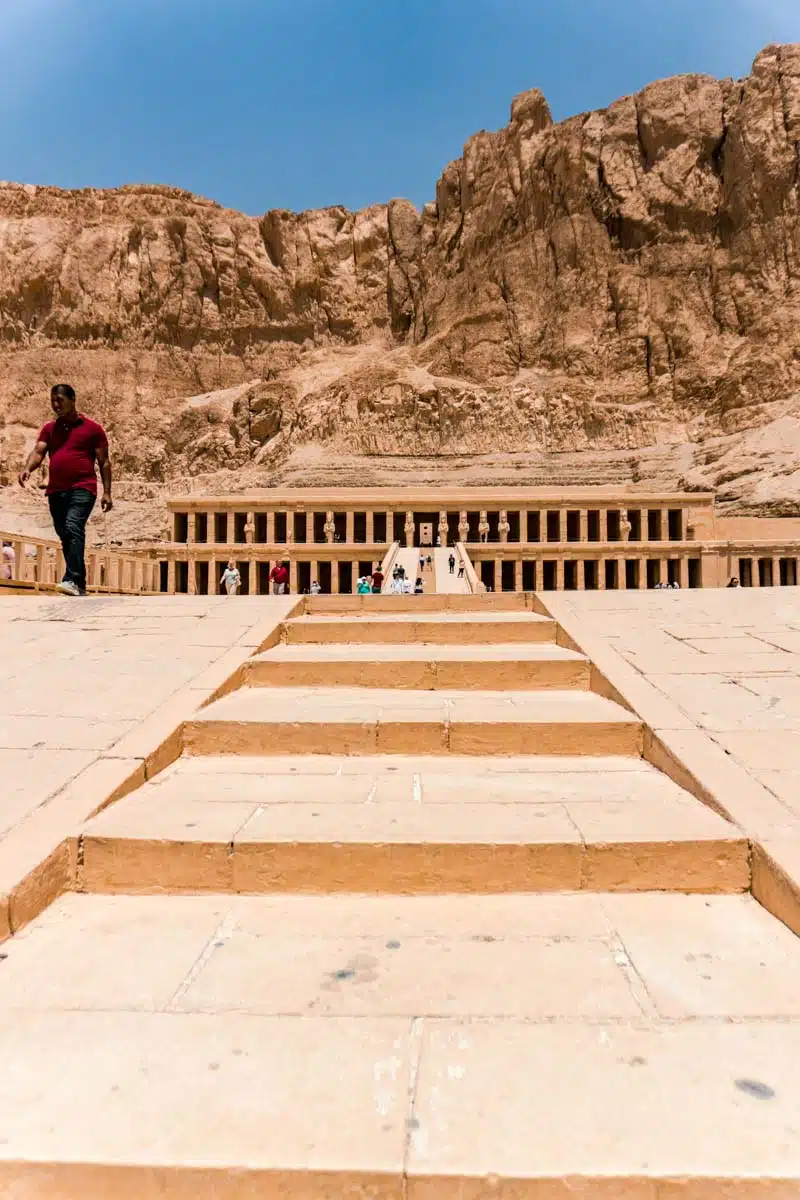 Carved into the cliffs of the Theban Necropolis sits the Mortuary Temple of Hatshepsut. She is one of the most well-known female pharaohs who ruled Egypt for 20 years.
Her temple towers 300 metres into the hill and is seamlessly embedded into the cliffs. Hatshepsut designed the temple herself, and this outstanding monument celebrates her life and accomplishments.
From the air, you'll see what a massive undertaking it was to build this temple, but you'll also understand why it's fit for a queen like Hatshepsut.
Top Tips for Taking a Hot Air Balloon in Luxor
You're Technically Not Allowed to Bring Your Camera (But Phones Are OK)
Like with most activities in Egypt, you're not technically allowed to bring a camera. No one knows why, but most of the time, tour operators want to sell you the photos they took of you during the flight.
You can get a bit sneaky if you don't want to be stuck with taking pictures on your phone. While you're on the ground, the tour operators will tell you that you cannot use your camera, but once you're in the air, it's totally fine.
Make Sure You Book a Sunrise Flight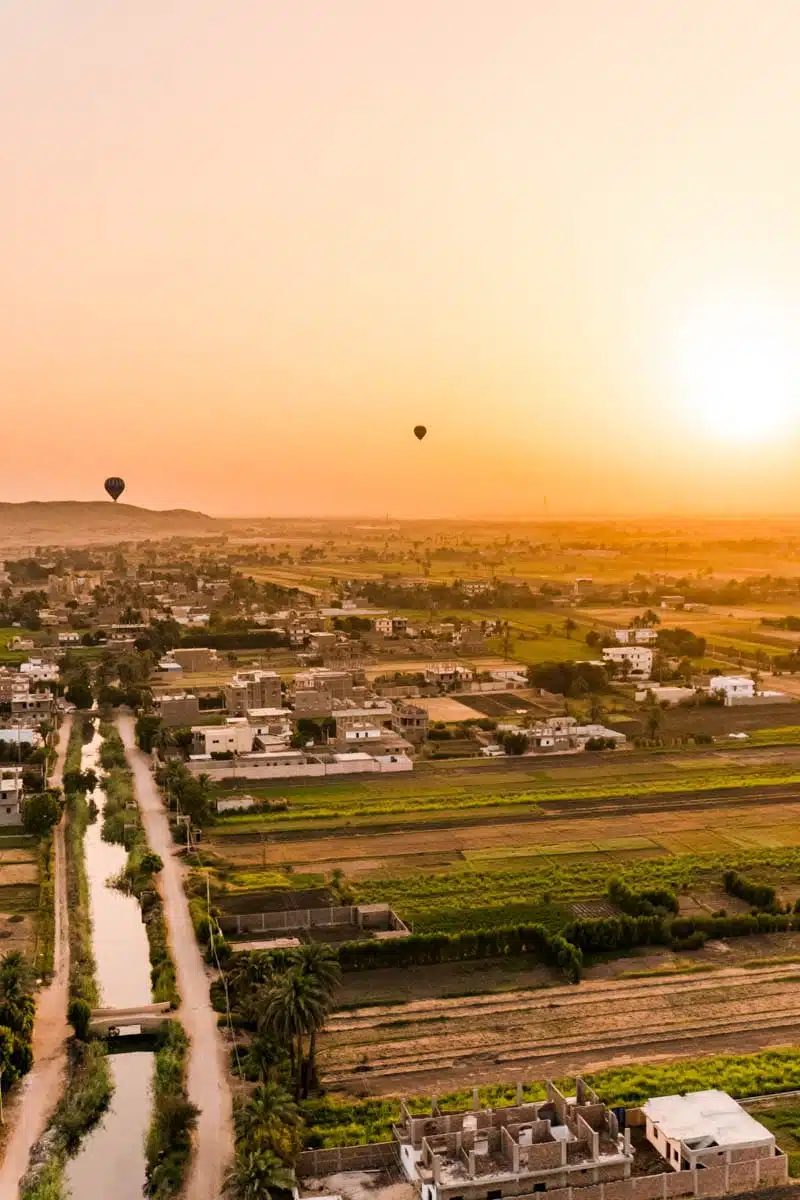 There are dozens of hot air balloon rides that take place throughout the day, but the best ones are at sunrise. I fully support getting up before dawn for something this magnificent.
Double check that you book one of these incredible sunrise flights and not a day flight.
In my opinion, this is the best one, because sunrise is a golden hour for experiencing landscapes and monuments due to the angle and colour of the sun's light.
The shadows of the structures are so much more dramatic, and you'll see the more intricate details and reliefs on the temple walls. Plus, there's less of a chance that your flight will be cancelled because of windy weather.
It's a Really Early Start
To make sure that you're actually in the air when the sun rises, most tour operators will pick you up at about 3:30 am or 4:30 am in summer, and about 5:00 am in winter to make sure you're actually in the air when the sun rises.
Now you understand why I mention the coffee offers above.
The Ride Can Be Cancelled if Too Windy
Thankfully, not something I had to experience, but it's worth noting.
While hot air balloon rides can be quite exciting, it would be silly to ignore the fact that the weather can make or break your experience.
Even the most experienced pilots would not risk putting their passengers' lives at risk, no matter how high their confidence levels are.
When winds are too strong, the company operating the flight will inform you whether your flight will go ahead or if they are cancelling the flight. If the operator cancels due to bad weather, they will offer you another date or a refund.
Prepare Yourself for Landing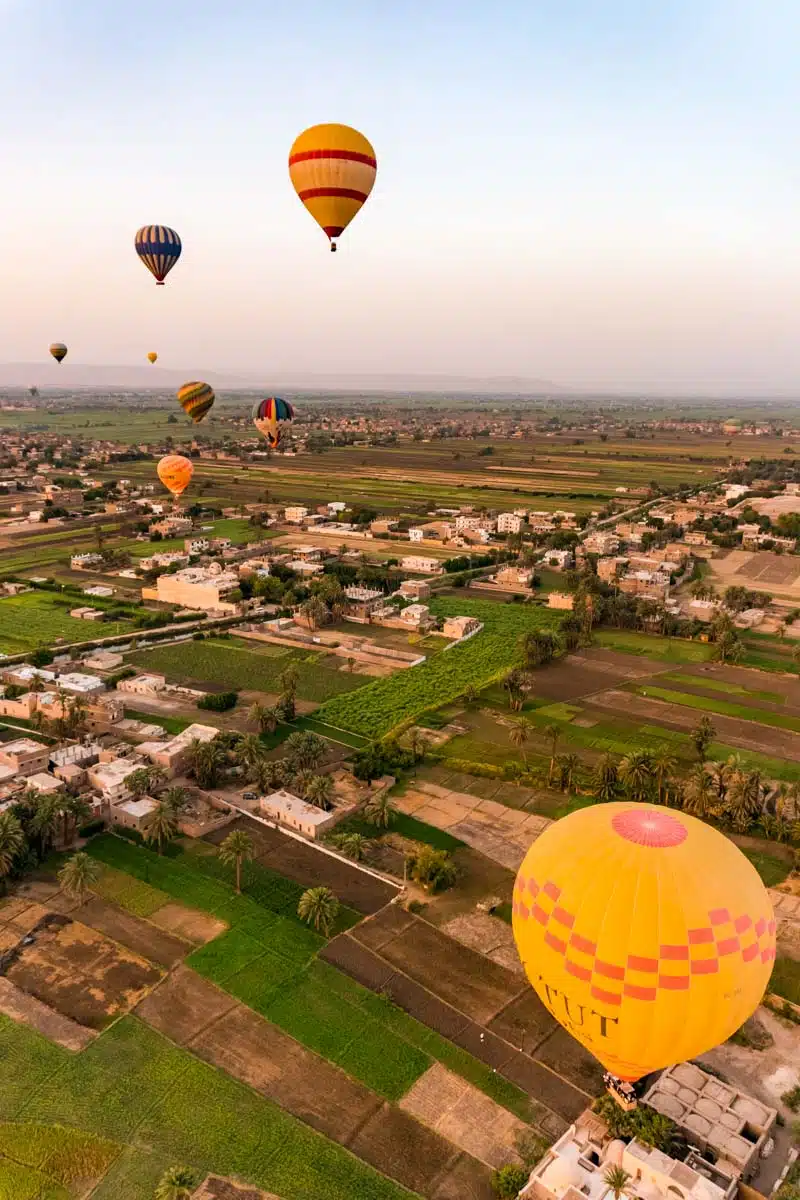 Landings are not quite as simple as they seem. Sometimes they go according to plan, whereas other times, they simply do not.
There isn't a specific landing spot in most cases, so be prepared to land anywhere. Also, it's good to prepare yourself for a rough landing. As the pilot prepares for descent you'll feel the balloon descending and then rising up again.
The pilot might do this a few times until they find a good spot to land. Sometimes they might miss the first landing spot and repeat this process a few times to ensure that the landing goes as smoothly as possible.
While all this is happening in the air, you'll most likely see the ground crew running below you to try and determine where the balloon might land.
Once the balloon starts approaching the grounds, brace yourself by keeping your knees against the basket and holding onto the sides until it stops completely. Once you land, the ground crew will help you get out as quickly as possible so that they can roll the balloon up once the fire goes out.
Let's Talk About the 2013 Crash
You might have read or heard about Luxor's hot air balloon crash in February 2013. At about 7:00 am on February the 26th, a balloon carrying 21 passengers burst into flames as it attempted to land.
The crash killed 19 of the 21 people on board. Upon investigation, the Egyptian Civil Aviation Authority concluded that a fuel leak from a faulty fuel line attached to the balloon's burner ignited the fire, spreading uncontrollably and causing an explosion.
So you might wonder, is it safe to book a hot air balloon ride in Luxor?
Absolutely. Since the incident, the Egyptian authorities have implemented strict regulations to ensure that something like this doesn't occur again.
One of the regulations implemented following the crash is a daily check on all balloons for faults before flights by accredited engineers and trainers. They've also implemented stricter measures regarding pilot licences and the ground crew handling these flights.
So… Is a Hot Air Balloon in Luxor Worth It?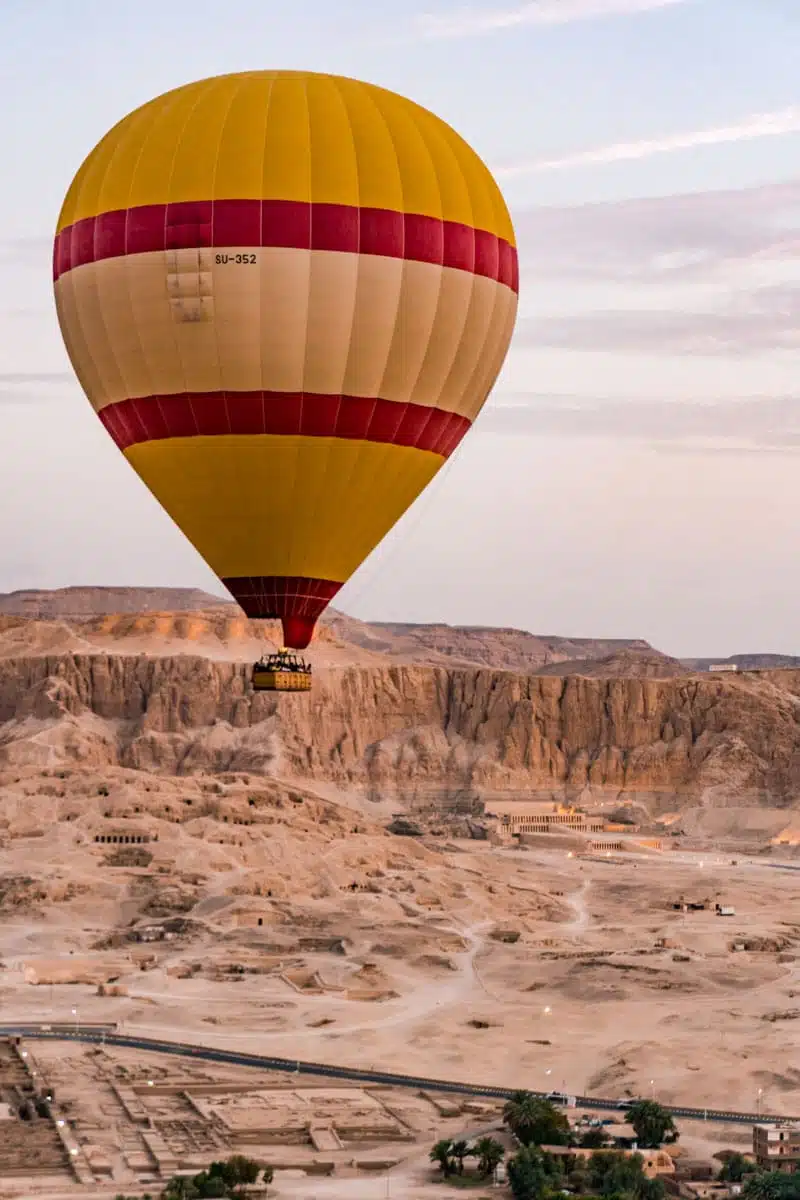 Absolutely! A hot air balloon ride in Luxor is a once-in-a-lifetime opportunity that comes with some pretty cool bragging rights.
How many people get to say that they flew over some of the most iconic landmarks in Egypt, if not the world? Not many, so if you can book this exciting activity, you definitely should.
Hot Air Balloon Luxor: Practical Tips
Where to Stay for a Luxor Hot Air Balloon Ride
Hilton Luxor Resort & Spa (High-end)
For the most luxurious and memorable stay, check out the Hilton Luxor Resort & Spa. Set along the East Bank of the Nile River, the Hilton Luxor is an ultra-modern hotel with world-class facilities, such as stunning infinity pools, several restaurants and a spa. .
The hotel's atmosphere is cool and tranquil. While their standard rooms are amazing, their suites with breathtaking views of the Nile are a sure winner.
Check Availability and Reviews on Booking.com
What to Pack for a Luxor Hot Air Balloon Ride
It's a good idea to bring along a small backpack to keep valuable items like your phone, wallet, a GoPro camera, and some water. As there is not a lot of space inside the balloon basket, it's better to bring a small bag with just the essentials rather than a big one.
Mornings in Luxor can be quite chilly, but it gets very hot once you start ascending into the air. I would recommend packing a light jacket that will keep you warm but that's also easy to take off once you start getting hot.
Apart from the pilot operating the flight, there are many other people involved in ensuring that you have a safe take-off and landing. So it's advisable to bring along some small change to tip the rest of the crew for their hard work.