Gearing up for a travel adventure and no idea what to wear in Egypt? This ultimate Egypt packing list walks you through everything you need to know.
Egypt is world-renowned for its iconic ancient civilisation, desert-towering pyramids, and  incredible contemporary culture – so it's no surprise that you're planning your trip. 
I've just returned from spending some time in Egypt and it was every bit as wonderful as it promised to be.
Unlike other destinations where packing is simply a matter of throwing whatever into a bag, understanding how to dress in Egypt and therefore what to pack, requires a little more consideration.
Egypt's desert climate and conservative Muslim society play a large role in what you should wear in the country. Don't stress, packing for an Egyptian holiday is easier than you think.
In this guide, I'll walk you through the top things you need to consider when thinking about what to wear in Egypt, as well as outline a practical, step-by-step packing list to help you pack for your trip.
What to Wear in Egypt: Top Tips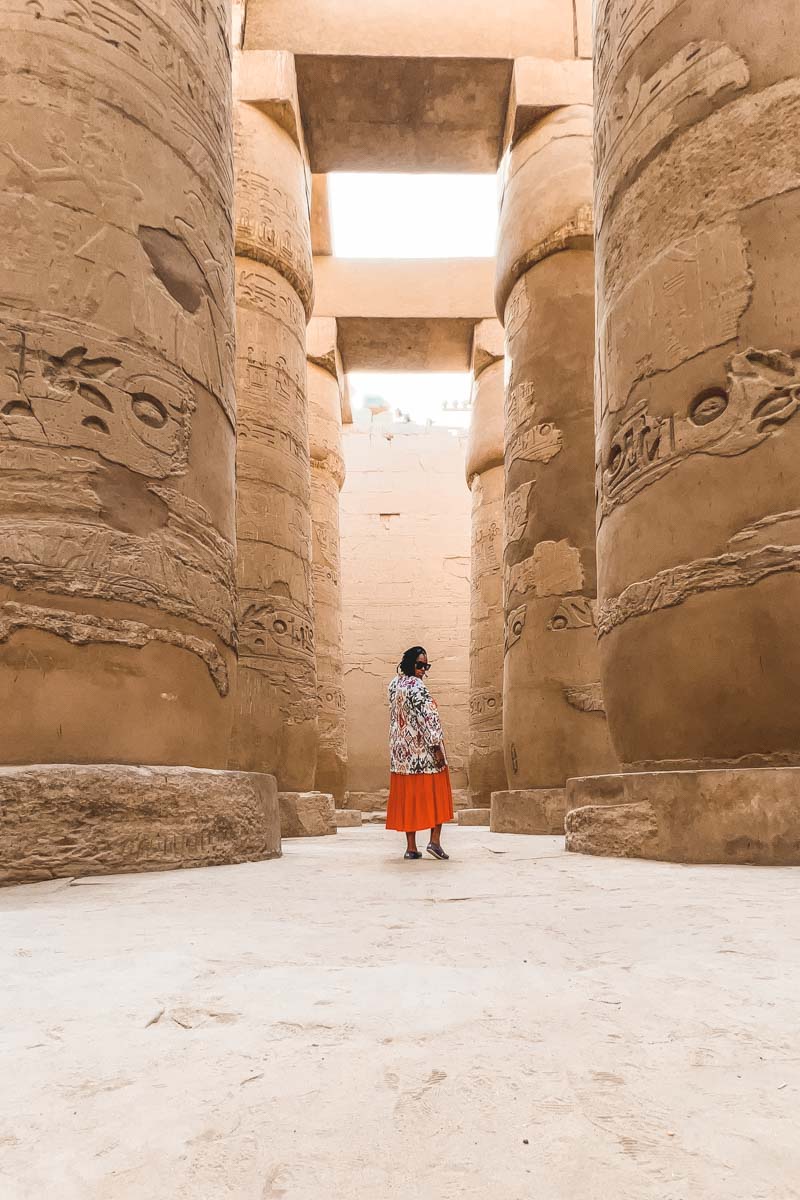 As I mentioned above, Egypt is quite a conservative country and you should dress in a way that respects that. It's also incredibly hot, particularly in the summer months. It might sound like a difficult combination but it's not.
Here are my top packing tips for visiting Egypt.
Pack summer clothing made with light fabric — Egypt is dry, hot, and crowded with lots of desert.
Loose long-sleeved shirts and dresses are your best friend — cultural norms prescribe that women dress in this fashion.
Bring closed-toe but comfortable shoes — nothing is more annoying than getting sand in your shoes but you'll be doing a lot of walking so they need to be comfy or you will regret it.
Pack a sun hat, sunglasses and a decent amount of high-factor sunscreen.
Always carry a scarf — You never know when you might need it.
What to Wear in Egypt – In More Detail
What to Wear in Egypt as a Woman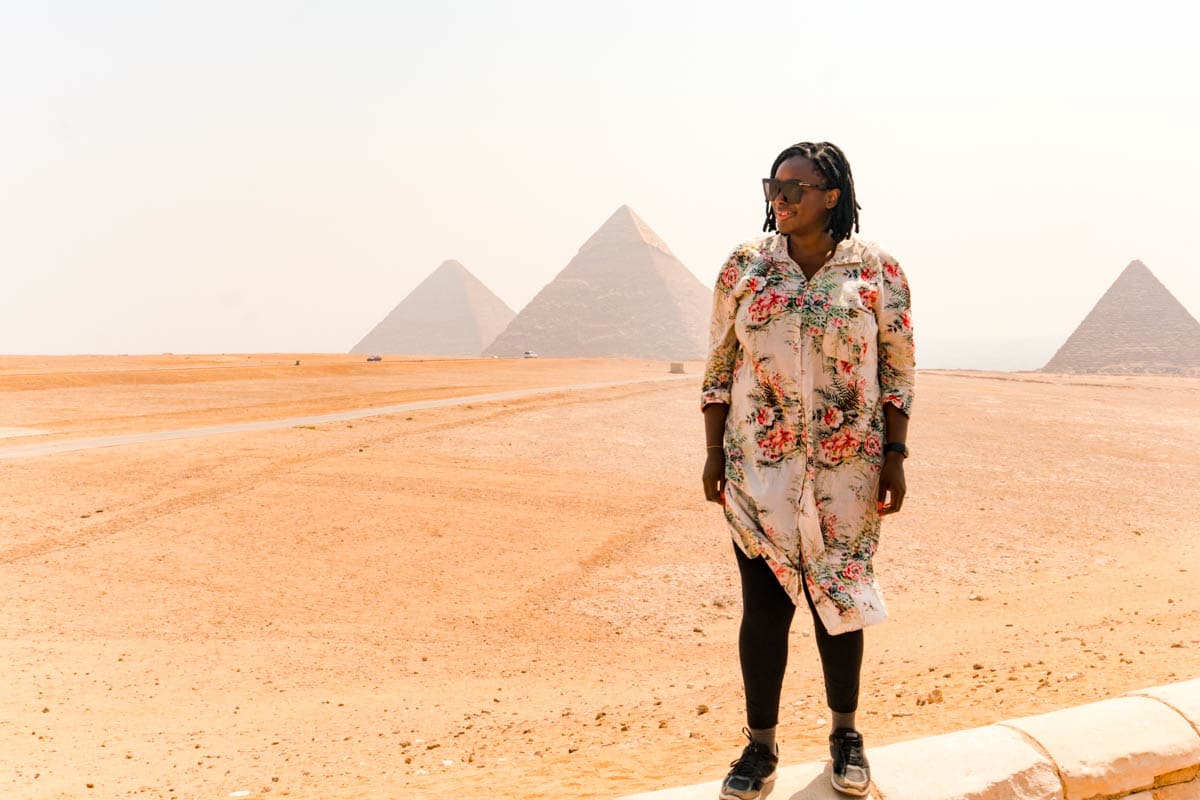 So what do women wear in Egypt?
Local women in Egypt wear loosely-fitted clothing, covering their knees and shoulders, and the hijab, or niqab. The reasons they choose to do so are varied, and not solely religious. The hijab or "headscarf" is not obligatory – it can also serve to protect a woman's modesty and privacy from unrelated men.
Female tourists do not have to wear a headscarf – most do not. However, women must cover their hair when entering sacred or holy sanctuaries like mosques.
Aside from the headscarf, follow the example set by the locals – wear loose-fitting trousers / long skirts and modest tops that cover your shoulders, stomach and cleavage. Maxi dresses are a great option too.
Personally I spent most of my time alternating between wearing harem pants, a loose-fitting top and lightweight kimono and wearing a maxi dress paired with a kimono.
This kept me nice and cool – or as cool as I could be in the 40-degree heat – and meant I could create a number of different outfits with a small number of pieces, because I'm just not the gal for lugging around a gigantic suitcase when I'm changing hotels every 1-3 nights.
Two Egypt Packing Hacks for Women to Make An Existing Wardrobe More Appropriate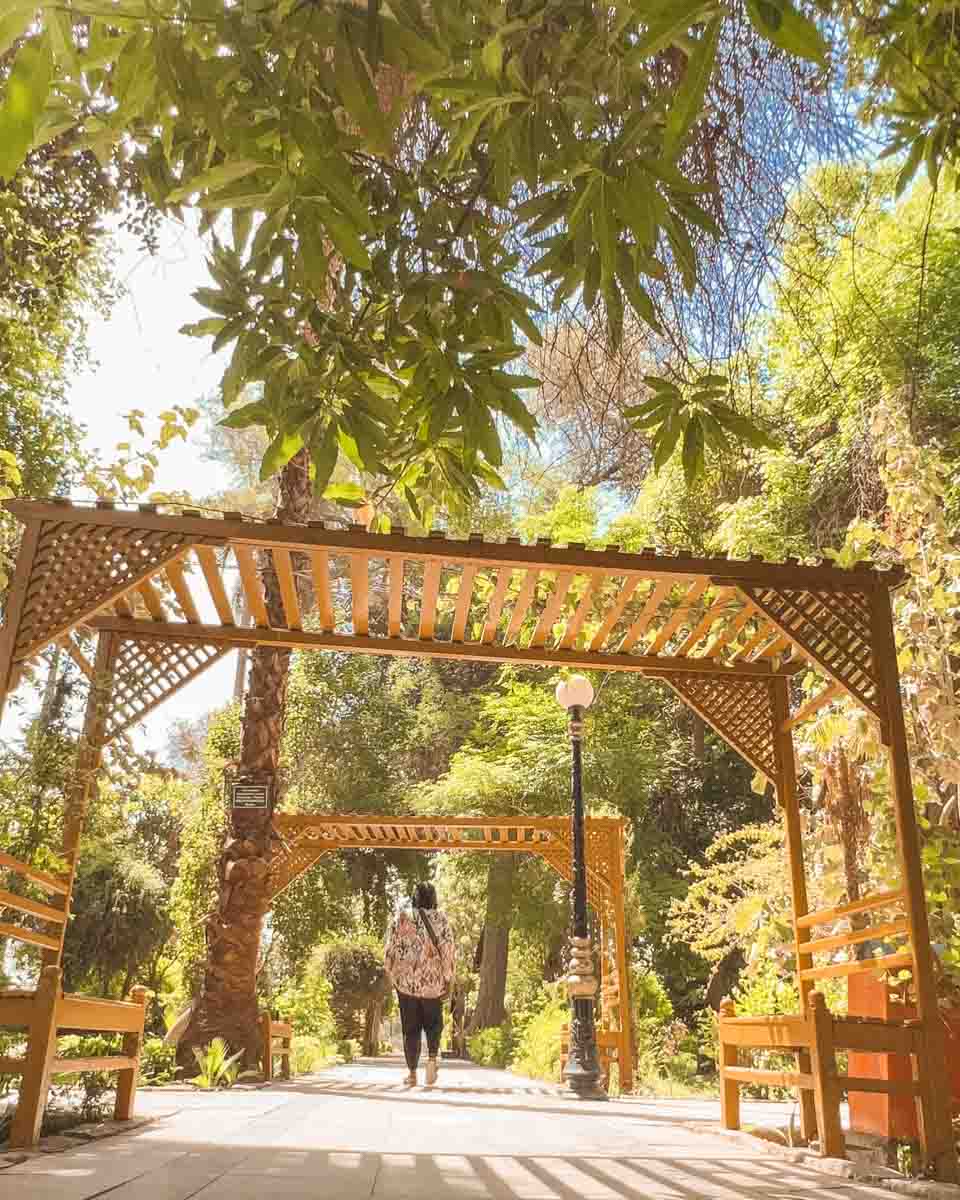 If you read through the section above and felt a bit alarmed because you don't have clothing that quite fits the bill, there are a few staple items that can help to make your existing wardrobe more appropriate.
The first is a pashmina / large cotton scarf. Not only can you use a pashmina as a headcovering if you're going into a mosque, if you wrap it in the right way, it can cover your shoulders and cleavage for a top or dress that doesn't quite do the trick.
The second is a lightweight kimono. As you can see from lots of my Egypt photos, I wore two kimonos pretty much constantly during my Egypt trip. Most of my dresses and tops are short-sleeved so I wouldn't have felt comfortable wearing them solo on the trip – but they were totally fine when I paired them with a kimono.
I really do recommend following these guidelines – not only to respect the country you are travelling in, but also to avoid getting unwanted attention.
Some female travellers have encountered heckling and even harassment when wearing what the locals would class as immodest clothing. Respect the local culture.
What to Wear in Egypt as a Man
It will come as a surprise to noone that this section is much shorter than the women's one.
Egyptian men also dress conservatively. While the rules for male tourists are much looser, a classic lightweight shirt and loose trouser combo works well.
Firstly, it's more culturally appropriate than shorts and a t-shirt, and secondly, it's more climate-appropriate – trust me when I say that you will be glad for as much protection from the sun as possible.
Egypt Packing List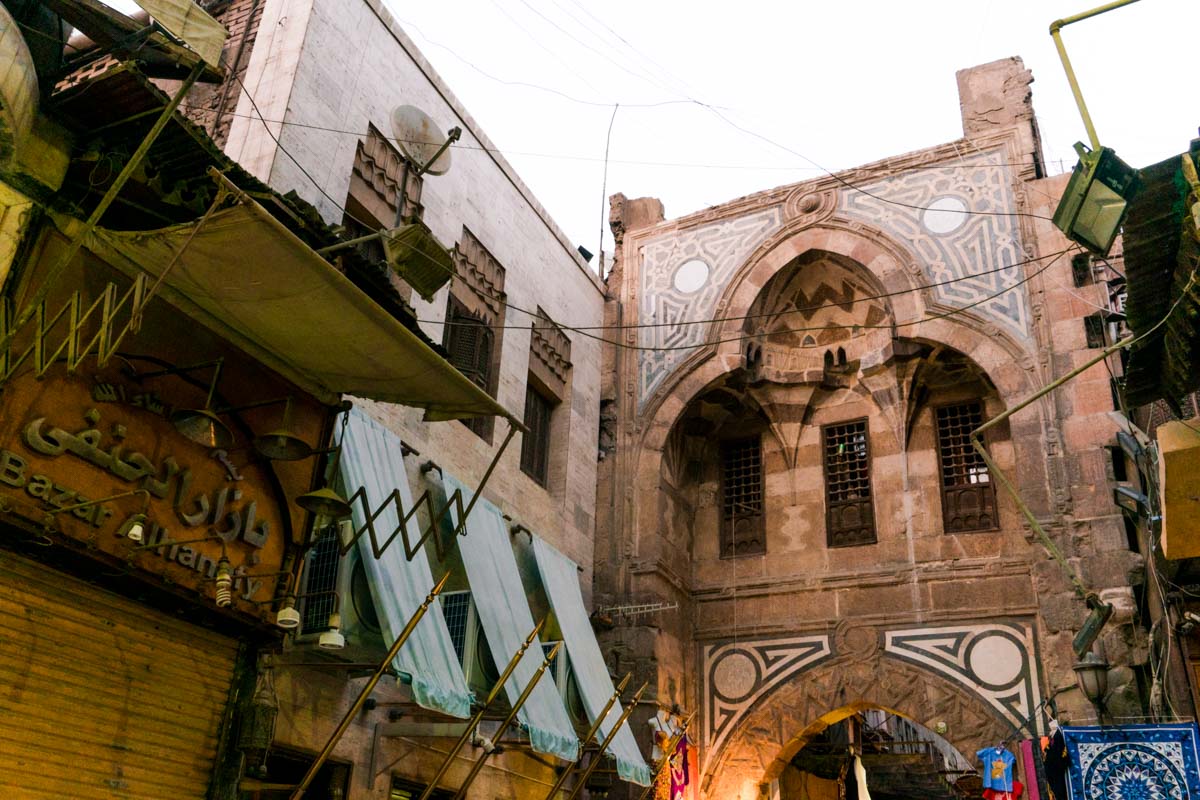 Travel to Egypt Checklist: Luggage
You may think it's as simple as piling things into a carry-on bag, but it's more complex than that. If you're planning an extended vacation, you'll need to cover a few different bases throughout your trip.
Rolling Suitcase
A rolling suitcase isn't only slick and stylish and very convenient. The 360-degree spinner wheels make your journey smooth. I recommend the Samsonite Flux Spinner – a lightweight but durable plastic suitcase that's ideal for moving between destinations and keeping your belongings safe in transit.
Packing Cubes
Travelling with just one bag? You can use packing cubes to separate and organise your luggage. These cubes help keep your clothes wrinkle-free and are waterproof. I recommend the eBags Classic Packing Cubes 3-piece Set.
Daypack
A daypack is an ideal tool to carry lightweight essentials when going on an excursion. Relatively smaller than regular backpacks, daypacks work brilliantly for going on active day trips like hiking and sightseeing. I love my Osprey Daylite 25 – it even has a handy pouch for a water bladder (very useful when you're out all day in the heat).
Handbag
Handbags are ideal for walking tours, eating out, or beach trips. I recommend the Women's Fashion Handbag Set. This four-piece arrangement includes a wallet, a tote, shoulder bag, and satchel.
Reusable Canvas Bag
Canvas is an ideal storage material; the plain-woven fabric is flexible and fits most travel essentials. I recommend the TOPDesign Economical Cotton Tote Bag. The simple, durable design offers excellent flexibility and carries various items.
What to Pack for Egypt: Clothes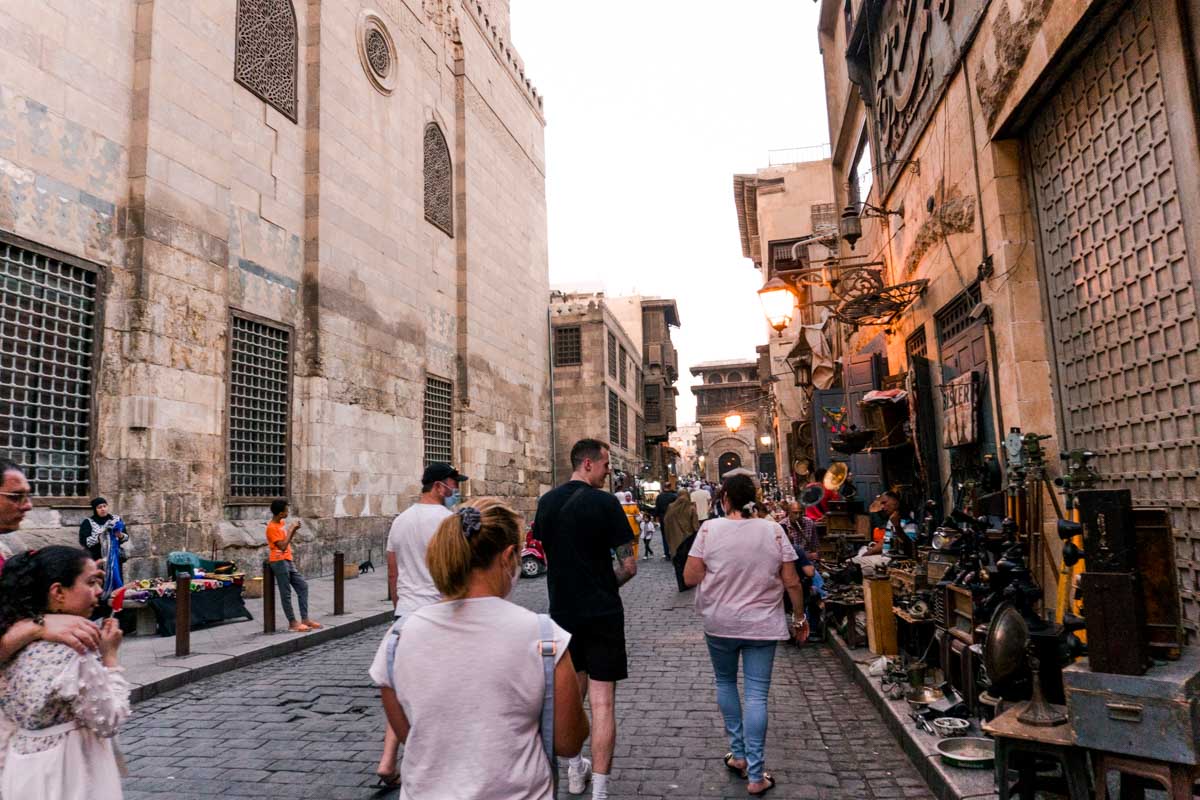 Clothing is a critical element of your luggage. So it would help if you covered all the essentials, especially when travelling to a culturally-sensitive nation like Egypt. Firstly, consider the scorching hot weather. Next is the traditional way of life that most Egyptians uphold.
Tops
Pack loosely-fitted unrevealing tops with lightweight and breathable material. This helps you stay cool throughout the day. My top suggestions for a perfect Egyptian getaway are tunic tops and casual blouses.
Skirts
The ideal style for women visiting Egypt is long and classy. Skirts must be loose-fitted and go below the knees. Pack light and comfy skirts made from chiffon, silk, or cotton. These fabrics are fluid and drapey, giving you maximum ventilation.
Dresses
Pack lengthy dresses that cover both your shoulders and knees. Light fabrics are always a winner, but avoid anything sheer or see-through. Bring a few textured maxi dresses instead.
Pashmina / Scarf
Pashminas are generally larger than scarves, making them ideal for covering your face and hair. Bring along several pashmina shawls and wraps; this will work in your favour when visiting religious sites.
Trousers and Pants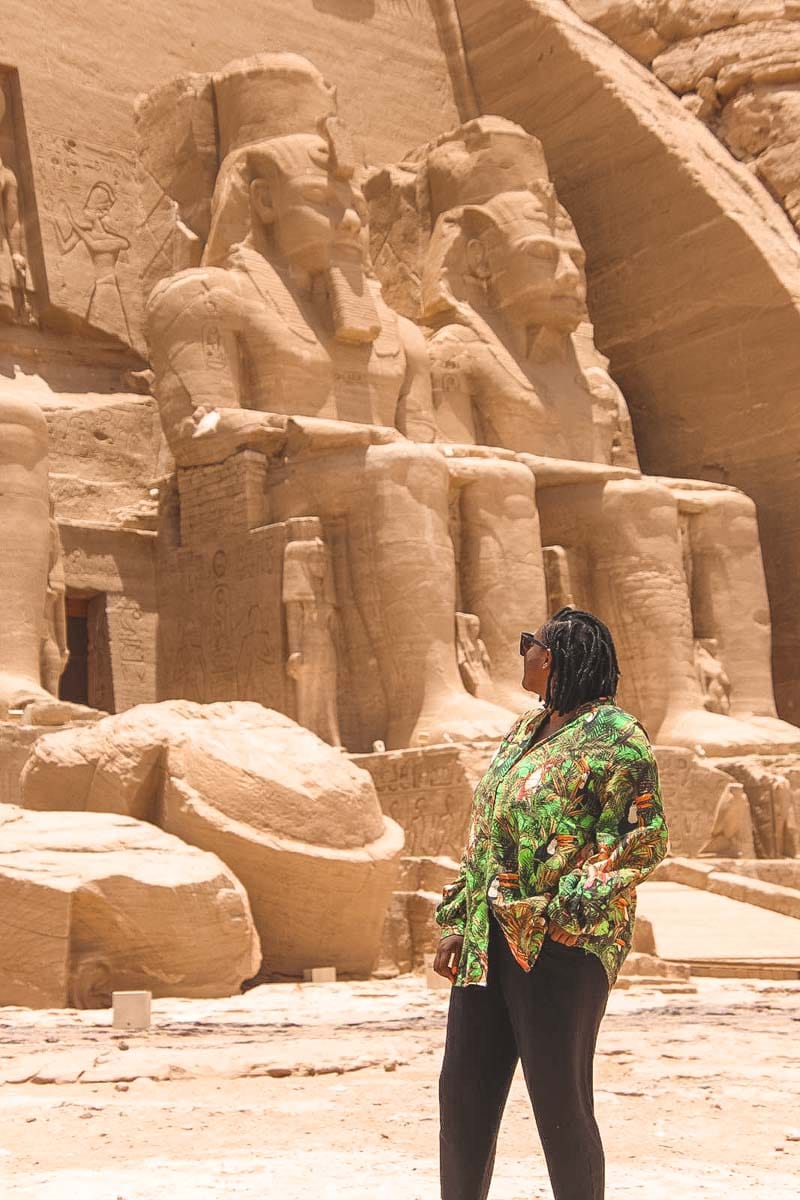 Unlike in some Islamic nations, women in Egypt can wear pants or trousers. You can go for a classy, elegant look with casual palazzo pants or a more easy-going look with elastic waist cropped pants. Whichever style you pick, ensure that you're packing lightweight clothing that's comfortable and culturally appropriate.
Kimono
I already talked about why kimonos are great when you're looking at what to wear in Egypt as a woman. Trust me – so many items in your wardrobe will be transformed into something appropriate by simply adding a lightweight, long-sleeved kimono – Anthropologie always has a great selection.
Jacket
Jackets work well for sun protection and layering on rainy days (although Egypt experiences minimal rainfall). They come in all fabrics, so bring a lightweight jacket and something cosier like a hoodie or windbreaker. This adequately prepares you for whatever weather awaits you at your destination.
Hat
Serving as more than just sun protection, hats are fashionable and complementary to the Mediterranean dress code. You can wear sun hats for casual walkabouts, pyramid excursions, or on the beach.
Swimwear
Tourists can wear bikinis at hotel poolsides. At public beaches, women (including tourists) are encouraged to cover up to avoid a rude awakening. You can use a kaftan to cover up; local women usually wear a burkini, covering their bodies from wrists to ankles.
Travel Socks
Socks are essential no matter where you're going. Pack several pairs of travel socks with circulation design, comfortable material, and durable for long day trips and expeditions.
Underwear
Sports underwear like the Reebok Women's Seamless Hipster Briefs work best for action-packed tours. These quick-drying briefs have a nylon and spandex fabric blend ideal for training and intense workouts.
Egypt Travel Packing List: Footwear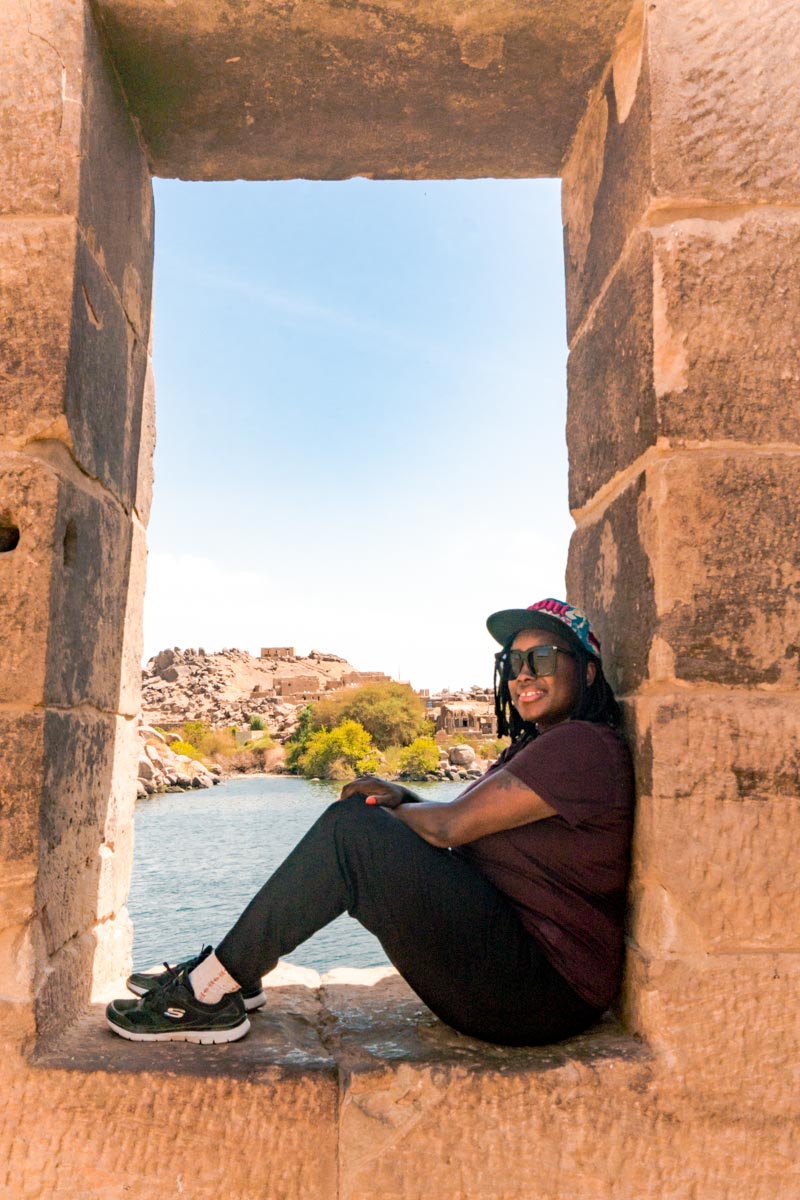 You cannot plan a trip without the destination's terrain in mind. Most attractions in Egypt are in the sandy desert plains. But your shoes must be durable and adaptable to multiple geographies.
Comfortable Travel Shoes
It would be best if you had shoes that could take on any terrain and still be comfortable. Lightweight trainers with breathable material and cushioned soles are ideal for a trip to Egypt. I recommend Tropicfeel's all-terrain sneakers. They are water-friendly, sturdy, and slip-resistant.
Stylish Travel Shoes
With so many upmarket cities and lavish resort towns like Hurghada, you'll need a fancy pair of shoes to blend in. The Adidas Women's Grand Court Sneaker has extra cushioning, durable rubber soles, and a classic design that's recognisable anywhere.
Sandals
Packing a pair of sandals is crucial. You'll be comfortable exploring the vibrant city streets, shopping at the bazaar, or taking a long stroll to the beach. I recommend a pair of Birkenstock Arizona sandals — they're classy, stylish, and provide ultimate comfort.
Useful Items for Your Egypt Packing List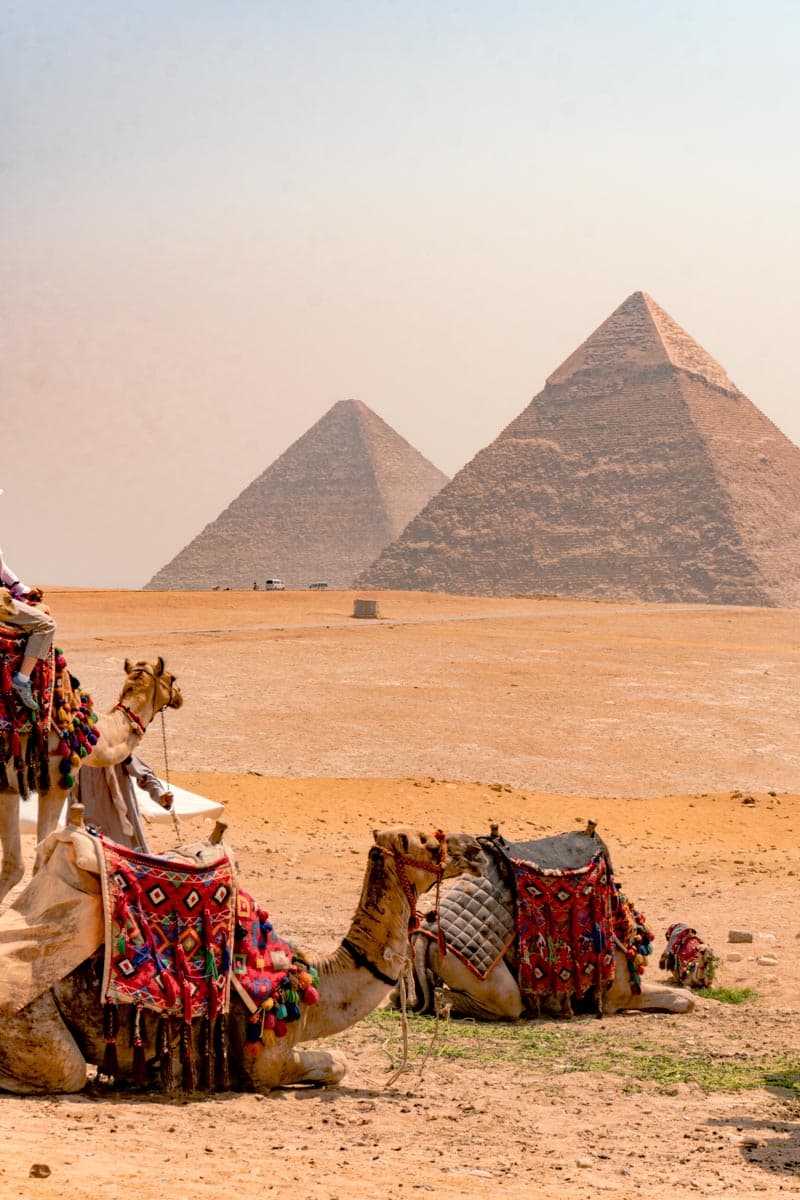 While clothing and shoes are both crucial elements of your packing list, don't forget items that will maximise your convenience. An excellent tip to remember these valuable items is planning your Egypt itinerary and listing everything you'll need for each excursion.
Travel Towel
Towels are helpful in many situations. Whether you're going to the beach, lying at the hotel pool, or jumping out of the shower, a towel will always come in handy. I recommend Dock & Bay travel towels. They're both compact and stylish.
Earplugs and Eye Mask
Earplugs and a sleep mask are ideal for overnight travel. They make it easy to rest on your journey, blocking background noises and unwanted light sources. Get a pair of ultra-soft foam earplugs and a set of 3D contoured sleep masks, and never struggle with sleeping or napping during long trips.
Torch
Power blackouts are more common than you'd think. A torch is also useful for camping in the desert. Get an LED tactical flashlight with bright and zoom features.
Refillable Water Bottle
A refillable water bottle will definitely come in handy during your desert excursions. Avoid dehydration by packing one or two leakproof refillable water bottles with a straw feature for easy drinking.
Money Belt
A money belt is great for storing your essential documents, cash, and small electronics when going on an adventure. The ideal money belt for travel has hidden compartments and an RFID theft protection system.
Packing List for Egypt: Gadgets + Electronics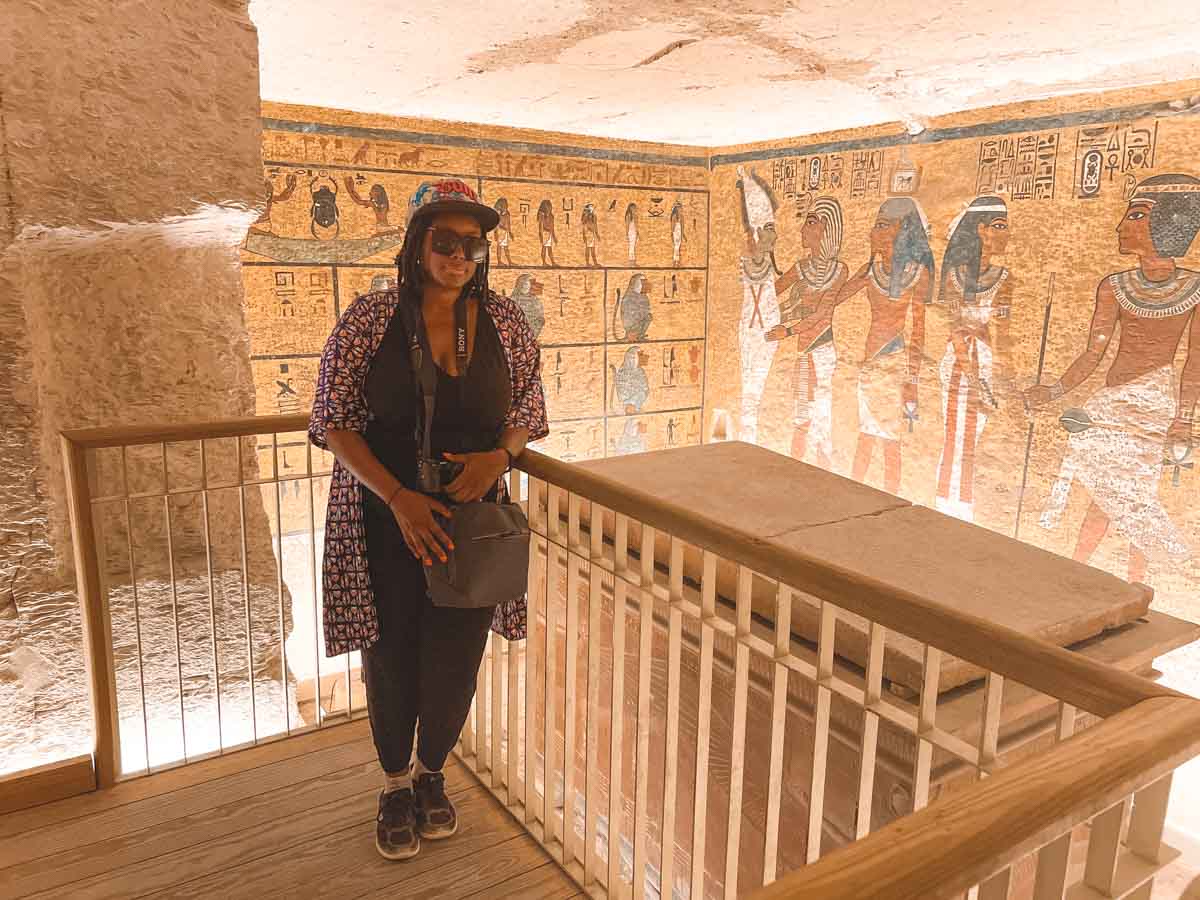 Having the right gadgets and electronics will ensure you savour picturesque views and sentimental moments. Make these permanent by taking lots of photos and videos.
Camera
A camera is a great tool to snapshot memories. A durable camera with a good lens will do. Canon's R mirrorless camera produces high-quality footage. It has dual memory card slots, so don't worry about running out of space. Bring backup batteries and a compatible battery charger.
Memory Cards
Without these, you won't have space to store the highlights of your trip. The Sandisk 128GB card is water and temperature-proof and has a transfer speed of up to 170MB/s, ideal for shooting videos in 4K.
Spare Batteries
Most electronics use battery power to function. Having spare batteries combats running out of energy and your electronics being obsolete. Energizer Batteries offer long-lasting power for most gadgets.
Travel Adapter
Western nations predominantly use type A and B, but Egypt uses type C, E/F outlets. A multiway international adapter is essential when travelling abroad. It allows you to plug in and use your electronics from anywhere in the world.
External Power Pack
Since it's nearly impossible to find a plug in the desert or in unfamiliar cities, you should pack an external power pack. It is a portable power supply that is compact, lightweight, and convenient for charging mobile devices.
Toiletries
Due to different markets, you may not easily find your favourite toothpaste in Egypt. Bring travel-size toiletries, as they require less space and don't add too much weight to your luggage.
Essentials
Bring them all. From your toothbrush and toothpaste to deodorant and body lotion—pack hair and skin essentials like shampoo, conditioner, and SPF-infused lip balm. I also highly encourage female travellers to bring their feminine hygiene products from home.
Medication
You may not be able to get your prescription or OTC meds at local pharmacies due to restrictions or regulations, so it's best to bring an adequate supply. Check online or contact relevant authorities to ensure you don't bring anything illegal.
Also, pack a first-aid kit that's small enough to bring along on tours and expeditions. This way, you'll be ready for a medical emergency.
Sunscreen
With temperatures in Egypt tethering around 30 degrees Celsius, I highly recommend you pack loads of sunscreen. Any SPF sunscreen of 30 or above will be enough to protect your skin against sunburn.
Packing checklist
Don't Forget These Egypt Travel Essentials Either!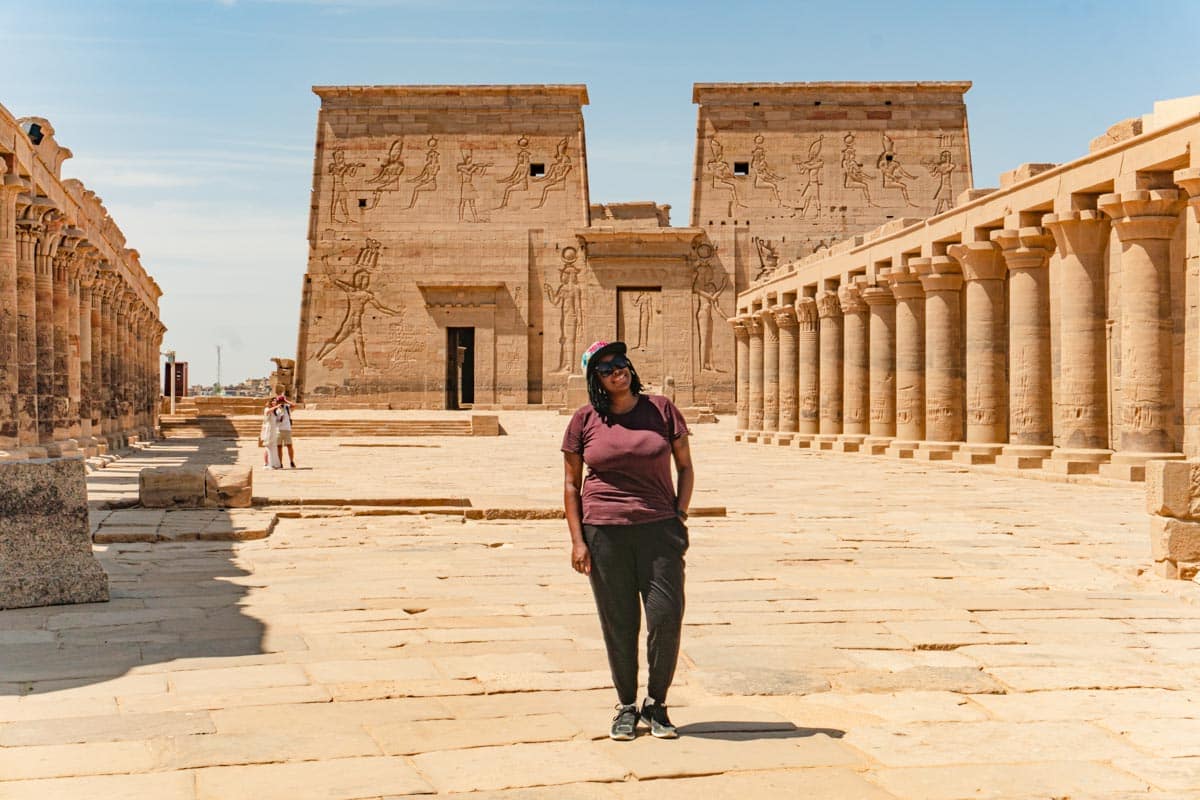 You may leave some key travel elements unchecked, especially when you're beaming with excitement for the journey ahead. However, forgetting these essentials may leave you stranded.
Passport / Visas
Visitors require a passport valid for no less than six months and a Visa to enter Egypt. Travellers of more than 70 nationalities can get an Egyptian Visa online. The digital process is effective and highly convenient.
Travel Insurance
Protect yourself and your belongings by acquiring travel insurance that covers you against theft, delayed luggage, and provides medical assistance.
Cash / Credit Cards
Inform your bank about your trip. This will keep them from flagging card transactions or cash withdrawals overseas as fraud.
Tickets and Reservations
Always confirm your flight reservations / check in days or even a week before your travel date. This keeps you informed about any changes or flight delays and cancellations.
Emergency Contacts + Addresses
Save emergency contacts and addresses on your mobile devices or notebook—the most vital being the nearest police station, embassy, and hospital.
Copies of Important Documents to Keep Separate from Wallet
Keep your most important documents like your passport, identity document, and flight tickets separate from your wallet. This helps immensely if your wallet is stolen.
Guide Book
Get a guidebook like this Lonely Planet Egypt to help you orientate yourself while in the country. You'll get an all-encompassing and authentic Egyptian trip without being limited to places like the ancient pyramids and the Nile.
Are guidebooks as good as a local guide? No. Are they still helpful? Absolutely yes.
Travel to Egypt Checklist: Key Takeaways
Pack lightweight, culturally-sensitive clothing and sturdy shoes.
Bring a couple of pashminas / kimono.
Remember to bring your refillable water bottle.
Protect yourself by getting travel insurance.