Thinking of visiting Egypt? Plan your trip with this in-depth Egypt travel guide.
Egypt is a country of wonders. Quite literally if you consider that the Great Pyramid of Giza is the last remaining ancient wonder of the world.
Even if you don't take things so literally – any country that names The Valley of the Kings, Karnak, Abu Simbel and Philae Temple among its landmarks is always well-placed to leave you slack-jawed and open-eyed… trust me.
So how do you visit Egypt? What are the sights you simply shouldn't miss? When's the best time to visit? What's the best Egypt travel itinerary? You have questions and, luckily enough, I have answers.
This Egypt travel guide will help you plan an epic trip to what has fast become one of my favourite destinations. Let's go!
How To Plan a Trip to Egypt: Before You Go
Best Time to Visit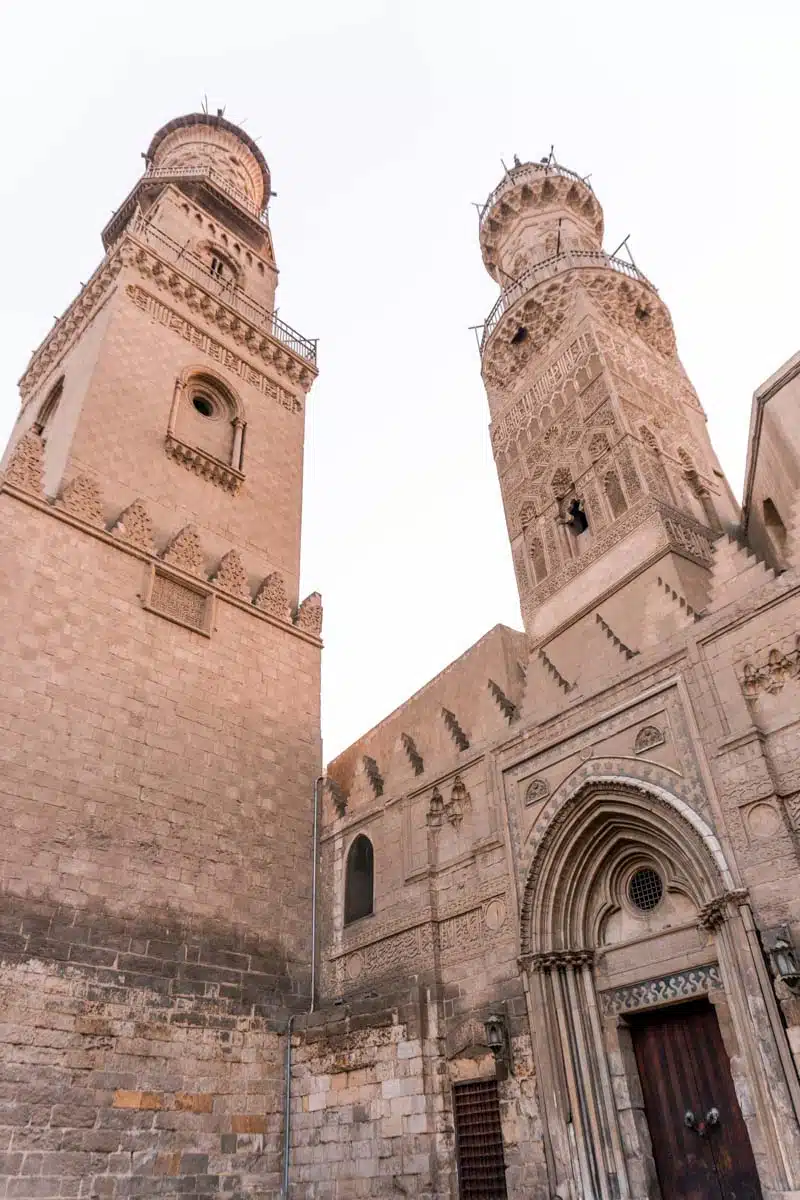 Egypt's peak season is winter (October – April). The country's year-round sunny weather causes travellers to visit when temperatures are at their lowest. So the best time to visit Egypt is during the shoulder months (March, April, and September). This time brings cool temperatures and uncrowded attractions.
Although travellers usually avoid the summer season (May – August), it's not all bad. It's an ideal travel time to venture into the coastal towns along the stunning Red Sea. Flights and accommodation prices are also cheaper.
Read More: The Best Time to Visit Egypt
Handy Resources for Getting to Egypt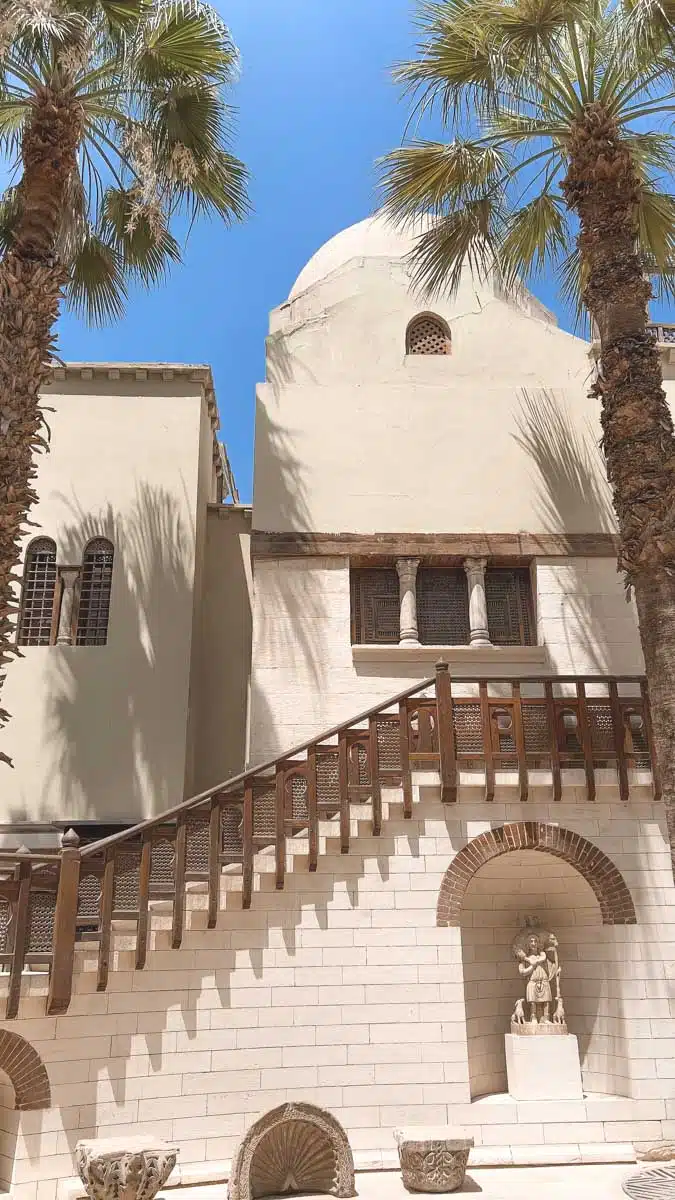 Plan your trip to Egypt like a boss with these unique travel resources. These will help you find the best deals, travel packages, and budget-friendly accommodation.
Skyscanner is an ideal flight ticket comparison tool for helping you find the cheapest flights and the best time to fly.
Visit museums in Cairo and Giza using the Cairo Pass. You can buy this permit at the Antiquities Ministry, the Egyptian Museum, and Cairo Citadel.
With attractions scattered all over, sorting out the logistics for your Egypt itinerary may be a nightmare. Comprehensive, all-inclusive tours with G Adventures or Intrepid Travel will help you enjoy a carefree vacation.
Read Next: 20 Things You Need to Know Before Visiting Egypt
Where to Stay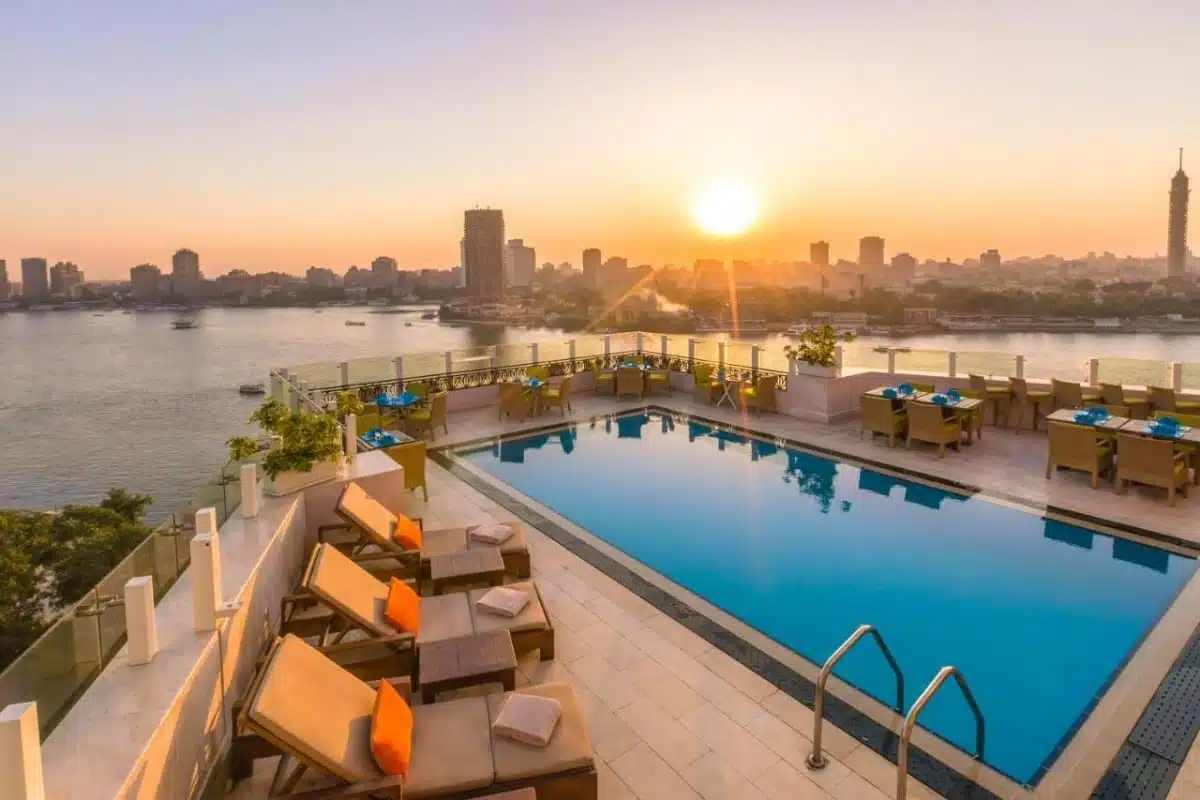 Hotel accommodation is abundant in Egypt. You're sure to find various lodging options ranging from budget to intermediate and luxury. Offering great amenities and stunning views, you'll find some of the best hotels in Cairo — Egypt's capital — on Booking.com.
Guesthouses and B&Bs are other accommodation types widely available in Egypt. Accessible in small towns and city centres, these lodging options are budget-friendly and give you an excellent opportunity to mingle with the locals.
Camping in the desert is a popular tourist excursion. You can experience gazing at star-studded skies and unique rock formations in the White Desert on a Bahariya Oasis camping tour.
Packing for Your Egypt Trip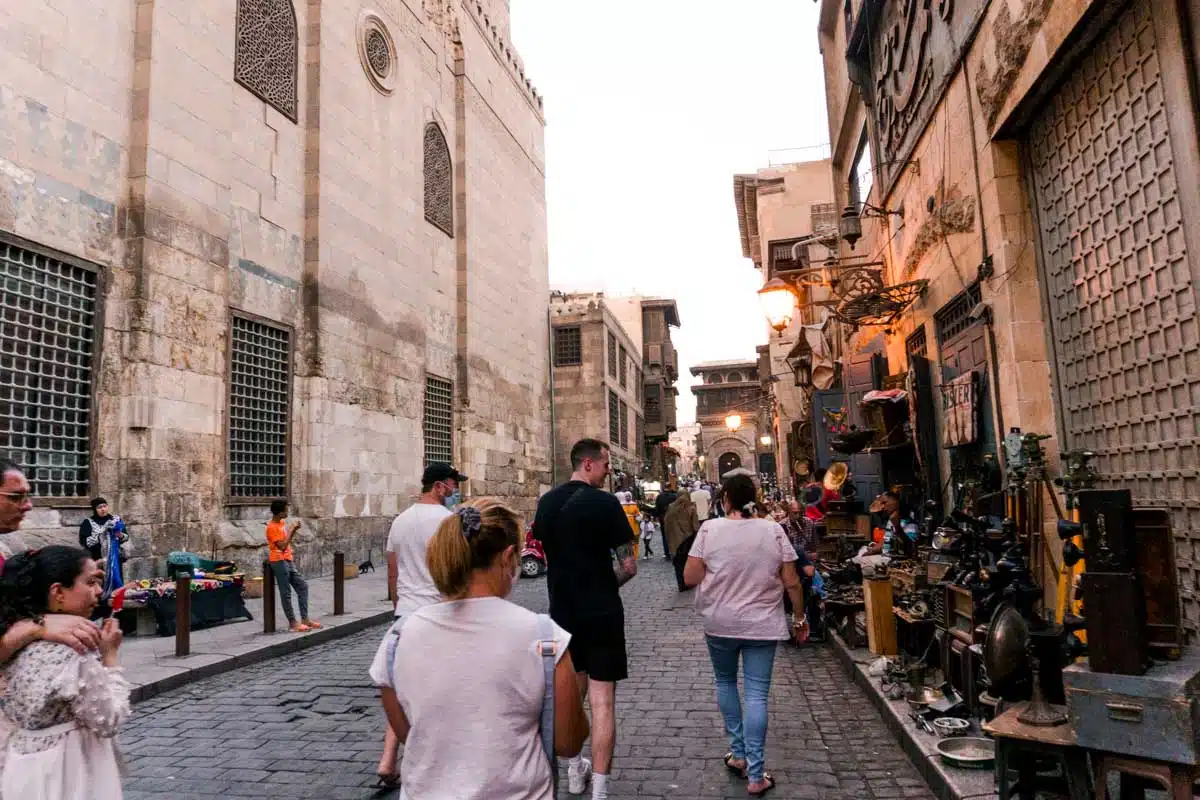 There are two crucial things to consider when creating your Egypt packing list; the hot weather and the conservative cultural norms. I
Pack light and airy clothing. A raincoat will come in handy on wet days, but a high SPF sunscreen is a must. If you intend to visit religious sites, bring a pashmina scarf to cover your head and shoulders.
Read Next: What to Pack + What to Wear in Egypt
Travel Insurance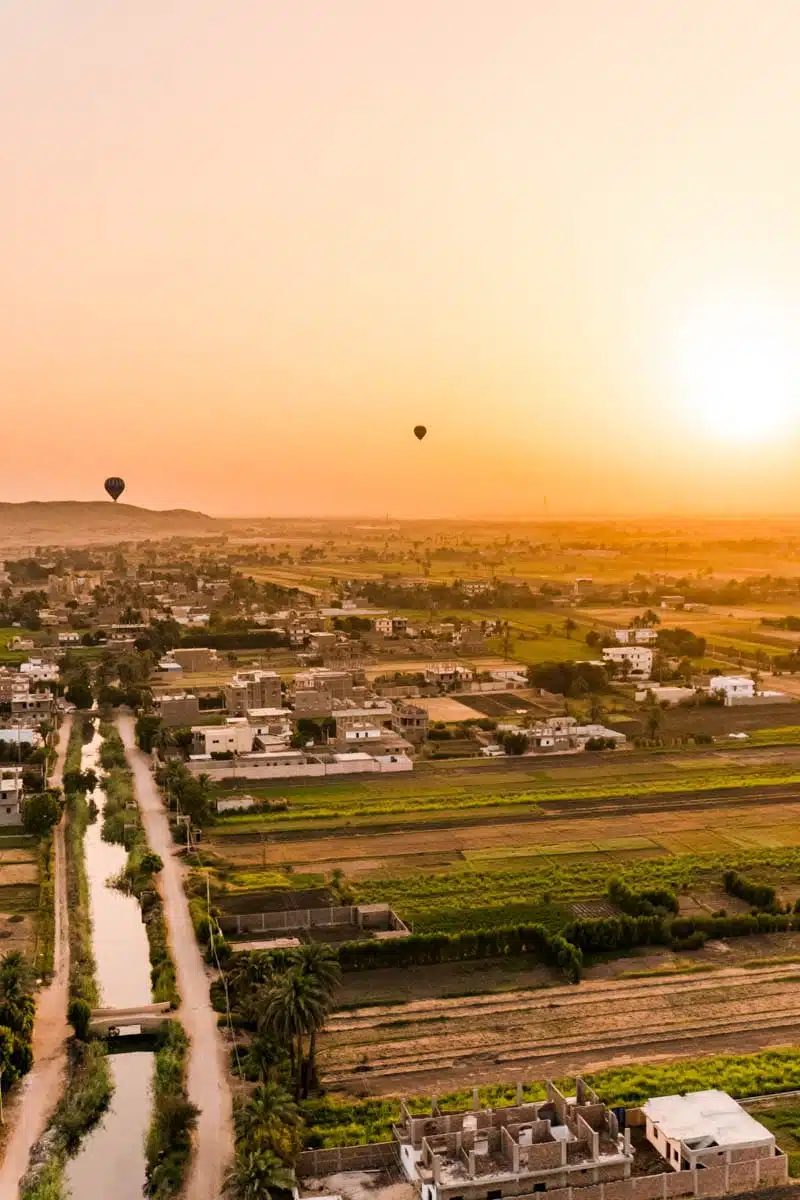 Travel insurance is the fail-safe that'll help any trip meet your expectations. It offers coverage options ranging from medical emergency assistance to theft, cancellations, and third-party liability insurance.
Suggested Guidebooks for Visiting Egypt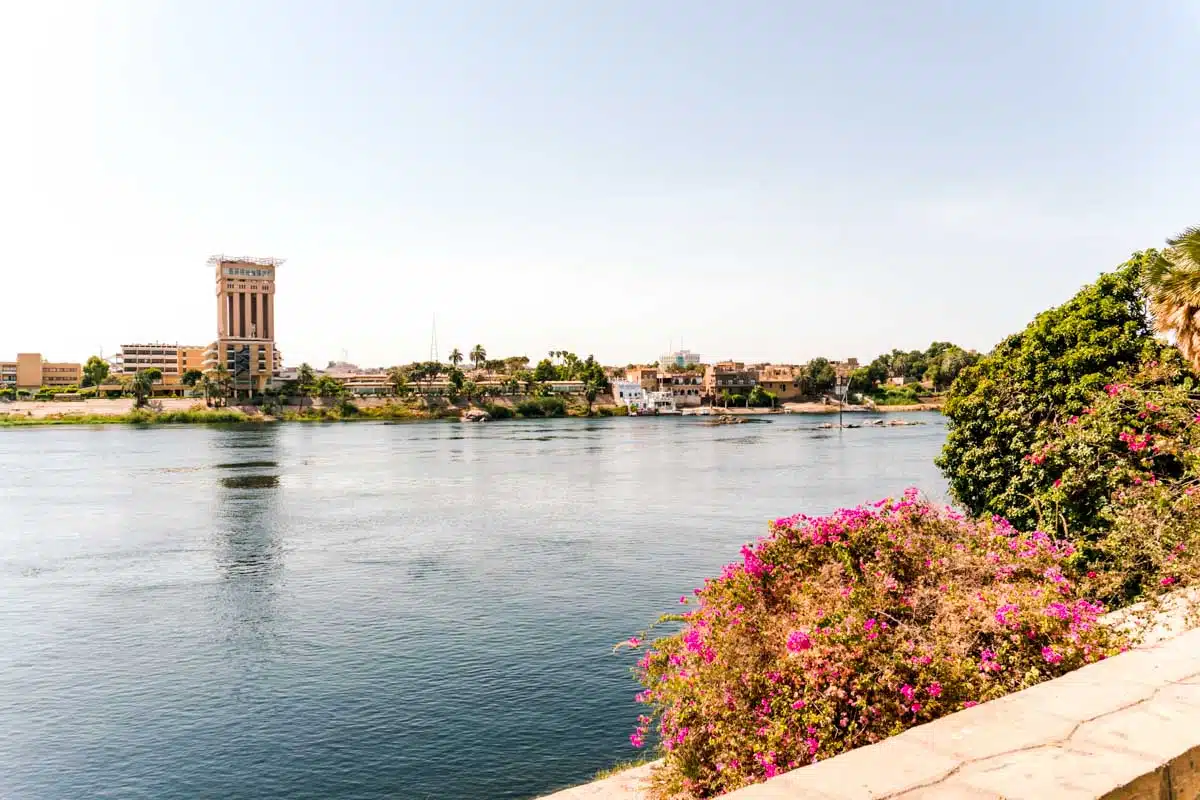 An Egypt travel brochure from the airport won't be enough for this jam-packed country. Instead, you can invest in an extensive travel guide for Egypt. Some options include the Moon Egypt Travel Guide and Lonely Planet Egypt Guide, both available in paperback and e-copy.
Egypt Visitor Guide: What To Do During Your Egypt Trip
Top 10 Things to Do in Egypt
Explore Cairo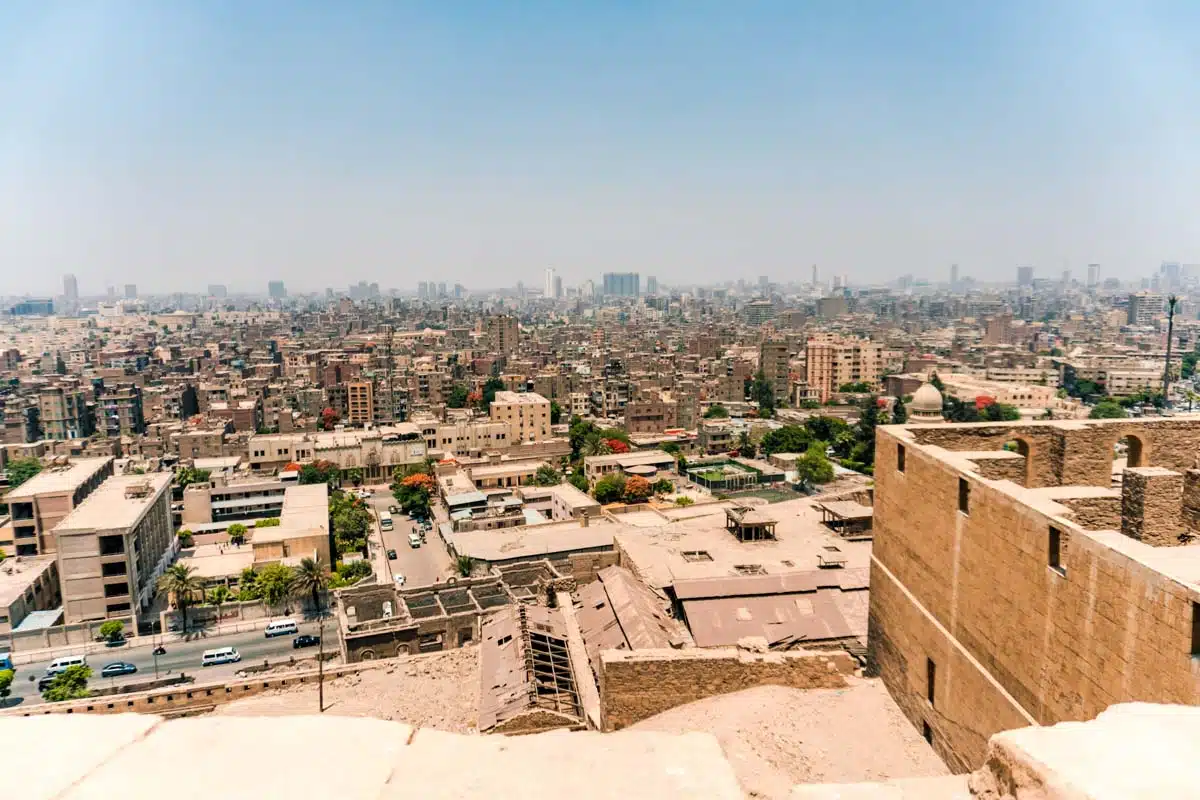 Make the most of your trip by experiencing the best things to do in Cairo. The bustling capital boasts tons of attractions and historical sites. You can visit the Museum of Egyptian Civilization, walk around Islamic and Coptic Cairo, and enjoy an entertaining dinner cruise on the Nile all in one day.
Read Next: Top Things to do in Cairo
Visit the Great Pyramids of Giza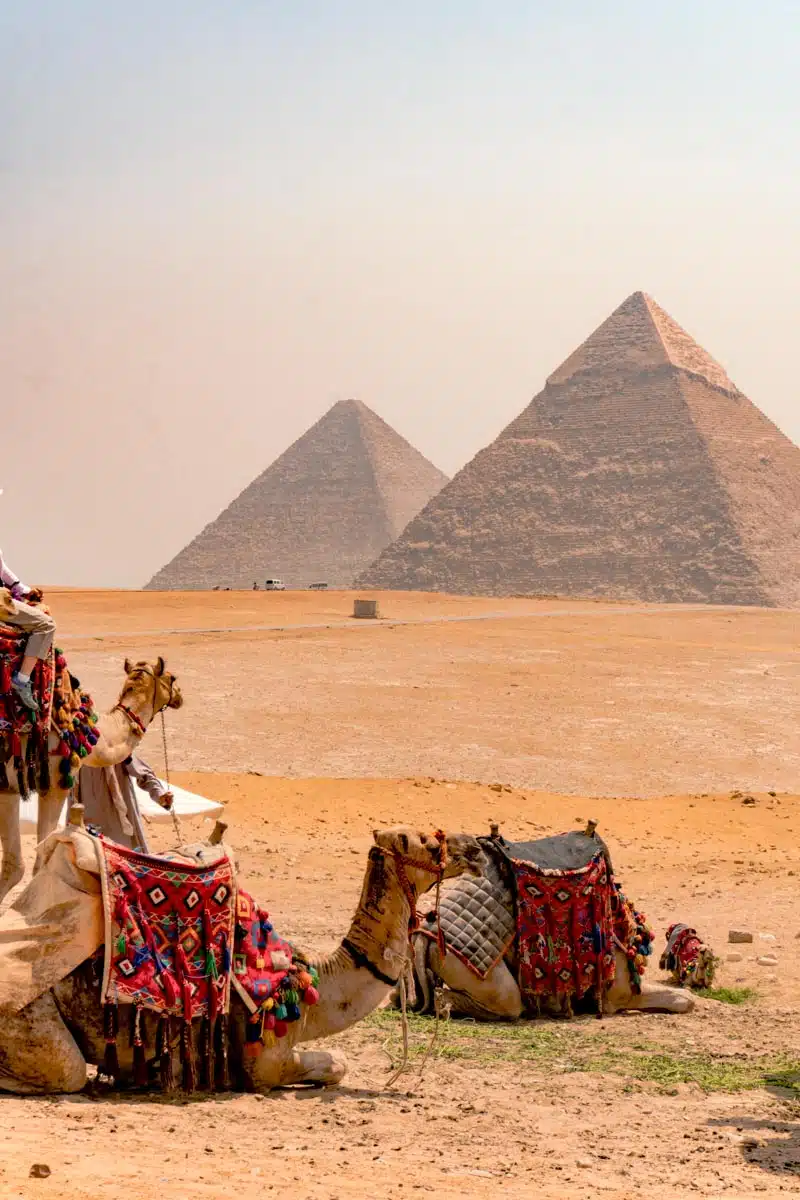 No trip to Egypt is complete without seeing the great Pyramids of Giza. This guided half-day tour takes you around one of the most famous landmarks. See the largest of them all, the Pyramid of Cheops, along with the Pyramids of Chephren and Mykerinos.
Read Next: How to Visit the Great Pyramids of Giza
Take a Nile River Cruise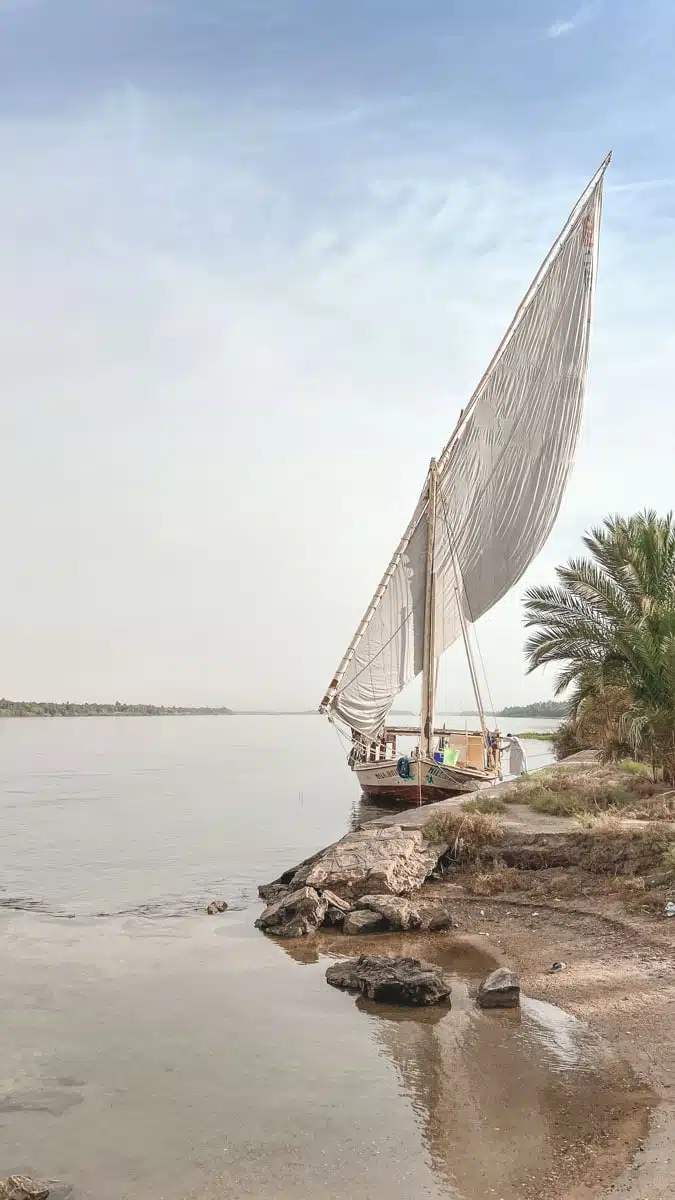 A Nile River cruise is one of Egypt's top activities. Take a traditional felucca boat ride down the Nile. And enjoy optional water activities and a delicious lunch before catching breathtaking sunset views on the deck.
Read Next: Why a Nile River Cruise Should Be at the Top of Your Egypt Hit List
Visit the Temples of Abu Simbel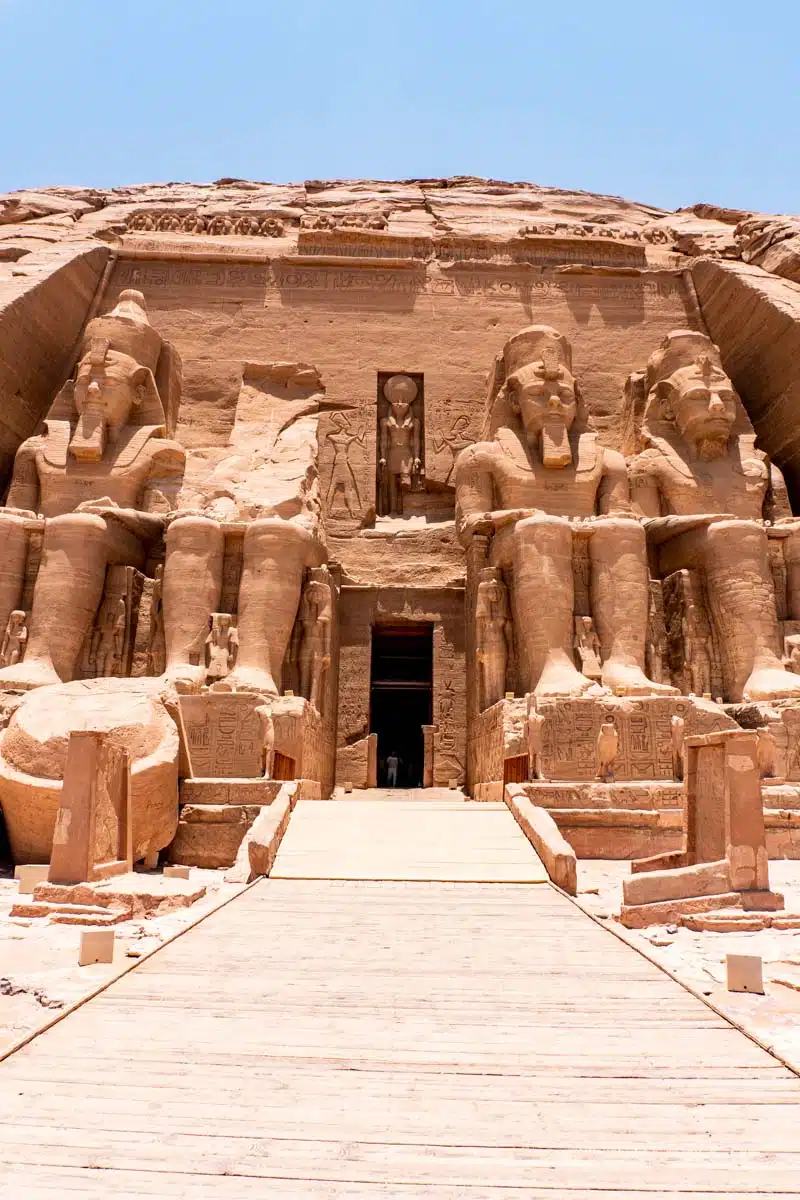 The Abu Simbel Temples should be a regular feature on most Egypt itineraries. Take a guided tour of these grand monuments and get a glimpse into a time when pharaohs obsessively anointed themselves as gods and built tombs to match their status.
Read Next: How to Visit the Temples of Abu Simbel
See Ancient Pharaohs' Tombs at the Valley of the Kings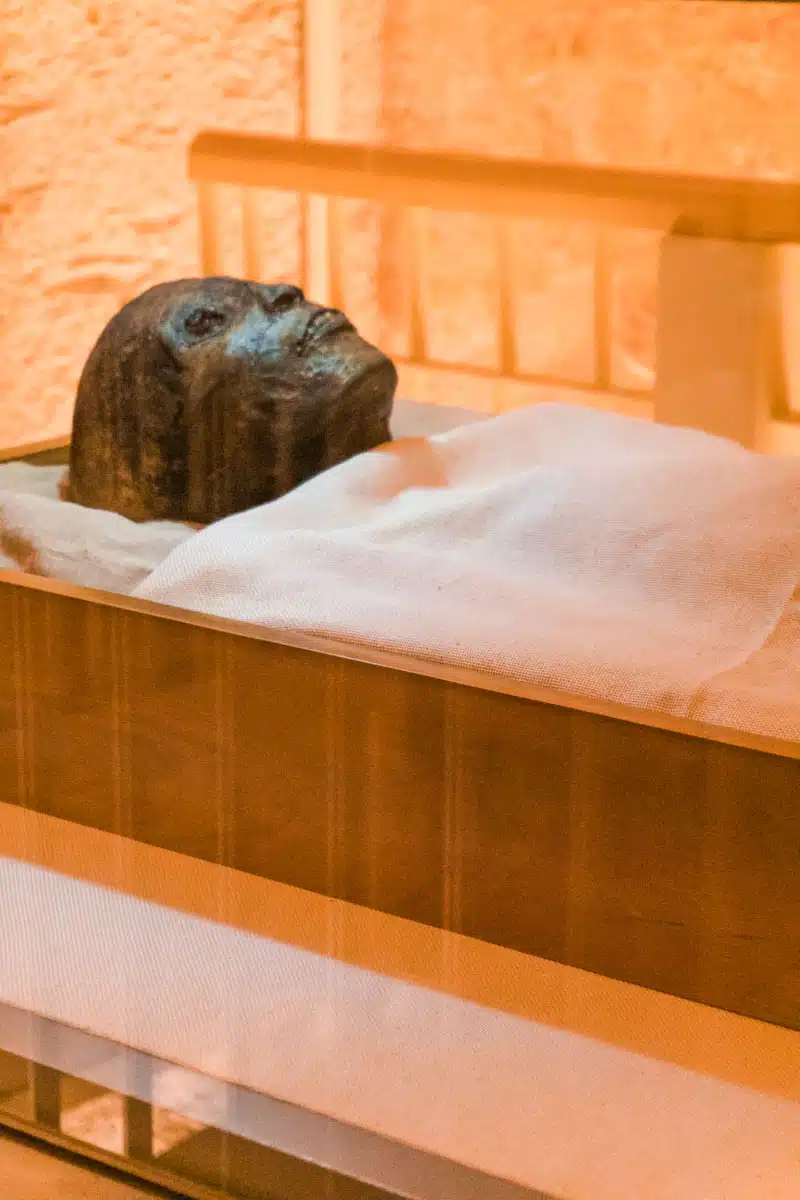 The Valley of the Kings – the ancient burial place dubbed the "Gateway to the Afterlife" hosts several former rulers, like the "boy king" Tutankhamun, buried with riches and treasure. A full-day trip to these monuments will show how pharaohs wanted to leave their mark even after death.
Read Next: How to Visit the Valley of the Kings
Visit Luxor Temple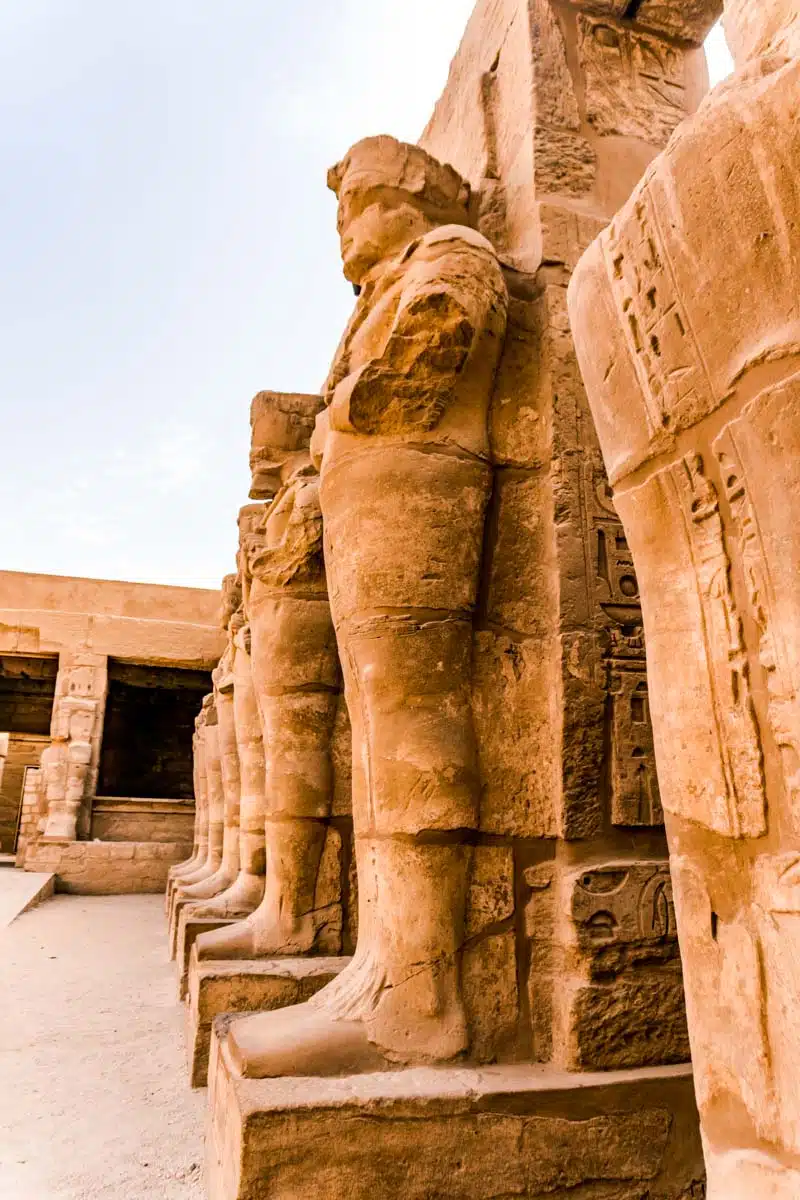 Luxor Temple takes the cup for grandeur and royalty among the most notable monuments in Egypt. Built by four pharaohs over 17 decades, the temple complex boasts an avenue of sphinxes, obelisks, and towering statues.
Read Next: Why You Shouldn't Miss Luxor Temple
Go on a Hot Air Balloon Ride in Luxor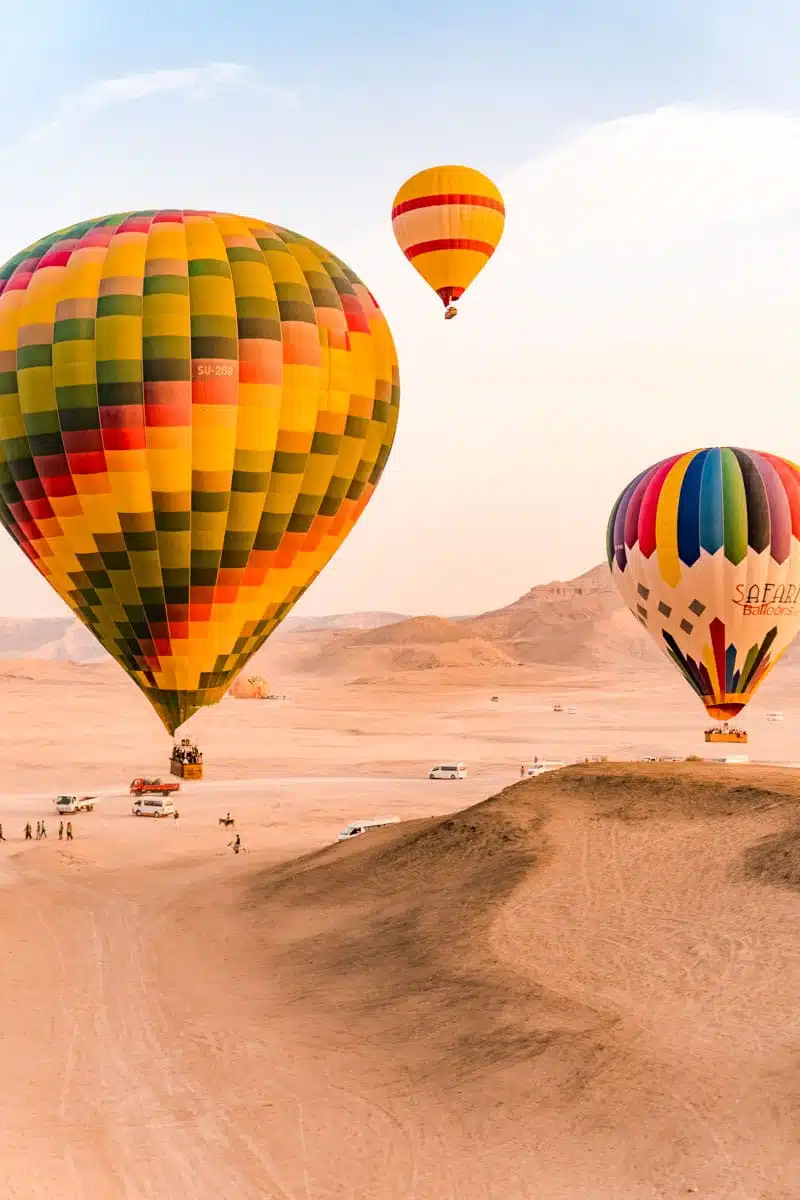 Although there are so many great things to do in Luxor, there's only one way to see it; from the air. A hot air balloon ride over Luxor is simply breathtaking. Hop aboard the floating aircraft and catch captivating views of the Colossi of Memnon.
Read Next: Is a Hot Air Balloon Over the Valley of the Kings Worth the Hype?
Visit Karnak Temple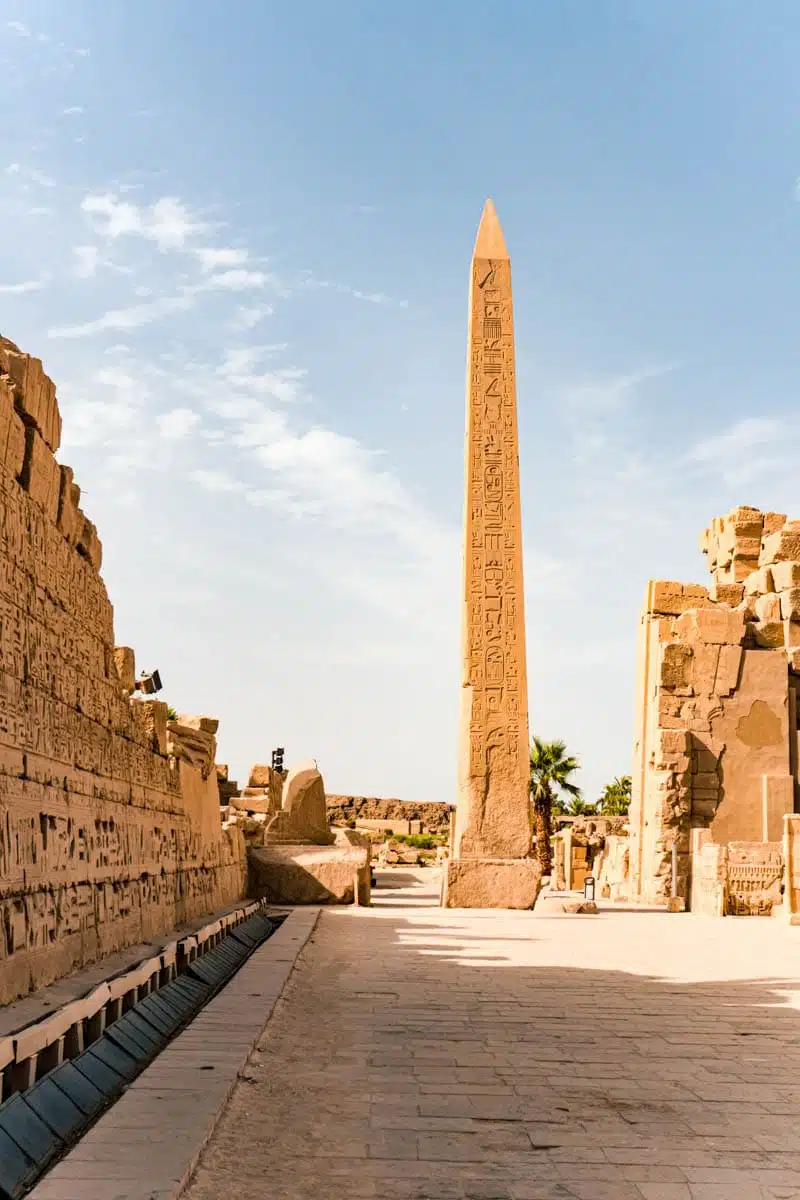 Karnak Temple is where you'll find the largest collection of temple ruins in Egypt. This is also where you'll find the Temple of Amun-Ra built in dedication to the sun god. Although only debris and wreckage remain, this complex is among the most beautiful sites in Egypt.
Read Next: The Insider's Guide to Visiting Karnak
Take a Multi-Day Trip to Aswan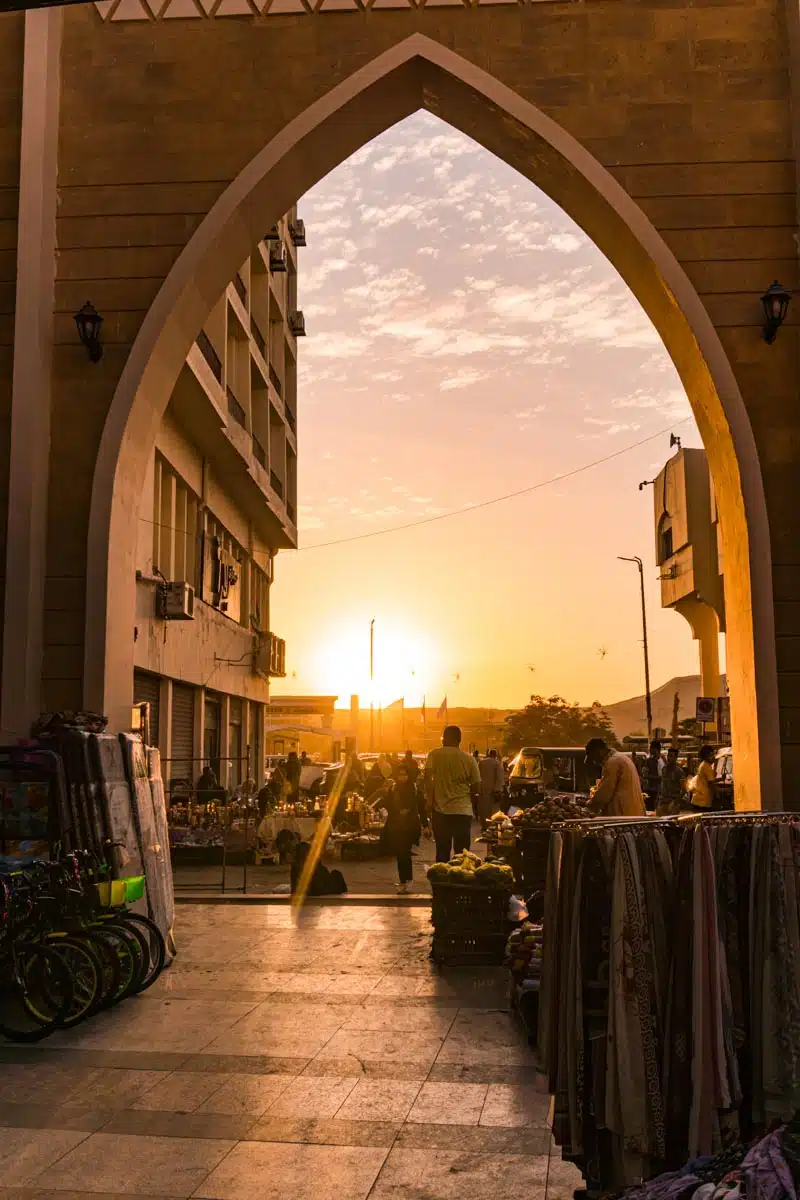 Aswan has many ancient attractions. From the iconic Abu Simbel to the divine Philae Temple, visiting these landmarks is one of the unmissable activities in Aswan. Take an adventurous trip to Aswan and see the notorious High Dam and the Unfinished Obelisk.
Read Next: Top Things to do in Aswan
Go Snorkelling in the Red Sea
The Red Sea coastline provides Egypt's locals and tourists a much-needed escape from scorching inland temperatures. A snorkelling cruise and tour of the scenic Orange Bay is just what you need to wrap up your adventure through Egypt.
Suggested Egypt Travel Itineraries
You'll need a kick-ass itinerary if you want a seamless tour through Egypt. There are two main ways you can see Egypt in a straight line. The first is to tour the inland regions, following the Nile from Cairo to Aswan.
Follow the Nile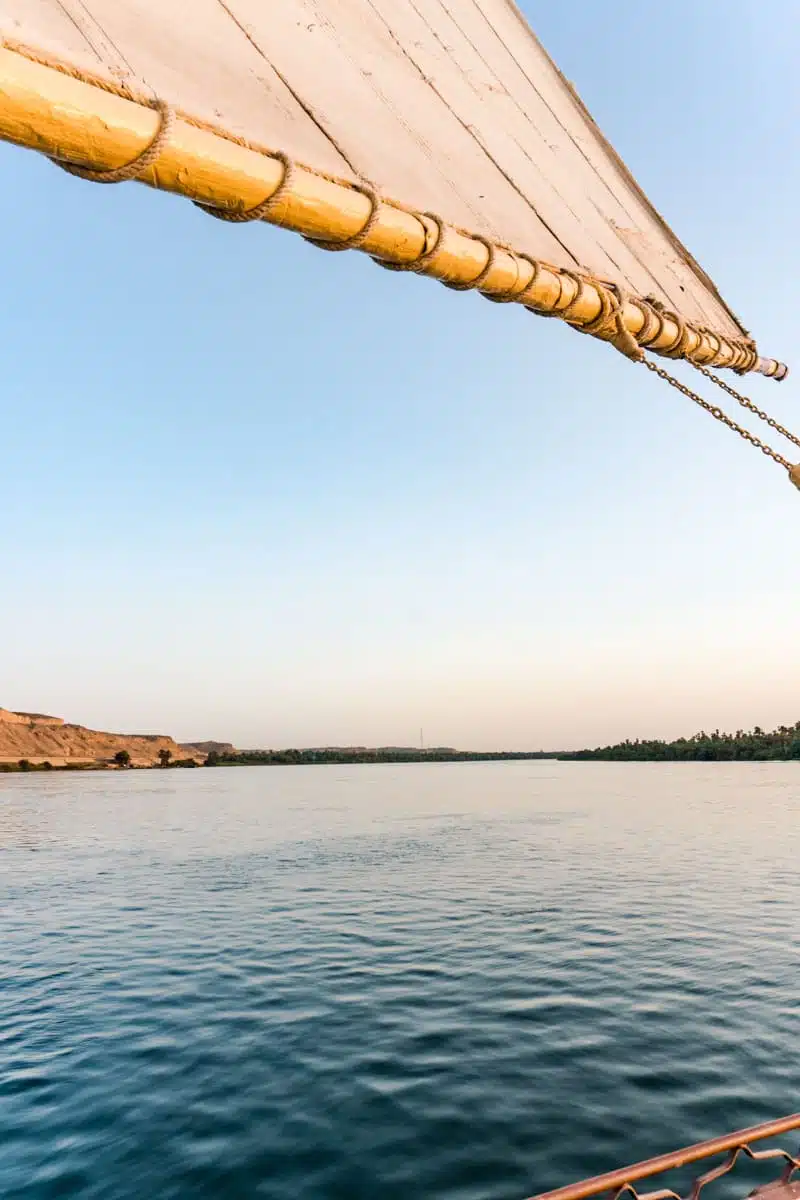 Giza Pyramids – Cairo landmarks – flight to Luxor – Karnak Temple – Valley of the Kings – drive to Aswan – Nubian Museum – boat to Philae Tempe – High Dam – Abu Simbel.
See the Wonders of Egypt's Coast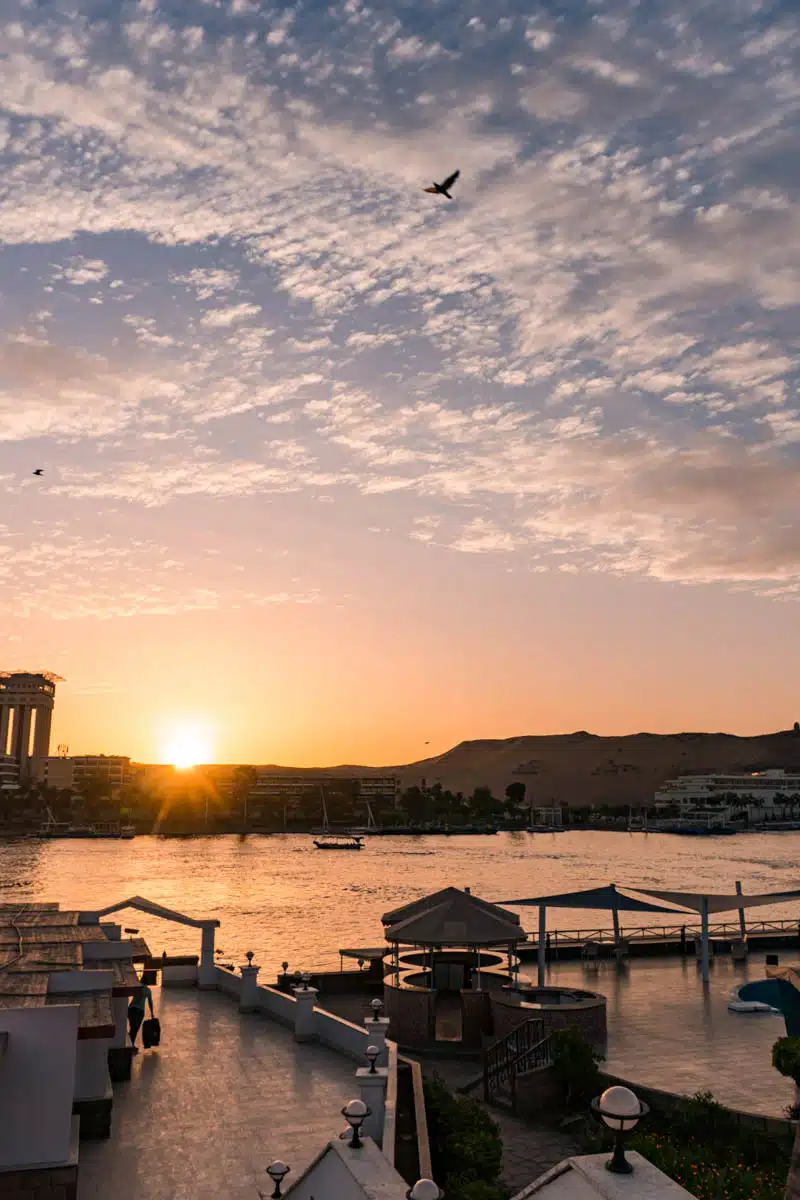 Alternatively, take the coastal route, and enjoy a perfect mixture of ancient landmarks and fun water activities.
Cairo attractions – flight to Hurghada – boat to Orange Bay – back to Hurghada – drive to the beaches in Safaga – Qena – cruise to Luxor – Philae Temple – Abu Simbel.
Read Next: The Ultimate 10-Day Egypt Travel Itinerary
Or Watch My Egypt Itinerary Video on Youtube!
Hidden Egypt – Egypt off the Beaten Path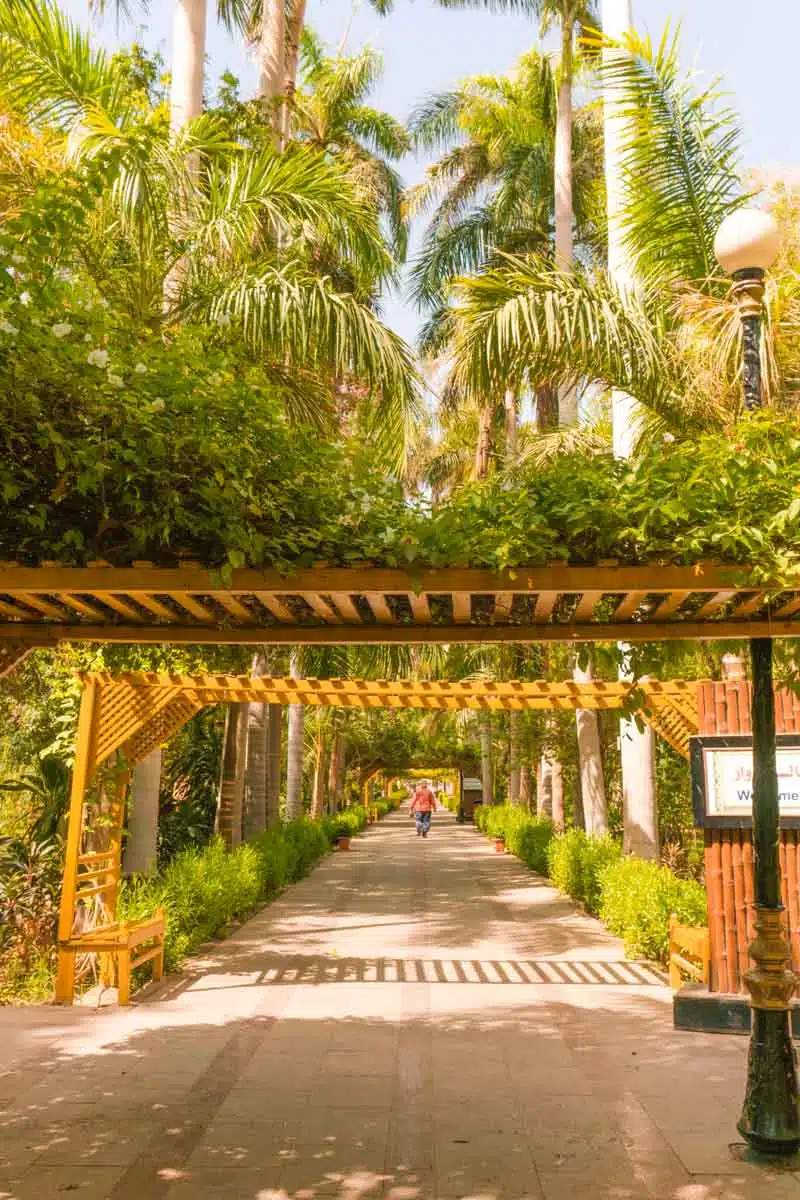 Egypt is full of temple ruins and historical attractions, but there's more to this country than meets the eye. Have a look at some of Egypt's hidden gems.
The Coloured Canyon boasts kaleidoscopic rock formations. This mesmerising Sinai Desert oasis offers excellent walking and hiking trails.
Get lost in the Shali Fortress maze. This Siwa Governorate town has endless remains of mud structures composed of salt, rock, and clay.
The City of the Dead is an attraction most would rather avoid. But this Cairo neighbourhood tells an intriguing tale of how people live in an old graveyard filled with conical mud domes, pantheons, and mausoleums.
How To See the Best of Egypt for Free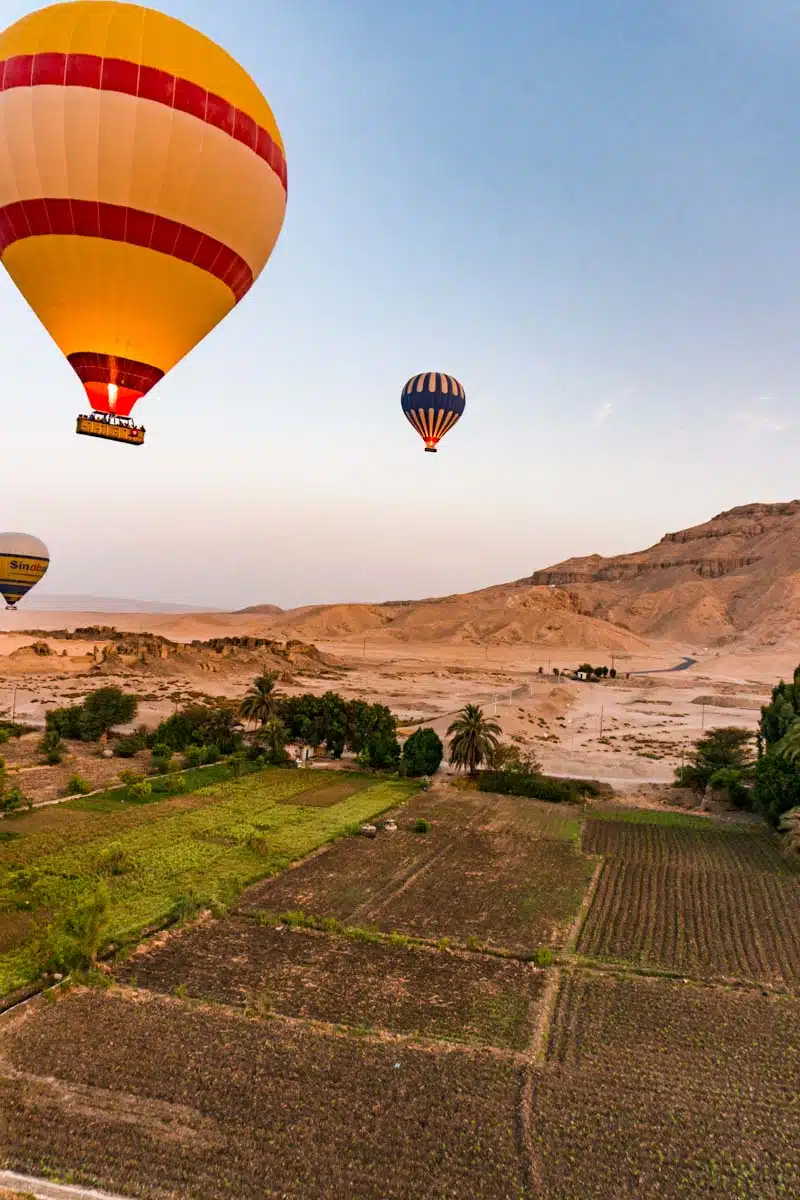 Travelling to Egypt on a tight budget? Don't spend all your money on landmarks and attractions. Instead, explore these fun and unique free tours.
Free walking tours are a great way to visit bustling bazaars. Walk around tasting street food and see the city's Islamic and Coptic Cairo sanctuaries.
Free virtual tours present another way to access landmarks without needing to pay. The Egyptian Ministry of Tourism and Antiquities has a series of online adventures you can explore from anywhere.
Food & Drinks To Try in Egypt
Ful medames – an Egyptian staple food comprising slow-cooked fava beans served with boiled eggs or sliced veggies.
Sugarcane juice – also called Aseer Asab, is a common sweet favourite. Made from freshly squeezed sugarcane, the drink has lots of health benefits.
Koshari – stacked with rice, spaghetti, black lentils, vermicelli, and hummus, topped off with thick tomato sauce. Sounds strange, but worth a try.
Hibiscus tea – or karkade, is the national drink. You'll find locals drinking it everywhere, and shop vendors often give this for free as a sign of hospitality.
Baklava – a sweet and delicious pastry dessert flavoured with nuts and honey. This treat was once only for the rich and nobility in ancient Egypt.
Falafel – Hot and steaming Egyptian falafel is one of the easiest snacks to get hold of. Trust me, it's nothing like the falafel you've had at home.
Egypt Travel Guide: Things To Know Before You Go to Egypt
Tips for Travelling to Egypt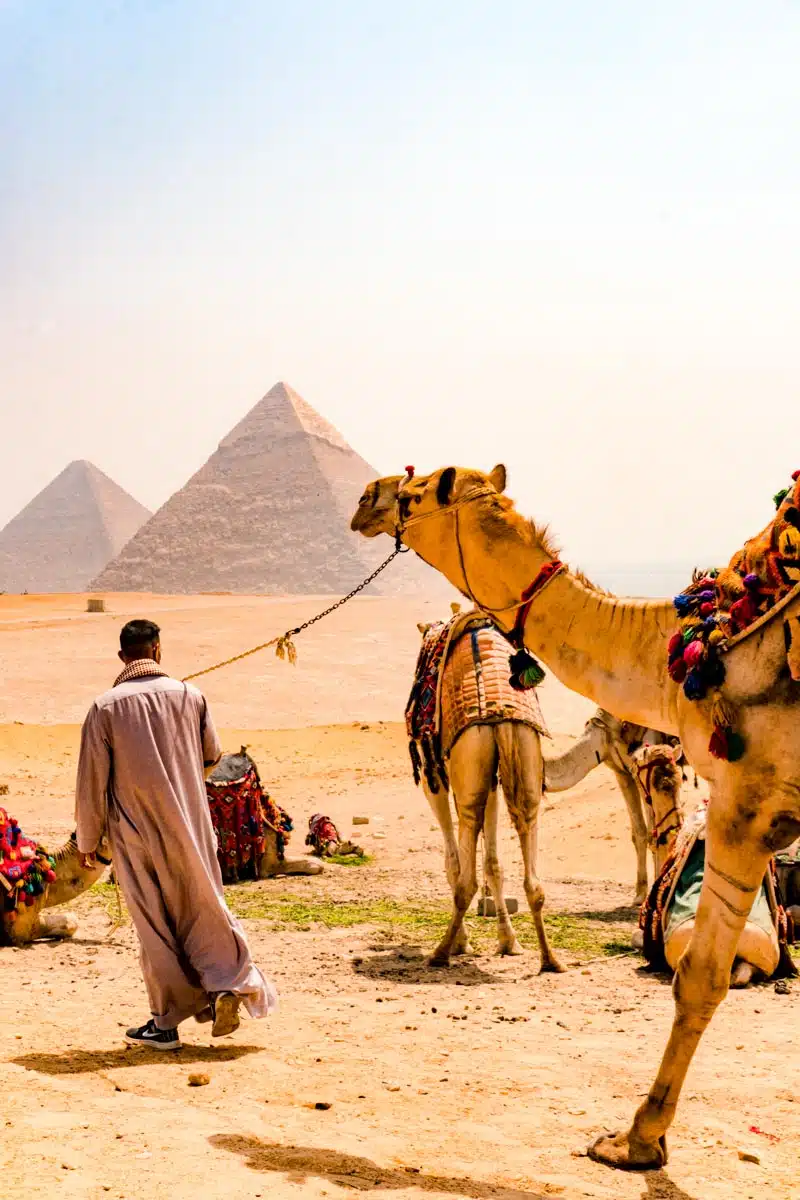 Plan your trip according to the month you'll be travelling. The items on your itinerary should always be feasible, given the warm weather conditions.
Pack loose-fitting and non-revealing clothing as a sign of respect.
Plan a trip with a structured itinerary to get the most out of your journey. Check out my detailed 2 Days in Cairo itinerary for some inspiration.
Prepare adequately for every excursion. See my practical guide on preparing for a hot air balloon Luxor adventure.
Read Egypt travel blogs to find the best Egypt travel tips from first-hand experience.
Read Next: 20+ Things You Should Know Before Travelling to Egypt
Tipping In Egypt
Tipping is a common practice in Egypt. Paying 10-15% of your bill is customary in restaurants and bars. But loose change is acceptable for street vendors and other workers. But this highly depends on how good the service was — so there's no need to tip for poor service.
Interesting Facts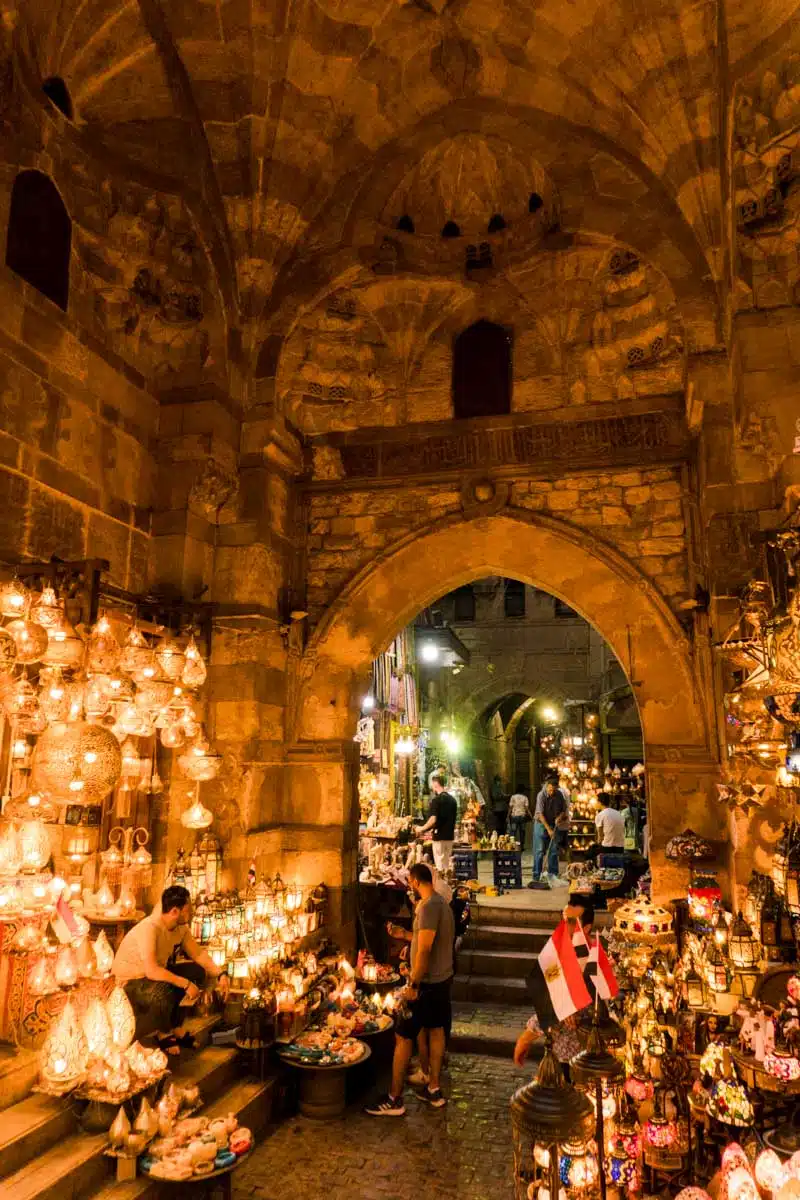 Ancient Egyptians created the 365-days-a-year calendar to predict the annual flooding of the Nile.
The Aswan High Dam is the largest in the world.
Commissioned workers built the Great Pyramids, not enslaved workers.
Egypt gets more than 3451 hours of sun yearly — I told you it's a hot country.
Handy Phrases for Travelling to Egypt
Egyptians primarily speak Arabic, except those who learned English or French in school. While Arabic may be intimidating, here are a few key phrases to keep handy.
Shukran – Thank You
Is'sallam Aleykum – Peace Be Upon You (Hello)
We Aleykum Es'sallam – And Upon You, Peace (Response To Hello)
Na'am – Yes
Laa – No
Ma'an – Water
Bikam Haadha – How Much This
Time Zones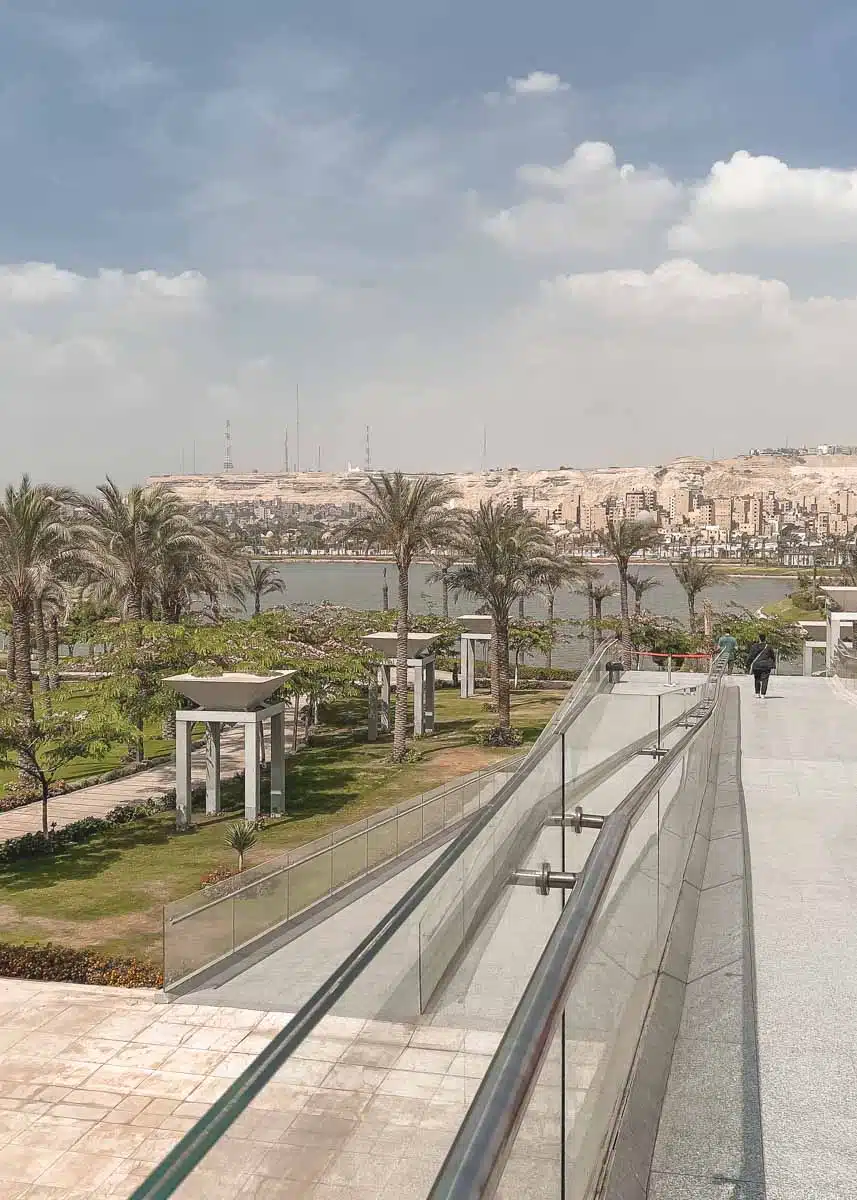 Egypt uses the Eastern European Standard Time (GMT+2).
Electricity + Adapters
Egypt operates on a 220V supply voltage and uses the C and F plug types. Bring along a universal electrical adapter to charge your gadgets without hassle.
Health
There are a few illness risks associated with travelling to Egypt. Most of which are curable and preventable, so visit your physician to prepare adequately. Get the flu or fever shot, don't drink or eat suspicious-looking products, and pack an emergency first-aid kit.
Transport
Although rail or road infrastructure connects most of Egypt's major cities, some inland regions like the Western Desert will require a 4×4 to manoeuvre.
Safety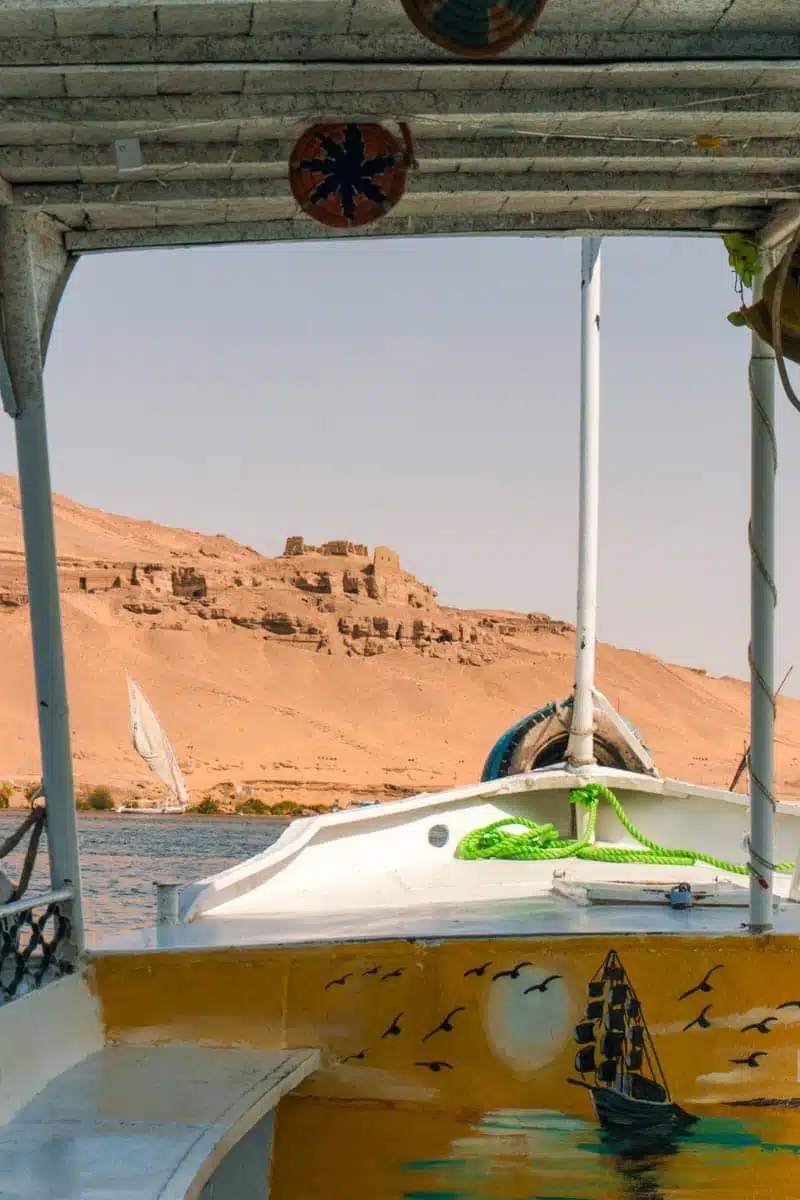 Egypt is a reasonably safe country. Though I suggest you keep guard in busy centres, this is where petty crimes thrive in most countries. A considerable safety concern is near the borders of Libya and Sudan, where there are terrorism alerts.
Costs and Budgeting
A trip to Egypt costs relatively little, and you can easily explore on a budget and with great planning. A Cairo Pass gives you access to several historical sites, while the cost for a trip to Egypt and accommodation boils down to your selection.
Egypt Map
Read More Egypt Travel Guides