Discover what makes Egypt so enchanting by exploring these extraordinary Egyptian landmarks. A world of wonder and mystique awaits.
It's no easy feat trying to capture just how astounding Egypt is. Trust me, I'm still reminiscing about my trip last year (and wondering if it's too soon to make the journey back).
When it comes to landmarks, Egypt's got them in bucketloads. Historical ones, iconic ones and even a few modern attractions that you definitely shouldn't skip on your next visit.
Here are 25 unmissable Egypt landmarks that you need to visit. Most are pretty famous (that's an understatement, I know) but some are hidden gems that often go under the radar.
How many can you tick off?
Famous Landmarks in Egypt
Pyramids of Giza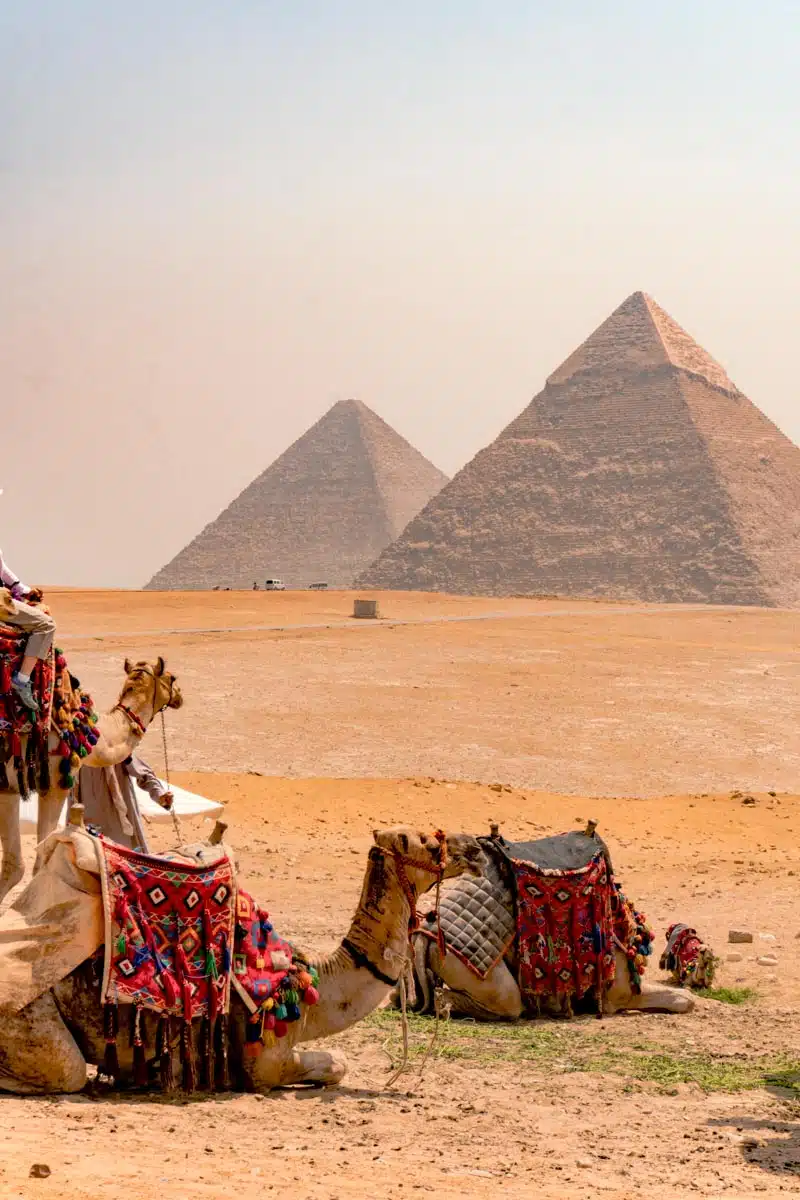 Yeah, yeah. No Egypt guide is worth its salt without including the pyramids. I know.
The 4,000+-year-old Pyramids of Giza are the most famous ancient Egypt monuments – and for good reason. Their grandeur showcases the architectural genius of early Egyptian civilisation.
It's ridiculously impressive if you think about it. The period between 2550 and 2490 B.C. wasn't exactly the pinnacle of design and engineering. And yet there the three pyramids stand: masterfully constructed.
Named after Pharaohs Khufu, Khafre and Menkaure, the pyramids housed their most treasured items. Visit the Great Pyramid for stunning pictures of the only remaining Wonder of the Ancient World.
Top Tip: The pyramids (unsurprisingly) get extremely busy. Secure your spot in a half-day guided tour to experience the pyramids in all their glory.
Great Sphinx of Giza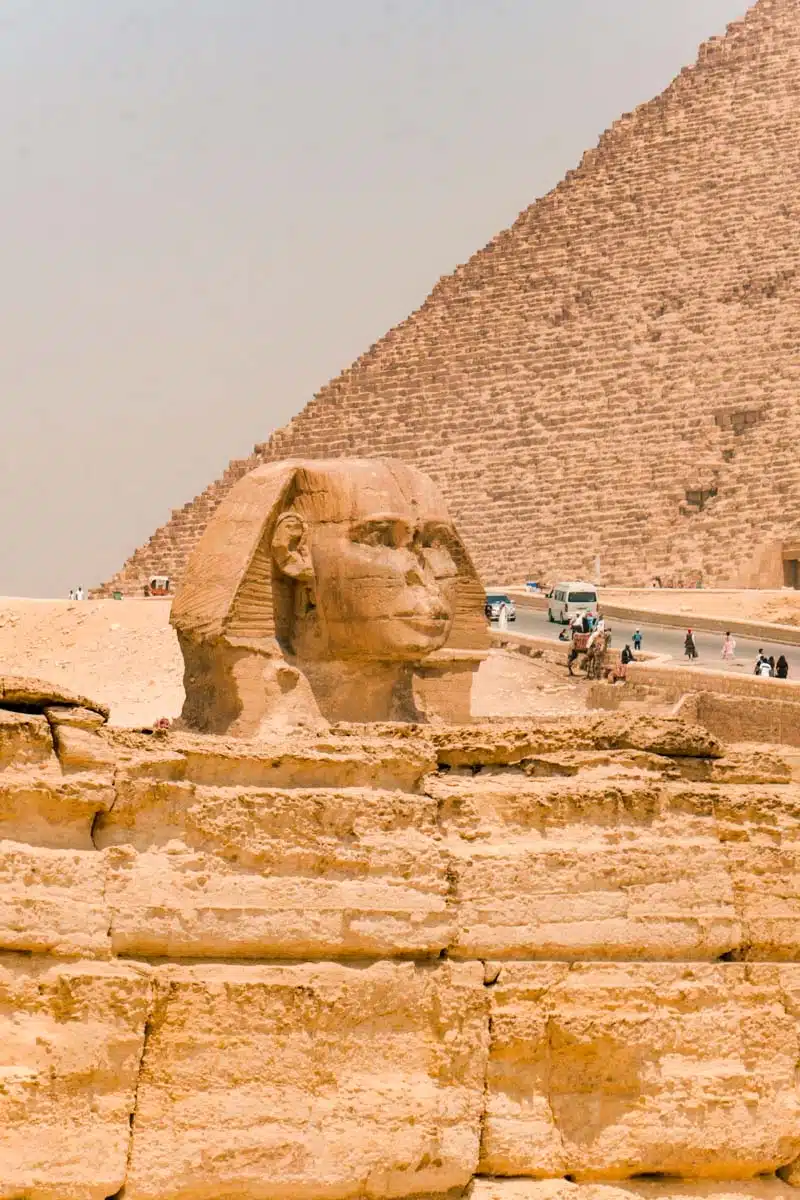 Ancient Egypt landmarks don't get more mesmerising than the Great Sphinx of Giza, a towering 20-metre limestone structure.
The Sphinx is an interesting cross between a lion (body) and a human (head), with a touch of royal elegance (the fancy headdress). Its noselessness is a comical but charming facial anomaly.
If you're based in Cairo or Giza, I'd suggest booking an all-inclusive Pyramids, Sphinx, Saqqara and Memphis tour, with pick-up and drop-off at your accommodation. The Egyptologist guide will share plenty of information about each attraction.
Valley of the Kings and Valley of the Queens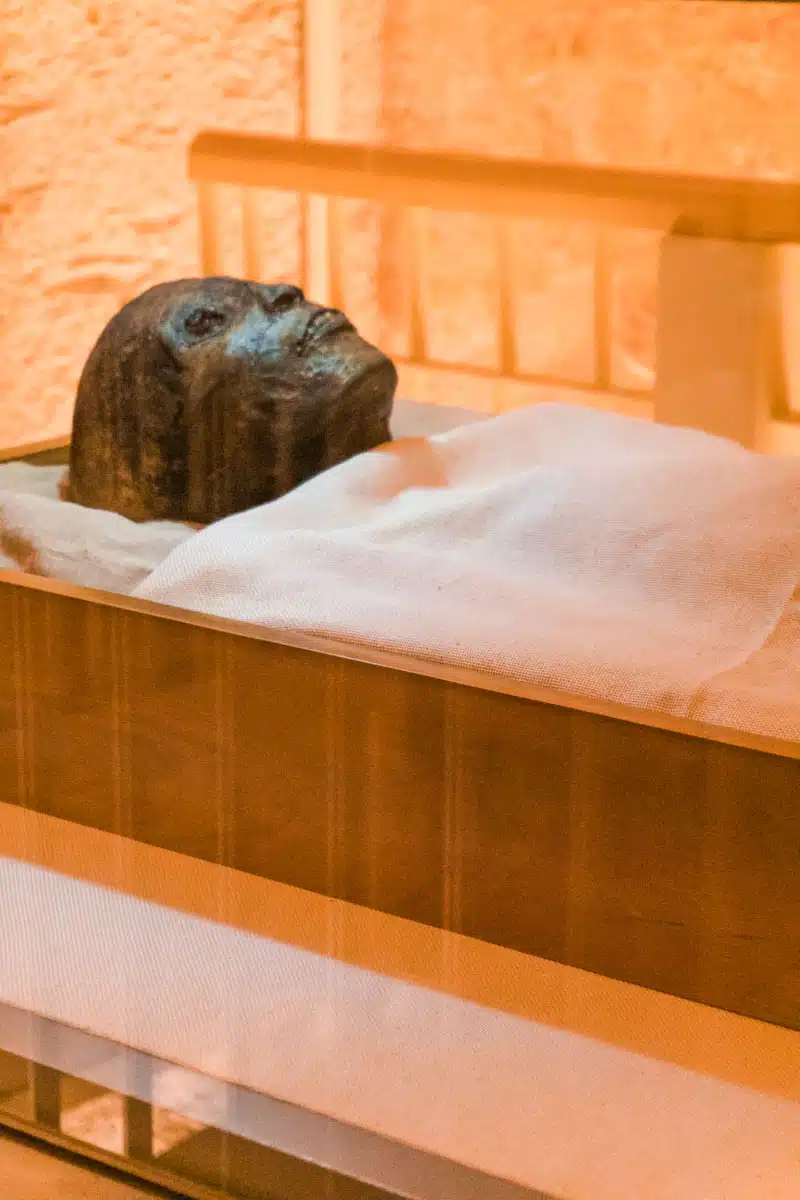 I guarantee that the highlight of any Egypt trip is going to be the next pair of attractions. The Valley of the Kings and the Valley of the Queens in Luxor, two of the most fascinating Egypt historical sites, are among the world's best-known royal burial sites.
The New Kingdom's 18th-20th-century kings and queens filled the tombs with precious belongings for the afterlife. Talk about keeping it fine and fabulous even on the other side.
You could easily spend an entire day popping in and out of each individual tomb, though my favourite (and the most popular) belongs to King Tutankhamun in the Valley of the Kings. You'll need to buy a separate ticket for 300 EGP (around £13/$15), but I promise you it's worth it to see the famous Boy King in all his pomp and glory.
Top Tip: Book a tour in advance. Let me tell you, these sites get ridiculously busy and having a local guide makes the experience way smoother.
The Nile River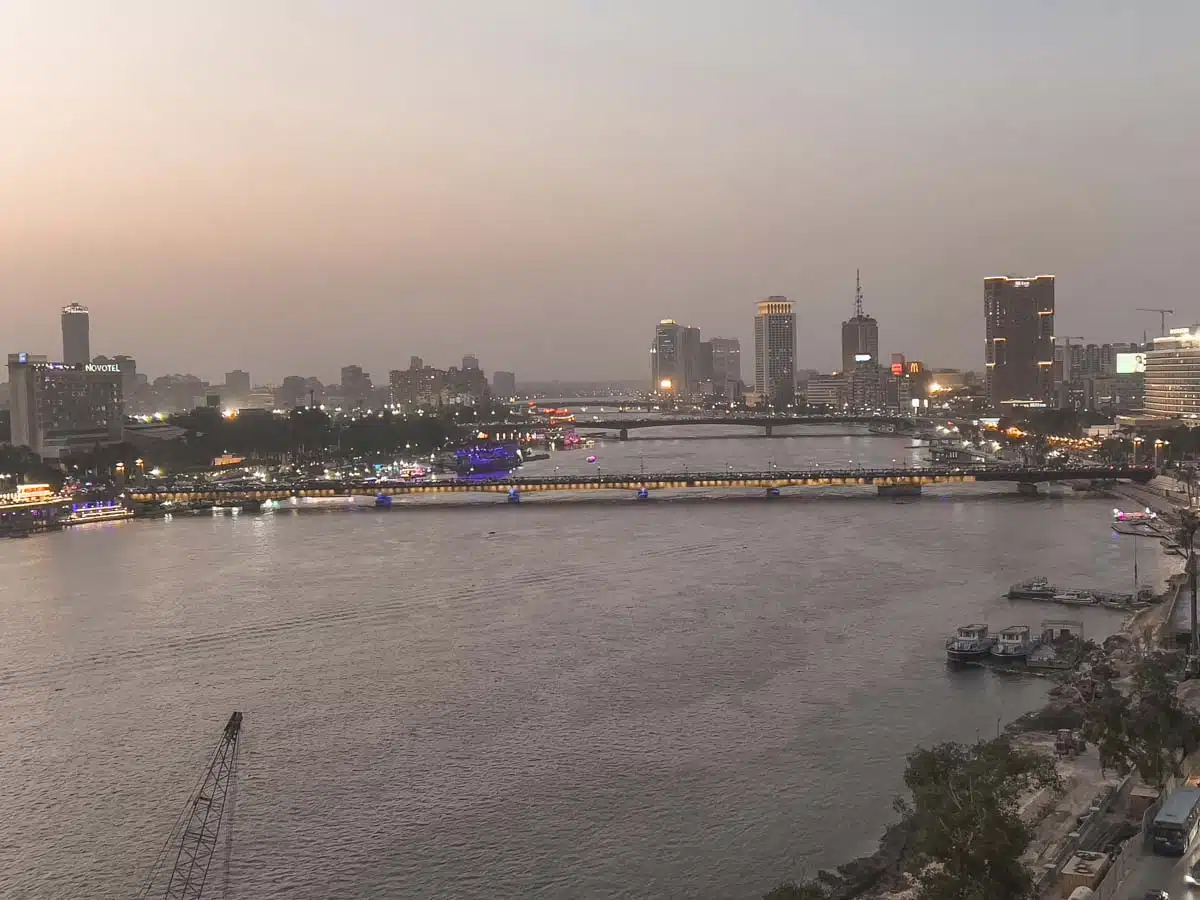 The Nile River is one of the most celebrated landmarks of Egypt, as it should be. It has injected life and longevity into the country for centuries.
The river is 4,132 miles long (pretty impressive if you ask me), making it the world's longest – although some campaign for the Amazon River. It runs through several African countries before marrying the Mediterranean Sea.
I took a Nile river cruise on my last trip to Egypt and it was incredible. So, I highly recommend spoiling yourself with a two-night cruise from Aswan to Luxor (the most scenic stretch). You'll get to explore Philae Temple, Edfu and the Valley of the Kings along the way.
Temples of Abu Simbel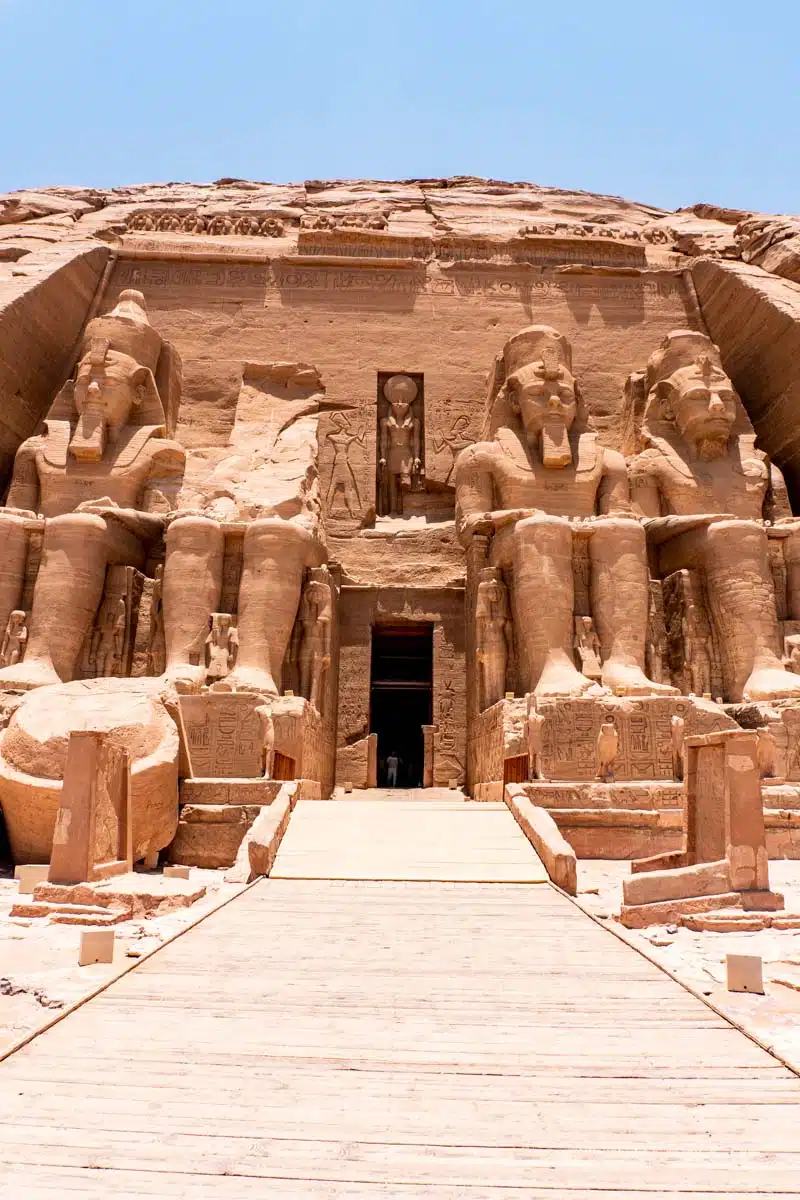 Honestly, I could claim that every single attraction in this guide is my favourite. But Abu Simbel was special. The Temples of Abu Simbel are some of many built by Ramses II, a 19th-century Dynasty ruler during the Golden Age.
Ramses was so accomplished that he built multiple statues and monuments… wait for it… of himself. Confidence much? His sweetest gesture (if you're a romantic) has to be the temple Ramses commissioned for his beloved wife, Queen Nefertari.
Historians say Ramses had 100 children (imagine remembering all their names), which is pretty out there, right?
Top Tip: Take a day trip from Aswan to explore these spectacular temples.
Karnak Temple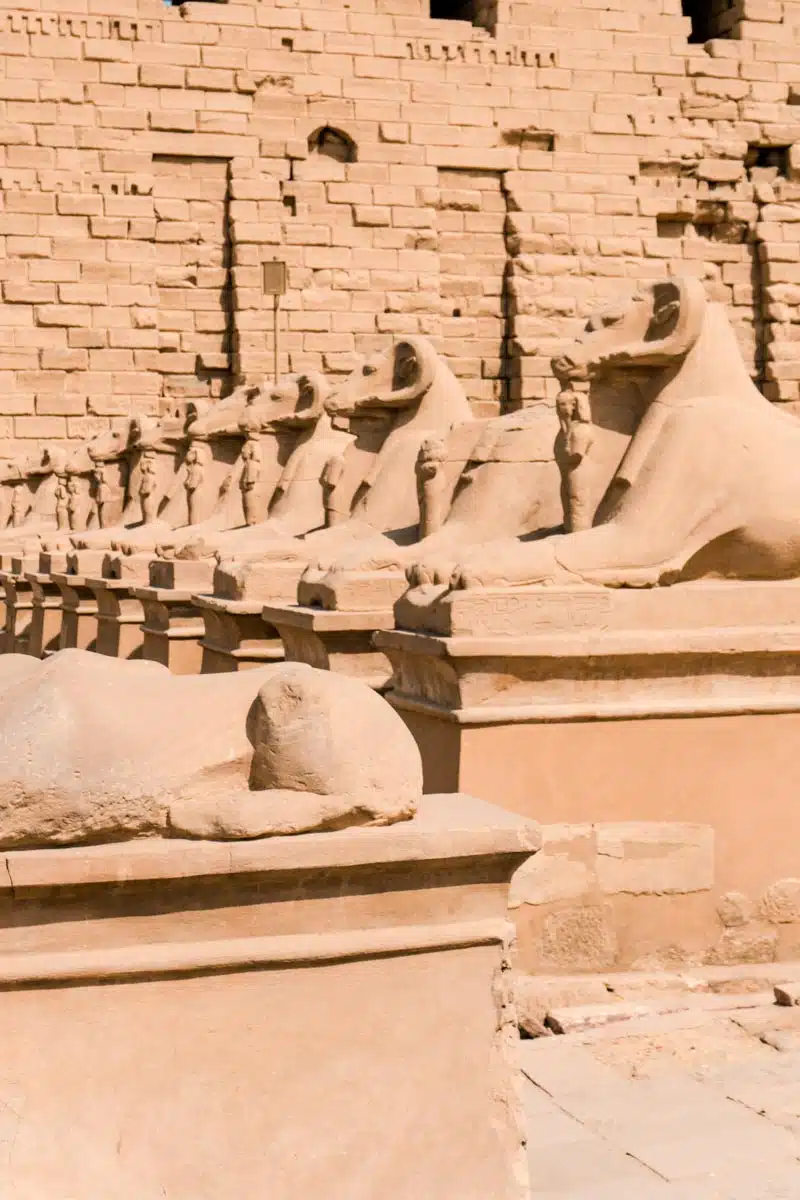 In a country full of awe-inspiring temples, picking one or two standouts is difficult; many make the list of immaculate ancient Egypt famous landmarks.
But, Karnak Temple is epic for its size and religious significance. It was the home of the sun god Amun-Ra and his family. Would you believe this impressive complex took 1,000 years to build?
My advice? Book a full-day trip to explore it properly, with visits to Karnak Temple, the Valley of the Kings, Colossi of Memnon and Hatshepsut's Temple. A delicious Egyptian lunch in Luxor is also included.
Mortuary Temple of Hatshepsut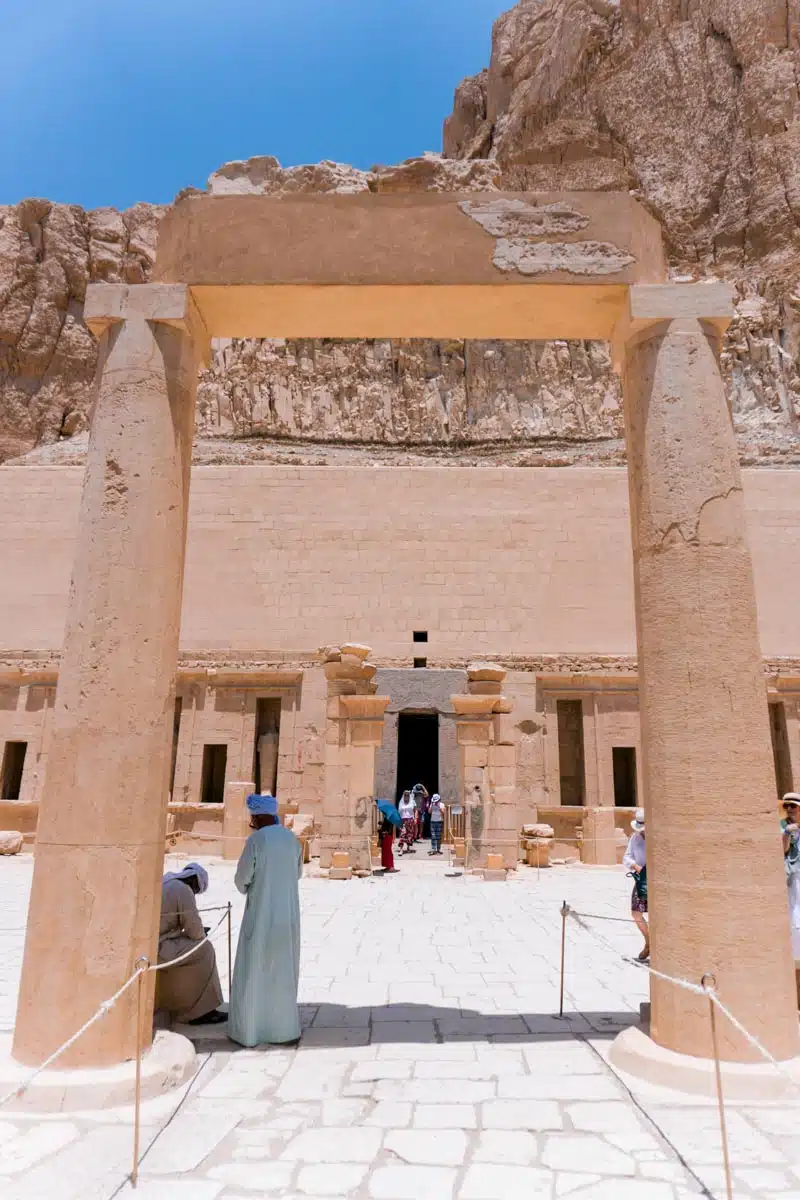 The Mortuary Temple of Hatshepsut is one of the most sacred historical places in Egypt.
It pays homage to Queen Hatshepsut, highly regarded among the most powerful female Pharaohs ever to rule Egypt.
The temple's fusion of classic Egyptian and Greek architectural styles results in a beautiful masterpiece.
If you take a full-day tour from Hurghada, you'll visit Hatshepsut's Temple, the Temple of Karnak and the Valley of the Kings. The trip includes lunch and a felucca ride across the Nile River.
Nefertari's Tomb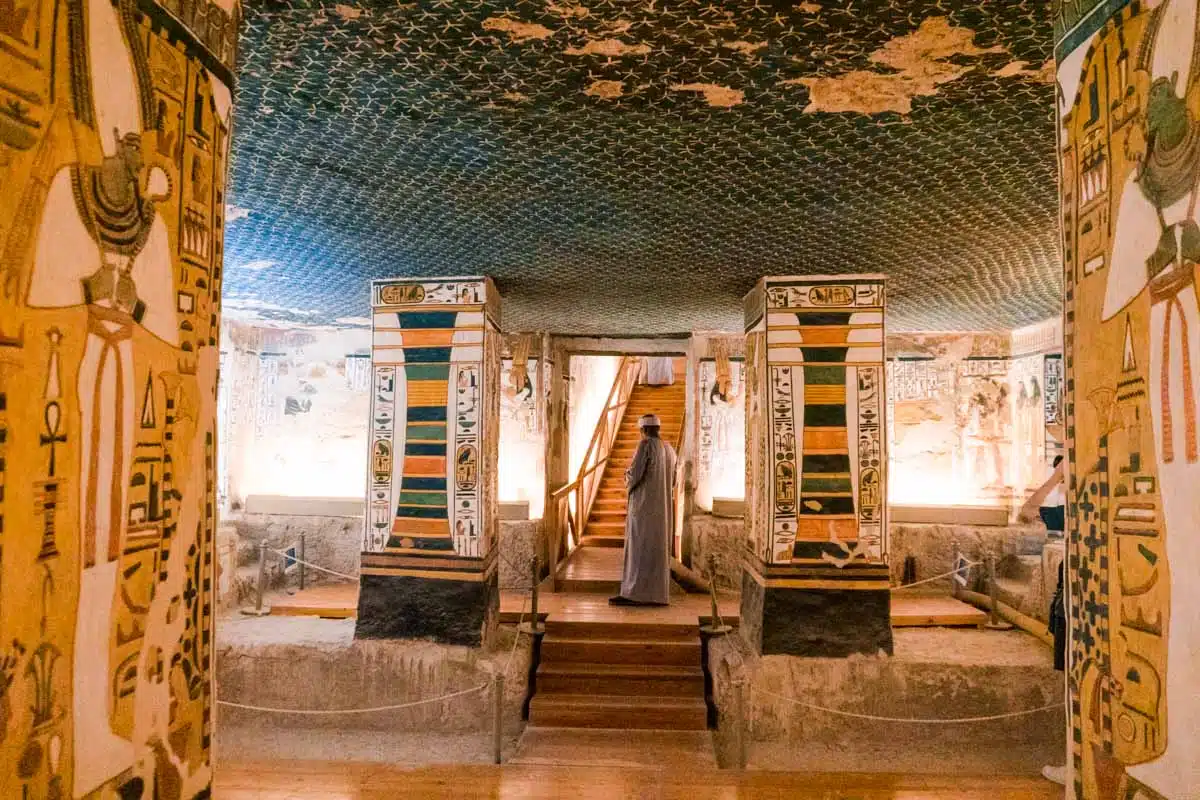 The exquisite paintings and illustrations of Nefertari's tomb in Luxor should already tell you that she was the queen among queens. Let me remind you that she was Ramses II's favourite wife; many regarded her as one of the most beautiful royal consorts.
With the nickname "Sistine Chapel of Ancient Egypt", the tomb is a storage place for the most elaborate Egyptian artworks and a timeless dedication to Ramses' Great Wife. The tomb even contained Ramses' love poetry, further proving how much he adored Nefertari.
Coptic Quarter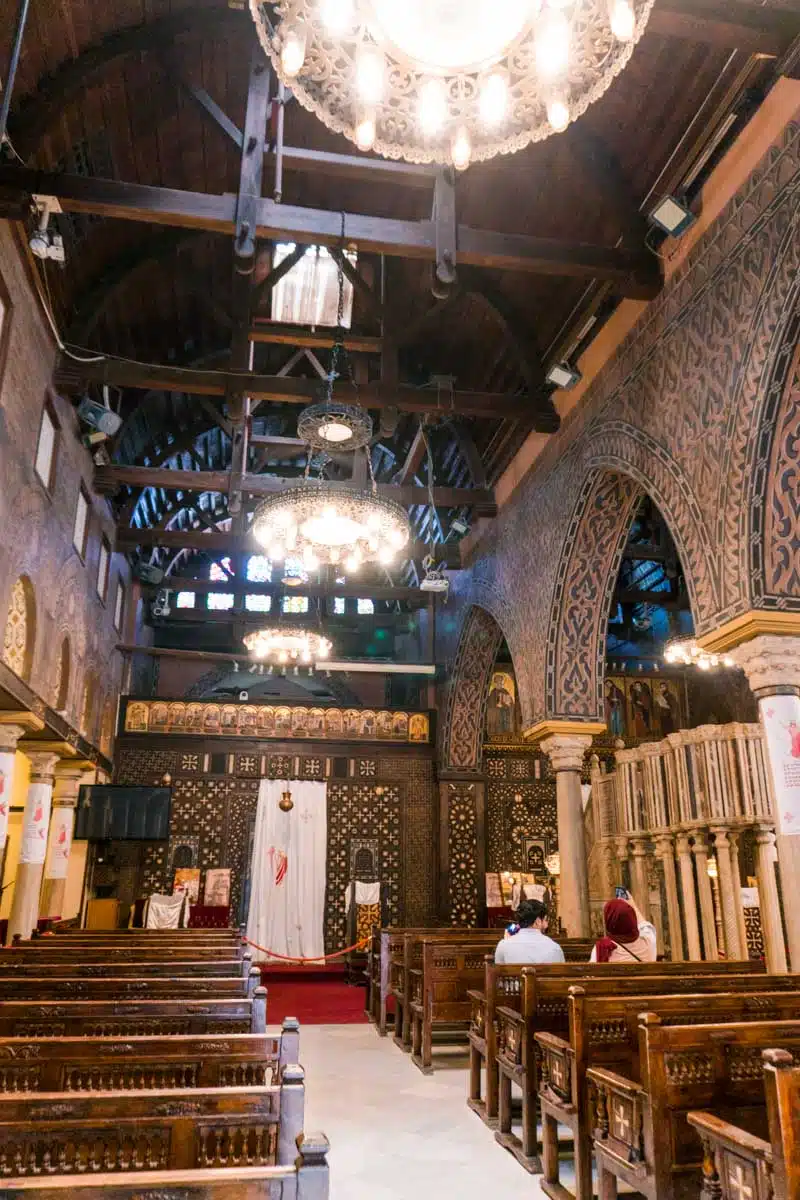 One of the best things to do in Egypt (and also one of the most underrated things) is to explore Old Cairo, where the Coptic Quarter holds the history of the country's Coptic Christians. The Quarter is an intriguing network of old churches, monasteries and ancient sites.
This is a place of sanctity and a lovely place to wander. Some highlights include the Hanging Church and Saints Sergius and Bacchus Church.
Top Tip: Don't fancy wandering alone? Get the Old Cairo tour experience with visits to the Coptic Quarter, the Museum of Egyptian Civilisation and the Citadel of Saladin.
City of the Dead
There's nothing like visiting Egypt to put you in touch with your own mortality. As you know, some of Egypt's most famous attractions are necropolises. The City of the Dead is one of its most mysterious.
This 7th-century Cairo landmark is for the brave, the kind of adventure-seekers who aren't easily unnerved by locations associated with death.
Strangely enough, the cemetery embraces both life and death. Low-cost houses exist between the burial domes in an area known as Al Qarafa.
While a trip to the City of the Dead isn't for everyone, it's still an important site full of history.
Egyptian Museum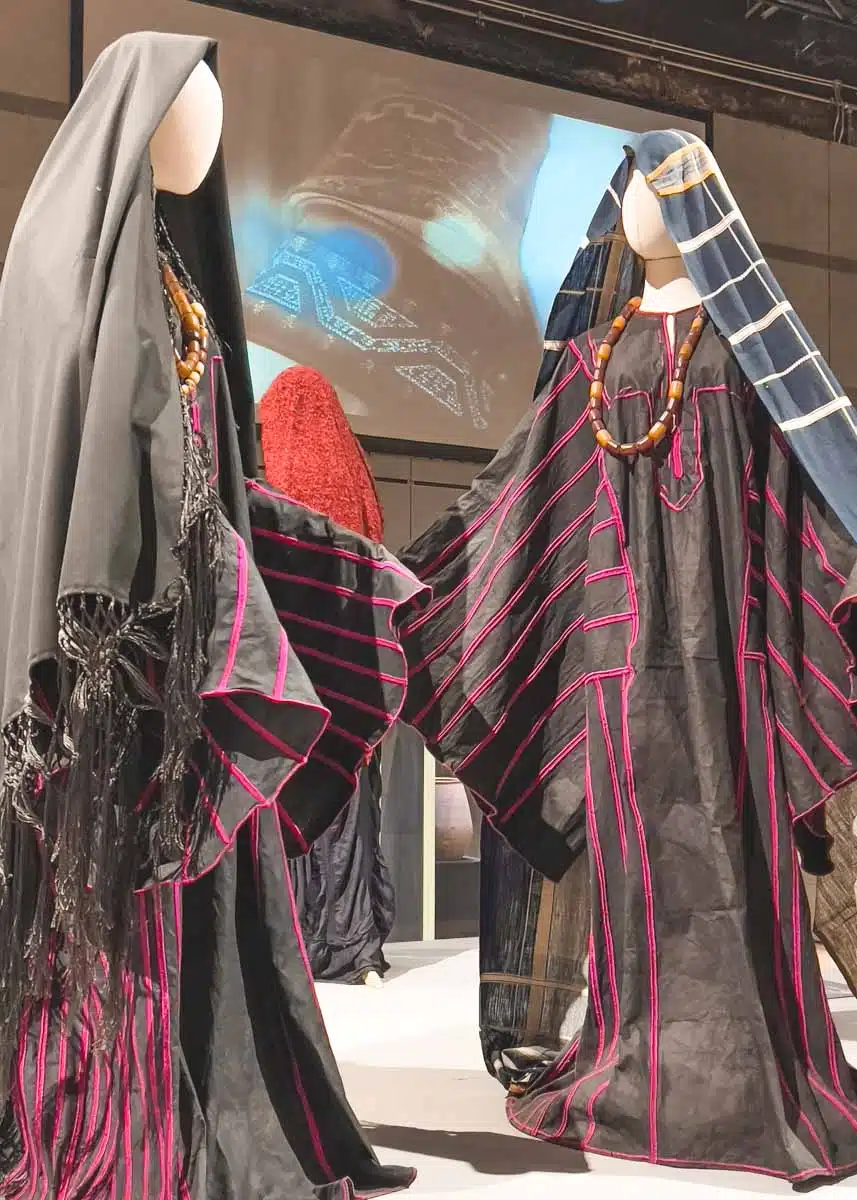 For Egyptology nerds, this is a landmark you do not want to miss. The Egyptian Museum has the world's most extensive collection of Egyptian antiquities.
The building sits slap bang in downtown Cairo's bustling Tahrir Square, making it ideal for an Egyptian Museum and Khan El-Khalili Bazaar combo tour. As you peruse the exhibits, you'll get to view numerous works that date back to the Old Kingdom and the Greco-Roman Era.
Could it get bigger and bolder than the Egyptian Museum? Well, yes. The Grand Egyptian Museum will launch in late 2023 (apparently, though it's been on the edge of opening for years now). It'll surely break all records and expectations as the world's largest archaeological museum.
Step Pyramid of Djoser
Say what you want about the ancient Egyptians, but they knew how to bury in style. And Sakkara (or Saqqara) is home to the magnificent Step Pyramid of Djoser, another of the world's iconic burial sites.
The 4,700-year-old stone structure has intricate tunnels and chambers that show its architectural prowess. Believe it or not, this landmark was actually the first stone pyramid ever built and honours the Pharaoh Djoser. Well worth a visit, I think.
Top Tip: Take full advantage of a Memphis and Sakkara private tour to visit the Pyramids of Giza, the Great Sphinx and the Step Pyramid.
Philae Temple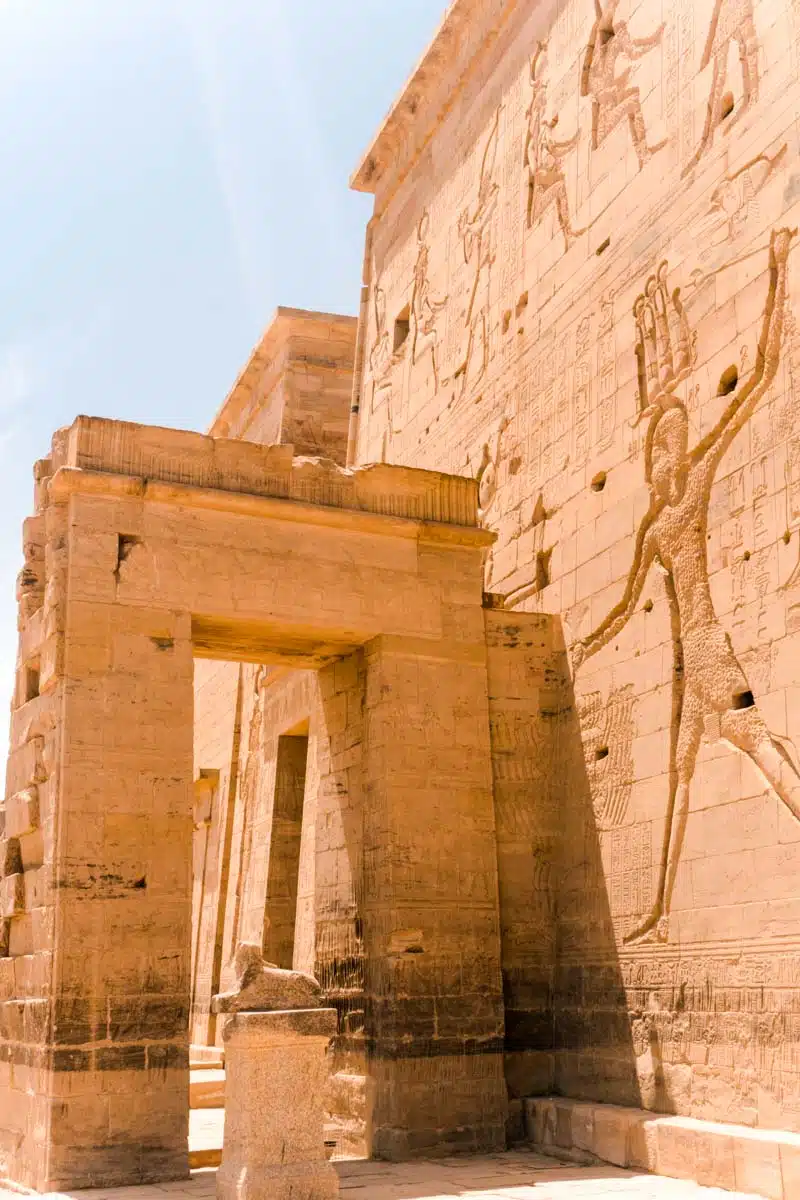 Any trip to Egypt is going to be jam-packed with temples. But the Philae Temple in Aswan, on Philae island, might just be the most stunning.
Philae Temple is pretty unique – it dates from a strange period called the Ptolemaic Dynasty. The Greeks were essentially ruling Egypt, but they still billed themselves as pharaohs and worshipped the Egyptian deities.
It's all a little bit confusing and you'll definitely want to go with a guide to get the most out of your experience.
The temple is best known for depicting the moon goddess, Isis. I love how the carvings capture three separate and equally compelling tales.
The first is Isis bringing her dear husband (also her brother – these were different times) Osiris back to life. There's another narrative of Isis birthing Horus, their son. The last is a reimagination of Osiris' mummification.
Ptolemaic Temple of Horus
Speaking of Horus, it wouldn't make much sense to be the child of the moon goddess (Isis) and the god of the deceased (Osiris) without your own temple, right? Enter the Ptolemaic Temple of Horus in Edfu.
Pharaoh Ptolemy III instructed the temple's construction between 237 and 57 B.C. as a shrine to Horus — the falcon-headed sky god. It's impressive how well-preserved the temple is. Its giant entryway and symbolic carvings on the front face create a splendid welcome for all visitors.
Double Temple of Kom Ombo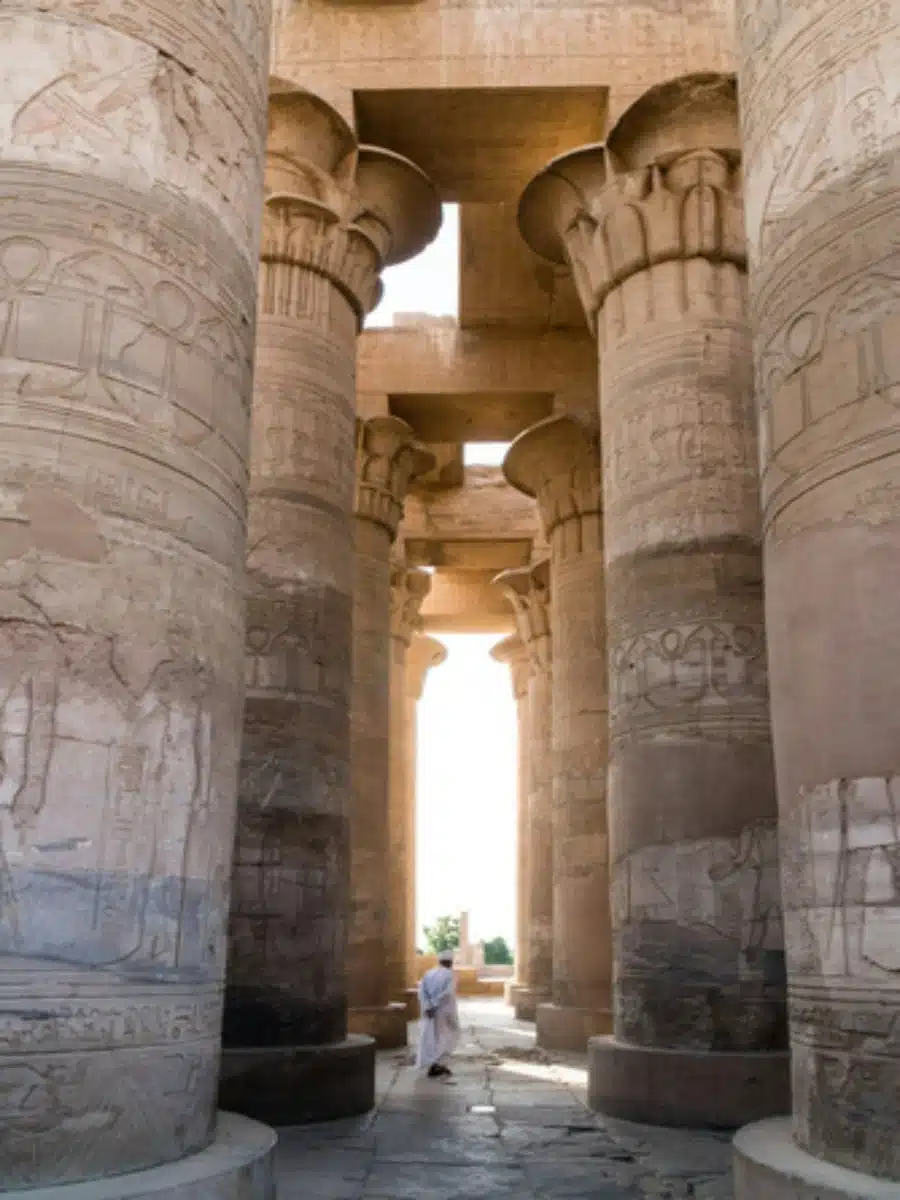 The name is a dead giveaway. Kom Ombo's double temple, on the Nile's eastern bank, is two identical temples dedicated to Sobek (the crocodile god) and Horus — who I've already mentioned above.
The twin temple's design is flawless. It's pretty unique from the others you find in Egypt. It came up during the Ptolemaic Dynasty as an act of respect and worship for the two deities. You'll discover Horus' temple on the left-hand side of the massive structure and Sobek's temple on the right.
The White Desert
It's hard to believe the Black and White Deserts are part of Egypt's natural landmarks. Their appearance is so odd that you'd bet a bit of human intervention caused the obscure dunes to spew across the landscape like curious little salt mounds. But nope.
The best way to experience this part of Egypt is by carving out some time for a desert tour. Luckily, this one takes you into the desert and includes exploring the spell-binding Bahariya Oasis. Be sure to snap lots of incredible pictures.
Colossi of Memnon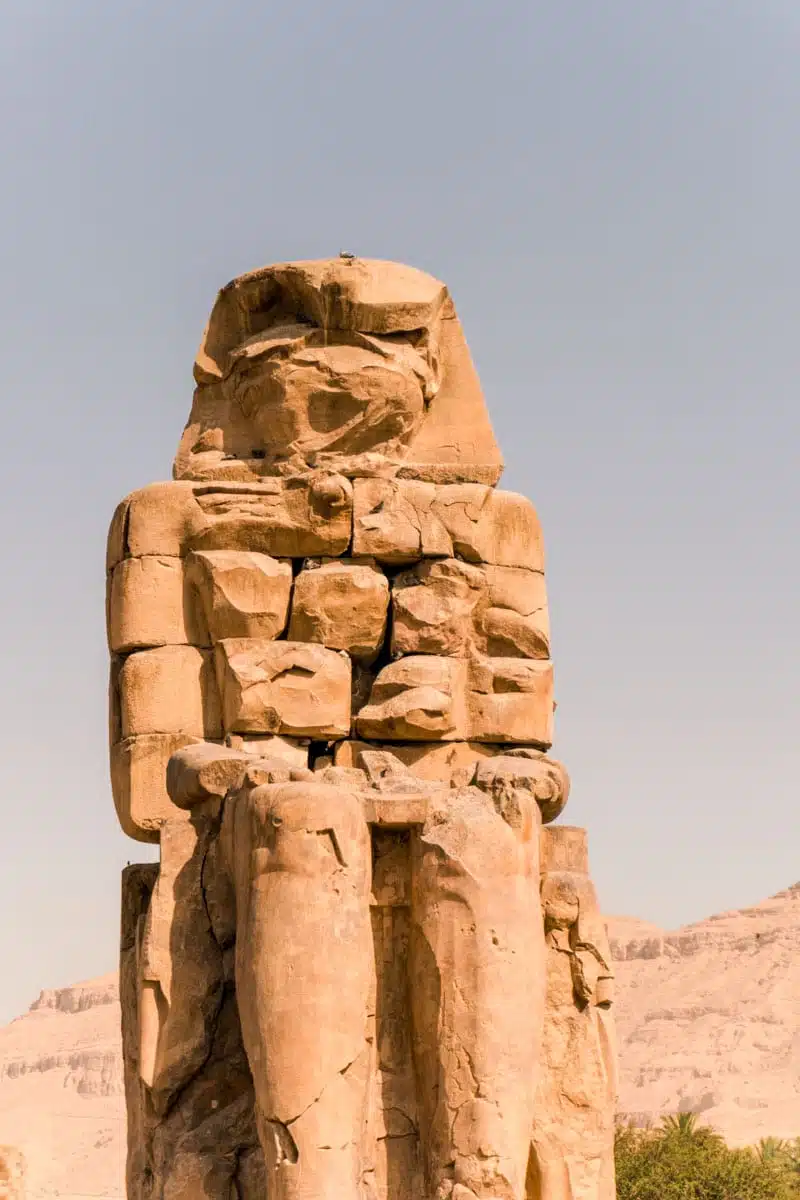 If there's one thing we know about Egyptian Pharaohs, it's that they were very extravagant and larger than life. The Colossi of Memnon proves it.
How do you protect your sacred mortuary temple from invaders and evil spirits? Well, you build two giant statues of yourself to guard that temple — duh.
That's precisely what Pharaoh Amenhotep III of Egypt's 18th Dynasty achieved with these 18-metre (60-foot) tall towering figures in his likeness. They are praiseworthy and a must-see when in Luxor.
Mosque of Ibn Tulun
Islam is a huge part of modern life in Egypt, so it makes sense to visit one of the best mosques in a country deeply rooted in religion and faith.
The Samarran-inspired Mosque of Ibn Tulun is one of the largest and oldest on the continent, built between 876 and 879 AD by 9th-century governor Ahmad Ibn Tulun.
The mosque has multiple intricate doors and archways, a dedicated praying hall and a beautiful courtyard.
Top Tip: When you visit, you'll want to be respectful and wear loose clothes that cover your entire body. Women should also wear a headscarf (I've seen people in hoodies but, honestly, just get a cheap pashmina and carry it around).
Montaza Palace and Royal Gardens
I know it's all too easy to get lost in Egypt's crumbling ruins. So, when in Alexandra, head Montaza (or Montazah) Palace and Royal Gardens to see a landmark that's bursting with life.
Egyptian ruler Khedive Abbas II ordered the palace's building at the turn of the 20th century. What's fascinating is, the palace's design combines Turkish and Florentine architectural influences.
The result? A stunning landmark that you could easily spend an entire afternoon exploring.
That's because there are four attractions in one location. Enjoy touring the palace, the pristine royal gardens, the beach (which is within walking distance) and a museum detailing the family history of the Muhammad Ali dynasty.
Shali Fortress
Another must-see Egyptian landmark is the Shali Fortress. This ornate maze of mud-brick buildings was built in the 13th century using a unique mix of salt, rock, and clay called kershef.
The fortress was initially five storeys and accommodated hundreds of dwellers. Over the years, the elements have caused quite a bit of eroding. And yet the overall structure and remnants are still super impressive.
You'll love walking through its pathways until finding your way to the top for sublime views of Siwa Oasis.
Mosque of Muhammad Ali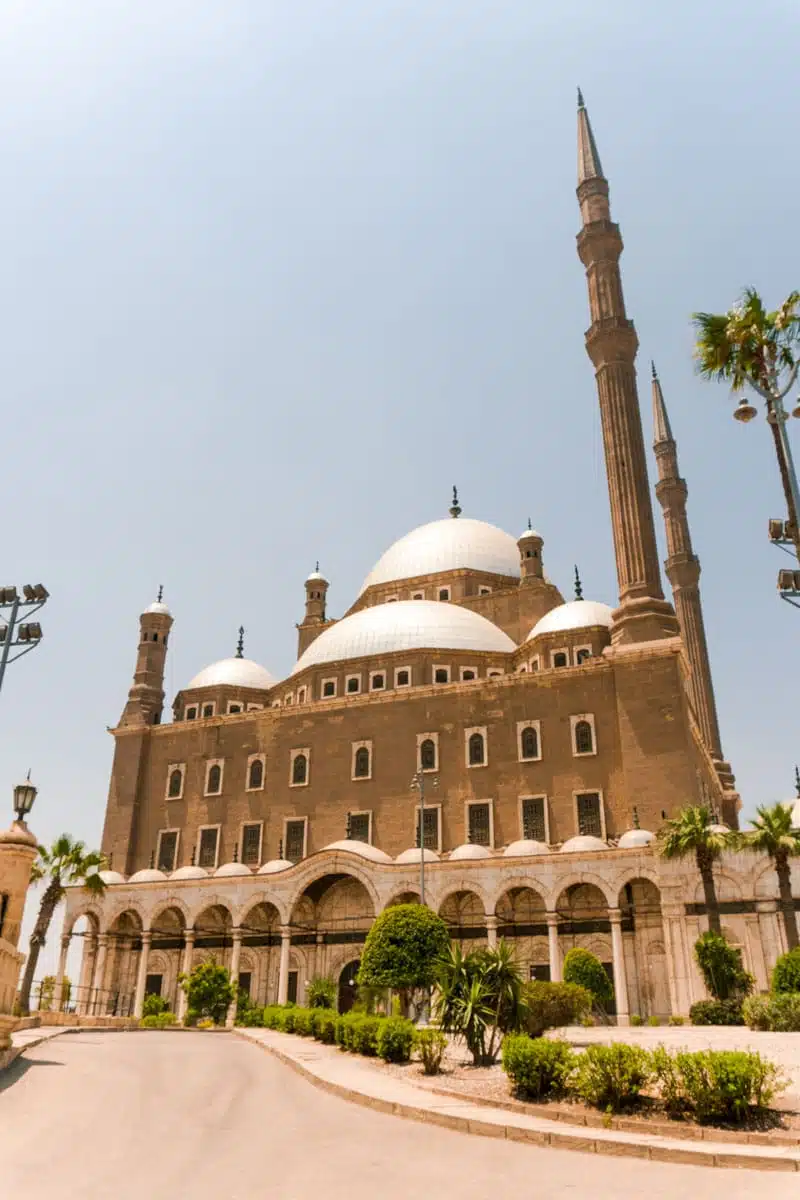 No, the Mosque of Muhammad Ali is NOT connected to the legendary heavyweight boxer (although that would be quite something, wouldn't it?) We're talking about the great Egyptian leader, Muhammad Ali Pasha, regarded as modern Egypt's founding father.
The Mosque of Muhammad Ali, also called the Alabaster Mosque, is one of the top Egypt mosques to visit because of its unique features. This palatial Turkish-inspired building is distinctively built with limestone, alabaster stones and marble. It's pretty magnificent, even from afar.
Tour Old Cairo and explore the Citadel of Salah al-Din, where you'll find Muhammad Ali's Mosque and other prominent sites.
Cairo Tower
It's all too easy to forget that Egypt isn't just about its ancient history. And the 187-metre (614-foot) Cairo Tower is one of Egypt's most modern landmarks.
That said, pioneer and engineer Naoum Shebib designed the tower to resemble a lotus flower – an essential ancient Egyptian symbol.
The tower is the capital city's most rewarding viewing point, with telescopes allowing you to see the Pyramids, the Citadel of Egypt, Saqqara and more.
Why not dine with a view? Dig into sumptuous Egyptian cuisine and exotic cocktails in the tower's revolving restaurant and bar.
St. Catherine's Monastery
St. Catherine's Monastery on Mount Sinai is one of the oldest in the world. This active monastery is a sacred place that embraces Islam, Christianity and Judaism.
Many visit this landmark for reflection and spiritual enlightenment, but I was excited to learn about the history of the monastery. Including the belief that it is where the Prophet Moses saw the burning bush and received the Ten Commandments.
Top Tip: Take a hiking tour up Mount Sinai for breathtaking views of the area.
Nubian Museum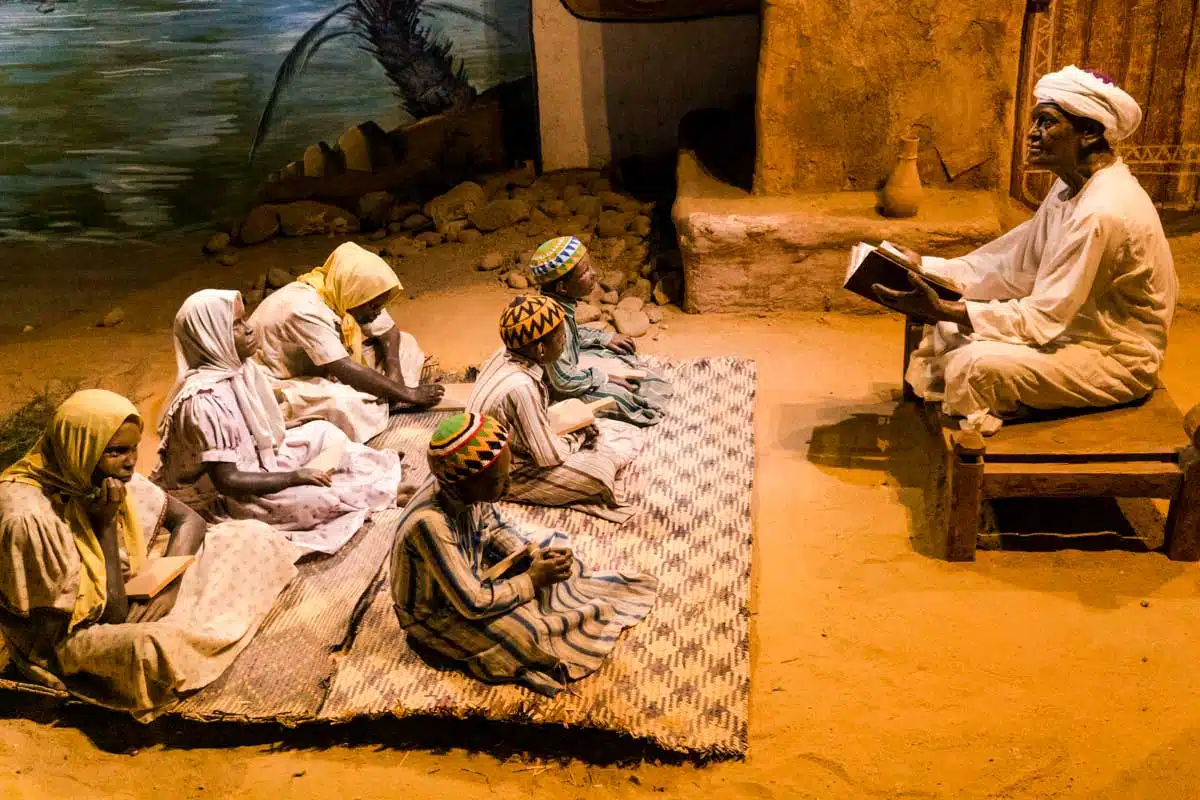 I think the Nubian Museum is a criminally underrated attraction. The artfully-designed Nubian Museum in Aswan is the place to go if you'd like to learn about the history and impact of the people of Nubia on ancient Egypt.
The museum is relatively new, built in 1997 to pay tribute to the Nubians' contributions to the rise of Egyptian civilisation.
The museum houses various exhibits, including artefacts, monuments and photos. Egypt's Pharaonic, Coptic, Roman and Islamic periods are all captured in the 3,000+ antiquities.
Catacombs of Kom El Shoqafa
Another popular Alexandria landmark is the 2nd-century Catacombs of Kom El Shoqafa.
Here you'll be able to see how ancient Egyptians, Romans and Greeks performed their sacred burials. The catacombs are actually part of the Seven Wonders of the Middle Ages and, while it's pretty creepy, it's very fascinating.
You'll descend the three-level underground gallery using a spiral staircase as a vertical shaft. The shaft used ropes as a lowering channel for the dead to reach their final resting place at the bottom.
Practical Tips for Visiting Egypt Landmarks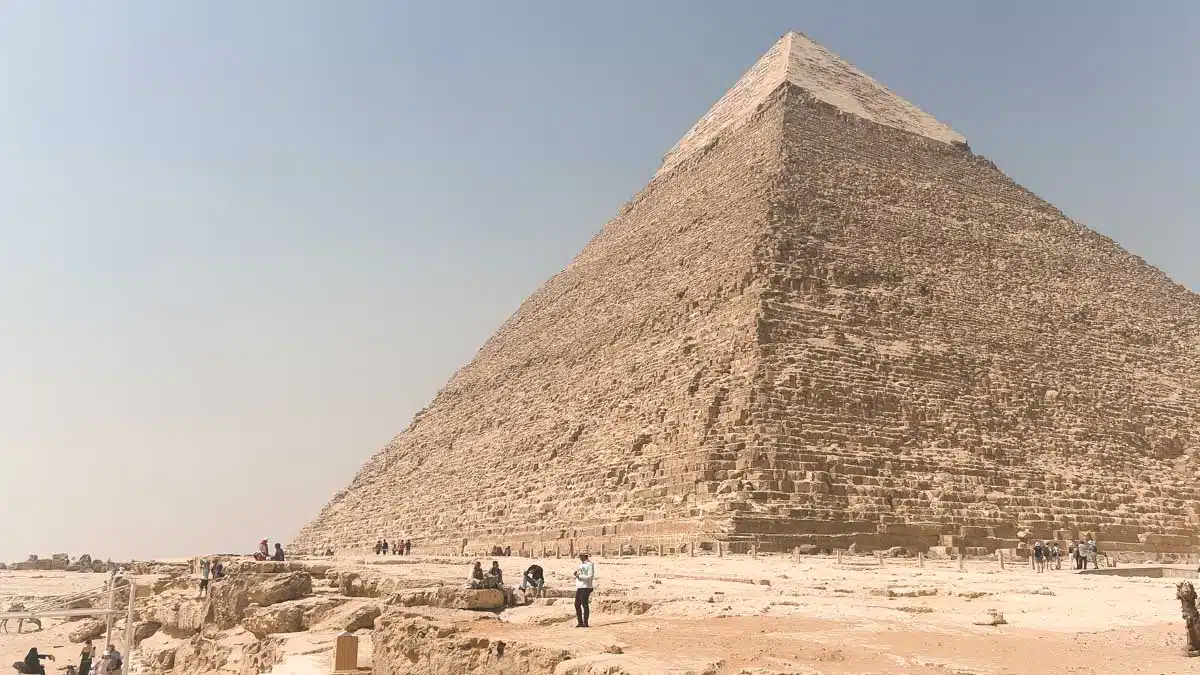 Carry the essentials in a decent size daypack. Always have a bottle of water to keep hydrated in the hot weather.
Carry refresher towels (or wet wipes) when touring Egypt's landmarks and attractions. Sometimes washrooms won't have toilet paper and these come in clutch.
Wear light clothing and comfortable trainers that are suitable for a lot of walking.
Opt for guided tours. It's the best way to learn about each landmark and helps ensure the language aspect isn't a problem.
Be prepared for peddlers at the major sites. They are very persistent and charismatic hustlers. Don't submit to the pressure of purchasing items you don't want or need.
Egypt Landmarks: Map
Love This? Save and Share on Pinterest