Planning your trip to Egypt and not sure where to start? This action-packed 10-day Egypt itinerary takes you on a jaunt through the country's biggest sights.
I've just returned from my Egypt trip and boyyyyy was it something*.
*understatement of the year
From the first day to the last, my trip was filled with hard-hitters that made my jaw drop and my eyes pop. Honestly, there was not a day during my Egypt itinerary that was not stuffed with wonder.
Let's face it. Any trip that kicks things off with a day seeing the Pyramids of Giza and the Sphinx isn't exactly going to be a forgettable one is it?
Nope.
So imagine what you get when you throw destinations like Abu Simbel, The Valley of the Kings and Karnak into the mix…
I'll give you a hint: it's something close to magic.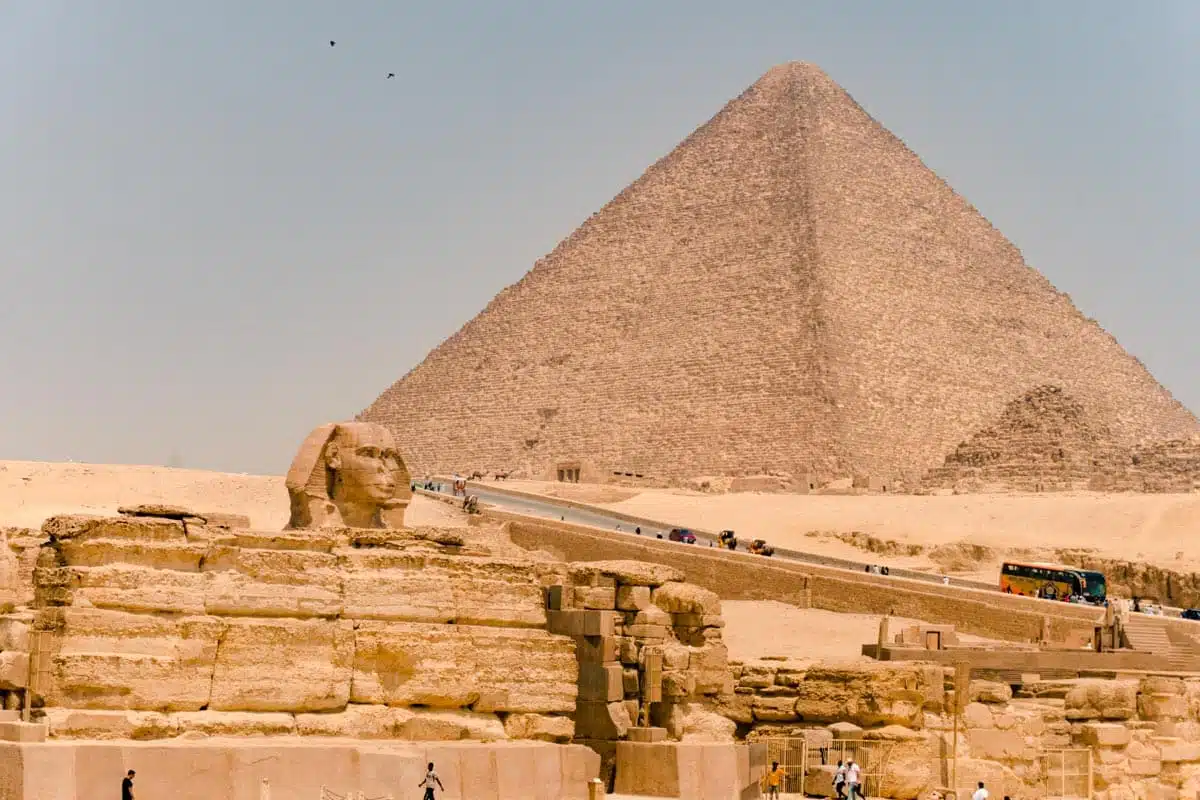 Enough of the preamble already. I have put together a banging step-by-step Egypt itinerary for 10 days.
I'm going to cover what to see, how to see it, and sprinkle in a hella lot of travel tips to help you along the way. Basically everything you need to know to plan your Egypt trip.
Yallah yallah (let's go).
Pssst! You can take a sneak peek at everything I got up to during my Egypt itinerary in my Youtube video!
Egypt Itinerary Days 1-2: Cairo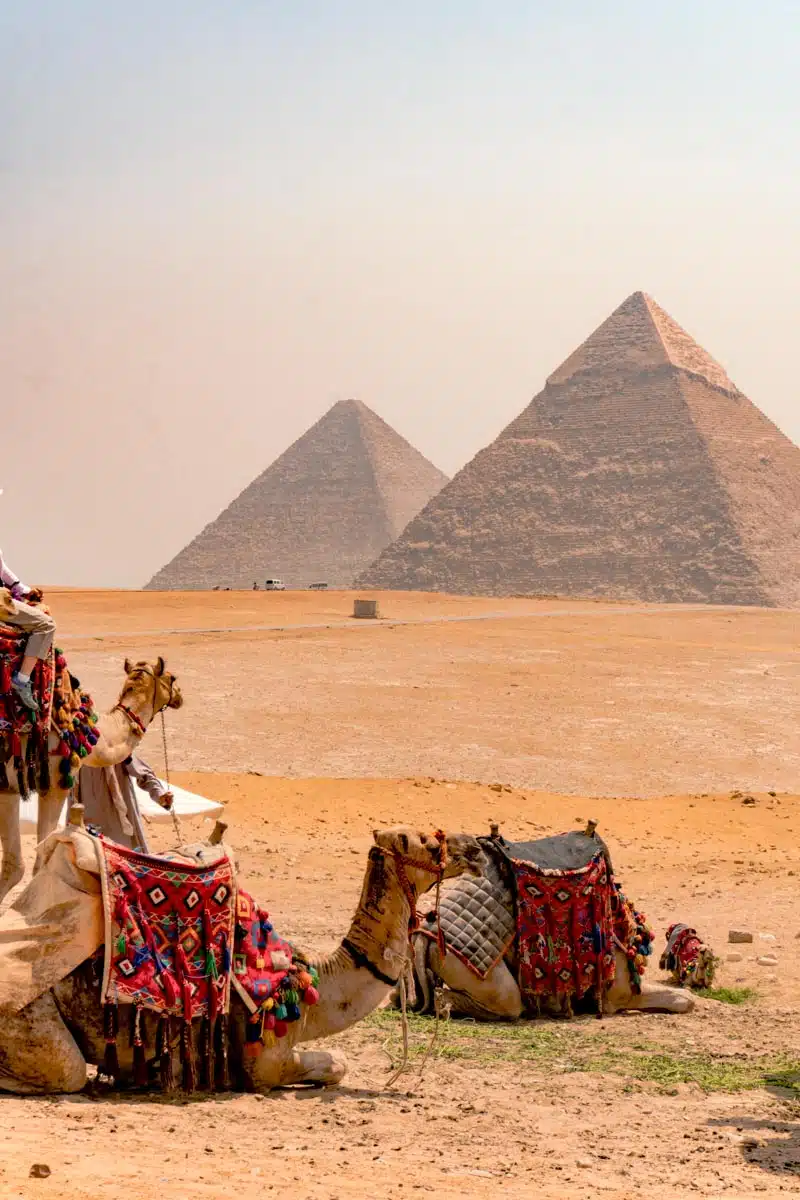 Cairo is a city of contrasts.
On the one hand, you have a vibrant and cosmopolitan city with gleaming skyscrapers and designer shopping boutiques.
On the other you have destinations like The Pyramids of Giza and The Sphinx: historical markers of ancient civilisation twinkling on the city's outskirts before it fades into a wide expanse of desert.
The Nile winds through it all, sinuous and glistening – hard and bright in the heat of the day, shimmering in the dusk of the evening light.
What I've just described above is actually two separate cities: Cairo and Giza.
Cairo sits on the east bank of the Nile, Giza on the west – but as you can expect to spend your time in this region criss-crossing over the Nile to visit them both, I'll cover them in one section.
It's nearly impossible to see everything Cairo has to offer in only a few days, but there are a few highlights you shouldn't miss and these are what I've chosen to focus on.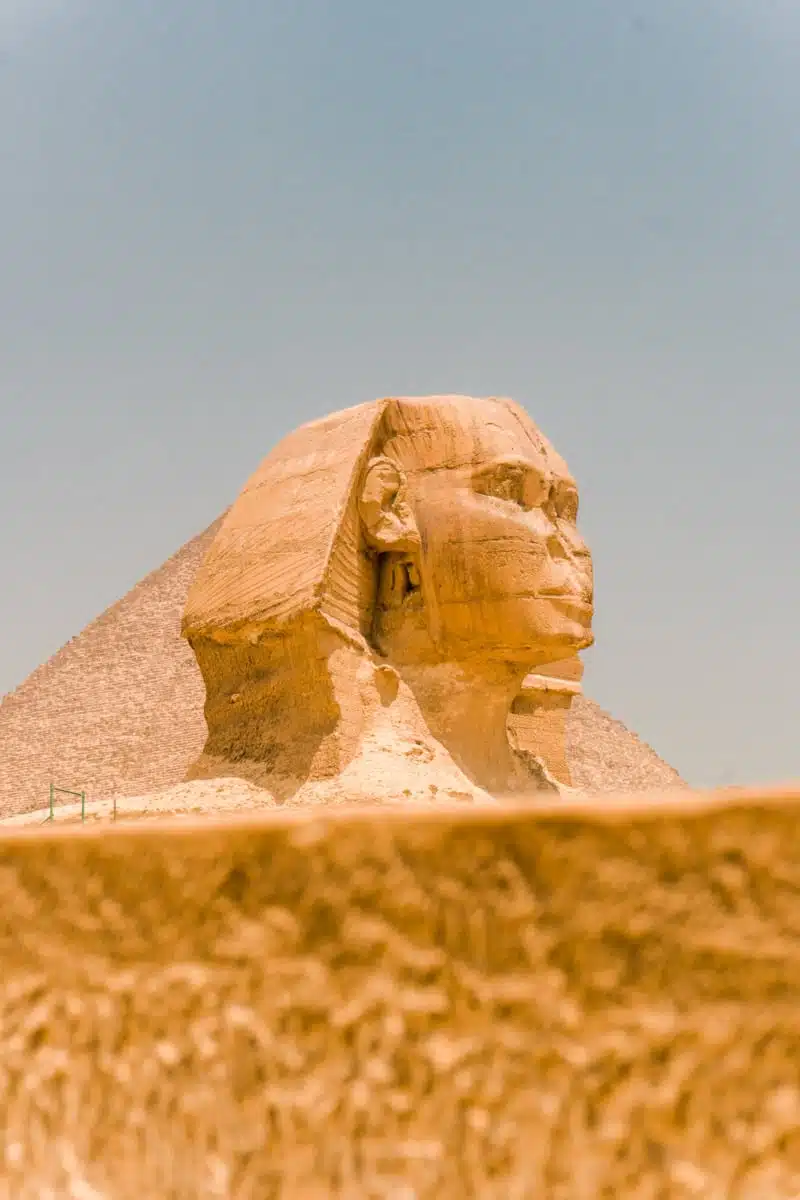 Getting to Cairo
You can get a flight to Cairo from just about any international airport. As you jump off the plane at Cairo International Airport, it's easy to find cabs or shuttles to take you to your accommodation.
Suggested Stay for Cairo on your Egypt Itinerary
I've written a whole guide to the best places to stay in Cairo, but here's a quick tip. I stayed at the Kempinski Nile Hotel Garden City, which is the perfect accommodation for international guests. Situated on the bank of the Nile, this 5-star hotel has the right amenities to ensure your stay in Cairo is comfortable.
It's only a short drive from Cairo's highlights and has rooms with superb views over the Nile.
Alternatively, check all accommodation in Cairo
Things to Do in Cairo
Marvel at The Pyramids of Giza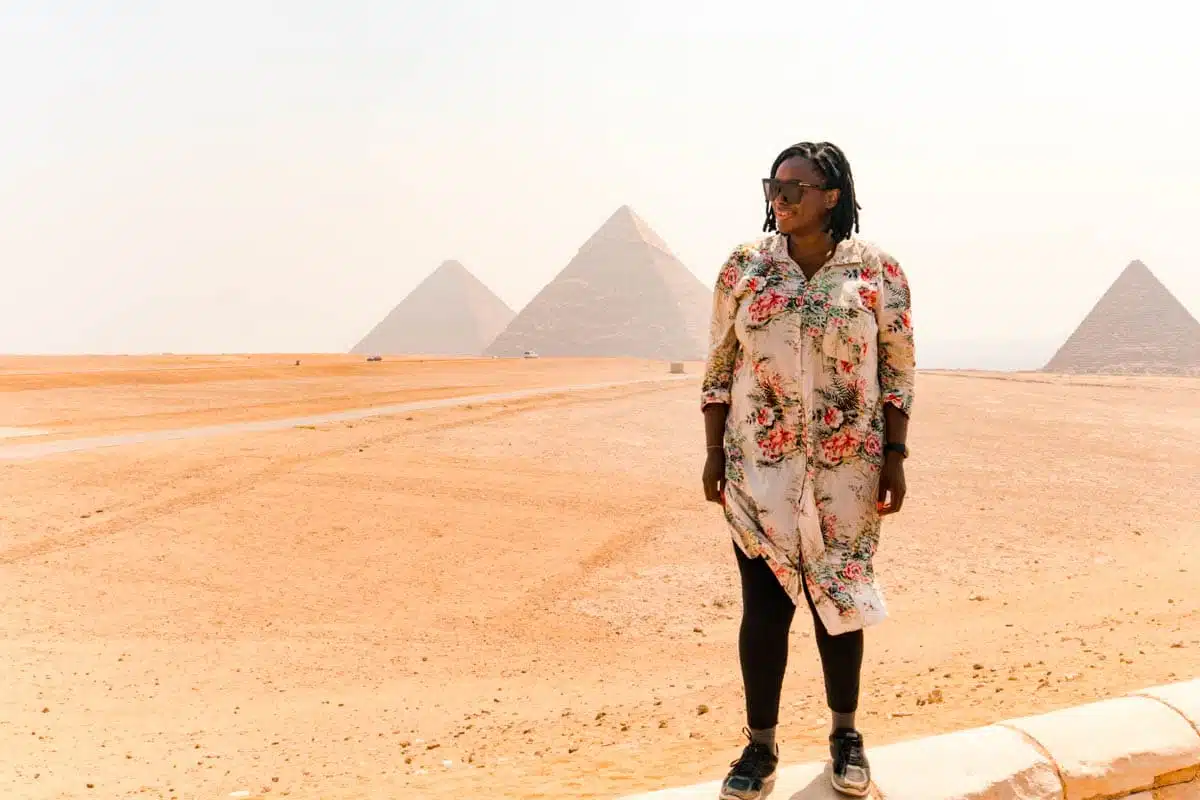 Can we talk about The Pyramids of Giza for a minute?
The largest, The Great Pyramid of Giza, is the last remaining Ancient Wonder of the World.
It stood as the tallest human-made structure for a whopping 4,000 year period after it was built in 2560 BC as a tomb for the Pharaoh Khufu (also known in Greek as Cheops).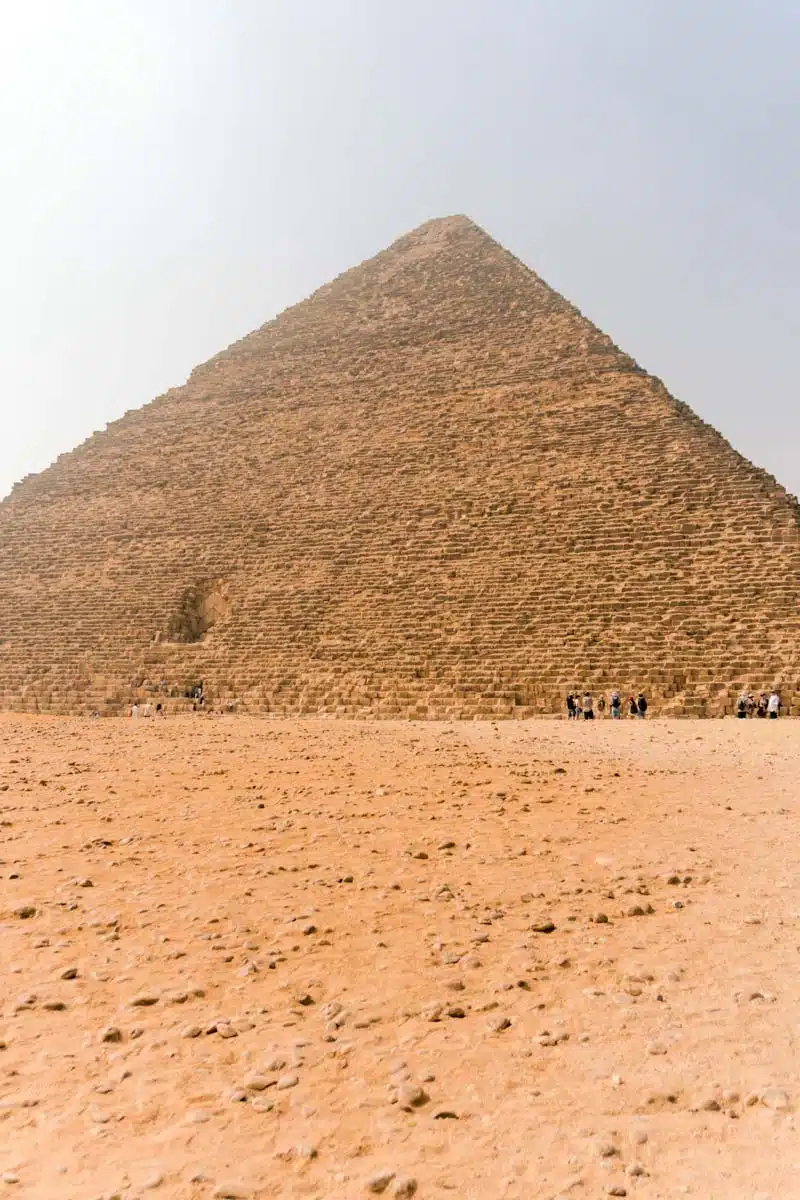 The other two, built for two subsequent pharaohs, Khafre and Menkaure are no small fry either.
Together they are a striking triumvirate that I am not ashamed to say, I lost my sh*t over when I saw them in real life.
PS: Your ticket to the Pyramids will allow you into the complex, but if you want to go inside the Great Pyramid, you'll have to pay an extra 150EGP.
There isn't a tonne to see inside, but I'd still recommend doing it because
a) how often do you get to say you went inside the Great Pyramid of Giza; and
b) doing so is actually kind of crazy – you have to crawl upwards through a tunnel that's about 1m x 1m in the sweltering heat before you emerge into a grand antechamber followed by the King's Chamber with its (long-empty) sarcophagus.
Top Tip for Visiting: When you go into the pyramid complex, it's likely that you'll encounter at least one person who will pretend to be an official and demand extra payment for you taking photos etc. Ignore them.
See The Great Sphinx of Giza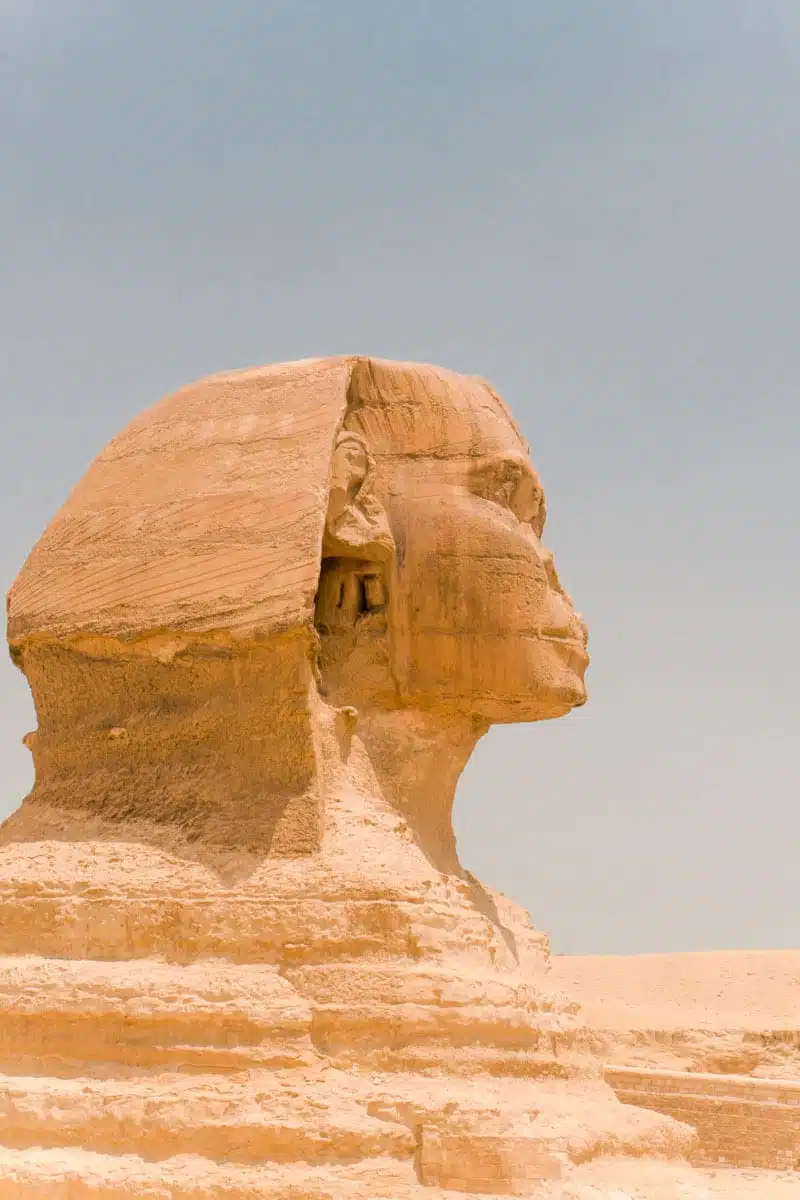 Looming 64 metres long and 25 metres high, I'll bet you've got a visit to see The Sphinx marked as a must on your Egypt itinerary. You're absolutely right to do so.
This curious statue was carved out of a single piece of bedrock. It depicts a lion's body with a human head – a meeting of power and wisdom to represent the pharaoh Khafre who commissioned it as part of his funerary complex.
Grand doesn't begin to cover it.
PS. You'll notice The Sphinx is missing its nose and its beard. The nose is completely MIA but you'll find the beard in The Louvre in Paris, plus a small fragment in the British Museum in London.
Explore The Collection at The Egyptian Museum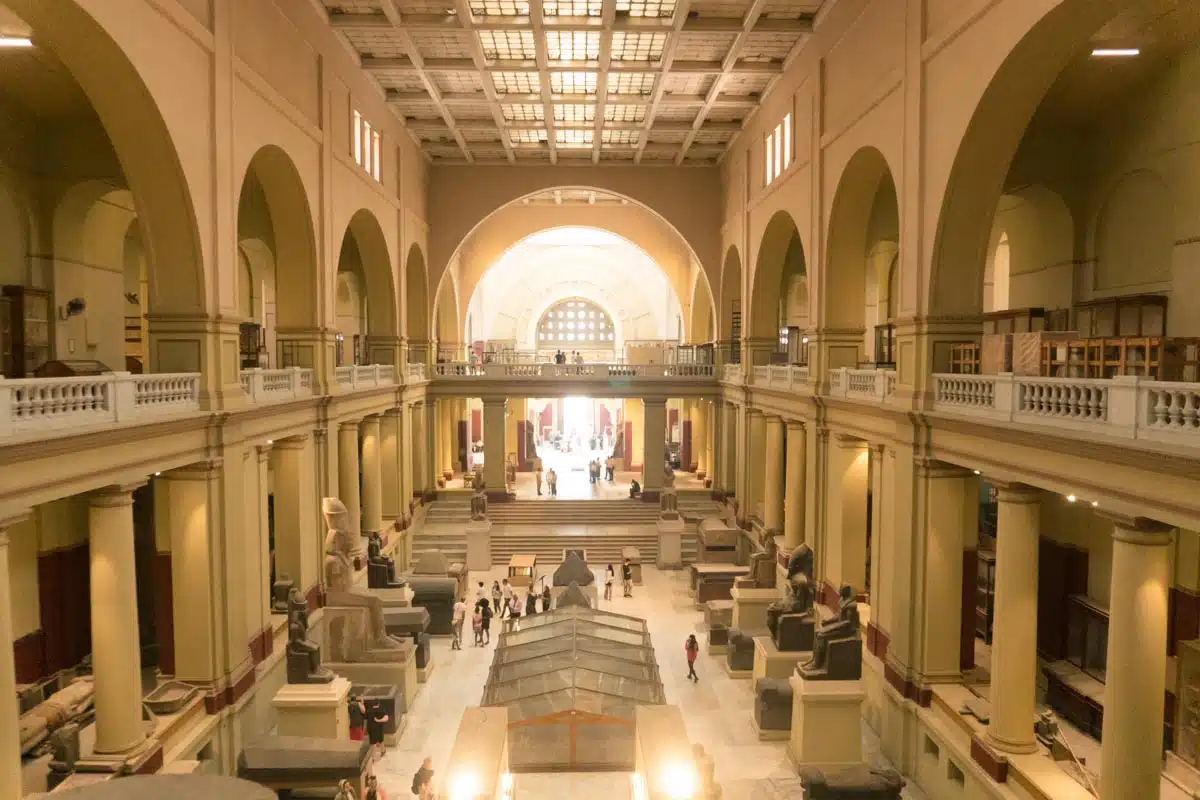 This historical 'vault' is the oldest museum of archaeology in the Middle East.
The Egyptian Museum holds an impressively large collection of the region's ancient artefacts dating from the Predynastic Period to the Greco-Roman Era.
A visit to Cairo's largest museum is an essential item on your 10-day Egypt itinerary. I would recommend spending at least a few hours wandering around its cavernous interior.
I spent about three hours and would say that was about right, but you could easily spend a whole day here and only scratch the surface.
The museum is also home to a collection of King Tutankhamun's belongings and objects from his tomb, including – wait for it – the stunning death mask we all know so well.
Top Tip: Cairo plans to open the world's largest archaeological museum in November (2022) to replace The Egyptian Museum. The Grand Egyptian Museum will house the complete King Tutankhamun collection and thousands of other artefacts and is set to be incredible.
See The Mummies at The National Museum of Egyptian Civilisation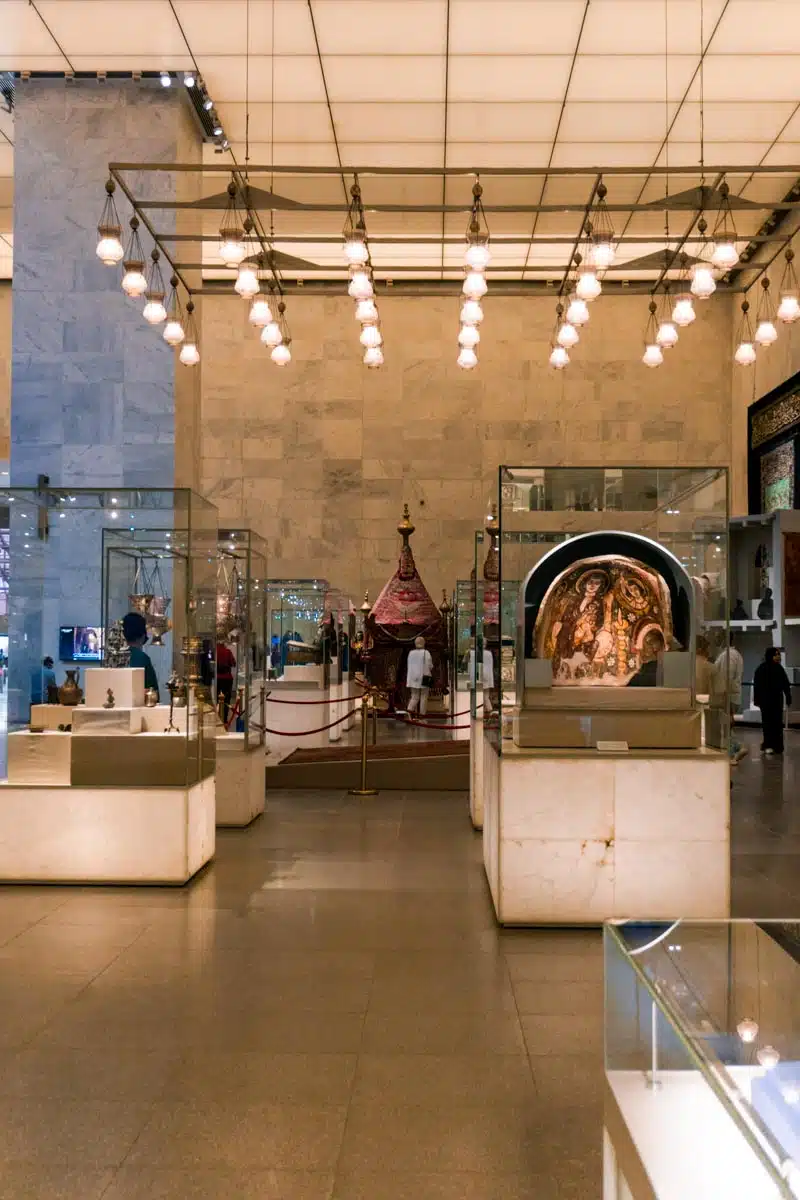 This fairly new museum in the Fustat region of Cairo displays over 50,000 artefacts that showcase the evolution of Egypt's civilisation from ancient times to the present day.
I have to be honest, after seeing everything in The Egyptian Museum, I wasn't sure whether The National Museum of Egyptian Civilisation would really be worth the effort.
It is. The two museums are vastly different and it's worth spending time visiting both.
Paying a visit to the National Museum of Egyptian Civilisation is a fantastic way to learn about past and present life in the country.
It is also home to a whopping collection of 22 of ancient Egypt's royal mummies (including Queen Hatshepsut and Ramses II), each one laid to rest in a dark maze of rooms with information about who they were and what they did during their lives.
Want to Make the Most Of It? Book a Guided Tour of The National Museum of Egyptian Civilisation
Egypt Travel Itinerary Day 3 – 4: Aswan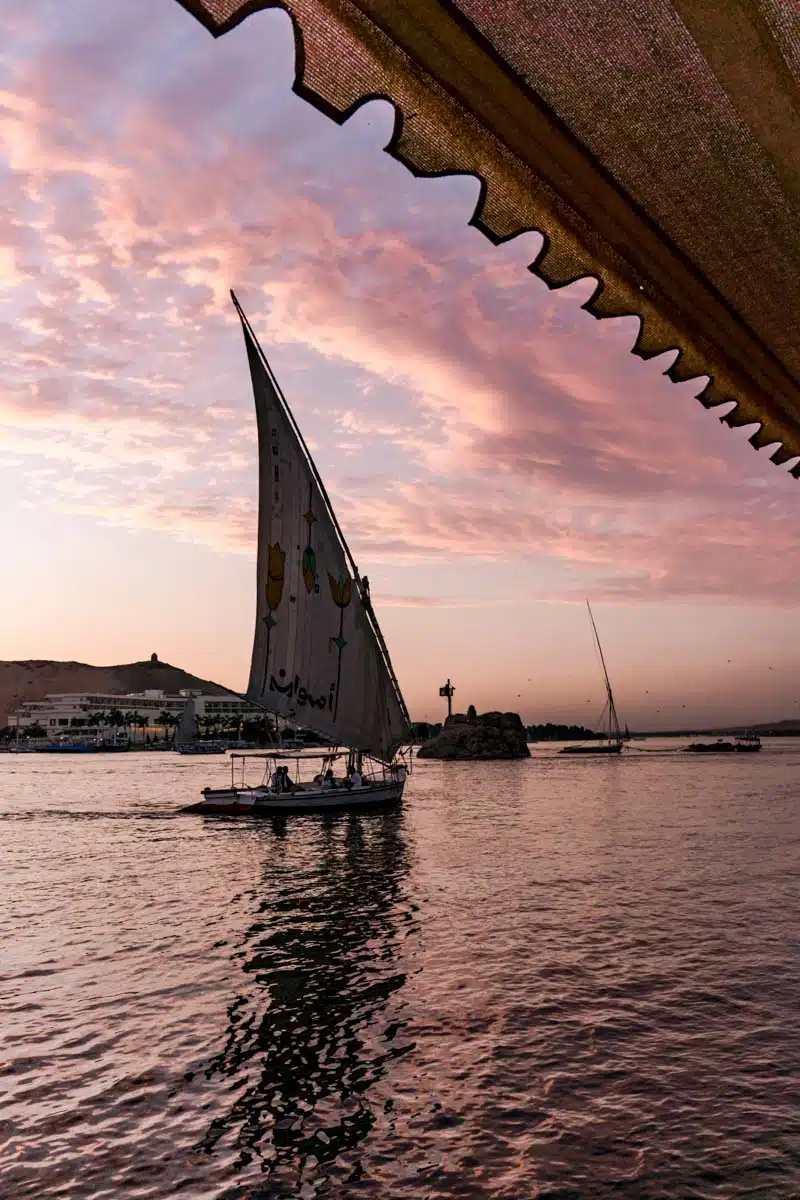 Oooh hello Aswan. Aswan was probably the destination during my ten days in Egypt that I knew least about.
Spoiler alert: by the time I came to leave, it was a close contender for my favourite spot on the trip.
Nestled in the south of the country, Aswan is different to Cairo in so many ways. It's a lot smaller for starters, as well as a significant Nubian population, who bring their own important culture and history to the city.
I should also mention it's a lot hotter – if you thought you were sweating it out in Cairo… just you wait.
Getting To Aswan from Cairo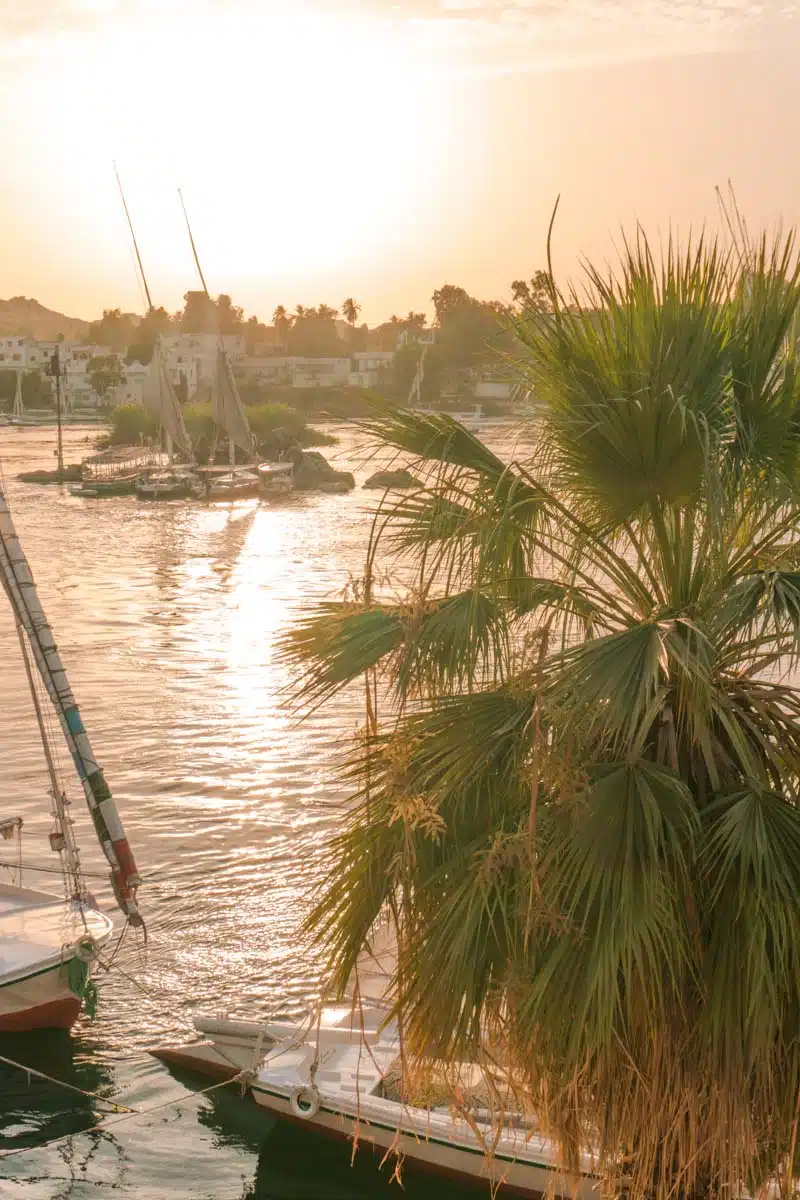 You can get from Cairo to Aswan by bus, plane, or train.
Want the quickest and easiest route? You can fly from Cairo to Aswan airport via Egypt Air. The flight is only about 1 hour and 20 minutes.
If you're OK with something slower (and a bit more rattly if we're honest) you can take an overnight sleeper train, which is what I did.
The journey on the sleeper train from Cairo to Aswan takes about 10 – 13 hours and includes meals. I enjoyed it, but I would recommend flying when it's time to return from Luxor to Cairo rather than doing the sleeper both ways.
Top Tip: Tourists are only allowed to book onto designated trains that leave from Giza Station (not Cairo station) – triple check before you book to avoid being denied boarding because you've booked the wrong train when you arrive.
Suggested Stay for Aswan on your Egypt Travel Itinerary
Aswan has a selection of great places to stay. The Sofitel Legend Old Cataract Hotel is one of the best choices of accommodation in this river-side city.
The hotel has four restaurants, a spa and a few bars available to guests. Their beautifully decorated and air-conditioned rooms are the perfect getaway after a long day.
Alternatively, the Obelisk Nile Hotel on the same stretch of The Nile offers more affordable but still very comfortable accommodation.
Things to do in Aswan
Learn about the Nubian Civilisation at the Nubian Museum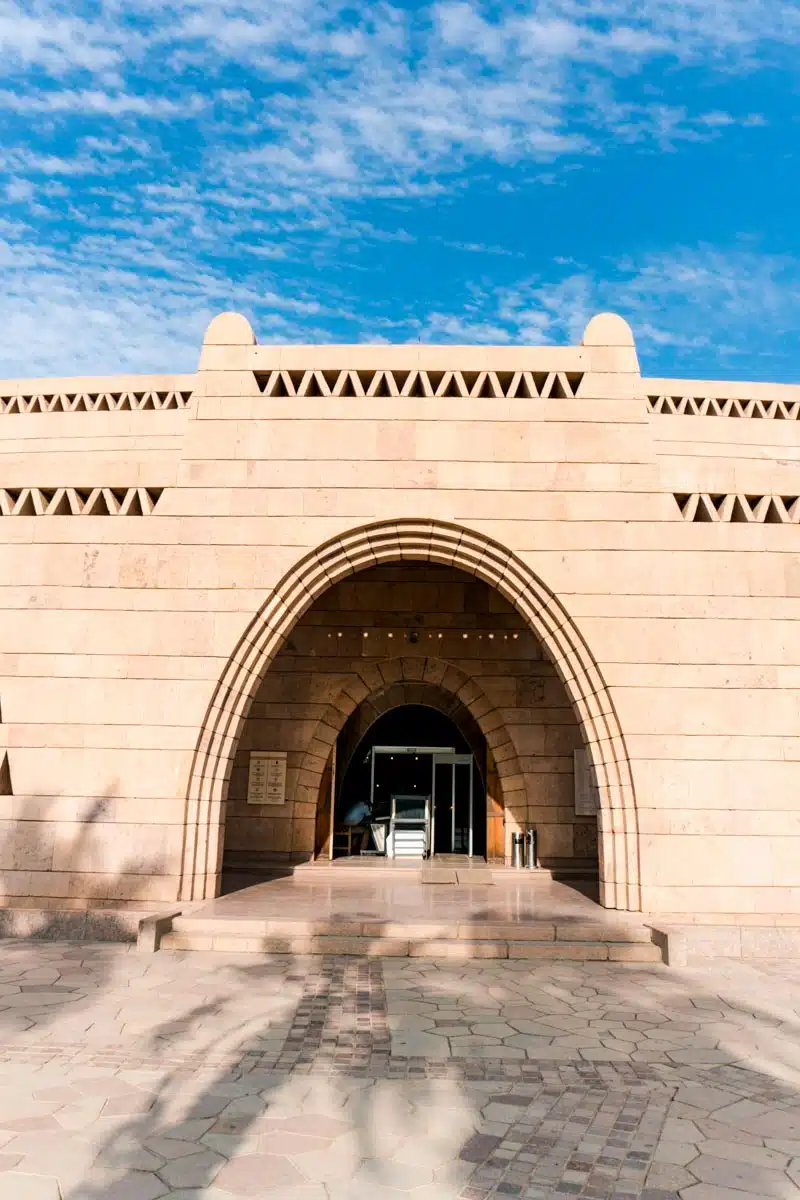 Chances are, you learnt something about the Ancient Egyptian civilisation at school, but what about the Nubian civilisation?
I'll forgive you if you draw a blank – I certainly did before I visited Aswan's stellar Nubian Museum, which opened its doors in 1997.
The building blends effortlessly into its landscape on the hillside of Aswan as a nod to ancient building styles and techniques.
The museum aims to display the region's complex history. Although the venue contains plenty of relics, the Nubian Museum focuses a lot on life in Nubia, like the ancient society's trading methods and their relationship with the people of Southern Egypt.
I definitely recommend it.
Chill Out in the Aswan Botanical Gardens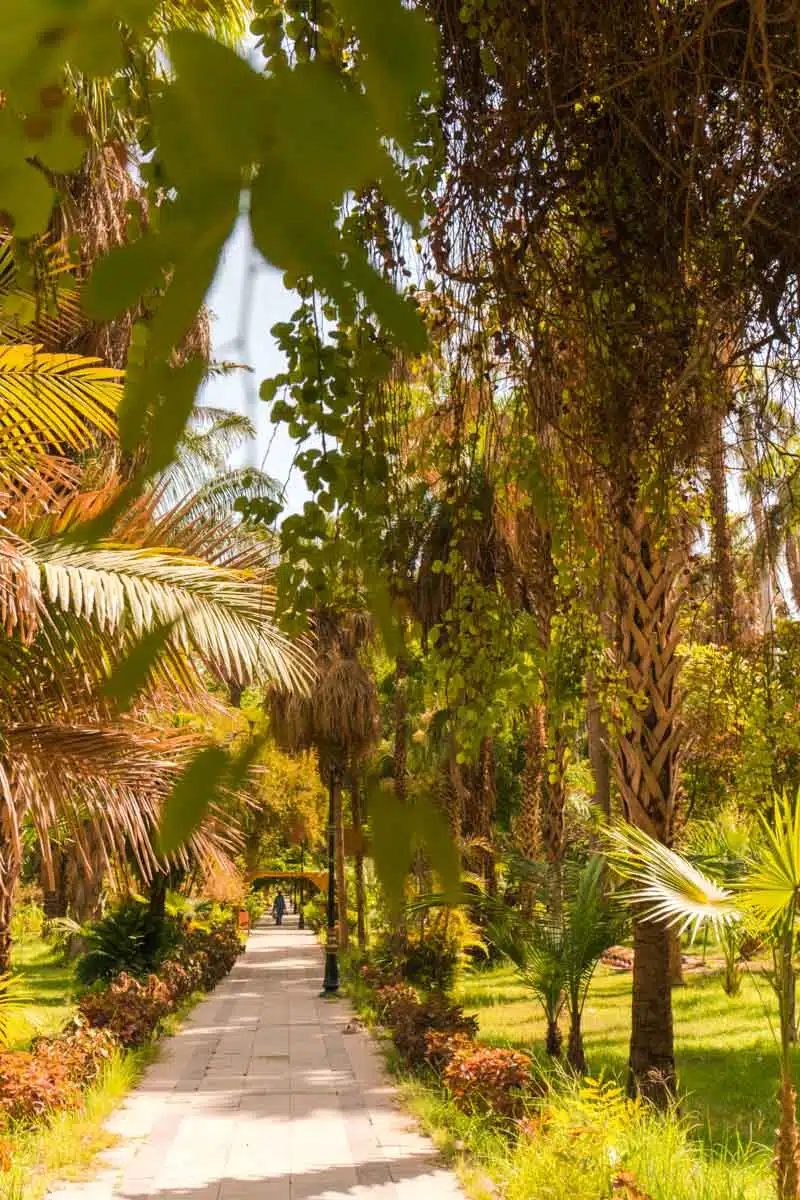 Aswan's southerly location means it's nothing short of sweltering – so the lush expanse of the Aswan Botanical Gardens comes as even more of a surprise.
Locals love this green retreat, as do the much-smaller number of visitors who hop across the Nile to go and explore.
The 6.8 hectares of the Botanical Gardens have hundreds of plant species from around Egypt, other parts of Africa and even Asia. You'll also find a variety of birds and many peaceful spots to admire the surrounding nature.
The gardens are a popular picnic spot for local groups and families, especially on Fridays and weekends.
Top Tip: You'll need to catch a boat to Kitchener's Island to visit the Botanical Gardens. The most popular jumping off point is from the jetty next to the McDonalds on the Corniche. Check how much you should pay with your hotel before you go – as with so much in Egypt, you'll have to barter to agree your fare.
See The Temple Complex at Philae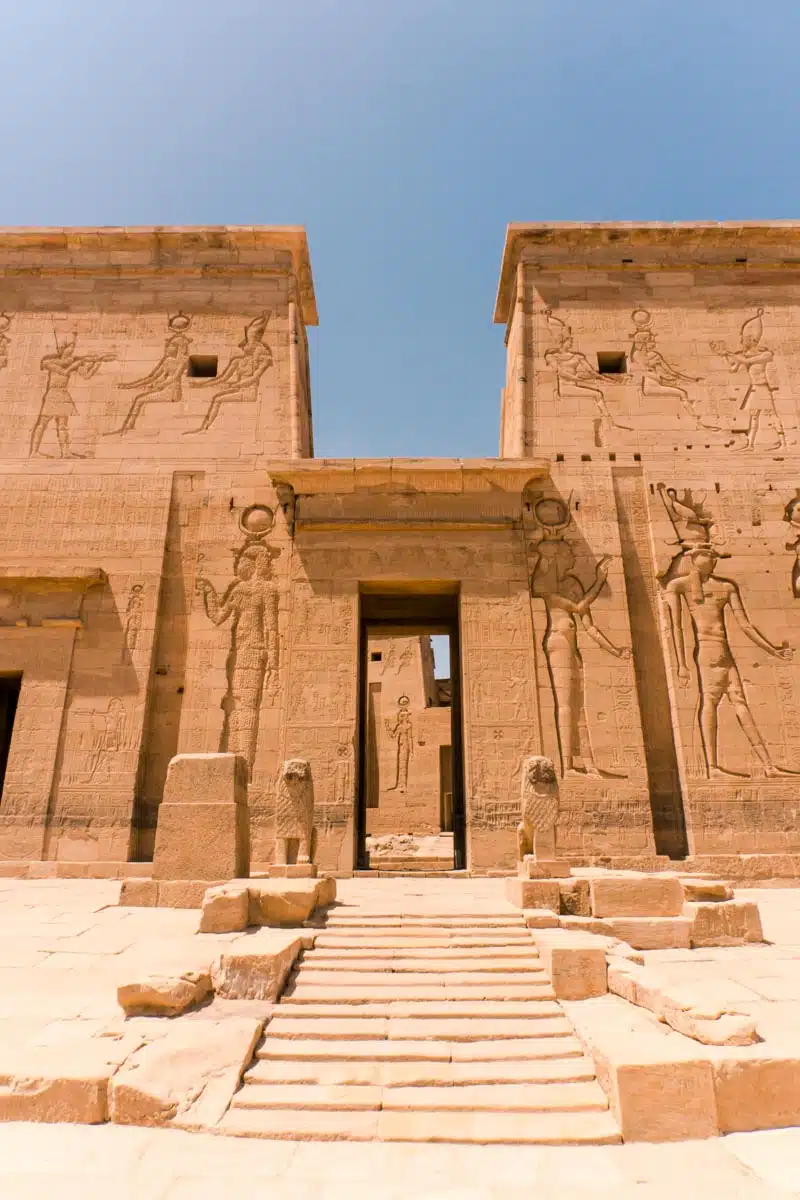 Philae is tucked away on the island of Agilkia – a jaw-dropping temple complex that will blow your mind (or at least swallow up a decent portion of your camera's memory card).
Rising from the waters of Lake Nasser, the only way to get to Philae is by boat – I *promise* that the first glimpse you get of Philae, its golden columns set surrounded by striking blue of sea and sky – will be one to remember.
Dedicated to Isis, Osiris and Horus – Philae dates back to the Greco-Roman period (it's thought to have been built around 280BC), and as such, looks quite different to some of the other older temples you'll see on this trip.
Fun fact: Did you know that UNESCO relocated Philae during the construction of the High Dam between 1958 and 1970.
Prior to that Philae had spent a significant period of time underwater ever since the Low Dam was constructed in 1902 but the High Dam would have completely submerged it permanently.
Spend Time in a Nubian Village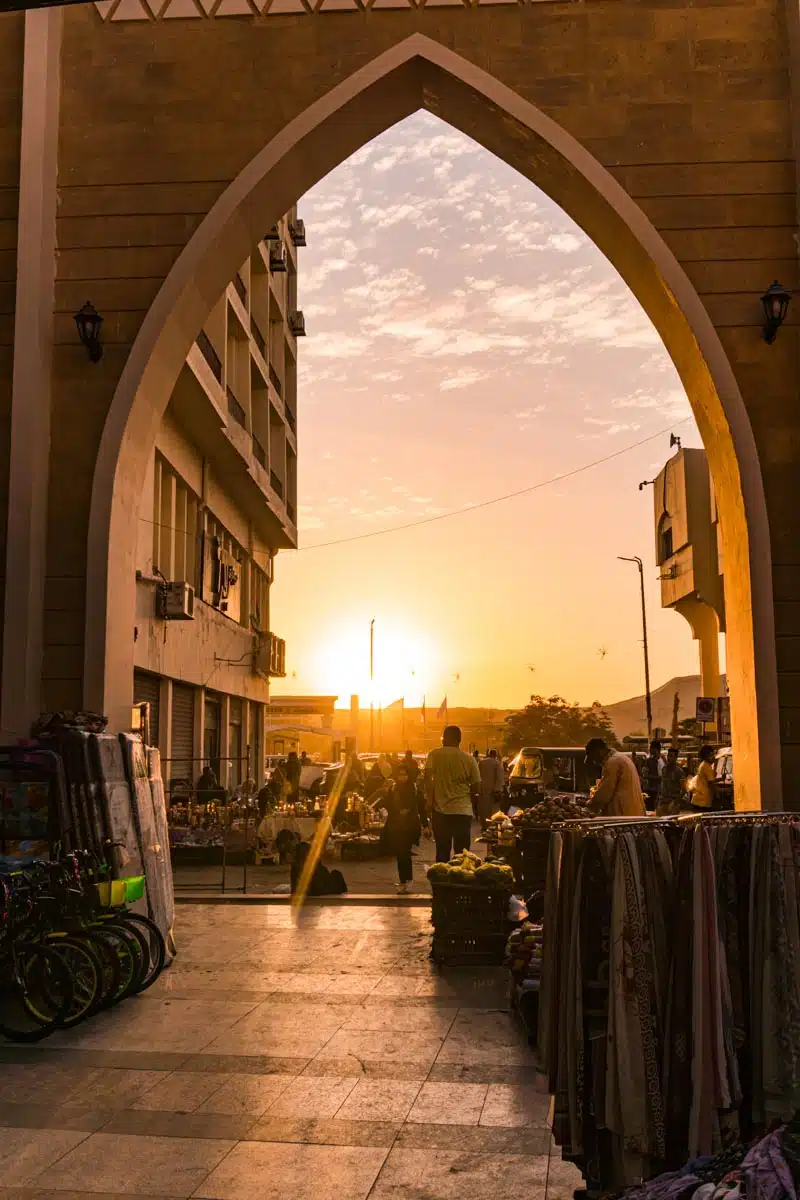 Set across the Nile from central Aswan, Aswan's so-called Nubian Villages are home to the area's sizable Nubian population.
These colourful villages are packed with jewel-toned homes, souvenir stores, restaurants, and accommodation.
We spent an evening having a traditional dinner at a Nubian family home, which I would recommend if you can – but even a short stroll around one of the villages makes for an interesting contrast with the city centre.
See the Unfinished Obelisk
It would have been the largest obelisk created by Ancient Egyptians… had it ever been finished.
Instead, all 1,200 tonnes of granite sit partially carved and uncovered in one of Aswan's quarries.
I'd probably rate it as quite interesting on a scale of boring to must-see, but worth popping into if you have a spare hour.
Stroll Along the Corniche at Sunset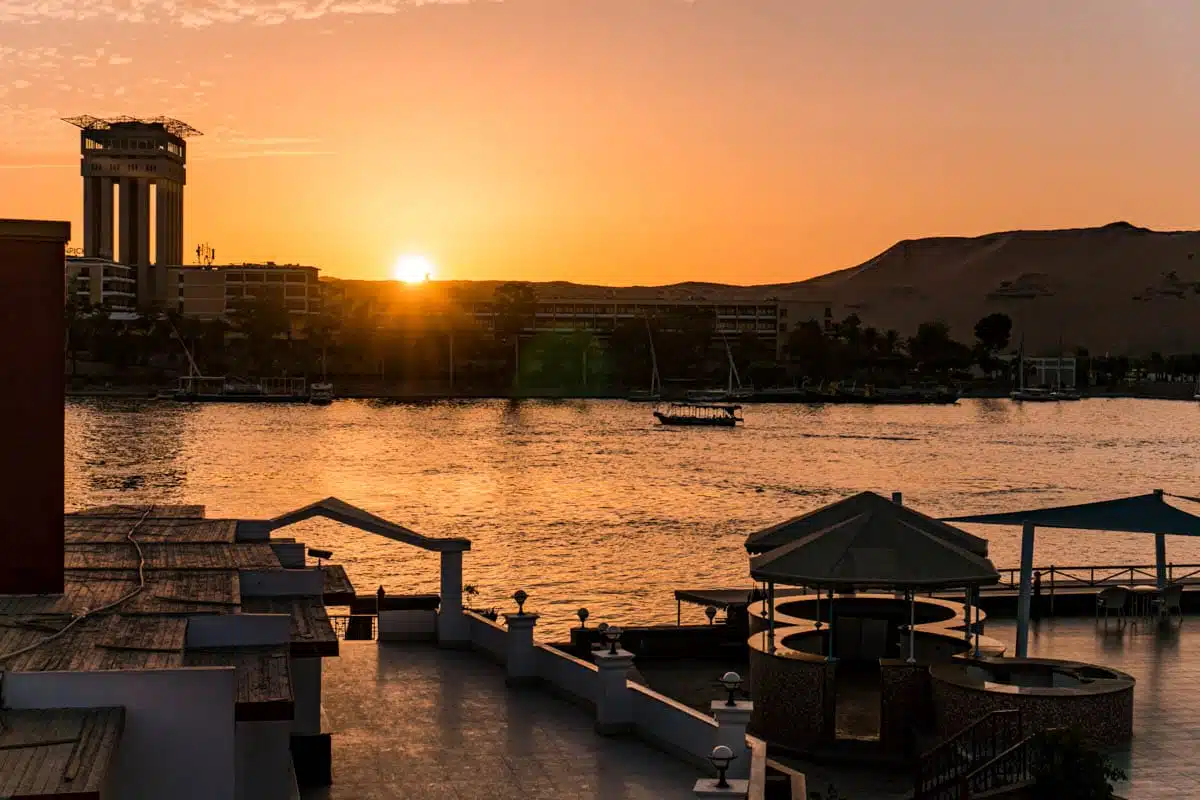 Aswan's undeniably pretty Corniche is the perfect location for a sunset riverside stroll.
Expect 3.7 kilometres of Nile views, punctuated by enticing cafes where you can cool off with a refreshing glass of lemon and mint and a glimpse at the luxury cruises that ply the route between Aswan and Luxor.
Oh, and all against the magnificent backdrop of the desert landscape and sites like The Tomb of the Nobles on Elephantine Island on the other side of the river.
Egypt Itinerary Day 5: Day Trip to Abu Simbel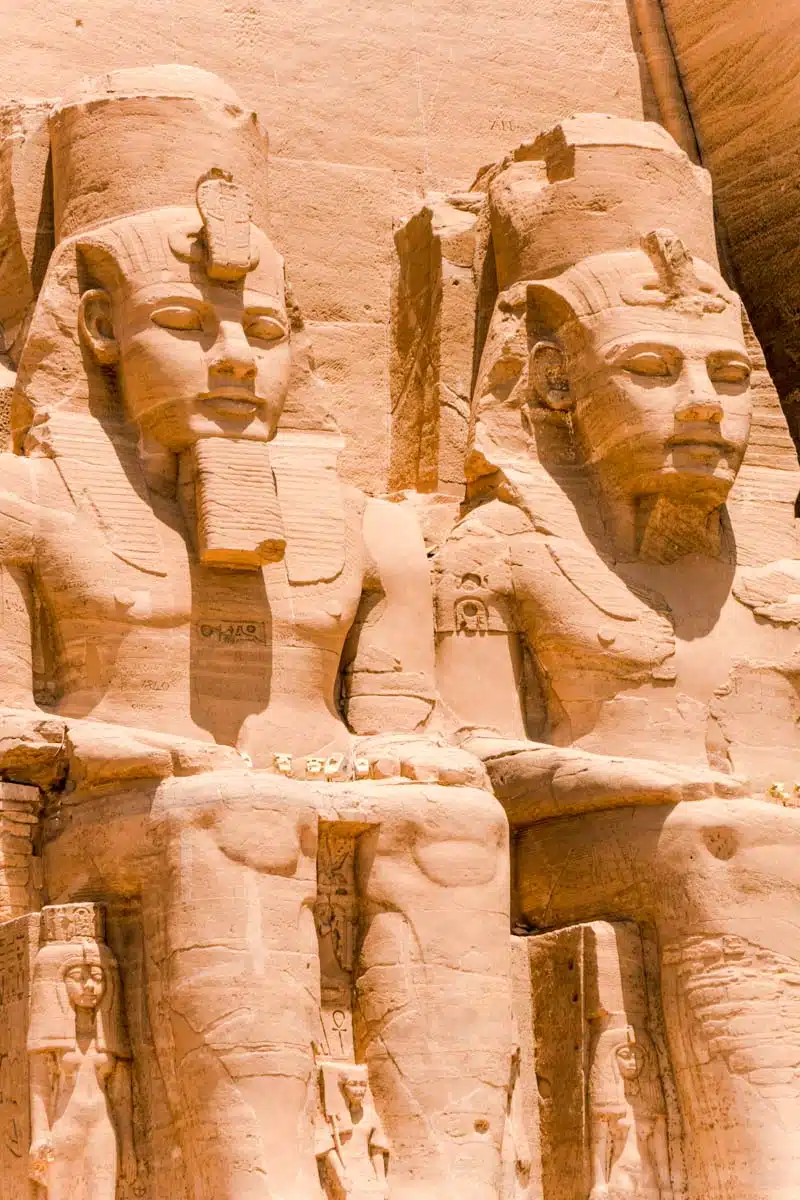 You didn't think we were going to come as far as Aswan but not take a little trip to one of Egypt's most iconic landmarks did you?
I'm talking about Abu Simbel of course. A magnificent temple complex of two temples built close to the Sudanese border and looking down on the croc-filled waters of Lake Nasser.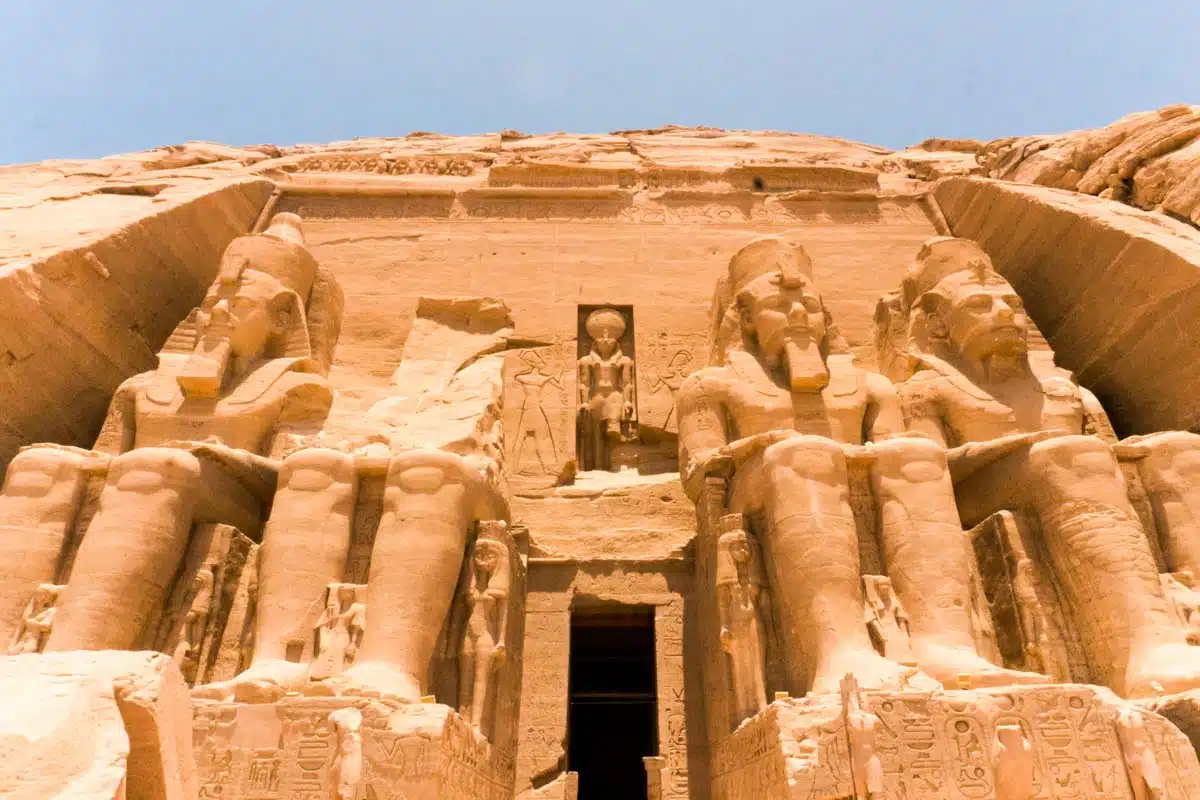 Look, I'll level with you – a day trip to Abu Simbel involves either a horrendously early start or a kind of early start, depending on whether you get the bus or fly. Either way, don't question it – it will be worth it.
Rameses II built both temples at Abu Simbel – one for him and one for his much-beloved wife Nefertari.
Sure, the Main Temple feels a little bit like an ego-trip.
We're talking colossal 20-metre statues of the King mark the entrance to the main temple and there are so many carvings of Ramses' lordly exploits inside that it's impossible to keep track of them.
But my god, it's stunning.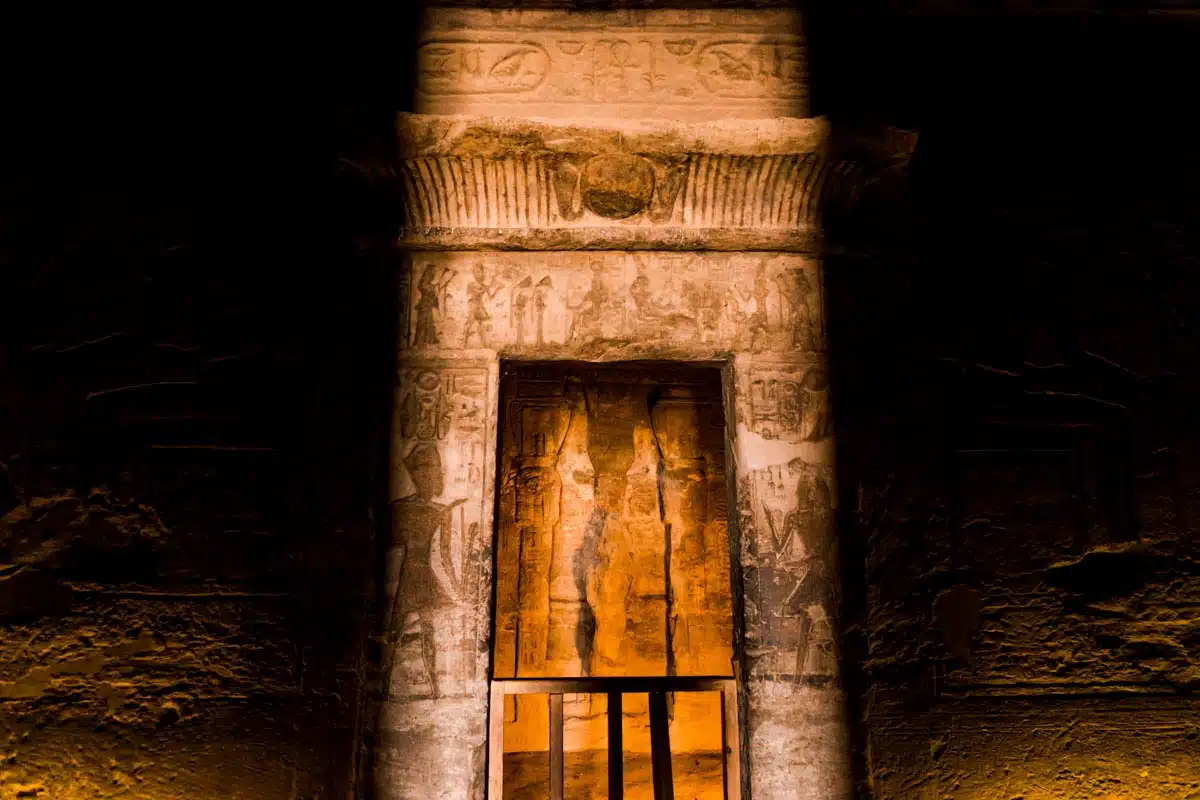 The giant faces of four Ramses at different ages staring down at you before you enter the main temple, itself an elaborate construction carved with intricate hieroglyphs and stories – it's impossible not to feel its grandeur.
Don't forget to spend some time in the much smaller Temple of Nefertari either – it's still emblazoned with Ramses' face outside, but inside is distinctly different to the main temple.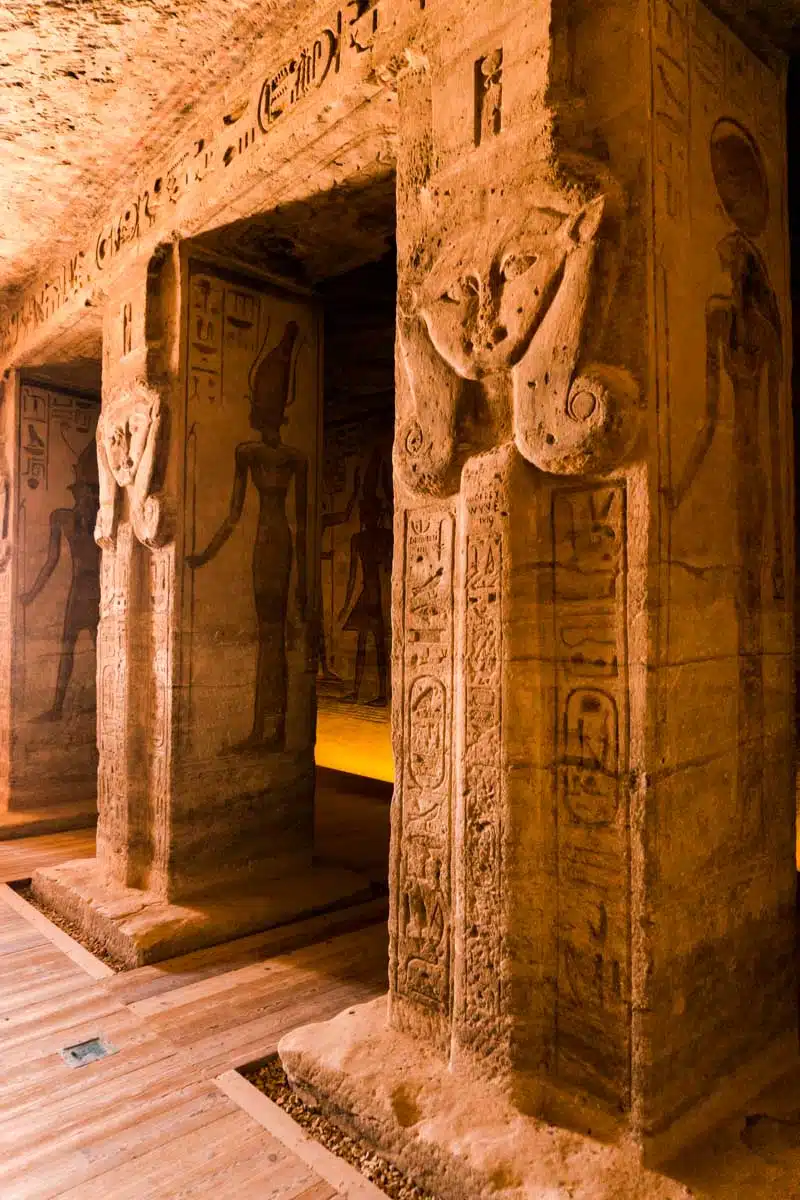 Instead of the glories of Ramses in battle, it contains depictions of daily religious ceremonies and images of the goddess Hathor to which it's dedicated alongside Nefertari.
Planning Your Day Trip from Aswan to Abu Simbel
As I mentioned above, there are two ways to do a day trip from Aswan to Abu Simbel: by bus / car (which takes a lot longer) or by plane (which is more expensive).
The flight from Aswan to Abu Simbel takes about 30-40 minutes. Prices vary depending on season but expect to pay around £200.
You can also book this Abu Simbel By Plane Tour.
If you're going by bus / car, the journey takes between three to four hours each way.
Egypt Itinerary Day 6-7: Nile Felucca (Or Luxury Cruise)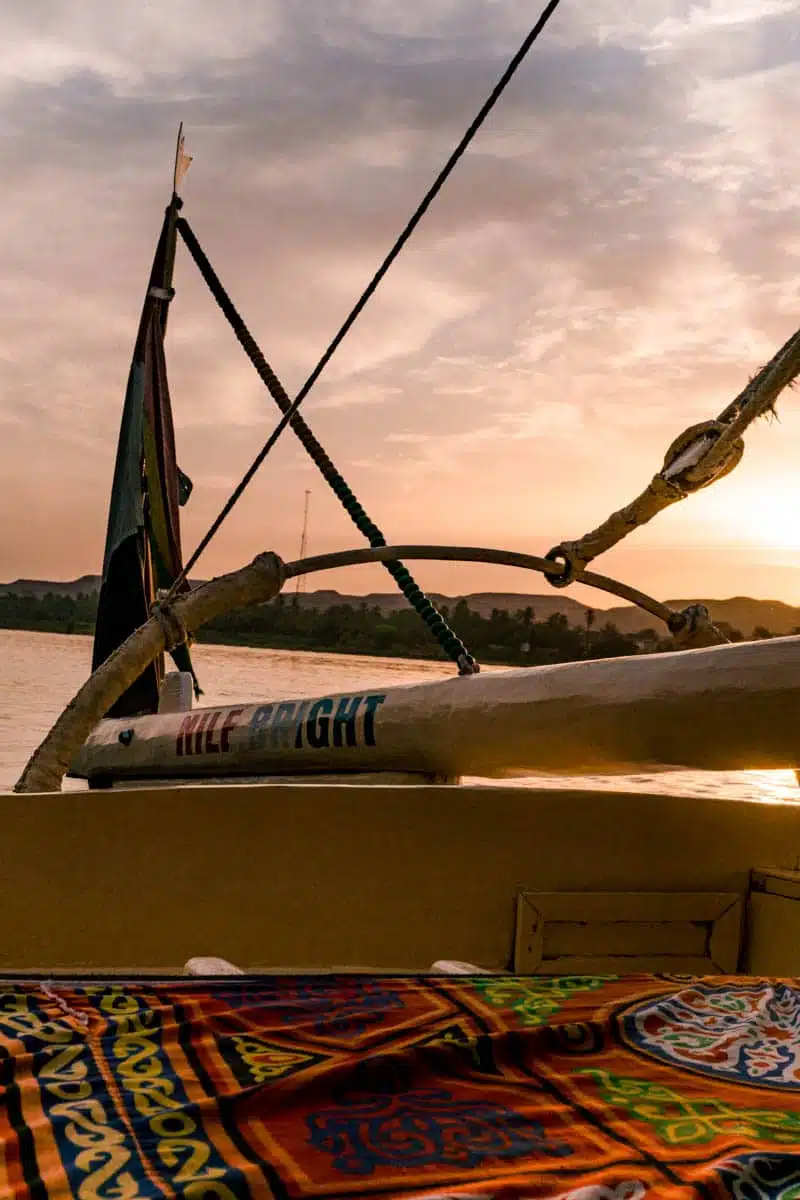 We've spent so much time ogling the beautiful Nile – now it's time to hop aboard a traditional Egyptian felucca for a sailing odyssey up towards Luxor.
Feluccas are traditional boats made from solid wood with canvas sails.
Originating from Northern Africa, particularly Egypt and Sudan, they're a great way to travel along The Nile at a slower pace.
You have quite a few options when it comes to boat trips along the Nile – whether it's sailing all the way to Luxor on a luxury cruise boat or a smaller (but still high-end dahibbaya) but a felucca is a delight if you want to take things at a slow (and silent) pace.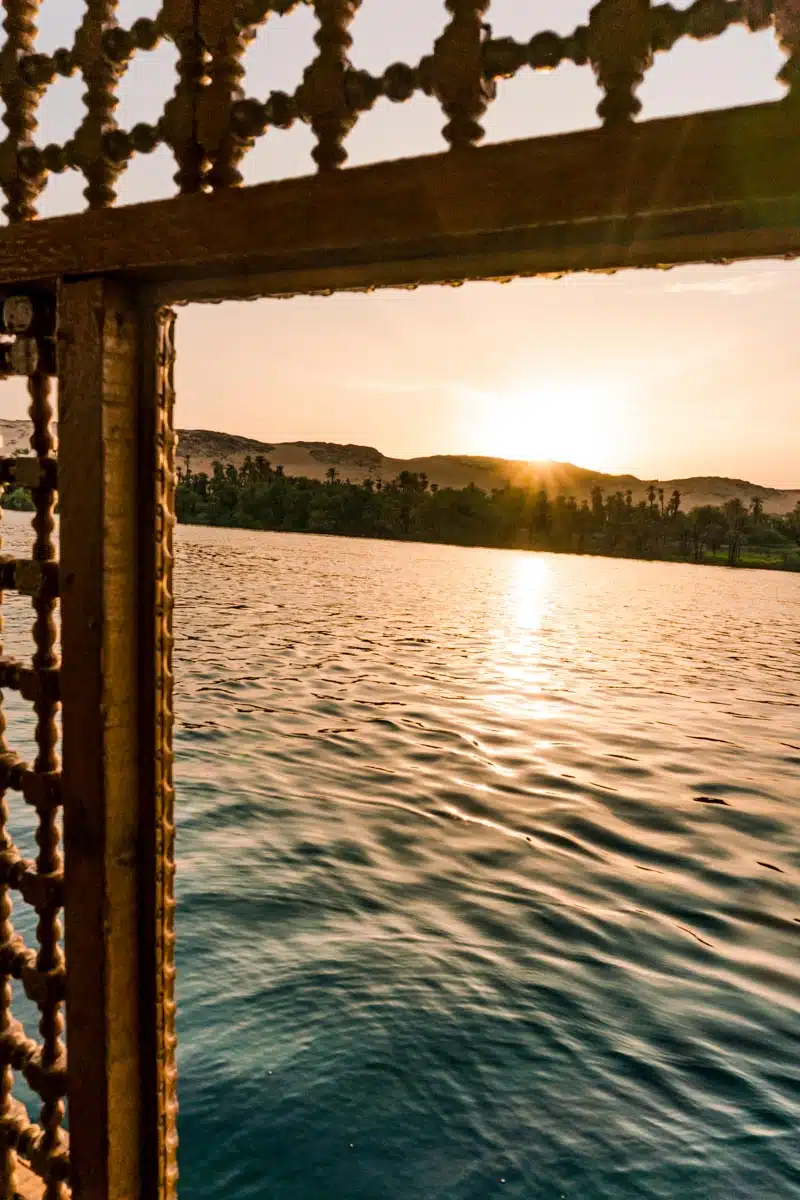 Waking up on a remote part of the Nile as the sun rises over the desert is worth the trip alone.
The downside of getting a felucca is that you can't travel all the way up to Luxor as you can with a motorised boat.
That's because feluccas are not allowed to use the Esna Lock south of Luxor… not to mention the fact that it would take an incredibly long time to get there.
Almost all felucca trips include minibus transport from your docking point to Luxor – some even stop at Edfu and Kom Ombo temples along the way.
Egypt Itinerary Day 7 – 9: Luxor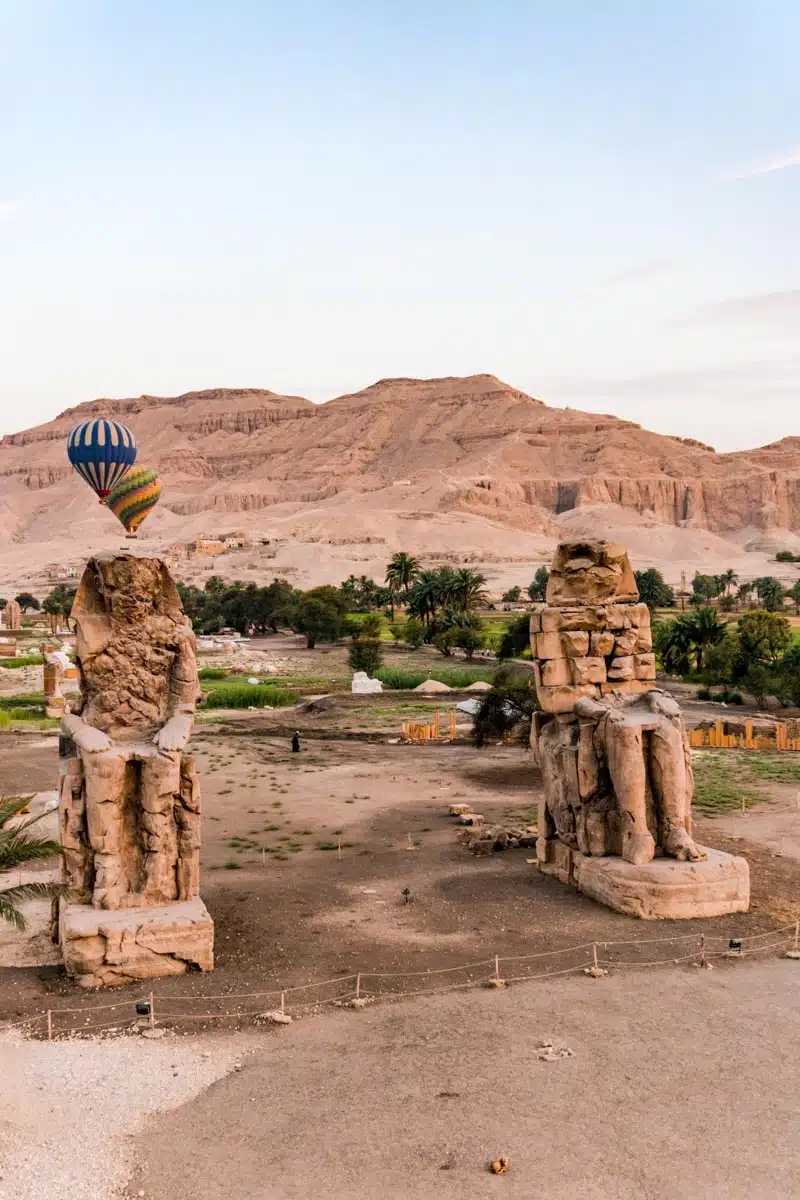 Luxor is home to many of Egypt's big sightseeing hitters.
The Valley of the Kings? Check. Karnak? Check. The Mortuary Temple of Hatshepsut? Check, check, check.
The seat of Ancient Egyptian power during 16th – 11th centuries B.C (when it was called Thebes), Luxor played an important role in the country's history and has the relics to prove it.
Where better for us to spend a couple of days gallivanting around tombs, ruins and museums? I'll wait.
Getting to Luxor
The fastest way to get from Aswan to Luxor is to fly – with a flight time of 35 minutes. Other options include a boat trip (discussed above), bus (3 hours) or train (also 3 hours).
Suggested Stay for Luxor on your 10-day Egypt Itinerary
Susanna Hotel is the ideal location for your stay in Luxor. This hotel facing the Luxor Temple and the Nile River offers comfortable and affordable accommodation in the city's heart. All rooms are fully air-conditioned, with satellite TV and a private balcony.
Things to do in Luxor
See History Come to Life in The Valley of the Kings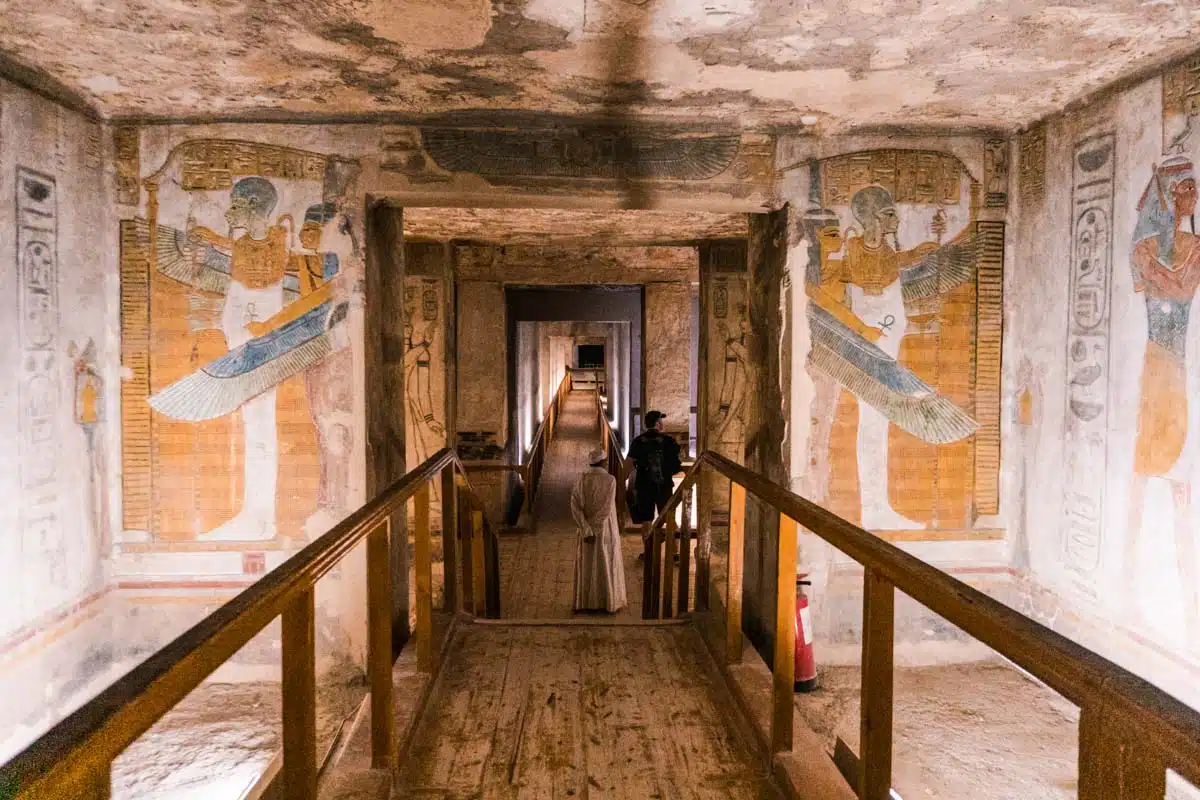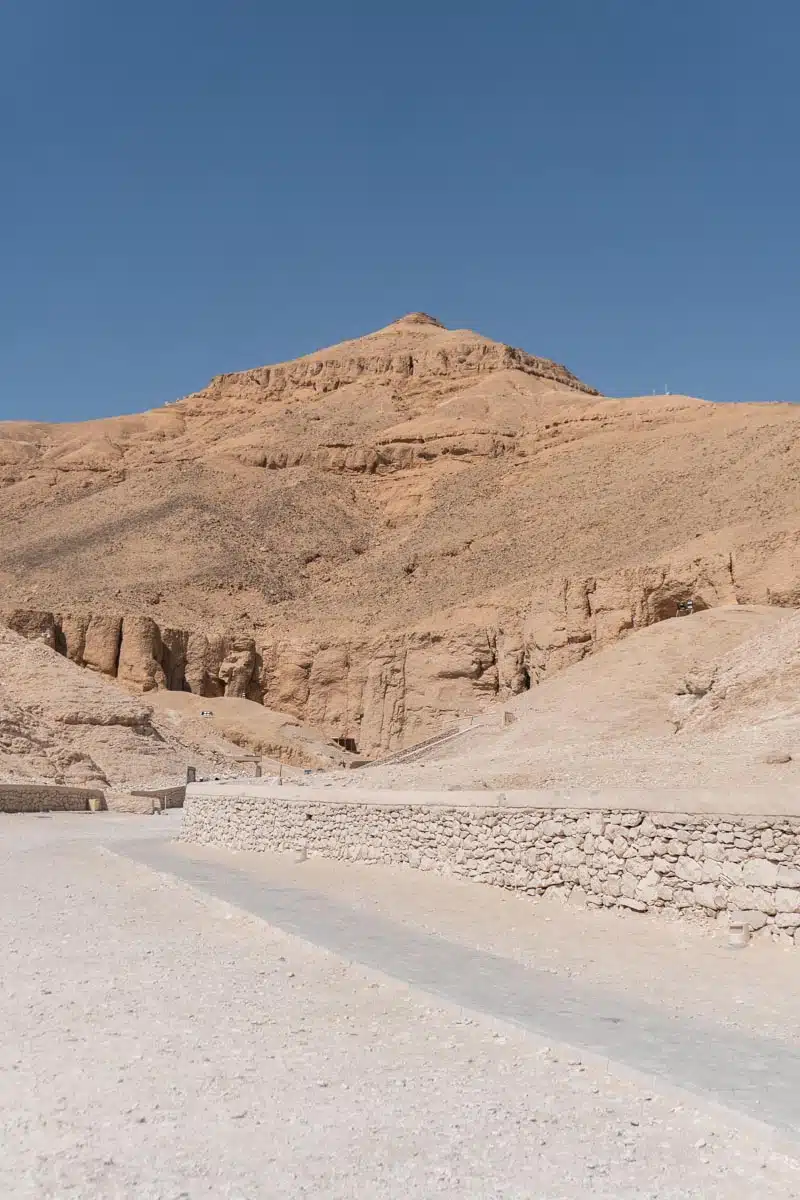 Egypt's best-known necropolis, The Valley of the Kings served as a burial ground for Egypt's Kings of the 18th, 19th and 20th dynasties – a period of over 500 years.
So much of Ancient Egyptian civilisation was based around the idea of an afterlife – the second life that, in many ways, was more important than the first because it was for eternity.
Keeping the body intact for the afterlife was paramount – even better if you could have a plush tomb or burial spot to mark your passage and protect your mummified body too.
And so The Valley of the Kings came to be. A maze of tombs of Egyptian rulers, kitted out with the materials they would need in the next life.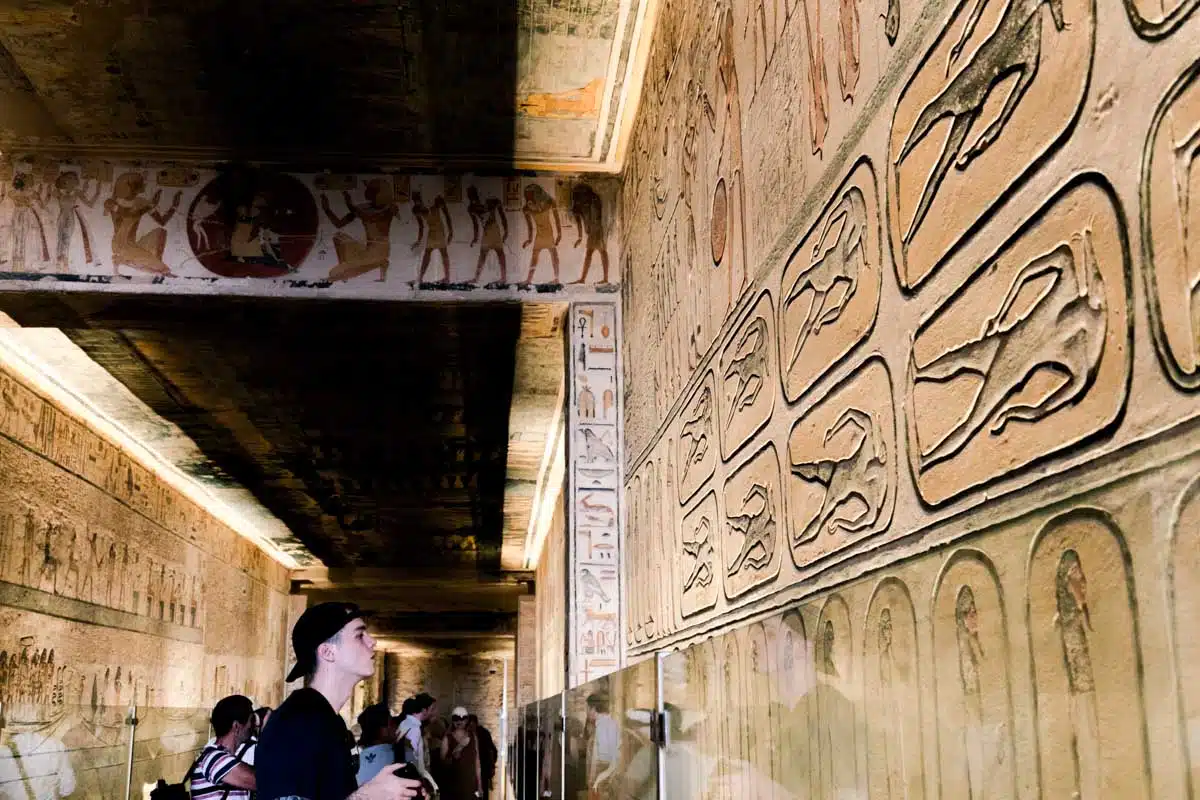 Today, only a handful of the 60+ tombs are open to the public. Your general ticket includes entrance to some – such as the tomb of Merenptah, Ramses IX and the joint tobs of Tausert and Setnakht.
Others, like that of Tutankhamun and Seti I, you have to pay extra for. It's definitely worth paying the extra for Tutankhamun's tomb – although it's very small, it's the only tomb in the valley you can visit that still has the mummy inside.
ancient Egyptians believed in a complex after-death process. To protect the sanctity of their royal burials, they began burying their monarchs in hidden tombs around the valley.
And Visit Nefertari's Tomb in The Valley of the Queens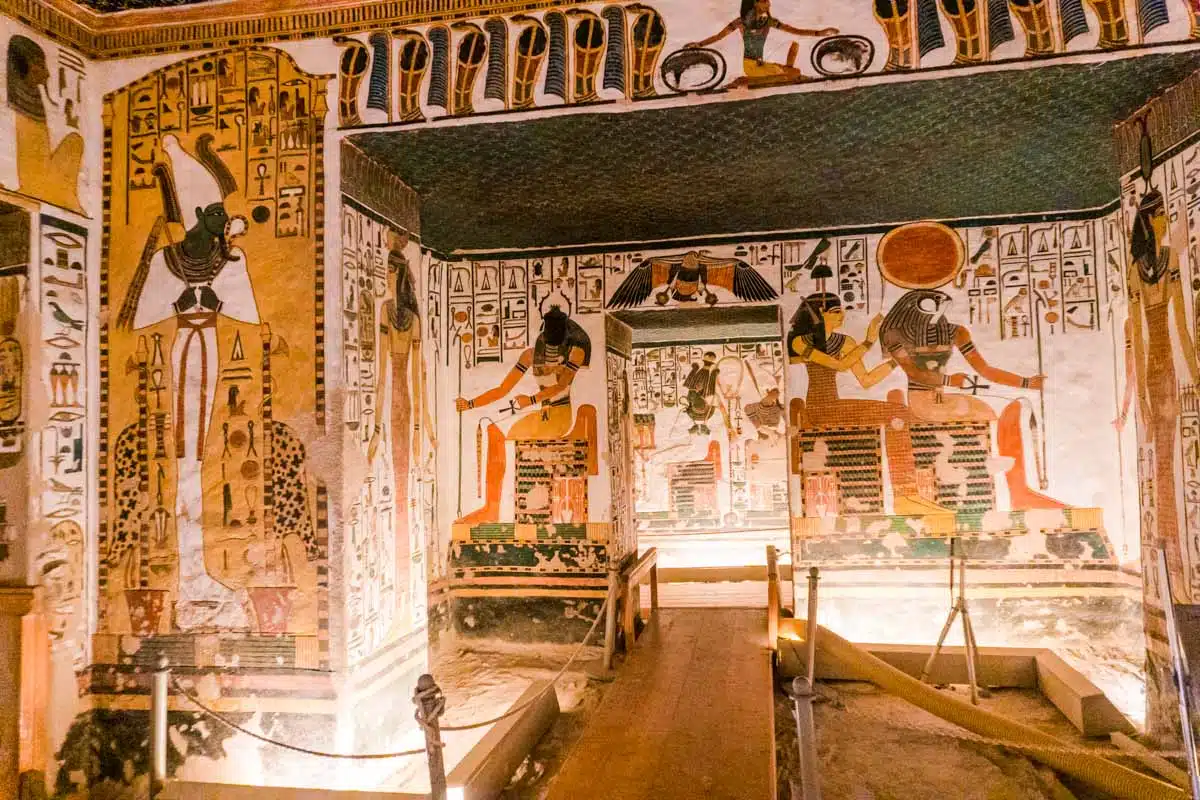 Although it's only a short distance from The Valley of the Kings, the Valley of the Queens doesn't make it onto nearly as many visitors' radars – which is a total win for you as it's much quieter.
I'll let you in on a little secret now. The Valley of the Queens is home to the most stunning tomb in Egypt AND its quieter location means there's a good chance you will have it to yourself.
Just like the Valley of the Kings, the Valley of the Queens was a burial ground for Egypt's princes and queens. In ancient times, Egyptians called it 'the place of beauty' and today it's estimated to hold over 100 tombs.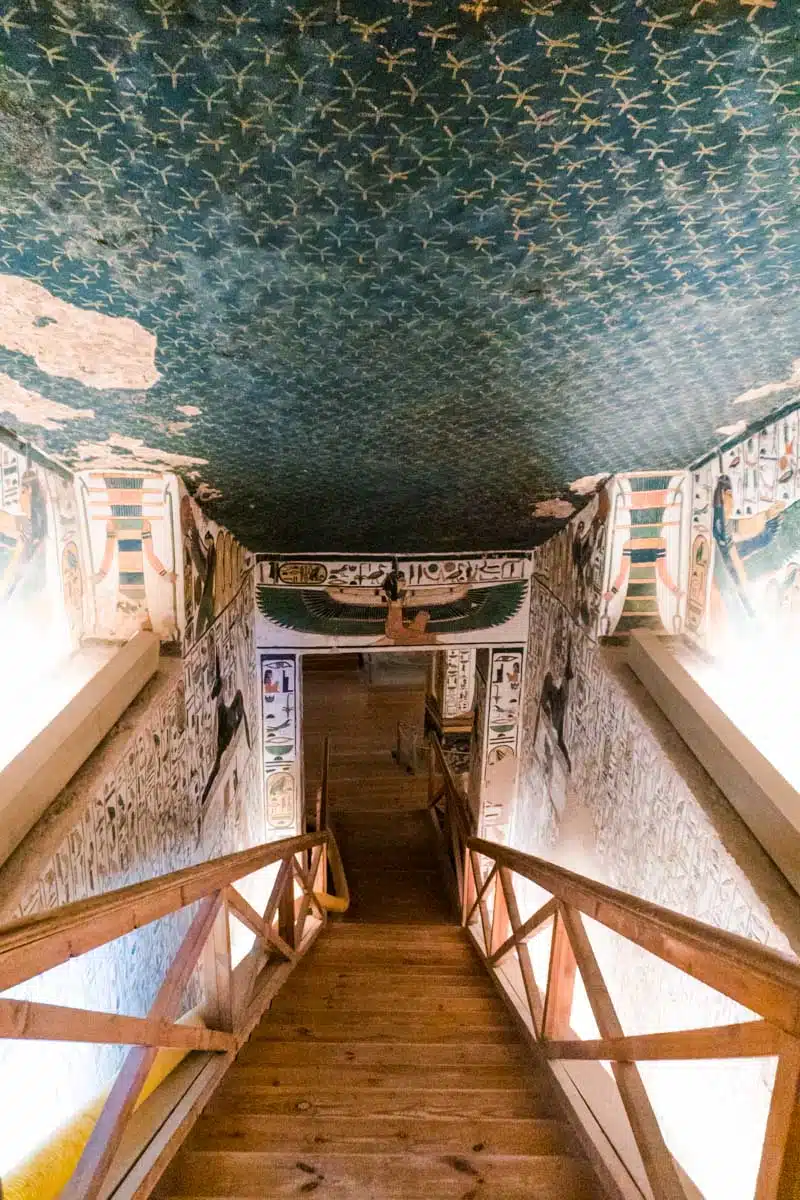 There are a couple of tombs that are open to the public and included with the general entry ticket – namely the Tomb of Tanedjemet and the Tomb of Amun-her-khepeshef but you'll need to pay extra to see the valley's gem, The Tomb of Nefertari.
Just as Ramses II built a temple for his much-loved wife Nefertari down at Abu Simbel, he lavished no end of expense on her tomb.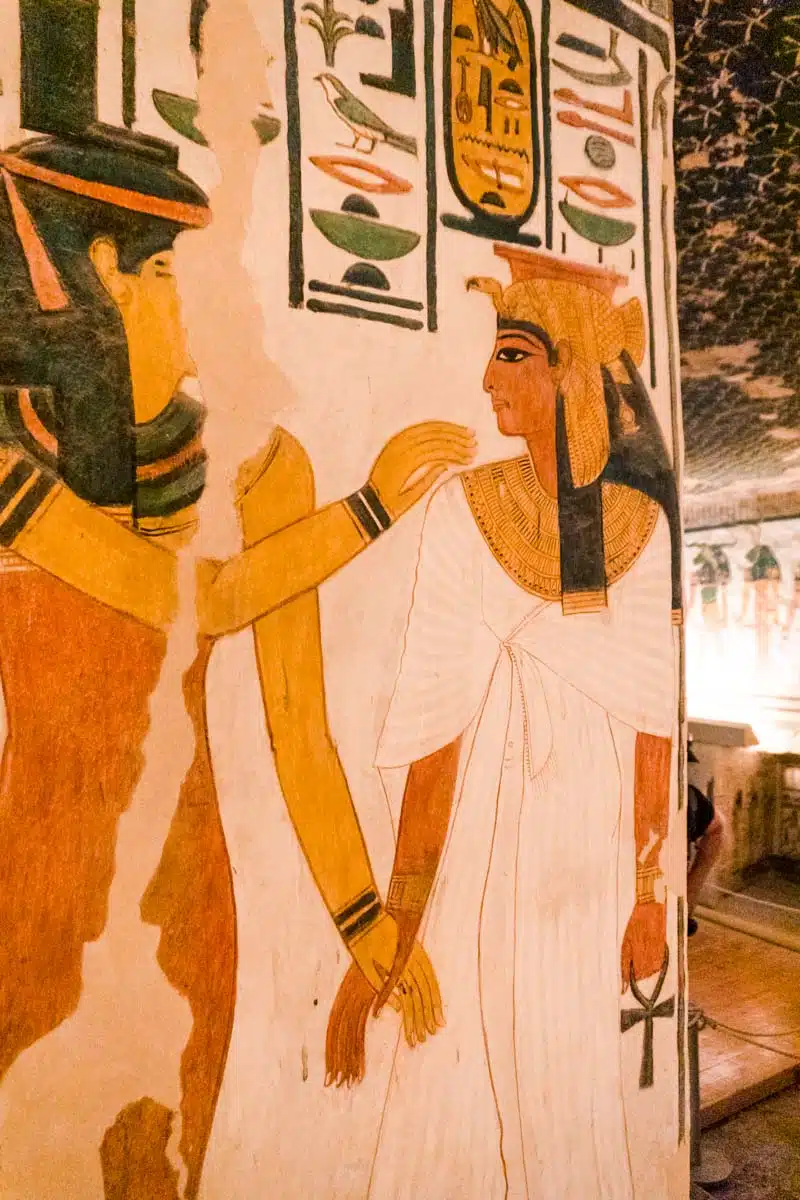 It is slathered in colourful depictions of Nefertari's life and character. It goes by the nickname of The Sistine Chapel of Egypt – once glance alone is enough to confirm why.
Explore the Karnak Temple Complex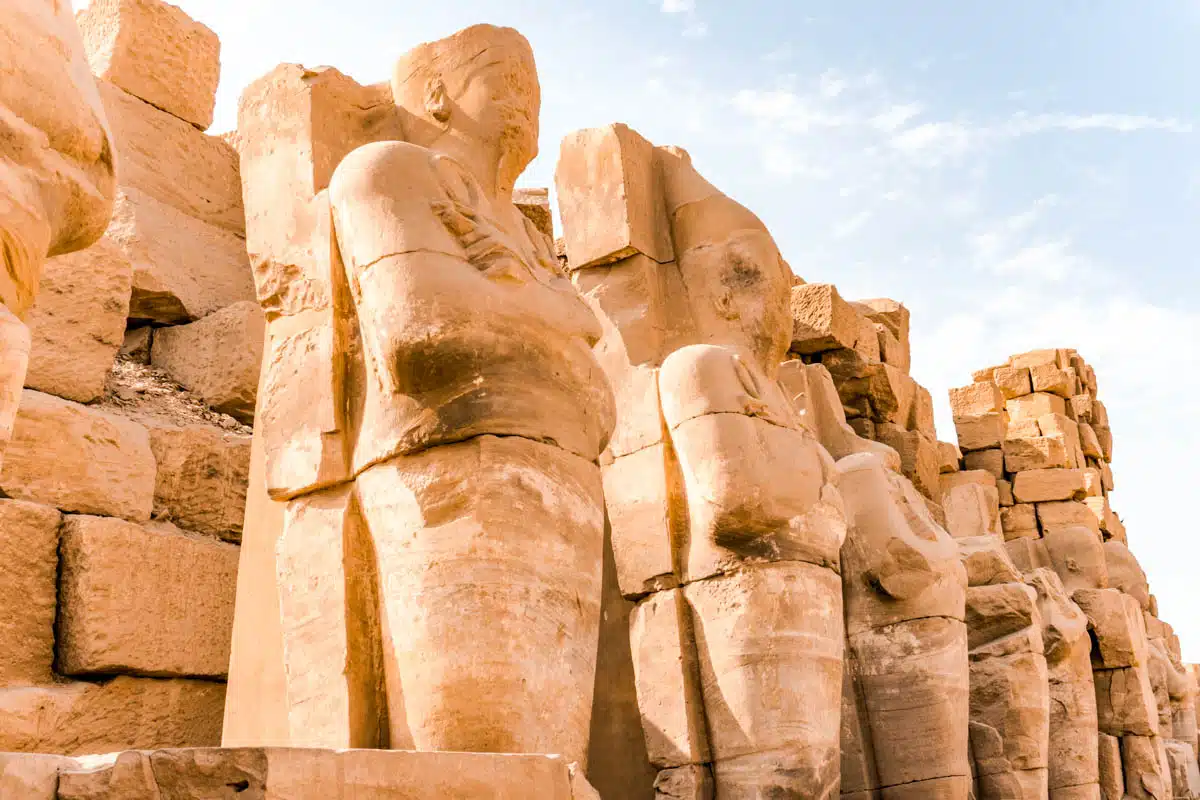 It's kind of tough to get your head around the scale of Karnak. It. Is. Vast.
Look – Karnak is no secret – it's the second-most visited destination in Egypt after the Pyramids of Giza after all.
To put it bluntly, if you're going to skip anything on this Egypt itinerary, Karnak is not it.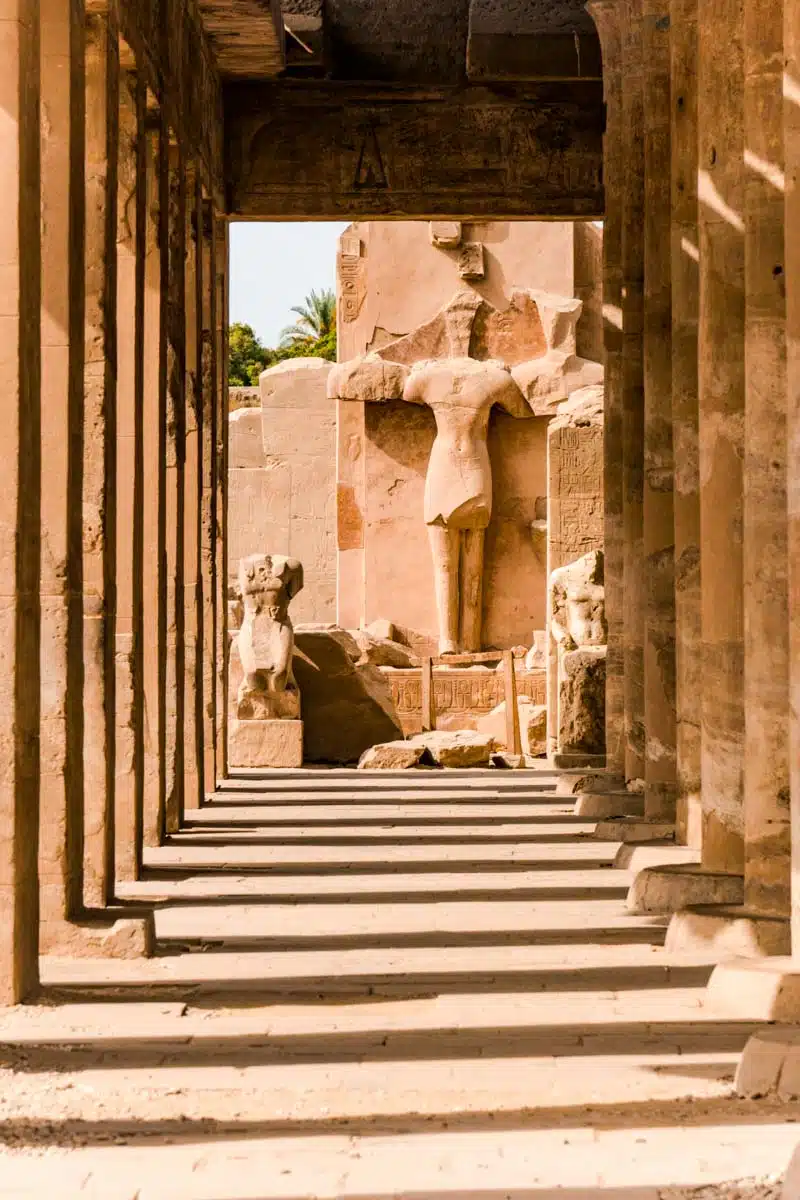 Built over the reigns of thirty (yes, thirty) pharaohs, it's best-known for the monumental Hypostyle Hall containing 134 gargantuan pillars decorated with elaborate carvings.
Outside of that, there's a lot more to see in the Precinct of Amun-Re – the only section of the complex that's open to the public (don't worry… it's big enough).
Take at least a few hours to explore… but also wear a hat and bring plenty of water too.
Take a Sunrise Hot Air Balloon Flight by The Valley of the Kings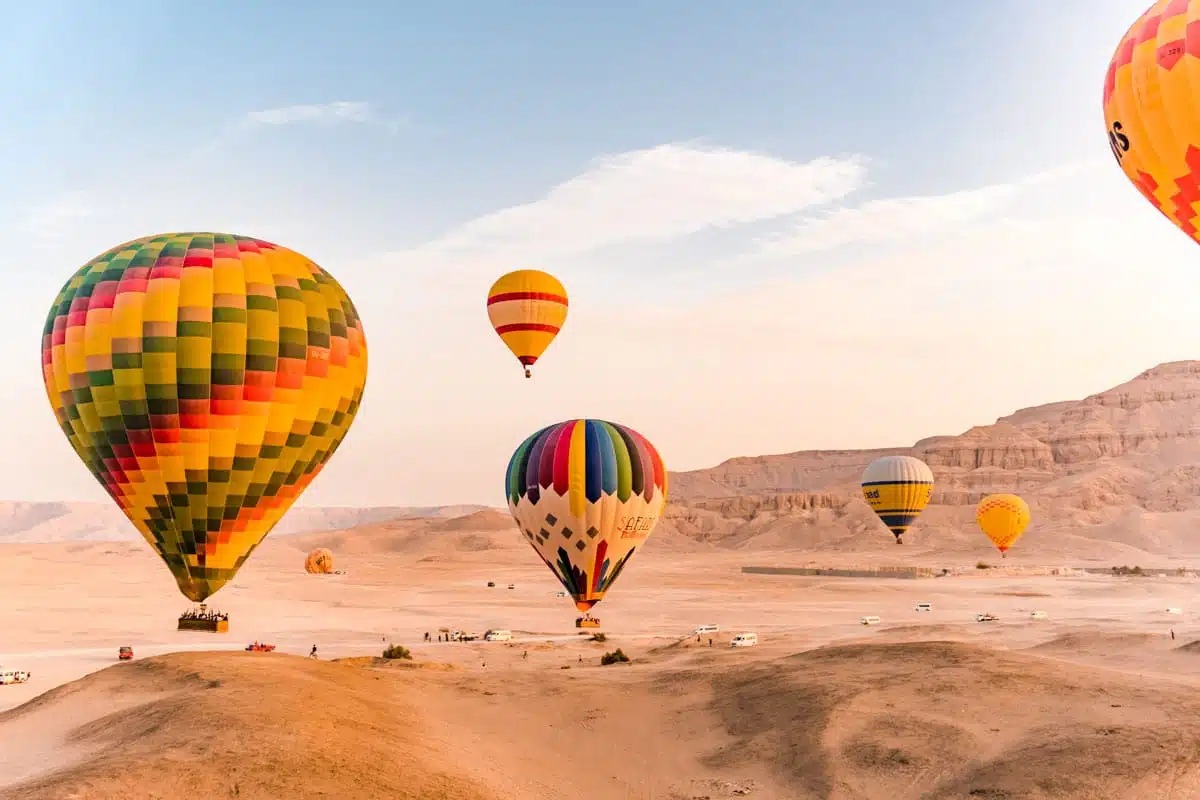 The early bird catches the outstanding views of Luxor from above on this sunrise hot air balloon adventure.
Isn't that how the old saying goes?
I loved taking the hot air balloon over the Valley of the Kings.
Yes, it meant a 3am wake up (fun!) and if you're anything like me, you're always going to have some funny feelings about being suspended from the sky using air but put your qualms aside because it is beautiful.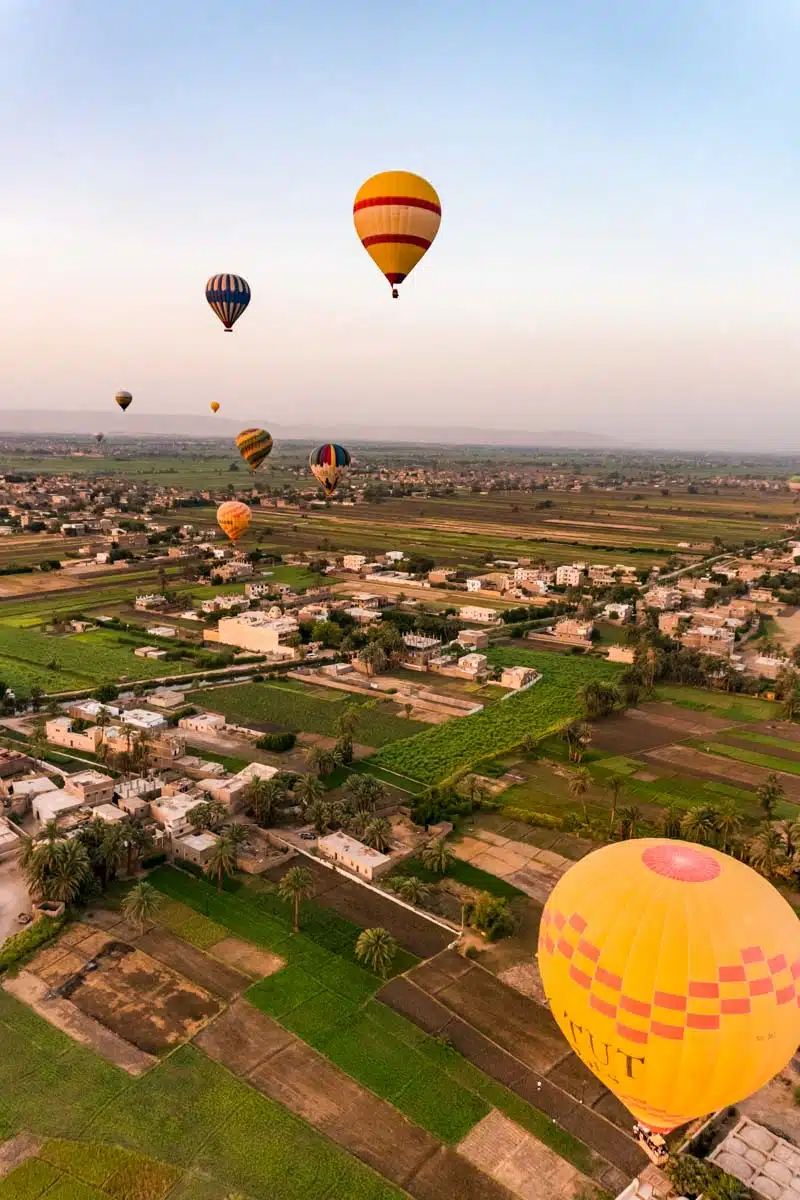 The magical view of Luxor's temples, the Valley of the Kings and the Nile River from the sky are incomparable. You'll even get to see cool spots like the Colossi of Memnon from above.
Pretty much every hot air balloon tour includes pick-up from your hotel, snacks along the way and a boat transfer across the Nile to the West Bank.
See the Mortuary Temple of Hatshepsut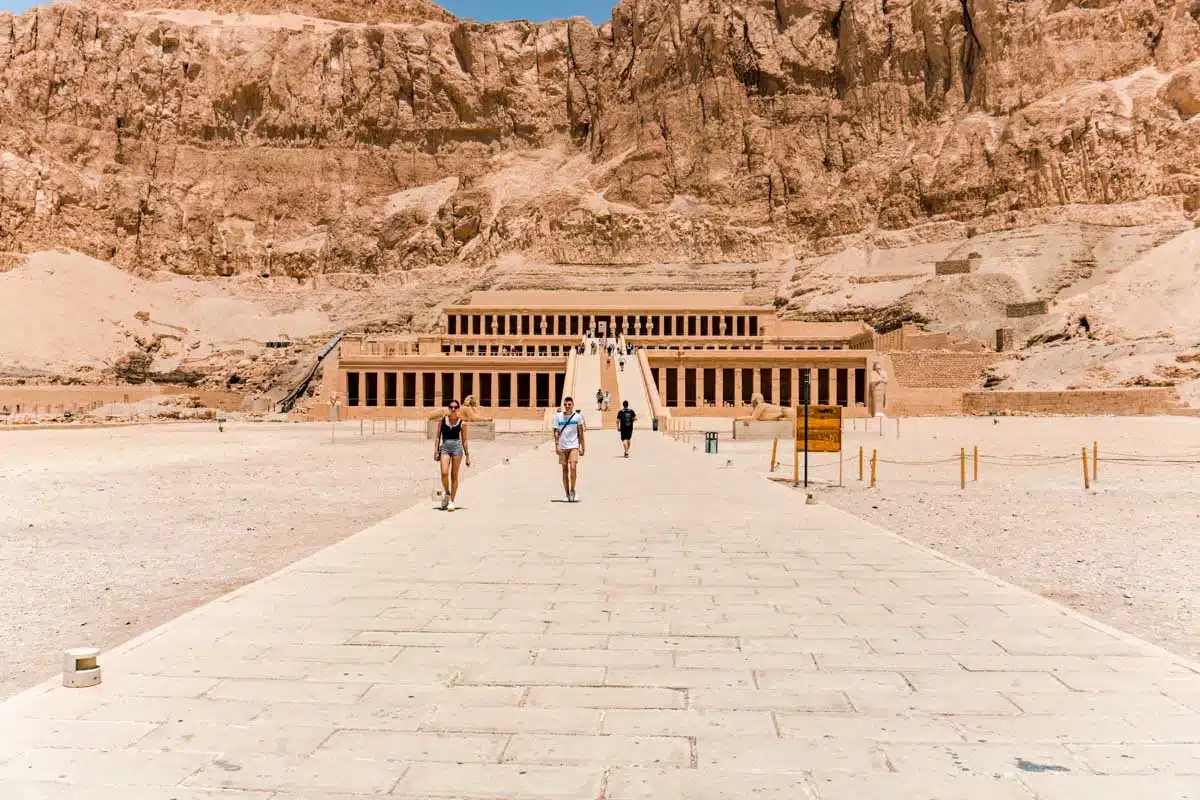 Hatshepsut was one of Egypt's more curious rulers – in fact, one of the few women to rule Ancient Egypt in her own right. That would all be interesting enough, but it's how she went about it that gives it extra spice.
You see, Hatshepsut knew the perils of being a female leader, so she billed herself as a king – and insisted on being portrayed as male in pictures – complete with a pharaonic beard.
It's a complex story, and one that needs a lot more space than I have to cover here.
Anyway, all this to say that you should definitely visit Hatshepsut's grandiose temple on the West Bank of Luxor because it's every bit as iconic as the woman seemed to have been herself.
Pop into Luxor Museum
Luxor's museum overlooks the Eastbank of the River Nile. Although it's a lot smaller than Cairo's Egyptian Museum, you'll find hundreds of antiquities from this region along the Nile.
The museum's highlights include goods from Tutankhamen's tomb, items from Karnak and a large statue of King Amenhotep III.
Visit Luxor Temple
To end your time in this river-side city, visit the Luxor Temple as the sun sets. Pharaoh Amenhotep III began the construction of this temple. King Tut completed the temple, and later, Ramases II amended it.
It spent some time being used as a Coptic Church, the temple was eventually converted to a Christian Church and featured a shrine to Alexander the Great at the temple's rear.
After thousands of years, sand and stone covered the temple, and the modern civilisation built a mosque on top of it.
With such a unique history, this site is a must-see on your journey through Egypt. The best time to visit the temple is at sunset. As the sun goes down, light streams upwards, illuminating the massive structure.
Egypt Itinerary Day 10: Cairo
On your very last day in Egypt, fly from Luxor back to Cairo and take in a few more of the city's sights and scenes before heading home.
Things to do in Cairo
Khan El-Khalili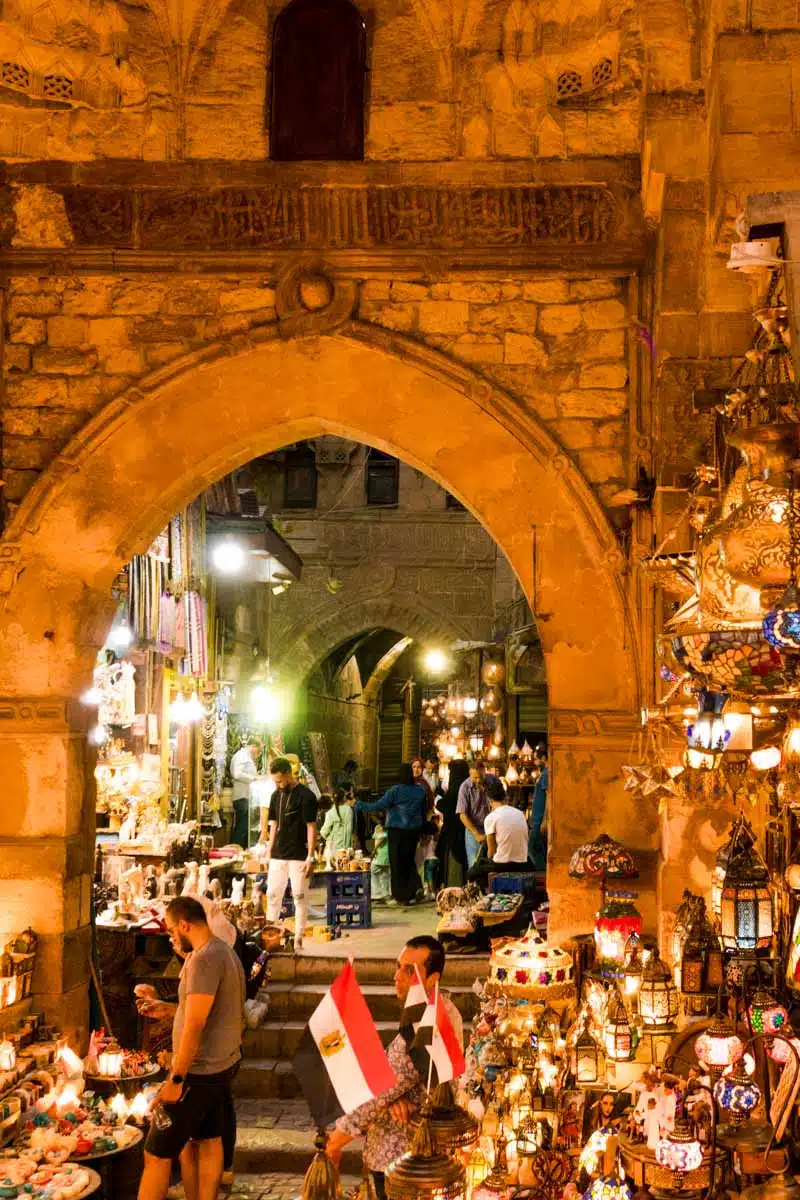 If our first couple of days in Cairo were all about Ancient Egypt, we're going to pay tribute to Islamic Cairo and Coptic Cairo on our last.
Khan El-Khalili is a famous bazaar and one of the city's most popular tourist attractions.
It sits in the heart of Cairo's historic centre and serves as an arena for Egyptian artisans to display and sell souvenirs and traditional crafts.
Khan El-Khalili was once a single building in the economic centre of Cairo and has since grown into an entire shopping district.
If navigating the bazaar on your own sounds a little too intimidating, many Cairo tours include a trip to Khan El-Khalili.
Coptic Quarter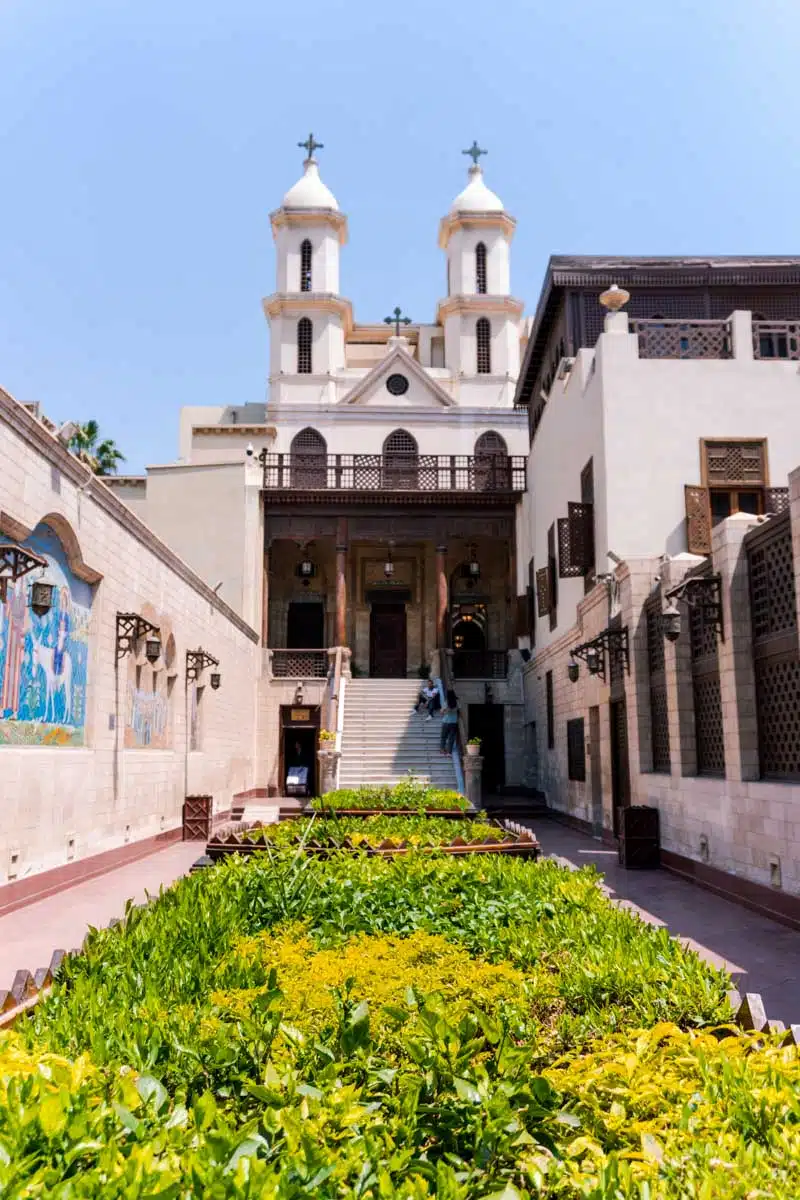 The Coptic Quarter is part of 'old Cairo.' This area played an essential role in developing religions within Egypt, and its history dates back to the 6th and 7th centuries.
Persian settlers developed this area and named it Babylon in reference to the Mesopotamian city on the banks of the Euphrates River. This region played a particularly vital role in the spread of Christianity throughout Egypt.
During the rule of Roman emperor Arcadius, he encouraged the building of several churches in what is now called the Coptic Quarter.
Many of these structures still stand today and are spectacular sites to visit near the banks of the Nile. Be sure to pop in to see the Hanging Church and the Coptic Museum.
Take a Trip to Memphis and Saqqara
Memphis was the ancient capital of Lower Egypt. Today it falls under Greater Cairo and is only about 20km south of Giza.
Memphis was said to be home to the god Ptah, a creator, and master of craftsmen and artisans.
The region once held a magnificent temple in honour of the god Ptah. While the temple no longer stands, Memphis still holds many relics and ruins from the ancient world, like the Saqqara necropolis.
The ancient necropolis of Saqqara is Egypt's oldest burial village.
Once part of Memphis, Saqqara consists of tombs, pyramids, and other ancient structures. The Pyramid of Djoser in Saqqara is thought to be the oldest complete stone complex in the world.
Saqqara was the resting place for many of ancient Egypt's rulers and royalty. UNESCO identified Saqqara as a World Heritage Site in 1979.
So, there we are – a step by step 10-day Egypt travel itinerary.
I hope you have an absolute blast on your trip. Carry on reading for lots of practical tips to help you plan your trip, as well as an alternative variation on the itinerary.
Alternative Egypt 10-Day Itinerary
I'm not going to go through a whole separate itinerary here, but if you want to spend more time on the Nile, here's a good option for you.
Do the itinerary as originally outlined for Days 1-2 but on Day 3, head straight to Abu Simbel and Philae so that you can get onto a Nile Cruise for days 4-7. Spend day 8 in Luxor and then head back to Cairo for the last two days of your journey.
Handy Tips for Planning Your Egypt Itinerary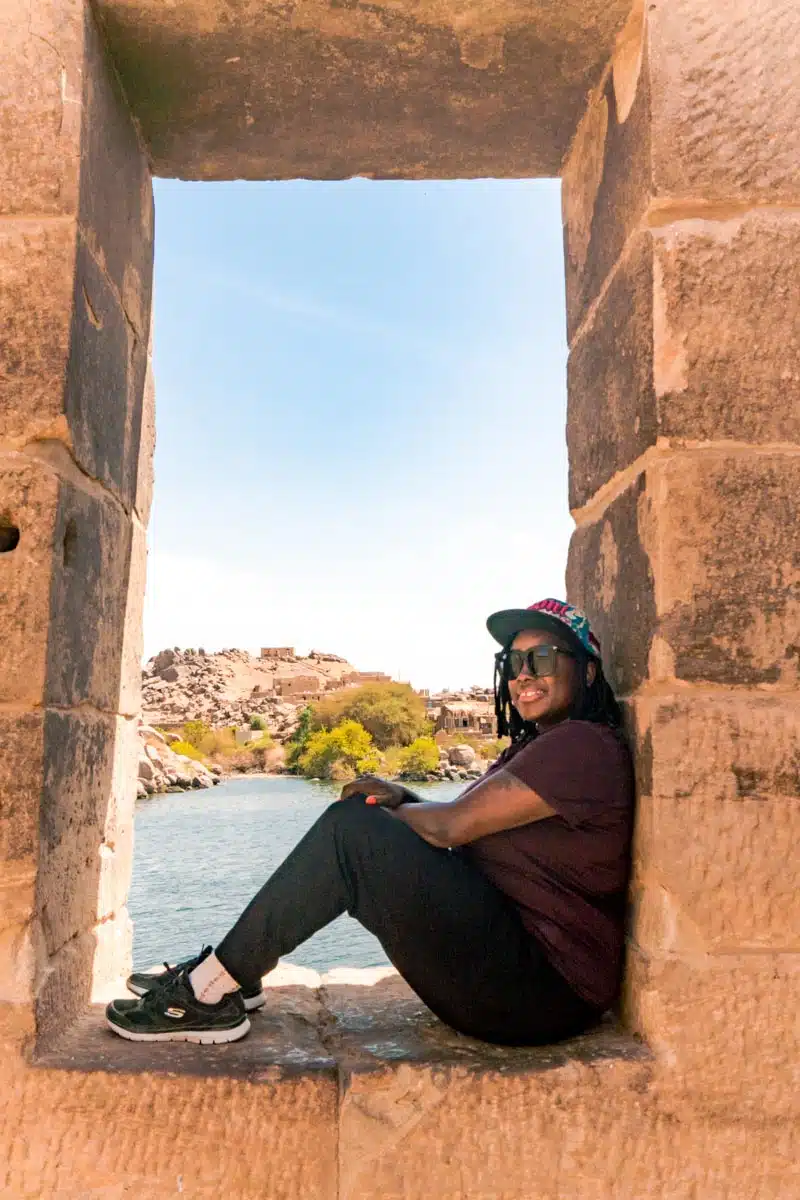 Group Tour or Independent Travel?
The first question you'll have when you're planning an Egypt trip is do you take a group tour or do it independently.
Some of you will have all the feels about not taking group tours. That's fine – I used to be one of them – in fact, my Egypt trip was the first ever group tour that I took and I'll tell you the reasons for my decision.
Firstly (and I know it will come as a big surprise to you guys), I am a geek.
There is no niche historical fact that I do not want to know, no obscure piece of trivia that I won't find interesting… so there was no way I was going to go to Egypt – the home of one of the single most important ancient civilisations without a guide.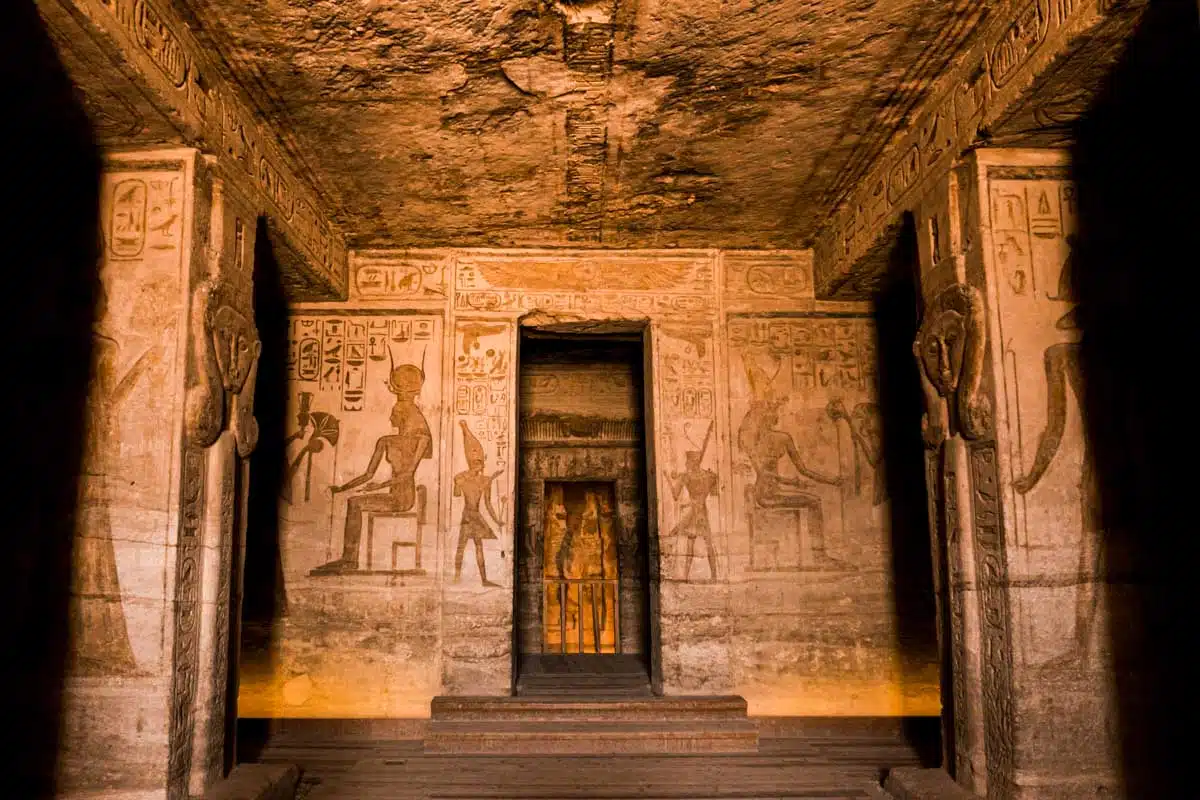 Did I need a guide for the whole trip?
No.
Would my visits to the Pyramids of Giza, The Valley of the Kings, Karnak, Philae and Abu Simbel have been the same without our brilliant guide Ahmed? Not at all.
Essentially, given the fact that I was going to hire a guide in pretty much every destination I visited, it made sense for me to book onto a group tour like Intrepid's that came with a professional local guide leading the trip.
I don't regret it for a second either – Ahmed was straight up brilliant. Professional, knowledgeable, fricking hilarious – he also provided lots of local insight that it would have been difficult to pick up otherwise.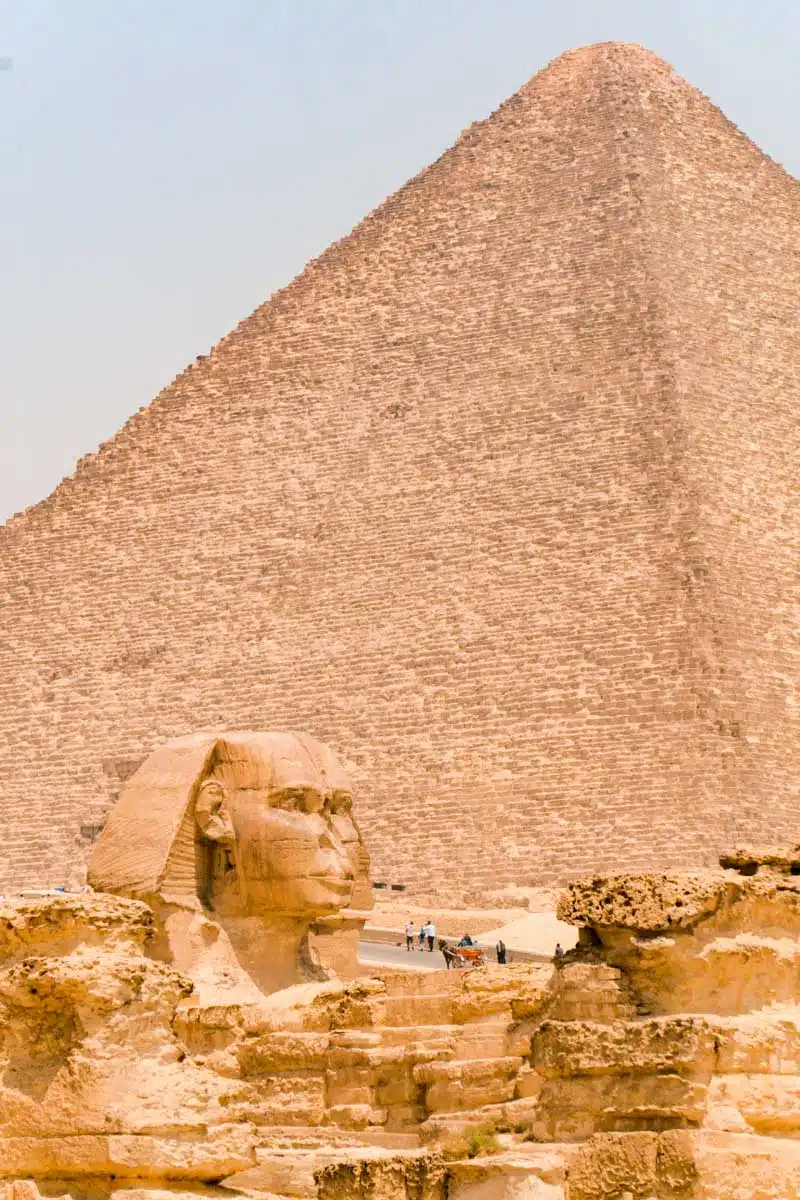 That said – group travel is not all yes yes yes. It kind of goes without saying but you have to be comfortable spending a lot of time with a bunch of people you just met.
You also have to find an itinerary that covers the things you want to see – I opted for the Intrepid Egypt Adventure because it had a lot of free time that you could pack with optional add-ons or to do whatever you wanted.
I opted to go to Abu Simbel (felt like a no-brainer) and also went to the Botanical Gardens in Aswan and the Nubian Museum on my own.
For me it was the perfect blend between doing things solo but having the structure and knowledge lent by the tour guide.
However, it's undisputed that you will have more freedom if you travel independently. You can see things in your own time and you don't have to hang out with strangers if you don't want to… so there's that. independent travel, and you can see things in your own time.
During my time in Egypt, I joined the Intrepid Travel Egypt Adventure for eight days and absolutely loved it. Like our independent itinerary guide, the tour started and ended in Cairo and I got to experience the magic of Egypt.
You can also check out G Adventure's Best of Egypt 8-day tour
What to Pack for Your Egypt Itinerary
Some dried snacks for the road (get these in Egypt).
Sunscreen and sunglasses.
A camera with a spare battery.
A good pair of comfortable walking shoes. I recently bought a pair of Allbirds Tree Runners, which are some of the most comfortable shoes I've travelled in.
Useful Resources for Your Egypt Travels
When planning your trip to Egypt, take advantage of the many resources available to you. These include:
Skyscanner – a handy site to help you book flights from wherever you are in the world.
Booking.com – book your accommodation in advance to ensure you have a comfy bed to sleep in.
Egypt Itinerary – Map
Love This? Save and Share on Pinterest