Looking for the best things to do in Cairo? Get ready to explore this captivating city. From the stunning Pyramids of Giza to the maze of the Coptic Quarter, these are the places you shouldn't miss.
People love to hate on Cairo. "It's too busy" they say. "It's grimy" they wail. "There's nothing to see except the pyramids" they decry… all from the confines of their hotel room they haven't actually left except on a guided tour.
I disagree. Sure, like any city, Cairo isn't all roses, but with its busy bazaars, show-stopping sights and vibrant cosmopolitan culture, it's got a vibe of its own. One that you will fall head over heels with if you give it a chance.
Cairo was probably the place I was least excited overall about on my recent Egypt trip (let's be honest, I was still very excited about it – just slightly less so than about destinations like Luxor and Aswan) – and it was without a doubt the biggest surprise. 
Unsure what to do in Cairo? This guide will help you unearth the spots you must see while you're in the city.
Pack your bags (and a sense of adventure) – and let's go!
Are you looking for a room with a view? The Kempinski Nile Garden City has rooms with incredible views over the Nile and is well located to explore the city to the fullest.
Top 5 Things to do in Cairo
Marvel at the Pyramids of Giza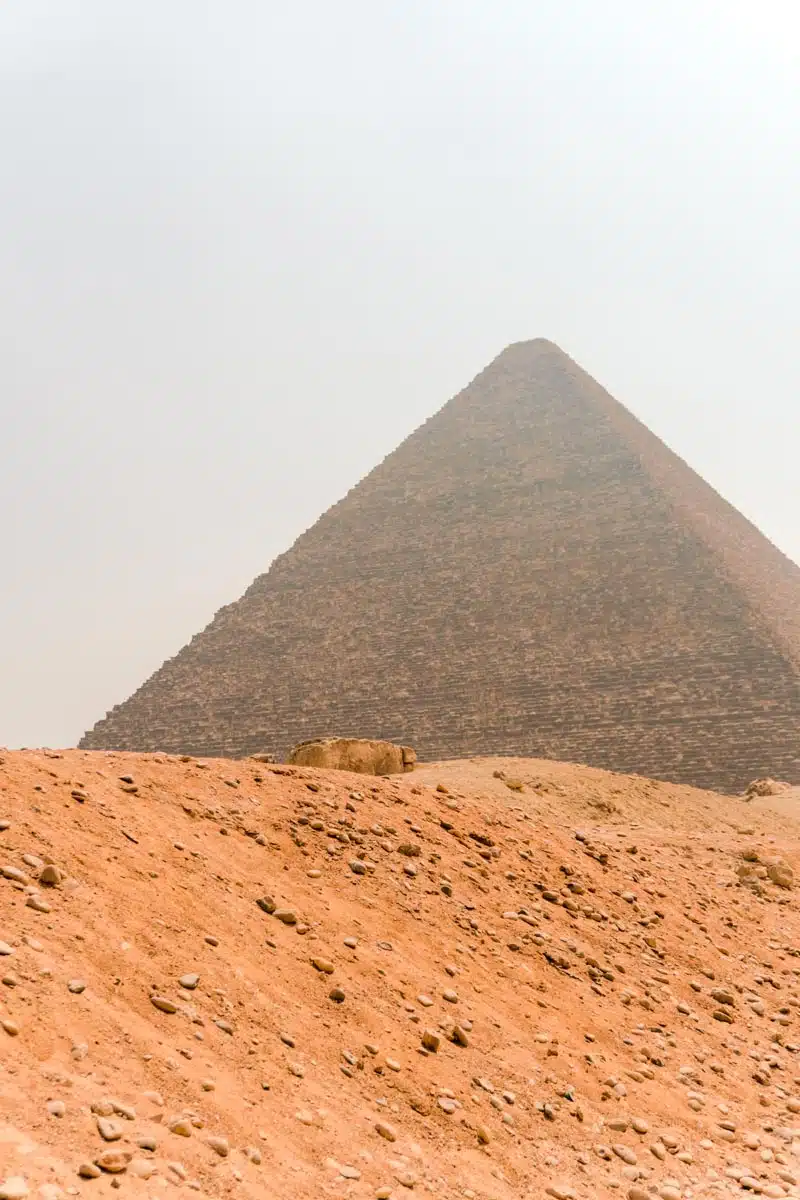 You can't come to Cairo and not see the Pyramids. Even more so than other iconic city landmarks like London's Big Ben or Paris' Eiffel Tower, these historical wonders go to the heart of what makes Cairo so magical.
These three pyramids (Khufu, Khafre, and Menkaure) are the royal resting place for past Ancient Egyptian reigning leaders.
There's the Great Pyramid of Giza of course – the last remaining Ancient Wonder of the World – you'll have to pinch yourself to believe you're seeing it in real life.
Did I have a minor "moment" when I stood in front of a structure that had stood in place for over 4,600 years. Yes.
Your general entry ticket for the pyramids includes being able to walk around the complex, but if you want something special, buy an extra ticket to go inside. You will need to buy this at the entrance to the pyramid complex and it's an extra 400 EGP.
It was quite a surreal experience going inside – and I'll warn you – it's probably not one for the claustrophobic, but there was something about standing inside an ancient wonder of the world and seeing Khufu's sarcophagus.
Want to take a sneak peek?
Most of the pyramids' exterior limestone casings and inner burial treasures were long plundered and stripped down – but with the remaining structures ranging from approximately 60-140 metres tall, they're a sight beyond compare.
If you're looking for a must-do in Cairo, take a half-day pyramid tour to explore these gorgeous plains by camel. You'll have the opportunity to learn about these pyramids' history and cultural significance.
Read Next: Visiting the Pyramids of Giza – What You Need to Know
See the Sphinx of Giza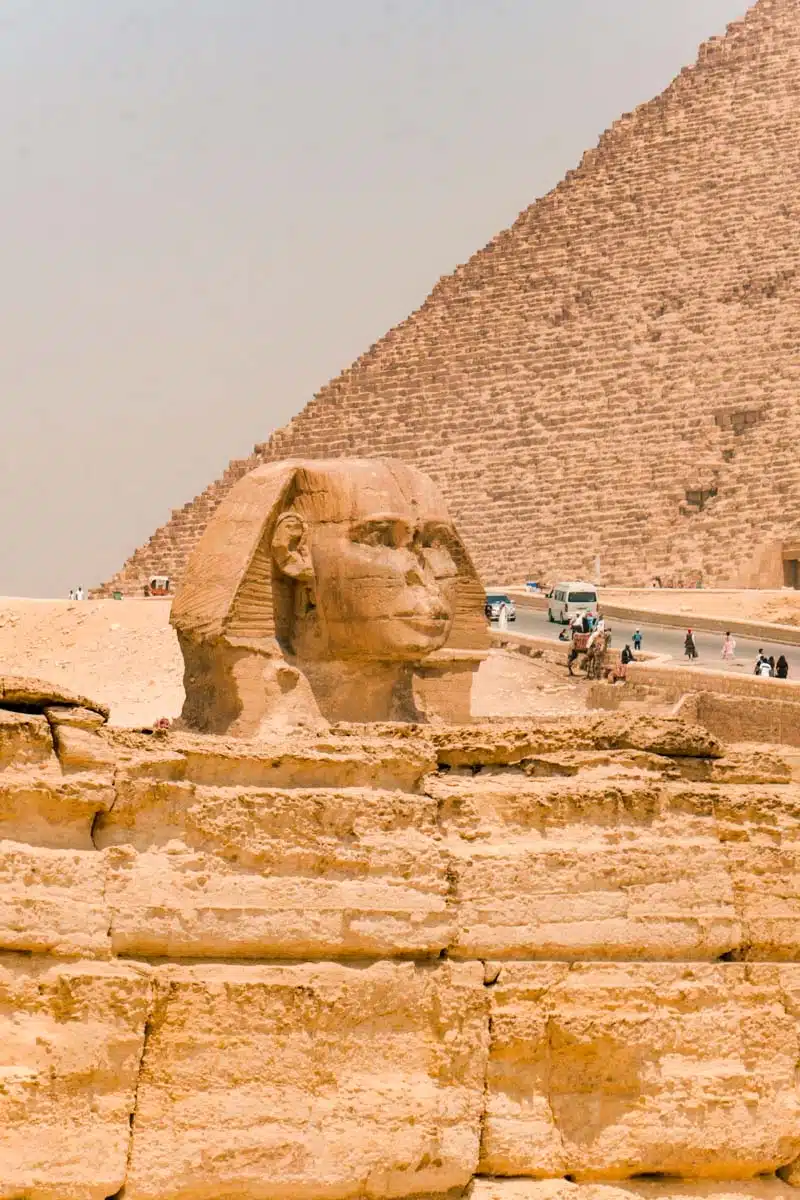 If the pyramids together form one of Cairo's must-see spots, The Sphinx isn't far behind.
This colossal monument, sporting the body of a lion with the head of a human, sits on a plateau, serenely guarding the pyramids.
Thought to have been a monument to the pharaoh Khafre and built around the same time as his pyramid, historians have puzzled over the history of the Sphinx for centuries. Some claim it's definitely Khafre – an idea supported by the likeness of the monument's face to other depictions of the pharaoh, others say otherwise.
Why not take a look for yourself and see what you think?
The pyramids and sphinx are magnificent at any time of the day, but if you want to see something really special, go after dark to catch the cool light and sound show. Catch the projections of the fascinating tales of ancient Egypt, featuring the history of the pharaohs.
Explore the Egyptian Museum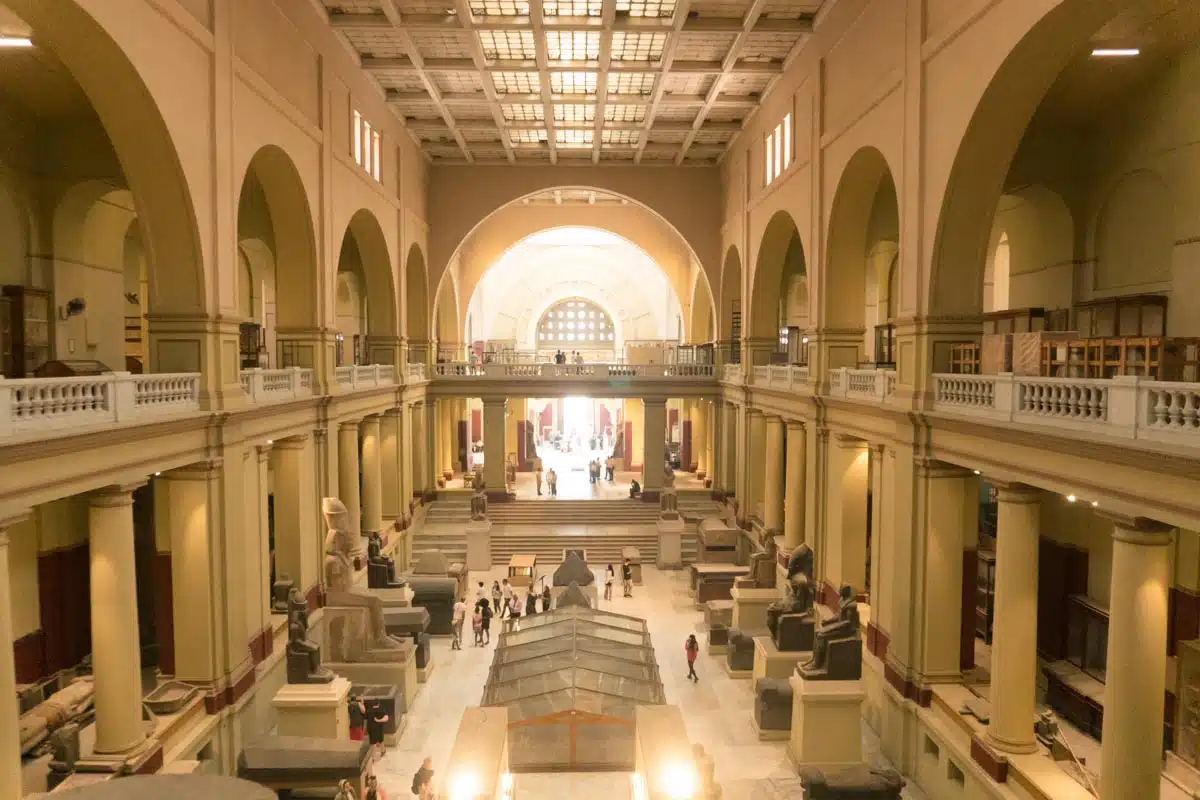 If the pyramids and the sphinx are where you see the all-out grandeur of Ancient Egypt, the Egyptian Museum is where its story comes to life.
From mummified members of royalty to gold-embellished treasures, the Egyptian Museum should be at the top of your list of places to visit in Cairo. This grandiose building holds the best-known and most extensive collection of Egyptian antiquities in the world.
There are various masterpieces to discover and explore on the premises, including the golden death mask of Tutankhamun. Stunning as these masterpieces are, I would suggest spending as much time as you can here.
If you're planning to go to the museum to see royal mummies – there are a couple but the biggest part of the collection is now on display in the National Museum of Egyptian Civilization (NMEC).
It's probably a good time to flag that, if everything goes to plan, the Egyptian Museum will be replaced with the shiny new Grand Egyptian Museum come November 2022.
Go to the National Museum of Egyptian Civilization (NMEC) & its Royal Mummy Room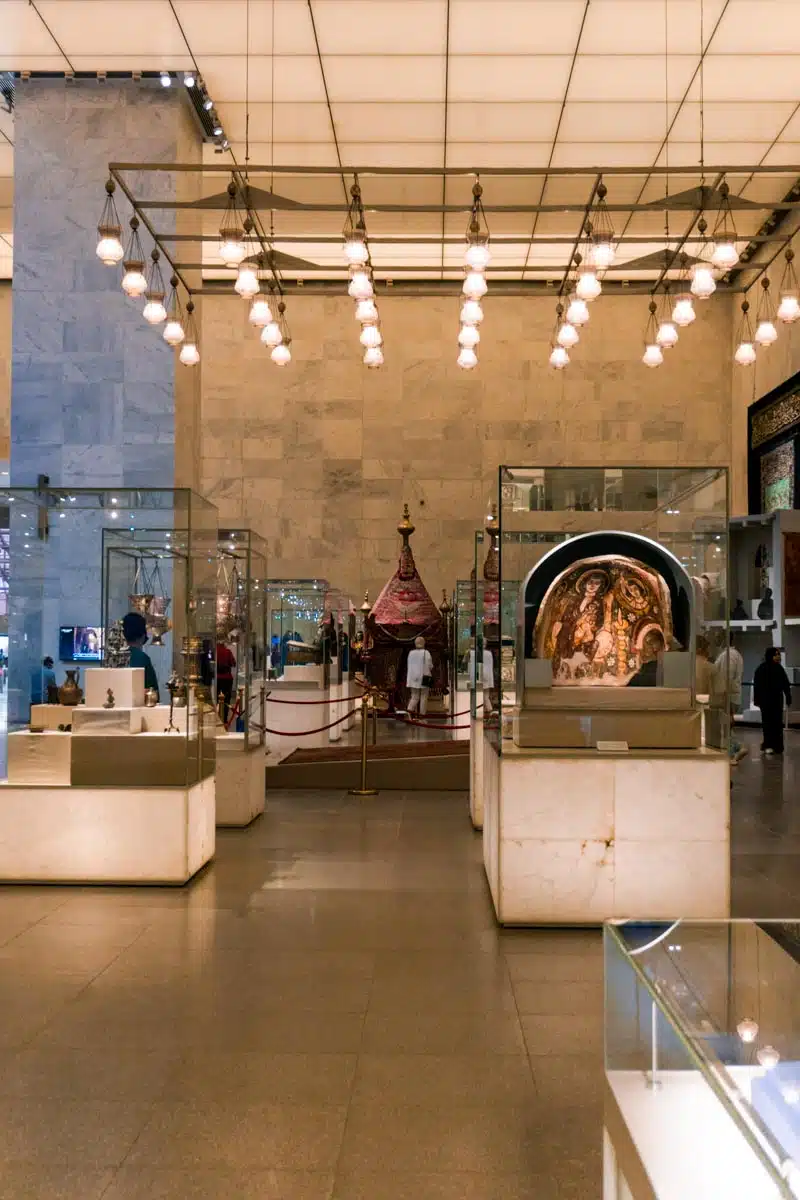 If you've spent any time in Cairo without seeing a mummy or two, have you really experienced the city?
Thankfully, it's a question you won't have to answer if you visit the National Museum of Egyptian Civilization, which, among other things, has a special collection of mummies in the thoughtfully-curated Royal Mummies' Hall.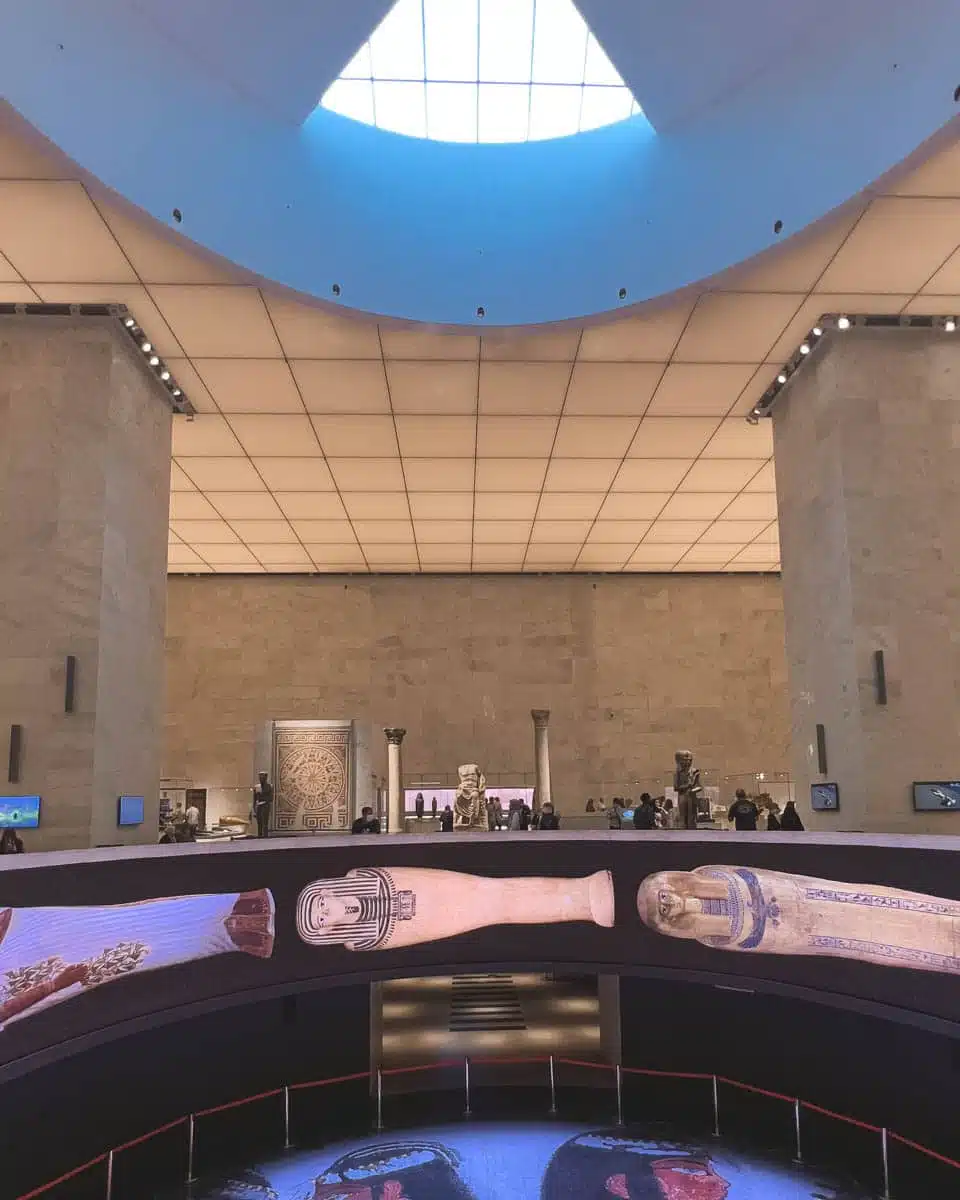 The collection shows you the mummies of the pharaohs of times past – but also takes the time to tell you who they were and what they did during their rule, a story that winds through millennia from the old kingdoms to the new.
Outside of the mummies, the NMEC's collection is nowhere near as vast as the Egyptian Museum, but they are opening new collections on an ongoing basis.
Haggle at Khan el-Khalili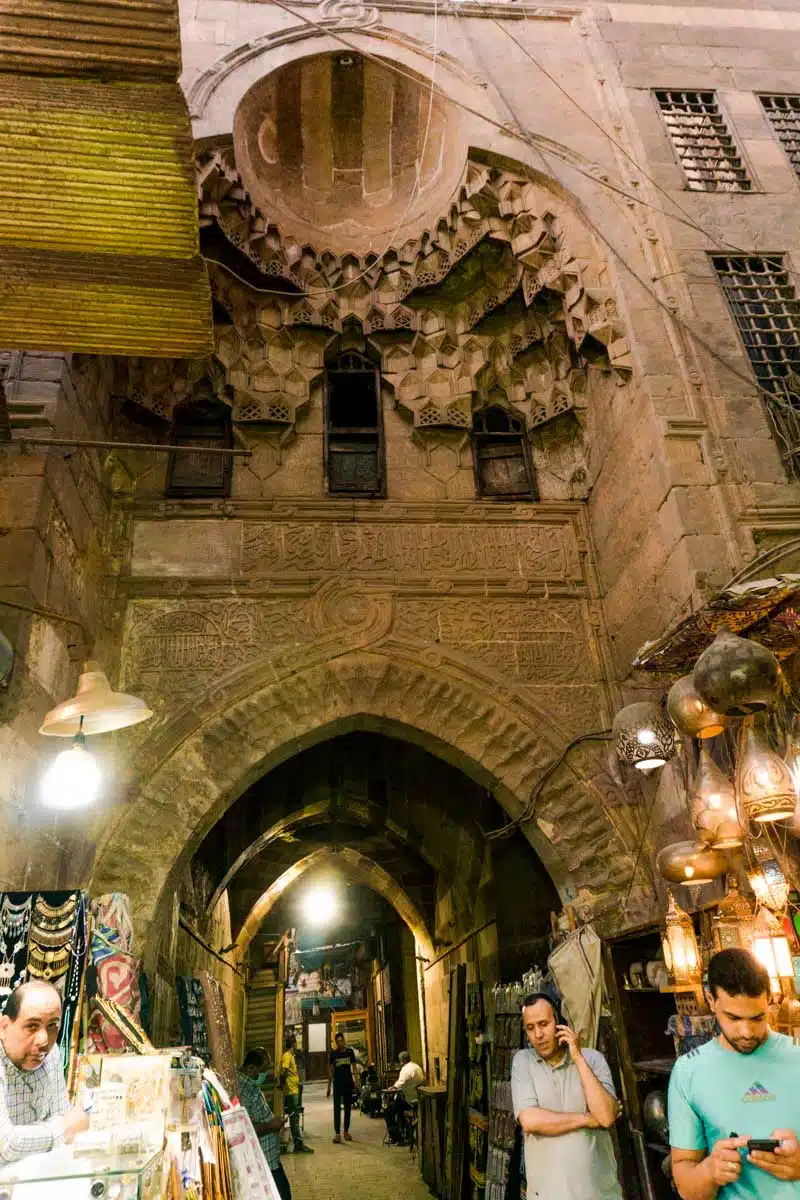 Khan el-Khalili is the world's oldest bazaar – a place of electrifying activity that sweeps you up in its buzz and sets you down giddy from the experience.
I'll level with you – Khan el-Khalili is very touristy. Locals tend to shop elsewhere, but even so, Khalili is well worth a visit.
This buzzing bazaar is a mecca for the senses. This is the ultimate place to stock up on souvenirs you've promised your loved ones. Just be prepared to haggle. Hard.
After the hustle and bustle of the bazaar, stop off at the iconic El Fishawy Cafe, the oldest coffee spot in Cairo, dishing up steaming teas and fragrant hookahs.
Brilliant Things to See & Do in Cairo During the Day
Marvel at the Al-Azhar Mosque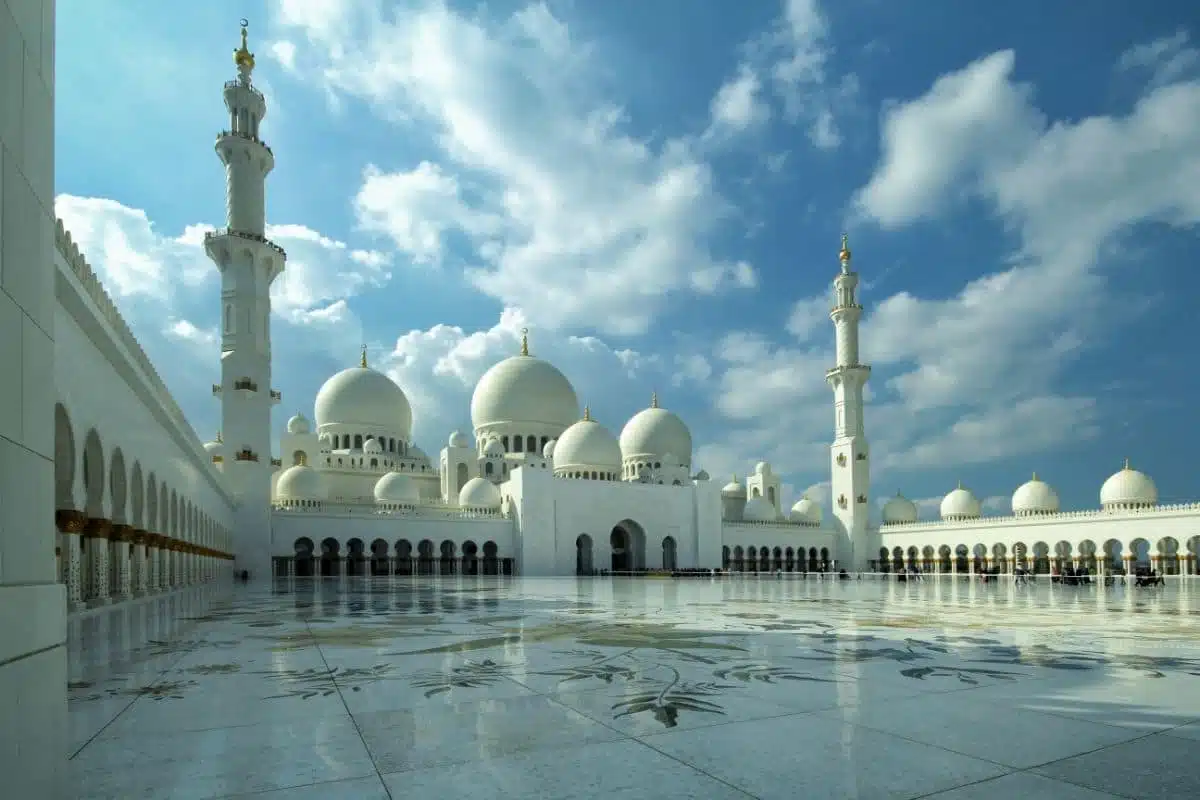 The Al-Azhar Mosque is a sand-coloured sanctum, a historic site and fortress of religious learning (it's said to be the world's oldest university) that teaches Islamic studies.
The mosque is a great example of the architecture of the Fatimid rule – although it has been significantly modified and expanded since its original construction.
From its stunning courtyard to its stoic study spaces, spend some time discovering the various architectural styles within the premises.
Visit The Citadel of Cairo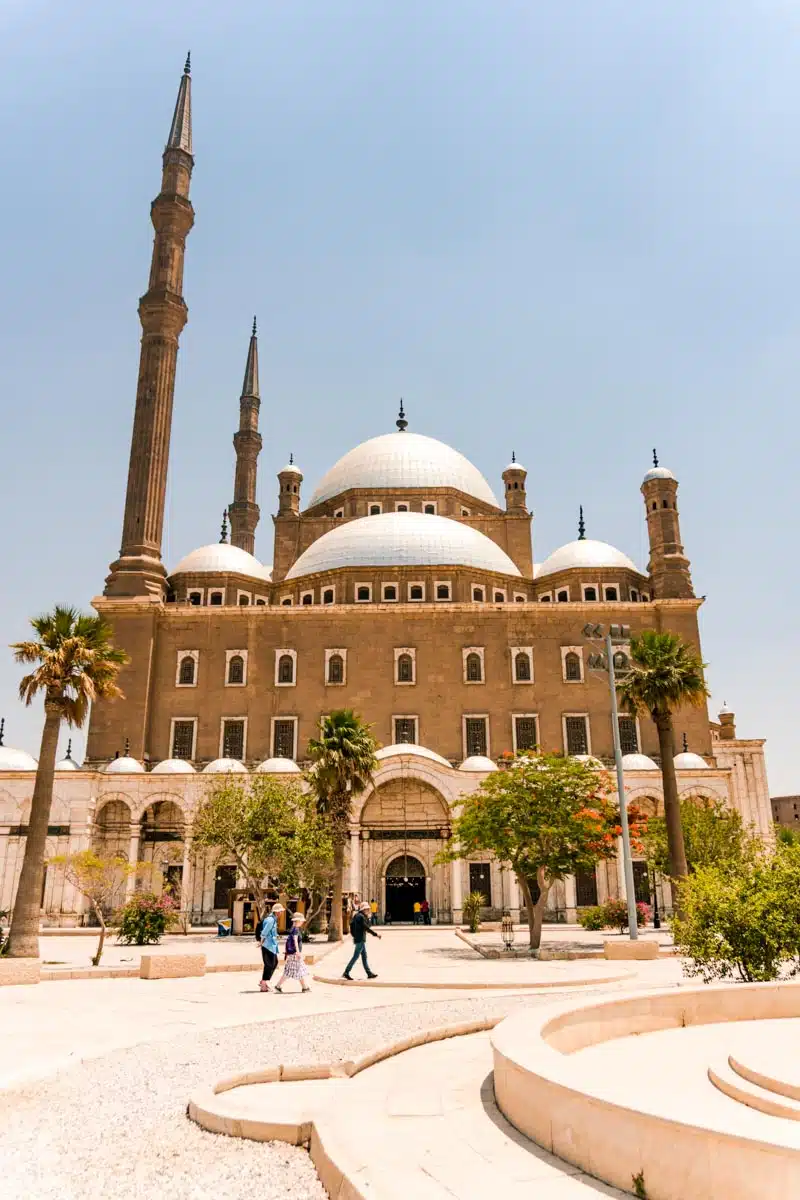 The Citadel – also known as the Citadel of Saladin, this magnificent complex dates back to the 12th-century and is a must-see in Cairo.
This area was a sanctum from which rulers governed the country for around 700 years. Today, the Citadel is one of Cairo's top attractions.
Go to explore the interesting buildings (though I'd give the underwhelming museums a miss) – stopping off in the stunning Mohammed Ali Mosque along the way.
The Citadel also sports some of the best views of the city – hop onto one of the many terraces to see it sprawling for miles beyond.
Go Mosque Hopping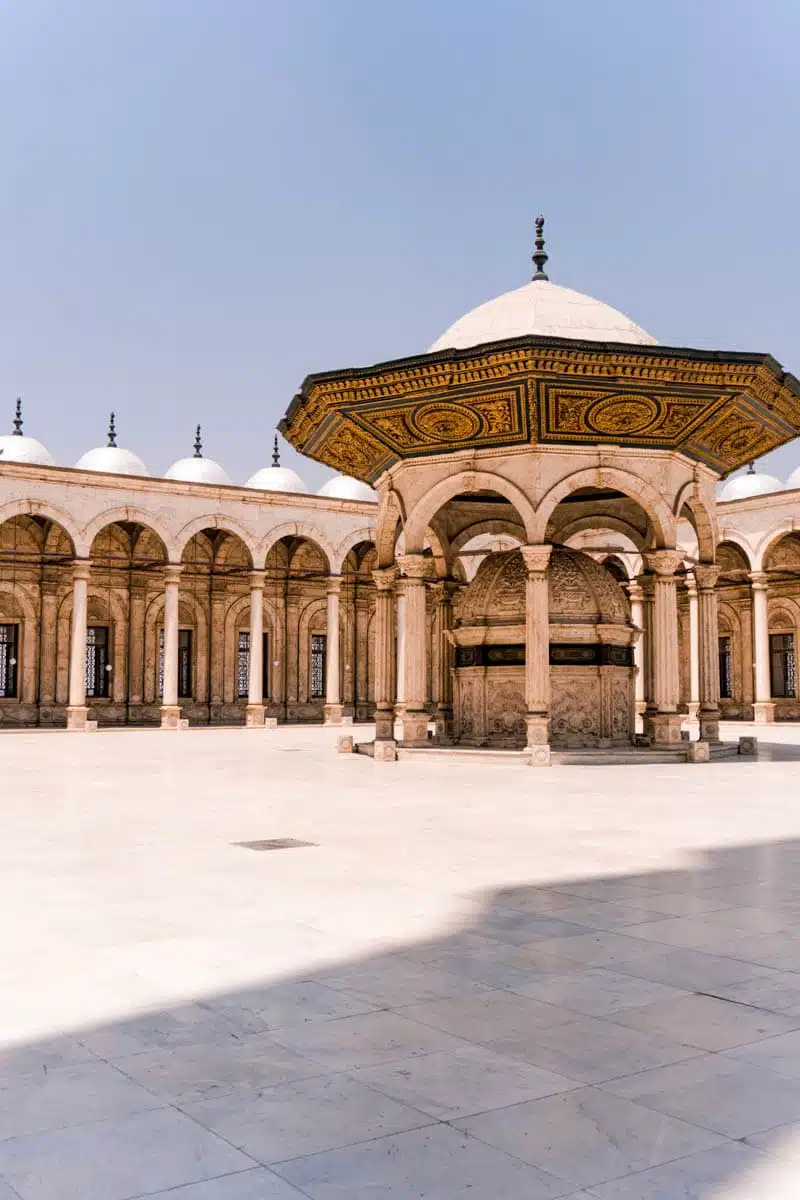 Nothing makes you experience the hidden depths of a culture and nation quite like exploring its religious and culturally significant sites and structures.

You'll find a mosaic of history and architectural splendours to marvel at and enjoy within its confines. Below, you'll find a few gleaming gems to add to your itinerary: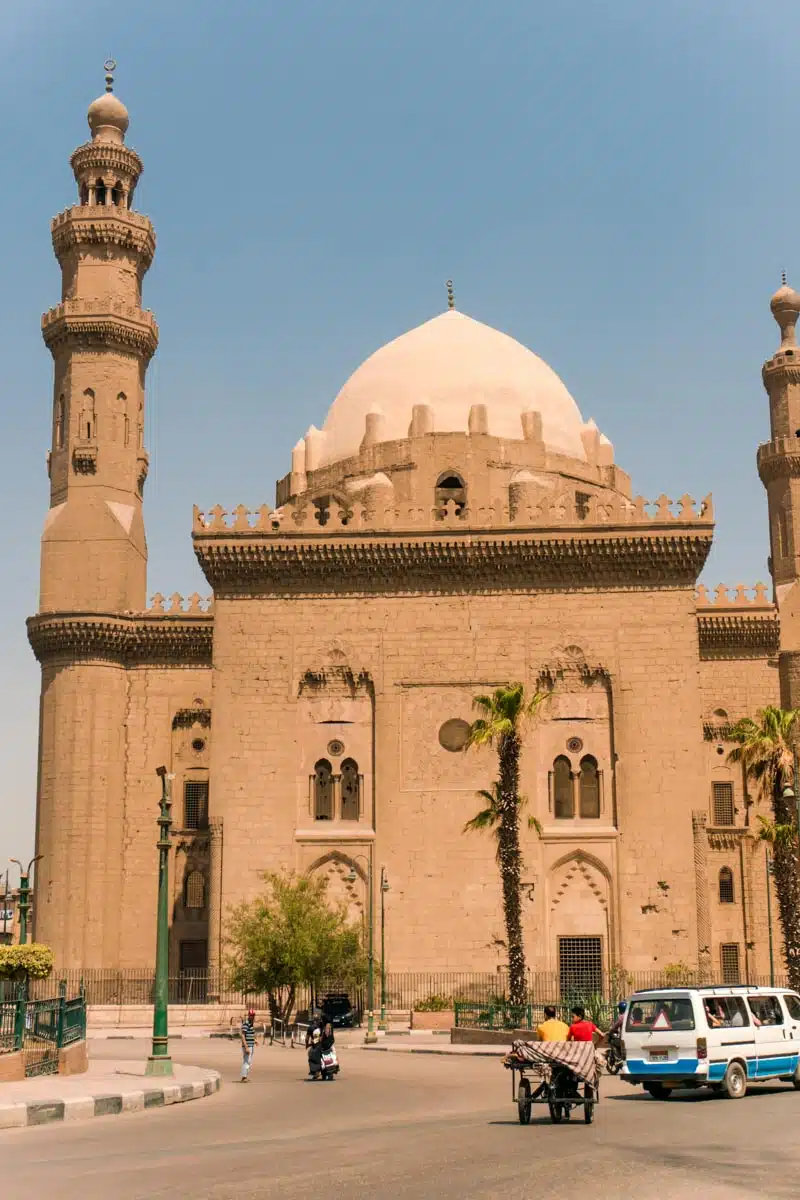 Mosque Madrasa of Sultan Hassan – This mosque is in the Mosque Madrasa of Sultan Hassan (also known as Citadel Square). It is well-known as one of the biggest mosques in Egypt. Within the corners of the courtyard inside, you'll notice four doors. This is where learning sanctums teach the four schools of Islamic thought (Hanafi, Hanbali, Maliki, and Shafei).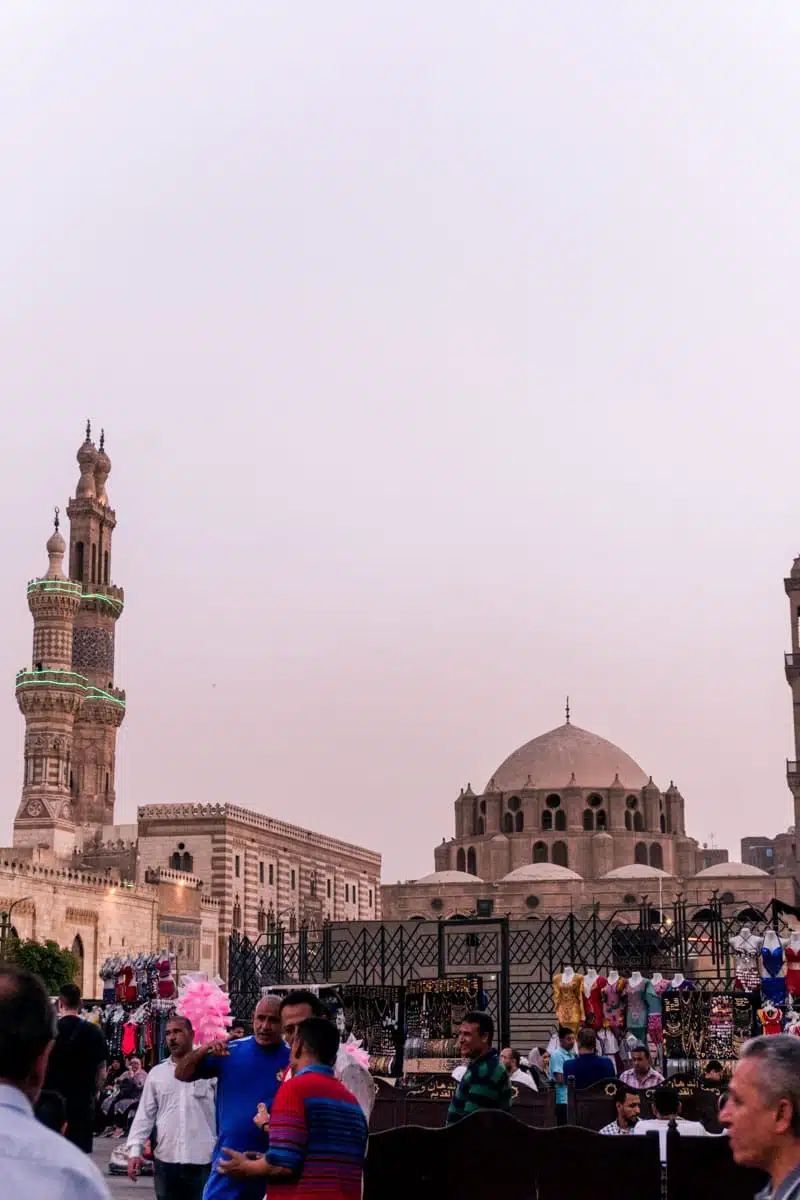 Al-Hussein Mosque – A mausoleum of the famous leader Husayn ibn Ali, this mosque is a stunning building located near downtown Cairo.
Delve into The Museum of Islamic Art
With thoughtfully placed brush strokes to encapture a moment in time, delve into the beauty of Islamic art at the stunning Museum of Islamic Art.
It's one of Cairo's largest and most famous museums, with its primary focus on Islamic artistry and artefacts.
Besides providing a wonderful collection of creative works for visitors to peruse and enjoy, the museum also provides extensive education programs. These programs display the importance of this culture's influence and effect on the world.
Tip: As this cultural building has over 100,000 items on display, be sure to make a list of the top works of art to view to make sure you don't spend the whole day here (or do!).
Learn and Discover the History of the City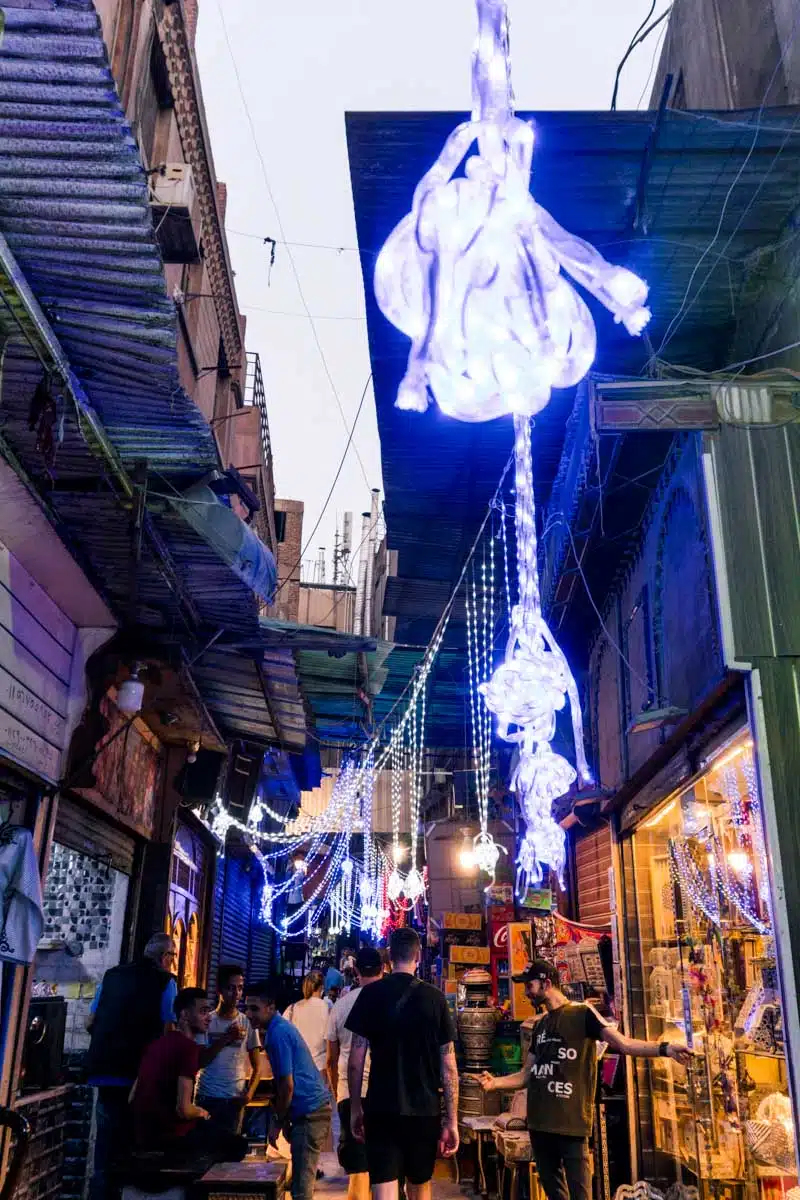 From a ground-breaking ancient civilisation to the political seachange of the Egyptian Revolution, Cairo has seen its fair share of monumental moments in history.
Immerse yourself in the fascinating history of the city with a historical walking tour of Cairo. From sightseeing at the Cairo Opera House to discovering the meaning of the vibrant graffiti bespeckling the city, it's a good way to get some perspective on the Cairos of the past and present.
Explore The Coptic Quarter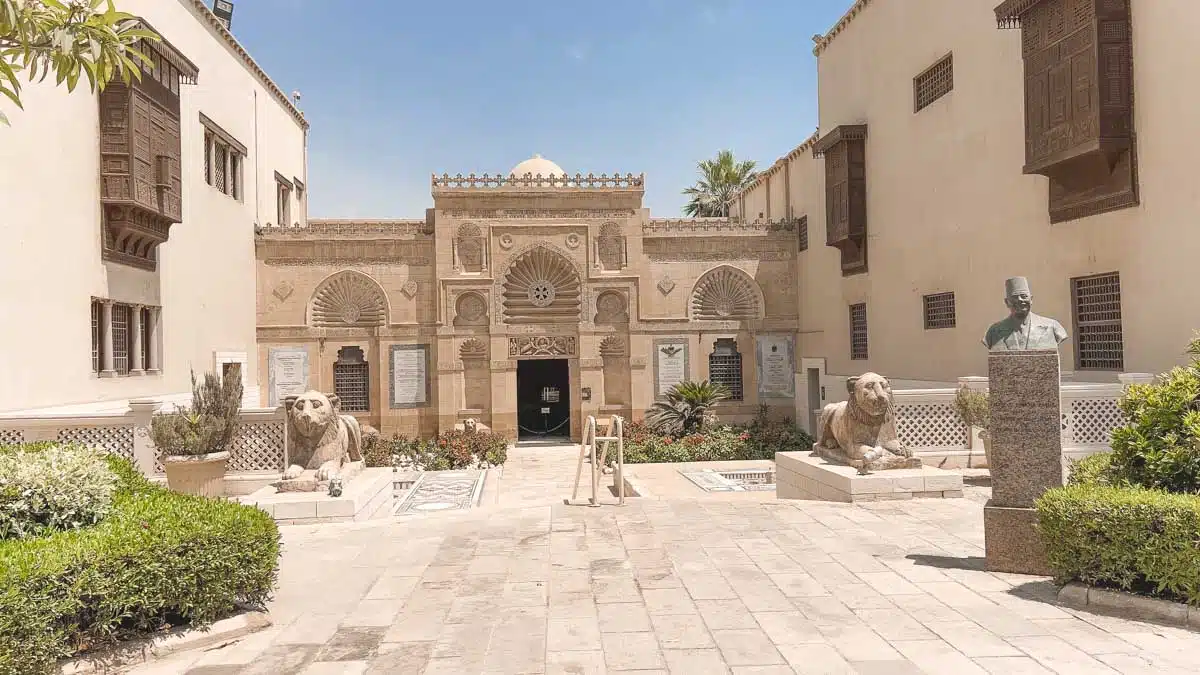 The captivating Coptic Cairo, also known as Old Cairo, is this city's beating heart when it comes to surviving relics of ancient history.
From remnants of Babylon to religious sites steeped in past stories, Coptic Cairo is sure to be the highlight of your trip. Don't miss the following…
Hanging Church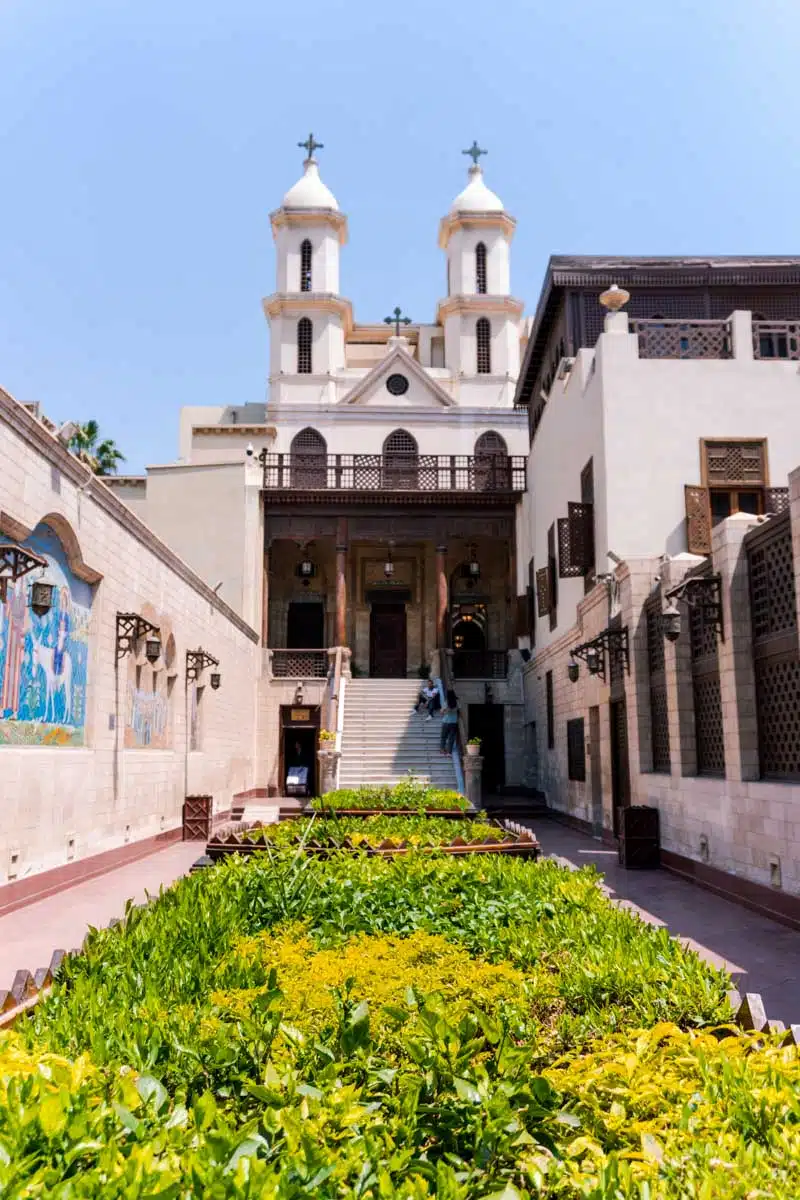 Also referred to as the Saint Virgin Mary's Coptic Orthodox Church, this stunning structure is a unique religious site – namely because it was built to hang over the passage of a Roman fortress.
Pay particular attention to the roof, which resembles the formation of Noah's ark and the church's impressive columns.
Coptic Museum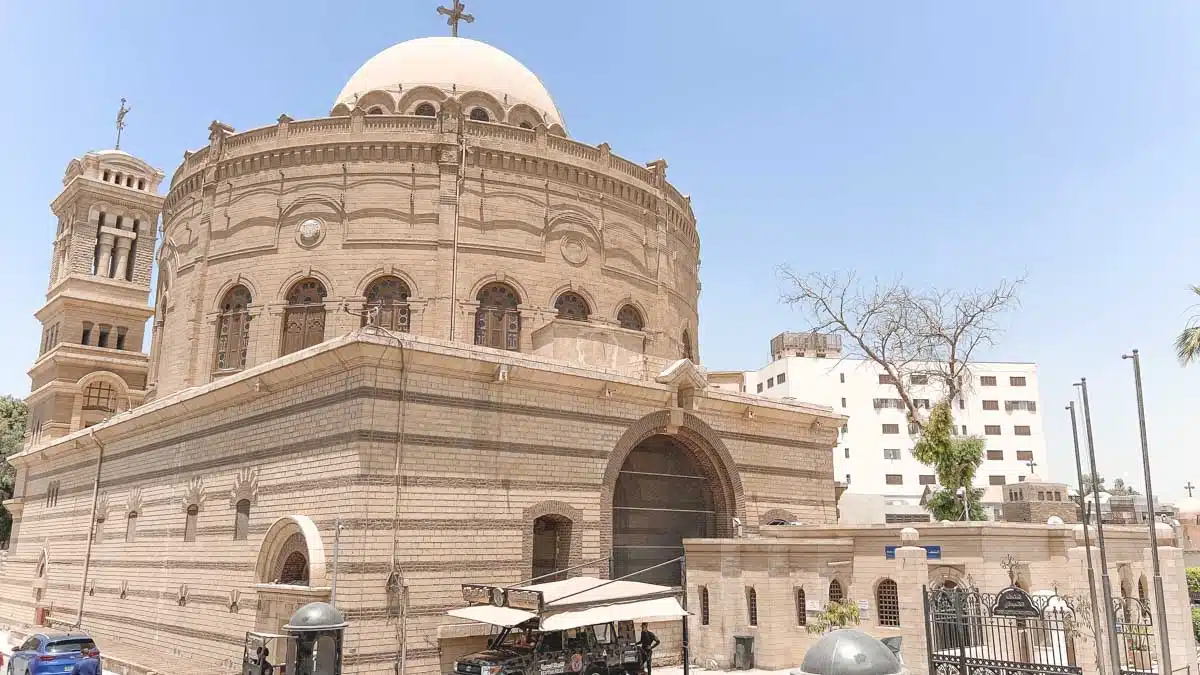 Adjacent to the Hanging Church, religious revellers will rejoice as this structure has the biggest collection of Coptic Christian artefacts on the globe.
Church of St Sergius and St Bacchus Church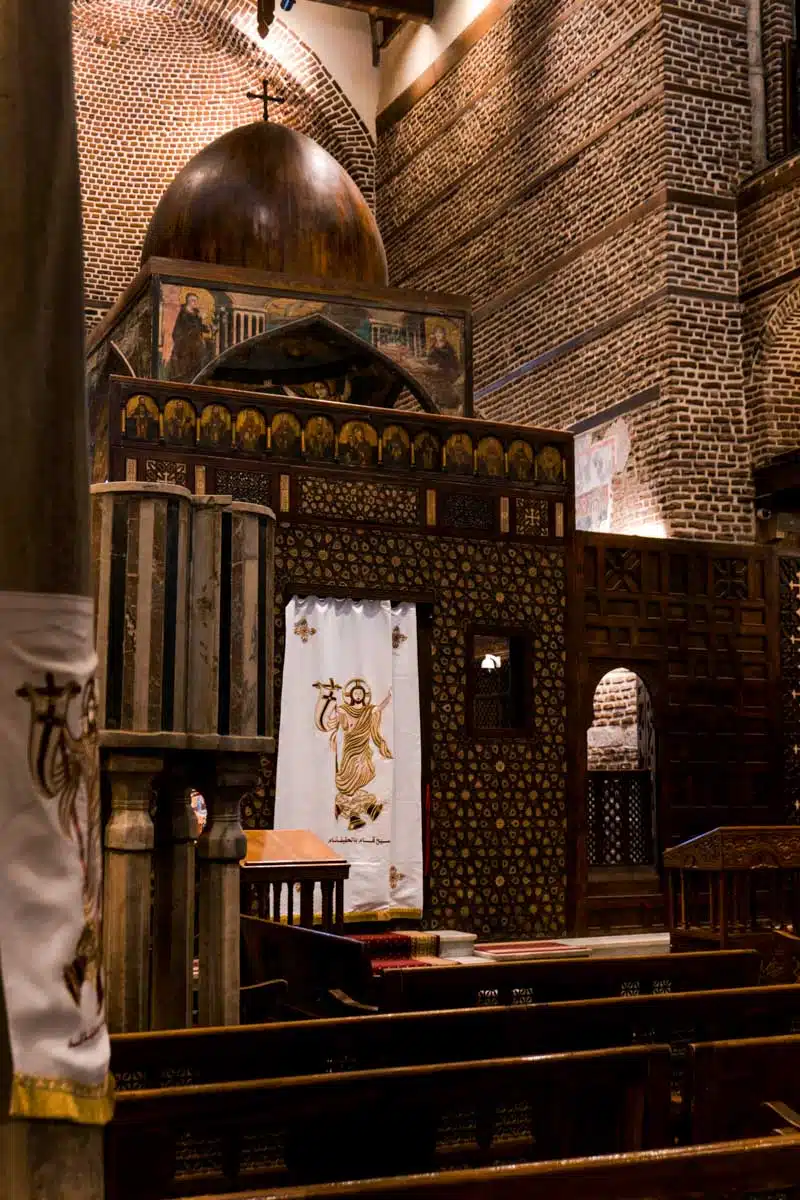 From the wooden temple to the underground cave, this church is a beautiful example of the grandeur of early Christian churches. It's also said to be the place where the Holy Family took refuge at the end of their journey to Egypt.

Top Tip: If you're looking to explore ancient paths and travel through Cairo like a true local, you can take a best-kept secrets night tour to experience this city unfiltered. With a handy guide at your beck and call, you'll have the opportunity to explore the lesser-known side of Islamic Cairo.
Cool Things to See & Do in Cairo at Night
Float Along on a Nile Night Cruise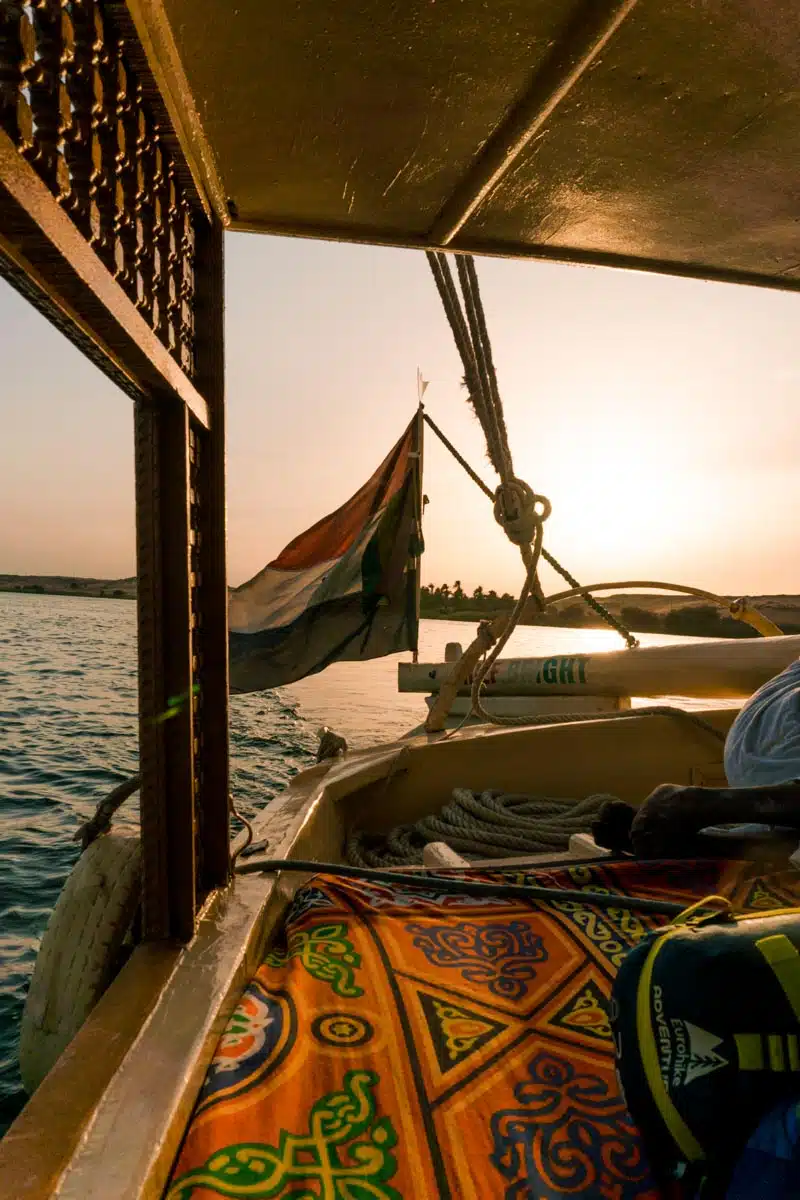 What better way to end a day filled with an endless array of sightseeing excursions than by bobbing along one of the longest rivers in the world?

With the soft twinkle of the city lights and enchanting entertainment onboard, a Nile night cruise is a top contender for the best thing to do in Cairo. Enjoy a delicious open buffet while watching belly dancers shake the night away.
Try Cairo's Traditional Dishes
One of the best ways to dive headfirst into the inner workings of a country is by savouring its unique flavours.
On a Cairo food tour, you'll have the chance to sip and nibble your way through the city and perhaps discover your next favourite dish.
This tour starts at 5 pm and travels through Cairo for 5 hours to taste the best of the best, so be sure to wear comfortable walking shoes. From smoky baba ganoush to flavourful falafel, you'll have a smorgasbord of dishes to sample on this tour.
Things to Do in Cairo: Practical Tips for Your Trip
How Long to Visit Cairo?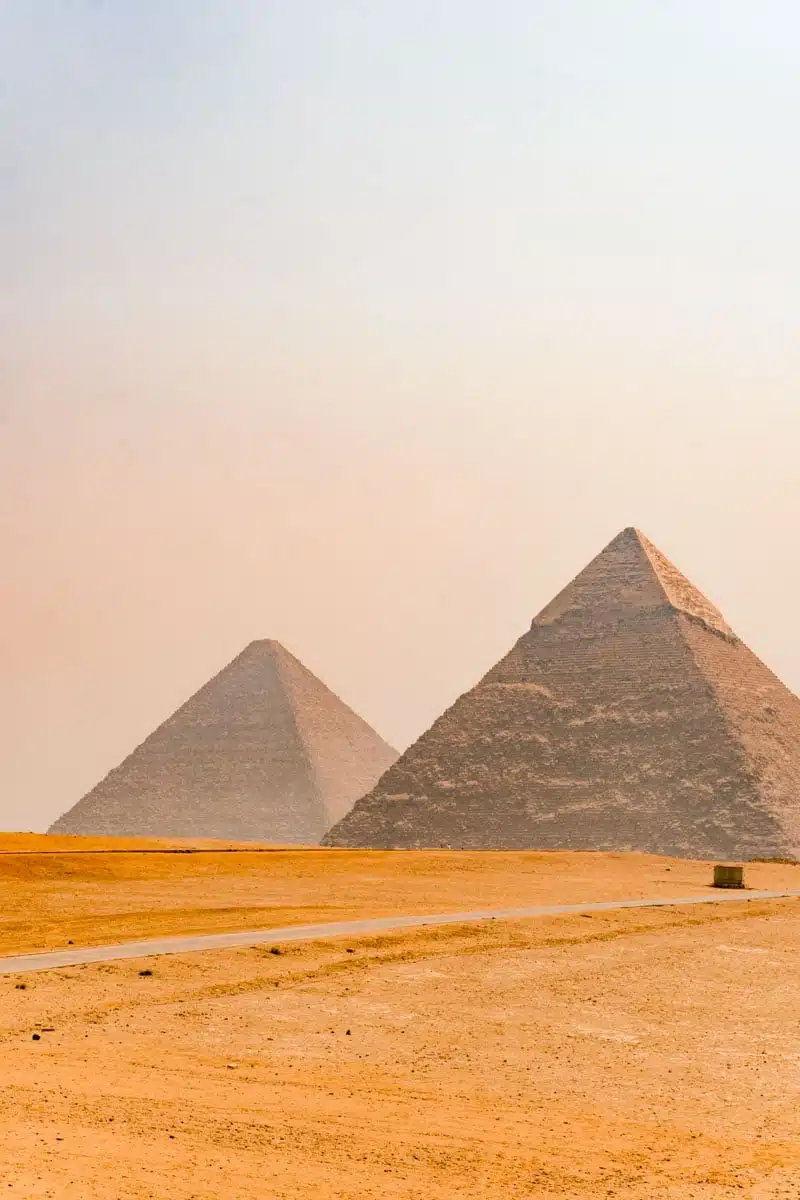 While any duration in this magical city is time well spent, you'll need a few days to experience its essence and the best Cairo attractions. A day or two in this urban space will have you craving more, as Cairo supplies a steady stream of landmarks to witness.

Three days is the perfect duration if you're looking to see the top sights in Cairo, with some time left for unscheduled exploring.
Best Time to Visit Cairo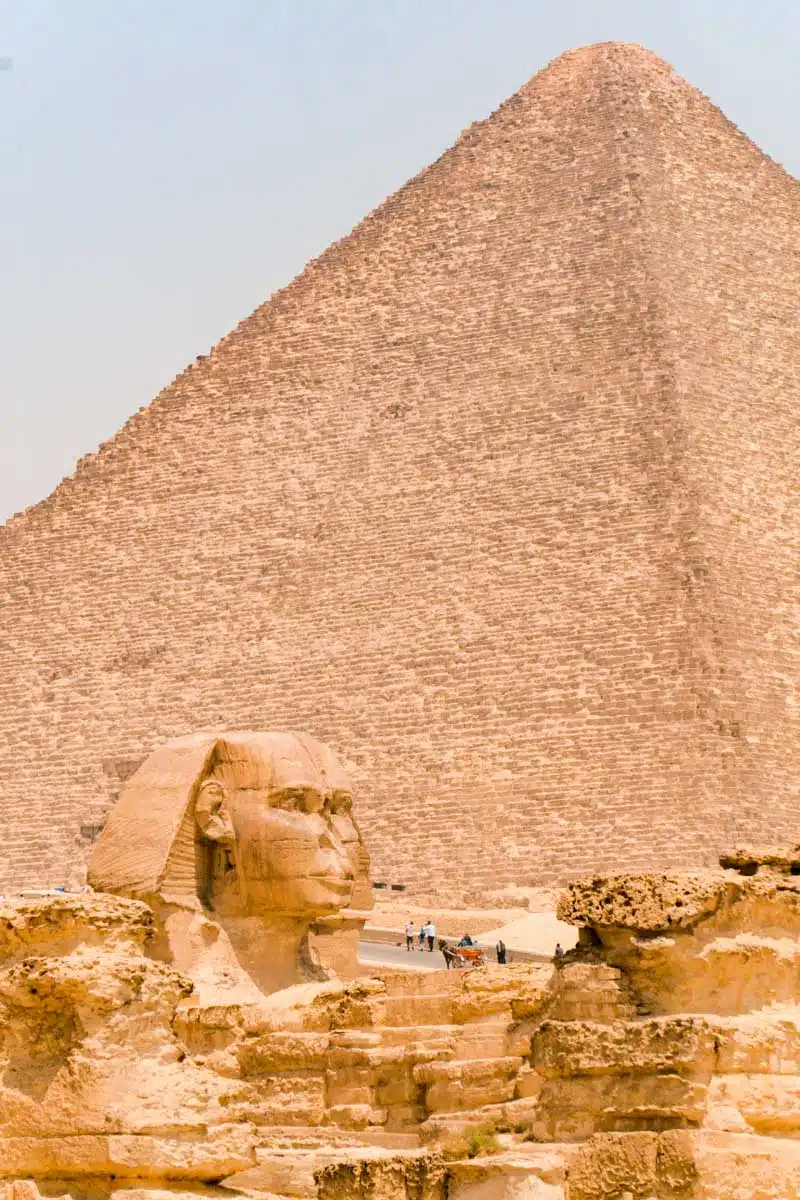 The ultimate time to travel to this city is within the shoulder months, which has milder temperatures and fewer crowds surrounding Cairo's top places to visit. An April and March visit is the perfect period to experience this city at its best.
Where Should I Stay in Cairo?
I've written a whole guide on the best areas and places to stay in Cairo – but if you want a few quick recommendations…
This cool accommodation is an excellent option if you're looking to be a stone's throw away from the Pyramids of Giza (less than 4 km away). Book a room with a view, as nothing stokes the fires of adventure quite like a stellar view of this ancient man-made structure.
Check Rates and Availability for Pyramids Planet Hotel on Booking.com
If you want to experience a slice of tranquil heaven, you can book a night or two at the Kempinski Nile Garden City for a luxurious stay. This 5-star hotel is the perfect place to melt away your travel stress or aching feet after a day of exploring.

With an exceptional spa facility and sublime breakfast buffet, you'll never want to leave your accommodation with its pampering perks.

Check Rates and Availability for Kempinski Nile Garden City on Booking.com
Recommended Tours in Cairo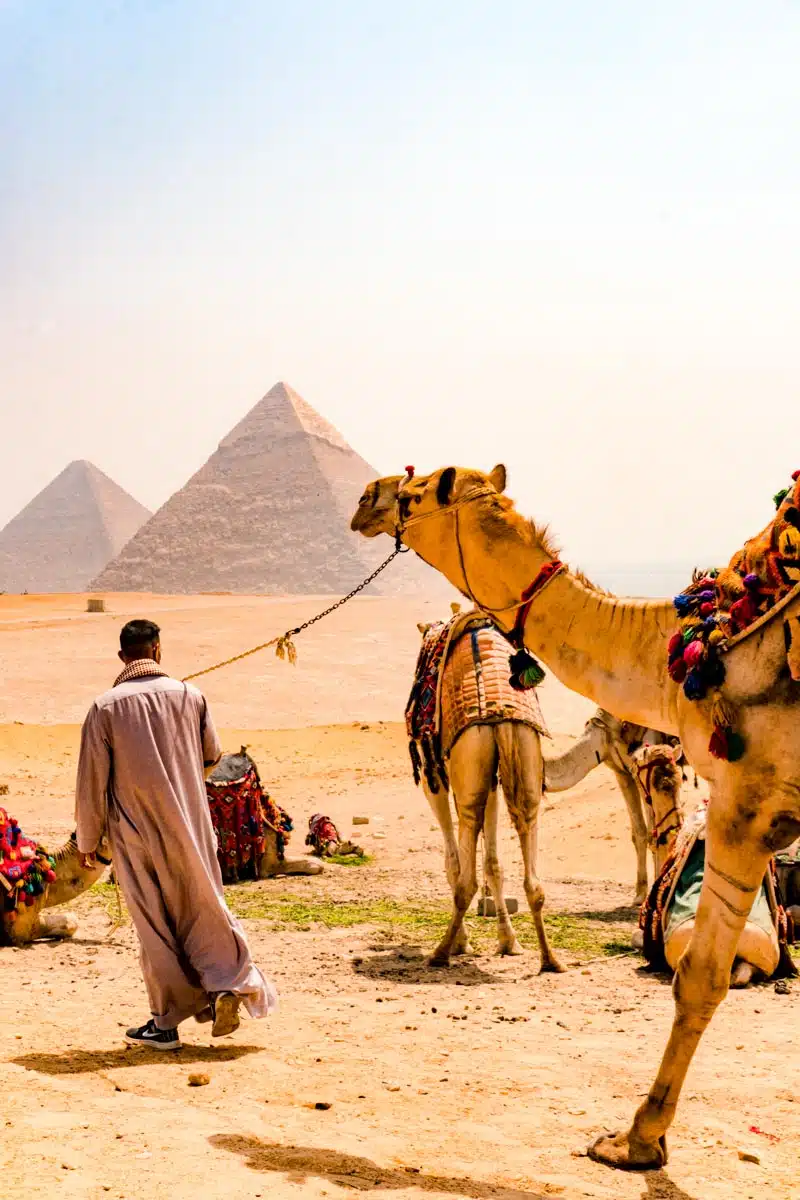 4×4 Desert Safari, Sandsurf, and Camel Ride – This cool thing to do in Cairo is a must for thrill-seekers and dune bunnies alike. Get ready to shake the sand off yourself for weeks to come, as this desert dalliance is a sandy excursion like no other.
Red Sea Full-Day Trip – From the aquamarine waters to the optional jet ski ride of a lifetime, this full-day tour from Cairo is a wonderful way to relax and unwind on your vacation.
Things to do in Cairo: Map