Planning to visit the Pyramids of Giza? These stunning ancient structures loom large in Egypt's cultural and physical landscape – here's what you need to know before you go.
Egypt: the home of ancient civilisations and magnificent monuments. Littered with myths, legends, and logic-defying historical sites; near portals that pull you back in time.
Few places embody this quite like the Pyramids of Giza. Sitting across the Nile from Cairo proper, they are one of Egypt's most famous attractions — receiving 14.7 million visitors each year.
Seeing them was one of the many highlights from my recent Egypt trip – and I know they will be for you too.
Discover the best ways to see the pyramids, opening hours, practical tips, prices and a dollop of history… Explore the Pyramids of Giza with this practical guide.
Why Visit the Pyramids of Giza?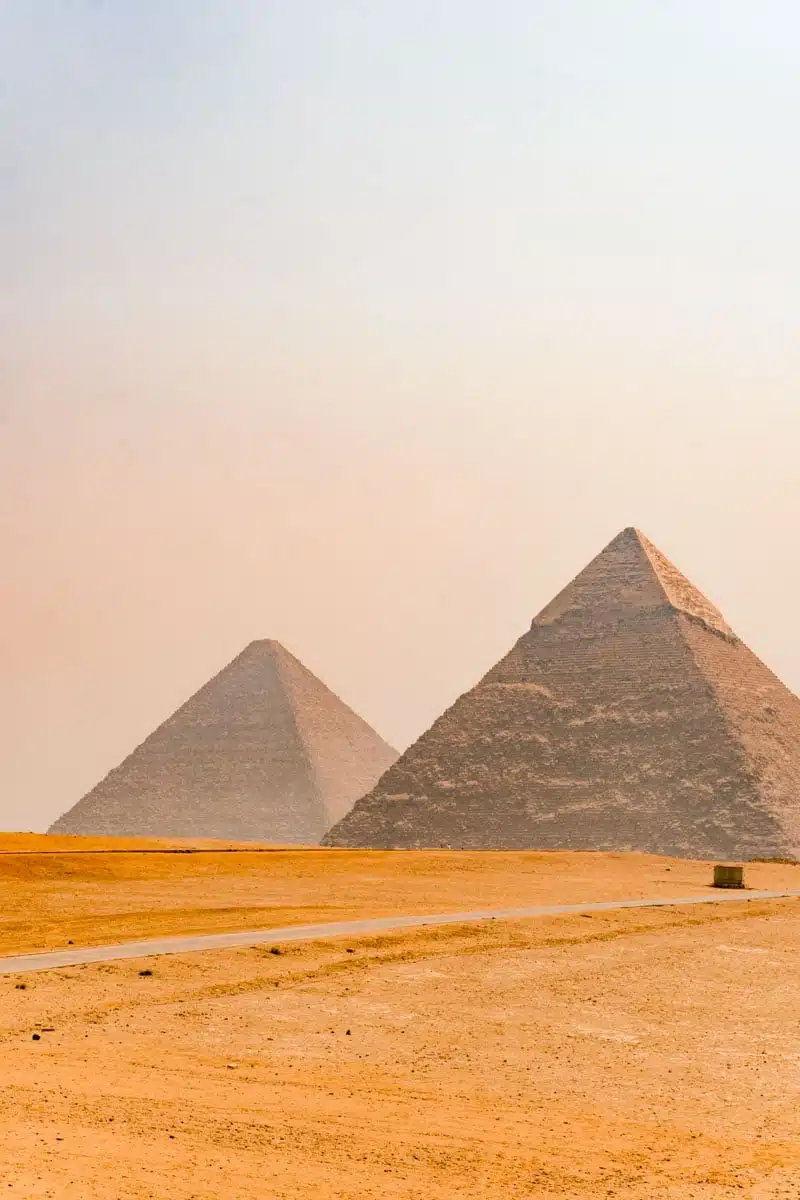 Are these pyramids really worth the trip? In short: yes.
Why would you pass up the opportunity to visit one of Egypt's UNESCO World Heritage Sites – a trio of landmarks left behind by one of the world's oldest civilisations. Not to mention the fact that The Great Pyramid of Giza, built for the Pharaoh Khufu, is the last standing ancient wonder of the world.
Best Way to Visit the Pyramids of Giza: On a Tour or Independently?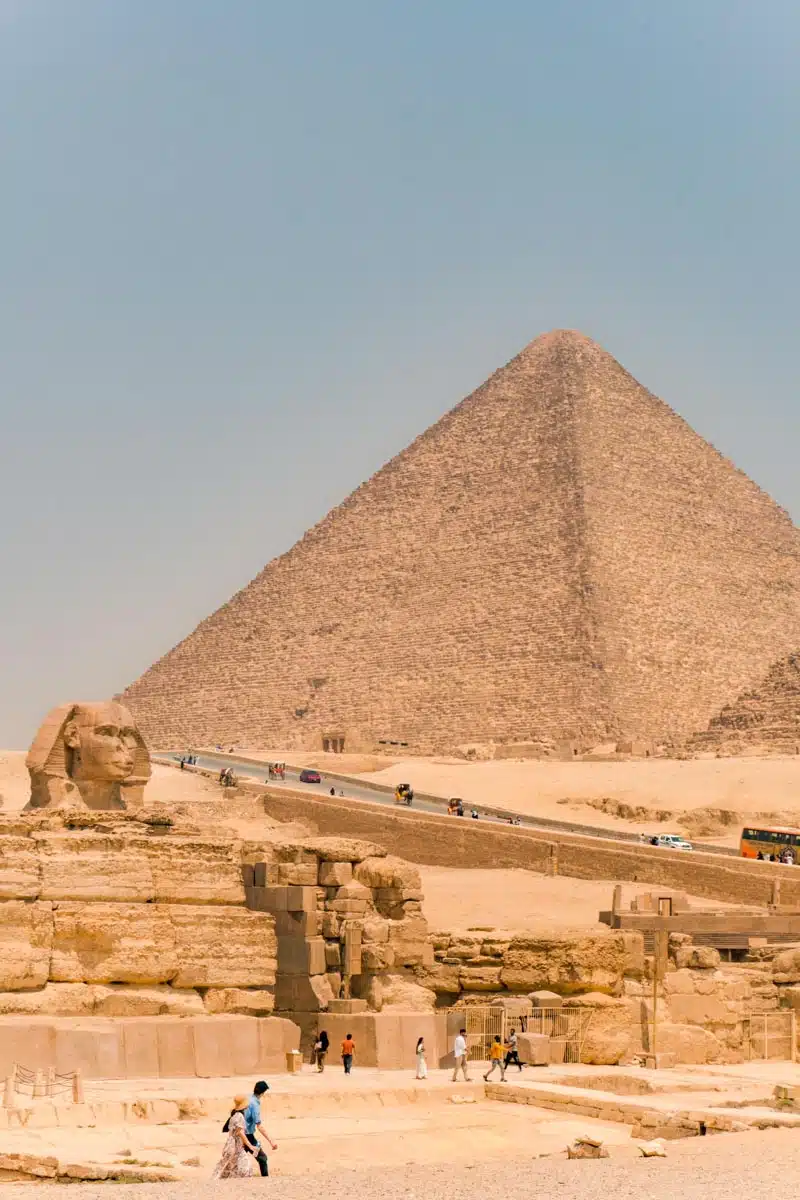 So now that you've decided to visit the pyramids, the next question is how? What is the best way to visit the Pyramids of Giza?
You really have two options here: visiting the pyramids on a tour or independently.
Independently it is cheaper of course, and you will have as much time as you please at the pyramids.
That said, there's nothing like learning about the history of the pyramids in-situ and a guide will help you to explore the site to its fullest.
Visiting the Pyramids of Giza On a Tour 
Visiting the Pyramids of Giza on a booked tour would be the most convenient option. You can book either a guided tour with other tourists or opt for a private guided tour.
Organised tours mean you have a tour guide to share insights and information with you, and you may meet other travellers while you're at it. It is also the safest option and requires the least amount of planning. Here are a few excellent tours for you to consider:
Half-Day Private Tour
A half-day private tour lets you experience the Giza pyramids and Sphinx at your own pace. The trip starts with a pick-up from your Cairo accommodation, and your guide will take you to your first destination: the Great Pyramid of Giza.
From this point, the guide will lead you through the Giza plateau. Here, you'll learn about the history of the many structures and get a glimpse of the Sphinx. To top it off, you can enjoy a short camel ride around the pyramids.
This tour includes hotel pick-ups and drop-offs, an area ticket to the Giza pyramids, an English-speaking guide, a water bottle, and all taxes and service fees. The tour price starts at £28 per person. Don't forget to bring your ID or passport for identification.
Book Your Half Day Private Tour Now
A Full-Day Guided Tour
This full-day guided tour is highly rated and popular.
A private guide and Egyptologist will guide you through the Giza plateau, where you'll get stunning views of the pyramids. Then you'll continue to the Great Sphinx and the Valley Temple. After seeing the pyramids of Giza, the tour guide will show you to a local restaurant, where you'll taste Egyptian cuisine.
After lunch, the tour continues into Cairo, where you'll visit museums and other popular attractions. The lunch, entrance fees, hotel pick-ups, and drop-offs are all included in the tour price of about £81.00 per person.
How to Visit the Pyramids of Giza Independently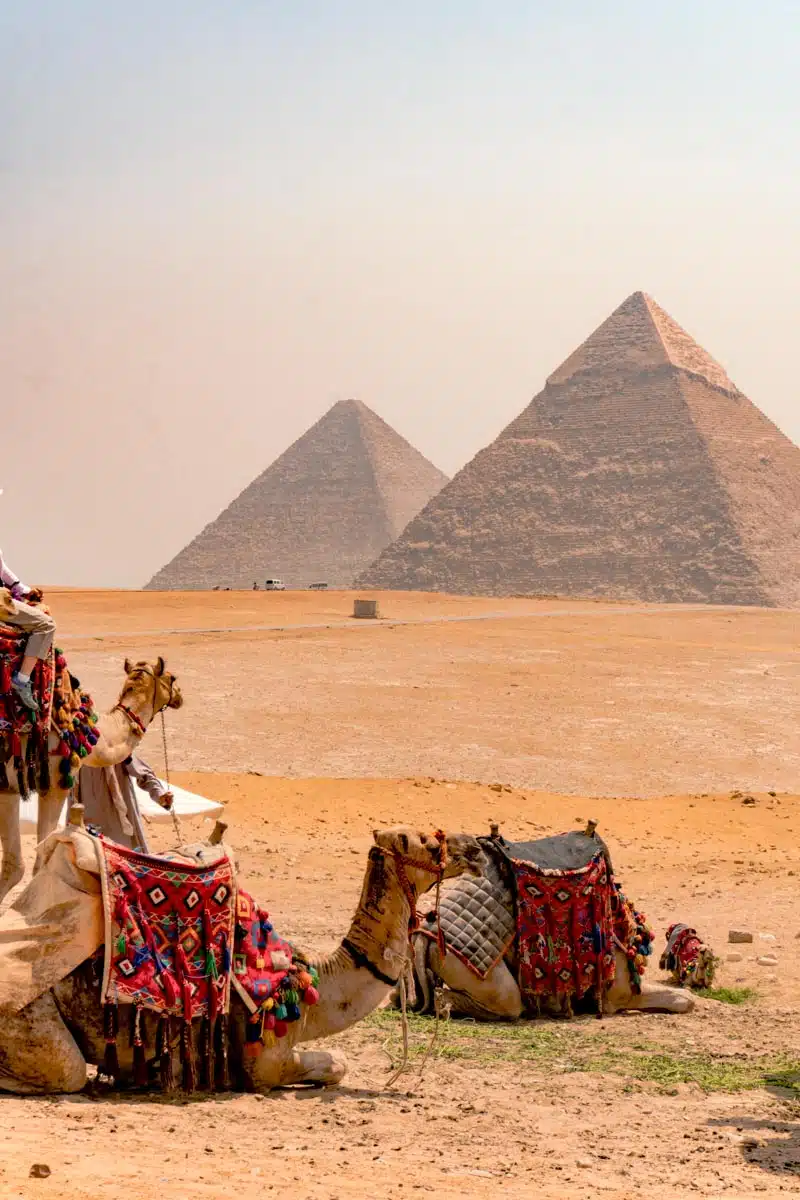 While visiting the pyramids alone requires more effort, it's doable and can be just as enjoyable. If you're wondering if it is safe to visit the pyramids of Giza?
The answer is generally yes – although as a tourist, it's always best to remain alert, especially when travelling via public transport.
Getting to the Pyramids of Giza
You can get to the pyramids from Central Cairo within minutes in two ways: via public transport or taxi.
The recommended way to travel via public transport will only take 15 minutes. First, you'll take the Line Two Cairo Metro at the Martyrs station, which costs around 5 EGP. After about four minutes of travelling and six stops, you'll get off at Cairo University.
Once here, you can book a taxi which will take you straight to the pyramids of Giza. The taxi trip will only cost 20-40 EGP and will take about 10 minutes to complete. Alternatively, you can get a taxi for the whole journey.
Tickets to the Pyramids of Giza
After you've arrived at the pyramids, you can purchase a general admissions entrance ticket on-site.
This ticket allows you to explore most of the outside areas of The Pyramids of Giza complex. It costs 200 EGP for adults and 100 EGP for students.
Note that they issue the last tickets an hour before closing, so arriving early is always better.
I recommend an independent visit for those who don't have a tight schedule or limited time as many factors can impact your trip, for example, taking the wrong turn or a delayed train.
Should You Go Inside the Pyramids?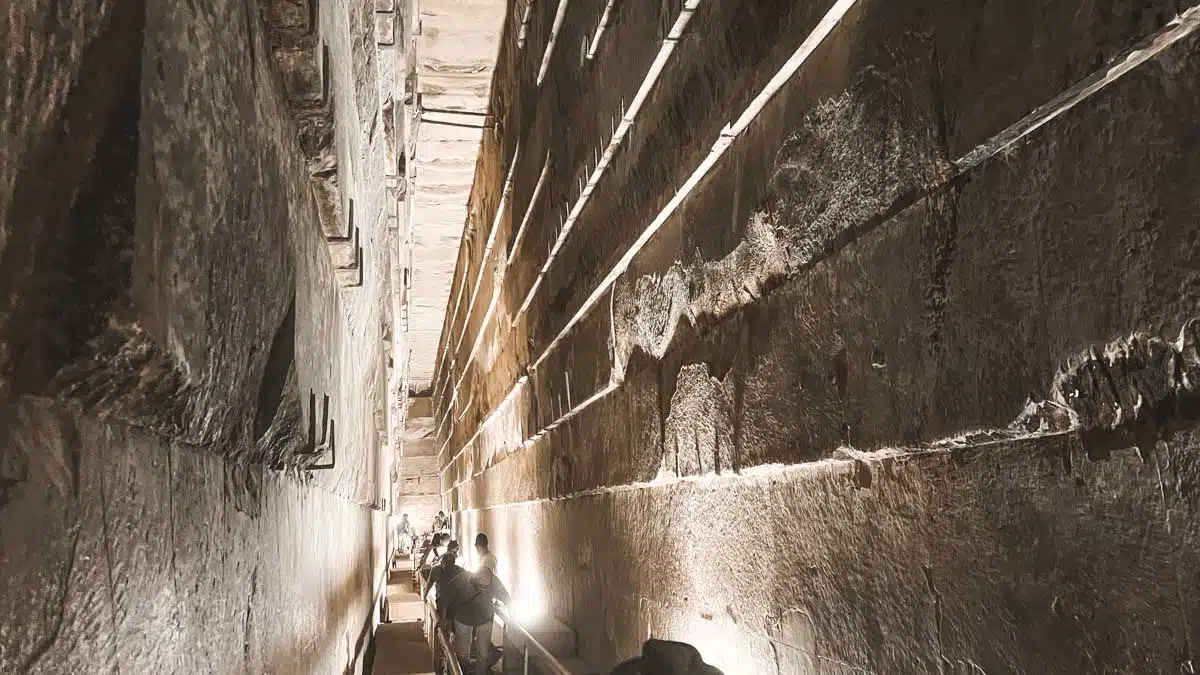 Yes! If you think the pyramids are incredible from the outside, wait until you get inside! Going into the structures is an incredible experience. All three of the great pyramids offer entry at an additional fee.
The general pyramids of Giza entry tickets allow you to explore outside the three pyramids and the Sphinx. However, you can purchase an on-site ticket to enter different pyramids.
The extra ticket for the Great Pyramid is 400 EGP, while entrance to the 2nd or 3rd pyramid is 100 EGP.
I opted to go inside the Great Pyramid and would definitely recommend you do the same. There's not a tonne to see once you're inside but being able to scramble through a tunnel to see the antechamber and burial room is worth the extra cost.
The History of the Pyramids of Giza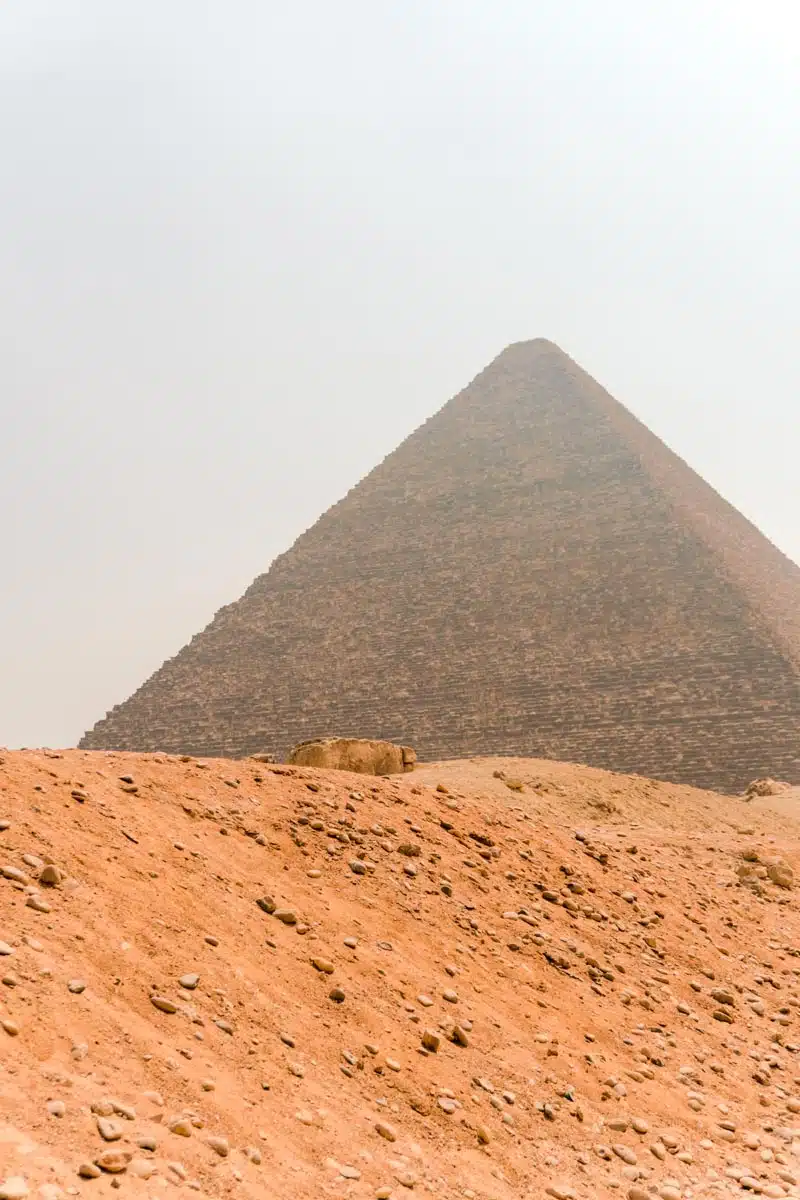 The Great Pyramid of Giza dates back to around 2551 BC and was constructed under the rule of Pharaoh Khufu (Cheops in Greek). While other pharaohs had built pyramids, this was the first that had been built on such a large scale.
The grand tombs would contain the mummified pharaohs and their valuable belongings and relics to accompany them in the afterlife.
According to Greek Historian Herodotus, it took about 100,000 men and 20 years to construct the Great Pyramid of Giza, though as Herodotus wrote his "histories" significantly later there are questions about the validity of his claims.
The reality is that no-one is quite sure how they built the pyramids, but we can be sure that it took a large workforce several years to complete the process.
Chephren and Mycerinus are the other two of the three Pyramids of Giza, and these were built under the reign of Pharaoh Khafre and Pharaoh Menkaure. Khafre also built the Sphinx.
These impressive man-made structures consist of 5.5 million tonnes of limestone, 8,000 tonnes of granite, and 500,000 tonnes of mortar.
They'd have looked very different initially – with a smooth and polished limestone exterior and a gold cap covering the structure's highest point, they were designed to gleam in the desert sun. Today, the pyramids, long shrouded by smog and sand, have a blackened surface caused by pollution.
What You Need to Know Before Visiting the Pyramids: Practical Tips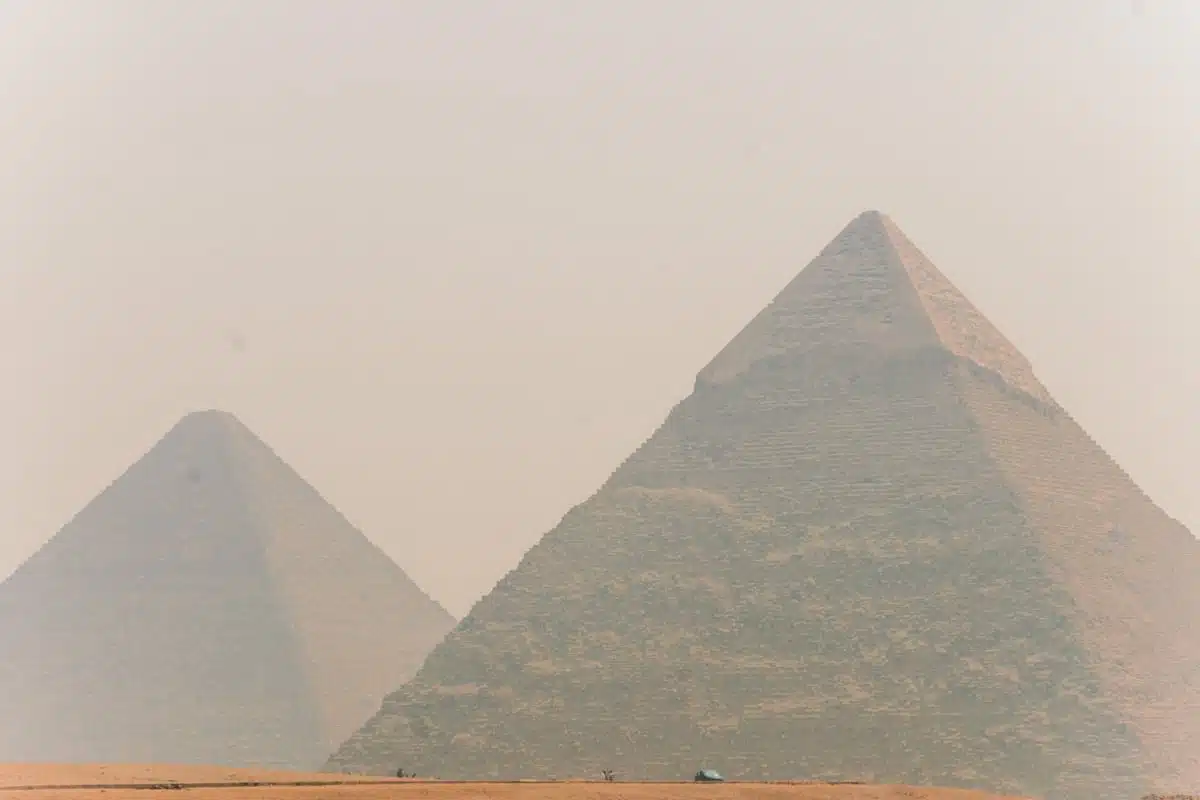 Now that you know how to visit the pyramids, there are a few things to remember before you hop on a plane. Here are some practical tips to get you to the pyramids without a sweat.
When's the Best Time to Visit the Pyramids of Giza?
There are a few factors that play a part in how many tourists visit the pyramids of Giza each day. The most affordable time of the year with the least tourists is during the summer. Egyptian summers are insanely hot and regularly exceed 40°C, which can be uncomfortable if you're exploring for hours.
If you think the lower prices and fewer crowds are worth the desert sun, it's best to go this time of the year. I suggest you arrive at the site around 8 am as it is still relatively cool and calm at this time.
As tempting as it may sound to save some money, I recommend a trip during winter. The country's winter months are relatively mild, with temperatures that can fall below 10 °C at night. These conditions are much more manageable and comfortable for a tour that takes up hours of your day.
What to Wear to the Pyramids?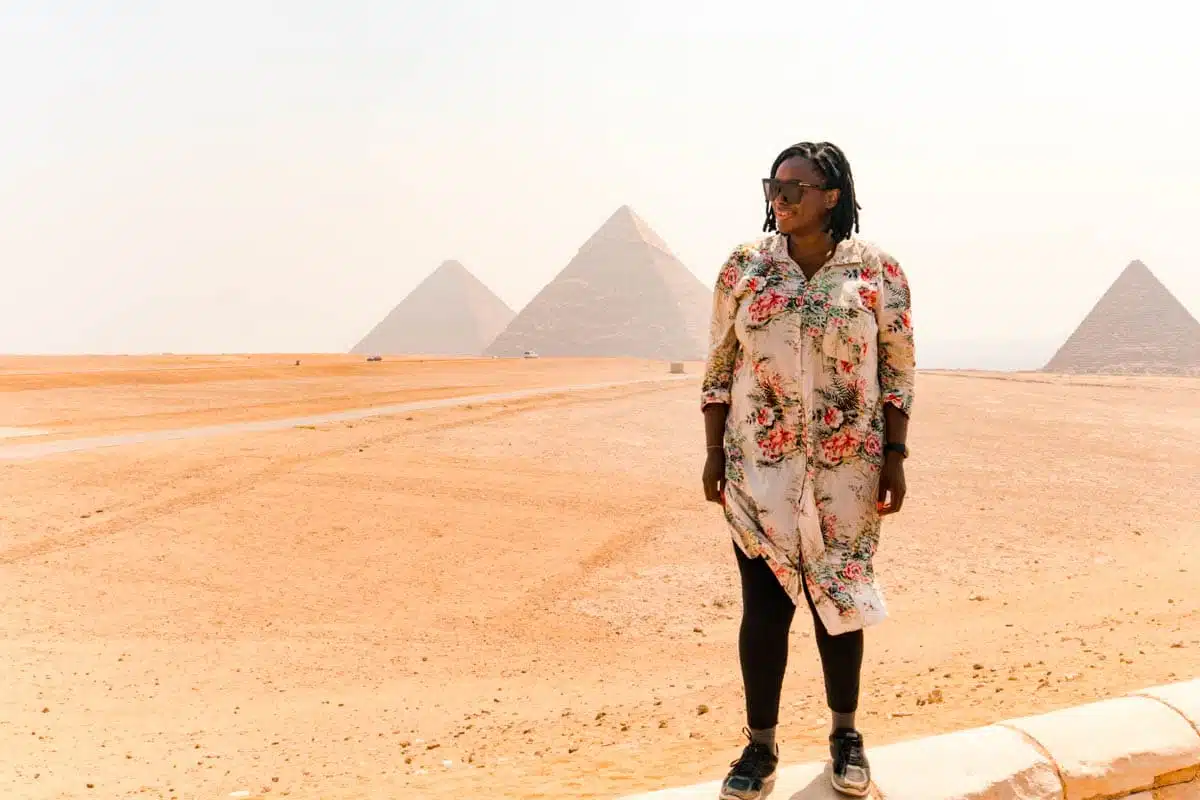 Egypt has a hot and dry climate dominated by a desert landscape. Most people find these sweltering conditions quite bothersome, but if you pack smartly, you can be cool and comfy on your Egypt trip.
When visiting the Giza complex, you can expect to do a lot of walking. So I recommend you bring comfy shoes that are fit for exploring.
If you're travelling to the pyramids, it's best to wear light and breathable fabrics like cotton and linen. Many tourists choose to remain covered from the shoulders to below the knees. But this is not a rule for visitors, and you will see people in shorts and sundresses.
However, Egypt is very conservative and wearing something that shows much of your skin could offend the locals. And the sun is quite harsh, so protection is vital.
Egypt's mild winter can result in chilly evenings. It's best to wear something light throughout the day, like a pullover, and then swap it out for a warmer coat in the evening.
Here are some must-have items:
Sunglasses
a long-sleeved t-shirt
long baggy skirts or pants
a hat, a light fleece top
and a jacket for colder months
For women: it's advisable to wear clothing that will keep your knees, cleavage and shoulders covered. Make sure to have a scarf handy to conceal your hair if you enter a religious temple.
Opening Hours
The opening hours for the pyramids of Giza are as follows:
Summer (April – September): 8 am – 5 pm
Winter (October – March): 8 am – 4 pm
I recommend spending at least 3 hours at the site. This will ensure you have enough time to cover all three pyramids and the solar boat museum and still have time to capture some captivating photos for your socials.
Pyramids of Giza: Map 
How to Visit the Pyramids of Giza: Read Next