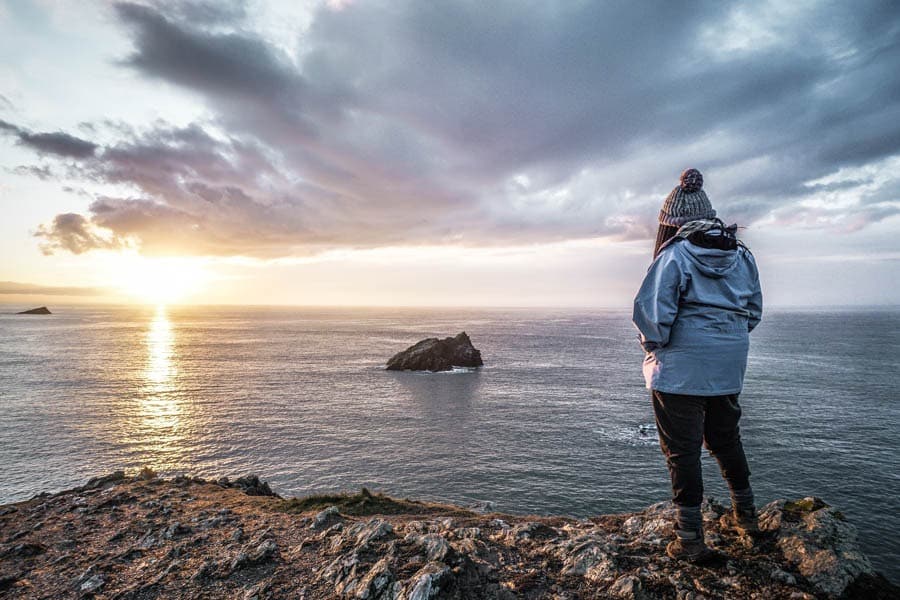 Is there anything that shouts British summer more than a Cornwall road trip? I think not.
The scorching weather and the pending holidays have most of us scurrying to the nearest ice cream van and planning our next jaunt.
Where better to escape to in the United Kingdom, than Cornwall? With some of the UK's best beaches, historical towns and a laid-back surfer culture you can't help but love, Cornwall is the perfect destination for a summer break and should be at the top of your British bucket list.
With so much to see and do, a Cornwall road trip is the best way to explore the region. Hire a car, hop onto the open road and set off on this step-by-step Cornwall itinerary.
The Perfect Cornwall Road Trip: At a Glance
Day 1: Newquay
Day 2: St Ives
Day 3: Sennen
Day 4: Spend time in the Cornish Countryside
Day 5: Falmouth
Cornwall Road Trip Day 1: Newquay
Dash off any ideas you've got about Newquay being a bit of a stag and hen do's paradise. In recent years this beachside town has emerged as one of Cornwall's coolest destinations and is the perfect first stop in your Cornwall itinerary of 5 days and a great place to add to any UK road trip.
From surfing lessons on the seafront, walking a section of the South West Coast Path, yoga with beach views or cocktails in the city's hippest bar – there's no shortage of things to do in Newquay. Have fun and explore!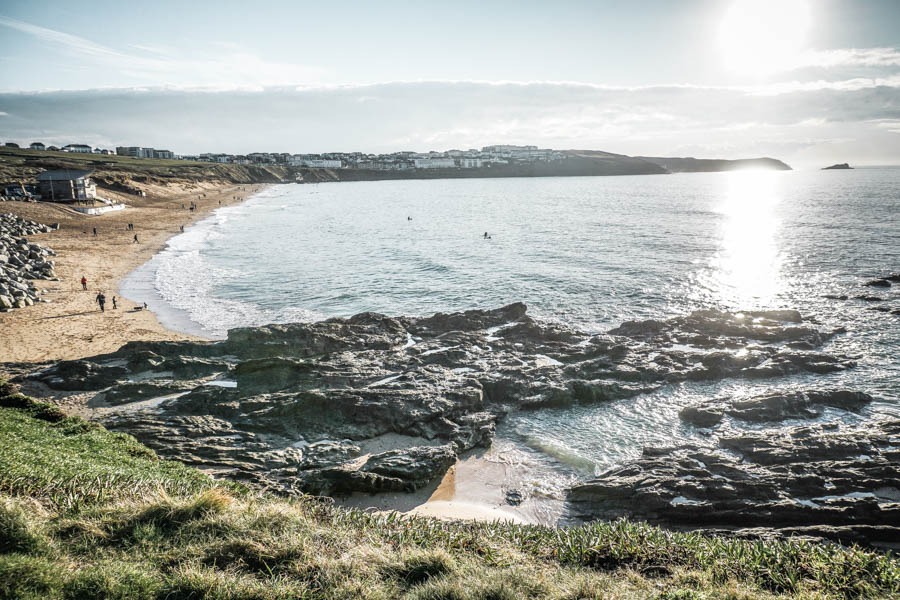 Read more: Awesome Things to do in Newquay
Practical Information for Newquay
Getting to Newquay
Newquay is well connected by road to most of the country, so it's a good place to start your Cornwall road trip. I've included estimated distances and driving times from different parts of the country to help you plan the initial drive down.
| | | |
| --- | --- | --- |
| Departure Point | Distance to Newquay | Estimated Driving Time |
| London | 280 miles | 4hrs 45mins |
| Manchester | 324 miles | 5hrs 45 mins |
| Bristol | 165 miles | 3 hours |
| Edinburgh | 525 miles | 9 hours |
You can also fly to Newquay from other UK destinations, and pick your car up from Newquay airport, which can save significant amounts of time. Flights from London take just over an hour and you can grab cheap tickets if you book ahead.
Suggested Stay: Headland Hotel
Have you ever seen The Witches? You know, that awesome adaptation of Roald Dahl's novel featuring Anjelica Huston?
Remember that glorious redbrick building, perched against the backdrop of spectacular Cornish coast where most of the film takes place?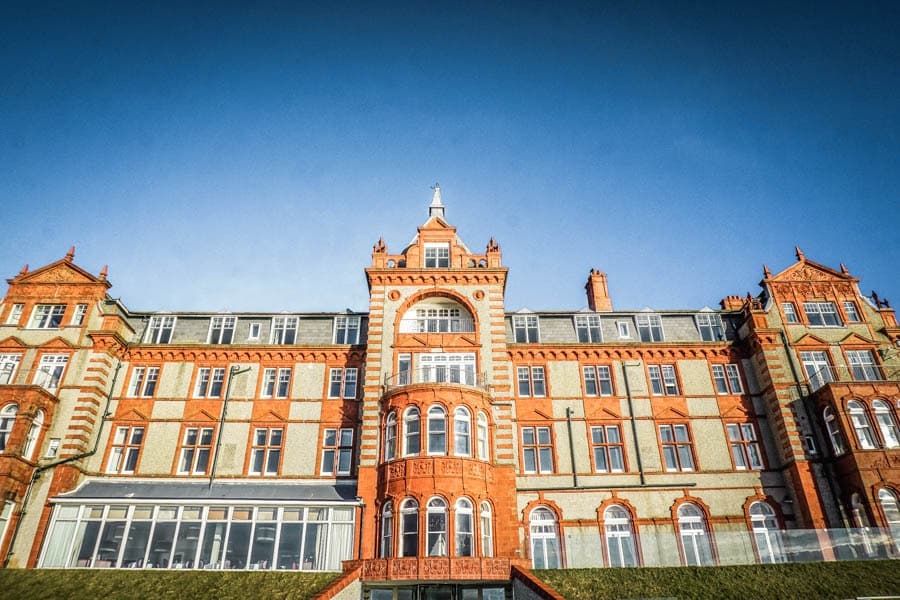 That's the Headland Hotel. This glorious Edwardian hotel boasts some of the best views in Newquay, along with plush rooms that have been sensitively modernised yet retain their sense of old-world luxury.
Don't forget to book in for dinner either – the formal restaurant provides an unforgettable dining experience.
Check rates and availability on Booking.com
Alternatively, check all accommodation in Newquay
Things to do in Newquay
I've written a whole article about this (read it!) so I'm not going to go into too much detail here but here are a few unmissable highlights….
Surfing on Fistral Beach
Surfing…. In England? Nope, I'm not kidding. Cornwall is the UK's leading surf spot and Newquay is one of the epicentres of the Cornish surf scene.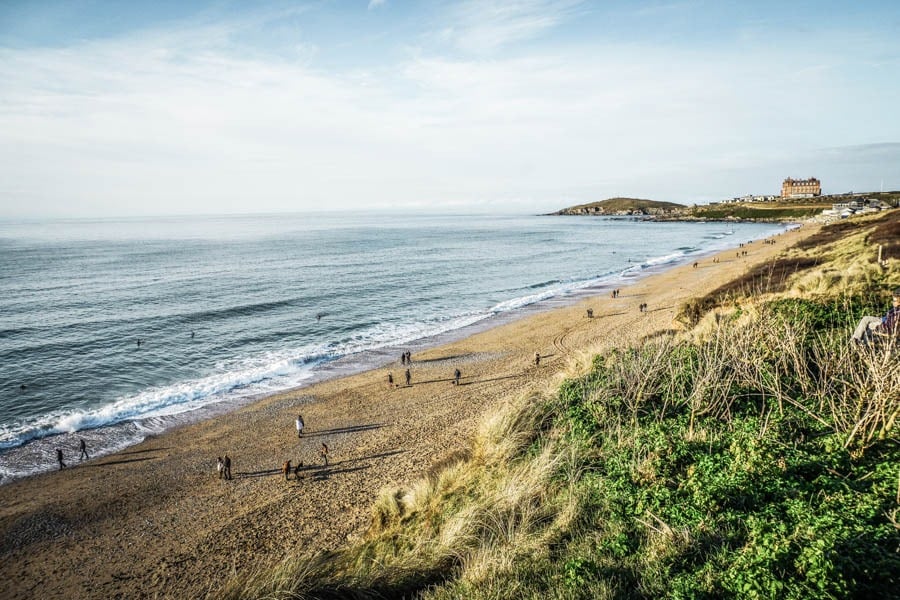 Don't worry if you've never tried your hand at surfing – Fistral Beach Surf School offers lessons for all levels of surfer, including complete newbies.
PS, even if surfing isn't your bag, the beach is beautiful and a great place to flop back and work on your tan.
Cocktails at Tom Thumb
I love a good cocktail (I mean, let's face it, who doesn't) – so I was always predisposed to love indie-cocktail joint Tom Thumb, but this place goes above and beyond.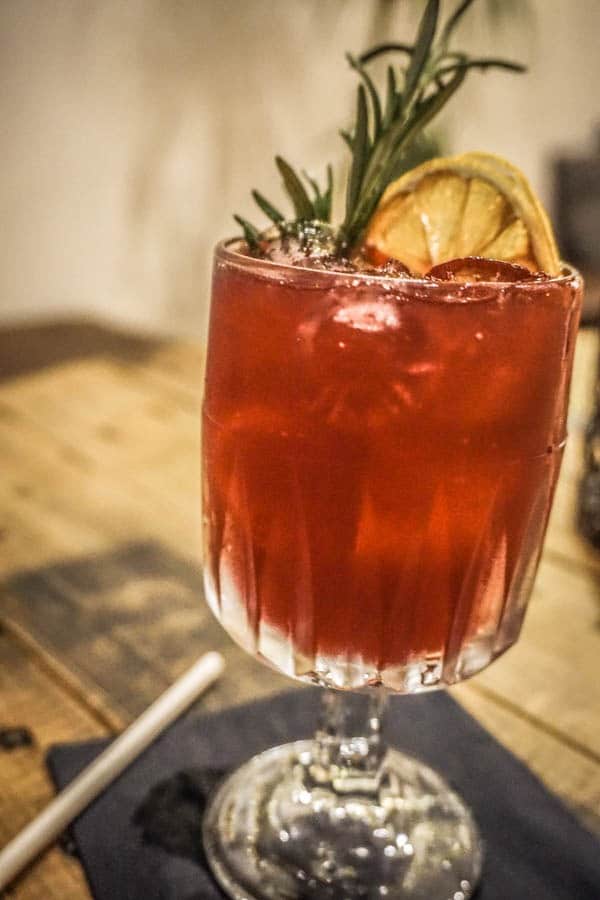 The seasonal menu uses the freshest ingredients, along with in-house syrups and bitters to create a range of eccentric but delicious cocktails. Can't think of a better way to end a day.
Walk Part of the South West Coast Path
Chances are you've had a long day in the car to get to Newquay. Don your hiking boots and stretch your legs with a stroll along the South West Coast Coast Path.
Now, I don't think that you're going to be able to do the whole thing. After all, it's 630 miles in total (if you think you're up to it, knock yourself out). However, the stretch between Newquay and Crantock is particularly beautiful and only takes a couple of hours to do.
Eat a Proper Cornish Pasty
It's no trip to Cornwall without tucking into a proper Cornish Pasty. Where better to do it than The Cornish Bakery?
Whichever filling you opt for (traditional all the way for me), there's something so satisfying about biting through the short, flaky pastry to the hearty filling inside. Impossible to resist.
Cornwall Road Trip Day 2: St Ives
If you had to paint a picture of a typical Cornish coastal town, I'm betting that you would come up with something that looks like St Ives.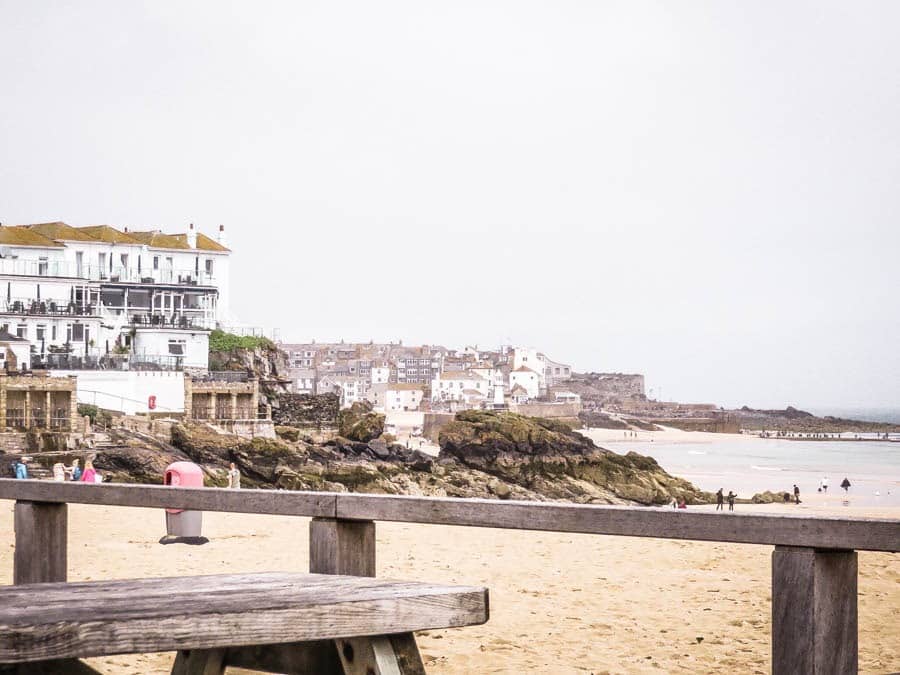 Clinging to the periphery of a number of sandy beaches, St Ives is a quintessentially British destination – one filled with whitewashed houses, thick Cornish ice cream and a number of award-winning art galleries. No matter how many or how few days in Cornwall you have, St Ives is a must visit.
Practical Information for St Ives
Getting to St Ives from Newquay
St Ives is a 45 minute drive from Newquay via the A30 and A375. If you have an extra day to add to your Cornwall itinerary, I would suggest stopping off at Perranporth beach and then spending the night in the beautiful fishing village of Portreath.
Suggested Stay in St Ives
There's no shortage of boutique hotels, gorgeous B&Bs and seafront rentals for the St Ives section of your five day Cornwall itinerary. St Ives Harbour Hotel & Spa offers chic, breezy decor – think coastal chic without the pretension.
Check rates and availability for St Ives Harbour Hotel & Spa.
Alternatively, check all accommodation in St Ives
Things to do in St Ives
Barbara Hepworth Gallery
One of the UK's greatest sculptors, there's no better way to appreciate the work of the late Barbara Hepworth than in the gardens and studios in which she created many of her finest works.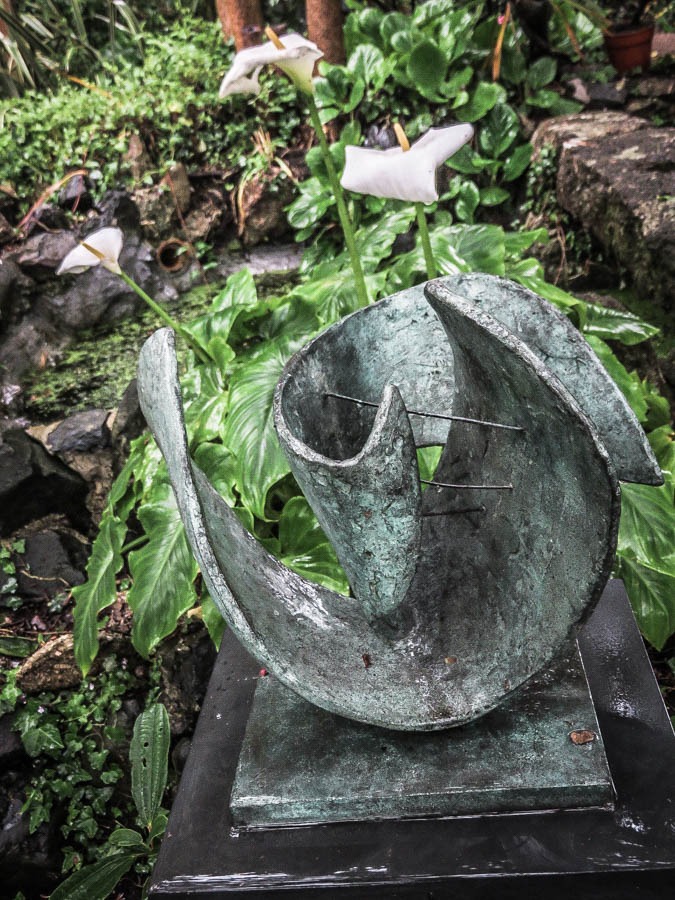 Learn about the life and inspiration of this artistic powerhouse and then browse the lush gardens, which are filled with pieces great and small.
Tate St Ives
It's nearly impossible to forget that Cornwall has long been one of the UK's artistic hubs – so it's fitting that there is a Tate St Ives art gallery to showcase some of that heritage.
]Set a few steps off of Porthmeor Beach, the gallery houses a permanent collection of works spanning artists from Piet Mondrian, Mark Rothko and (you guessed it…) Barbara Hepworth.
Porthminster Beach Cafe
Whether you're a die-hard Rick Stein fan or simply happy to gorge yourself on fresh fish and chips from the seafront, there's no denying that seafood is something that Cornwall does very, very well.
Perched in a picturesque location at the heart of one of St Ives' prettiest beaches, Porthminster Beach Cafe serves up elegant but simply cooked cuisine that has locals and visitors alike coming time and time again. Book ahead – it is popular.
Once you've nabbed your table, sit down and feel supremely smug as you quaff your chilled glass of wine in the sunshine, nibbling on your delicious food and generally feeling like you've won at life (oh, maybe that's just me then).
Porthmeor Beach
St Ives has beaches aplenty and I really struggled to decide which one was my favourite. In the end, I plumped with Porthmeor Beach.
Wild, rugged and with gorgeous golden sand it's a welcome reminder of the untamed beauty of the Cornish coast, even in the heart of this (very) well-heeled town.
Read More: Cool Things to do in Cornwall
Cornwall Road Trip Day 3: Sennen
If you thought that St Ives' beaches blew you away, wait until you get to Sennen.
I remember the first time I clapped eyes on Sennen Cove as a child (my aunt had a cottage in nearby St Just, also a lovely place to stop if you have the time), I thought that I'd magically been transported into the land of the Famous Five.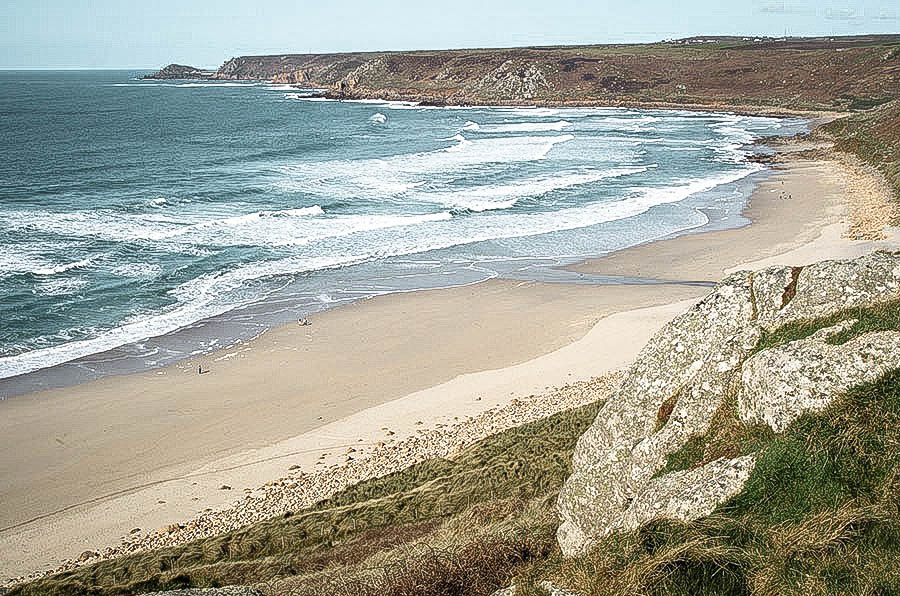 Look, I'm not going to lie – the word about Sennen is well and truly out of the bag. Although this small fishing village only has a resident population of a couple of hundred people, in the summer it can feel like you have to use all your wiles to outfox about a thousand people to grab your perfect spot on the beach.
Who cares when the views are this good? Not me.
You should also use Sennen as the jumping off point for a trip to Land's End – the southernmost tip of the United Kingdom – it's only a short drive away – a must for any family-friendly break in Cornwall.
Practical Information for Sennen
Getting to Sennen from St Ives
It's a short 35 minute hop (OK, drive) from St Ives to Sennen. You can take the scenic route via the B3306.
Sure, it's about 40 minutes longer but it takes you through some gorgeous villages with glimpses of coastal views along the way. What's a road trip without a bit of a detour now and then?
Suggested Stay
As you can imagine with a place this small, your options are pretty limited in Sennen. Quality-wise, there's nothing to worry about – the village has more than its fair share of boutique boltholes but they do book up fast. The Land's End Hotel is one of the biggest and best hotels in the area, with rooms at reasonable rates.
Check prices and availability at The Land's End Hotel
Alternatively, check all accommodation in Sennen and Land's End
Things to do in and around Sennen
Sennen Cove
A short distance from Sennen itself, you can see why I chose Sennen Cove as one of the best beaches in the UK.
Wannabe surfers can take lessons at one of the two surf schools. Beach bums be warned – it gets busy so get there early to claim a prime spot.
St Michael's Mount
An iconic British landmark, St Michael's Mount is a must-see spot for your Cornwall itinerary. Built in the 12th century as a sister monastery to Mont St-Michel off the coast of Normandy, the mount has a rich history that's only equalled by its spectacular setting.
You can walk across to the mount at low tide, or grab a spot on a boat when the waters are high. Either way, the experience and the views are well worth the effort.
Land's End
Land's End: it pretty much does what it says on the tin.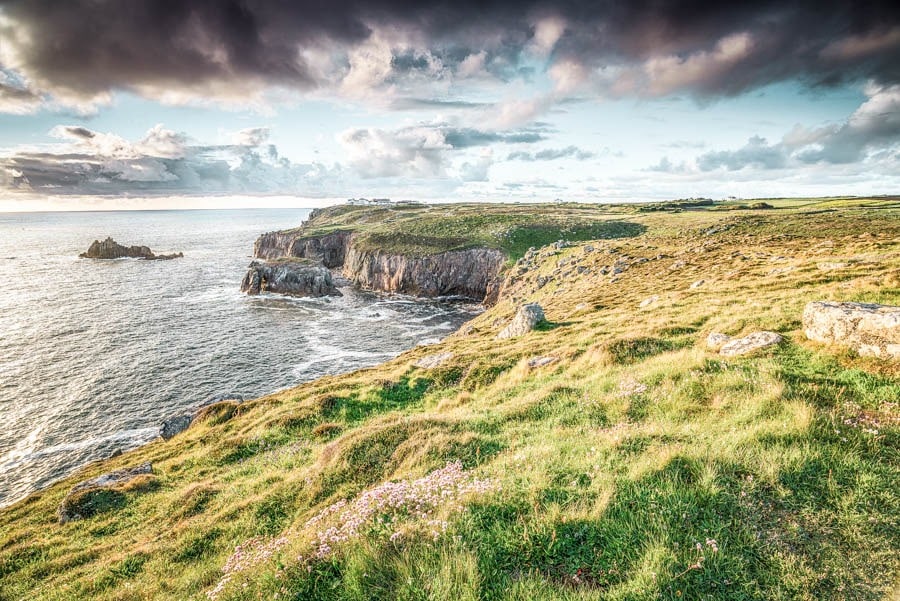 Stare out from the south-western tip of the United Kingdom to the broad reaches of the Atlantic Ocean.
There's a sign to helpfully tell you that it's a mere matter of 3,200 or so miles to New York (err, think I'll leave that swim for another day) or 874 to John O'Groats, mainland UK's northernmost tip.
Skip the overpriced photo opp – at £10 a pop you could probably pay/bribe some skilled teen to just photoshop you in instead. Job done.
Minack Theatre
The world-famous Minack Theatre is one of Cornwall's most photographed sights – and for good reason. An ampitheatre carved into the cliffside overlooking the Atlantic Ocean?
I can't think of a more striking place to watch a play. You can just go and visit but you simply have to book a ticket to a play for the full, immersive experience. Check what's on now.
Cornwall Road Trip Day 4: Explore the Cornish Countryside
It can be so easy haring around between Cornwall's big-ticket sights that you miss out on the beauty of the wild countryside in the interior.
Today's section of your Cornwall itinerary takes you to the starkly different countryside of the Redruth region, bedding down in one of my favourite UK eco-retreats, Little White Alice.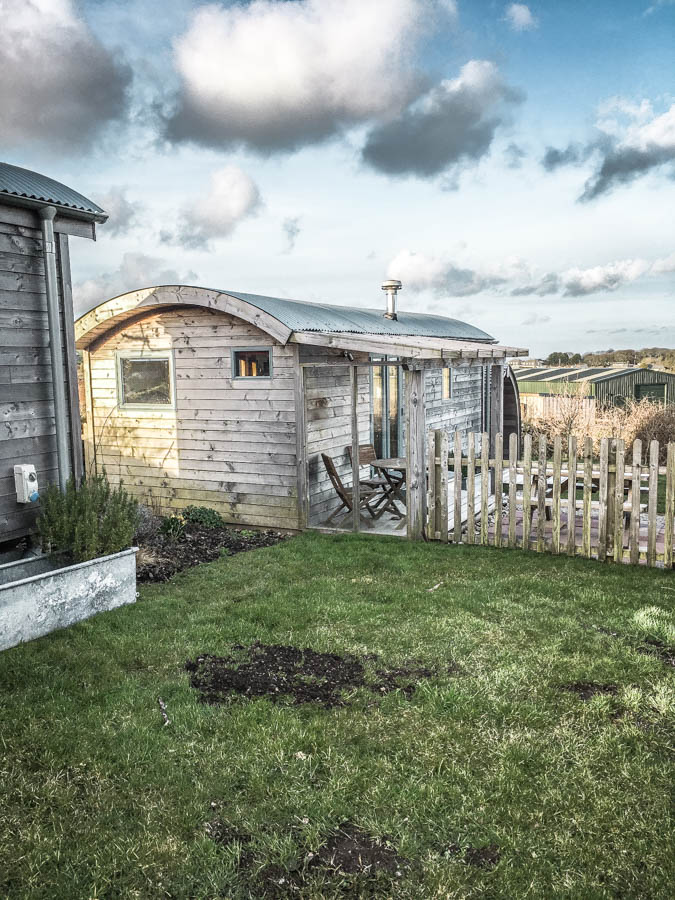 If this doesn't take your fancy, you can always stop off and stay in Penzance as an alternative.
Practical Information
Getting to Little White Alice from Sennen
It's about an hour's drive from Sennen to Little White Alice. Stop off in Penzance for a stroll and a bite to eat along the way.
Suggested Stay – Little White Alice
I don't know about you but I tend to get a bit weary after several days on the road, constantly sightseeing and generally flitting about from here to there (cue a sad solo from the world's smallest violin), so it's nice to have a day that's just the tiniest bit more low-key.
Cue Little White Alice, a set of small eco-friendly wooden arks in a smallholding near Carnmenellis. The cosy eco-huts are equipped with cooking facilities, comfy beds and wood-burning stoves for chillier evenings.
Sure, you can go for lots of long walks (several start right from your front door), but I wouldn't blame you if you parked up and did the equivalent of Netflix and chilling… Or in this case, spending lots of quality time in their Wild Spa, which comes complete with a wood-burning sauna and hot tub.
Check rates and availability at Little White Alice.
Things to do in and around Little White Alice
Wheal Coates Tin Mining Walk
This area of Cornwall has been shaped by its historical importance in the tin mining industry. This 3-mile walk gives you a peek at some of the old mining sites, with some spectacular clifftop views thrown in for good measure too.
Heartlands Cornwall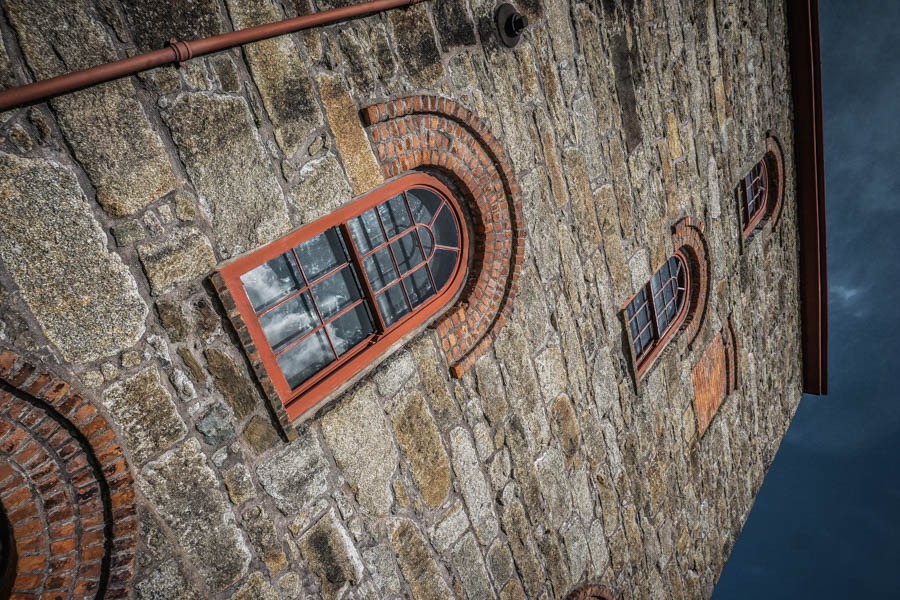 It's not that often you get the chance to glance into the guts of an old mine, which exactly what is on offer at community-project Heartlands.
Book a tour, where one of the knowledgeable guides will walk you through the history and mechanics of the mine as you wend your way through the large-scale machinery and climb your way to to the top of the shaft.
Cornwall Road Trip Day 5: Falmouth
Although it is too-cute-for-words, don't let Falmouth's pretty exterior fool you. This university town has a lot going on, not to mention an important maritime heritage that's ever-present throughout the town.
Even if you don't have time for a full Cornwall road trip, Falmouth's well worth considering as a mini-break in itself. Gorgeous boutique B&Bs, uber-cool cocktail bars and attractions such as Trebah Gardens in easy striking distance, it's no wonder that it captures many a visitor's heart.
Practical Information for Falmouth
Getting to Falmouth from Little White Alice
It's a mere half an hour drive from Little White Alice to Falmouth, giving you plenty of time to explore the town and its surrounds once you arrive.
Suggested Stay: The Sandy Duck
You know that thing where you check in somewhere and then decide that you want to live there forever? I can hand on heart say that happened when I arrived at The Sandy Duck.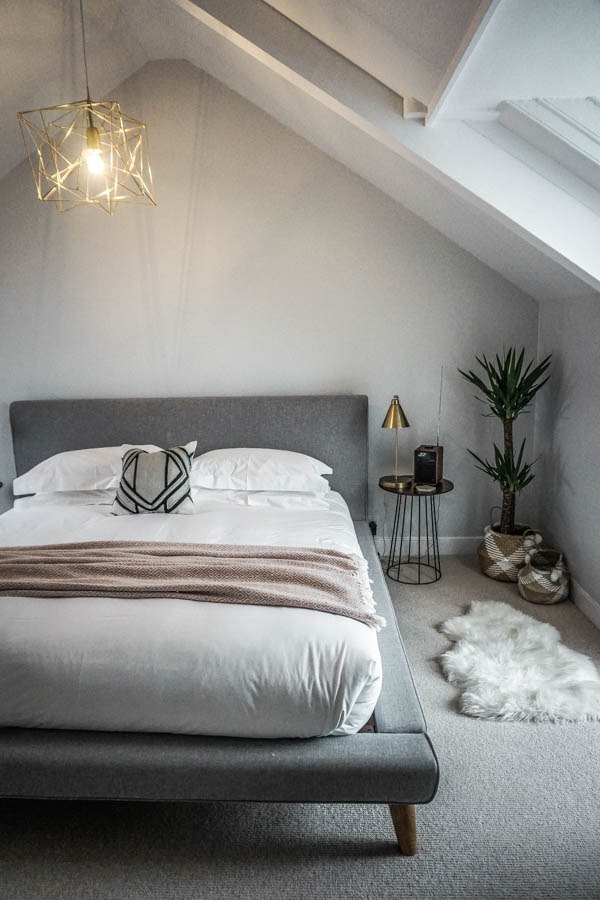 With its chic and opulent decor, you could be forgiven for thinking that you've escaped to the luxury bolthole of a rather wealthy friend…
Except this friend makes you scrummy fresh breakfasts with organic ingredients and provides heavenly beds for you to sink into at the end of the day (PS, if you have a friend like this, I want them to be my friend too).
Despite only opening last year, The Sandy Duck has quickly established itself as one of the hottest beds in town. Book in advance – you'll regret it if you miss it.
Check rates and availability at The Sandy Duck.
Alternatively, check all accommodation in Falmouth.
Things to do in Falmouth
Gylly Beach Cafe
Just a short walk from The Sandy Duck, Gylly Beach Cafe serves up high-end eats in a smart-casual setting.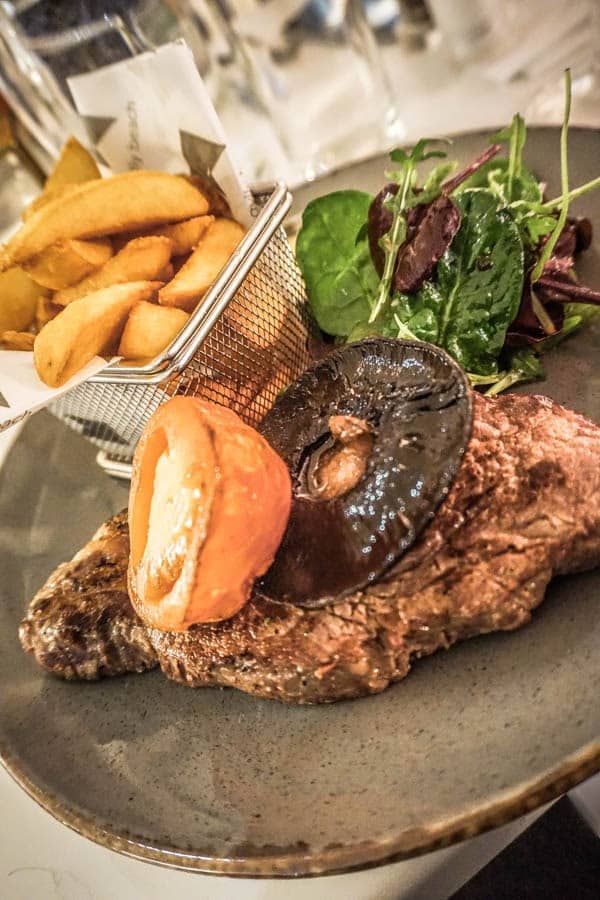 Super-relaxed during the day, from 4pm onwards they fire up the grill to dish out absolutely delicious locally-sourced meat, seafood and veg – complete with lovely beach views – throughout the evening.
Trebah Gardens
Have you ever dreamt of getting lost in the midst of a tropical jungle, complete with bamboo hideaways, plants with leaves that are bigger than you are and a general aura of near make-believe? Welcome to Trebah Gardens.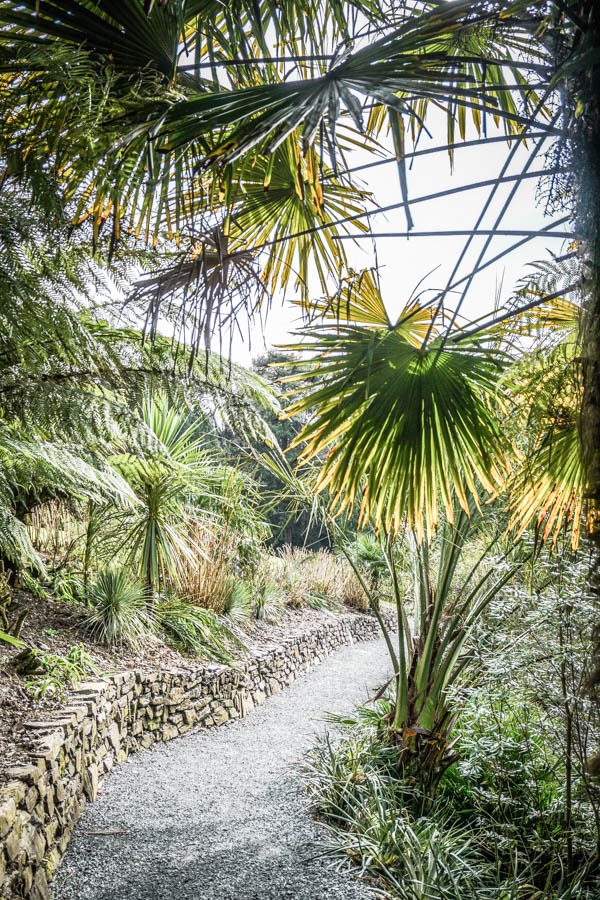 Widely acknowledged as one of England's great gardens, Trebah's sub-tropical climate and ambitious owners have led to its evolution into a dazzling bazaar of lush greenery, punctuated by spectacular floral displays across its many areas.
A Luxury Spa Session (Perhaps with Afternoon Tea?) at Budock Vean
Your Cornwall itinerary is coming to an end (I'm sad, you're sad, we're all sad) but there is time for a treat before you sadly pack your bag and head off home. That treat is a luxury spa session at country house manor Budock Vean.
Offering a full gamut of massages, facials, body treatments and combination experiences, the toughest question is which one to choose. I totally won't judge you if you also plump for an afternoon tea when you finish either – treat yourself.
Cocktails at The Chintz Symposium
Tucked away in a small passageway behind a main street, The Chintz Symposium takes some finding.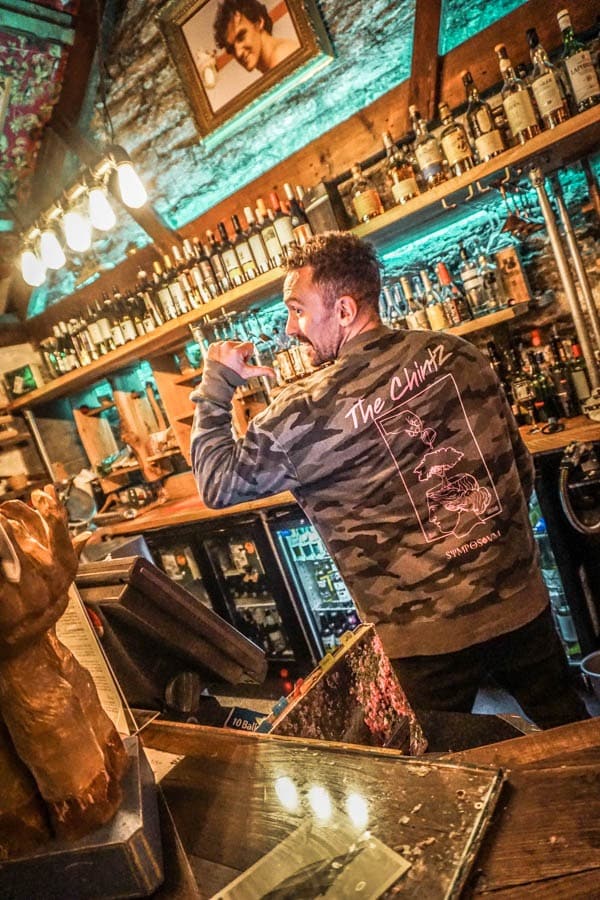 A cross between a local's hangout, a fantasy novel and a Prohibition bar (you'll see what I mean when I go), the Symposium is the place to go and get nice wines, beers and fancy-ass cocktails in Falmouth.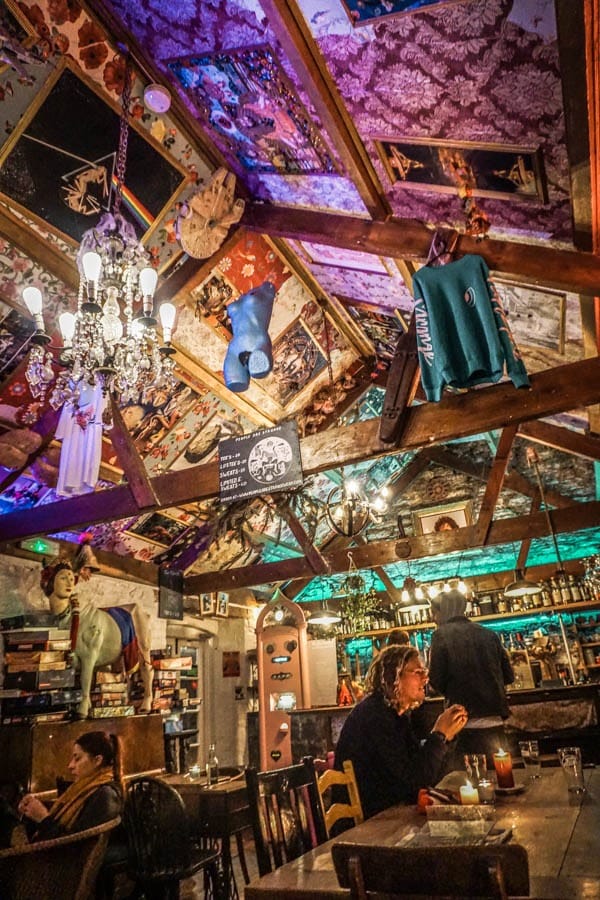 Dinner at The Chain Locker
Plop yourself down in one of the comfortable banquettes and settle in for some delicious pub grub and harbour views at The Chain Locker, one of Falmouth's oldest pubs.
Pendennis Castle
One of Henry VIII's coastal fortresses, not much remains of Pendennis Castle today apart from a stout Tudor keep and a fabulous setting overlooking Falmouth and the entrance to the river Fal.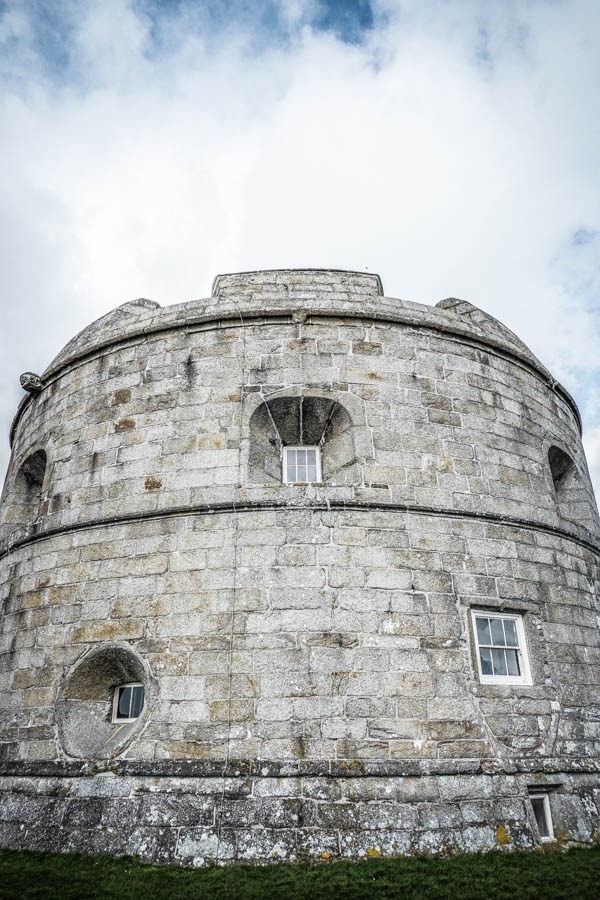 There's also an interesting exhibition about and remnants of Falmouth's WWI and WWII defences, when the castle played a key role in protecting the British coast.
National Maritime Museum Cornwall
No, not the one in Greenwich – turns out there are two National Maritime Museums (now isn't that just confusing). Cornwall's National Maritime Museum features 15 galleries set over five floors explore the history of Britain as a seafaring nation and how it's shaped the country we find today.
If You Have More Time on Your Cornwall Itinerary
Five days in Cornwall is always going to be a push. If you have more time, you should also stop off at these awesome spots.
What to Pack for Your Cornwall Road Trip Itinerary
Portable music speaker – for all those road trip tunes (and in case the Bluetooth goes awry)
A line-in lead (see above)
Car phone holder
Snacks – to avoid hangry arguments and general car snippiness.
Driving Licence and Documents, plus copies.
Insurance (make sure it covers all parties who will be driving).
Roadside emergency kit
Satnav or Maps App plus Handsfree Car Kit. Don't forget to offline your maps)
Hardcopy Map (because technology always fails when you least want it to).
Comfortable Driving Shoes
Spare Tyre
Car Manual
Need to Know: Practical Information for A Cornwall Road Trip
Obviously, the first thing you need for a Cornwall road trip is a car! Holiday Autos kindly arranged a car hire for us for this trip, which was absolutely perfect.
Check rates and availability for your Cornwall road trip with Holiday Autos here.
And there we are – five days in Cornwall and it's time to head home. I hope that you have a brilliant trip – any questions, hit me up on Insta or drop me a line in the comments below!