Welcome to Cornwall – a land of spectacular beauty where ancient lores meet rugged coastline and enchanting adventures await. Need inspiration? Don't miss my guide to the best things to do in Cornwall.
Cornwall seemingly has it all – from the surfers' paradise that is Newquay to the striking biodomes in the Eden Project, with rugged coastlines and picturesque walks in between, this English county is bursting with character.
But you know what? There's way more to Cornwall than beautiful beaches and tasty pasties.
That's not to say the beaches aren't gorgeous (they are) and the pasties aren't delicious (they are), but there's also a deeper – and some might say more interesting – side to Cornwall too.
I grew up spending summers with my aunt near St. Jude – even though she doesn't live there anymore, I still make a point of spending as much time in the region as possible as an adult and am writing this guide to let you in on Cornwall's magic.
Planning your trip? This guide will help you delve into the top places to see and things to do for your Cornwall itinerary. Let the adventure begin!
Best Things to do in Cornwall
Pop into St Ives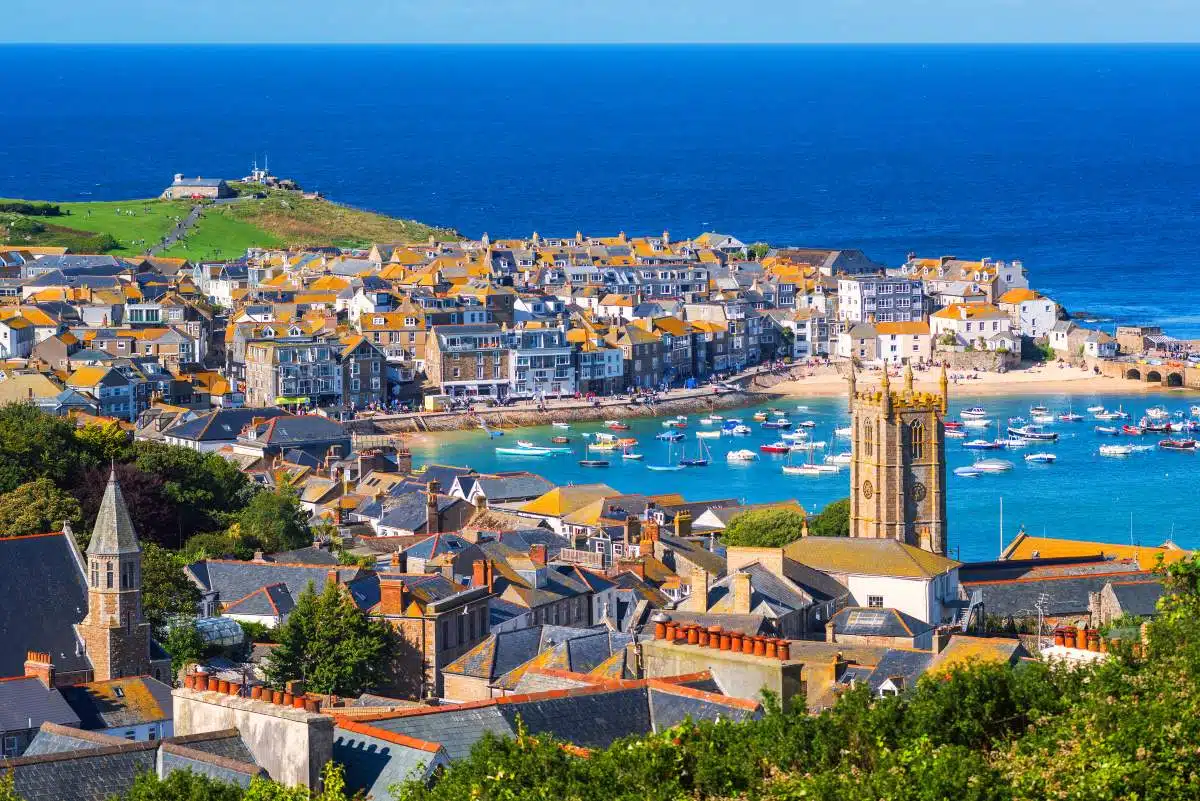 Let's get started with one of Cornwall's must-see spots: St Ives. No trip to Cornwall is complete without dropping by St Ives, arguably Cornwall's most beautiful (and most popular) beach town.
The town's luminous light – sometimes so thick and unctuous it feels like you can touch it – has long attracted artists to it. It's unsurprising then that two of the town's biggest sights are art museums (The Tate St Ives and Barbara Hepworth Museum and Sculpture Garden, each of which have separate entries later in the article).
It's Cornwall, so the beaches are excellent of course. Porthmeor Beach is a surfer's haven with golden sands, while Porthminster Beach tends to be a bit quieter and calmer.
Food-wise, St Ives is one of Cornwall's most exciting culinary destinations. I recommend booking a table at Porthminster Kitchen for contemporary cuisine celebrating local produce with stunning views, or The Seafood Cafe – a spot that comes with a "pick your own" fish counter – freshness guaranteed.
Learn to Surf in Newquay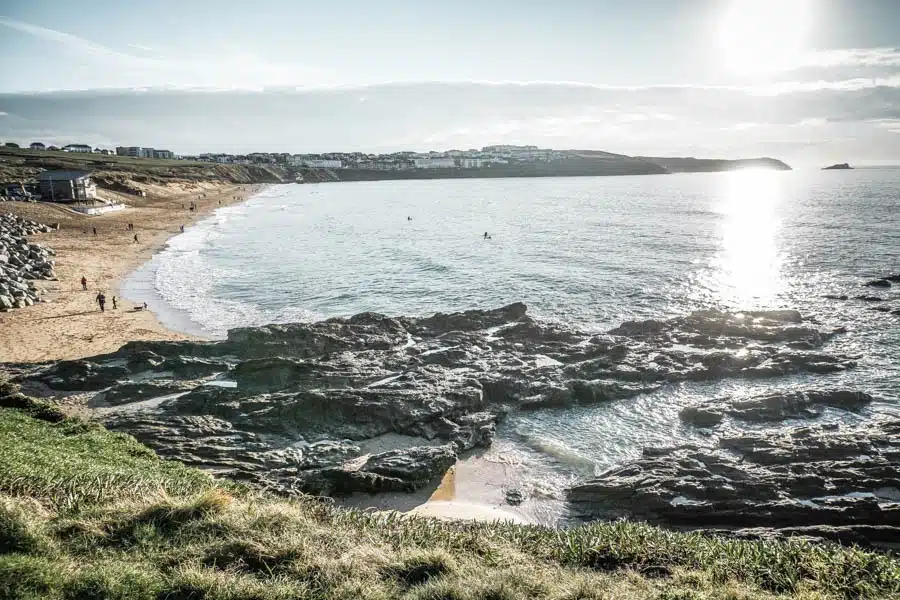 Newquay is Cornwall's surf capital, a town that rides the waves of surf culture in every way possible.
Fistral Beach is the heart of the town's surfing scene, and the stage for major international surfing competition. Don't worry though, The breaks are good for surfers of all ages, and whether you're an experienced surfer or looking to try it out for the first time, there are surf schools that will help you work on your skills.
Even if you're not a surfer, simply watching the skillful surfers navigate the waves is a real treat.
While in Newquay, why not check out this Coasteering tour, where you'll be taught how to properly (and safely) cliff dive, with the help of a pro.
Do
Fistral Beach Surf School is open year-round and has group lessons starting from £35. Book in advance. The Blue Surf School on Towan Beach also offers lessons at around the same price.
Visit Trelissick House and Garden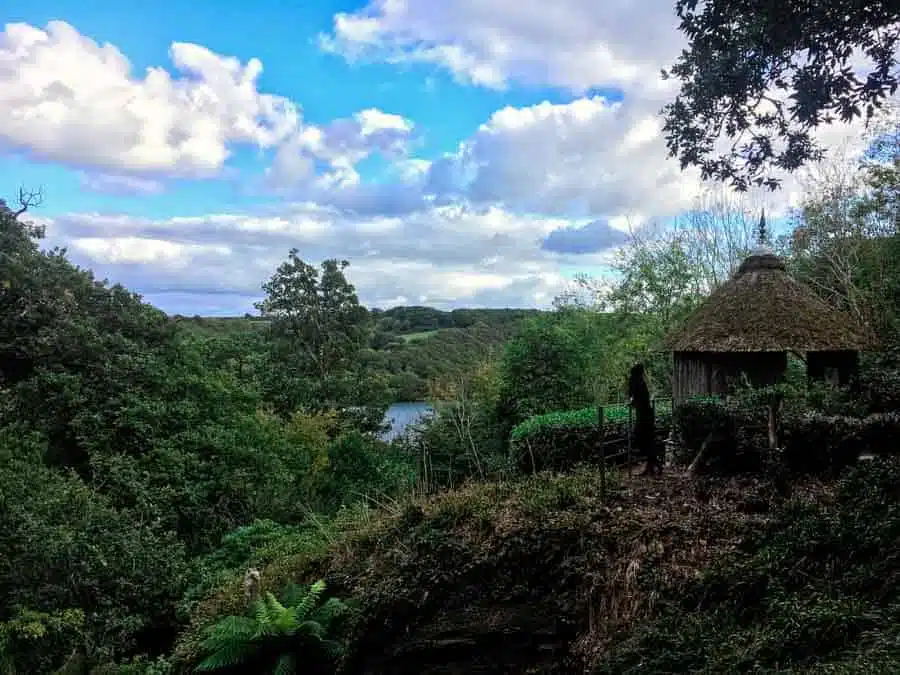 There are many charming National Trust houses and gardens in Cornwall, however my favourite of all and a real Cornwall must-see is Trelissick in Feock.
Sitting proud at the head of the Fal Estuary, it commands panoramic views over the estuary – but that's only a fraction of its appeal.
The house's history stretches back to the 1750s, but it was the Copeland family who, in the 19th century, transformed Trelissick into the iconic landmark you see today. Woven with centuries of tales, it was once owned by an intriguing lady who successfully ran against a male far-right politician during World War II.
However, it is Trelissick's gardens that really sets it apart.The lush gardens that look like they could have been plucked out of a tropical country are famed for their year-round spectacle (thanks to the land's warmer microclimate). They're definitely well worth a visit and are best explored slowly.
Do
Entry to the garden is £12 for adults. Access to the house is included in the ticket. Entrance is free for National Trust members.
Eat at Rick Stein's Restaurant
Like most seaside destinations, Cornwall offers a selection of brilliant seafood restaurants – but Rick Stein's is probably the most famous.
Cornwall's best-known chef actually has a couple of different restaurants in Cornwall, each serving scrumptious seafood as well as other options.
Rick's flagship restaurant is located in Padstow, the restaurant is absolutely beautiful (and dog friendly!). Of course, the seafood is mouth-wateringly delicious, and the wine list is fabulous too.
Explore The Eden Project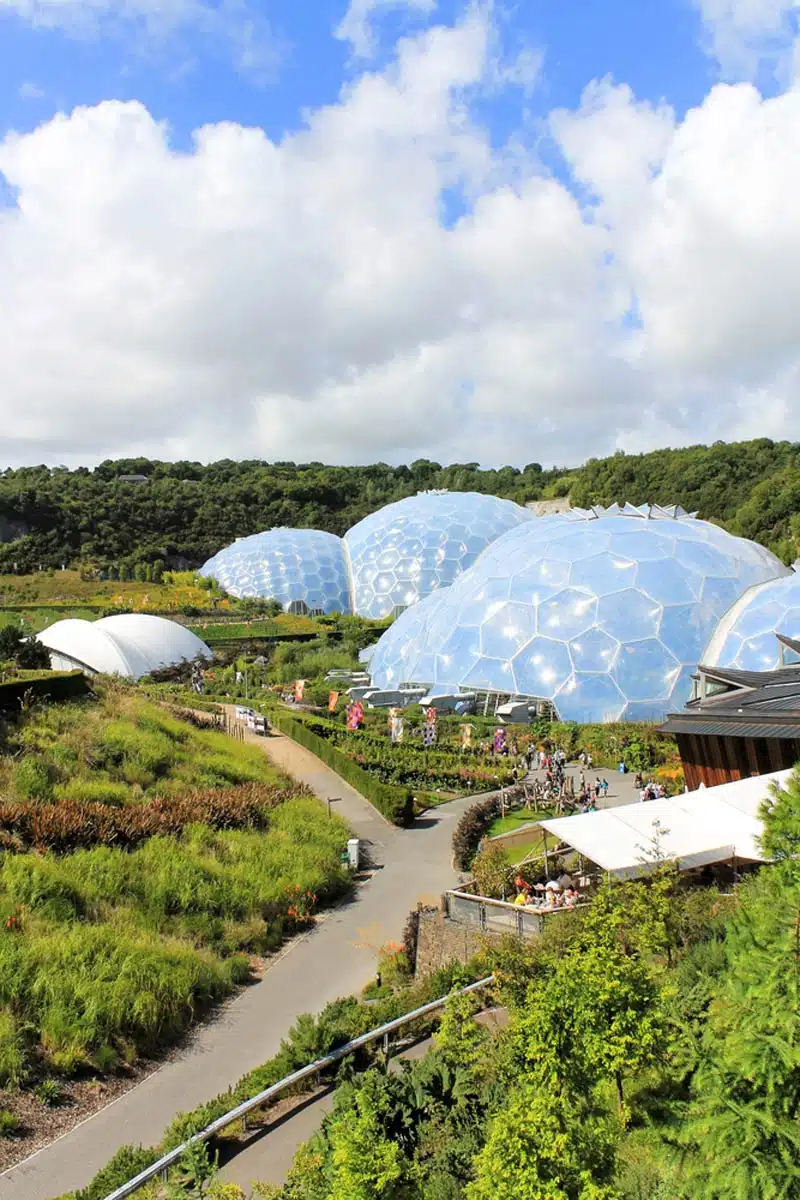 You'll no doubt have seen images of The Eden Project – what looks like giant golf balls protrude out of the ground in a reclaimed china clay pit in the Cornish countryside near St Austell. But, in fact, this project is actually a slice of exotic heaven.
If you're not quite sure what it is – don't worry, I hadn't the foggiest before I visited, either – the tourist attraction is a huge indoor garden filled with vegetable patches, sculptures, and landscaped gardens boasting a gigantic array of species.
Each Biome emulates a different microclimate – The Rainforest Biome is the largest indoor rainforest in the world, and features rare species such as the Titan arum, while the Mediterranean Biome bursts with the heady scent of herbs, complemented by vines and vibrant flowers.
The project's mission is to demonstrate the power of working together to care for the landscape and, I have to say, their educational tours are excellent.
Do
The Eden Project is generally open daily between 9.30am and 6pm. Tickets are £35 for adults, £30 for children if bought online and cost more on the door. Advance booking is strongly recommended.
Check out a Rugged Cove
While most visitors to Cornwall stop by the big names like St Ives and Newquay, there are dozens of picturesque beaches and coves lining the county's coast.
They're inviting in summer, of course, but why not visit them in the winter when there's that dramatic atmosphere to remind you of Cornwall's smuggler past?
My personal favourite is Church Cove near Gunwalloe – one of Cornwall's spectacular hidden gems. The beach itself is beautiful and dramatic, with a rugged cliff-face and sweeping bends.
The Church Cove is also enchanting, with a pretty stone church sheltered from the seas that's still in use to this day.
Drop by the Jamaica Inn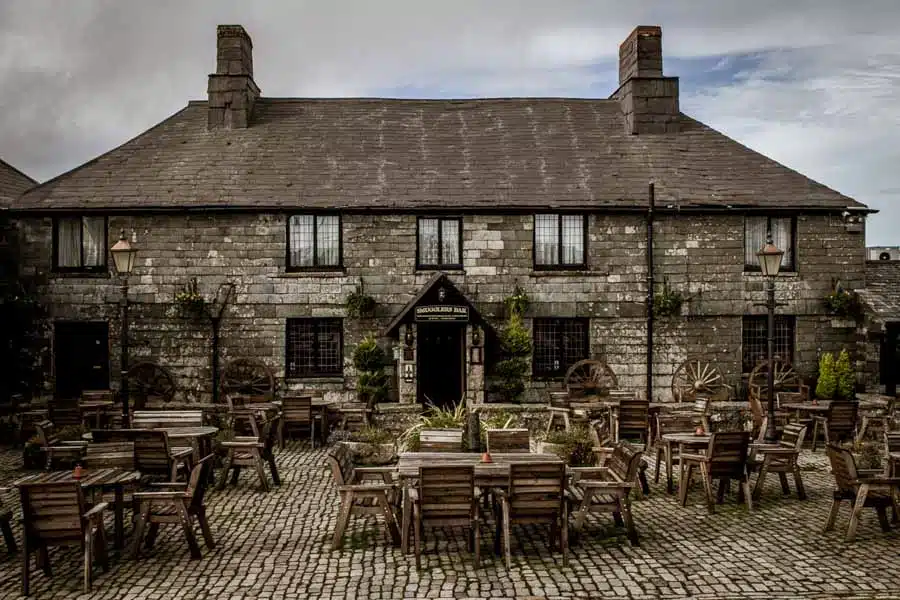 Don't be fooled by Cornwall's sunbaked and carefree image – it has a dark side! In fact, historically Cornwall has long been associated with pirates, wreckers and smugglers.
It's said that at one stage, more rum was flowing illegally through Cornwall's coasts than was being legally imported to all of England!
To find out more about Cornwall's smuggling past, stop by the Jamaica Inn on the edge of the Bodmin Moors.Rumour has it this was a former haunt of smugglers, where they'd store their bounty away from the eyes of the police.
Whether or not that's true, Jamaica Inn was where the author Daphne du Maurier wrote her haunting novel of the same name, so it's definitely an interesting and historic place – not least because there's a collection of smuggling artifacts inside.
Top Tip
Daphne du Maurier stumbled upon the inn in the 1930s after getting lost on the moor, an experience that inspired her famous tale.
Shop for Craft Goods in Truro
Cornwall's dramatic landscapes have been inspiring writers and artists for many years, meaning there are many quirky galleries and markets to enjoy. Whether you're looking for paintings, jewellery or natural body scrubs, you'll find it hand-made in Cornwall!
I love to make a day out of visiting Truro, Cornwall's "busiest" town (with a population of 20,000).
Just wandering around the pretty streets is a great way to spend the afternoon, but be sure to pop into the Pannier Market, where you'll find over 30 different stallholders selling everything from gin to teapots.
Experience the Nightlife in Falmouth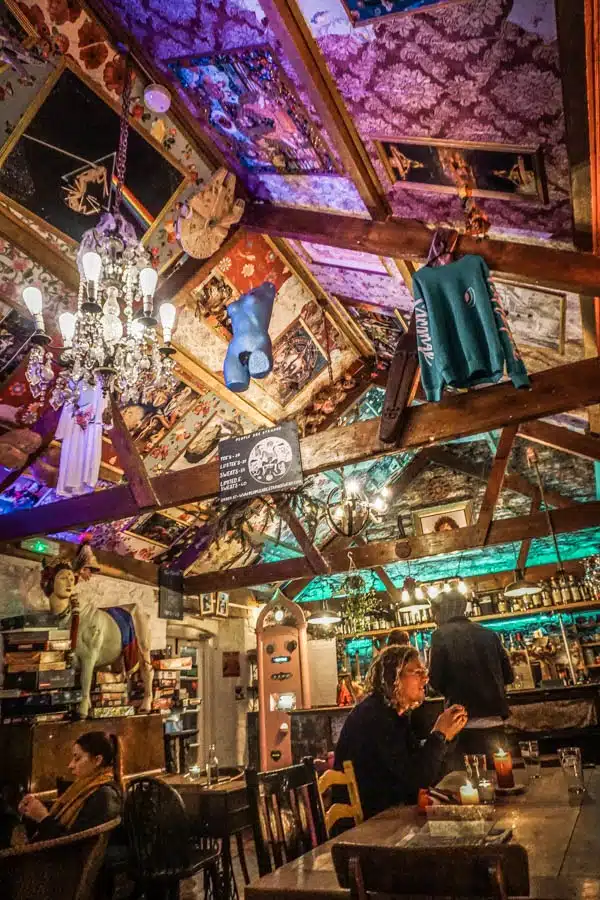 Cornwall is generally a pretty peaceful and relaxed place, but that's not to say that there aren't places to dance away to some beats until the early hours of the morning.
Thanks to the large university population, bustling and picturesque Falmouth is the place to go for a night out.
You'll find lots of cool bars as well as a few slightly more questionable nightclubs. My favourite bar is "Beerwulf", which also has a regular calendar of events including live music and poetry nights. It's got a fun, laidback student atmosphere but absolutely everyone is welcome.
The Chintz Symposium is another cool spot – the world down the rabbit hole brought to life, complete with quirky wallpaper, furniture and some stellar cheese and wine.
Not up for clubs? There are many great pubs in Falmouth as well as nearby Penryn, which has slightly more grit (and my favourite pub, the Famous Barrel).
Eat a Real Cornish Pasty
This is Cornwall. You can't leave without eating a delicious, real Cornish pasty. That means made, bought and eaten in Cornwall!
It's hard to find anywhere in Cornwall that isn't selling Cornish pasties – I think the neighbourhood would revolt if anywhere was to try! However, Ann's Pasties in Helston is my favourite, while I hear it on good authority that Oggy Oggy's and Chacewater Bakery are some other options that get the local tick of approval.
Make it to Land's End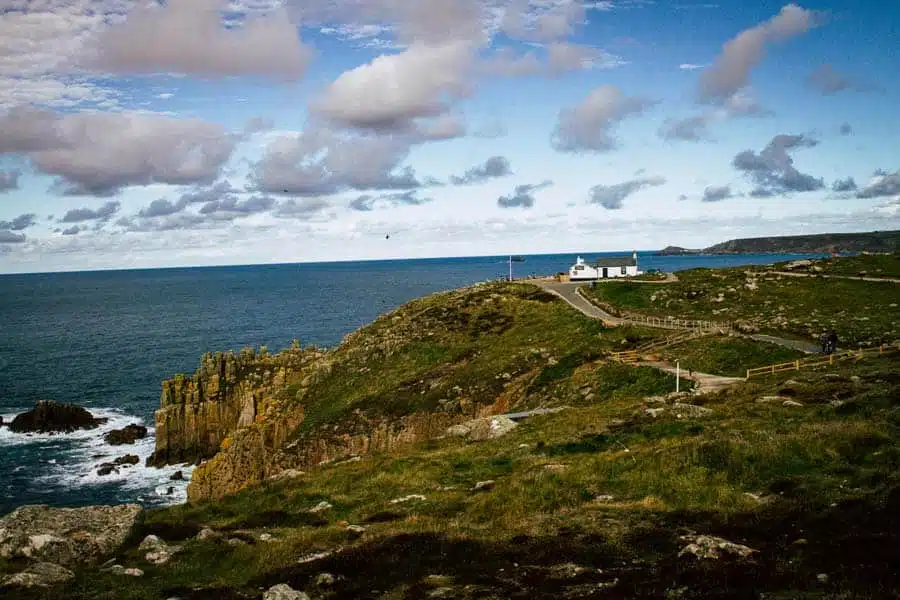 The idea of making it down to the most southerly point in the UK has intrigued visitors for centuries.
It's believed that even the Ancient Greeks made their way down to check out the views over the sea and headlands! They even had a nickname for it – Belerion – or the Shining Land. Steeped in legend and folklore, it's said that the Lost Land of Lyonesse is submerged just off the coast of Land's End – the very place where King Arthur is said to have fought his final battle.
Don't expect a desolate, rocky point when you arrive – today Land's End is quite the tourist hotspot and there are many amenities there to cater for visitors of all ages. Perhaps most bizarrely, there is even a Wallace & Gromit show – a bit far from their home in Yorkshire!
Kids might enjoy the attractions, and adults can take in the beautiful views as well as stop by the restaurant and café (preferably for a Cornish pasty).
Do
There's no charge to visit Land's End itself, but parking costs around £6 and some attractions have separate admission fees.
Discover a Few Gorgeous Cornish Villages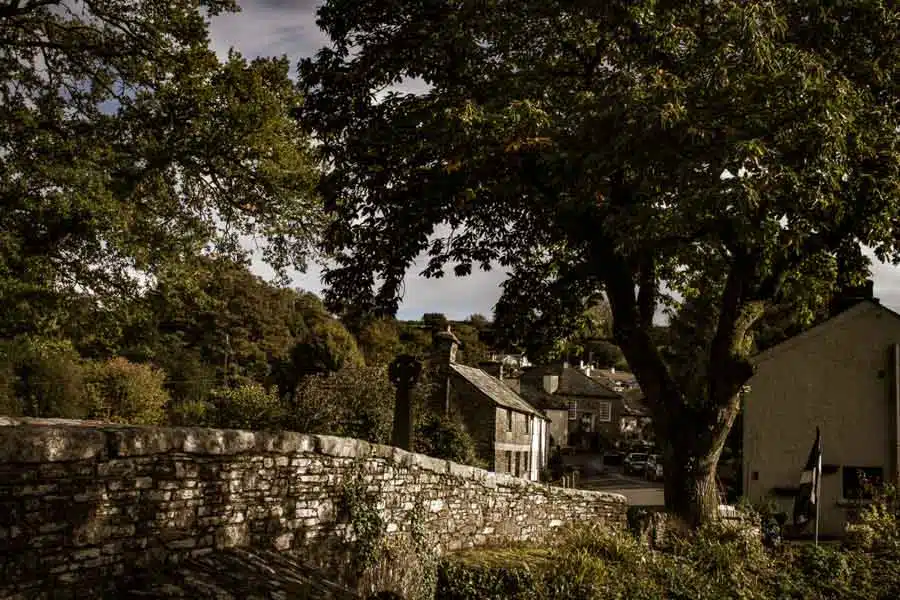 Cornwall is absolutely beautiful, thanks in large part to the stunning Cornish villages made from grey Cornish stone.
They are photogenic, quaint and beautiful – I just can't get enough of them. You might need to navigate some pretty hairy narrow country lanes, but it's worth it when you arrive in these gorgeous little villages.
My personal favourite chance discovery was the village of Altarnun near the Bodmin Moors. It's a very picturesque place to explore or go for a walk in, and it also has some great pubs. I particularly love the Rising Sun Inn, which still has a hitching post as so many locals ride their horses to grab a pint or bite to eat.
There may not be heaps to do in these little villages, but they are beautiful and offer a glance into everyday Cornish life.
Wander Around Port Isaac
It has to be said that this teeny tiny fishing village is one of my favourite spots in all of Cornwall. There isn't too much to do, but if you're keen to explore historic buildings, dramatic views, and pretty cobbled roads, Port Isaac makes for a peaceful afternoon.
Interestingly enough, it's also where the filming of Doc Martin took place, so you can don your best suit and galavant around in the footsteps of Martin Clunes. You can even take a guided tour.
Brave Tintagel Castle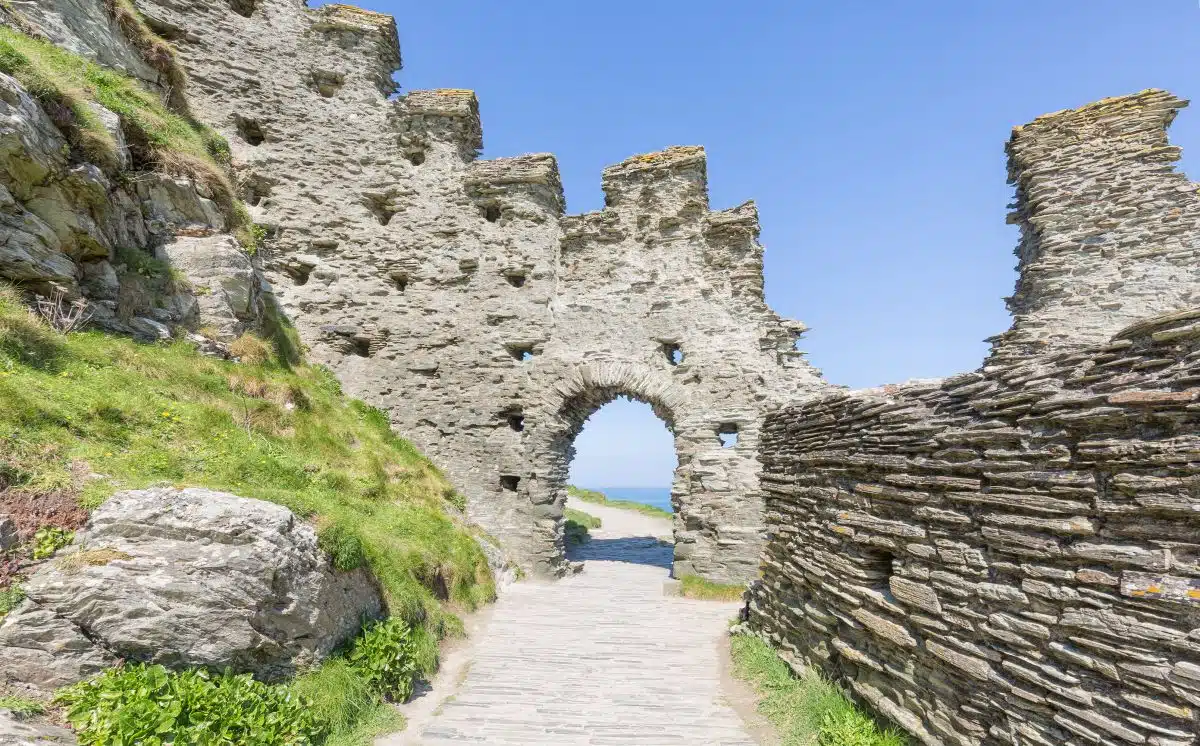 A word of warning – you'll want to be wearing your best walking boots when visiting Tintagel Castle. The steep drops are unforgiving. This north Cornwall castle is steeped in medieval history and has inspired artists and writers for centuries.
The legend started in the 12th century, when writer Geoffrey of Monmouth named it as the birthplace of King Arthur – and so Tintagel was woven into the annals of British lore.
You'll start by crossing over a lengthy footbridge connecting the castle to the car park – albeit it's a little bit of a stomach churner. Well worth it though for the insane views of the landscape.
Once you arrive at the castle, you'll be greeted by remnants of the many Cornish Kings, of which King Arthur is perhaps the most well-known. Make sure to snap a photo of Gallos (meaning 'power'), who is based on King A himself.
Do
The castle is typically open daily between 10am to 4pm but check ahead as hours can be seasonal. Entrance is £14 for adults and £8.40 for children. English Heritage members can enter free of charge. Advance booking is strongly recommended in the summer months.
Hop on a Boat to St Michael's Mount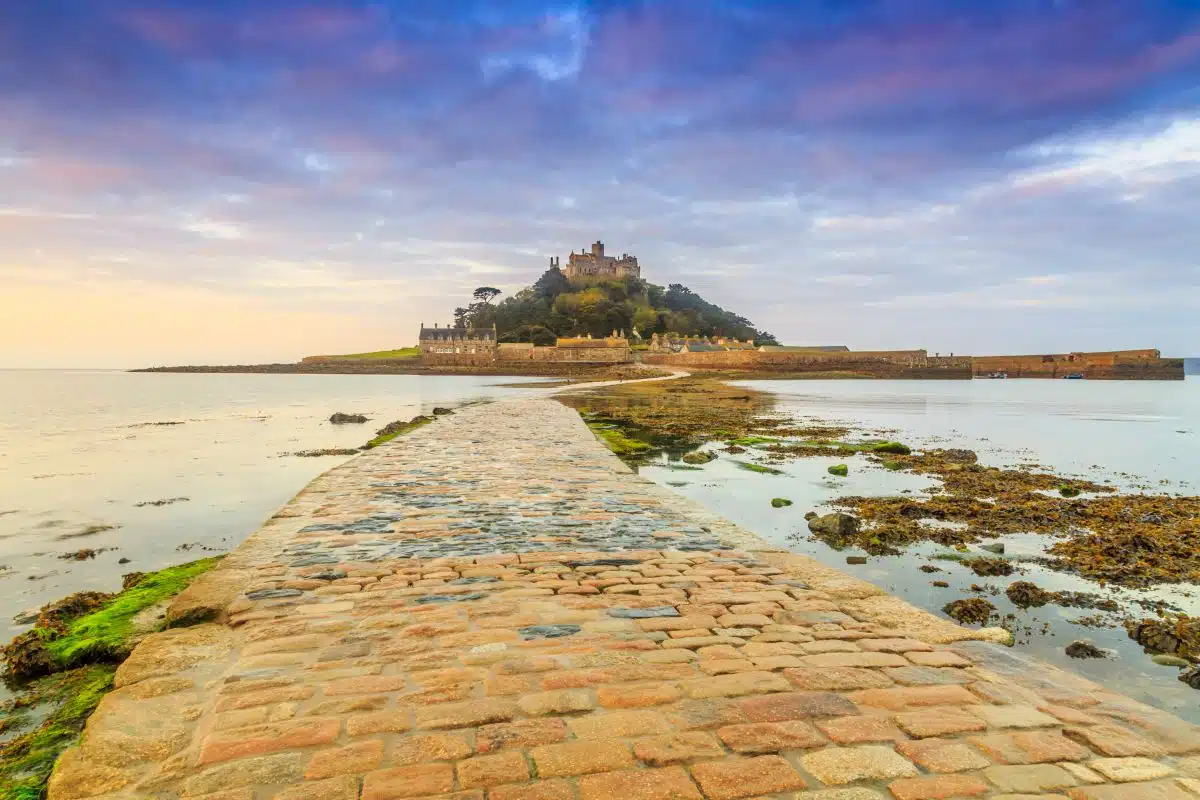 Sitting just off Cornwall's Marazion coast, St Michael's Mount is something akin to a tiny island community – connected to the mainland only by a tiny cobbled path revealed at different times throughout the day.
Generally, you'll have a four-hour slot throughout the day when the path is accessible, after which there's a tiny boat that runs people back and forth. The castle that sits atop the mount is one of the main draws, though there are plenty of shops and cafes to explore while you're on the island.
Top Tip
An underground railway was built by miners in the 19th century to transport goods to the castle and is still in use today, though it's not accessible to the public.
Visit the Flicka Donkey Sanctuary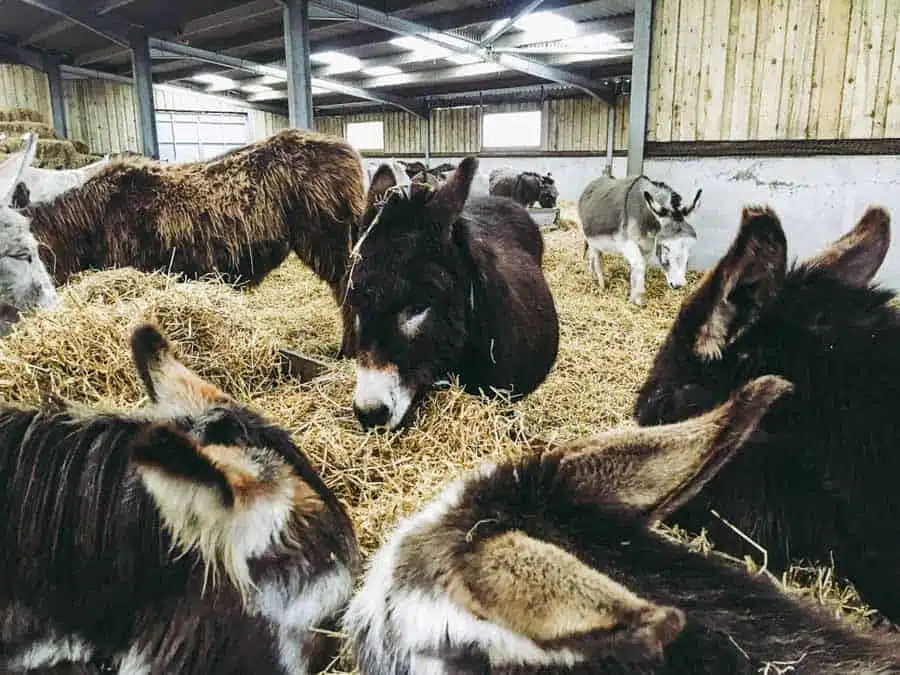 For animal lovers, a visit to the Flicka Donkey Sanctuary is an absolute treat, and a great way to support an organisation doing amazing work with limited funding.
The Flicka sanctuary has rescued hundreds of neglected and abused donkeys, giving them a second chance at a happy life in their huge, beautiful sanctuary. Run entirely by volunteers, the sanctuary does an amazing job looking after these adorable donkeys.
Being a working sanctuary, Flicka is not a petting zoo and it's up to the donkeys whether they want to come over and say hello. Several are very friendly and curious, though, so there's a very good chance you'll get to see them up-close and give them a pat on the nose.
There's also a sweet vegetarian café which is again run by volunteers, where you can get tasty sandwiches and cakes.
Do
Flicka's Donkey Sanctuary is free to visit but donations are appreciated to fund the great work they do.
Descend into Carnglaze Caverns
The cave triplets known as the Carnglaze Caverns are hidden away in a forest in the village of St Neot. With a history involving the storage of rum, along with some other cool uses, exploring the caves makes for a brilliant family-friendly day out.
Special events are held throughout the year, such as cave concerts and little shindigs. I love visiting in August, when the opening hours are extended – pay a visit and then head to a local pub. Dream.
You can even get married here!
Visit the Museum of Witchcraft and Magic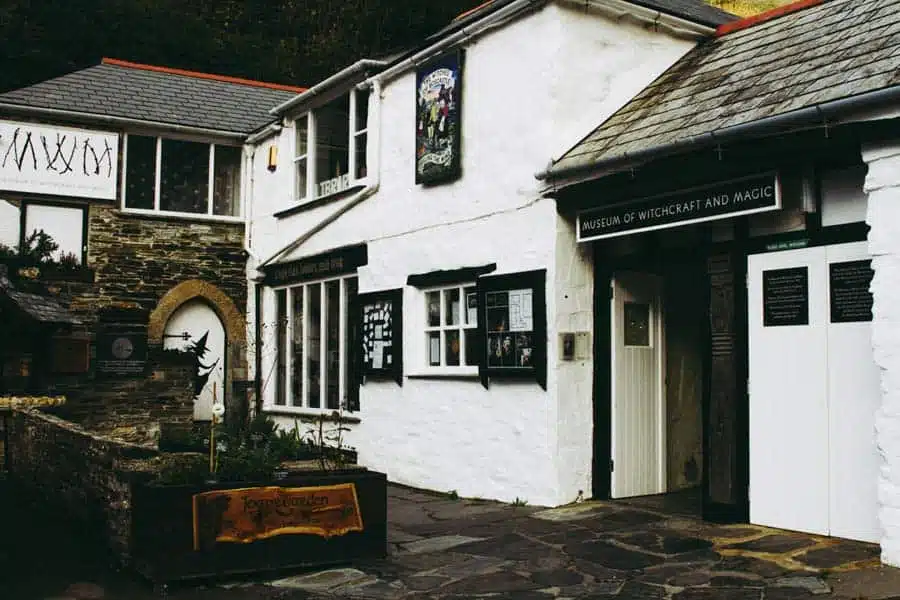 Fair warning – this won't be for everyone, but if you're looking for creepy and unusual things to do in Cornwall, then you'll love the Museum of Witchcraft and Magic.
This intriguing museum is not about black cats and broomsticks, but about real witches, their history of persecution, and their beliefs.
The museum is extremely interesting, and many of the artefacts from the museum are loaned to places such as Oxford and Cambridge for anthropological study.
Apparently, JK Rowling even visited the museum on many occasions to get inspiration for the Harry Potter series.
Top Tip
Be warned – it's not kid-friendly and can be a bit eyebrow-raising at times, but it's truly fascinating. The museum is currently closed for renovations and is due to reopen in April 2024.
Check out the Abandoned Tin Mines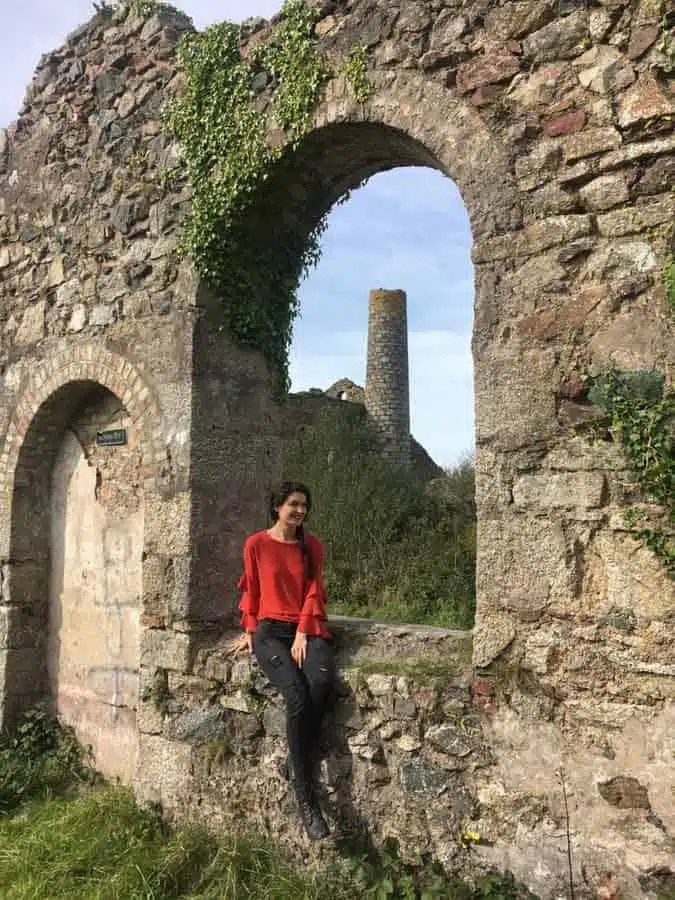 One of the first things I noticed about Cornwall was that the landscape is dotted with what seems like hundreds of old brick chimneys.
These are the remnants of old mines, left over from when tin mining was the lifeblood of Cornwall (and made it one of the richest counties in the United Kingdom).
The tin has well and truly run out, but the relics of the past remain, slowly crumbling into the earth. It's really interesting (and scenic) to wander around the old mines, and most are totally free to visit.
It's safe to walk around and all the mine shafts are well covered, but I'd still recommend keeping an eye on young children.
Top Tip
If you'd like to learn more about tin mining in the region, there are many places to hear about the history, such as at the famous Poldark Mine.
Taste Some Cider and Meet the Friendly Clydesdales at Healey's Cider Company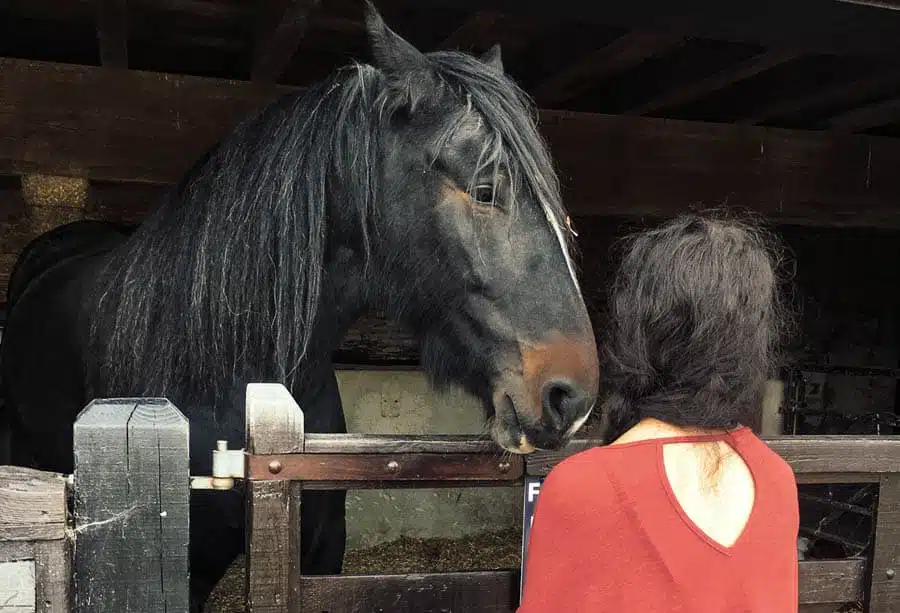 A cool, fresh cider is a great accompaniment to a warm Cornish day, and there are a couple of cider places in Cornwall. One of the most visitor friendly options is Healey's Cider Company, where you can go and taste their entire range of ciders.
They're all delicious, although they are best known for their "Rattler", which is made from different types of Cornish apples.
As well as the cider, there are some other truly Cornish attractions on the working farm. In particular, I loved meeting the two huge Clydesdale horses – one of the more unique things to do in Cornwall.
Although they are no longer used in the work on the farm, they are apparently still ridden – so if you don't get to meet the enormous equines, you might spy them hacking down the nearby lanes! You can also tour the cider factory to learn more about how it's produced.
Do
Tickets for the summer months are £13.60 for adults and £8 for children if purchased online (it's more on the door).
Stroll Through The Lost Gardens of Heligan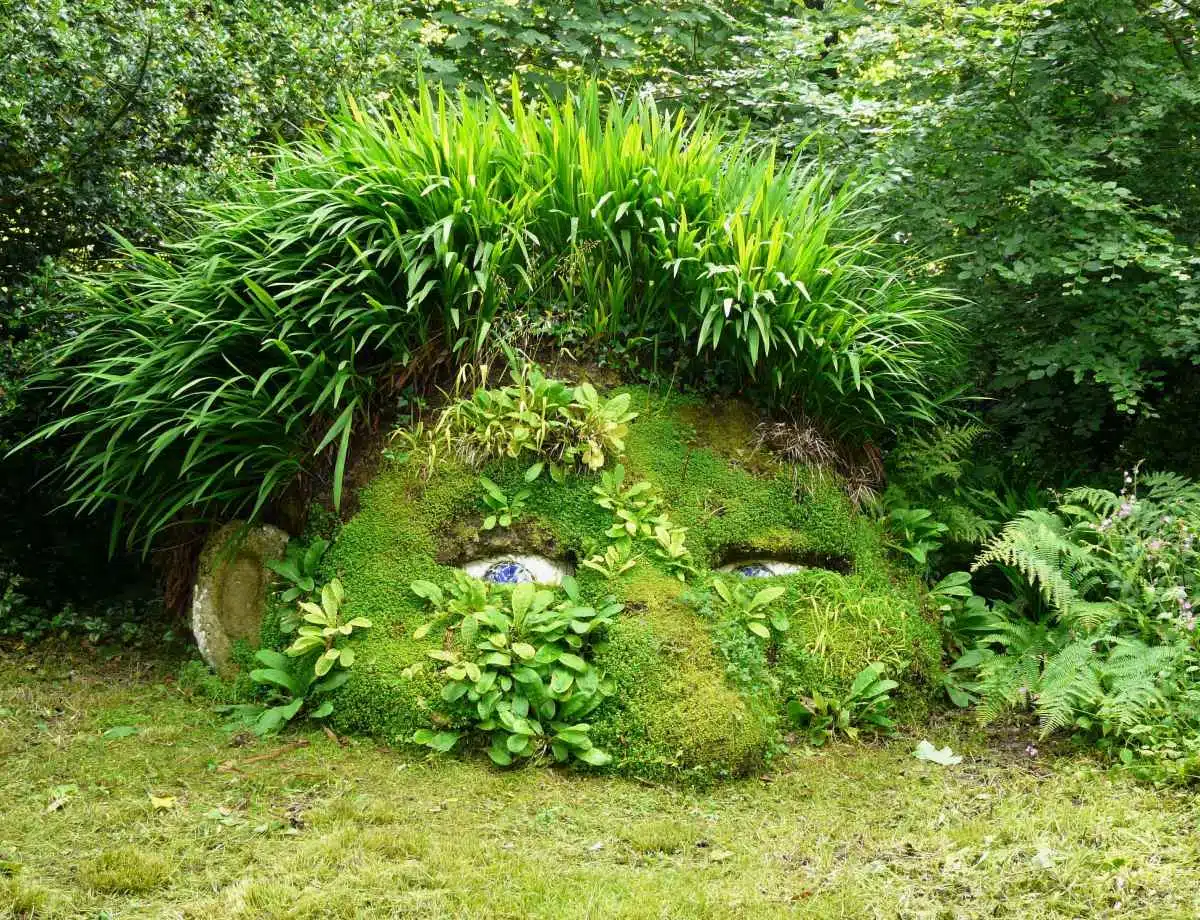 Situated near Mevagissey, you should visit the Lost Gardens of Heligan because they're downright stunning. Though it's the garden's history that makes it well worth a visit.
This lush land was originally cultivated in the Victorian era by the Tremayne family. And they continued to flourish until World War One, when the gardeners were called to serve, leaving the gardens to decay.
Understandably, the gardens were completely neglected until the 1990s, when a group of green-fingered folk, fronted by Tim Smit and John Willis, discovered them. They then made it their mission to completely restore the Lost Gardens of Heligan. Go check it out.
Catch a Show at Minack Theatre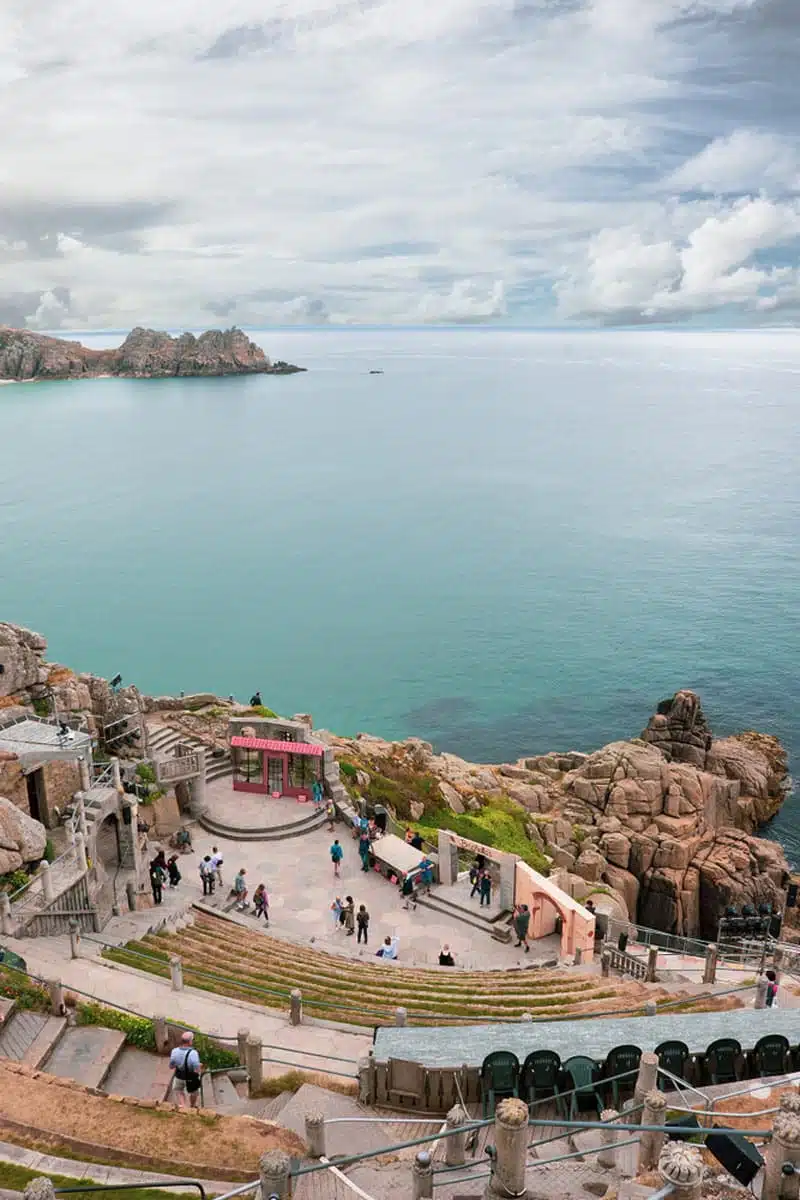 Fancy watching a performance at one of the most unique theatres in the world? Of course you do.
Near Porthcurno, Minack Theatre is perched on a cliffside – with views as dramatic as the theatre you can enjoy.
Minack Theatre was the brainchild of Rowena Cade, a local resident, and her gardener. In the 1920s, they both began work constructing a performance space on the cliffs, hand-shaping the stones to create tiered seating.
Admire the Barbara Hepworth Museum and Sculpture Garden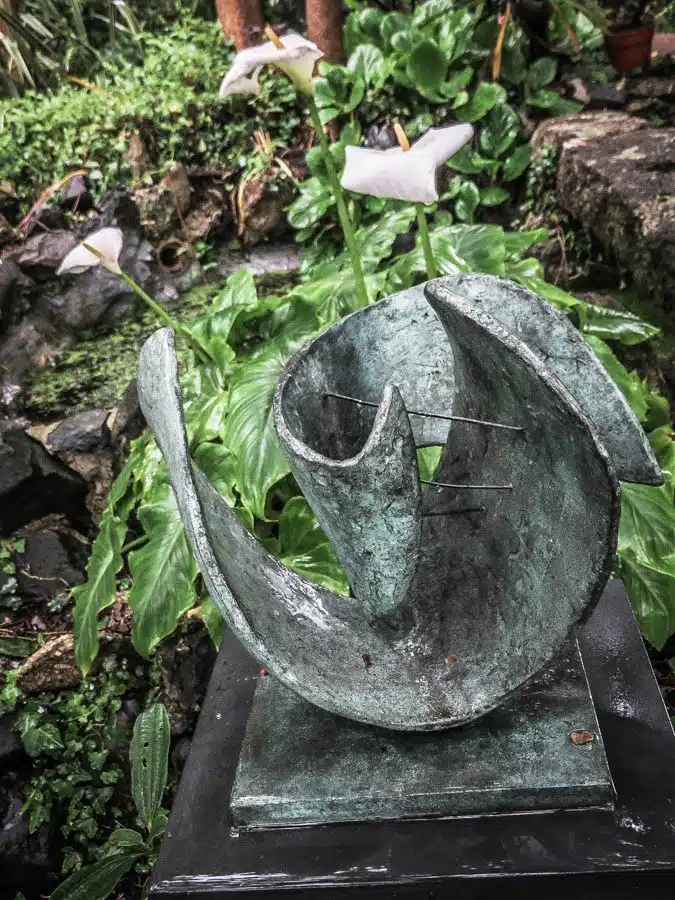 Apart from being jaw-droppingly beautiful, St Ives is also home to the Barbara Hepworth Museum and Sculpture Garden – a space dedicated to the renowned British sculptor, Dame Barbara Hepworth.
Hepworth lived and worked in this house between 1949 and 1975, and the museum provides a deeper look at her most iconic work and entire creative process. But the garden is my favourite part of this attraction – when the sun is shining, it's simply glorious.
Do
The museum is open daily usually from 10 am to 5:20 pm – check as the hours vary seasonally. Entrance is £7 (or £8 with an optional donation) or £6 (£7 with donation) for concessions.
Practical Tips for Your Cornwall Trip
Top Tips for Your Visit
It's easiest to travel around Cornwall by car – but it is possible to get around on public transport if you plan carefully and check timings.
If you're short on time, you can consider flying to Newquay and hiring a car from there. It's not as nice as the train but it is a lot quicker. Check flights and prices.
There are a few beaches in Cornwall that are starting to suffer from overcrowding during the summer months. Porthcurno and Kynance Beach see a large number of visitors when the weather is hot – head to one of the region's many, many other beaches for a more peaceful experience.
Book ahead in the summer months. While there is plenty of accommodation in Cornwall, you should book ahead – particularly in the summer months. Check rates and availability.
How Long Should You Spend in Cornwall?
I'd recommend spending at least a week in Cornwall. It's a relatively large region and there's a lot to see.
Best Time to Visit
The best time to visit Cornwall is during the late spring or early autumn when there are fewer crowds but the weather is (hopefully) good enough to enjoy the beauty of the Cornish landscape.
Places to Visit in Cornwall: Map
Love This? Save and Share on Pinterest