Discover the best things to do in Florence with this handy guide. Read on for 14 unmissable attractions in the gorgeous Firenze.
Whether you're spending two days or an entire week in the magical city of Florence, I've written a handy travel guide to help you make the most out of your trip.
Real talk: I think I prefer Florence to Rome. There's something so mesmerizing about this city that the Italian capital just cannot compete with (though, it comes pretty close).
From the incredible architecture, art galleries, and bustling food markets, to the stunning gardens that dot the city, you'll never be bored in this beautiful Italian city. And I'm sure you'll fall in love with it, just like I did.
So… Let's fill that itinerary, shall we?
Looking for the best place to stay while you explore this Tuscan gem? I recommend Hotel La Scaletta al Ponte Vecchio. It's right on the banks of the Arno River and super luxurious (the cherry atop of a very nice cake, if you ask me).
Top 5 Things to Do in Florence
Visit The Cattedrale di Santa Maria del Fiore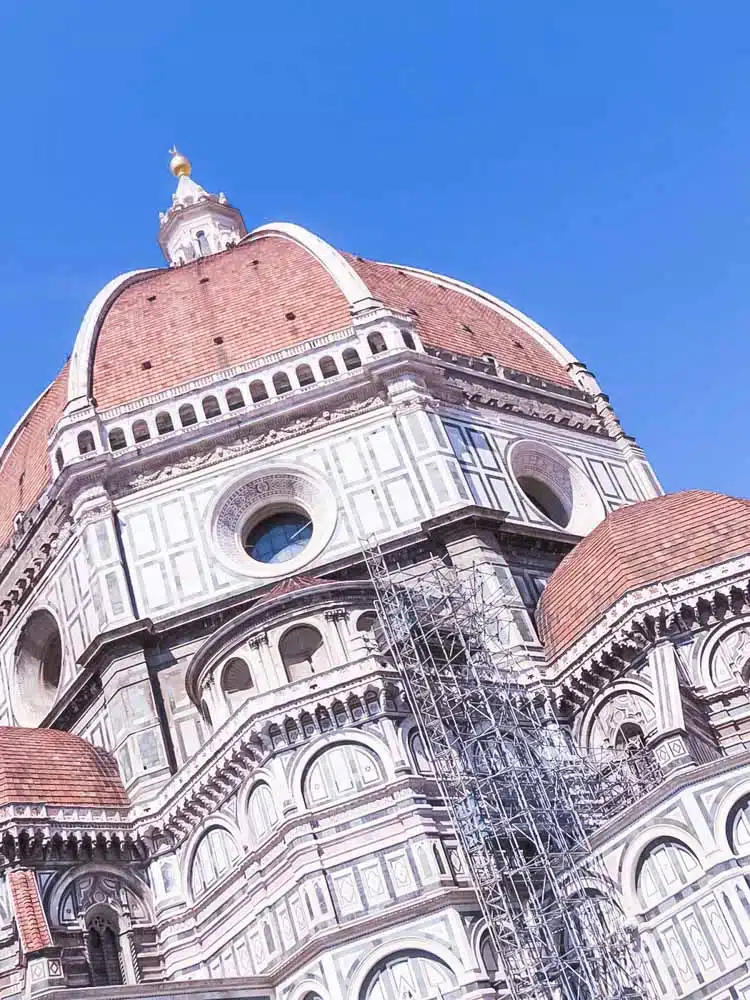 Have you heard of the Duomo di Firenze? Or perhaps the Cathedral of Saint Mary of the Flower? If you haven't, you will, and you'll love it just as much as every visitor to Florence does. This striking landmark is undoubtedly one of the most buzzworthy places to visit in Florence, Italy.
The impressive and gorgeous front façade shines in white marble and red, pink, and green polychrome designs. Okay, but what does that mean? It means it's breathtaking to see.
Once you manage to stop gawking at the exterior, the interior features a few noteworthy spots, including the stunning Last Judgement fresco covering the dome's underside. While not mandatory, you should climb the 463 steps to the lantern at its peak, taking you to the highest point in Florence.
The best way to experience this marvel is this guided tour with entry tickets to the Duomo complex and a climb to the Cupola.
Explore Renaissance Art at The Uffizi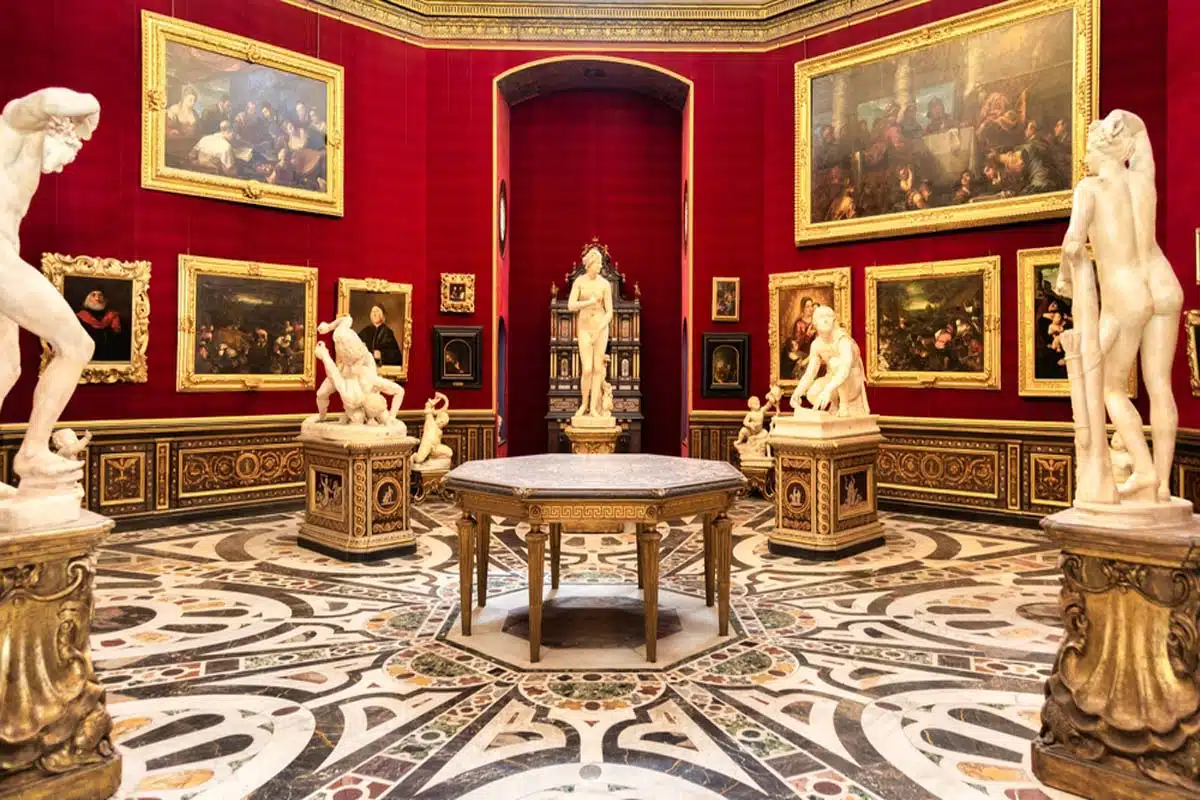 Topping the list of what to see in Florence, Italy, is the Uffizi Gallery. When I say it's a quintessential treasure trove of Renaissance art, I'm not joking. This is where famous works stand proudly for all to see, and you're lucky enough to do just that.
Inside the horseshoe-shaped gallery, a world of artistic majesty awaits. An appetiser is The Birth of Venus by Botticelli, and that's just the tip of the iceberg. As impressive as this masterpiece is, the wealth of other iconic works inside the gallery warrant you spending as much time exploring as possible.
And for architecture lovers, the gallery itself is a stroke of genius. Built and designed by Italian painter Giorgio Vasari, its extending colonnades, linear columns, and pediments add to the exquisite artwork housed within.
Heads-up, though: queues tend to be frustratingly long, so it's best to get your skip-the-line entrance ticket in advance. You can thank me later.
Indulge in Art at the Galleria dell'Accademia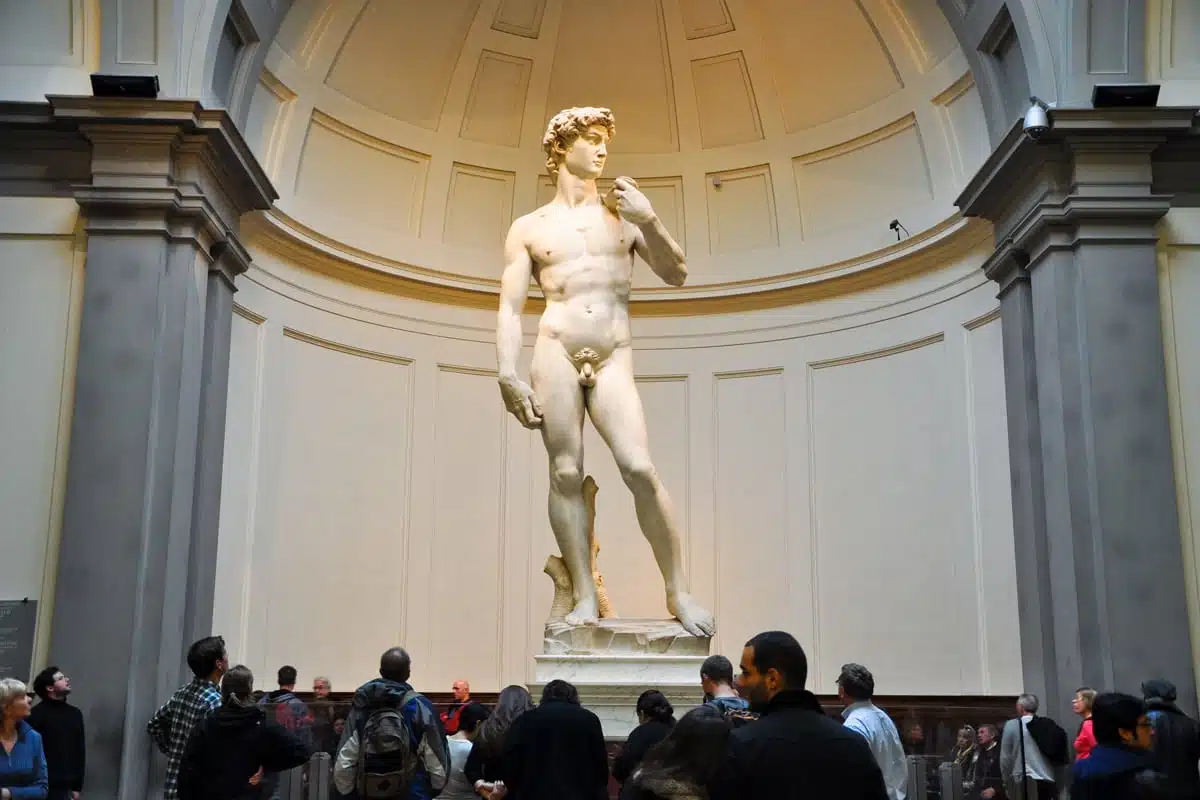 Okay, what even is the Galleria dell'Accademia? Without trying to oversell it, this is where you'll see Michelangelo's most famous works – I'm talking about the likes of David.
But, beyond that, the Galleria dell'Accademia is home to a mind-blowing number of artworks, more so than you would ever find in some cities. However, you might get the impression that the entire gallery aims solely to showcase David. I can't blame it, though. He is quite an imposing sight.
A 26-year-old Michelangelo carved him out of a singular block of marble more than 500 years ago. With so much detail right down to the veins in his arms, grabbing a selfie with this gentleman is an absolute must.
If you're wondering how to skip the line leading to David, get your reserved Accademia ticket to fast-track your way right to his feet.
Ascend Giotto's Campanile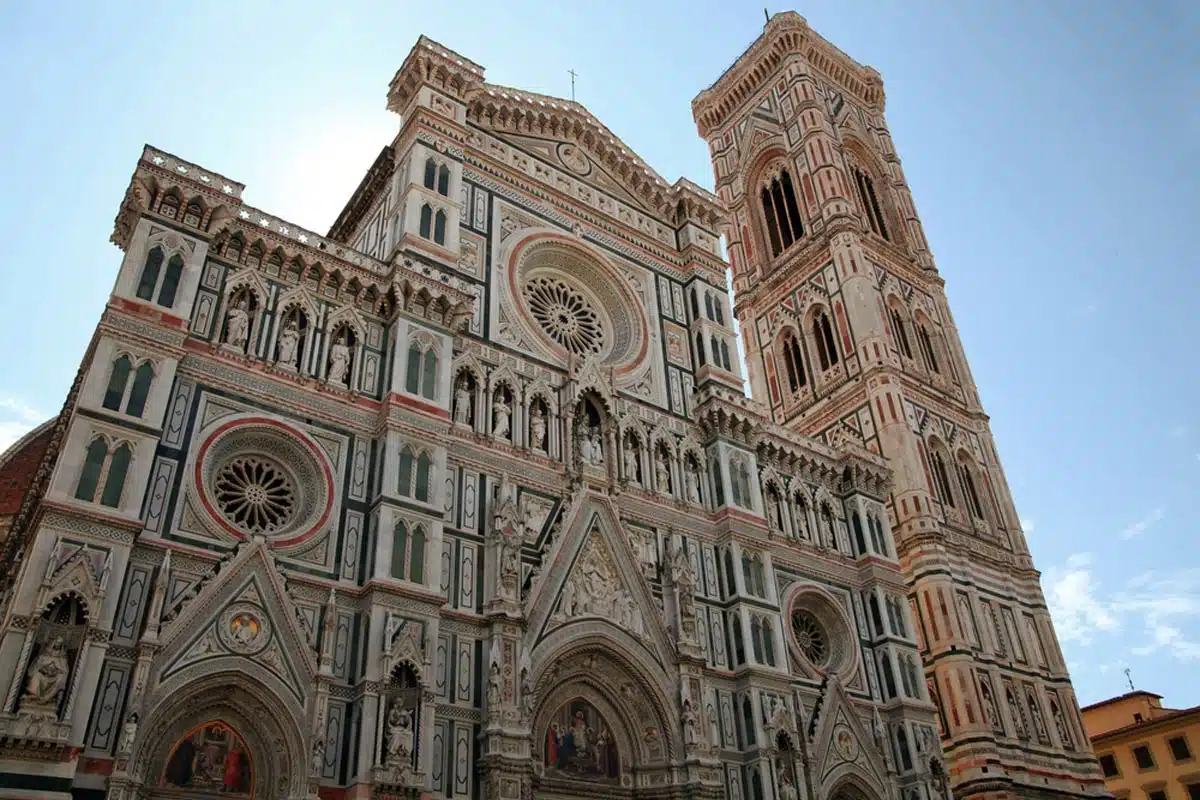 Some might tell you that Giotto's Campanile sits directly connected to Duomo di Firenze, but it's actually an entirely separate building and deserves praise on its own. A true masterpiece of Gothic architecture, it's one of the most renowned designs in the entire city.
As such, it's easy to see why it's one of the best places to see in Florence, Italy. Split into five unique levels, the exterior of the Campanile features the same polychrome designs the Duomo does. While construction started in 1334 by artist Giotto, Talenti completed work on its upper levels in 1343.
Inside, a world of art and sculpture awaits, with a plethora of works arranged throughout every level. Be sure to take as many snapshots as you can of the decorated panels that adorn its interior as you ascend to the top level.
Appreciate the Beauty of Palazzo Vecchio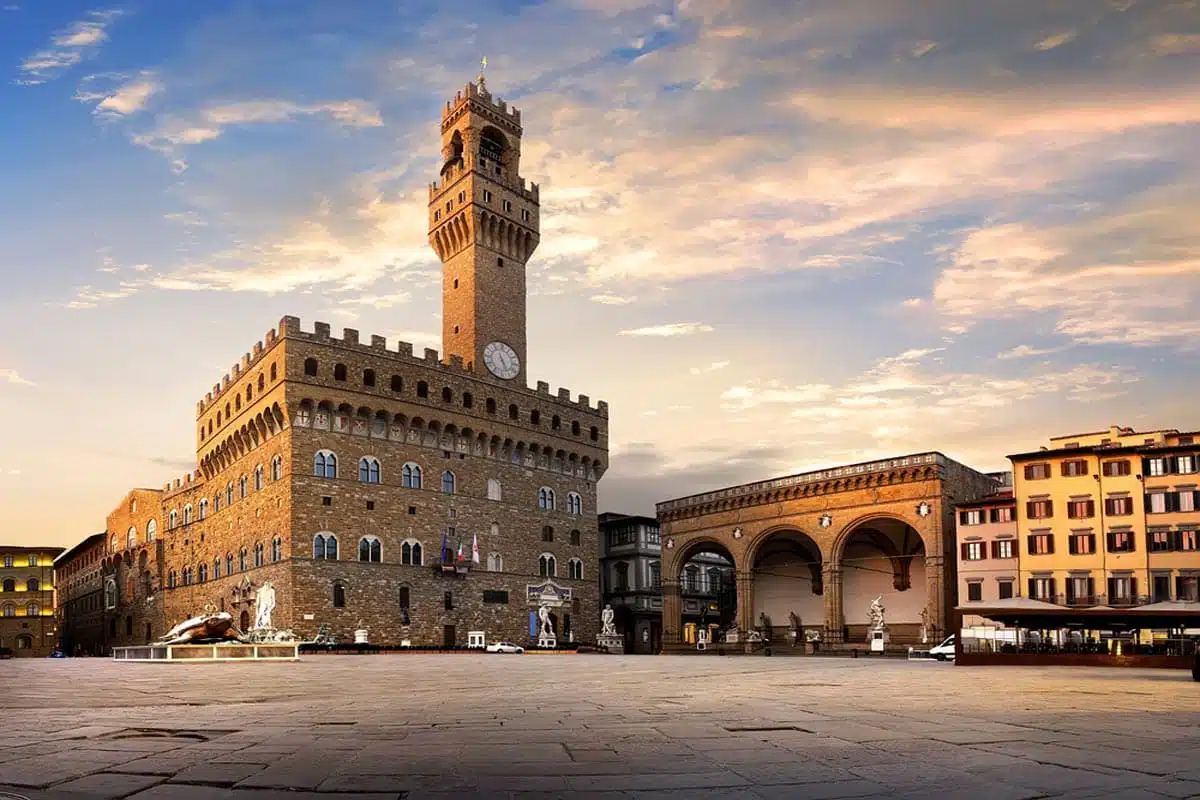 Another must-see in Florence, Italy, is the Palazzo Vecchio. While the Duomo is the most religiously significant building, the Palazzo Vecchio sits atop the throne of administration.
In decades past, locals called it the Palace of the Signoria of the Republic of Florence (quite a mouthful) and was a town hall. Designed by the same architect who worked on the Duomo and the church of Santa Croce, today it is a striking part of the Florentine landscape.
It resembles a castle, and its square design features a series of crenulations and a massive bell tower at the centre. But its the front façade that is truly impressive, with a coat of arms depicting various families of importance to Florence's history.
If you want to get up close and personal with the Palazzo Vecchio, consider booking a spot on this guided tour. It's one of the best ways to see highlights such as The Hercules Room and The Room of Cybele.
Tip: Check out these fantastic day trips from Florence to heighten your time spent in Tuscany.
Brilliant Things to See & Do in Florence
Discover the Basilica of Santa Croce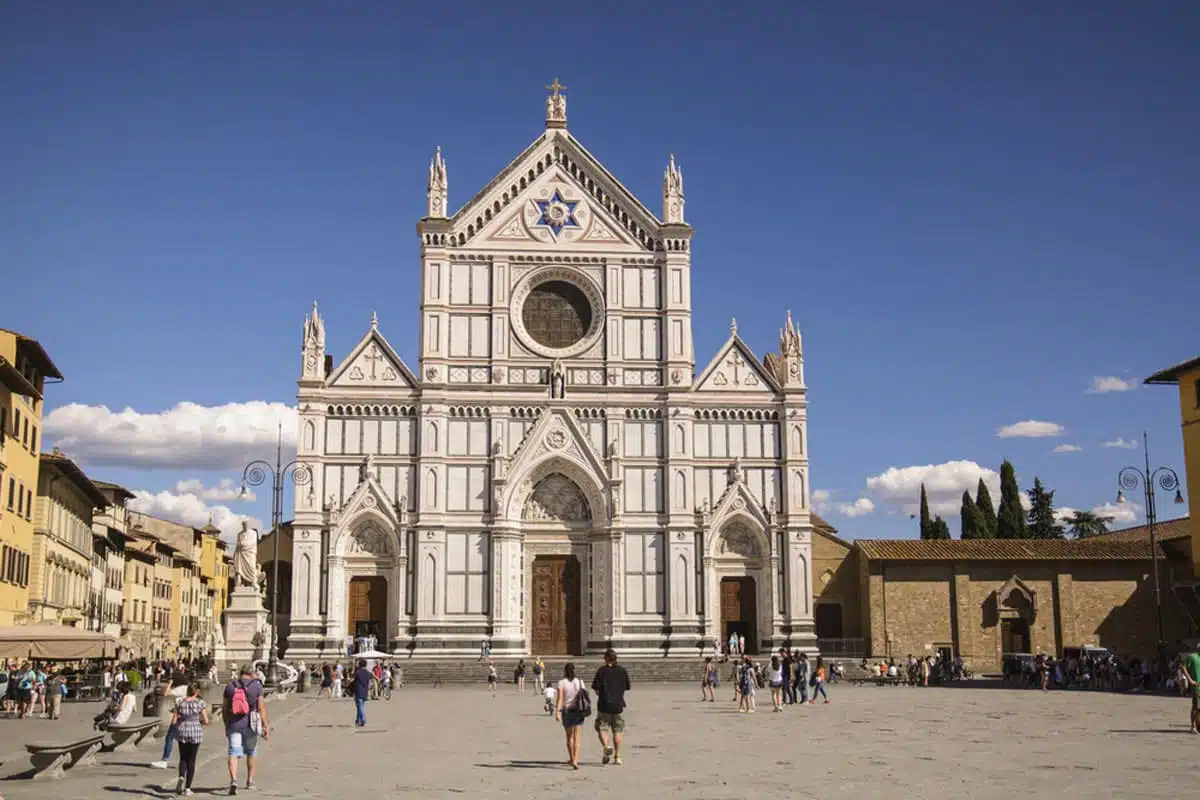 Sure, the Duomo di Firenze boasts size and importance, but an equally buzzworthy landmark albeit a bit smaller is the Basilica of Santa Croce. If you're looking for an unforgettable Florence activity, opt for this Santa Croce church tour.
Framing the Piazza di Santa Croce, the basilica sees a similar construction to the Duomo, with pink, green, and red marble panels contrasting polished white stone. While there is a lot to see in the square, the basilica takes centre stage.
As enticing as the exterior is, once you step inside, you'll quickly realise why this is such a famous attraction. It's home to hundreds of tombs of the most influential Renaissance artists and scholars — some standouts include Galileo, Michelangelo, and Niccolo Machiavelli.
Catch a Sunset from the Piazzale Michelangelo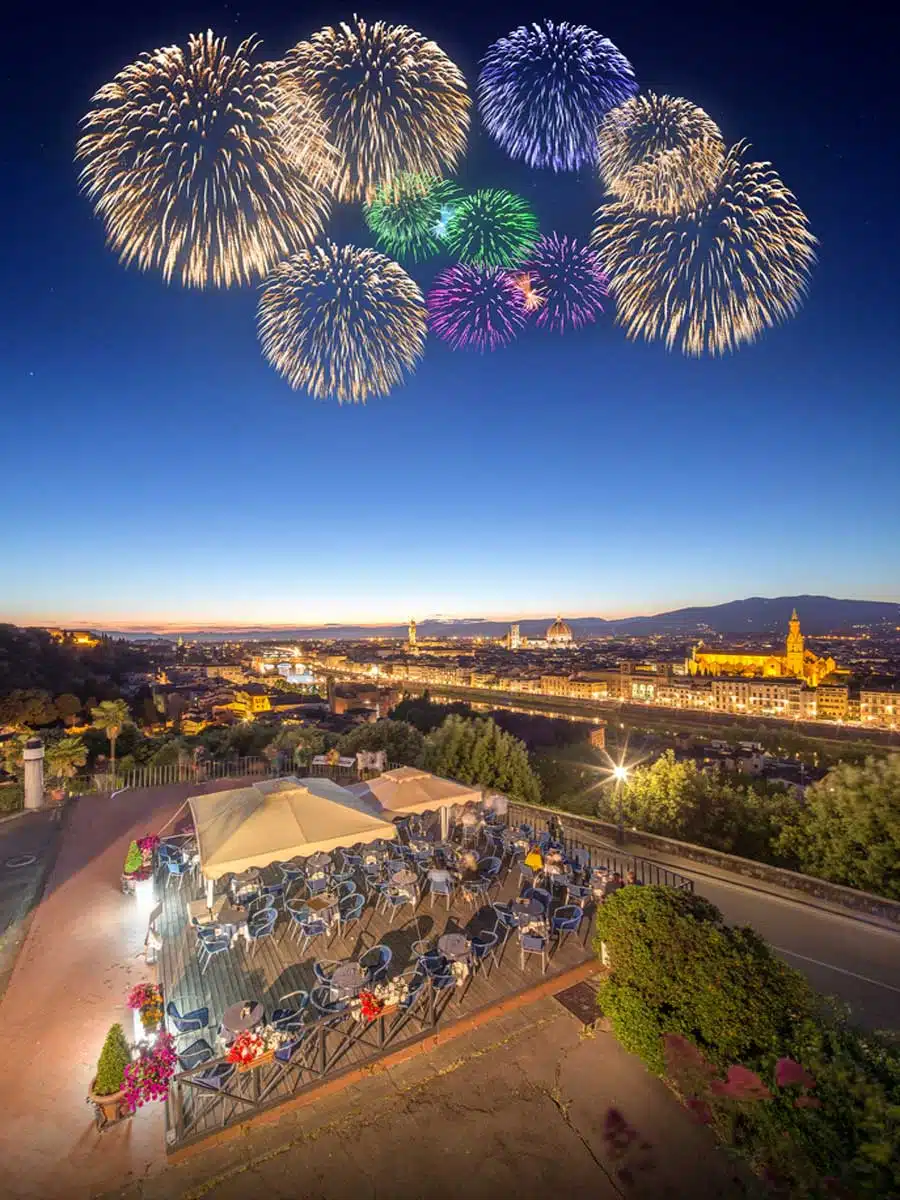 One thing integral to Florence is its winding cobblestoned streets (narrow streets, might I add) that cross the city. As unique as it is to make your way through these alleys and roads, sometimes all you want to do is capture the city from above. If that's your sentiment, I have good news for you.
The best free thing to do in Florence is to venture to the Piazzale Michelangelo and catch an epic sunset. Beyond the possibility of people watching, sitting here and immersing yourself in the golden glow of the sun setting over the city is almost surreal.
To top off this amazing experience, you can even spot mountains in the distance as a crown over the Tuscan landscapes. But arrive an hour or so before sundown as the area fills up quite quickly.
Visit the Baptistry of St. John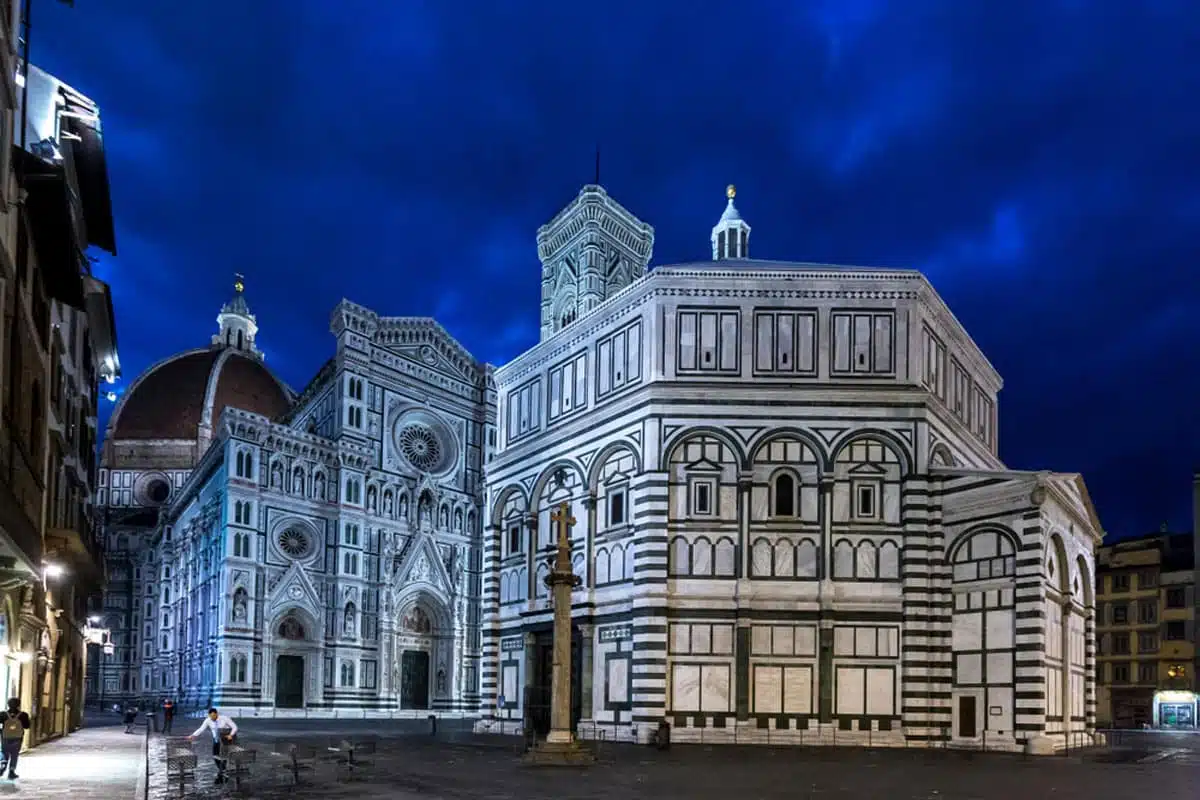 The final third of the trio of buildings that make up the so-called "Cathedral of Florence" is the Baptistry of St. John. Sitting in front of the main façade of the Duomo, this building stands alone as a separate building.
It features similar styling methods to the Duomo and the Campanile, which means that some people skip it.
Don't brush it off if you've already seen the other two, though. One of the most striking elements of the exterior are the three sets of bronze doors that depict numerous religious scenes and particular human virtues.
Then, of course, on the inside you can marvel at its stunning Byzantine-style frescoes that cover the ceilings and walls.
Delve Into History at the Basilica di San Lorenzo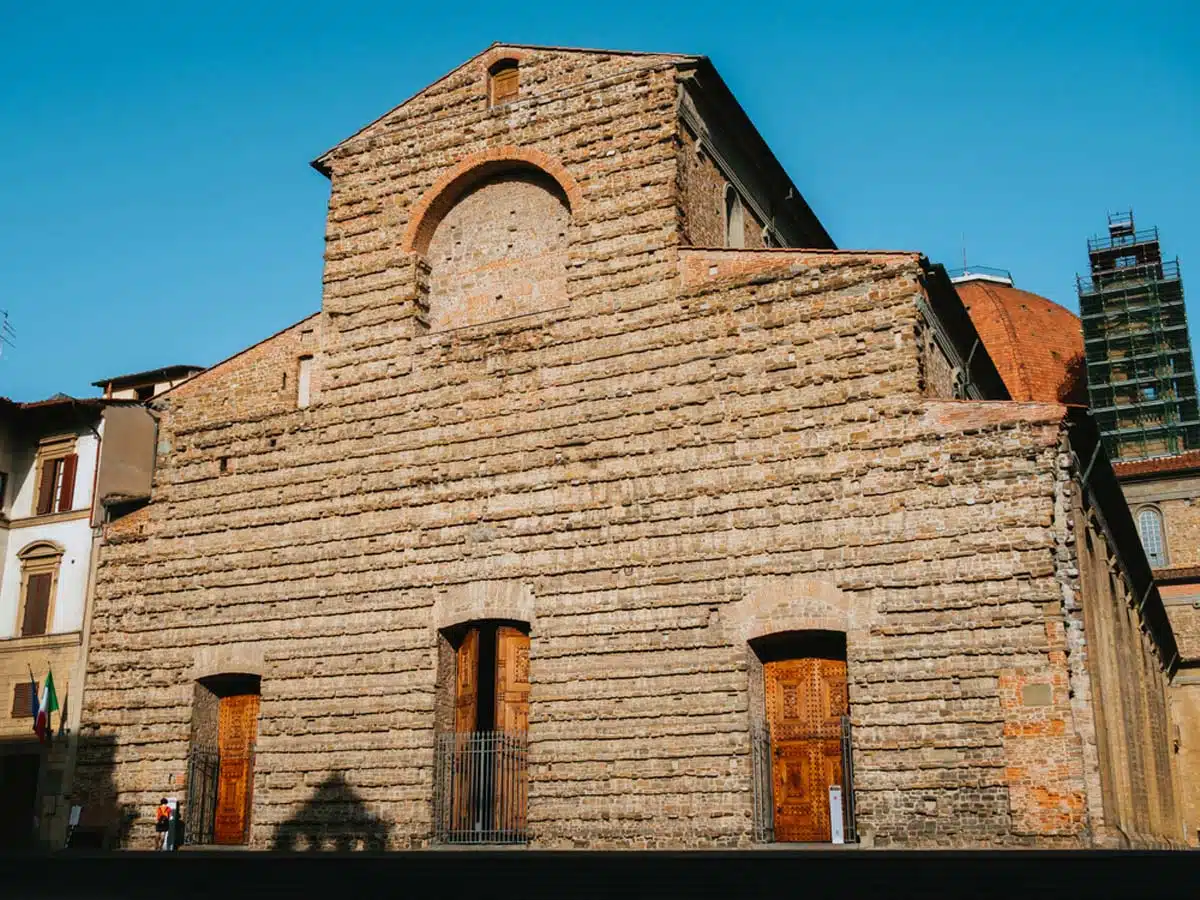 Just when you think you've had enough of historic churches, along comes the Basilica di San Lorenzo to keep you coming back for more. Constructed under the rule of the Medici family that reigned over Florence for decades, it's a stellar tourist attraction.
Sure, it's not as grand and ornamental as the Duomo, but its striking features – including a terracotta-tiled roof – make it well worth a visit. Step inside and you'll find a variety of artworks, all underneath a gorgeous white and gold-gilded roof.
Take it from me – get your entrance ticket to the Basilica di San Lorenzo in advance to fast-track your way into this stunning landmark.
Go for Some Retail Therapy at Ponte Vecchio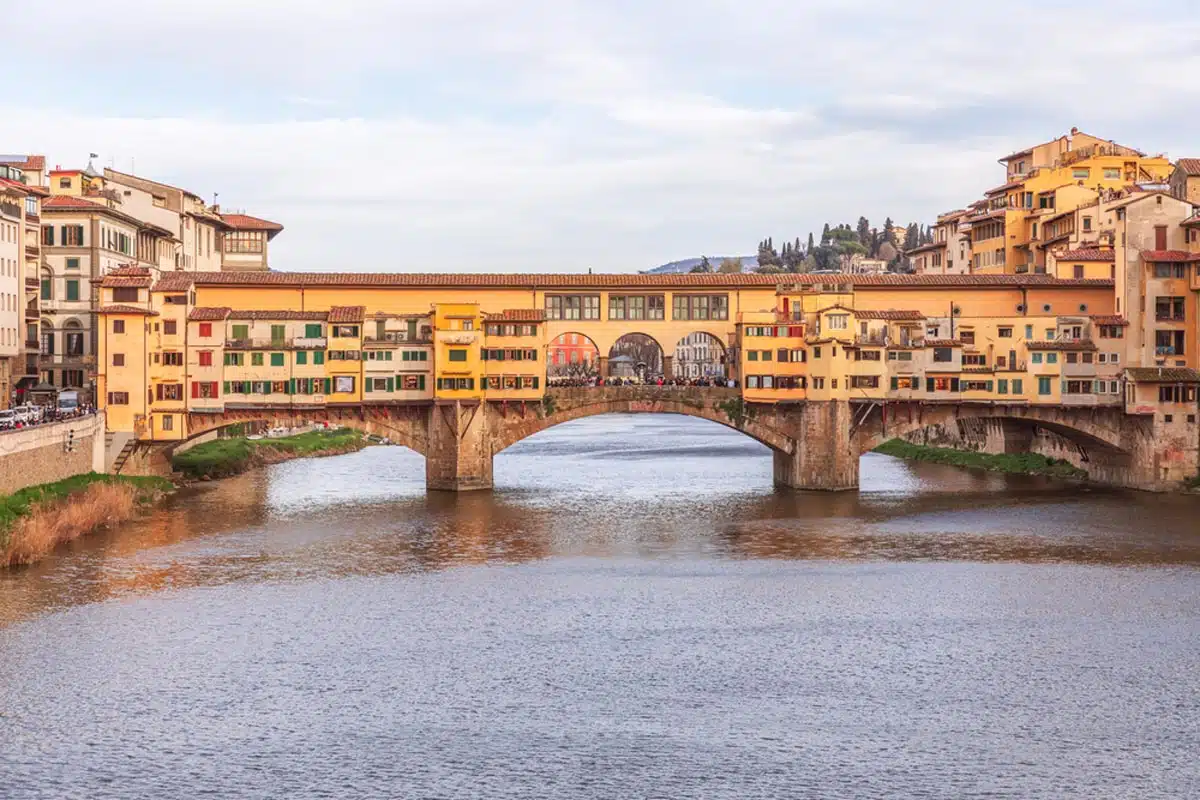 Okay, so a staple of any worthwhile visit to Florence does involve some well-deserved retail therapy. But this is Italy, and shopping usually goes hand-in-hand with architecture. Nowhere is this clearer than along the Ponte Vecchio.
Yes, it's a bridge, but it is one of the most unique and recognisable in all of Italy. Lined with little shops and charming stalls that create a whimsical market bustling with many places to visit, expect big crowds but bigger rewards as you peruse what's on sale.
For something special (and unique), book this eco-tour of Florence done via an electric cart that allows you to traverse highlights like the Ponte Vecchio while being kind to Mother Nature.
Unique Things to See & Do in Florence: Hidden Gems That are Off the Beaten Track
Explore the Bardini Gardens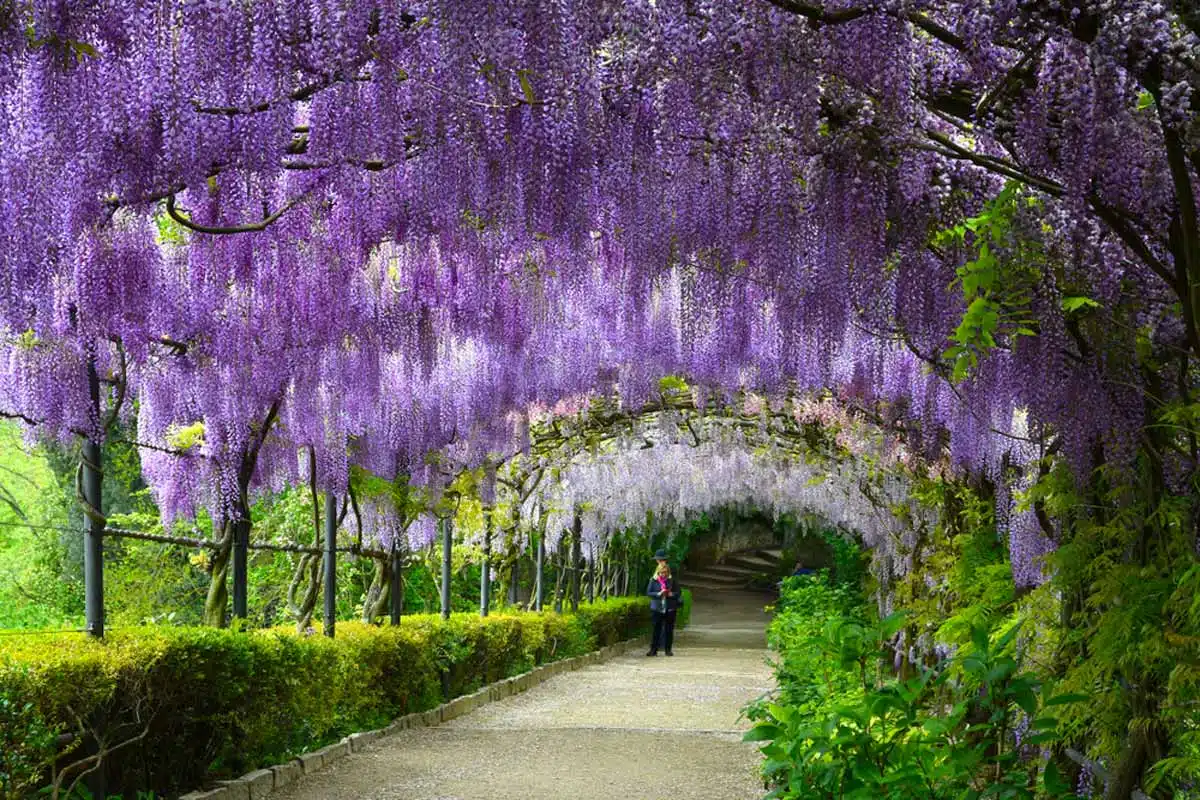 Not to get you confused with the equally as stunning Boboli Gardens, the Bardini Gardens are a true hidden gem that features a captivatingly beautiful staircase visible from the Arno. And for those looking to escape the crowds, this might just be the ticket.
Beyond getting lost in nature, the gardens have a massive number of extravagant highlights. Take a stroll through the olive grove for some genuine Tuscan vibes, or if you visit during April, grabbing a selfie or two underneath the blooming purple wisteria arch is a must.
So about that staircase, which is a baroque-inspired masterpiece — if you want spectacular views and a glass of the best wine around, ascend its stairs. At the top, a charming and inviting wine bar awaits.
Visit the Palazzo Pitti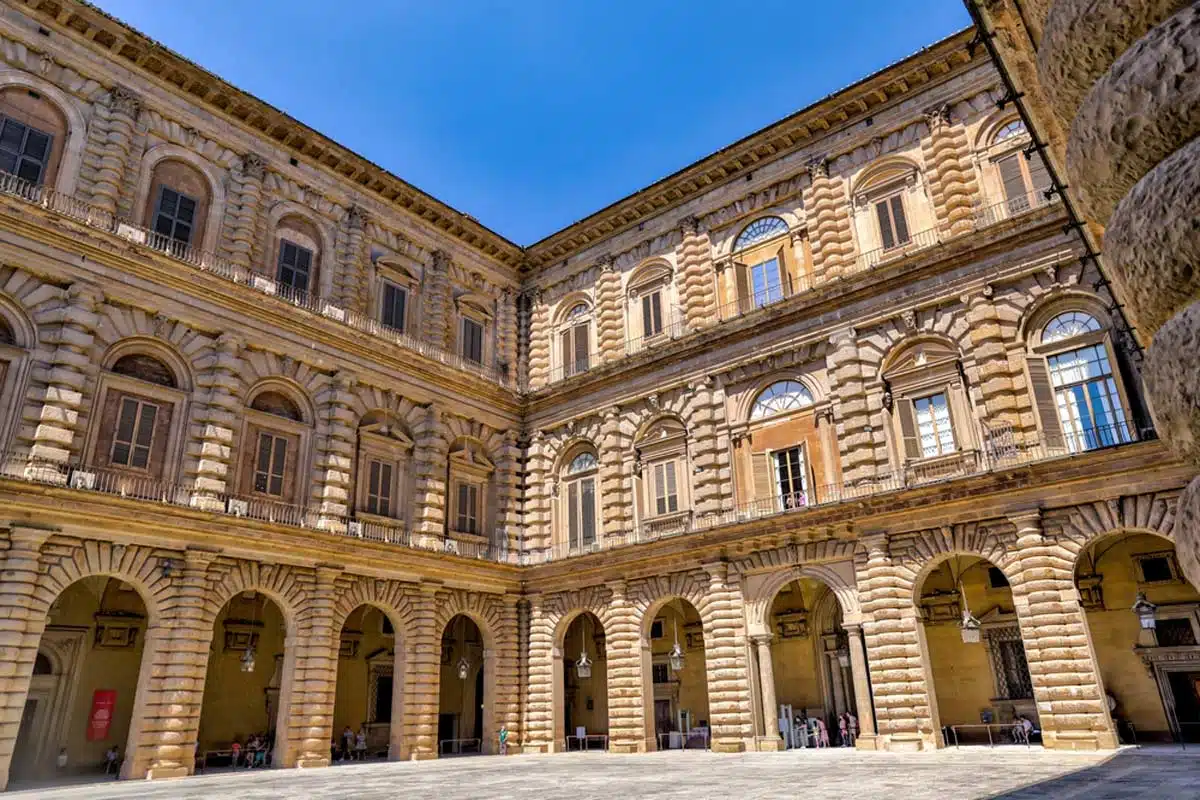 Standing on the southern banks of the Arno River, the Palazzo Pitti stuns with incredible Renaissance architecture from floor to ceiling. With its breathtaking grand square located at the front of the palace, which frames the front façade perfectly, visiting the palazzo is one of the best things to do in Florence, Italy.
Formerly the home of Italian royalty and power, it was also once the home of the high-flying Medici family. It now stands as the largest museum complex in the whole of Italy.
So what can you expect? Well, inside lies a myriad of galleries and prominent sculptures.
Head into The Jupiter Room and marvel at some of the most impressive frescoes in the country and Raphael's famous Veiled Lady. Get your entrance ticket to the Pitti Palace in advance to help skip those pesky lines outside.
Treat Yourself at Vivoli Gelato
What's a trip to Italy without indulging in some expertly crafted gelato? I'll wait for your answer because, honestly, few things come close. One of the oldest gelato shops in Florence, Vivoli Gelato, might just be its best.
Opening its doors in 1930, today, the shop bursts with flavour and a vibrant atmosphere that can lead to you never leaving. Try the pistachio. And the stracciatella. And the lemon. You get the point.
Find Foodie Heaven at the Mercato Centrale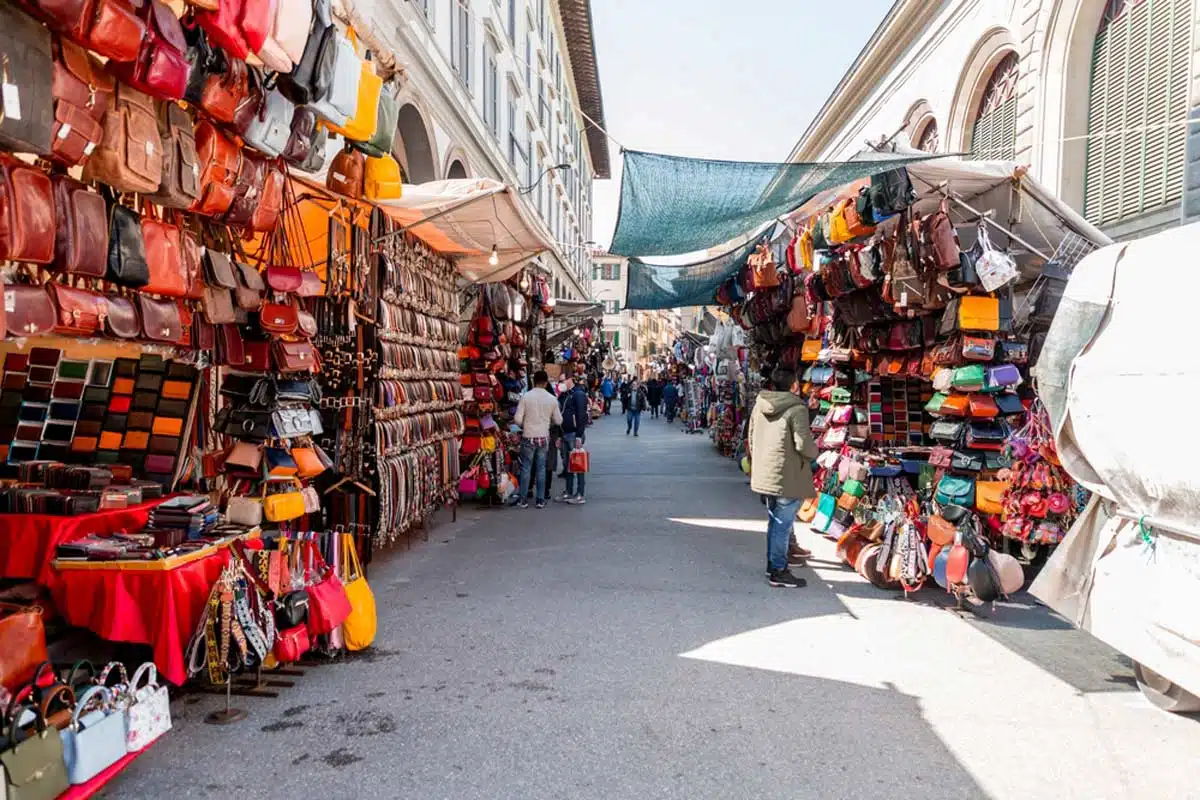 I hope you're hungry! If you haven't yet had your fill of Florentine cuisine and market life, head to the two-storey Mercato Centrale. It's easily a must-do Florence activity that you won't want to forget in a hurry.
This 19th-century venue plays host to vendors selling everything from wine and fruit to meat, fish, cheese, oils, and spices. But that's just the ground floor.
Upstairs is an illustrious food court where many local eateries set up shop to treat your tastebuds. And when I say treat, I mean it.
Here you have a whopping number of local dishes to try. These include fresh pasta dishes, Florentine meat or vegetarian burgers, pizzas galore, dumplings, a variety of truffle options, and — of course — gelato.
Things to Do in Florence: Practical Tips for Your Trip
How Long to Visit Florence?
Look, I'll be honest: You can't do Florence in one day. Many have tried and probably left feeling underwhelmed.
In this city filled with world-class museums, galleries, churches, and palaces, you should take two or three days to really get the best of Florence. This gives you enough time to explore, indulge, and discover.
Best Time to Visit Florence
This is an easy question to answer. The best time to visit Florence is between May and September. when warmer weather sets in and the city comes alive with art festivals, open-air dining, and a vibrant atmosphere that surely inspired elements of the Renaissance.
Where Should I Stay in Florence?
Four Seasons Hotel Firenze
A lavish and extravagant property where opulence and tradition meet, the Four Seasons Hotel Firenze has no equal.
Here you have quite the pick of lofty rooms that showcase the finest in styling and decor. And when you want to unwind, the gardens here are something magical.
Palazzo Montebello
If your budget is a little bit tighter, you can't go wrong when staying at the Palazzo Montebello. Rooms still feature finer touches, including spa baths and Egyptian cotton linen, while on-site, the Capriccio Restaurant serves up delicious Tuscan cuisine.
Recommended Tours in Florence
Things to Do in Florence: Map