Looking for the best beaches in The Seychelles? Check out these magnificent spots along The Seychelles' shoreline.
So you're planning a trip to The Seychelles and want to know all about the best (and most Instagrammable) beaches on the archipelago – the good news is that the Seychelles has no shortage of spectacular places to explore. 
In fact, I'm about to drop some bad news – there are so many unforgettable beaches in The Seychelles that you might not have enough time to see them all.
So, it goes without saying that deciding which of the best beaches in The Seychelles to visit might just be the most challenging part of your trip.
Luckily, I've (almost) seen them all and compiled a guide to the best Seychelles beaches to make your time on The Seychelles nothing but blissful.
Best Beaches in The Seychelles
Anse Source D'Argent
La Digue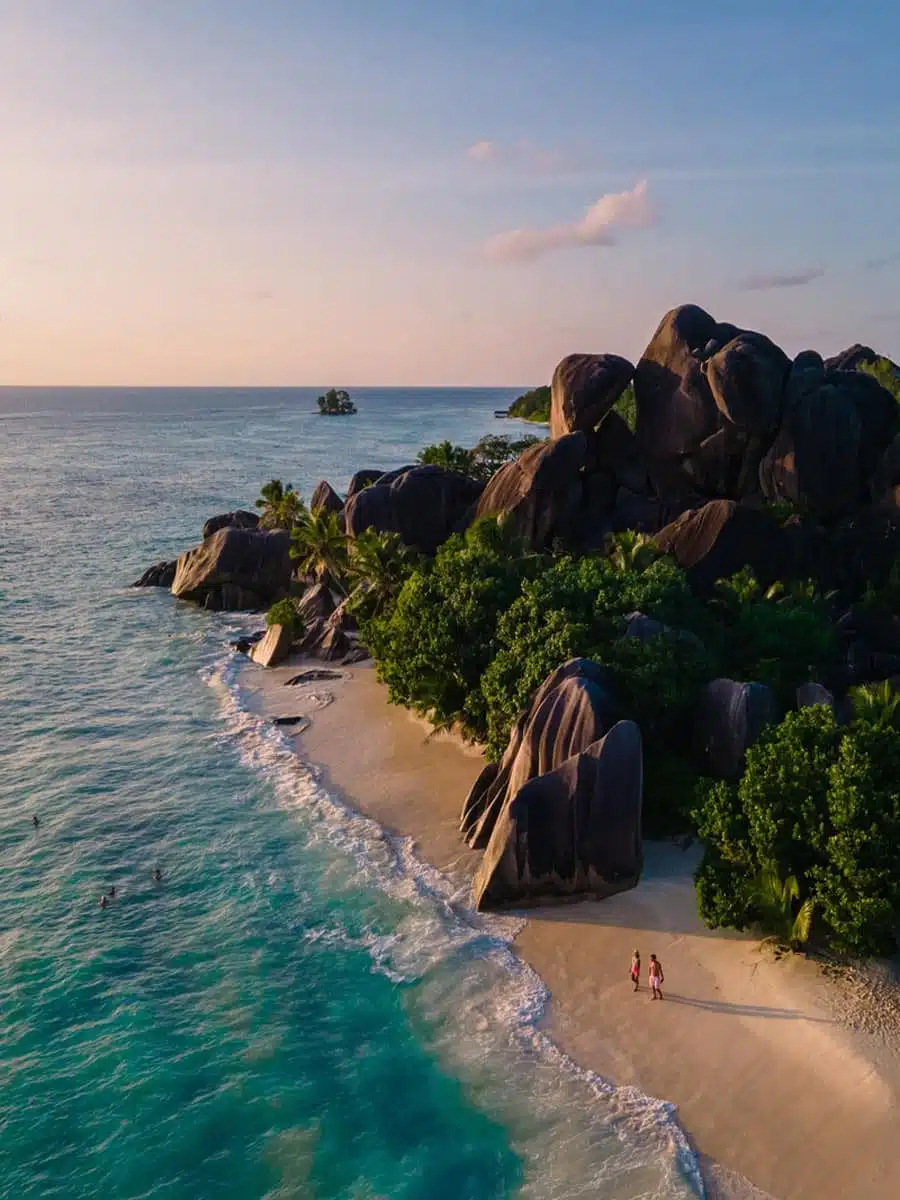 If ever you've come across pictures of The Seychelles before, chances are you've seen Anse Source D'Argent.
In fact, this is not only one of The Seychelles' most spectacular beaches but also one of the most photographed beaches in the world. If that doesn't motivate you to add Anse Source D'Argent to your Seychelles itinerary, then I'm not sure what will.
This Seychelles beach is the epitome of pristine. Its crystal clear waters and crisp white sand shores are probably its most sought-after features. However, it's also a fantastic spot to admire the archipelago's marine life, magnificent sunsets, and leaning palm trees.
Anse Lazio
Praslin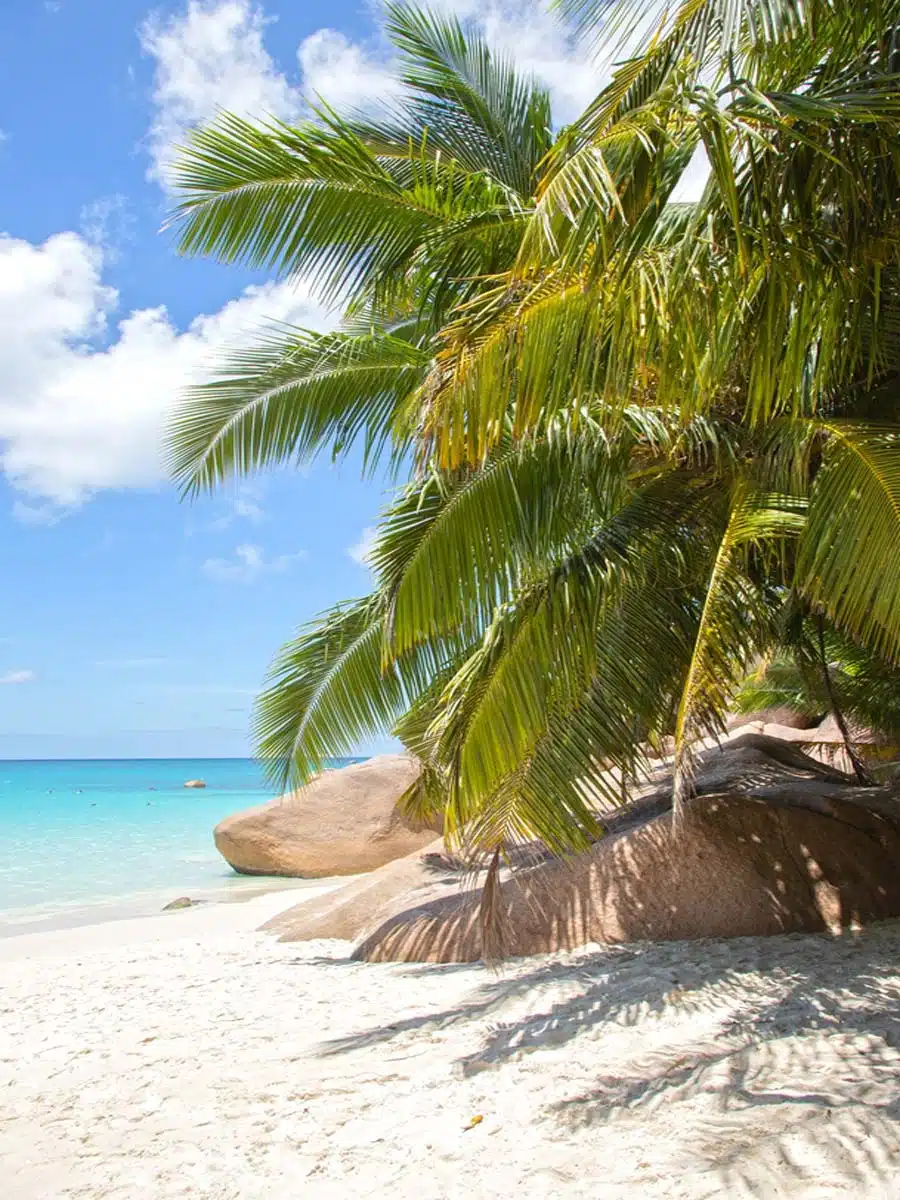 Words can't describe Anse Lazio beach in The Seychelles, but I'll try. This crescent-shaped beach on the island of Praslin is undoubtedly worth visiting.
Because of its beauty, Anse Lazio gets seriously crowded during the day. To ensure you get the best spot on the shore, arrive at Anse Lazio before 9 am; this is when most tourists start showing up.
Like many of The Seychelles' beaches, Anse Lazio is an ideal place for snorkelling. The clear water and populous marine life make for the best snorkelling conditions.
However, if you aren't a strong swimmer, take extra caution from June to September, when the undertow is slightly stronger than other times.
Anse Cocos
La Digue
If you're after serenity, put on a pair of good walking shoes and head to Anse Cocos.
This beach is a 30-minute stroll from Petite Anse, but it's worth every step. While you may encounter a soul or two while enjoying the picturesque shore, Anse Cocos is a far cry from The Seychelles' more touristy beaches.

There's a lot to see on this small beach. In the cool water, there's a plethora of marine life to appreciate, while you can also find abandoned buildings from early Seychelles settlements to explore.
Cote D'Or Beach
Praslin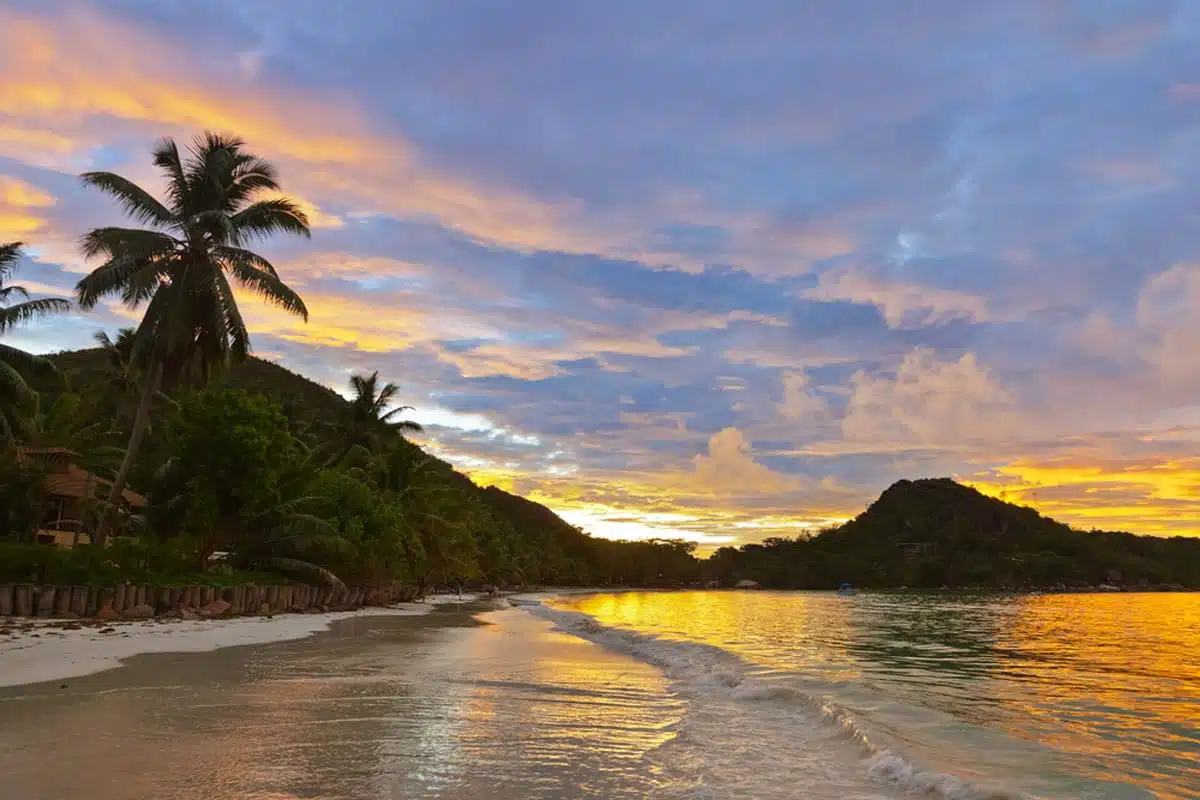 If you aren't lucky enough to stay in this area of The Seychelles, take a day trip to Cote D'Or Beach for the 'Gram. This is one of the best beaches in Praslin, Seychelles.
The lengthy white-sand beach with the famous horizontal palm tree is the perfect place for pictures. Of course, Cote D'Or Beach is also one of the best places to dip in the cool turquoise ocean.
Cote D'Or Beach is one of the most popular Seychelles beaches and offers excellent water sports, boating, and fishing conditions.
Petite Anse Beach
La Digue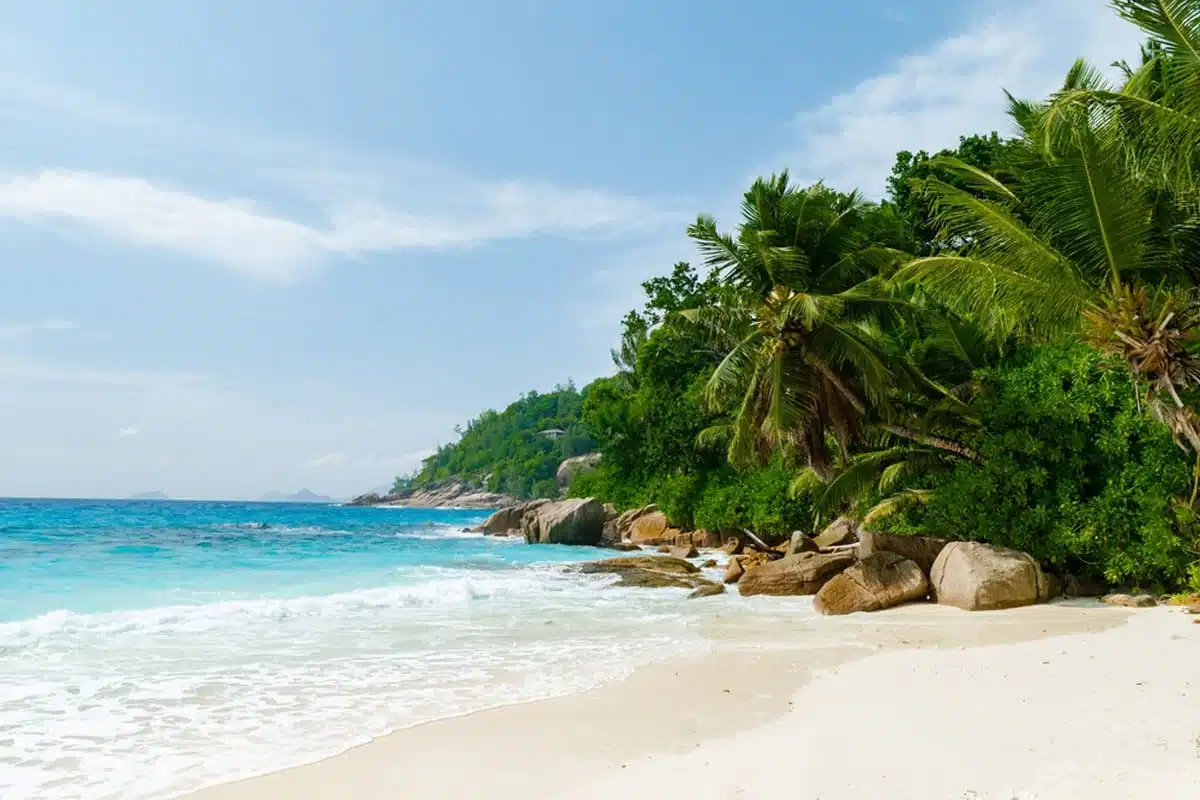 If you haven't already noticed, La Digue island is home to many of Seychelles' (and the world's) best beaches. And Petite Anse, the little sister of Grand Anse beach, is one of them.
At low tide, Petite Anse provides the perfect environment to stroll along the sandbanks and enjoy the sun.
The ocean can get a little bit choppy at Petite Anse during high tide, so swimming around the rocks is not advised. However, if you get to the beach early, you can enjoy plenty of uninterrupted time in the water.
Grande Anse Beach
La Digue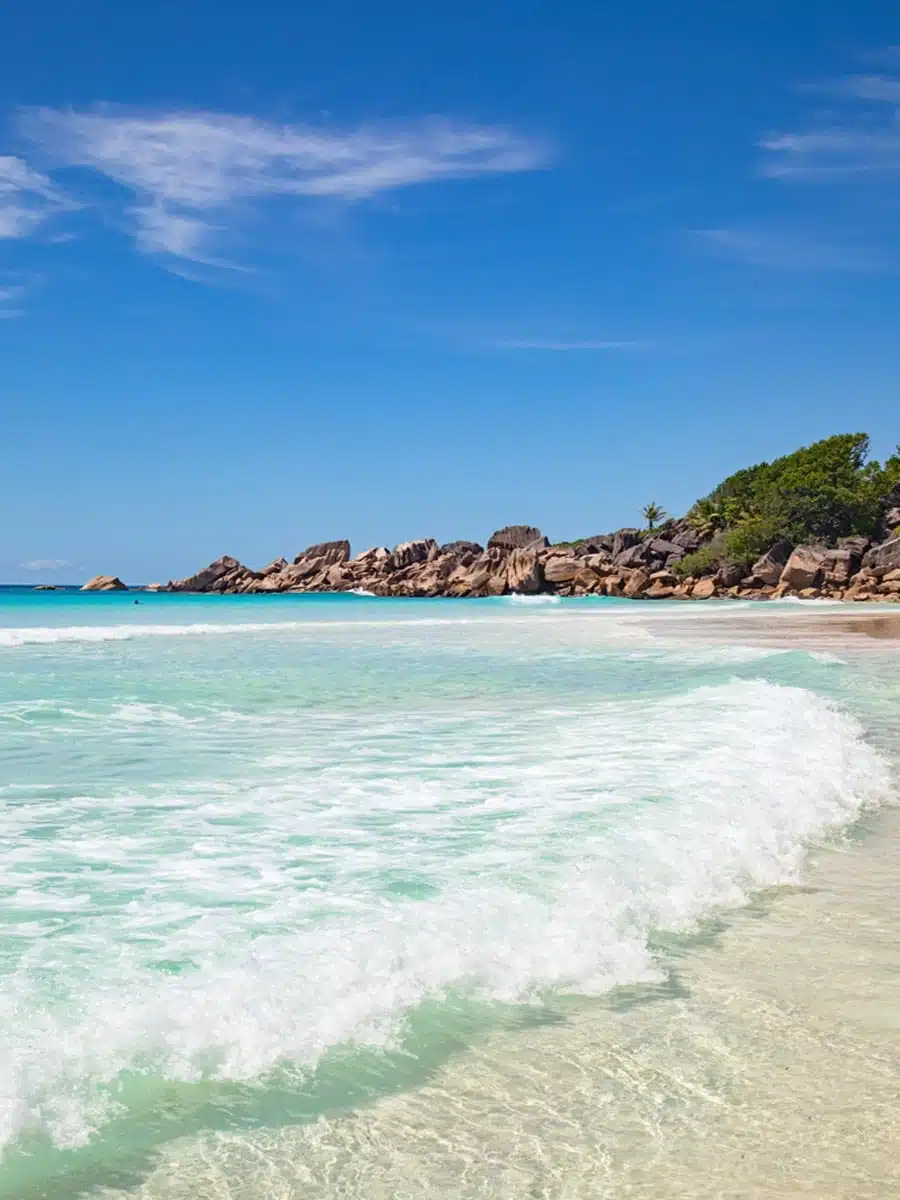 Big sister to Petite Anse Beach, Grand Anse offers even more silky sand and a serene ocean to enjoy.
This beach spans a magnificent two miles along La Digue's west coast. Whether you're in the mood to soak up the sun or try your luck at water sports, Grand Anse Beach is one of the best places to be.

Grand Anse beach, Seychelles, is a public beach with free entry and parking, so it does draw in a crowd on most days. If you want to find the perfect spot in the sun, arrive at Grand Anse as early as possible, but make sure you stay for the sunset.

Nearby, you'll find Morne Seychellois National Park, one of the best places on the archipelago for hiking and enjoying its wildlife and natural beauty.
Grande Soeur West
Grande Soeur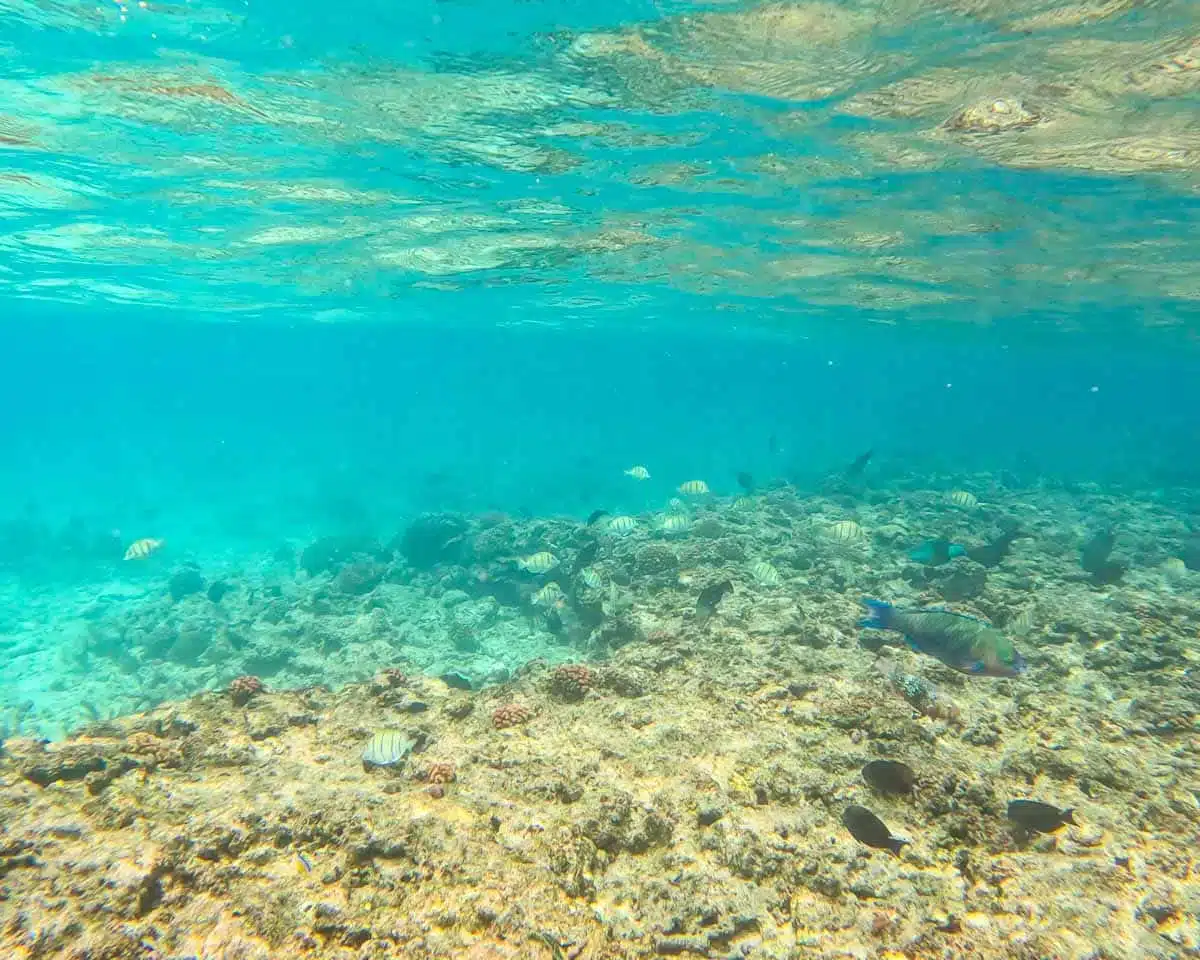 Grande Soeur lies just north of La Digue, and it's here where you'll find some of the best beaches in Seychelles for admiring the archipelago's diverse and plentiful marine life. 
Grab some snorkelling equipment and get up close to beautifully coloured fish. If you're lucky, you might even spot a few small (harmless) sharks and sea turtles.
When you've had enough time in the waves, you can pick a spot on the sand or perch on one of the large granite rocks. Tropical forest covers Grande Soeur island, so you should be able to find a shady refuge fairly easily.
To get to Grande Soeur, you can book a weekend day tour from La Chateau de Feuilles or charter a boat to Grande Soeur.
Baie Lazare
Mahé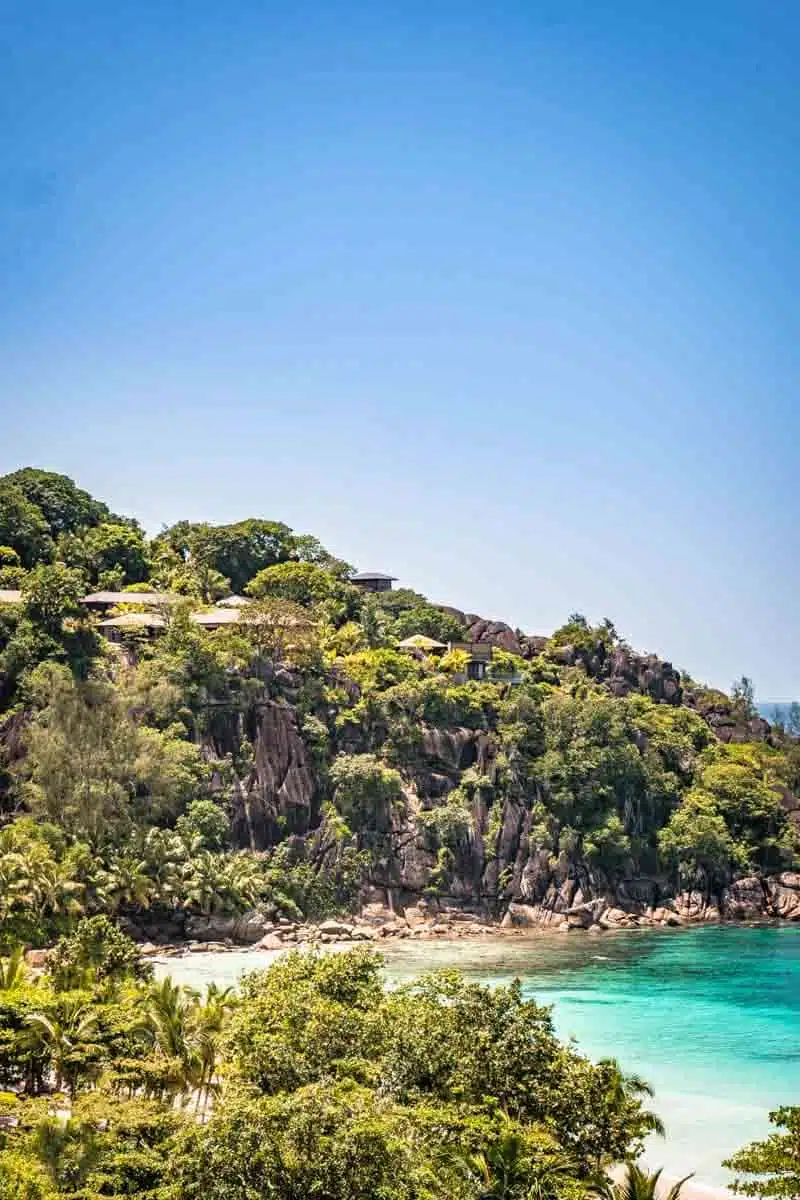 I don't want to be dramatic, but Baie Lazare beach is one of the world's most pristine shores.
Offering classic white sand contrasted by azure water and lush green tropical foliage, Baie Lazare is also a fantastic place to learn a little bit about the history of Seychelles and enjoy some snorkelling.
This beach, named after Lazare Picault, a French explorer, attracts many visitors because of its beauty and rich marine life. But generally, you'll find that beaches on the main island of Mahé are more populated than on smaller islands.
Baie Lazare is around a 45-minute drive from the capital city of The Seychelles, Victoria.
Grande Soeur East
Grande Soeur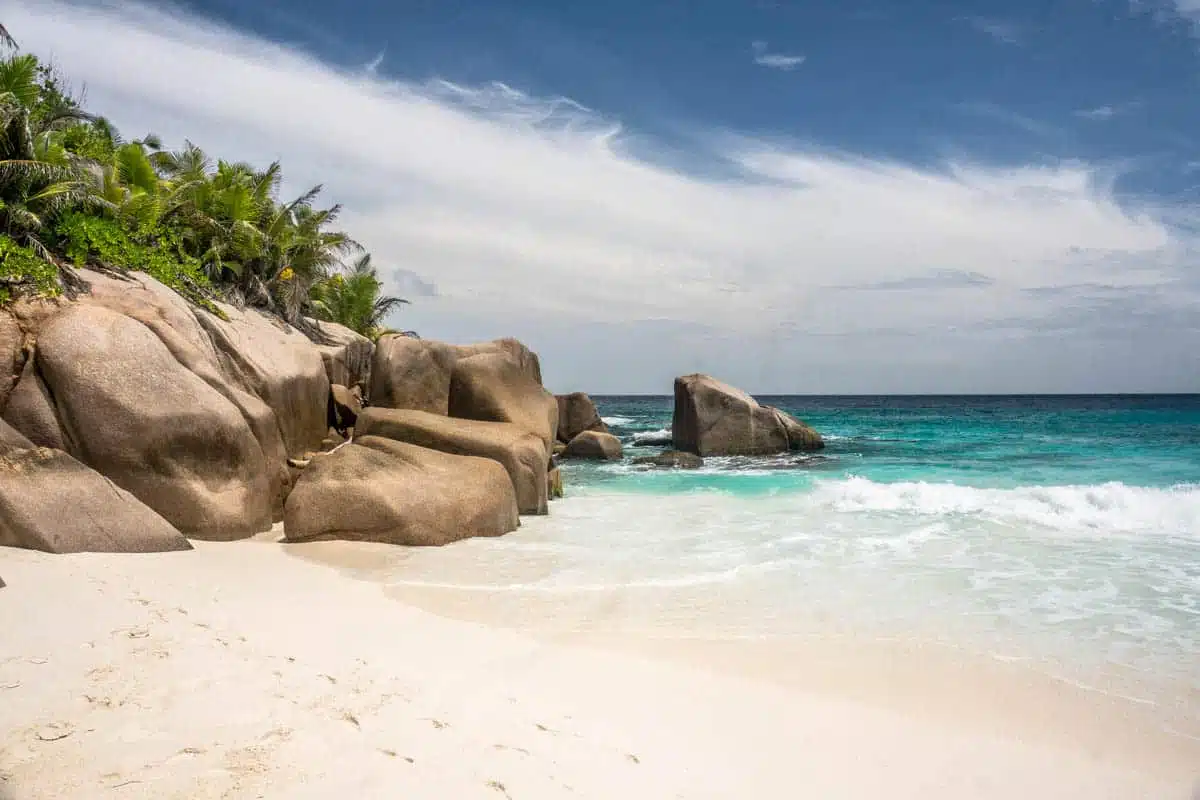 Large granite rocks frame Grande Soeur East, almost always offering a serene environment untainted by crowds. It's the perfect place to lay down your towel and soak up the Seychellois sun.
While marine life isn't as abundant on this side of the island, this beach is ideal for enjoying the ocean and unbeatable scenery. If you ask me, Grande Soeur East is one of the most beautiful beaches in The Seychelles, and you shouldn't miss the opportunity to experience it.
The best way to get to Grande Soeur East beach and many other islands of the archipelago is by chartering a catamaran. This will give you some freedom and flexibility to explore.
Beau Vallon
Mahé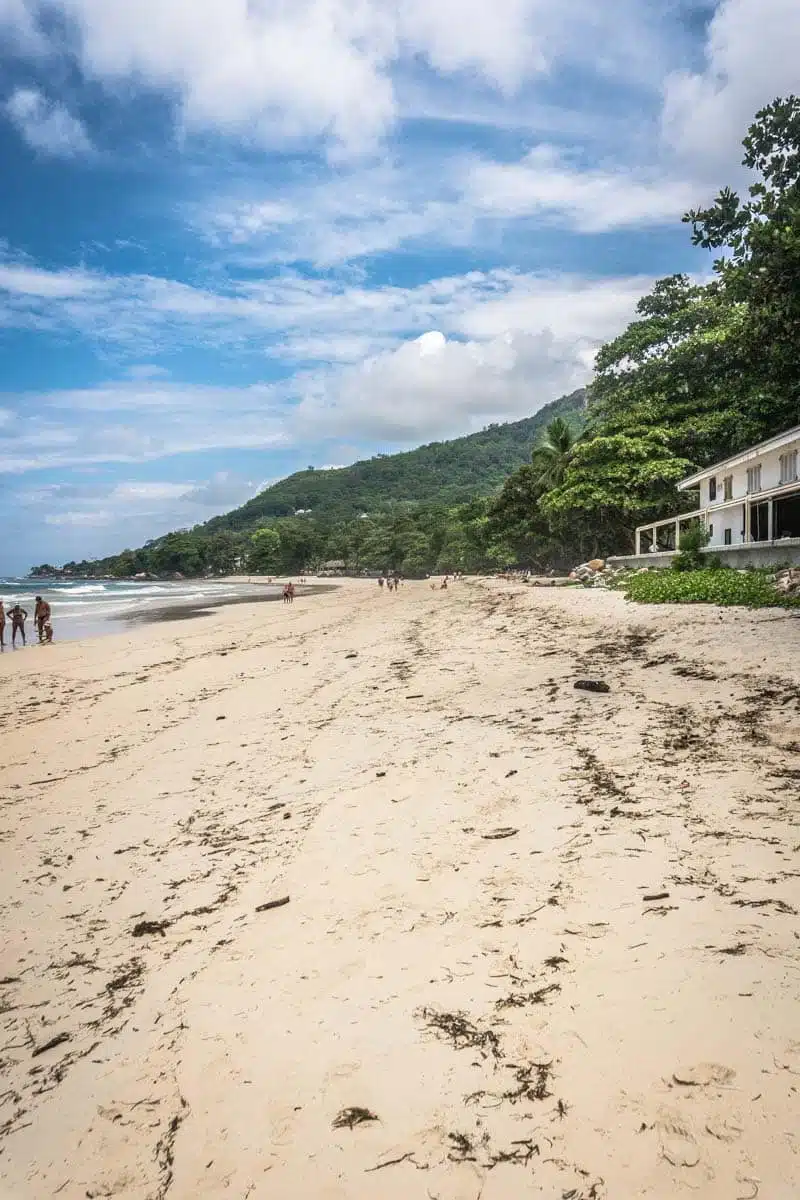 Another Mahé gem, Beau Vallon is the best place to immerse yourself in true Seychellois culture.
This is one of the archipelago's most popular beaches for locals and tourists – mainly because it offers perfect conditions for swimming. Why? Because the beach is generally shallow and doesn't experience extreme tide shifts.
Locals populate the beach and surrounding bars and restaurants on weekends and evenings, so Beau Vallon often boasts a vibrant atmosphere that you are unlikely to find anywhere else.
But, because it's so popular, there are many opportunities to rent water sports equipment and charter boats.
Anse Royale
Mahé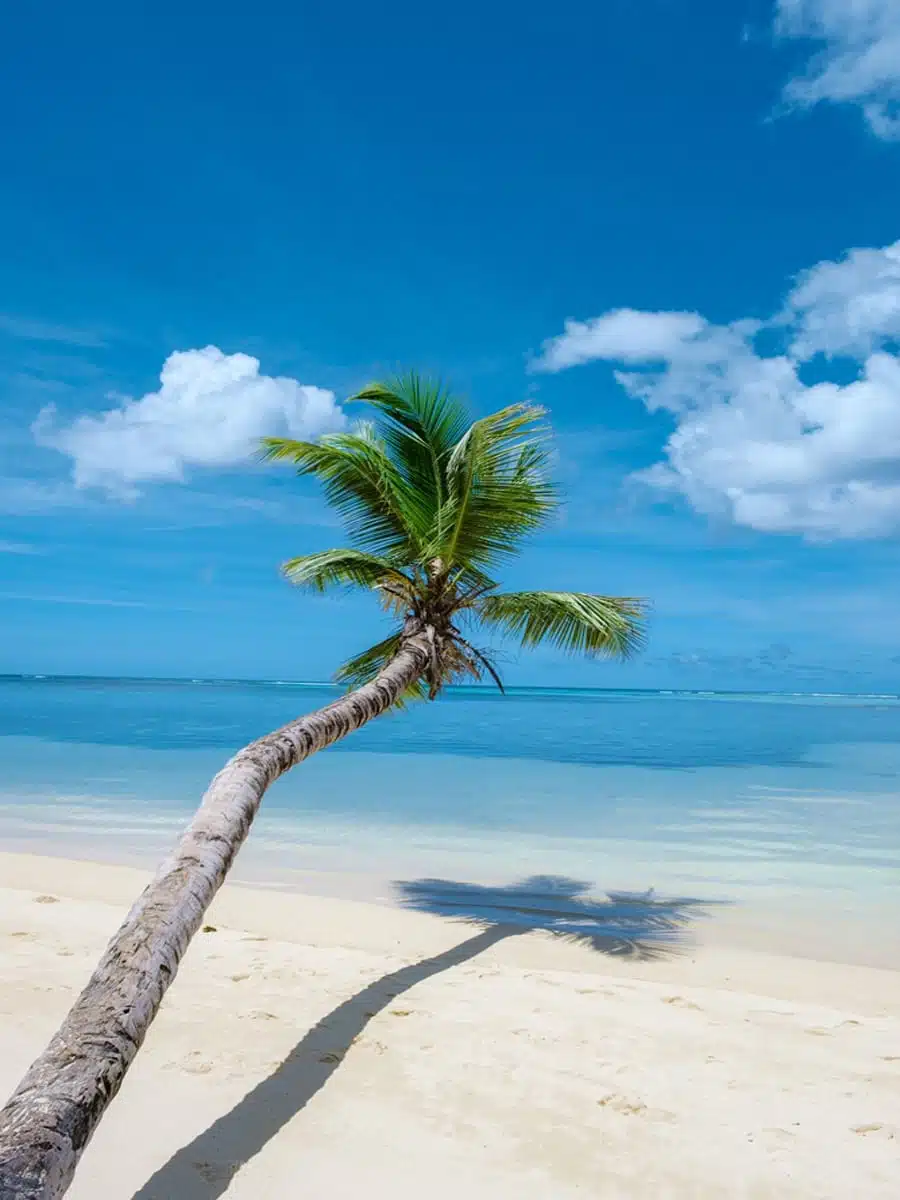 To make the most of your time on the shores of Mahé island, visit Anse Royale beach. Whether you're into watersports, marvelling at marine life, or enjoying the sun, I guarantee you'll adore an afternoon spent at Anse Royale.
The shallow, crystal-clear water makes for ideal swimming and snorkelling conditions, and there are many places along the beach to hire equipment for windsurfing, kitesurfing, and snorkelling.
Anse Saint Jose
Curieuse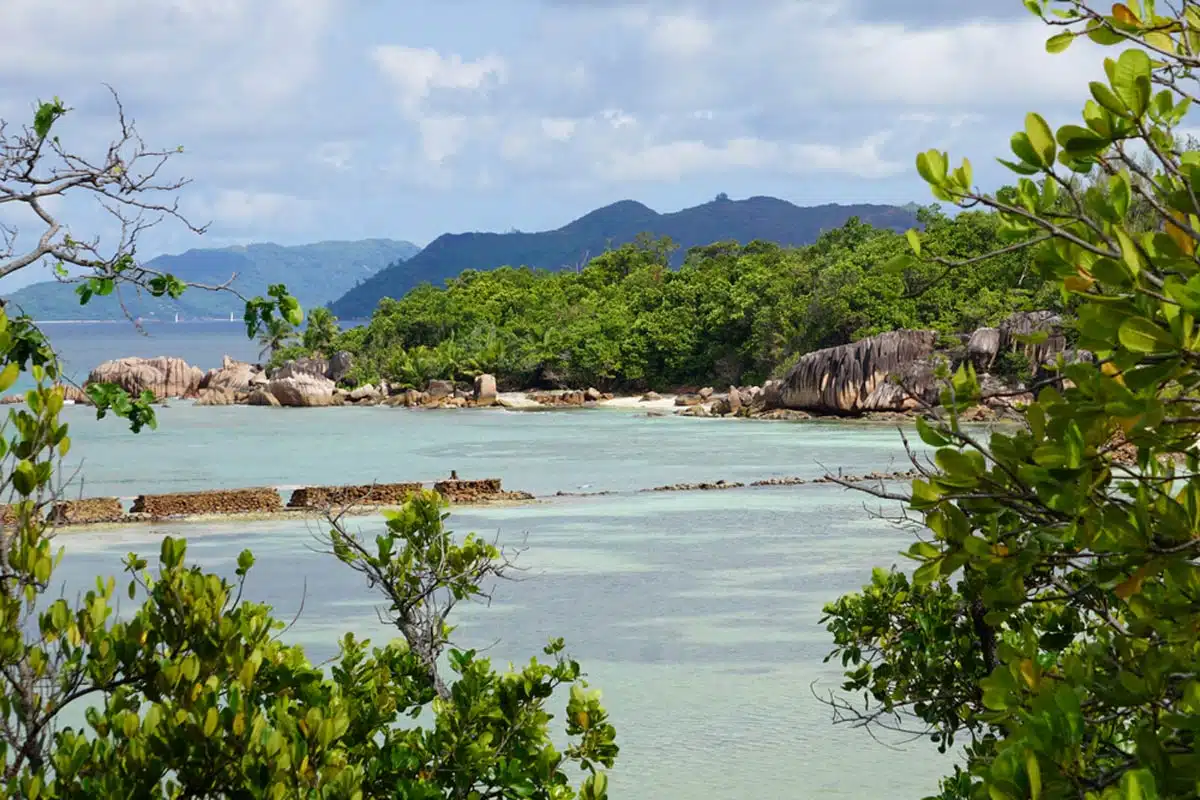 Anse Saint Jose on Curieuse island is another one of The Seychelles's "picture-perfect" beaches. Framed by lush greenery and leaning palm trees, the fine white sand and clear water of Anse Saint Jose exude tropical beauty.
Just off the coast of Praslin, Curieuse island offers the ideal environment for relaxing on the warm white sand. Anse St. Jose is almost always free of occupants, which means you'll likely have the whole beach to yourself.

While you're on Curieuse island, make sure to visit the Tortoise Sanctuary to see the Aldabra Giant Tortoises.
Moyenne Beach
Moyenne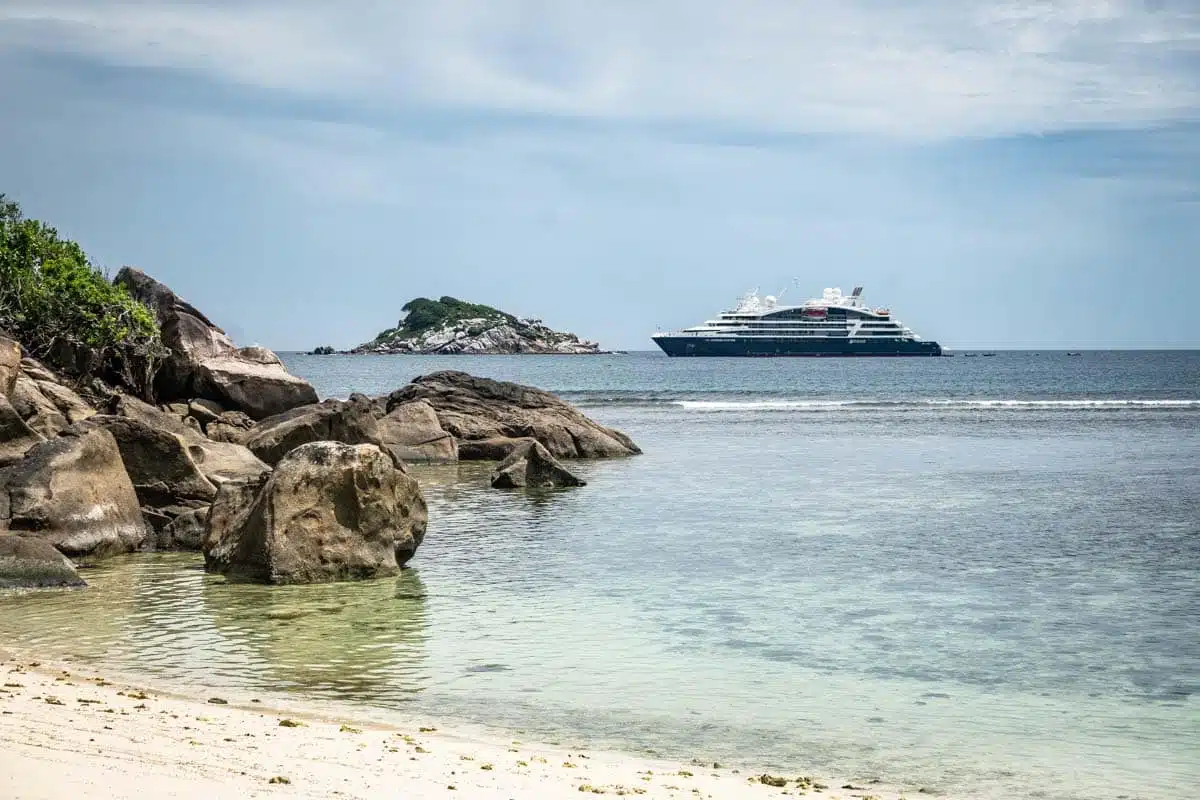 Spending a day on Moyenne Island makes for an excellent trip from Mahé. And, if we're talking about the best beaches, Moyenne Island Beach is in the top picks.
But such beauty comes at a small price; Moyenne is a private island, and you'll need to pay to get in.
Moyenne Island Beach is one of the best places in The Seychelles to relax. Besides the tranquil shore, you can visit the world's smallest national park on Moyenne Island and the giant tortoise sanctuary.
Practical Tips for Exploring the Best Seychelles Beaches
The easiest way to get around the islands is by chartering a boat or catamaran, especially if a member of your party is a licensed skipper (I had that luxury many moons ago, though not on a recent trip – boo).
Flying to the outer Seychelles islands from Mahé is more pleasant than the long journey by boat.
To see most of The Seychelles, book a week-long cruise – I did a Ponant Cruise on Le Jacques Cartier.
Get an e-sim as it's far cheaper than using your roaming charges – I bought an e-sim from Cable & Wireless.
The best time to visit Seychelles is April-May, October, and November for fantastic beach weather.
Best Beaches in The Seychelles: Map