Lazing around on stunning beaches, hiking through majestic parks, dipping underwater to explore a vibrant marine life – the Seychelles seemingly has it all. Discover the best things to do in the Seychelles with this in-depth guide.
With its white sand beaches, incredible sunsets and culture-rich heritage, it is easy to see why many consider the Seychelles one of the most beautiful destinations in the world. Myself included.
In fact, I've just returned from a recent trip and can confirm that I'm still as in love with the country as I was the first time I visited twelve years ago.
It's a location that really caters to all travellers – whether your idea of fun is hanging out with some adorable (and HUGE) tortoises, soaking up some culture in the capital, or diving head first into crystal clear waters. Or, in my case, all of the above.
Excited? You should be. Read on to discover the best things to do in the Seychelles.
Complete the true paradise experience while visiting Seychelles by booking a room at Four Seasons Desroches. This elegant resort is situated on a private island and is one of my all-time favourite hotels.
Top 5 Things to do in Seychelles
Hang out on The World's Most Beautiful Beach, Anse Source D'Argent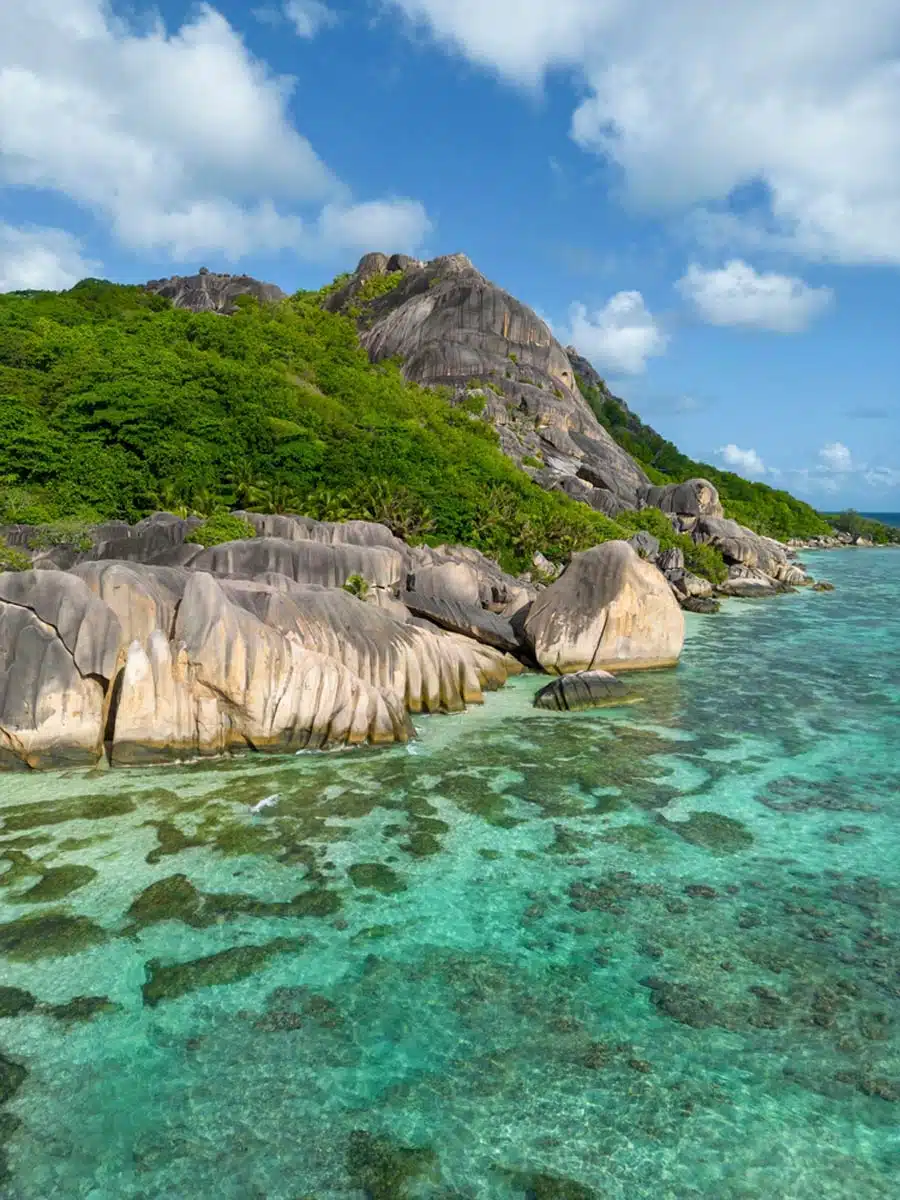 Let me go ahead and say that Anse Source D'Argent on La Digue (more on this chilled-out island anon) is one of the most popular beaches in the Seychelles – and one of the most beautiful.
Featuring impressive granite boulders scattered around the aquamarine waters, the combination with the beach's powder-soft sand and clear, calm waters makes for an irresistible place to soak up the sun.
It's a great spot for swimming and snorkelling, and it's even possible to find starfish floating in crystal-clear waters at low tide.
See the Giant Tortoises on Curieuse Island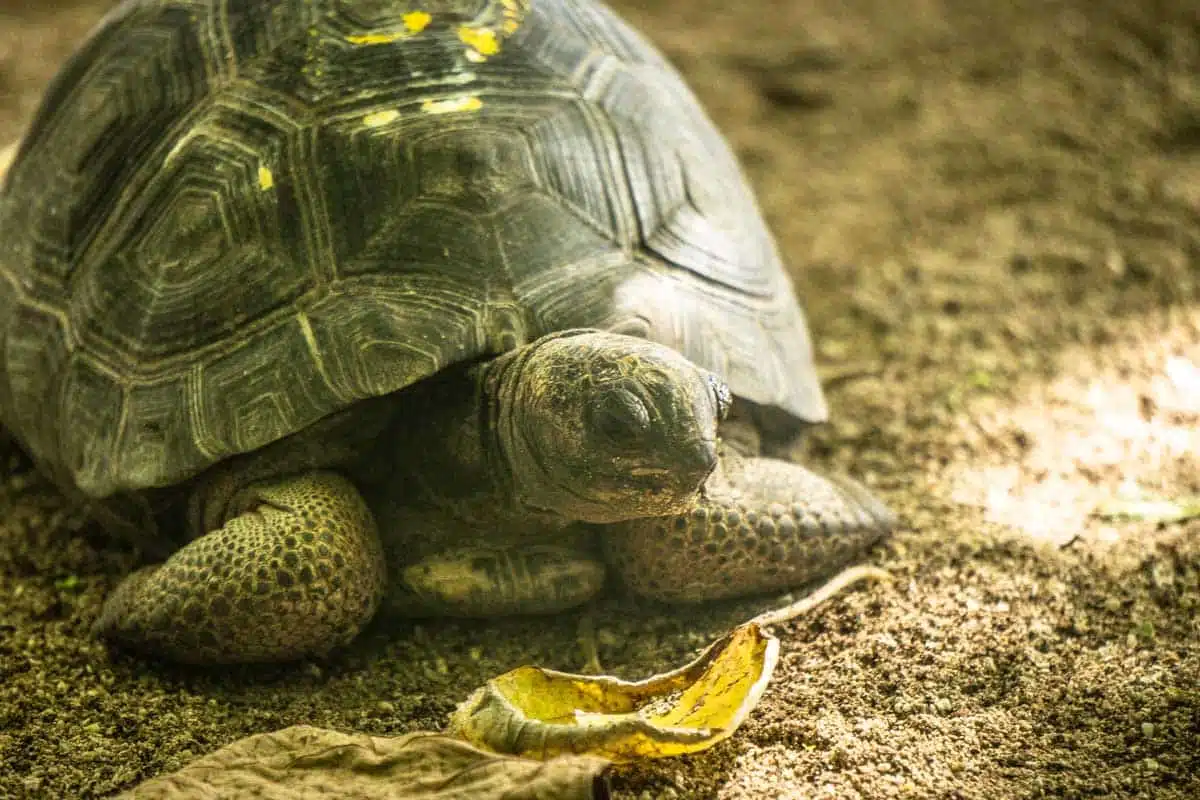 One of the main reasons tourists flock to Seychelles is to catch a glimpse of the giant tortoises.
Now, I'll level with you – there are a few places in Seychelles to meet giant tortoises, which can weigh up to 550 pounds (250 kg) and live as long as 200 years – but I recommend visiting giant tortoises on Curieuse Island.
This small island off the coast of Seychelles is known for its dense mangrove forest, which provides a habitat for the giant Aldabra tortoises.
Exploring the island on foot or by boat allows you to get up close with these magnificent creatures, who are often seen feeding on grass and leaves – or leisurely sunbathing.
There are also spectacular views from atop the many vantage points on the island, where you can enjoy stunning sunsets over this tropical paradise.
Visit Beau Vallon Beach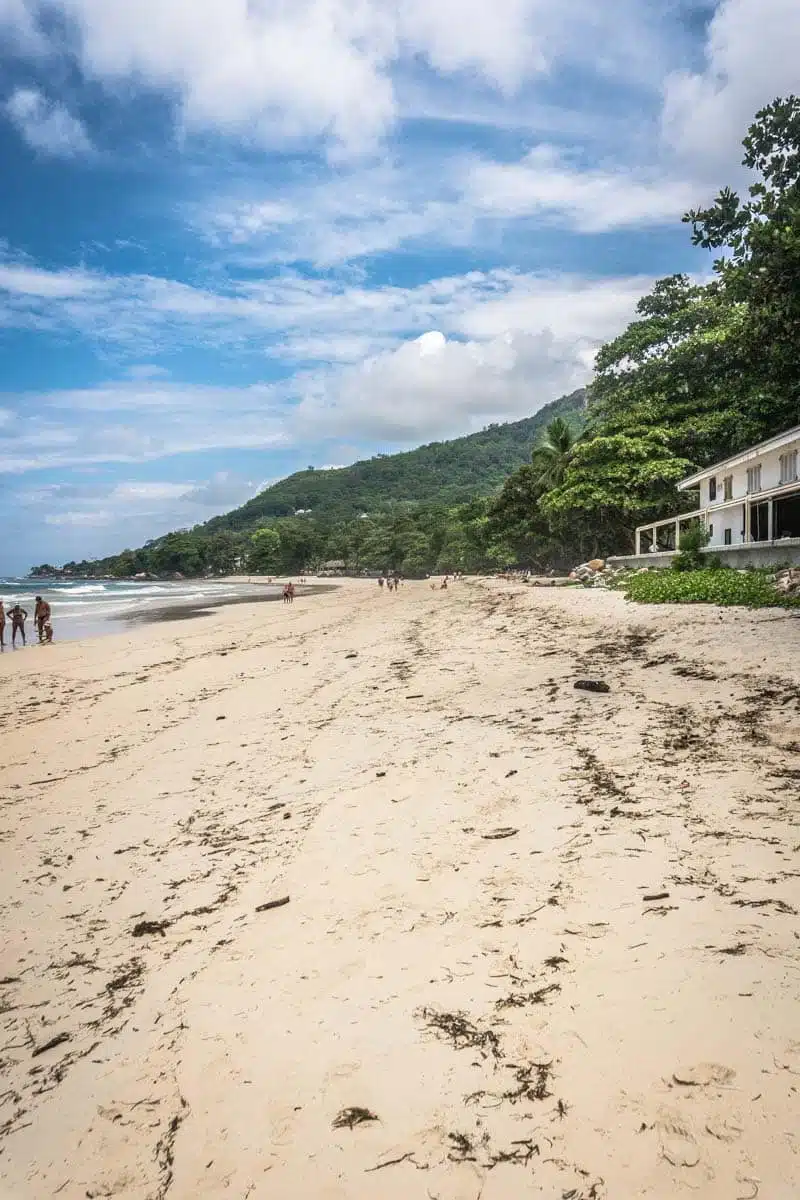 You'll have so many beaches to choose from during a visit to Seychelles, but another of my faves is Beau Vallon Beach. It's truly like taking a step into paradise.
On the coast of Mahé Island, this pristine beach boasts crystal-clear waters and white sand beaches (duh – of course it does).
But the best part about visiting Beau Vallon Beach? The array of activities you can participate in, from snorkelling to swimming.
The area is also home to plenty of great restaurants and bars that serve delicious local dishes and drinks for you to enjoy while taking in the scenery. Head here on weekends and you'll find it thriving with locals who have come to chill out.
Explore Praslin and the Vallee de Mai National Park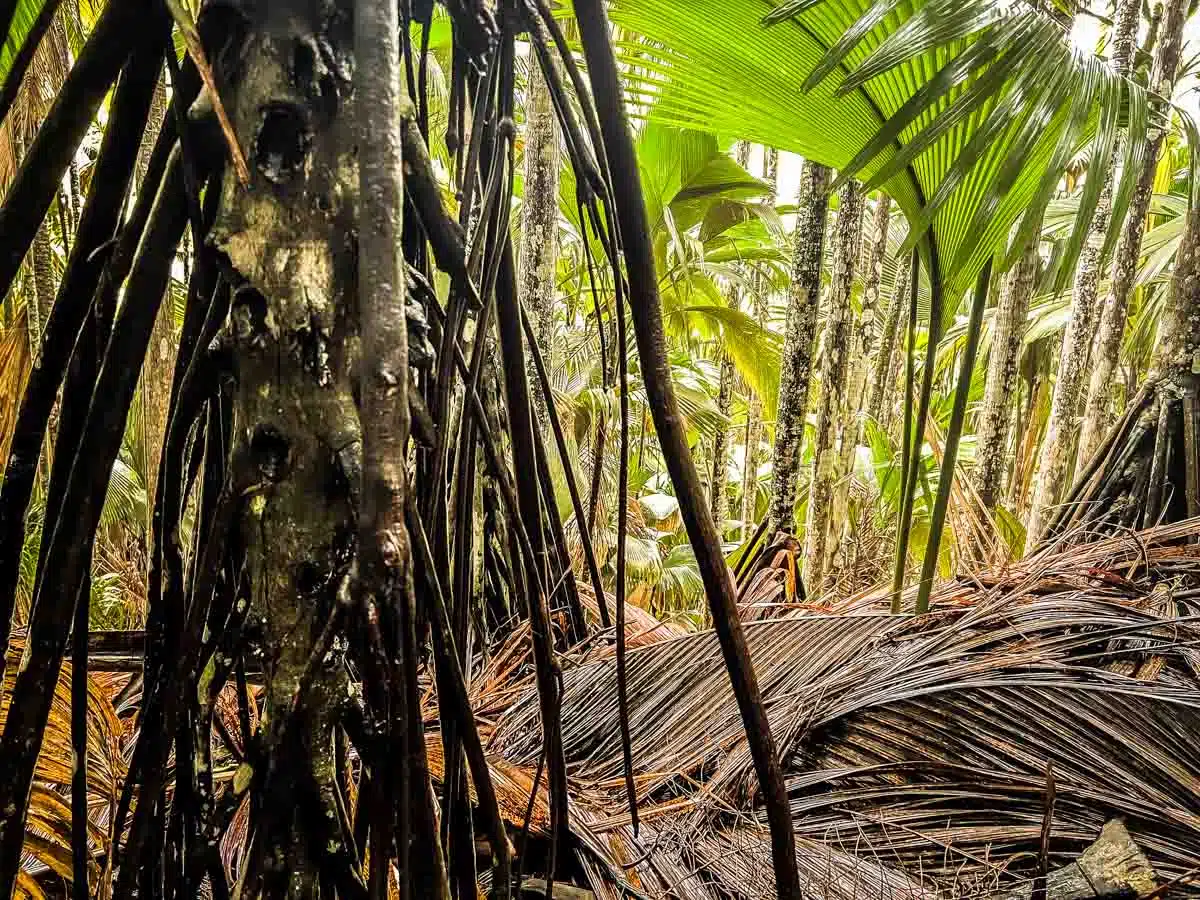 I don't want to play favourites, but Praslin might just be my favourite island in Seychelles. Home to some of the most stunning beaches, lush green hills, valleys, and tropical forests, can you really blame me?
The National Park of Vallee de Mai is a must-see here. Home to the Coco de Mer palm tree (which grows some rather naughty-looking fruit), this UNESCO World Heritage Site offers a chance to experience some of the island's history and culture.
Nature trails through the park lead visitors through lush tropical rainforest with spectacular views of tall trees and brilliant flowers.
From bird-watching excursions to charter boat tours around the nearby islands, there are plenty of ways to explore Praslin's natural beauty by sea or land.
Go Snorkelling in Grande Soeur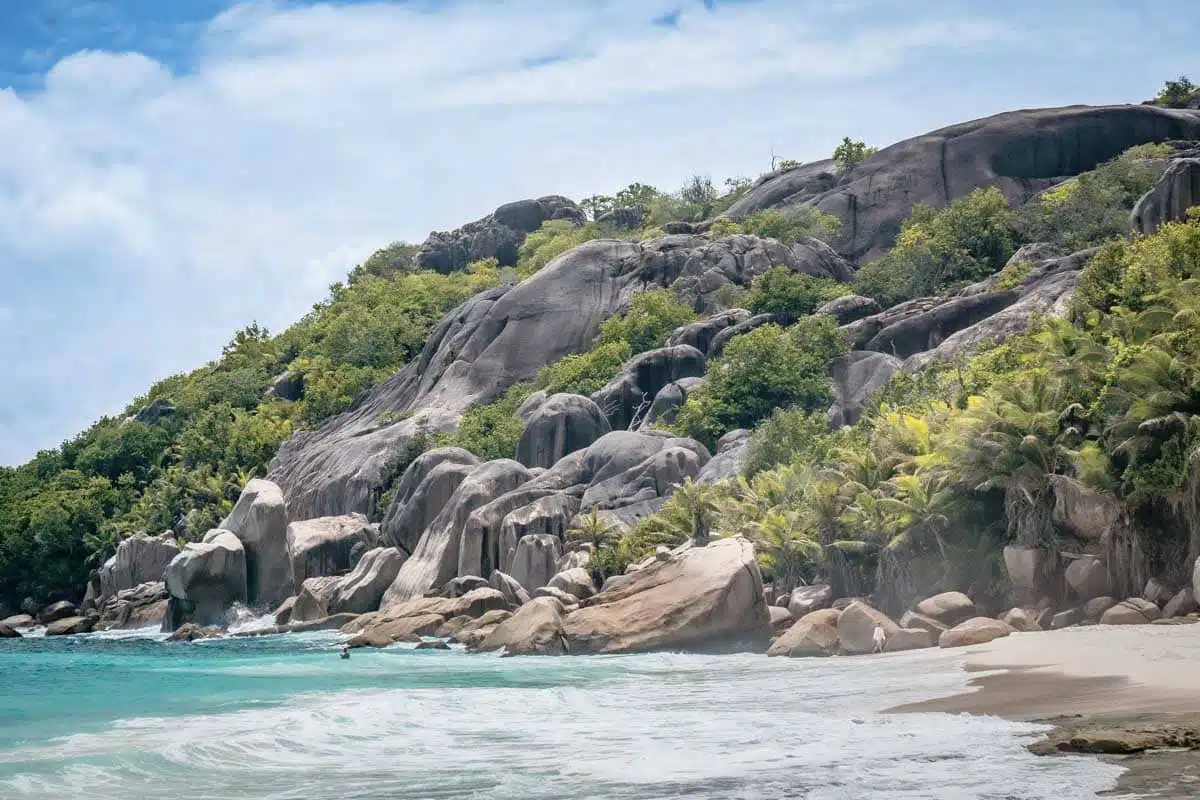 If you couldn't tell by now, spending time on the island's waters is a must, and snorkelling in Grande Soeur is my favourite way to do just that.
The warm Indian Ocean makes snorkelling the ideal activity on almost any island in Seychelles. But the waters around Grande Soeur are teeming with tropical fish, turtles, and manta rays. I didn't see any turtles on my recent trip, though I'm totally not bitter.
The colourful coral gardens provide a refuge for all kinds of marine life, while the sheer beauty of the seascape will mesmerise any snorkeller who has had the privilege to experience it.
Grande Soeur is a private island, so you'll need to arrange a tour from Praslin to join this experience.
Brilliant Things to See & Do in Seychelles
Spend a Few Hours in Victoria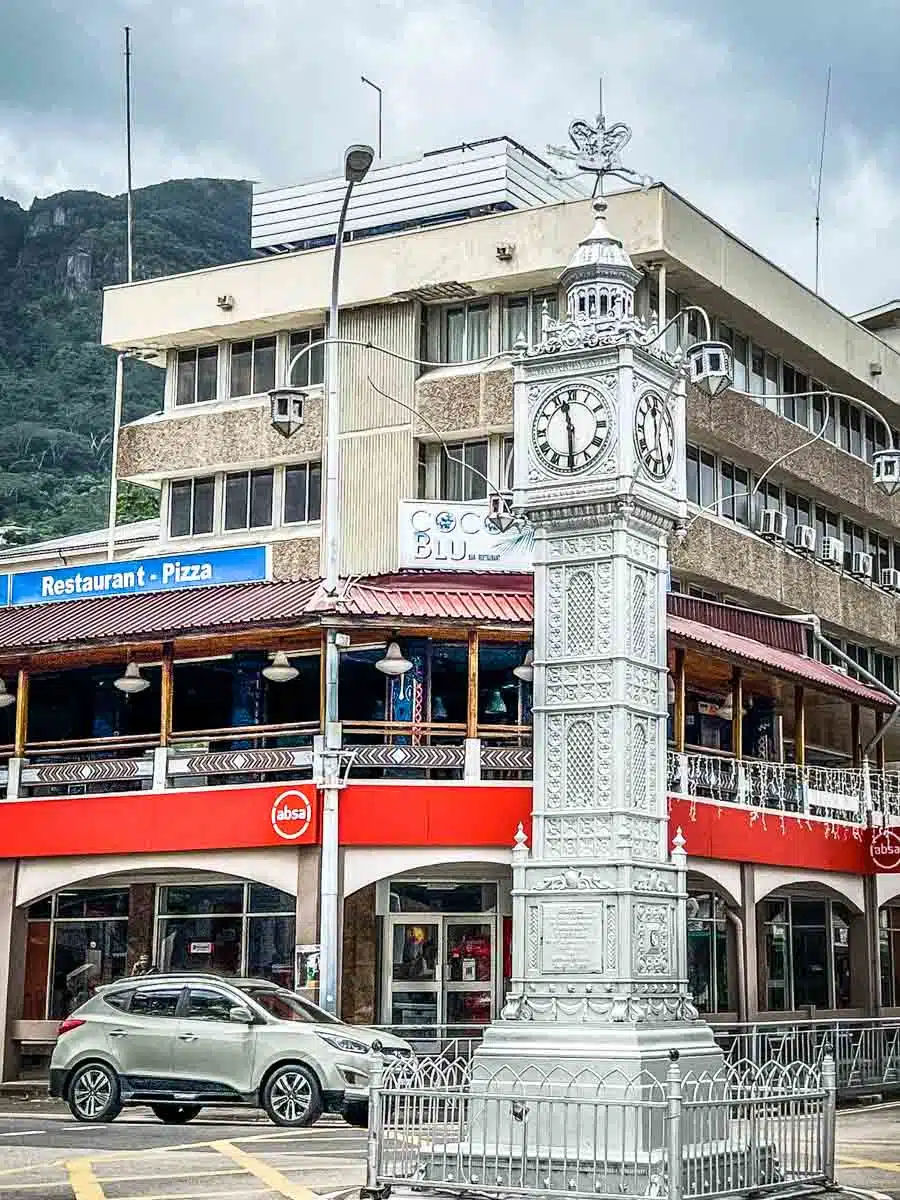 While you might be tempted to ditch the capital of Victoria in favour of the more rural spots in Seychelles, it is a great place to soak in some of the island's culture.
Take a few hours to roam the streets, check out the local markets, and find Seychelles' very own Little Ben (a smaller replica of Big Ben, and the foreign twin of London's Little Ben), and chow down on some local cuisine.
There are also the botanical gardens and grand Hindu temple to admire while here.
Have Dinner at Marie Antoinette
While there is no shortage of restaurants in Seychelles, you should make at least one reservation at Marie Antoinette. This restaurant is home to some of the most authentic – and delicious – Seychellois cuisine.
Unsurprisingly for an island that loves its seafood, they also serve up amazing sushi. The restaurant is open Monday to Saturday and you can book a table for lunch (from 12 pm to 2:30 pm) or dinner (6:30 pm to 9 pm).
Morne Seychellois National Park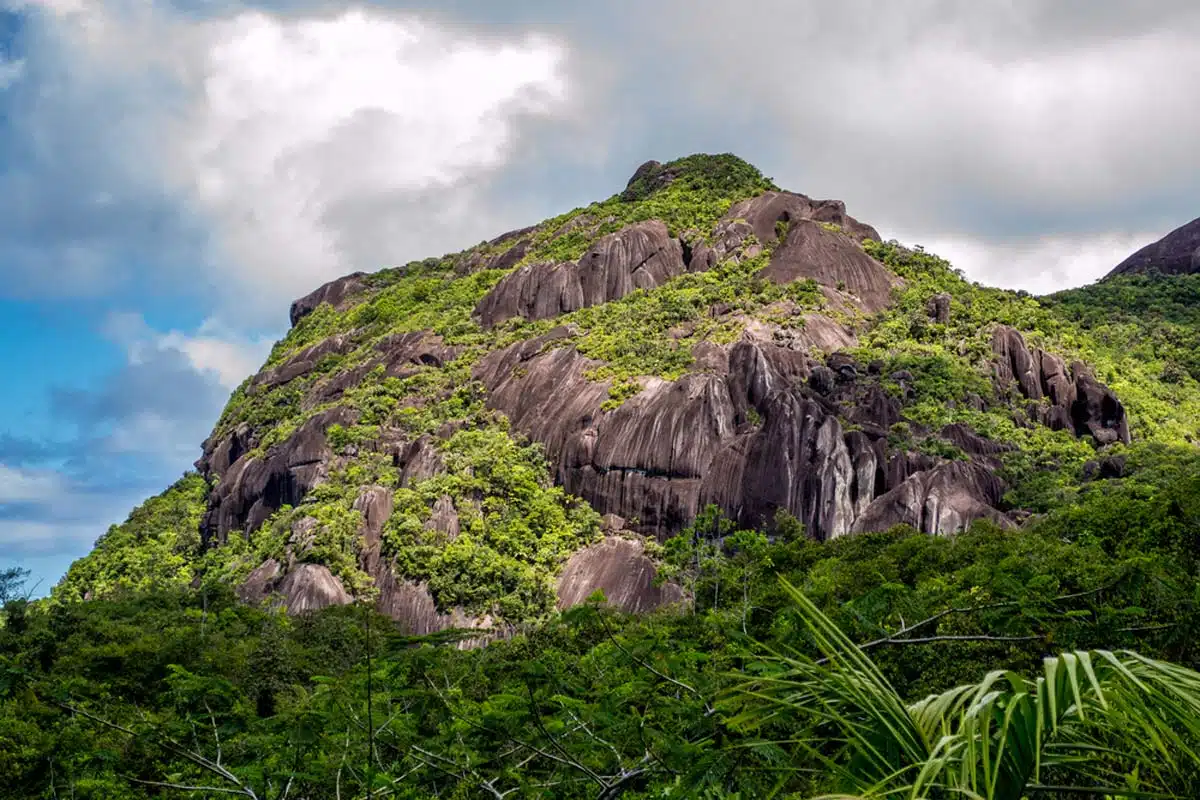 Morne Seychellois National Park is a stunning natural treasure located on the island of Mahé in the Seychelles archipelago.
It covers more than 20 percent of Mahé's total land mass and is one of the most biologically diverse parks in the region.
The park's landscape comprises majestic mountains, lush forests, and secluded beaches. Its highest peak, Morne Seychellois, stands nearly 900 metres tall.
Hiking enthusiast? I recommend you follow one of the trails through dense jungles and along steep mountain paths, while birdwatchers can spot many unique species in the area.
Nature lovers will adore the park's diverse flora and fauna, including giant tortoises and rare birds like the endemic black parrot.
Hike to Anse Georgette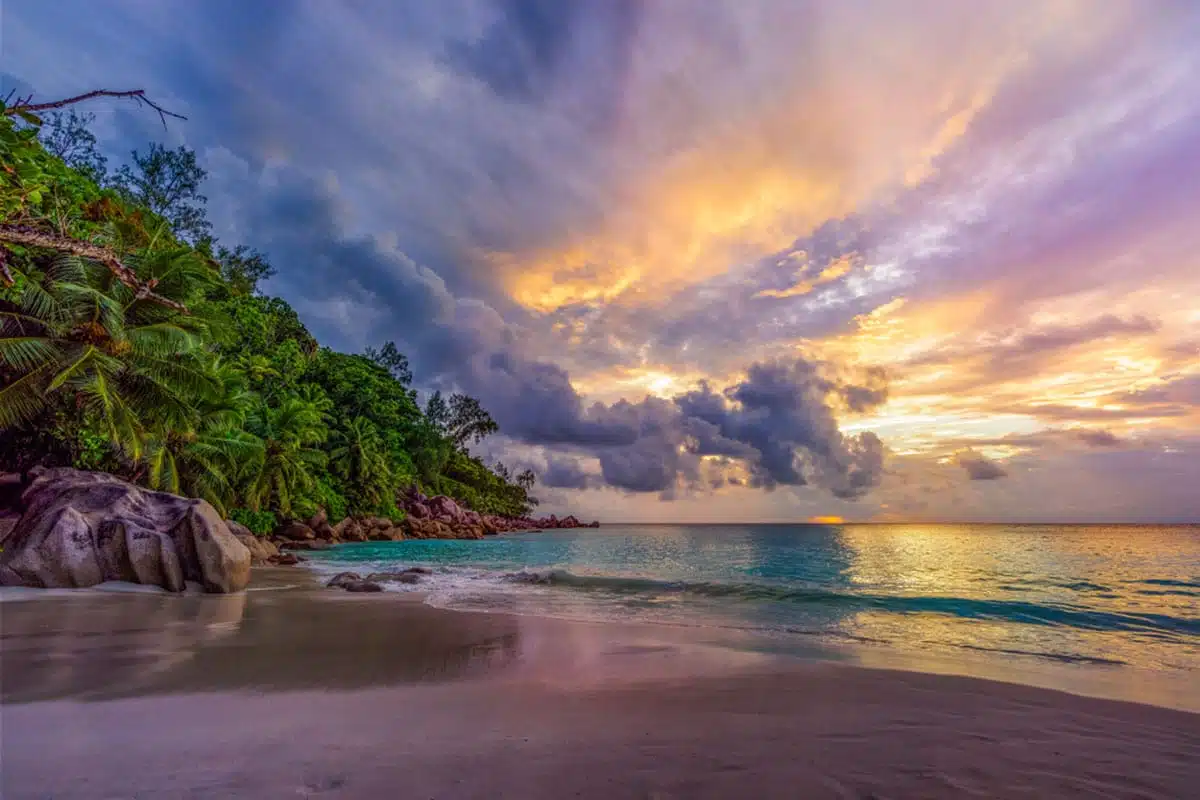 Searching for adventurous things to do in Seychelles? Hiking to Anse Georgette on the island of Praslin is a great way to spend the day, and I promise it's worth the effort.
It's strenuous, but if you start early and hydrate well, you'll be able to enjoy the experience. Not to mention that the views are swoon-worthy.
The journey starts at Anse Lazio (another beautiful beach you should spend time on too) with a hike through the lush rainforest and rocky pathways. As you make your way up, you'll have views of amazing landforms and ocean vistas.
The 4.5 km hike takes you through lush green forests and stunning rocky outcrops, allowing you to take in the breathtaking beauty of this pristine tropical paradise. Along the way, keep your eyes peeled for exotic birds like Seychelles sunbirds.
As you reach the beach, you'll be amazed by its untouched beauty — it's truly one of nature's hidden gems. Soak up the sun or stroll along the shoreline while enjoying the tranquil surroundings.
Live Slowly in La Digue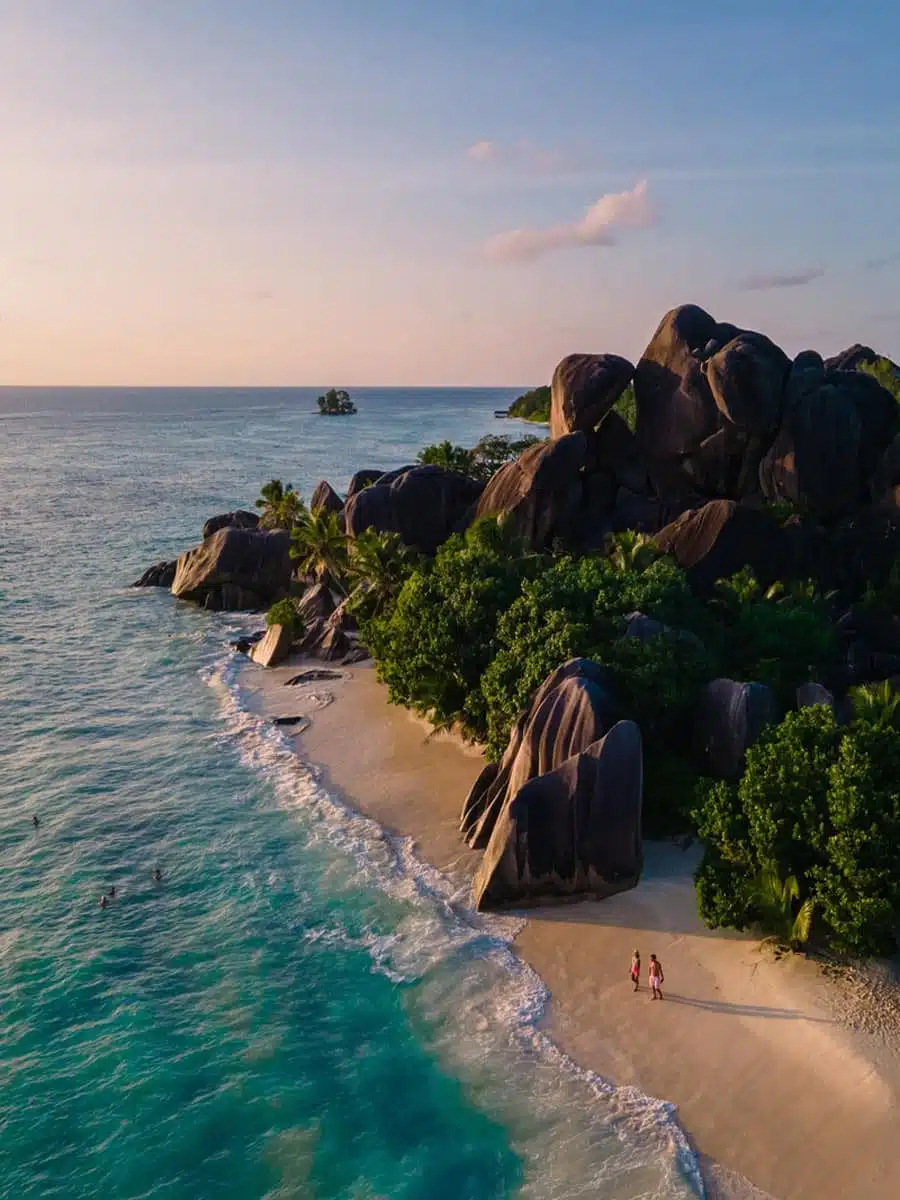 La Digue is still relatively untouched by modern development, and I personally don't think you can visit Seychelles without seeing this island.
Life is slower here. The island is car-free, so you'll find smiling locals and visitors out on the streets. Most people walk from one point to the next, although bikes are also popular around the island.
Beyond its stunning beaches, visitors can enjoy various outdoor activities like snorkelling, kayaking, and sailing.
Unique Things to Do in Seychelles: Hidden Gems That are Off the Beaten Track
Learn All About Seychelles Tea Plants
The Brit in me really appreciates that tea is an important drink in Seychelles. And exploring the lush green tea plantations of Seychelles is an unmissable addition to your itinerary.
Visiting one of these plantations can be an unforgettable experience, offering visitors a chance to appreciate the beauty of this tropical paradise.
At the plantations, you can observe the entire tea production process from start to finish. Witness how local workers hand-pick the delicate tea leaves and process leaves in large machines before being packaged and shipped off for sale.
Pay a visit to the tea factory in Morne Seychellois National Park for a closer look at how this delightful drink is processed. And, of course, sample a mug or two.
Tour The Takamaka Rum Distillery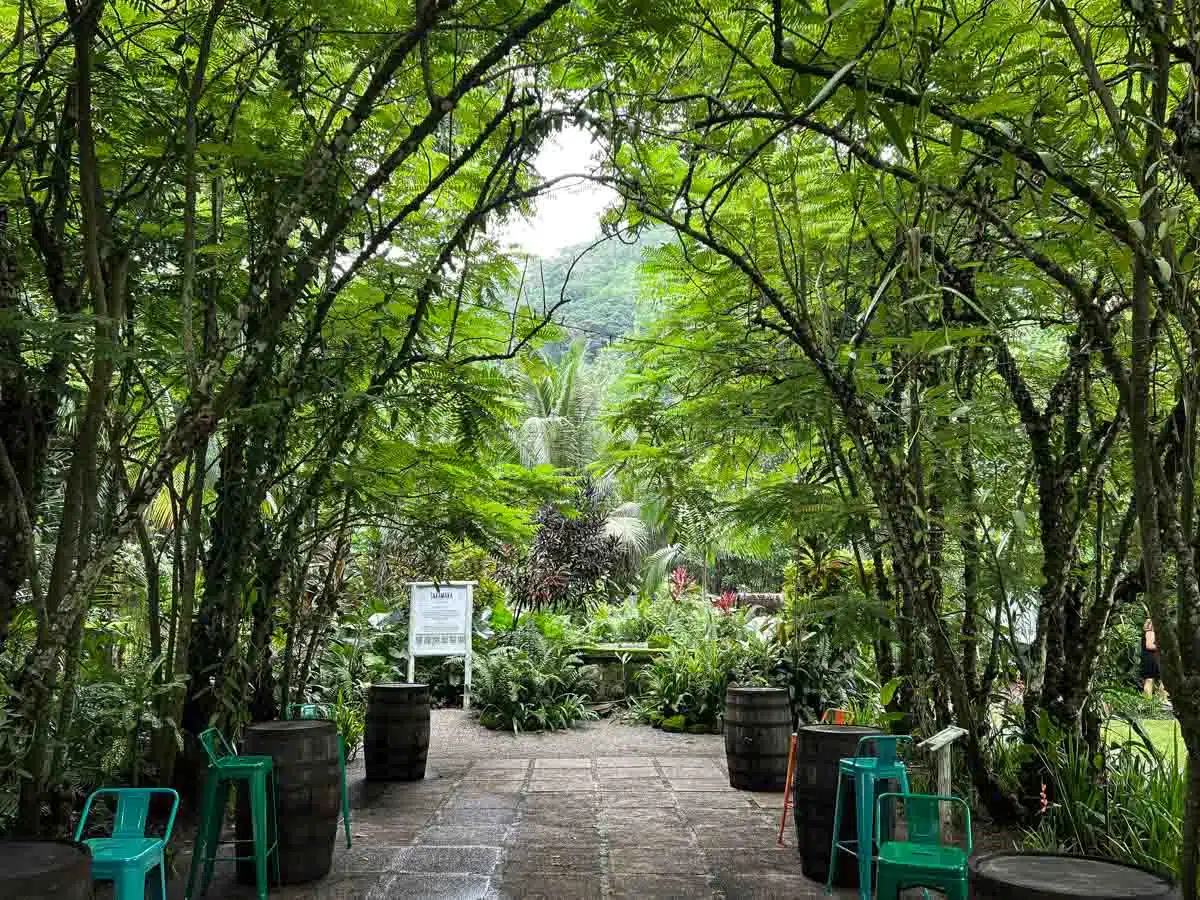 Trust me to find the alcohol wherever I am.
But it would be rude not to when the Takamaka Rum Distillery in Seychelles is a unique and special distillery that produces some of the best rum on the planet. This distillery has been making rum since 2003 using traditional methods.
The distillery also offers tours and tastings to visitors who want to learn more about their process and experience their product firsthand, all of which I LOVED. It cost me around £10 and was excellent value for money.
During tasting sessions, you can participate in interactive demonstrations explaining how they create their award-winning rum and sample different blends.
The facility is in an old fort, at the highest point of Victoria, the capital city of Seychelles. Even if you're not too a rum drinker, touring the Takamaka Rum Distillery is an interesting experience (and the rum is sooo smooth it might just convert you).
Take a Day Trip to Moyenne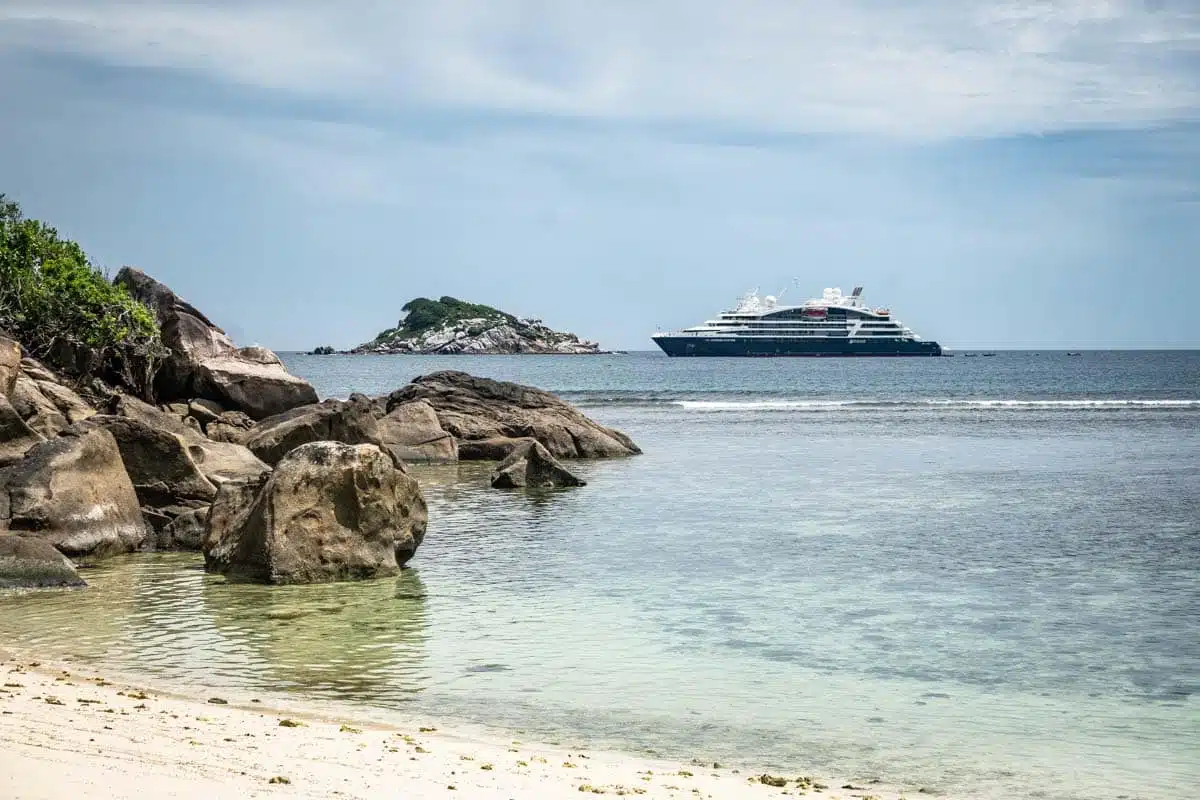 One of my favourite places in the archipelago, Moyenne is a private island near Mahé.
Well, technically it's a tiny island nature reserve — only ​0.4km long and barely 0.3km wide. It's the ideal destination for a day trip and one of the best places to visit in Seychelles, but bear in mind that you have to pay a small entrance fee to the island (organised trips will usually include this in their price).
Brendon Grimshaw owns the island, and when you arrive, you can watch a video about him and how he built his life on the island.
There's also a tortoise sanctuary to visit while here and an abundance of snorkelling spots to explore.
Before you leave, head along the short nature trails and find a few quiet beaches to immerse yourself in the untainted natural surroundings.
Get Your Birdwatching Fix at Aride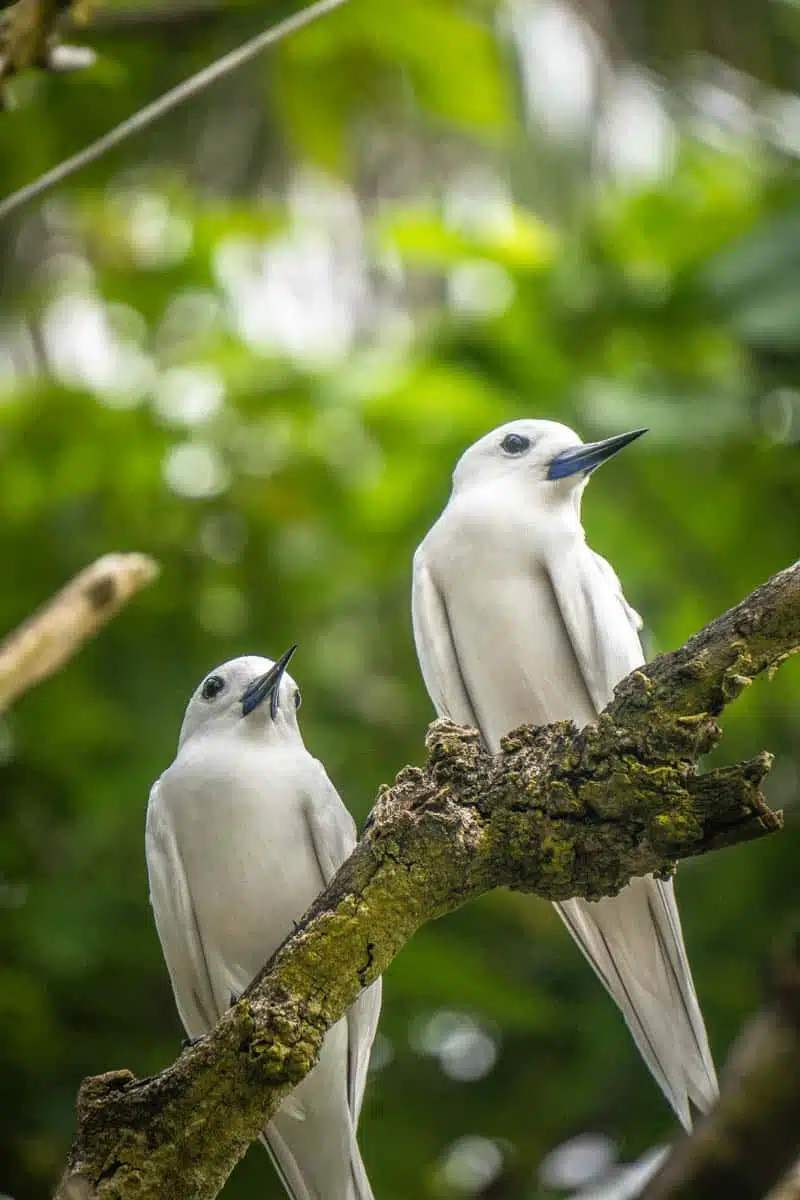 Ok, so this next activity is a little bit niche, but Seychelles is home to some of the best birdwatching opportunities in the world.
Even if you're not a twitcher, you should take advantage of the opportunity to immerse yourself in the islands' wildlife.
You'll want to head to Aride, the bird capital of the Seychelles and a destination that is filled with plenty of rare wildlife and plantlife – much of which is endemic to The Seychelles.
Keep a particular eye out for the Seychelles Magpie Robin; there are only 500 of them in existence (although numbers are up, at their lowest the numbers dropped to under 100).
I guarantee you'll also notice hundreds of Wright's skinks – a very cute type of lizard.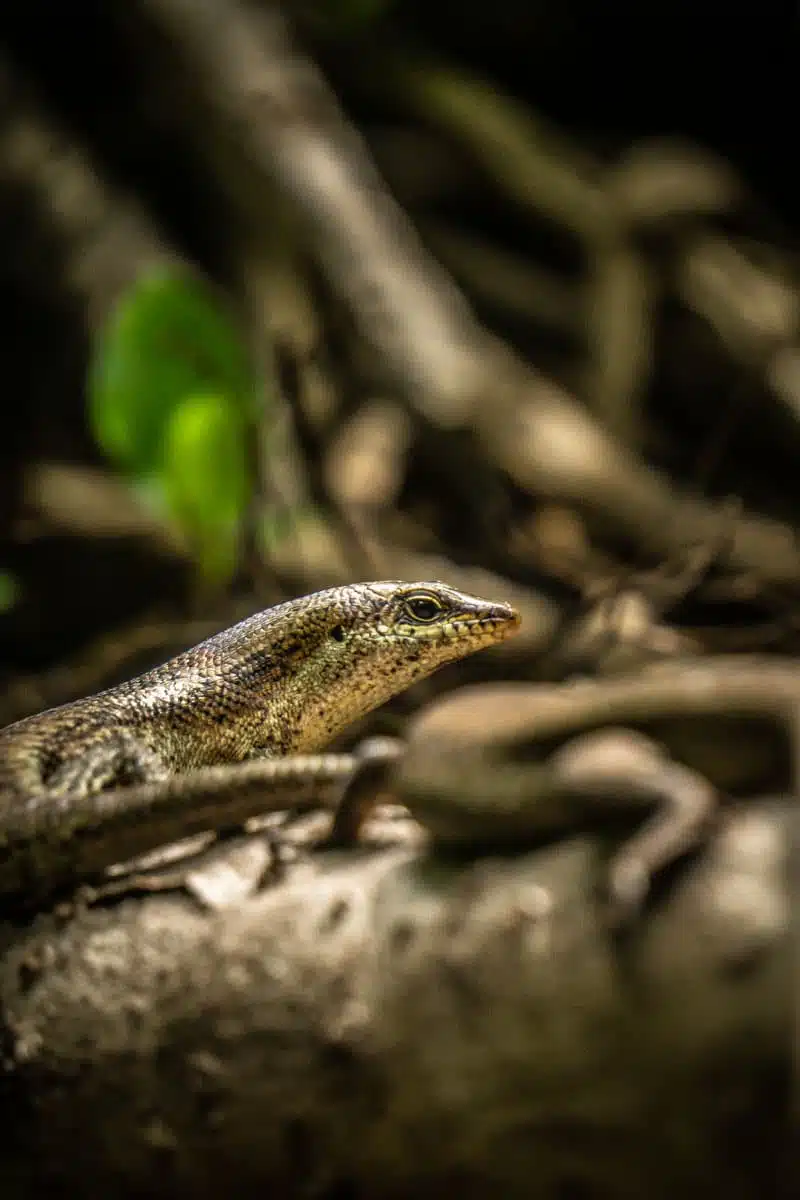 While you're there, spend a couple of hours chilling out on the sand. This is the Seychelles of course, so the beaches are stunning. And all the more beautiful for the fact that they're pretty much deserted on Aride.
Things to do in Seychelles: Practical Tips for Your Trip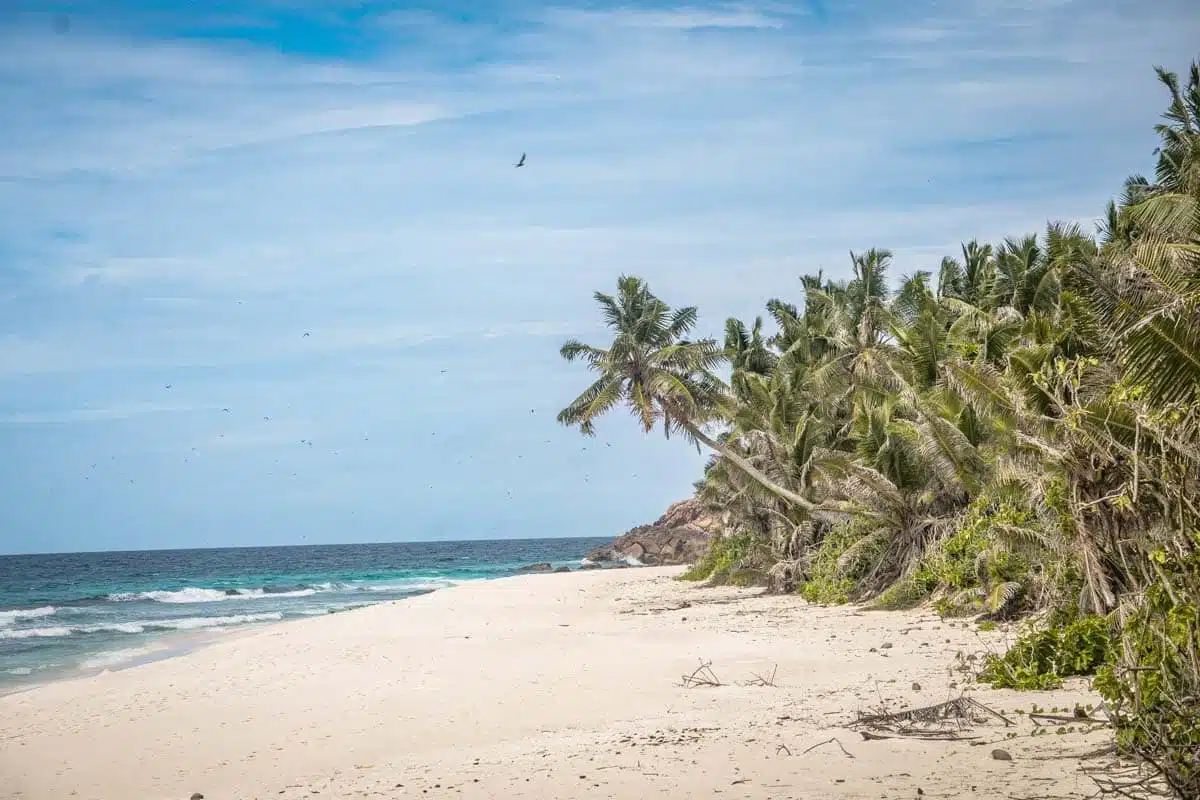 Where Should I Stay in Seychelles?
Kempinski Seychelles Resort (Mid-Range)
More affordable but no less luxurious than most resorts, the Kempinski is a relaxing place to spend your time in Seychelles. The resort has a range of rooms, from ground-floor garden rooms to suites with sea views and private balconies.
Four Seasons Desroches Seychelles (Luxury)
I love Four Seasons Desroches so much that I've written an entire review of the resort. And you can't blame me – this hotel offers completely understated luxury at one of the most beautiful locations in Seychelles.
Recommended Tours in Seychelles
Best Things to do in the Seychelles: Map
Love This? Save and Share on Pinterest!