Dreaming of a luxurious escape? Look no further than La Digue in Seychelles. This beautiful island is home to some of the world's best hotels and offers visitors a once-in-a-lifetime experience.
Just across the ocean from the likes of Praslin and Mahé, La Digue is the incredibly-laid back Seychellois island you need to visit.
The crystal waters and pristine white sand beaches provide an idyllic setting and an unforgettable experience – so much so, it might actually be my favourite island in the archipelago (just don't tell the others).
Whether you're looking for a private getaway in an intimate hotel or a luxurious holiday in one of the big-name resorts – or somewhere in between – these spots won't disappoint.
Read on to discover the best hotels in La Digue.
Top Tip: Read my guide to La Digue Island to discover all the hidden gems to see while you're there.
Best Hotels in La Digue: At a Glance
Best Hotels in La Digue
Le Domaine de L'Orangeraie Resort & Spa
£££
Anse Severe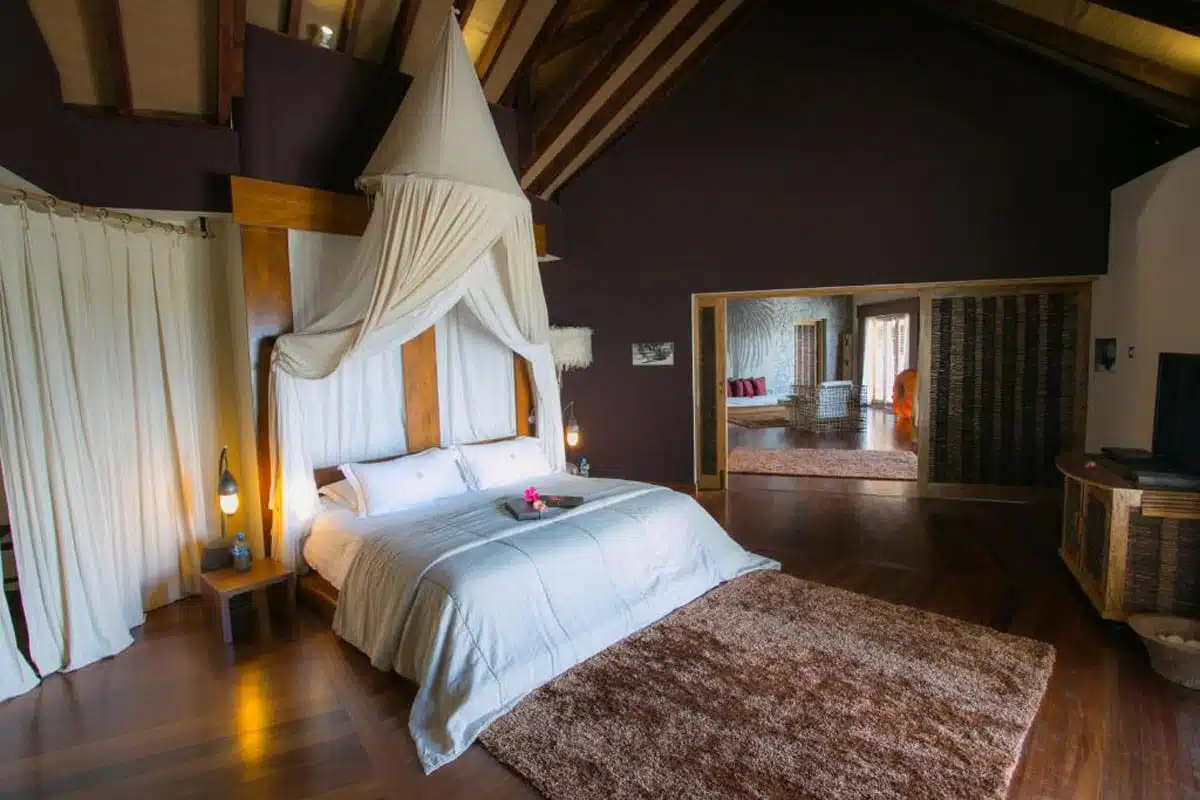 Will I ever stop fawning over Le Domaine de L'Orangeraie Resort & Spa? Probably not. For a luxurious stay on the lush island of La Digue, look no further.
This hotel is a cut above the rest, with world-class amenities, sumptuous accommodation and access to the island's best attractions. Did I mention that it's also perfect for a honeymoon retreat?
The rooms at Le Domaine range from the (slightly more budget-friendly) Garden Villas to the spectacular Villas de Charme. It certainly earns every single one of its stars.
Each room has access to a private swimming pool and a fitness centre to burn off all the delicious food you'll be eating in Seychelles. After a long day of sightseeing, you can relax at the resort's bar and lounge area.
Le Nautique Luxury Waterfront Hotel
£££
La Passe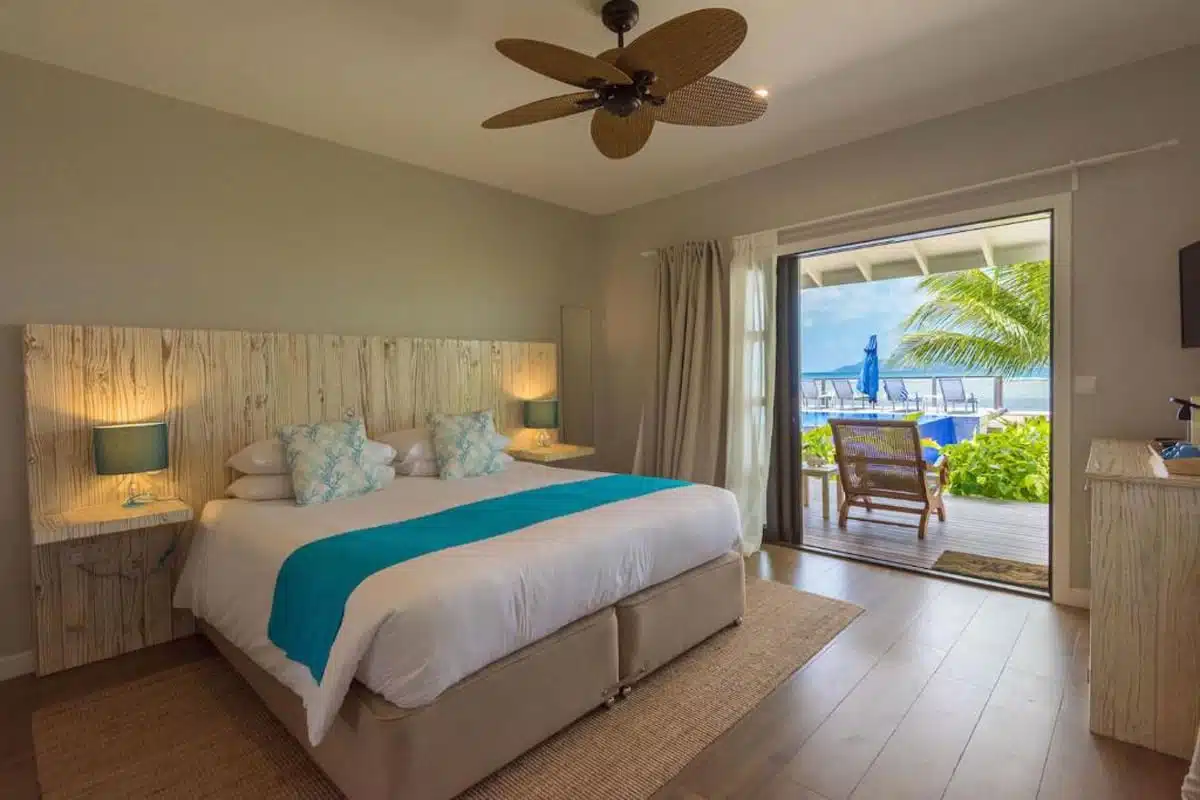 Another incredible La Digue hotel is Le Nautique Waterfront Hotel. It's in one of the most beautiful parts of Seychelles and offers an idyllic getaway with Creole-inspired cottages and exceptional amenities.
Le Nautique's style creates an ambience that is comfortable and inviting. The Creole cottages have nautical ropes, castaways, and marine flora decorations, and they also boast a private balcony with gorgeous views of the ocean.
From here, you can rent a bike or some snorkelling equipment and explore the beaches of La Digue. Or, if that sounds too taxing, the hotel has a gorgeous pool and lounge area for a cocktail and relaxing.
The spa facilities will pamper you into a blissful coma. And you can't complete a stay at Le Nautique without sampling some of chef Hubert's Seychellois cuisine at the on-site restaurant.
Le Repaire Boutique Hotel
££
Anse Réunion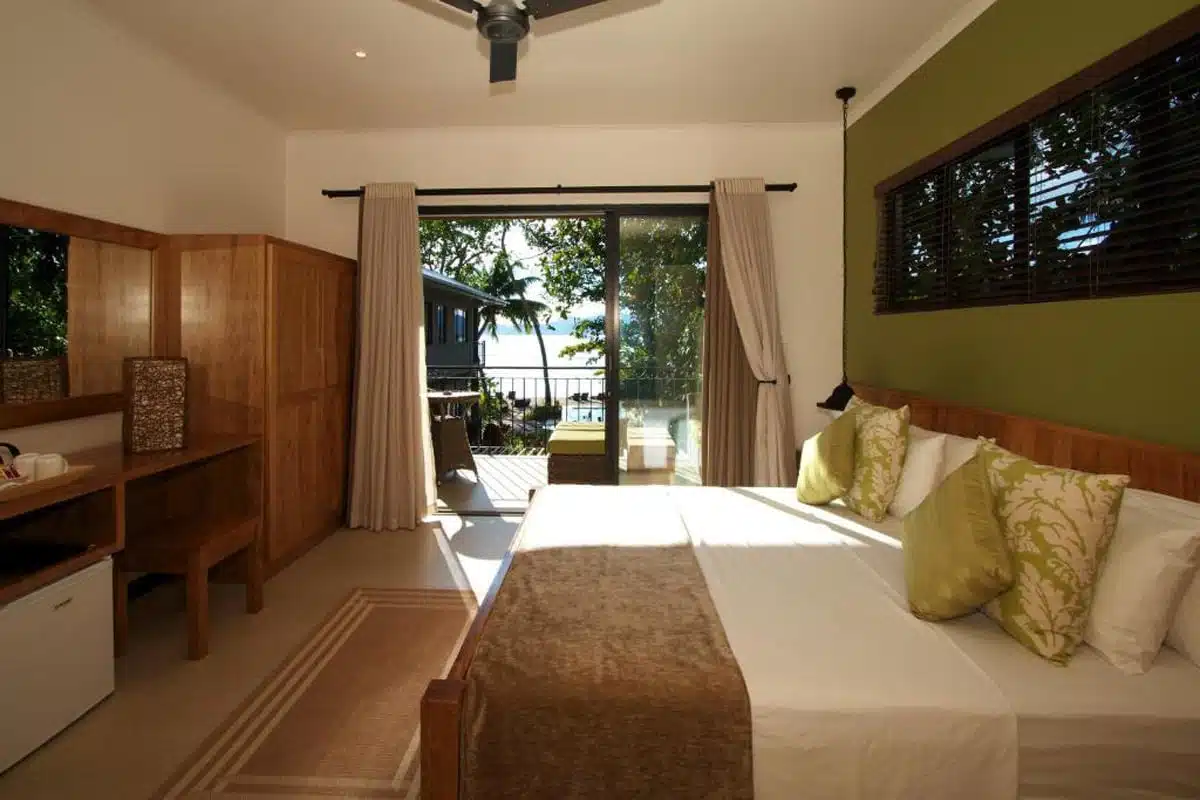 Le Repaire Boutique Hotel is a hella impressive beachfront resort near Anse Réunion in L'Union Village. This perfect destination for travel enthusiasts offers 18 well-decorated rooms with stunning views of Praslin Island and the ocean.
Prepare to be indulged at this hotel. Each room is spacious and has all the amenities for a comfortable stay, from air conditioning to private balconies with amazing views.
The food at the on-site Le Repaire restaurant is something else entirely. You can choose from delectable local cuisine to mouthwatering Italian favourites, like pizza and pasta.
If relaxing by the pool under Takamaka trees isn't enough, there are many other things to do. The hotel offers bike rentals so you can explore the island. They can also arrange fishing trips or diving expeditions so you can explore the open seas and perhaps catch your own dinner.
Cabanes des Anges
£
Anse Réunion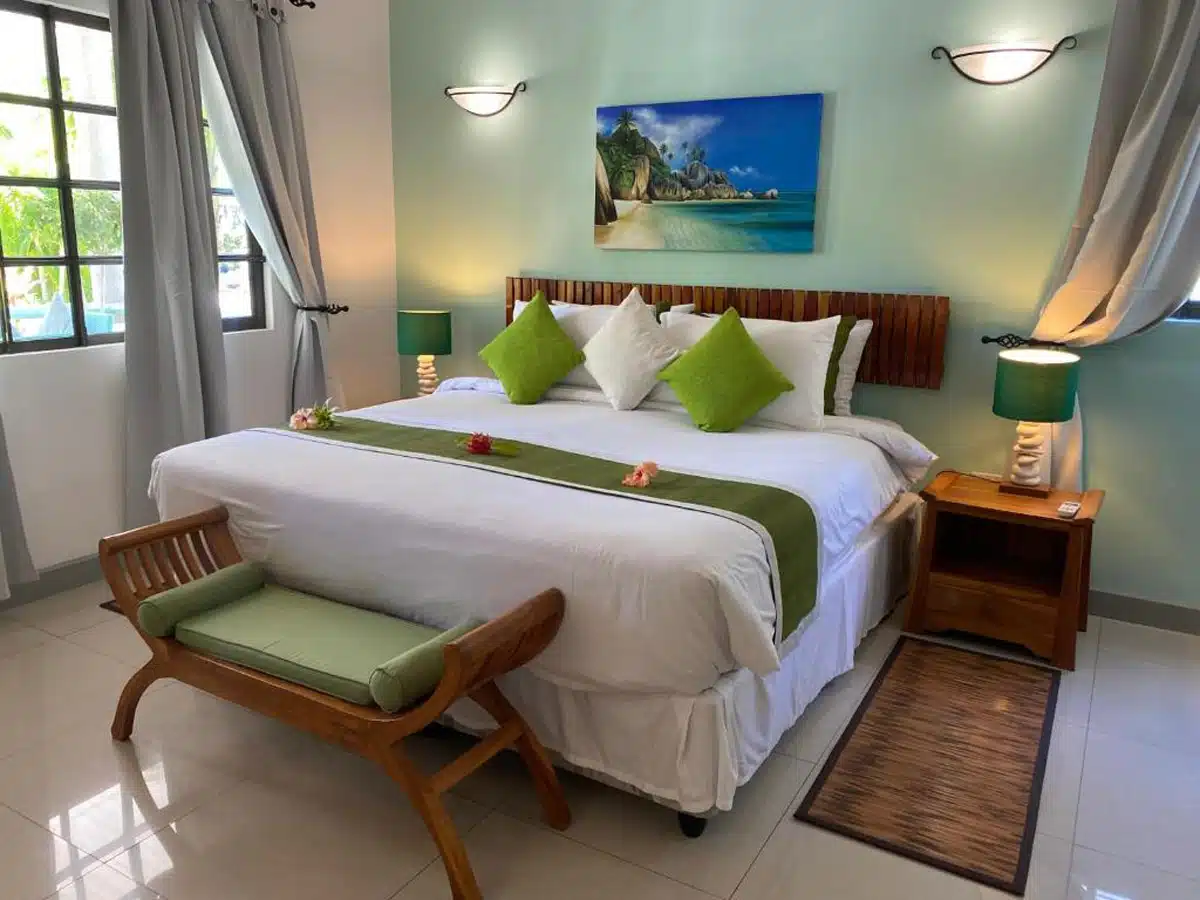 Nestled in this tropical paradise is a heavenly retreat – Cabanes des Anges. This charming family-run inn provides an intimate setting surrounded by nature's beauty.
Cabanes des Anges offers two accommodations: Simple rooms and self-catering options. Room features include air conditioning, cable television, and balconies with spectacular ocean views.
As for self-catering options, they come with kitchens so you can prepare meals during your stay. There are also two outdoor pools to use to beat the heat.
Hotel Chateau St. Cloud
££
Anse Réunion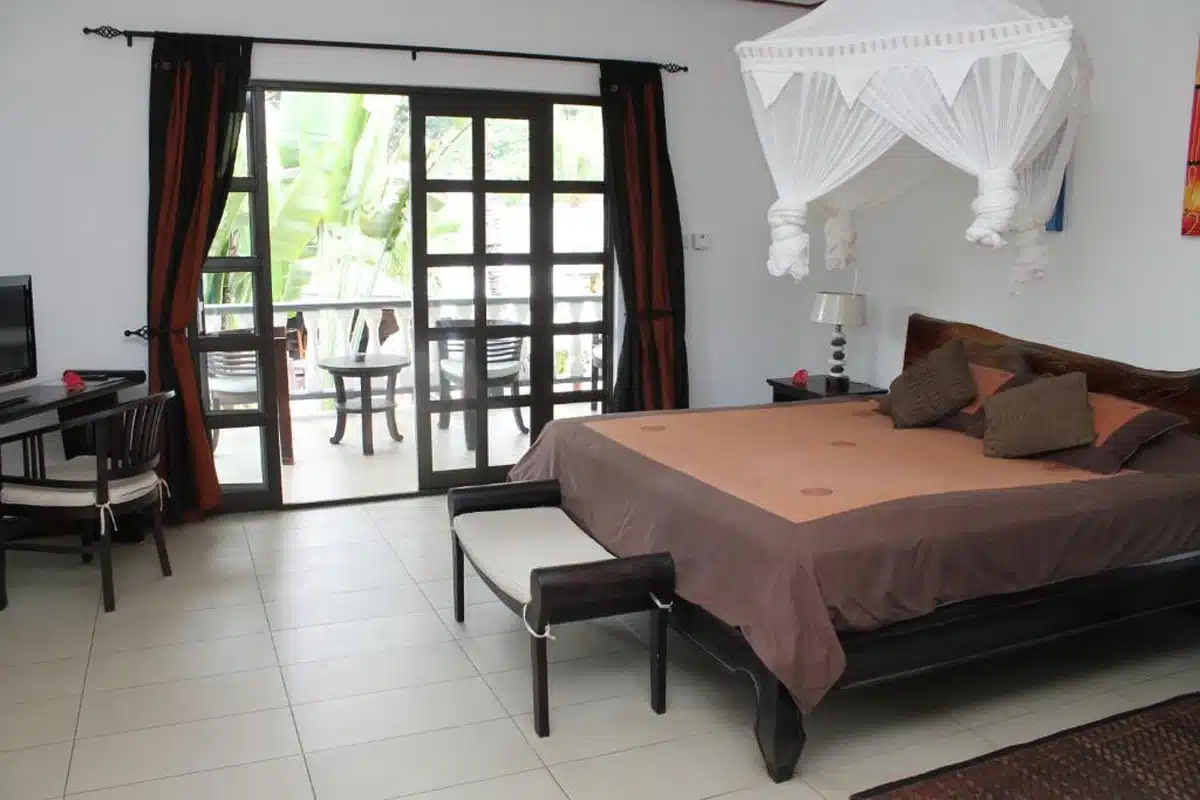 Hotel Chateau St. Cloud offers a luxurious but affordable stay with a beautiful location, comfortable rooms and excellent amenities. It's quickly becoming a strong contender for the best hotel in La Digue, Seychelles.
The hotel is in an elegant château-style building with spacious rooms and suites. Each room comes equipped with modern amenities, including satellite TV and minibars. But the view of Réunion Island from the private balconies is the star of the show.
You can also access the hotel's fitness centre, spa facilities, game room, and pool area.
The restaurant at Hotel Château St. Cloud offers delicious Creole cuisine with a dreamy view of the gardens from their terrace seating area.
Le Relax Beach House
££
Anse Réunion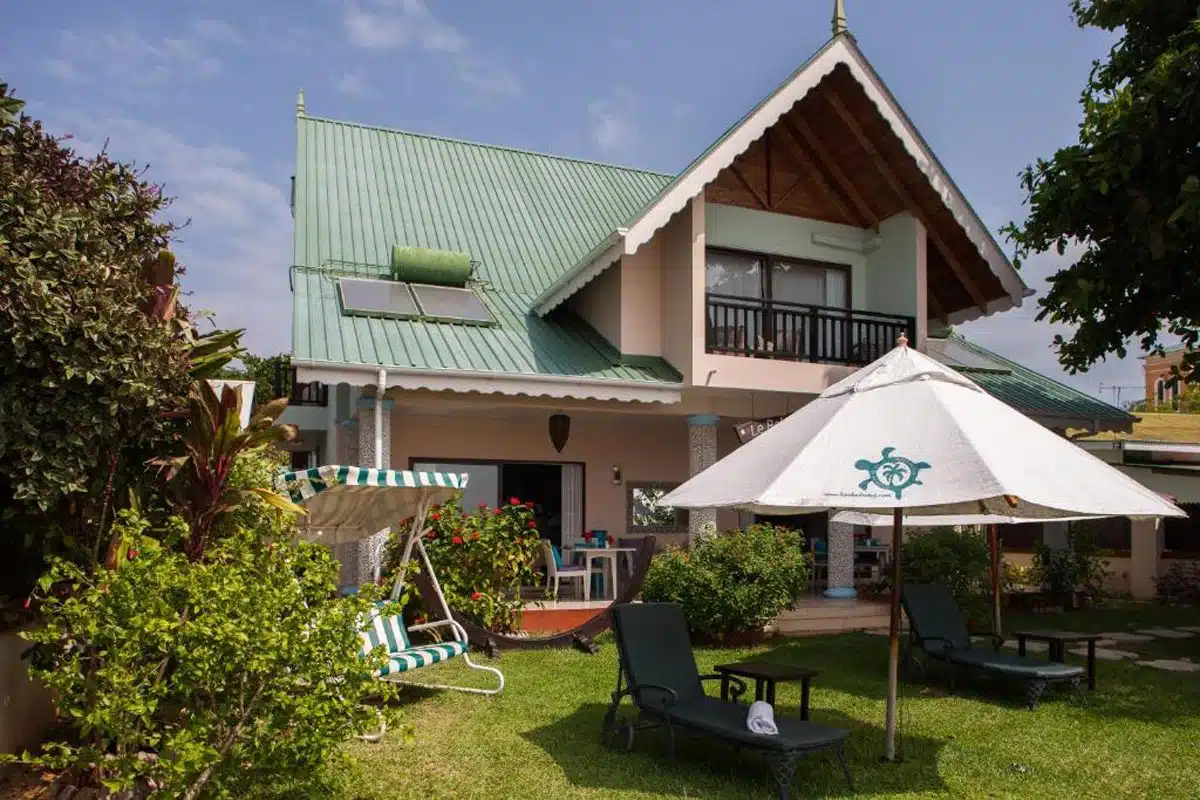 When it comes to beachside getaways, there is no better place to relax and enjoy yourself than at Le Relax Beach House. This La Digue hotel offers ocean views, air-conditioned rooms with tropical decor and a wide range of amenities – what more could you want?
All rooms are air-conditioned and feature colourful accents, with flat-screen TVs and comfortable furniture. There are also superior room features such as balconies with sea views, direct access to the beach, private pools and plenty more.
Le Relax Beach House's restaurant serves an array of delicious Creole, Indian, and International cuisine; all made fresh from locally sourced ingredients. There is also a lounge where you can enjoy drinks.
You can take a snorkelling trip around Île Cocos Island or explore local attractions like Île Cocos or Veuve Reserve. For those looking to just relax by the pool or on the beach all day long, they have sunbeds and umbrellas available so that you can soak up some rays in style.
La Digue Island Lodge
££
Anse Réunion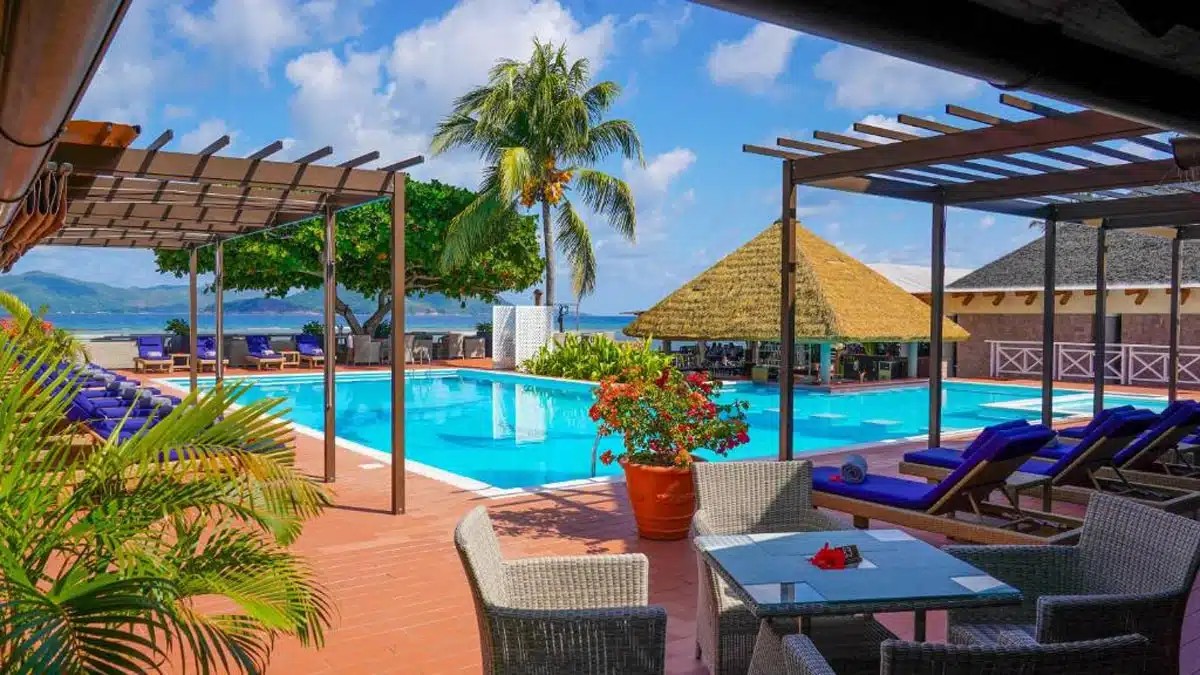 Nestled away slightly, La Digue Island Lodge is a hidden gem for travel enthusiasts. From delicious food to stunning views of the Indian Ocean, this secluded island paradise has something for everyone.
You can enjoy Creole cuisine at the restaurant – the menu features freshly caught seafood and traditional dishes like fish curry. La Digue Island Lodge also boasts its own diving centre located on Anse Réunion beach. From experienced divers to first-timers alike, everyone can enjoy a safe and exciting experience under the sea.
La Digue Island Lodge also boasts totally-private accommodations with spectacular views of lush tropical gardens and stunning ocean vistas. The wooden chalets come with balconies or terraces so you can truly relax in style.
Le Relax Luxury Lodge
££
Anse Gaulette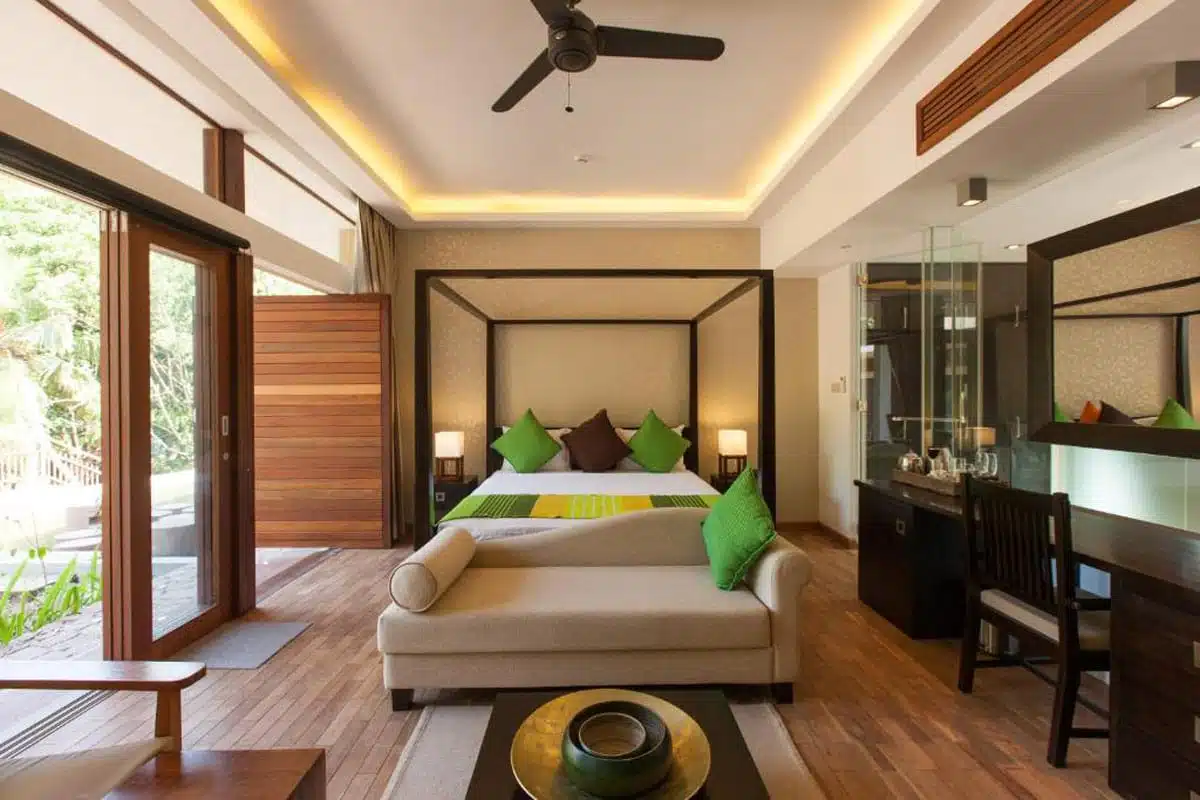 Le Relax Luxury Lodge is a picturesque paradise offering unparalleled comfort. From its spectacular views to its exquisite accommodations, this secluded island getaway is the perfect place to unwind and relax.
Le Relax offers luxurious signature villas overlooking Anse Gaulette Beach, each with its own private amenities and features. You can soak up some sun while enjoying breathtaking views from the infinity edge plunge pool decks.
But that's not the only reason I rate this hotel so highly – here, you can indulge in Creole, international and Indian menu items in the sea-front restaurant with stunning panoramic views of the Indian Ocean. Oh, and room service is available for those who want a more private dining experience.
Casa de Leela
£
Anse Réunion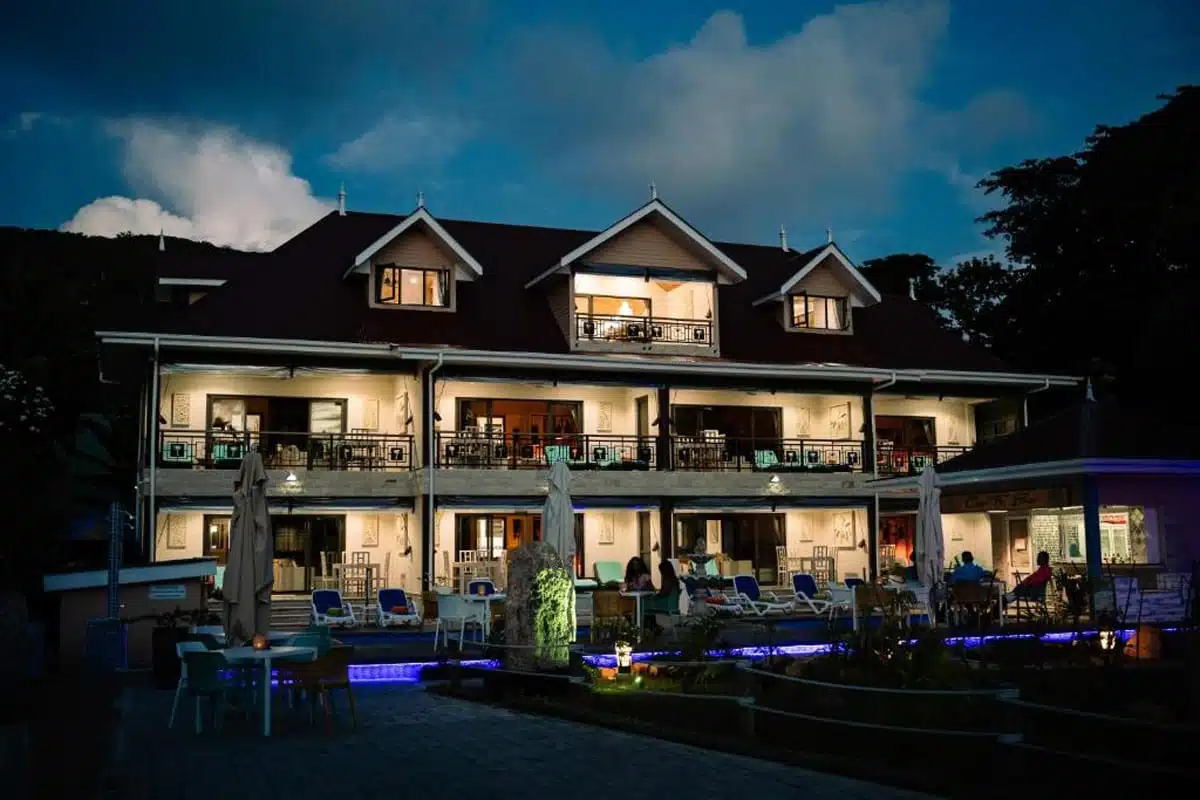 Casa de Leela is a self-catering guest house that provides four flats and three bungalows with everything needed for a comfortable stay.
Each bungalow has its own outdoor pool and garden to relax in after exploring the island. Bike rentals are also available so visitors can explore the surrounding area.
Begin your day with a delicious breakfast served on-site or prepare meals in their kitchen facilities. If you want to venture out of the property, plenty of restaurants are nearby serving mouthwatering Creole cuisine or seafood specialities.
Patatran Village Hotel
££
Anse Patatas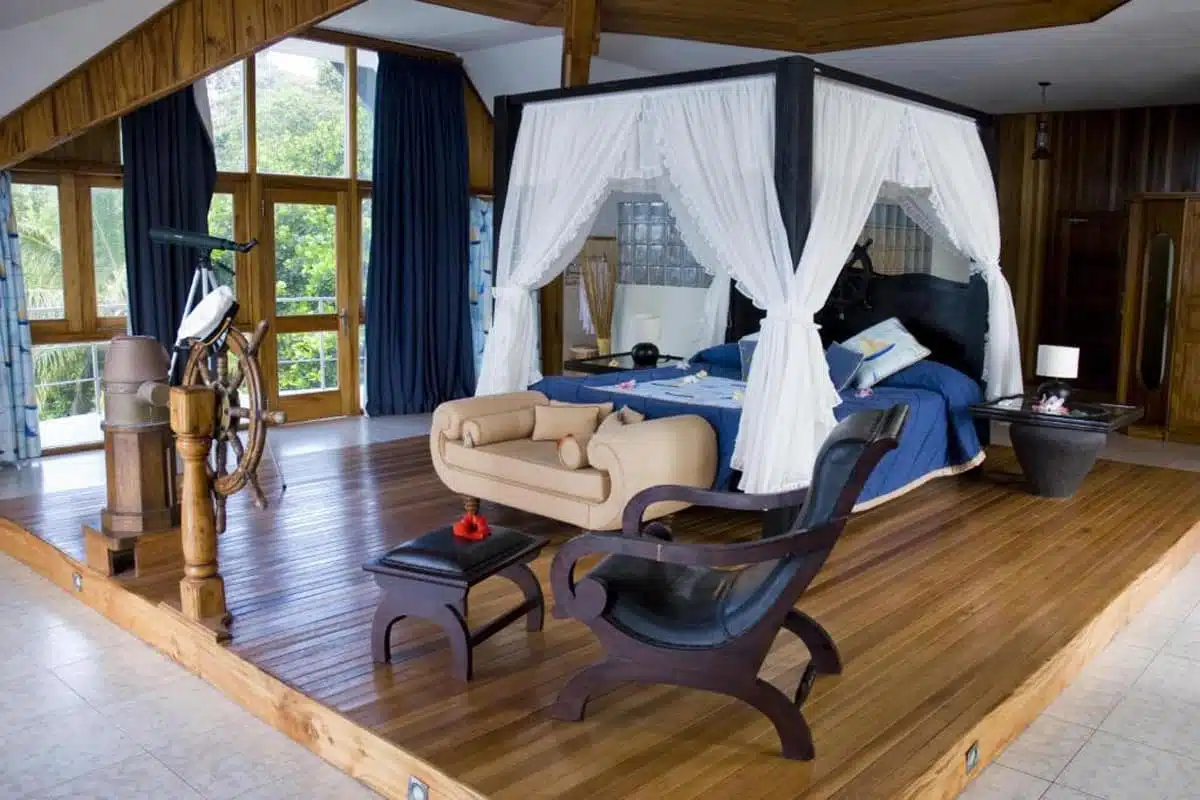 Looking for a tropical getaway that offers a little bit of everything? Patatran Village Hotel is the perfect destination.
This hotel offers breathtaking views of the Indian Ocean, plenty of amenities and activities to enjoy, and half-board lodging with rooms that come with balconies and private bathrooms.
You can use the restaurant, bar, pool, laundry room, library, and dive centre on-site. There is also a Captain's Room balcony where you can watch whales in their natural habitat or step outside to snorkel or swim in crystal-clear waters full of tropical fish.
Plus, if you're feeling adventurous, you can take advantage of deep-sea fishing trips offered by local fishermen. Then, head back to the hotel and use the barbecue facilities to cook your catch.
Best Hotels on La Digue, Seychelles: Frequently Asked Questions
Practical Tips to Consider Before Booking Your La Digue Hotel
Always make reservations on official websites. Booking.com is my favourite because they offer the best prices. Also, if you make enough reservations, you can join Genius, which offers daily specials and free upgrades.
Look for a central hotel near the attractions you want to visit. La Digue is a small island, but it's important to have easy access to the beach, restaurants, and other activities.