Looking for the best hikes in Tucson? You're in the right place – this guide covers everything you need to know, plus handy tips for hiking in Tucson.
It's no secret that Arizona is home to some of the best hikes in the USA. No, I'm not kidding. And many of them are in Tucson.
Ready for an adventure in some of the most diverse and stunning natural settings? I thought you might be.
While there are many things to do in Tucson city, straying in any direction lets you discover endless outdoor experiences — and Tucson's hiking trails won't disappoint.
Ready? Dust off your hiking boots and prepare to tackle the best hikes in Tucson.
Best Hikes in Tucson
King Canyon / Gould Mine Loop
Length: 2.4 miles
Time: 1 hour
Difficulty: Medium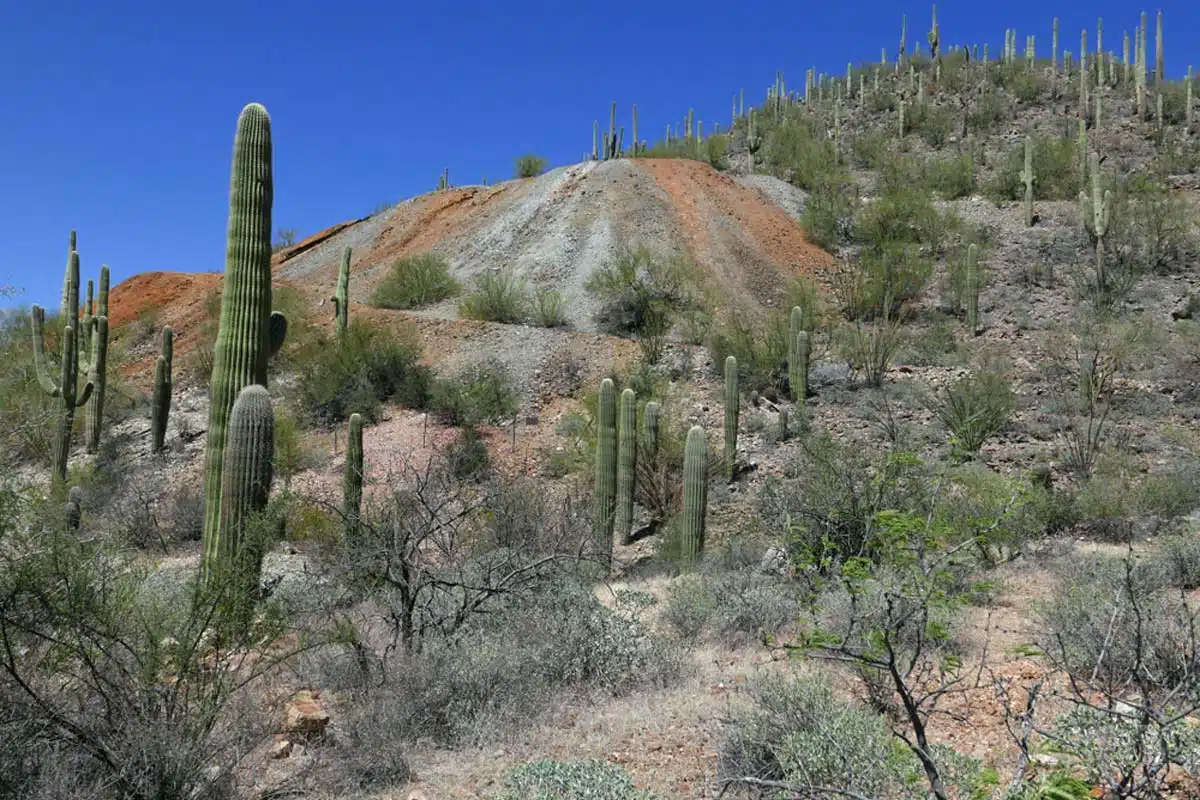 First up, what might just be my favourite Tucson hike (though they're all gorgeous) is the King Canyon/Gould Mine Loop. This one's in Saguaro National Park so – and at risk of sounding like a nagging mum – bring plenty of water and wear suncream. The heat is no joke.
Fun fact: Saguaro is home to the largest cacti in the US, saguaro cacti, which is how the park got its name.
To start this trail, locate the unsigned trailhead of King Canyon along Kinney Road off the national park boundary. You'll continue on the King Canyon Trail until it intersects Sendero Esperanza Trail, about one mile in. I recommend stopping for a picnic at the Mam-A-Gah picnic area nearby.
The path continues through a vehicle gate and ascends into the Tucson foothills. It gets rocky at some points, with gradual elevation featuring gorgeous views of King Canyon and Wasson.
Remember to bring cash for the +$15 entrance fee.
Bear Canyon to Seven Falls Trail
Length: 8.3 miles
Time: 3 h 30 mins
Difficulty: Medium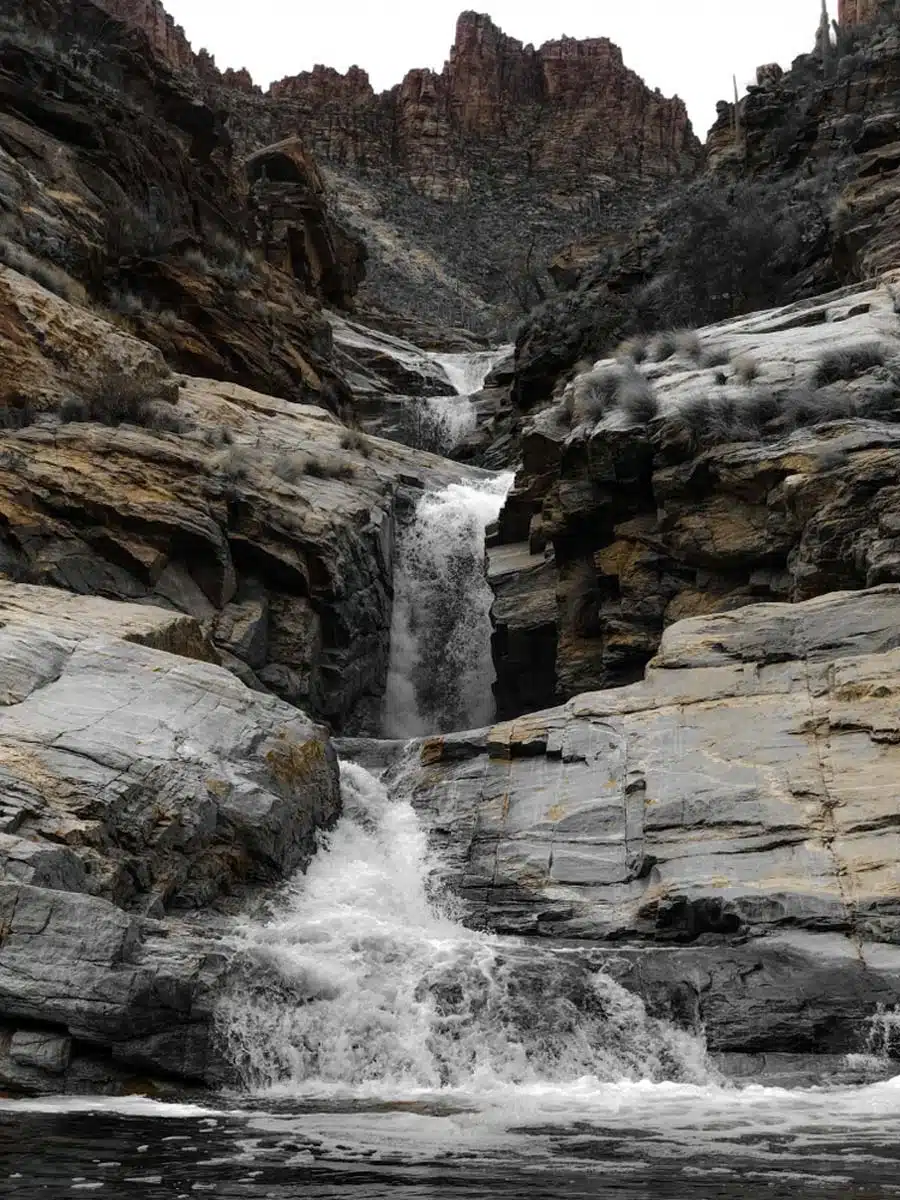 Looking for a trail that offers a moderate workout surrounded by natural beauty? Try the Bear Canyon to Seven Falls hike in Tucson.
Before reaching the Recreation Area, you'll cross rocky terrain from the parking area. Then, you'll follow the path to the Seven Falls. The trail steepens towards the end and also features looming canyon walls, water crossings, and, best of all — views over Tucson.
Though partially paved, this trail gets rocky in some parts prompting you to wear sturdy hiking boots. You have to pay $8 to park at the trailhead parking lot.
Blackett's Ridge Trail
Length: 5.7 miles
Time: 3h 30 mins
Difficulty: Hard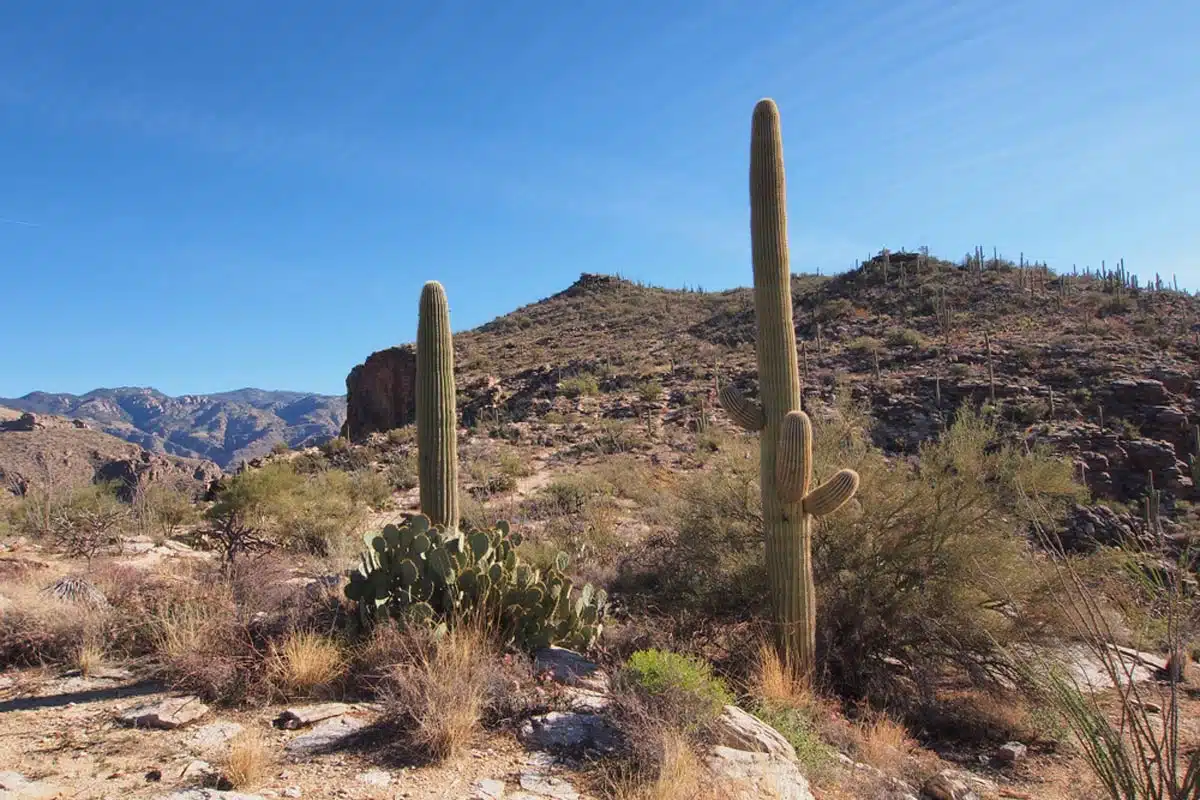 Ready to up the ante on this challenging trek to test your endurance? Introducing Blackett's Ridge Trail – and, like all of Tucson's hiking trails in Sabino Canyon, you'll have to pay an $8 per vehicle fee.
Park at the Sabino Canyon Parking Lot to begin your journey. At first, the track feels flat and accessible from the Bear Canyon trailhead. From here, you'll continue toward the Phoneline Trail. Once you spot a small bathroom, turn right, cross a small bridge, and follow the path toward the right towards Blackett's Ridge.
This trail has an insane elevation gain of 1685 ft, but the breathtaking Santa Catalina Mountain sweeps on top are worth the sweat.
Bridal Wreath Falls Trail
Length: 5.7 miles
Time: 3 h
Difficulty: Medium
When it comes to views, this next hike knocks it out of the park – Bridal Wreath Falls encompasses gorgeous sights and unmissable city views.
Start this out-and-back trek by staying on the Douglas Spring Trail. Follow the well-marked path uphill through gorgeous vistas and rugged terrain to reach an expansive grassy field showcasing desert plants, where you can picnic in the serene atmosphere.
This hike is in Saguaro National Park, which charges $24 per vehicle to enter. Check the Saguaro National Park official website for more information on entrance fees.
Catalina Canyon Loop
Length: 2.3 miles
Time: 50 mins
Difficulty: Easy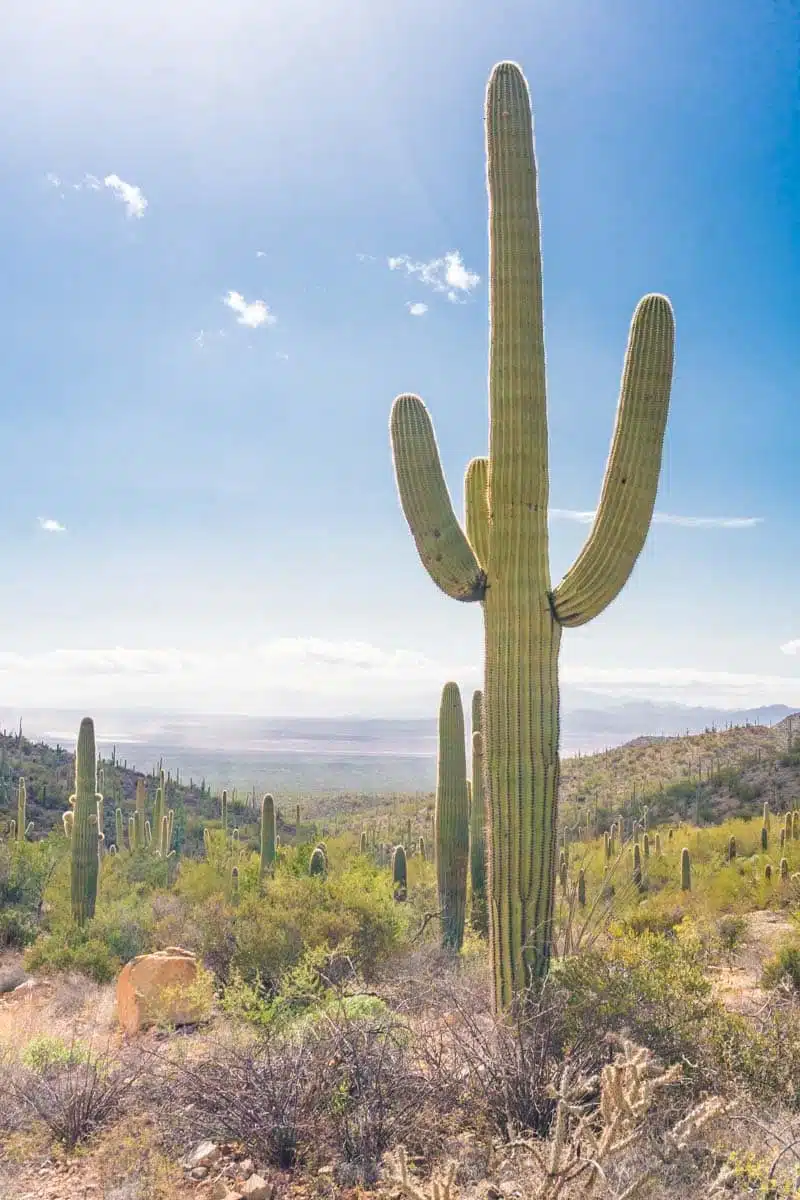 Fancy something short but sweet? Catalina Canyon Loop is a quick and fun hike that can double as a horse riding and mountain biking route. The well-maintained trail offers awe-inspiring views and plenty of fun river crossings.
This is one of the few dog-friendly hikes Tucson has to offer. Also, bring extra cash for the $7 per vehicle entrance fee (it's $3 if you enter on foot or by bicycle).
Start at the trailhead parking lot, and this trek loops by linking Romero Canyon Trail and the Sutherland Trail. The rest of the trail is flat, with one steep section about halfway through.
Tanque Verde Falls Trail
Length: 1.9 miles
Time: 3 hours
Difficulty: Medium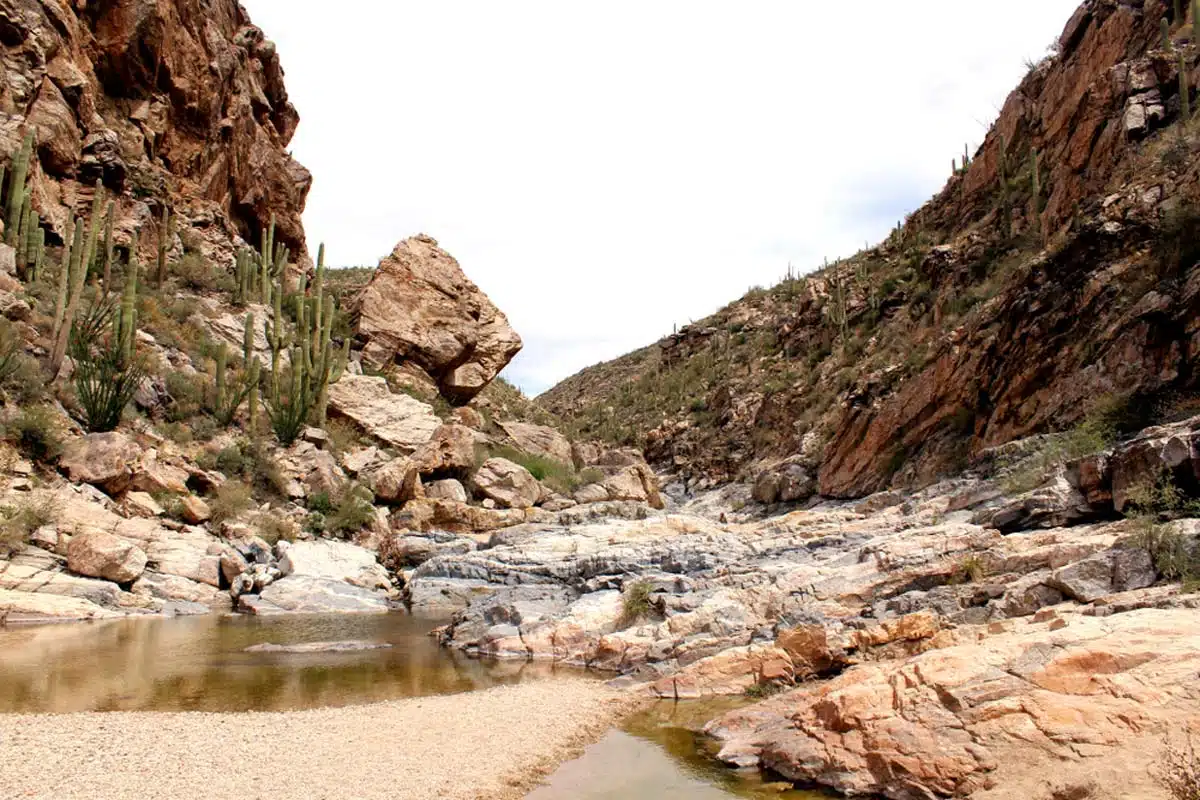 Let me drop some facts: Coronado National Forest is one of the best places to hike in Tucson. And its Tanque Verde Falls Trail is a beauty.
Expect to scramble past slippery rocks and wade through overflowing waterways — you'll be hip-deep in water at specific points. If you're not a strong swimmer, you should skip this one.
Get on this trek from the parking area on the left of Reddington Road, where you'll spot the Lower Tanque Verde Falls Trailhead. Starting simple, the hike becomes more strenuous towards Tanque Verde Wash.
You'll finally reach the hike's biggest draw — an 80-foot billowing waterfall with refreshing swimming holes.
You'll find a hidden gem below the upper falls called Tanque Verde beach. But, fair warning, it is a nudist spot (so avoid it if that's not your thing).
Sentinel Peak Paved Loop
Length: 1.6 miles
Time: 45 mins
Difficulty: Easy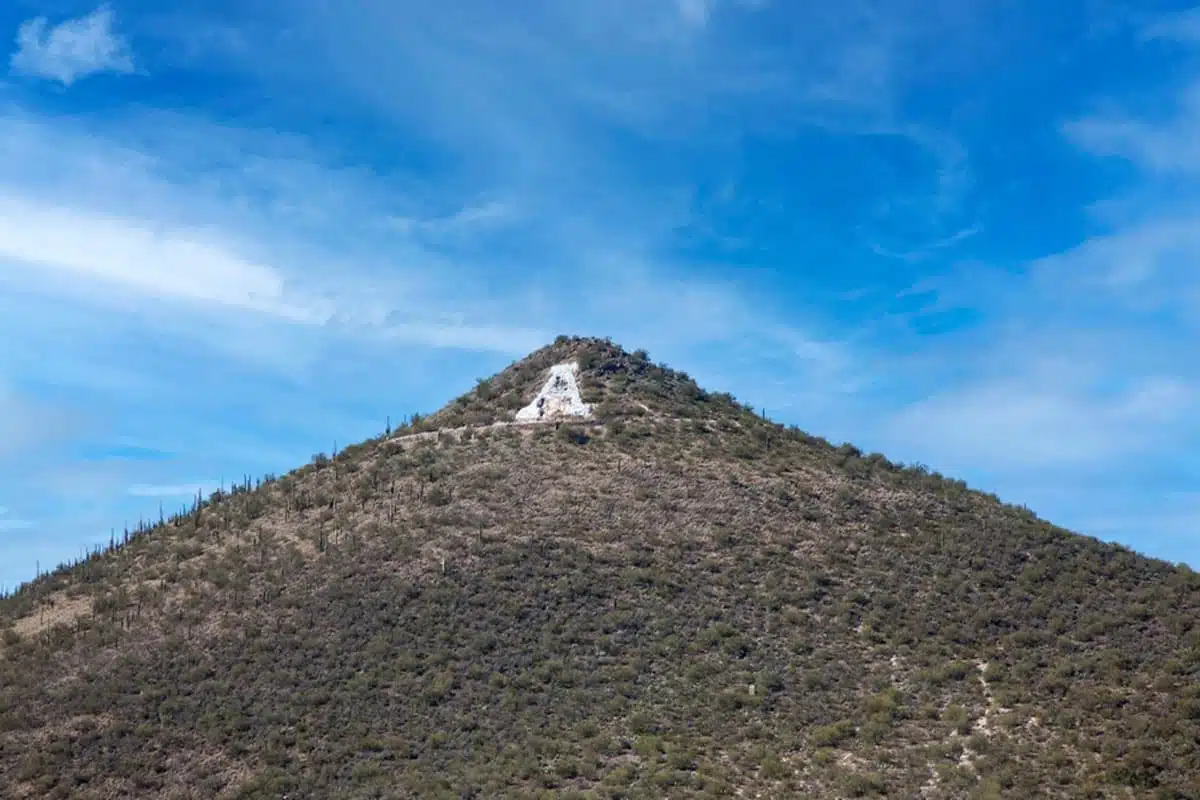 Take the short Sentinel Peak hike in Tucson if you're new to hiking.
This paved and well-maintained trail features an easy incline and jaw-dropping views. It's a popular destination for scenic drives, so expect to see many cars.
This hike could be a great place to stretch your legs and enjoy the morning breeze. You can also bring your four-legged friend along with you. The trail is straightforward, starting at the Sentinel Peak Road entrance and then climbing and looping around Sentinel Peak Park.
Tip: You'll be hiking near traffic at times, so keep your eyes peeled. I recommend using lights, flagging, or reflective material to stay safe from moving vehicles.
Pima Canyon Trail
Length: 10 miles
Time: 8+ hours
Difficulty: Medium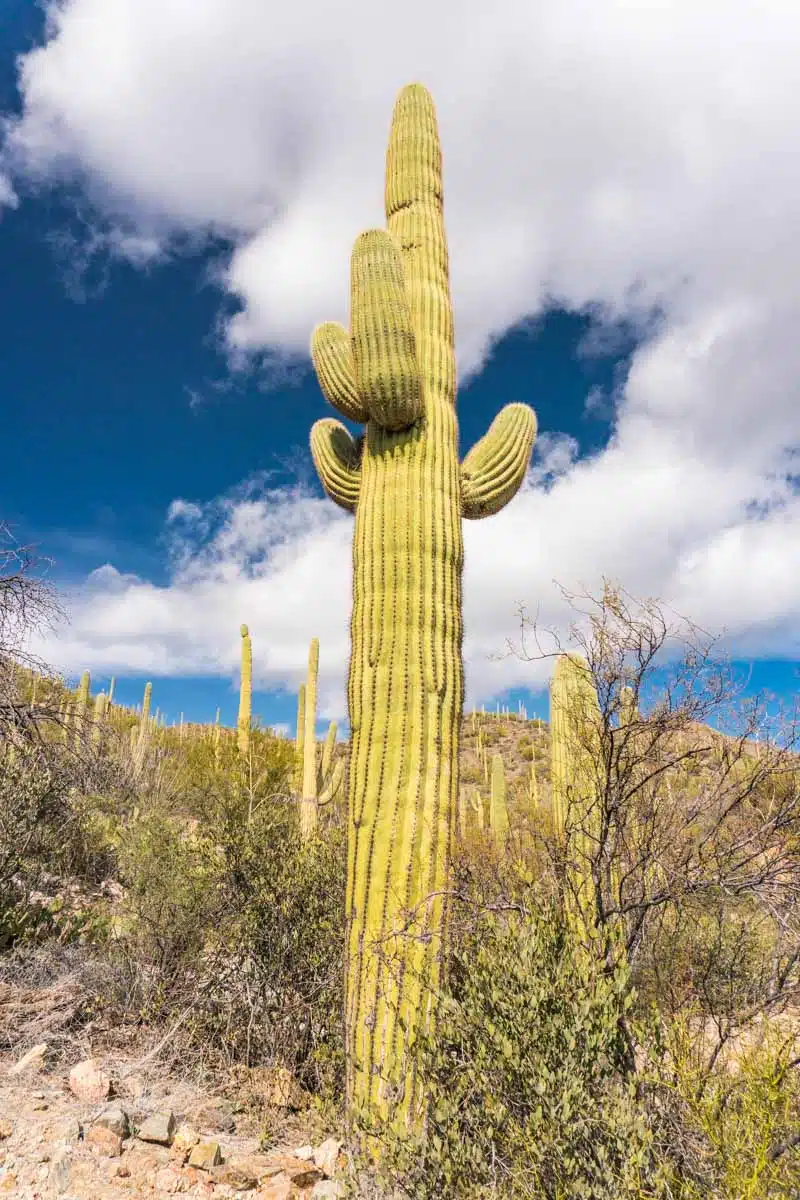 Pima Canyon Trail is one of the best hiking trails in Tucson. It's lengthy, challenging, and surrounded by rugged wilderness — what more do you need from a hike?
This is an ideal day hike in Tucson for fitness junkies. You begin the trail from the Pima Canyon Trailhead parking lot just off Magee Road.
The hike starts relatively easy with stunning vistas, then increases in difficulty and elevation as you head past two dams towards Mount Kimball/Pima.
Sabino Tram Road
Length: 7.4 miles
Time: 3 h
Difficulty: Easy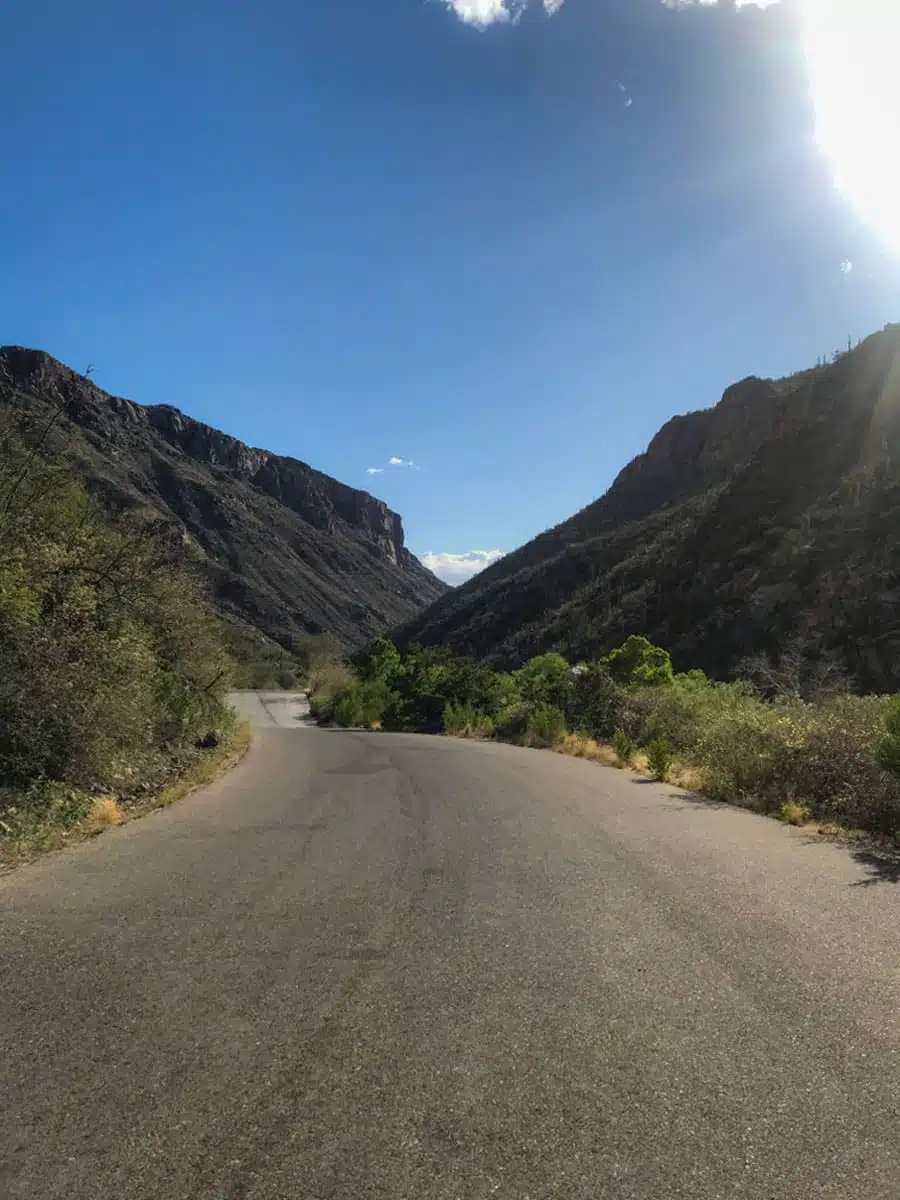 The Sabino Tram Road is an out-and-back trail featuring beautiful scenery – wild plants like tall saguaros and big prickly pears adorn this relaxing walking trail in Tucson.
The hike starts near the Pusch Ridge Wilderness, accessible from the northeastern region of Tucson. After finding a parking spot just off North Pantano Road, look for the trailhead southeast of the visitor centre.
Then continue on the Sabino Walkway #53 towards the canyon (which requires an $8 day pass to access). There are also some fantastic vistas and two crossings along the way, so wear your waterproof hiking boots.
Jack and George Mountain Trail
Length: 1.2 miles
Time: 50 mins
Difficulty: Medium
Another popular trail in Tucson, the Jack and George Mountain trail makes for a fantastic Tucson day hike.
It has enough elevation for a light workout surrounded by fresh air and lovely scenery, without being too sweat-inducing. But the real kicker is the rewarding panoramic vistas at the top.
Get to the end of S Shannon Road to jump on this out-and-back trail. The trailhead won't be easy to find, but you'll reach the track on the left-hand side after entering through a gate.
Sadly, the path isn't marked, so you may have to rely on GPS or the map below to complete it. I suggest arriving on foot as there are only two parking spaces near the trailhead (very annoying, but the trail is worth it).
Tumamoc Hill
Length: 3.1 miles
Time: 1 h 40 mins
Difficulty: Medium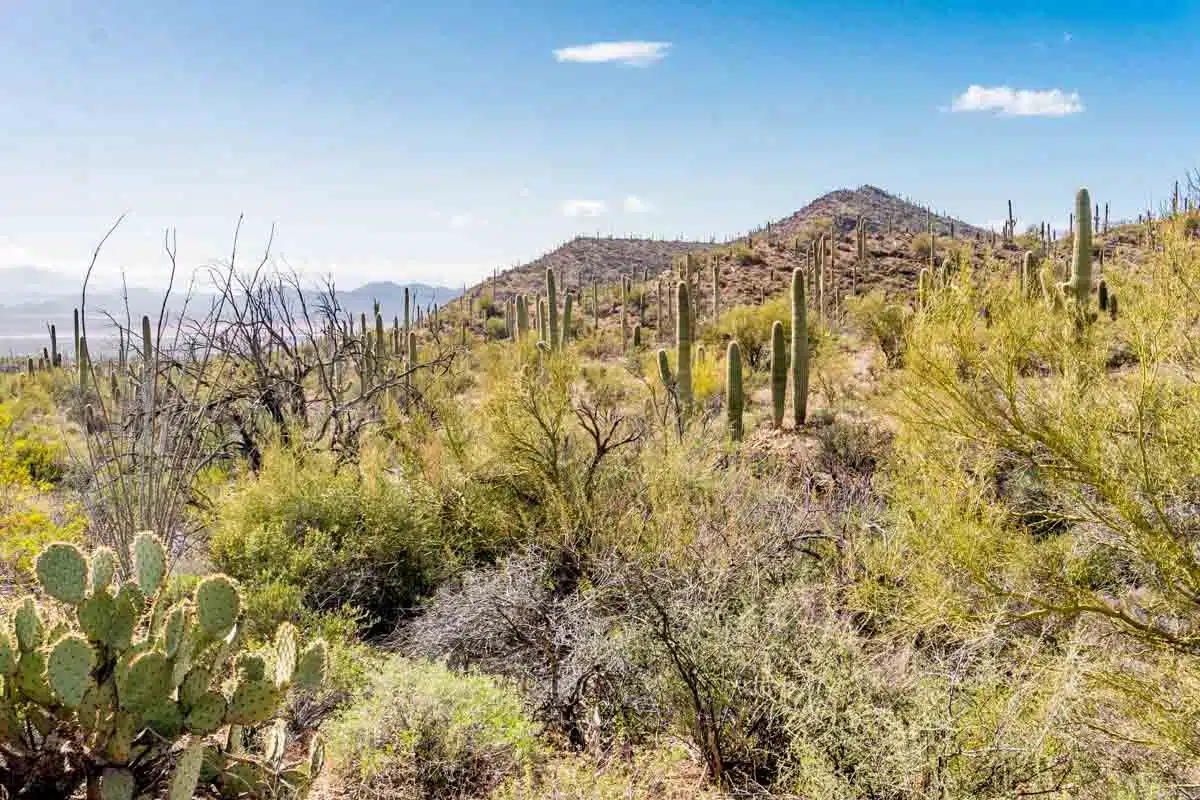 I guarantee you'll enjoy this out-and-back Tumamoc Hill paved trail with mesmerising city views. Located at the University of Arizona, hiking up Tumamoc Hill is free — and it's one of the few hikes in Tucson you can do at night.
While you can enjoy running and wildlife watching, remember there's no shade during the day. So prepare for the heat by ensuring you have enough water. I suggest hiking just before sunset to catch stunning views from the top of the hill.
Linda Vista Loop
Length: 2.2 miles
Time: 1 h
Difficulty: Medium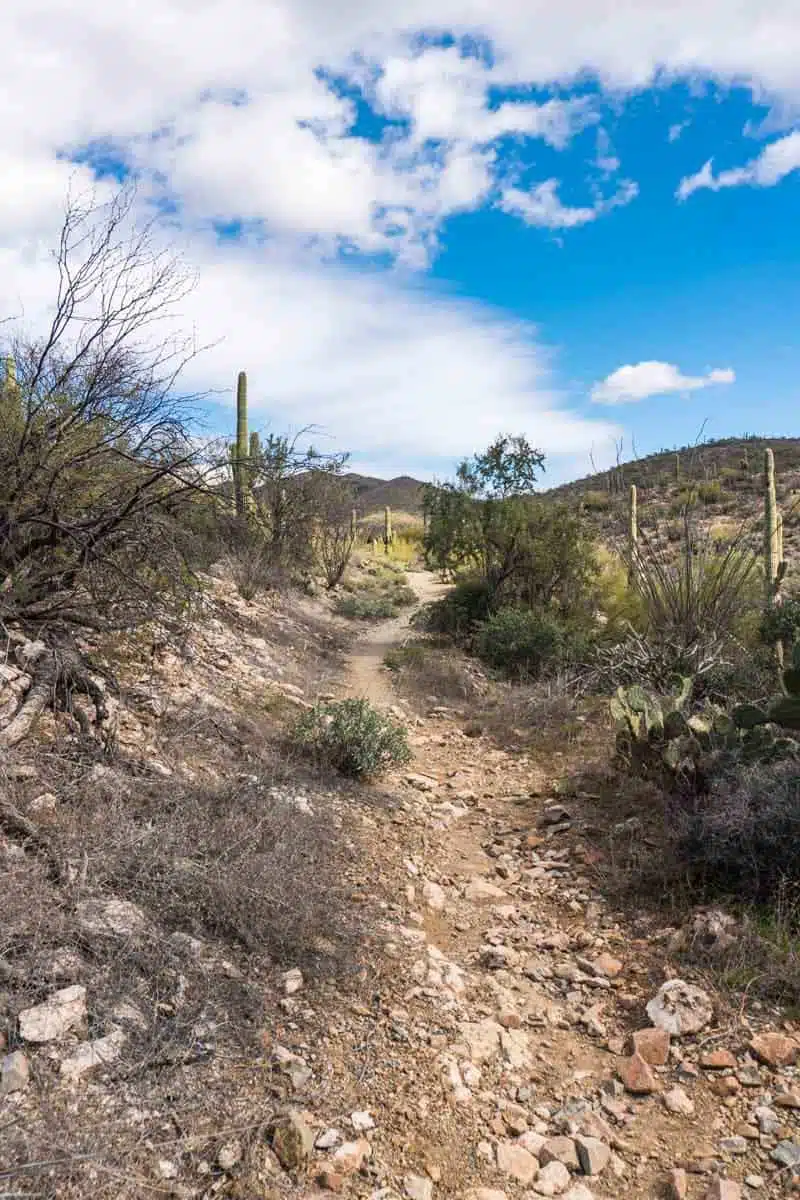 Ready to discover a moderately challenging route dotted with pretty wildflowers and unmatched views? The Linda Vista Loop trail is ideal for running, horseback riding or a simple stroll through serene scenery.
Like other hikes in the Pusch Ridge Wilderness regions, this trail will close off for the bighorn sheep migration between January and April. And some of the terrain gets rocky and muddy, but it's not too rough.
Your loop starts just off Oracle Road, where you'll find the trailhead and signage illustrating the layout of the trails. If you go in a clockwise direction, you'll ascend immediately until about halfway.
From here, it gets easier, and you can take multiple loops for a longer hike.
Phoneline Trail
Length: 9.8 miles
Time: 4 h
Difficulty: Medium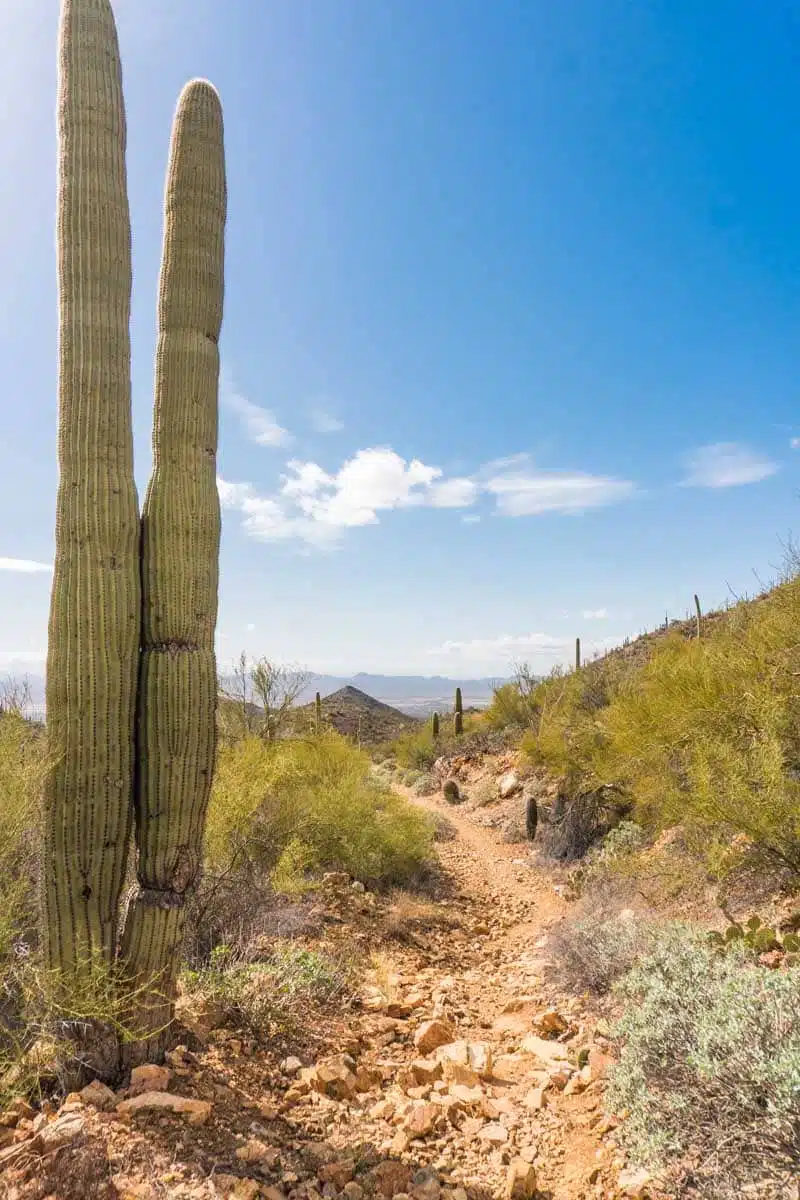 Don't miss this epic hike in Sabino Canyon Recreation Park. All the rocky bits, river water crossings and shadeless conditions make the Phoneline Trail an adventure to remember.
You'll work your legs quite a bit, as this trek features large stone steps and 1300 ft elevation gain. I wouldn't suggest this one to newbies, as it's better suited for experienced hikers.
Take my advice and come early in the morning (and preferably mid-week) to beat the crowds. The Phoneline trail runs parallel with Sabino Canyon Tram on its southern side towards the canyon. Many use it as a return option on the Bear Canyon Loop.
Valley View Overlook Trail
Length: 0.8 miles
Time: 20 mins
Difficulty: Easy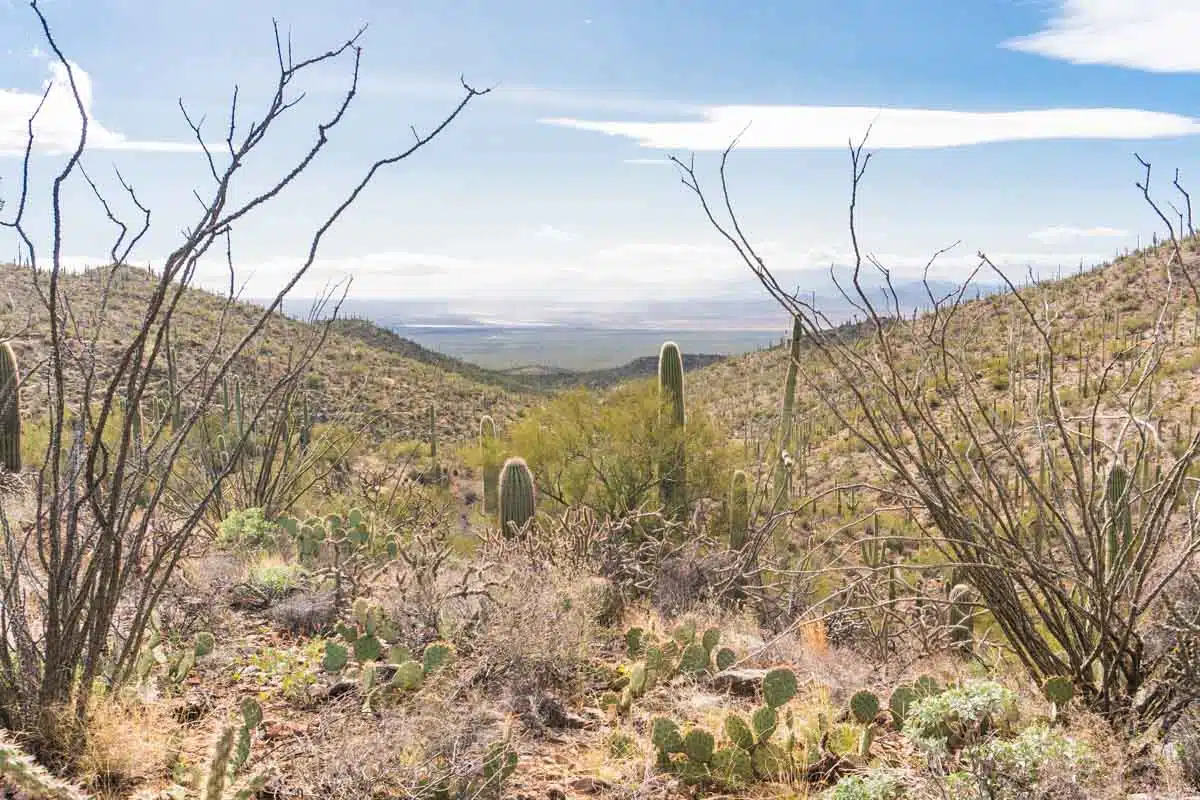 Looking for a quick hike in Tucson? You won't regret taking on the Valley View Overlook trail. If you haven't guessed by now, this trip leads to breathtaking Avra Valley and Picacho Peak vistas.
Weaving through the rugged terrain of the Saguaro desert, expect to see plenty of wild, colourful cacti and interesting critters like horned lizards and kangaroo rats. This straightforward, flat hike starts at the Bajada Loop Drive.
Sabino Lake Loop
Length: 2.3 miles
Time: 50 mins
Difficulty: Easy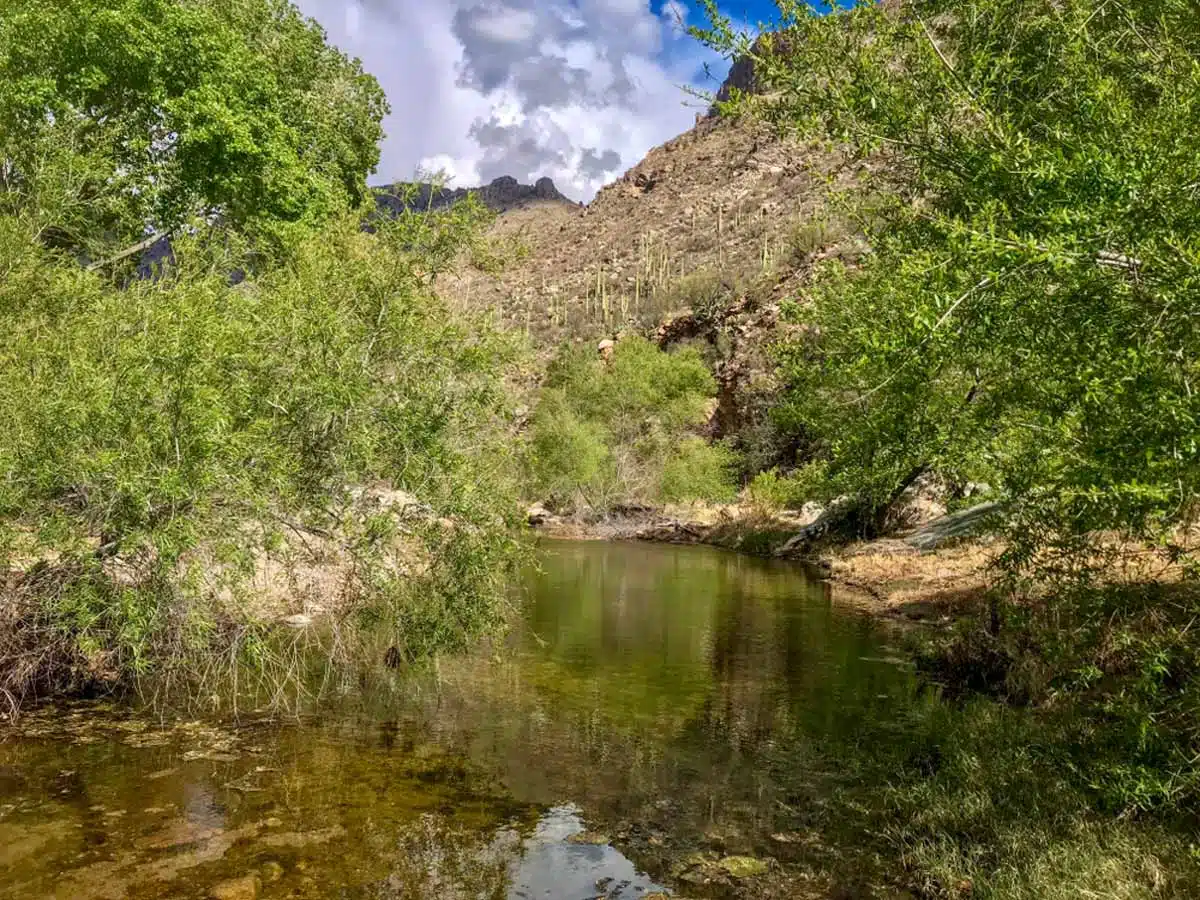 Last in my guide to the best hikes around Tucson is the short and sweet Sabino Lake Loop. Ideal for non-hikers, here's your chance to enjoy a relaxing stroll surrounded by vivid scenery and lovely lake views.
The trail is muddy and rocky but remains paved and well-maintained, making it simple to follow. The loop runs west of Sabino Dam, connecting Bear Canyon Trail to Bluff Trail and Creek Trail.
Psst… Straying slightly off-path rewards you with trickling waterfalls during spring. But stay safe, folks!
Best Tucson Hikes: Practical Tips
You'll be hiking in the hottest desert in the United States, so wear a high SPF sunblock and a sun hat, and carry a full water bottle to keep you hydrated.
Consider skipping the strenuous hikes during the peak summer season to avoid life-threatening heatstroke. It's really no joke.
Mountain Lions are fairly common in Arizona and, although even the sounds of humans is usually enough to scare them off, it's best to travel in groups and make your presence known to avoid any nasty accidents. Don't worry – they're very unlikely to attack, but it's better to be safe than sorry.