Discover the best islands in the Seychelles – these are the hotspots you need to visit.
Planning a trip to the Seychelles? With so many incredible islands to choose from, I guarantee you won't be able to pick just one.
Why should you? Each of the islands of Seychelles has its own unique atmosphere, culture, and natural splendour – and island hopping is the best way to see as much of this alluring country as possible.
There are many stunning things to do in Seychelles. From soaking up the sun on a picture-perfect beach to discovering the unique wildlife, the Seychelles promises a trip filled with adventure and everlasting memories.
Ready to discover the islands you need to add to your itinerary?
Wanna Take a Sneak Peek? Check Out My Youtube Video on Planning Your Trip to the Seychelles!
Best Islands to Visit in Seychelles
Mahé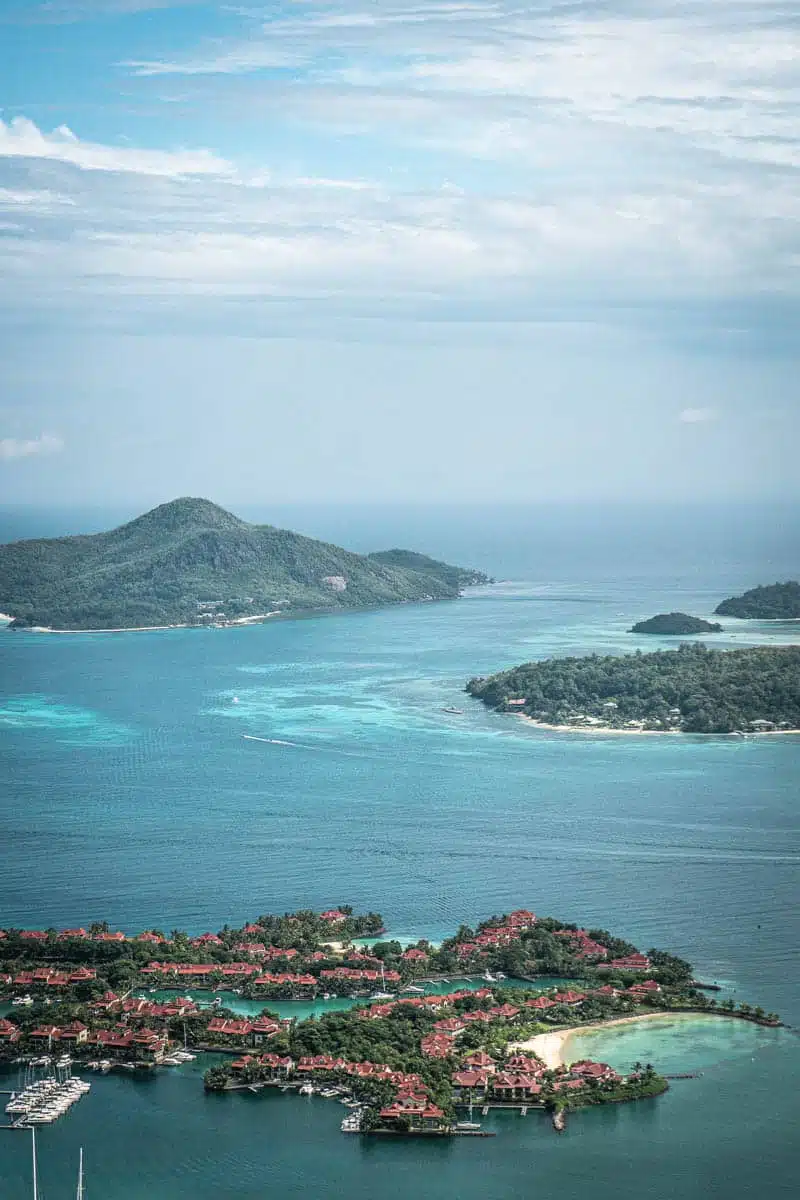 Let's kick off with the main spot. Mahé, the largest of the islands in Seychelles, is where island magic truly comes to life.
This tropical paradise has it all, but primarily it's home to stunning beaches, including Baie Lazare, Grande Anse beach, Anse Royale, and Beau Vallon, the longest and most popular beach on the island.
Fancy a drink? A fun activity is going on a tour of Takamaka Rum Distillery. Here, you can learn about the process and the unique blends the distillery produces and sample a variety of Seychellion rums. It would be rude not to.
If you're a nature enthusiast, Mahé has stunning places to explore. You can visit the Morne Seychellois National Park, a true gem of the island that boasts a variety of hiking trails of all kinds of difficulty and scenery – bring your camera along for the journey, too.
The Botanical Gardens in Mahé also gives an exciting glimpse into the local flora, and you can hand-feed Aldabra Tortoises there.
La Digue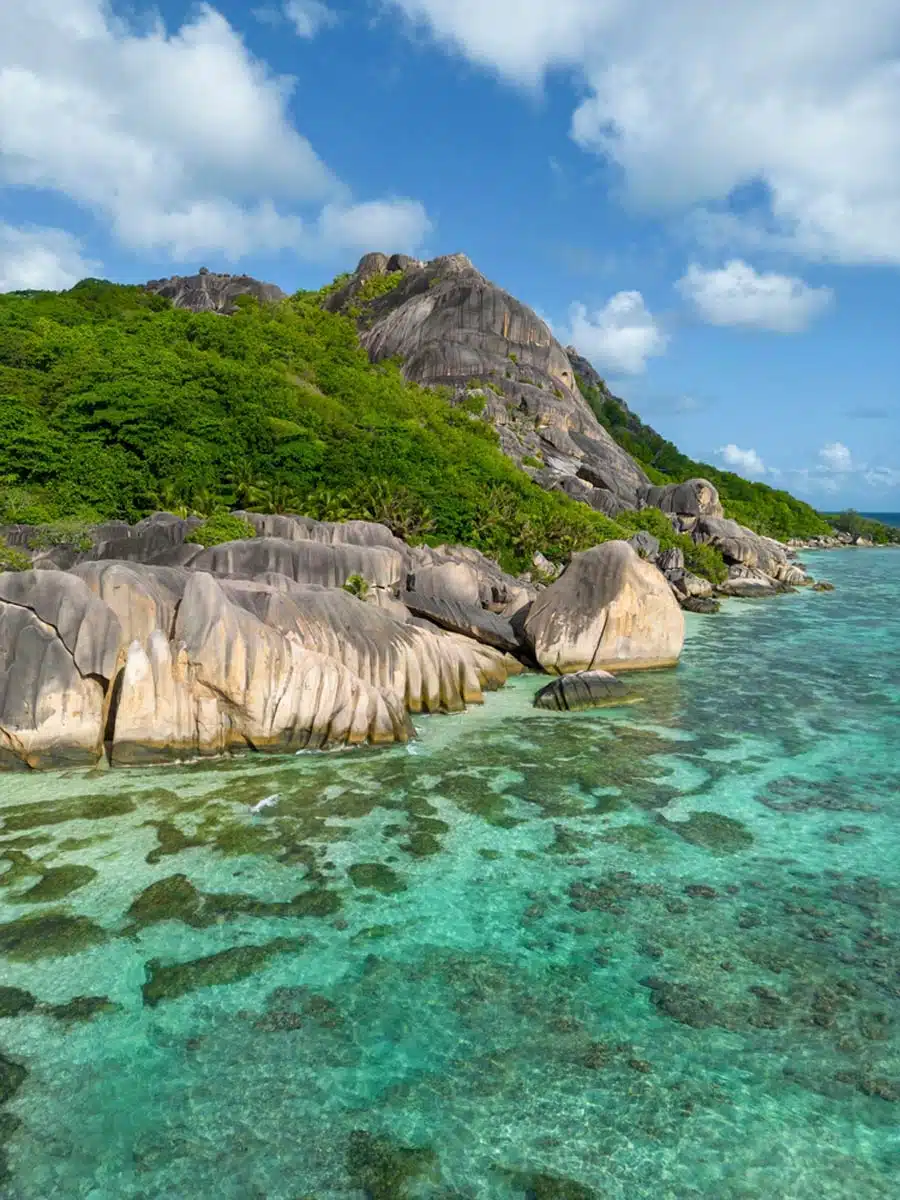 La Digue is a tropical paradise that is an absolute must-visit on your Seychelles trip. Life truly moves slower here.
The stunning Anse Source D'Argent is frequently named one of the most beautiful beaches in the world. It is picture-perfect, with huge granite boulders, palm trees, azure waters, and plenty of space to soak up the sun.
What sets La Digue apart is its laid-back Creole culture. You'll find that the locals are warm, friendly, and proud of their traditional way of life. Take some time to chat, try the local cuisine, and shop for handmade crafts.
Spending some time on La Digue is a great way to glimpse into the heart and soul of the Seychellois way of life.
Praslin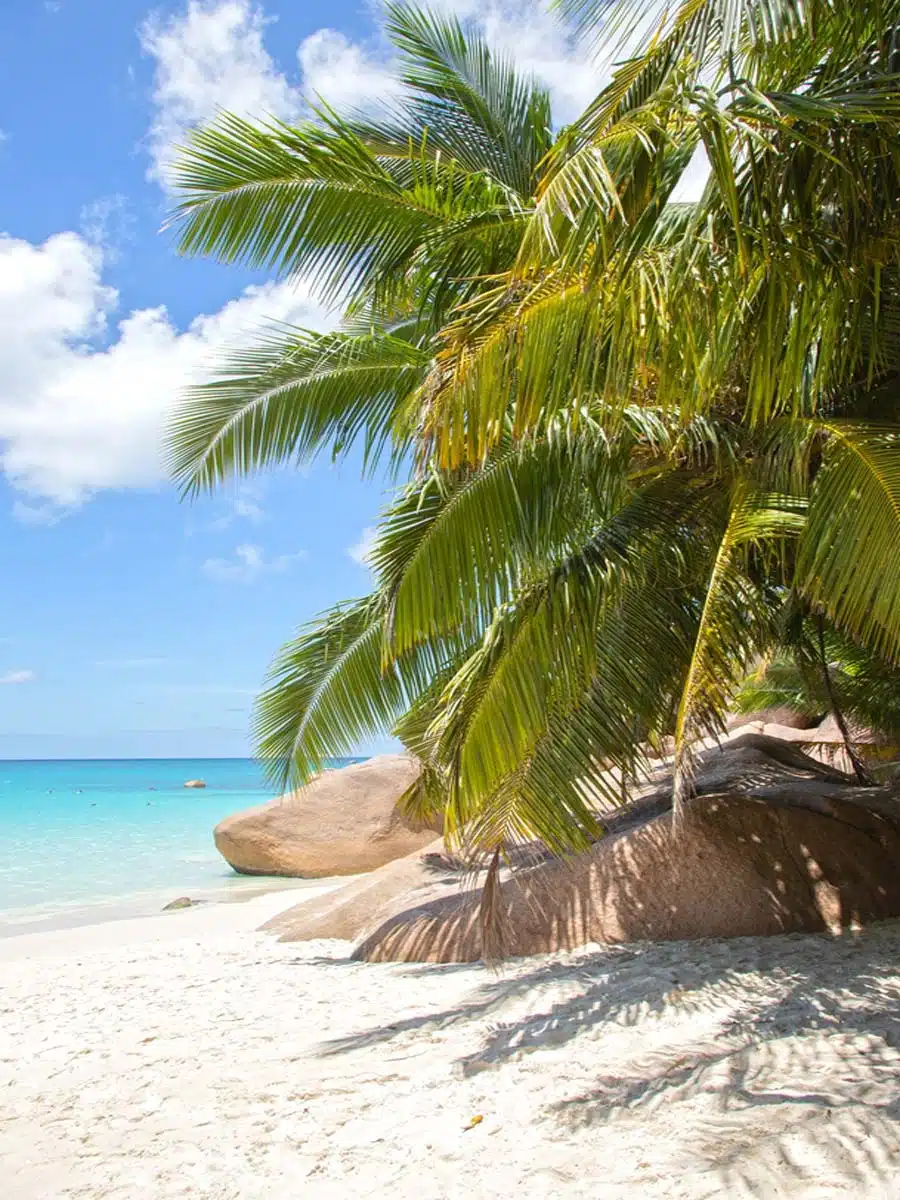 Praslin, the second-largest island in Seychelles, is a treasure trove of cultural heritage and natural beauty. Every step reveals new wonders, from the Vallée de Mai Nature Reserve, a UNESCO World Heritage site, to its stunning beaches, Anse Lazio and Cote d'Or.
A Vallée de Mai guided tour to learn about the unique and lush ecosystem comes highly recommended. You can also see the fantastic Coco de Mer Palms with their distinctive bum-shaped fruits, a true symbol of the island's exotic allure.
For a sun-kissed adventure, you can head to Anse Lazio, one of the most stunning beaches in Seychelles.
From here, you hike to Anse Georgette, a beautiful, secluded beach perfect for a romantic afternoon. And, for the ultimate Instagram-worthy moment, make your way to Cote D'Or Beach to snap a photo of the famous horizontal palm tree.
Desroches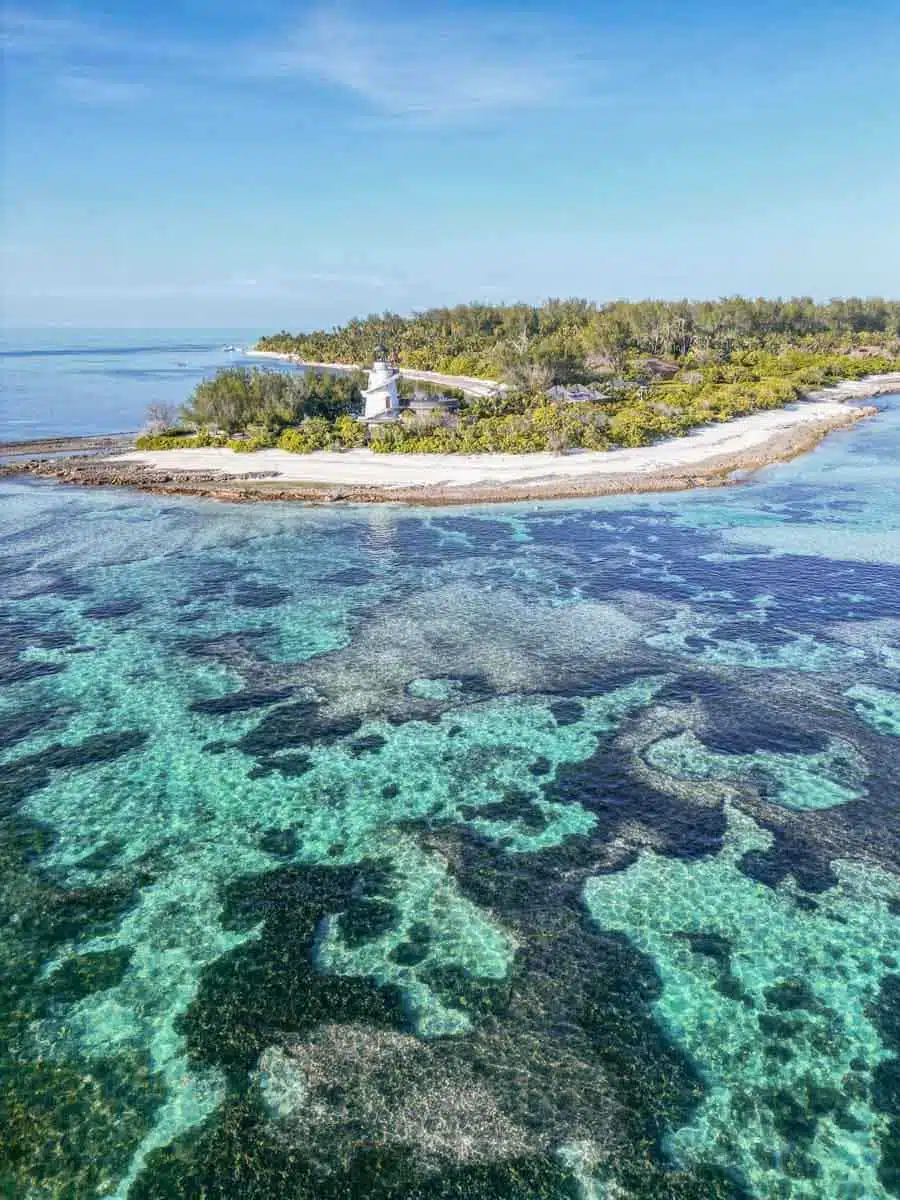 Desroches is home to sparkling coral reefs, swaying palm trees, and pristine sandy beaches. The only resort on the island is the Four Seasons in Desroches, which exudes luxury and seclusion. In other words, you need to stay here.
What sets Desroches apart is its focus on relaxation and personal well-being. With its wide range of luxurious spa treatments and wellness programs, you can pamper yourself and rejuvenate your mind and body.
If spas aren't your thing, there are plenty of opportunities for active outdoor activities. You can snorkel and discover the vibrant marine life or try watersports, like kayaking, windsurfing, and kiteboarding.
Coral Beach and Aquarium Beach are great options for spending a day in the sun.
Grande Soeur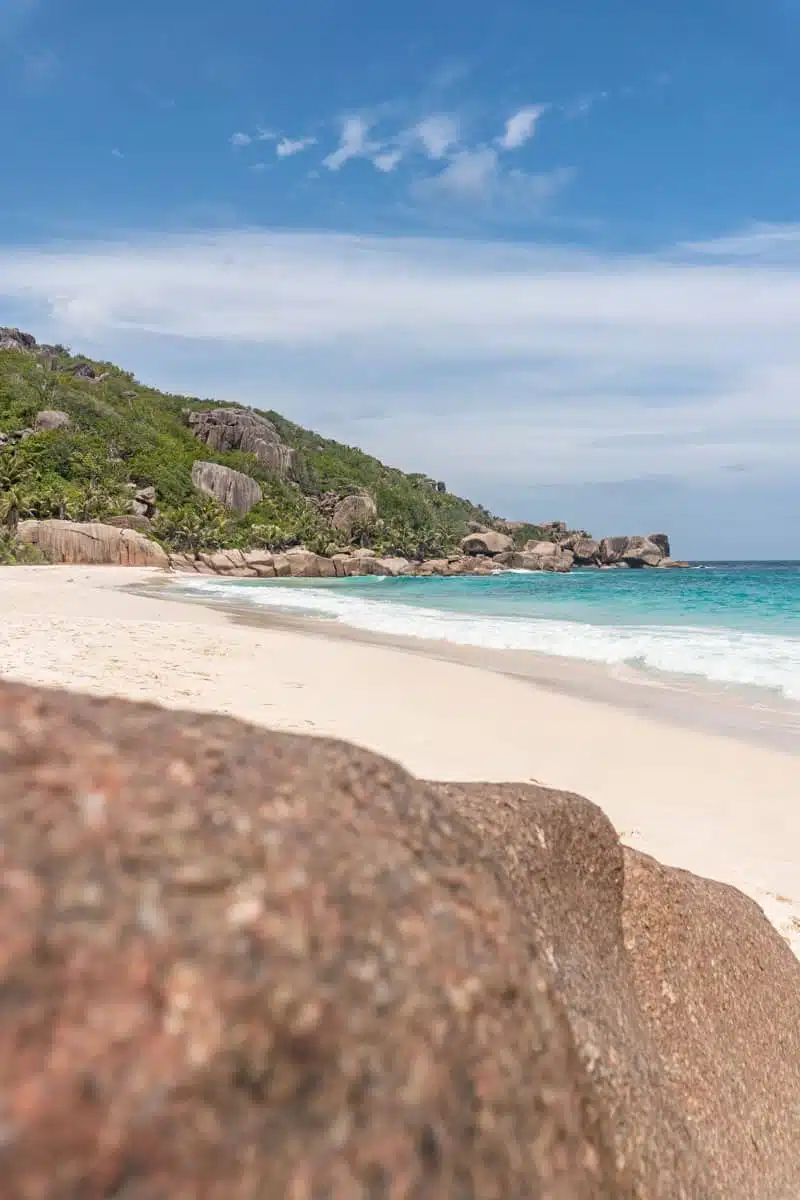 Looking for an intimate and romantic island experience? Grande Soeur has got you covered. Better yet, you can arrange a tour from Praslin to reach this private island.
If you want to bask in the sun, the beach on Grande Soeur East is an ideal destination. With its picturesque surroundings framed by towering granite rocks, it will surely be a highlight of your trip.
And, the best part is that it's usually empty, so you can enjoy the serenity without any disruptions.
Grande Soeur West also has some of the best snorkelling in the world, and you will marvel at the vibrant and thriving underwater world. Its crystal-clear waters teem with an array of sea creatures, such as colourful fish and — if you're lucky — small sharks and sea turtles.
I didn't see a turtle, but hey, more motivation to visit again!
Aride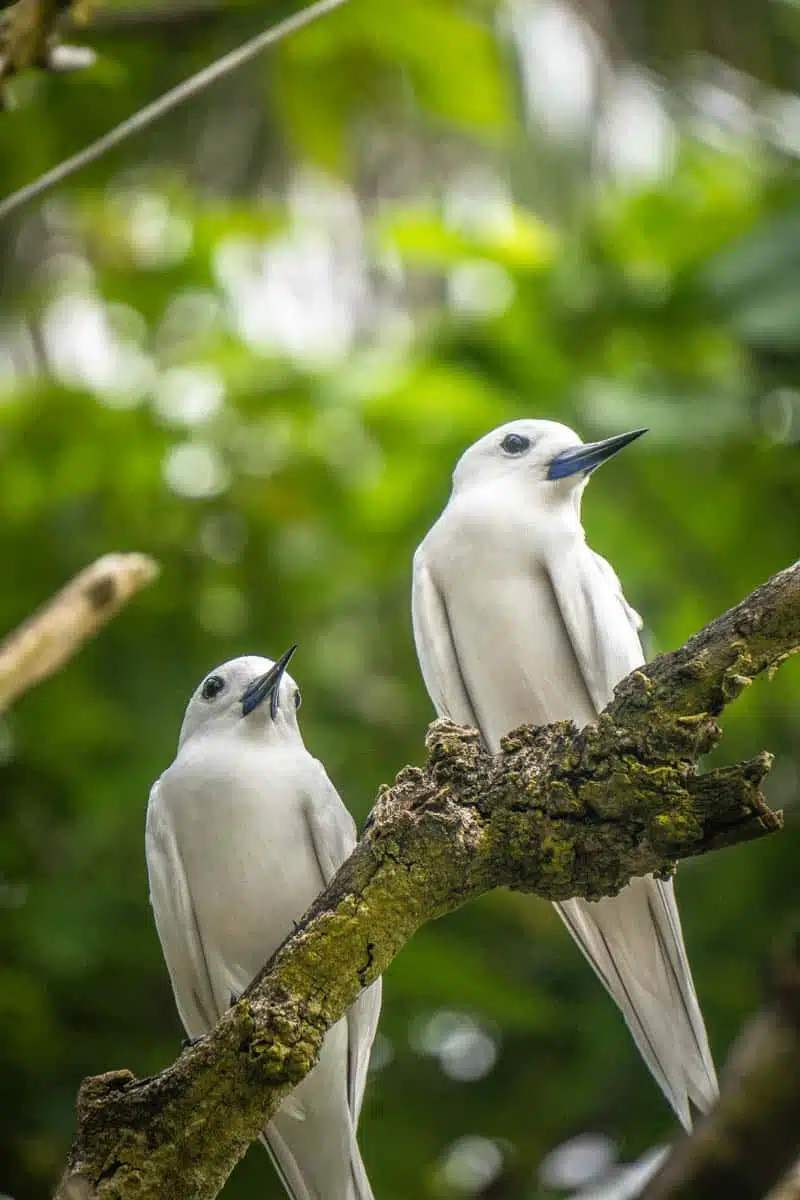 Aride promises a journey of discovery and a connection with nature from rare birds and fascinating wildlife to stunning beaches. Known as the bird capital of Seychelles, it is the place to be if you are an avid birdwatcher or nature enthusiast.
As you wander the island, keep an eye out for White terns, Noddies, and Wright's skinks — a lizard species endemic to Seychelles. If you are lucky, you might spot the Seychelles Magpie Robin, a rare bird of which there are only about 500 left in the world.
Aride Island is not just about the birds though — this is the Seychelles, after all, so the beaches are stunning. The lack of visitors makes it even more beautiful, and the beaches feel like secret oases where you can escape from the world's noise.
Curieuse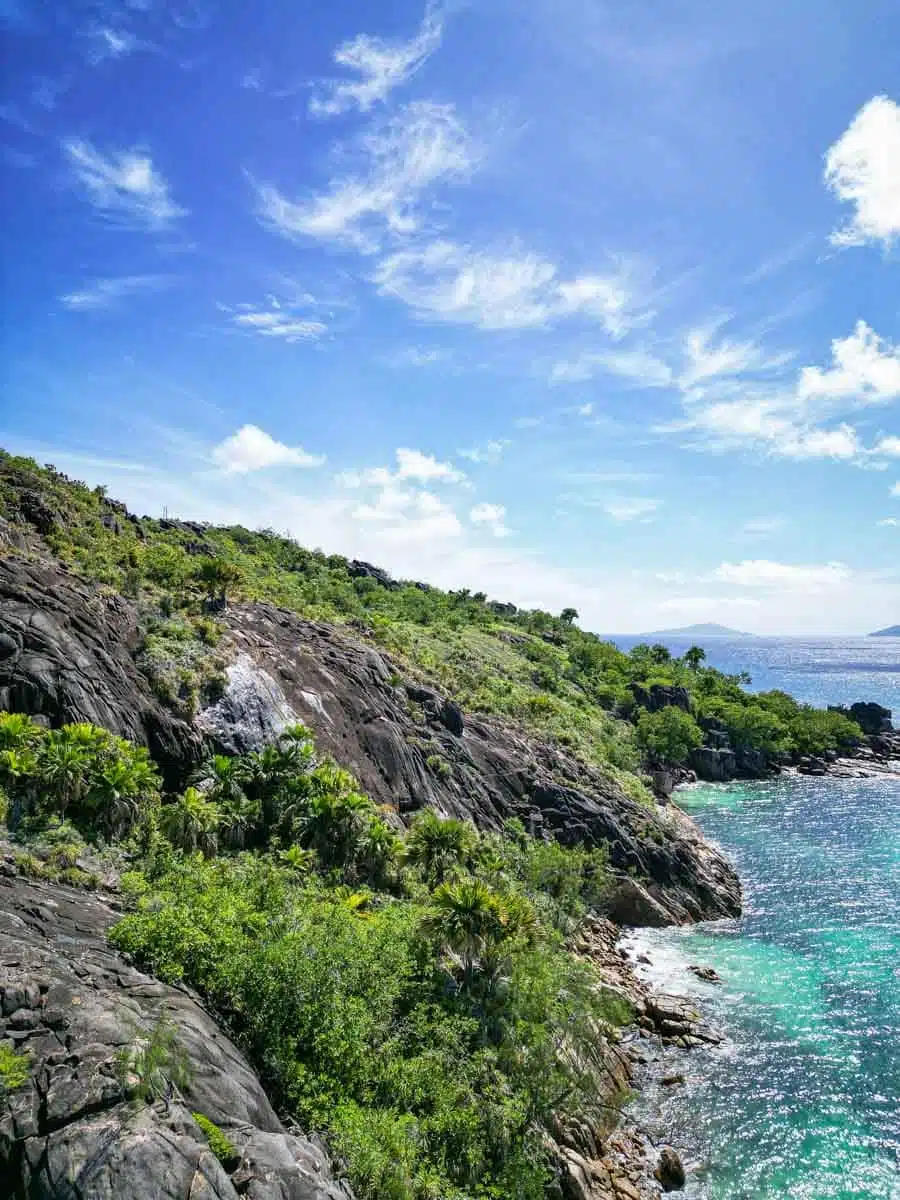 Curieuse is a hidden gem among the islands of Seychelles, where palm-lined beaches meet lush jungles and crystal-clear waters, especially on Anse Saint Jose beach.
What is also unique about the island is that, along with Praslin, it is the only island where the famous Coco de Mer grows wild.
Although you can see Aldabra Giant Tortoises in many places in Seychelles, few places have as many of them as Curieuse. You might spot some of these creatures when hiking trails, such as the Anse Badamier trail.
Oh, and the island is known for its fiery-red soil, making the trail scenery even more beautiful.
Moyenne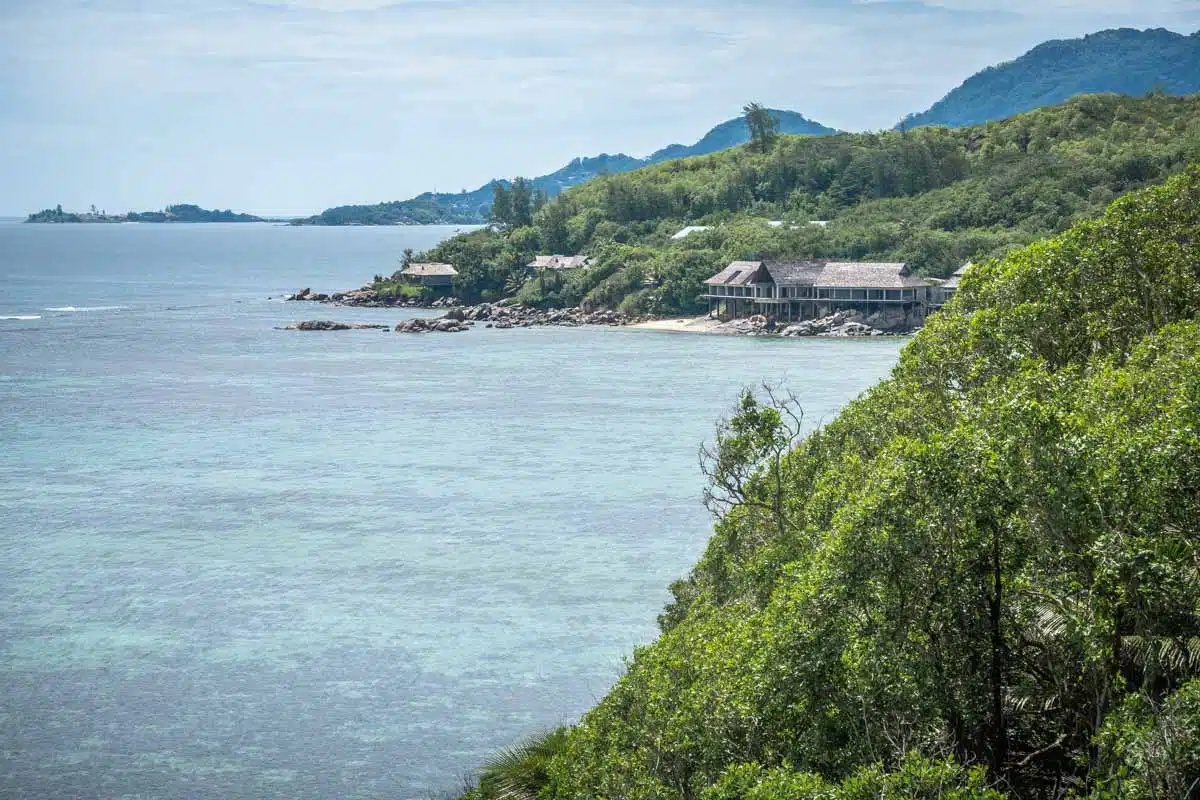 Moyenne is a private island paradise where the only sound you hear is the gentle lapping of waves against the shore. With its easy access as a day trip from Mahe, the island is perfect for a fun and relaxed getaway visiting the tortoise sanctuary and snorkelling at the beach.
An interesting aspect of visiting Moyenne is watching an introductory video about the owner and how he has built his life on the island. The video gives an insight into the island's history and its evolution into what it is today.
If you are looking for adventure, the nature trail is a must-do. Although not particularly long or strenuous, it will take you on a journey through different parts of this paradise.
The trail winds its way through lush greenery and past small, secluded beaches, each perfect for a spot of solo sunbathing.
Rémire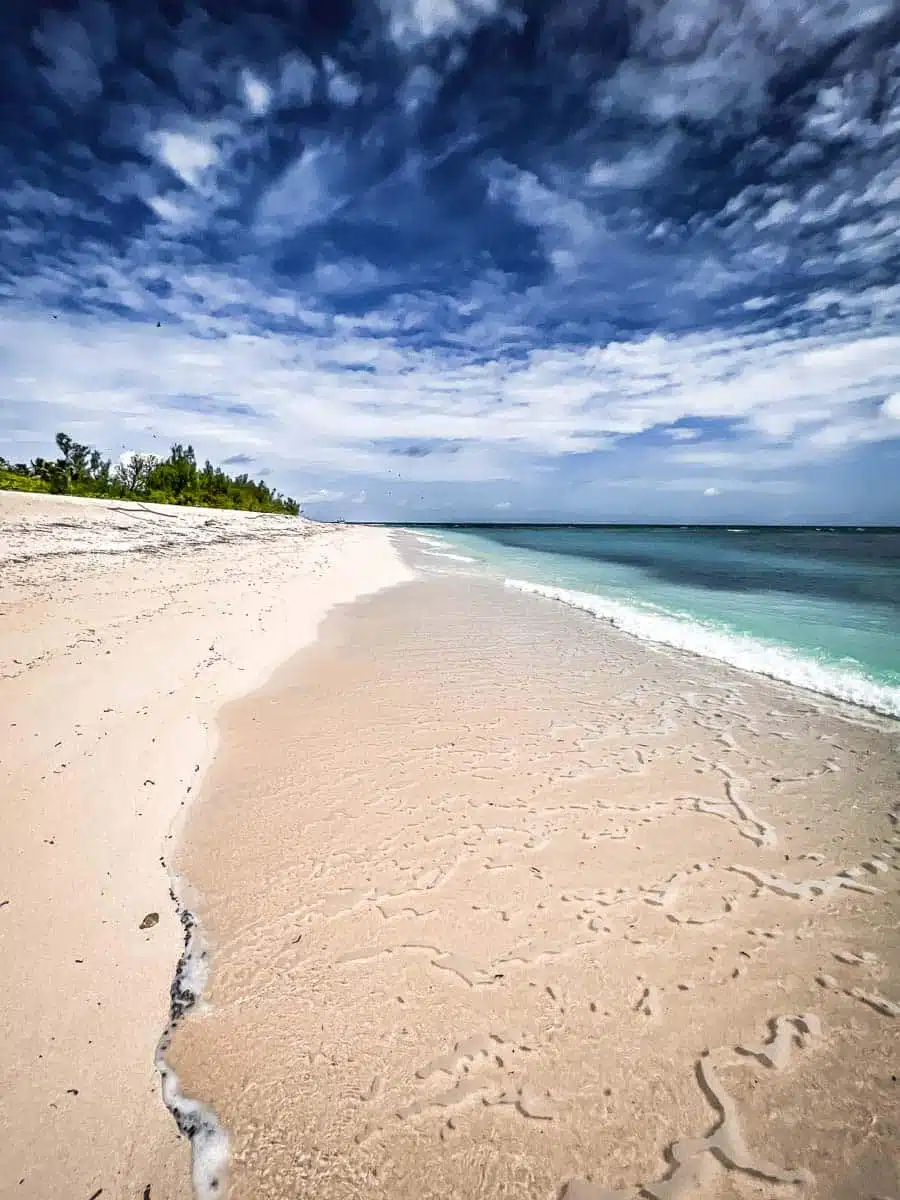 Rémire is a small, remote island located just north of Madagascar. Few people travel to the Outer Seychelles, a shame as it is the island of your castaway fantasies.
This tiny paradise has stunning landscapes, crystal-clear waters, diverse wildlife, pristine beaches, and no crowds.
There isn't much to do on the island other than check out the birdlife and tortoises strolling past. But you'll be in your element if you're a snorkelling or diving maverick.
Despite its remote location, Rémire remains an accessible destination, with boats departing regularly from the mainland. You can even camp overnight on the island for the ultimate solitude.
Denis Island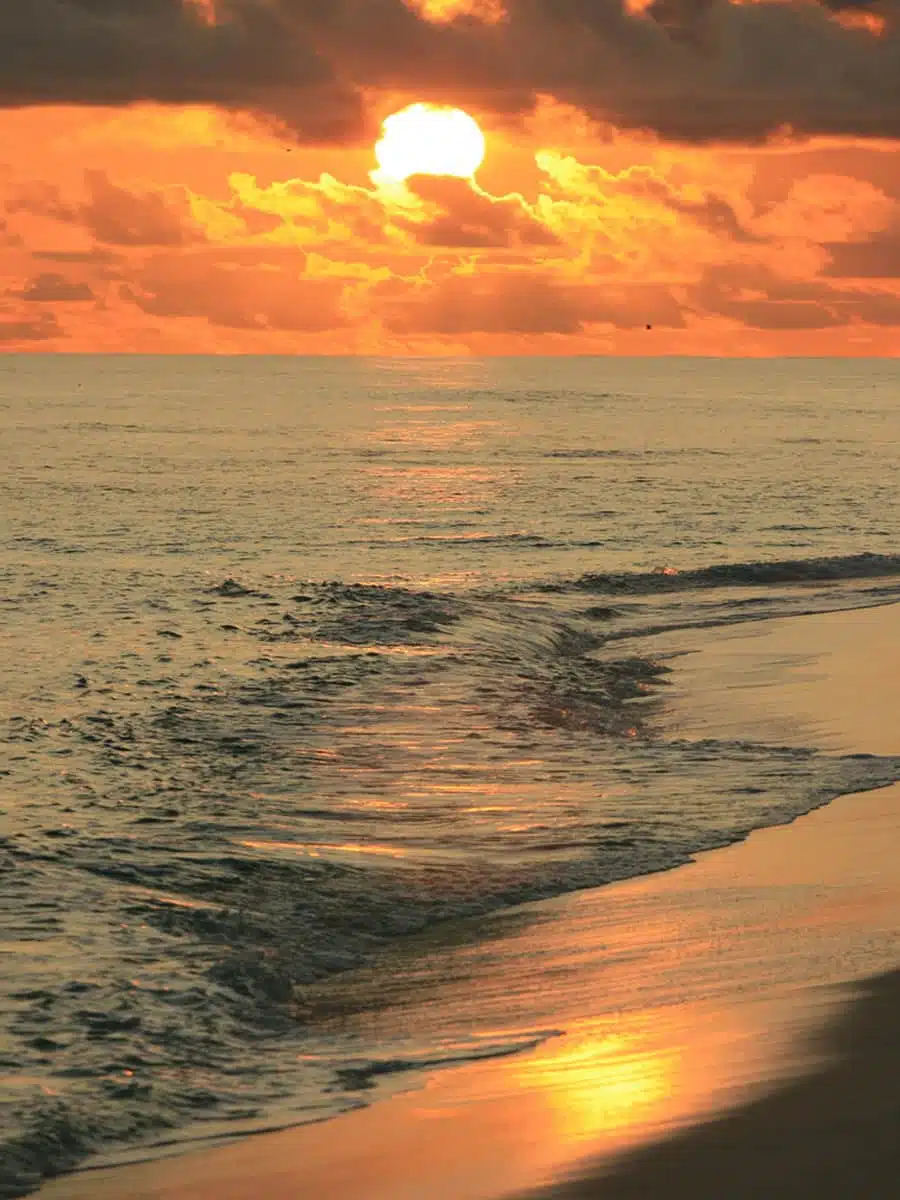 Seclusion and luxury await at Denis island, a private resort just 80 kilometres (50 miles) from Mahé. This 375-acre island is a serene oasis where you can leave all your worries behind.
You can soak up the sun on one of the untamed beaches or snorkel in the shallow waters and discover the vibrant marine life in this protected area.
Another fun adventure is to go on a trek with the island's rangers to see where the Aldabra tortoises lay their eggs and search for endangered birds, like the magnificent Paradise Flycatcher.
You won't find cell phone signal or in-room Wi-Fi here, as the island is very remote. Come prepared for a break from your socials.
Practical Tips for Exploring the Seychelles Islands
For a seamless travel experience in the Seychelles, complete your immigration form and pay for processing at least 72 hours before your flight.
Purchase a sim card at the airport, as it's far more cost-effective than relying on roaming charges.
The best time to visit is in April, May, October, or November, but even during the lower seasons, you can expect more sunny days than rainy ones. Remember to pack sunscreen, a hat, and mosquito repellent. You won't get malaria from a bite, but you will get annoyed and itchy.
Seychelles Islands: Map
Love This? Save and Share on Pinterest