Sun-drenched days and space to unwind: welcome to the Four Seasons Resort Seychelles at Desroches Island. This all-villa escape redefines luxury for the modern world: a chance to disconnect and move to the rhythms of remote island life.
You guys… I'm rarely at a loss for words, but it is the Seychelles. This island archipelago doesn't need to show off, but the reality is, it does it so well.
If you think of the Seychelles and conjure up images of bleach-white sands fringed by crystal-clear waters, palm-shaded shores and a glut of wildlife, think of the Four Seasons Resort Seychelles at Desroches Island as the apotheosis of it all.
This is a hotel that takes the inherent essence of The Seychelles and puts it front and centre: a private-island retreat where you can disconnect from the demands of day-to-day life, instead immersing yourself in one where contemporary luxury meets (dare I say it) paradise.
Let's just say that I've never come so close to digging in my heels and refusing to move as I have when I had to say goodbye to this resort.
Read on for the full review.
Fancy taking a sneak peek? Watch my video on the Four Seasons at Desroches here
Four Seasons Desroches Seychelles: At a Glance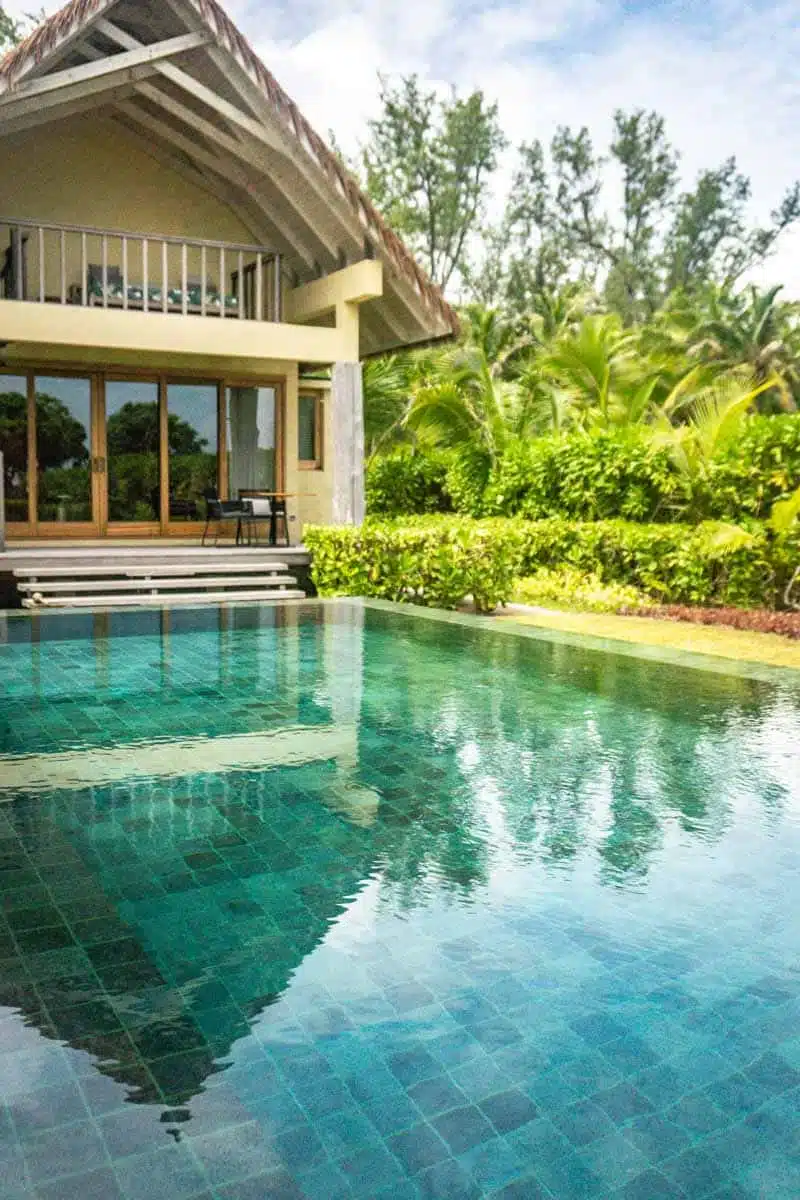 Look, I'll be honest with you: I always expect a lot from any Four Seasons hotel, but this surpassed all my expectations.
What's not to love? Four Seasons Desroches is an all-villa hotel complete with pared-back contemporary decor and each villa comes with a private garden with numerous relaxation areas and a private pool.
By the time you add stellar cuisine, 14-miles of untouched beaches and an inimitable setting, you have the recipe for what should be (and is) a winner.
Welcome to the Four Seasons Desroches.
Location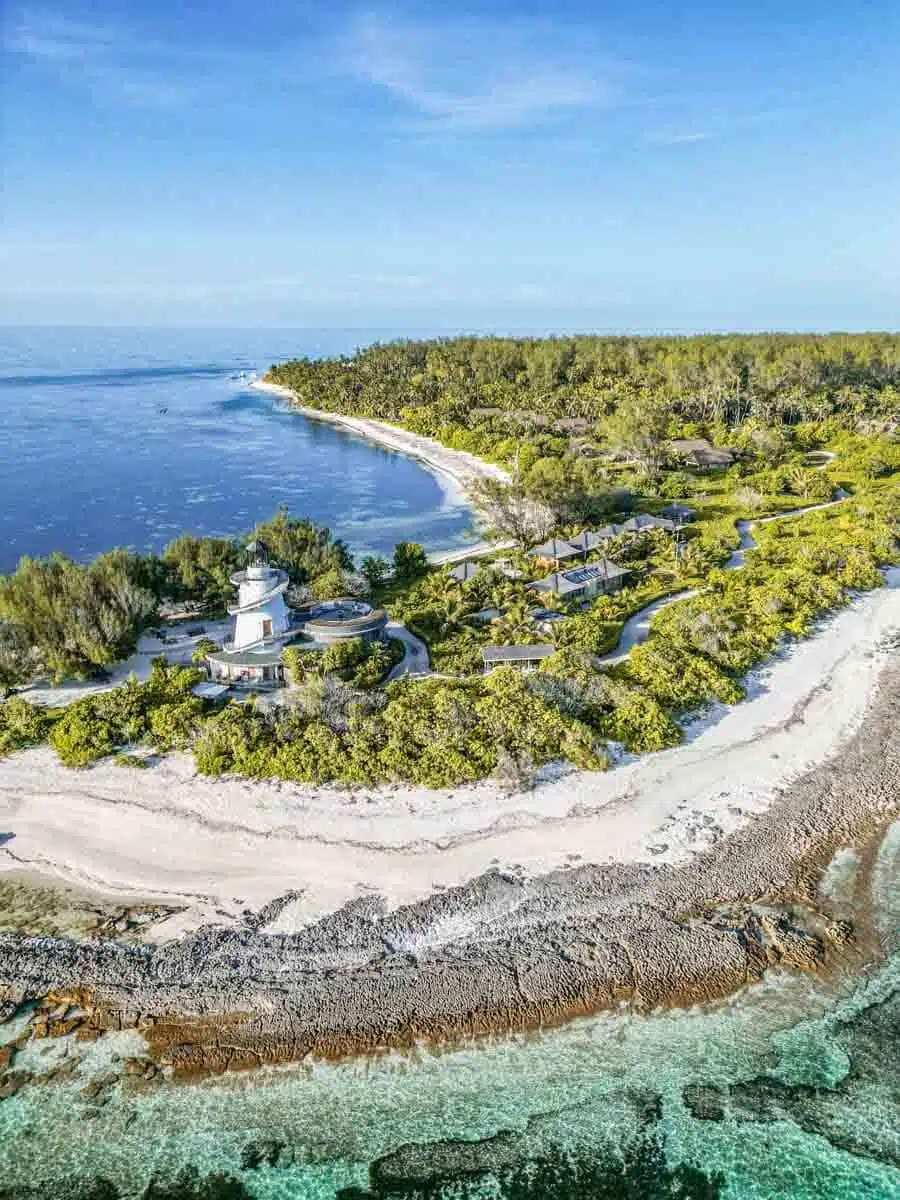 Located on the remote and private Desroches island in the Outer Seychelles, the resort doesn't try to impose itself on the surrounding landscape.
In fact, you could say it tries to blend into its natural surroundings. This gives the Desroches island resort a secluded feel with a vibe that's near-perfect for those looking for privacy.
Speaking of secluded, to reach this luxury oasis, you'll have to head out via a 35-minute flight from Mahé, Seychelles. Think of it as another highlight of your stay, one that offers you the opportunity to feast on the magnificent views of the island before you set foot on it.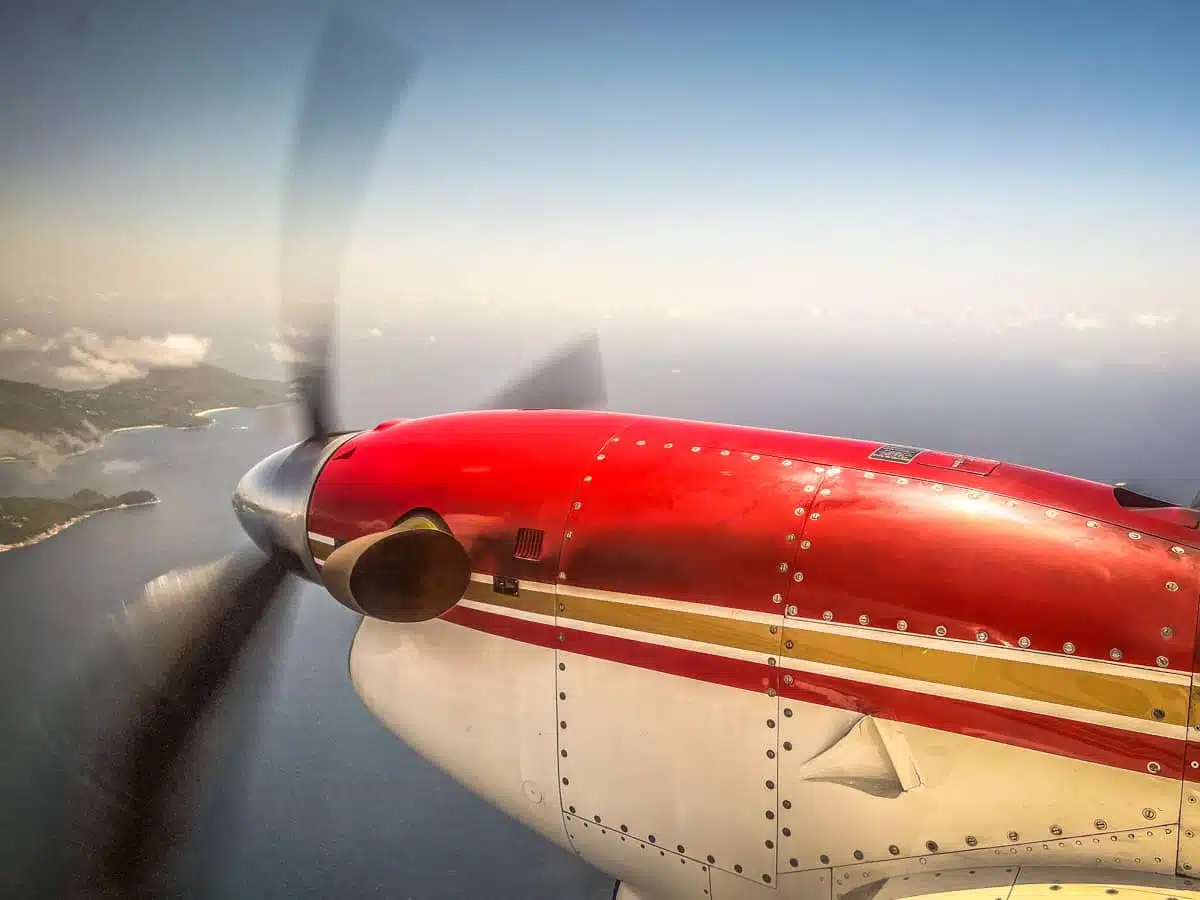 Top Tip: I'll let you in on a little secret – grab yourself a seat on the right-hand side of the plane as you depart from Mahé for the best views.
Style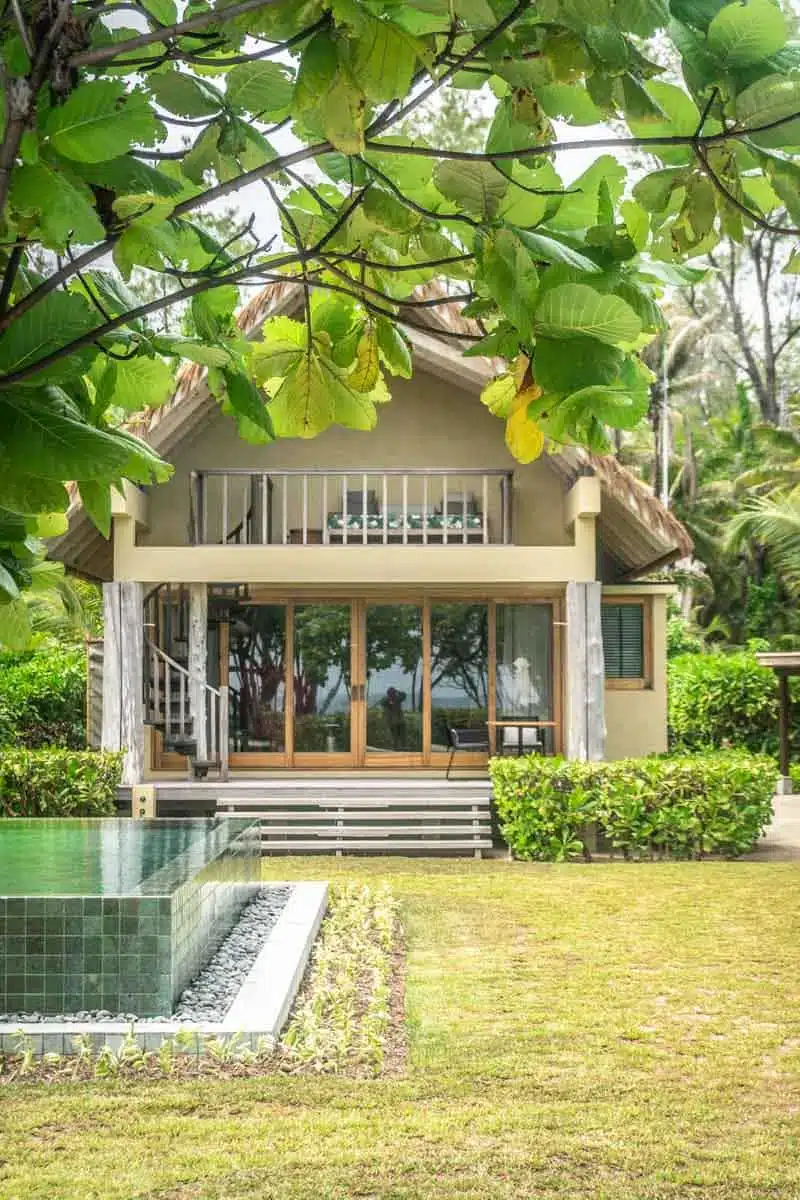 Style-wise, The Four Seasons Desroche is all about laidback charm. Everything from the hand-planed wooden floors, intricately woven ceilings, to the local furnishings are an aesthetic dream.
Add to that mental image sweeping ocean views peeping out from every angle and you've got the idea.
In fact, it's the outdoors that really define the hotel's style. Styling sticks to a blend of native woods and stone, with a stunning mix of plants and flowers that showcase an eco-conscious approach.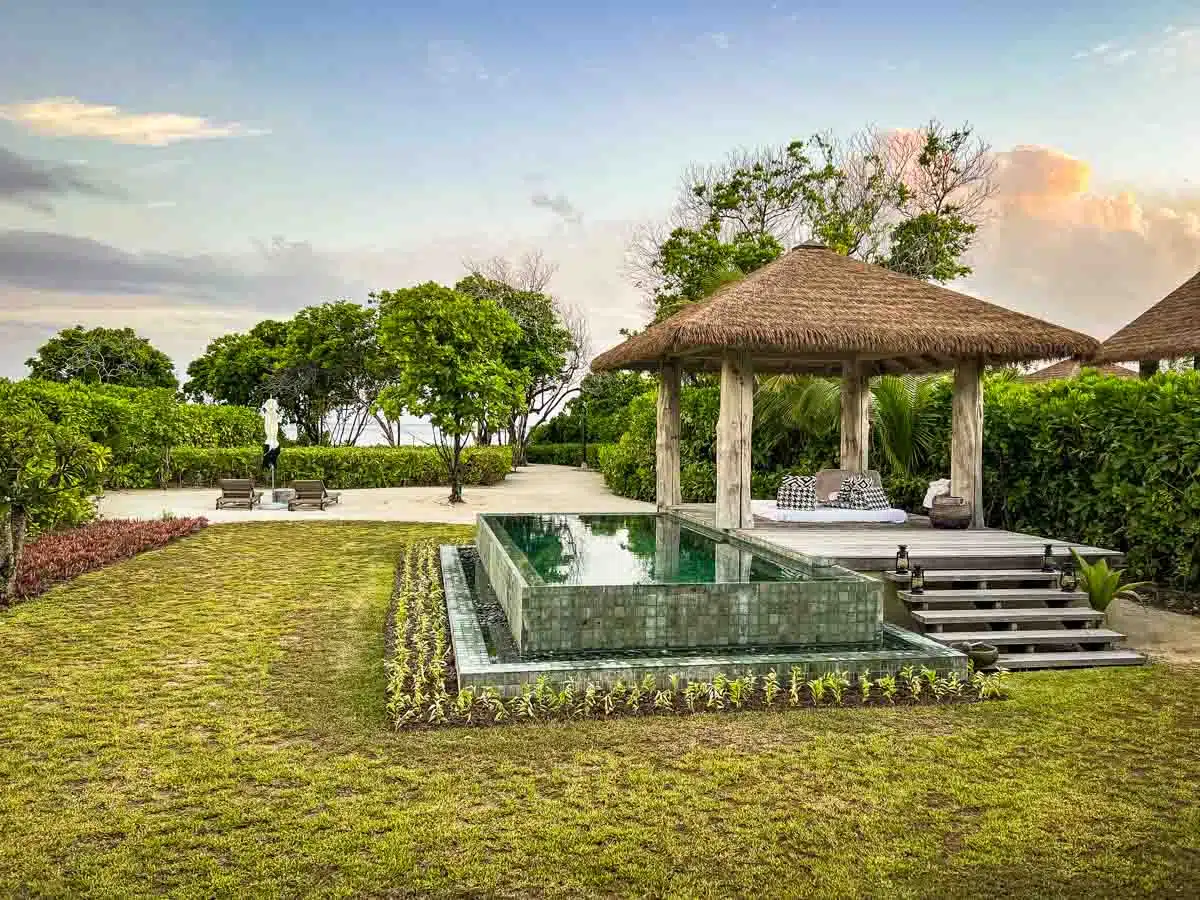 You could be forgiven for thinking that the hotel merely pays ecocentric homage through its design, but you'd be wrong about that. The Four Seasons Desroches takes having an eco-friendly carbon footprint seriously – something I love to see in such a huge hotel.
Beyond including natural materials, the resort boasts the second-largest solar farm in Seychelles. As much local produce is grown on the property as possible, with the land dedicated to this expanding annually, and they even compost waste from the hotel to use for fertilisation.
Rooms
At the Four Seasons Desroches, there are a total of 71 elegant beachfront villas.
Each villa's interior showcases a cream-inspired palette with floor-to-ceiling windows and discreet splashes of colour. Rooms are decked out with elements of traditional Seychellois style and contemporary elegance.
I stayed in an Ocean View Villa, but rather than describing the villas in infinite detail, let me show you…
The main room features a king-size bed enclosed by mosquito netting, a spacious seating area and a desk area.
The en-suite bathroom is a genuine highlight. It includes everything you'd expect from a five-star luxury resort, but levels it up with extras such as Royal Crema tiles, graphic rugs, and pebble baths with tropical foliage.
That's all before you get to the large private garden area outside – which comes with a pool with ocean views, a striking outdoor sala area and – perhaps the most memorable touch – a hammock overlooking the beach.
Experience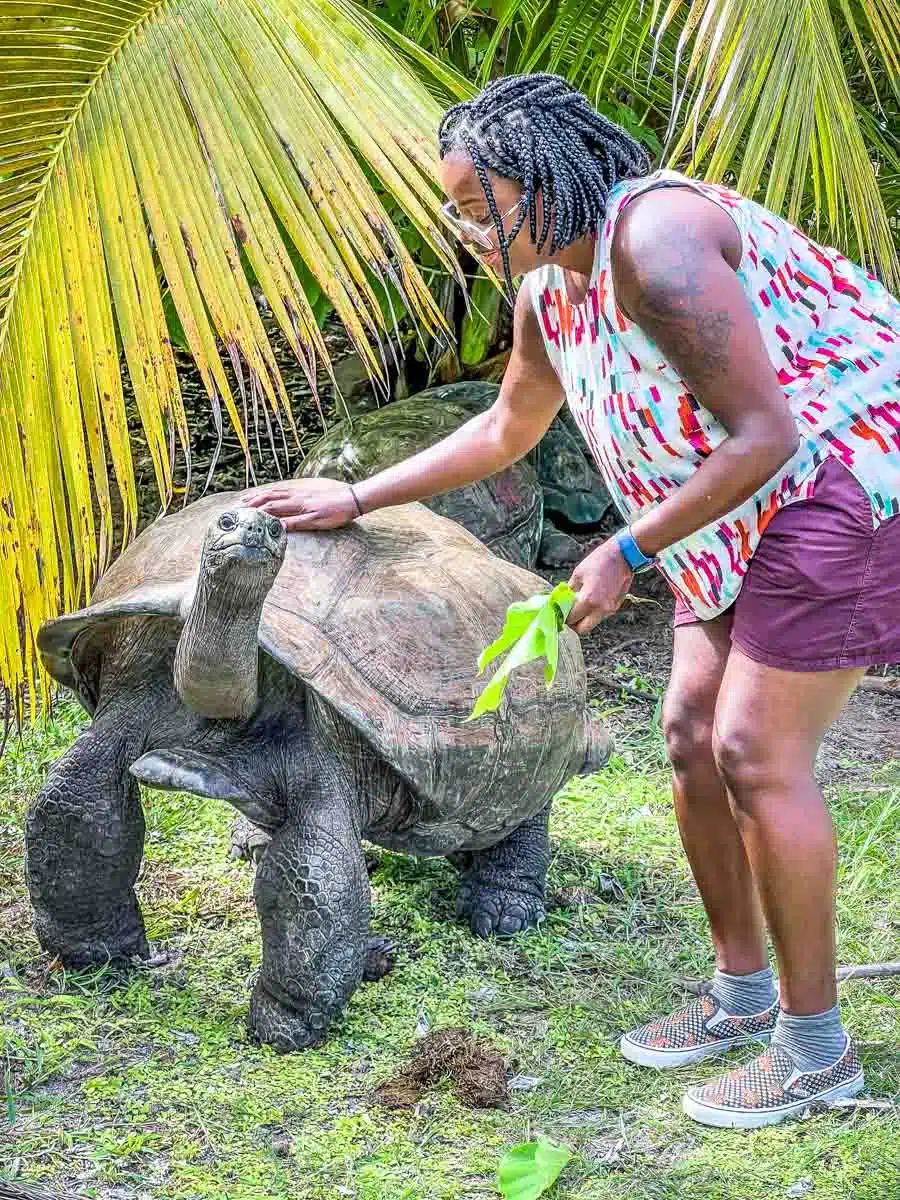 It doesn't take much time to realise that you're in for more than just a comfy vacay on Desroches.
Nick Solomon, the General Manager, and some of the wider hotel team greet you as you step off the plane onto the island's private runway. It's a wonderful touch that sets the tone for a personalised stay, one that the Four Seasons Desroches really delivers on.
Soon after, your private golf cart whisks you away to your villa after a short tour of the resort.
Everything here focuses on ensuring you have the amenities available to curate your own personal version of paradise. Yes, you have access to an awe-inspiring beach, but there's much more to indulge in if you wish to.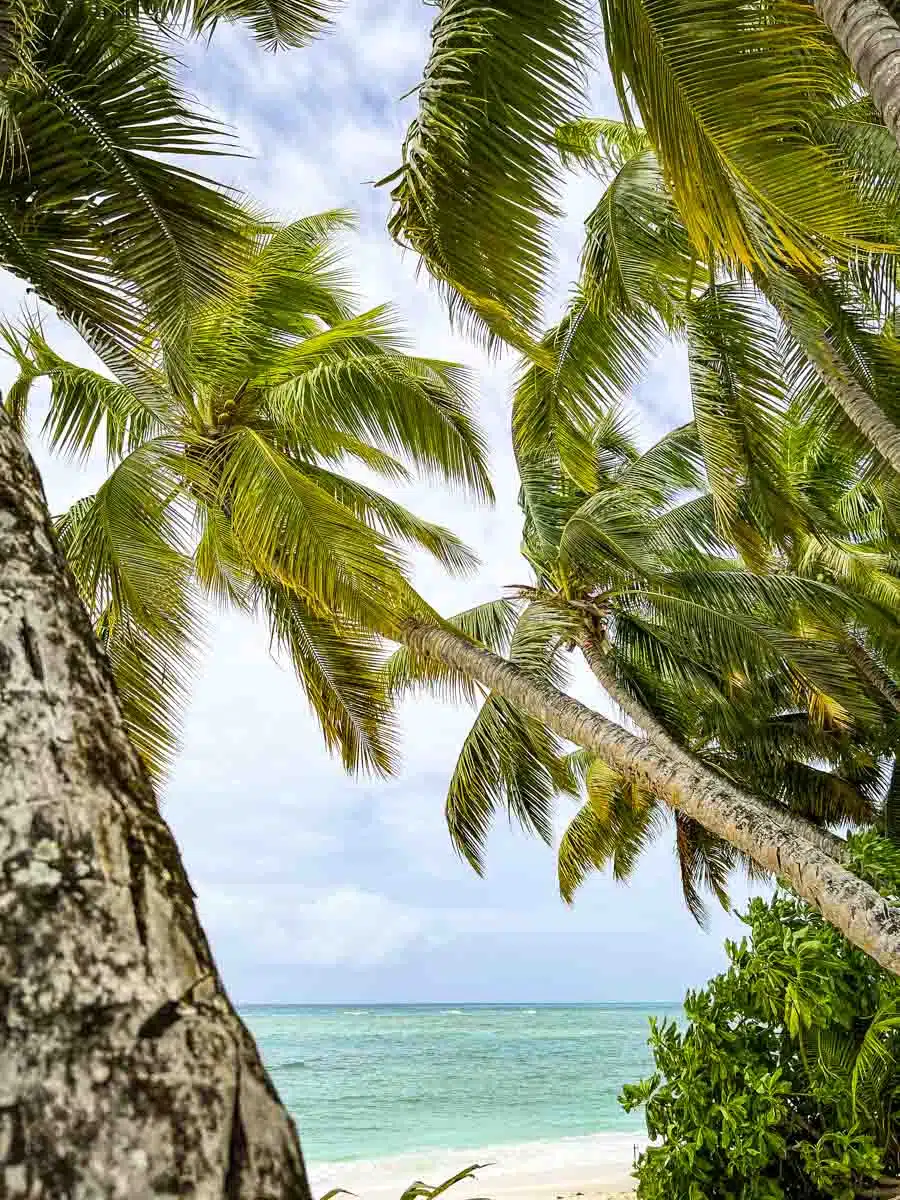 The Castaway Centre offers you the services of expert divers, deep-sea and fly-fishing teams – who are available on call for a trip to St.Joseph's Atoll.
If you choose to stick on dry land, fret not, there's more than enough to explore as well.
Aleks, the hotel's in-house conservationist, leads fantastic birdwatching and conservation expeditions where you'll get the chance to learn about the island up close as you cycle around to its remotest locations – meeting its population of Aldabra Tortoises along the way.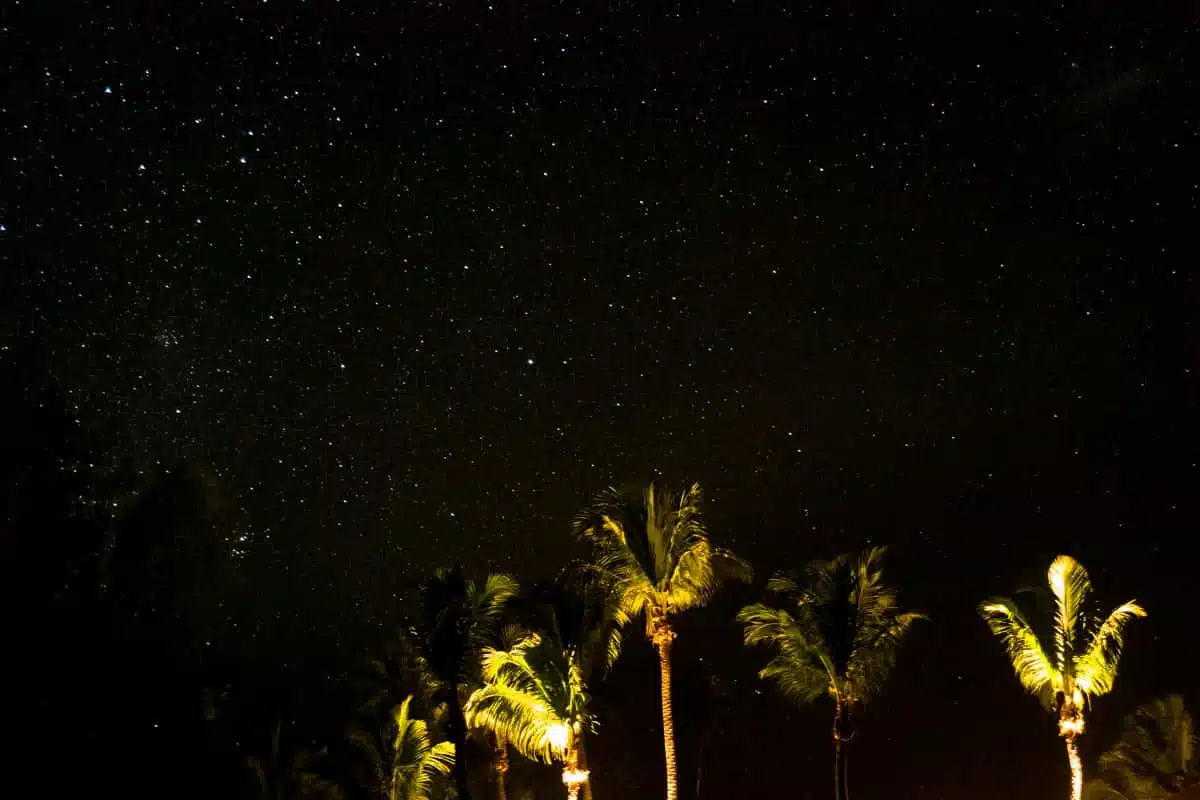 At night he also leads stargazing sessions, taking full advantage of Desroches' remote position and dark skies to chart the constellations as you lie back on the island's runway (personally, this was one of the highlights of my trip).
Not forgetting the Discovery Spa, a place to lose yourself in pursuit of total relaxation.
Highly trained therapists stand ready with a range of treatments to indulge the five senses.
The best bit? All treatments use a locally-produced organic African product range — Terres d'Afrique. It's sheer indulgence and you'll love it.
Food & Drink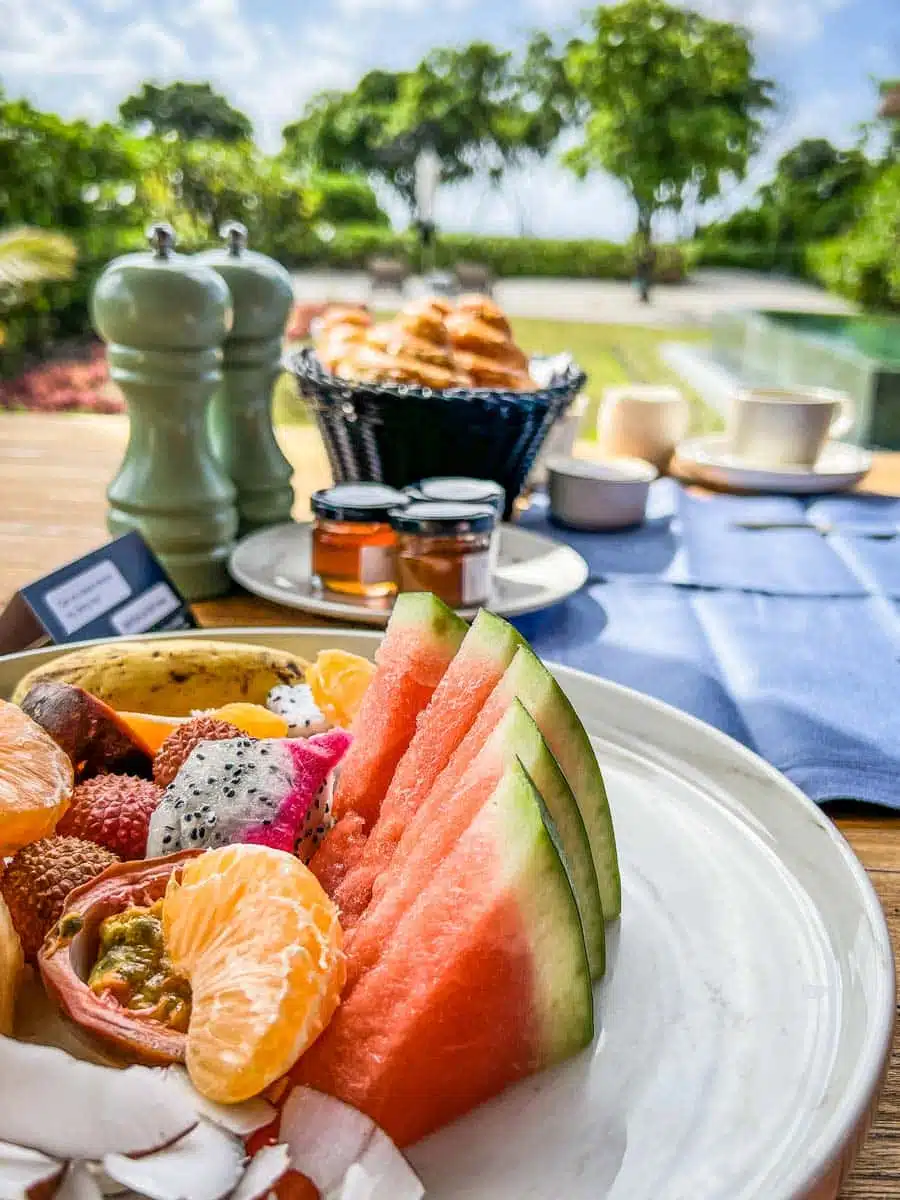 Dining-wise, Four Seasons Desroches offers three main options.
First up is Claudine Restaurant. This is the all-day dining option at the resort and focuses on a more conventional Mediterranean menu, although it also hosts a number of specialty cuisine nights too. Served to your outdoor table, must-try dishes include the Calamari Fricassee prepared with roasted garlic, chilli, and lime.
Whenever you're feeling slightly hungry or just need a refreshing drink, the Deli & Bar is open all day and delivers delectable snacks, such as a mouthwatering Tandoori Chicken Wrap. You can even ask for a picnic on the beach too.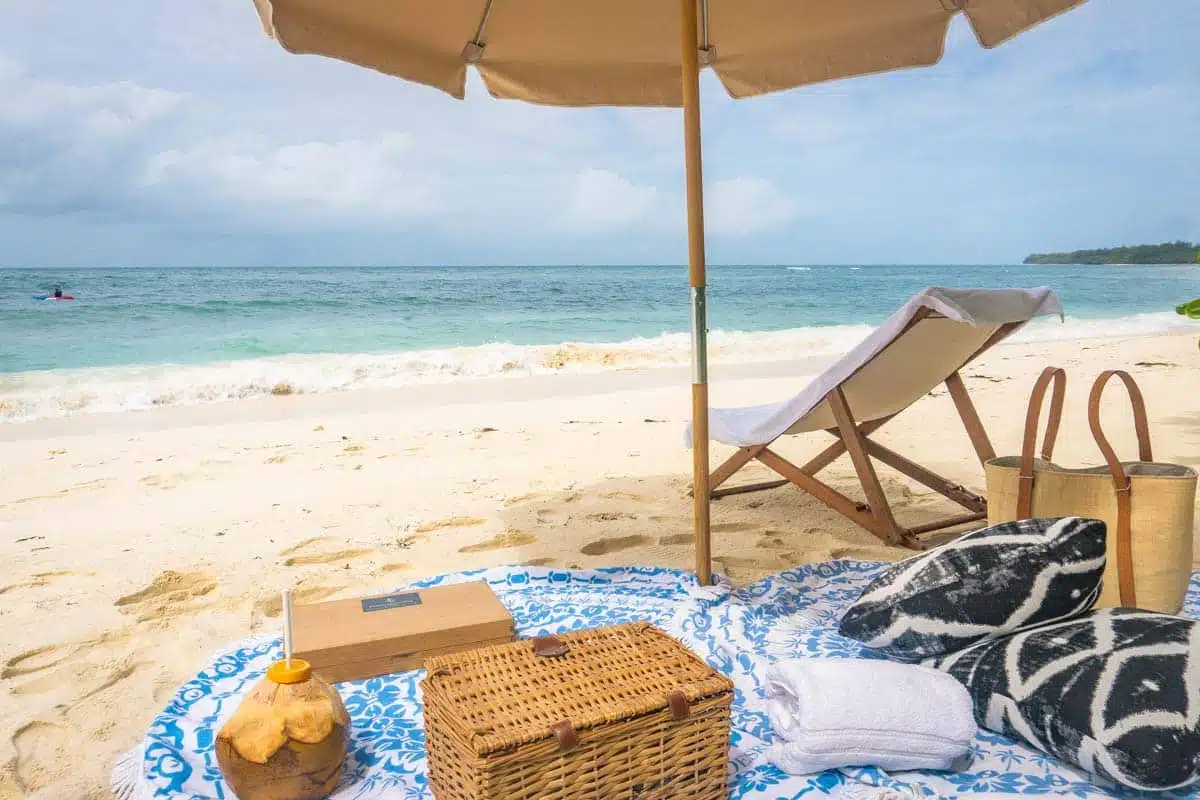 The main culinary attraction, however, is The Lighthouse, the Four Seasons' signature restaurant.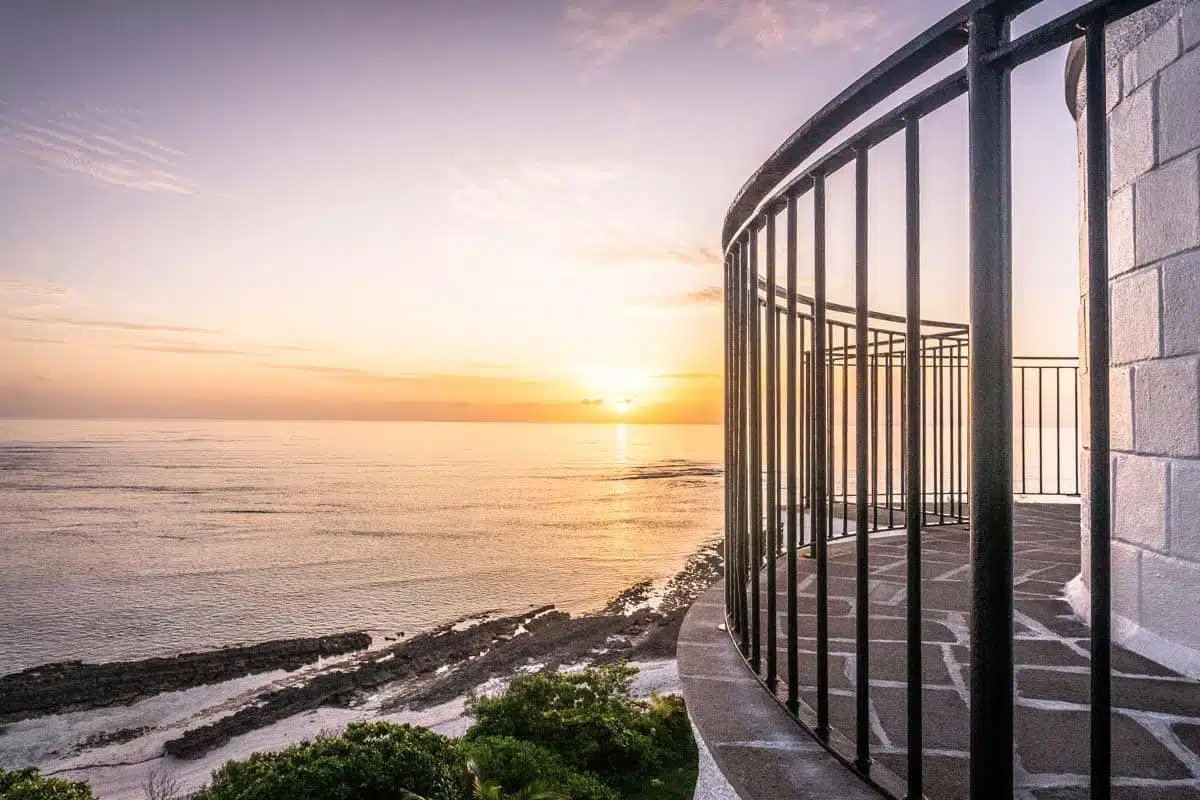 Before I even touch on the food, let's talk about the architecture. The twirling staircase that leads to a stunning mezzanine level bar and rooftop balcony with panoramic views is gorgeous.
The food takes top prize though, with Chef Carlos Rodriguez creating unique dishes such as a dry-aged French beef glazed with Takamaka rum.
Fact File: Four Seasons Desroches Review
The Four Seasons Desroches is Perfect for You If You…
Fancy a secluded and opulent break away from the world and have a deep desire for the ocean.
How to Get to the Four Seasons Desroches Resort Seychelles?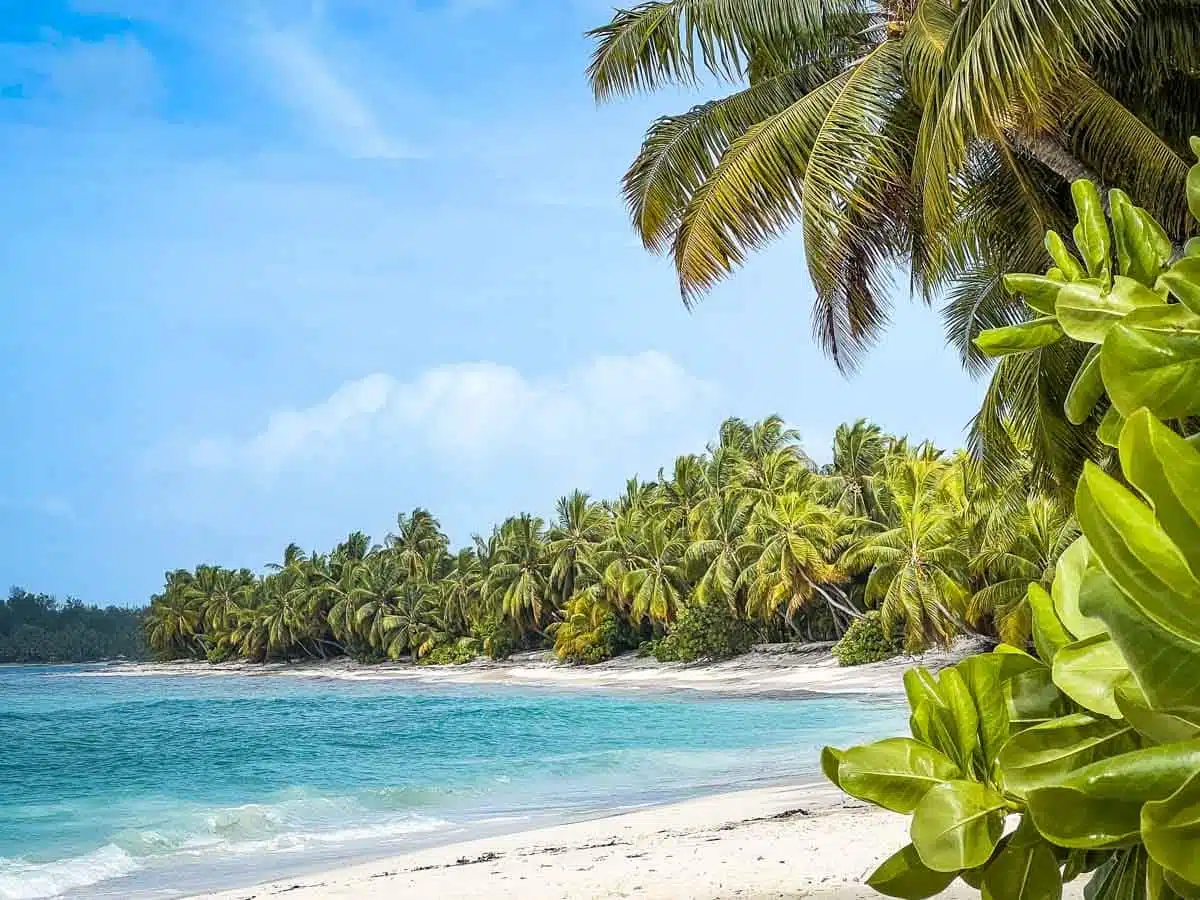 Getting to the Four Seasons Desroches requires an easy and short 35-minute flight from the Seychelles International Airport (SEZ) on Mahé.
Check flight prices and availability
Booking Your Stay at the Four Seasons Desroches Seychelles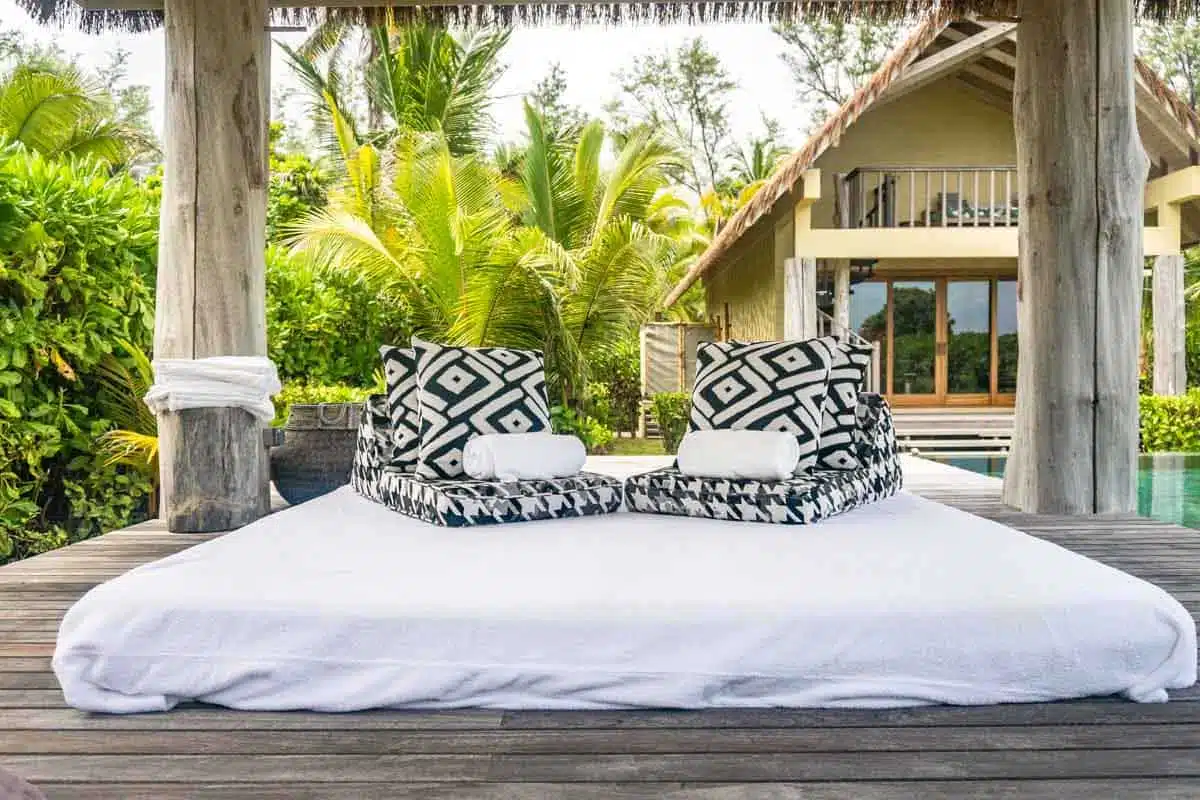 You can book a stay at the Four Seasons Resort, Seychelles, at Desroches, directly through the property (which often means cheaper rates and potential upgrades).
Alternatively, check Rates and Availability on Booking.com
Four Seasons Desroches Seychelles Review: Read More Travel Guides
Love This? Save and Share on Pinterest