The Seychelles' giant tortoises have quite the reputation – discover how you can spot them with this handy guide.
The Seychelles is filled with unique wildlife, and its tropical waters are home to all kinds of impressive species. My favourite of the bunch, however, are the Aldabra Giant Tortoises – ginormous creatures that need to be seen to be believed.
Actually, many of the islands in the Indian Ocean used to be home to gigantic tortoises. They overfarmed giant tortoises for food on first discovery because people thought they were incredibly tasty.
Fast forward to today and the Aldabra Tortoise is the only variety of these giant tortoises left in the Seychelles (and they're now protected – don't worry).
Of all the things to do in Seychelles, seeing one of them is a rare treat. So let me take you through where and when you can spot these creatures.
The Story of Seychelles' Aldabra Tortoises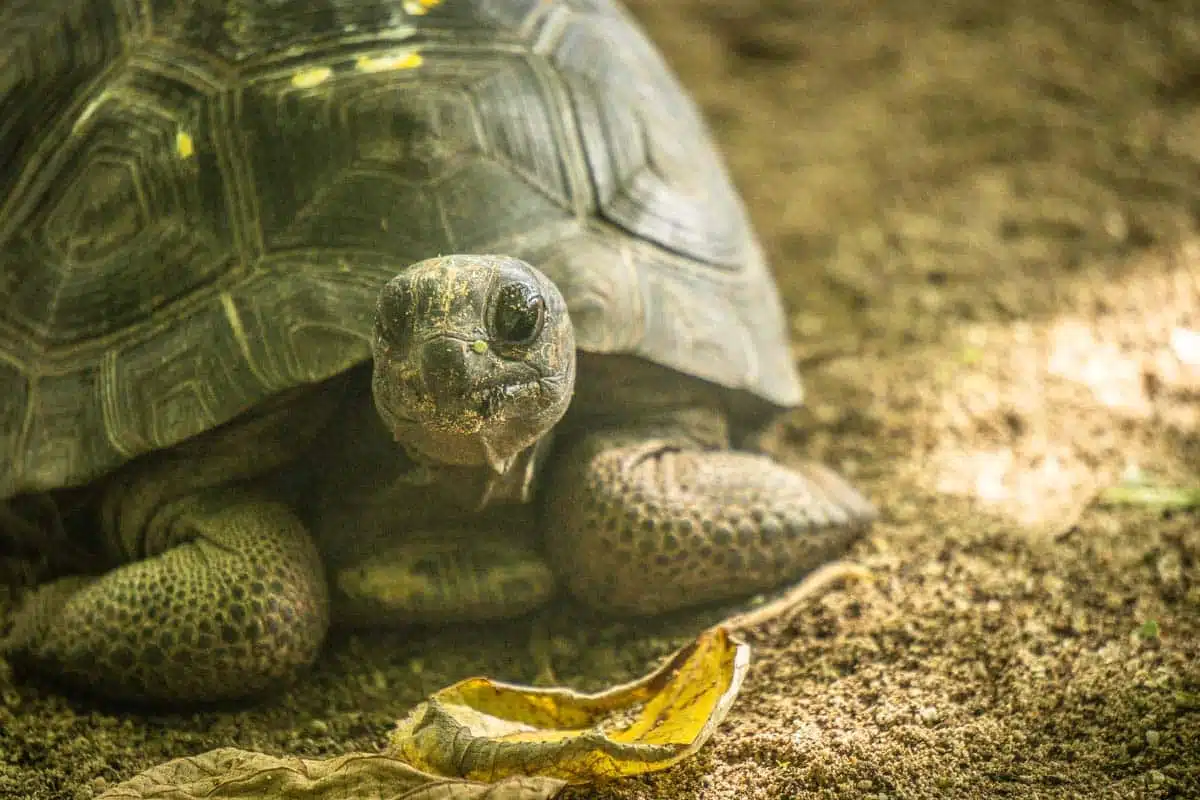 Before we find out where you can spot the creatures, let's take a little look at their history…
The Aldabra Giant Tortoise, scientifically known as Aldabrachelys Gigantea, got its name from the Aldabra Atoll, where it first appeared. These endangered beasts can grow about 1.3 metres long and weigh over 400 kilogrammes.
Only a few Giant Aldabra Tortoises, including the well-known large males Brutus and Patrick, were present on the island in 1997. Currently, 80 to 100 tortoises, most of which were gifts from other islands and some of which are as old as 150 years old, freely wander North Island.
In the baby-tortoise pen, where they keep the babies safe until they are large enough to go their own way, you may also witness baby tortoises under two years old. They are ridiculously adorable (and teeny-tiny).
Seychelles has protected its giant tortoises under the Wild Animals and Birds Protection Act since 1974. The International Union for Conservation of Nature (IUCN) has now classified them as vulnerable and dedicated the Aldabra Atoll, a UNESCO World Heritage Site, in 1982.
Genetically, the Aldabra and Seychelles giant tortoises are so close that there was a belief they belong to the same species. The fact that the species has gone by four distinct scientific names over the years may have contributed to this.
Nowadays, the Aldabra Giant Tortoise, one of the largest species in the world, is the only type of tortoise in Seychelles.
Where to See Giant Tortoises in Seychelles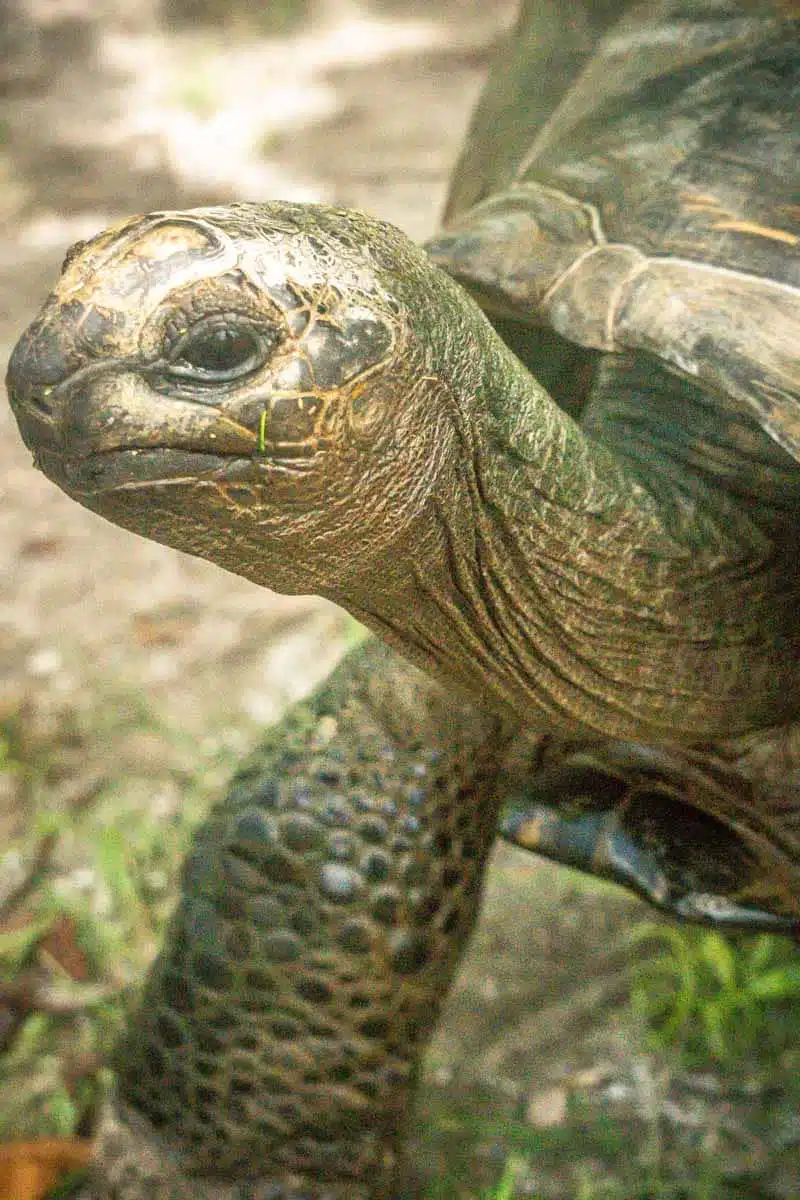 Aldabra tortoises roam freely on several other Seychelles islands, such as North Island, Cousin Island, and Curieuse Island – the latter of which has about 300.
You can also see Aldabra tortoises in enclosures around Seychelles, including the L'Union Estate on La Digue.
The Seychelles tortoises are both in the wild and captivity, and they can live alone and in groups. During your trip to the Seychelles, you'll typically see a herd of tortoises (sometimes referred to as a group in the wild) grazing on grasslands.
In captivity, you can see the giant tortoise of Seychelles munching on lettuce leaves and fruit. They typically still consume a variety of grasses and stems in the wild, maintaining a herbivore diet – but they have occasionally consumed insects and even dead tortoises, so they can be omnivorous.
The Four Seasons Desroches Island is ideal for seeing enormous tortoises in lavish luxury. Compared to Aldabra, it is more accessible and the lodging is of the highest calibre. The sole hotel on the island is the Four Seasons, and the Seychelles Tortoise Sanctuary is there.
Several males on Cousine Island are over 100 years old, including Adam, who is at least 126 years old and was born in the early 1900s. Mr Les, the largest tortoise discovered on Cousine, weighs an incredible 326 kg (719 lb). They even say he's older than Adam.
The most famous tortoise is Jonathan, the Seychelles giant tortoise, who has reached 190 years of age. There are also several tiny tortoises, some weighing less than 35 kg. Undoubtedly, giant tortoises have discovered the secret to a long life.
Planning Your Visit to Spot the Seychelles Giant Tortoise
Visiting Seychelles' Giant Tortoises Independently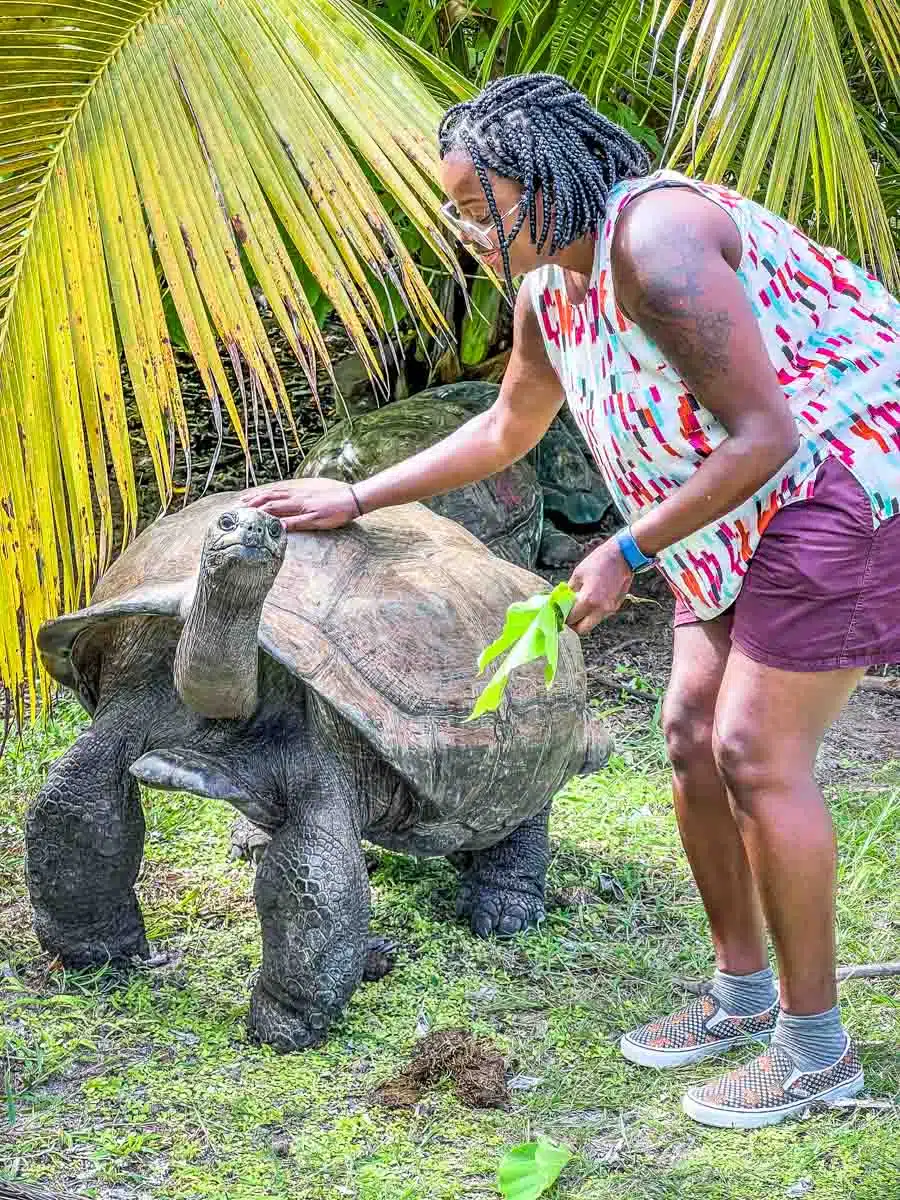 If you want to see these fantastic tortoises, look no further — I'm here to help.
You can travel via chartered aircraft from Mahé to Assumption Island, about 28 miles from Aldabra. Then you head off to Aldabra by chartered boat.
Assumption Island flights have no schedule, so you must receive information on chartering a flight directly from Islands Development Company (IDC).
From Mahé to Aldabra, guests can rent or bring their boat. It often requires several days to travel from Mahé. The Seychelles Tourist Board can provide complete information on the commercial ships travelling to Aldabra (STB).
You or your hire company will need to apply for permission to provide the necessary service, which includes a security detail, due to the current activities of pirates operating off the coast of East Africa.
When making any boat-based travel arrangements in Seychelles waters, I advise you to get the most recent travel advice on the piracy situation from the embassy or high commission of your country.
You also have to contact the Seychelles Islands Foundation (SIF) to get permission to go to Aldabra, so be sure to plan this trip as far in advance as possible.
On a Tour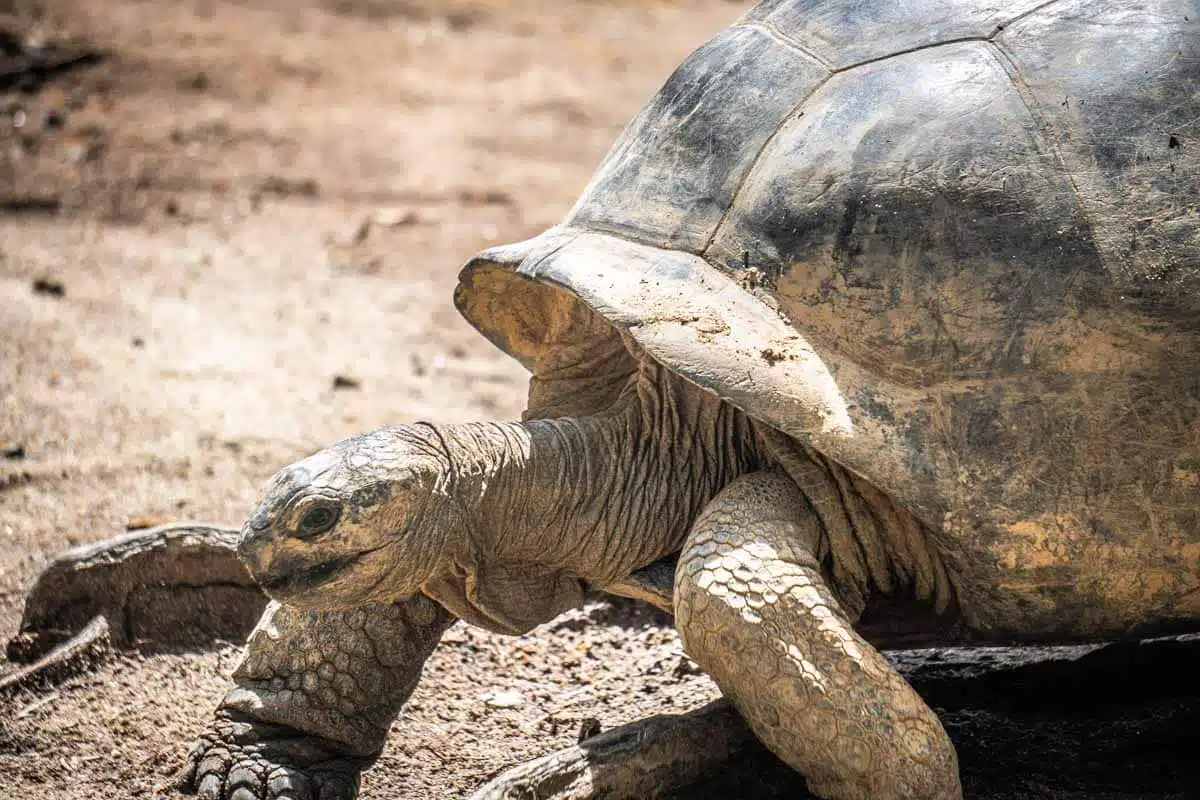 I'll be honest, when it comes to visiting these creatures, it's way easier to head out on a tour. A brilliant option to consider if you want to see these gorgeous giant beasts is the All-Inclusive Snorkel Tour.
You get to go snorkelling in Seychelles and see the beautiful marine life, but you can hang out and take selfies with the giant tortoises on Curieuse island. This tour also includes snorkelling equipment, the marine park fee, and hotel pickup and dropoff.
The Praslin & La Digue Island-Hopping Tour with lunch is also a great option if you want to learn about the history of Seychelles and spot the Aldabra Tortoise in Seychelles.
You'll head to L'Union Estate on La Digue and learn about the plantation and its history. This is also the peak spot for seeing tortoises go about their day. The kicker is the Creole lunch, though.
Where to See Seychelles' Giant Tortoises: Map