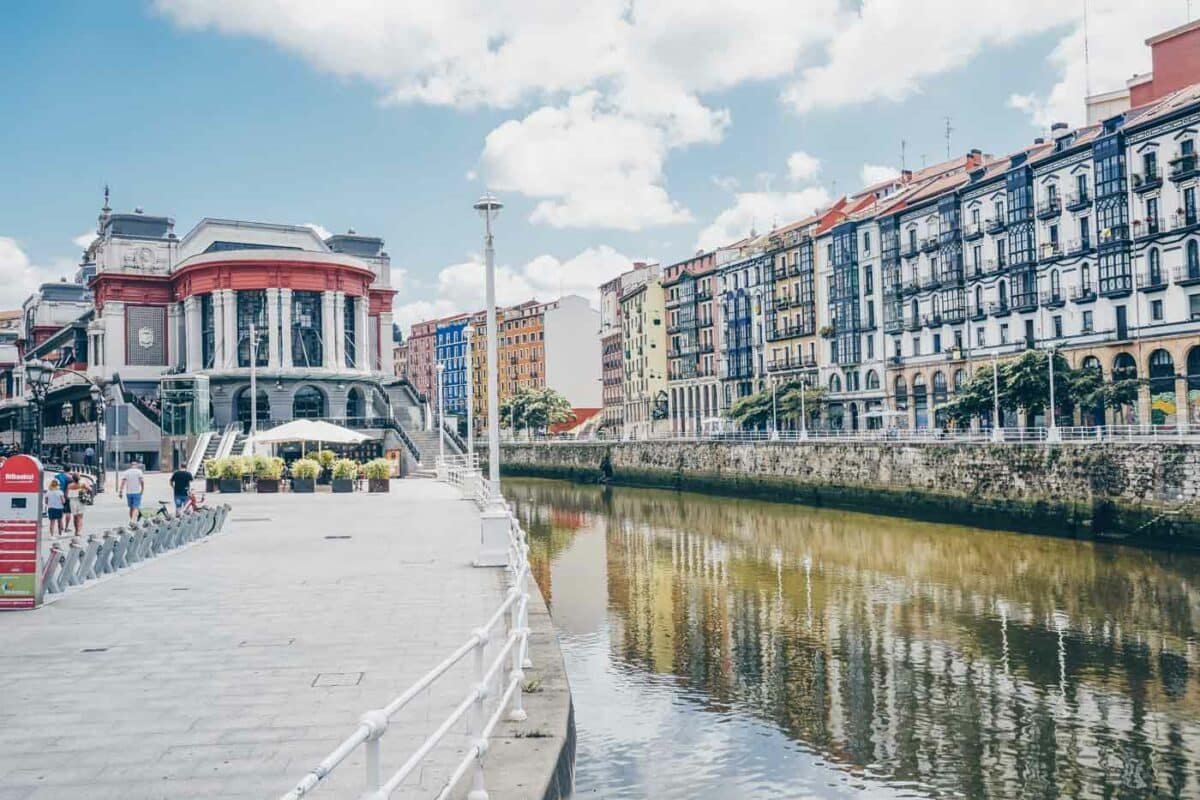 Looking for the best things to do in Bilbao? Don't miss this step-by-step guide to help you discover the best of this exuberant destination.
Bilbao, the de facto capital of the Basque Country, is a city of contrasts and one of the best places to visit in Spain.
The Casco Viejo – or the Old Town is a warren of small streets, punctuated with historic sights.
Just across the river, the city sings a different tune: an ode to contemporary design – complete with shining beacons of modernity, steel and glass against the bright blue sky.
The Guggenheim spearheads this "new Bilbao", which was largely constructed during the late nineties and early noughties and the resulting transformation has led to Bilbao being championed as one of Europe's hidden gems.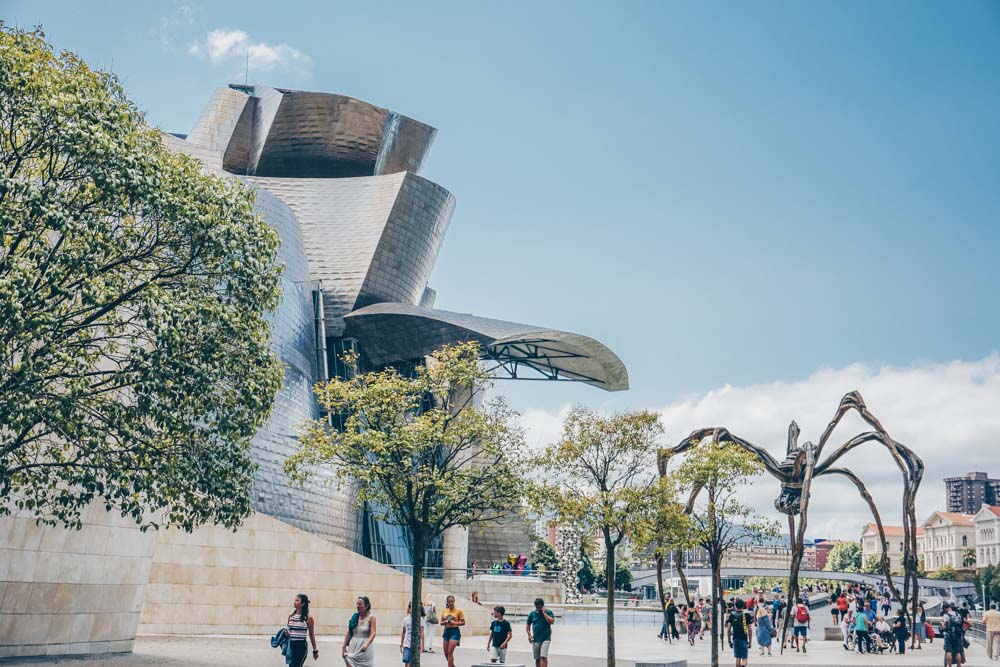 Today, the city's post-industrial decline feels like a distant memory, but even now, Bilbao retains a charm and a personality that never fails to sweep you along with it.
I recently returned from a trip to Bilbao. Finally! The city has been at the top of my travel hit-list since I had to skip it on an interrailing trip around Spain aged 17 when I unceremoniously ran out of both time and money (the joys of budget travel when you're young right?). Anyway, I made it many, many years later.
Was it worth the wait? Damned right it was.
Bilbao's relatively compact size means it's the perfect destination for a city break.
You can easily hit all of the main sights in a couple of days and still have time to spare for eating yummy pintxos (Basque country tapas) and enjoying the city's relaxed pace of life.
If you enjoy hiking, the Picos de Europa National Park is located in the north of Spain, 2-hour drive west of Bilbao.
Cool Things to do in Bilbao
Explore the Guggenheim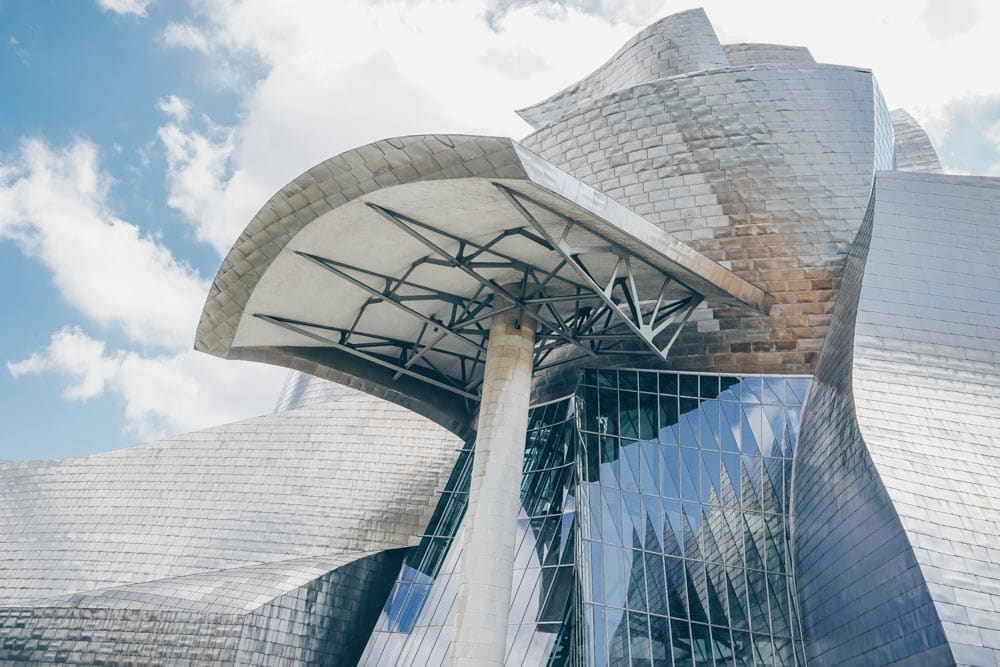 I'm not exaggerating when I say that The Guggenheim Bilbao is one of the most iconic buildings in the world and certainly one of Spain's most famous landmarks.
Designed by Frank Gehry, it's credited with turning Bilbao around, starting its evolution from a struggling city that had definitely seen better days to the Bilbao we see today.
Question is, over 20 years later, does it still have as much wow factor as it did in the nineties?
Assuredly yes. Aside from the incredible architecture, the collection is diverse and challenging (in a good way), pushing you to stop and pause.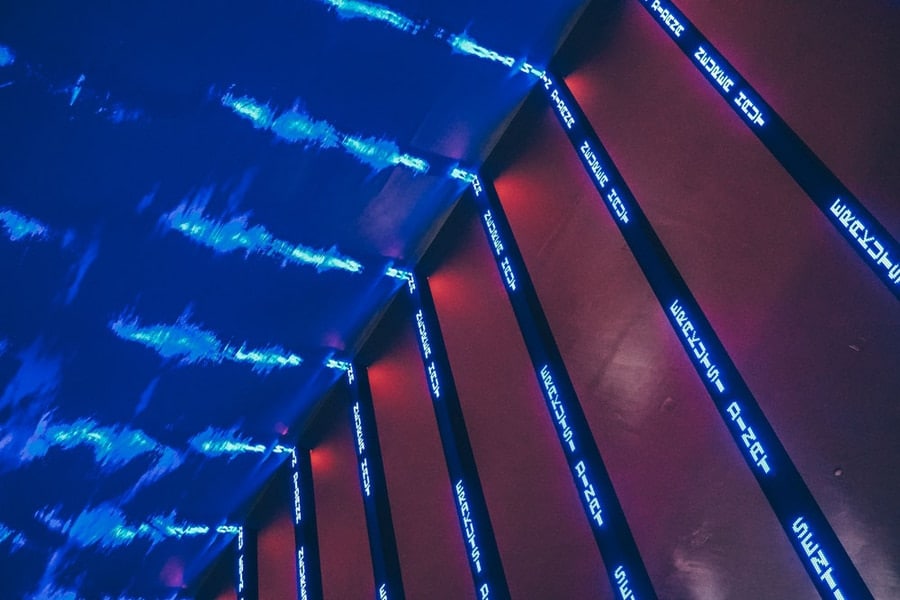 You'll find modernist masters such as Picasso and Miro alongside American pop art and an ever-growing permanent collection.
If you only have time to tackle a single thing to do in Bilbao, this should be it.
PS: You can book a private guided tour of the Guggenheim if you really want to delve deep into the museum's collection and history.
Chow Down at Mercado de la Ribera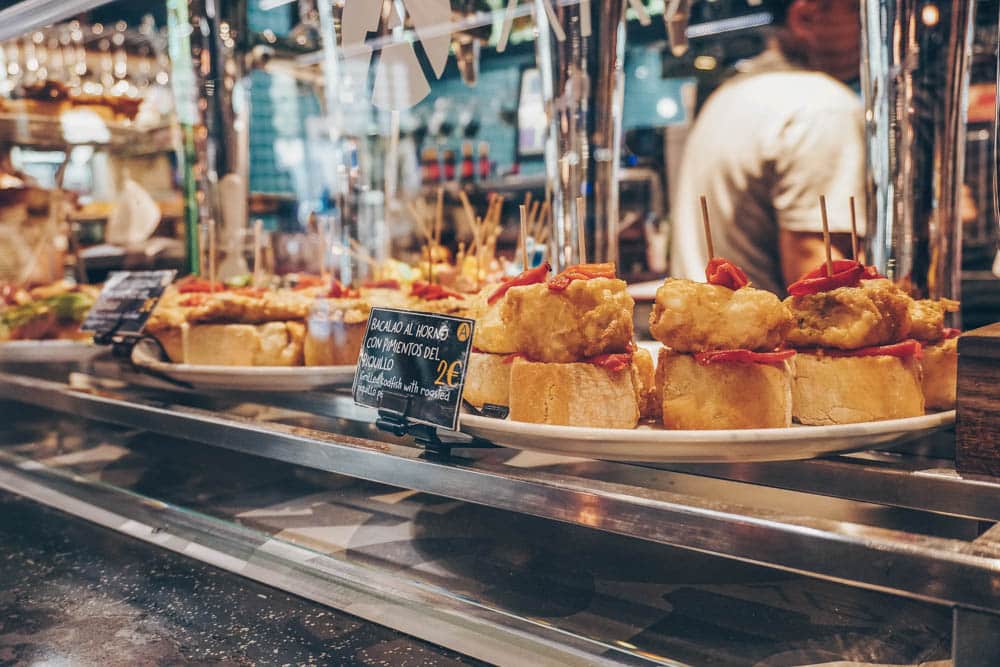 Can we take a moment to talk about Bilbao's food scene? Because, if you haven't heard, it is straight-up fabulous.
Nowhere is this more apparent than in the Mercado de la Ribera in the Casco Viejo.
I was so excited by the rumours of the incredible pintxos beyond my wildest imagination (when it comes to food, rest assured my imagination is very, very wild) that I'm not ashamed to admit that visiting the Mercado was the very first thing I did on my trip.
Legit was like touch down, check in, stuff myself with pintxos and tinto de verano (a pared down version of sangria).
I'll warn you. There are so many stalls and so many pintxos that your biggest challenge is working out what to have (the struggle is REAL).
Failing that, you can always just go back a couple of times… and then a couple of times more.
Read Next: The Bilbao Food Guide – Nine Must-Try Restaurants and Pintxos Bars
Hang Out at Akuna Zentroa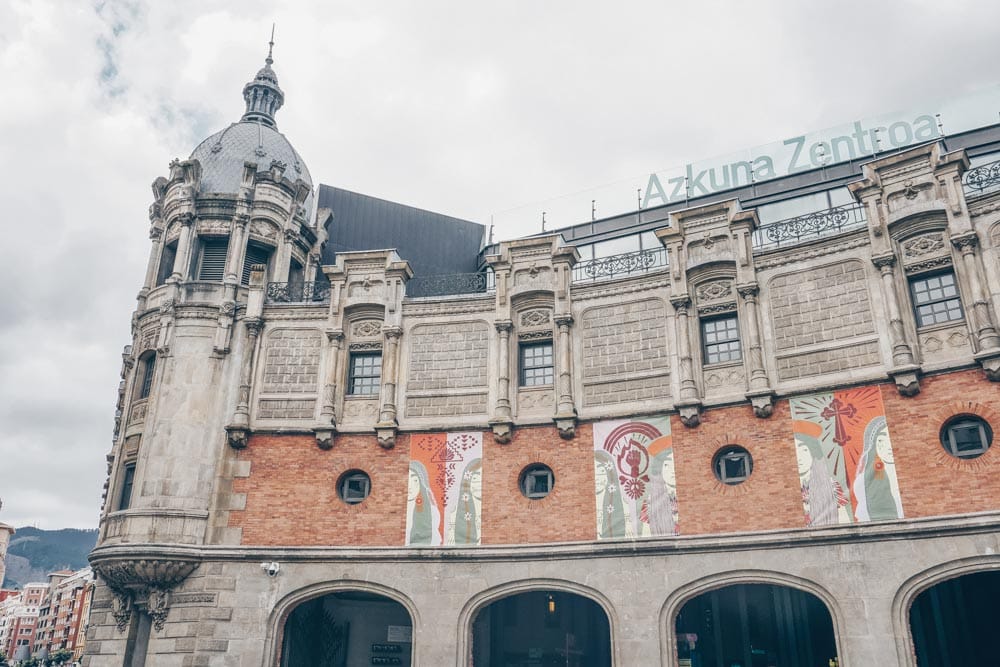 The Akuna Zentroa is a bit weird, a bit wacky and so very Bilbao.
This Phillip Starck-designed former warehouse in the Alhondiga area has been transformed into a cultural space – complete with a glass-bottomed swimming pool.
I have to admit that I didn't get to spend quality time at the Akuna Zentroa – I tried to visit on Sunday morning when most of it was closed / Bilbao's population had been exterminated by a zombie apocalypse (that's what it felt like anyway).
If you visit at a more sensible time (hint: you should visit at a more sensible time), you'll find one of Bilbao's quirkiest and liveliest spots.
Marvel at the Zubizuri Bridge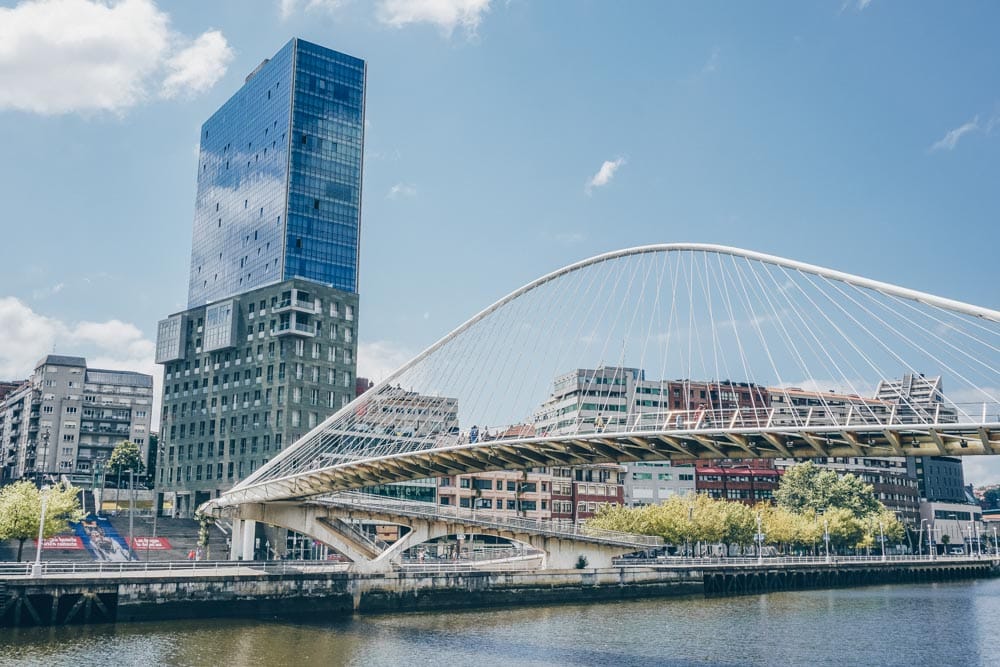 The Zubizuri Bridge is another iconic place to visit in Bilbao. The bridge connects the city's Ensanche area with Castanos and was designed by renowned Spanish architect Santiago Calatrava, opening in 1997.
Striking as it is, I love to gossip about a bit of controversy and the Zubizuri Bridge has had more than its fair share.
First, the walkway had to be covered with a carpeted lining after several of Bilbao's residents went helter skeltering across the glass tiles.
It gets better though. The local council extended the bridge without the architect's permission – prompting Calatrava to sue them… and win. Still looks great though so….
Wander Around the Casco Viejo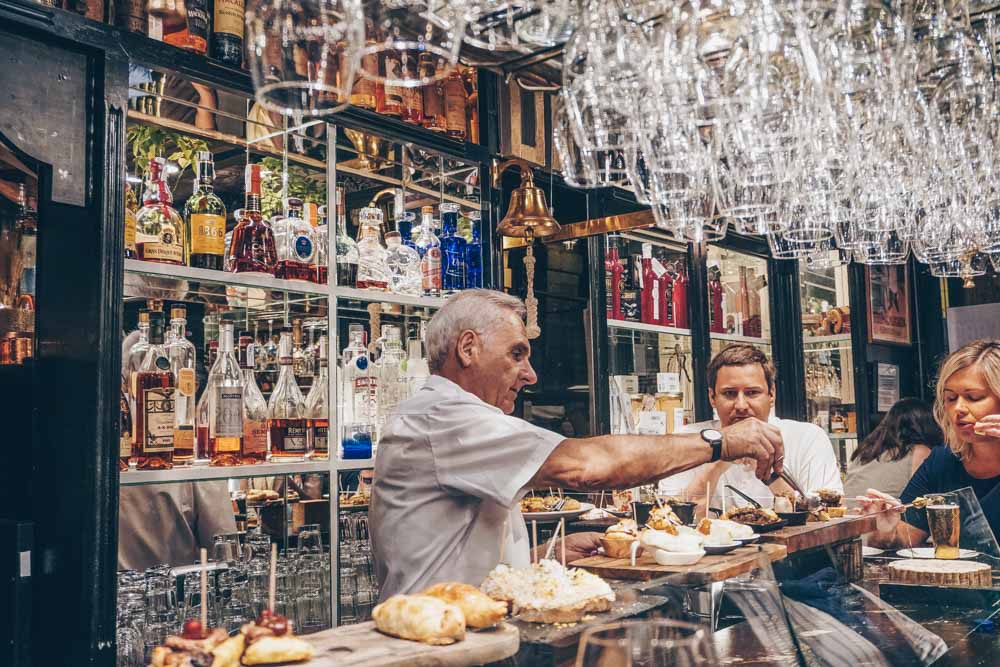 The Casco Viejo might not technically be the oldest part of town (that title belongs to a cluster of small fishing villages on the left bank from whence the modern-day behemoth sprang). No matter though. It is certainly its most beguiling.
Where Ensanche grabs your attention with stunning architecture, Casco Viejo's charms are more discreet.
Take a few hours to explore Las Sietes Calles (the central section of the Casco Viejo – seven streets radiating from a pretty square) and you'll be richly rewarded.
Grand promenades, balconied buildings with intricate facades and (unsurprisingly) more tasty pintxos – the Casco Viejo practically oozes charm.
Recommended: Take a Guided Tour of the Casco Viejo
Take a Ride on the Funicular de Artxanda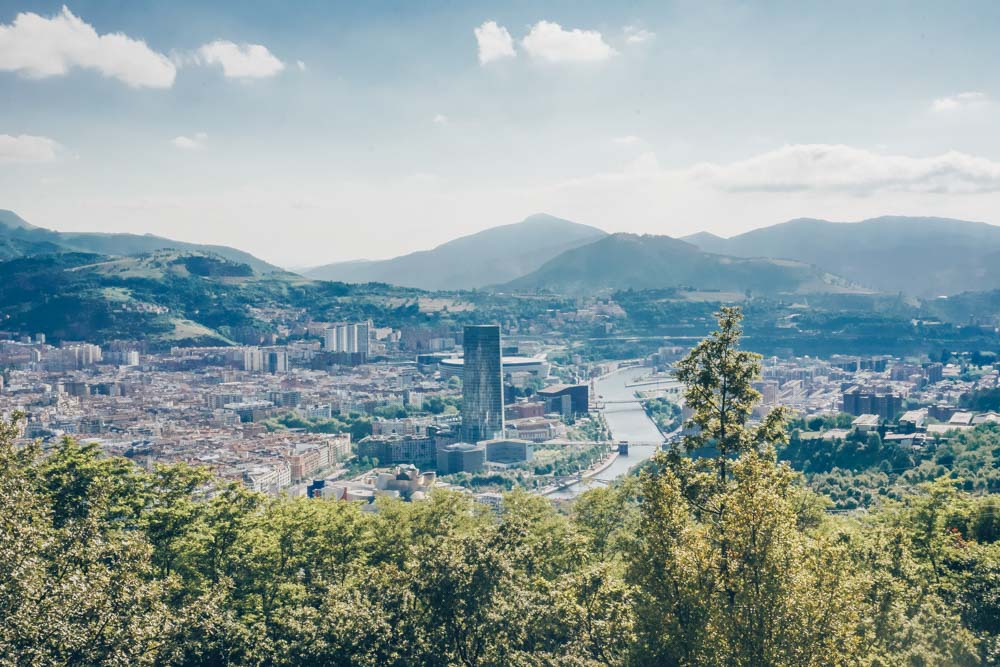 It's difficult to appreciate the scale of Bilbao's unconventional beauty when you're down in the bowels of the city.
No, you'll really need to get high to do that… (to be clear, we're talking to a better vantage point, I'm not sure what you were running with).
That's where the Funicular de Artxanda comes in – one of my absolute favourite things to see and do in Bilbao.
Instead of grinding your way to the top of Mount Artxanda, you can hop onto the funicular, grab onto the handrails as it chugs its way up the slope and disembark jelly-legged at the other end (forewarned is forearmed right?).
You'll quickly get over the palpitations – difficult not to with such a panorama laid out at your feet.
Layer upon layer, the city's history and present, clustered along the river, snaking up hillsides – it's barely recognisable as the Bilbao you've been tramping around.
Yet there they are – the Guggenheim, the Zubizuri, Casco Viejo – all spread out in one eye-catching tapestry.
Do a Pintxos Bar Crawl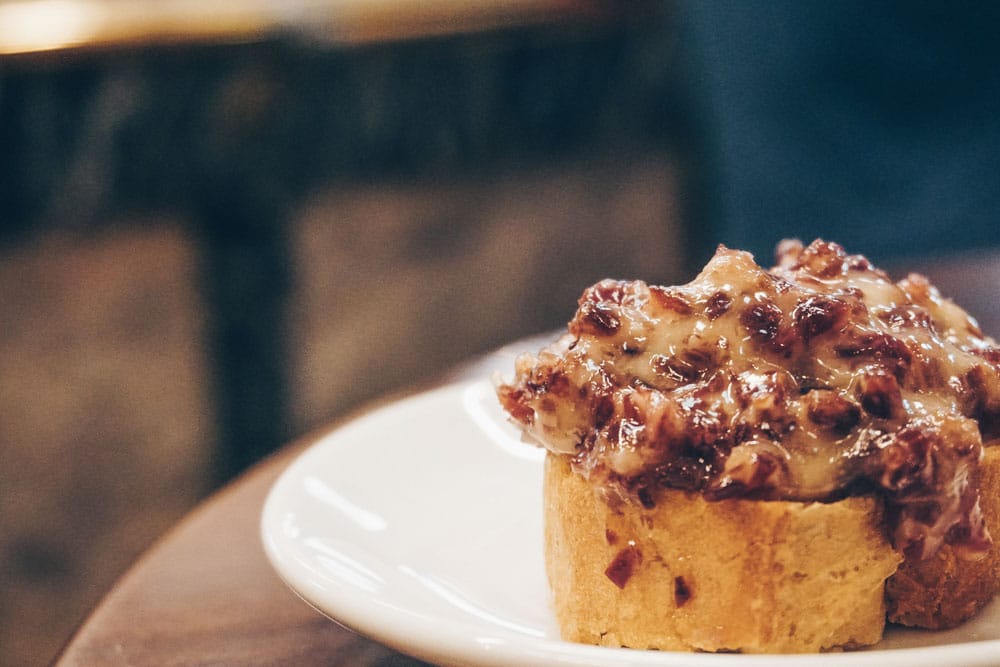 You miiiight have picked up on the fact that I totally love Basque food. Too enthusiastic? Zero shits given.
It's not just me though – the region is renowned throughout Spain for its stellar and unique cuisine.
The easiest way to sample the delicious flavours of Basque cuisine is to do a self-guided pintxos bar crawl.
I'll start by saying that there are so many amazing (I don't use that word lightly) pintxos bars in Bilbao that if you tried to tackle them all in one day, the end result would be death by greed.
We don't want that – so you need to narrow down your options. Here are a few that you absolutely shouldn't leave the city without visiting.
The first is Artxanda Jatetxea – a ridiculously good value (even by Bizkaia standards) pintxos bar a few paces away from the bottom of the funicular. Stuff yourself with the pinxtos at the bar and wash it down with a glass of the local Rioja (€1.40 per glass – FOR REAL).
The second is the jaw-droppingly beat Cafe Iruna. The Moorish-style (moreish-style more like hur hur) kebabs go down a storm with pretty much anyone who ever tastes them.
Add to that list La Vina del Ensanche and the bars in the Mercado de la Ribeira and that's enough to get started.
Recommended: Guided Pintxos Tour of Bilbao
Take a Trip to San Juan de Gaztelugatxe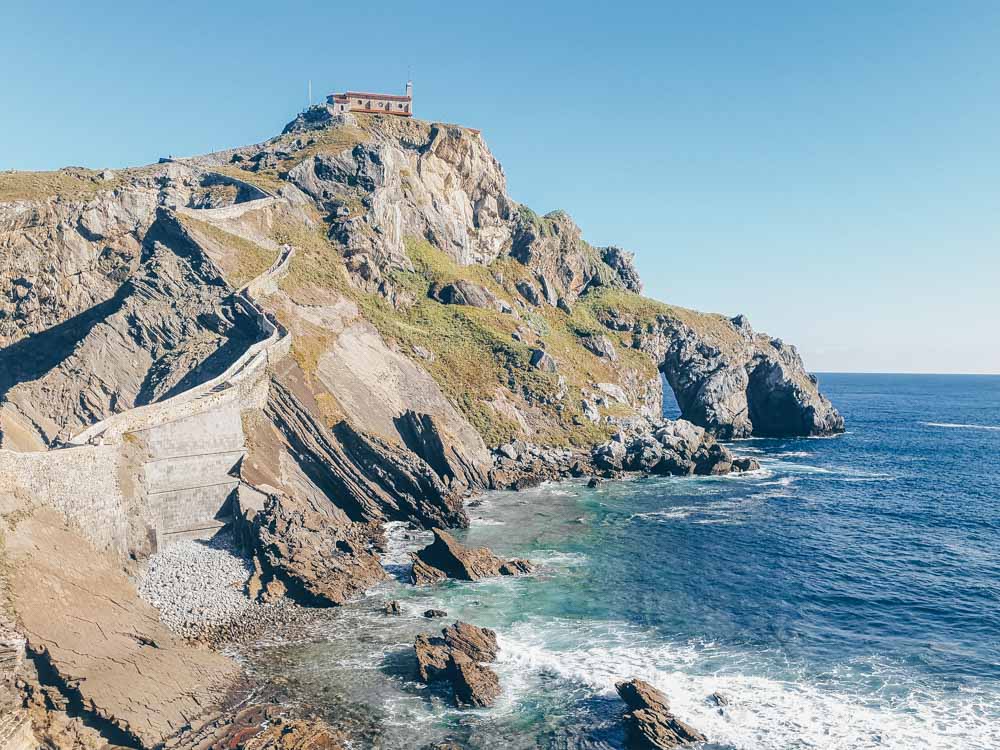 Ignore the fact that you will need to Google how to say Gaztelugatxe (it's Gaz-te-le-gaz-chey as far as I can tell but feel free to correct me if you know better) – or that it's not actually in Bilbao at all (it's about a 40 minute drive out of town).
All you're going to be concerned about on the San Juan de Gaztelugatxe front is that this place is spectacular.
I'm going to take a moment to geek out about the fact that this is a Game of Thrones filming location (yes, the beady eyed among you will no doubt notice that GOT crops up on the blog a lot – Dubrovnik, Iceland, Seville and Northern Ireland's – because apparently this is now my "thing").
Recognise it? Yep – it doubles up as the exterior of Dragonstone in the later seasons.
Even if you're not a Game of Thrones fan (sigh, I always knew that people like you existed), you should visit San Juan de Gaztelugatxe if only for the sheer beauty of the place.
It's one thing to feast your eyes on something, quite another to climb the 300 or so stairs to the top when you're hungover off your tree #justsaying.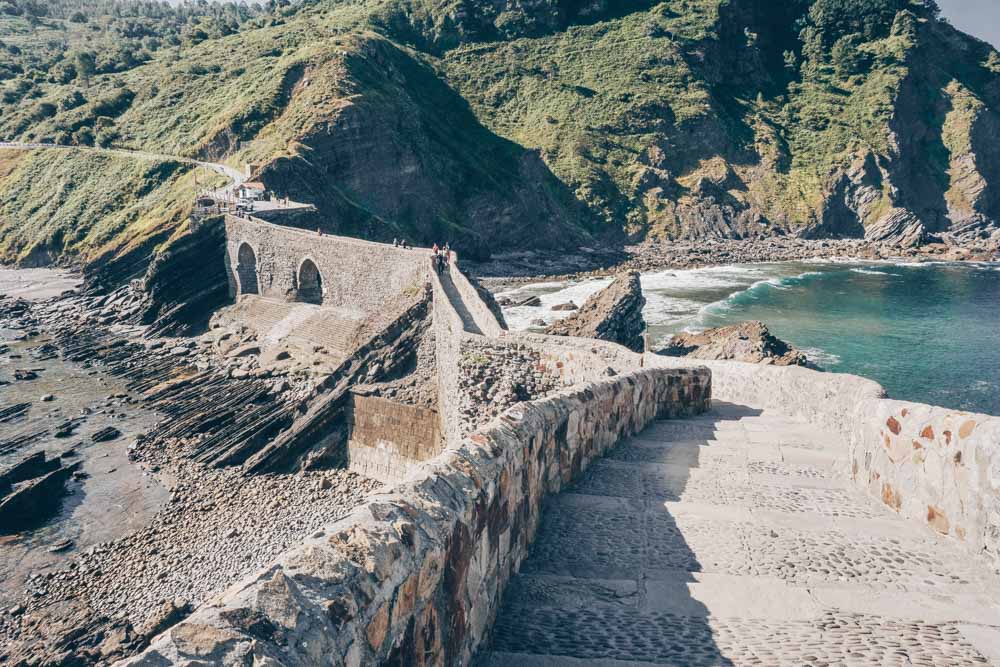 San Juan was built as a pilgrimage site for locals (who painstakingly built the jagged staircase bridge leading from the coast to the small church at the top of the island) and you will feel every single step as the sun beats down on your hot, sweaty neck. Worth it though.
Once you've puffed your way to the top, ring the bell on the outside of the church. Do so and legend has it that the wish you make as you ring will come true.
Do it too many times and everyone around you will hate you. Like all things in life, it's all about balance.
Recommended: Basque Coastal Tour (includes a visit de San Juan de Gaztelugatxe)
Visit the Museo de Bella Artes
The Guggenheim gets so much of the attention that it can be easy to forget that there ARE other museums in Bilbao. The Museo de Bella Artes is, however, deserving of your attention.
It's a soothing balm to those who can't always get along with modern art (no judgement here) – the collection focuses on Spanish artists with a heavy Basque-country contingency.
El Greco brings the drama, Joaquin Sorolla brings his light-filled canvasses and overall the Museo de Bella Artes is a joy to explore.
Pay a Visit to the Church of San Nicolas de Bari
The striking exterior of San Nicolas de Bari never fails to turn heads.
Designed by Ignacio de Ibero and built in 1765, it's as grand as you could imagine. Its Baroque exterior was used as a meeting place for sailors going to sea – though you're now more likely to find loads of tourists snapping away.
Inside it's interesting enough, with a carved altar and pictures by Juan de Mena.
Admire the Cathedral de Bilbao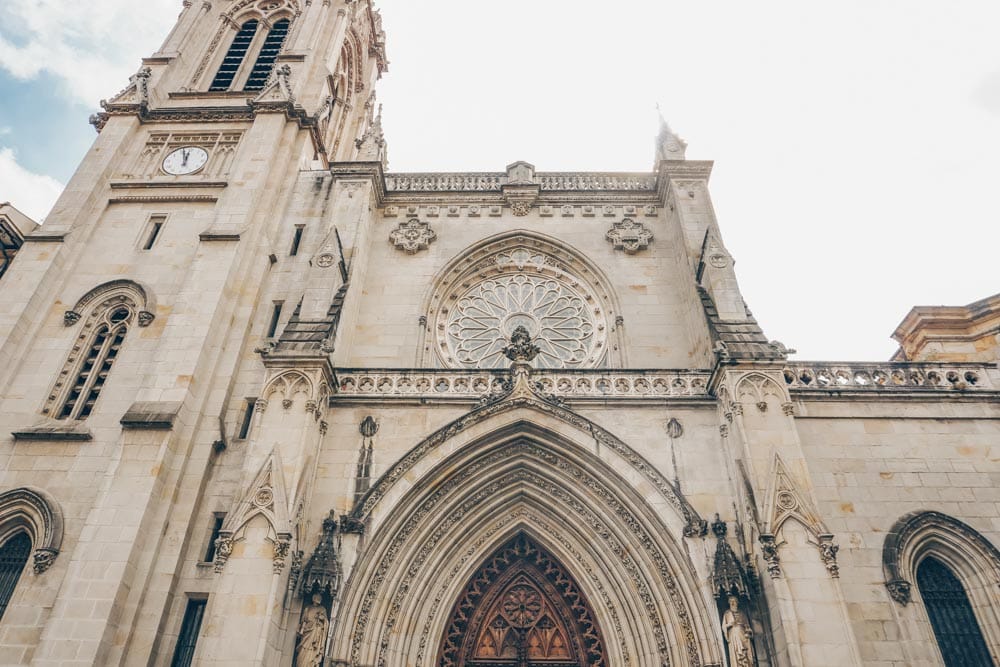 Bilbao's cathedral is a bit of a mishmash of styles and sizes – the effect is a little disarming. It would be wrong to call it pretty, but it's not exactly ugly either.
Turns out that when you add a Gothic bell tower, a Renaissance porch area and a Gothic cloister with a rather squat exterior, the end result is no Notre Dame. You'll see what I mean for yourself.
Visit Bilbao City Hall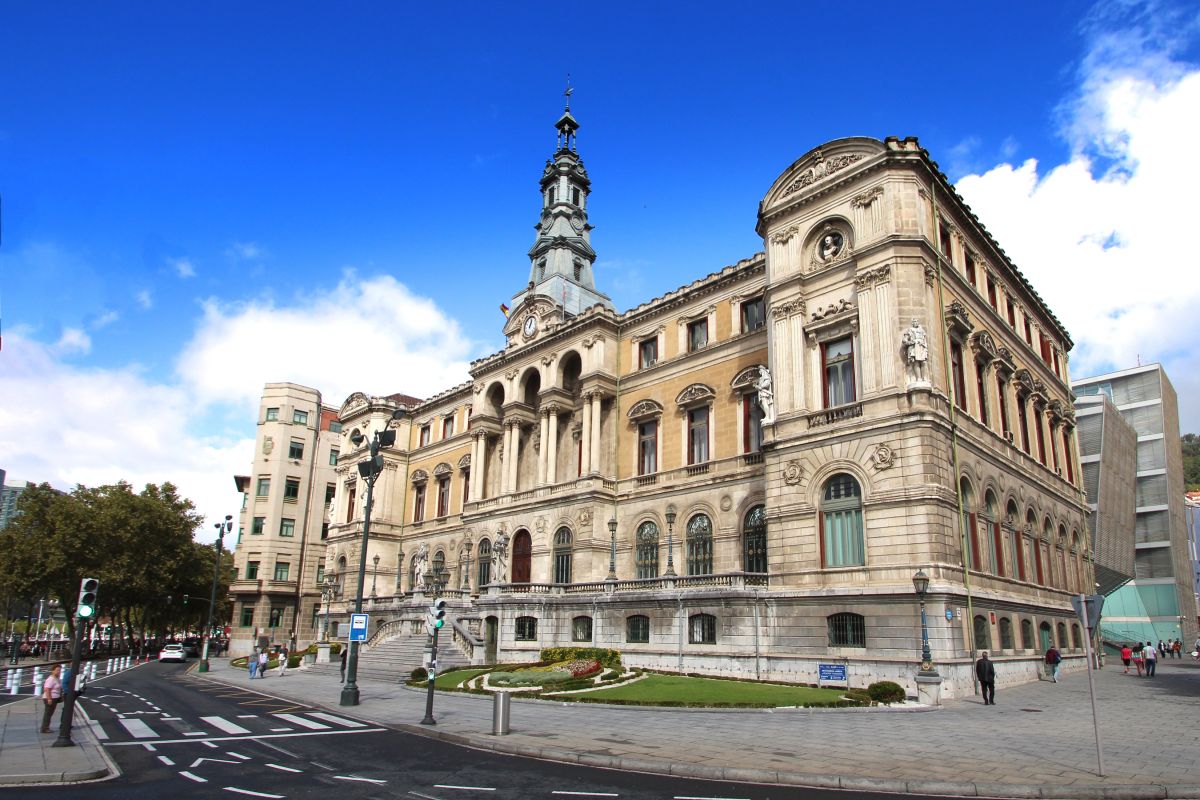 Another beautiful building in Bilbao's arsenal is the City Hall – sure, it's not quite as majestic as the Church of San Nicolas de Bari but it manages to hold its own. Plus, the waterfront location of the building makes it the perfect pitstop on a morning stroll through the city.
When you're in the area, remember to swing by Bitxibil Ogitegia for one of the tastiest Carolinas in the city.
Wander Around Plaza Nueva / Barria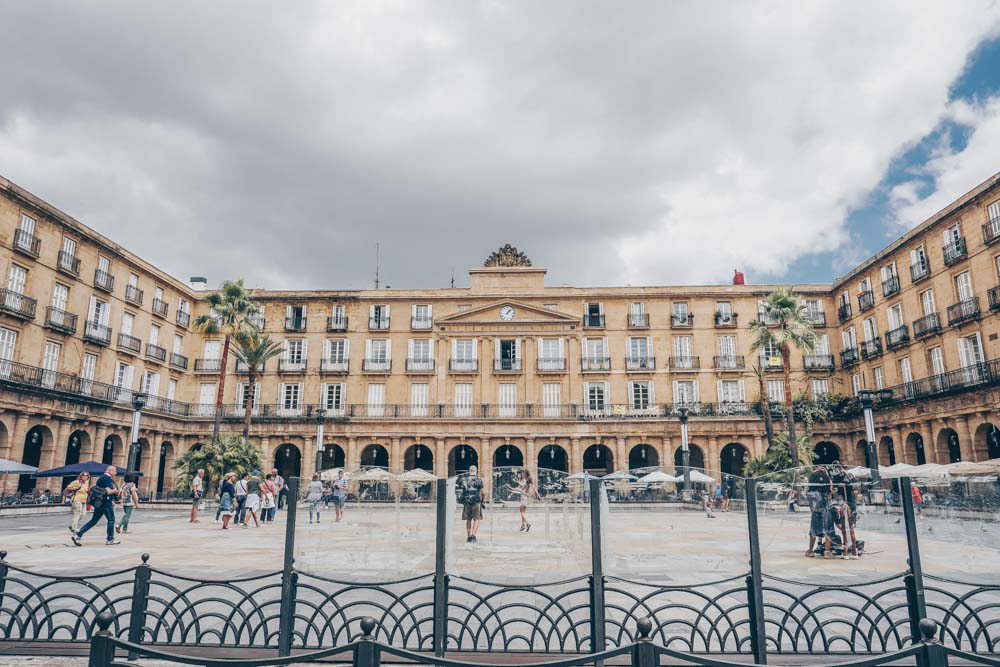 Bilbao's Plaza Nueva is cleverly tucked away in the Casco Viejo. Access it through one of a series of small alleys, leading unsuspecting visitors through their confined spaces before opening out to the pure drama of the arcaded plaza.
For full Spanish effect, grab a late morning coffee and bask in the sun as you gossip and watch the world go by.
Catch a Show at Teatro Arriaga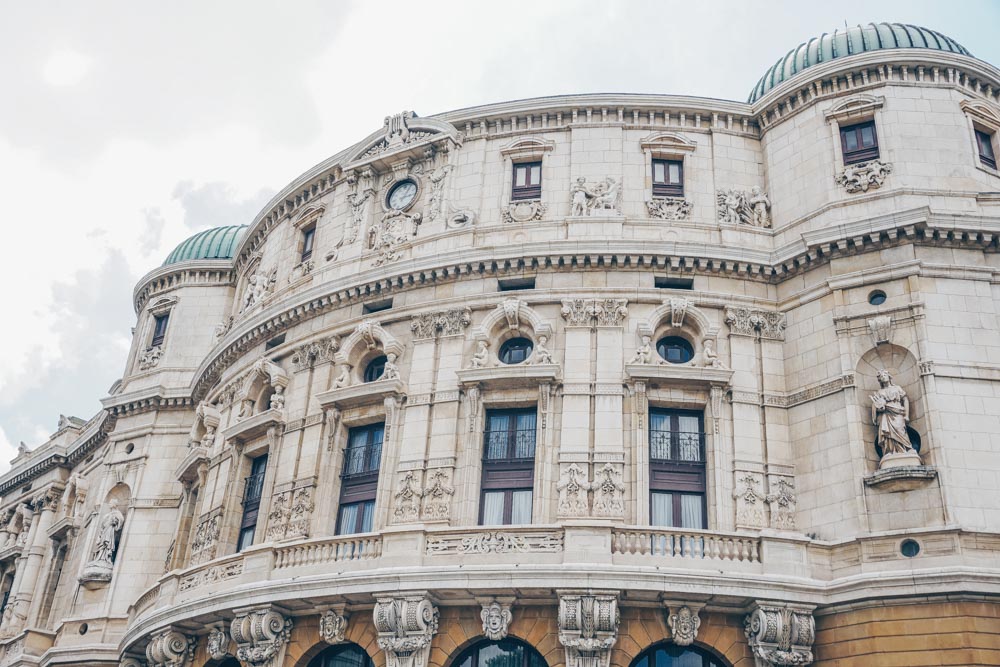 The stately grande-dame Teatro Arriaga still functions as a hub of arts and culture within the city. The opera house was designed by Joaquín Rucoba (who also designed the equally-impressive city hall), opening in 1890.
The opera house gets its name after Juan Crisóstomo de Arriaga, who was widely dubbed as the Spanish Mozart, way back when. Check ahead to see what's on.
Take a Trip to La Rioja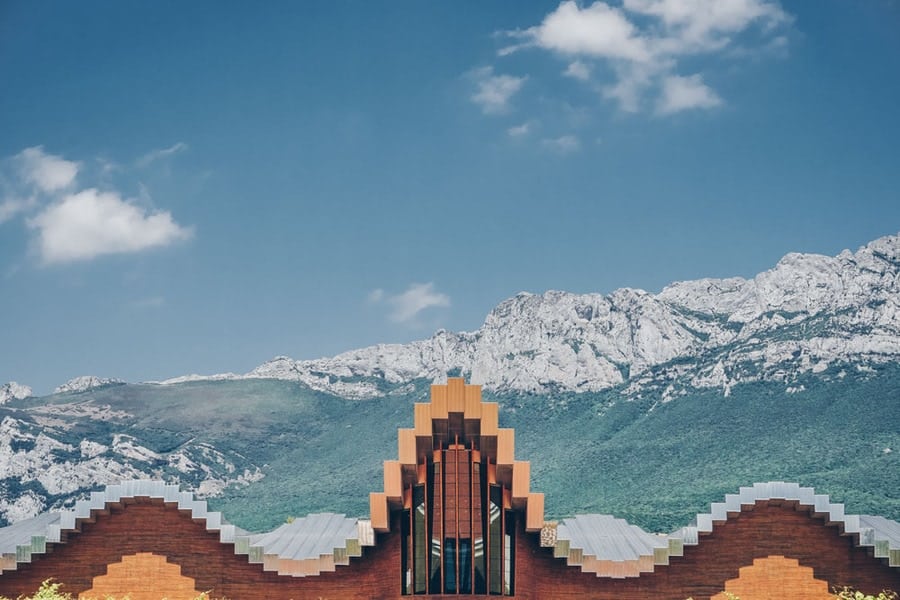 I'm such a cheat. This is the second entry in this list of things to do in Bilbao that isn't even in Bilbao.
I'm sorry guys, I'm SORRY – just thought you should know that La Rioja – you know one of Spain's most important wine regions – is only a couple of hours' drive away.
Knew that would get your attention.
Yes. Twist your friend's /partner's/ resident mug's arm (sorry Jon) to take up the mantle of being the designated drama and you can be guzzling down stellar wine in a matter of a couple of hours. What do you think about that?
If you're on board with a little wine-fuelled road trip day-tripping, be sure to make your way to Bodega Ysios.
The younger, more exclusive sibling of Campo Viejo, the winery boasts a sensational building that's cleverly framed against the backdrop of the surrounding mountains. Oh and it was designed by Santiago Calatrava (he of the Zubizuri Bridge fame) too.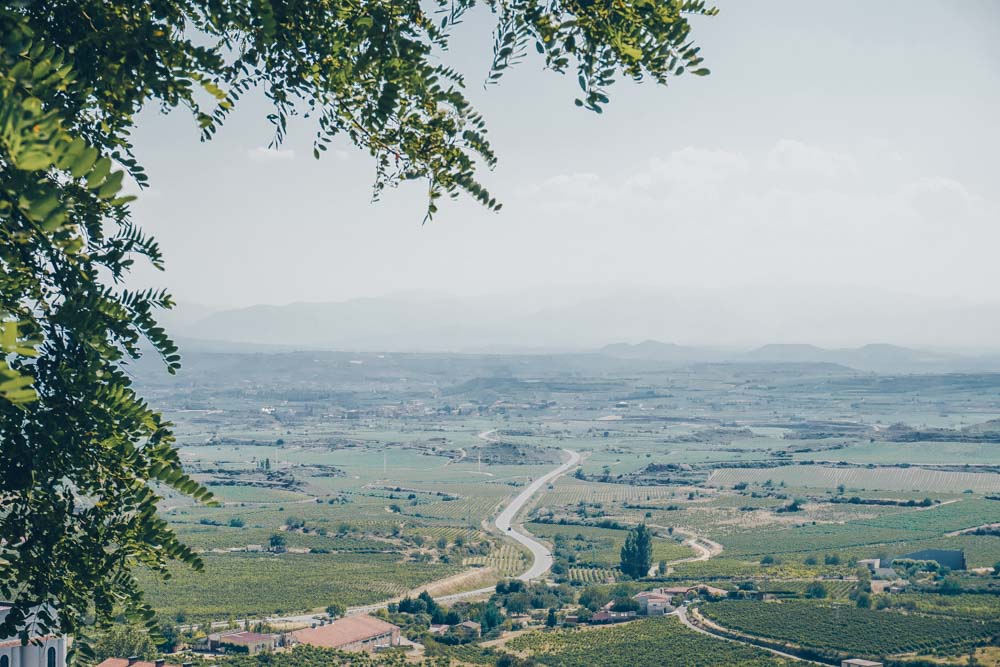 Nearby, the hilltop village of Laguardia is too pretty for words.
PS, if your companion isn't keen on the idea of driving you to a wine region where they won't be able to drink any wine (I know, some people are so selfish) – you can book onto this tour to the Rioja wine regions instead. Where there's wine, there's a way.
What to do in Bilbao for a Day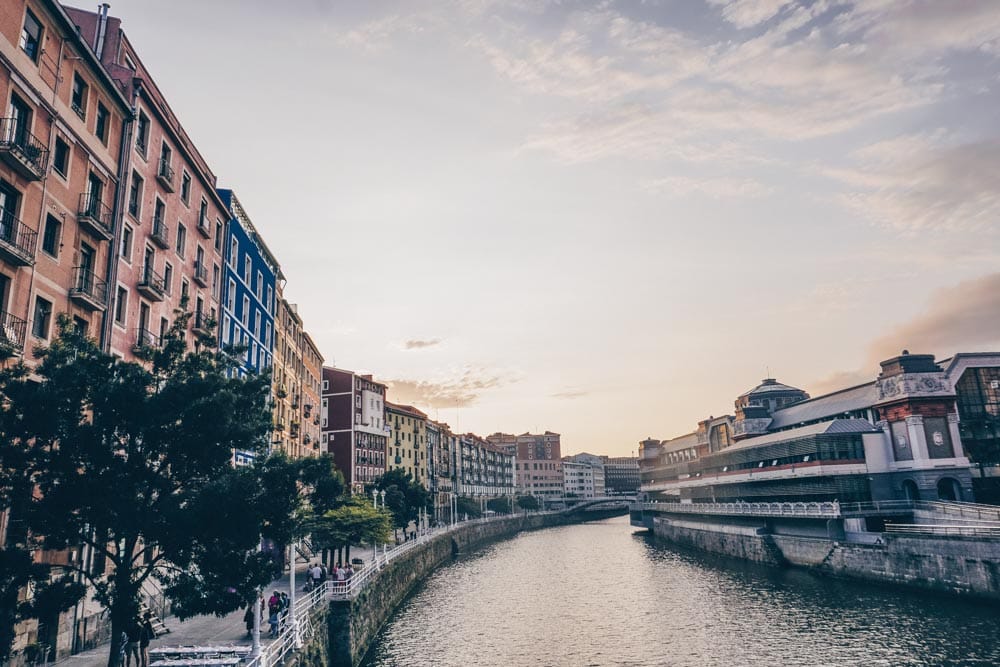 An ideal world would see you with a couple of days to spend mooching around and exploring Bilbao at your leisure but, as we all know, life isn't always ideal.
Wondering what to do in Bilbao for a day? Here's a quick suggested itinerary.
Morning
Start with a walk around the Casco Viejo – swing by the Cathedral and Church of St Nicolas de Bari before popping into the Mercado de la Ribera for lunch.
Afternoon
Walk along the banks of the Nervion river to Artxanda – head a couple of blocks in to the Funicular de Artxanda and take the white-knuckle ride to the top for a panoramic view of Bilbao.
Jump back onto the funicular for the short ride down (and pop into Artxanda Jatetxea for a snack and some refreshment if you're hungry).
From there, it's a short walk to the striking Zubizuri Bridge – use it to cross to Ensanche and head to The Guggenheim. If you're not a fan of modern art, you may want to skip going inside for a trip to the Museo de Bellas Artes.
You don't have time to do both, so pick the one that looks most appealing to you.
Evening
Your hard work is done – kick back with a glass (or three of the local wine) and do a pintxos bar crawl. Finish up with drinks and a performance at the Akuna Zentroa before heading home.
Bilbao, Spain: Practical Tips
Where to Stay in Bilbao?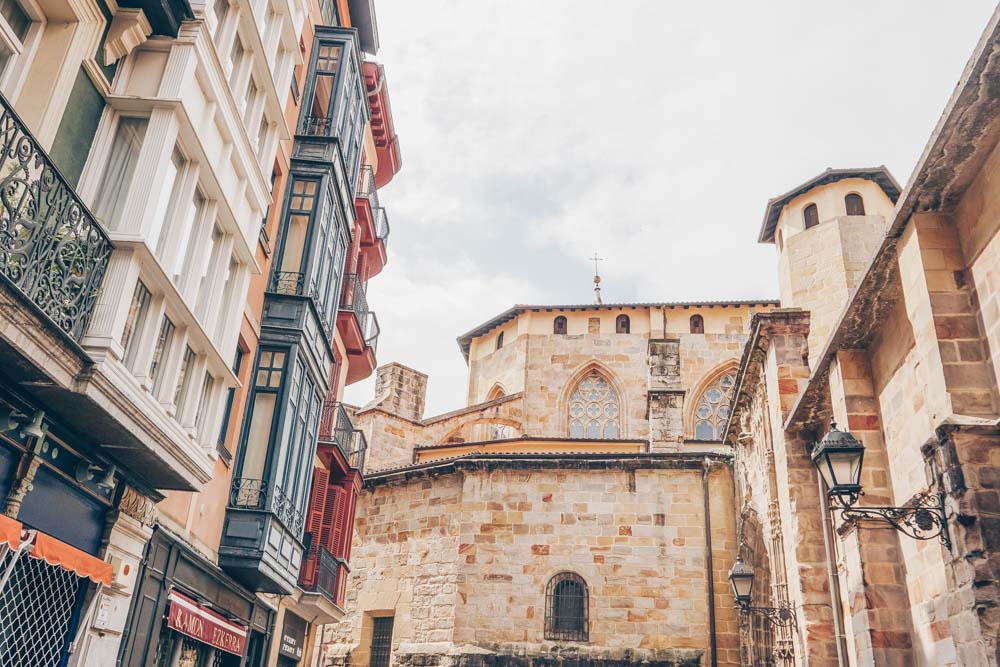 Your main options for staying in Bilbao are the Casco Viejo and Ensanche.
Personally, I'd recommend staying in Casco Viejo as it's a gorgeous neighbourhood with lots of cool restaurants and sights. You're also a stone's throw away from the Mercado de la Ribera – a hub of great food, drink and general people-watching.
The downside of the Casco Viejo is that it's some distance (½ hour walk) to Ensanche – the area containing the Zubizuri Bridge, Guggenheim, Museum de Bellas Artes and a significant number of restaurants. If you're set on staying near The Guggenheim, staying in Ensanche is your best bet.
Recommended Hotels in Bilbao, Spain
Hotel Sirimiri (Casco Viejo). A relatively basic but well-priced and comfortable hotel in the Casco Viejo neighbourhood.
NH Collection Villa de Bilbao. This sleek and modern hotel opened its doors in 2012 and quickly established a reputation for elegance and luxury.
Hotel Melia Bilbao. This luxurious and architecturally designed hotel is a work of art itself – befitting for its location opposite the Guggenheim museum.
Need more tips? Check out my full guide to The Best Places to Stay in Bilbao
Things to do in Bilbao: Final Thoughts
So there we are – the best things to do in Bilbao, Spain. Are you ready to discover this cool city for yourself? I hope you have a blast when you do.
Things to do in Bilbao: Map
Love This? Save and Share on Pinterest!