Ready to experience all of the stunning beauty of Costa del Sol? Discover the best beaches in Malaga with this helpful guide.
Let me make a bold statement: The beaches in and around Malaga are next level.
Don't believe me? Golden sands, long promenades filled with beach clubs and an endless sea of colourful umbrellas are a few common sights. Some are worth a quick glance; others may gladly take up an entire afternoon.
​​Sure, the beaches in Malaga's city centre are not anything too spectacular, but head up the coastline towards Nerja and you'll be blessed with an abundance of idyllic spots to unwind.
So which are the best beaches in Malaga? Read on to find out…
Best Beaches in Malaga
Playa de Cabopino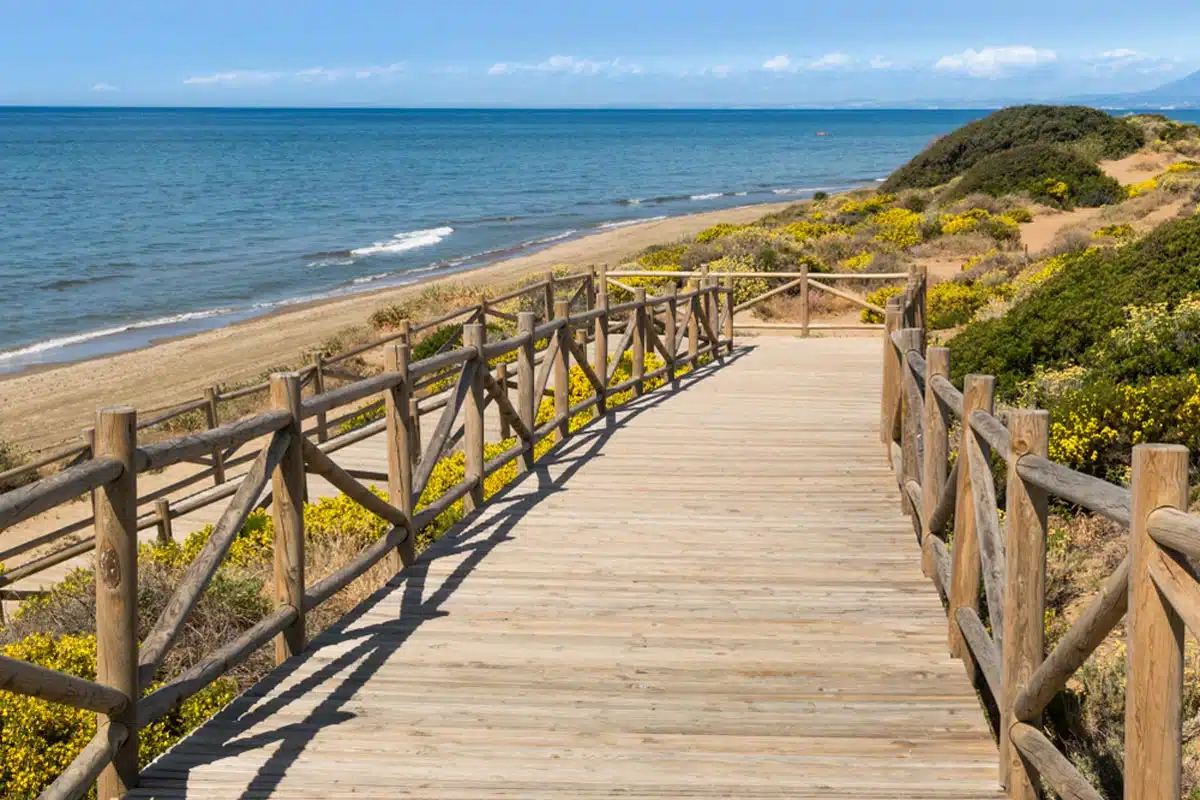 Malaga is fun AF, but if you want to chill out on a beach that's a little bit more serene, head to Playa de Cabopino.
With soft rolling waves, powdery golden sand and a laid-back vibe, I think Playa de Cabopino is a perfect spot to mellow out between busier evenings in Marbella and Malaga.
Walk along the idyllic sand dunes nearby and check out the Torre Ladrones, a watchtower dating back to the turn of the 16th century. Sounds like a well-rounded day, doesn't it?
Playa de Maro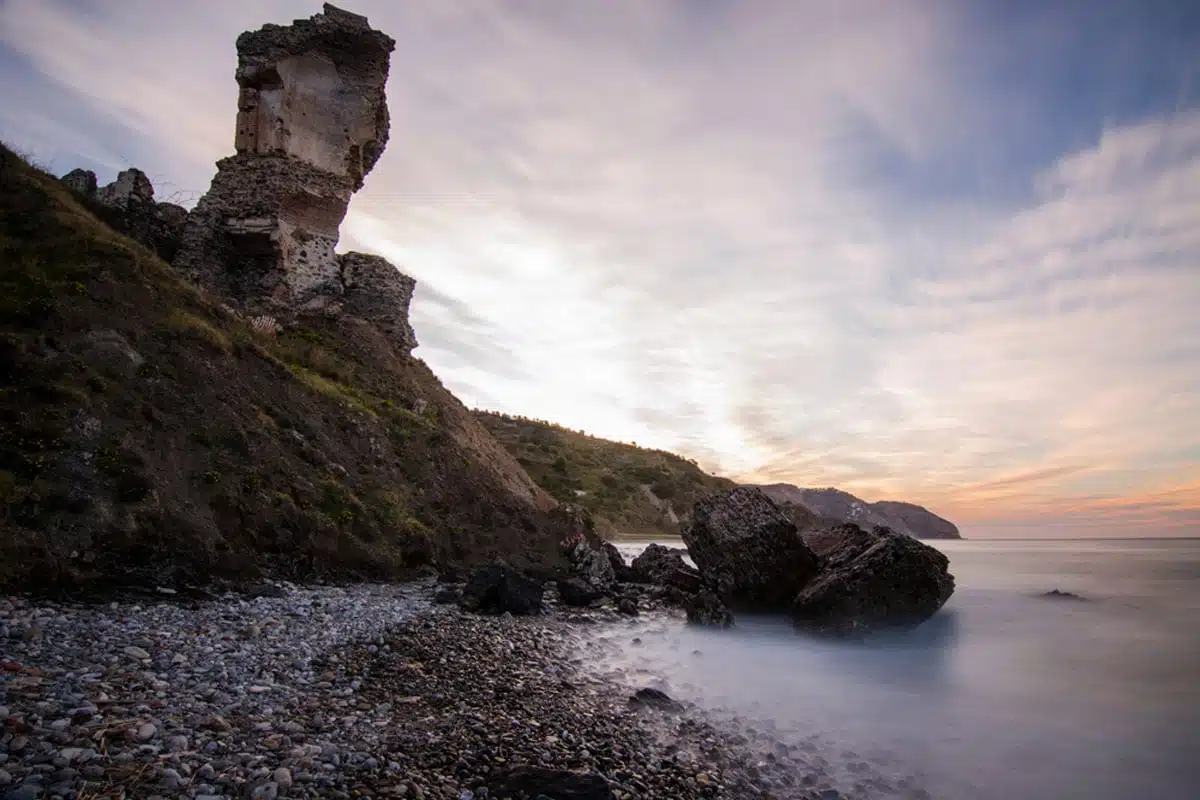 Drive further up the Costa del Sol, and you'll find one of the best beaches near Malaga, Playa de Maro.
I consider going to the beaches near Nerja an unmissable thing to do in Malaga, and this is one of the best. Hear me out.
The dramatic cliffs surrounding the small Malaga cove beach help protect it from the wind and keep the waters relatively calm.

Let me spill a well-kept secret: Snorkelling here is top-notch, thanks to the wonderfully clear waters and abundance of fish and sea creatures. And for the thrill seekers out there, diving and kayaking here are nothing short of spectacular.
Playa La Malagueta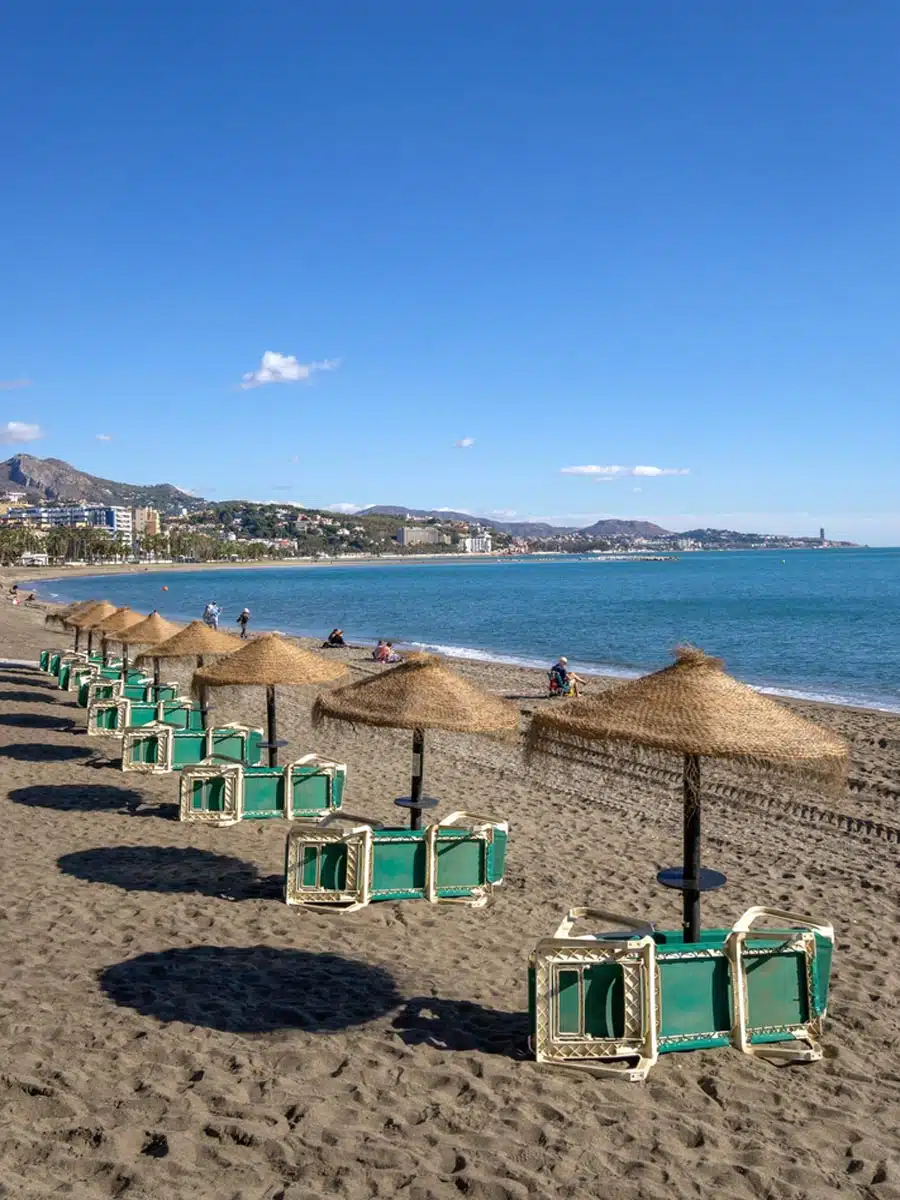 Playa La Malagueta is a Malaga city beach that you won't want to look over on your trip to Spain.
Listen, there are quieter beaches, more epic diving spots and better spots to surf. But there is no better urban beach in Malaga than La Malagueta.
There are plenty of opportunities to soak in some sun, cool off in the beautiful blue waters or fall asleep on a lounger reading your favourite magazine. But what makes La Malagueta special is the abundance of food, cocktails and fun vibes around you.
When you shower off the excess sand, take a short walk into the vibrant La Malagueta neighbourhood or stroll the promenade near the harbour for an epic nightcap after a day at this Malaga beach.
La Caleta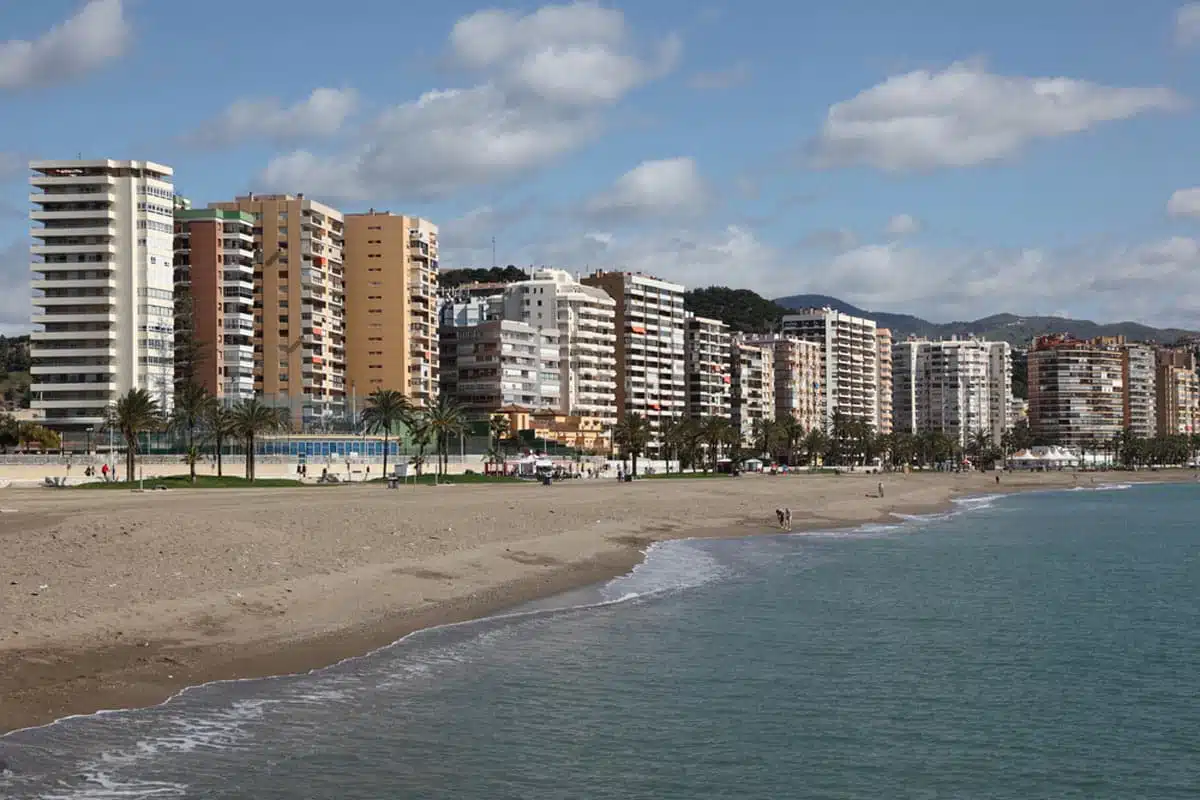 La Caleta is another one of the best Malaga beaches if you want picturesque scenery, plenty of space to spread out a beach towel and close proximity to the city.
It's a Blue Flag beach with all the comforts you require, but there's also plenty of green space surrounding the area if you want to plan a picnic near the beach.
You can get here by foot from Old Town and other areas in the centre of Malaga, and it's just down the promenade from the famous (and slightly busier) La Malagueta.
Playa de Guadalmar
For those who need to tap into their naturist side, Playa de Guadalmar is where you can lay out on the Malaga beaches nude, whether it's your preference or if your luggage got lost at the nearby airport.
The summer heat is beckoning you for some beach time, and this urban beach is a great landing point.
When you're ready to head into the water at this Malaga beach, head to one of several water sports rental shops nearby (clothing required!) and sign up for a windsurfing lesson or rent beach gear for the afternoon.
The currents here can be intense, so make sure you're a strong swimmer if you venture out into open waters.
Playa del Duque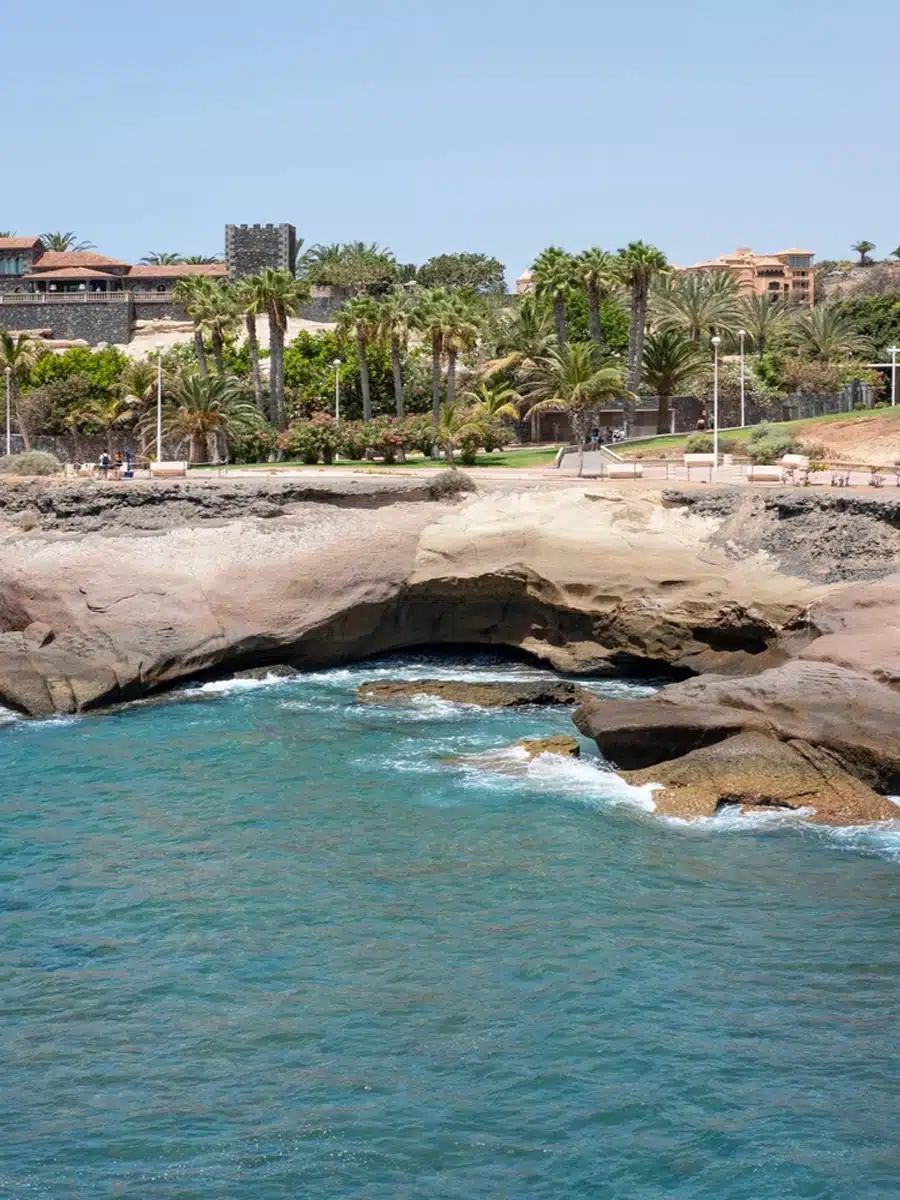 Playa del Duque is quite possibly the best beach in Malaga, Spain, with its stunning clear blue waters and pristine sandy shores that fly under the radar of many travellers.
The laid-back beach is adjacent to an upscale area with plenty of great boutique shops, cafes, and Malaga beach clubs.
If you're looking for the best beaches, Malaga offers luxury and comfort, reserve a bed and enjoy one of the poshest beach scenes in Malaga, Spain, with live entertainment and the perfect upscale Puerto Banus vibe.
Playa de la Misericordia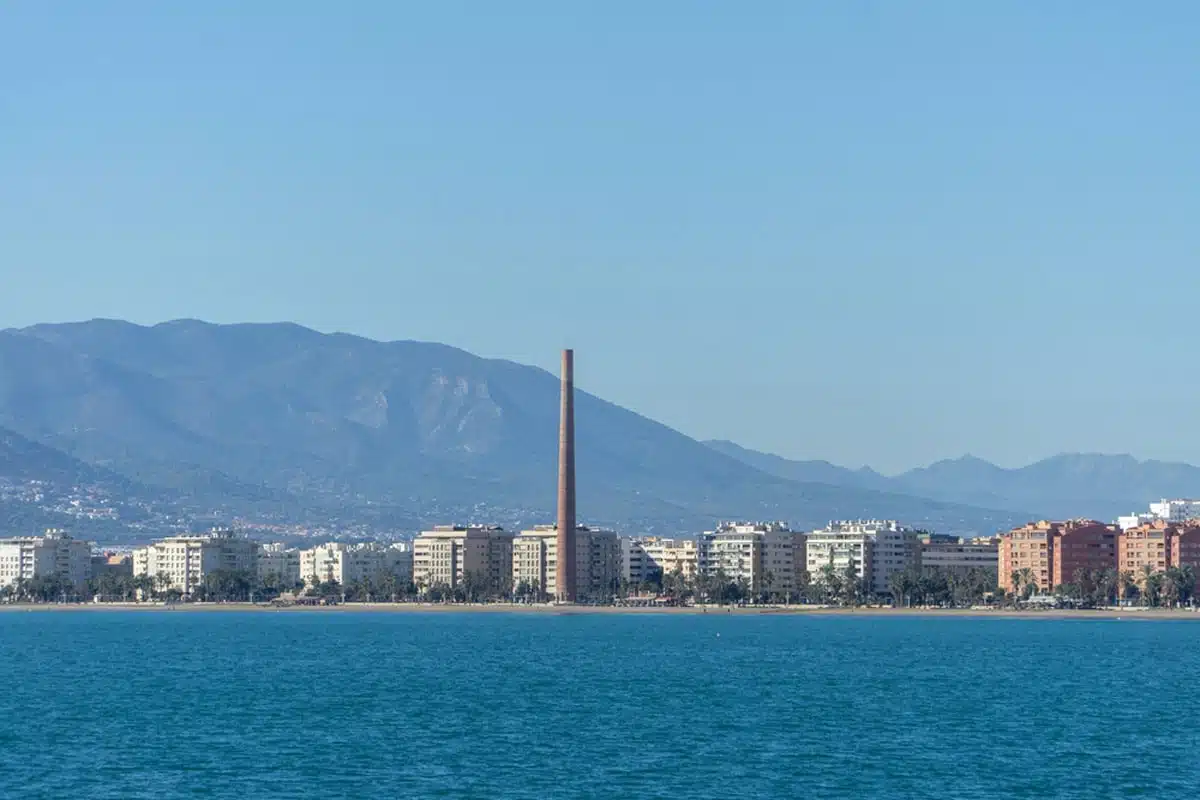 Want to find a beach that has more of a laid-back local flavour? Let me introduce you to Playa de la Misericordia.
It's popular with Malaga residents and tourists alike for its long promenade, family-friendly amenities and unusual surfing conditions caused by local ferries. Another unique feature of this beach is the large 19th tower that has its own unique industrial beauty.
There are loads of great places to eat and drink nearby, and you can't leave Playa de la Misericordia without trying some local seafood at one of the cafes near the beach. Trust me, you're in for a great and authentic Malaga experience.
Playa Calaceite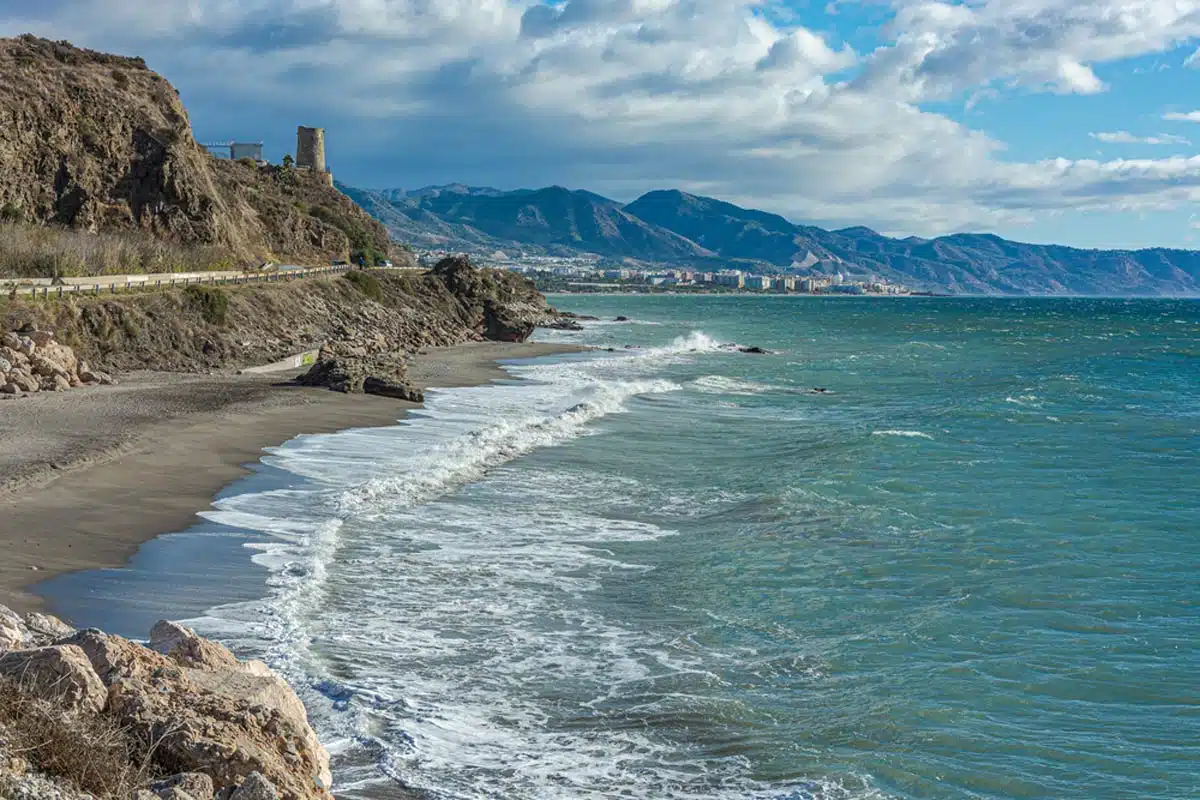 If you're looking for a secluded Malaga beach that feels like your own little secret, Playa Calaceite is a good pick.
It's small, at only 400 metres long, but what it lacks in size, it makes up for in peaceful, natural beauty.
And if you're looking for the best beach in Malaga for snorkelling and diving, the shipwreck from the Spanish Civil War off the coast is a storied dive site with rich history and abundant sea creatures below.
Practical Tips for Exploring the Best Malaga Beaches
The best beach clubs in Malaga are fabulous but also very popular, so you want to book as far in advance as possible.
Jellyfish can appear during the popular summer months, so check with lifeguards before entering the waters.
Not to nag, but you really do need to take suncare seriously. Wear a high SPF and a sunhat, peeps.
Malaga Beaches: Map
Best Beaches in Malaga: Read More Malaga Guides