Malaga is the sun-kissed jewel of Spain's Costa del Sol, a place where rich history meets modern charm. From Moorish fortresses to cultural treasures, discover the best things to do in Malaga and uncover a different side to the city with this guide.
Think Malaga is all about beers and beaches? You're in for a surprise. Situated at the foot of the Montes de Malaga, from the cobbled streets of the enchanting old town, to stellar Andalusian tapas and Picasso Museum to boot – there's a lot more to the city than appears at first glance.
The city was first founded by the Phoenicians who used it as a trading settlement – in particular for salt fish, giving it its name (malac = to salt). Subsequent settlers included the Carthans, Romans and the Moors – each leaving their stamp on the city you see today.
I have to admit, I wasn't sure what to expect from Malaga during my first trip. We booked a stay for a few weeks to use it as a base for our southern Spain itinerary as it was handily located for getting around and I'm always keen to explore somewhere new.
The trip was a total eye opener and I came back raving about Malaga to anyone who would listen. Several return visits later, I'm just as smitten with the range of historic attractions, delicious delicious cuisine, striking old town and laid-back beaches.
Ready to explore? Let's go!
Best Things to do in Malaga
Visit Malaga's Alcazaba (Royal Palace)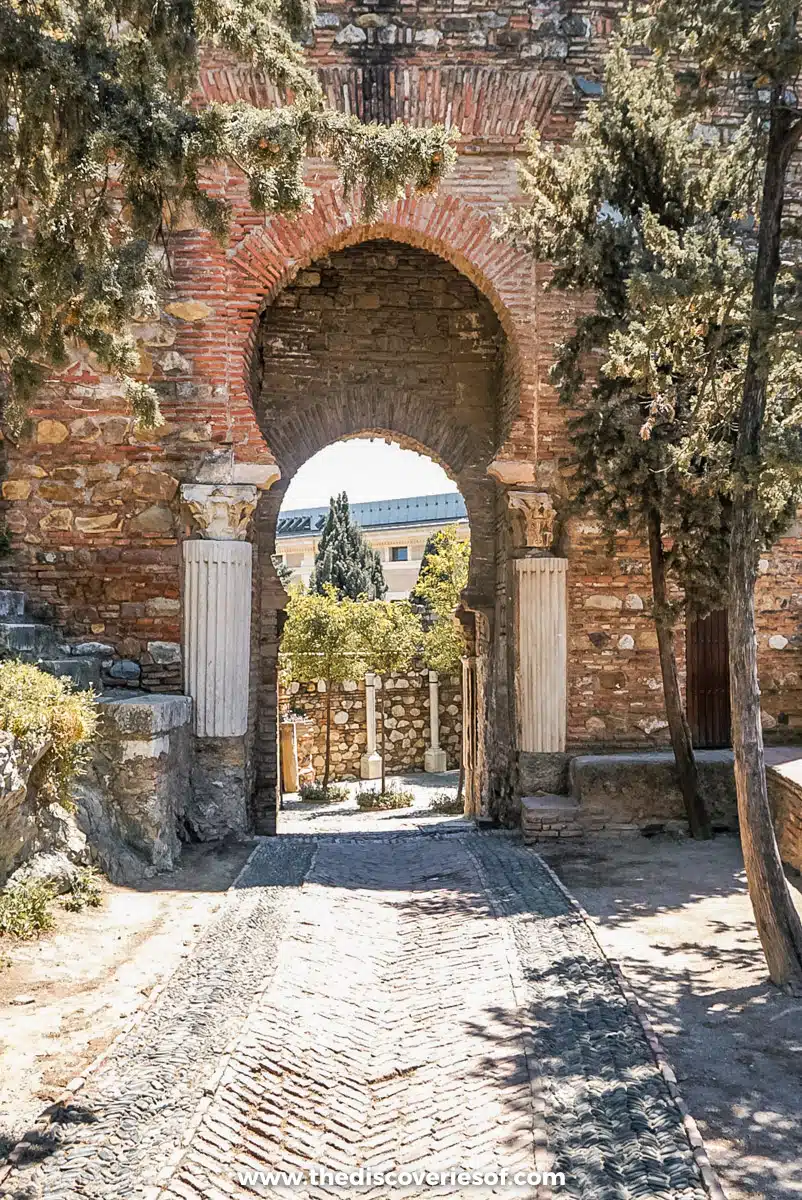 Nestled in the heart of the city, Malaga's Alcazaba (royal palace) might not have the impressive scale of landmarks like Granada's Alhambra, or the opulence of Sevilles's Real Alcazar, but it undoubtedly has a charm of its own.
The Alcazaba is a pretty cluster of old buildings, the remains of the Moorish palace in Malaga that date back to the early 11th century, when the region was under the reign of the Berber king Badis-al-Ziri.
Although it's often called a palace, it's more accurate to call it a defensive palatial fortress as its primary purpose was to defend the city, hence its strategic position overlooking the city and the sea.
That's all interesting enough, but what should you expect if you visit today? The buildings – which include the impressive Torre de la Vela and Arco de Cristo – have been partly-restored.
Inside the palace complex, ornate arches join reflective pools and detailed tile work for a style that's undeniably Moorish and are accompanied by pretty gardens and gorgeous views out to sea.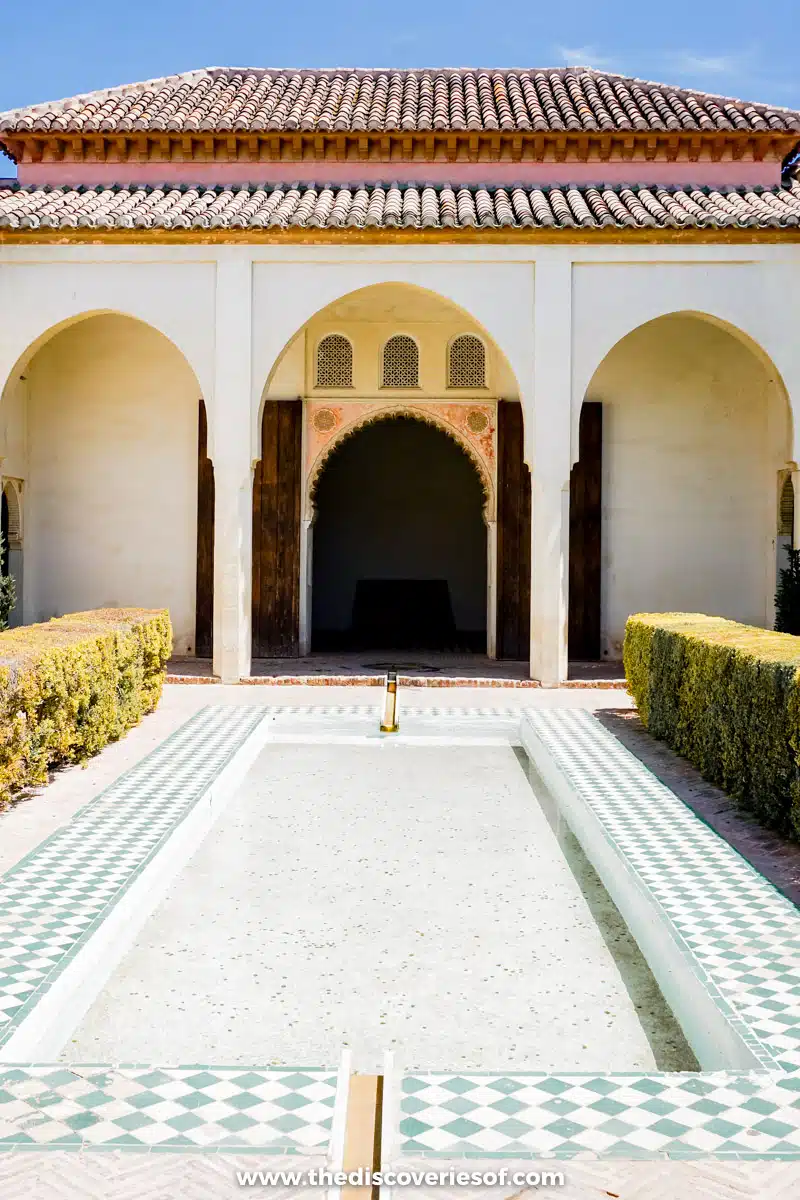 I'll be honest with you, compared to the Alhambra, Malaga's Alcazaba is teeny tiny – but that's a good thing. It means that you won't be jostling with what feels like millions of people to grab a peek at each room or pretty spot.
I visited in the middle of the day in June and there were only a few other people milling around, so I could appreciate the peace and tranquillity of the spot.
Do
The Alcazaba is typically open from 9am to 8pm in the summer and 6pm in winter. Tickets cost €3.50 for adults, or €5.50 for a combined ticket for the Gibralfaro. There isn't much information about the history of the Alcazar inside the compound book onto a guided tour if you want to learn about it in any detail.
Castillo de Gibralfaro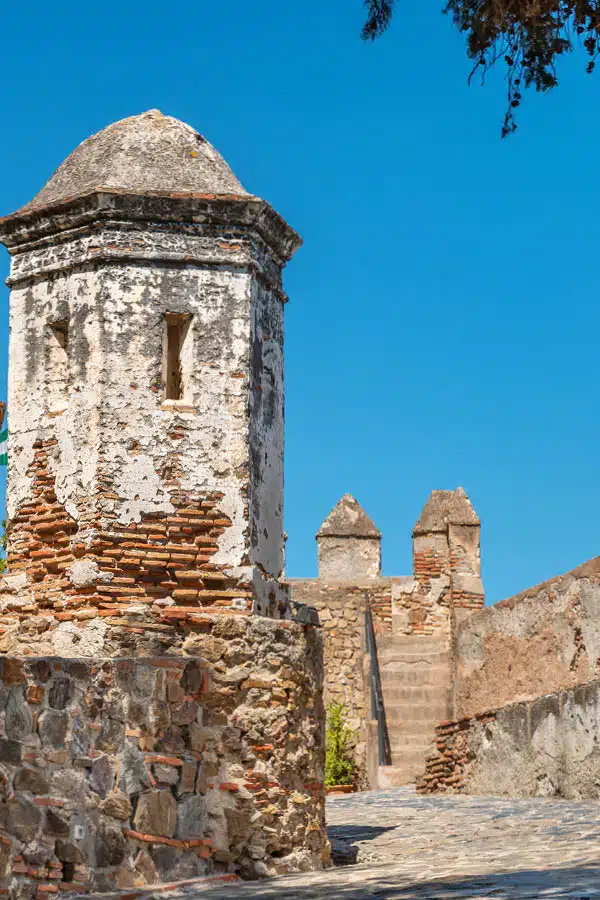 The Castillo de Gibralfaro is not only one of Malaga's biggest sights, it also boasts spectacular views over the city. The name, a combination of the Arabic word for hill Jebel and the Greek for lighthouse pharos, says it all.
The fortification dates to the 13th century during the rule of the Nasrid king Yusuf I of Granada and is an important site in the city's history. It's most famous for being the location of a three-month stand off between the Moors and Christians during the reconquest of Spain in 1487.
The Christian troops besieged the Moors in the fort for three months until they surrendered when they ran out of food supplies. Sounds a bit grim right?
Luckily visiting today is a much pleasanter affair.
Though many of the buildings have been destroyed, you can walk around the Castillo's ramparts and courtyards and soak up the stunning views of the Old Town, harbour and beyond. There's also a small museum providing insight into the daily lives of the soldiers who were once garrisoned here.
The castle is generally open daily between 9am and 6pm.
Top Tip
 Be warned, it's a steep and hot walk up to the Gibralfaro from the Alcazaba – you can do it, but make sure you bring lots of water. Alternatively, hop on the bus or drive up to the Castillo from the centre.
Walk Around the Ruins of the Roman Theatre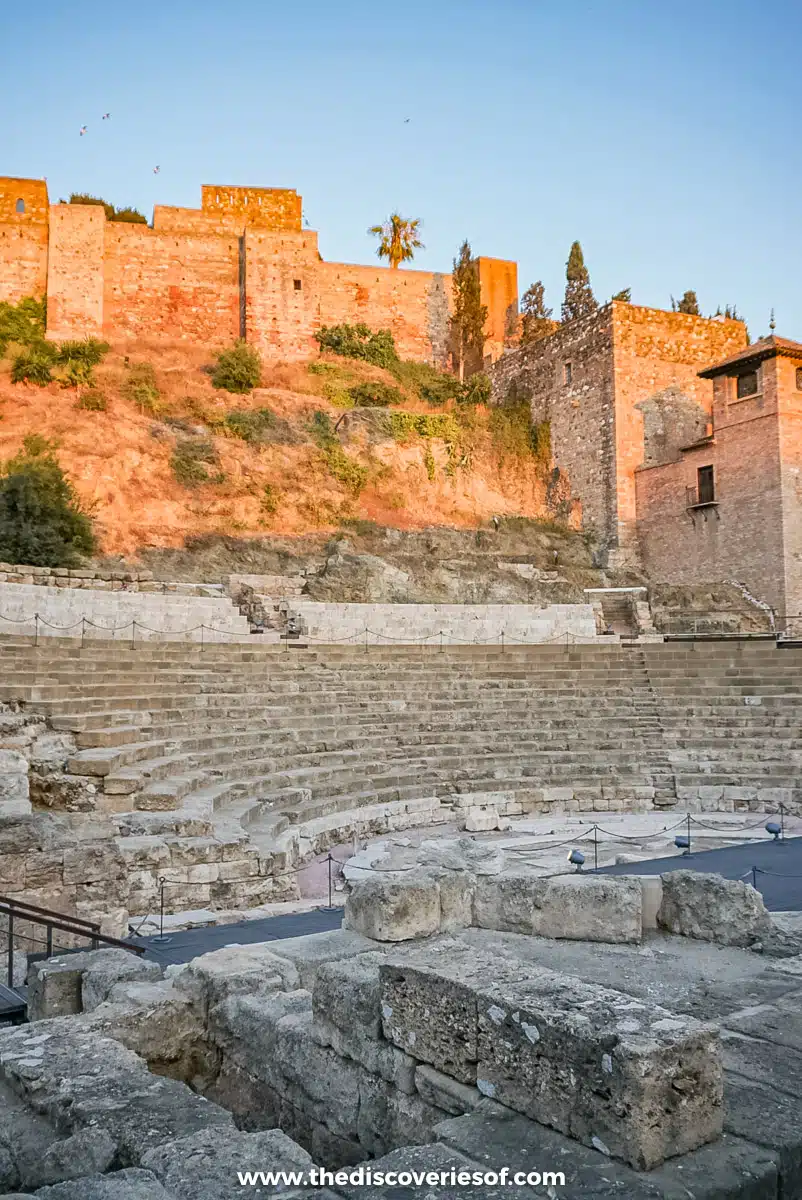 The oldest monument in Malaga City, the ruins of the Roman Theatre are pretty difficult to miss.
Dating from the 1st century BC, the ruins of the Roman theatre are remarkably well-preserved. They're one of the few surviving Roman ruins in the south of Spain, and worth a stop while you are in the old town.
In its heyday, it held up to 2,200 spectators and would have been used by bloodthirsty Romans to watch gladiator fights, along with quieter pastimes such as performances and public gatherings. During recent excavations, paintings depicting the gore were found on the walls.
In fact, you can still see the cells in which the gladiators waited for their turn to fight.
Don't miss the informative visitor centre either. Just by the entrance to the ruins, they offer visitors the chance to find out more about the history of the building and Roman rule in the region.
Do
The Theatre is usually open between 10am to 6pm Tuesday to Saturday, 10am to 4pm on Sunday. Closed Mondays. Admission is free.
Feast on Tapas at Cortijo de Pepe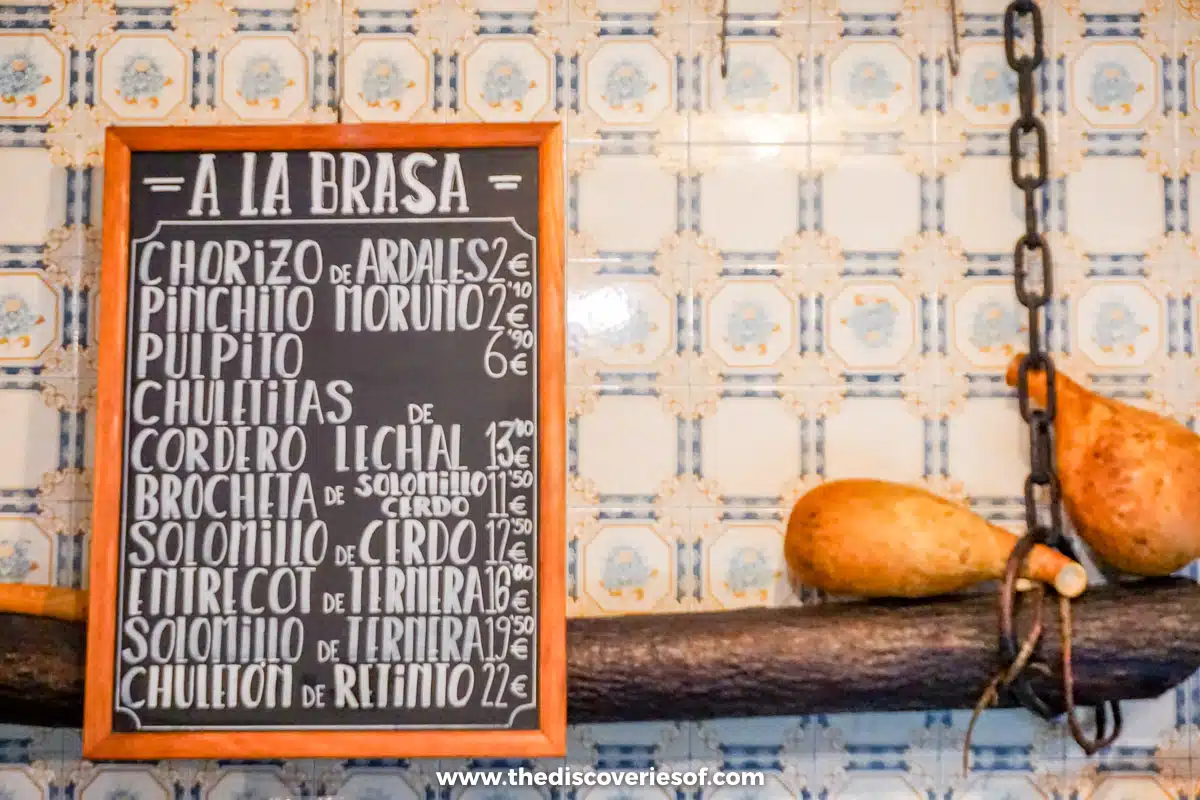 Do you ever have one of those meals that make your stomach sit up and pay serious attention to all the yummy, scrummy goodness you're feeding it? That's exactly what happened to me in Cortijo de Pepe.
First things first, this is a popular tapas bar, so you best come prepared to eat at the bar, at a small table perched against the wall…
Wherever they seat you, just know that the meal will be worth whatever slight discomfort the bustling crowds cause.
Picture this. We'd just driven down from Madrid in a sweatbox of a car with no aircon, it was 8pm our Airbnb wasn't ready and we were making the kind of low-level snarky comments at each other that can easily escalate into a full-blown tantrum.
Then we stumbled across Cortijo de Pepe and it saved the day. How can you be grumpy or irritable when you are feasting on some of the best Spanish tapas you've ever tasted?
Palate-tingling, bursting with flavour – there's nothing on here that you won't see in another Spanish restaurant, but somehow they've turned it into something spectacular.
Top Tip
If you're not squeamish about these things, the octopus, slowly braised, then grilled over charcoal and tossed in extra virgin olive oil and fresh sea salt is guaranteed to blow you away.
Plaza de la Merced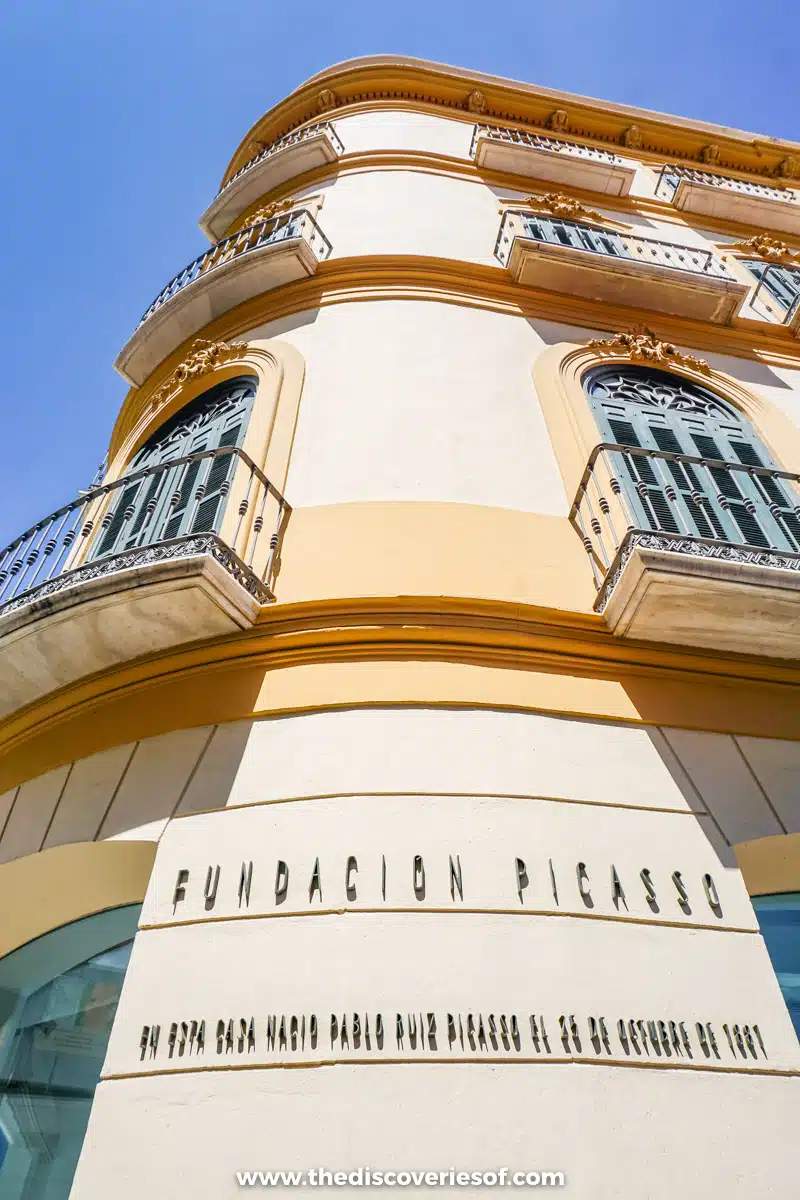 No Spanish town or city would be complete without a spectacular plaza at its heart. Plaza de la Merced might not have the dramatic appeal of some of Spain's plazas, but it's the perfect place to while away a few hours while watching the crowds.
The Plaza has sat at the heart of the city's social life since it was constructed in the 15th century. It was expanded in the 19th century and today is a pretty hub of historical buildings, cafes and lively bars.
Don't miss the building on the north corner – Malaga's most famous resident, none other than Pablo Picasso – was born there. The house has been turned into a small museum.
I skipped it in favour of visiting the Picasso Museum around the corner (see below) but you might want to check it out.
Work on Your Tan on One of Malaga's Beaches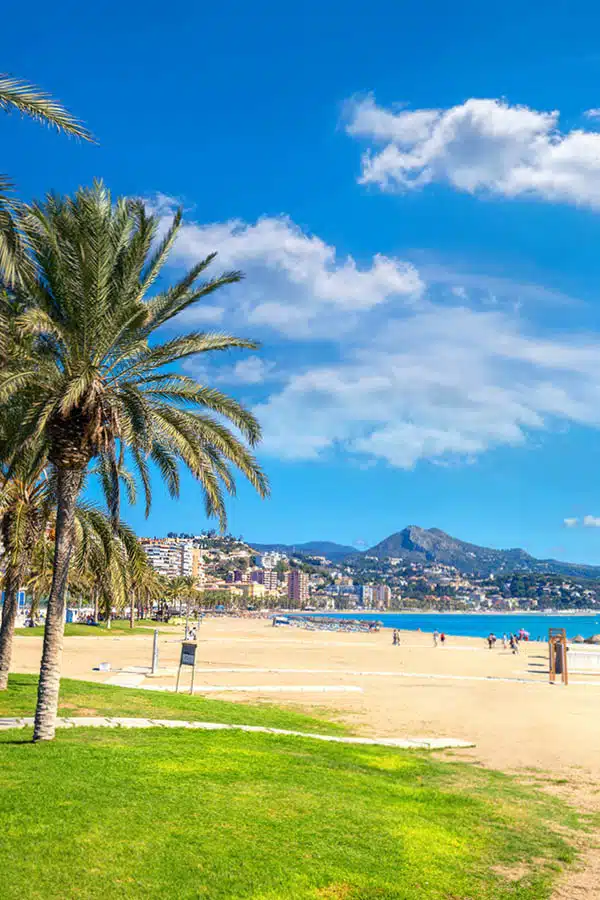 I'll level with you – the beaches in and around Malaga city aren't spectacular. You'll want to head along the coast towards Nerja for something a bit prettier. That said, the city beaches aren't bad and are nice enough for a spot of sunbathing.
Take your pick – there are quite a few of them.
La Malagueta Beach is the best-known beach in the city and close to the city centre. The 1200 metre stretch is well equipped with amenities and beach bars serving traditional Malaguan food.
Playa de Caleta is a local favorite who come to enjoy its calm waters and golden sands.
El Palo Beach is further east of the city centre, which is known for its traditional fishing-village atmosphere. It's also where you'll find many of the city's best fish restaurants.
Nudists and naturists should head to Playa de Guadalmar – Malaga's only naturist beach.
Misericordia Beach is a Blue Flag beach that's popular with families.
Don't forget to top up on your sunscreen!
Visit Malaga Cathedral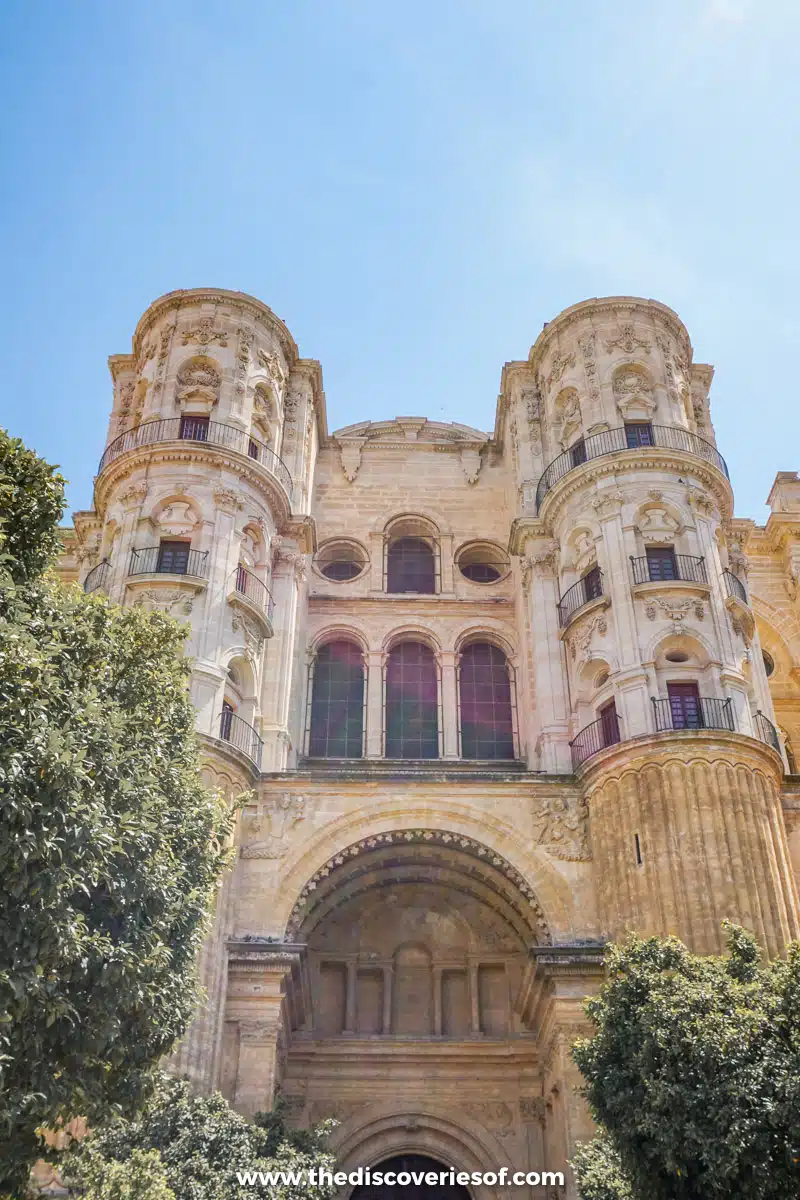 It's almost impossible to miss Malaga's striking cathedral. Nestled in the heart of the city, it's an impressive sight. Look a little closer though and you'll notice something a little weird: it only has one bell tower.
Turns out that the cathedral's nickname La Manquita, which translates as the One-Armed Woman, is a literal one.
It was constructed between the 16th and 18th century. Funds for building the second tower were donated to champion the American War of Independence… leaving the cathedral with one tower and a nickname that would stick throughout the centuries.
Missing tower aside, the cathedral is a pleasing mix of Renaissance and Baroque architectural styles, decked out with intricate sculptures and carvings.
Inside, the Cathedral is no less stately – if only for the size alone. The opulent decor and detailed sculptures only add to the effect. 
Discover the Charms of the Old Town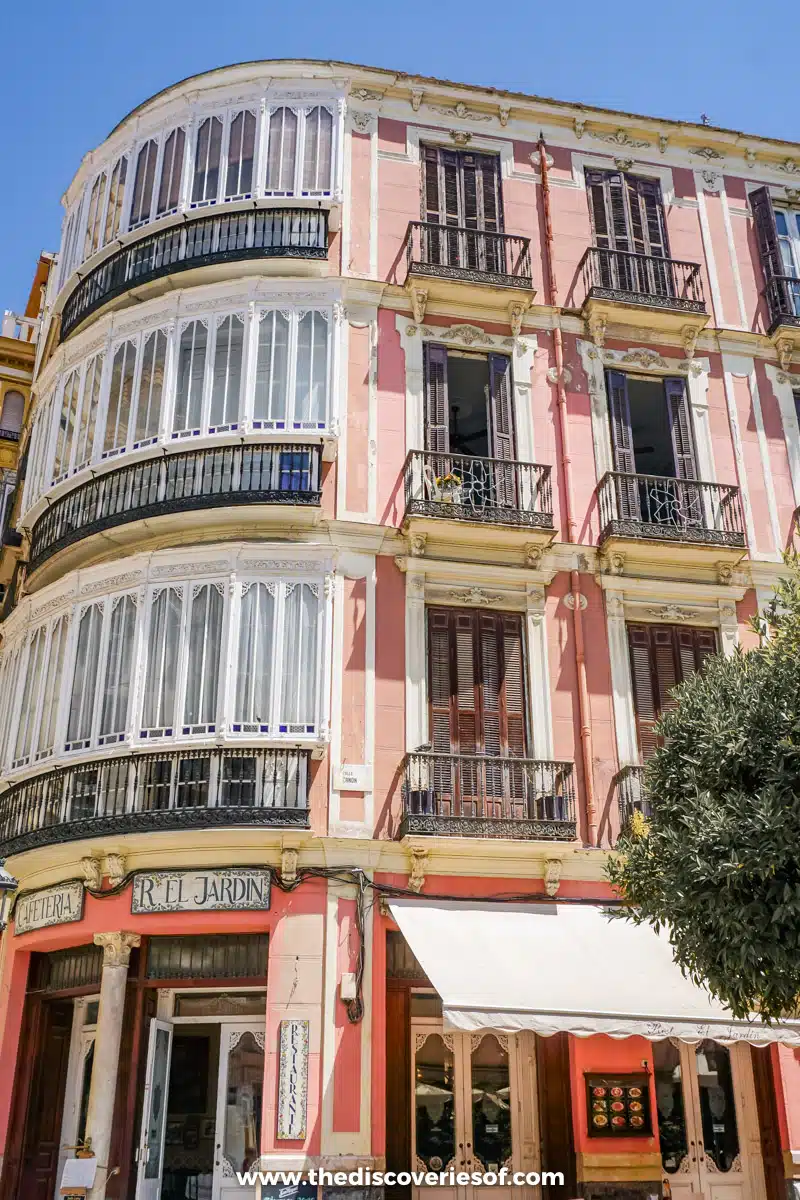 I'll be the first person to admit how surprised I was by the exuberant charm of Malaga's El Centro Historico – or Old Town.
Chuck away the map, put away your phone, and spend some time walking in the maze of cobbled streets, traditional buildings and hidden plazas.
Nowhere is the city's varied past more evident than in Old Town – Moorish-style buildings sit next to Renaissance and Baroque – with the odd Roman Theatre (featured above) thrown in for good measure.
Explore the city's biggest sights, including the theatre, cathedral, Picasso Museum and Alcazaba. Bonus points if you stop off for some local Tinto de Verano (think Sangria, but tastier and just as refreshing) and a gelato along the way.
Gorge on Food at One of Malaga's Food Markets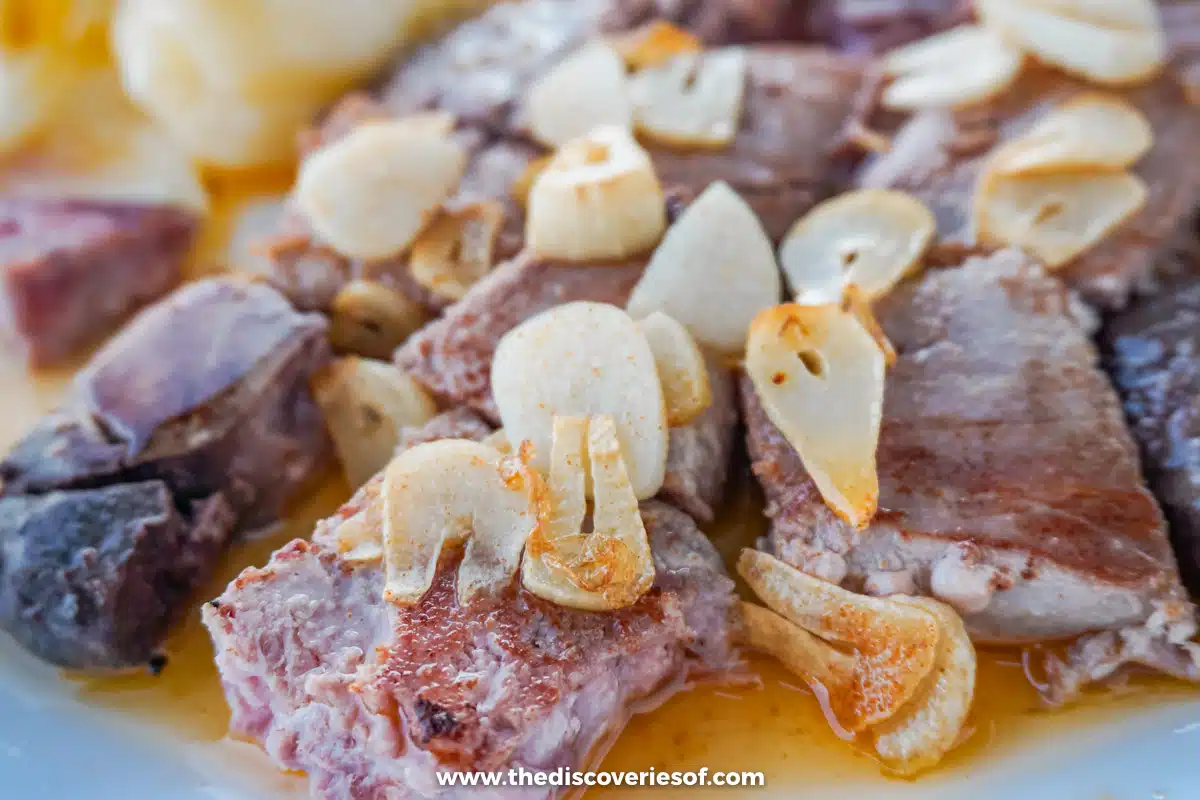 Malaga has a couple of cool food markets dotted around town.
Go with a hungry stomach and fill up on the seemingly endless array of pinchitos and tapas. Alternatively, if you're staying somewhere with cooking facilities, they're a great place to stock up on fresh produce to cook at home.
Mercado Central de Atarazanas is the best-known market. Housed in a beautiful building that has been a hospital, military fort and convent over its long history, the food is pretty damned good too.
Alternatively, pop into the revamped Mercado de la Merced, behind the Plaza de la Merced for your pick of tapas stalls, grocers, butchers and fishmongers.
Check Out the Art at Pompidou Centre
No, not the one in Paris! Malaga's been making waves on the art scene with the opening of the Pompidou Centre Malaga in 2015, the first Centre Pompidou outside France.
Housed in a colourful cube in the up-and-coming Muelle Uno port area, the gallery showcases an ever-changing rotation of contemporary art exhibitions and performances.
All this alongside a permanent collection that includes works by some of the most important artists of the 20th and 21st century including Robert Delauney, Wassily Kandinsky and Antonio Saura.
Do
The centre is open from 9.30am to 8pm. Tickets cost €9 per adult for a combination of the permanent and temporary exhibitions. Children under 18 go free. 
Visit the Picasso Museum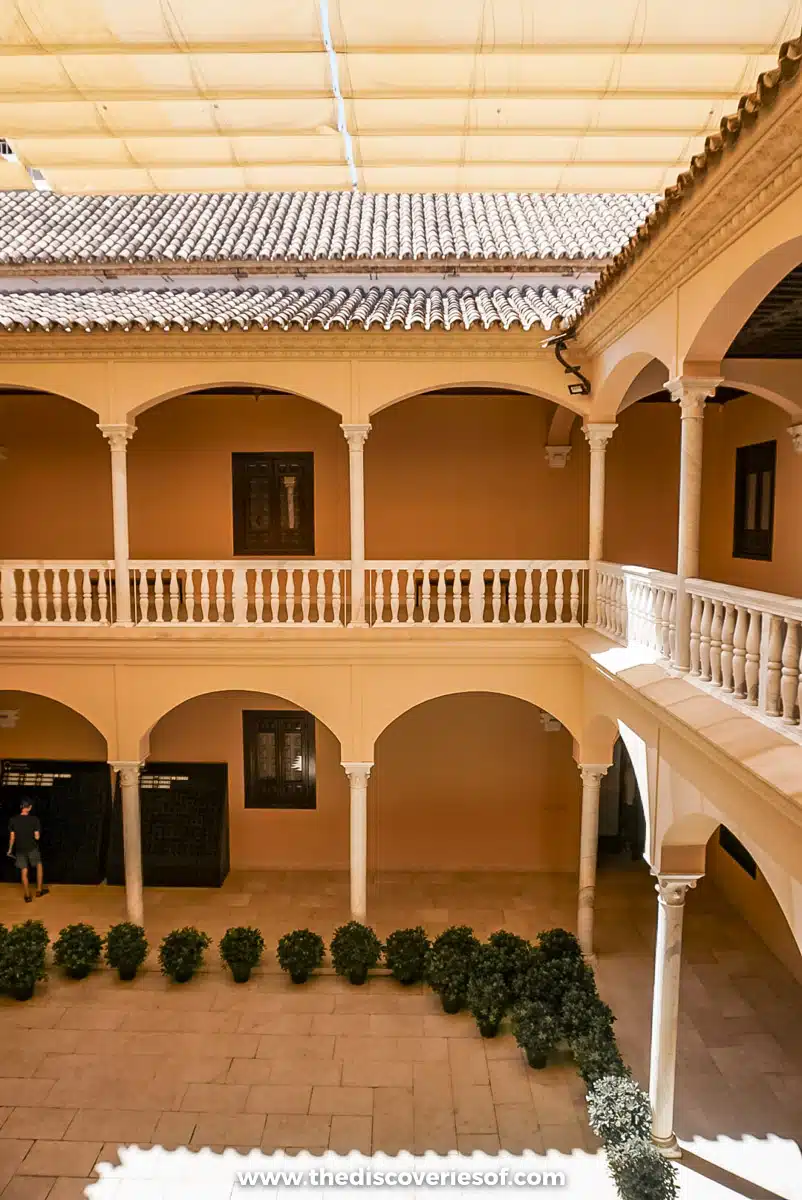 If you didn't know that Picasso was born in the city before you visit Malaga, you certainly will within about five minutes of walking around. Spain's most famous artist was born around the corner on the Plaza de La Merced and lived here until he was 10.
The Museo Picasso Malaga is the biggest and the best of all the various Picasso-dedicated spaces and museums in the city. It opened in the Buenavista Palace, a stunning example of Andalucian architecture in the heart of the Old Town in 2003.
OK, I'm going to make a confession… I don't love Picasso. There, I said it. I totally understand that he rewrote the rulebook on artistic form and norms. I get that he was clearly a very skilled and talented artist. But with a few exceptions, his work just doesn't do it for me.
BUT. It would be sacrilegious to come to Malaga and not pay homage to Picasso, so off I trotted to the museum.Even if you don't love Picasso, the Museo Picasso should be on your list.
Watching the evolution of the artist's work through a permanent collection of more than 200 works, whilst listening to the free audio guide actually ended up being one of the highlights of my time in Malaga. The museum also hosts special exhibitions in a dedicated space upstairs. Check their website to see what's on.
Visit the Carmen Thyssen Museum
The Carmen Thyssen Museum is a gem of a museum showcasing pieces from the private collection of Carmen Thyssen and is another one of my favourite places in Malaga.
It's the perfect spot for those wanting to delve a little deeper into Spanish culture, showcasing works by 19th and early-20th century Spanish artists in the setting of a restored 16th century palace.
Baroness Carmen Thyssen-Bornemiza (whose family's art collection is on display in the Museo Thyssen Bornemisza in Madrid) has always been an avid collector of art and her personal collection forms the core of the gallery's exhibits. 
See What's On at the Centro de Arte Contemporaneo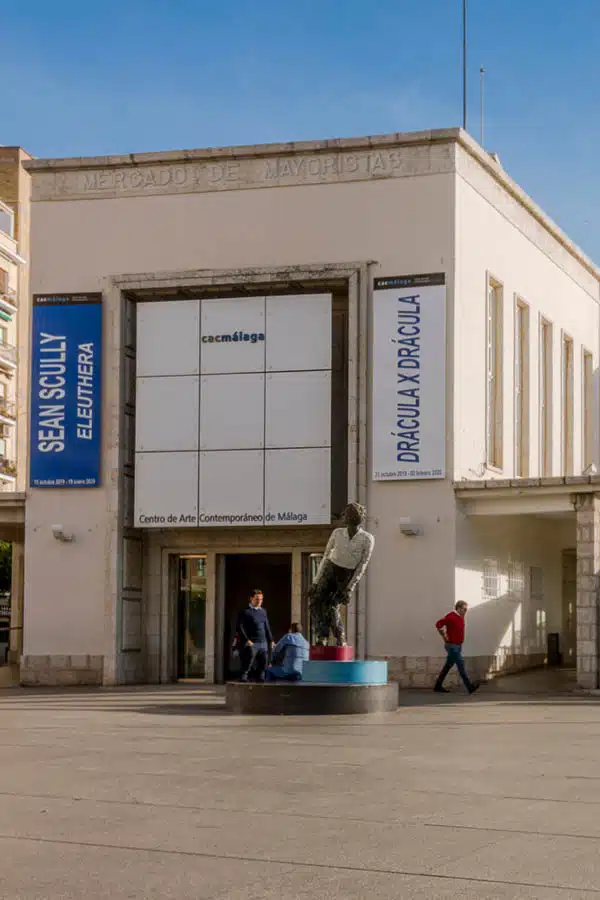 The Centro de Arte Contemporaneo is a modern art museum that's dedicated to promoting contemporary art. Tucked away in the city's Soho district, it was inaugurated in 2003 and has been redefining the city's art scene since.
Spend a few hours admiring the centre's paintings , sculptures or enjoying artistic performances. You'll find works by Antonio Lopez, Damien Hirst, Tracey Emin, Juan Eduardo Cirlot and Jaume Plensa, as well as a rotating schedule of temporary exhibitions. 
Do
The centre is open 10am to 8pm but hours vary during special events and exhibitions. Entry is free.
Check Out Malaga's Street Art
Street Art in Malaga is on the walls of the city. Creativity is unleashed, spray paints and stencils are used on often abandoned industrial sites to create amazing works of art. The best thing about it, it's all for free!
MAUS Collective have driven the creation of most of the street art here in Malaga and they do a great job of ensuring there are new pieces going up regularly. They invite artists from all over the world to create works with many planned events such as workshops and painting sessions.
Head to Soho (nicknamed the Barrio de las Artes) for the biggest concentration of works by well-known international and lesser-known local artists including Obey Giant, D*Face and Roa. 
Eat Malagueño Fried Fish at Maricuchi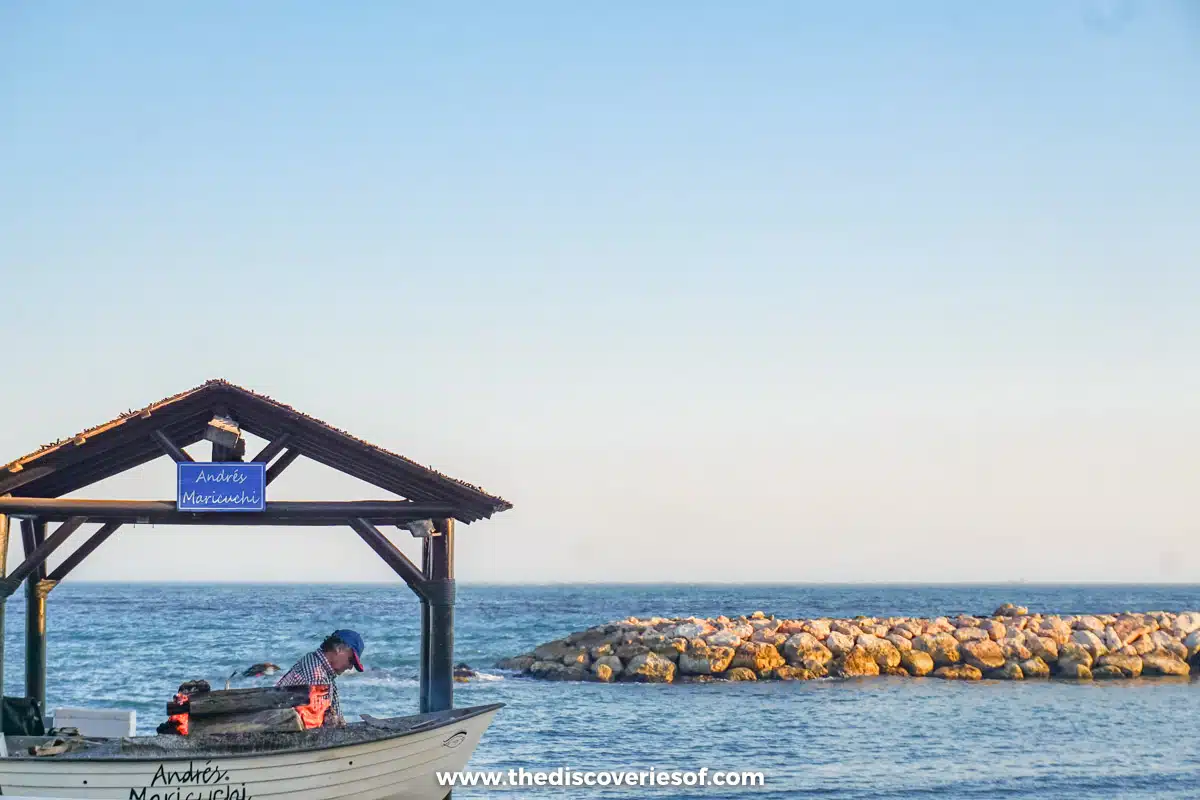 Look, regular readers will know that I'm at least 80% motivated by food. So yes, there are a lot of food-focused entries in this piece on the best things to do in Malaga.
No shame, this is Spain and food this good should be celebrated.Malaga's food scene has traditionally involved a lot of fish (surprise), fresh off the boat and simply cooked.
Maricuchi, like many of the city's best fish restaurants, is located on the Paseo Maritimo stretch of coast.
The menu is pretty much exclusively fish. Start with the traditional fried boquerones, washed down with a crisp glass of verdejo. Move on to the sardines, skewered and cooked over a wood fire then..
To be honest, it doesn't matter what I recommend. At the end of the day if you like fish and seafood, you are going to love this place.
Getting There
It's a short drive from the centre of town: if you have the time, spend the whole day on the beach here then pop into Maricuchi for drinks and dinner when the sun goes down.
Stop off in Malagan Institution El Pimpi
Pretty much every guidebook and article I read about Malaga recommended eating in local institution El Pimpi.
The restaurant is handily located across from the Roman Amphitheatre and Alcazaba (and has the views to match) but dining-wise, it's a bit blah.
There are better tapas restaurants in the centre (El Cortijo de Pepe for one). But there's nothing to stop you from having a cheeky Tinto de Verano and indulging in a bit of people watching before you head somewhere else for your main meal.
Practical Tips for Your Malaga Trip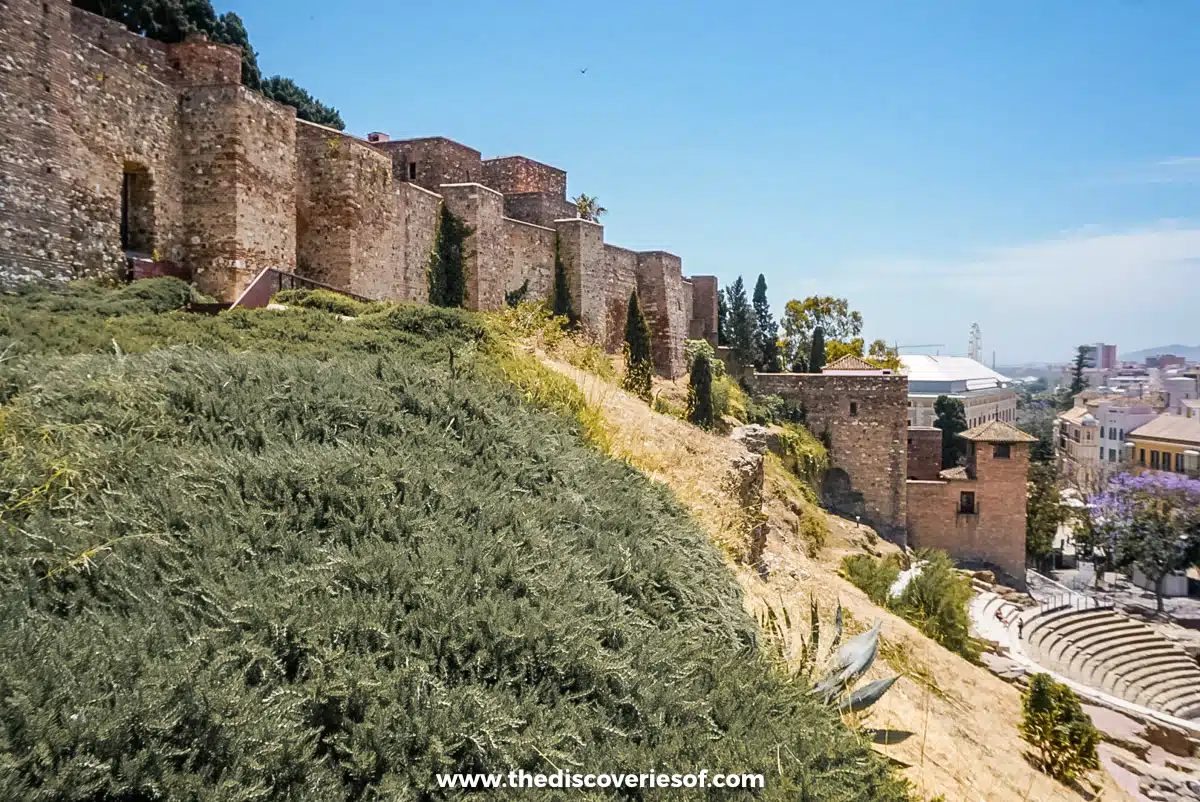 Top Tips for Your Visit
Plan Around Siesta: Many shops and businesses close for siesta, usually between 2pm and 5pm – plan your day accordingly.
Use Public Transportation: the centre of Malaga is very walkable, but beyond this, it has an efficient public transport system with buses and a metro. They're cheap and convenient.
Plan For Late Meals: Spaniards typically eat lunch between 2pm and 4pm and dinner at 9pm onwards. If you want to fully enjoy the local dining scene (i.e. eat in restaurants that aren't totally empty), you'd do well to do the same.
How Long to Visit in Malaga?
I recommend 2-3 days if you only want to see the city's highlights and main attractions. Plan for 4 – 7 days if you want to take a bit more time and add in some day trips to other Andalucian destinations.
Best Time to Visit
Malaga is perfect in Spring and Autumn, when temperatures are warm (but not too hot) and there are fewer tourists. The city's Easter celebrations are famous – expect great spectacle and elaborate festivities during Semana Santa (Holy Week)
Where Should I Stay in Malaga?
AC Hotel by Marriott Malaga Palacio
Luxury
Just down the street from Málaga Cathedral and the Picasso Museum, AC Hotel by Marriott Malaga Palacio is a modern 4-star hotel that blends comfort and convenience.
Mid-Range
For contemporary style with a bit of old-world charm in Soho.
Things to do in Malaga: Map 
Want to read more Malaga & Spain travel guides? Check these out:
Love this? Save and Share on Pinterest.