From short, scenic strolls to seriously epic treks – Torres del Paine takes the cake when it comes to offering some of the most memorable hikes well… anywhere. Here are 15 of the best.
You technically could just show up, pick a trail, and marvel at the beauty of this section of Chile's Patagonia, like 250,000 visitors do each year. But I promise you, you're going to enjoy your trip a whole lot more if you map how to see the glacier peaks, waterfalls and blue-green lakes along the way.
Speaking from experience, the best way to see the park is by taking a trek (I did the W Trek a few years ago and loved it). You'll cover a vast amount of the 700 square-mile park, and waking up to the unrivalled beauty of the sunrises over Cuernos del Paine is unbeatable.

But I know epic multi-day treks aren't for everybody. Day hikes along the Grey Glacier and Salto Grande are perfect ways to experience a great deal of what the park offers without packing your tent and freeze-dried lasagna.

There are plenty of opportunities for everyone from the most experienced adventurers to first-time hikers to get out and enjoy the trails – and I mapped out 15 of my favourites from difficult to easy.
Best Hikes in Torres del Paine National Park
O Circuit
Length: 85 Miles
Time: 8-10 Days
Difficulty: Hard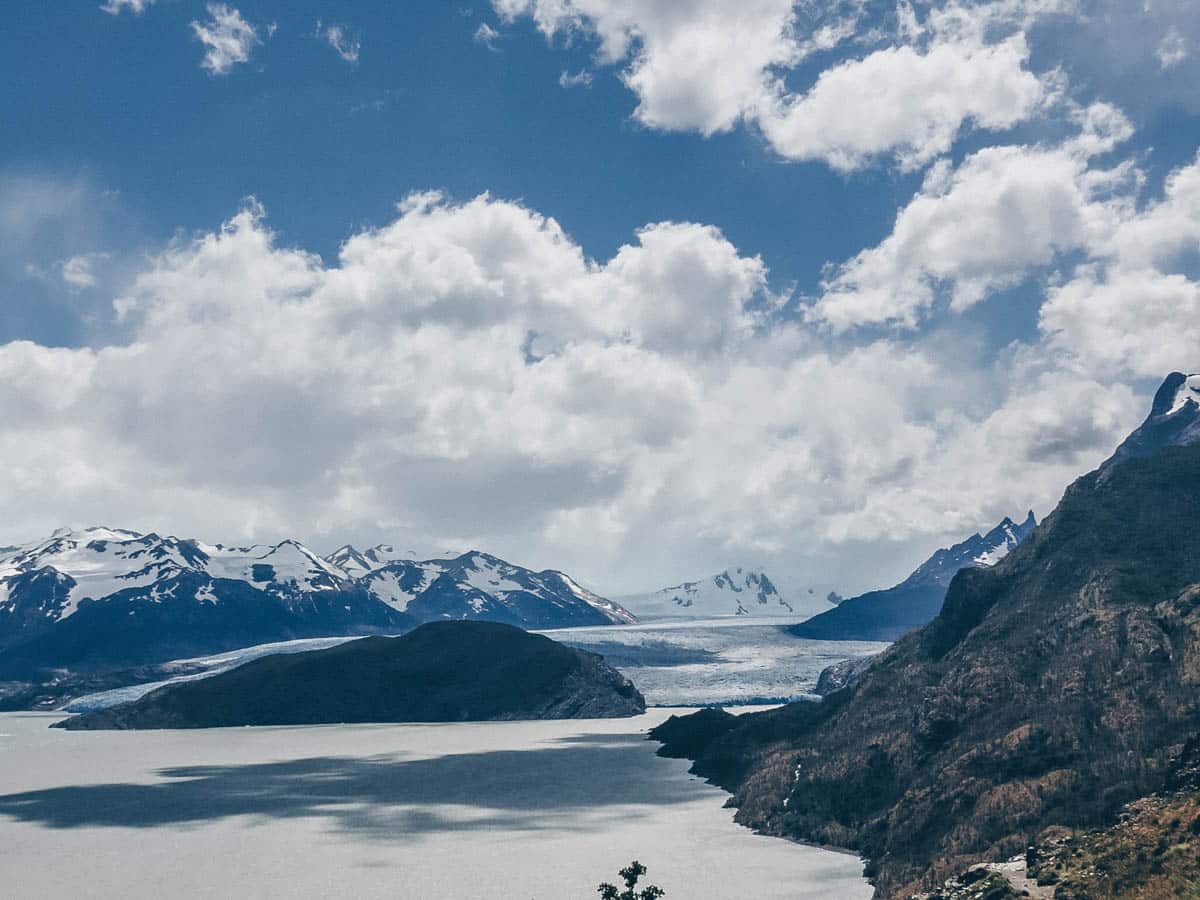 I'm not always one for bragging rights, but it's a lot of fun to tell your friends and family you're one of around 5% of visitors who ticked the legendary O Circuit when visiting Patagonia.

Circling around the massive granite towers that make up the Cordillera del Paine, this multi-day journey through the glacial valleys and cobalt waters of Torres del Paine is nothing short of unforgettable.

So, where do you start? It's easy enough to find the trailhead, which begins at the Laguna Amarga entrance. The lake itself is a gorgeous way to kick off your adventure, a small but mighty preview of what's in store over the next 8-10 days.

Grab your hiking poles and camping gear; you'll navigate nearly 5180 metres (16,995 feet) of elevation change when looping around the national park. But the waterfalls, mountains, and valleys are well worth the effort.
Top Tip
Though the trails are more crowded, plan this for mid-summer (December to February) for the best conditions and (reasonably) mild weather.
W Trek
Length: 50 Miles
Time: 4-5 Days
Difficulty: Hard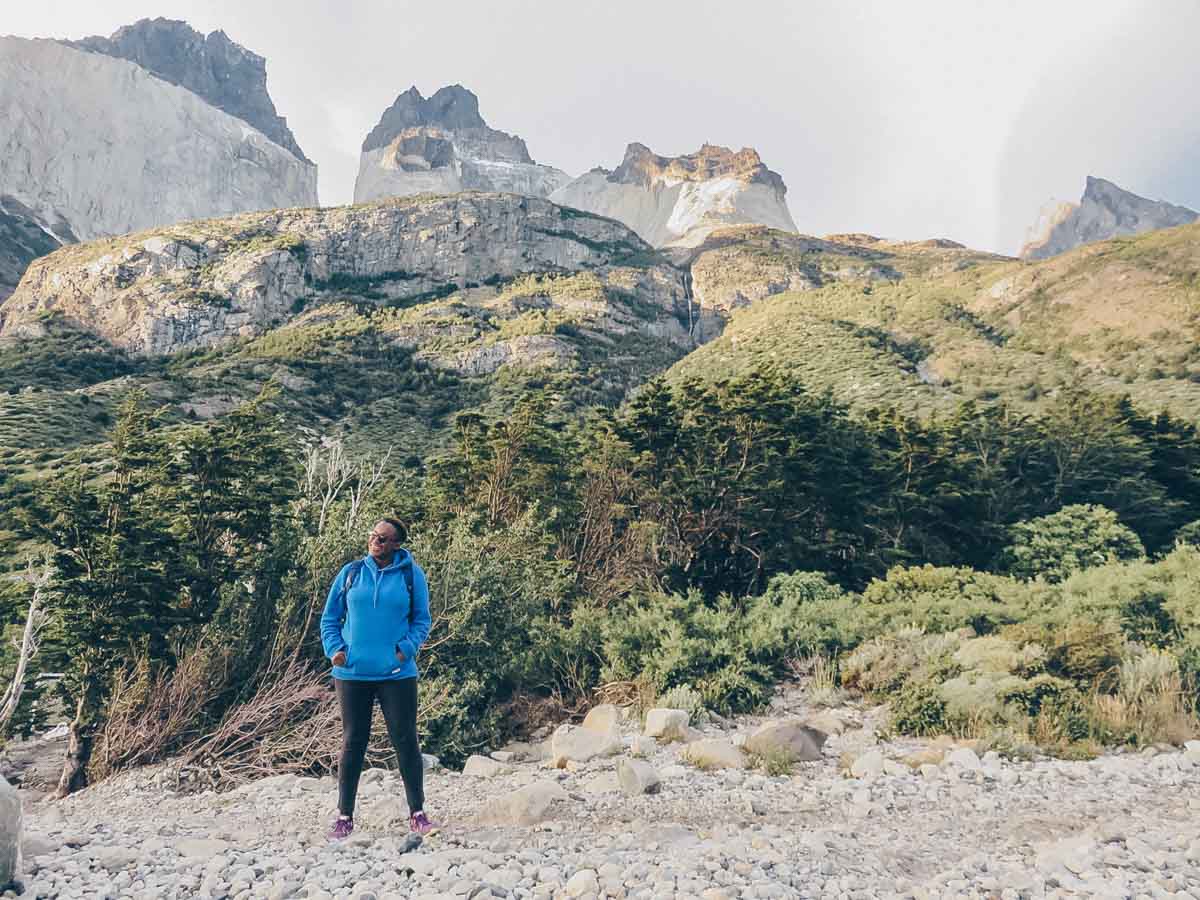 If there's one trek in Patagonia I can recommend with total confidence as a legit life-changing experience, It's the famous Torres del Paine hike known as the W Trek.

Start on the west side of the park, beginning your scenic voyage near Lake Pehoé. Not only are the views of the granite cliffs of Los Cuernos stunning, but you can catch dramatic views of the iconic namesake peaks along the Paine Massif at sunrise and sunset in your final hiking days (winning).

While the 5-day trek is challenging, it's doable – even if you're an average hiker. I hadn't done a multi-day trek with elevation changes in a few years, and with some meal planning and the right gear, you can do it, too.

Expect to see the most impressive views of the granite cliffs as well as Grey Glacier and wildlife like foxes, rheas, and deer (and possibly a puma, too). 
Grey Glacier Trail
Length: 13.8 Miles
Time: 6 Hours
Difficulty: Hard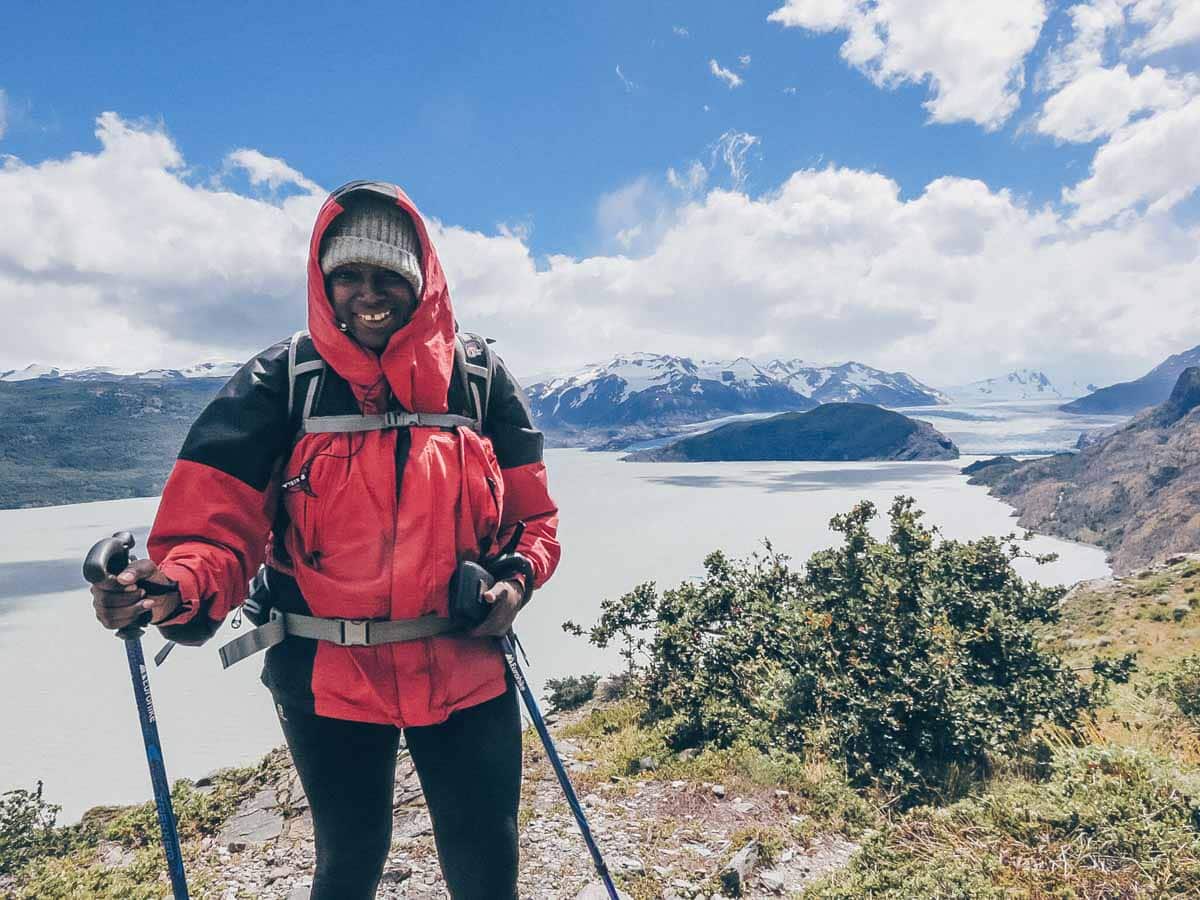 I know that it's not feasible for everyone to do one of the famed treks that Torres del Paine is known for. That's why I've included plenty of choices for day hikes and overnights for all skill levels in this article.

Grey Glacier Trail packs in everything I love about the national park in a relatively short (but challenging) day hike. Unruly weather and all.
You'll traverse through the glacial valleys and lagoon, with ever-changing perspectives of Grey Lake and Glacier along the way. It's a picturesque reminder of just how close you are to the Antarctic.
Getting there is straightforward; just take a ferry from Pudeto to the clearly marked trailhead. 
Top Tip
The first ferry is at 11 AM, and the return is at 5 PM. This schedule makes it difficult (but not impossible) to complete as a day hike, so staying overnight at Paine Grande Campground is the play here.
Torres del Paine Viewpoint
Length: 12.5 Miles
Time: 7 Hours
Difficulty: Hard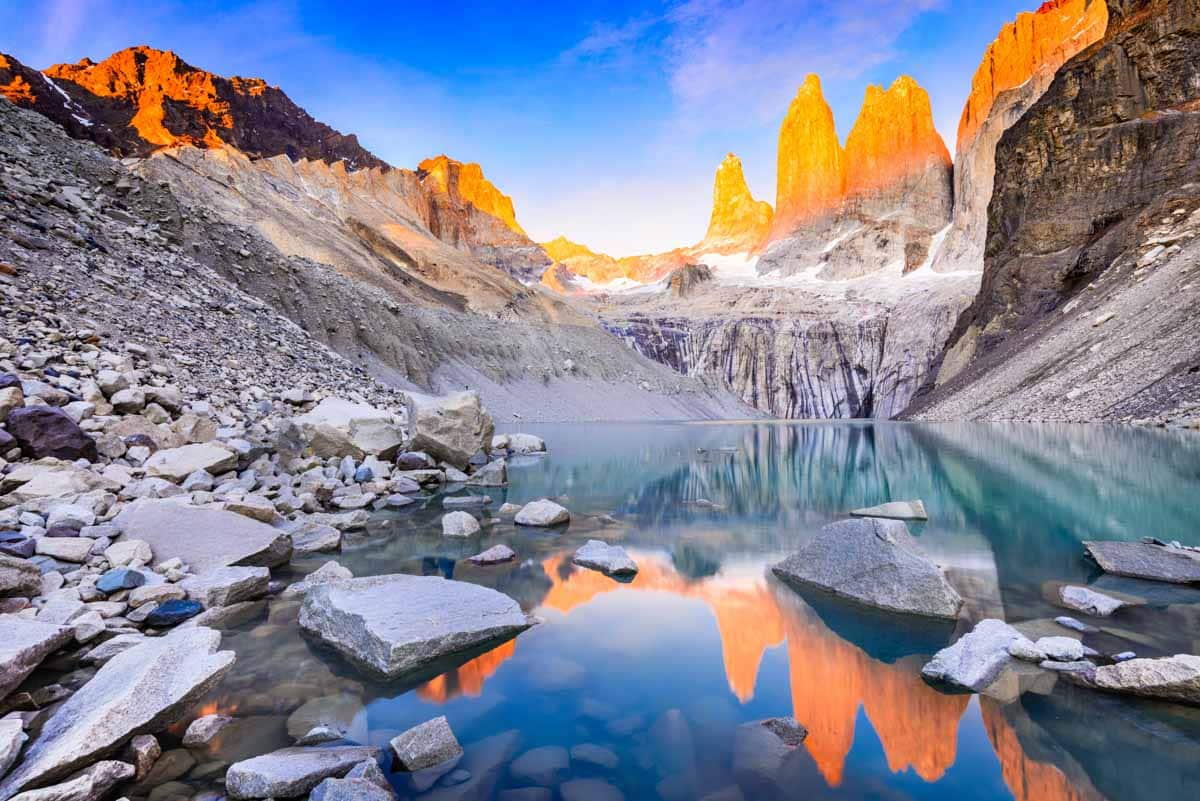 If you came here to view the iconic Torres del Paine (of course you did), you can't do any better than this on a day hike.

The 12.5-mile out-and-back is no walk in the park (pun intended), but I promise you it's worth every rocky, muddy, windy, sometimes snowy step.
It's a steep climb, with over 914 metres (3,000 feet) of elevation change, but the view of the iconic granite peaks towering above you is priceless.
Top Tip
Start your hike from the Welcome Center early in the day, as rangers close the upper section sometime around 2 PM.
Frances Glacier Lookout
Length: 16.7 Miles
Time: 9 Hours
Difficulty: Hard
You don't need to make a multi-day trek to challenge yourself to an epic adventure in Patagonia. The most serious hikers will love this route from Paine Grande Camp to Frances Glacier Lookout, which pushes up nearly 4,000 feet along some of the most scenic stretches of the W Trek.
First-rate vistas of the French Glacier and Torres del Paine are the obvious claim to fame. But the changing scenery across river valleys and lakes from Mirador Británico is equally impressive.
Top Tip
You can technically do this in a day, but an overnight stay at Paine Grande Campground breaks up your travels and allows you to complete the hike at a more comfortable pace.
Las Torres Camp
Length: 7.6 Miles
Time: 4 Hours
Difficulty: Medium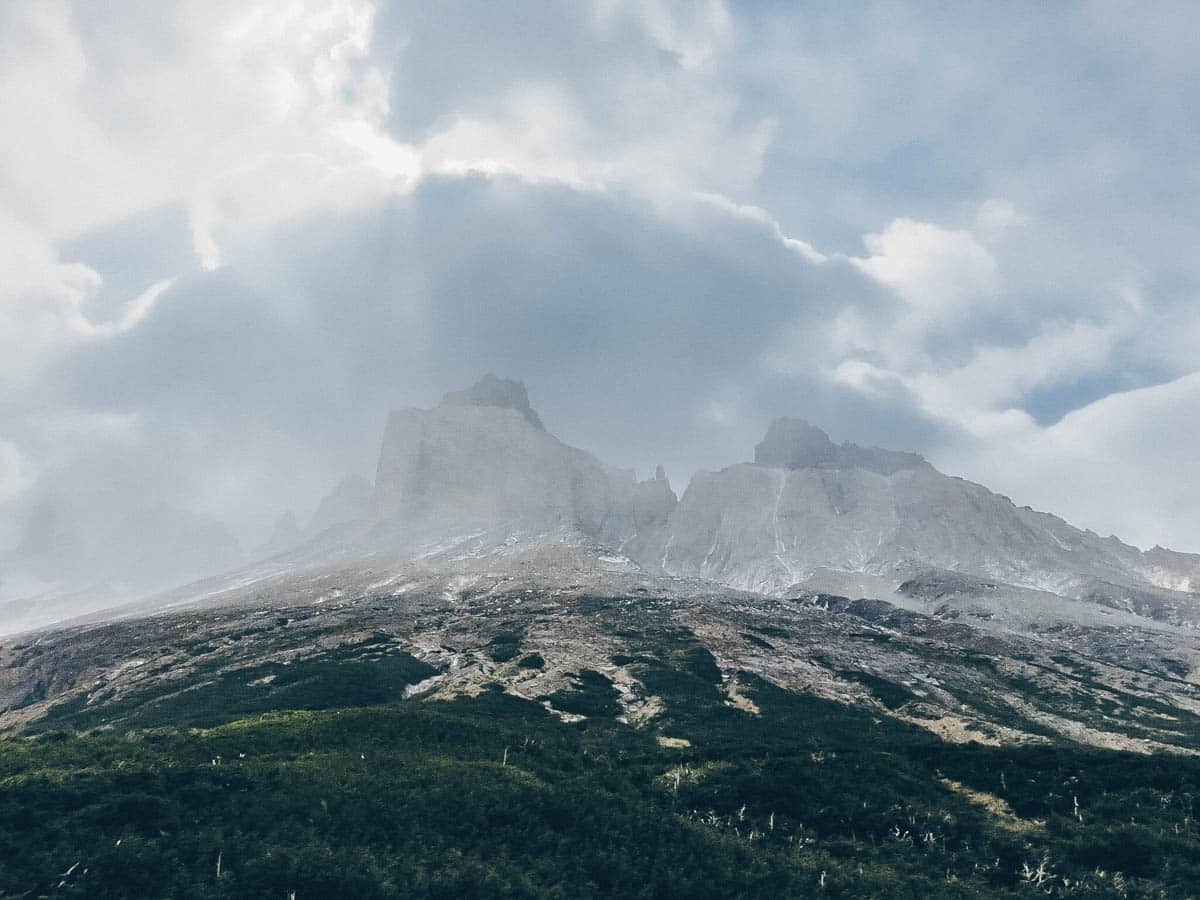 Las Torres Camp offers a moderately challenging route that is perfect for hikers who want to see some of the most memorable views in the park.

The trail is well travelled for good reason. Not only are the views of Laguna Inge, Los Cuernos, and the Ascencio River beautiful, but it goes from one of the more popular refugios to another.

It's a point-to-point trail, so staying overnight at Los Cuernos Refugio lets you see the beautiful granite peaks at sunset and sunrise.
Getting There
From Puerto Natales, take Route 9 most of the way before continuing on to Y-150 and Y-156 over a 2-hour drive.
Cuernos Lookout
Length: 4 Miles
Time: 2 Hours
Difficulty: Medium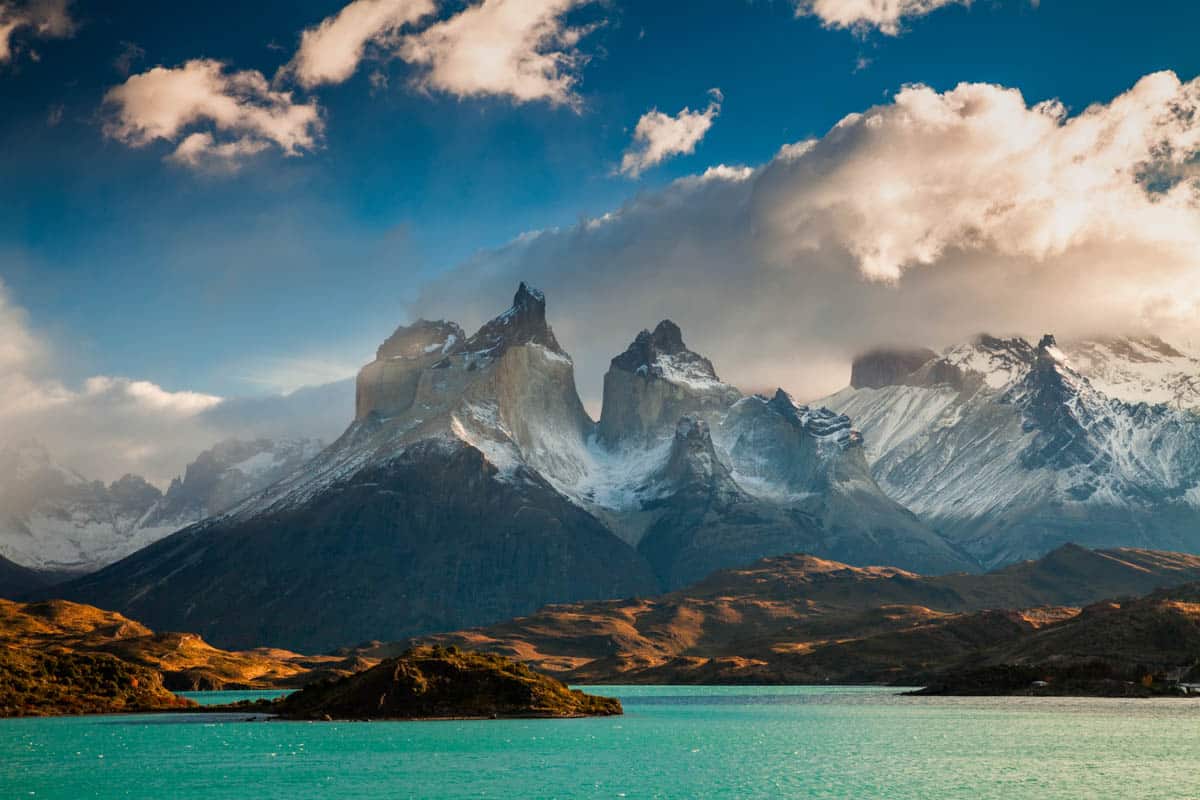 Cuernos Lookout is one of those trails that offers some seriously incredible views with relatively minimal effort. As such, it's a very busy trail.
But don't let the crowds scare you off. This 4-mile out-and-back boasts some of the best possible views of Los Cuernos. You'll also walk alongside Lake Nordenskjöld and the Salto Grande waterfall along the Rio Paine – it's a beauty.
Top Tip
This region is famous for its seriously unpredictable weather, and the trail gets very windy late in the day. Plan accordingly or risk trail closures.
Los Patos Lagoon
Length: 3.3 Miles
Time: 1.5 Hours
Difficulty: Medium
For a unique perspective of the Grey Glacier, follow this trail from the edge of Lake Pehoé to Los Patos Lagoon. Best part for casual hikers? You'll follow a mostly flat trail through the glacial valley.
Keep a lookout for floating icebergs along the grey glacier when visibility is high and take in the beauty of the glacial lake before heading back. This is a hike nearly anyone can enjoy.
Top Tip
It's a great way to sample part of the W Trek without committing to the full itinerary.
Central Tower Refuge to Serón Camp
Length: 8.4 Miles
Time: 3.5 to 4 Hours
Difficulty: Medium
If you want to try a section of the O Circuit without traversing the entire trail, this is a great pick. There are a fair amount of hikers, as it's the start of the O Circuit, but way fewer than at other parts of the park.

Hikers who do this point-to-point trail can expect a moderately challenging route along the River Paine.
You'll enjoy mountain views, forests, and valleys filled with wildlife, and a place to bed down at the end when you reach Seron Camp. What's not to love?
Top Tip
See some of the iconic O Circuit during an easy day hike.
Condor Lookout South Trail
Length: 1.5 Miles
Time: 1.5 Hours
Difficulty: Medium
If you're looking for the best day hikes in Torres del Paine, this one's for you. For hikers who want to squeeze in a few trails in one day, Condor Lookout is the perfect hike.

So what can you expect on this 1.5-mile out-and-back? Up close views of Laguna Pehoém, Fitz Roy Peak, and of course, some epic bird-watching opportunities. It's a beautiful place to watch the sun come up, so start your journey early. 
Top Tip
Pack your hiking poles and dress in layers. While it's a short trail, the elevation change is gnarly, and the wind and weather can get unpleasant in a hurry.
Grey Lake Viewpoint
Length: 3.4 Miles
Time: 1.5 Hours
Difficulty: Medium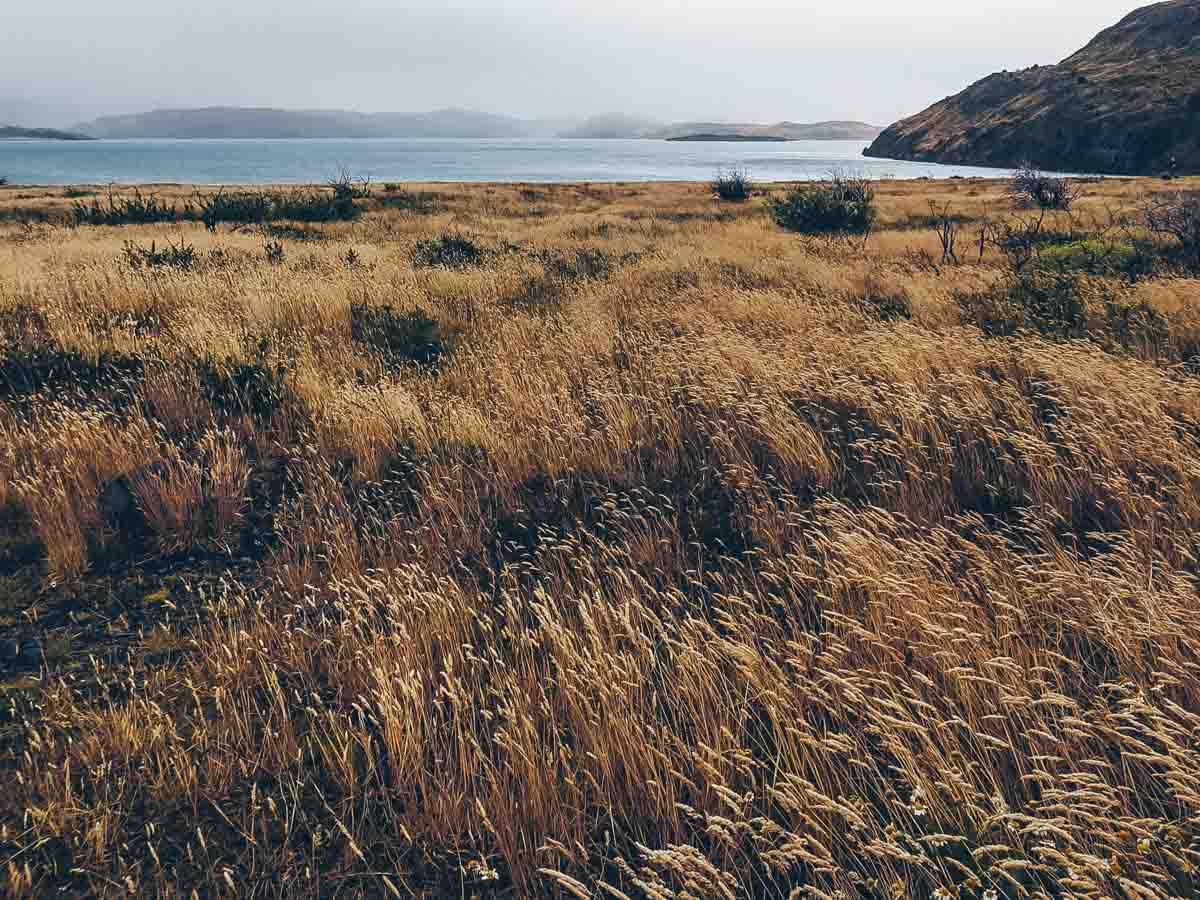 Torres del Paine is unique for its mesmerising glacial lakes and mountains. You get great views of both on this relatively easy loop trail along the shores of Grey Lake.
The mellow trail is around 3.5 miles long and offers chances to see floating glaciers on Grey Lake with the famous French and Olguín glacial mountains in the background.
Getting There
It's easy enough; just follow Y-290 to Y-150 from Puerto Natales, which takes around 1 hour and 45 minutes.
Basse Los Torres Short Trail
Length: 1.7 Miles
Time: 1 Hour 30 Minutes
Difficulty: Medium
Another one of my favourite ideas for a multi-hike day trip to Patagonia is this short out-and-back trail that starts at Camp Torres.
It's only 1.7 miles long but involves 305 metres (1,000 feet) of elevation and gets incredibly windy many days. That said, it's otherwise relatively easy and gives you some of the best views of the granite towers you'll find in the park at Lake Torres. 
Getting There
You'll need to start your hike from Camp Torres, which requires hiking in.
Refugio Torre Central to Laguna Inge
Length: 6 Miles
Time: 2.5 Hours
Difficulty: Medium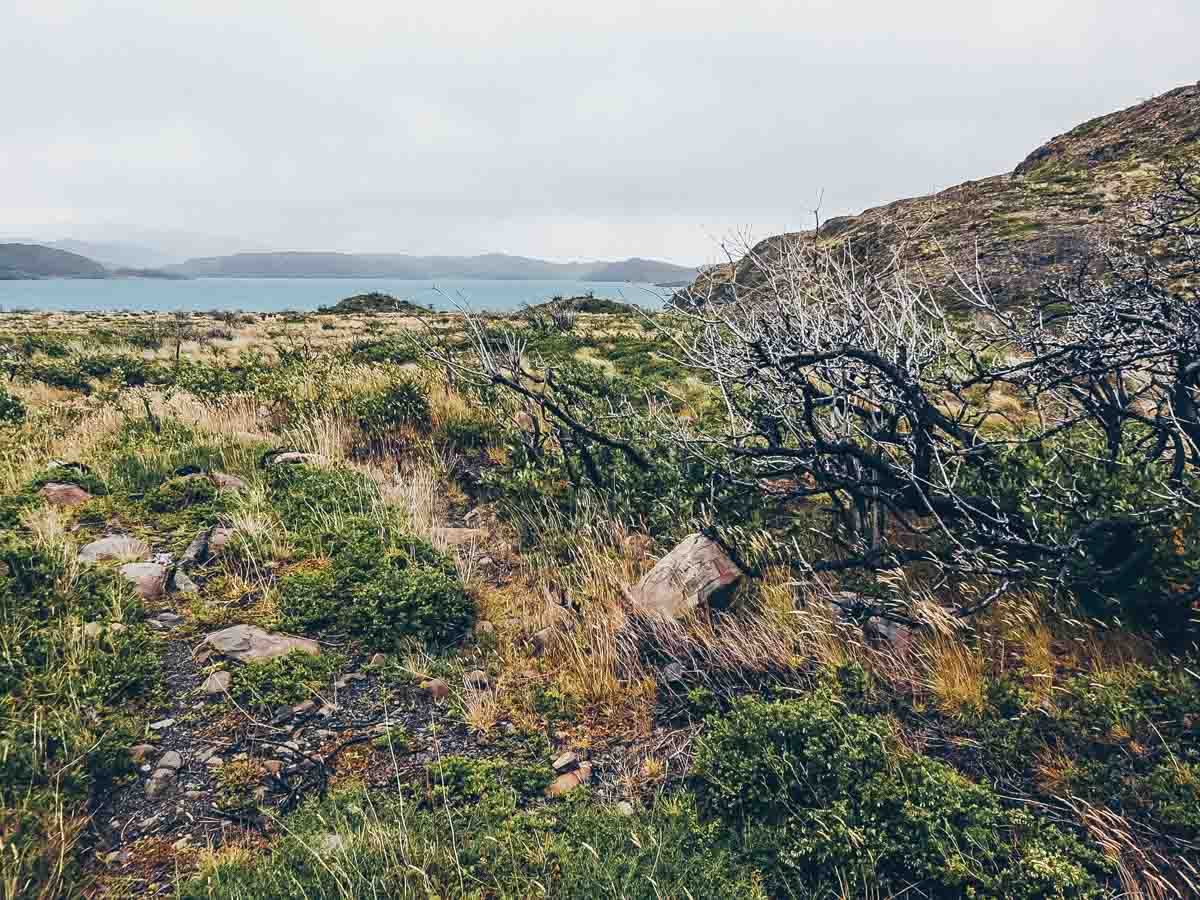 Hikers looking for a relatively long trail that's easy enough for nearly any skill level will love this 6-mile day hike.  

It's busy, but that makes it ideal for travellers who feel safer in the company of others, as the weather can go from idyllic to legit awful pretty quickly at Torres del Paine.

You'll get great looks at the towering granite mountains, green glacial valleys, and icy rivers without having to climb too high or venture too far on this perfect introduction to the park.
Salto Grande Lookout
Length: 0.9 Miles
Time: 30 Minutes
Difficulty: Easy
Straddling two of the most famous lakes in the park, Salto Grande is less than 15 metres (50 feet) high, but the rapids running along the Paine River are some of the most beautiful in the park.
You can hike out and back in about 30 minutes, making it a perfect chance for visitors of any skill to see the beauty of the blue-green waters with snow-capped mountains in the background.
Getting There
You can drive right up to the trailhead from Y-158, making this a great stop along a scenic day trip. 
Confluencia Estero Nutria Con Rio Serrano
Length: 3.9 Miles
Time: 1.5 Hours
Difficulty: Easy

For some of the best mountain views in the park, you can simply walk from your accommodations if you're staying in the hotel zone Rio Serrano.

At just under 4 miles, the stroll along Serrano River is perfect for families and older adults looking for an easy hike with beautiful views of the towering Pines nearby.
Top Tip
Because you're near the water and close to pastures with cows and horses, it gets very buggy in the summer. Wear insect repellent.
Practical Tips for Planning Your Hikes
The best time to hike Torres del Paine is November to April if you plan to do the most challenging treks. That said, you can do many of the shorter hikes year-round, and the winter weather can add some dramatic effect to your photos.
Book accommodations at the refugios and campsites long in advance as they do book out quite far ahead. You can read more about planning your camping trip here.
Buy your bus ticket from Puerto Natales into the park a couple of days before you plan to hike if you're doing the W Trek. Book the 7 AM time, and show up at 6:30 AM (at the latest) to ensure you're on the first bus.
Carry a backpack or daypack, depending on the length of your hike. It's not uncommon to go from bright sunny days to torrential downpours or snowstorms virtually out of nowhere. Pack everything from lightweight short sleeves to thermal leggings and an outer shell.
Many of the campsites along the trails are near refugios with bars, restaurants, and stores where you can buy meals and snacks.
You won't need to worry about bears but watch for pumas when hiking the trails. Although chances are you'll never see them, if you do, be sure to slowly back away making loud noises, and never turn your back or try to outrun them.
Read More Torres del Paine Guides
Love This? Save and Share on Pinterest