Stargazing in the Atacama Desert is an unforgettable experience. Explore the Atacama's night sky with this guide.
On your way to go stargazing in the Atacama Desert but need help figuring out where to begin? Count your lucky stars, my friend, I'm here to show you the way.
The Atacama Desert is an ancient region with a Martian-esque landscape dotted with crunchy salt flats, steaming geysers, and jagged valleys.
But The Atacama is also an astronomer's paradise with a booming "astro-tourism" industry that sees many people (myself included) make the trip just to ogle at the region's stunning night skies.
It's where one can admire a fuzzy-looking star with the naked eye – just to discover that it's a massive cluster of hundreds of thousands of stars – a mind-blowing experience if ever there was one.
Start brushing up on your astronomy knowledge, it's time to hunt down some of the galaxy's finest displays in the Atacama.
Can You See Stars in the Atacama Desert?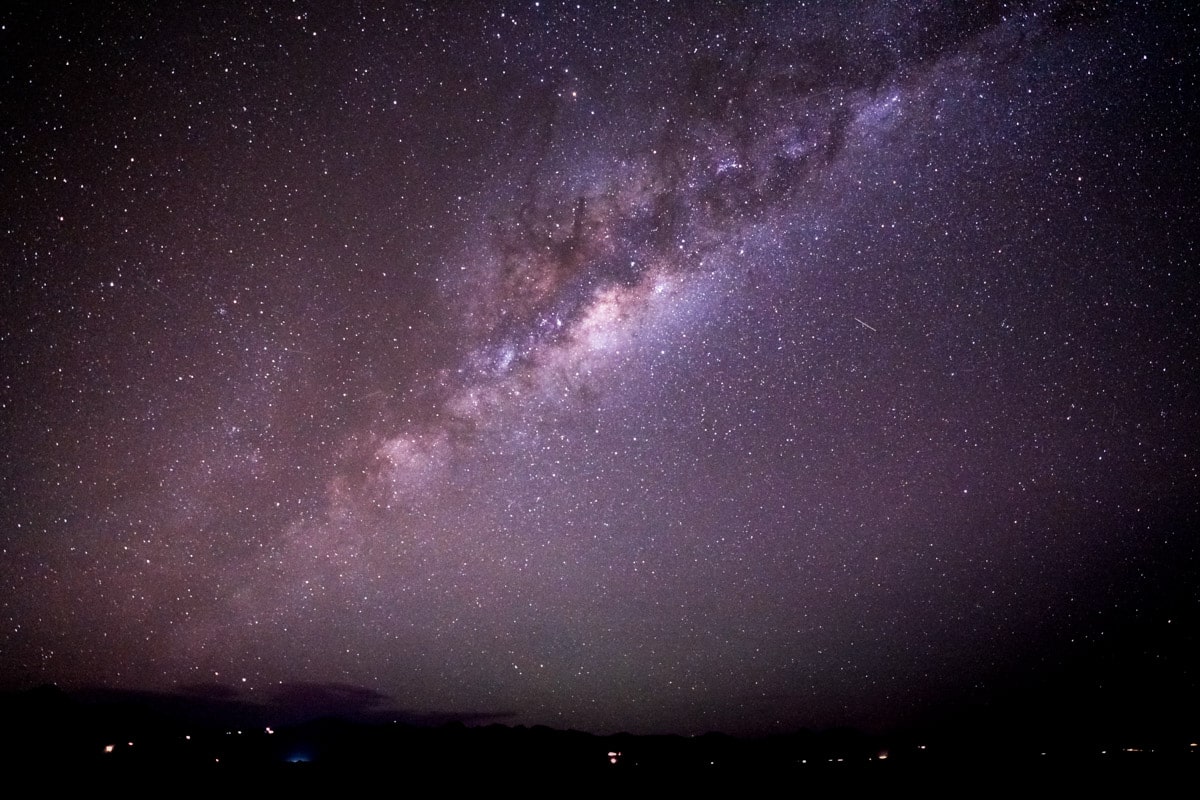 Yes, 1000% yes! An astonishing fact about the Atacama Desert is that it's one of the best places on earth to gaze upon the Milky Way.
The skies are so clear here that you can see some of the Southern Hemisphere's most dazzling heavenly bodies, like the Southern Cross, the Large Magellanic Cloud, and the Tarantula Nebula.
The unique geography and arid environment of the Atacama Desert make it the perfect place to stargaze. For starters, the desert sits 5,050 metres (16,570 feet) high in elevation, has low to zero light pollution and is the driest place on earth, resulting in no pesky cloud coverage.
While you can see a lot with the naked eye, there are way more wonders you can observe through a telescope.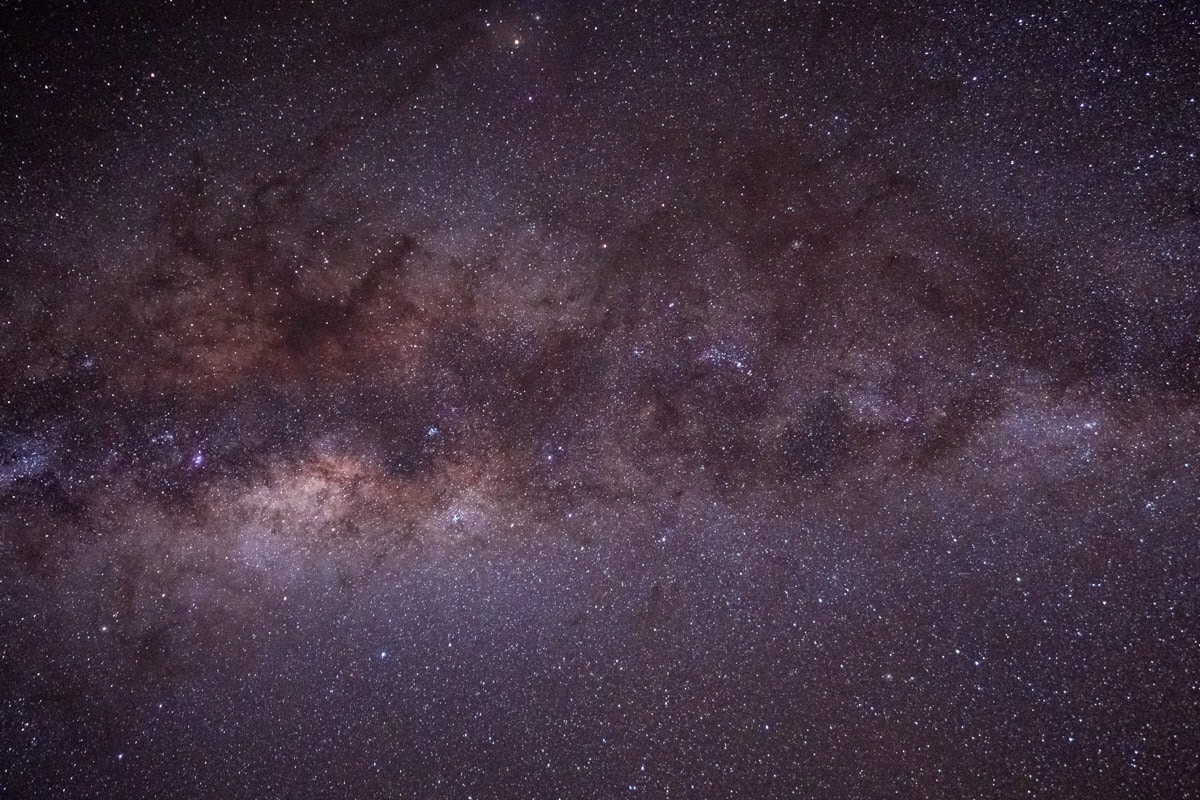 The Atacama Desert's observatories are some of the most technologically advanced and scientifically renowned globally, including one of the world's best astronomical observing sites, ESO's Paranal Observatory.
When Should I Go to the Atacama Desert for Stargazing?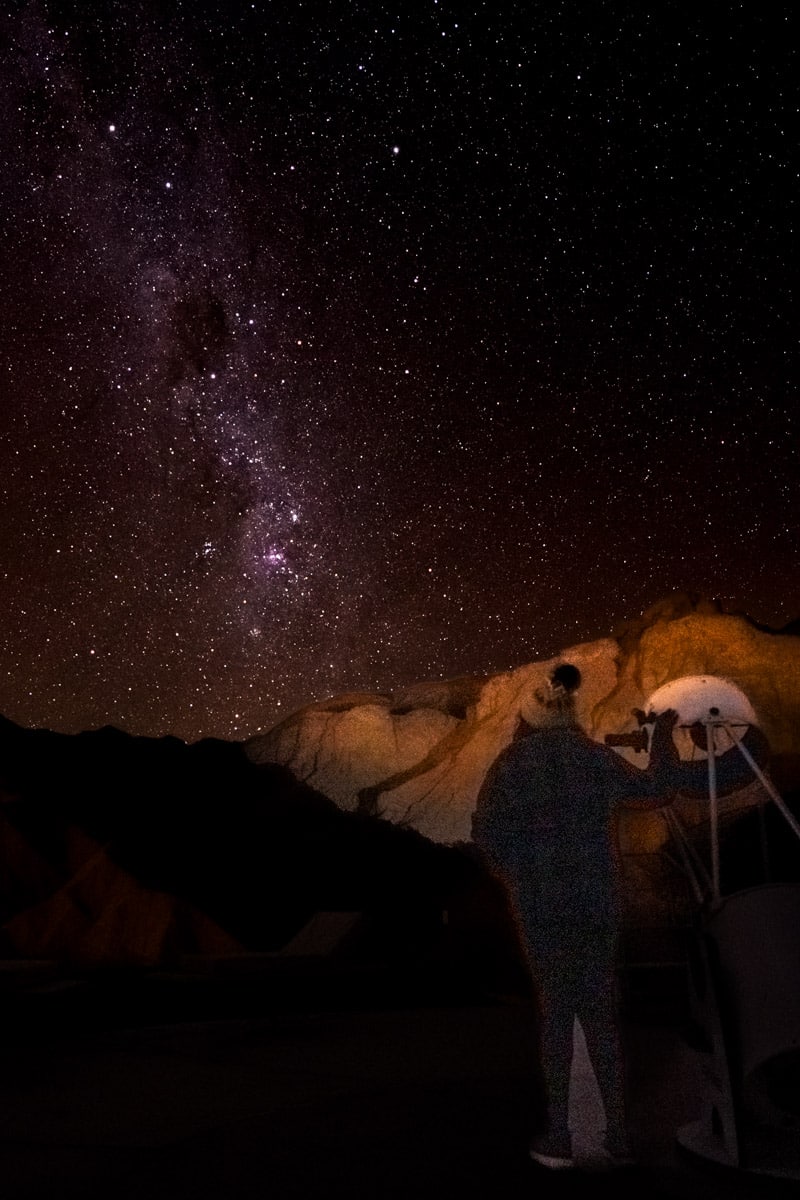 To be frank, any time is an excellent time to view the Atacama Desert night sky thanks to its high altitude, 300 days of clear skies, and lack of light pollution and radio interference.
However, you can visit the Atacama Desert from April to September for the most mind-blowing and brightest stargazing possible. This falls in the desert's low winter season when crowds thin out.
Now, if we're going to narrow things down to specific days, I recommend stargazing in Atacama in the days before, during, or after each New Moon. The lack of bright moonlight allows for clearer skies and won't wash out the light from fainter stars. 
The Best Areas for Stargazing in the Atacama Desert?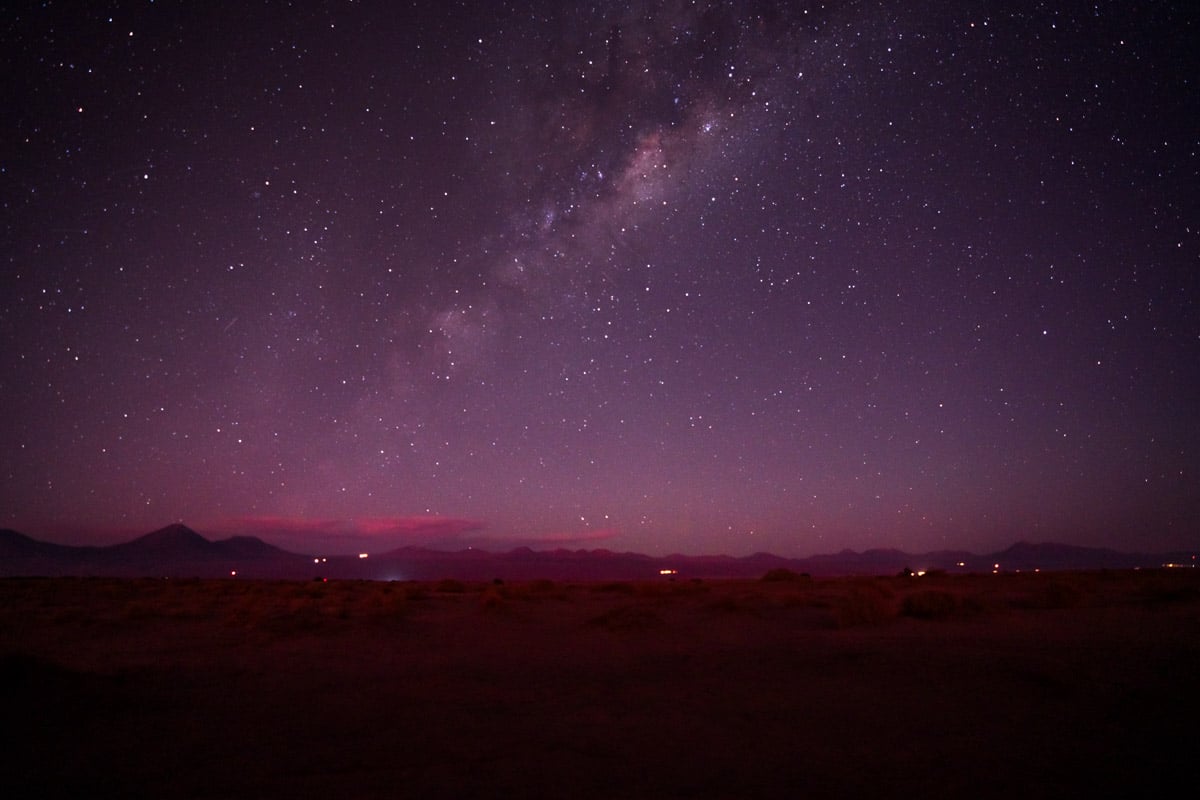 If you're going to do an Atacama Desert stargazing tour independently, you'll have to know exactly where to go for the ultimate star-studded experience.
I can't think of a better place to start than on the Salar de Atacama, as you get vast views of the sky. This is the largest salt flat in Chile, 34 miles south of San Pedro de Atacama.
San Pedro de Atacama is also an excellent area for stargazing thanks to its high altitude (nearly 2.5 km above sea level) and numerous observatories, including the San Pedro de Atacama Celestial Explorations (SPACE) and the Meteorite Museum.
This oasis town also has stunning sites and attractions, such as the Valle de la Luna, a lunar-like region enhanced by rugged mountains, dunes, and distinctive rock formations. 
What About Tours for Stargazing in the Atacama Desert?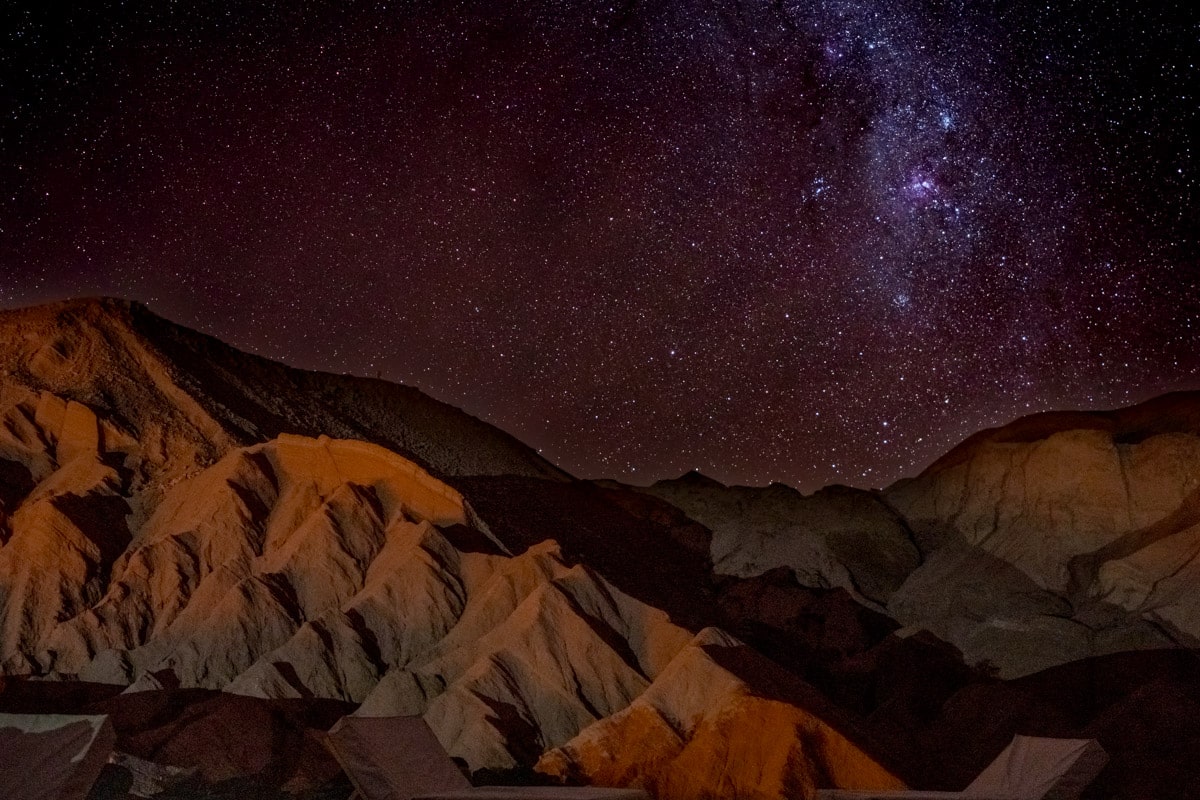 You can plan your trip independently by doing Atacama Desert observatory tours (visiting public observatories) or camping under the stars.
If you plan on touring the observatories, you must book these well in advance. Remember, some only operate over the weekends during early morning hours, like the Alma Observatory (this is currently still closed but should reopen soon – check ahead).
However, you also have the option to go on an organised, guided tour. This saves you time on planning and may be an excellent alternative if you're not looking to camp in the desert. I recommend the following tours: 
What Equipment Should I Bring for the Best Stargazing Experience in the Atacama Desert?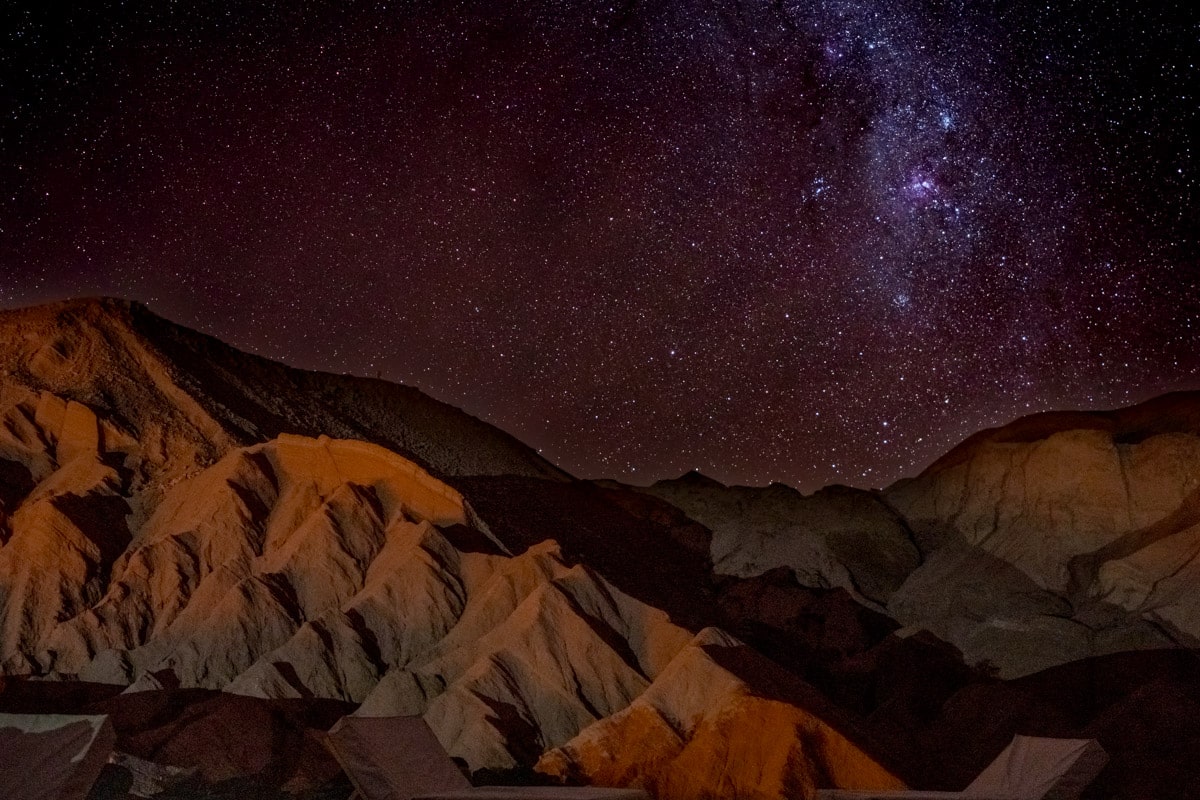 You don't have to be an expert stargazer to admire the dreamy skies of the Atacama desert at night, though there are a few items you might want to bring along to enhance your experience.
The Atacama Desert is chilly at night, so pack your winter clothing. Plus, you're visiting the driest place on earth, so bring enough water and sun protection during the day.
Basics aside, if you're serious about stargazing and want to go it solo, I recommend bringing a beginner's telescope and a camping chair for ease and comfort.
Also, carry a red torch to see into the darkness, as brighter torches may hamper your vision and prevent you from seeing the twinkling stars above.
Where Can I Stay Near the Atacama Desert?
The best thing about visiting the Atacama Desert is that you can camp wherever you choose to pull your vehicle off the road. Known as free camping, you have abundant spots to pitch your tent and start stargazing.
However, there are fabulous hotels near the Atacama Desert that will pleasantly surprise you, especially if camping isn't your thing.
Nayara Alto Atacama (Luxury)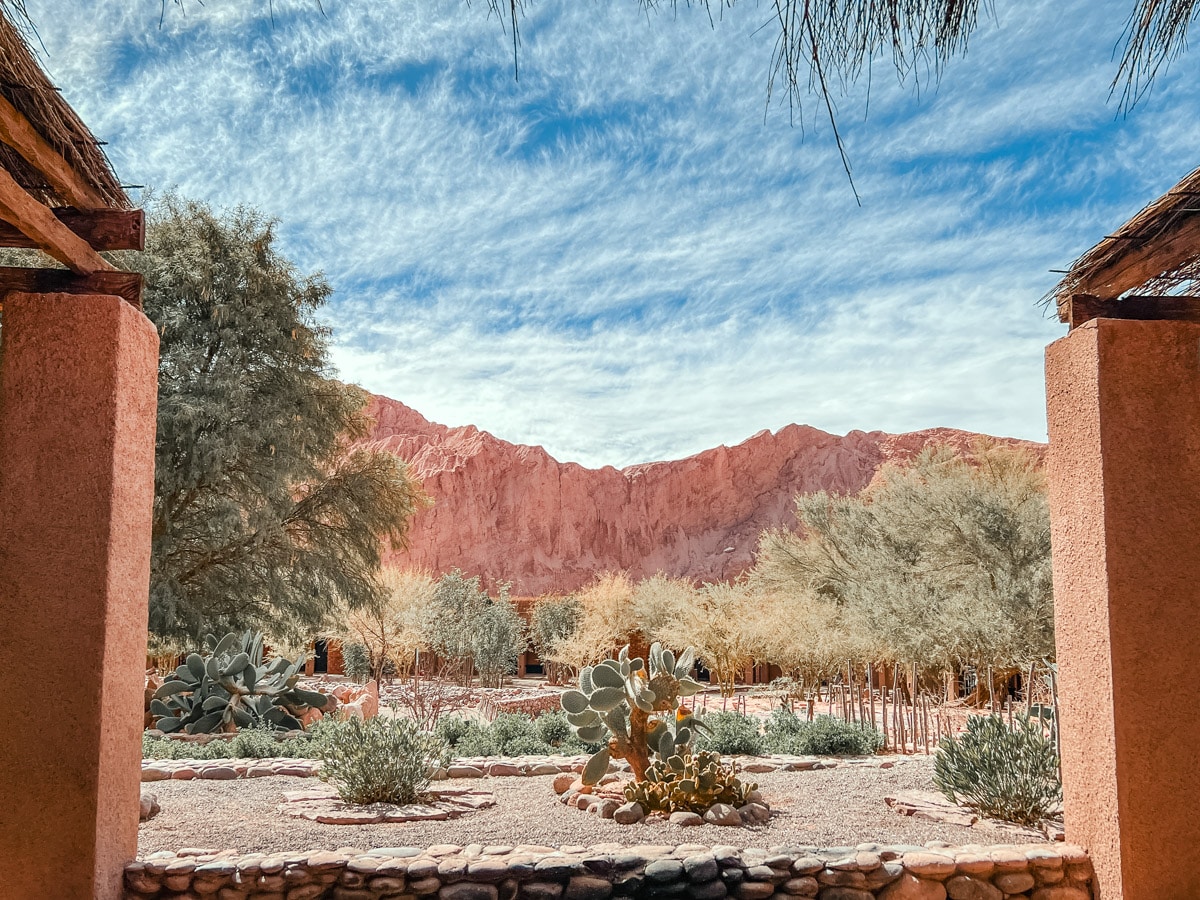 The Nayara Alto Atacama offers something luxe and exclusive without hurting your pockets. The hotel features a glamorous pool patio with relaxing loungers, elegant rooms, and an outdoor shower. The imposing red peaks surrounding the property endlessly grab your attention.
Tierra Atacama Hotel & Spa (Luxury)
Stay in the lap of luxury as stunning desert views and skies serenade you. Tranquillity and style envelop the Tierra Atacama Hotel & Spa, complete with a hot tub, massage room, and uber-chic rooms.
Other FAQs About Stargazing in the Atacama Desert
How Do I Get to the Atacama Desert?
Most travellers fly into Santiago and then fly once more or drive to a town near the Atacama Desert. These include Calama, Copiapó, Antofagasta, Iquique, La Serena, and Arica. Have a look at this Atacama Desert Map to see which town is the closest to all the sites and activities you have planned for your trip. 
Is It Safe to Stargaze at the Atacama Desert?
Chile is one of the safest countries to visit in South America – including its Atacama Desert. However, you must still protect yourself from the harsh environment by preparing for sun exposure, chilly nights, and altitude sickness. 
Explore More Of The Atacama Desert at Night
Love This? Save and Share on Pinterest