How should you spend 3 days in the Atacama Desert? Plan a mindblowing trip with this Atacama Desert itinerary – discovering the best of this high-altitude desert along the way.
The Atacama Desert sprawls over a vast 40,441 mi², a stretch of surprisingly varied landscapes that transition from the otherworldly peaks of the Cordillera de Sal to the petrified lava tracks and purple-red volcanoes of the High Altiplano.
In other words, the driest desert in the world is surprisingly picturesque. If you think of a desert and think of endless stretches of sand dunes with the occasional cactus, think again. The Atacama is serving bright blue lakes, flamingos, stunning night skies, crusted salt flats and a whole lot of stunning places in between.
I love the Atacama Desert (I've just come back from my second trip there and WOW), but I also know how tricky it is to fit everything into a short amount of time.

Not to fear, friends, I'm going to help you conjure up the perfect San Pedro de Atacama 3-day tour – and share everything you need to know to plan the perfect trip.
Handy Tips for Planning Your Atacama Desert Itinerary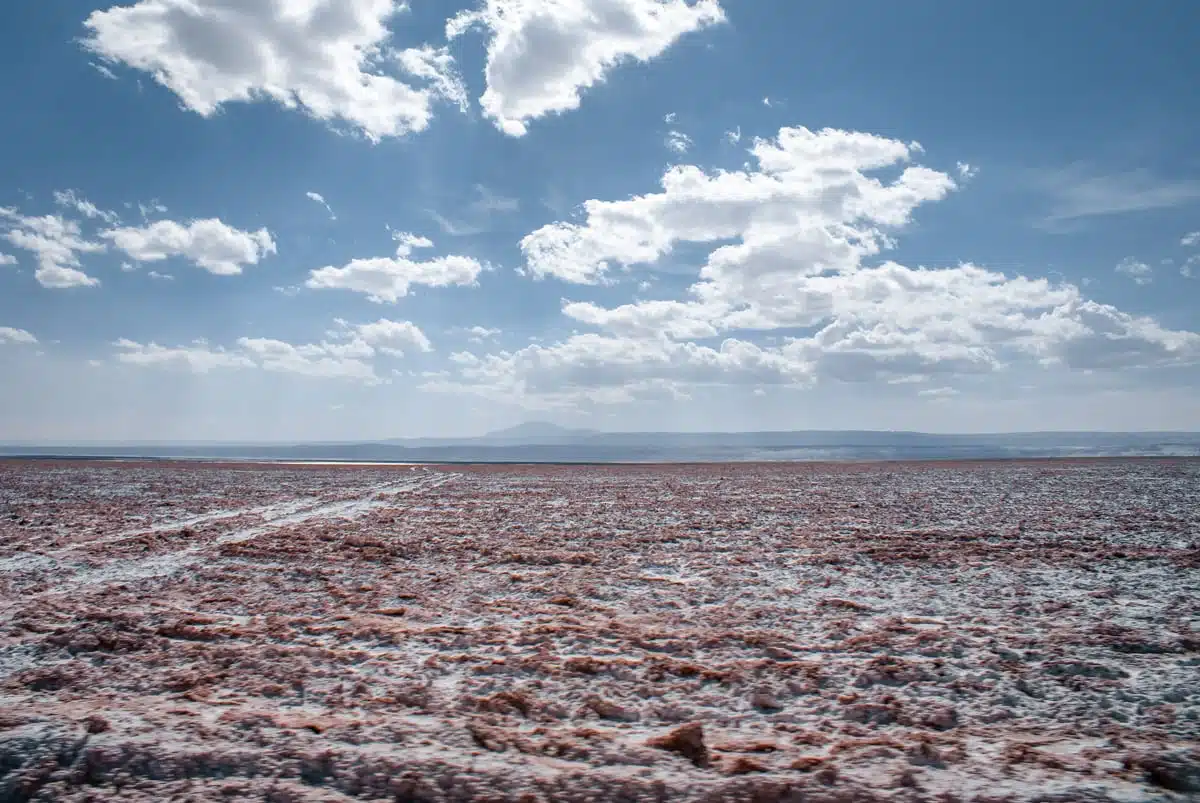 Top Tours for Your Atacama Desert Itinerary
What to Pack for Your Atacama Desert Itinerary
You will be doing a lot of walking, so have a good pair of hiking boots, a scarf or buff for the dusty landscape, and a water bottle (or two) tucked away in your daypack.
Tech gadgets come in handy on any trip, but I like to bring a portable charger and travel adapter to keep my phone charged throughout the day. A GPS or compass is also a must when exploring the open desert.
Warm clothes for sunrises and stargazing are a must, but you'll also want a wide-brimmed hat, loose, lightweight clothing, and sunglasses for the baking hot days.
Where to Stay for Your Atacama Desert
Nayara Alto Atacama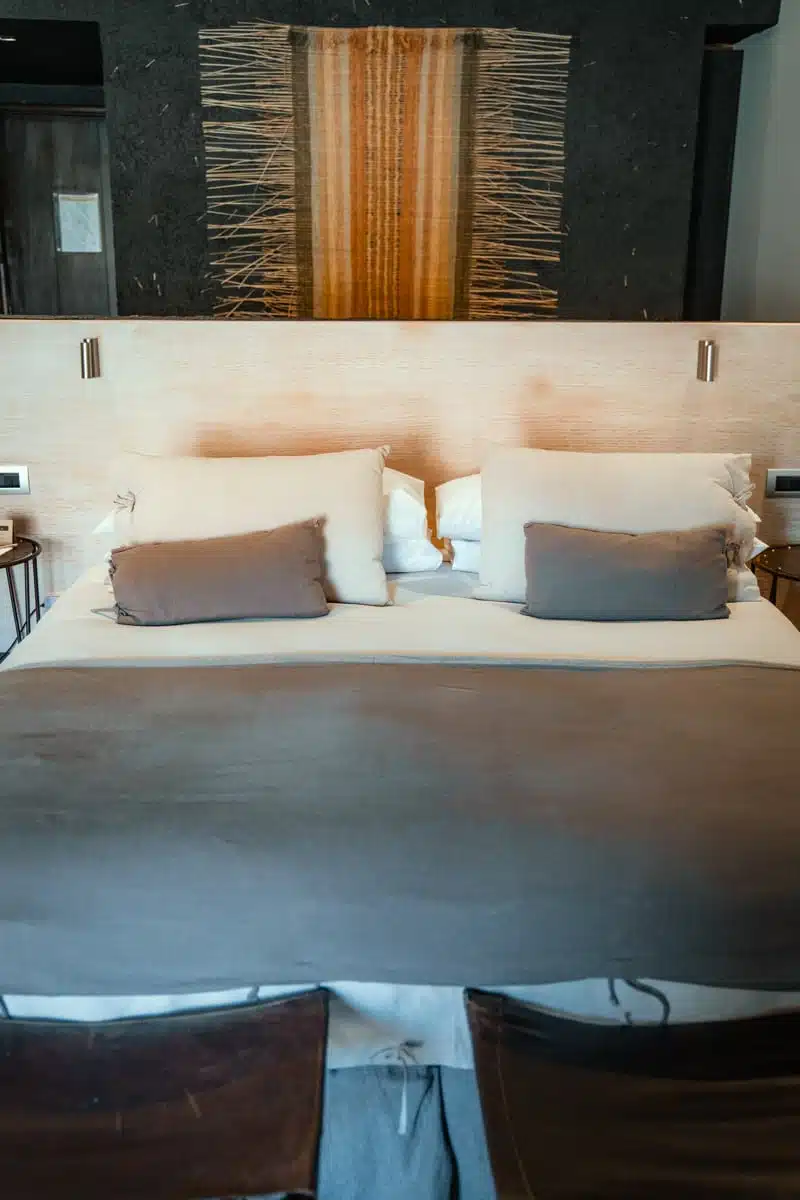 Stay just outside San Pedro de Atacama at Nayara Alto Atacama, my top pick for the best hotel in the area. I stayed here for part of my most recent trip and loved it.
You can select a few boarding options, including bed and breakfast, an all-inclusive with group tours, or all-inclusive with private tours. They're renowned for their guided stargazing experiences and observatory on-site, so I highly suggest reserving a spot in advance.
Hotel Desertica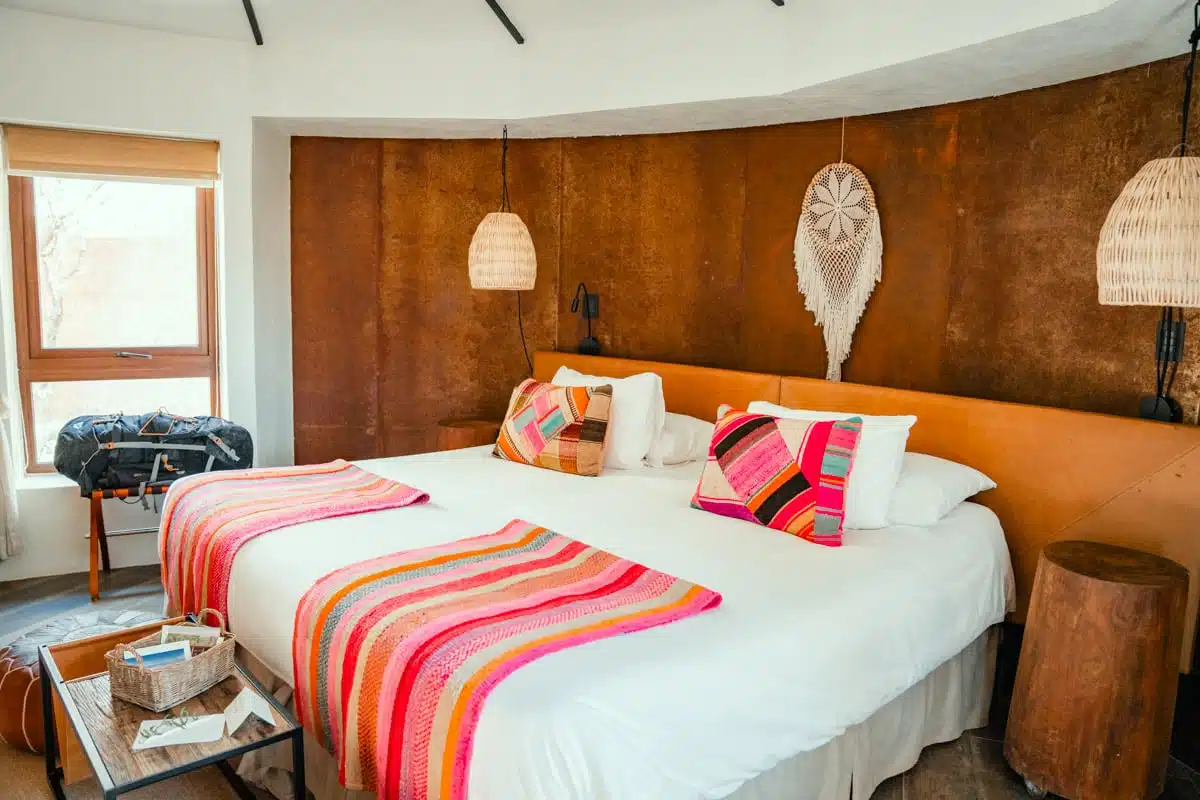 Walk in from the dusty, crowded streets of San Pedro de Atacama into the peace and quiet of Hotel Desertica, where the sun-drenched terrace and sleek pool welcome you with open arms from the scorching desert sun.
This was another favourite from my recent Atacama trip. Natural local materials, hardwoods, and splashes of colour create an authentic Atacama look that so many hotels strive for, but few really pull off.
Quick Info for Your 3 Days in the Atacama Desert
Time Zone: Chile Standard or Summer Time (UTC – 4, UTC -3)
Currency: Chilean Peso (CLP)
Plugs: Types C and L
Nearest Airport: Calama (El Loa Airport (CJC))
5 Must-See Spots: Laguna Chaxa, Stargazing at Nayara Alto Atacama, Piedras Rojas, Miscanti & Miniques, El Tatio Geysers
Top Tip: When stargazing, use a red flashlight to minimise light pollution and keep your eyes accustomed to the dark.
Getting Around
Getting around is easiest with guided tours from San Pedro de Atacama or hiring a car. You can also hire a caravan from Wicked South America to camp in the Atacama Desert.
Atacama Desert Itinerary
Atacama Desert Itinerary Day One
Trying to fit everything into 3 days in the Atacama Desert? I'll help you map out the perfect Atacama Desert itinerary for your trip.
Top Tip: Work your way up in altitude on each day so you can acclimate to the higher elevations. Save the Tatio Geysers for last.
See the Flamingos at Laguna Chaxa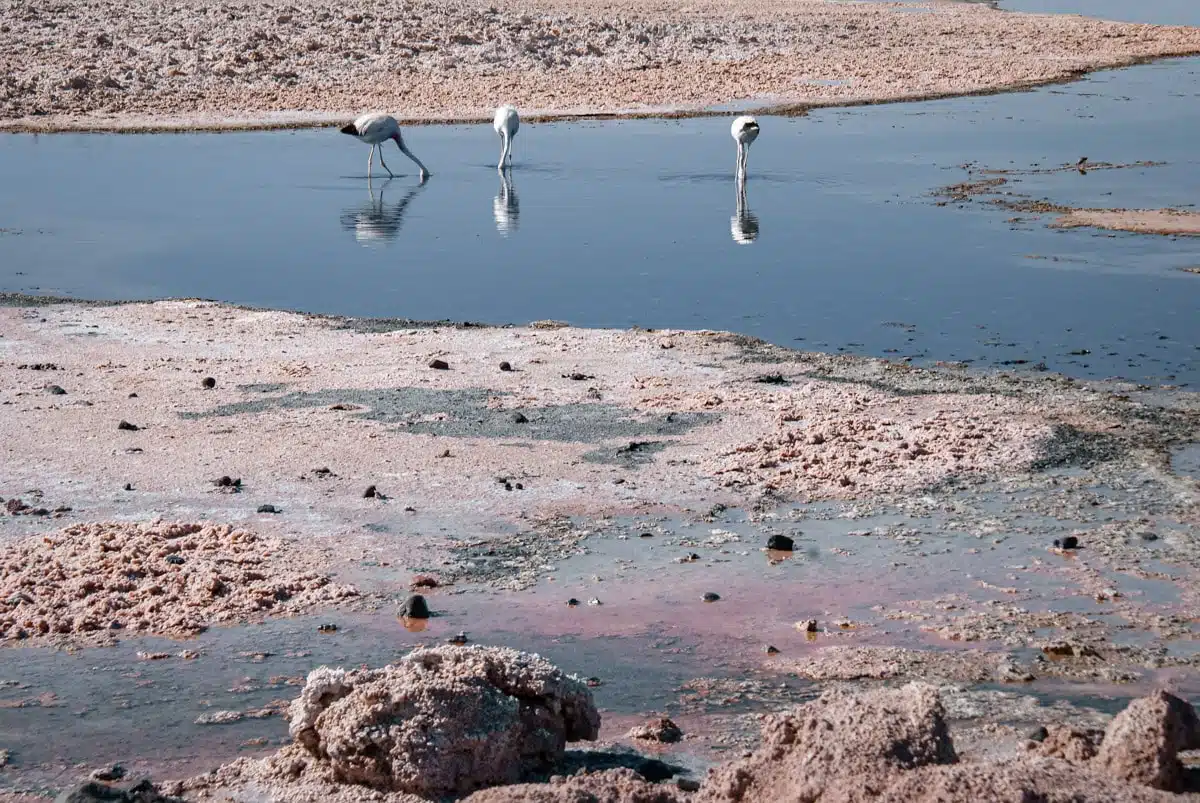 Laguna Chaxa is one of the Atacama's most beautiful spots – a stunning expanse of salty waters framed by volcanos on one side, the red hues of the salt range on the other.
It's also home to one of the biggest populations of flamingos in the Atacama too. Contrary to popular belief, flamingos aren't born pink – they actually turn that colour due to their algae-heavy diet.

Because Laguna Chaxa is full of their favourite food, you'll find Chilean, Andean, and James flamingos (the smallest and pinkest) on this popular day trip on your 3-day Atacama Desert tour.
Take a Swim at Laguna Cejar
You can't dive in at most of the salt lagunas in the Atacama but pack your swimsuit for Laguna Cejar.

Swimming in this mineral and salt rich lake you'll feel featherlight when floating in this oasis in the Atacama Desert. If you've ever wanted to swim in the Dead Sea, this is about as close as it gets.

Save this stop for the drive back from Laguna Chaxa, when temperatures warm up a bit in the early afternoon or take a guided tour.
Sunset at Valle de Luna or Ckamur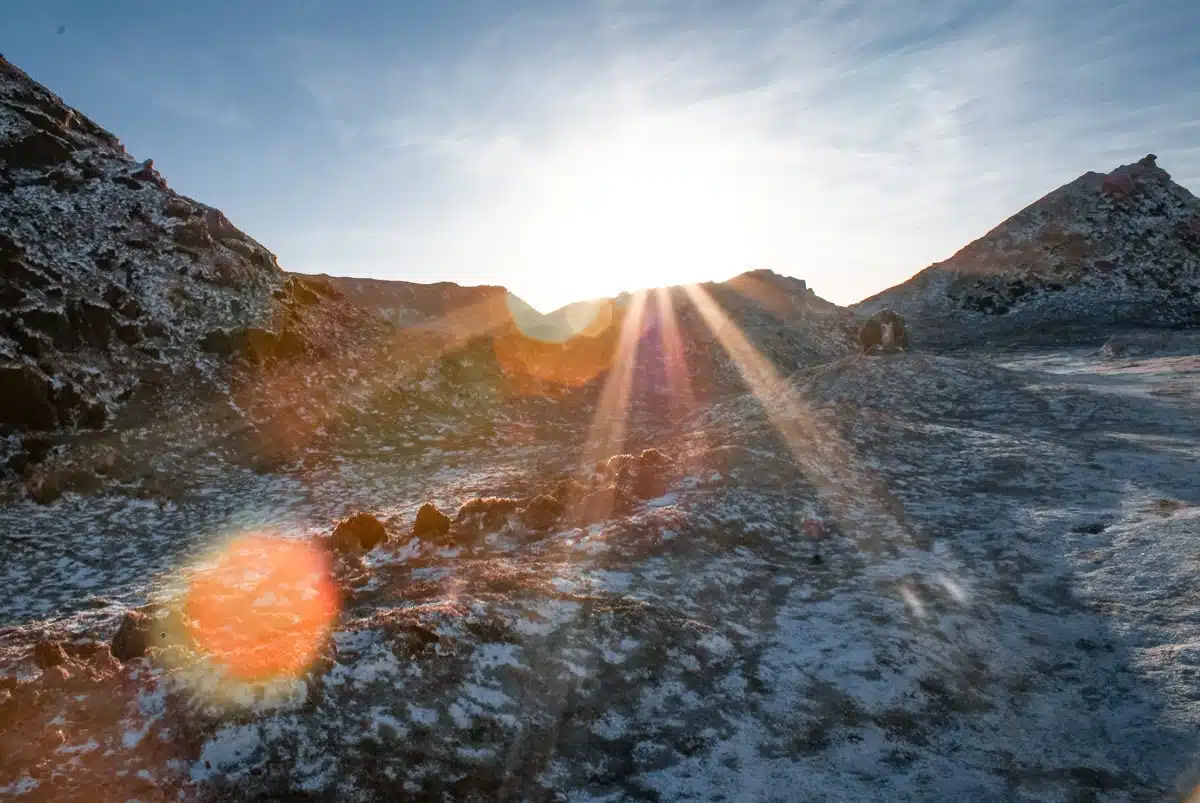 A sunset in Valle de la Luna is one of the top things to do in San Pedro de Atacama. That said, the sharp rock formations of lesser-known Ckamur (in the Valle de la Muerte) also light up spectacular shades of orange, pink, and purple at dusk – most importantly – minus the crowds.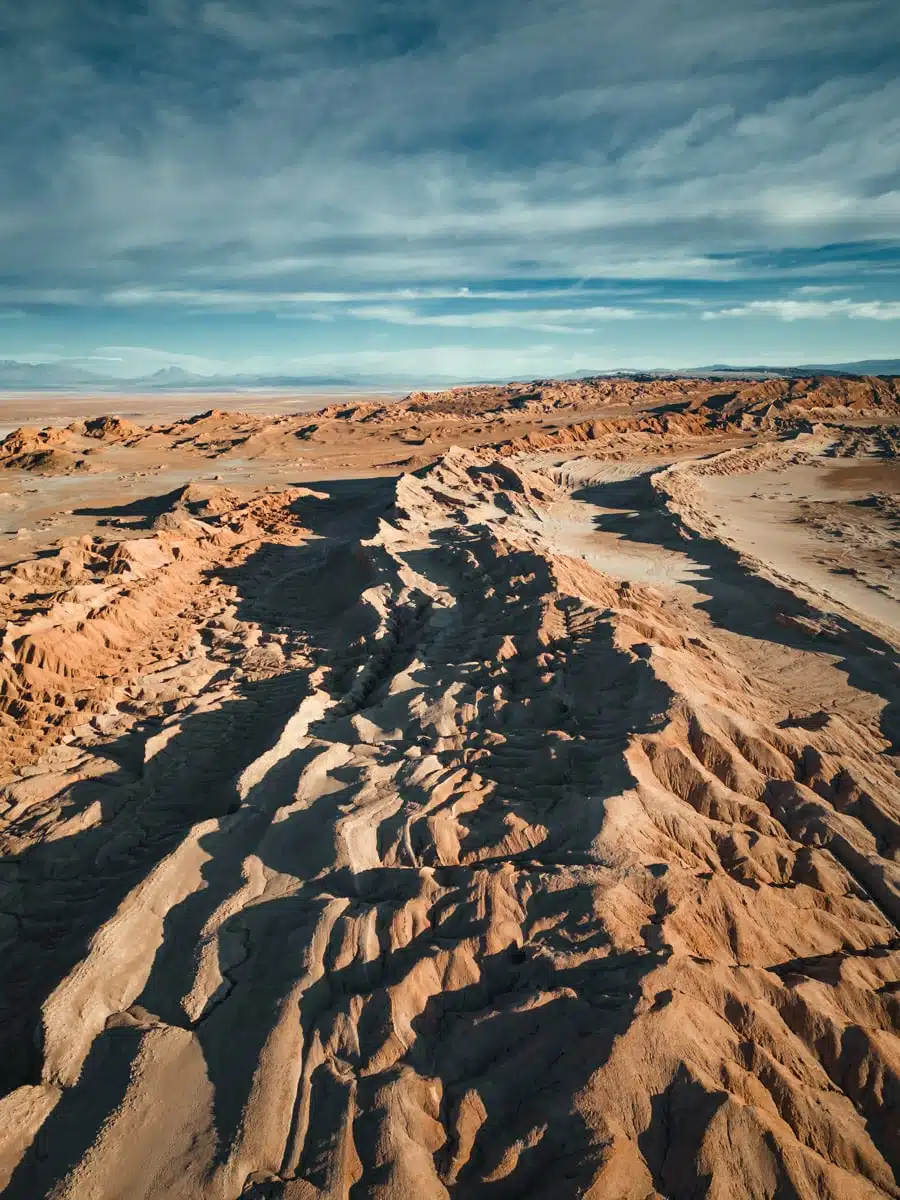 If you do decide to visit Valle de la Luna, I think sunrises are a much better idea as the park is a lot quieter – and you should have enough time to fit it in before driving down to Laguna Chaxa.
Dinner at Karavan Restobar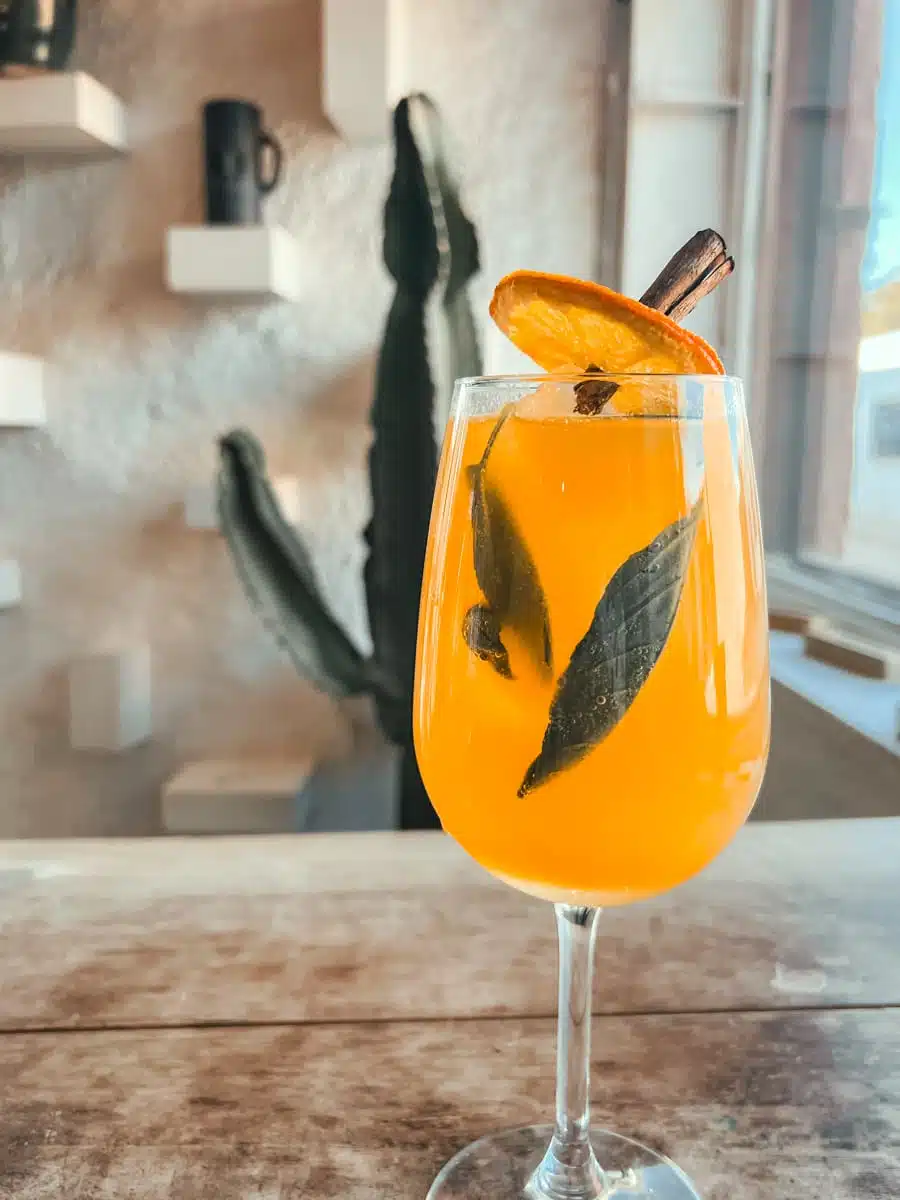 Karavan Restobar is a laid-back eatery in San Pedro de Atacama that specialises in healthy cuisine and freshly made cocktails in a scaled-back setting with a few nods to the nearby desert sprinkled throughout the minimalist decor.
There's also lots of variety on the food front, with some great vegan and vegetarian choices available, too.
The cocktails are excellent, they have some nice local beers, and the sandwiches are big enough to satisfy your craving for a heavy meal after a hike in the desert.
Take a Stargazing Tour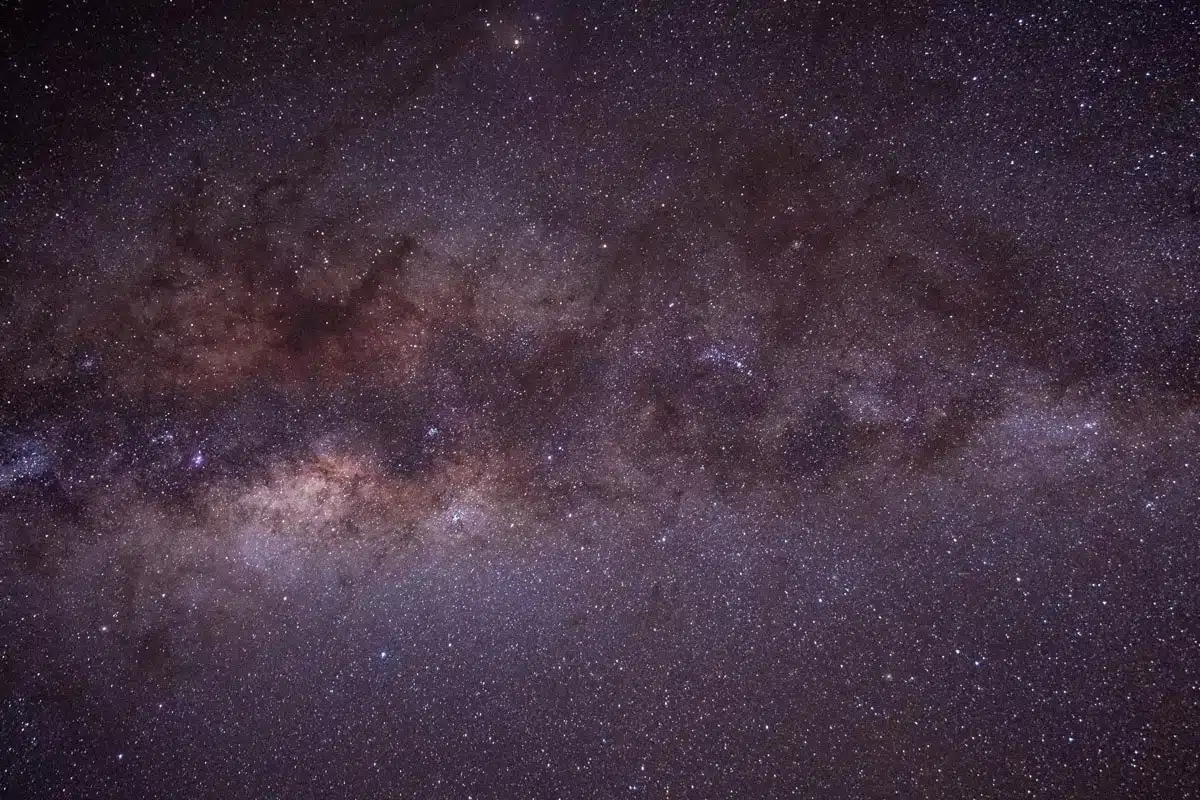 End the first night of your 3 day Atacama itinerary by grabbing a spot on a guided tour. An expert astronomer will walk you through how to see stars, constellations, and old galaxies using the hotel's powerful telescope.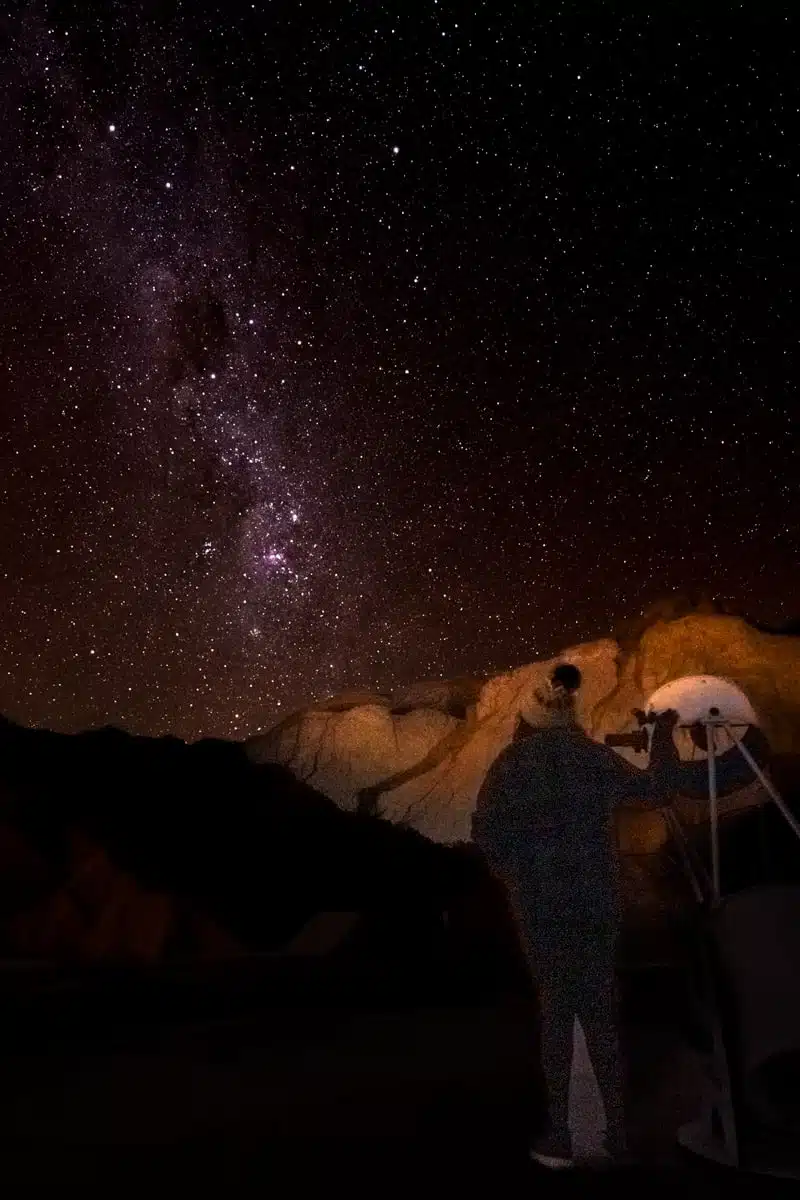 Numerous stargazing tours are available, providing access to telescopes and guided tours of the famously clear, dark skies by experts. If you're staying at Nayara Alto Atacama, they hold free tours from their in-house observatory twice a night – they're spectacular.
Top Tip: Winter months (April to September) offer the clearest skies and the opportunity to see the Southern Cross (Crux) constellation in the Milky Way.
Atacama Desert Itinerary Day 2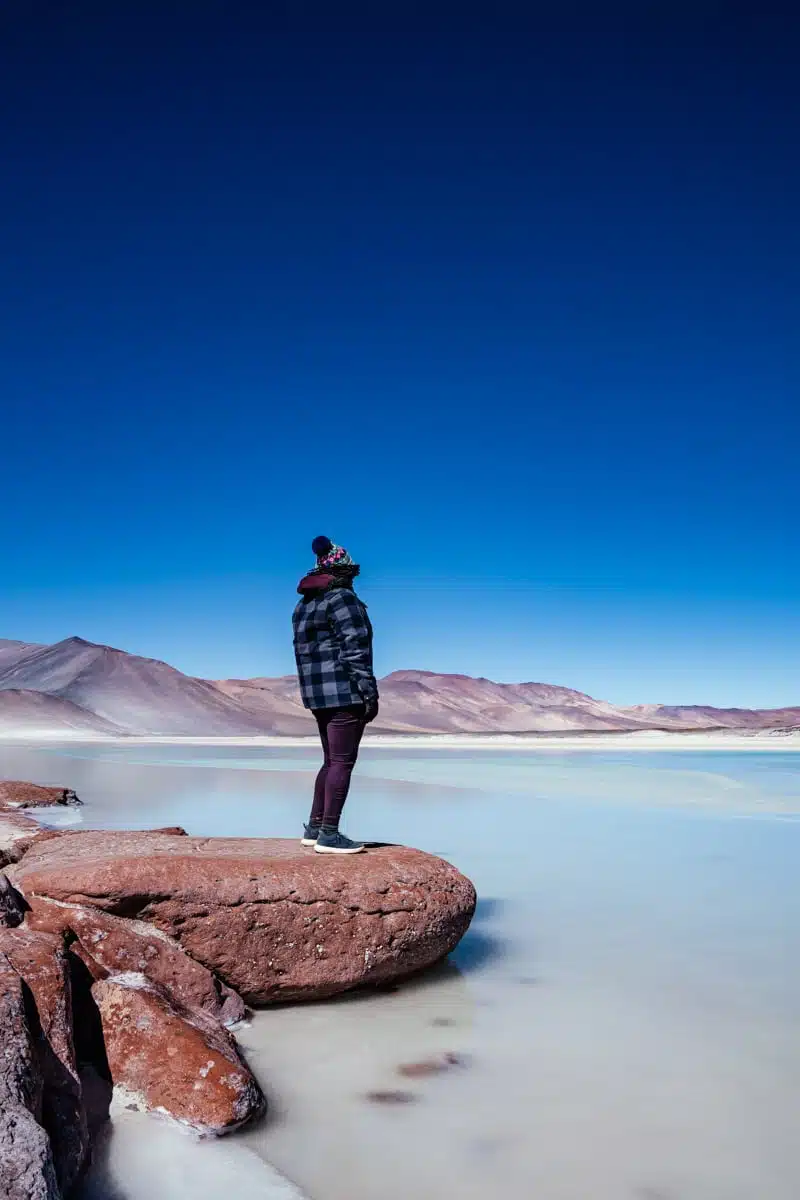 Now that you've started acclimating to the desert altitude, you can make your way up to the High Altiplano.

Today is going to be your longest day on the road, so I suggest bringing plenty of water and some snacks to get you through the long drive.
Learn About Human Life in the Atacama at Socaire Village
Stop by the small village of Socaire on your drive down to Miscanti & Miñiques Lagoons. Socaire is a small village of only 600 people, known for agriculture like quinoa and brilliant purple potatoes – in fact, you can see agricultural terraces outside the village that date all the way back to the Incan times.
Spend a couple of hours here if you can, and marvel at the 600-year-old Socaire Church, made from volcanic rocks and dried Cardon cactus.
Eat at Cocineria San Santiago for local Chilean cuisine prepared from fresh ingredients, some of which are sourced on the property.
Visit The Miscanti & Miñiques Lagoons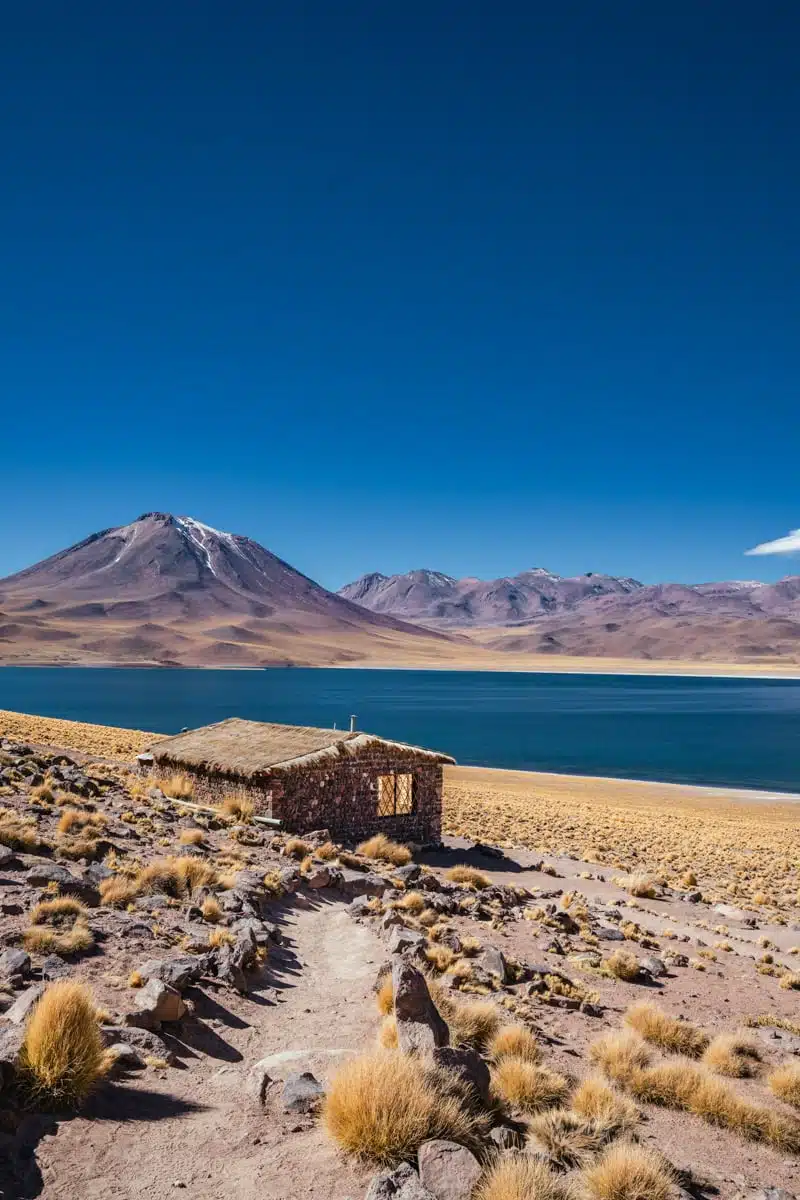 If you want to see two of the most scenic Altiplanic Lakes, drive up to the High Altiplano or take this guided tour that also stops in Socaire and Chaxa Lagoon.
Surrounded by the Miscanti and Minaqui volcanoes, the two lakes are a photographer's dream.
Famous for the contrasting colours (even though Miscanti flows into Minques), the bright blue Lake Miscanti and the dark, mysterious waters of Miñiques make for mesmerising photos.
Top Tip: Keep your eyes open for wildlife, it's common to see the gorgeous vicuña – an adorable (and tiny) member of the camel family that calls this area home.
Hike The Piedras Rojas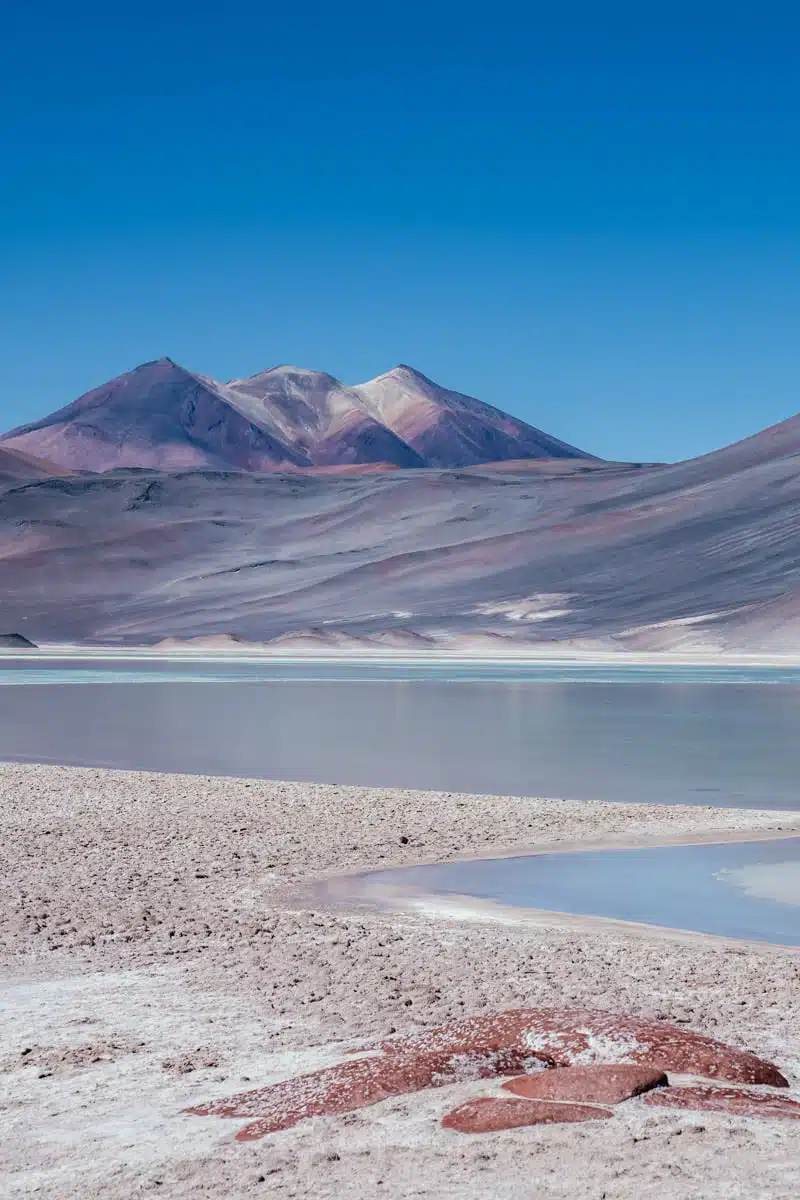 Sitting on the road that eventually leads you to Argentina, the Piedras Rojas and Salar de Talar are some of my favourite places in the Atacama.
The high altitude salt and mineral-laden Salar de Talar showcases surreal shades of blue and turquoise, leading to a veritable kaleidoscope of colours on the purple-hued Volcano Capur.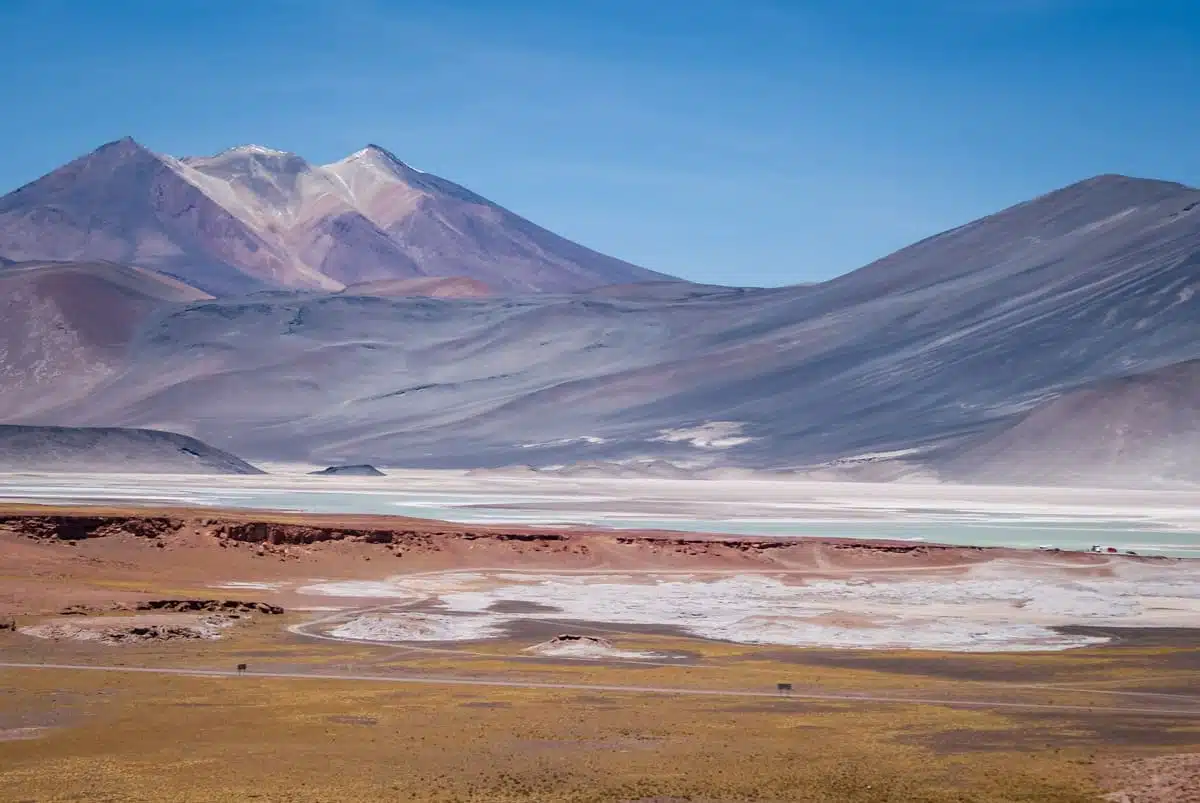 Hike to the lake's edge via the Piedras Rojas, a series of undulating red rocks that lead from the car park to the water's edge.
The hike takes about an hour because you have to move slowly (the elevation here is over 4,000m) – no matter, the ever-changing scenery will keep you occupied along the way.
See the Ancient Village of Toconao (and Some of Chile's Highest Vineyards)
It's a long 2-hour drive back to San Pedro, so I recommend stopping by Toconao towards the end and visiting this ancient village (the oldest in the area).
You'll find some of the highest vineyards in Chile in this small town famous for its masonry, architecture, and the highest vineyard in chile. Grab a glass of wine or two at Bodega Ayllu – you can tour the vineyards or winery if you book ahead.
Atacama Desert Itinerary Day 3
Now that you're as acclimated as you'll get to the elevation, it's time to take the drive north to the fabled El Tatio Geysers, 4,321 metres above sea level.
El Tatio Geysers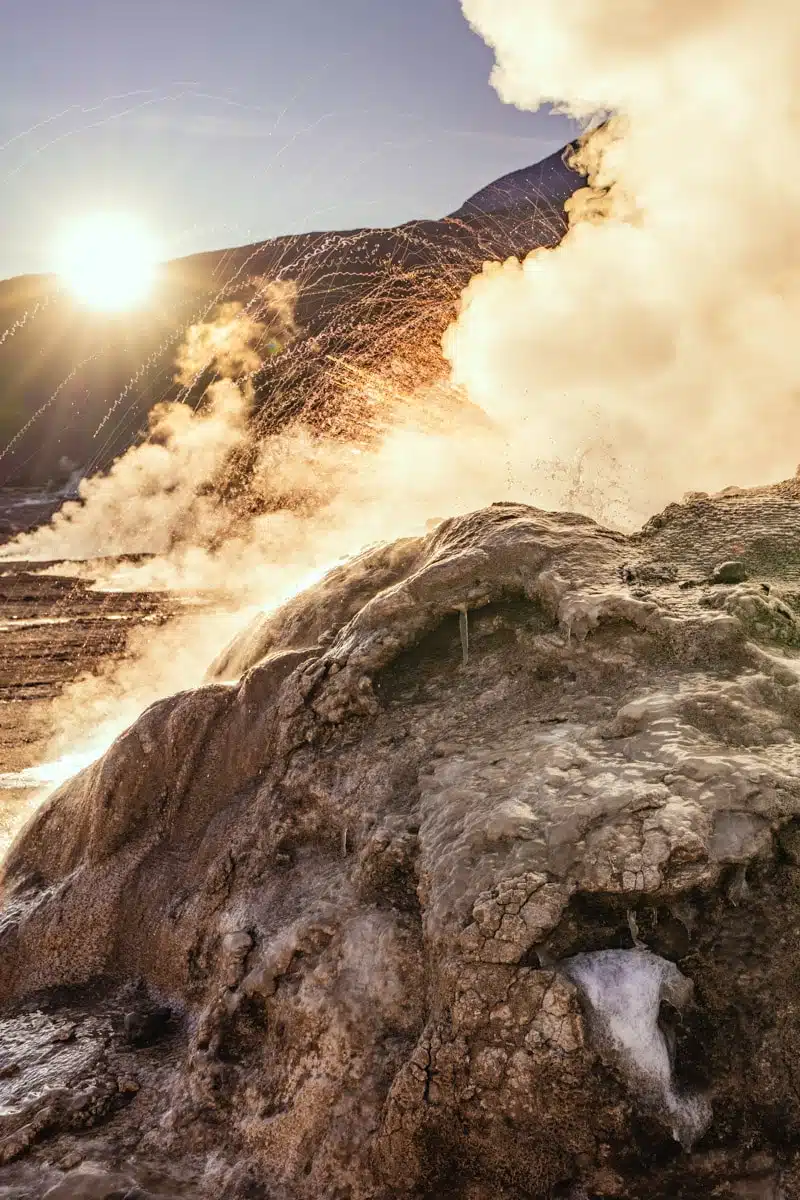 Rise and shine, you'll need to set your alarm early for the best possible experience on your Atacama Desert trip at El Tatio Geysers (The Crying Grandfather geysers).
Most guided tours head out just around sunrise, and they're great. But do yourself a favour and drive out yourself an hour or two beforehand.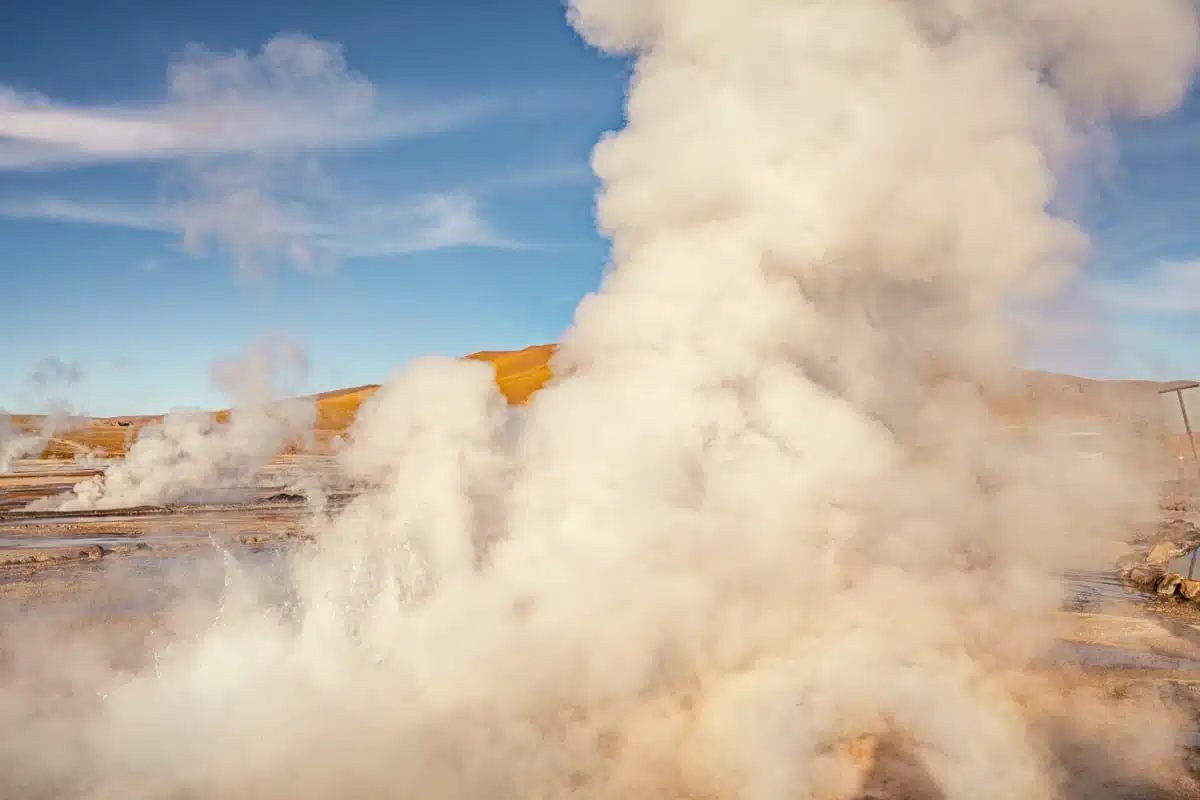 Once you pay the £6 ($8) fee, you can see the stars fade and the sky change to a deep purple before gradually transforming to the warmth of the dawn colours as the active geysers blast steam high into the sunrise sky.
Top Tip: Dress warmly in the winter (it was -15 Celcius on my trip), and heed any warnings about where and where not to go as there have been fatalities in the past.
Puritama Hot Springs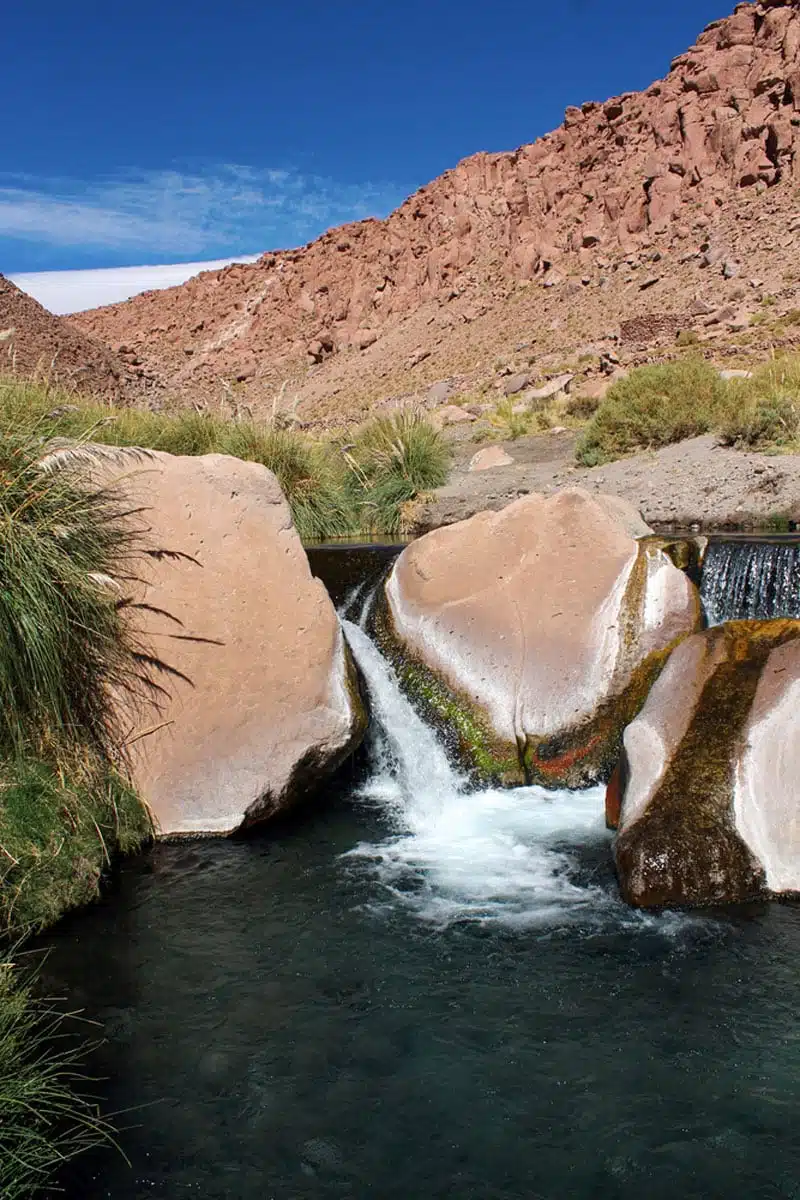 Mornings are chilly at El Tatio, so why not take a break for a picnic lunch at the beautiful Puritama Hot Springs. You'll find eight geothermal pools at the base of the Sairecabur Volcano.
The setting is surprisingly lush, filled with green grasses and red rocks butted up against the clear, mineral-rich waters of this gorgeous canyon.
You can take a guided tour, or pay the entrance fee at the gate, which is currently 35,000 CLP (£28).
Guatín Canyon Hike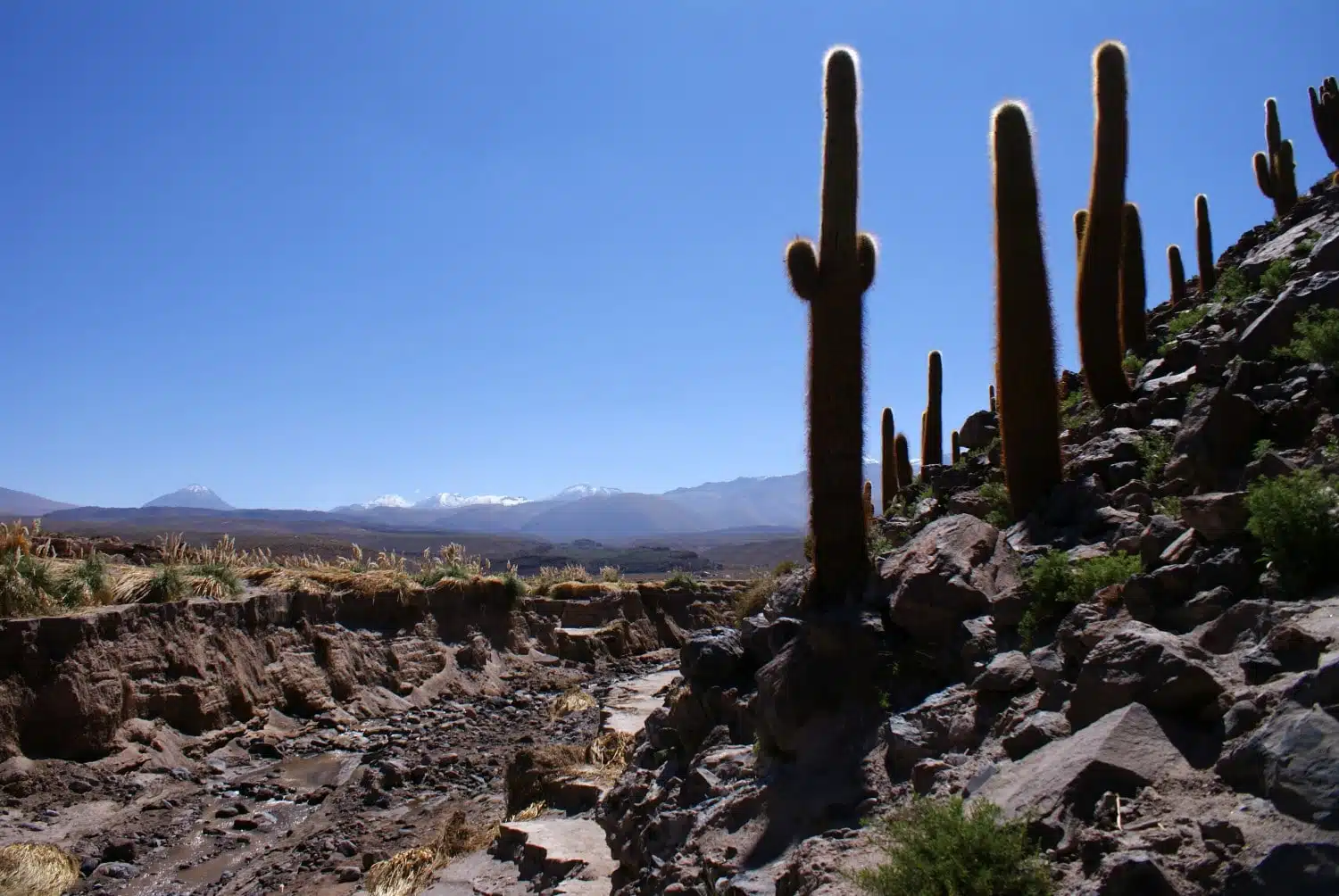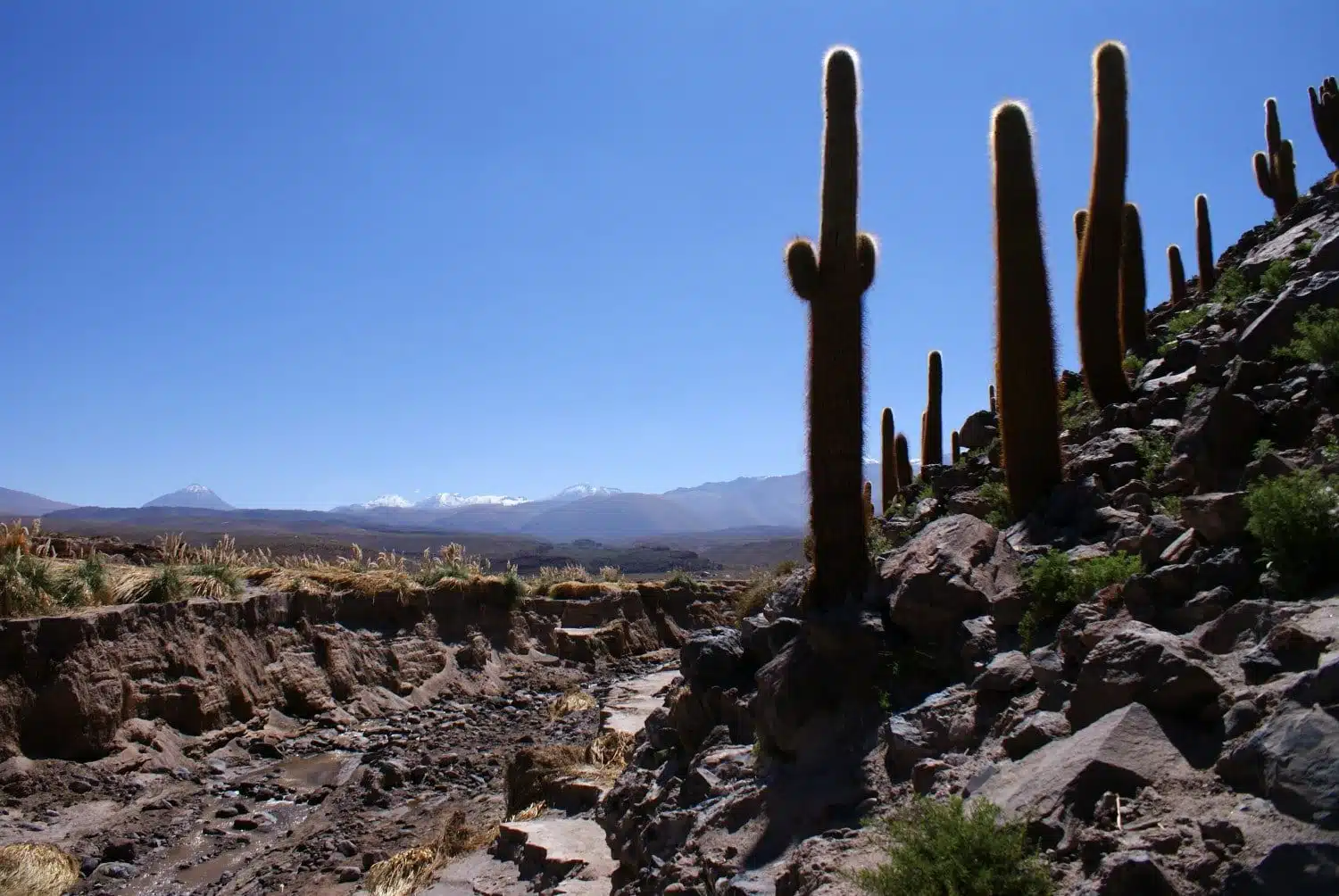 If you still have some energy left to round off your Atacama Desert 3-day itinerary, try the Guatín Canyon Hike.
Starting at the small hamlet of Guatín, you'll enjoy a mellow and scenic hike with towering Candelabra cacti – which can stretch 7 metres high.
Nestled along the Puritama and Purifica rivers, you'll see the two merge into the Vilama River as you walk along this long but rewarding hike.
Top Tip: The full trek is quite long, and you'll need to arrange for someone to pick you up at the end. Or just walk until you're satisfied and turn back – I did the latter.
Dinner at La Casona
Save the best for last on your Atacama itinerary, and eat at the delicious (and equally busy) La Carsona.
You can try classic Chilean dishes like the tried and true Pastel de Choclo. Ceviche and Chorrillana are delicious here, too.

It's a casual spot but fills up fast, so go as early as possible.
Atacama Desert Itinerary – Map
Love This? Save and Share on Pinterest